Today we're bringing you the top witchy nails to try for a super spooky, pagan manicure!
Casting a spell of style and mysticism, these spellbinding nail trends are set to captivate both the modern witch and the fashion-forward nail aficionado alike.
For today's article, I invite you to dive deep into the world of witch nails. Where creativity knows no bounds and every stroke of polish holds the potential to manifest your magical essence. From intricate symbols and celestial motifs to rich and mysterious hues, you'll find here the latest trends that have taken the witchy nail community by storm.
So, gather your potions and familiars (or your polishes and nail tools)! We'll now discover the most captivating and bewitching nail designs that will ignite your mystical side this year!
Ideas For Your Witchy Nails
Can't decide or settle on a theme for your witchy nails? Well, here are some cute ideas to try out or ask for your next nail appointment!
Gothic Glamour. From jet-black matte finishes to ornate lace patterns and Victorian-inspired accents, you'll be able to explore your inner vampy witch and create nails that are as enchanting as they are mysterious.
Celestial Charm. Capture the cosmic beauty of the stars in the palm of your hand. From celestial gradients and galaxy-inspired nails to delicate constellations and shimmering starbursts, your nails will become a canvas for the universe's infinite wonders.
Crystal Clear Magic. Crystals have long been associated with metaphysical properties and magic. And now they're making their way onto our fingertips! From mesmerizing crystal shards to opalescent accents and geode-inspired patterns, your nails will radiate an ethereal charm that cannot be ignored.
Runes, Symbols, & Spells. Discover how to incorporate symbolic glyphs, sigils, and intricate runic scripts into your nail designs, empowering your fingertips with ancient wisdom and hidden meanings.
Witchy Nails To Try Out
The world of nail art becomes a haven for mystical expression. Enabling us to weave spells and manifest our desires on the tips of our fingers! From gothic elegance to celestial wonders, gemstone charm, and ancient symbols. The witchy nail trends of this year have something to captivate every witch at heart.
So, let your fingertips cast spells of style and leave a trail of enchantment wherever you go. With these bewitching nail trends at your disposal, let the power of nail art transport you to realms beyond imagination. Below you'll find witchy nails where fashion and mysticism intertwine to create a truly spellbinding experience for you all year round!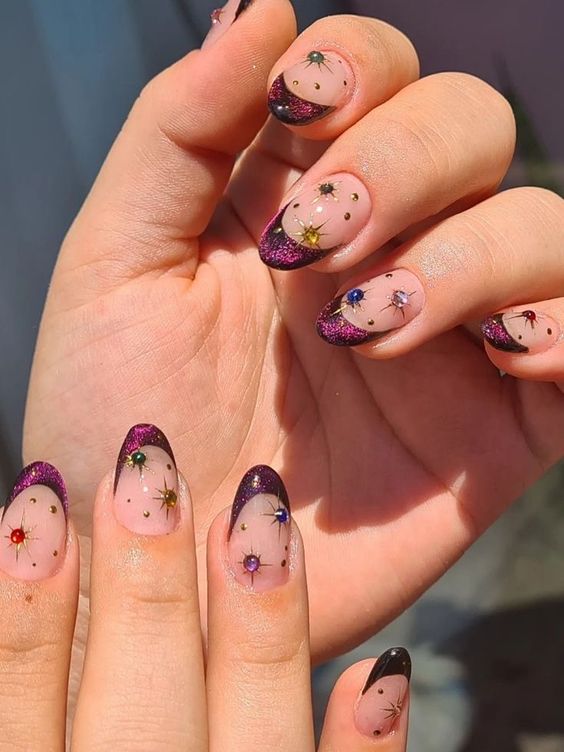 Recreate the sparkle of the stars on your fingertips by using dainty embellishments to mimic each shine. Make use of a classic French manicure to pair with this beautiful set of witchy nails.
I love the metallic yet iridescent sheen on these witch nails! Not to mention, just look at that gorgeous combination of witchy colors! I'm obsessed with how the nails are gleaming with hues of green, purple, and pink.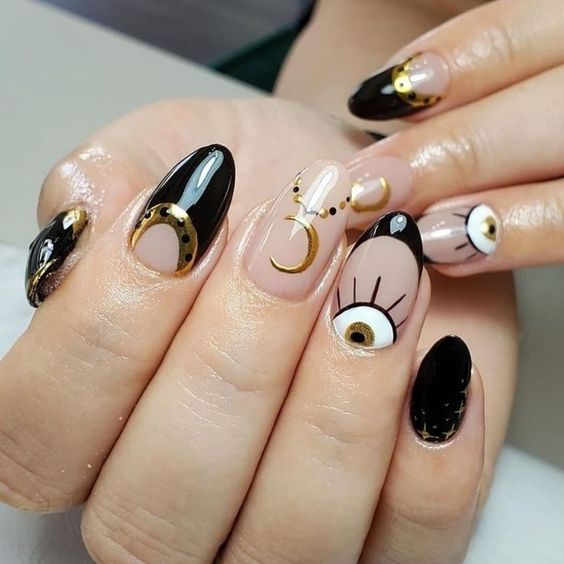 If you're not too fond of too much color on your witchy nails and want to stick with the neutrals, you can never go wrong with a classic black and white. Add some gold accents for a minimal pop of color and shine.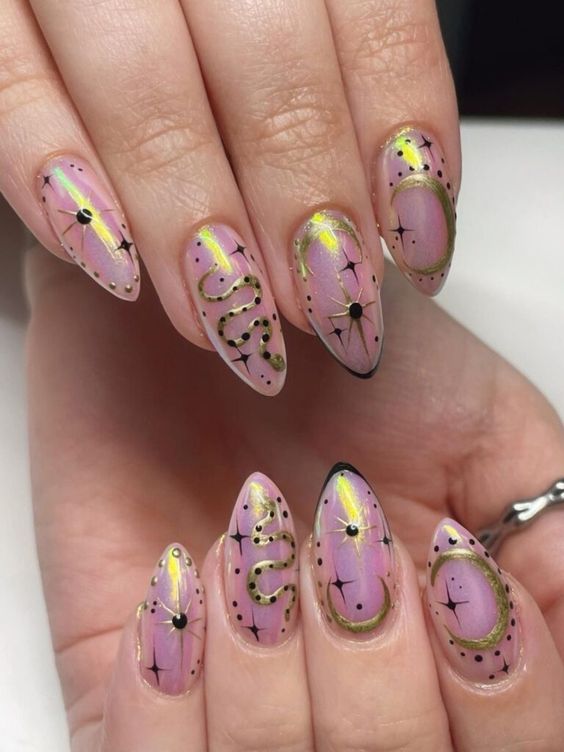 Here's another set of witchy nails that have an amazing iridescent sheen to them. If you like to see hues of pink and gold on your fingertips with some witchy patterns, this is for you!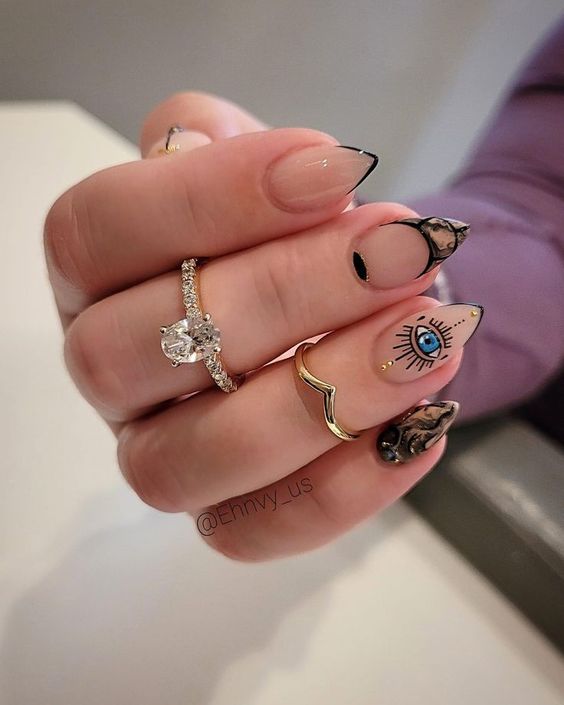 When doing intricate witchy patterns on the nails, I highly suggest making use of negative space to make your nail art stand out. This way, your witchy nails look so much more chic and classy too!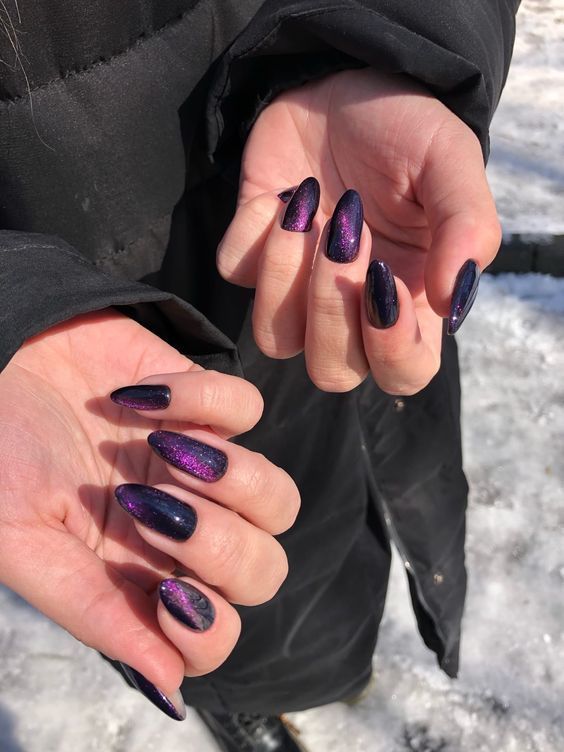 Some witches love their cat familiars. Whether you want to pay homage to your beloved furbaby or simply want to try out something new, why not go for a cat's eye nail art on your next manicure appointment?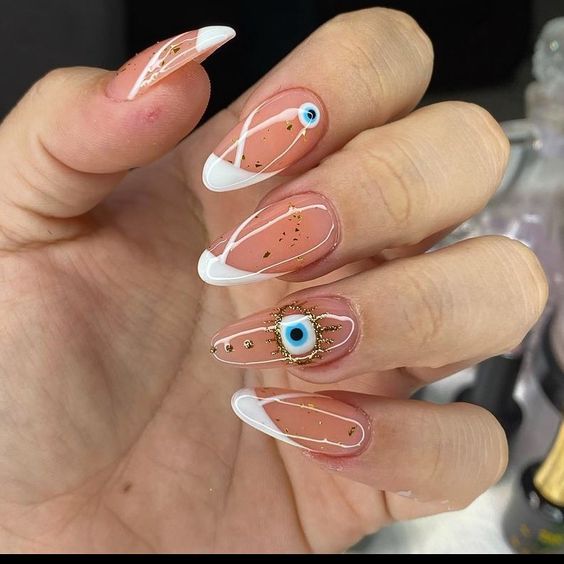 I've been a little obsessed with evil eye patterns these days and would love to incorporate this on my witch nails one day. If you'd like to try this nail art too, here's one that really caught my eye! I really like the gilded aesthetic of the white and gold colors on these witch nails.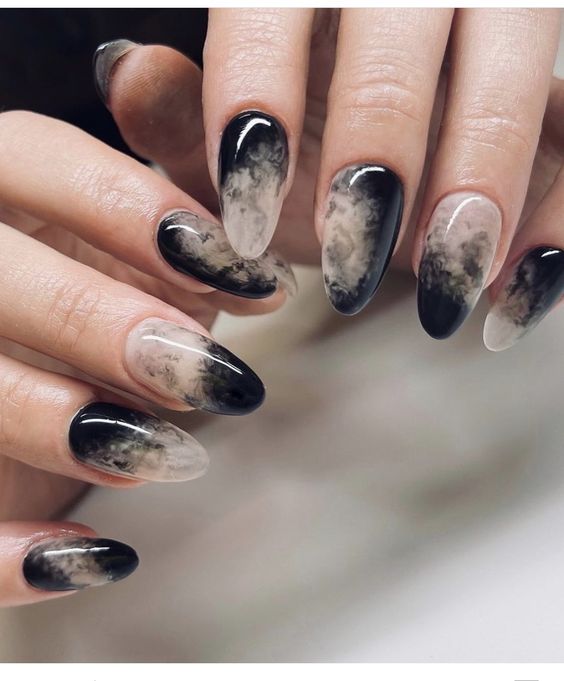 For a smoky and foggy set of witchy nails, you might just like this particular manicure! There's something so mysterious about this particular aesthetic. I can totally see myself wearing this during the Halloween season!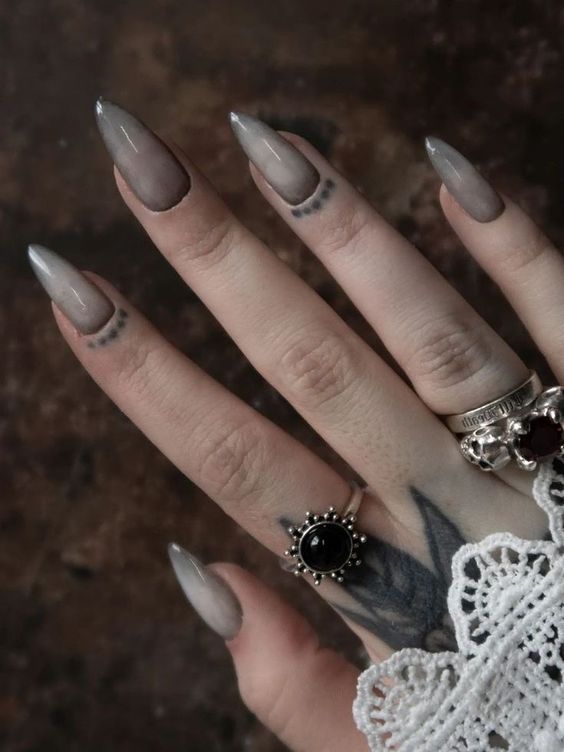 If you're looking for something a little bit simple but still keeping to that gothic, witchy vibe, this manicure is for you! I just love the muted grey tone and the subtle darkness around the sides. For a more femme fatale vibe, I suggest opting for a stiletto nail shape.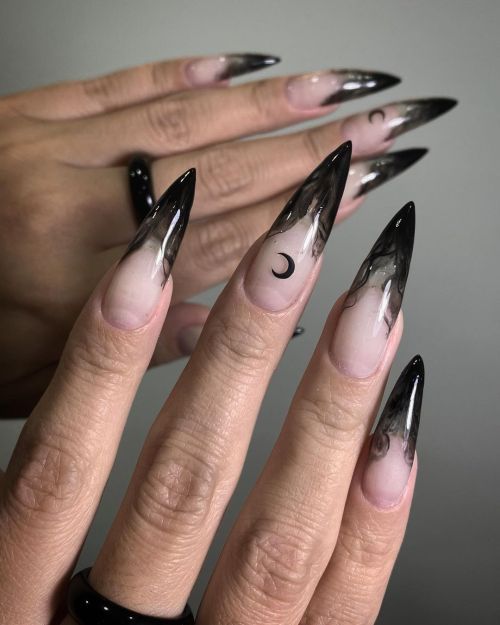 Here's a combination of the two nails that just came before this one. It has that smoky, foggy aesthetic and features a French manicure with a witchy twist.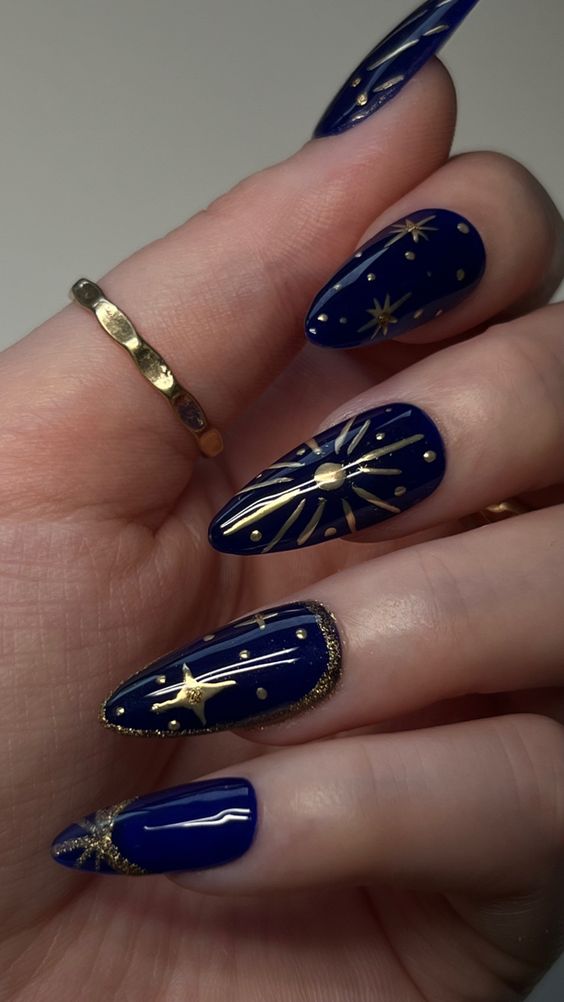 A deep midnight blue color with some witchy gold accents is such a gorgeous nail idea! Opt for a celestial theme to perfectly fit those golden patterns on your witch nails.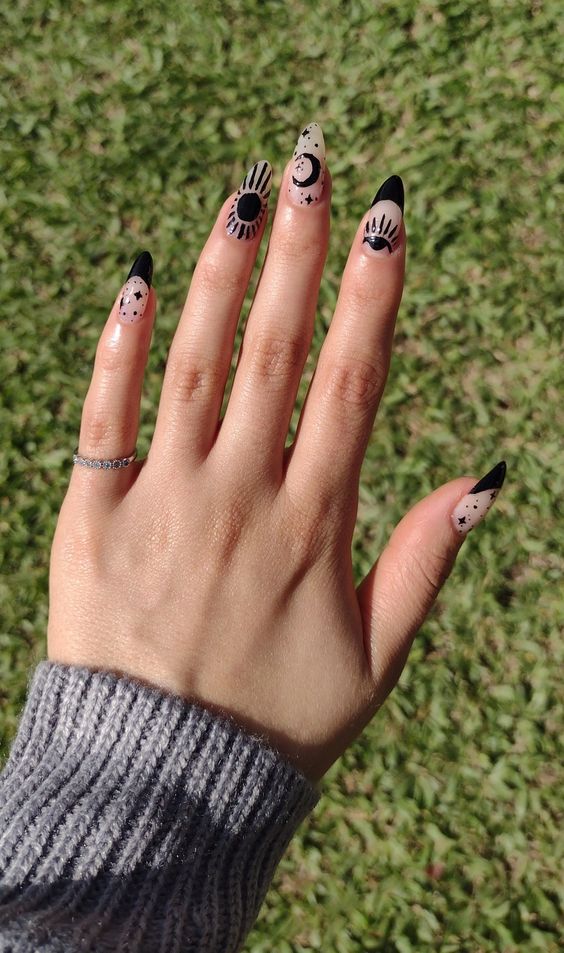 The quirky witchy patterns on these spooky nails are so cute! What's more, you can use these particular witchy nails to practice your nail art skills at home. Don't worry about them not looking perfect. I think the slight imperfections make these witchy nails all the more charming!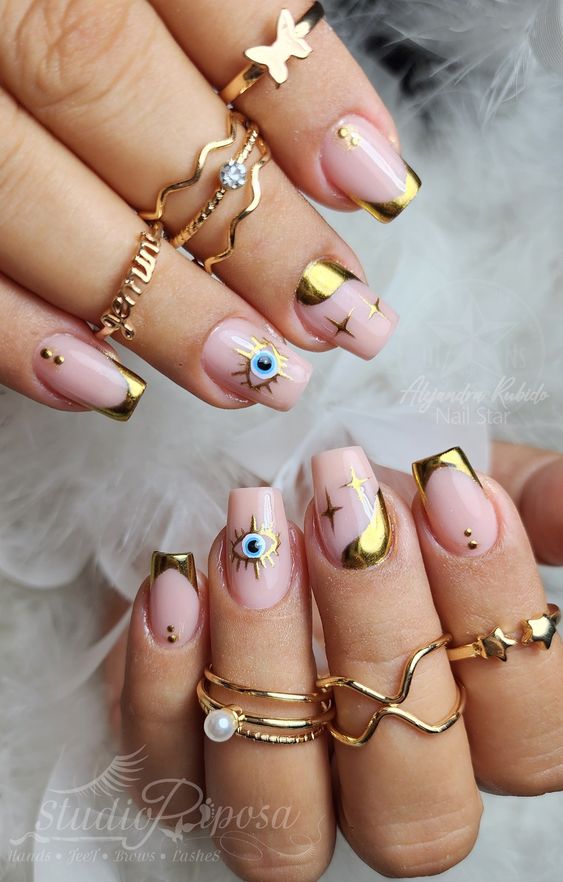 Here's another evil eye-themed nail art you can do on your witchy manicure. The gold accents and detailing suit the evil eye pattern so much too!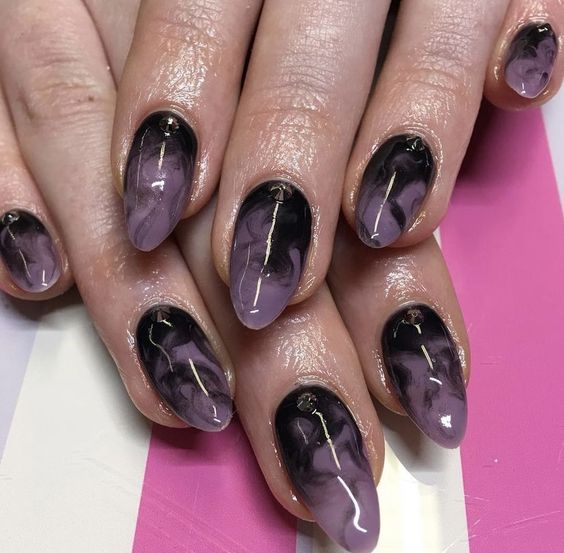 You've seen a few smoky, witchy nail art on this list already. But this one features a deep, muted purple tone that mixes with the smoky details so perfectly! Definitely an instant favorite of mine!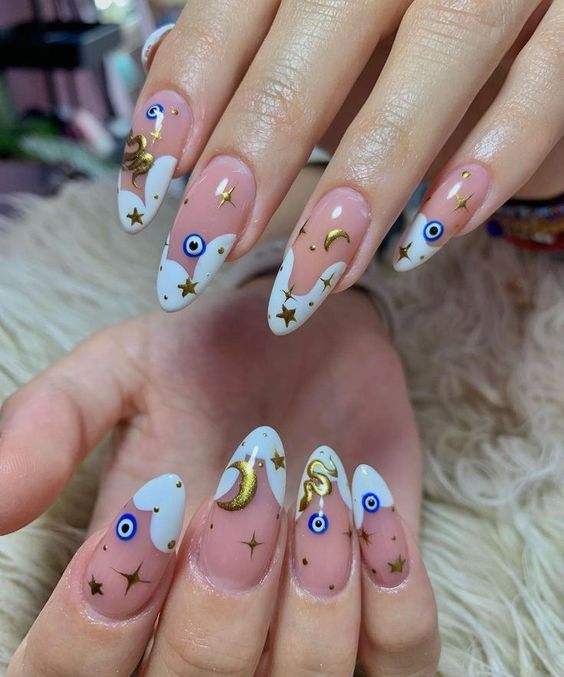 For a celestial-themed manicure for your witchy nails, this one mixes an evil eye pattern with some starry accents and a modern French manicure. Not only is this gorgeous but it's utterly unique!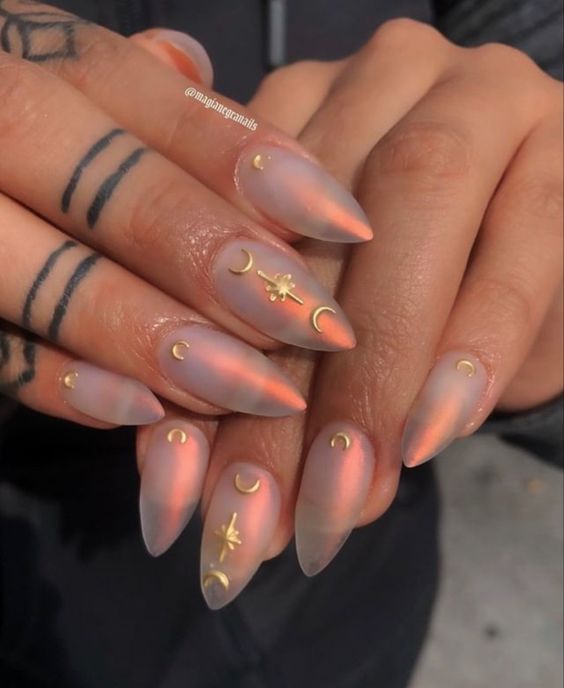 For a minimalistic and "clean" set of witchy nails, why not try out this transparent manicure with gold, celestial accents? This would be pretty easy to achieve too! All you need are some nail stickers to recreate those sparkly, starry details!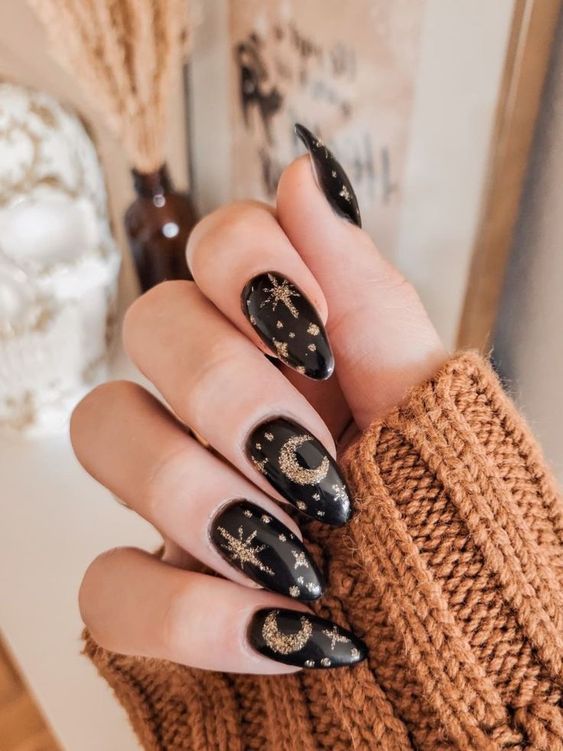 Not only are these spooky nails so cute, but they're giving me serious dark academia vibes. I love the contrast of the deep, black base color against the shimmery, gold patterns.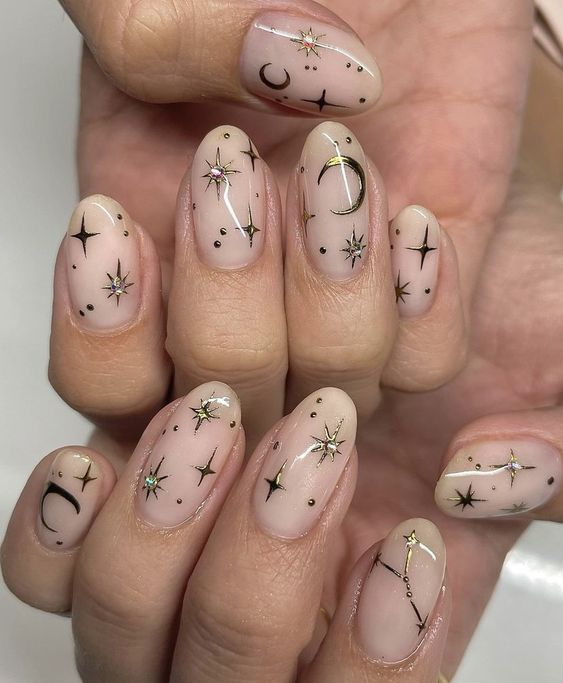 Here's another dainty and somewhat minimalistic set of witchy nails. The negative space on the base coat really puts all the attention on each and every sparkling detail.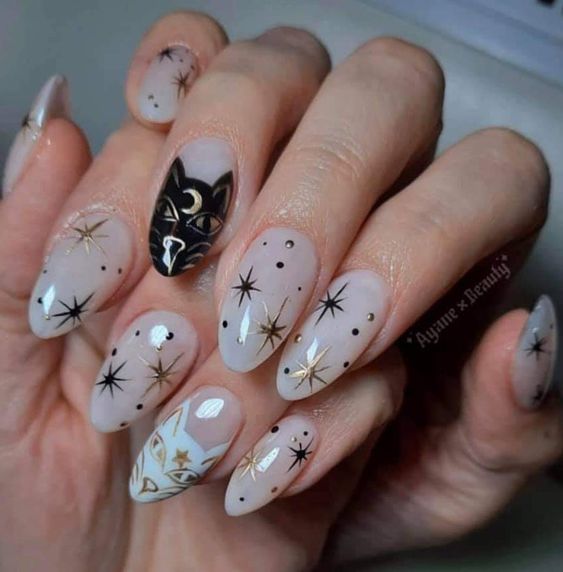 Add your love for your cats to your witchy manicures with this particular nail design! I love the art style used here so much and how it perfectly pairs with some sparkly accents.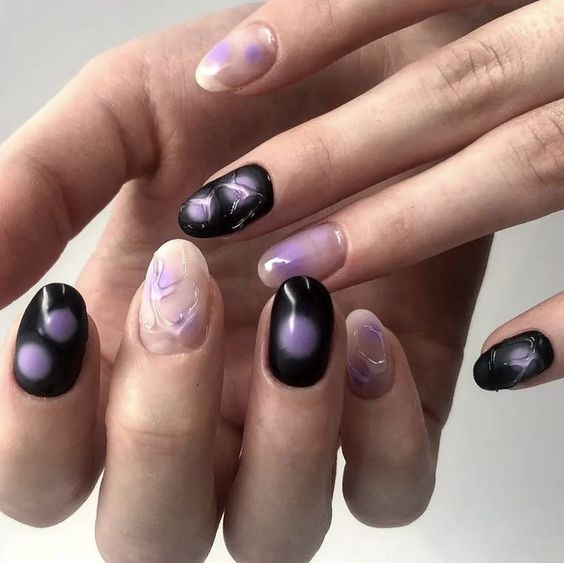 The aura glow trend has definitely taken over the nail community. Not only does this give off the cutest set of spooky nails, but they're perfect to incorporate a witchy vibe to your fingertips too!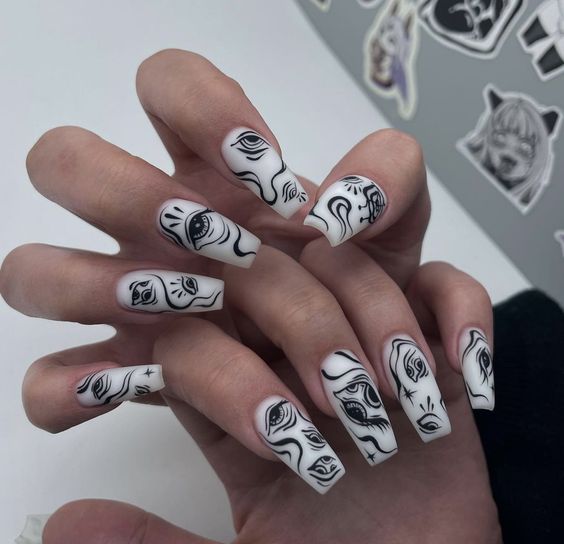 I just love the graphic and detailed patterns on these witchy nails! They have a spooky vibe that would be so ideal for the Halloween season. They also kind of remind me of Junji Ito's works.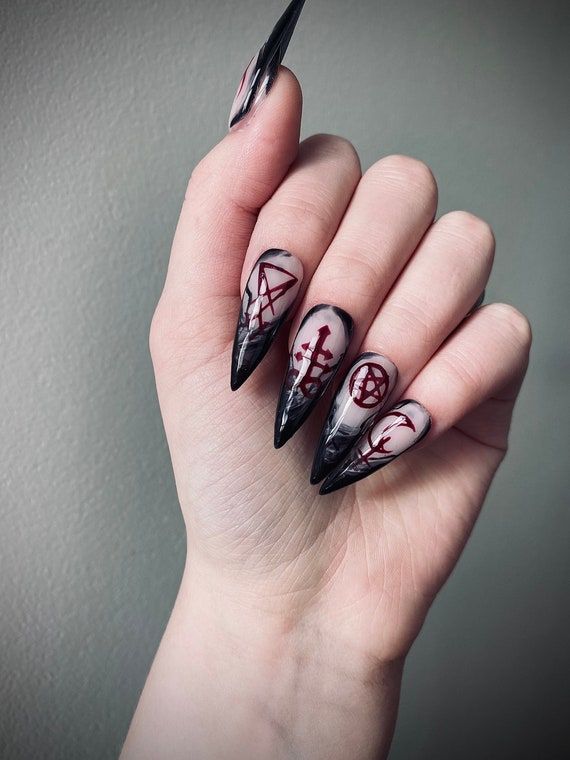 Here's a spooky set of witchy nails that will totally suit both the Halloween season and the winter season. If you're a horror movie enthusiast, you'll surely appreciate this particular aesthetic!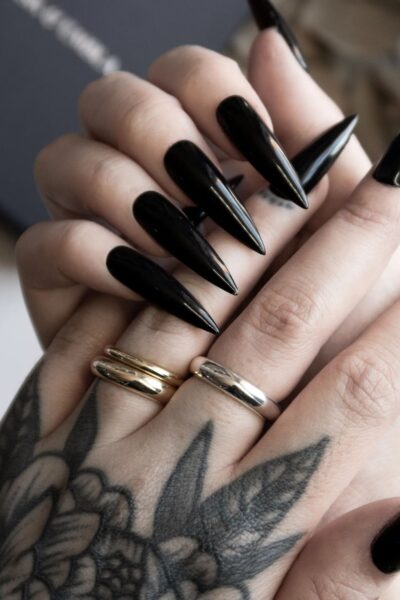 Sometimes, simple is best. If you don't like the fuss of doing nail art on your fingertips, then you might want to pick this monochrome black manicure. To give it an edgier look, opt for a sharp, stiletto cut for your witch nails.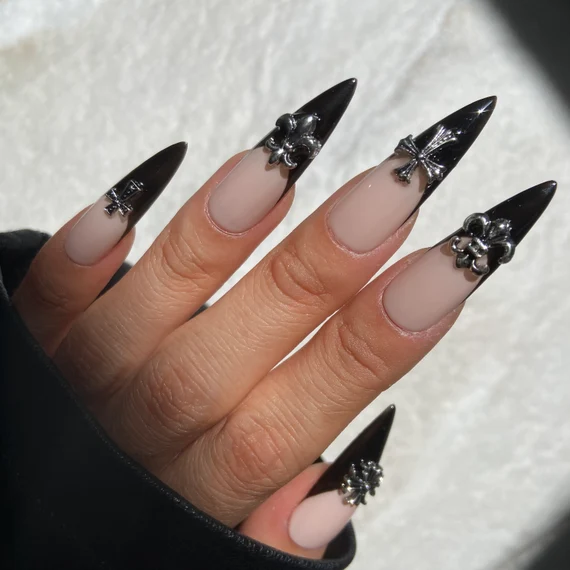 This edgy, French manicure is so perfect for those who want a grunge aesthetic for their witchy nails. I really love the silvery, gothic embellishments on each nail here, adding a classy and vintage touch to the overall look.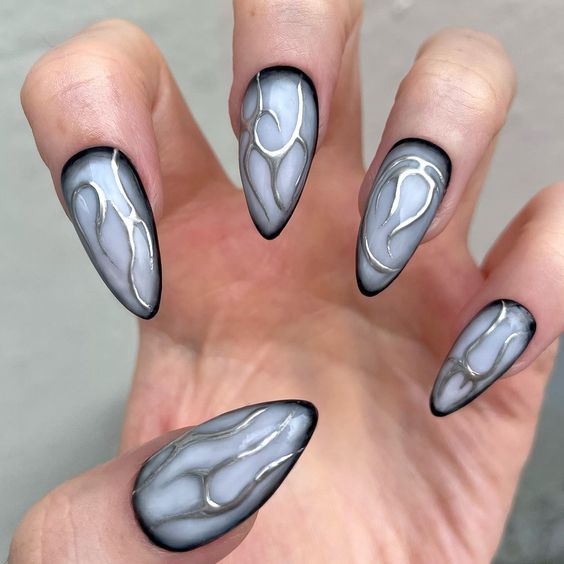 I'm utterly obsessed with the look of these smoky, grey, spooky nails. Not to mention, the metallic silver line work looks so edgy and cool! Perfect for the modern witch!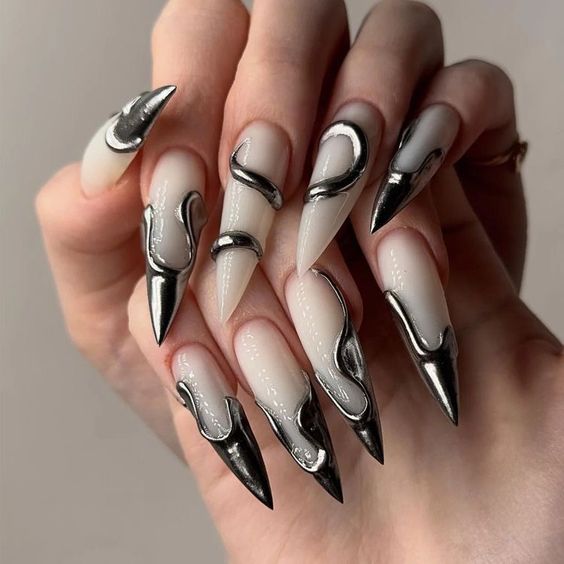 For more edgy, silver, spooky nails to bring out the witch in you, here's another one for you! This is definitely one of my favorites. I just love how cool and futuristic these nails look!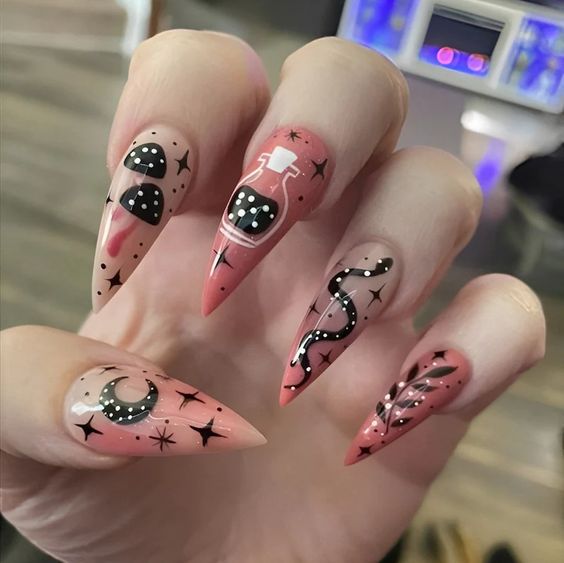 For the nature witches who want to add a soft, romantic pop of color to their witch nails, you will certainly like this one! I love the foliage and celestial accents on each nail.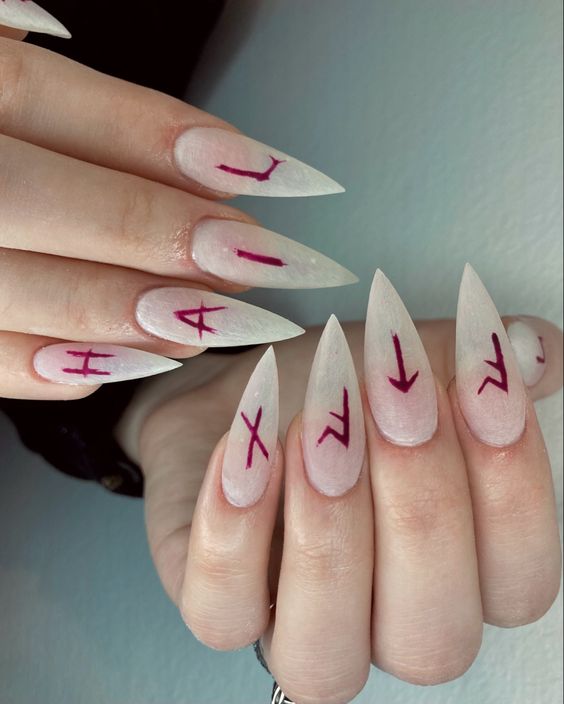 To those who want to incorporate some runes into their witchy-themed manicure, this one looks utterly spooky! I love the red line work against a simple, minimalistic base coat.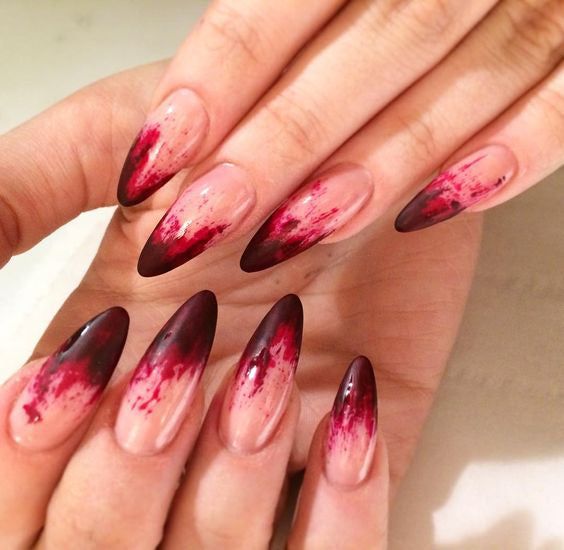 For a more horror-themed set of witchy nails, then check out this particular manicure! It looks as if you just dipped your witch nails into a pint of blood. This would be so fun to try out during the Halloween season!
It can be intimidating to try out these kinds of witchy, graphic nails because they're so detailed. But if you're not too confident in your nail art skills and don't have the time to book your nail technician, you can always opt for some press-on nails! They're fuss-free and so easy to use.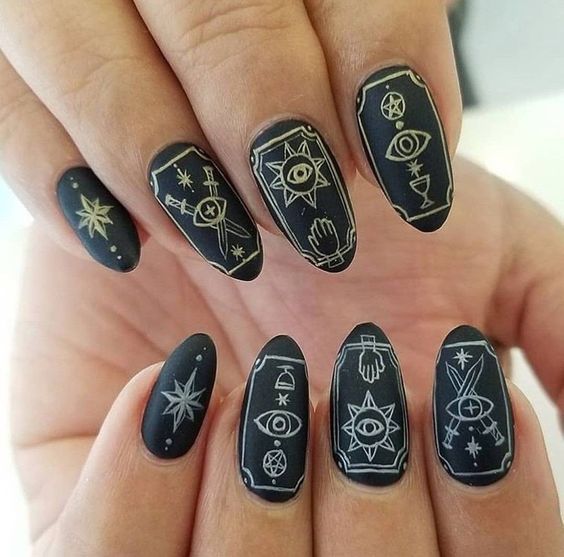 I love the witchy patterns on these nails! You can also opt to mix and match different colors for the line works for a more unique touch.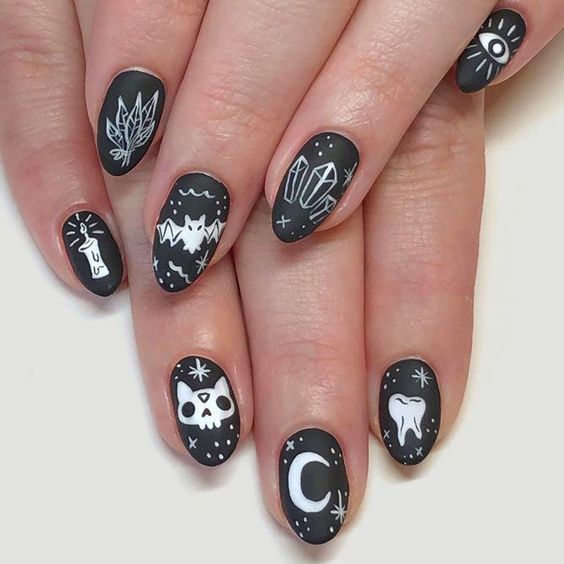 Here's another eye-catching set of witchy nails! The pretty contrast of black and white colors is sure to make your nails stand out from the crowd.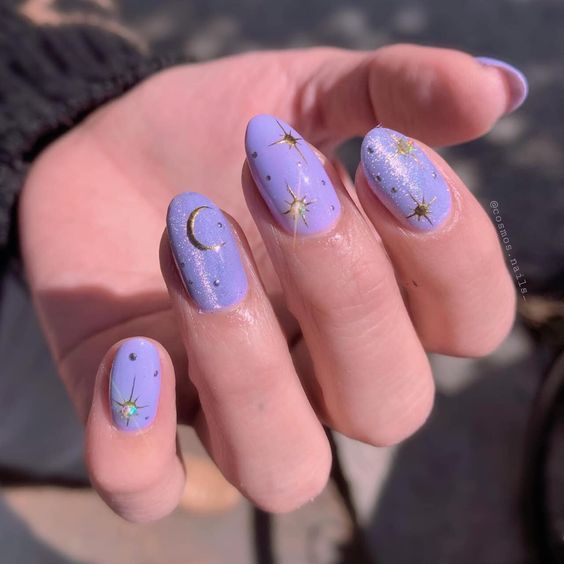 If you're not too fond of neutral colors and want something soft with pastel tones, then these witchy, lavender nails are perfect for you! I am obsessed with the sparkly embellishments and subtle sheen of each nail coat.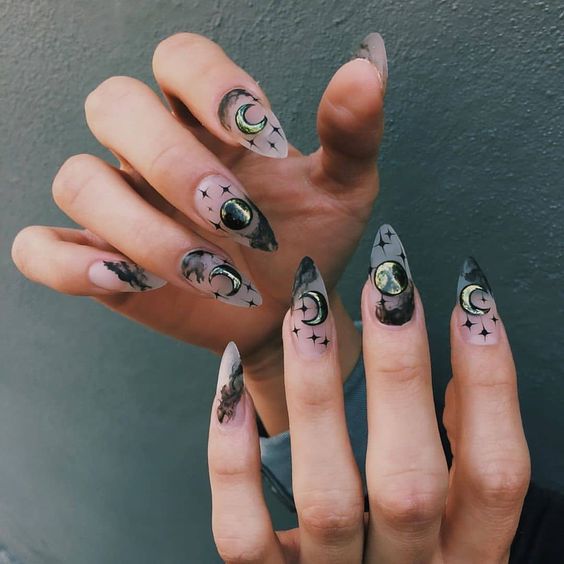 I honestly can't wait for the spooky season to arrive so I can finally try out these gorgeous, witchy nails! I love how the transparent base coat makes every detail of these witchy patterns pop out. This would also be an ideal manicure if you're someone who loves to look at the moon too or you're simply a witch who works with moon phases.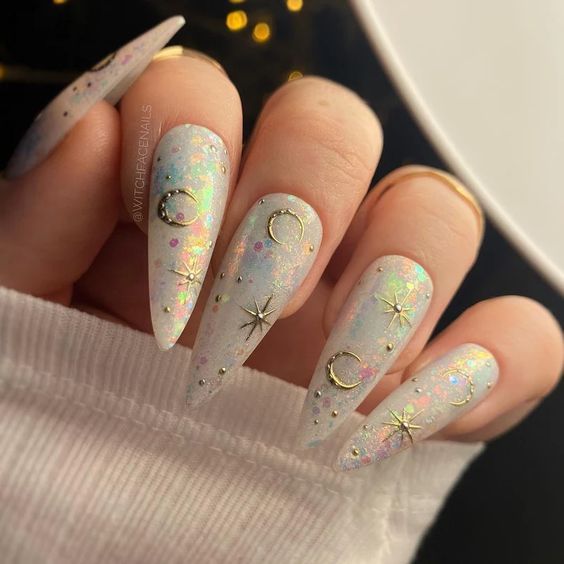 The iridescent gleam of these witchy nails looks so ethereal! If you're not into the grunge or gothic look and prefer something a bit softer and shinier, then these are perfect for you.
Forego the usual glossy finish on your next manicure and opt for a soft, matte finish instead to recreate this beautiful set of witchy nails!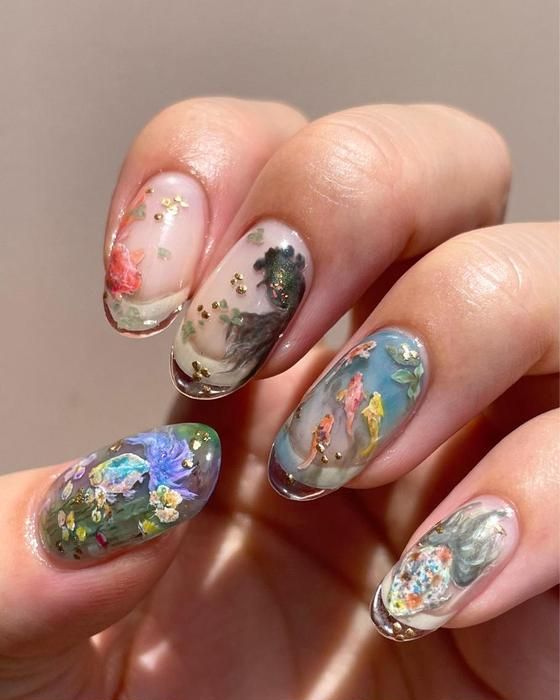 For the forest witches out there or anyone who's looking for nail art that would fit their cottagecore aesthetic, this witchy manicure is for you! I love the watercolor style on these nails. They look like an utter work of art!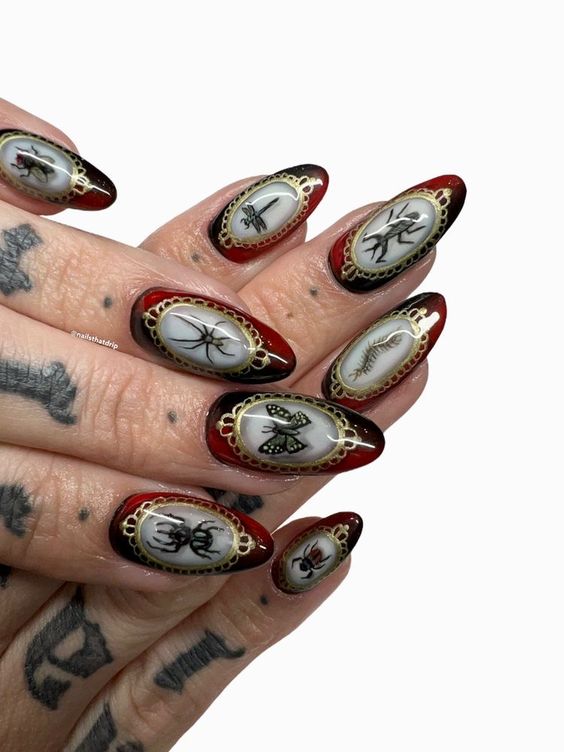 When it comes to my favorites on this witchy manicure list, this one is my absolute top 1! I mean, just look at how gorgeous this is! This would go so well with a Victorian-themed event or if you just like to wear vintage outfits.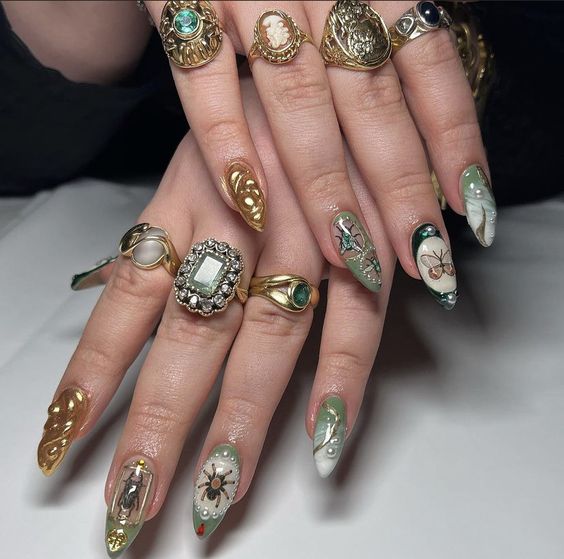 Here's another ethereal and majestic witchy nail idea you might want to try out! It's very intricate and detailed so I suggest going to a trusted nail technician to do this for you unless you really want to DIY this one.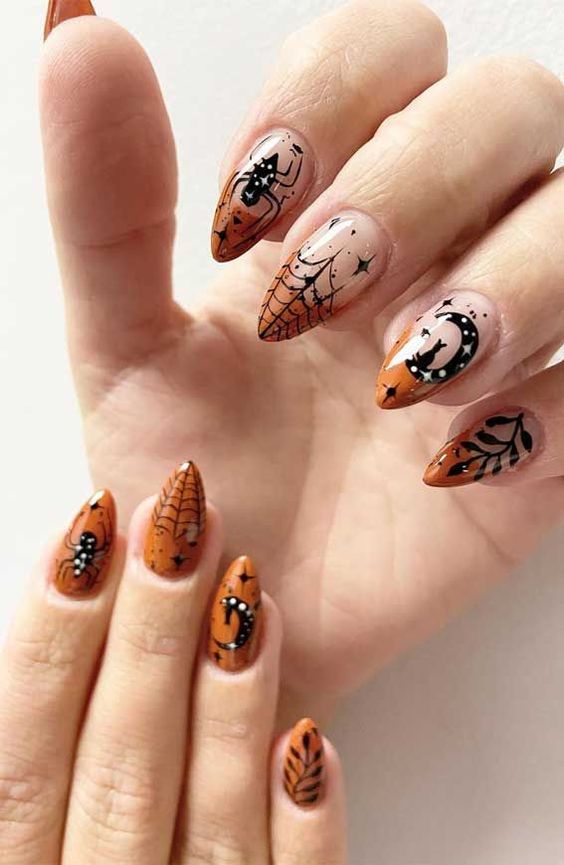 Both perfect for the fall season and the upcoming Halloween activities, these would be such a fun and quirky set of witchy nails for you to try out!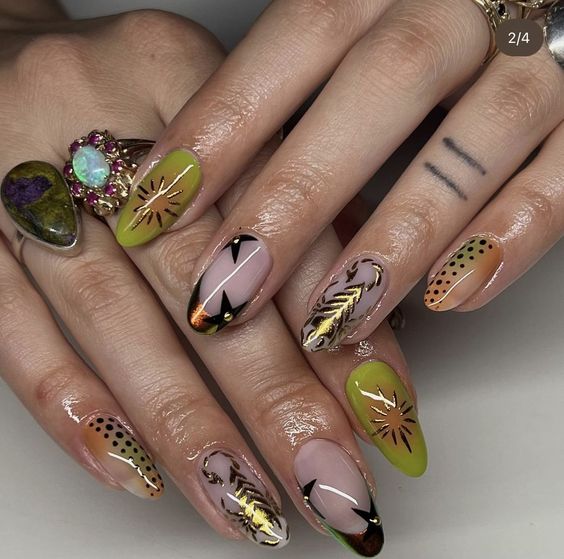 Here's another one of my absolute favorites from this list. I love the eclectic yet still witchy vibe from these nails! The warm green tones against the shimmery gold and black accents look utterly gorgeous.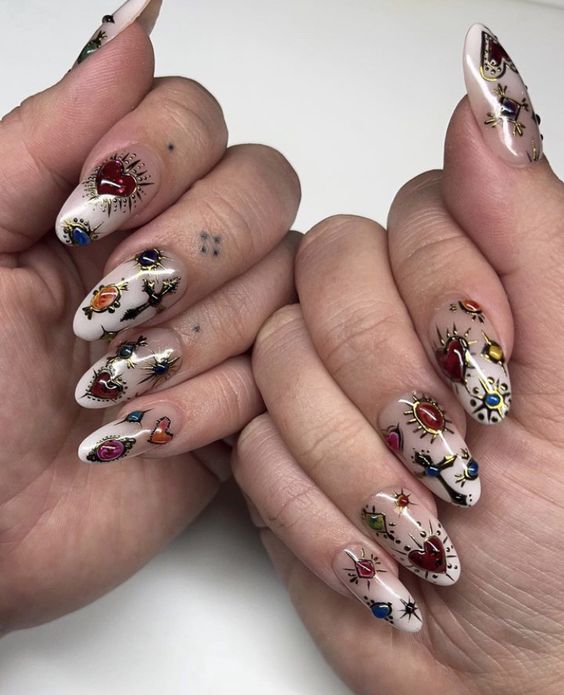 Here's another eclectic witchy manicure you might love. This one has a subtle gradient yet natural base coat to make those patterns and embellishments really pop out!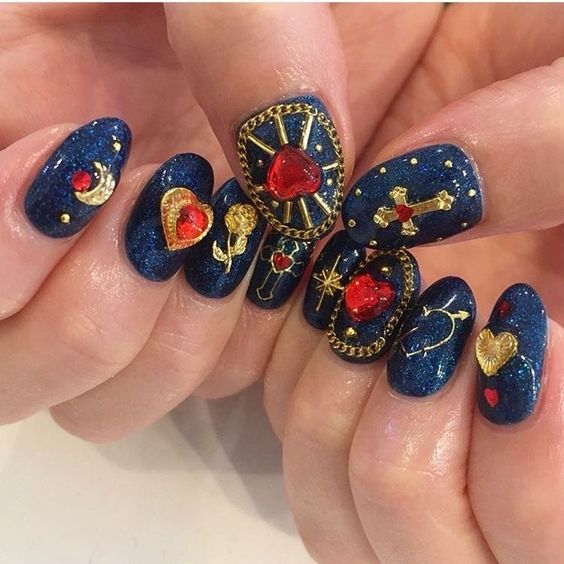 Want to look like royalty yet stay witchy at the same time? You can't get any better than these royal blue nails with folded accents and embellishments!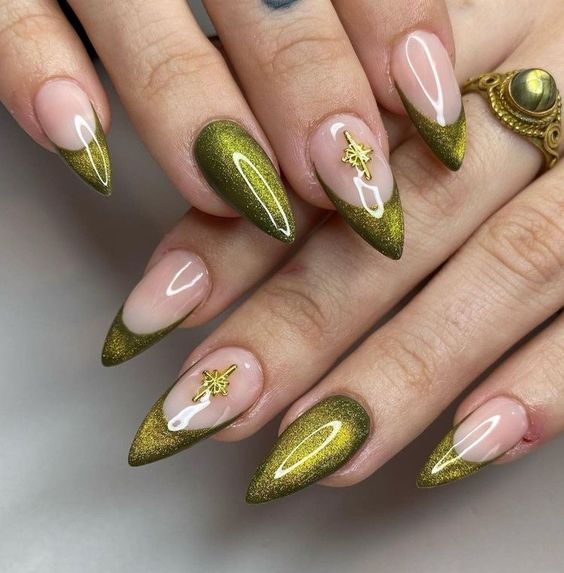 I just love anything green. It's such a beautiful color that can fit any season. This particular witchy and shimmery nail art is so simple to do too!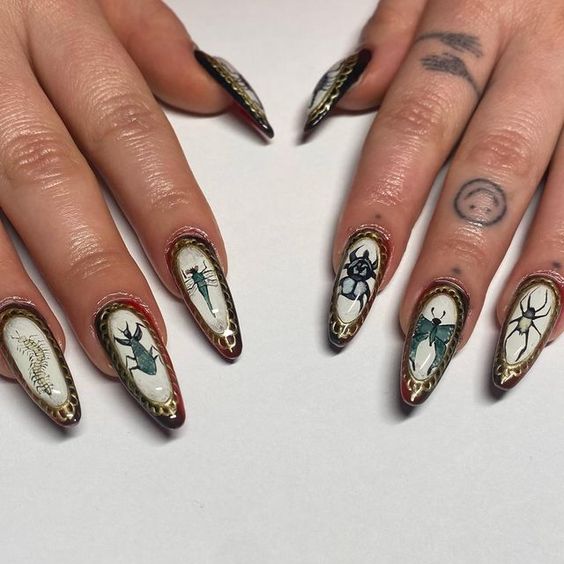 If you love bugs and insects and want to incorporate them into your witchy manicure, this is for you. I love how the different species of bugs here look as if they're placed in beautiful portraits.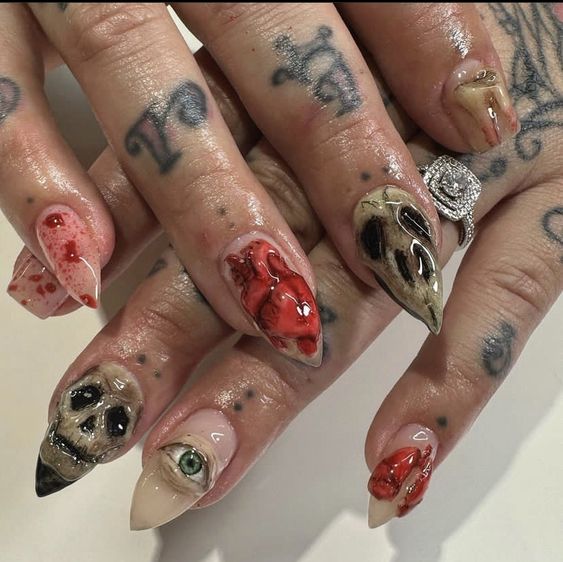 If you like a somewhat "realistic" and creepy-looking manicure for your witchy nails, then this is for you! I would totally wear this during the Halloween season.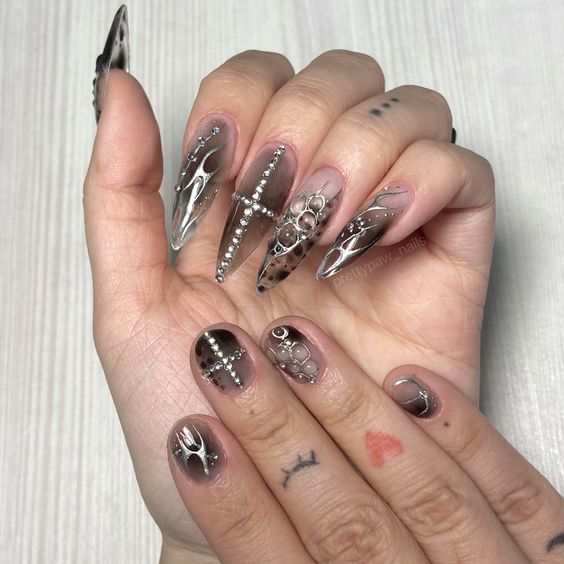 Whether you're going for a Y2K vibe or an edgier twist to your witchy nails, this is the ideal nail art! I love the silvery and metallic embellishments on each nail and how unique it is from one another.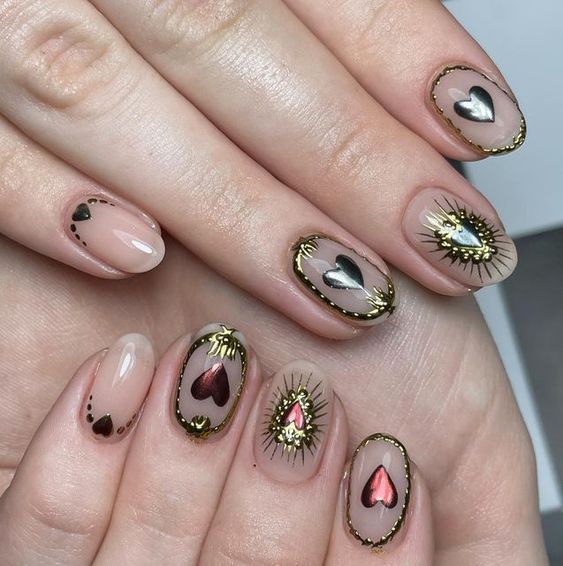 I love the regal aesthetic of these witchy nails. They kind of remind me of intricately designed tarot cards too for some reason.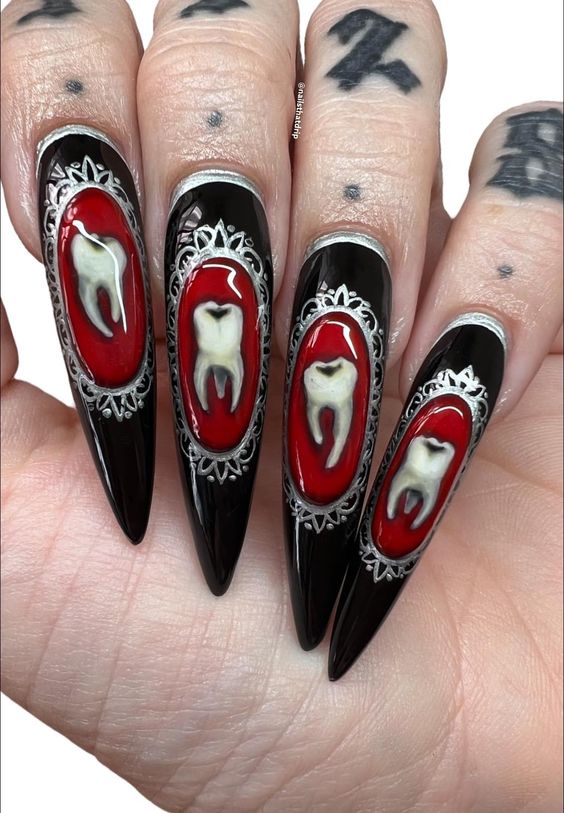 For something a little creepy that'll spook your friends, these toothy, witchy nails would be perfect for you! You can be some kind of a witchy version of a tooth fairy.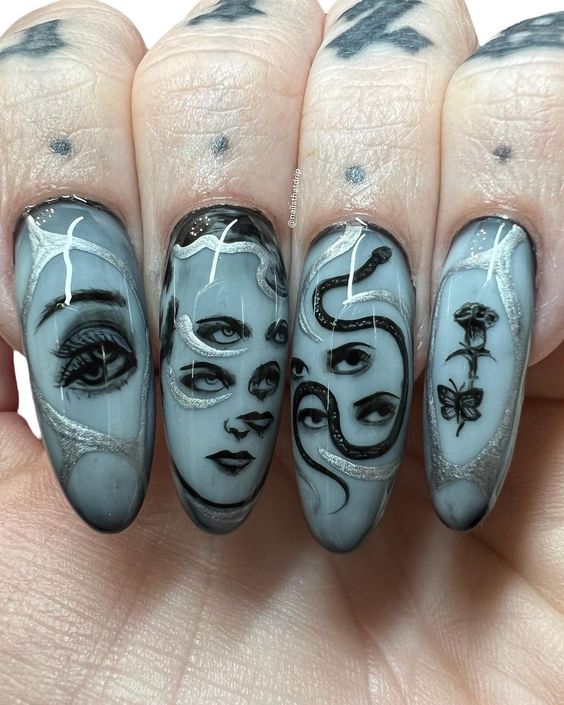 The artistry of this witchy set of nails is utterly amazing! Made by @nailsthatdrip from Instagram, you can get her to do your nails if you want something similar! Definitely another favorite of mine on this list.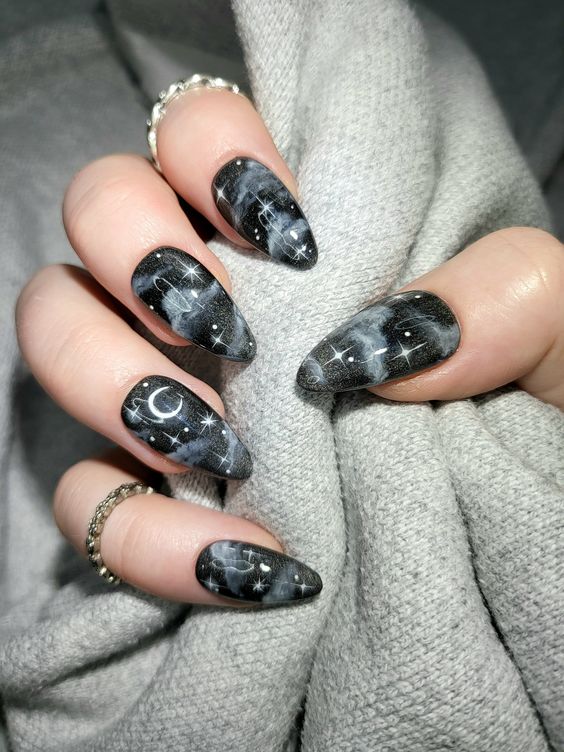 I love the soft matte finish on these witchy nails. Not to mention, the attention to detail to achieve that gorgeous starry night sky for your nail art.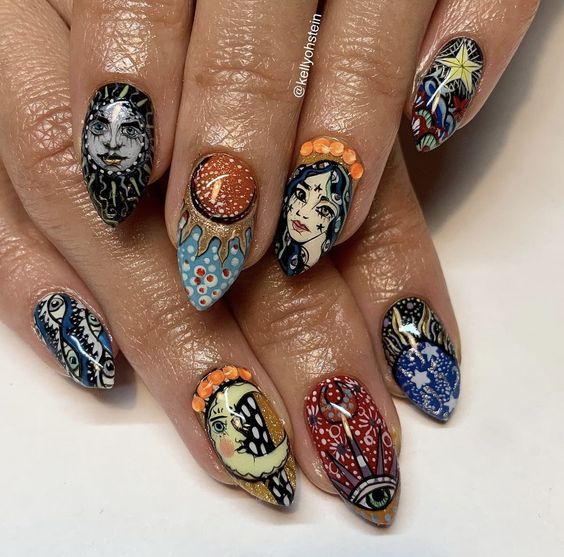 Aside from the amazing artistry on these witchy nail art, these nails also somewhat remind me of tarot cards. Imagine making affirmations and manifestations on the tips of your fingers, so cool!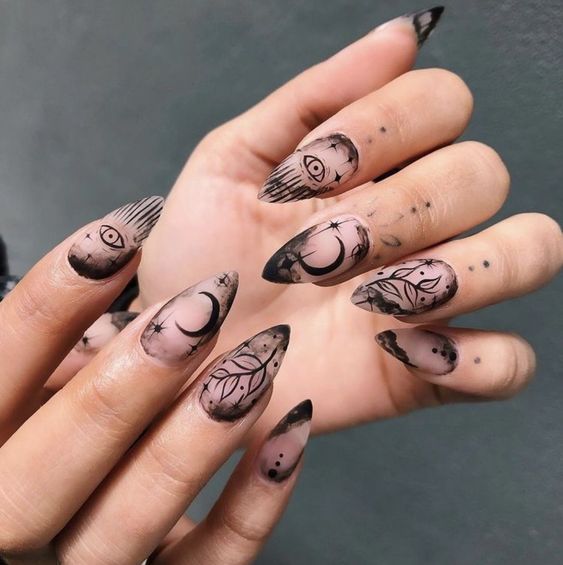 There's such an ominous and spooky vibe with this particular witchy manicure. But when you're making your special brews, these nails would look utterly gorgeous!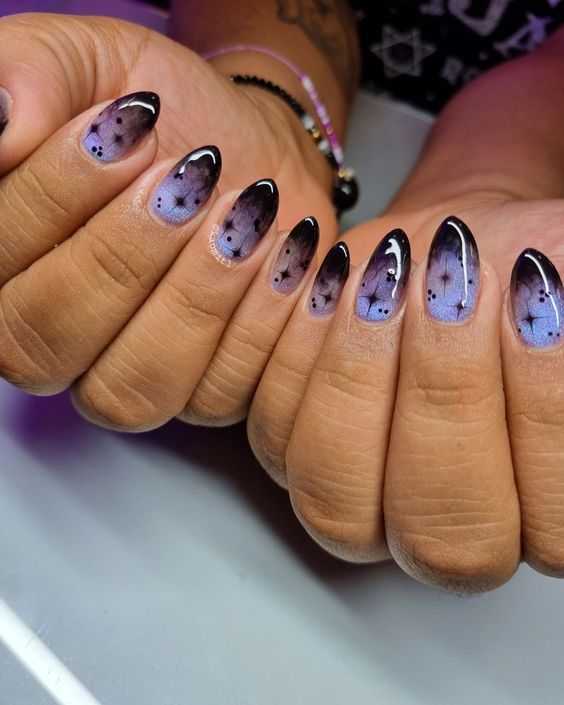 I'm loving the gradient effect on this witchy manicure. It looks somewhat similar to a French manicure but with a witchy twist.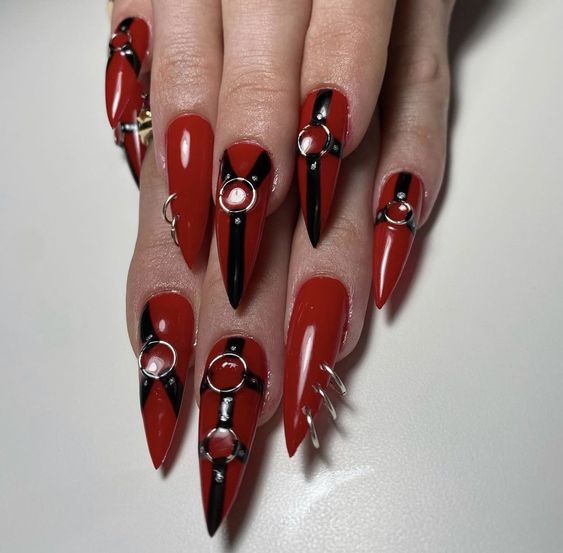 Red is such a power color. To make it even edgier and sexier, you can opt to use these embellishments and details for a rather witchy aesthetic.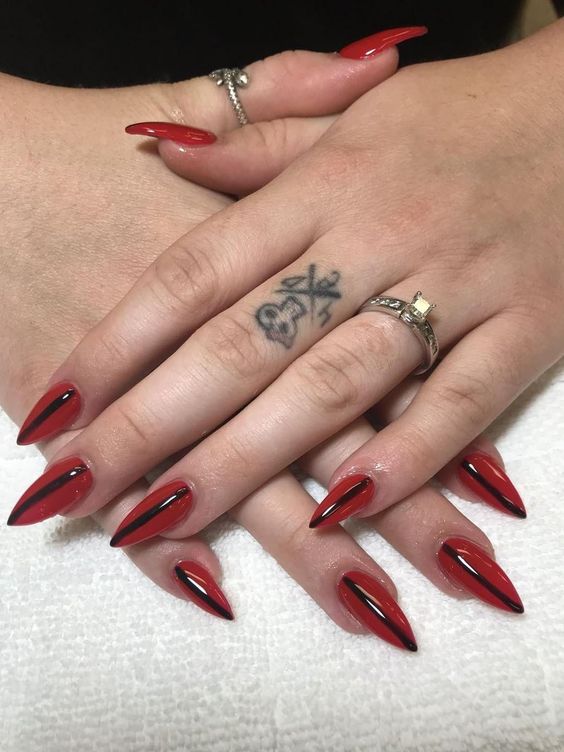 Here's another red, witchy manicure you might love. This one's a lot simpler with just a clean and chic line in the middle of your base coat.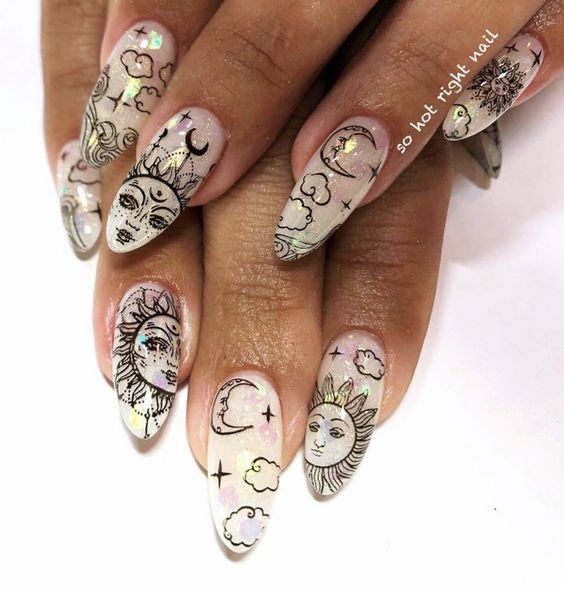 If you want to mix a quirky yet ethereal aesthetic, you'll surely love this one! These celestial patterns are so cute against an iridescent base coat.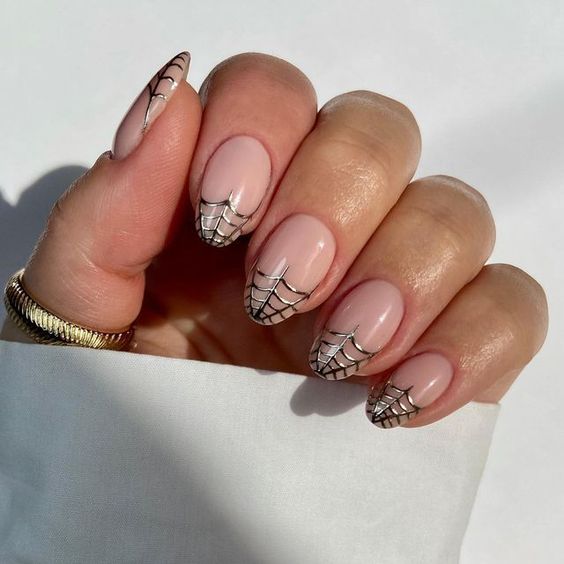 Cobwebs are just part of a witch's aesthetic. And this one gives you a classy and sophisticated version of cobwebs on your nails.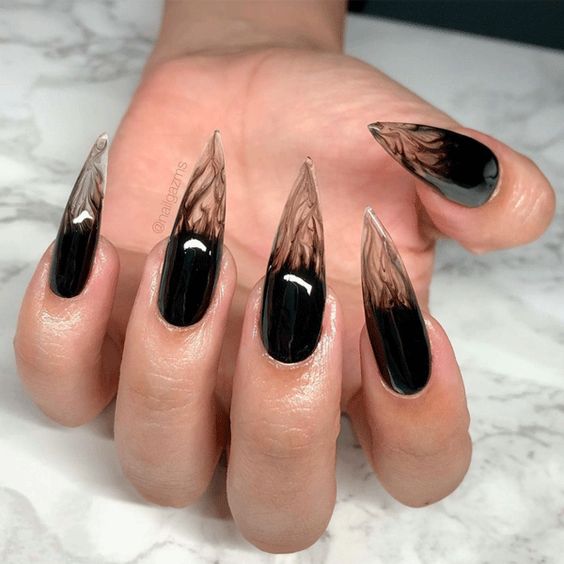 The smoky black nail art on these witchy nails reminds me of when witches in movies are whipping something up from their cauldrons. So spooky!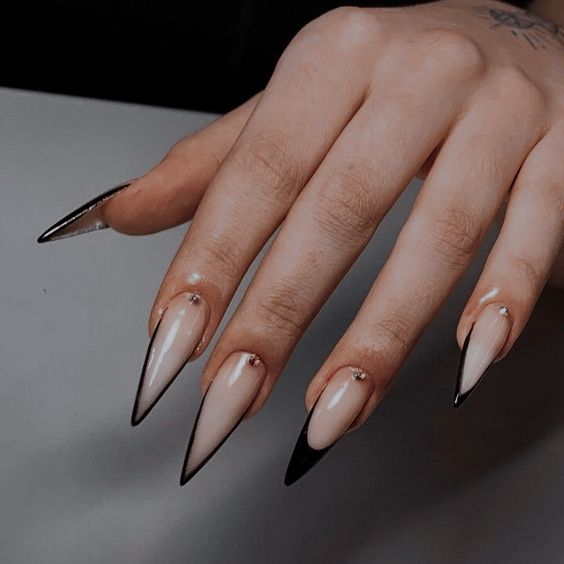 If you want a witchy set of nails that are going to give you a sophisticated and classy look, these are perfect for you!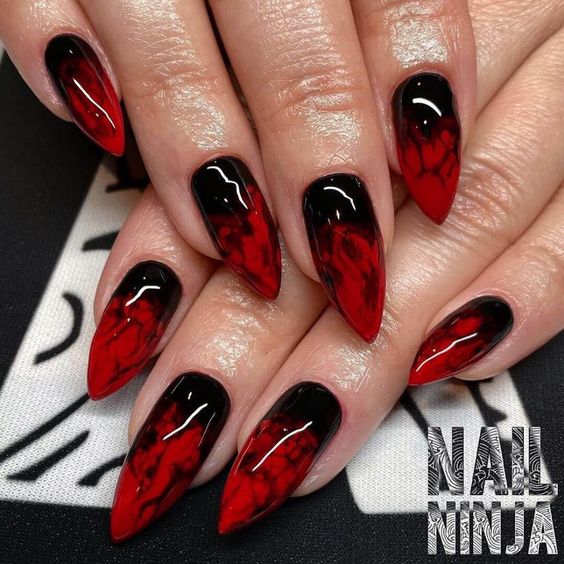 The combination of red and black on these nails are so gorgeous! It looks effortlessly sexy and the pointy shape of the nails gives it a more femme fatale vibe.
If you like the look of extra long nails, here's a witchy design you might like! You can opt for a moth or a butterfly nail art that's large enough to span across three of your nails while keeping the rest a simple color.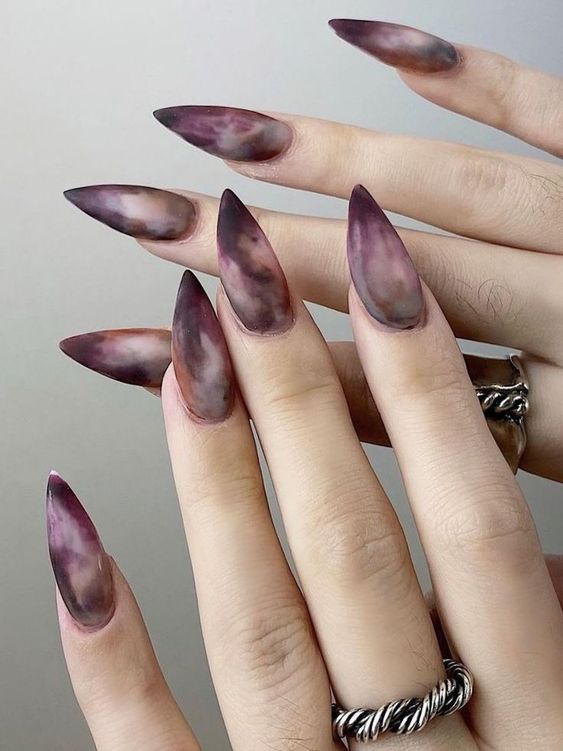 Don't mind the fact that these witchy purple nails kind of look like bruises. In a way, they also look like a fog of gorgeous purple hues around your nails.