Are you ready to relish in the magic of Barbie's timeless style? Well, get ready to be swept away on a wave of pink and playful fashion that's true to the Barbiecore aesthetic! This collection of Barbie outfits will not only make you feel nostalgic but actually look cute in real life!
I know many of us must be so excited about the live-action Barbie movie premiere. Personally, I've been heavily anticipating it ever since the first teaser for the film dropped. As someone who grew up playing Barbies and watching its animated films, my inner kid is certainly jumping for joy. Not to mention, I'm already making a list in my head of the potential Barbiecore outfit ideas (because I go crazy with my aesthetics after a good movie).
Today, we are diving headfirst into the enchanting world of Barbie! I'll be bringing you a curated collection of super cute Barbie outfits to copy for the vibrant and trendy Barbiecore aesthetic. Get ready to embrace your inner doll as we explore a gorgeous array of Barbie-inspired fits that will leave you feeling nothing short of fabulous!
Whether you're a devoted Barbie enthusiast or simply seeking some inspiration to elevate your wardrobe, I've got you covered with this list of trendy and adorable looks that scream Barbiecore! Get ready to mix and match, experiment with colors, and accessorize like there's no tomorrow.
Keep scrolling to find a treasure trove of fashion inspiration that will ignite your creativity and have you channeling Barbie's signature charm in no time!
What is Barbiecore?
What exactly is Barbiecore, you ask? It's a fashion movement that pays homage to the iconic doll we all know and love! It celebrates her signature style and infuses it with a contemporary twist. Think vibrant hues (mostly shades of pink), dazzling patterns, and whimsical accessories that transport you to a world of endless possibilities and boundless fun!
In essence, Barbiecore is all about embracing your individuality. Breaking free from fashion norms, and stepping into a realm where hyperfeminity reigns supreme!
From charming pink dresses that exude pure femininity to edgy jumpsuits that command attention, this collection will show you the full spectrum of Barbie's captivating style! Each outfit is carefully picked to showcase the versatility of Barbiecore and provide you with endless inspiration for your own fashion adventures.
Barbie Outfits To Copy For The Barbiecore Aesthetic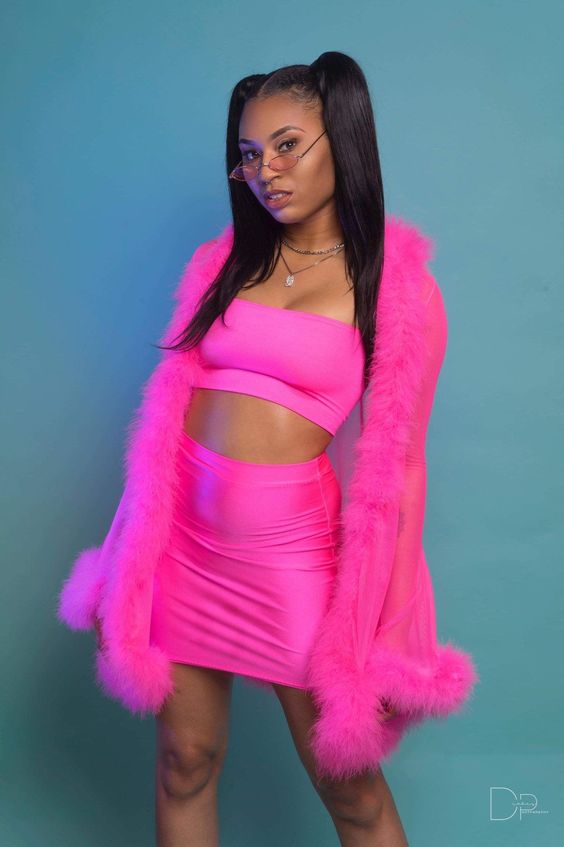 Starting off with a quintessential Barbiecore outfit, this ensemble is perfect for both day and night events! The furry jacket is sure to keep you warm if you wear this in the cinema to watch the Barbie movie too!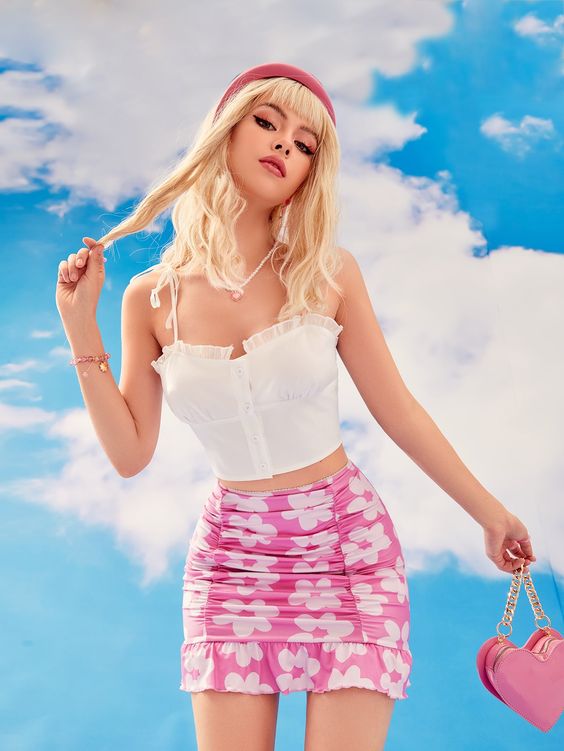 Perfect for both springtime and summertime, this Barbie outfit idea is utterly adorable! You can toy with vibrant hues of pink with white accents to keep an understated yet still youthful vibe!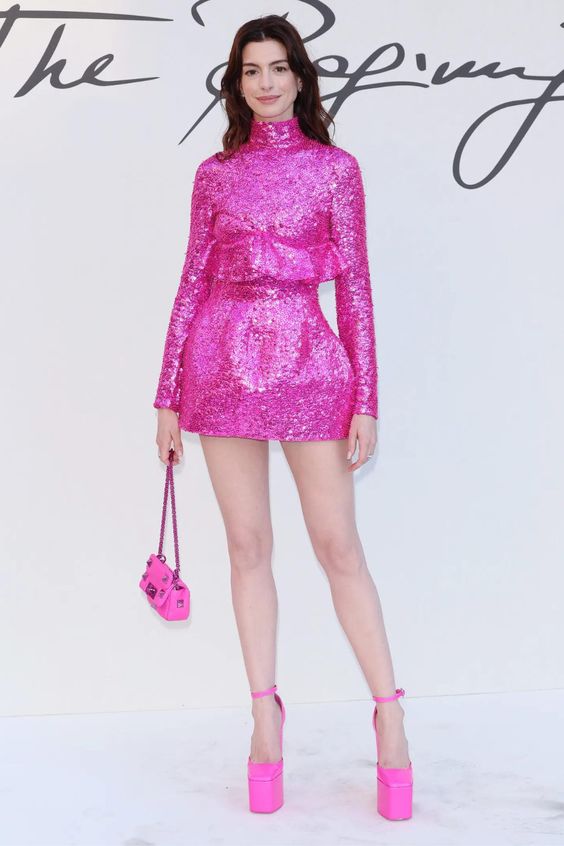 There's no denying that Anne Hathaway is one of my biggest style inspirations all my life. So when she wore this hot pink Valentino ensemble to an event, I just instantly fell in love. I love the different textures used for each pink detail to create interesting dimensions!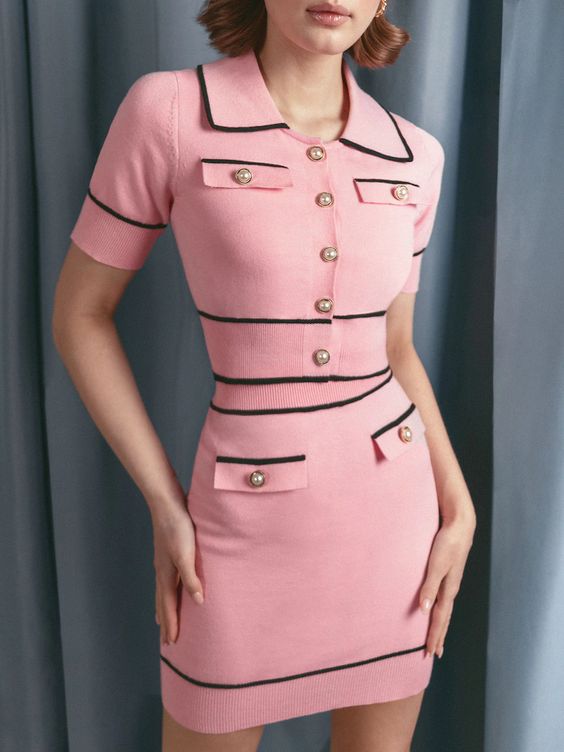 Looking for Barbie inspired outfits that are a bit more classic? If you prefer something timeless with a softer shade of pink, then this outfit is for you! It actually reminds me a little of vintage Chanel ensembles.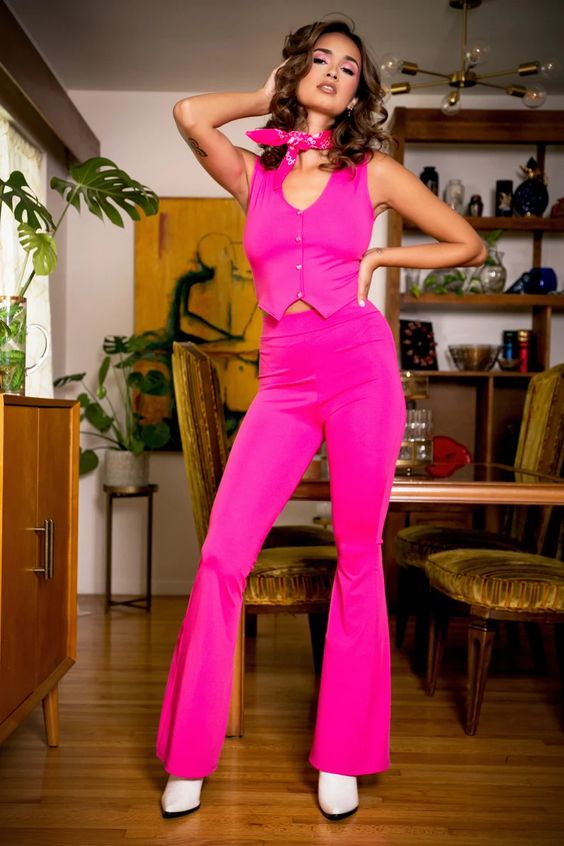 Embrace your inner Barbie cowboy with this hot pink outfit! I could totally imagine myself wearing this throughout the summer season. It's so much fun to look at and probably even more fun to wear!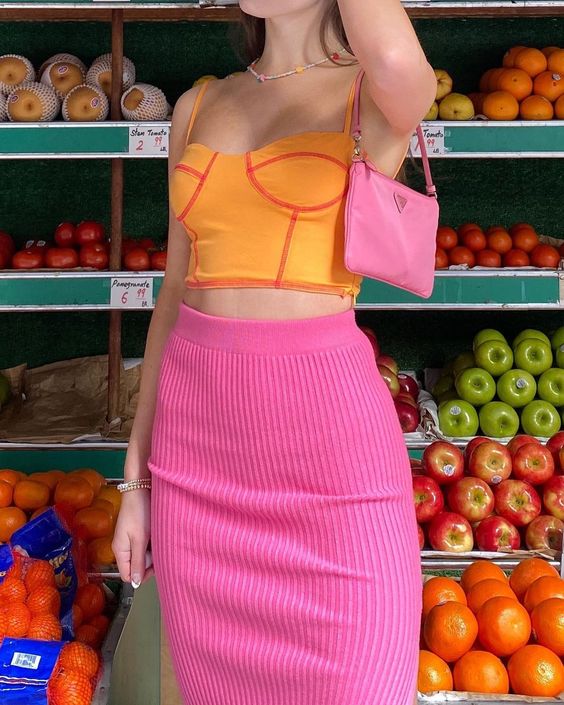 This Barbie-themed outfit is so summery! Whether you're going for brunch with friends or getting away to some beach town for a well-earned vacation, this outfit is perfect for that! I just love the vibrant contrast and combination of pink and orange!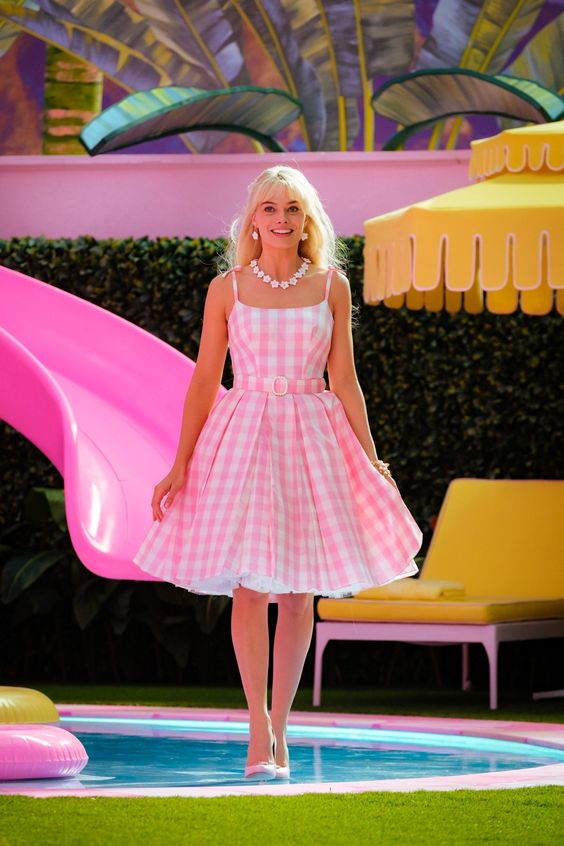 Straight out of the Barbie movie, this soft pink gingham dress is so quintessential Barbie! I love the vintage aesthetic and it's also an outfit perfect for daytime events! This is one of my favorite timeless Barbie outfits for the summer.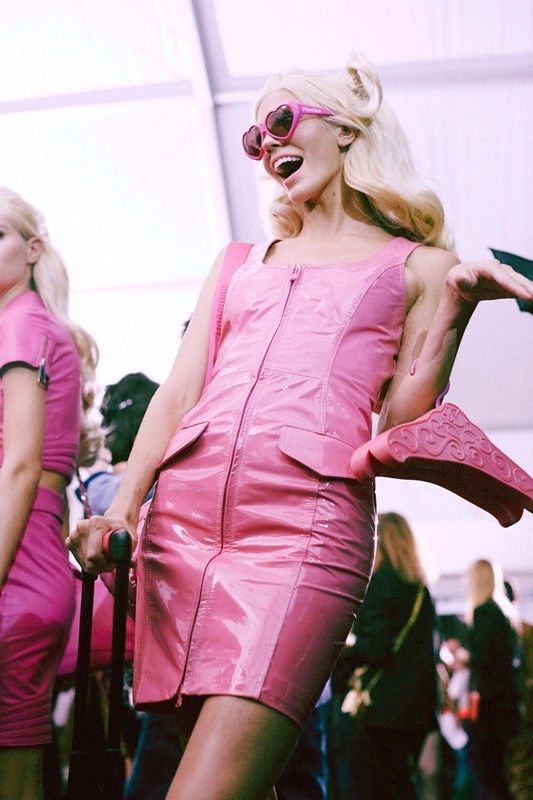 For something a little edgy while still keeping in touch with your feminine side, this pink leather mini-dress from Moschino is all you need! In addition, this would totally pair well with a pair of knee-high patent boots in the same color!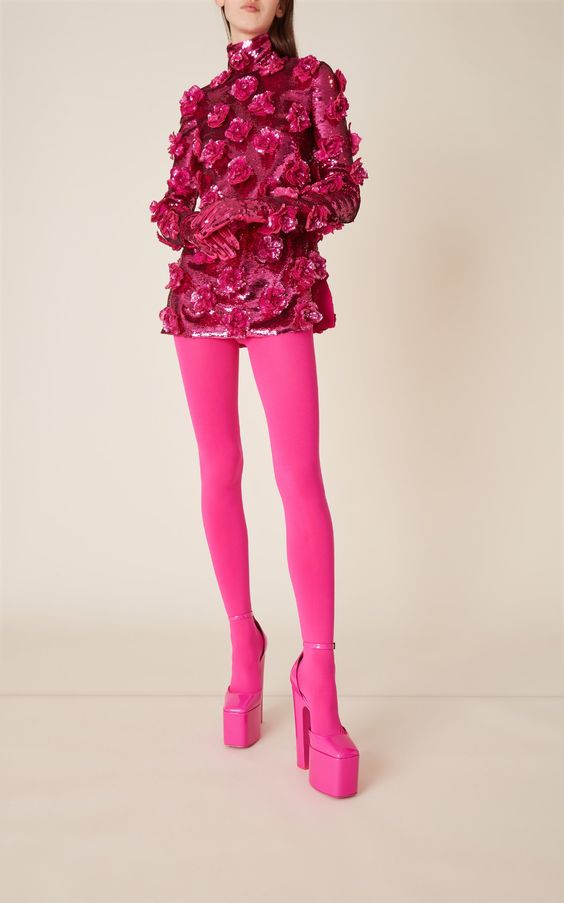 One of my favorite Barbie outfits on this list is this hot pink floral ensemble! I am utterly in love with the pink platform heels too! If you want to show off your legs, you can ditch the leggings.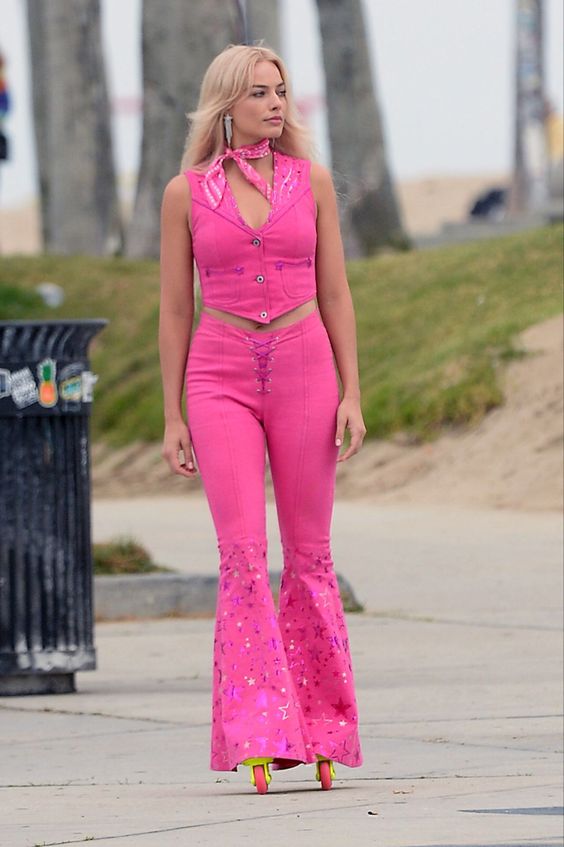 Another outfit inspo from the Barbie movie is this cowboy-esque outfit Margot Robbie wore in one of the scenes. I'd say to pair this with some hot pink cowboy boots but rollerblades are fun too!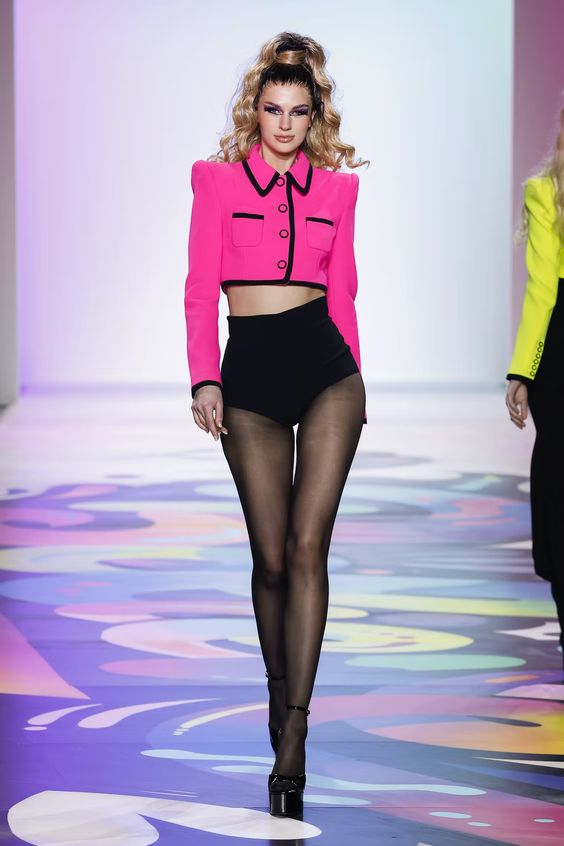 Another favorite of mine on this list is this vintage Barbie-inspired outfit from Sergio Hudson! It's sexy, it's flirty, and it has that timeless appeal Barbie always had!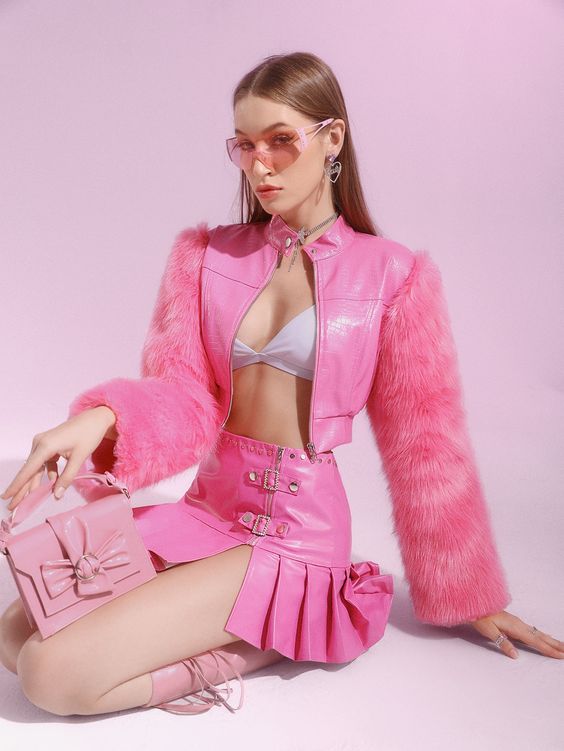 If you're looking for something that has a youthful, trendy Y2K aesthetic, then this puffy jacket ensemble is just for you! Match it with a bright pink miniskirt and accessories and you're good to go! This is one of my favorite edgy Barbie outfits, especially with the jacket.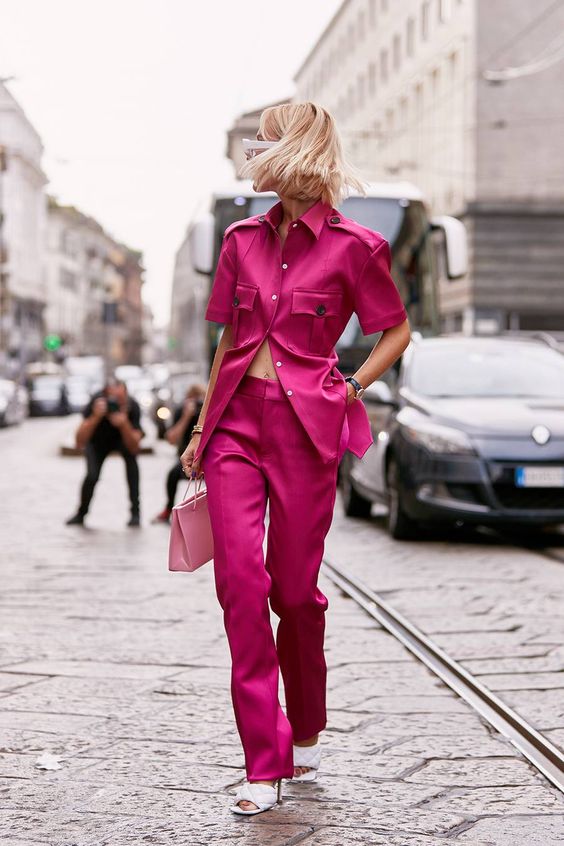 Looking for Barbie inspired outfits with pants? I'm loving this hot pink semi-formal attire! It's such a bold pop of color. Not to mention, this would look so cool when you're out and about in the city or simply going to the office! This is one of the more underrated Barbie fits that you can wear out and about.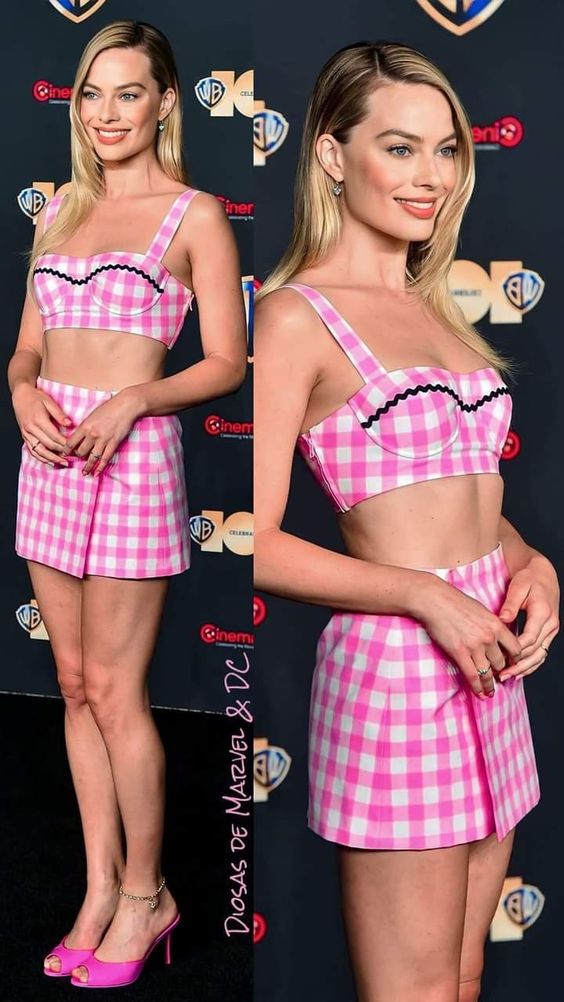 If you've been following Margot Robbie's red carpet appearances for the Barbie movie, then you'll know that all her Barbie outfits so far truly embody Barbie. A fun, summery outfit is this gingham ensemble!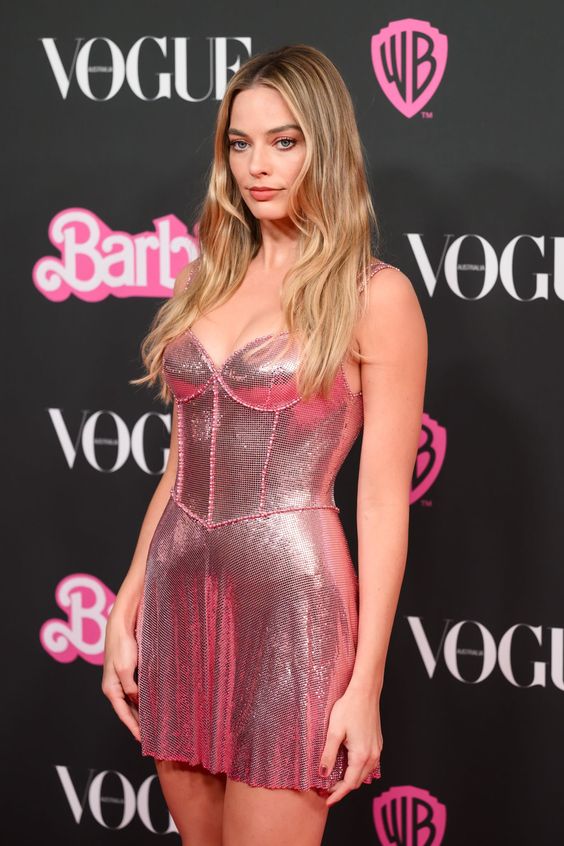 If you're looking for a Barbiecore outfit that's a little more glam and elegant, you can't go wrong with this sparkly number! I am obsessed with the metallic pink sheen of this cute outfit! I can just imagine wearing this on a night out with my friends.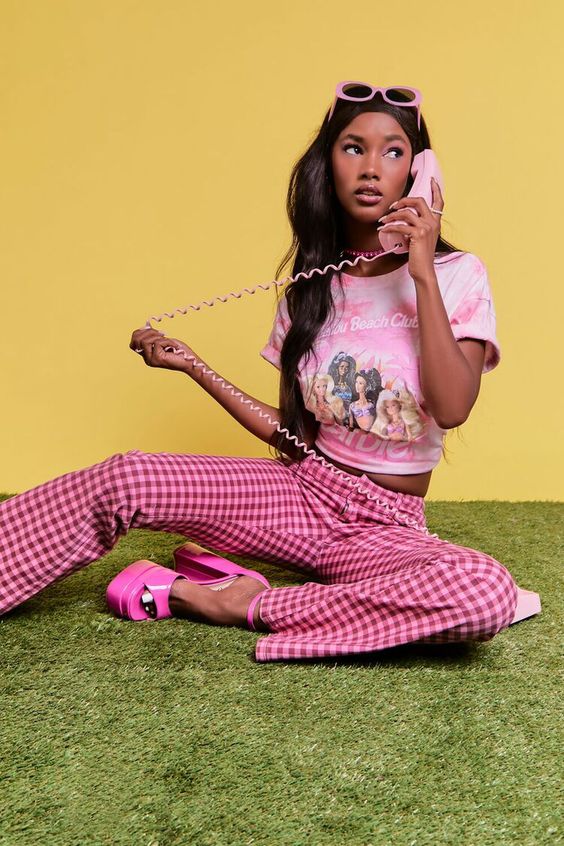 If you're looking for something comfortable to wear while still maintaining that Barbiecore aesthetic, then this outfit is something to consider! I'm honestly loving the plaid pink pants and the cropped Barbie top.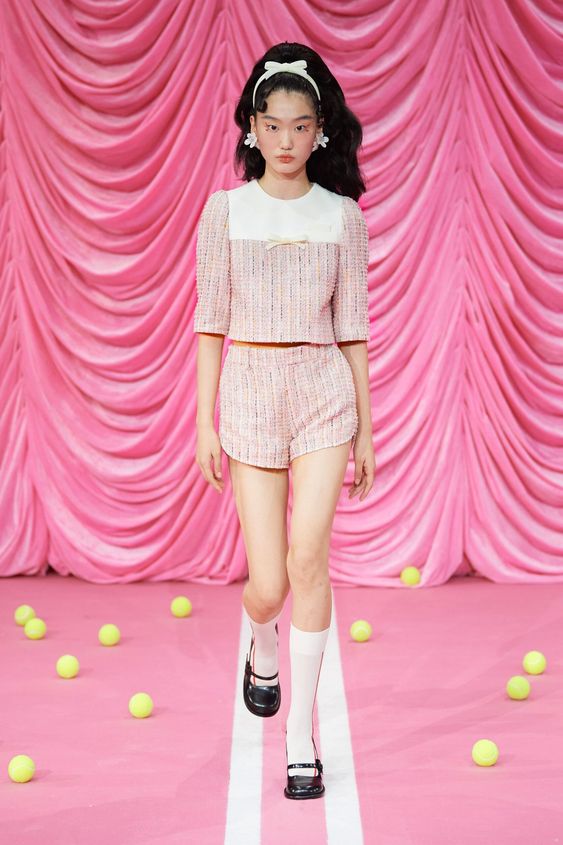 A mixture of coquette aesthetic and Barbiecore might just be my summer look for this year. I honestly love the clean-cut preppy look and the use of pink shades for a more feminine touch.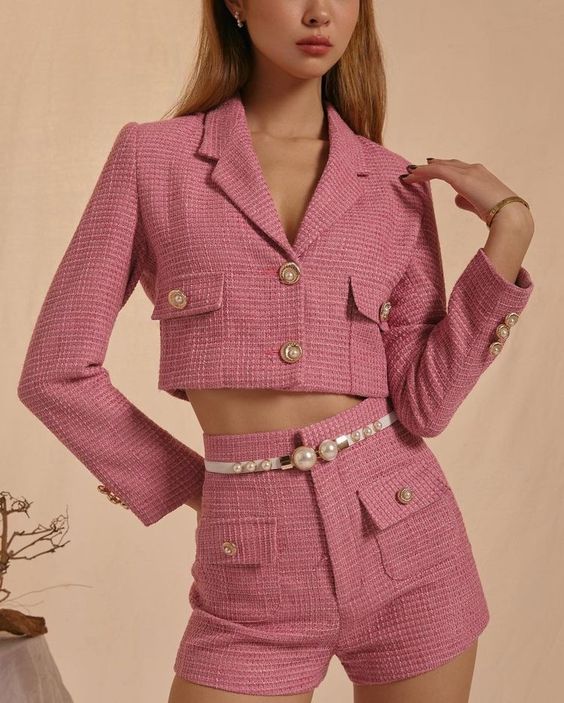 Here's another coquette-inspired Barbiecore outfit! It's such an undeniably gorgeous and timeless outfit that you can wear all year long.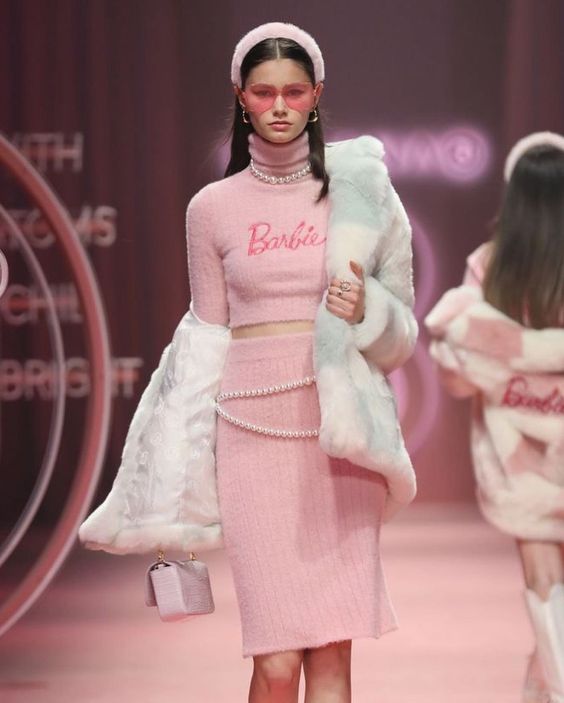 If you're looking to make your Barbiecore outfit look a bit more fancy, then why not take some inspo out of this particular outfit? It has that timeless Barbie logo paired with some dainty accessories as well as a fur coat. This is one of my favorite winter Barbie outfits, too.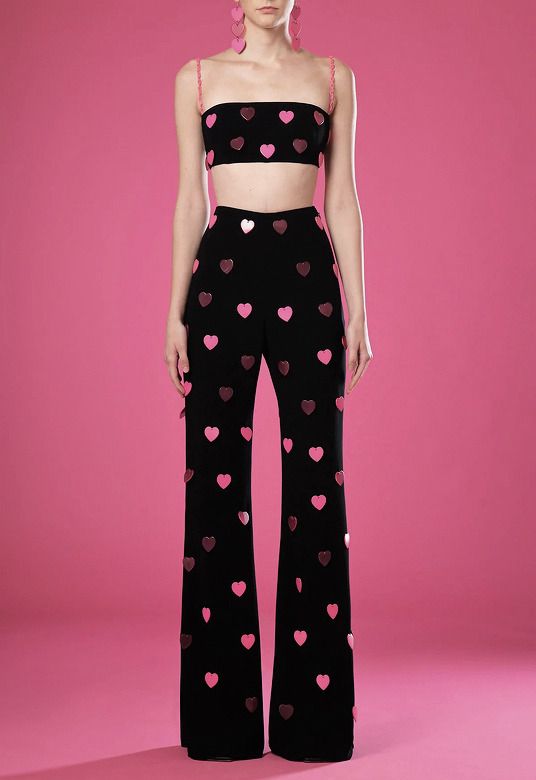 Pink and black are some of my favorite color combinations ever and this outfit is utterly too cute to resist! It's such an ideal outfit for the summer and those dainty heart patterns are so adorable!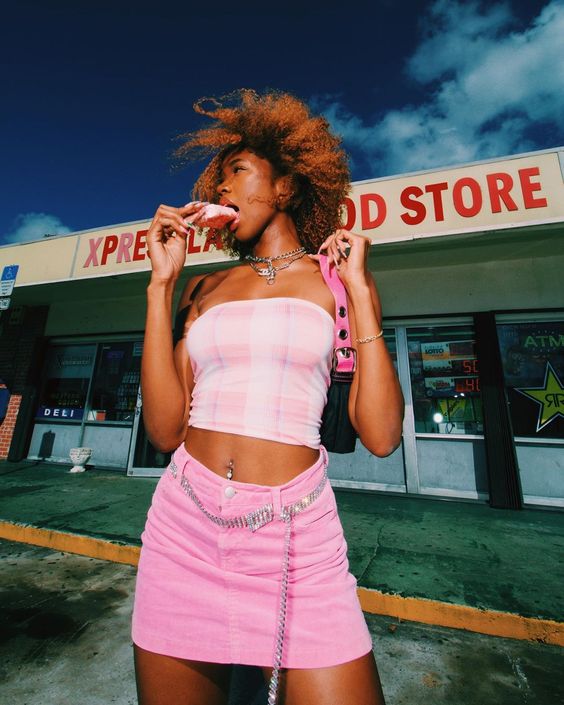 When in doubt, you can always opt for a simple cropped top and a miniskirt combo for your Barbiecore outfit. You can pick different shades of pink to still keep things on theme.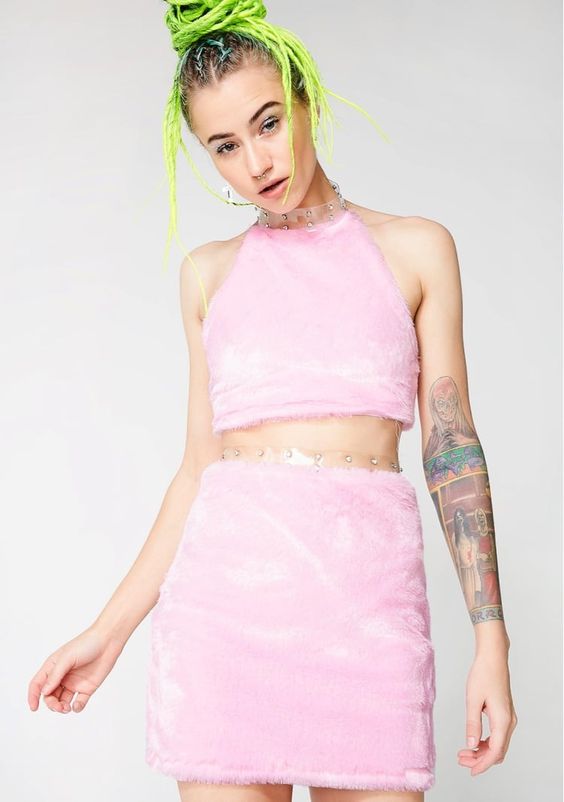 I'm loving this pastel pink ensemble! It's cute and it's utterly trendy! Not to mention, this look would be so perfect for a wintry, Barbie outfit.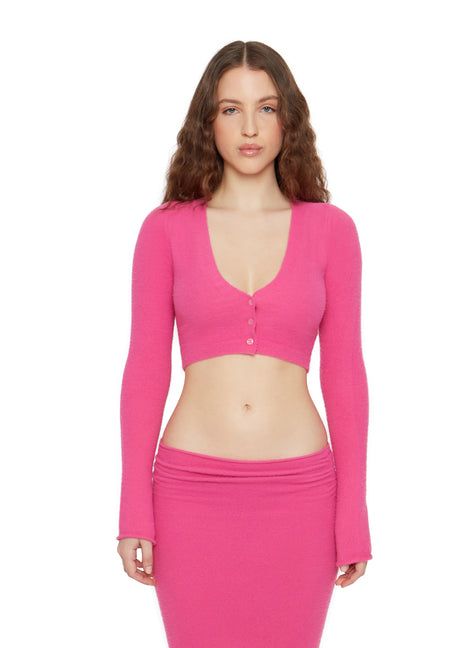 I've been obsessed with these blouse and skirt combos these days. If you're like me and you want to incorporate that Barbie aesthetic into this ensemble, then I highly recommend getting this in hot pink hues!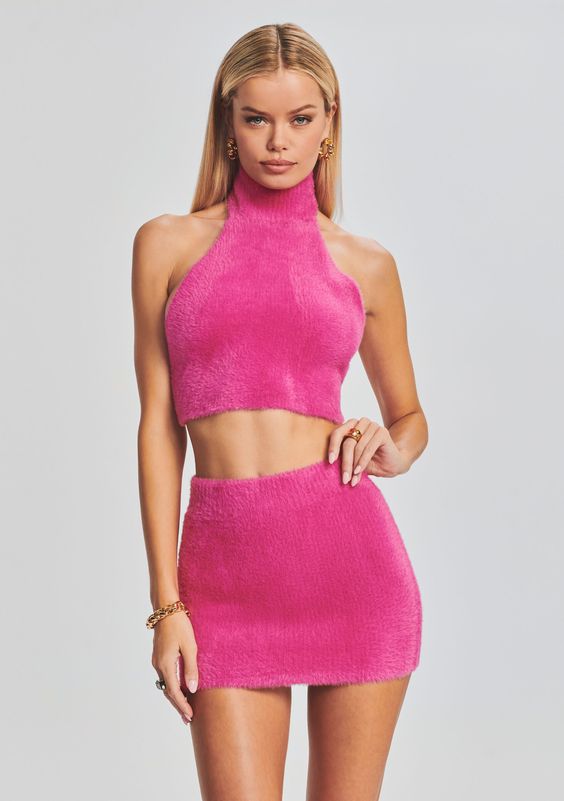 This fuzzy and chunky hot pink outfit is so much fun to look at! It's vibrant and it's so summery! It reminds me of those popular bimbo videos that are trending on Tiktok these days.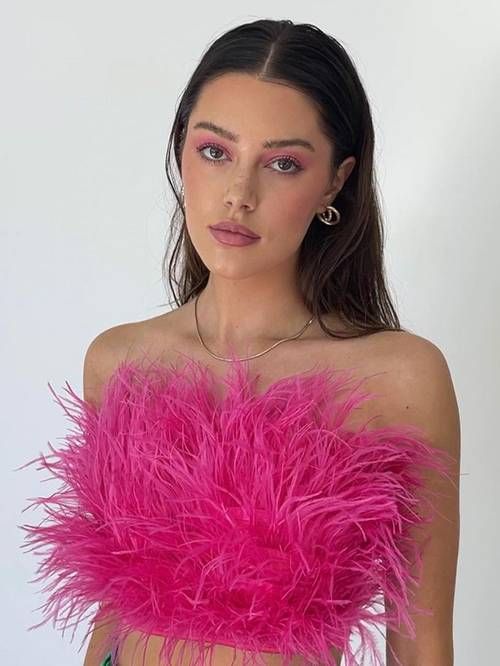 If you're looking for a Barbiecore outfit to wear during the holidays, this fuzzy, hot pink top is just perfect to make things a lot more festive!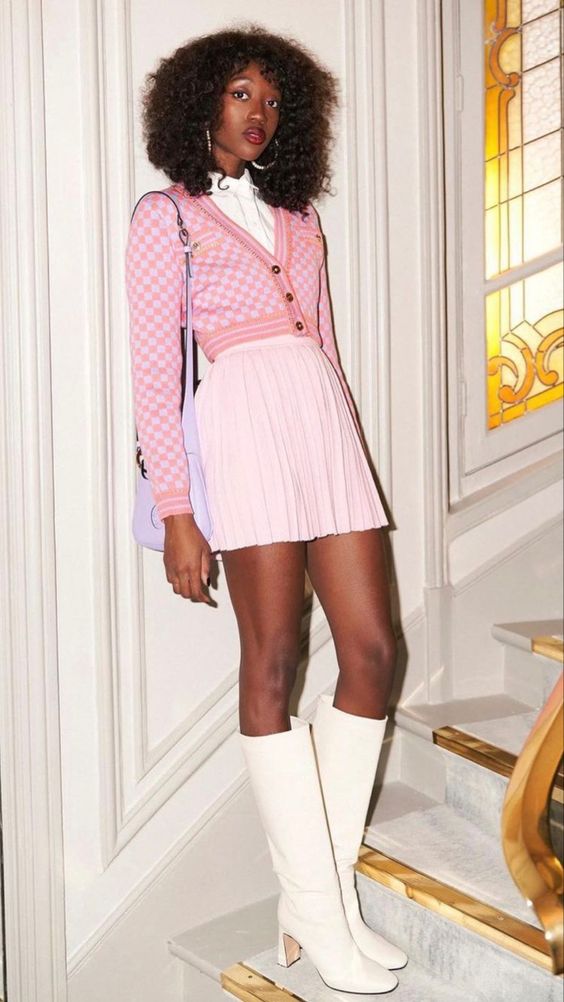 Whether you're looking for a Barbie-inspired coquette look or just simply want to spruce up your current preppy wardrobe, this style is for you! Another favorite of mine, this is such a cute look to get that light academia aesthetic as well!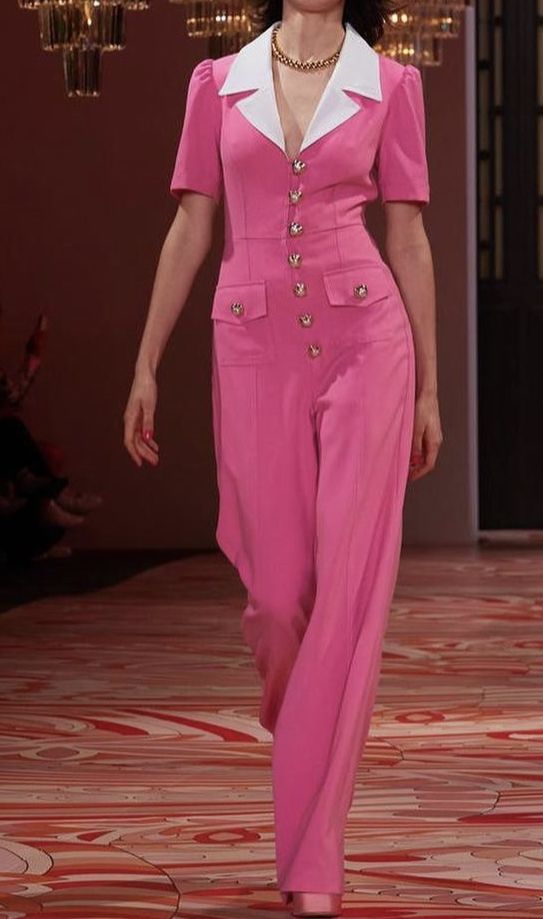 Who says your Barbie outfit can't be a girlboss too? For all the office girlies out there, this Barbiecore corporate attire is so much fun to wear!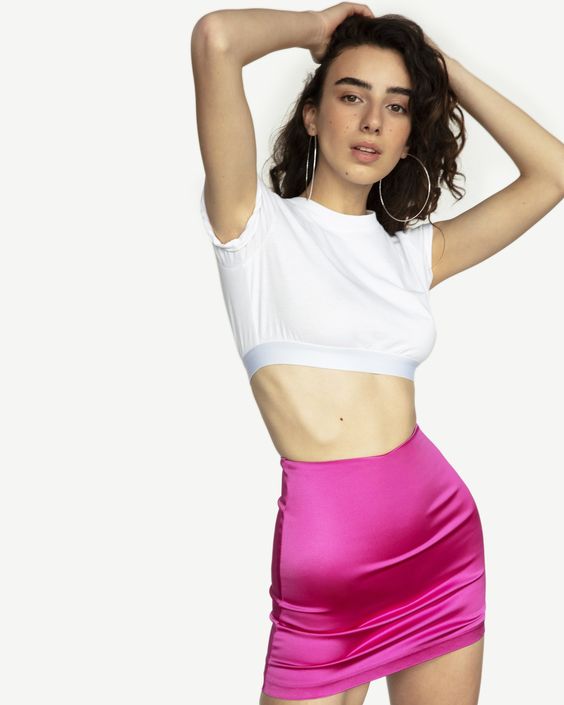 Sometimes when you're doing bold colors like hot pink, it's best to pair them with something a little more simple or understated like this cropped basic white tee. This will make your hot pink accents pop even more!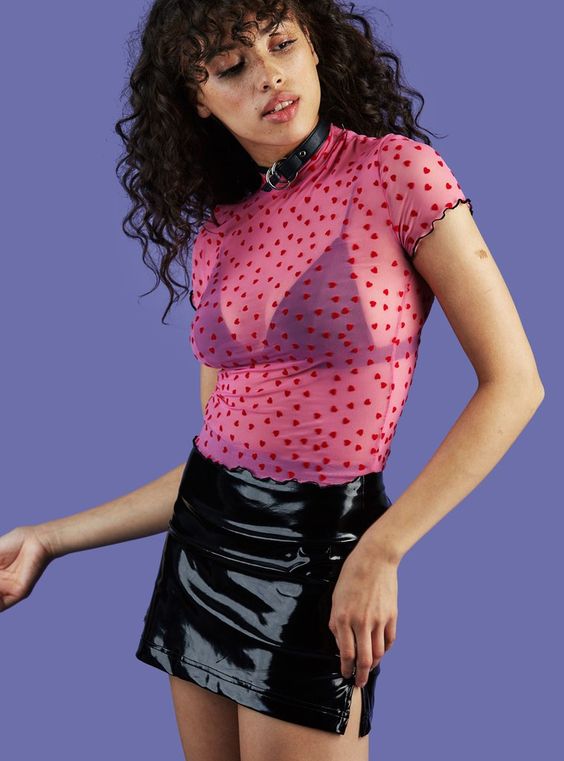 This see-through pink shirt is everything to me! I love it so much, especially paired with this shiny, leather miniskirt. It gives it that edgy touch so effortlessly.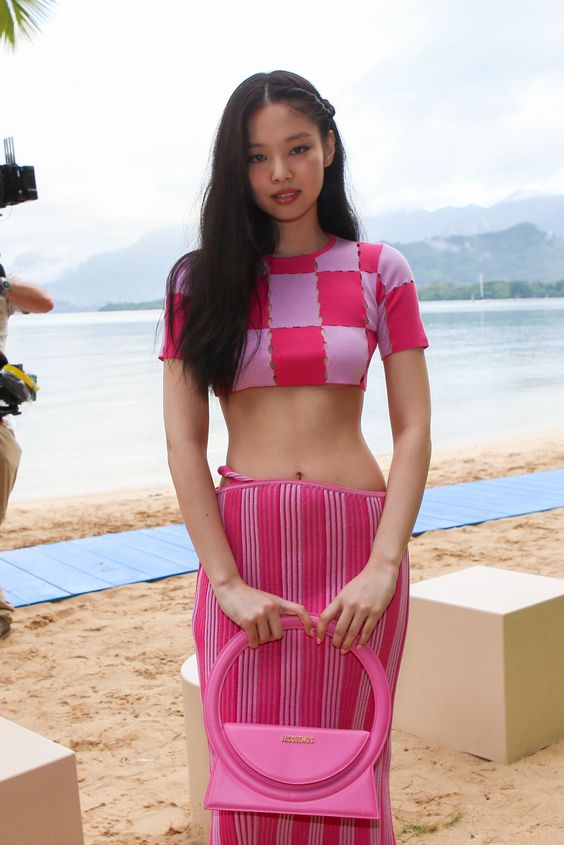 If you want to be as fabulous as Blackpink's Jennie, then you should definitely take a page out of her style aesthetic! Her Barbiecore ensemble during this particular event is one of my favorite looks on her!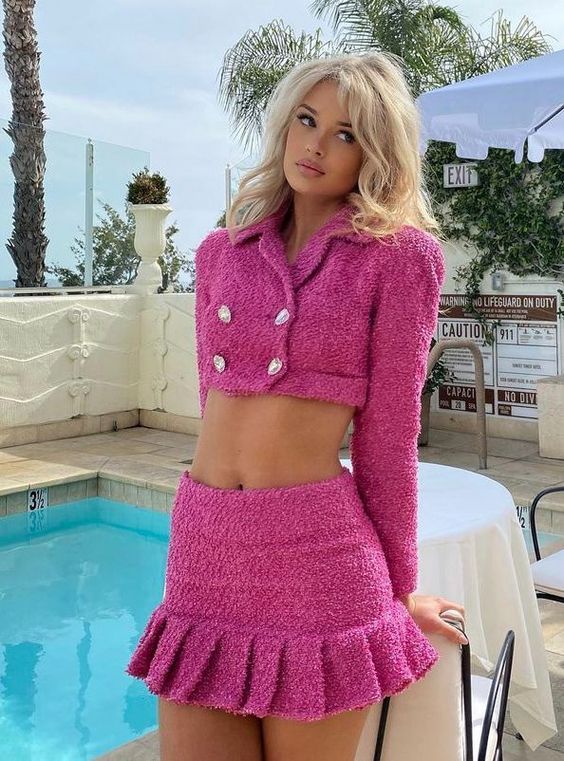 This hot pink coquette look is both cute and classy with a touch of sexiness. It's still very feminine and elegant without losing the fun and flirty aesthetic Barbie always have.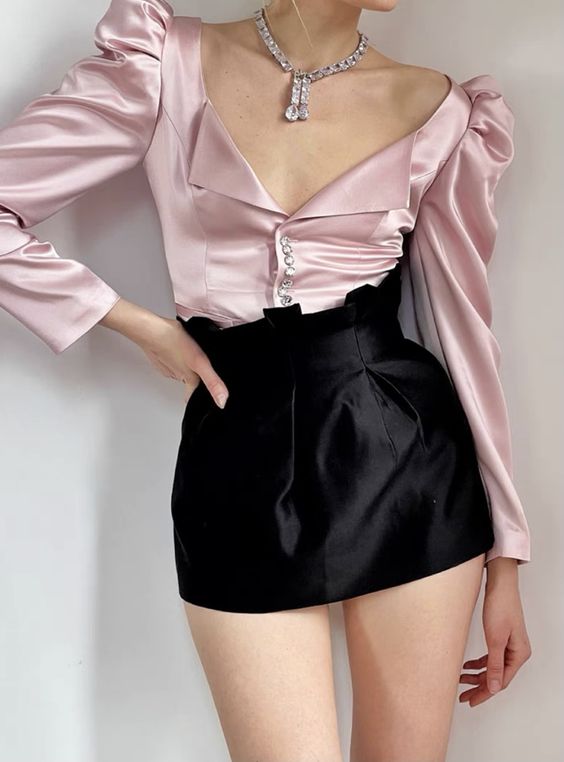 If you're not too fond of hot pink and prefer lighter or more muted colors while wearing something a lot more classy for your Barbiecore outfit, this ensemble is for you!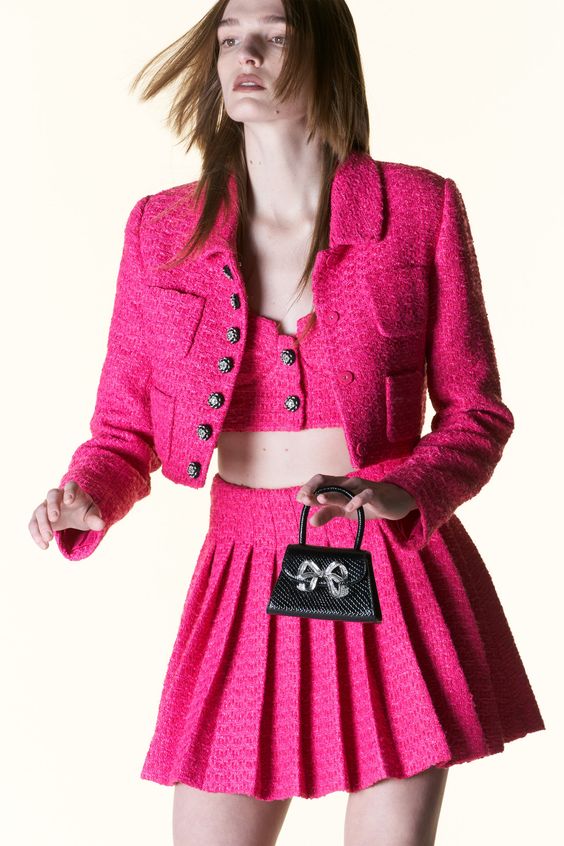 This hot pink tweed ensemble is absolutely to die for! It's such a bright, vibrant color that really captures the essence of Barbiecore. I love how even the inner blouse matches the monochrome hot pink of the tweed coat and skirt.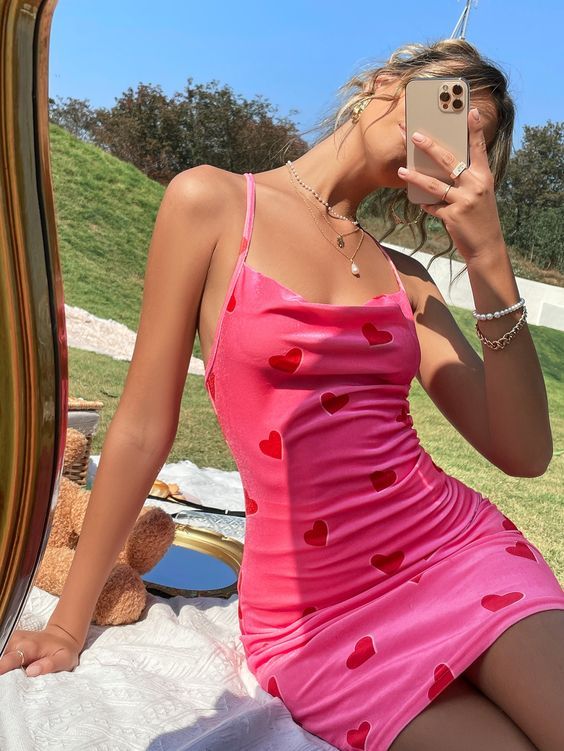 You already know that Barbiecore is going to dominate the summer of 2023. So it's no surprise that hot pink mini sundresses like these are sure to be everywhere! This is one of the cutest Barbie outfits by far for the summer.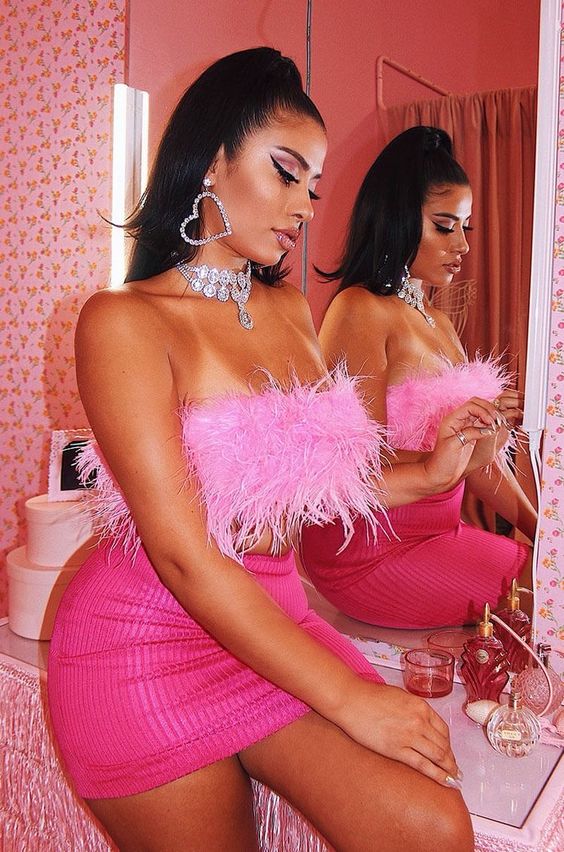 Looking for Barbie fits with a little something extra? Just in time for the holidays, there's no better way to show off your new Barbiecore aesthetic. You'll surely be the center of attention during the festivities!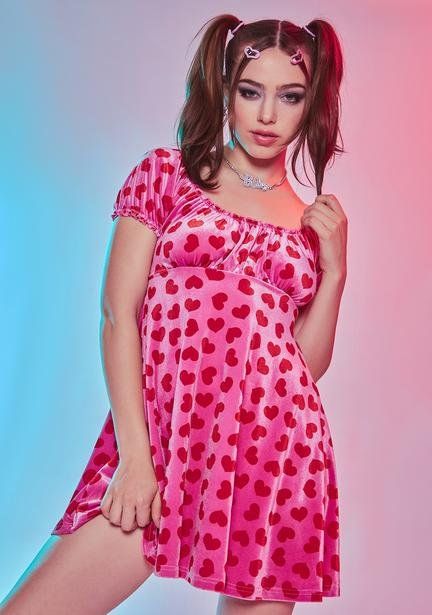 Even if you're just going to be lounging all day long, that doesn't mean you can't dress up and still live your Barbie dreams at home. Not to mention, this hot pink, heart-patterned lounge dress is utterly adorable!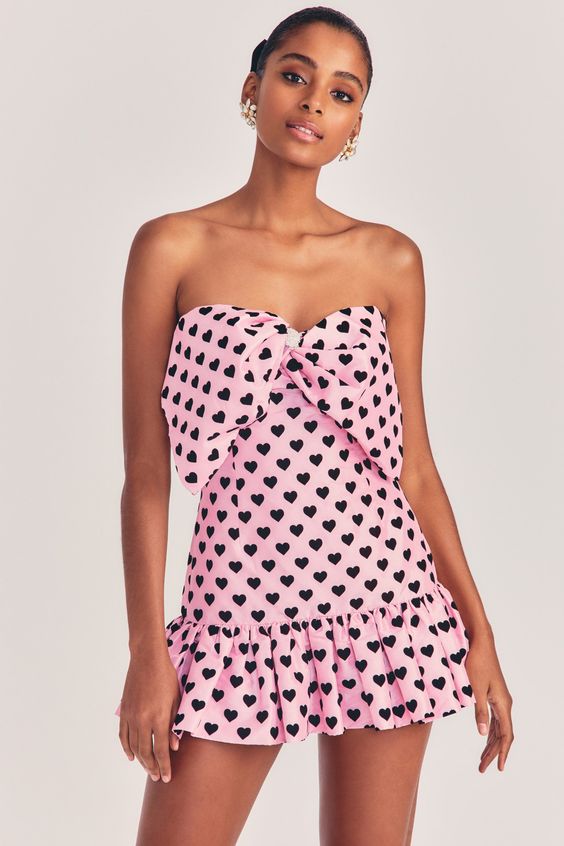 Just how cute is this soft pink, bow dress? The little black hearts all over the dress makes it even more adorable! Aside from perfectly fitting the Barbiecore aesthetic, this is a dress that could also be ideal for romantic dates or evening events.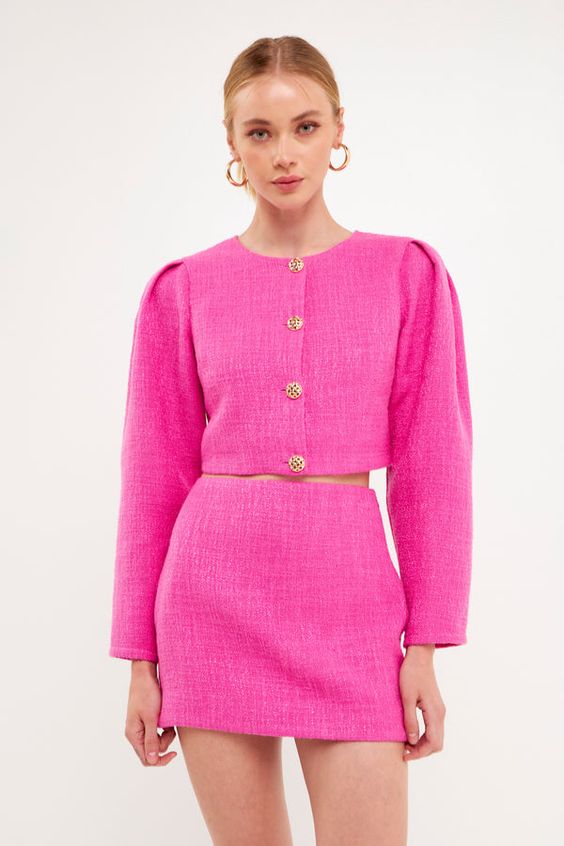 For something a bit more formal while staying true to the Barbiecore aesthetic, this hot pink ensemble is everything you need! Whether you're a girlboss working your way up the corporate ladder, own a small business, or simply love the look of formalwear, this is perfect for you. This is one of my favorite Barbie outfits to use for work-wear inspiration.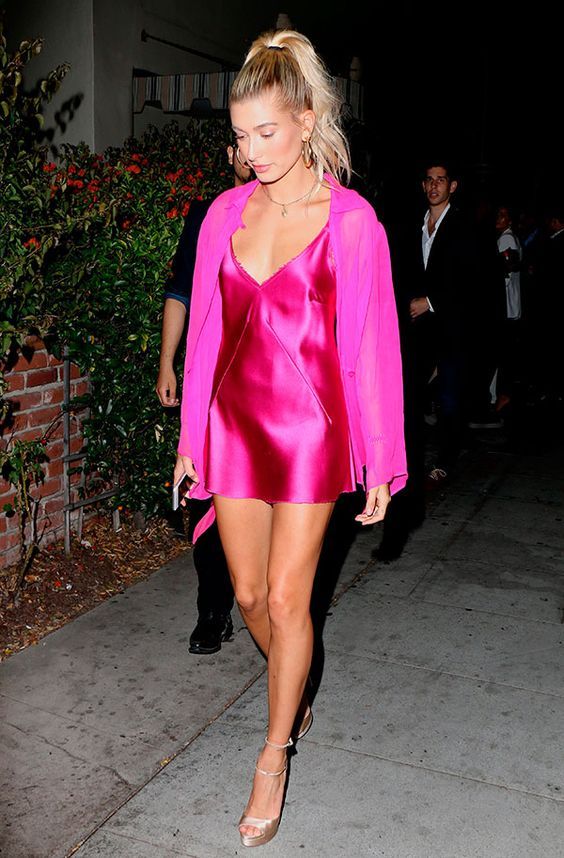 Even celebrities nowadays seem to be getting into the Barbie trend this summer. Just look at Hailey Bieber sporting this gorgeous hot pink, mini dress!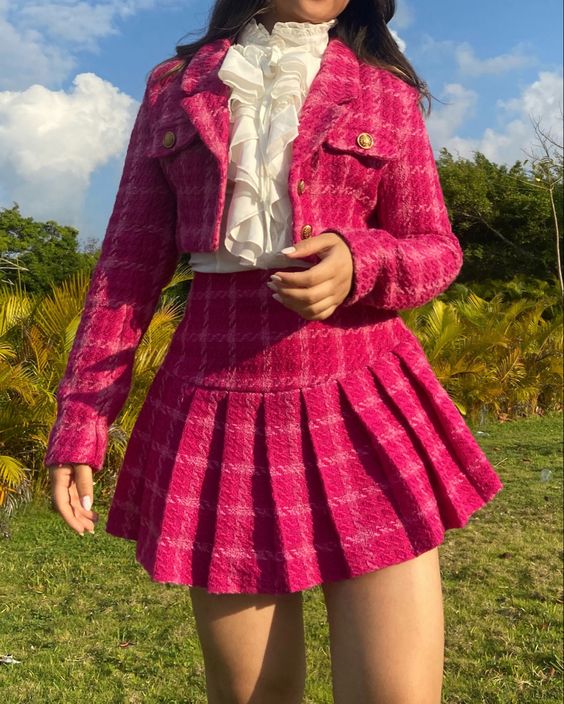 There's just really something about a coquette-inspired Barbie ensemble. It looks so effortlessly sophisticated and elegant. If you like the light or dark academia look but want to participate in the Barbie craze, this outfit is perfect!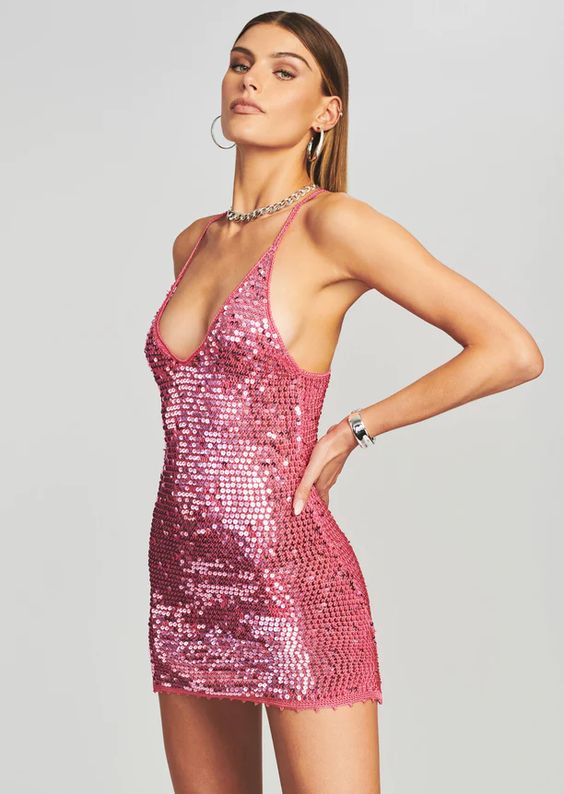 I'm sure you've seen the disco scene from the Barbie trailers. If that put you in a dancing mood and you're looking to recreate that vibe with your own Barbiecore dress, this outfit is worth considering!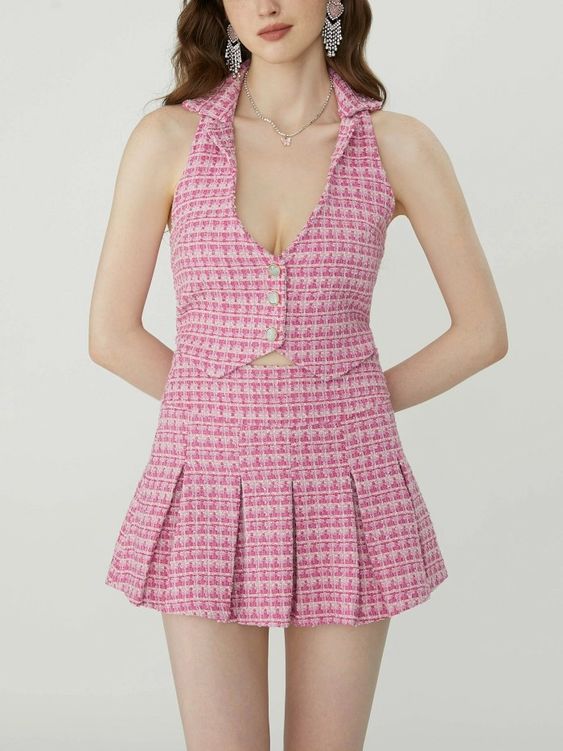 I love the softness of this particular shade of pink on this tweed ensemble. It's so preppy, girly, and so youthful! You can even pair it with a blouse to put beneath the vest if you want something with more cover.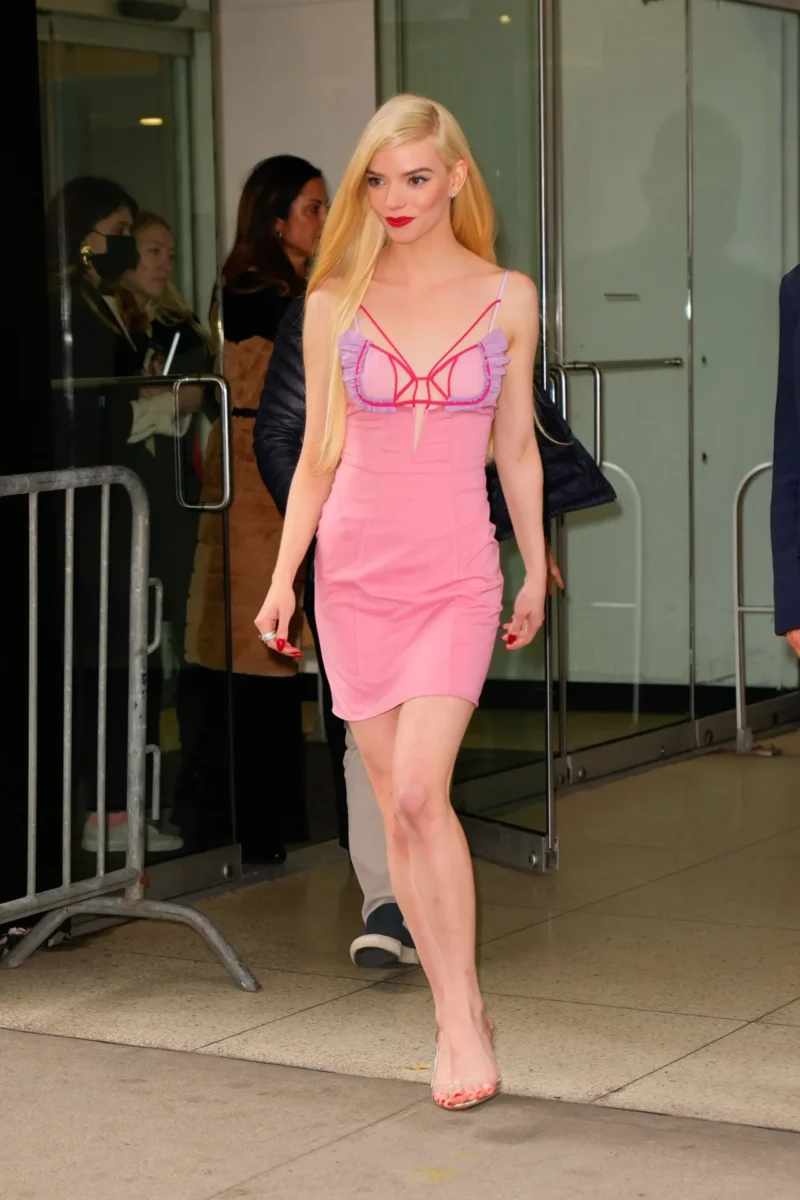 Without a doubt, Anya Taylor Joy has become one of my style inspirations since I watched her in The Queen's Gambit. So when I saw her sporting this gorgeous pink dress along with her long, beautiful, blonde hair, I automatically thought of Barbie.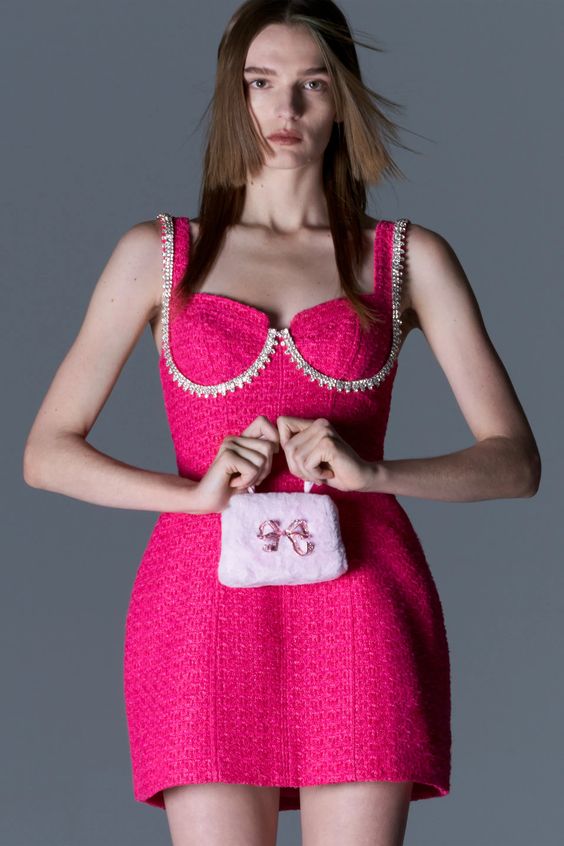 Is it just me or is this dress giving me Blair Waldorf vibes? But in a Barbiecore kind of way. Either way, I'm obsessed with the understated elegance in this hot pink dress. Who says fun, bold colors can't be classy?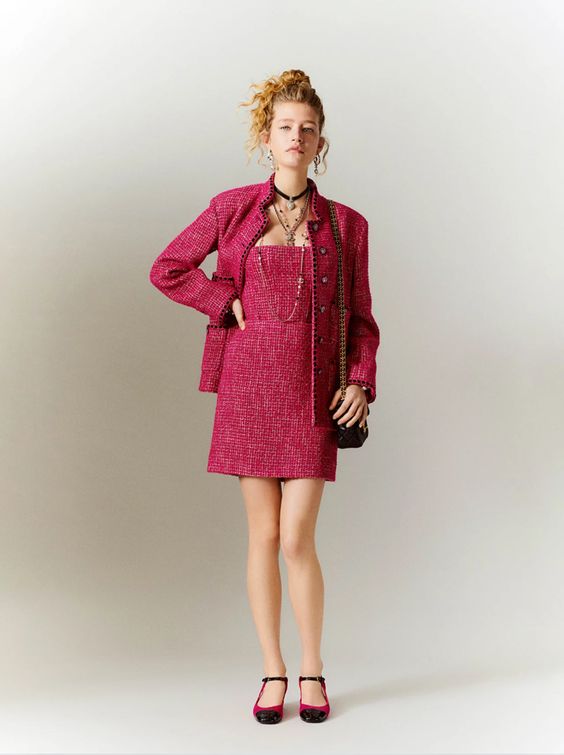 Having an office job that requires you to wear formal attire doesn't have to mean boring. You can still add a touch of Barbiecore into your wardrobe by wearing something similar to this type of outfit! I gotta say I love this deeper shade of pink!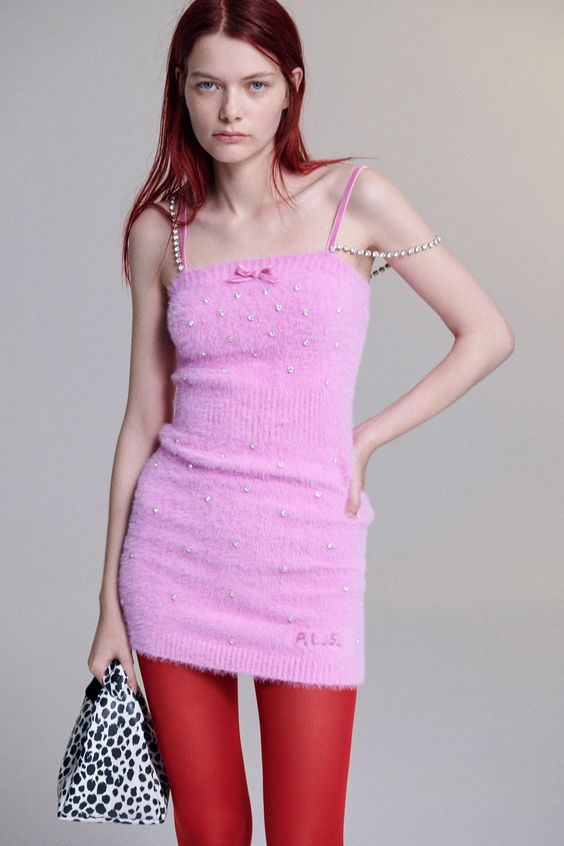 When it comes to mixing and matching colors, red and pink are definitely on top of my list! I love how the pastel pink dress contrasts so gorgeously against the deep red shade of the legging on this Barbie outfit!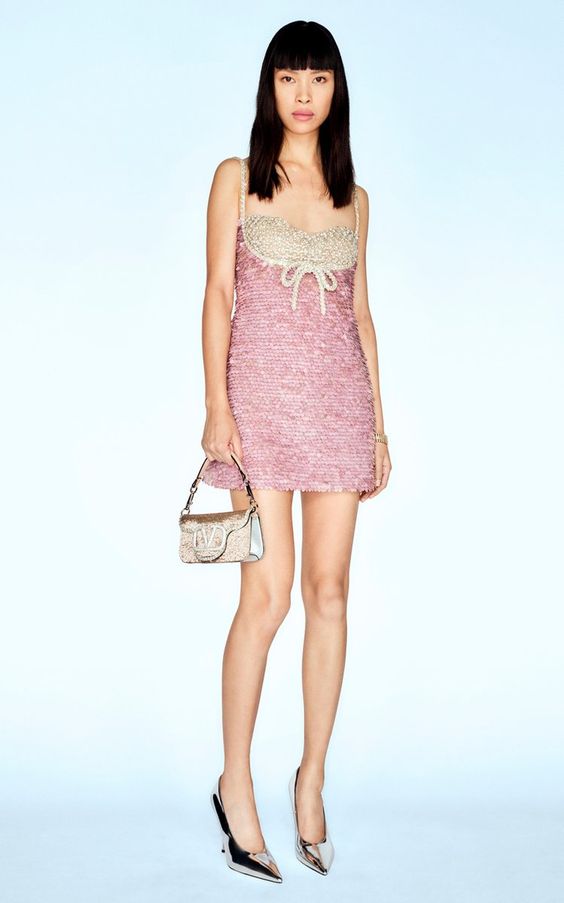 Out of all the mini-dresses on this list, this sparkling outfit has got to be one of my favorites! I love how feminine and dainty it looks! You'll surely be shining and shimmering everywhere you go.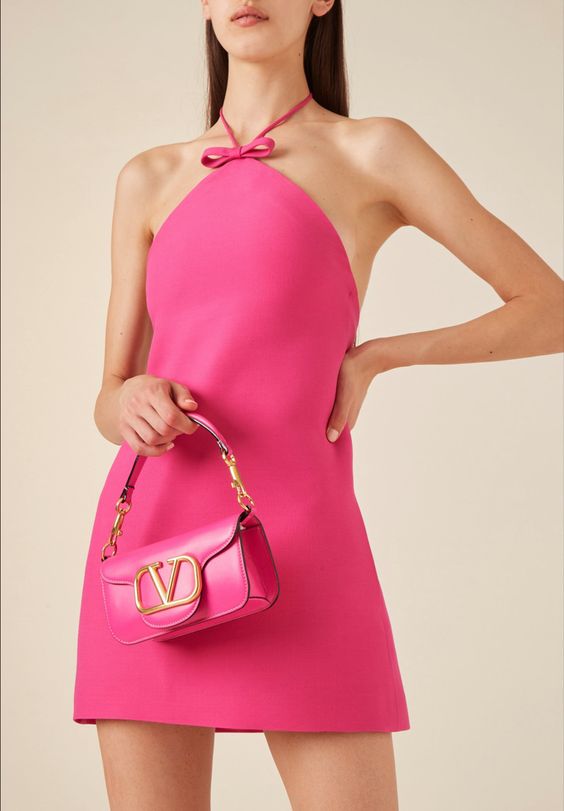 If your movie date to the Barbie premiere is someone special, why not wear something a little more romantic like this simple, hot pink dress? The little ribbon around the halter neck gives this outfit such a dainty, feminine touch.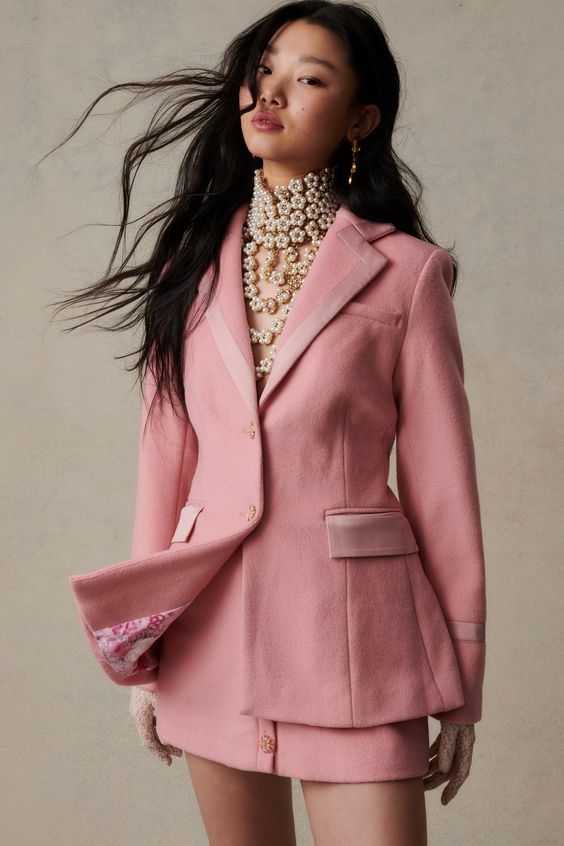 If you're looking for something a little more formal without compromising your hyperfeminine aesthetic, this is the attire for you! I just love the pearl accents around the neck, giving this whole ensemble so much sophistication!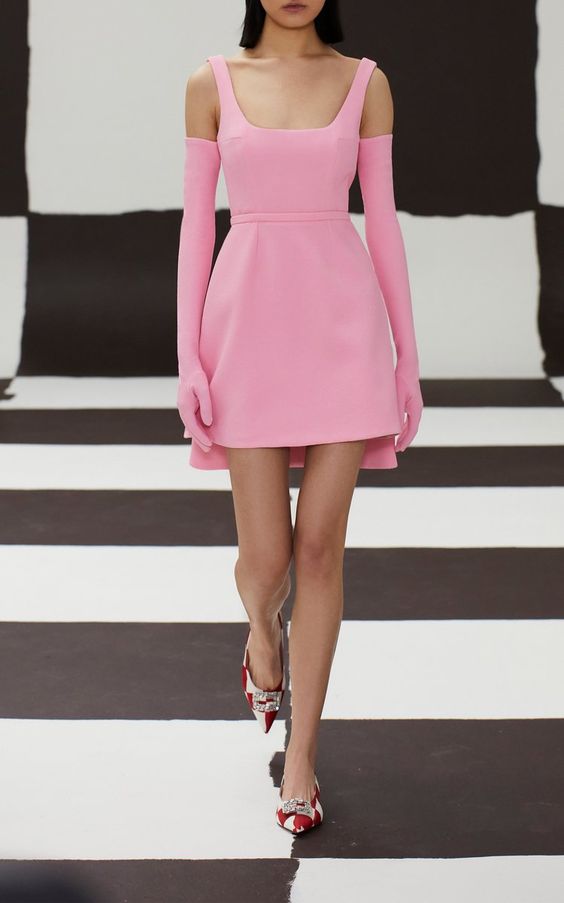 I'm utterly obsessed with the gloves used on this outfit. It's such a huge throwback to the vintage Barbies I used to see. Not to mention, this kind of outfit will give you a look of understated elegance and timelessness.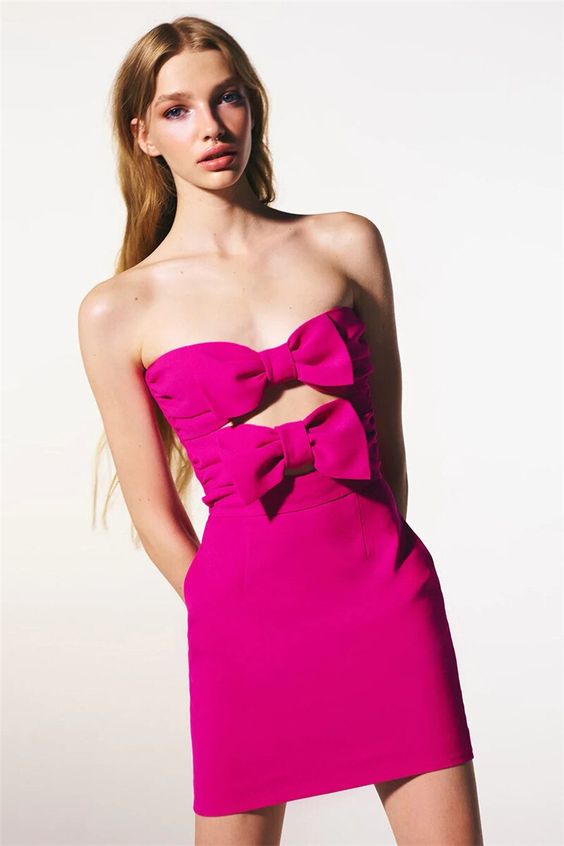 For something more modern and playful, this bow-tie dress is absolutely gorgeous! Whether you're attending an event or perhaps a holiday party, this dress undeniably screams Barbiecore!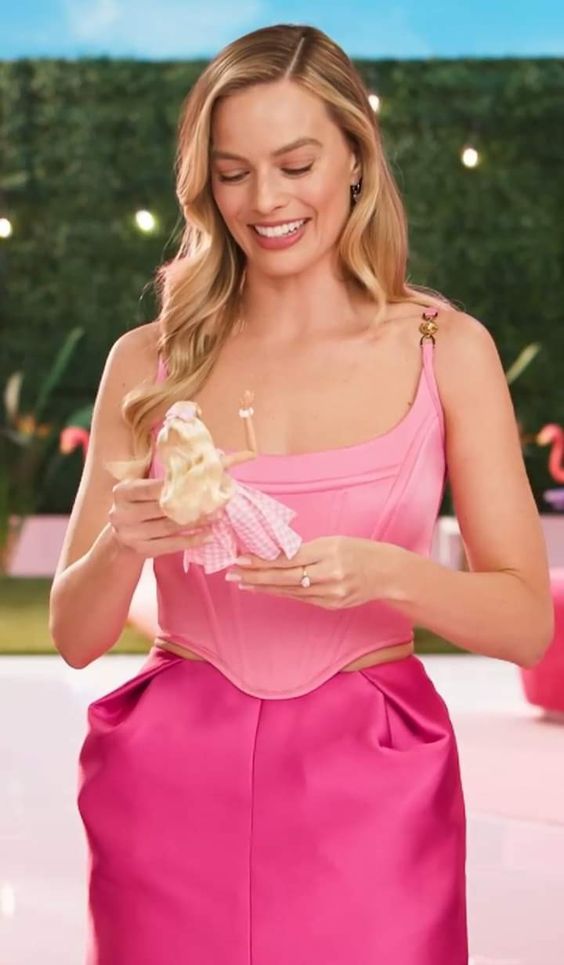 This particular Barbie outfit of Margot Robbie is certainly one of my favorites out of her movie promotions. I love the pale pink corset against her hot pink skirt. It's so elegant yet still true to her Barbie image.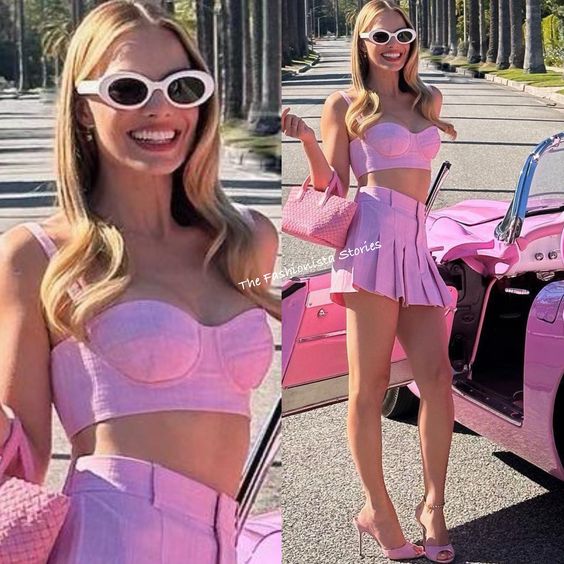 Another one of my favorites is this monochrome bustier and miniskirt combo! I could go on and on about this outfit forever but this is just utterly the perfect summer Barbie outfit for me!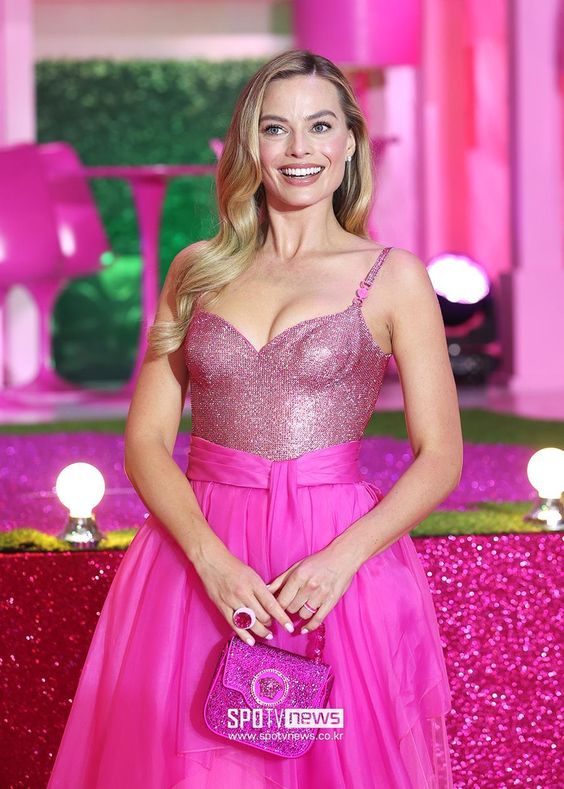 If you want to recreate one of Margot Robbie's looks during her red-carpet events for the Barbie movie, this one is such an underrated classic.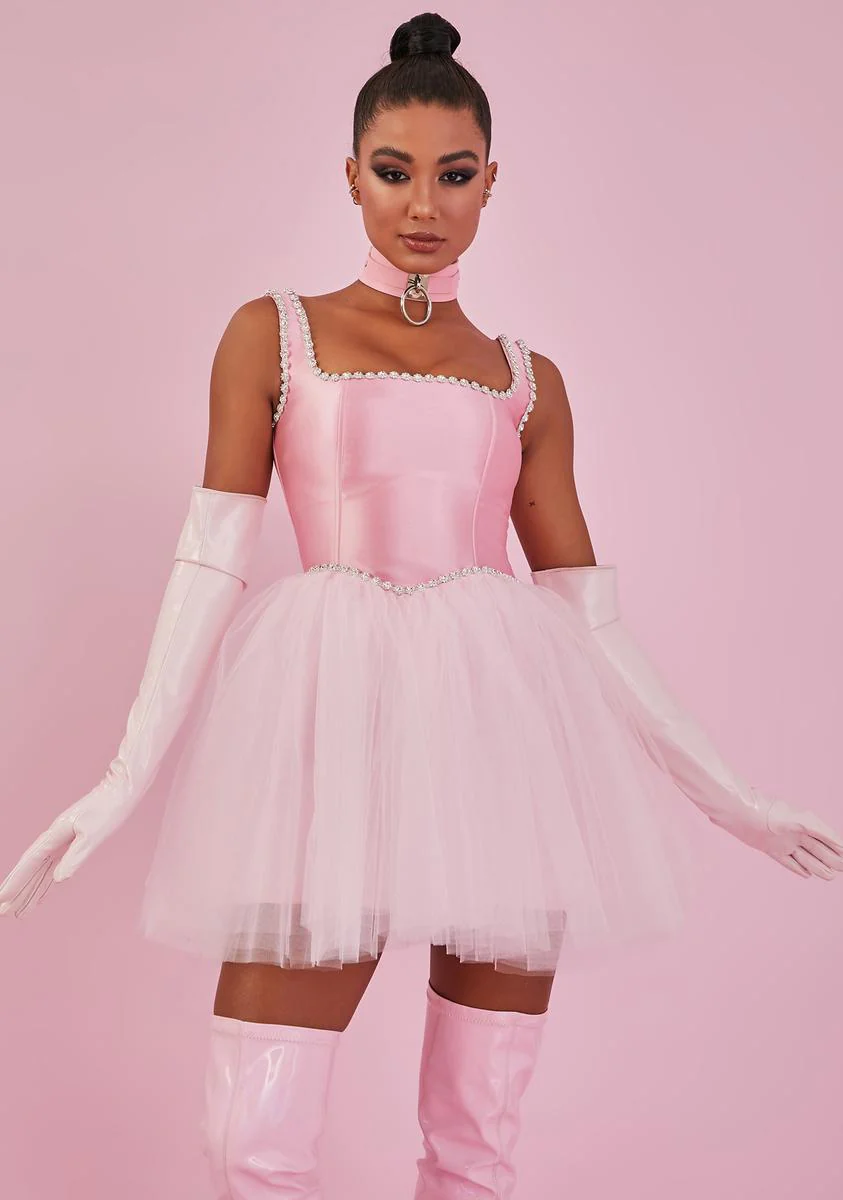 Looking to feel like a princess with your Barbie outfits? Then this ensemble from Dollskill is sure to take you to the next level. The pink leather accents around the outfit give this a touch of edginess too!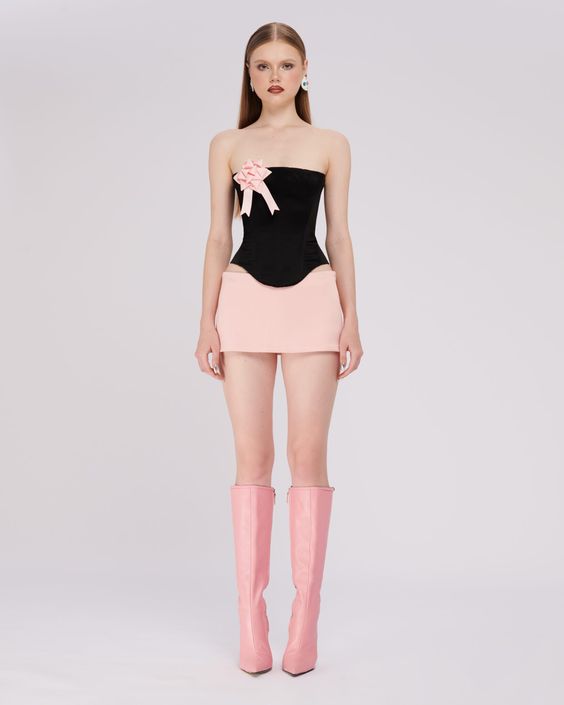 Simple yet so dainty and feminine, this ensemble is another favorite of mine. But I think I just have such a bias towards corsets. They just really elevate Barbie outfits to look even more sophisticated.