There's something about Lulus that I just love. From casual basics to dressy fits, Lulus has long proved a stylish reputation among the youth – particularly to those who are inclined to a feminine-forward taste. And if you're really in love with the style and are looking for more affordable stores like Lulus online, you've come to the right place!
Lulus pieces include a wide array of outfits for every dress code. They have all the dresses, tops, and bottoms that you need to score a head-turning look at whatever event you're attending, whether you're looking for wedding-guest attire or everyday tops.
While sticking with Lulus as your go-to brand, there is no harm in finding a variety of alternatives. In fact, looking for similar brands can give you an opportunity to expand your wardrobe and create an even more personalized set of outfits that do not stray away from your main style.
To get you started, we collected the best stores like Lulus to check out for feminine pieces.
Let's hop in!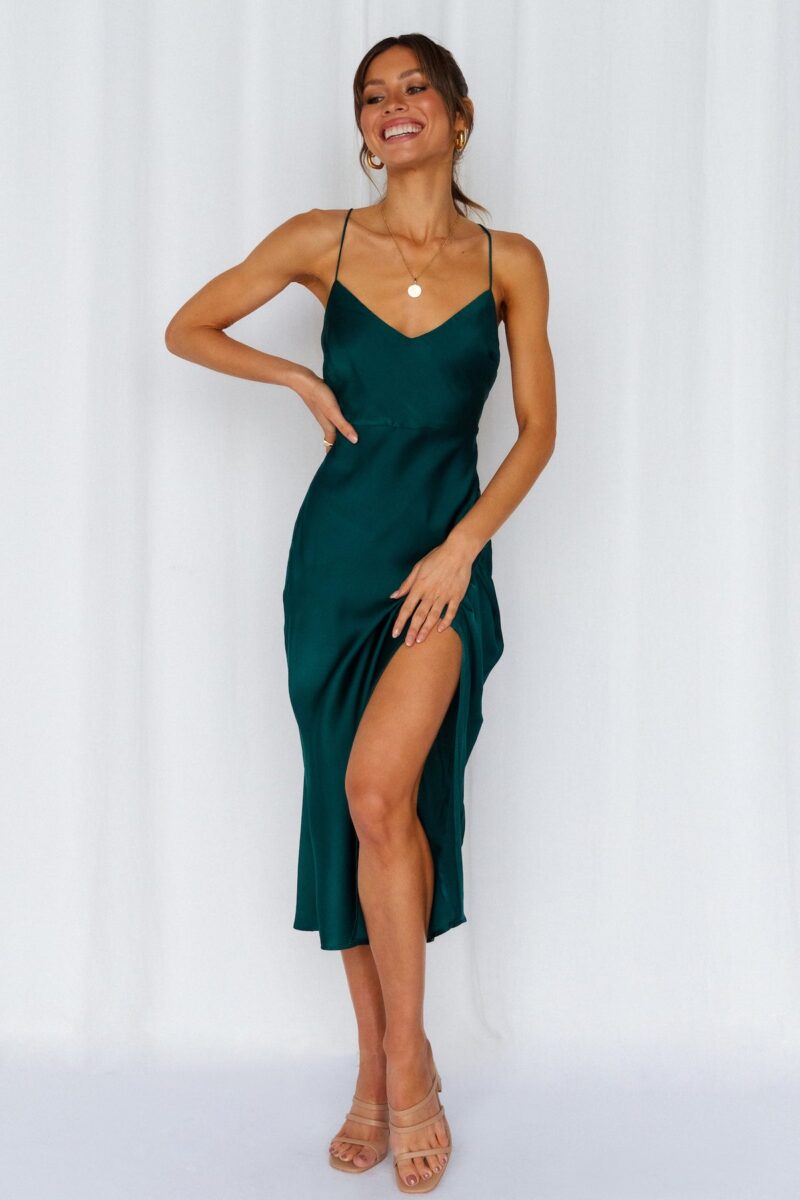 Hello Molly is the nearest that you can get to Lulus' style. They have similarly cute and feminine high-quality pieces that are much more affordable and accessible to someone with a tight budget.
They release hundreds of surprising new pieces each month, ensuring you a completely different experience each time you visit their store. If you need inspiration to refresh your wardrobe, a trip to Hello Molly's online store is all that you need. Everything looks like something off Pinterest!
Hello Molly offers a selection of trendy clothes from dresses, skirts, playsuits, accessories, and more. They are Australian-made as well, which can explain the laid-back yet feminine nature of their style.
Lulus Must Haves:
Trancoso Dusty Blue Floral Print Two-Piece Maxi Dress
Still the One Emerald Green Floral Print Satin Maxi Dress
Draw You In Black Sleeveless Lace Bustier Bodysuit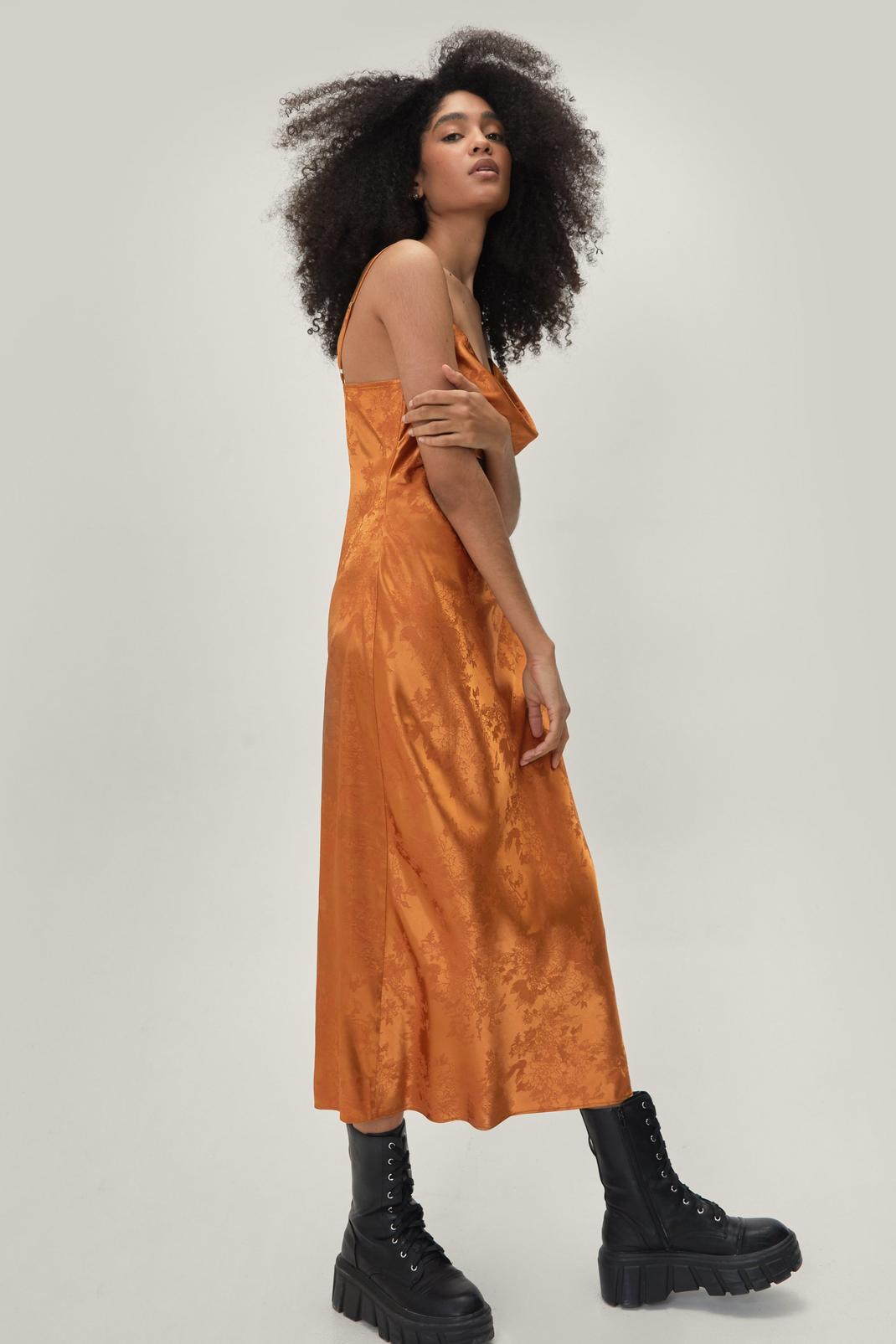 Satin Jacquard Cowl Front Midi Slip Dress
Nasty Gal takes pride in its small beginning as an eBay store. Today, it competes alongside other big fast-fashion retail brands in the market, offering a wide array of affordable high-quality fashion pieces to young fashionistas.
Nasty Gal is a home for unique, edgy, and glamorous party dresses styled to match every occasion. Along with that, they also offer a wide array of accessories that you can add upon checking out to complete a whole look in one go.
If I were looking for a dress with vivid colors, as opposed to Lulus' soft pastel tones, Nasty Gal is the shop I'd look into. It's the slightly edgier version of Lulus.
Must Haves:
Satin Jacquard Cowl Front Midi Slip Dress
Sequin Detail Halter Neck Mini Dress
Stelly hosts a collection of Australian-style semi-formal and formal wear. The brand is popular for those who are looking for a sparkly and memorable dress for a grand celebration.
The brand is similar to Lulus' and Revolve, except they have a wider selection that you can choose from.
If you're going for a night out, attending a wedding, or simply wanting a dressy fit for a casual day, Stelly is a great option to consider. They also have stylish accessories that you can check out along with your chosen dress.
Must Haves:
Reformation is one of the best green alternatives to Lulu's. If you're trying to balance out your wardrobe with more sustainable pieces, Reformation is a good addition to your go-to options.
They are a bit pricier than Lulus, but what they offer are versatile, timeless, and high-quality pieces.
If you're on the hunt for basics, I would recommend investing in their pieces over other fast-fashion brands. Aside from their stylish selection of clothes, they take pride in the fabrics and the packaging they use.
Reformation has its own fair collection of prints and trendy pieces, but what I love most is its selection of neutral clothing in all kinds of fabric.
Reformation Must Haves: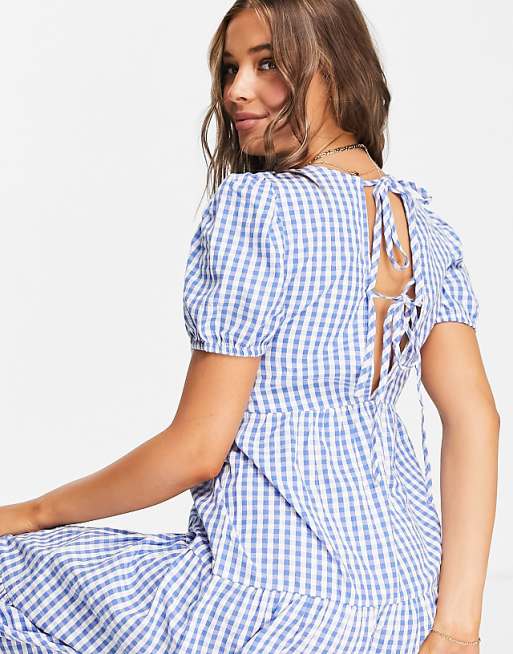 Influence midi dress with tie back in blue gingham
ASOS is a home for hundreds of similar online stores like Lulus. It is the only website where you can compare the pieces side-by-side and where you can score a whole diverse outfit in one check out.
They also host a lot of independent designers and small brands that you can support and find inspiration from. ASOS is literally like the Pinterest of clothing brands.
Find dressy fits, basics with feminine silhouettes, and all year-round outfits like Lulus in their official website. They also have a collection of maternity dresses and plus-sized clothing that perfectly compliments each type of body – most of which closely competitive brands do not have.
ASOS Must Haves:
Influence midi dress with tie back in blue gingham
ASOS DESIGN long sleeve tiered smock midi dress in beige spot
ASOS DESIGN shirred wrap tiered skirt maxi dress in mustard floral print
14. PrettyLittleThing
Stone-woven Cut-out Tie Waist Utility Style Blazer Bodycon Dress
PrettyLittleThing has a variety of clothes that would make you want to play dress up. It's an all-girls haven!
What I love most about PrettyLittleThing is the fact that they cater to all types of women. They have lingerie, basics, activewear, party dresses, modest outfits, and more.
Plus, they make the best of each category – most of which is inspired by the latest trends and body-complimenting designs. For them, the little details matter a lot.
PrettyLittleThing is the type of shop that you'd want to visit upon the change of seasons. Their selections are always fresh, unique, and feminine – a nice ice breaker to the closely similar style that Lulus bears.
This is one of the best online stores like Lulus if you're looking for super affordable but ultra-trendy pieces!
Must Haves:
Taupe Chiffon Long-sleeve Ruched Skirt Bodycon Dress
Burgundy Strappy Satin Cowl Midi Dress
Stone-woven Cut-out Tie Waist Utility Style Blazer Bodycon Dress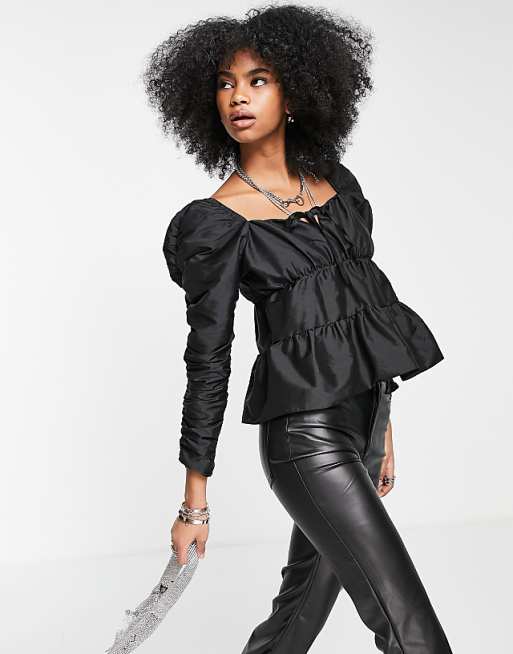 Topshop taffetta ruched tiered top in black
Topshop has tons of styles to begin with. From cozy knits, stylish basics, and femme coats – they certainly have it all. With a reputable impression in the hipster community, best believe you'll find hip yet unique pieces that people will remember you of.
Topshop is British-made, so you can expect a touch of British fashion in their collections. And, because they are highly progressive with trends, you can expect their offerings to be pretty much in line with what is hot on most social media platforms.
Just a heads up: they offer their pieces in limited sizes. If you'd love to check them out, you can find them on ASOS' official website. They no longer sell their pieces in-store or on their main website.
Must Haves:
Topshop flocked polka dot organza crop top in pink
Topshop oversized boucle shacket in multi
Topshop taffetta ruched tiered top in black
Weird, unique, and fresh feminine silhouettes are what I think of when I think about Storets. They can turn any ordinary and generic design into something new.
This is the store you'd want to add to your wardrobe to mix up with conventional pieces from Lulus to create a whole different look. Not to get ahead, but copping a piece from Storets can induce curiosity among your friends. "Where did you get that top?" is the question you would have to get used to.
While Storets is a brand that competes in the fast-fashion retail market, a lot of what they offer is very exclusive. In fact, patrons say that they couldn't find particular styles anywhere but here.
Must Haves:
Julia Floral Print Bardot Dress
Are You Up To It Two Piece In Green Floral
Showpo is a store for girl bosses who love keeping a stylish and feminine look no matter the occasion. Find dainty pieces and business-friendly fits that will last you for a long time.
Their selection reminds every woman that keeping their creative expression regardless of the path they pursue is not a bad thing. I love how this Australian brand is making it to the top!
And because they are Australian-made, their style is centered on three things: practicality, informality, and femininity. The relaxed yet stylish nature of this brand is what makes them stand out from other competing brands in the market.
Must Haves:
Maddiline Strapless Corset In Check In Sand Check
Navine Two Piece Skirt Set With Pockets In Green
Ehrna Twist Front Collared Long Sleeve Shirt In Ice Blue
Waikiki Wanderlust Knit Maxi Dress
Modcloth is the best alternative to Lulus if your wardrobe is inspired by a lot of prints! This store is a heaven for bohemian hippies, vintage-retro enthusiasts, and beach babes.
Eye-catching graphic dresses in all styles, size, and shape is what you'll find in-store. Their offerings are a lot more accessible to people with a tighter budget range. Despite the affordability, they do not risk the quality of their products.
What I love about Modcloth is its flowy, fun-spirited, and sweet nature. Whenever I visit their store, there are always several surprises to discover – almost like browsing in a thrift shop. Plus, they are locally made!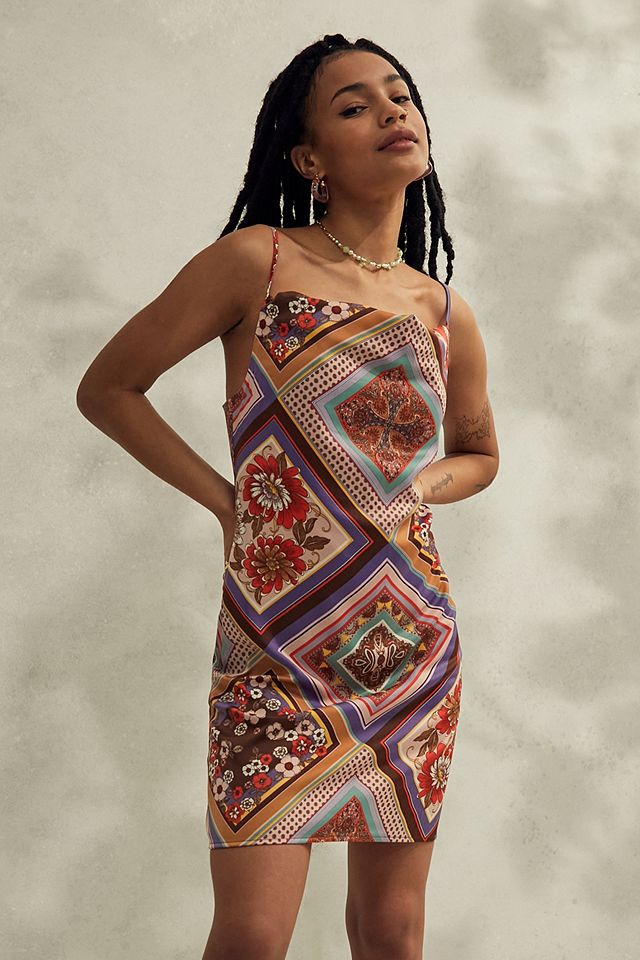 UO Printed Mallory Cowl Slip Mini Dress
There's nothing you can't find in Urban Outfitters. Regardless of your style, Urban outfitters has everything that you need to personalize your wardrobe.
Because of its diverse and up-to-date selection, it easily blends in with feminine pieces from Lulus.
Many of their basics and versatile pieces also last very long. So, if you're planning to keep a consistent "trademark piece" for all your outfits, like a denim jacket or a staple bottom, Urban Outfitters is a great option to consider. T
hey are a bit on the pricier side, but with an investment that will last you for years, there's really no doubt that it's worth it.
Must Haves:
UO Printed Mallory Cowl Slip Mini Dress
Urban Outfitters Archive Y2K Blue Floral Maxi Slip Dress
8. Princess Polly
Recycled Fibers Penney Mini Dress Purple
Their brand name says it. There's no place better than Princess Polly to go to if you want to feel like a princess!
Princess Polly is an Australian-made small boutique that turned into a sensation among young women around the world. They gained traction because of their fashion-forward, stylish, and trendy pieces that are visible in aesthetic social media platforms like Pinterest, Instagram, and Tiktok.
From my observation, it is pretty evident that they support almost all types of feminine styles: edgy fashion, pop culture, street style, and business wear. This is one of the best online stores like Lulus for trendy fashion that you can still wear in everyday life!
Princess Polly especially has great pieces for the warmer, summer months.
Must Haves:
Recycled Fibers Penney Mini Dress Purple
Like Lulus, Petal + Pup is a home for feminine and girly fits! Sophisticated, cute, and stylish – these are the three words to describe their collections.
A mix of the colors they use into your Lulus-inspired style wardrobe can add a refreshing aura to your daily fits. When I visit Petal + Pup, I personally dig into their pastel knits, floral dresses, and pink-toned clothing.
Their website is also a delight to visit – it's clean, classy, and easy to browse. There aren't a lot of flowery graphics and props that can sometimes cloud your decisiveness when choosing items to buy.
Must Haves: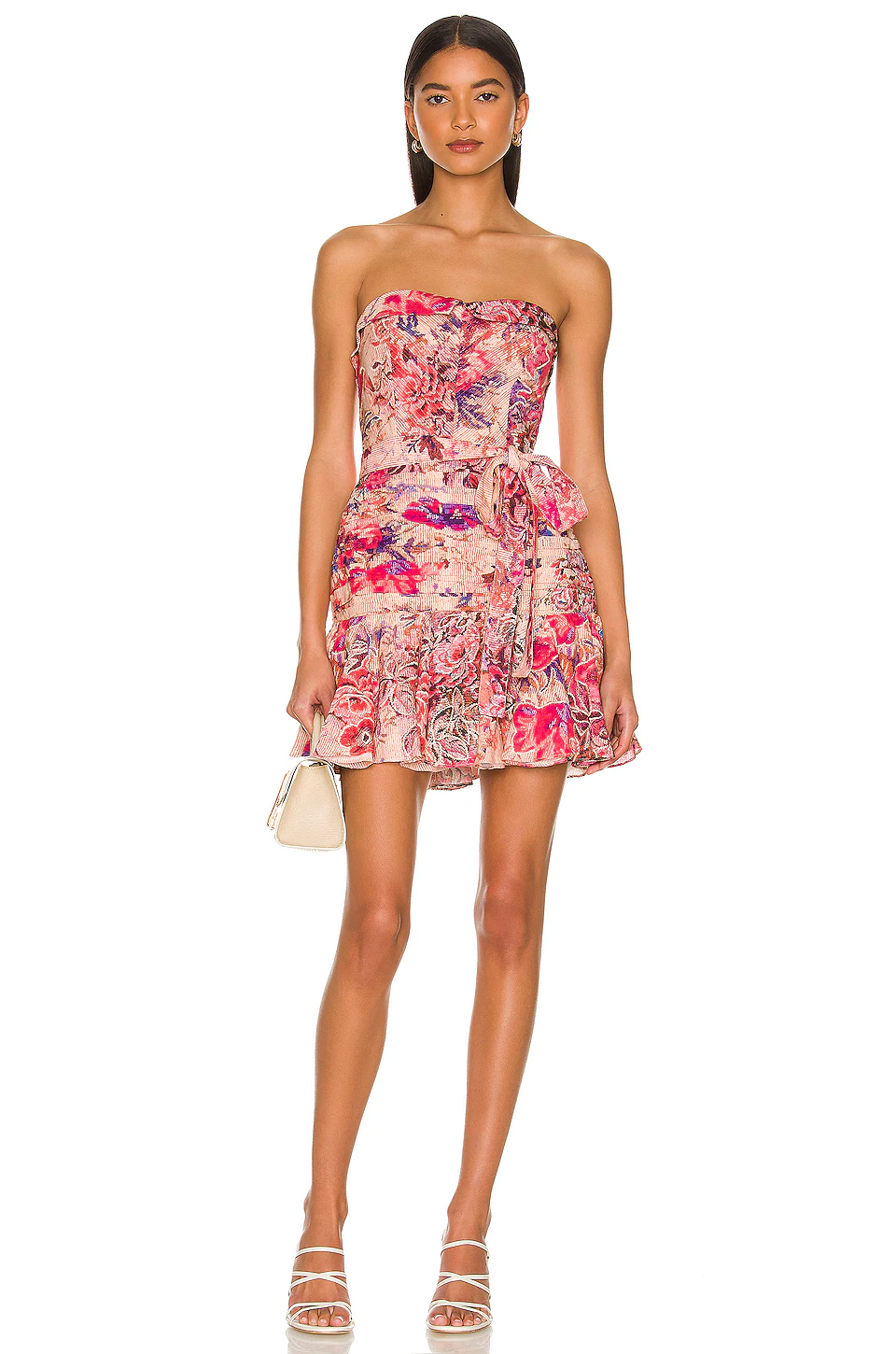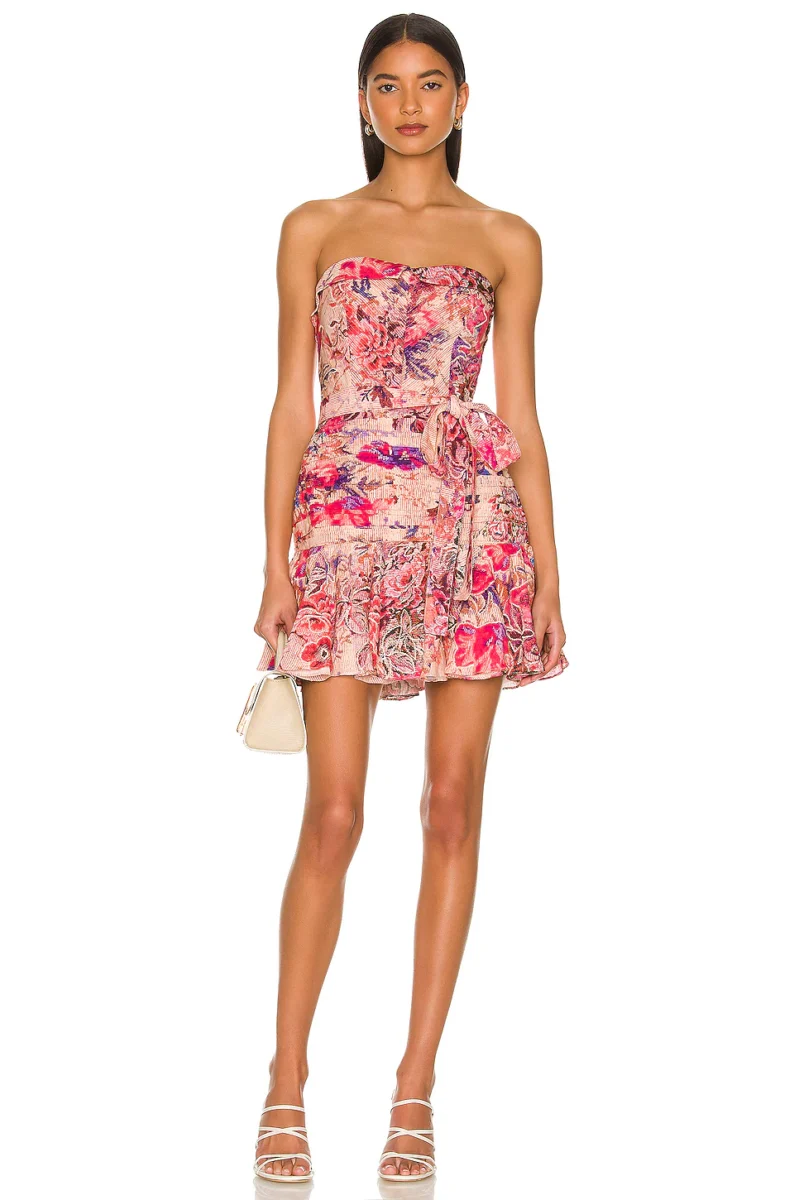 If you loved Lulus' formal event dresses, you're going to love Revolve's selection of cocktail dresses, gowns, and formalwear.
Although they offer a few pieces for casual occasions, their designs are centered on creating pieces for grand celebrations. Their dresses are made to enhance the curves and shapes of every woman.
Despite the high prices of their dresses, their website has a constant selection of discounted and sale items which are not to be underestimated. The quality, style, and timelessness of their dresses are so evident – even in the items they eventually put on sale.
Apart from that, they also offer a selection of daywear that is as classy and chic as their highlighted options.
Mango is one of my favorite online stores like Lulus. They have slightly higher price tags, but you usually find what you're looking for when you shop at Mango. Their high-level style fashion can also elevate any feminine-forward wardrobe.
I shop here for their chic blazers, trousers, and blazers that add structure to any feminine look. Apart from that, they have pieces that are closely similar to Lulus' style. Colors, prints, and unique silhouettes – these three can also be found in Mango.
What sets Mango apart from all other shops listed are their brick-and-mortar stores. Most of the shops here are only accessible online, while Mango gives a traditional experience by offering their customers the opportunity to fit the clothes personally in-store.
Must Haves:
Principessa Bubble Sleeve Cutout Mini Dress
If you loved Lulus' puff-sleeved, bubble hem, and ruffled dresses, ASTR the label is the store to go to.
ASTR the Label is a Los Angeles-made brand which is pretty evident with their fashion style. Their designs are inspired by celebrity and influencer favorites, from casual basics, dresses, to bodysuits.
Their clothes are not simply straight out from the screen but are redesigned to compliment every body type. Feminine, modern, and fashion-forward is the brand's ultimate goal.
Just like Lulus, they have a wide array of both casual and formal wear. This is one of the best online stores like Lulus if you're willing to spend a bit extra. These pieces will last forever!
Must Haves:
Principessa Bubble Sleeve Cutout Mini Dress
Kaylani Off-shoulder Floral Maxi Dress
3. Dolls Kill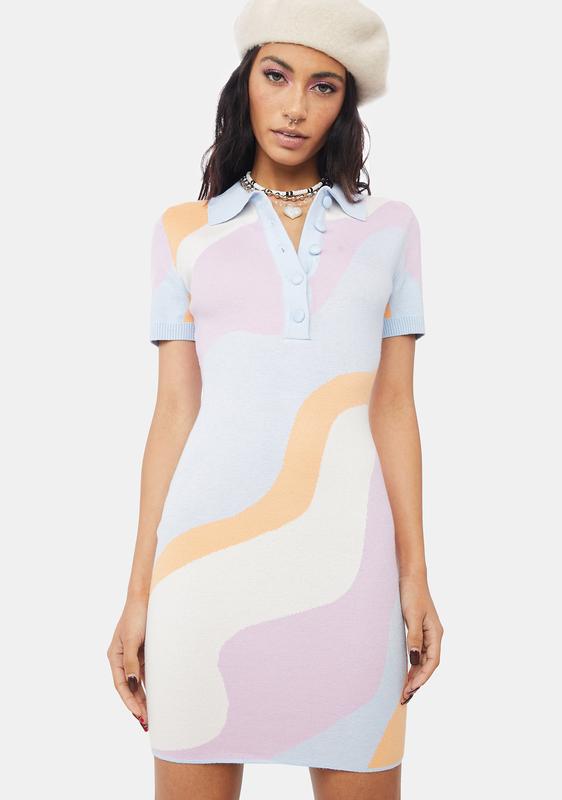 Skyborn To Be Alive Mini Dress
Dolls Kill is the store for edgy feminines. Although the brand can strike you with a gothic and edgy impression, they actually have quite a wide selection similar to Lulus – only with a bit of a twist.
Dolls Kill is the store you would want to visit as an ice breaker to the conventional feminine nature of Lulus. Their vibrant pieces are something you would die to have in your closet!
Crazy cutouts, muted colors, and unconventional twists – these are just a few of the good things you can find in their store.
Must Haves:
Always Blushing Baby Doll Dress
Organic Cut Out Knit Midi Dress
Skyborn To Be Alive Mini Dress
2. Akira
Awaken your inner creativity with Akira. If you have browsed every dress in Lulus and still have not found the perfect fit to express your colors, you might find it in Akira.
Akira is a haven of absolutes. They barely offer muted clothing and are rather loud in visual terms. They love designing around solid colors, silk, and bold prints. Despite their boldness, they maintain a vivid feminine silhouette in their designs – making them in line closely with what Lulus usually offer.
Must Haves:
Limited Edition Fashion Bandage Dress
1. Tobi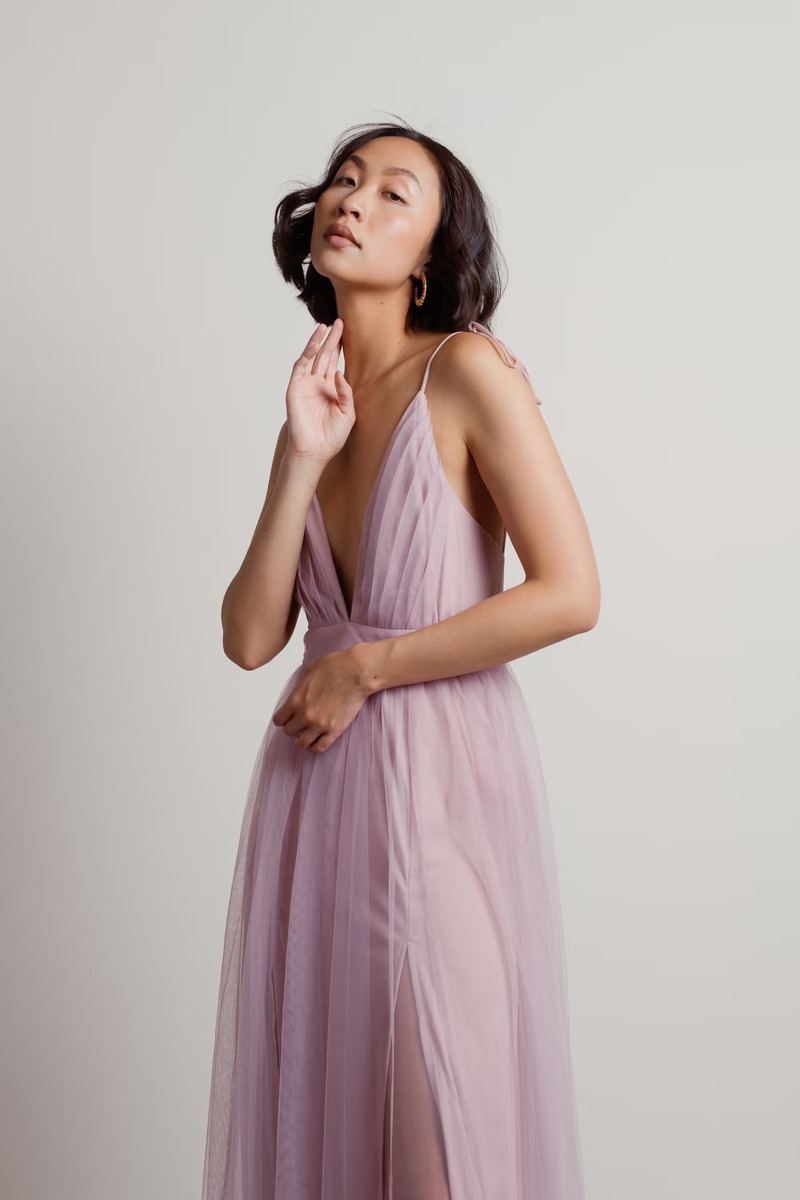 Slay The Night Mauve Maxi Dress
Tobi is another notable international fast-fashion boutique that offers a wide selection of feminine-forward dresses, rompers, tops, two-pieces, and even footwear.
Tobi is a close competitor of famous girly online stores like Lulus and Hello Molly, mostly because of their trendy offerings and highly accessible price range.
And, like Lulus, Tobi offers a decent collection of dresses for formal occasions.
Must Haves:
Slay The Night Mauve Maxi Dress
Merced Ivory Floral Ribbed Side Cutout Bodycon Dress
Sneak Peek Off White One Shoulder Ruched Bodycon Dress