Looking for upscale and sophisticated nail colors that still pack a punch? These red and gold nails are perfect for any occasion and are flashy without being overboard. Read on to see our favorites for inspiration!
Red and gold nails are the perfect way to add a touch of luxury to your look. Whether you're headed to a formal event or just want to show off your style, these colors will make your nails stand out.
If you're looking for something simple, try a red polish with gold accents. For something more dramatic, go for a red matte polish with gold glitter. If you really want to make a statement, try red and gold ombre nails.
No matter what design you choose, these colors are sure to turn heads. So go ahead and give them a try!
Popular Red and Gold Nail Designs Right Now:
Solid red nails with gold tips: these types of red and gold nails are our favorite during the holiday season. If you're looking for Christmas nails or NYE nails that are subtle yet upbeat, you'll love this look.
Red and gold glitter ombre nails: if you want your nails to look like they're sparkling, this is the design for you. It's perfect for a night out or any special occasion.
Solid gold nails with red tips: if you want to wear red and gold nails but don't want them to be too over-the-top, try this subdued yet still chic design.
Of course, there are way more red and gold nail designs to try, too. Browse through the photos below to see what you like!
Red and Gold Nails For Inspiration:
Here are our favorite manicures for inspo. These will work for the holiday season (of course), but many of these red and gold nails are beautiful for the off-months, too.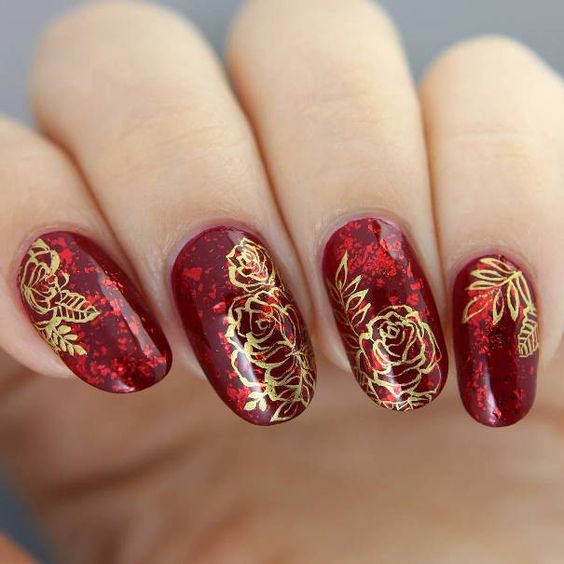 These delicately drawn golden roses add such a sophisticated vibe to your red nails. The oval-shaped nails make the overall look even more elegant and classy. Not only could these be the perfect mani for the Christmas season, but they'd definitely suit any NYE party as well!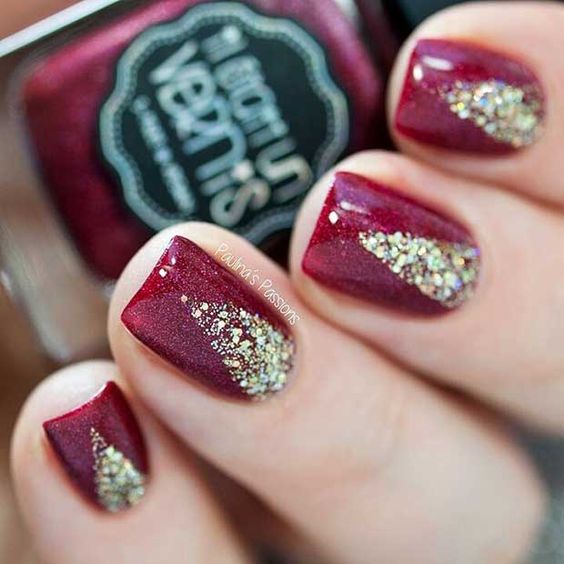 You are sure to dazzle everyone with this kind of sparkly and glittery design! The gold triangle accents in each red nail give off such a modern feel to your manicure.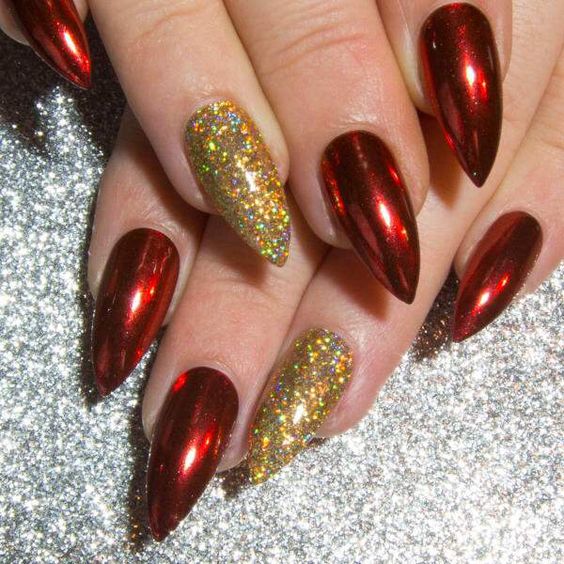 Apart from those gorgeous metallic red nails, you should definitely add glittery gold nail accents to your overall manicure as well! I mean, just look how beautiful these stiletto nails look! They look so sharp and classy. Everyone at your Christmas party will surely love them as well!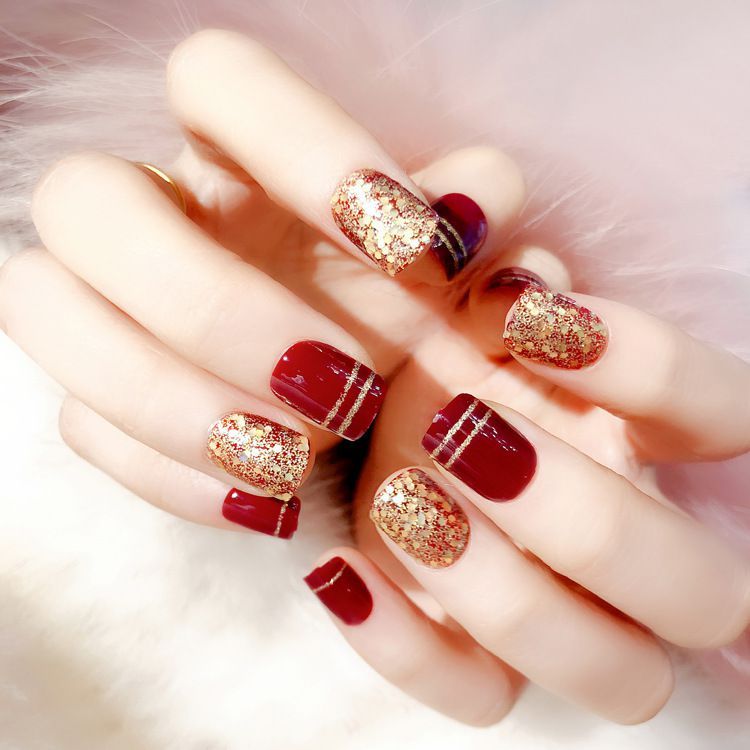 If you can't get enough of these sparkling red and gold nail combinations, then here's another one that you should definitely try out for the holidays! This particular manicure will give you such a glam and luxe vibe that will certainly stand out in every holiday gathering!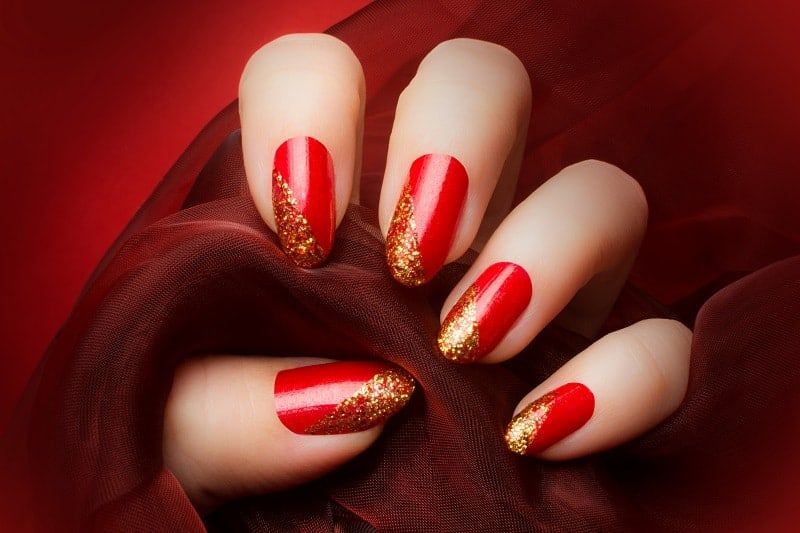 Forego the usual french tip and instead, create a diagonal line across your nails for those glittery, golden tips! These will give your nails a more unique look.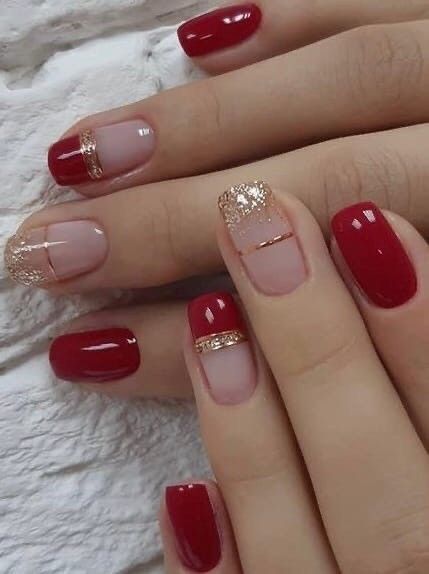 Add a bit of sparkle to your red and gold manicure to really make your nails shine this holiday season! Not to mention, the negative space as your nail accents will add a classy feel to your overall nail art.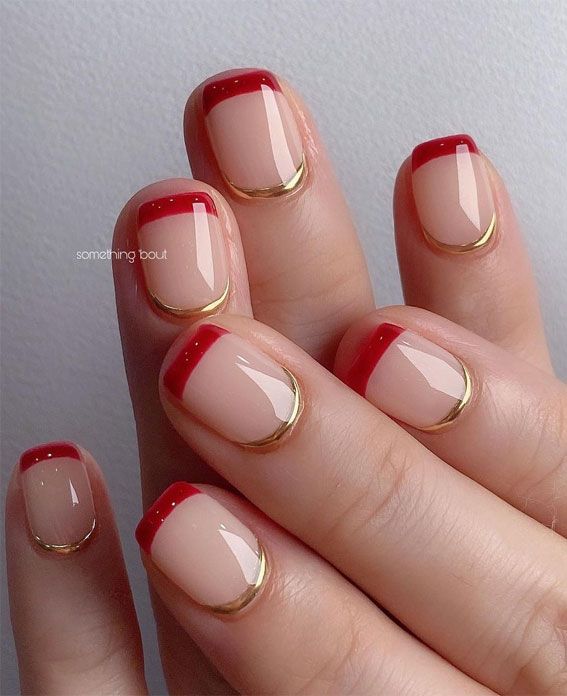 If you're looking for your next nail inspiration and you're wanting to try out something more subtle, then this minimalistic red and gold nail art could be perfect for you! Understated and chic, this design oozes class!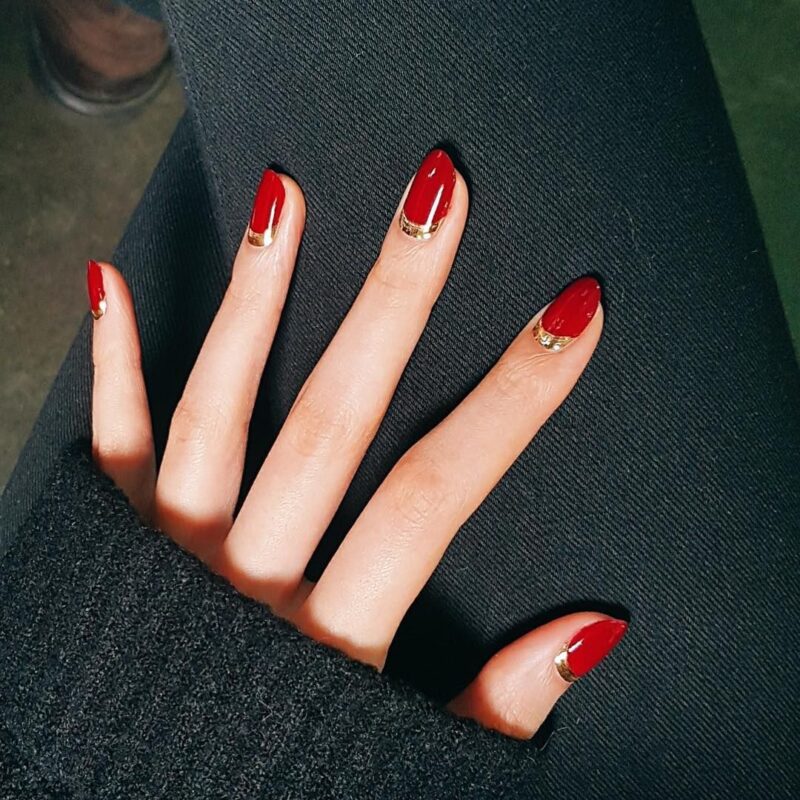 I'm sure you've been thinking of going for the classic french tip, but hear me out. Instead of the usual manicure, why not opt for a reverse french tip instead? The reverse french tip will have the "tips" on the bottom part of your nails while the rest is painted one color. In this case, gold is the tip and you'll use red for your main color.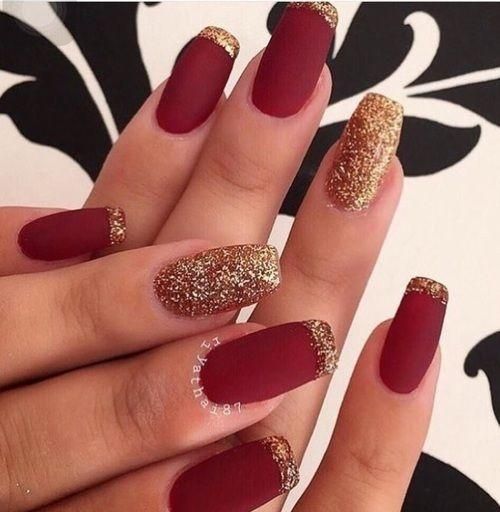 These glittery gold accents against a bold, matte red nail are utterly gorgeous! The varying textures will not only give your manicure an interesting finish, but also the sparkle it needs!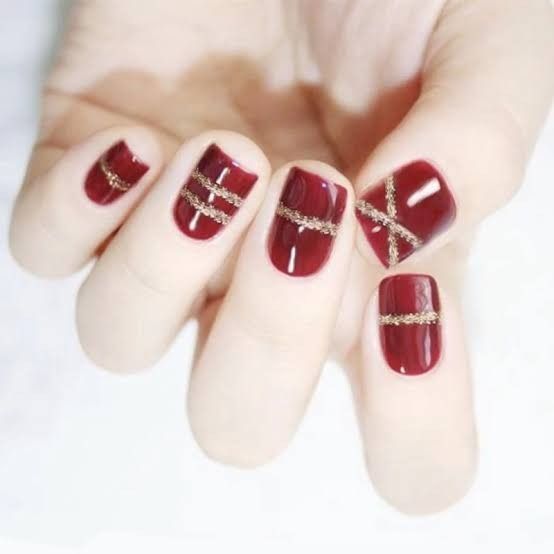 If you're someone who would consider yourself a rookie when it comes to nail art, then this red and gold nail art design is something you can easily achieve! You can get creative in how you draw your straight lines by doing them in different positions such as horizontally, vertically, crisscross, or diagonally.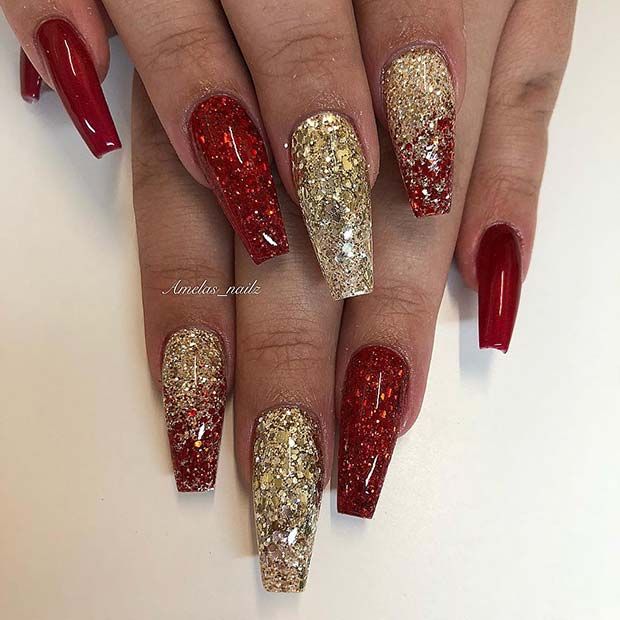 There is truly nothing better than a manicure that's filled with sparkle and glitter! It's so perfect for the holiday season and the gold and red add a festive vibe to the overall look!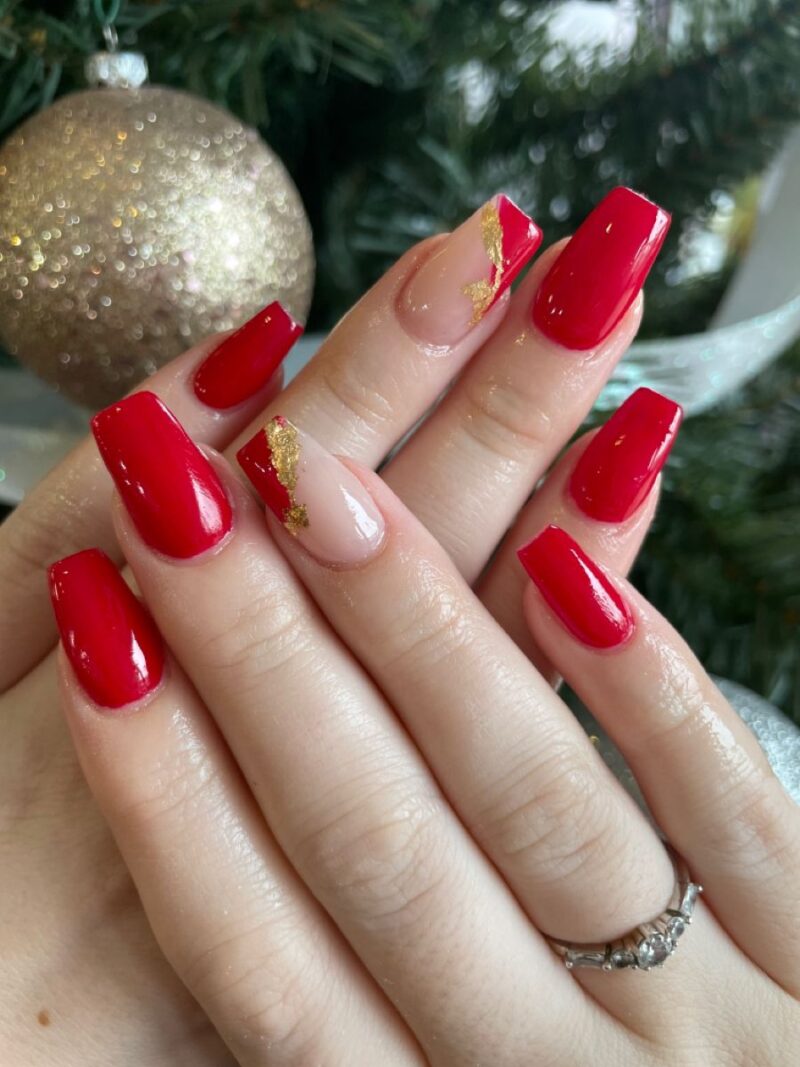 Not a fan of over-the-top nail art designs? Then this subtle gold-flecked, red manicure might be something you like. This particular nail art is quite simple to achieve with the use of negative space, golden flecks, and red polish on the upper corner of your nails accent.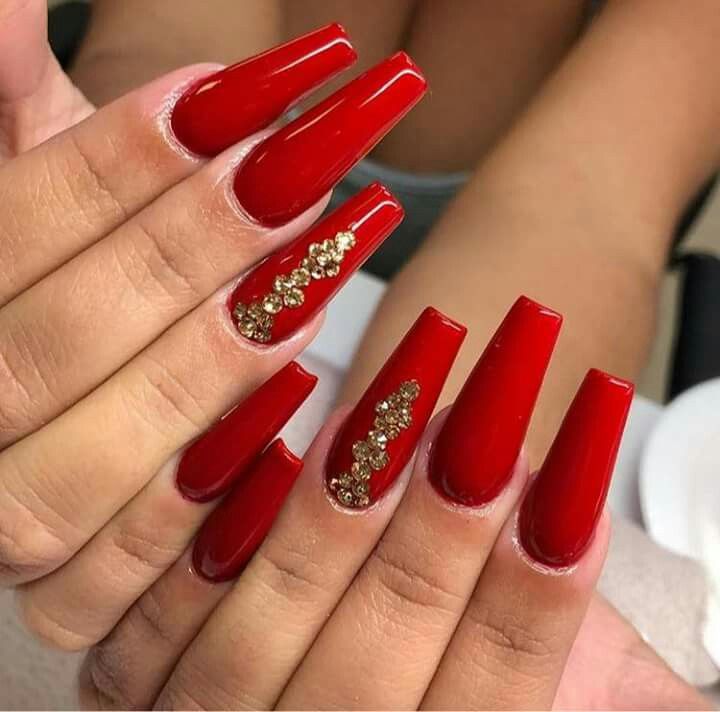 If you don't like incorporating negative space for your manicure, then you should give this particular red and gold manicure a try. It features bejeweled nails with gold accents against a solid red nail.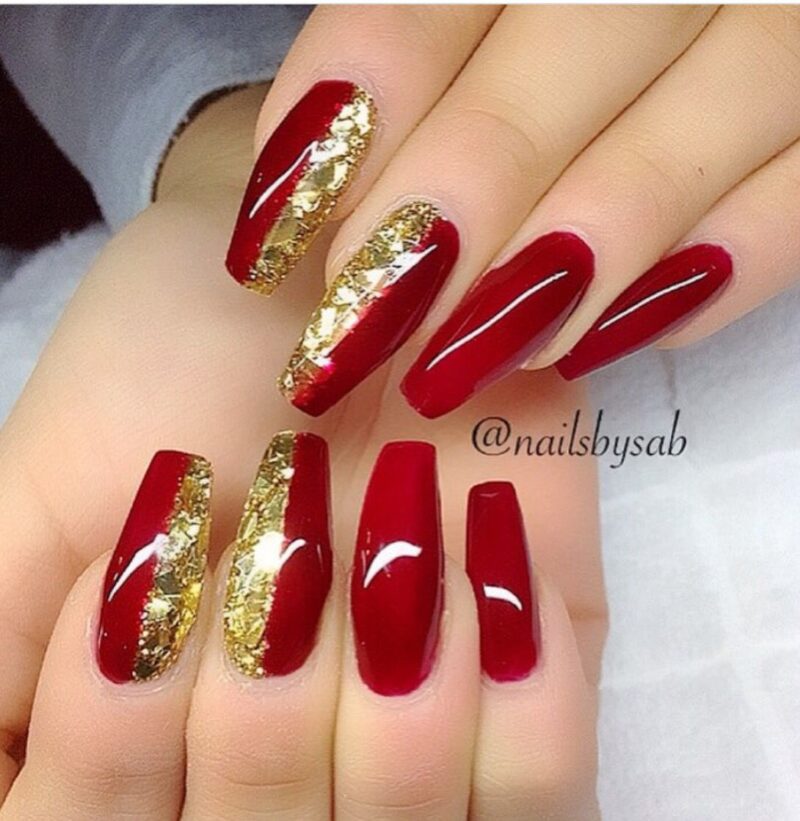 Here's another beginner-friendly red and gold nail art that you can try out! Without getting too fussy, you can easily recreate this manicure by adding gold foils for your red nail accents.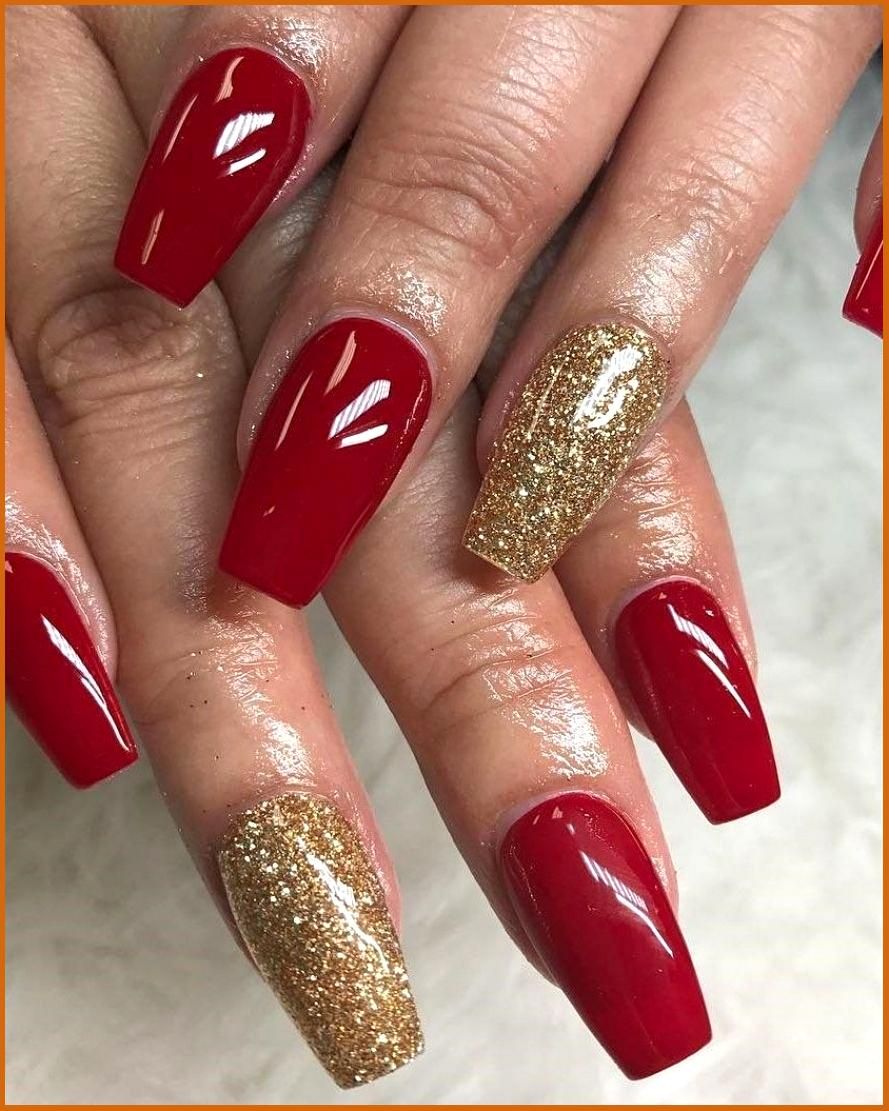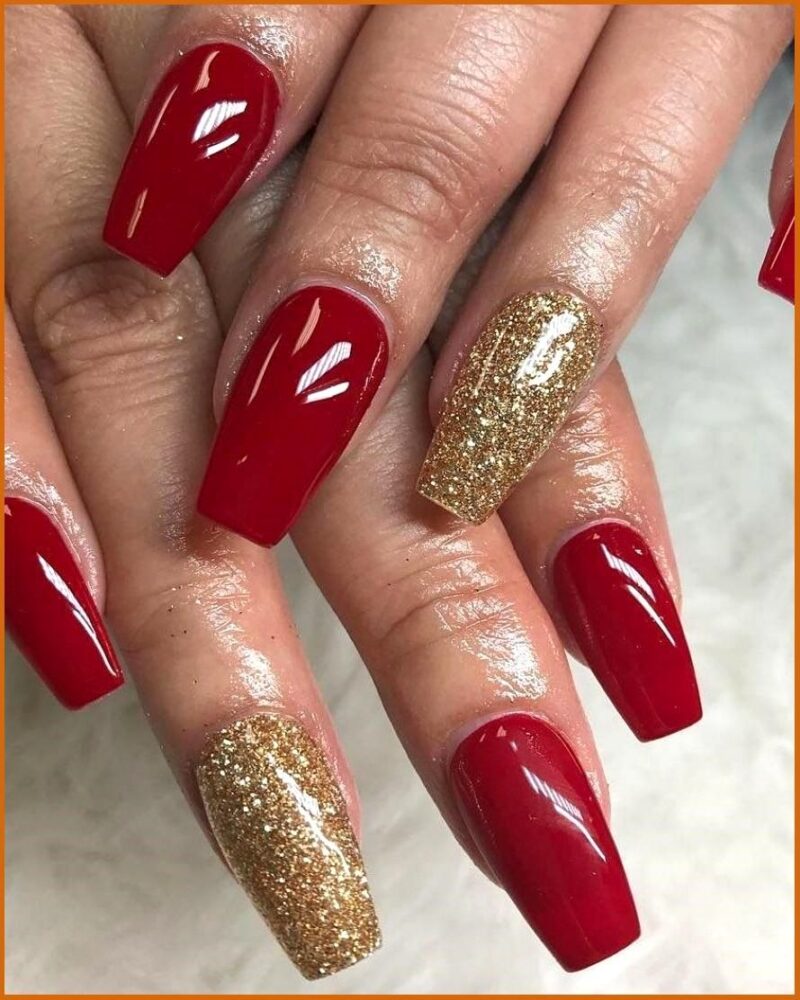 Who doesn't love a little sparkle to their nails every now and then? Especially with the holiday season upon us, it's time for your nails to shine and dazzle! If you're looking for a manicure that's easy to achieve, then you can opt for a gold accent nail between red nails.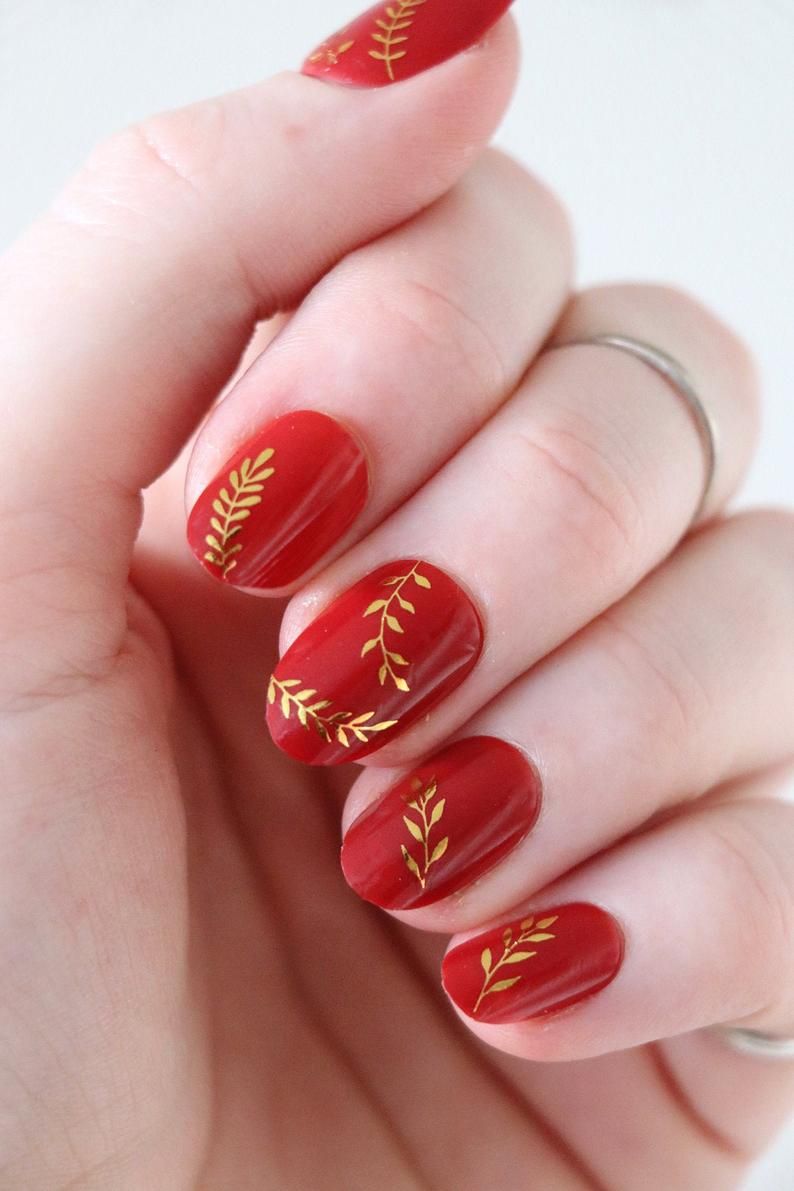 These golden leaves give such a delicate and feminine feel without making the whole manicure less festive. Plus, you don't need to be a pro in order to get this kind of nail art. You can find peel-on stickers with this very same design and you'll be all set!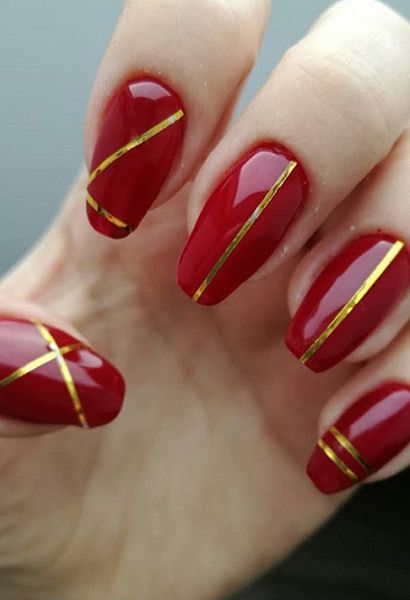 Here's another delicate and minimalistic red and gold manicure for you. If you're looking to make things a bit more festive with your holiday nails but don't want them to be too bold, then you can just opt to add some delicate thin golden lines or streaks to your berry red nails.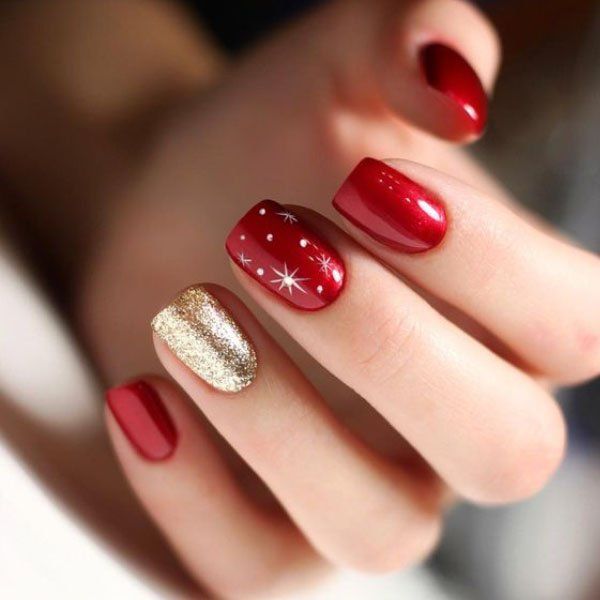 If you're tired of the plain red manicure with gold accents, why not spice it up by adding stars to your overall nail art? This will give your nails an added sparkle to it and you can also opt to get peel-on stickers if you find yourself having a hard time drawing the stars by yourself.
These red nails with gold specks on the base of the nails make me think of freshly fallen snow on the ground for some reason. It gives off such a cozy effect that's so perfect for the holiday season. This kind of nail art is also ideal for those who can't grow out their nails or prefer to keep them short.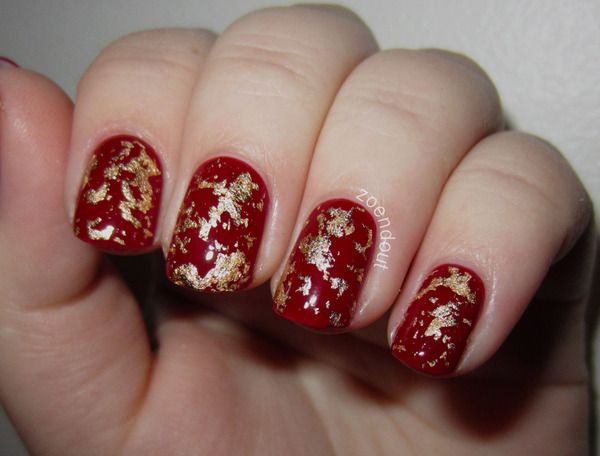 To perfectly display two complementary nail colors such as red and gold, use crackle nail paint. By using the deeper red as your base color to begin, you can ap[ply next a layer of the golden crackle polish after it has dried. The gorgeous red color behind the crackling top coat will slowly show, revealing this gorgeous red and gold manicure with a slight marble finish.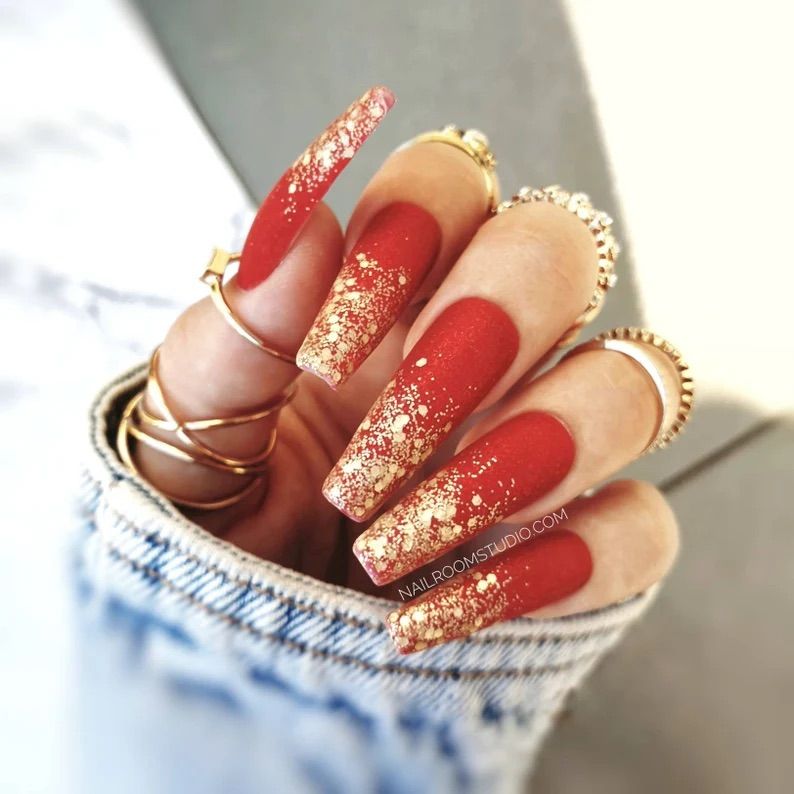 Put a glamorous twist to the traditional french tips by using gold foils for your tips and red nail polish for your base color. This gorgeous ombre effect will really put you in a festive mood all throughout the holidays!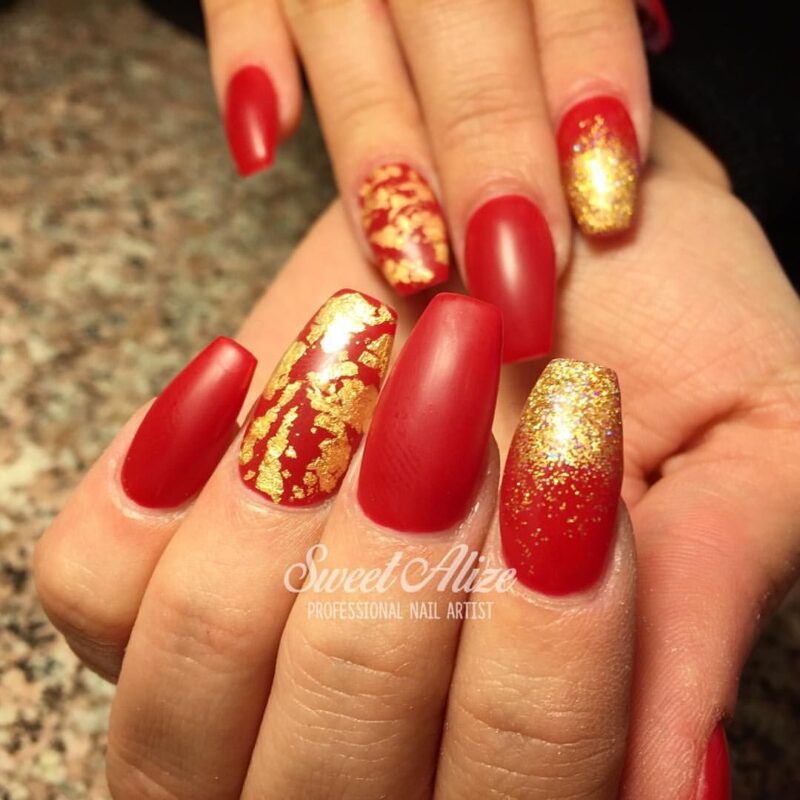 Mix and match different red and gold patterns for your next manicure like this particular nail design! It features plain red matte nails with red and gold crackled nails and ombre nails for the accents.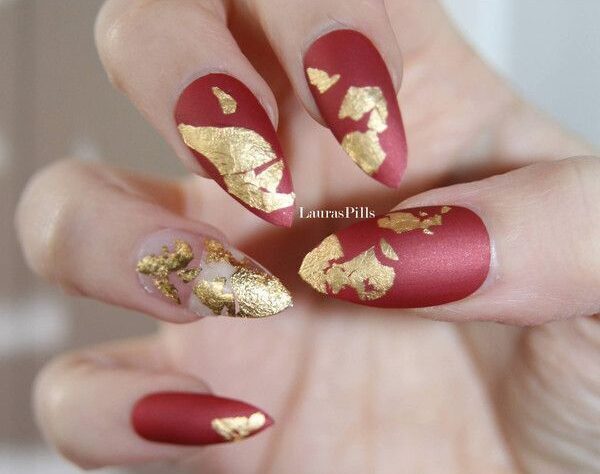 Here's another way you can create something quite unique with your gold foils! I just love the shimmery, matte red polish against the gold specks of foil across the nails. And for your accent nails, you can opt to leave out the red and just include the gold foils only.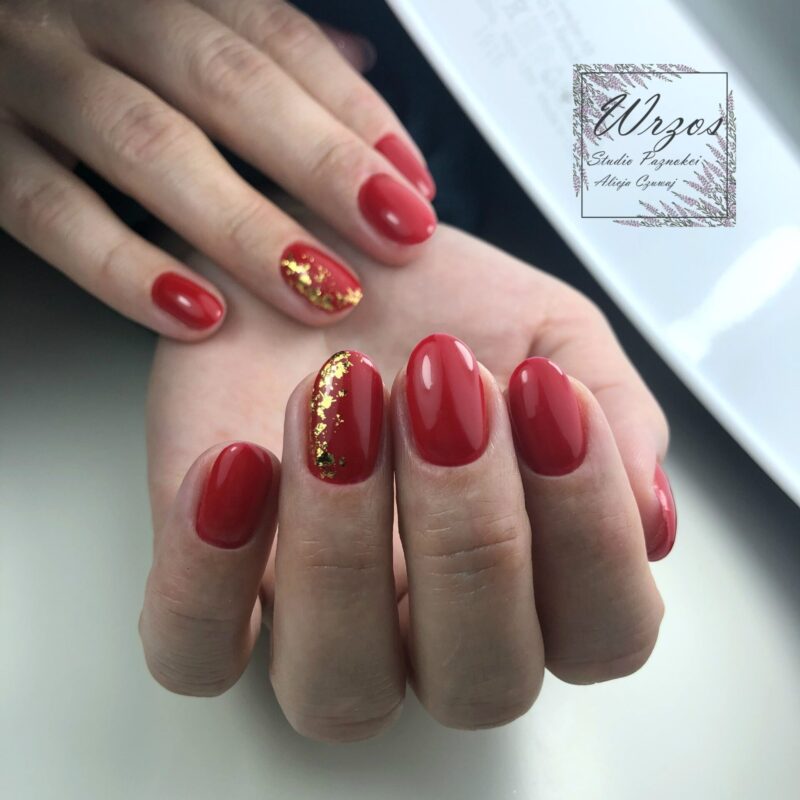 Minimalistic and easy to recreate, these nails may be simple but they definitely give off a festive vibe that will get you into the holiday spirit this season! It's understated design will be perfect for more formal Christmas parties too.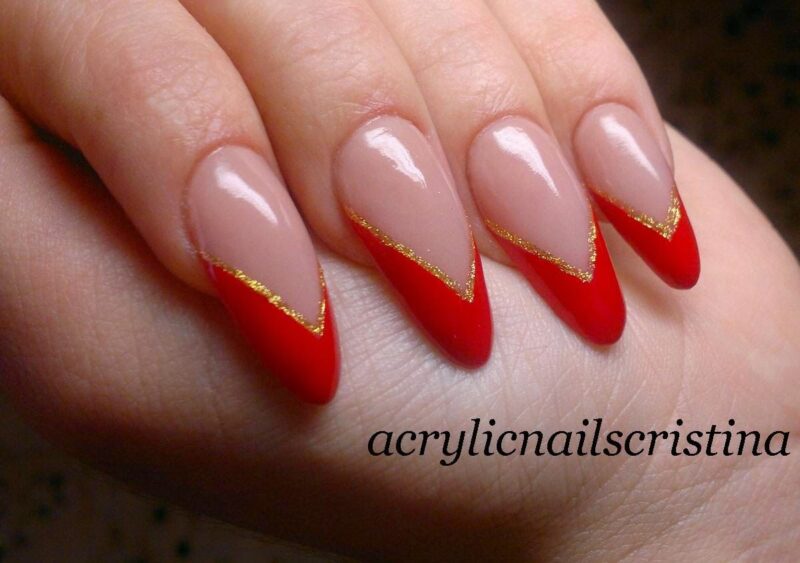 If you're planning to get long, pointy, stiletto nails, then you should definitely consider getting this type of nail art! It's another creative twist to the classic french tips. But instead of the usual white tips, you'll be using red and outlining it with thin, gold lines.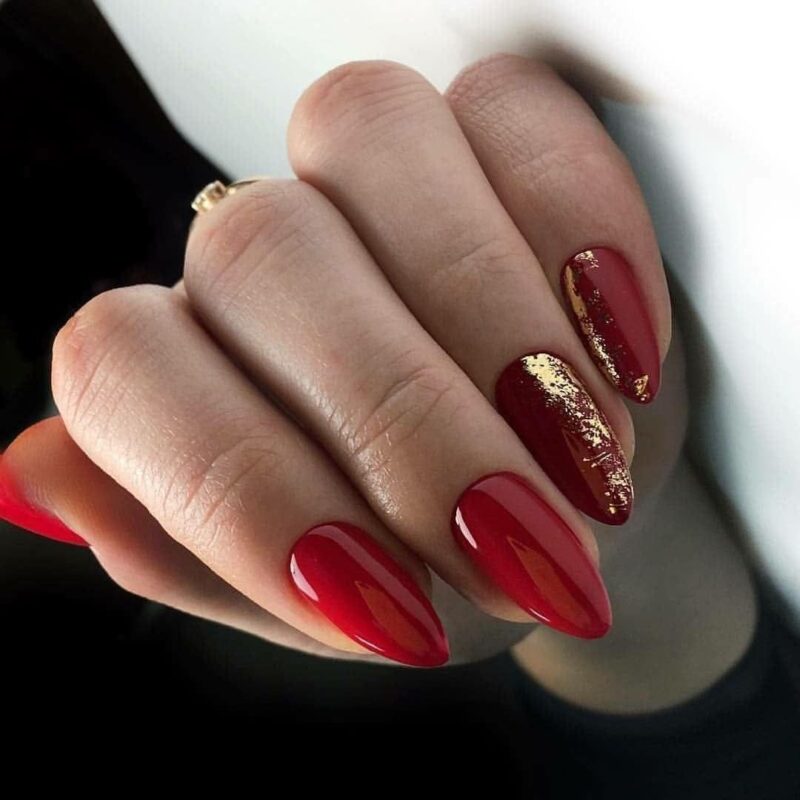 I love how deep and rich these red nails are! Plus, the subtle gold flecks on each accent nail really bring out the festive vibe in this manicure. This is definitely perfect for girls who prefer something minimalistic and understated.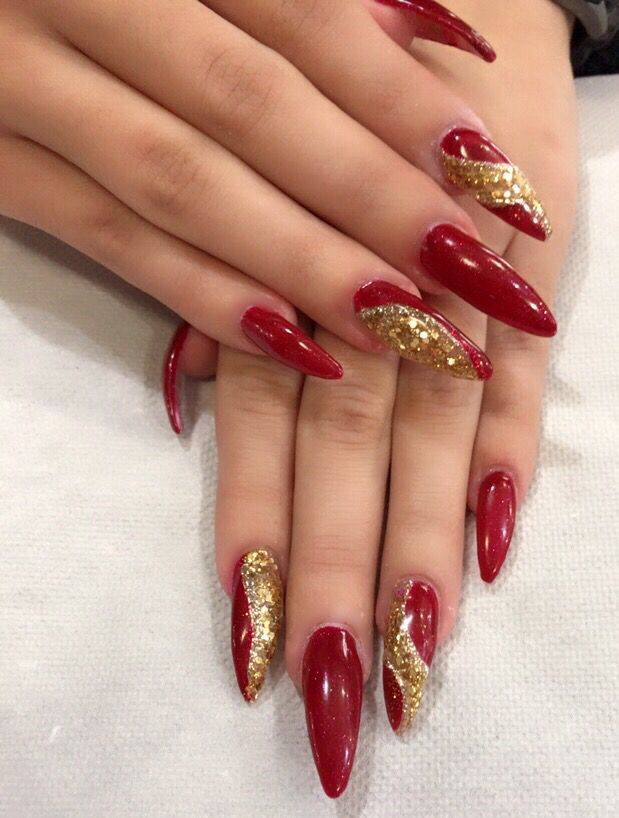 Filled with shimmer and sparkle, I honestly can't get enough of how glittery this manicure is! The abstract gold accents just fit so perfectly with the red nails and add even more shine to this already dazzling nail art!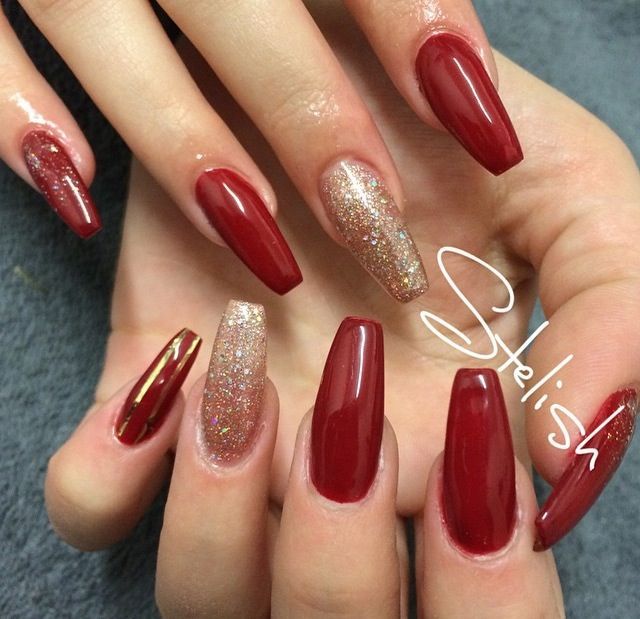 If sophistication is what you're looking for, then these red and champagne gold-colored nails might be perfect for you! Not too long, and not too bold, these nails are the perfect, classic holiday manicure!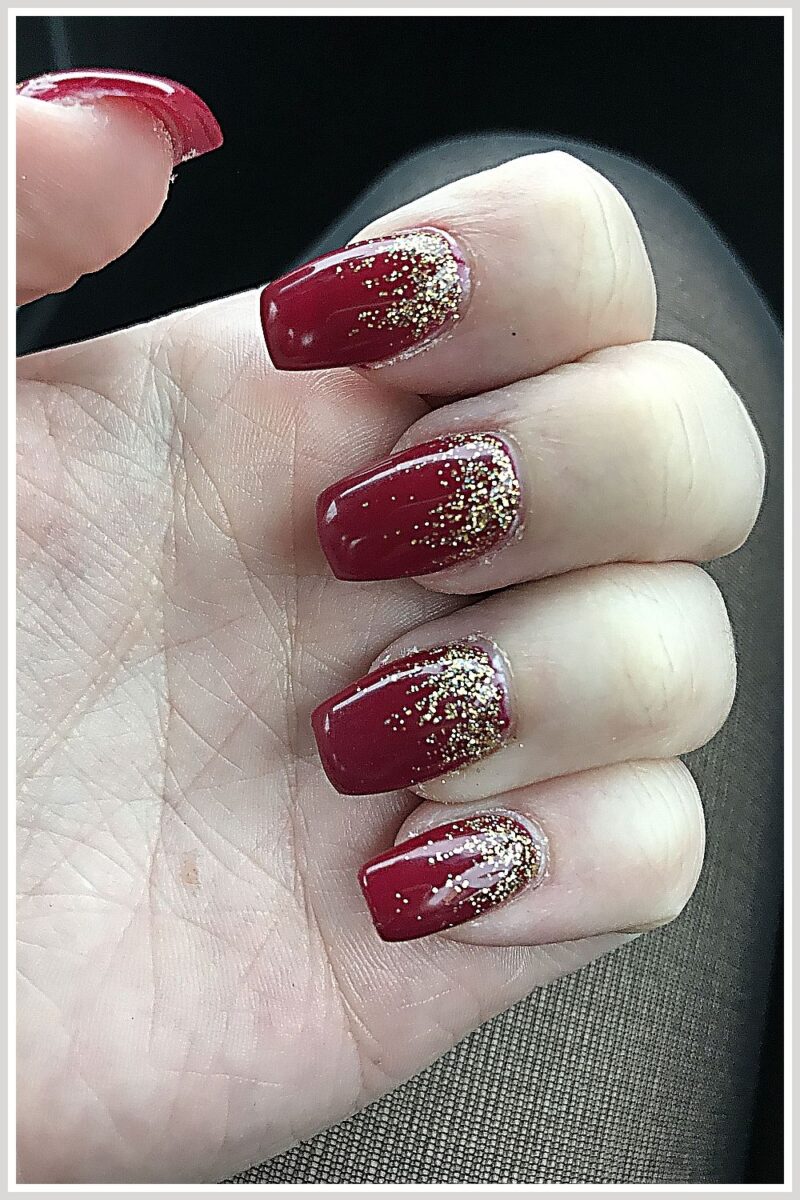 These gradient red and gold nails really embody Christmas! They look utterly festive and they don't take a lot of effort to achieve if you're planning to recreate this.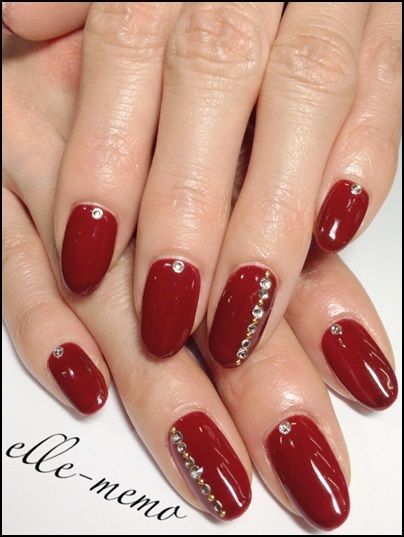 If you're bored of the traditional shimmery and glittery nail polish but still want to make sure that your holiday manicure pops off, try bejeweling them! This is surely one way to make your nails stand out!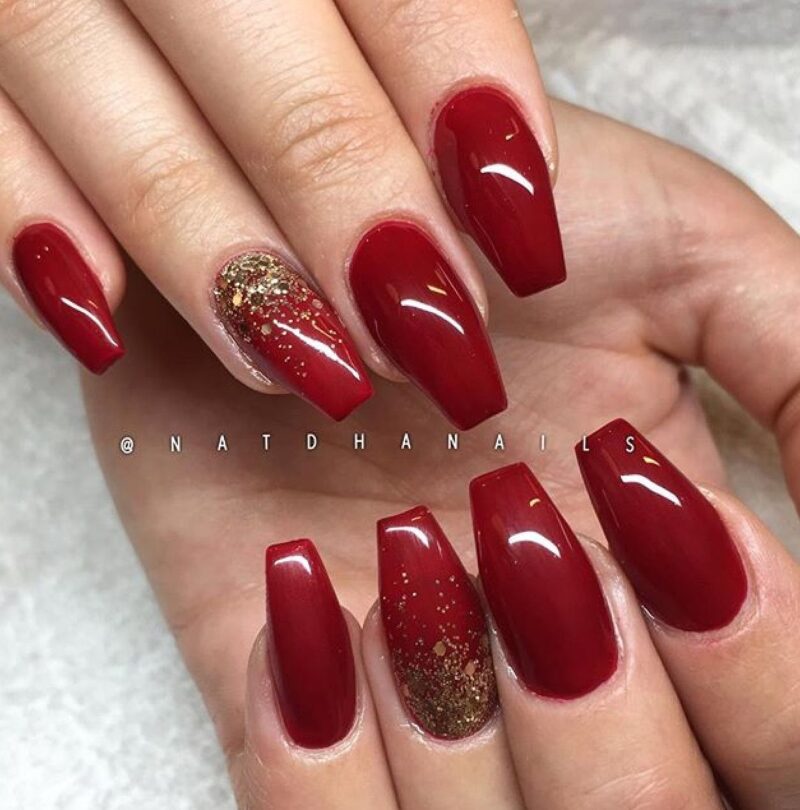 Here's a more subtle and minimalistic take on the red and gold crackled nails! These look a bit classier due to their understated style.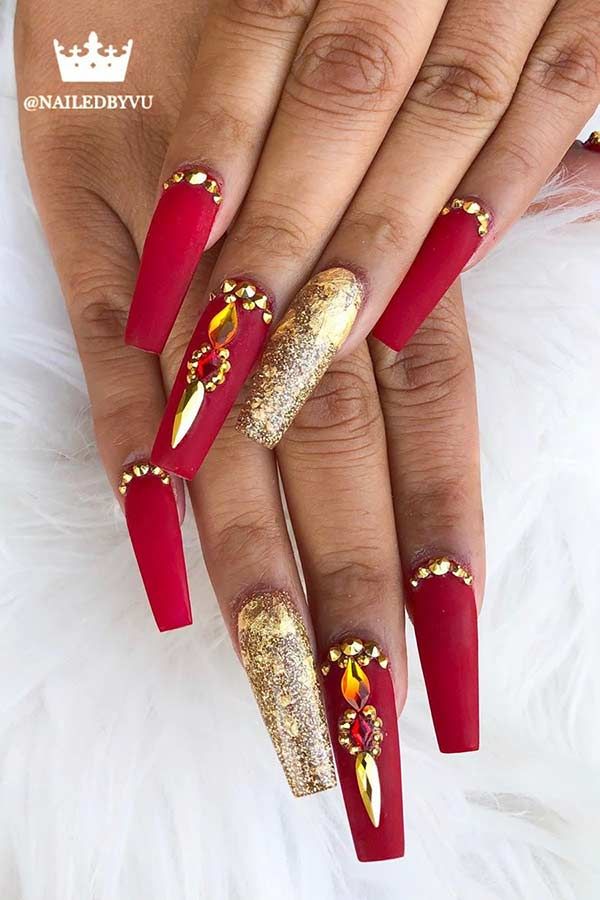 Now, if minimalism isn't your style then the holidays are definitely the season to go all out with your nails! Use rhinestones to bejewel your red nails and create this gorgeous, intricate, and almost royalty-like manicure.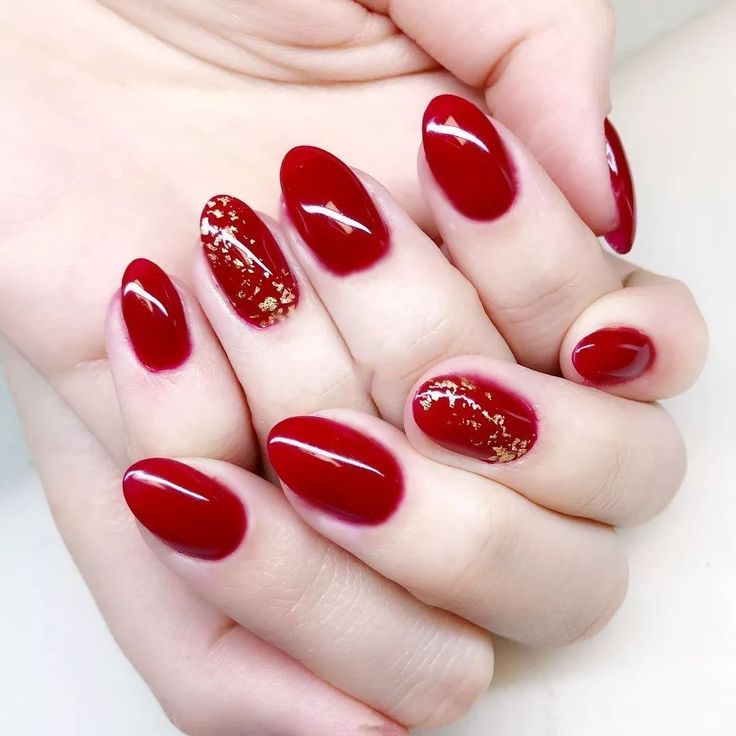 I just love these delicate and subtle nail art designs. They give off such a sophisticated feel and it looks good on any nail type. So whether you have short nails or long nails, this is a manicure that can look good on you.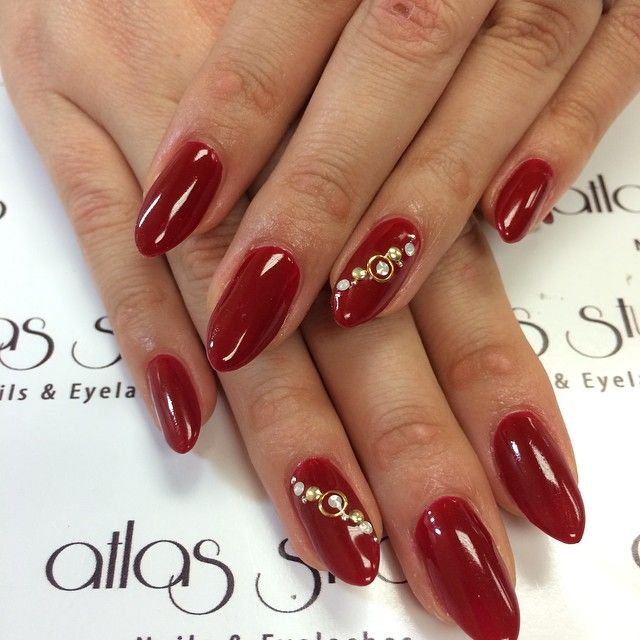 Take a look at another minimalistic red and gold nail accent. This is perfect if you don't want anything too over-the-top or you have very limited rhinestones or nail stickers at your disposal.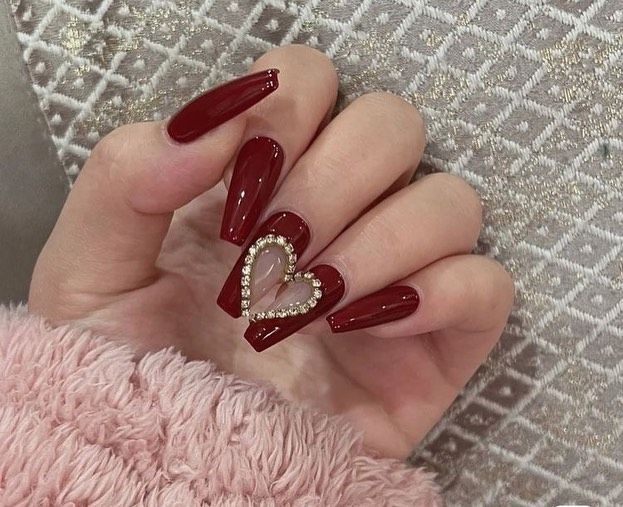 I love how romantic this looks! Such a creative way to use the negative space and the rhinestones to form a heart shape.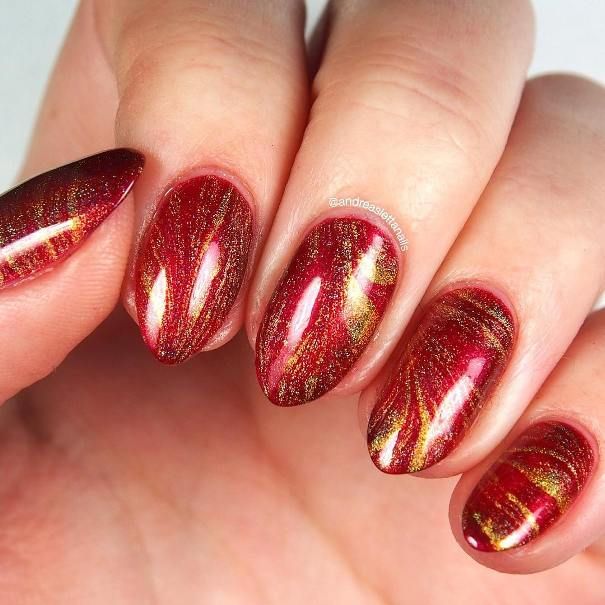 I love the shimmers in this manicure! It almost reminds me of those galaxy gradient styles but this version is for Christmas!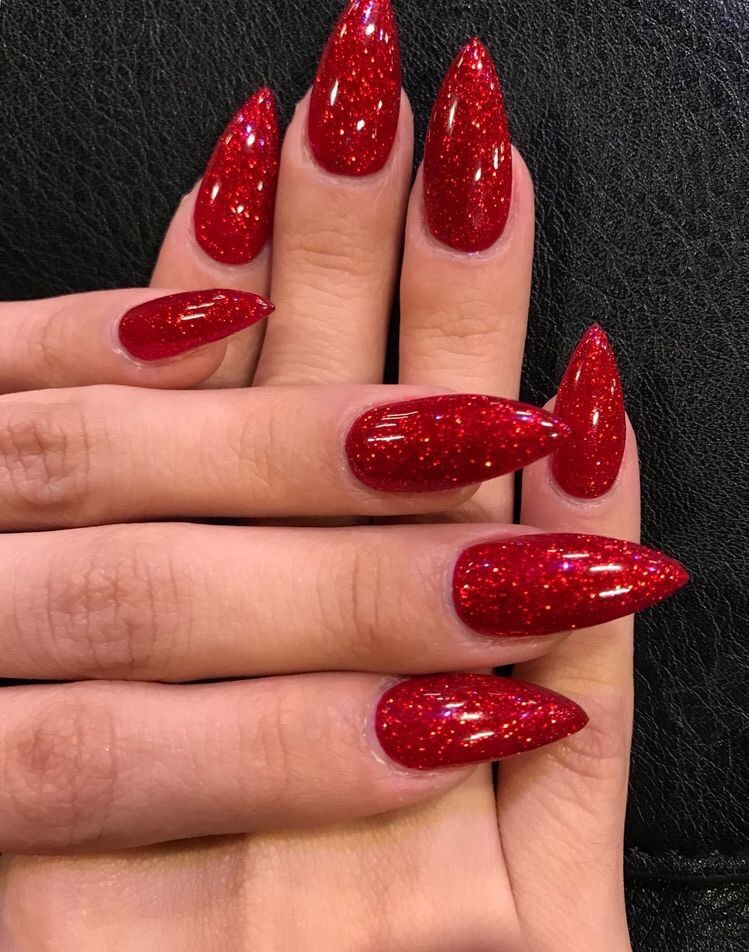 Sometimes, all you need to make a good manicure is glittery red nail polish with a clear top coat to make sure those glitters last. These would be so perfect on a stiletto nail too.
I just love the combination of red and a champagne gold color on the nails. It looks so festive and sophisticated at the same time!
Now, this is a red and gold manicure that will surely stand out! That gold accent looks so gorgeous and I love how it looks like an actual ornament.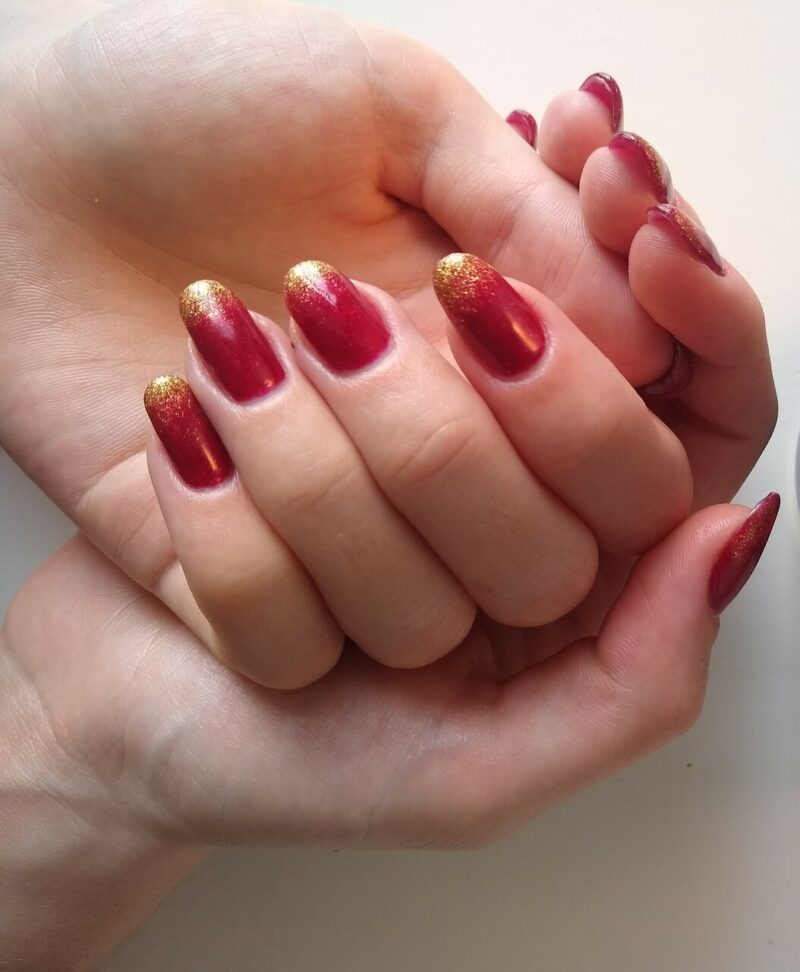 These beautiful berry red nails make it seem as if you dipped the tips of your nails into liquid and this is what came out! So stunning!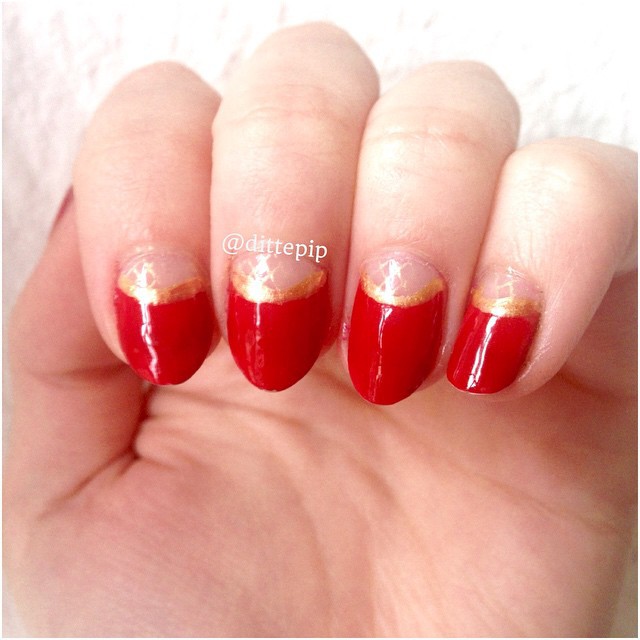 No need to worry if you feel like you can't grow out your nails, this particular nail art will make your short nails just as beautiful!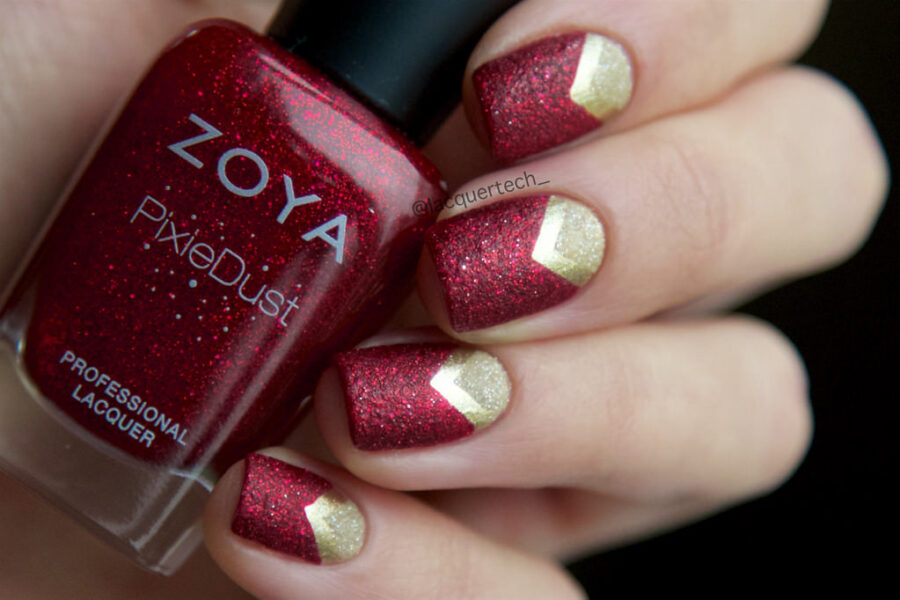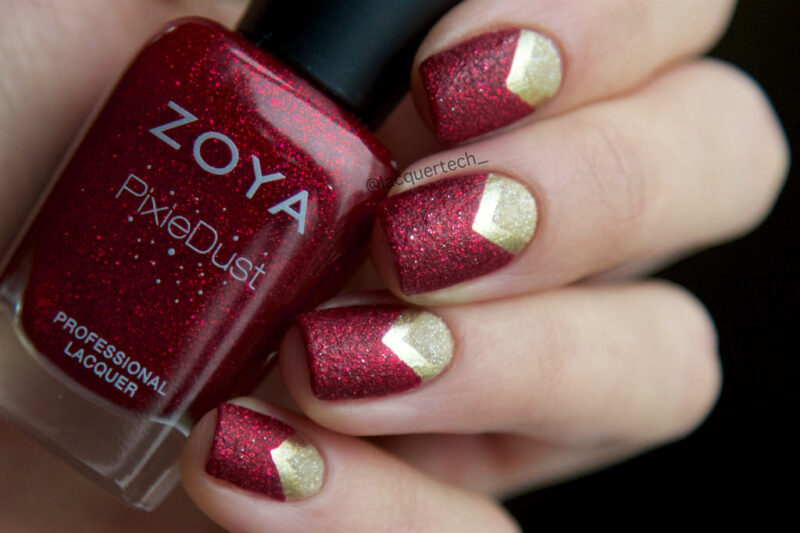 If there was a manicure on this list that perfectly embodied the holiday theme, it would be these elegant, sparkling red and gold nails!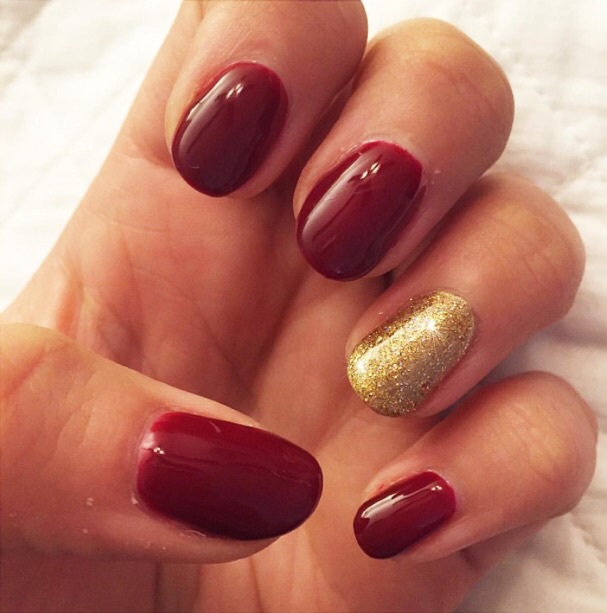 So simple and cute, these straightforward red nails with a gold accent nail are one of the easiest manicures you can do on this list.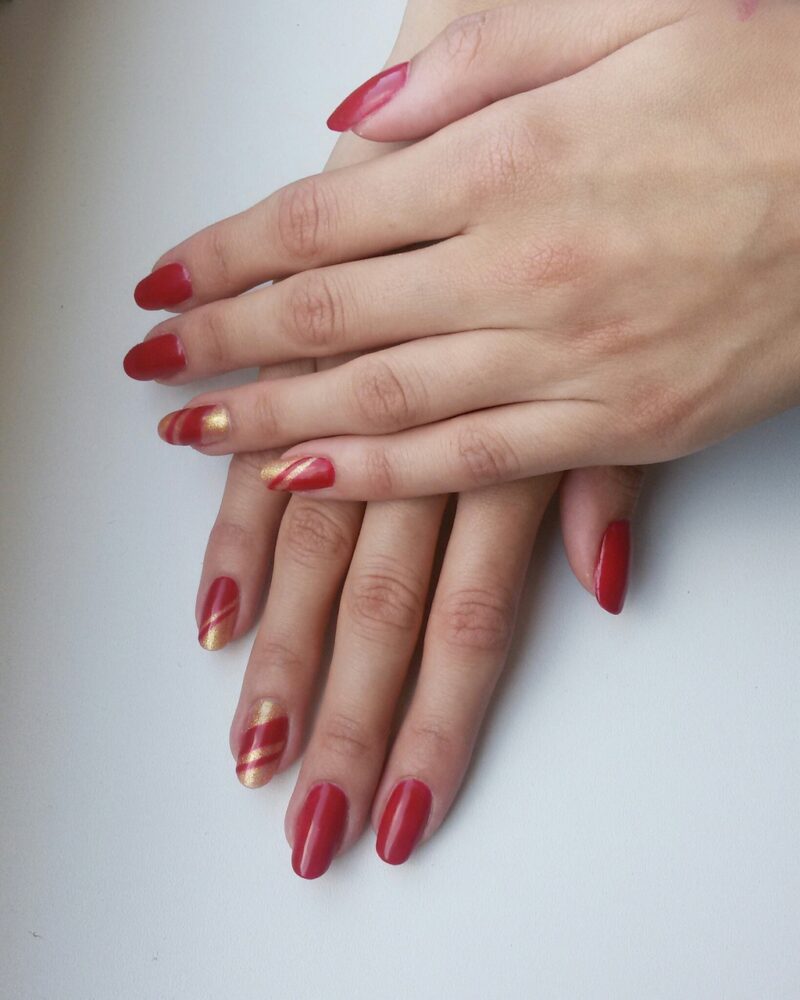 These red and gold accent stripes remind me of candy canes. Yum!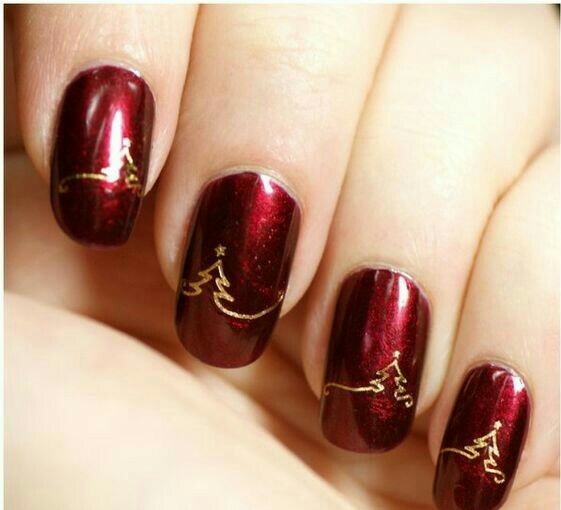 I love how ornate the gold detailing is against these gorgeous deep, red nails! So timely for the holiday season!
Here's another take on the "crackled" nail polish if you want to get that beautiful mixture of red and gold for your nails.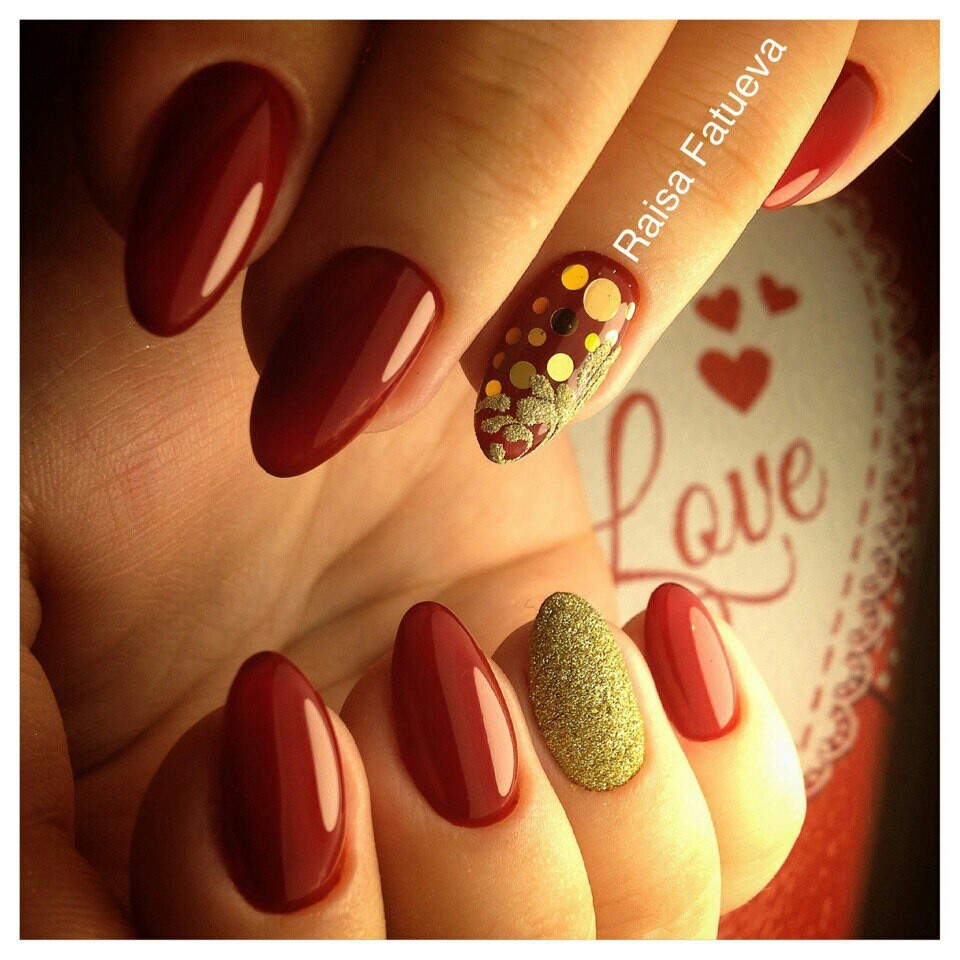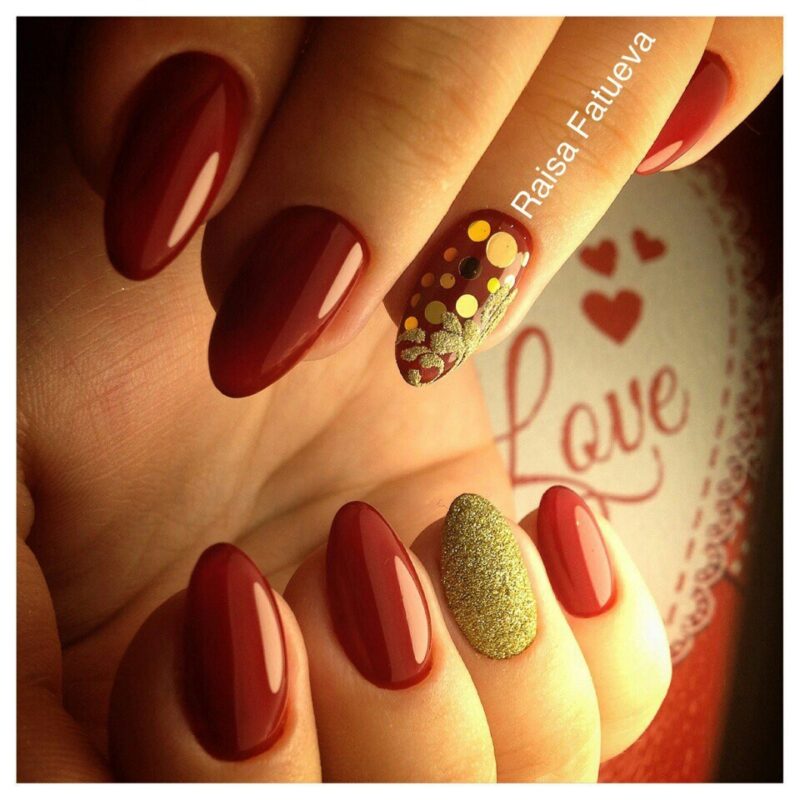 So quirky and creative, if you're feeling bold and artsy for your next manicure, you should definitely give this one a try!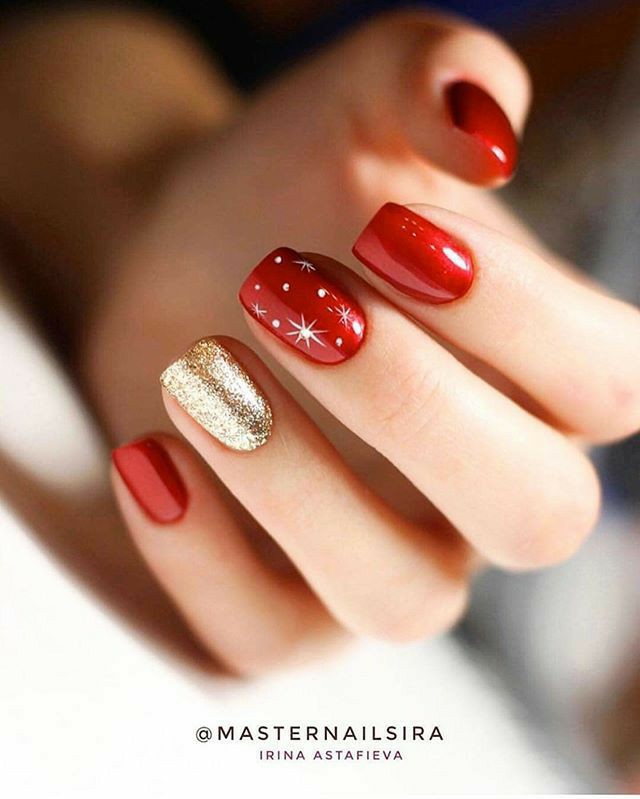 Add some stars to your already sparkling manicure to make it even shinier this Christmas season!
Hopefully, this post helped you figure out exactly what kind of red and gold nails you want to do. Enjoy!