Looking for ways to style your combat boots outfit? You're in luck. In this article, we'll run you through the different types of combat boots, how to style combat boots, and our favorite outfits with combat boots for every occasion!
Combat boots are one of the versatile and high-fashion pieces you can invest in. However, many people tend to be intimidated by combat boots' straightforward and masculine style. But they're really chic and are totally worth the effort to style!
First of all, drop the myth that you have to be a model, a fashion intern, or an icon to wear combat boots. It only takes learning the techniques and styles to incorporate these boots into any outfit. Second, let go of the notion that combat boots only fit biker looks. Dressing them up with floral dresses looks good as many biker outfits, so a combat boot outfit can be styled for any type of fashion.
Types of Combat Boots
Surprisingly, the famous "combat boots" that we all know were not made for tactical purposes but were rather invented out of fashion intent. And there are a few distinct styles of combat books within this category!
Knowing different silhouettes can give you an idea of what to personally look for. Before we get on to styling, let's dive into the different types of combat boots.
1. Trench boots
Trench boots are the earliest form of combat boot. These types were used by soldiers in actual combat during warfare. Trench boots were usually made out of cowhide and had a knee-high shaft. Because of their minimally elevated sole, trench boots today are usually used for smart casual outfits both in men and women. You can easily identify them with their slim soles.
2. Jungle boots
Jungle boots are more tactical and bulky compared to trench boots. Jungle boots are known to have thicker lug soles and breathable material to equip the wearer in harsh terrains and humid environments. You'll notice a lot of modern-day boots following the chunky silhouette of jungle boots.
3. Desert boots
Desert boots were usually made out of suede material, lace-ups, and a neutral color palette to blend in with the desert's environment. Desert boots often come in mid-cuts and don't go any higher than that.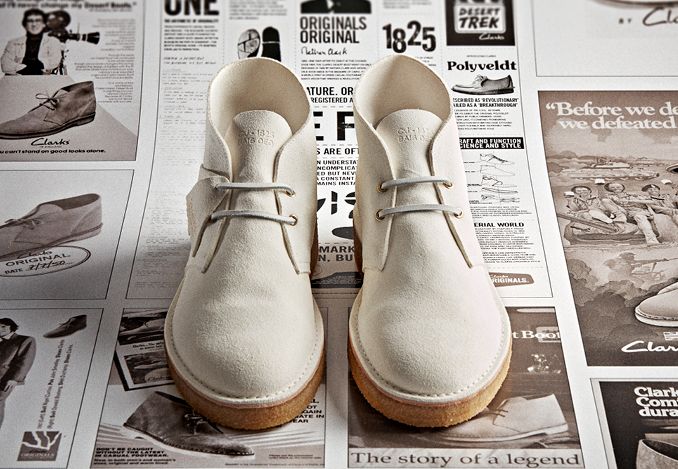 How to Style Combat Boots
Here are some of our favorite ways to style outfits with combat boots.
Wear With Straight Leg Jeans
Wearing combat boots with straight-leg jeans creates a chic and classic look. An ideal combination is a tucked white button-down, and a grey/black sweater hung over the shoulder.
Wear With Skinny Jeans
When I think about combat boots and skinny jeans, I think of the classic biker outfit. That consists of a leather jacket, a good quality white t-shirt, and black/undyed skinny jeans. If you have wider shoulders, wearing a deep v-neck shirt is a great alternative to create a slimming illusion.
Wear With Wide Leg Jeans
Wearing wide-leg jeans with combat boots looks especially good on wearers with slim and long legs. Combat boots elevate the silhouette and complement the bulky appearance of the flares. Ideally, you would want to wear this ensemble with a fitted top or a crop top.
Wear With Leggings
Anything fitted paired with something bulky like combat boots can slim and shape the legs, no matter how thick or slim they are. Leggings are easy to style but can look very sloppy when worn mindlessly. But wearing them with combat boots can effortlessly transform any ordinary outfit.
Leggings come in different styles, colors, and textures. One of my personal favorites is pairing combat boots with leather leggings. For streetwear style outfits, I like wearing a neutral-colored oversized hoodie with leggings and combat boots.
Wear With A Dress
Combat boots are undoubtedly masculine and rugged in nature, which can make anyone have second thoughts when pairing them with feminine pieces like a dress. Apparently, opposites attract. Having both yin and yang in your outfit is never a bad idea. A dress, when worn with combat boots, can give it character and personality. If you wear them together, expect interest and curiosity to crowd around you.
Combat boots look great with maxi dresses, sun dresses, midi slip dresses, sweater dresses, and mini dresses. The options are limitless!
Wear With A Skirt
There's something about skirts with combat boots that make them edgy and unique. I especially love wearing combat boots with midi skirts. I think it's a nice twist to a modest and feminine silhouette. Skirts are also much more flexible and versatile than dresses since you can switch up your top and recreate various layers depending on the season.
Combat boots also look stunning with mini skirts, denim skirts, leather skirts, and pleated skirts.
Related: 42+ Easy Black Skirt Outfits | What To Wear With A Black Skirt
Wear With Trousers
Who would have thought combat boots would work well with tailored pieces? Wearing combat boots with trousers can give your outfit character and accent. If you want to add a bit of height without having to force yourself in heels, combat boots with chunky lug soles are great options. Wearing something casual but elevated like combat boots can also tone down the formality of most dress pants.
Personally, I love wearing cropped straight-leg trousers with combat boots because they allow enough space for my kicks to stand out.
Wear With Leather Pants
Leather pants and combat boots are basically made for each other. It doesn't take much to make them work — especially if you stick to monochrome styles. Want a no-fuss ensemble? You can opt for a classic white tee, leather pants, and combat boots. For late fall and winter, you can add an oversized faux fur jacket or a tartan button-down. Gold jewelry is also a great accessory to add warmth to a black-and-white fit.
But don't feel limited to black & white. Combine combat boots with beige, green, and ruby leather pants. The possibilities are endless!
Wear With Overalls & Boilersuits
Relaxed and casual but polished is the look you get when you pair combat boots with overalls and boiler suits. For me, they're practically made for each other! One of our favorite quality overalls and workwear comes from Carhartt.
Wear With Shorts
Shorts don't usually go particularly well with combat boots, but, hear me out— you can make them work with the right pieces. Usually, leather shorts and distressed shorts look extremely good with combat boots. The edgier the look, the better. In colder seasons, you can add tights for layer variety.
Our Must-Have Combat Boots:
Here are some of our favorite combat boots right now – there's something for every price!
52+ Outfits With Combat Boots To Copy
Now let's get down to it: our favorite outfits with combat boots! There's something here for every style. Browse through and see what you like!
If you're the type to mix and match, this smart-creative casual outfit is for you: tucked in a button-down, mini denim skirt, and a slightly oversized blazer. This is one of our favorite outfits with combat boots for a day out in the city!
Cargo pants are not the only 'cargo' that pair well with combat boots. Any dress with tactical pockets can suit make a great pair. So far this cargo dress is my favorite!
Fall days call for long coats and leather jackets. Can't decide between the two? Here's a leather trench coat that you can pair with combat boots any day for a sleek combat boots outfit.
There's something about matching sets that make any outfit look sleek and polished! Adding something edgy like combat boots can give it the oomph it needs to stand out even more.
Trying to figure out how to wear combat boots with a skirt? This outfit should be on your inspo list.
The way she wore her midi skirt with high-cut boots reminds me of 18th-century fashion. Her fitted turtleneck top also fits the visual volume of her lower body, which creates an illusion of longer legs and less wide shoulders.
Who's up for a little DIY? If you can find an old blazer top, here's a chic idea to rework it! For a more feminine look, you can opt for a mini skirt to pair with the boots instead.
There's something about combat boots that make any all-black outfit look high fashion. The variety of layers here is very well curated! This is a high end combat boots outfit that's perfect for everyday wear.
Can't think of anything else to wear? Choose a combat boots outfit. Put on a white shirt and a pair of washed black denim to achieve an off-duty model look. Nobody will assume that you didn't have anything else to wear. Add a baguette bag for a cute accent.
Achieve this summer hipster look with a tank top, a silk vest, boyfriend shorts, and a couple of gypsy jewelry.
If she wore this fit with heels, flats, or loafers, these would have looked completely different! I love how empowering her boots look with her wool blazer and black-and-white ensemble.
Midi skirts with combat boots? Good. Midi skirts with a slit? Better! A slit gives an element of surprise for modest outfits like this.
Looking for an edgy combat boots outfit? Recreate this model-off-duty, gothic punk look with a white oversized tee (that is good as a dress), lace stockings, and a leather jacket. Finish off with a chic messy bun.
Nothing can go wrong with an all-black fit regardless of fabric and texture. Let me correct that – especially when there's a variety of fabric and texture. This is one of the classic outfits with combat boots to wear if you're feeling edgy.
Looking for comfy outfits with combat boots? Don't want to look sloppy with your leggings on? Cop this streetwear-inspired fit with a neutral hoodie, a bomber jacket, leggings, and chunky combat boots.
If an all-black outfit isn't enough for you, a bold accent like animal prints can get you in the groove. Plus, it compliments the edginess that all combat boots have.
Apparently, boiler suits are greatly underrated. The thing is, people just don't know how to style around them. To add depth and variety to your outfit, you can simply add an inner shirt and/or a jacket. And of course, a pair of combat boots to make up the edgy look.
Looking for warm-weather outfits with combat boots? Wearing combat boots with something as simple and feminine as a midi skirt and a white tee can give it height and elevation.
Here's how to look like a creative person/artist without much effort: a white button down, straight-leg jeans, and combat boots.
Want casual workwear outfits with combat boots? Dressing smart casual for fall can be tedious and there are practical decisions to be made – especially because of wetter weather. That's what combat boots are for.
I love how this feminine ensemble pairs so well with combat boots! Now, that's a fair example that combat boots are not just for masculine outfits.
This outfit is perfect for going out with the girls! Tank top over a blazer, distressed shorts, statement belt, and a cute little baguette bag to store the essentials. Pair it with combat boots to finish off with a 'strong woman personality' vibe!
I've said it before and I'll say it again: anything black goes well together, especially with a variety of shapes present. I love how her puff-sleeved blazer smoothened with her edgy silhouette! This is one of my favorite city-style outfits with combat boots!
Feeling curious? Don't be afraid of adding color to your outfit! With combat boots, you'll look intentional with what you wear.
Here's another way to add color to an outfit with combat boots. You'll also see how the boots look like dress shoes just by hiding them under the lengthy trousers. Versatile!
Recreate your very own punk-rock school girl by wearing a pleated plaid skirt. For extra points, you can wear tights under your skirt.
Achieve this off-duty-model look by switching your regular twill mini skirts with leather! They're edgier and they instantly transform any outfit into an upscaled ensemble.
Looking for a last-minute outfit? Here's an idea: wear all-black (black tanktop and fitted black pants) with combat boots, and put on a statement cardigan and you're ready to go!
Streetwear style is all about redefining loungewear and incorporating them with smart wear. Wearing this ensemble with combat boots makes it even more diverse.
This is the perfect campus outfit that you can wear all year! I love how relaxed but stylish this outfit is – perfect for studying or going out with friends after class.
If you love mixing and matching, this outfit is for you! I love how her burgundy combat boots blend well with her animal-printed mini skirt. The turtleneck blouse underneath also makes this perfect for fall!
Looking for ways to style combat boots with Y2K elements? Here's how you start: pick an argyle vest, use it as a top, wear classic straight leg jeans, and add a baguette bag for the finishing touch.
This outfit screams 'hiker girl' vibes! If you're that type of girl, or if that's something you wish to visually achieve, this outfit's for you.
Simple but chic. I love how this little black dress worked with combat boots. Investing in an LBD should be a wardrobe policy!
Here's another variation of the little black dress + combat boots ensemble. This one's more casual and laid back, perfect for every day!
Still not sure whether to get that neutral-colored combat boots or not? Here's a pretty example of how you can style them. They pair very well with equally neutral pieces!
I think any feminine and flowy dress like this can turn into an alternative outfit when paired with combat boots. It gives 'bad ass' energy, if you know what I mean!
Not all leather fits with combat boots point to biker/moto style! Here's an example of how color can change the mood of an outfit.
Here's another way to soften your outfit and avoid looking masculine. By changing the color of her leather pants, she made this outfit look more laid back.
Combat boots make any outfit look sophisticated and fashion-forward. Here's an example of combat boots paired with an asymmetrical dress and a smart blazer.
Still haven't gotten over Coachella? Here's a bohemian-style outfit that goes very well with combat boots. A little fringe and some jewelry won't hurt!
On Wednesdays, we wear Pink. Here's a Barbie-inspired combat boots outfit that you can wear with black combat boots! By the looks of her soles, the silhouette resembles the classic trench boot.
Going out for errands or simply going out to pick up an afternoon "pick-me-up"? Wearing combat boots with an oversized hoodie can easily complete your outfit. You can add statement earrings or some jewelry to elevate your combat boots outfit.
Here's another 2000s way to style high-cut combat boots. You can pair them with mini skirts to balance the visual scale.
Smart casual and edgy. Show that boss girl vibe by wearing a blazer and a pair of combat boots with a shirt-and-jeans ensemble.
Alternate detective is what I'd call this style. Black hoodie, black pants, black combat boots, and a long statement trench coat to finish off this combat boots outfit.
Fall is for cute sweaters and chic combat boots! I love how her cold-toned combat boots outfit matches so well with her warm skin and hair tone too.
A great way to show off those kick-ass combat boots is by intentionally wearing cropped jeans like this! This is one of my favorite outfits with combat boots for cold weather.
This combat boots outfit has both yin and yang elements! If you're looking for an outfit that's both feminine and masculine at the same time, try wearing a leather jacket over a flowy maxi dress. This is one of my favorite boho outfits with combat boots.
I love her sleek and classy take on the soldier's camouflage uniform! Plus, the LV bag pairs incredibly wear with the outfit palette!
I love how she seamlessly paired different shades in this outfit!
Looking for a chic combat boots outfit with a dress? Here's another outfit with both masculine and feminine elements present. Perfect for early spring or fall!
Complete your smart casual fall look with a white button-down, blazer, leggings, and combat boots. This is one of the easiest outfits with combat boots to throw together for the colder weather months.
This tomboy-style outfit is classy and sophisticated – perfect for walking the streets of Paris!
Hopefully, this post helped you figure out how to style combat boots and gave you many ideas for your next combats boot outfit. Happy styling!