For today's article, let's take a look at the best Olivia Rodrigo outfits to date! Olivia Rodrigo has a super up-and-coming style that's taking the world by storm. Some of these are even personal picks of mine!
Olivia Rodrigo has grown to be one of the most famous musicians since the release of her debut album "Sour" in 2021. She even won this year's Grammy for Best New Artist (well-deserved win IMO). In addition, she received awards for Best Pop Album and Solo Pop Performance. And not to mention, she's only 19!
But apart from her success in her musical career, she has also significantly impacted the fashion industry with her Y2K-inspired styles, glitzy red-carpet looks, and sustainable fashion choices.
So whether you're looking to recreate her iconic looks or just want to take a trip down memory lane of your fave artist, check out this list of Olivia Rodrigo's Best Outfits I have curated just for you!
The Best Olivia Rodrigo Outfits
Just keep scrolling to see our favorite Gen Z singer's unforgettable fits!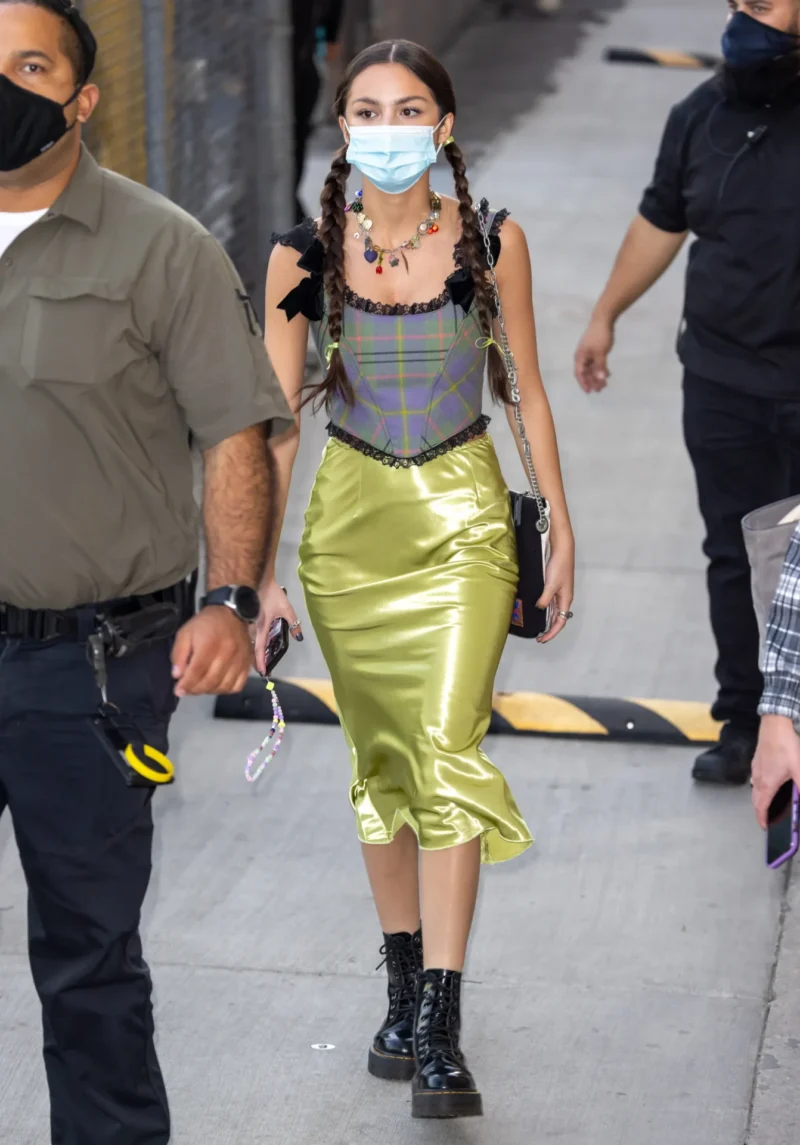 Olivia Rodrigo was spotted on October 26, 2021, on her way to Jimmy Kimmel Live while dressed in one of her signature '90s-inspired looks. The actress wore a plaid corset with a green satin midi skirt, Doc Martens, and a Virgin Suicides bag!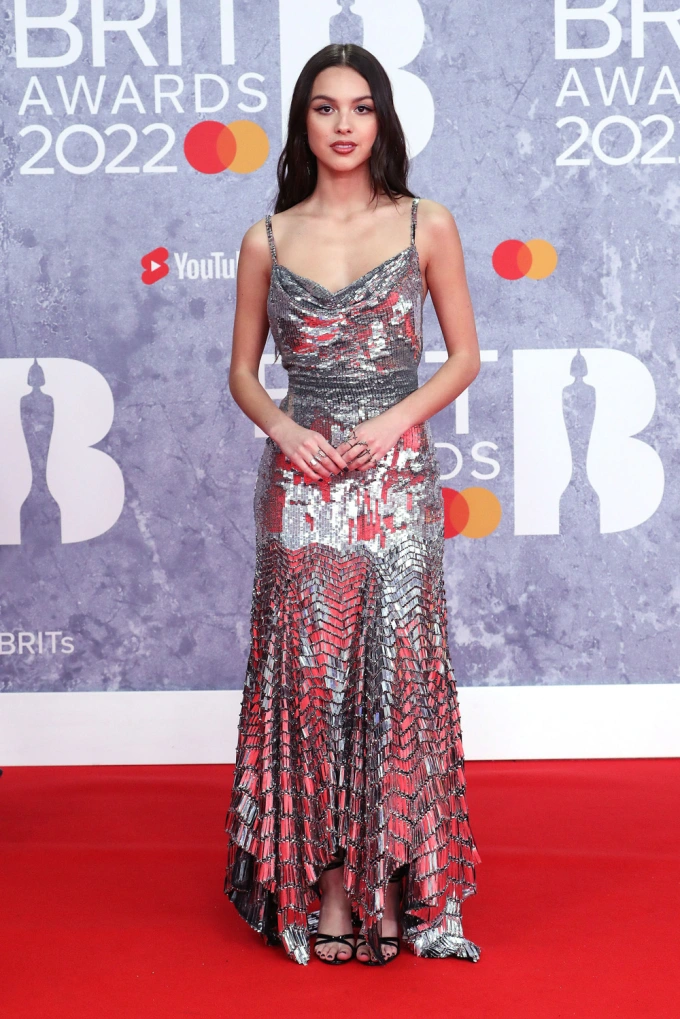 During the BRIT Awards 2022, Olivia Rodrigo wore this gorgeous, metallic silver dress paired with black shoes on the red carpet. This is definitely one of my favorite Olivia Rodrigo style choices for formalwear!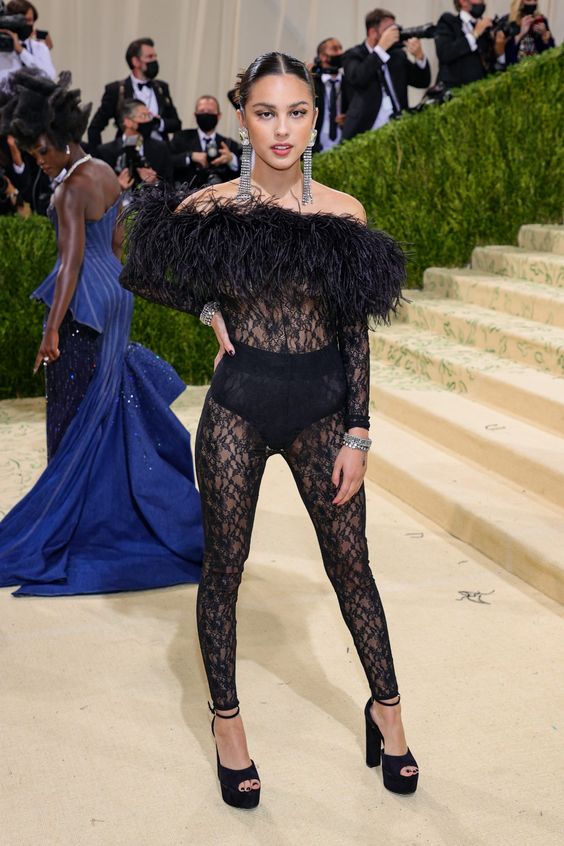 Wearing this lacy, see-through Yves Saint Laurent ensemble, Olivia Rodrigo made her MET Gala debut!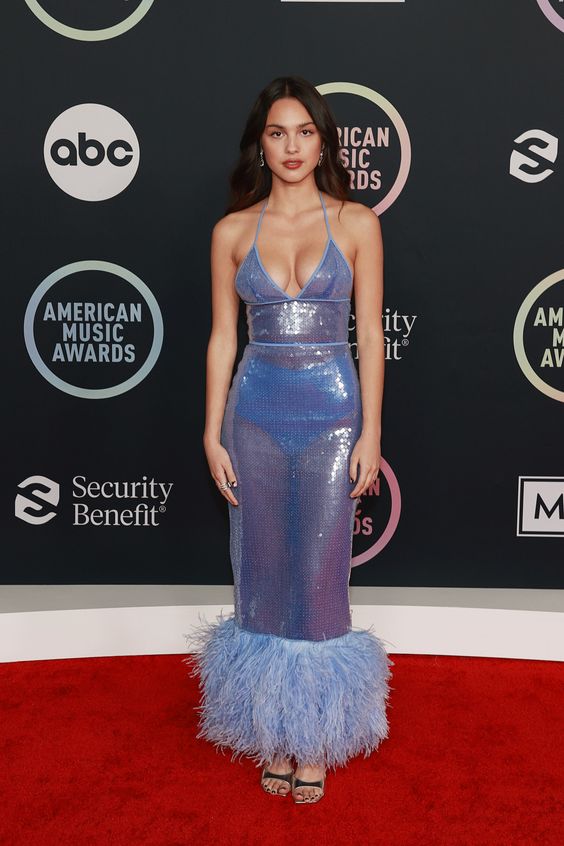 This dazzling see-through dress by David Koma had become a personal favorite of mine the moment Olivia Rodrigo showed up in this gorgeous number on the 2021 American Music Awards red carpet.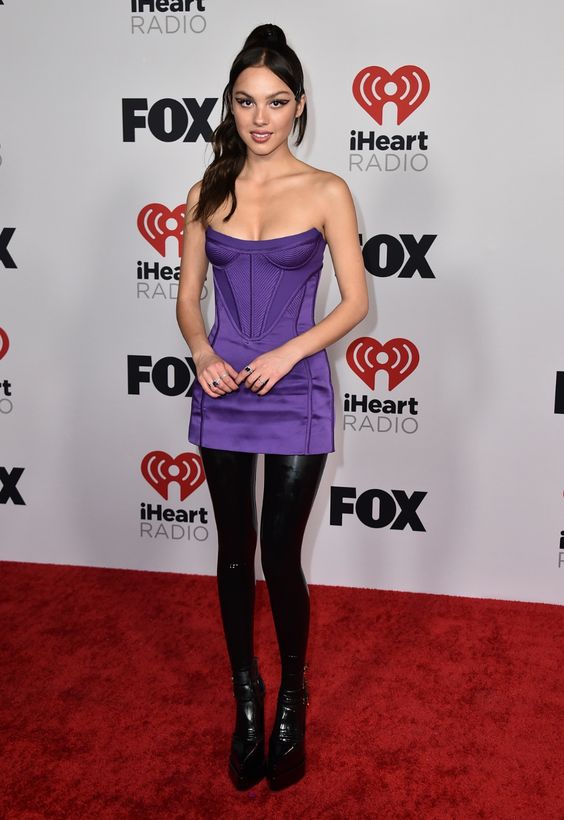 This stunning purple mini corset dress and leather stockings gave Olivia Rodrigo such a gorgeous and edgy look as she posed for the red carpet at the iHeartRadio Music Awards this year. This is one of the best Olivia Rodrigo outfits for the Y2K look in my opinion.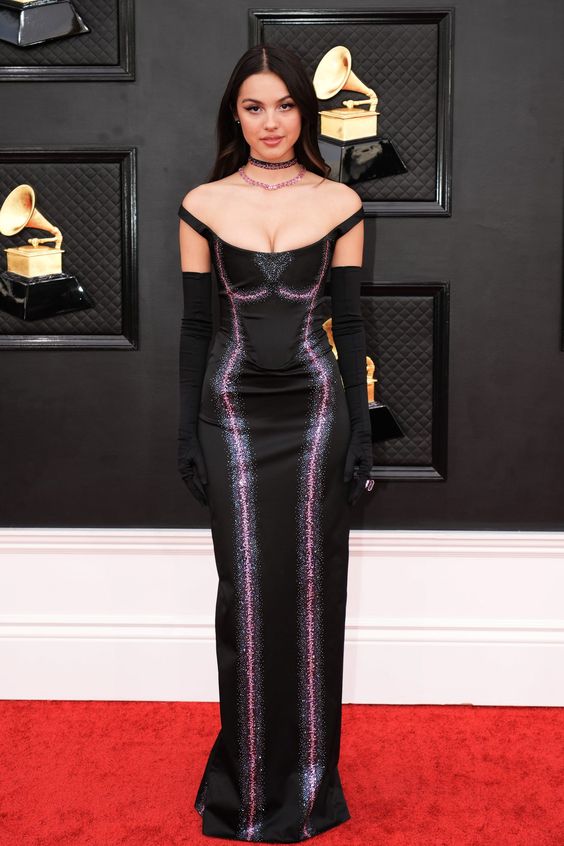 Another absolute favorite of mine is this gorgeous, black Vivienne Westwood gown with embellished sequin detailing that Olivia Rodrigo wore for the Grammys where she was nominated for seven awards and won three!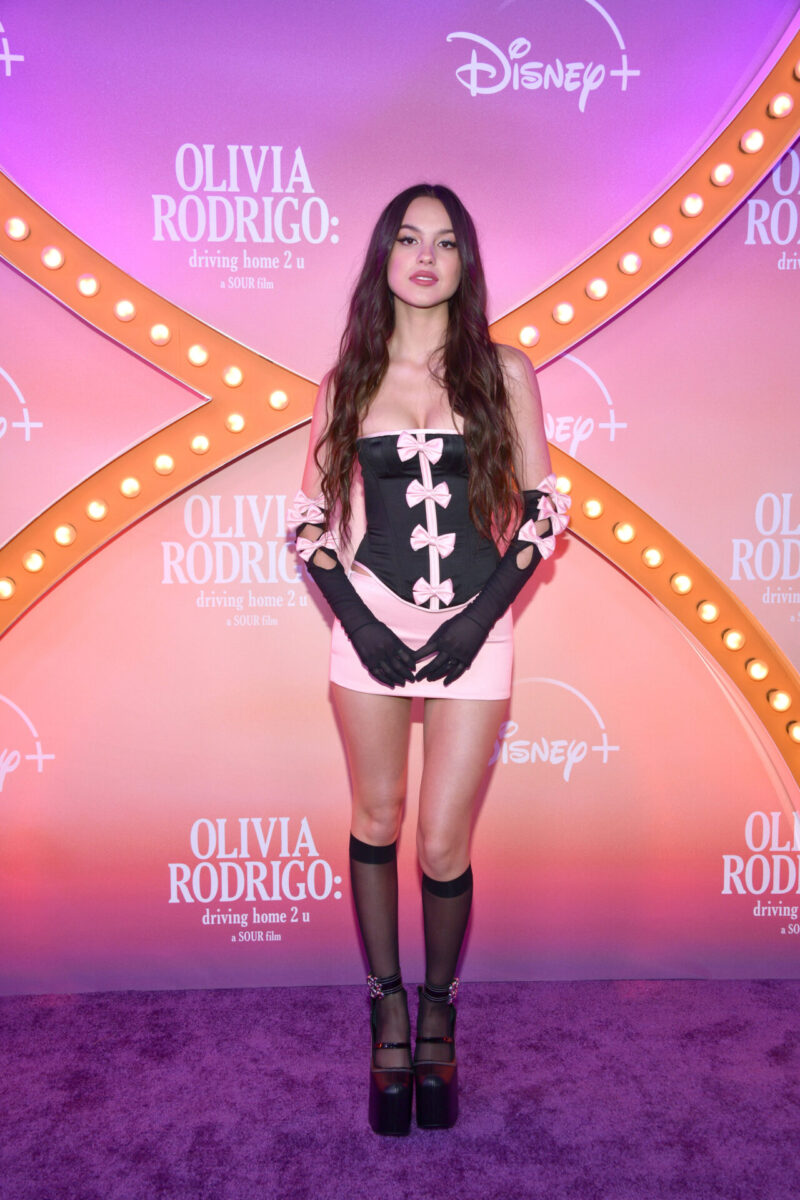 Channeling both her edgy and feminine side, Olivia Rodrigo looked so chic and sexy in this little pink and black number for the premiere of her driving home 2 u film.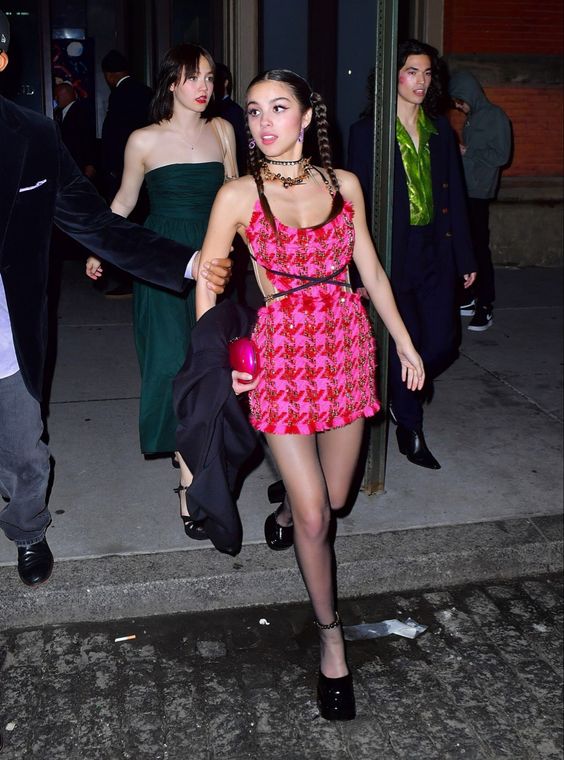 Another pretty pink number Olivia was seen sporting as she was spotted leaving the MET Gala afterparty!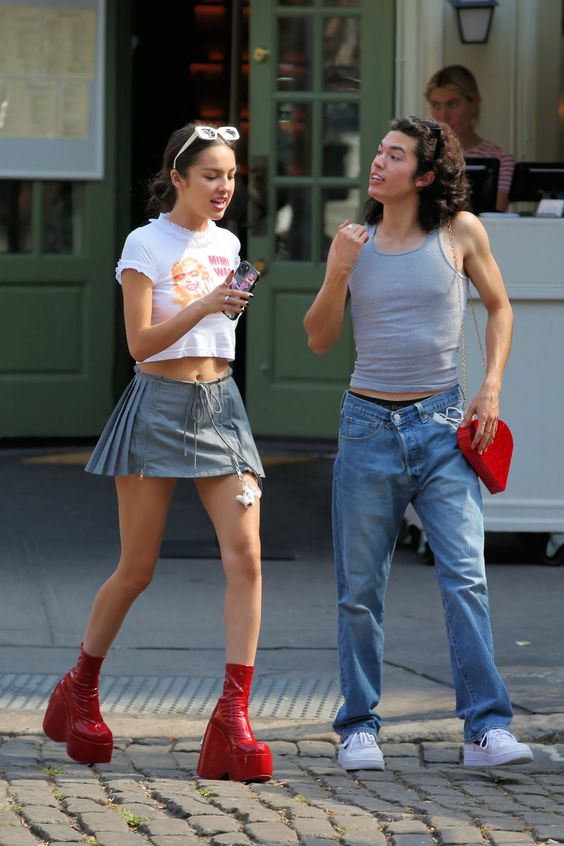 If anyone is going to rock those red patent platform boots on a casual day out, it's going to be Olivia Rodrigo!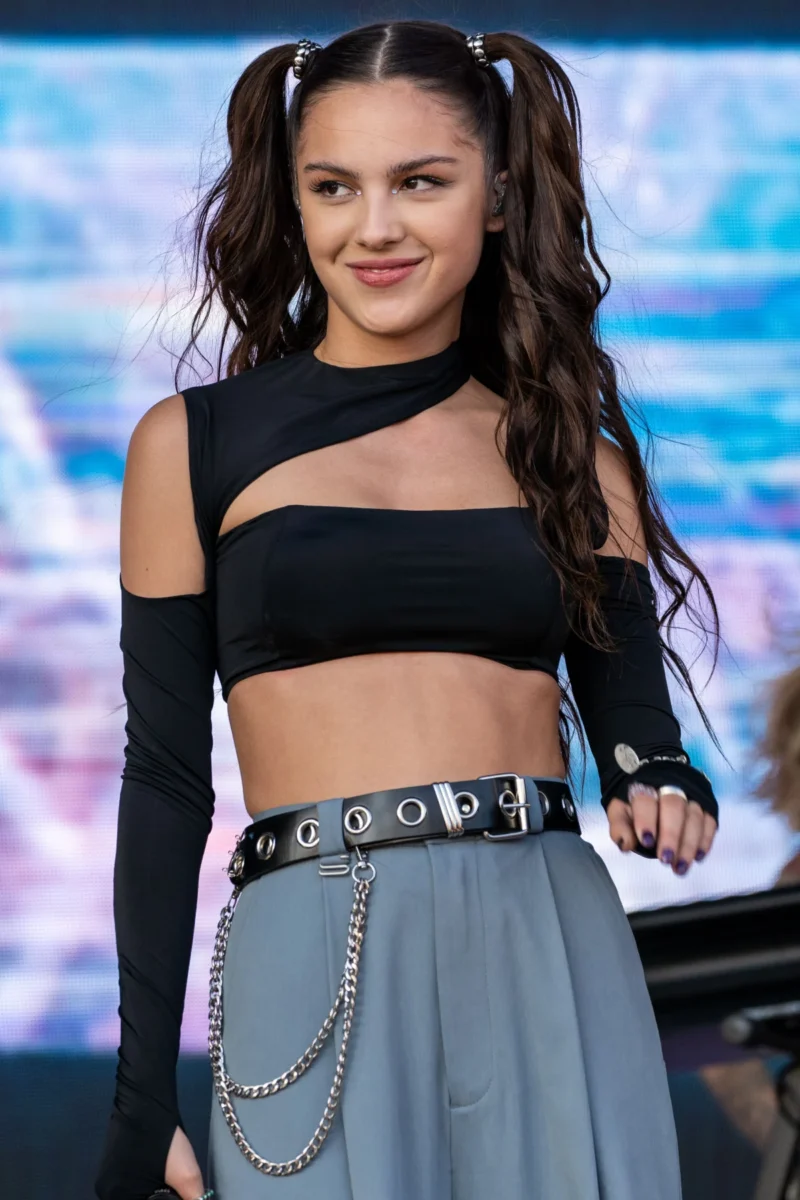 When Olivia performed at the iHeartRadio Music Festival in Las Vegas in September 2021, she was seen sporting a pair of blue pants and a black bandeau top with arm sleeves that displayed her toned midsection. Yet, she managed to look youthful overall thanks to those cute twin ponytails. This is one of my favorite Olivia Rodrigo outfits of 2021!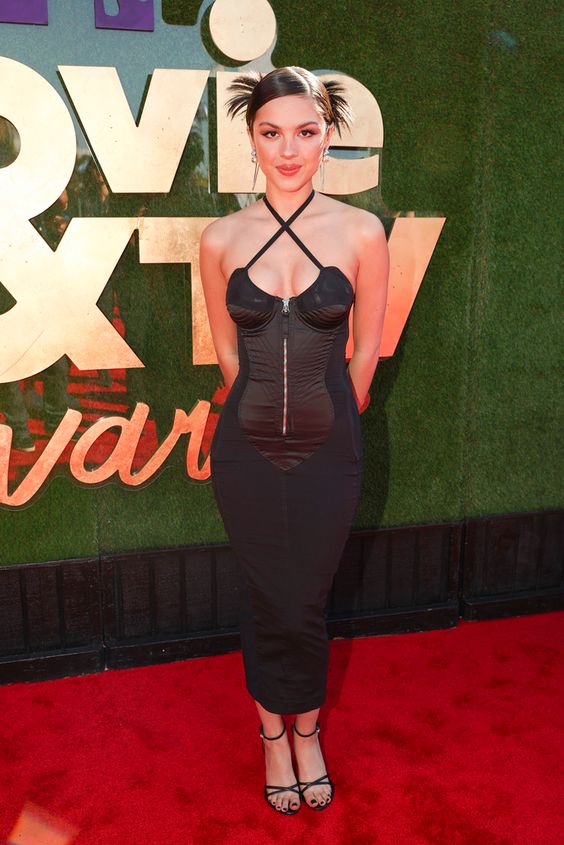 In classic Y2K fashion, Olivia sported this body-hugging black dress during the MTV Movie & TV Awards held at Barker Hangar on June 5, 2022.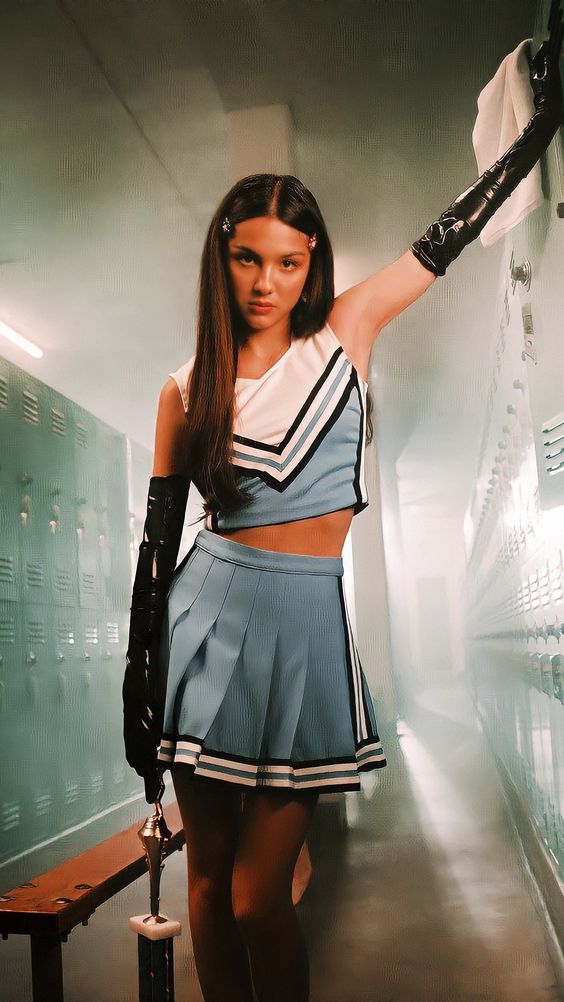 If you're looking for an Olivia Rodrigo-inspired costume to wear for a party, then you should definitely consider trying out her iconic "Good 4 U" cheerleading uniform.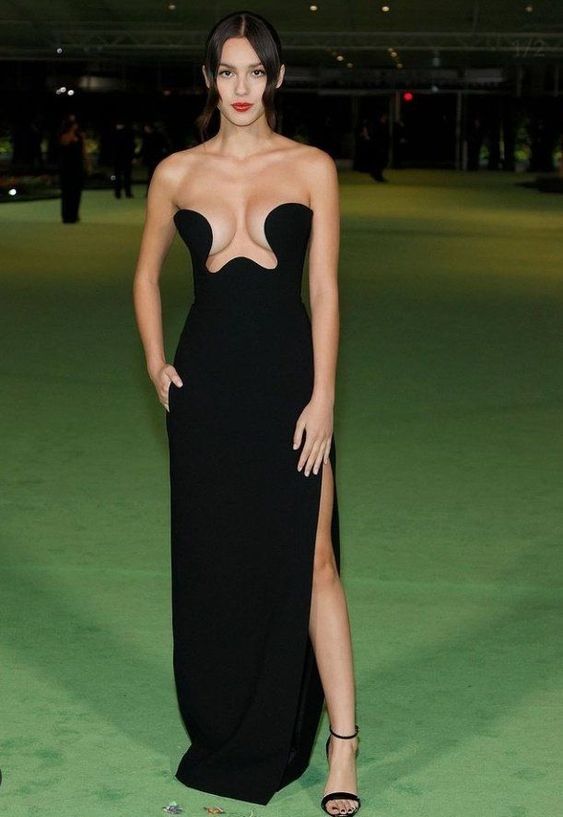 Looking for Olivia Rodrigo outfits that are a bit more sleek and mature? Olivia Rodrigo definitely flaunted her sexier and more mature side with this rather revealing plunging black gown that she wore at the Academy Museum of Motion Pictures opening gala on September 2021.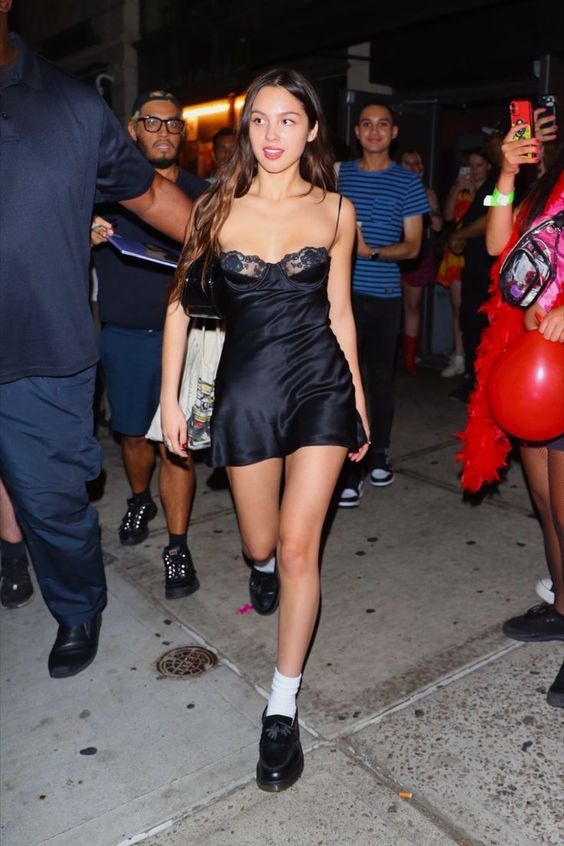 Olivia is definitely one of the stars in this generation who can pull off wearing a nightie on a night out!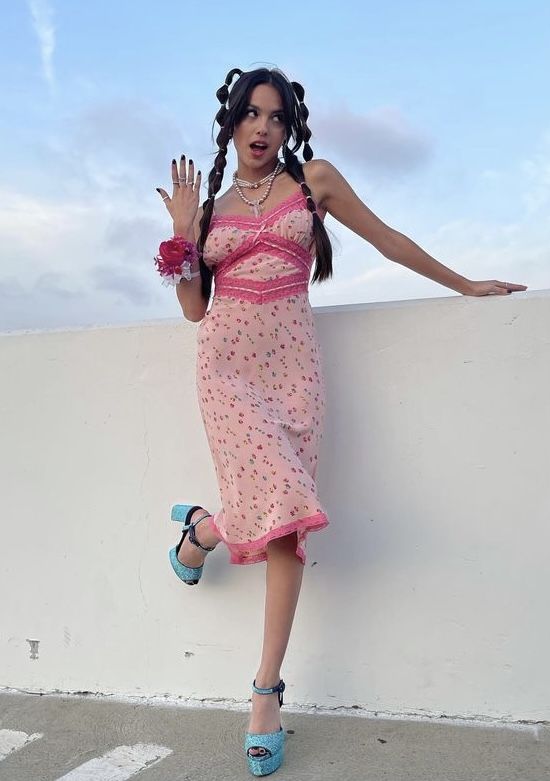 So girly and feminine, this is definitely one of my favorite outfits of Olivia Rodrigo's! The dress is from Betsy Johnson and it totally captures her youthful beauty!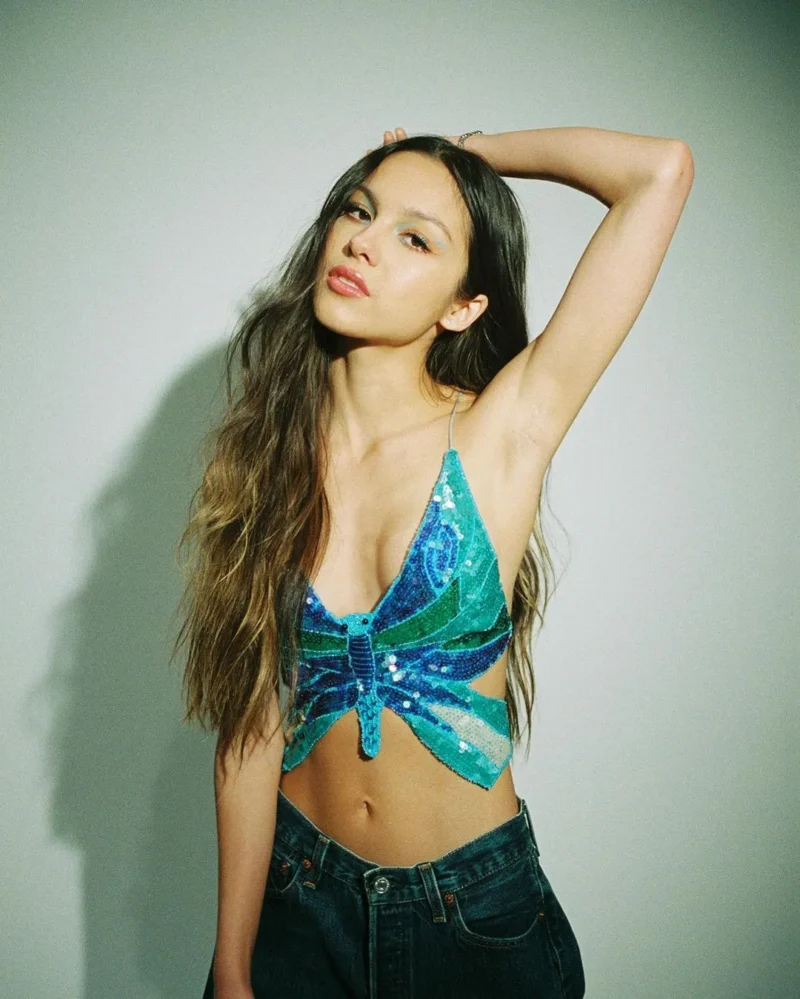 Another Y2K ensemble is this sequined, blue butterfly top Olivia wore for a photoshoot. Is it just me or this reminds me of a certain pop diva that wore the same butterfly top way back in the early 2000s?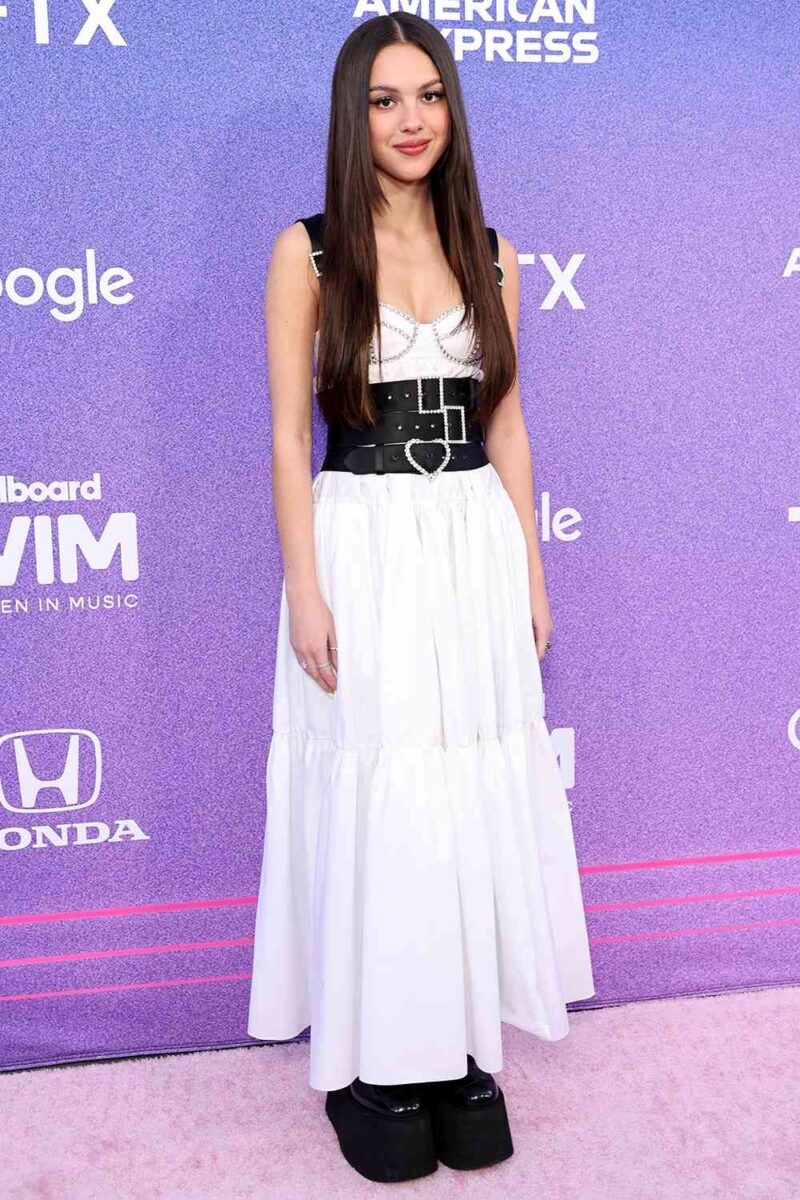 This white maxi dress paired with those giant, black platform boots and leather harness belts honestly looked so chic and edgy as Olivia attended the Billboard Women in Music last March 2022.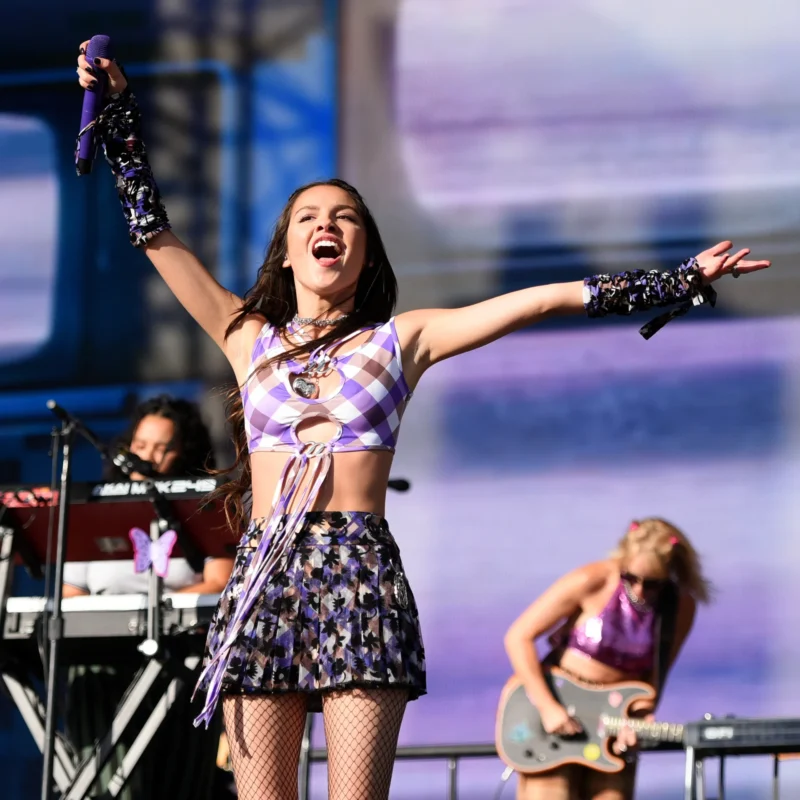 This custom Chopova Lowena look honestly was so much fun to see as Olivia took the stage at the Glastonbury Festival. The whole outfit was quirky, youthful, and of course, very Y2K.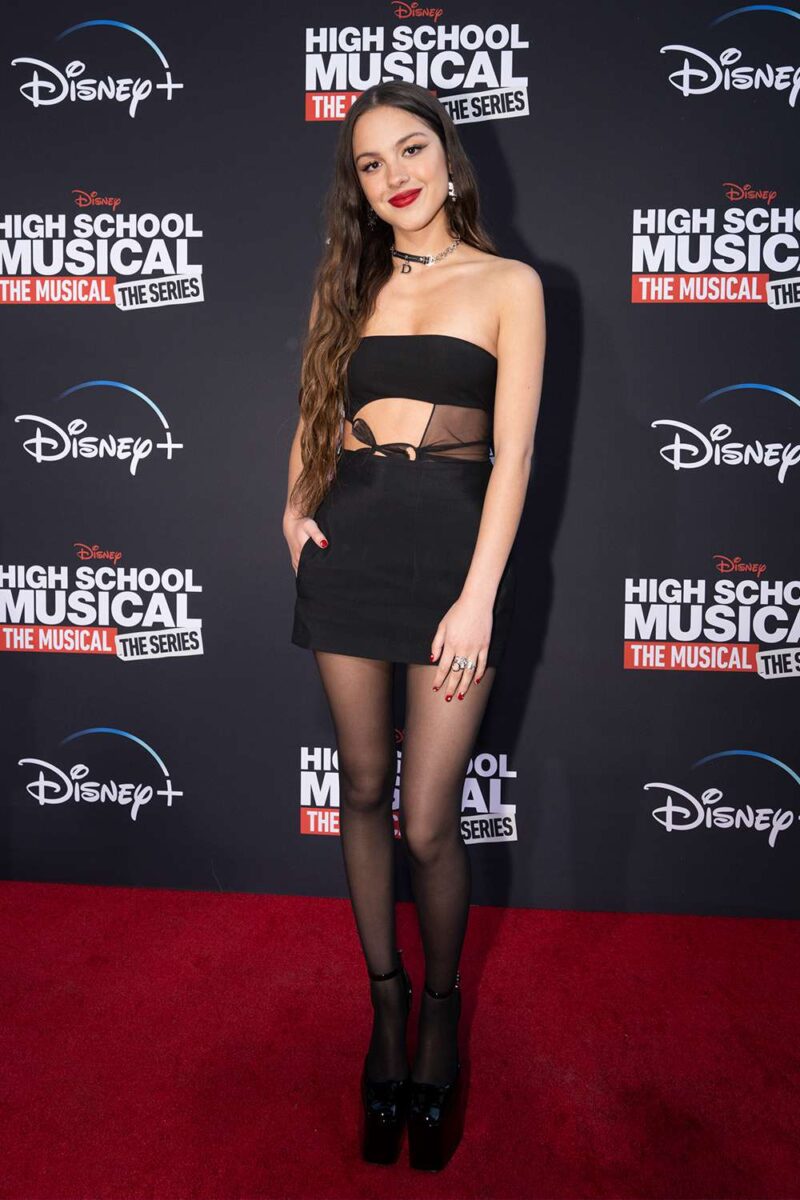 Our favorite pop sensation, Olivia Rodrigo, definitely pulled off this sexy Nensi Dojaka bodysuit with a matching mini skirt during the premiere of HSMTMTS season 3. She also added some accessories, including platform Bebe heels and some jewelry from Dior.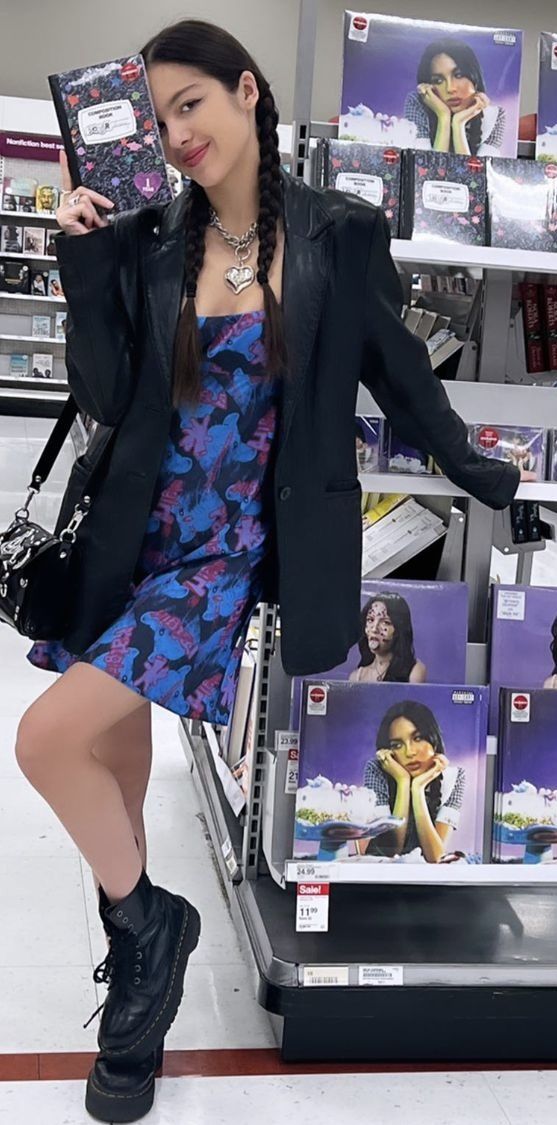 Looking for Olivia Rodrigo outfits that are a bit more casual? Even with a casual, printed dress and an oversized blazer, Olivia still looked as stunning as ever!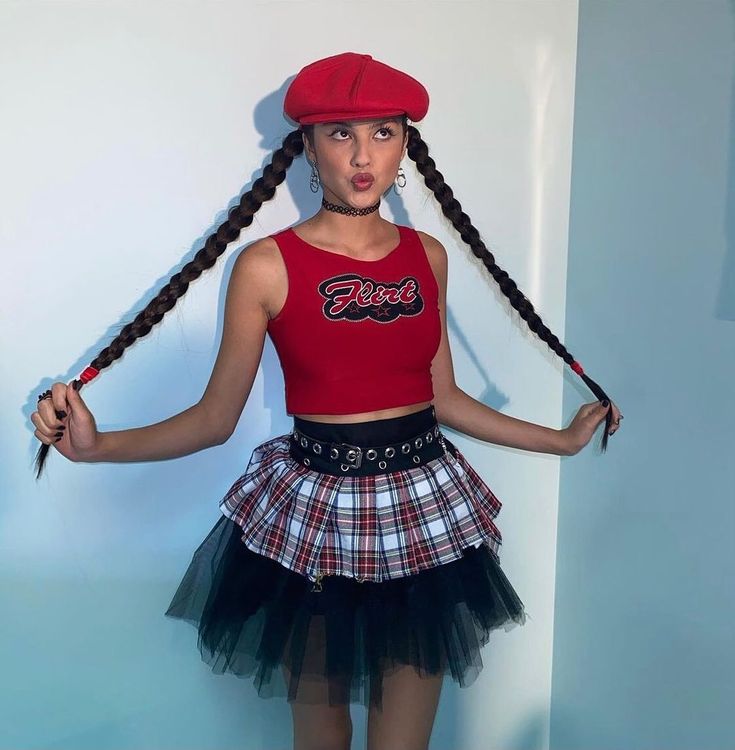 This particular outfit might be a bit familiar to you and you're definitely correct! This was one of Olivia's quirky fits in her Brutal music video!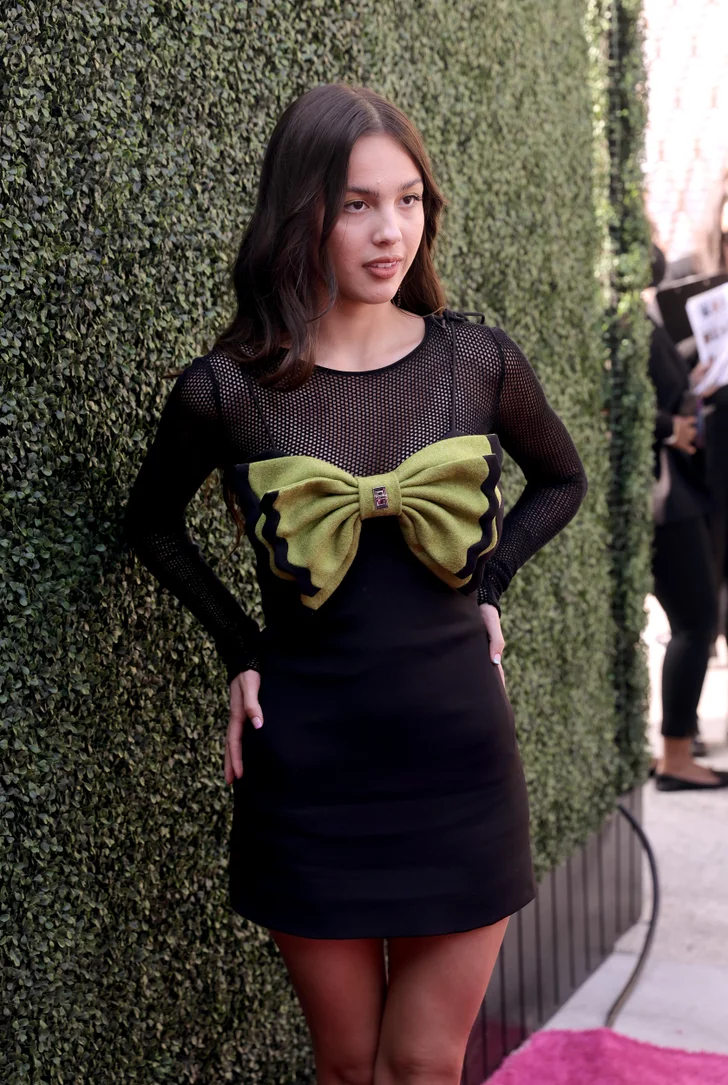 This green bow mini dress would look so good at any Christmas party! It's definitely one way to show off your holiday spirit!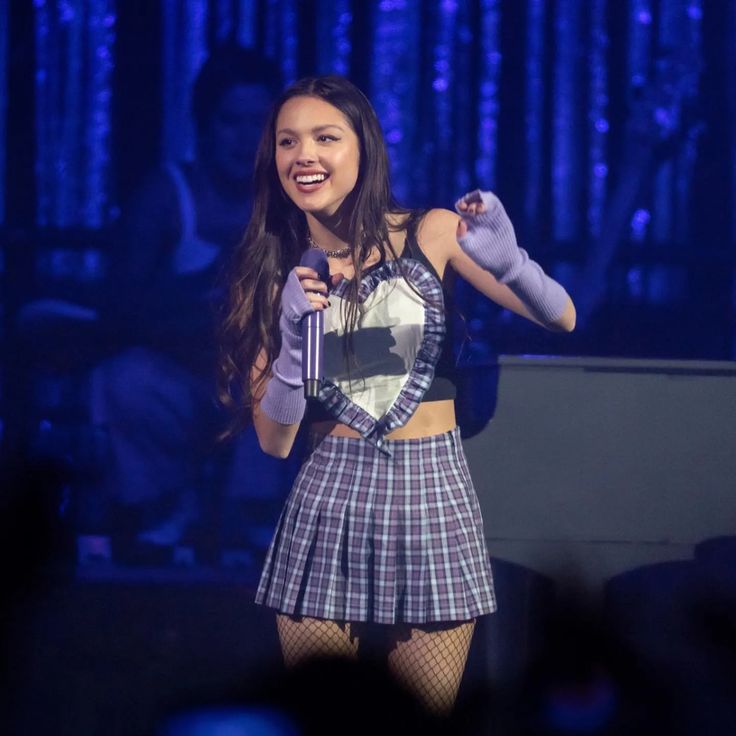 This heart-shaped top was definitely a cute look for Olivia Rodrigo! I also adore the matching purple plaid skirt and fishnets!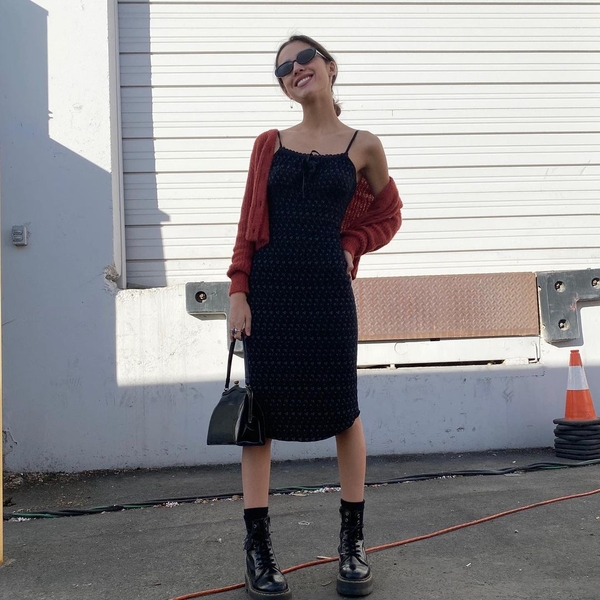 Even just wearing this casual black dress paired with a fuzzy cardigan and her iconic Doc Martens, Olivia looks like the pop star that she is! This is one of my favorite Olivia Rodrigo style looks that's a bit more casual.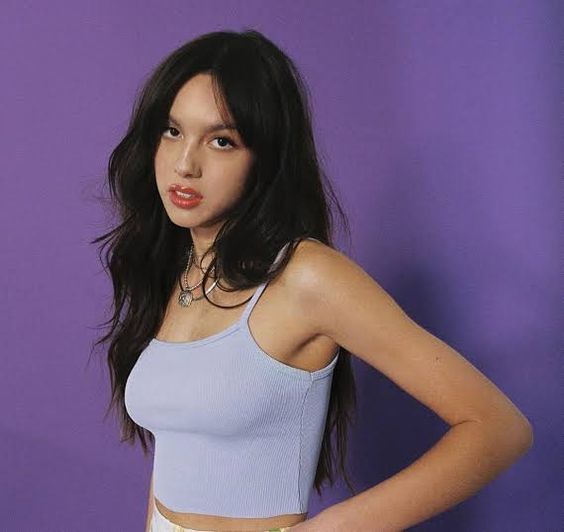 Might be a little basic but this purple camisole will forever remain iconic as we all know it's from her debut album, Sour!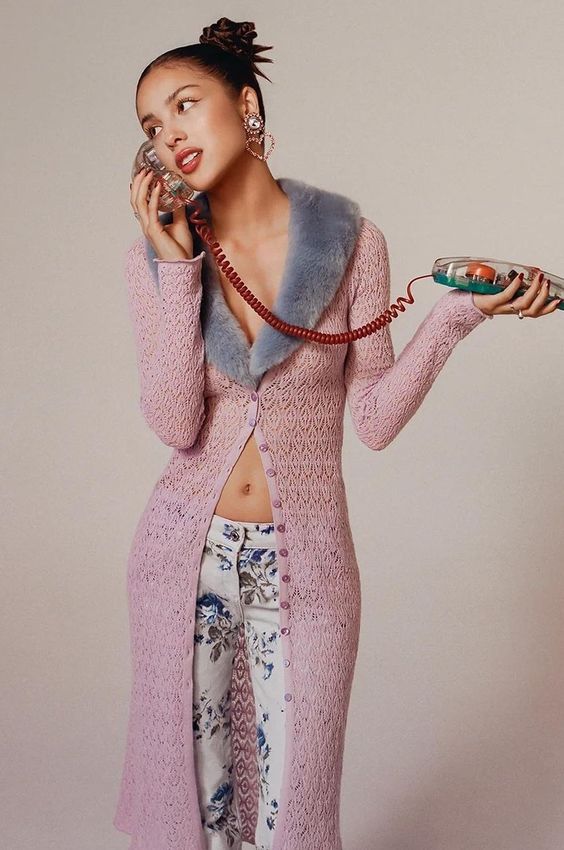 I am totally obsessed with this pink midi coat! It looks like the perfect winter outfit!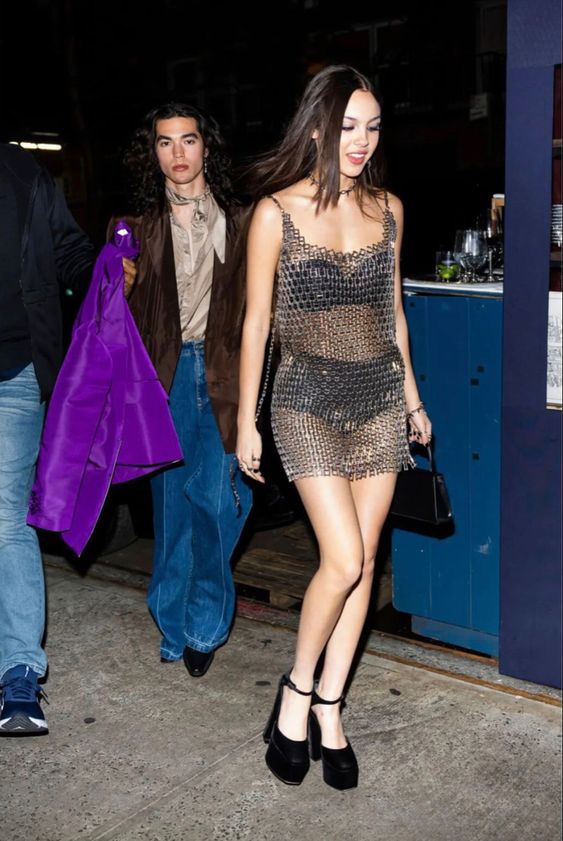 Another sexy number from our iconic pop star is this see-through chain mail dress! Not to mention, I am obsessed with those platform heels!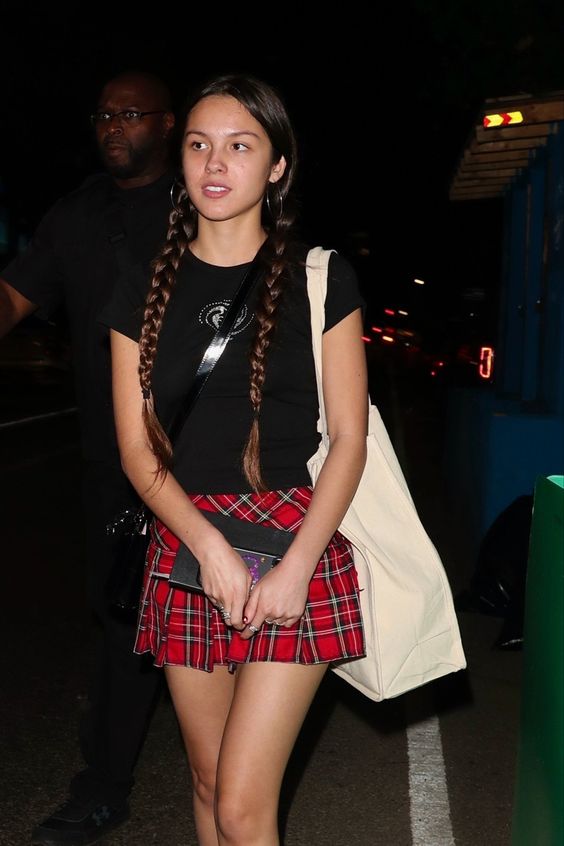 This casual plaid skirt embodies Olivia's youthful and preppy vibe! This is one of my favorite academia-inspired Olivia Rodrigo outfits.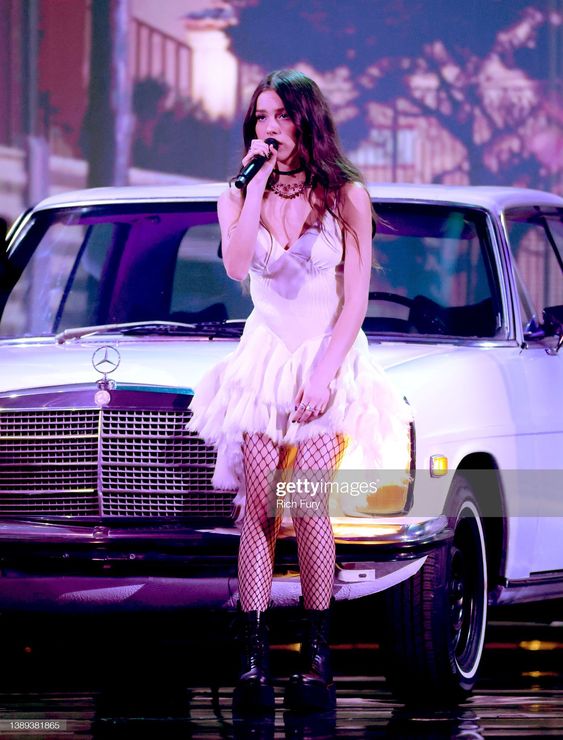 Another personal favorite of mine was this outfit she wore during a special performance at the 64th Grammy Awards!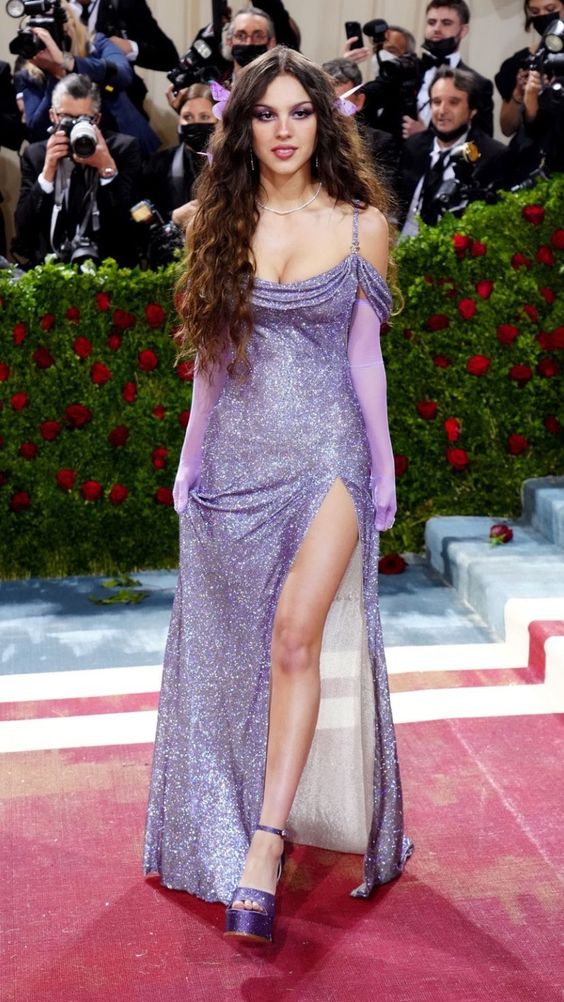 Wearing this glamorous purple gown was definitely one of Olivia's most iconic moments on the red carpet!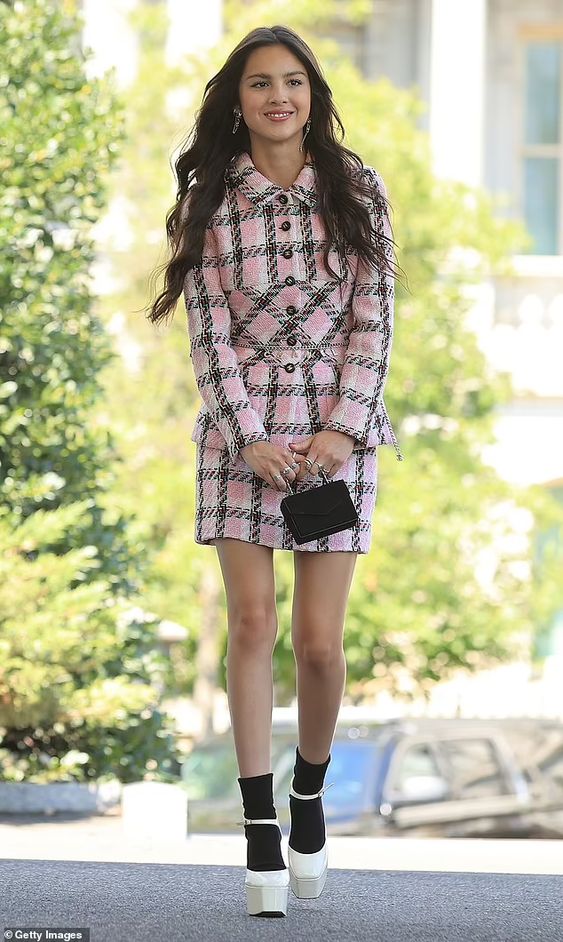 Olivia looked so fresh and preppy during her White House visit in this pink plaid attire!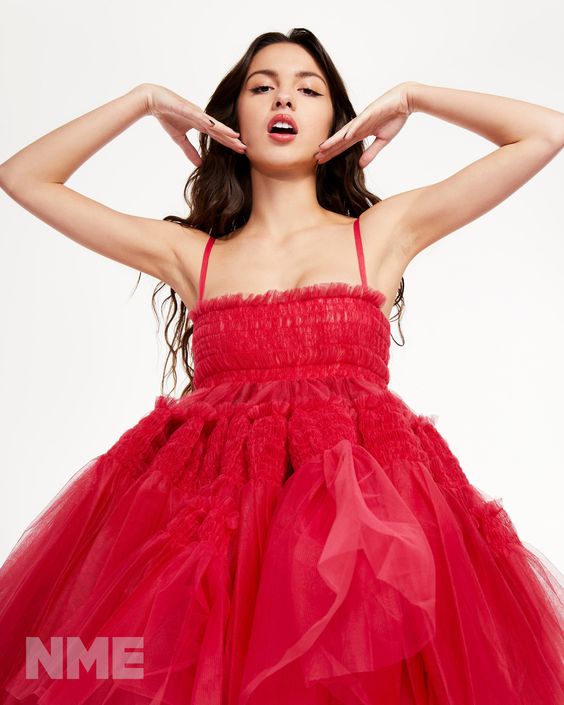 This poofy red dress really brings a chic yet festive vibe! This could be perfect for a holiday party.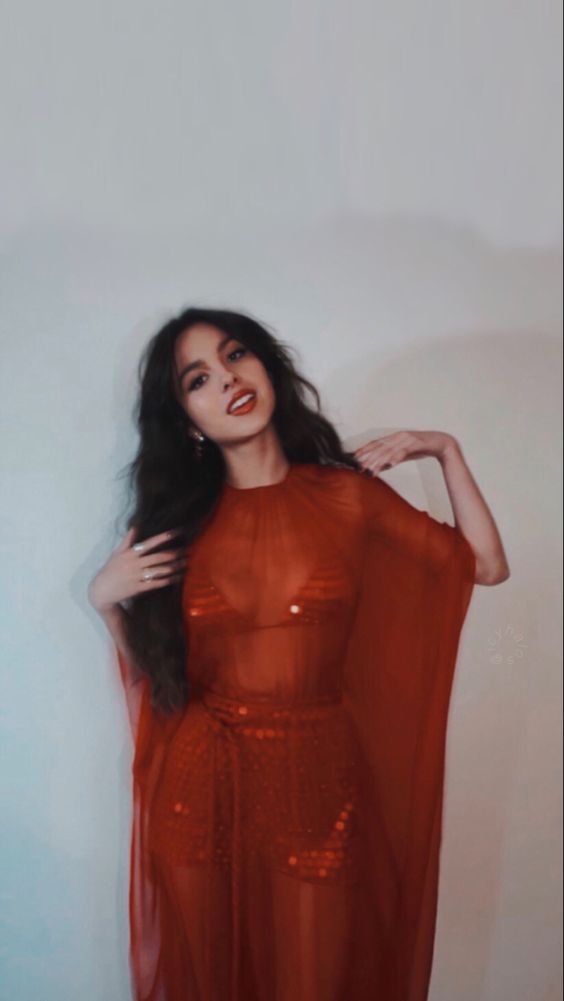 Another outfit that really brings the festive cheer is this stunning red, see-through outfit!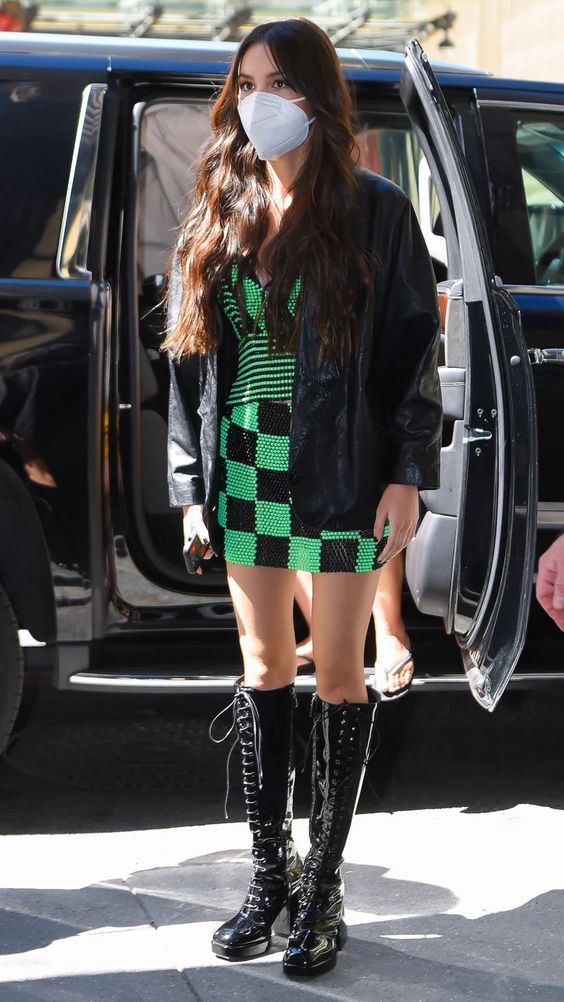 This matching checkered green outfit paired with a leather ensemble looks so good together!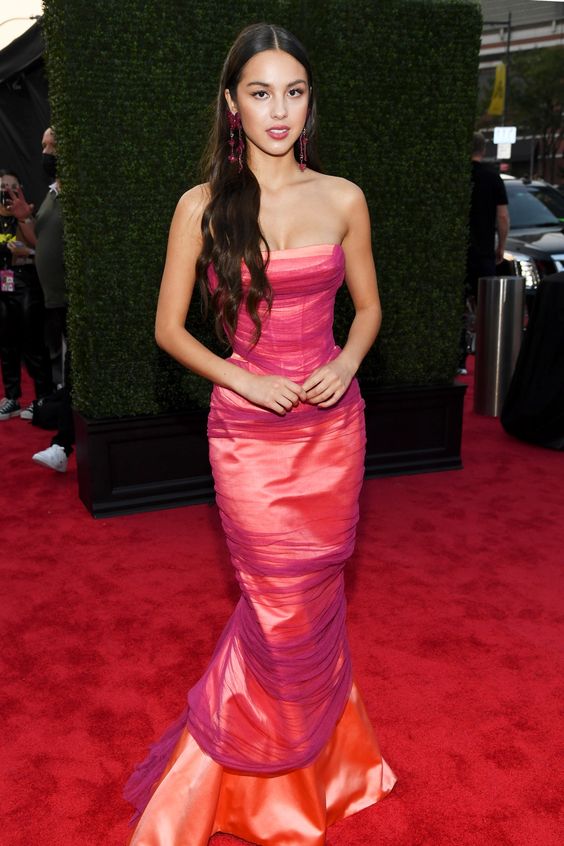 The VMAs is definitely one of the nights in the year where all stars get to look their best and Olivia in this stunning pink and orange Versace gown did not disappoint at all!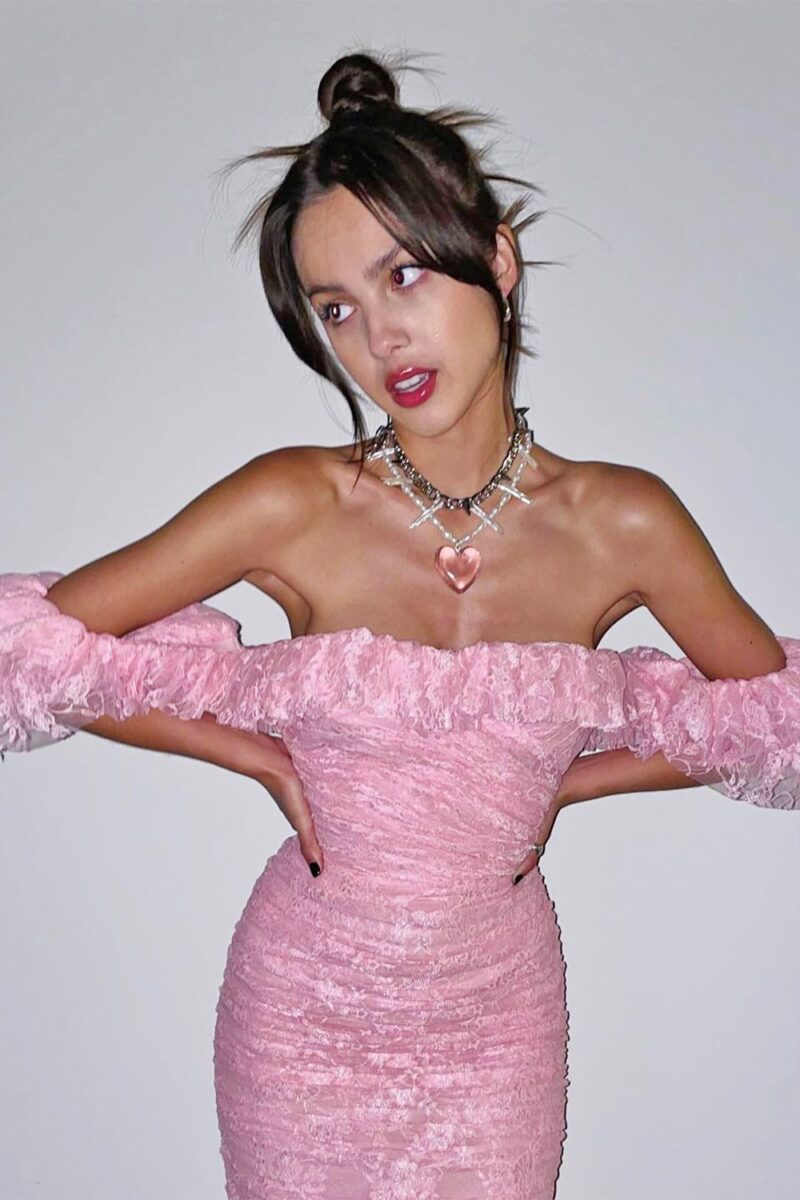 Olivia really pulled off this off-the-shoulder dress from Ashley Williams! And that heart-shaped pendant just really ties the whole look together!