Winter is ending, and it's time to update our February manicures to the sweetest March nails for the spring season!
As spring approaches steadily and the weather slowly gets warmer, I can't help but get enthusiastic about all the upcoming changes in fashion, especially the spring nails I've been fawning over all winter.
With the winter blues fading away and the sun creeping in to show her vivid brightness more and more each day, I honestly cannot wait to start wearing bright, playful nails once more to match the season!
That being said, why not give some spring-inspired nails a little more of a twist this year? Online, you'll find many lovely variations on pastel colors but get ready for nail trends that are just purely quirky and for fun. Consider vibrant rainbow colors, whimsical manicure designs with flowers, and much more.
Prefer a more minimalist manicure? Don't worry! I have plenty of suggestions for you as well. The classic French manicure is still popular. But what if you prefer to do your own nails rather than go to a salon? I got you! This year, abstract patterns and mismatched nail art are all in trend. Perfect for both pros and newbies alike!
March Nails For Spring
Keep scrolling and check out some of our favorite spring nail designs for March below. I hope you enjoy them and find a lot of inspiration for your March nails!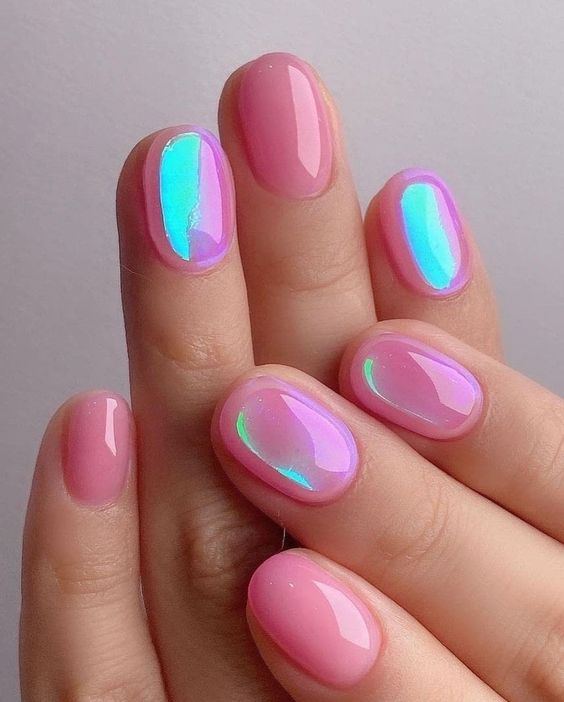 I love this bright, iridescent pink manicure! It looks utterly ethereal and those accent nails make your March nails look like they're glistening with dew drops!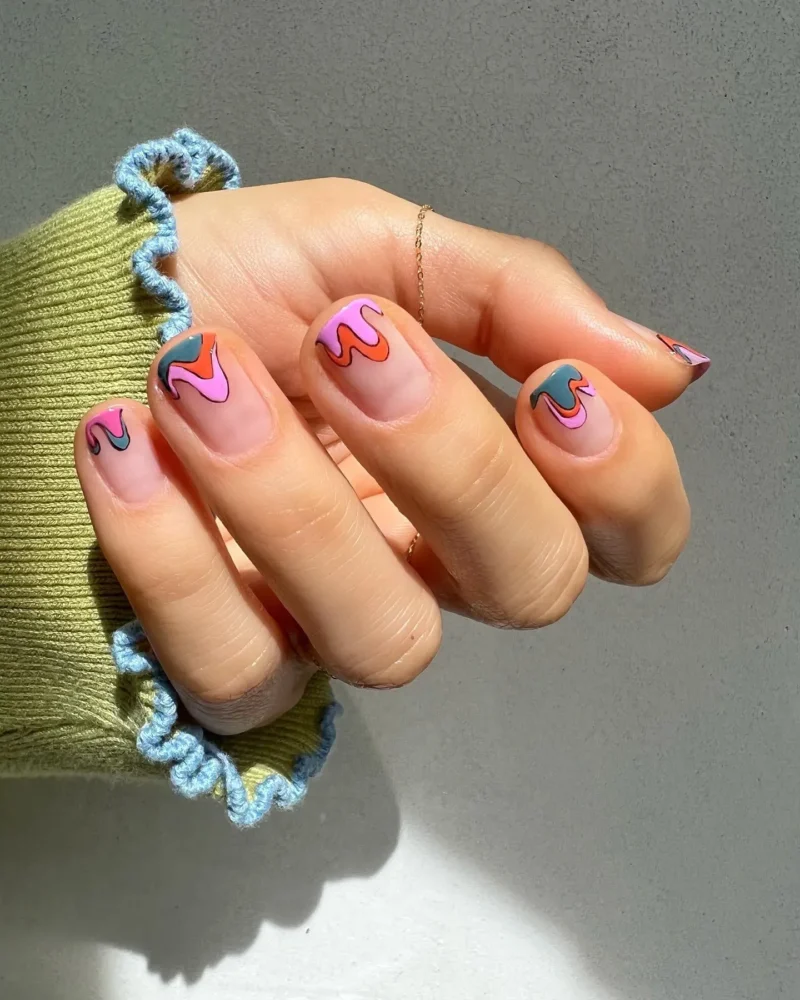 For a quirky set of spring nails that's easy to DIY at home, try out these wavy and colorful design patterns for your tips! This is a great design you can practice your nail art skills with!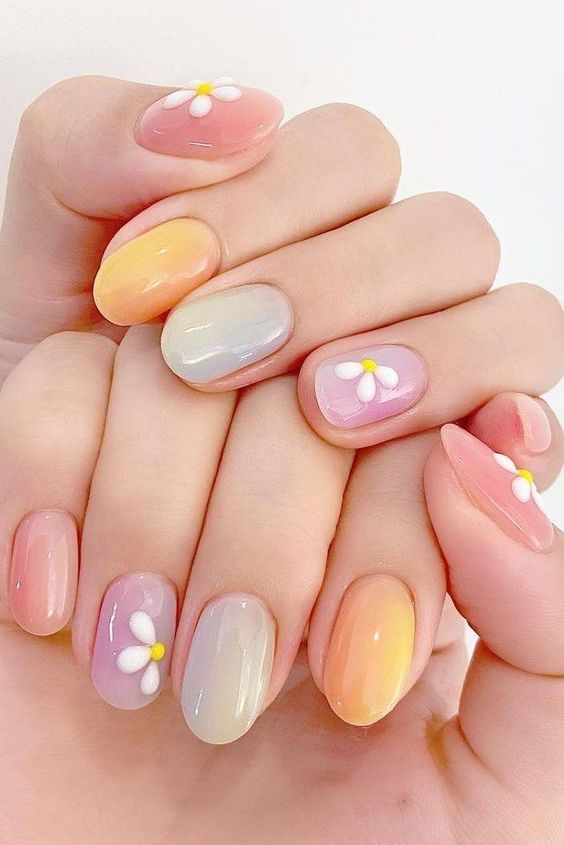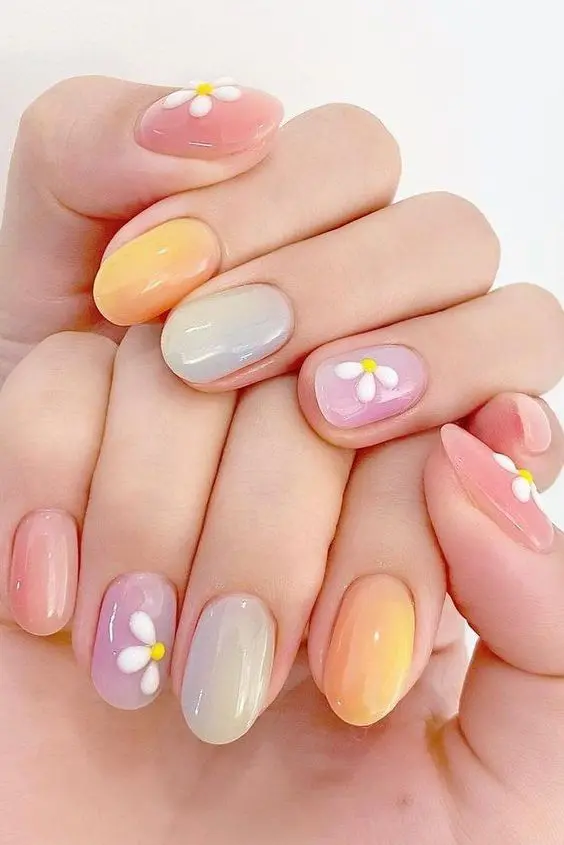 These colors definitely say "spring is here!" and it looks so gorgeous! Using soft yet bright colors, you can easily achieve subtle gradient patterns and floral accents on this manicure.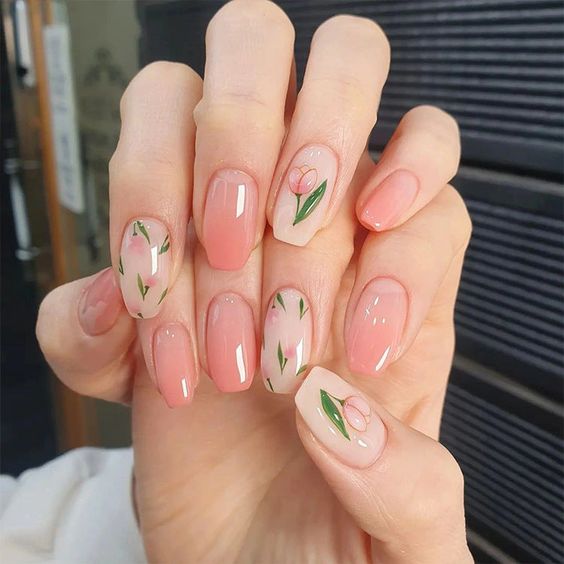 If you love tulips, then you'll surely adore this manicure! Even if you're not able to recreate this elaborate nail art, you can just get nail stickers to make things less fussy for you.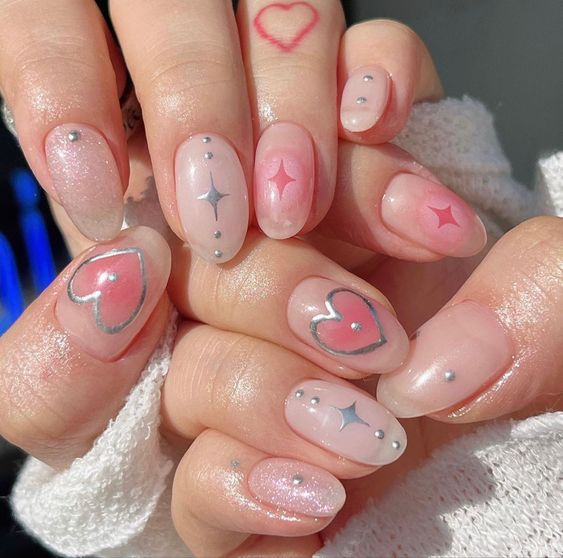 I love the mix of cuteness and edginess in this manicure! What's more, you don't need a solid polish to coat your March nails. Using your own bare and natural nails, you can make the dainty details pop even more! Just add a bit of shimmer and a hint of pink to make your March nails appear brighter and flushed.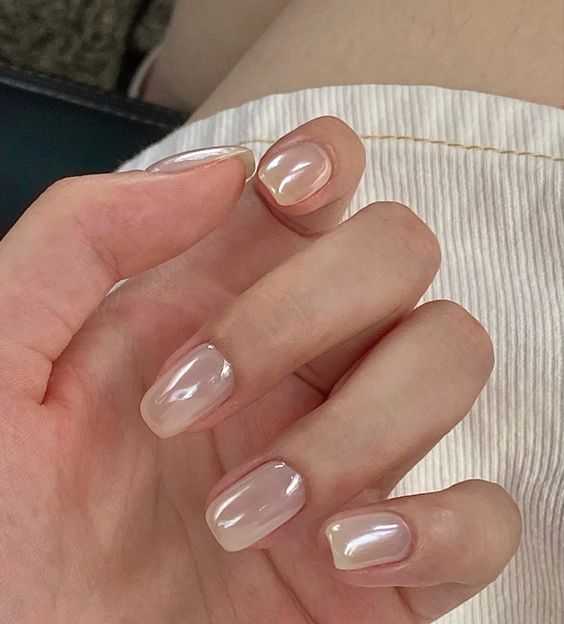 For March nails that you can wear every day without being too overwhelming, these chrome-y nude nails are perfect for you! This manicure gives your spring nails the appearance of a glazed effect.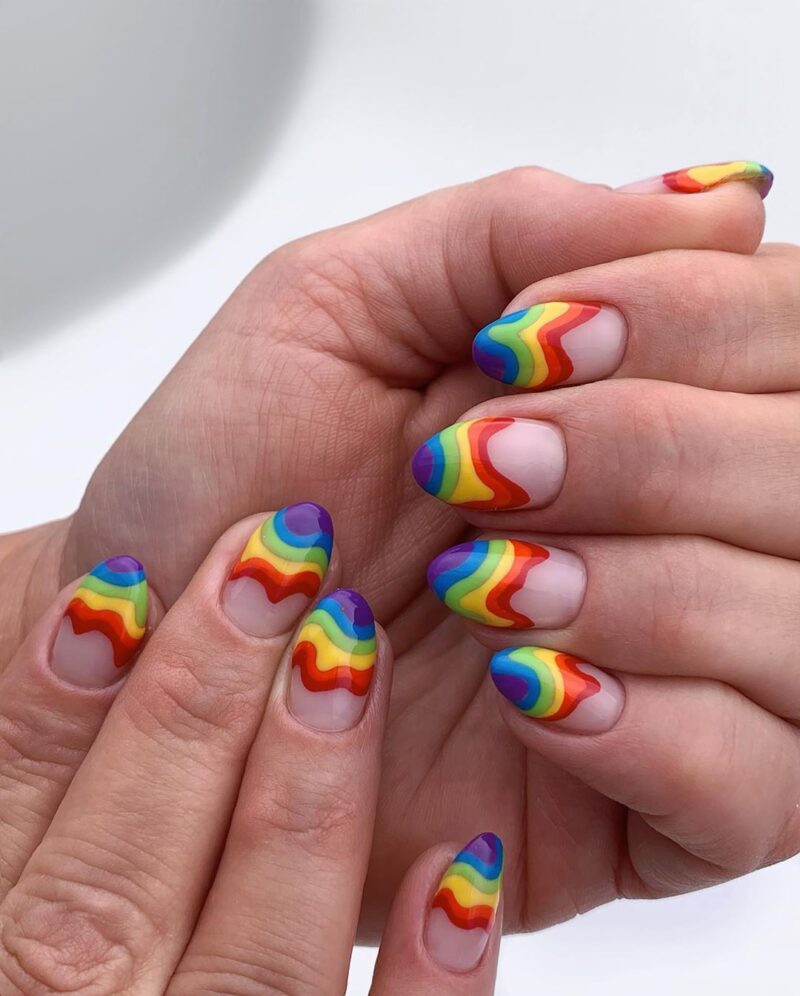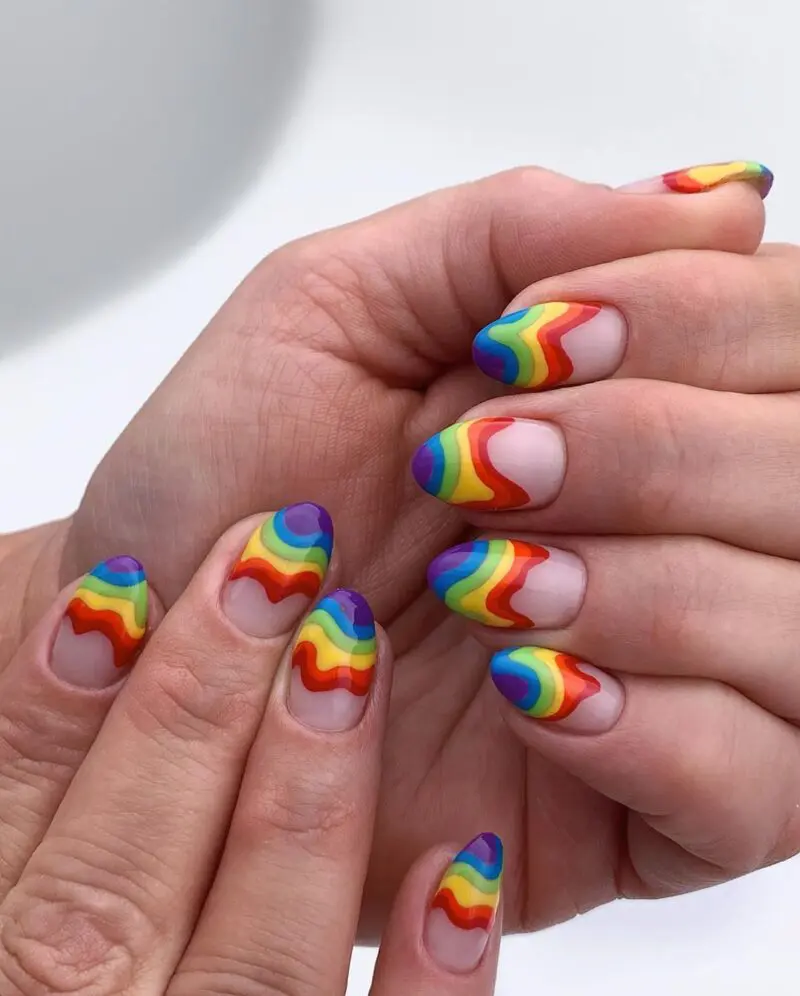 Whether you're an ally or a proud member of the LBTQIA+, a creative way to show off your full support is by doing March nails with rainbow colors or flags that you associate with!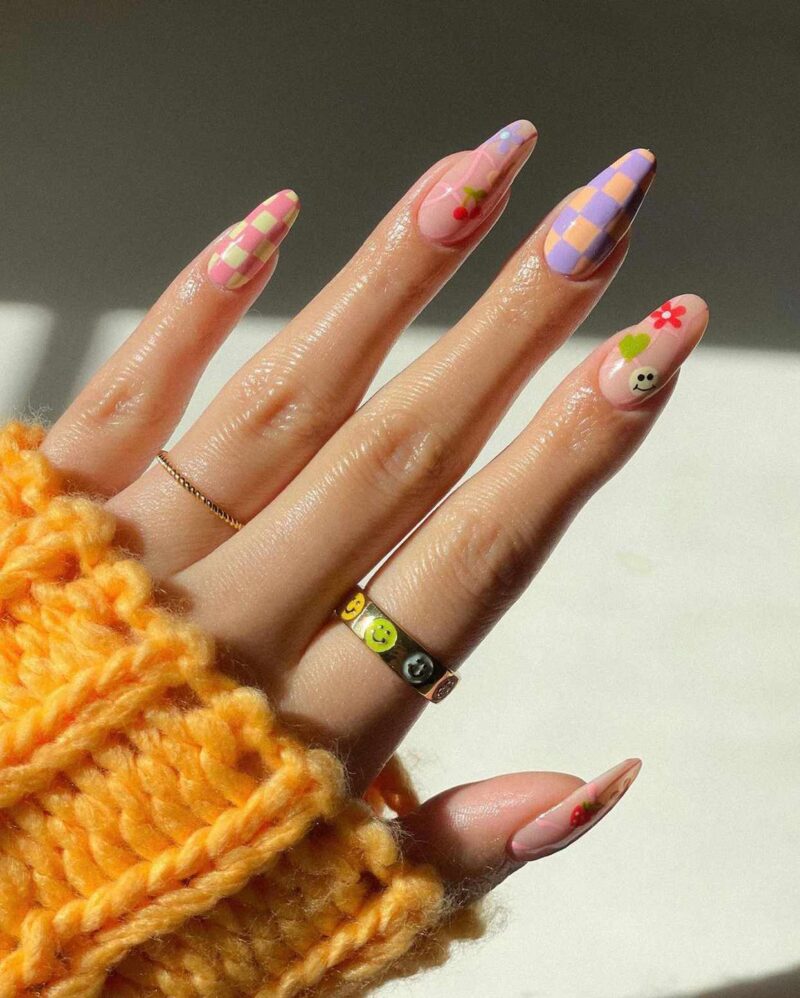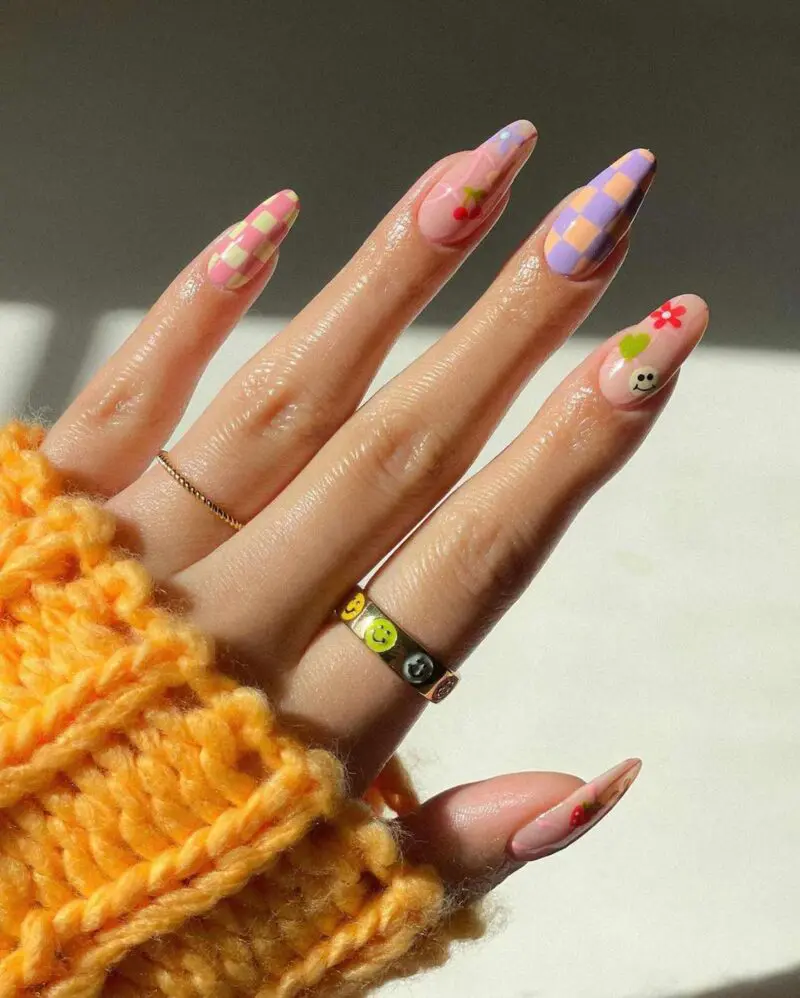 Can't seem to pick or settle on one particular design for your March nails? Why not do a different pattern for each nail then just like this quirky manicure right here!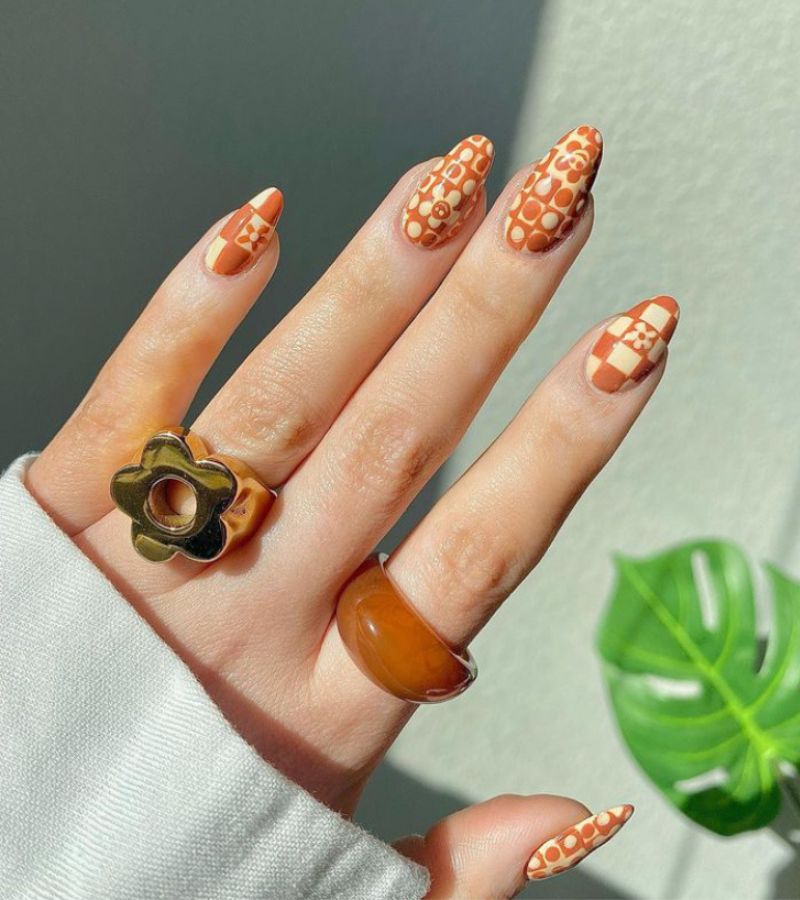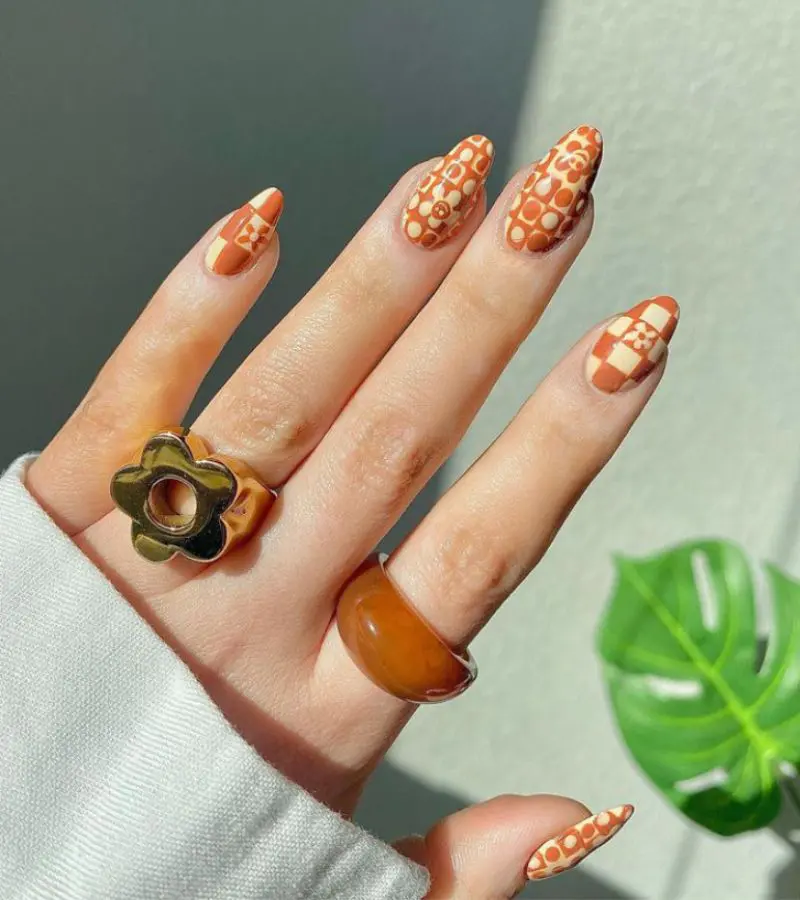 Checkered patterns on March nails may seem a little tedious but they're so worth it once you see the end results of your stunning nails!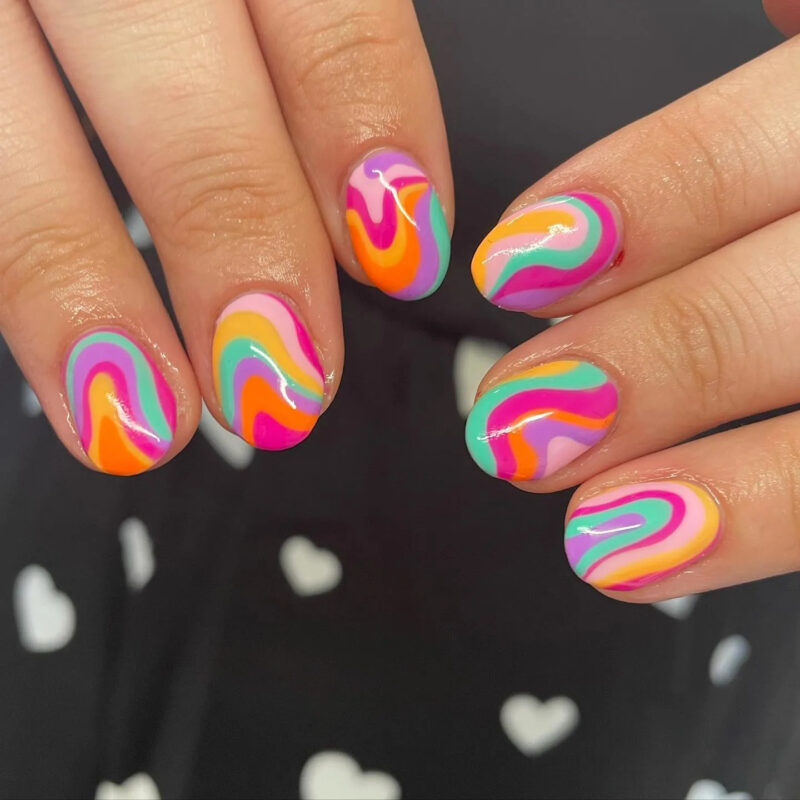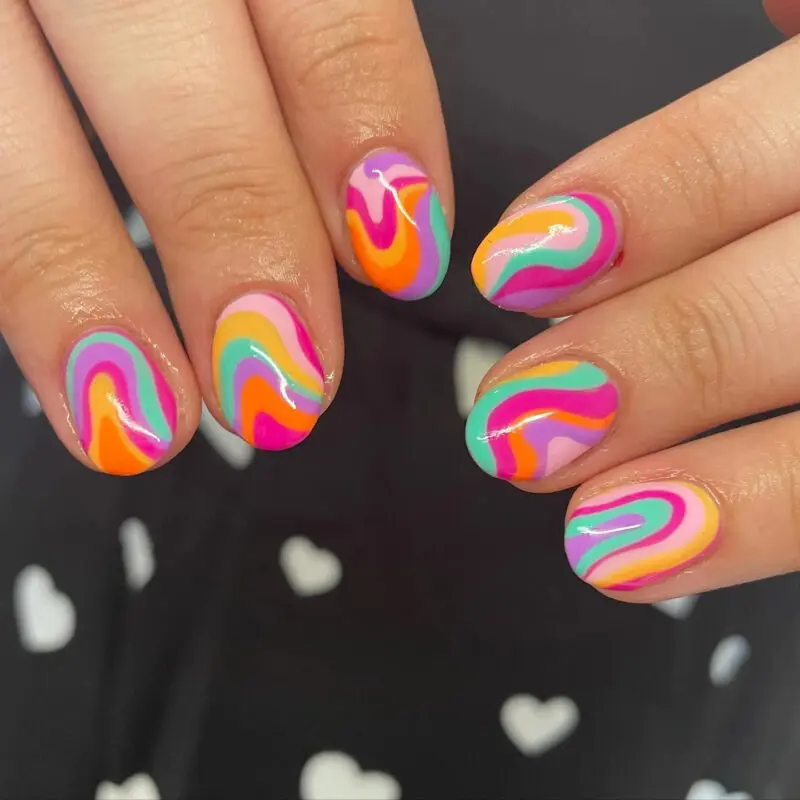 I'm so in love with these wavy patterns! They give me groovy, '70s vibes that are just so perfect for the spring season. You can opt to use bright and bold colors to really make your spring nails pop!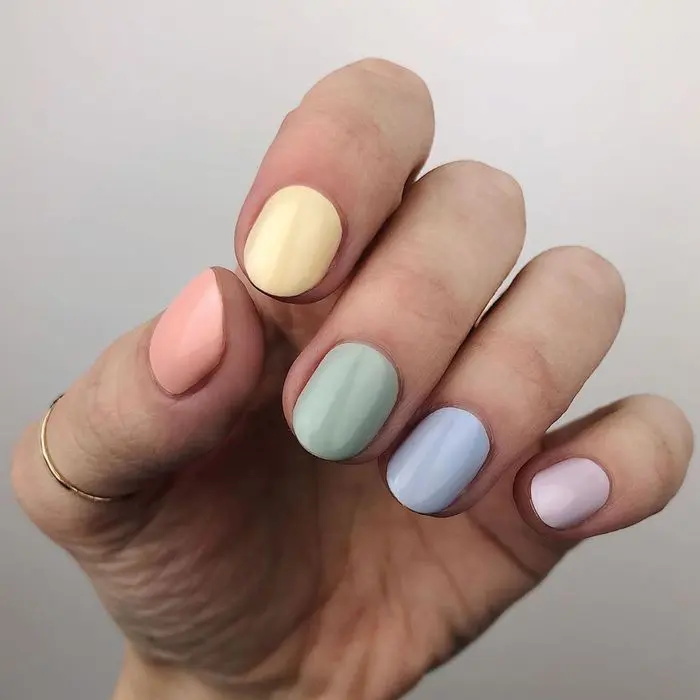 If you're not too confident yet with your nail art skills, you can always go for a minimalistic route but with a simple twist: use different pastel shades for each nail.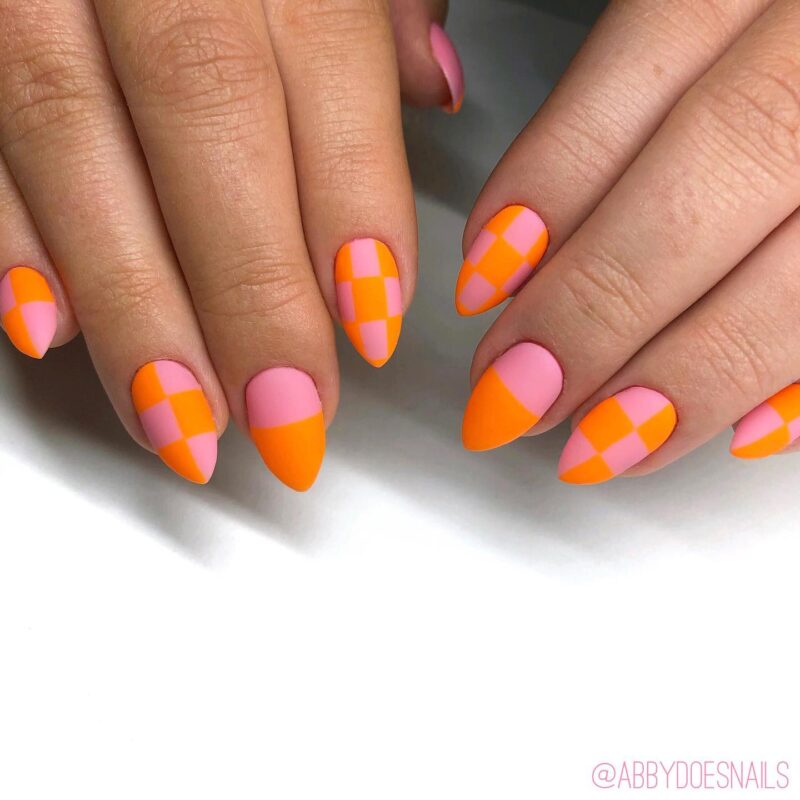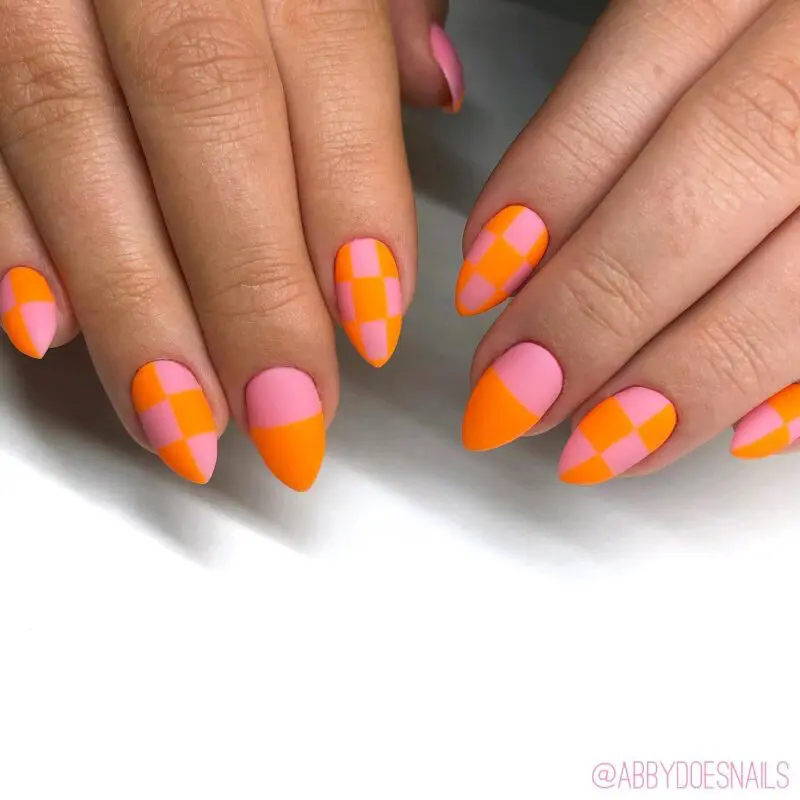 Looking for bold and more eye-catching manicures? Try this pink and orange combo design for your spring nails on your next appointment.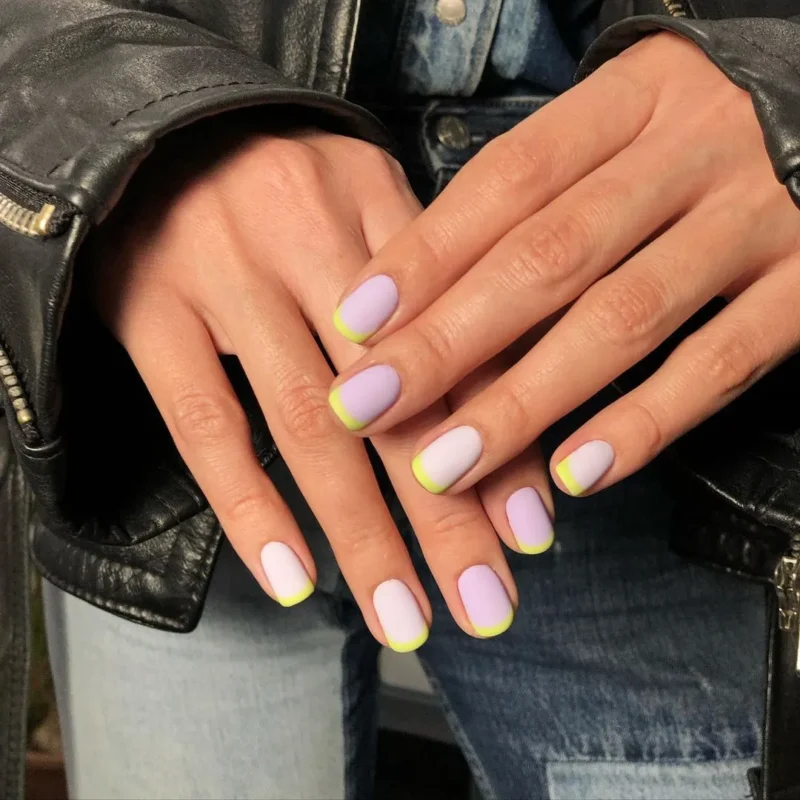 A soft, mauve-y pink and neon green may not be your first choice for a color combination but you surely won't be disappointed with the results! Try it out in the classic French manicure with a twist!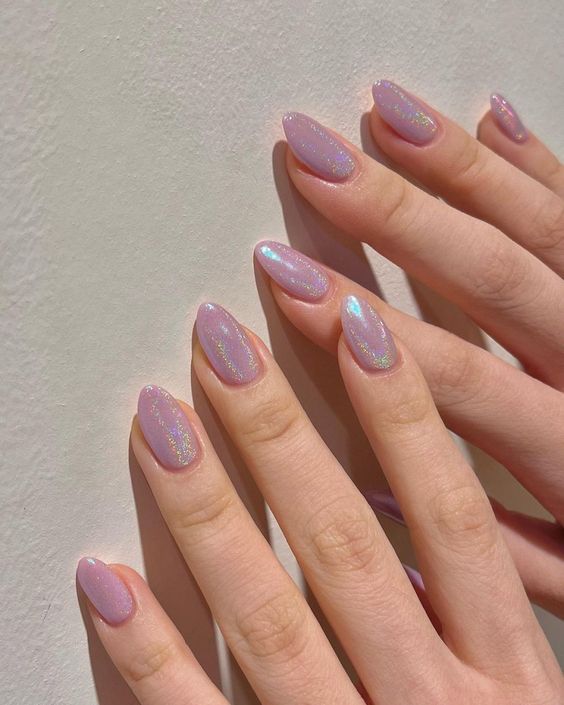 Here's another subtle manicure that you might love. To get this iridescent effect, all you need is some chrome powder to create those dazzling shimmers!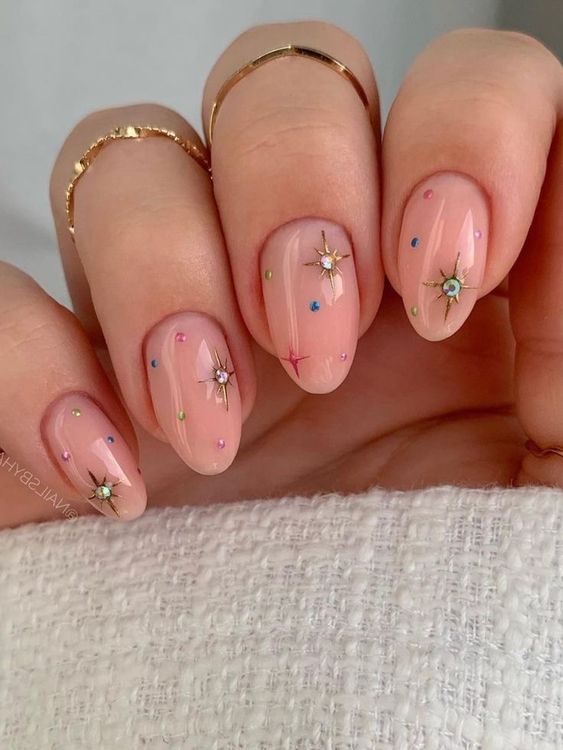 If you're looking for a spring manicure that's minimalistic yet has a lot of sparks, this one is for you!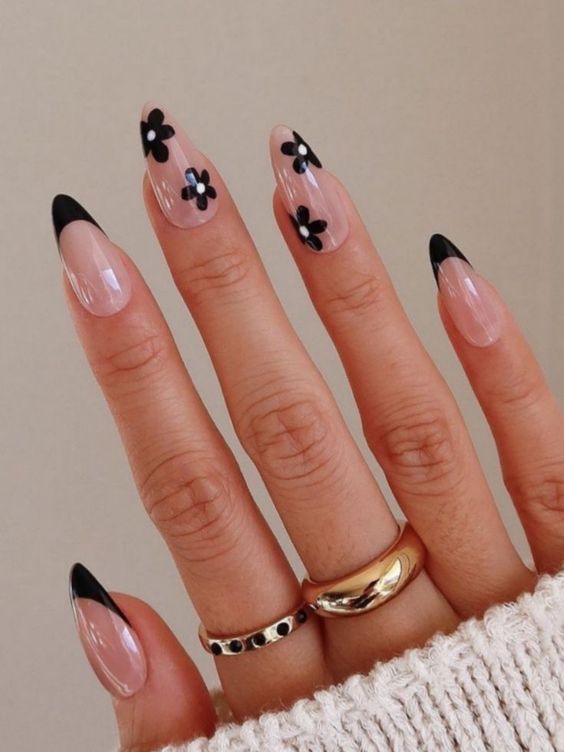 French tips usually call for white polish, but this one provides an edgier twist with the black tips. You can also soften the look by adding some florals for your accent nails.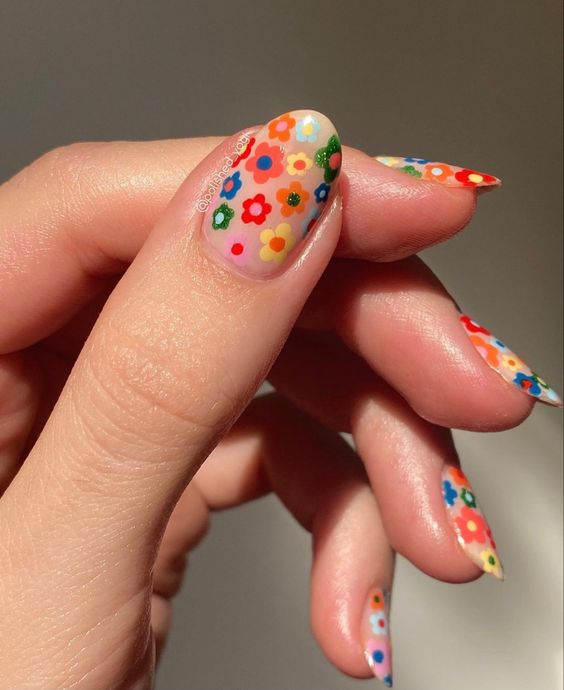 Florals for spring may not be as groundbreaking but it's a classic for a reason. Opt for colorful petals to make your nails stand out.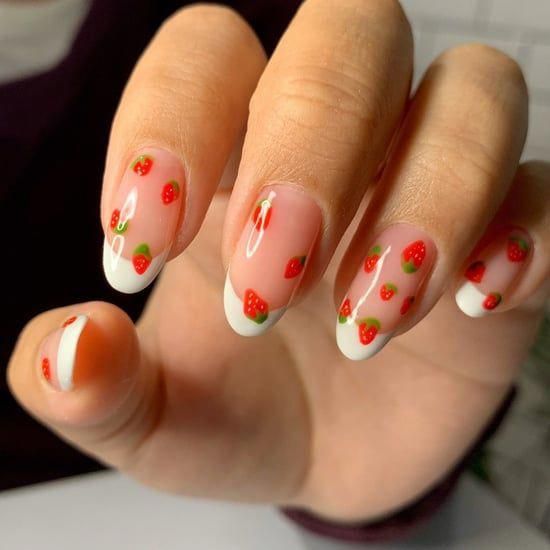 If florals are too common for you, why not opt for your favorite kind of fruit this spring season? Strawberries make good patterns for your nails!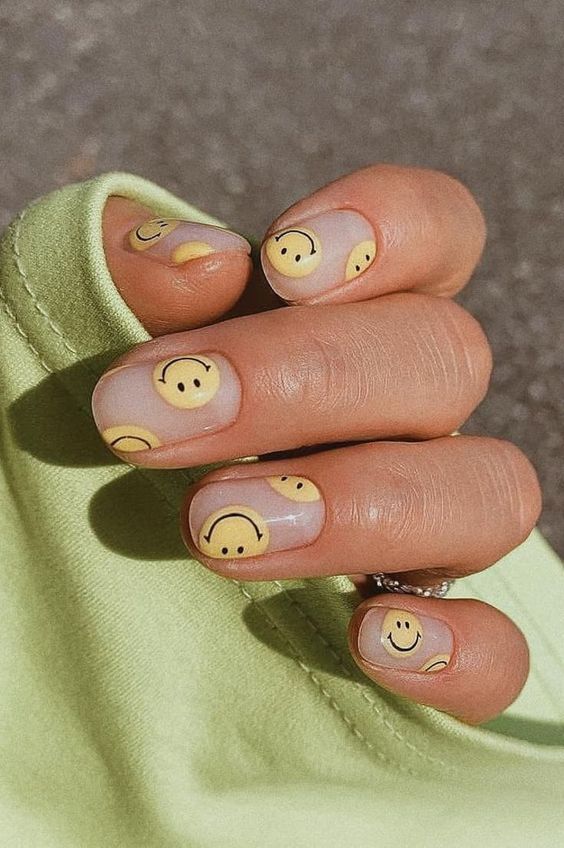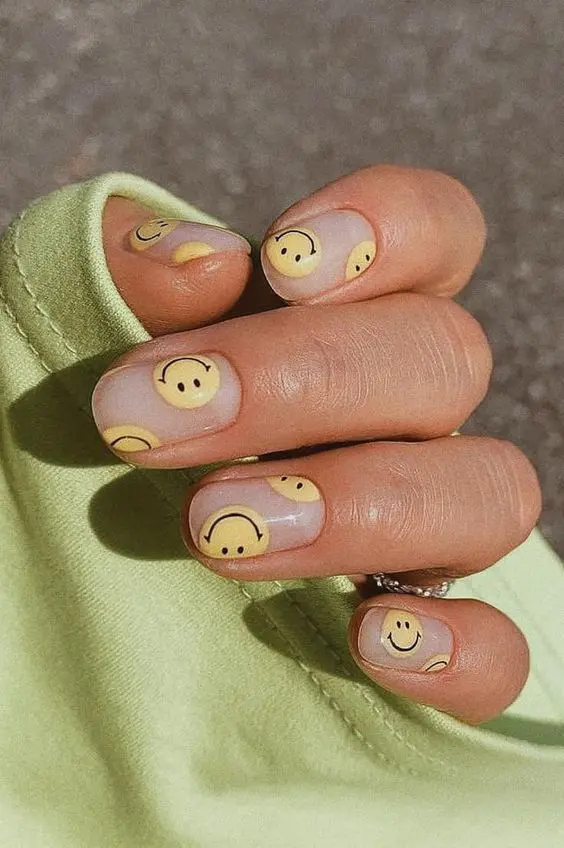 For a manicure that suits your cheerful disposition, you might want to check this out! Leaving your nails naked, fill it up with smiley faces before topping it off with a clear polish.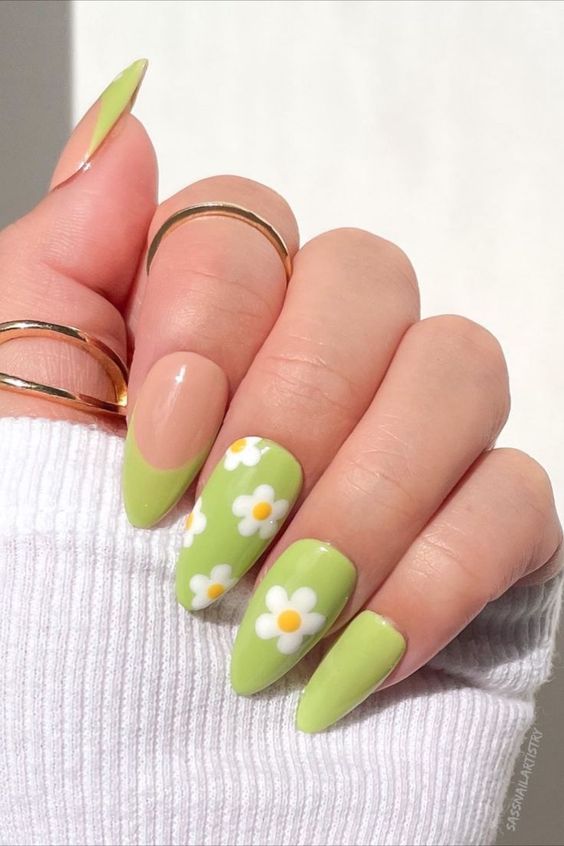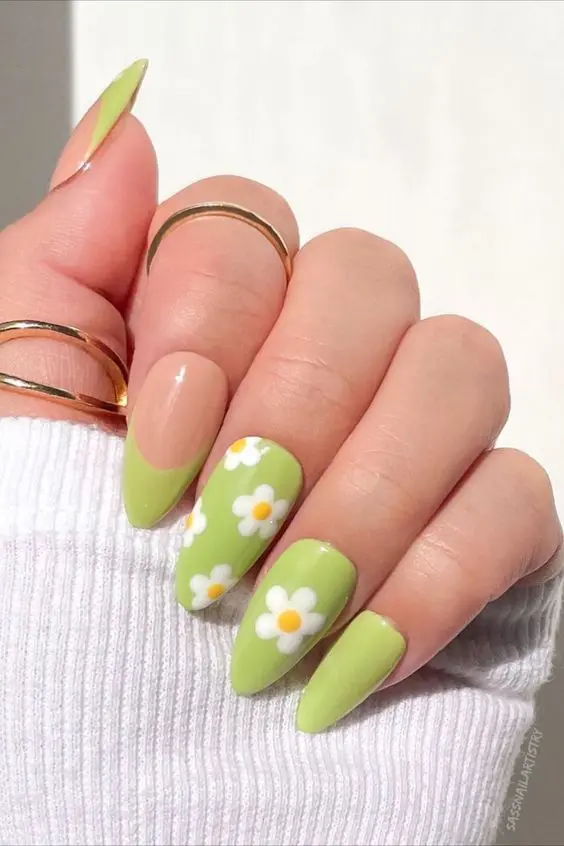 I just love a good, green manicure. They look utterly pretty and you can spice it up by drawing on some flowers around them.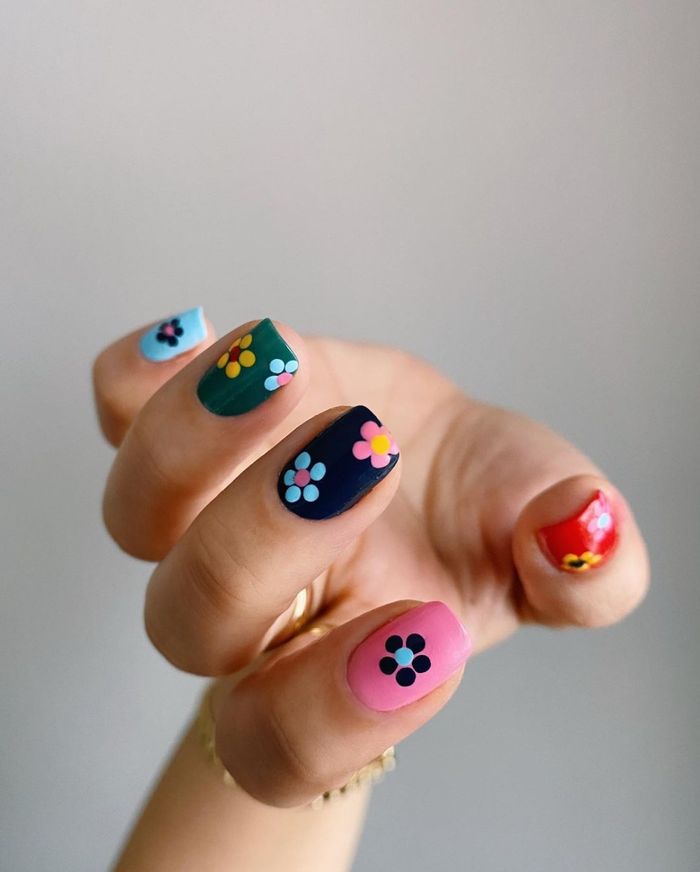 People usually pair floral designs with softer colors but I just adore the vibrant hues on this particular manicure! The contrast of bright and deep colors is just so stunning to look at!
I love the smiley outlines and patterns on these nails! Pair it with a nude base color so your design stands out even more.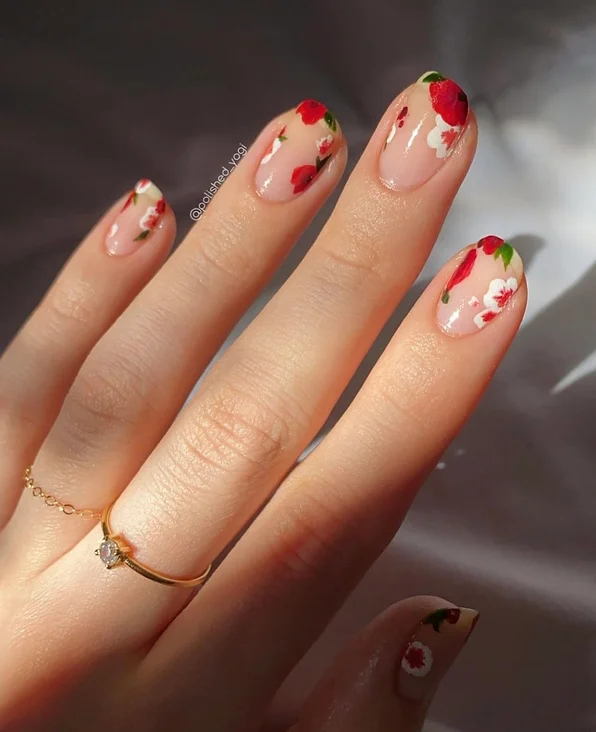 I just love the flowers on these nails. They're so red and full of life! It really is the perfect manicure for the upcoming spring season.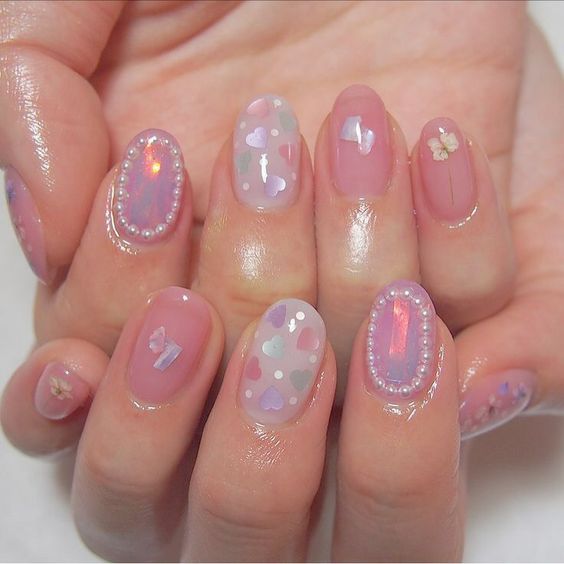 Looking for more pastel manicures with unique nail art? Then you'll certainly love this one. It uses varying patterns and cute designs in each nail!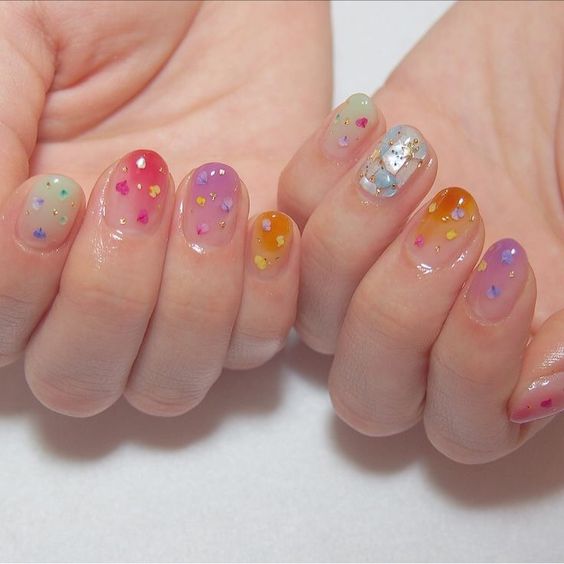 If you love a soft, gradient effect for your nails, then you might love this one. Opt to get a different color for each nail then match them with similarly-hued foils for a touch of sparkle.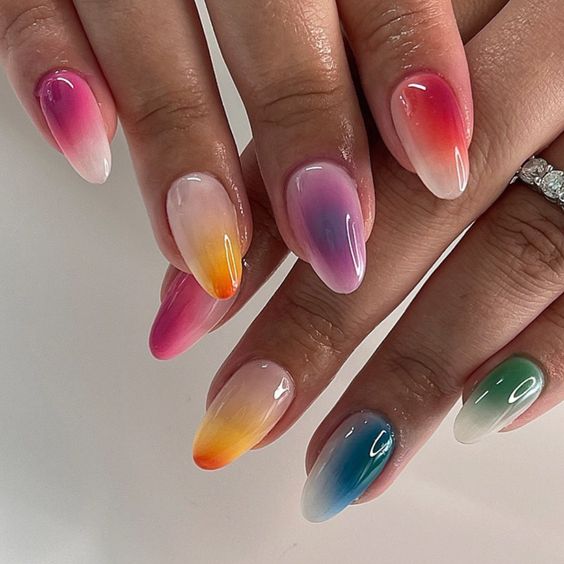 Can't get enough gradient designs on nails? Me either. I love the vibrancy of these colors so much and I can't wait to sport a similar manicure once spring is finally here!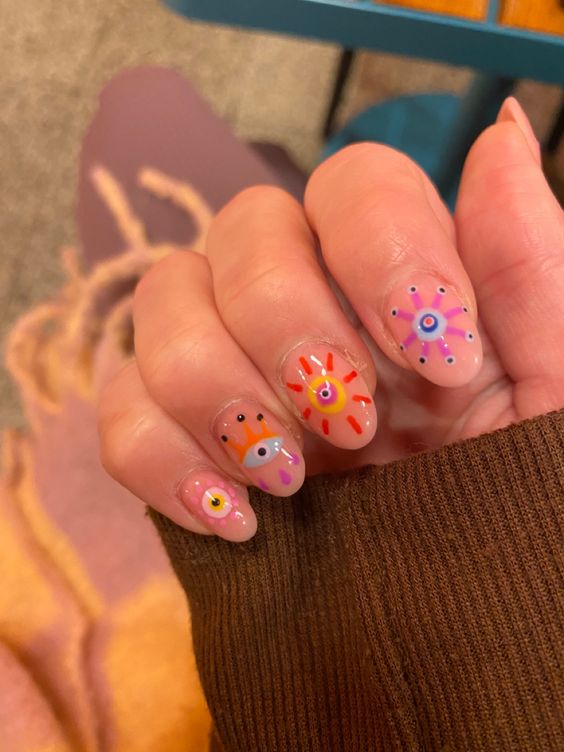 These patterns aren't just cute, but they're so quirky and modern too! It's definitely a fave of mine on this list. I can imagine having lots of fun trying to DIY this nail art on my own.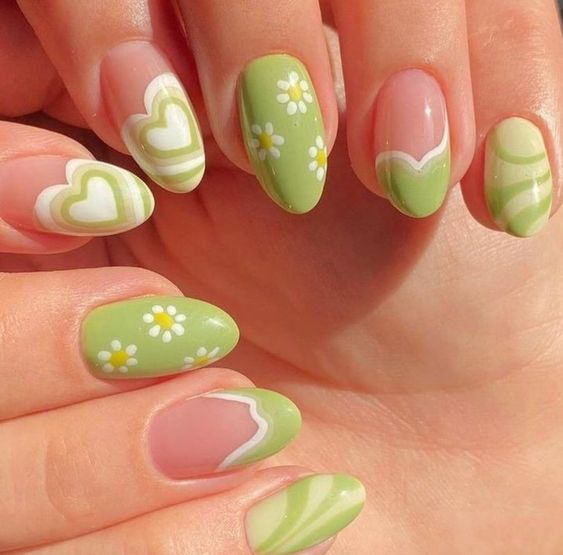 After a bleak winter, green is such a refreshing color to see. Especially on the nails!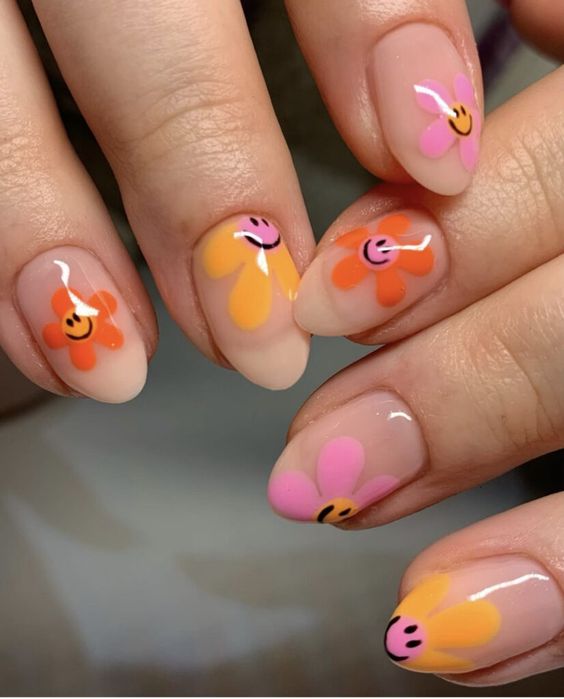 If you want to go for a minimalistic aesthetic on your florals, you can opt to keep your base coat a nude color so that your colorful flower patterns will stand out even more! The contrast will be so pretty!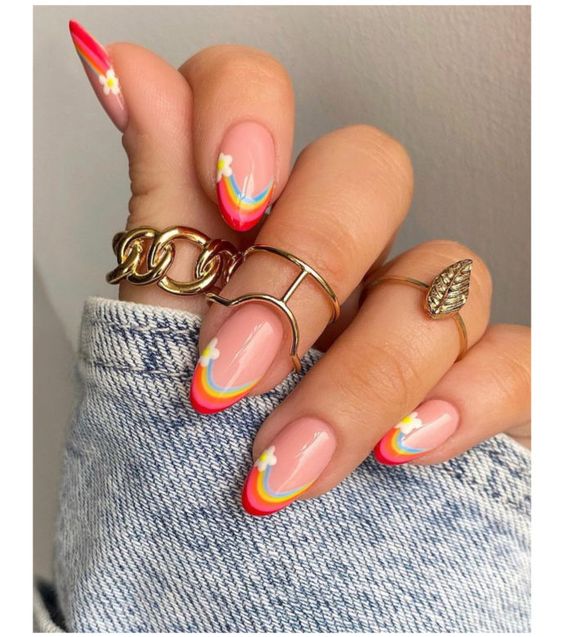 Put a quirky twist to your French tips by making rainbow tips instead and ending it with a flower on the side. It'll be just on theme with the spring season!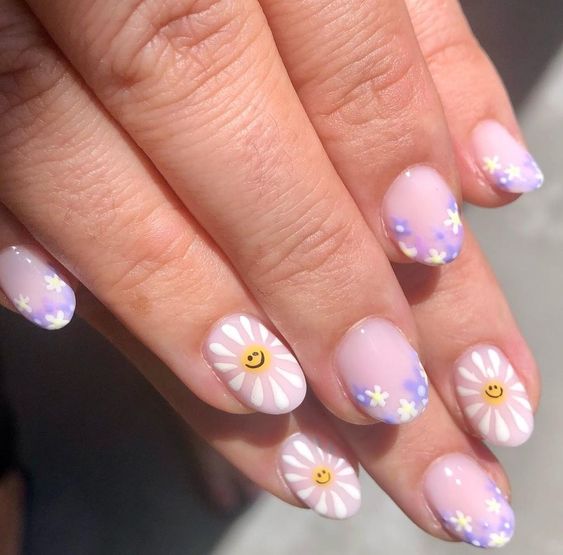 Pastels will surely be trendy all spring season, so you should definitely consider getting this kind of manicure!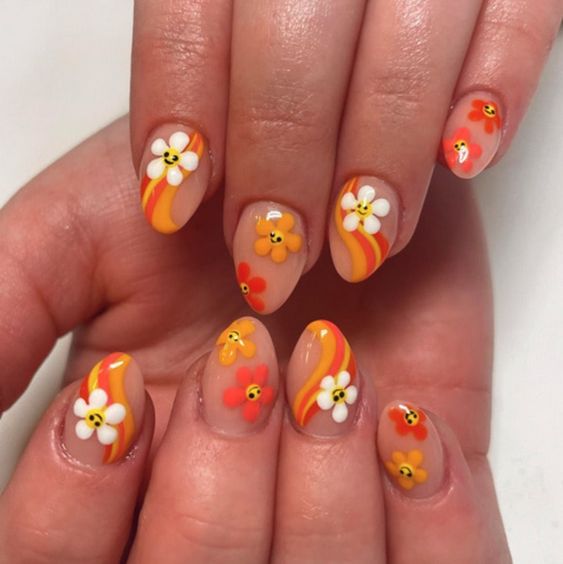 Mix two trends together this spring, flowers and swirly lines! It'll give you this bright and modernly chic manicure that still has a youthful touch.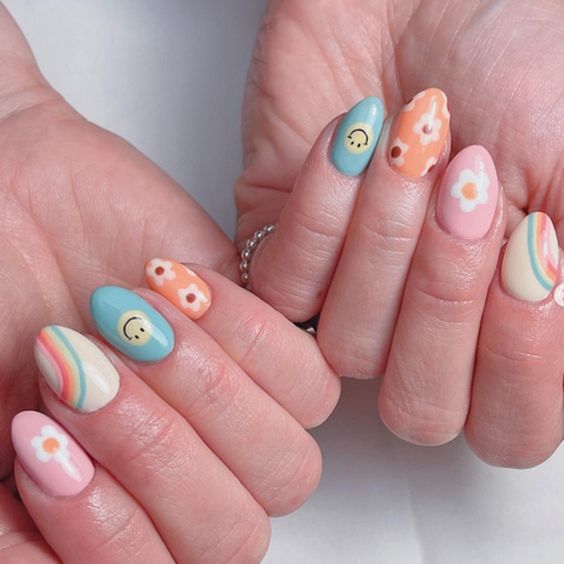 Here's another manicure that you might love if you like mixing and matching different patterns for your nails. This one has a lot more varying pastel shades that are just so cute!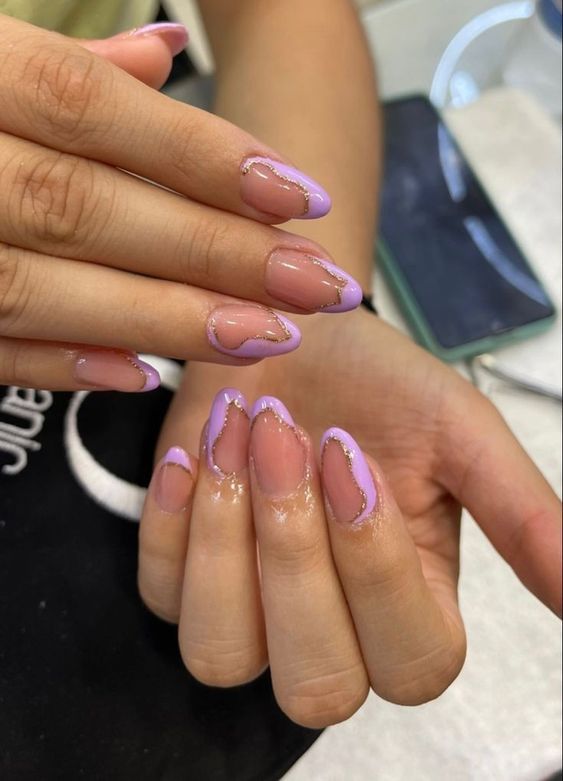 If you don't like a solid base coat for your nails, then you might like this abstract nail art. You only need to paint certain parts and sides of your nails to recreate this manicure!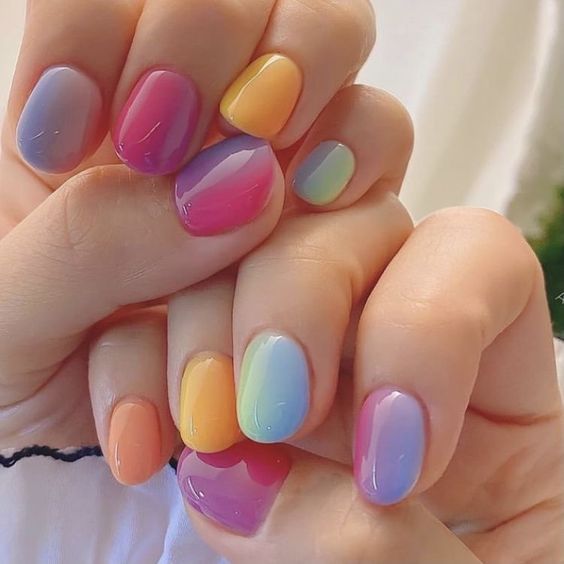 I love how these nails look so iridescent and jelly-like! It gives your hands such a youthful and refreshing vibe with vibrant pops of color.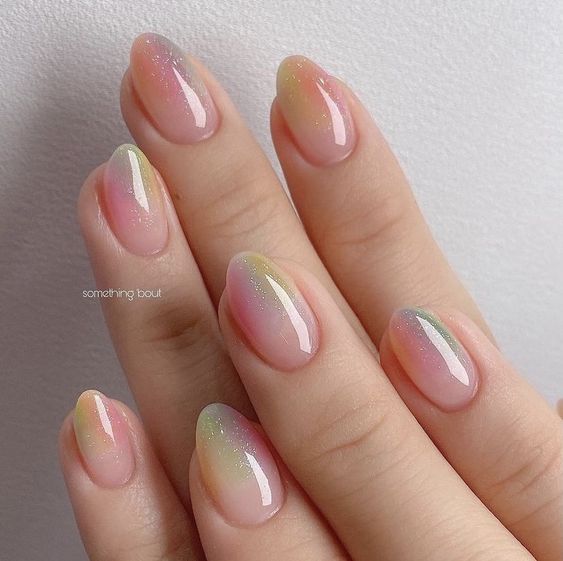 But if you're not into bold and bright colors, then you might prefer the subtlety of this particular manicure. Create a minimal gradient effect with green and pink shades to achieve this look.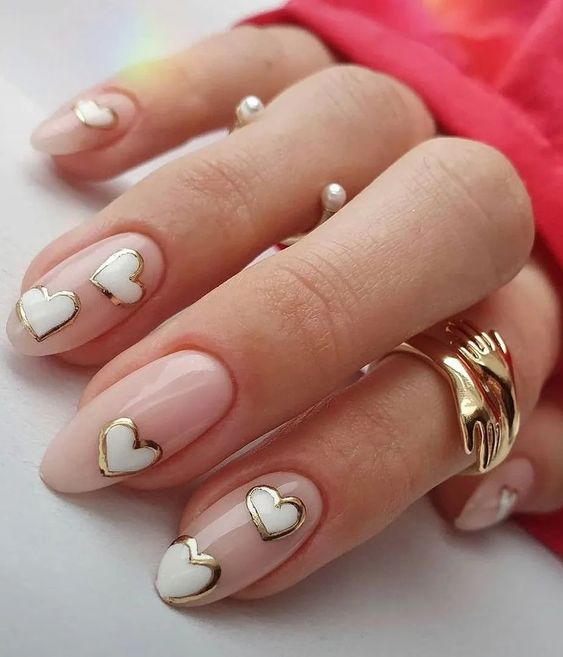 If you want a manicure that would suit both winter and spring perfectly, then this might just be it. The white and gold give off a wintry and frosty vibe while the heart-shaped patterns make it perfect for spring.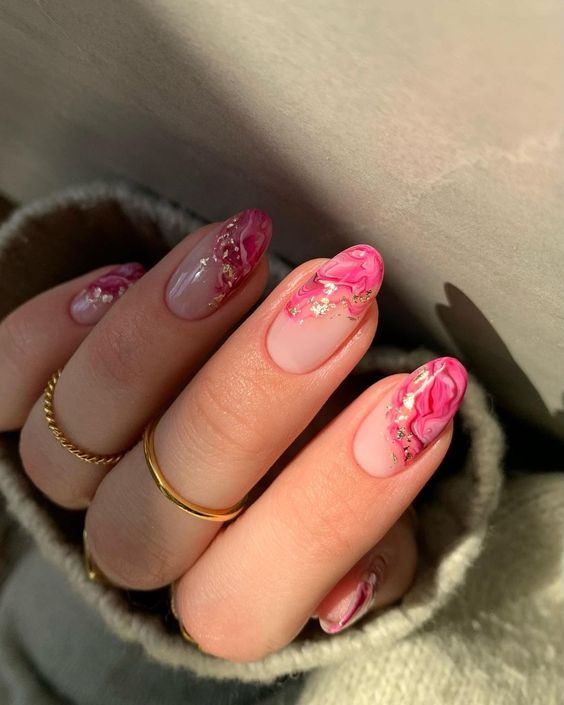 I love these kinds of nail art. They remind me of those paint palettes when you mix the paint with water and how it creates these gorgeous, splashes of colors.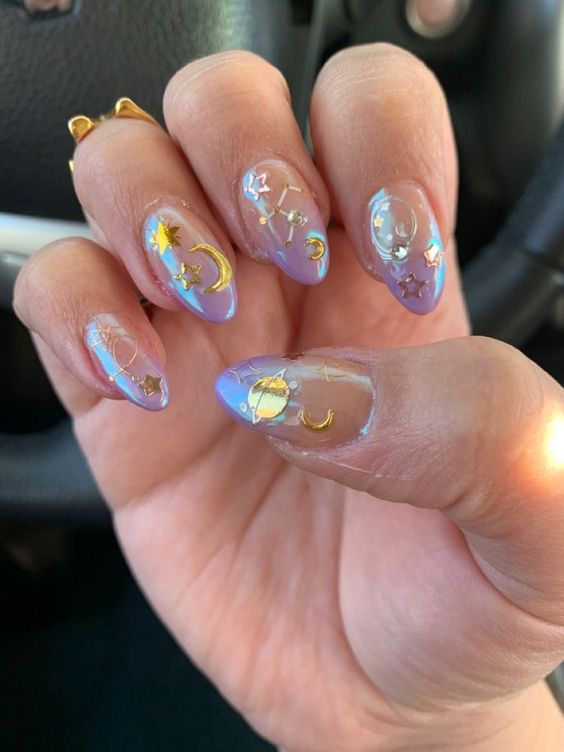 If you like the idea of celestial bodies onto your nails, then you can definitely take inspiration from this particular manicure!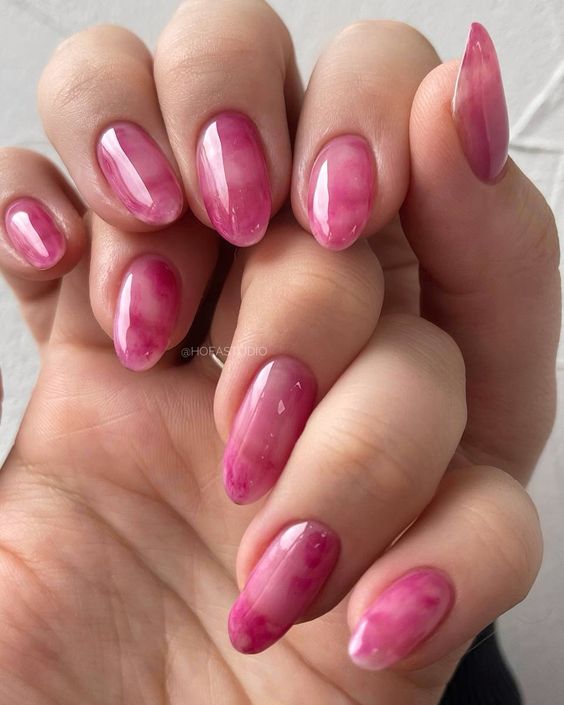 I just can't get enough of these kinds of gradient nails. It gives off a beautiful watercolor effect and I love the bright pink that is used in this manicure too!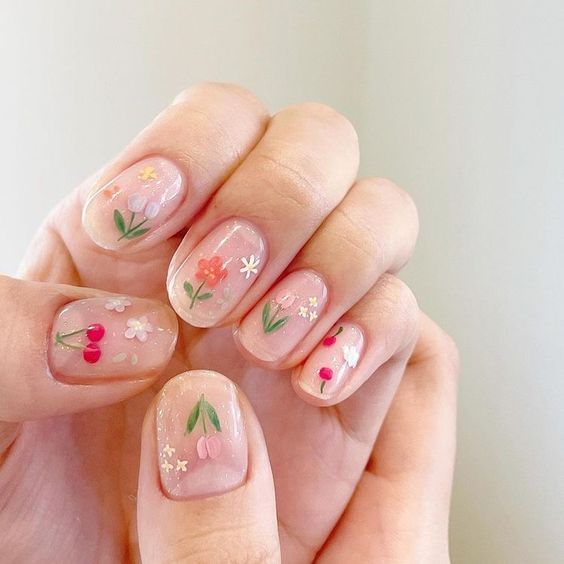 Fill your nails with dainty floral nail art for a manicure that's ready for spring. Don't have the skills to DIY this particular manicure? Don't worry! You can either opt to get them done professionally or get yourself some cute nail stickers.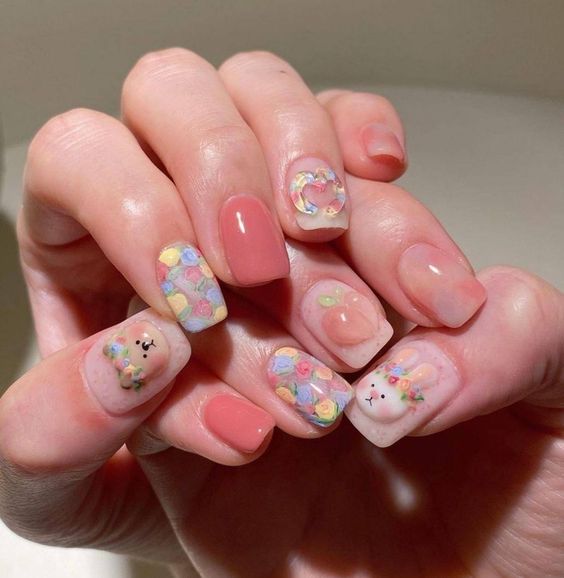 Don't you just think this nail art is so cute?! Aside from the pretty florals you can do, you can also opt to add animals like adorable bunnies to your manicure as well as fruits like peaches. Now you really have spring on your nails!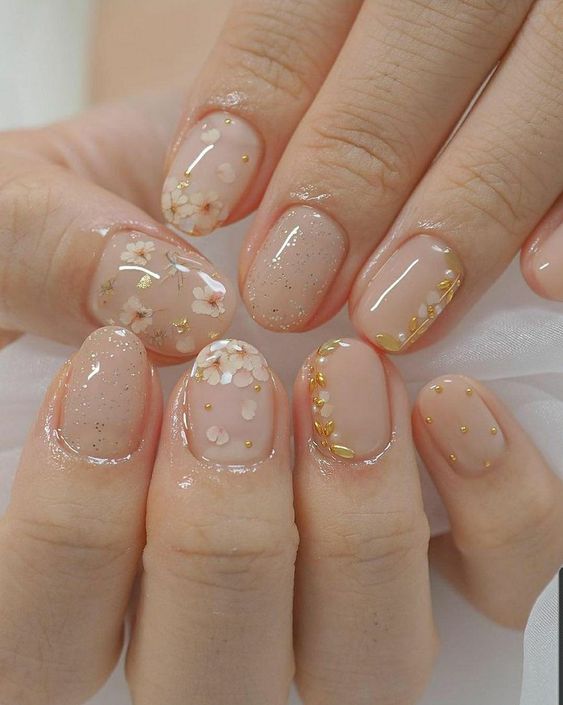 Make use of negative space and create this dainty yet elegant manicure. I love the soft and minimalistic combinations of gold and white to almost bare nails.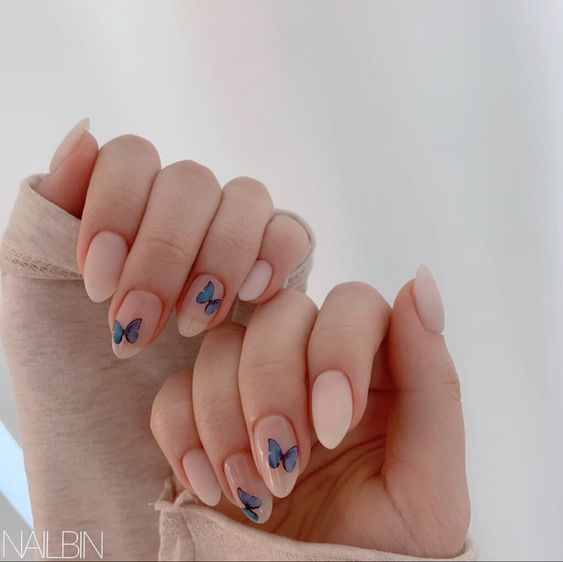 Here's another manicure that makes negative space looks so pretty. This is so perfect for anyone who loves the minimalist aesthetic. Use a natural base coat or leave your nails bare as you add butterflies for your nail art.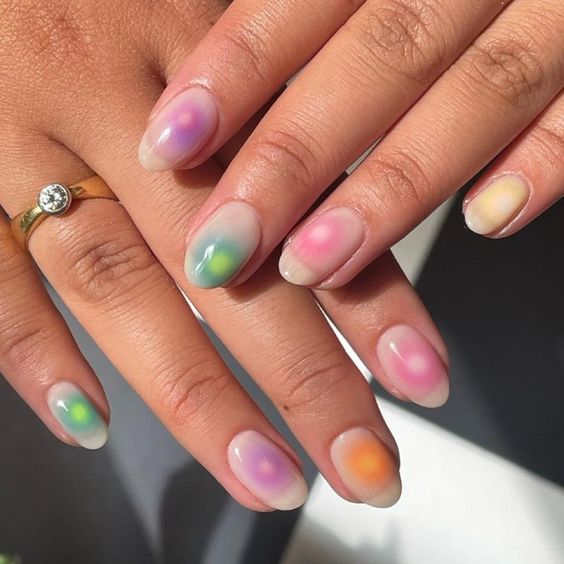 I'm sure you have already seen this "aura glow" manicure trend. Just like the name suggests, it makes your nails look like it is glowing from within and the colors signify the colors of your "aura" or chakras of your body. Cool, right?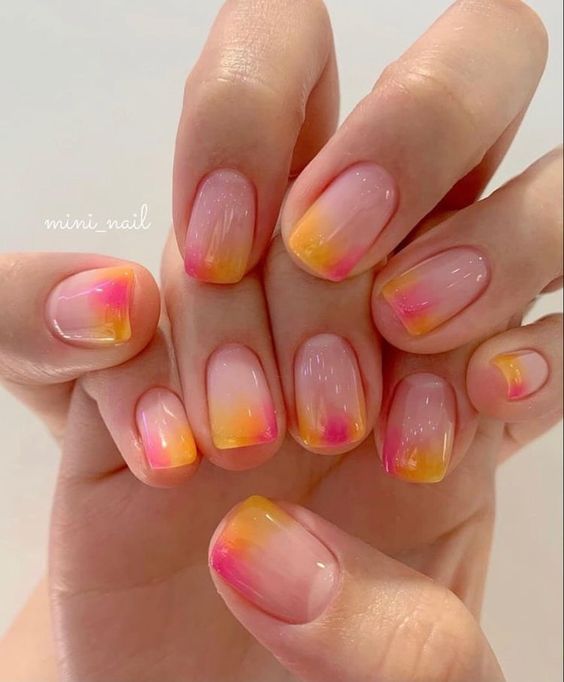 I love this quirky and colorful twist to the classic French tip! Pink and yellow create such a bright and vibrant combination together.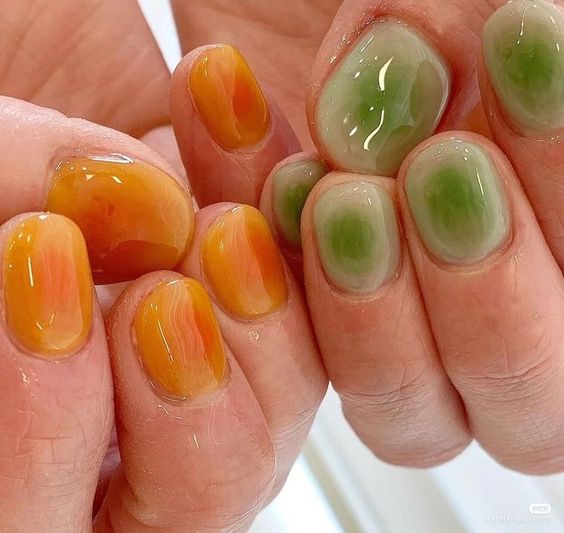 Here's another take on the trendy "aura glow" manicure. But this one uses a combination of orange and green hues for each set of nails. It's utterly gorgeous!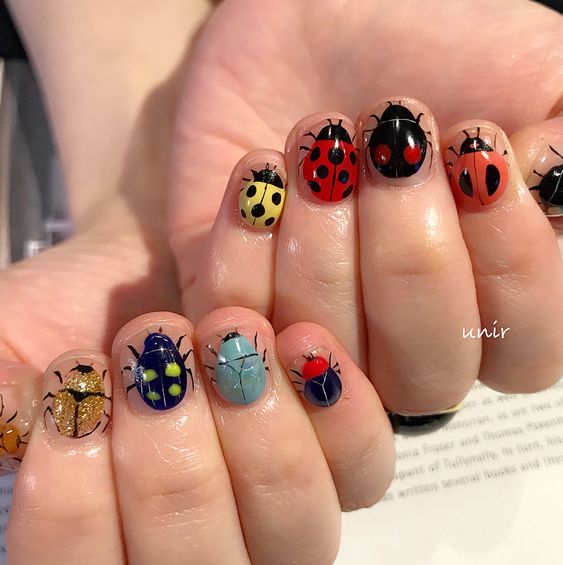 If you think florals and solid colors feel a little basic for spring, why not opt for this bug-inspired nail art? Not everyone may not be into this kind of pattern but those who have an affinity for etymology, you'll surely love this!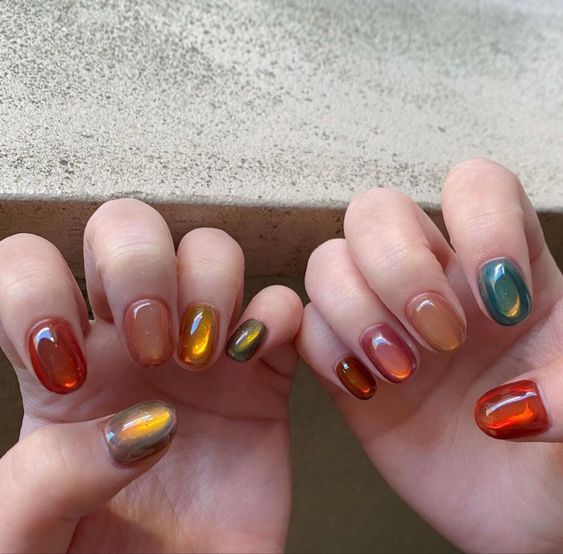 I love this particular nail art design! They look like an elevated marbled manicure, but it has a more 3D effect that makes your nails look glistening.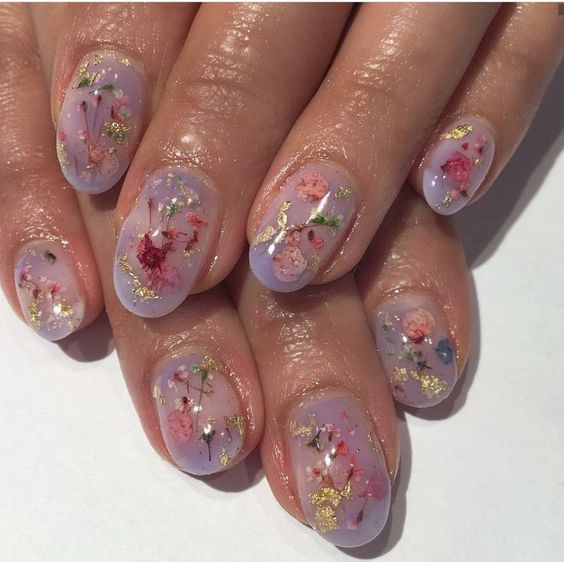 This manicure gives me such a gorgeous, vintage vibe. It also has that preserved dried flowers look that I adore so much! No need for nail art skills here as long as you have the appropriate nail stickers to achieve this look.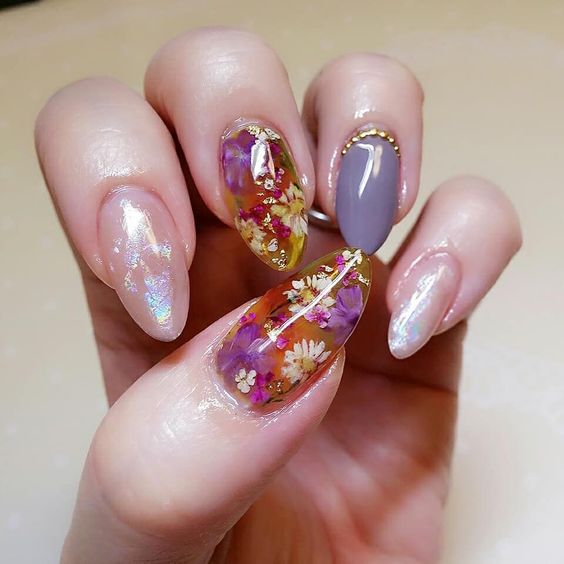 If you can't get enough of those vintage flower aesthetics for your manicure, here's another one you can take inspiration from! Use neutral colors for the rest of your manicure and keep your accent nails bright and full of bold colors to make them stand out.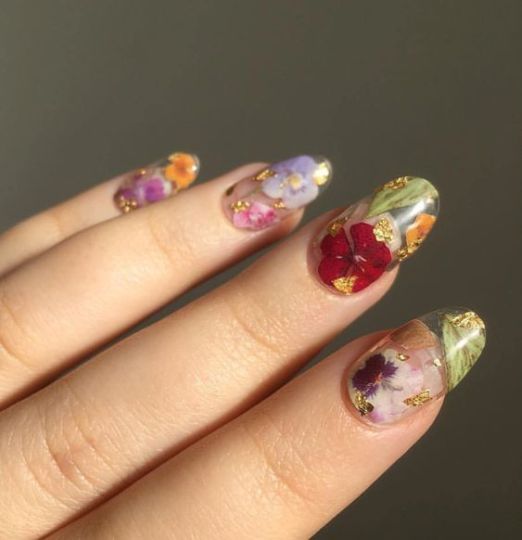 But if you want your whole manicure to be filled with vintage florals, then you'll want to look to this design instead.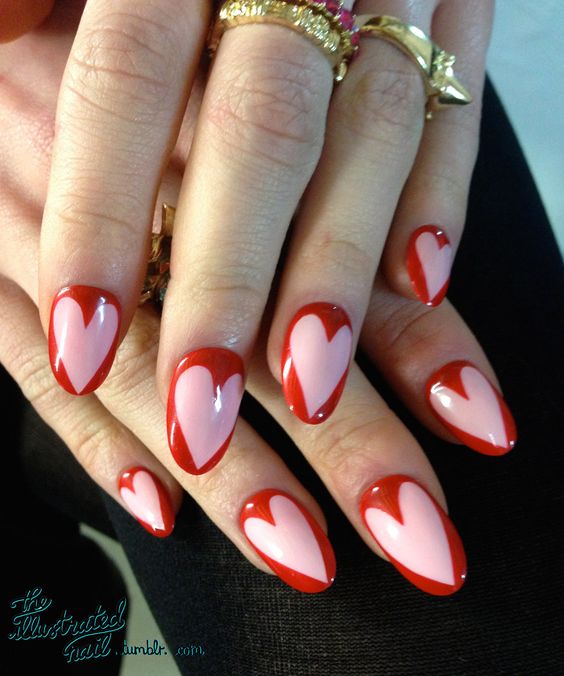 Valentine's Day may be over but that shouldn't stop you from doing heart-inspired manicures!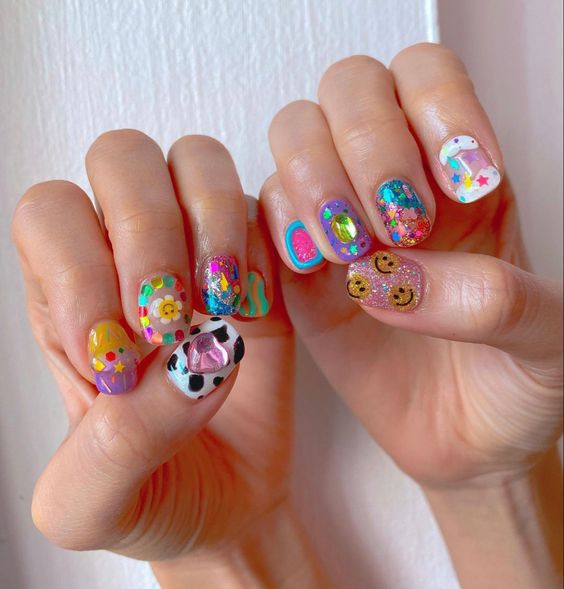 For a vibrant and youthful manicure, you are surely going to adore this quirky and fun nail art! It's filled with different patterns that are so fitting for spring.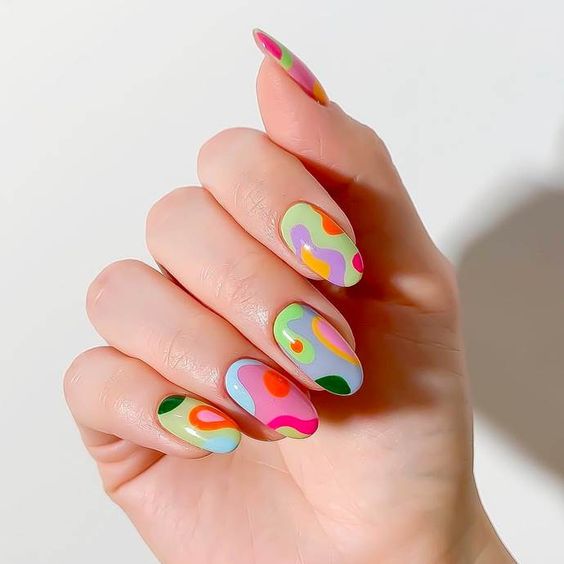 Don't you just love this psychedelic manicure? It's colorful, it's bold, and it's definitely going to be eye-catching!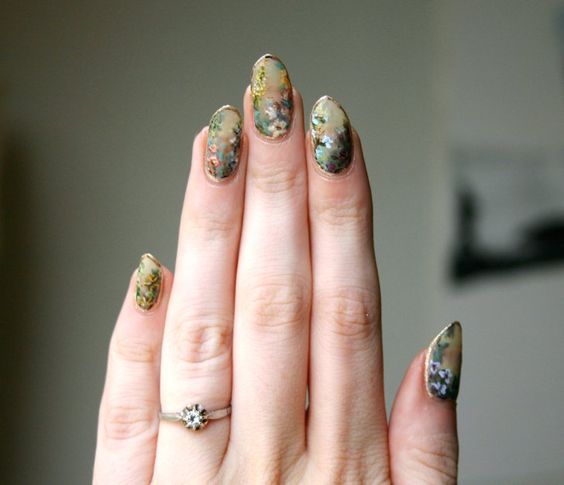 Green is such a beautiful color to pair with your vintage floral-inspired manicure. It gives an elegant and sophisticated touch to your nails.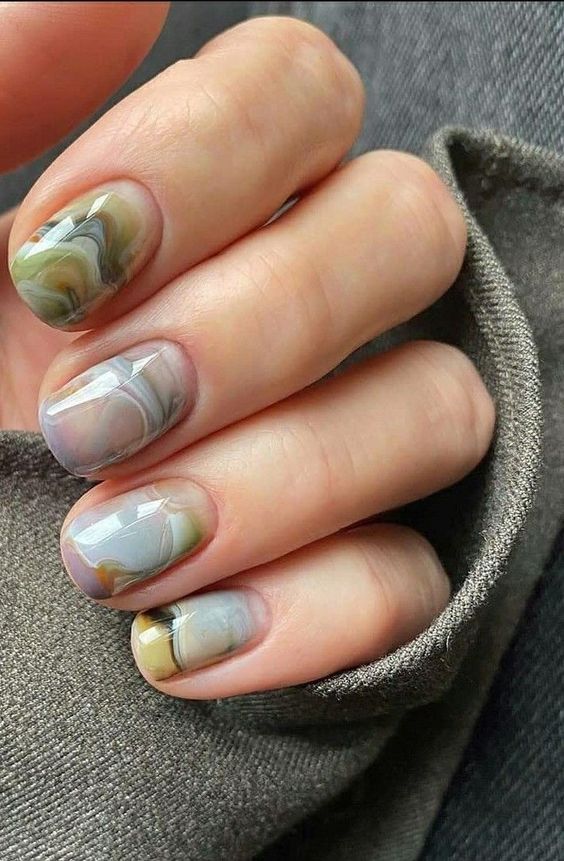 Here's another favorite of mine on this list. It's understated yet this marbled aesthetic on your nails would be so utterly stunning!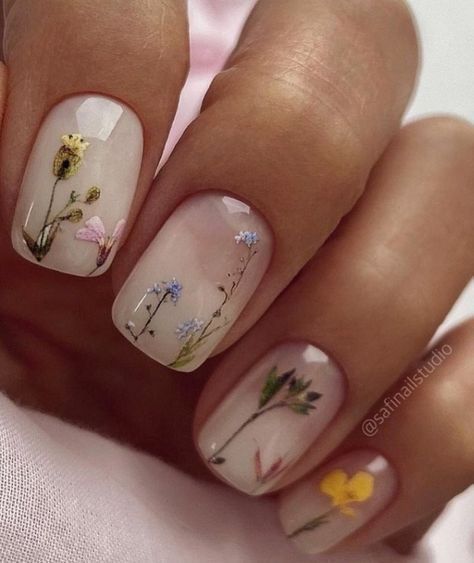 If you prefer a more toned-down or minimalistic take on vintage flowers, here's something you might like. Top off your milky base coat with a few vintage florals. No need to paint them on your own, nail stickers will do the trick!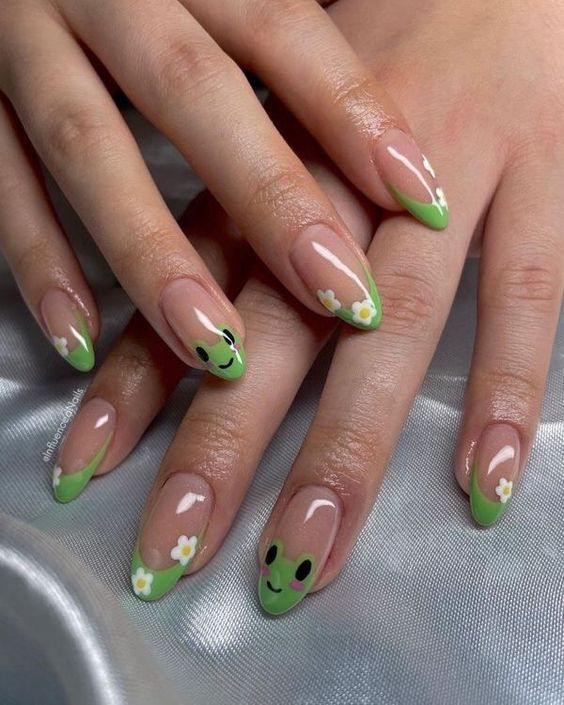 If you love frogs and the color green, then you might adore this manicure! The French tip pattern gives it a more classic touch instead of making it look tacky.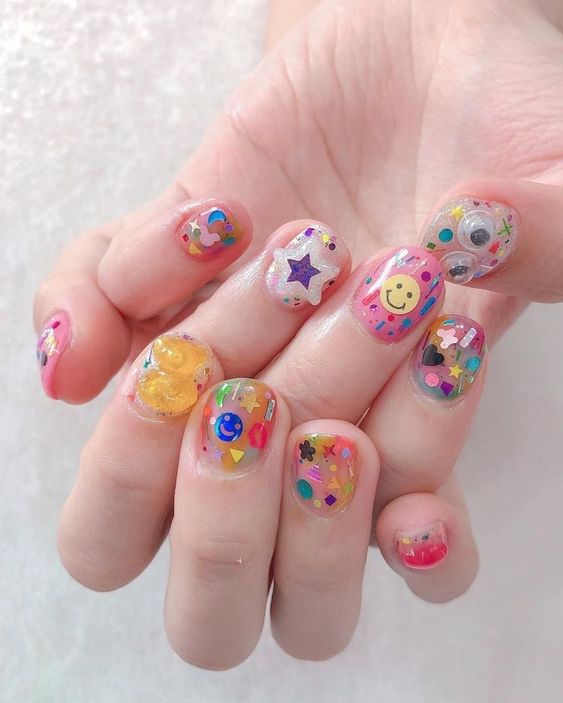 If you want your manicure to reflect your vibrant personality, then here's a nail art that will surely do the trick! it's filled with bright and fun elements that will make your nails look so unique and interesting.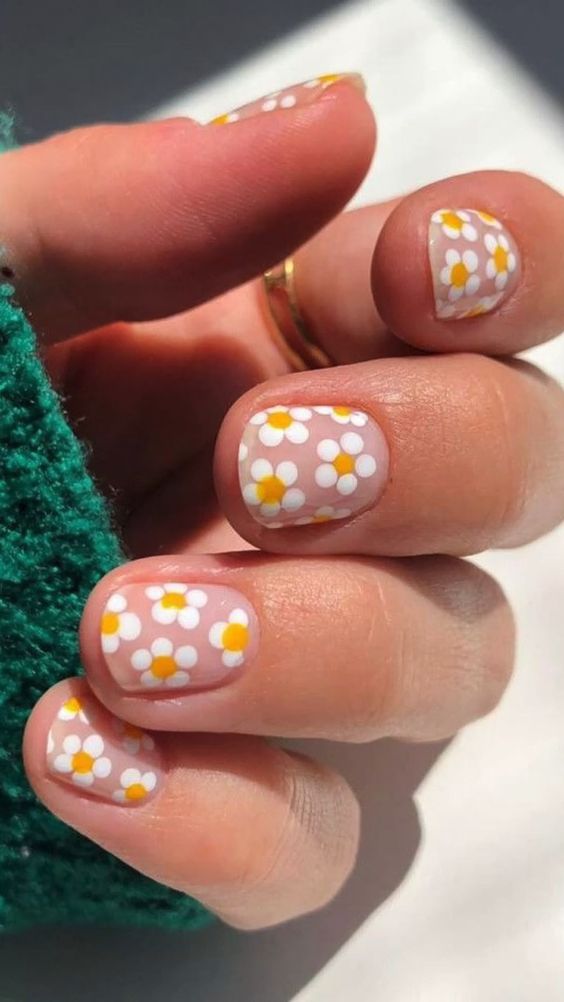 if you want to stick to basic florals that you can easily DIY in the comfort of your home, then all you need is a dotting tool to recreate this daisy-inspired manicure!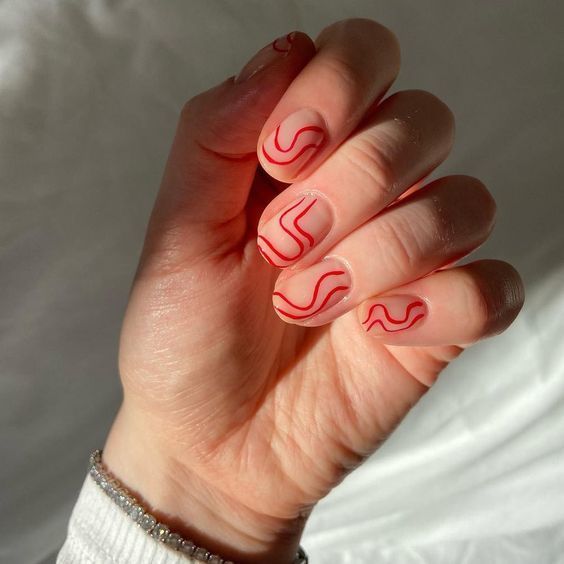 Intricate linework on manicures always looks so chic to me. They're versatile designs that pair well with any outfit and it's not too overwhelming to wear every day.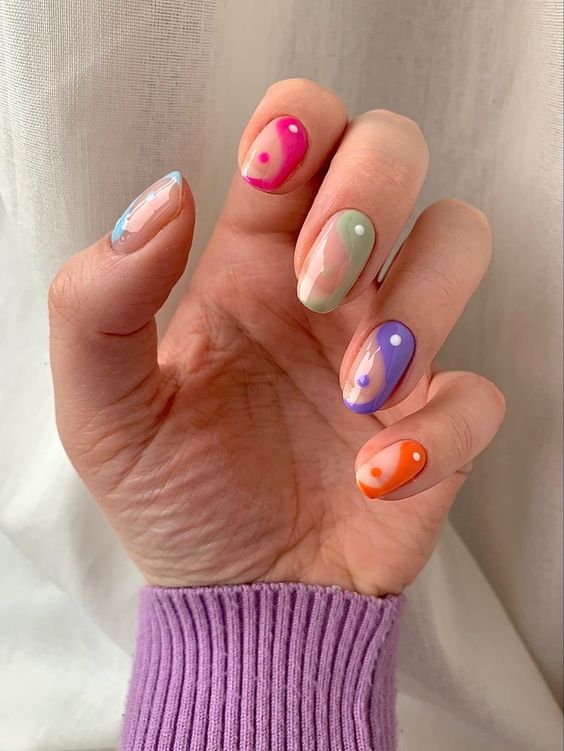 If you're looking to get a yin-and-yang-inspired spring nails manicure, ditch the black-and-white color scheme and use different bright colors instead for each nail to match the spring season.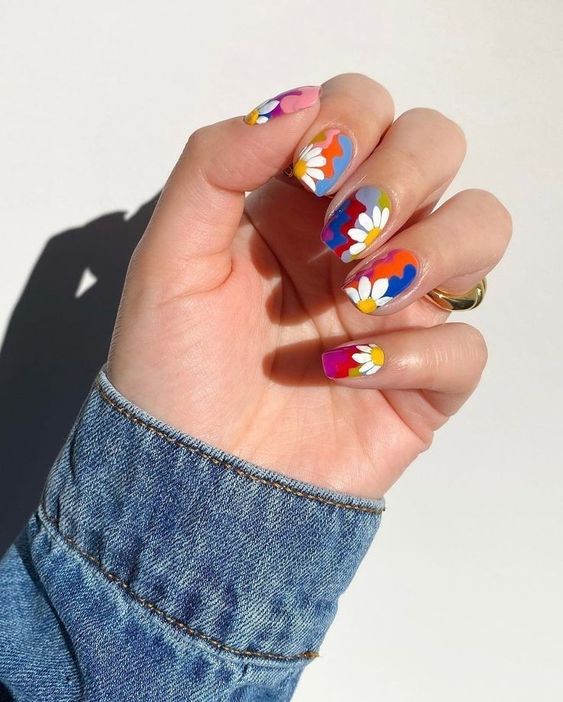 Tired of the soft colors and floral combination? Then you might love this manicure! It uses very vibrant hues of orange, blue, and more along with daisies to make it stand out even more.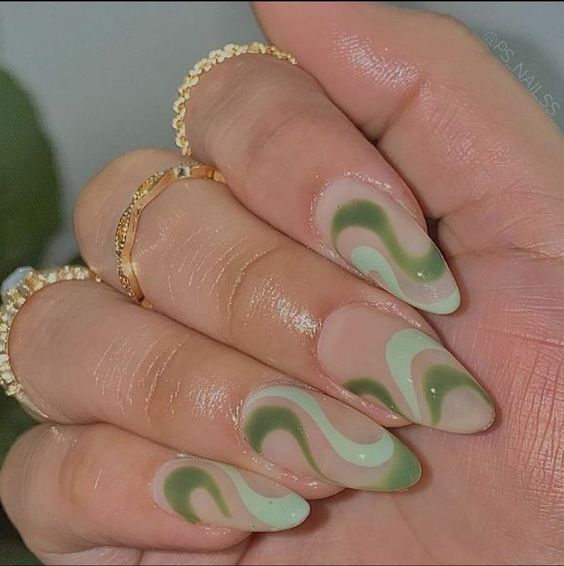 Green is one of the best colors that can represent spring, so why not opt for an interesting abstract pattern for your nails using this gorgeous color?