Looking for gorgeous light pink nails to try at your next nail appointment? We've got you covered!
Light pink nails are the classic nail color for a reason. They're subtle and girly without being too Barbie.
This year, we see a lot of pastel colors, and one particular favorite is light pink. Whether you're going for a simple French manicure or something a little more intricate, light pink is a versatile shade that can be used in a variety of designs.
From minimalist designs to more statement-making looks, there's sure to be something here for everyone. Keep reading to see some of our top light pink nail designs right now. And who knows, maybe you'll be inspired to try out one of these designs!
Hop on the light pink nail trend with us!
Light Pink Nails:
Here are our top long and short light pink nails with designs to try at your next manicure appointment. Enjoy!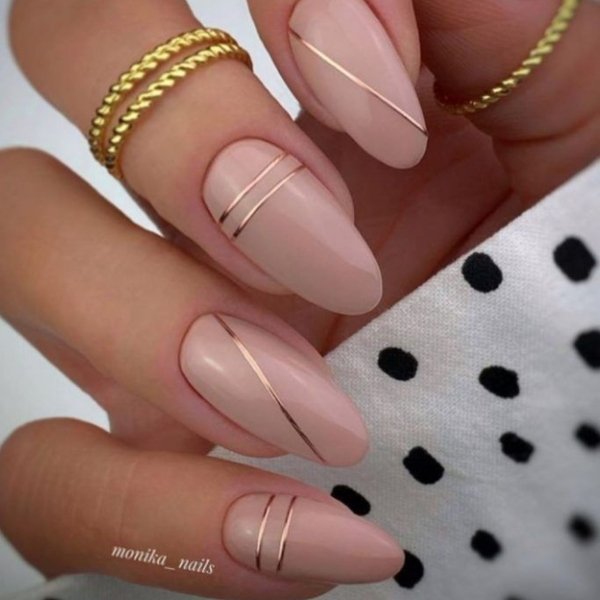 Wave Light Pink Nails:
If you're looking for a new and trendy nail design, look no further than abstract or wave nails. These designs are hot this year and easy to do! You can find many tutorials online or in magazines on how to create these looks.
Wave nails are characterized by their undulating, wavy shape. They can be made with many different shades of pink. They can be as simple or as complex as you'd like.
Abstract nails are a bit more freeform. They can be any design that you choose, and you can use a variety of techniques to create them.
Both of these designs are trendy and easy to do. Go and try them out for yourself!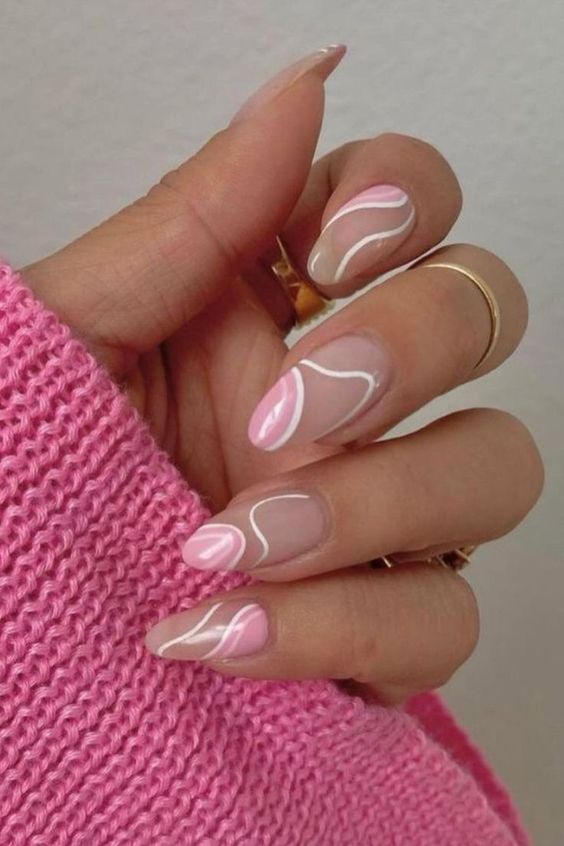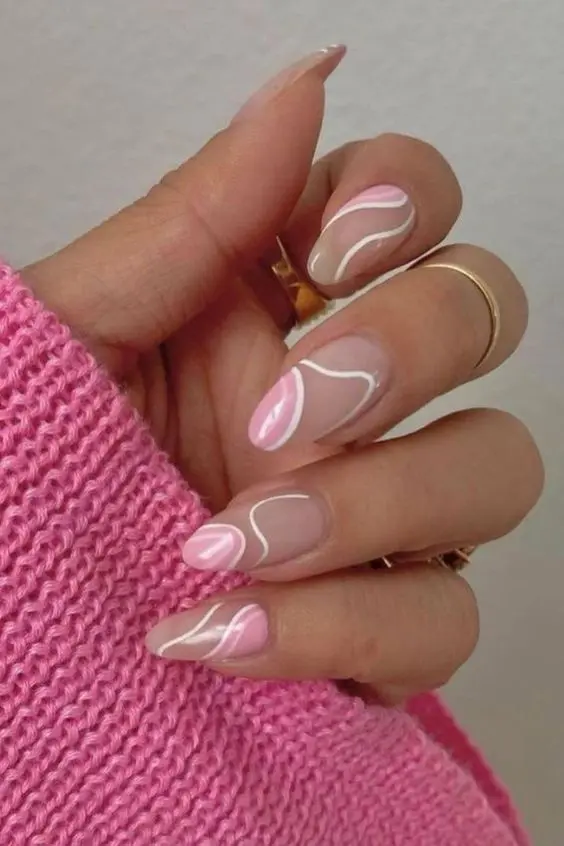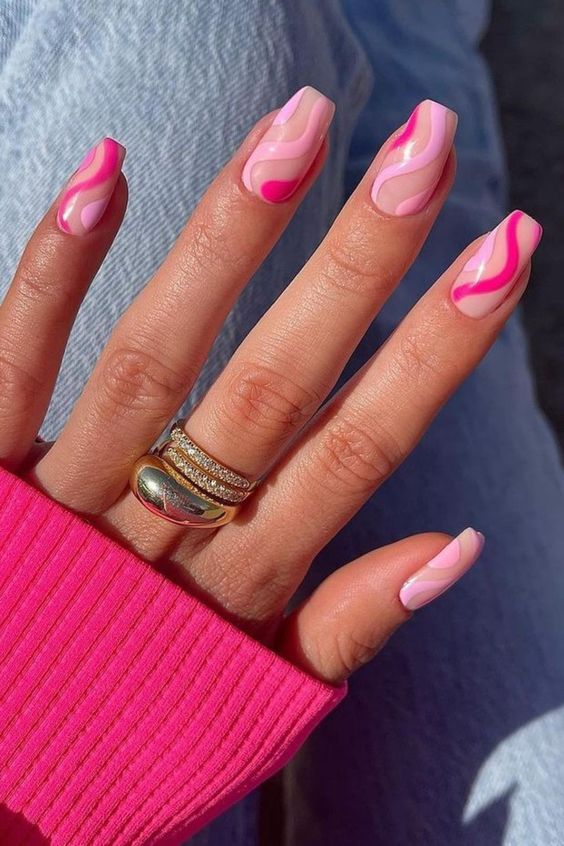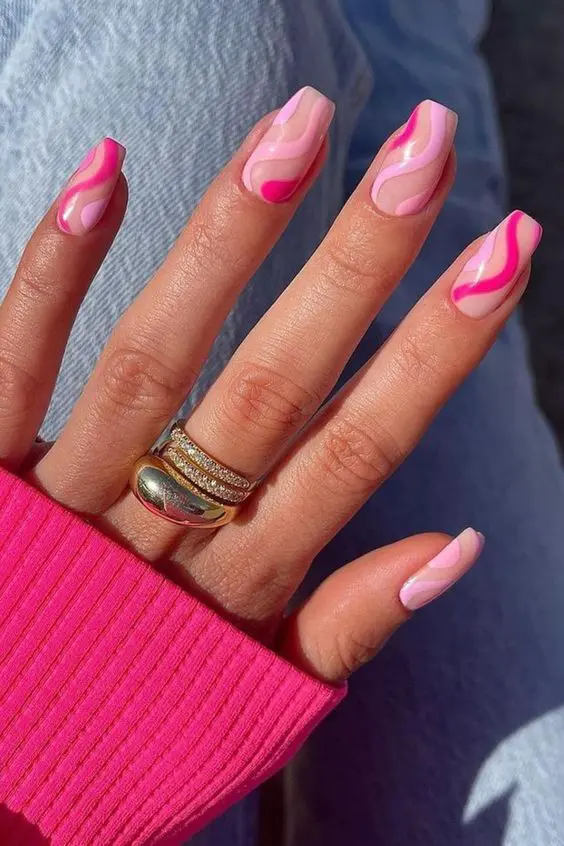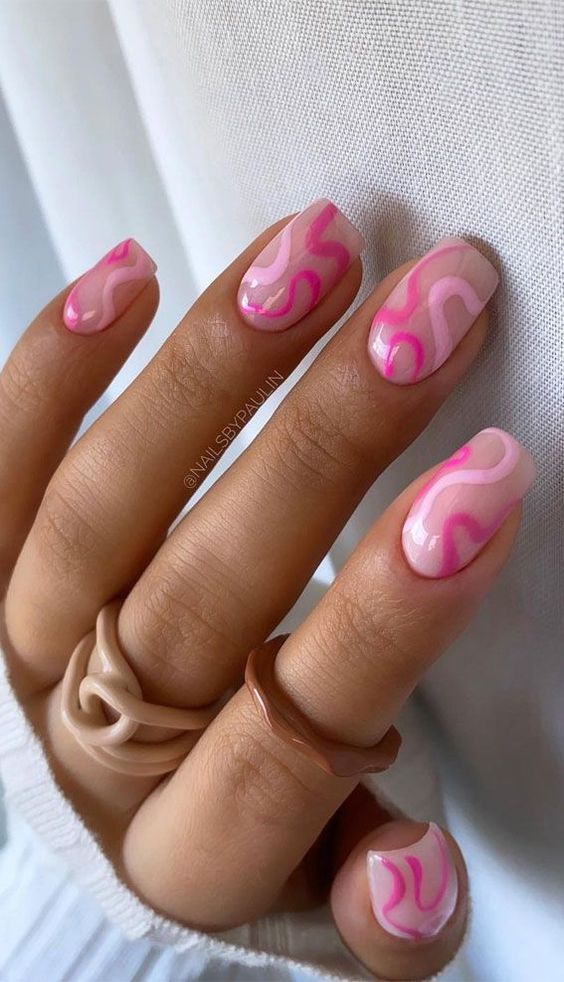 The best part about this design is you can easily do it at home! Try and recreate some of the designs above with your trusted hand.
You'll need a striper brush, acetone, and light pink nail polish. Have a go at it and good luck!
French Ombre:
Looking for a new and stylish way to do your nails? You should definitely check out some French ombre designs! They're chic and sophisticated, and they're also relatively easy to do. We'll show you some of the best French ombre pink nail designs. We want you to be inspired for your next mani!
Here are a few light pink French ombre nail designs to try.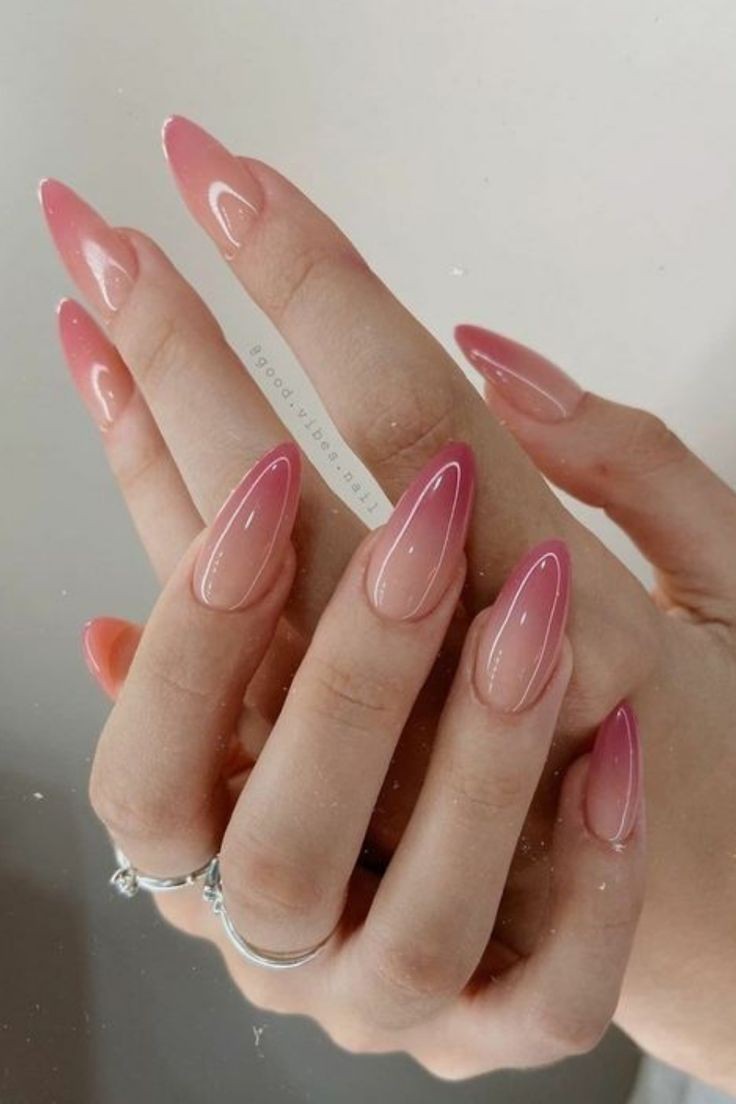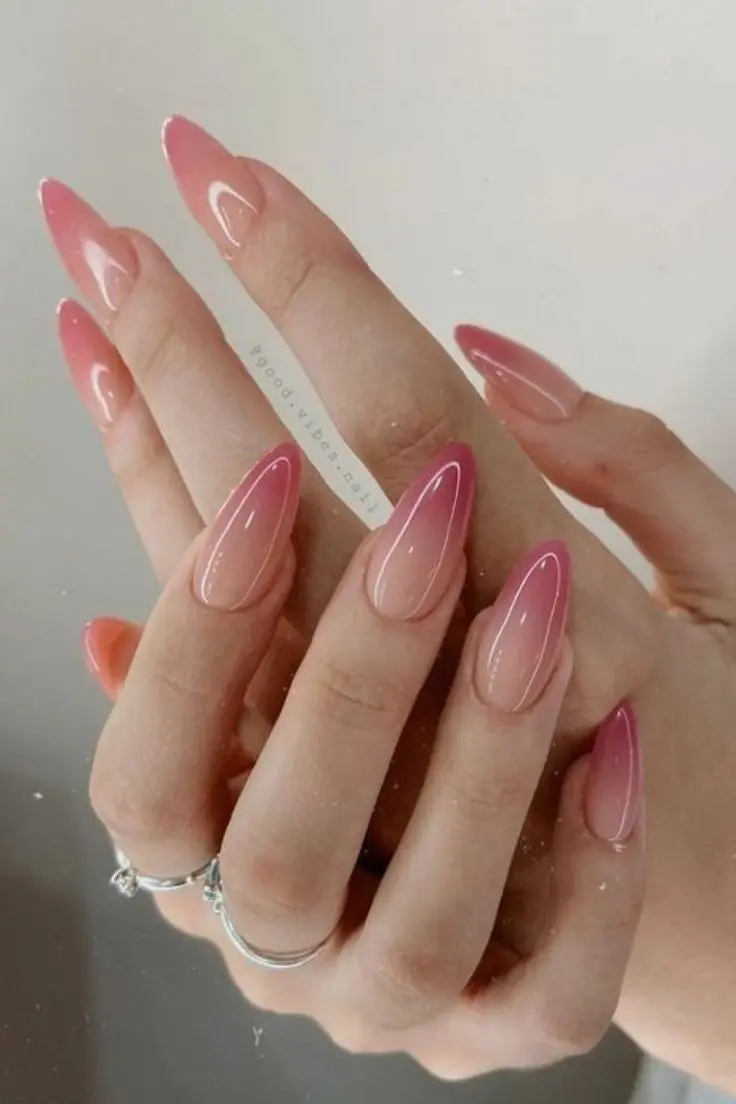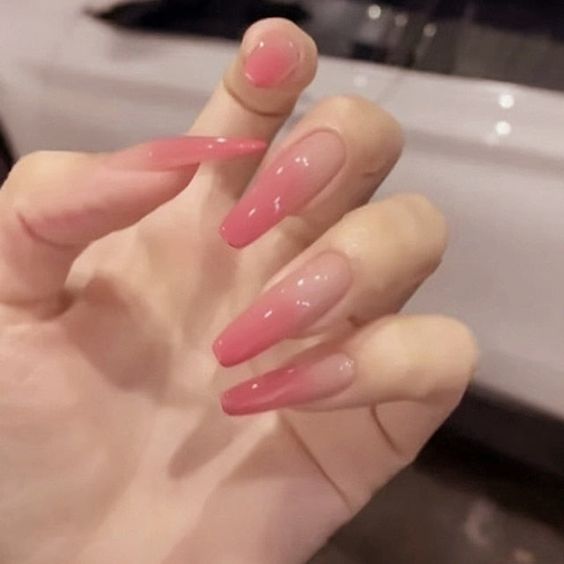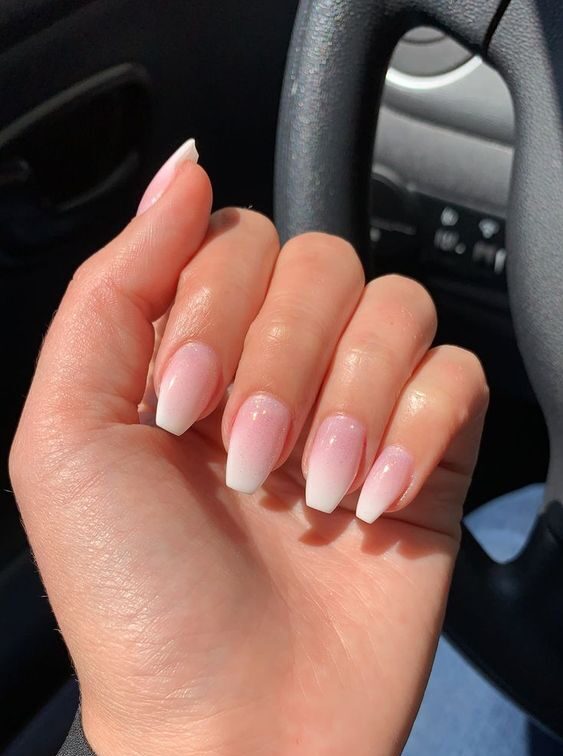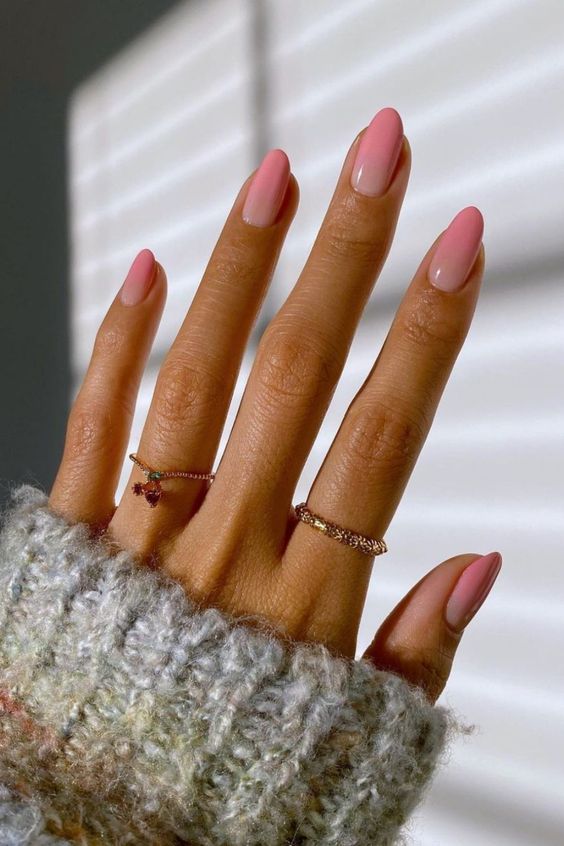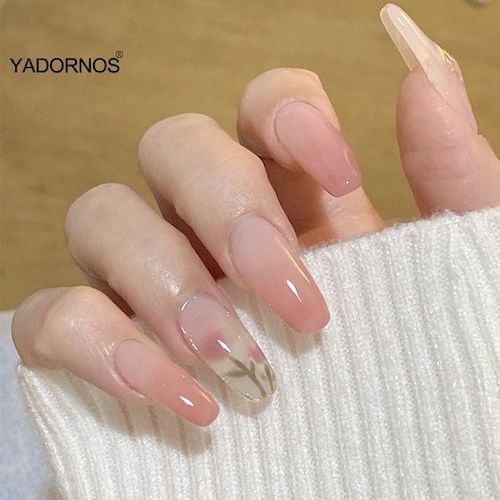 Outlined Frenchies:
What's new in the world of nail art? Are you looking for something creative and different? Then check out these outlined French tip nails. French tip nails are a creative way to add a little something extra to your nails. These nails are becoming increasingly popular this year.
Nail art is always changing and evolving and this year is no different! One of the biggest trends we're seeing so far is outlined french tips in light pink. These are very creative designs and are quite new this year!
If you're looking for something different and fun for your nails, definitely give this trend a try!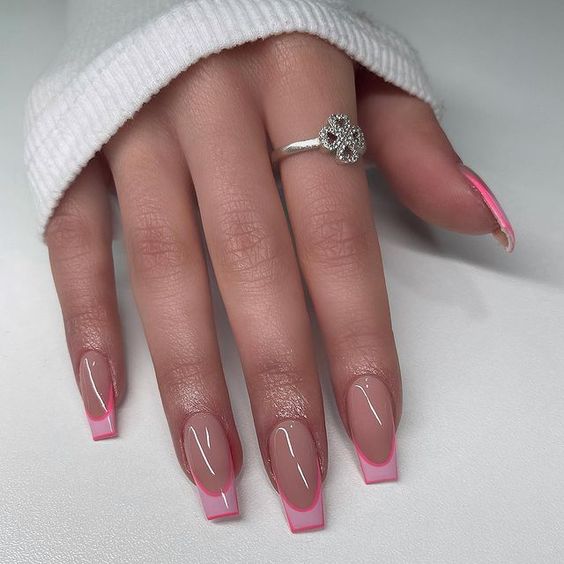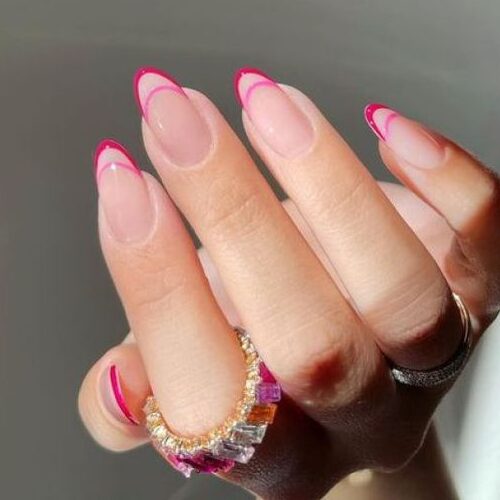 Love Is In The Air:
This is the best nail design for the month of love. Whether you're single or in a relationship, there's no better way to show love than with your pink nails. What could be more perfect than light pink heart designs on almond-shaped nails?
This year, ditch the bold reds and classic hearts. Opt for something a little more unique and personal. I love how dainty these are looking. Pair it with your best pastel-colored dress and be on your way!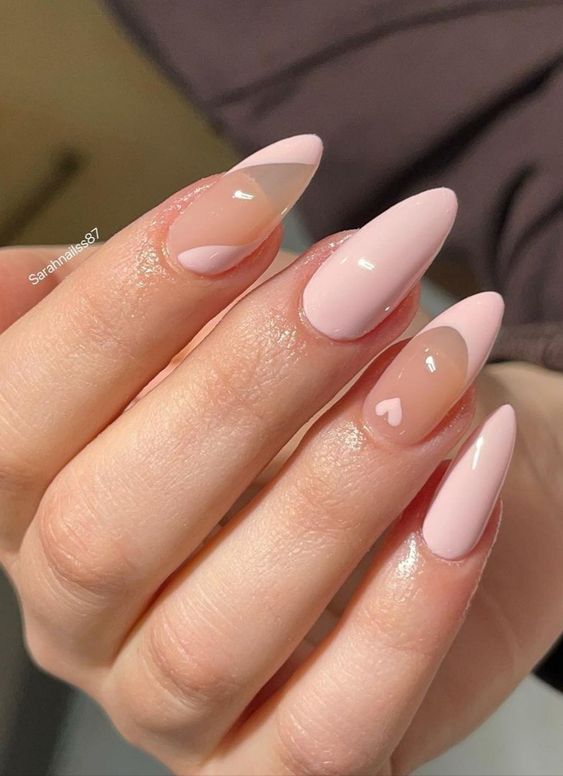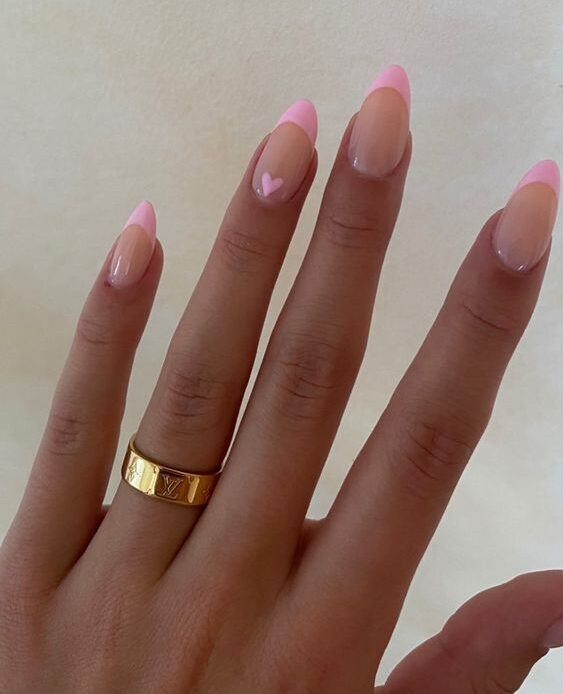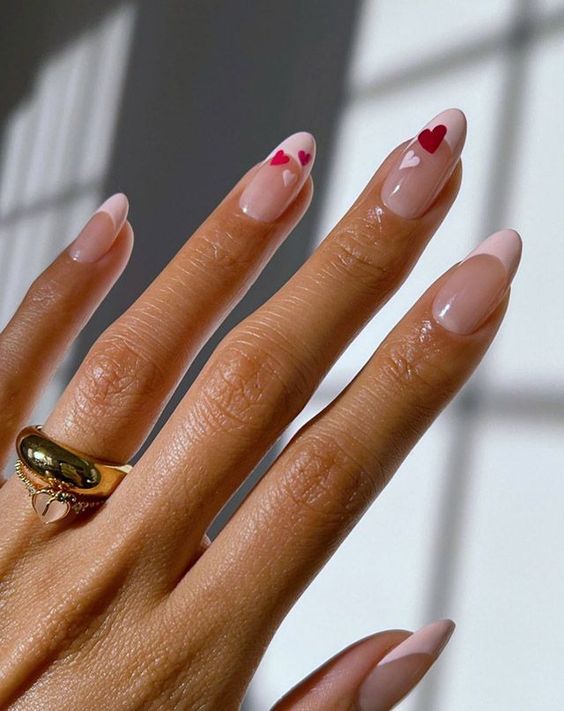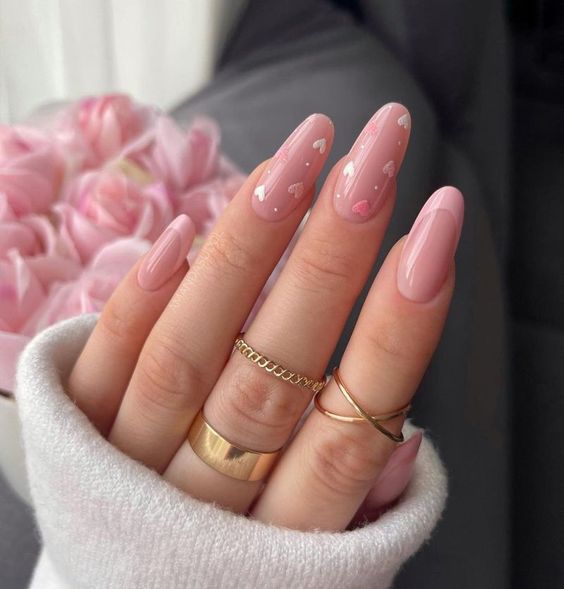 Shimmer Love:
We all love a good manicure, but sometimes it can be hard to decide what design to go for. If you're looking for something a little bit different, why not try a light pink glitter nail design?
Glitter nail polish is a great way to add some extra sparkle to your nails. There are lots of different ways to design it. With a little shimmer and a lot of style, these designs are sure to make your nails stand out from the rest.
Mix it up by having different designs on each nail. Step out of your comfort zone and go wild with the designs!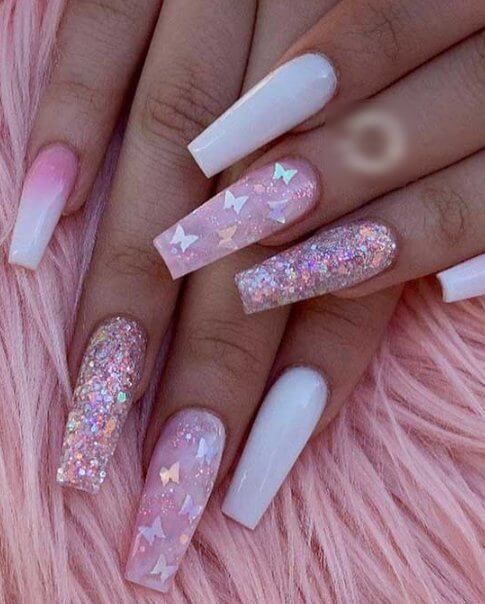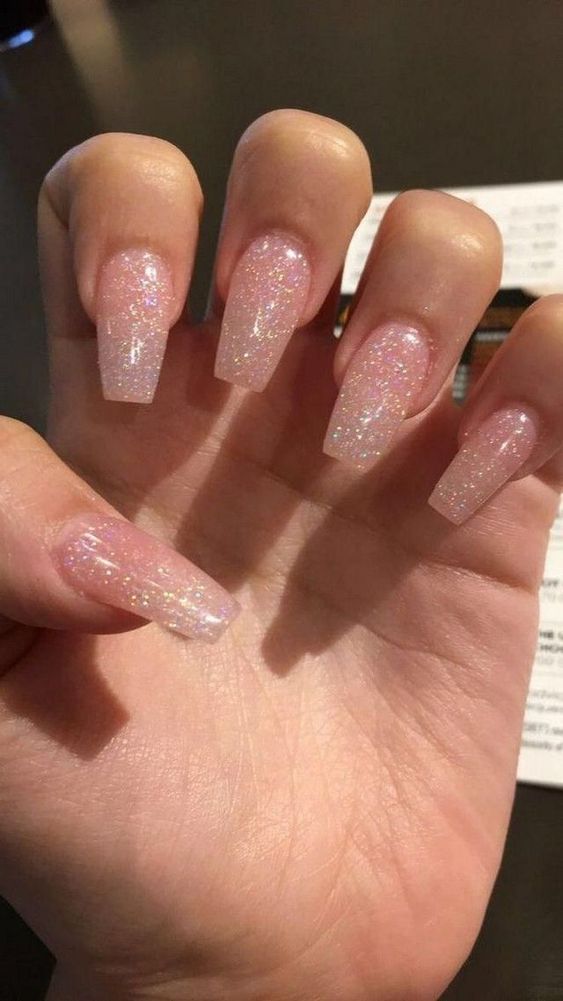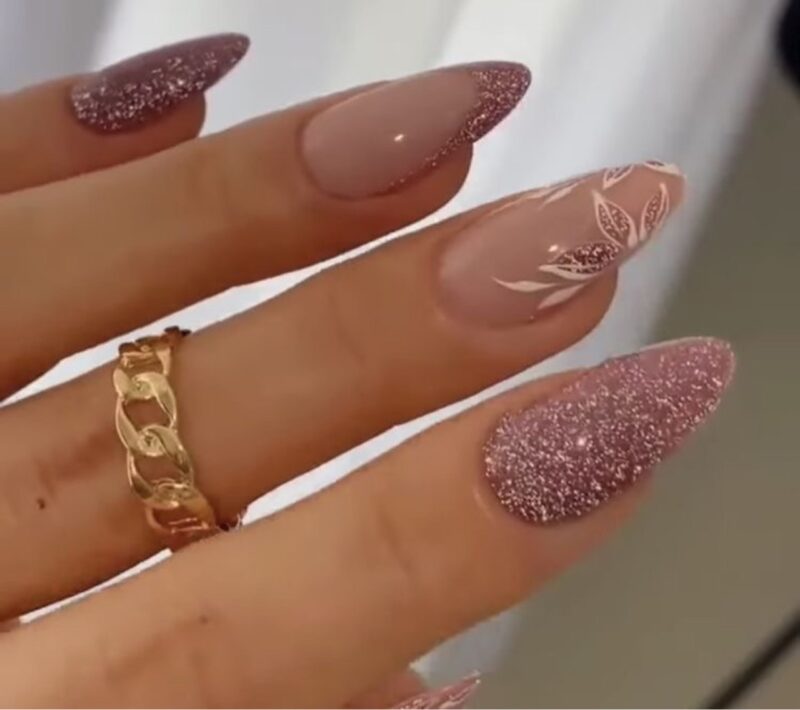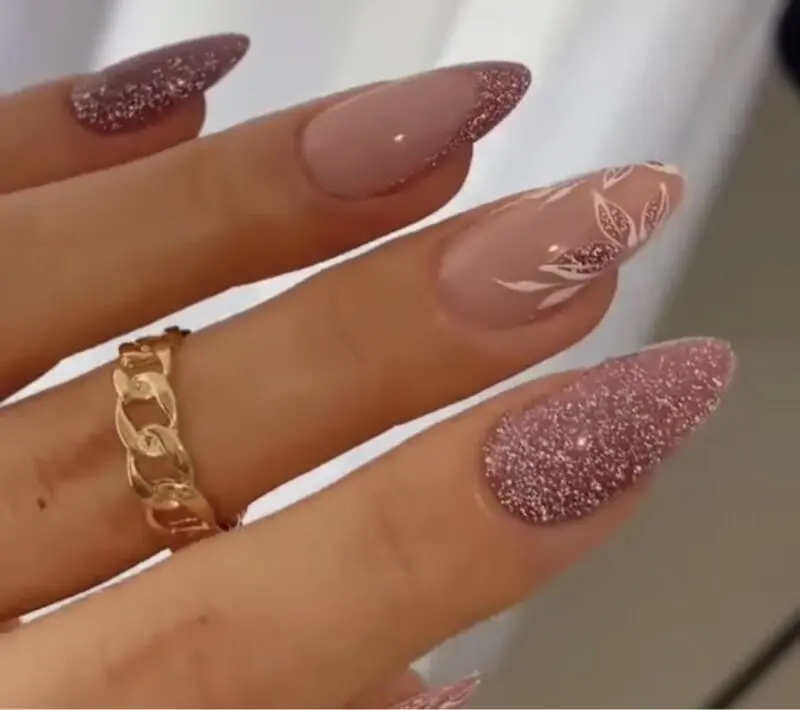 White Lines:
Do you lean more toward having a minimalist, chic style? These white lines designs are great for gals like you! Mimic your simple personality onto your nails by trying this out.
Start with a sheer light pink nail polish as your base. Dip that brush onto some white nail polish and go with your design!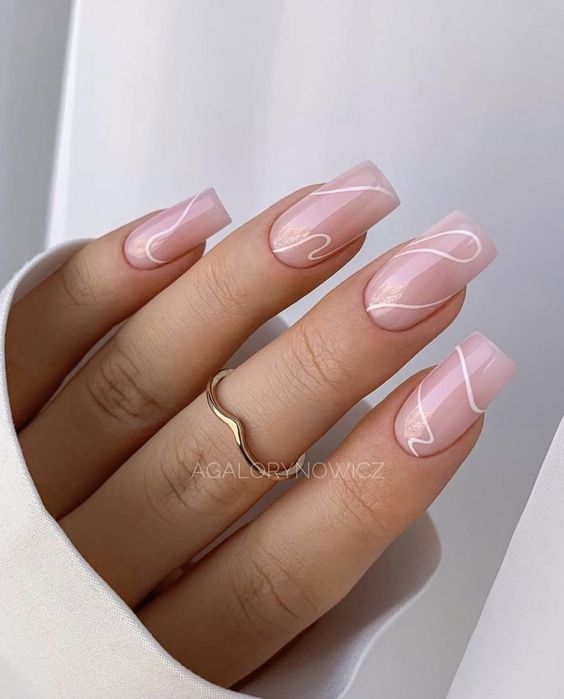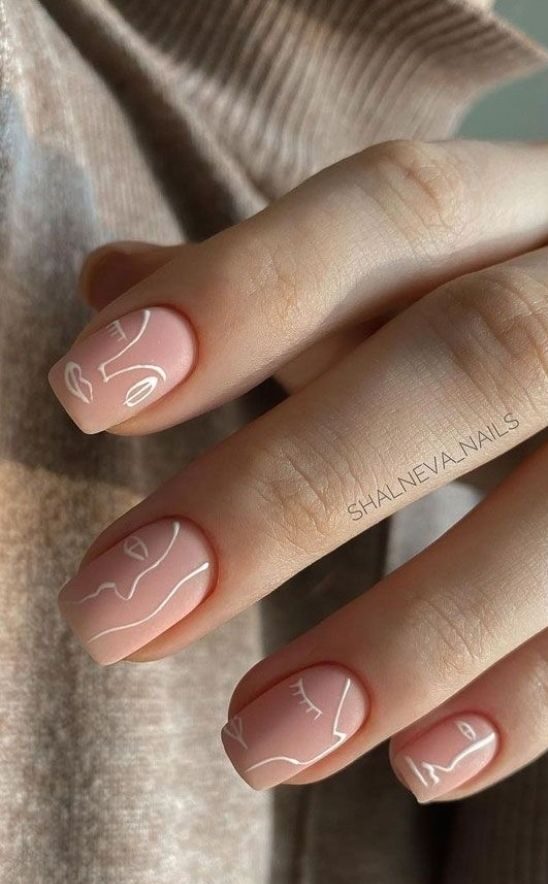 Iridescent:
Are you getting some fairy vibes with these? Because I am! Think Winx or Tinkerbell. I want to live my fairy fantasy through my nails and wish I can get these every time.
Iridescent pink nails are certainly getting more and more hype. There are no wild designs and various gems on these, so they're practical to wear. These are good birthday nails too! Imagine celebrating the day you were born, with gorgeous nails. Excuse me, running to my nail tech right now!
Do you want to do it at home? Grab your light pink nail polish and top it off with chrome powder!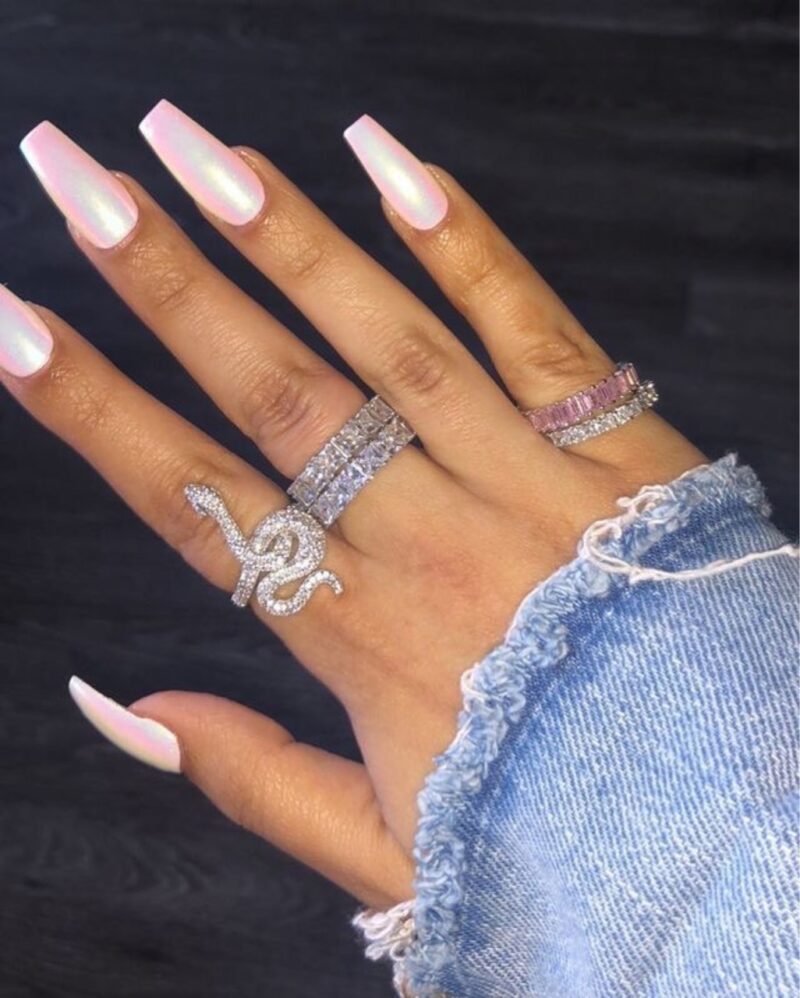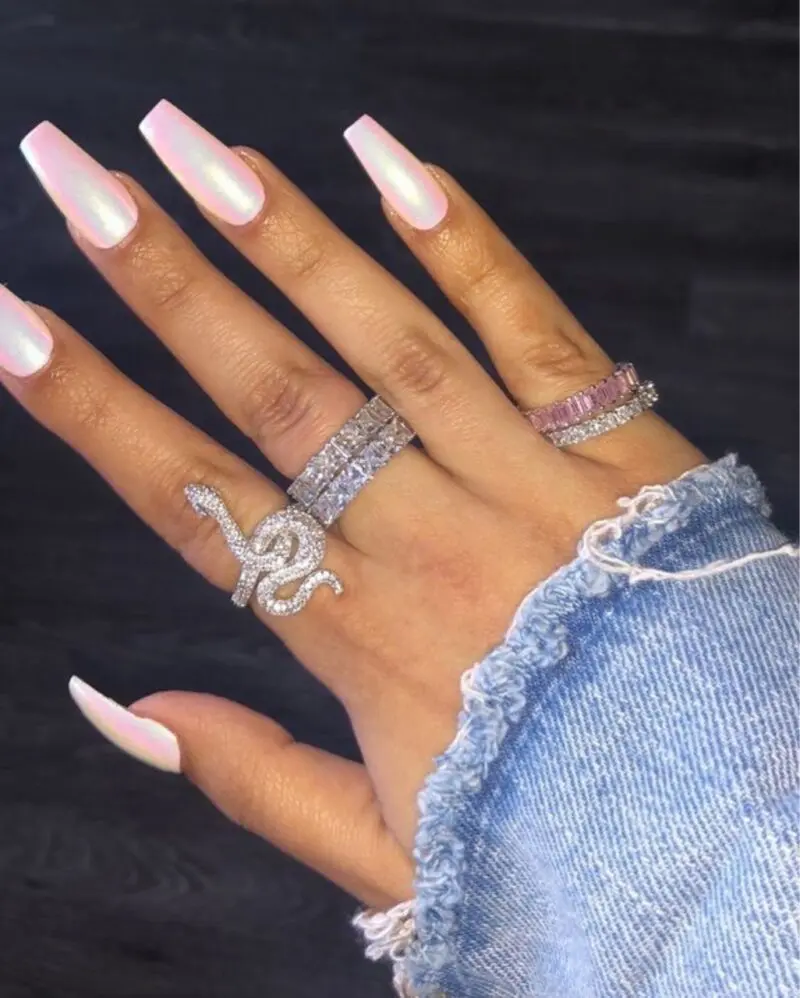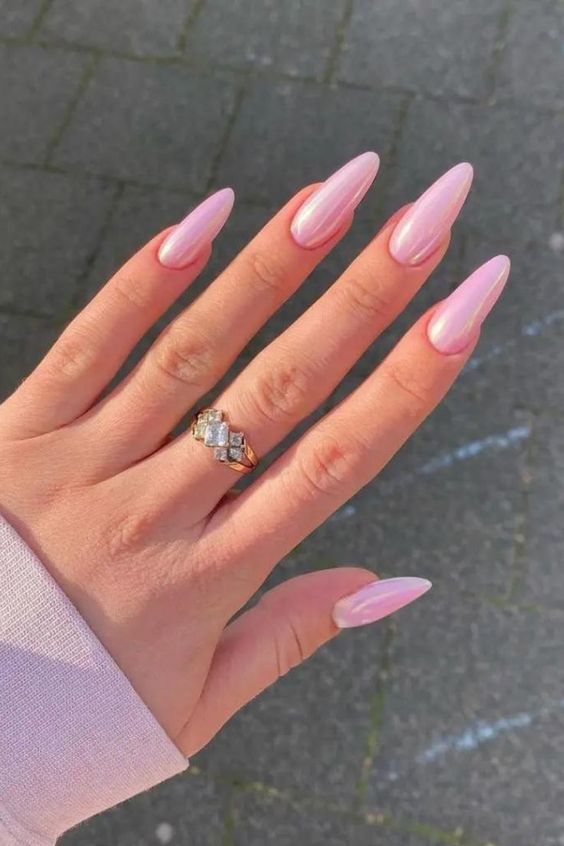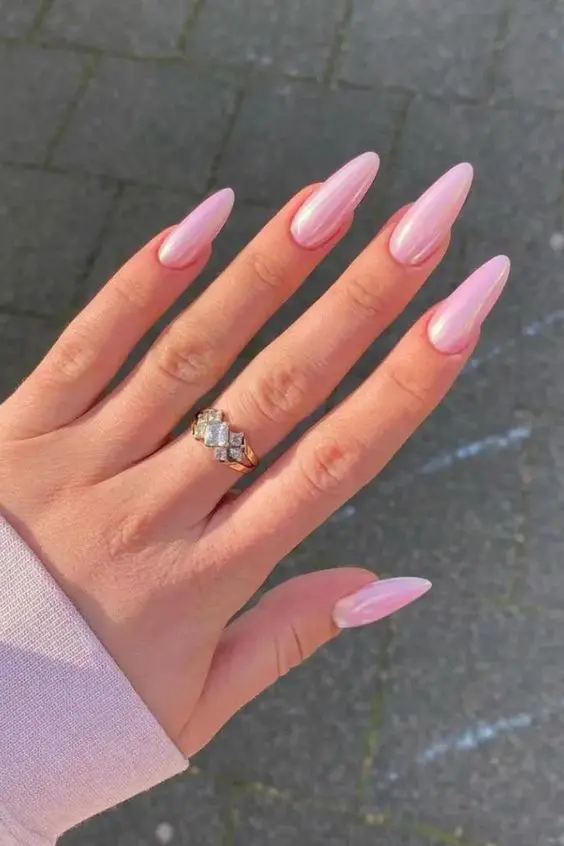 Square Pink Nails:
Light pink nails are all the rage at nail salons right now! Does your heart fill with joy whenever you see them? Because mine does. Squared tips and coffin nails are the shapes you would want this season!
Ever since summer came about, this nail design appears nonstop on my Instagram explore page. It makes me want this manicure for myself! Light pink symbolizes being feminine, friendly, young, and innocent. Not to mention super cute!
Square shapes are timeless and can be worn on different occasions. The inspos shown below have simple nail designs for someone on the go. If you always get overwhelmed at the nail salon then ask for this one instead. Simple, beautiful, and clean!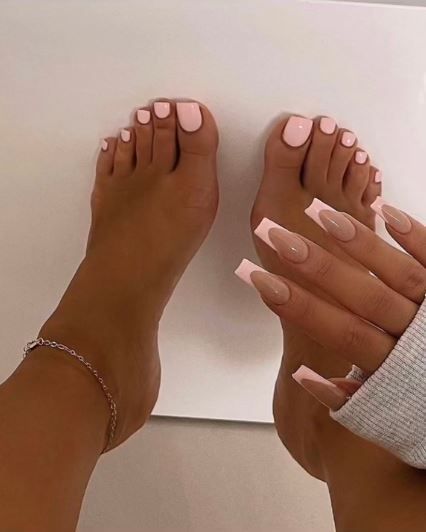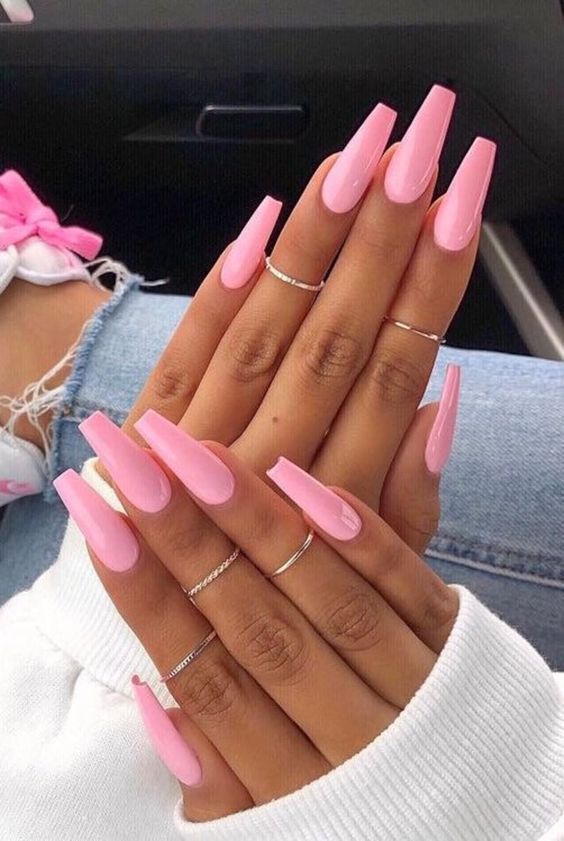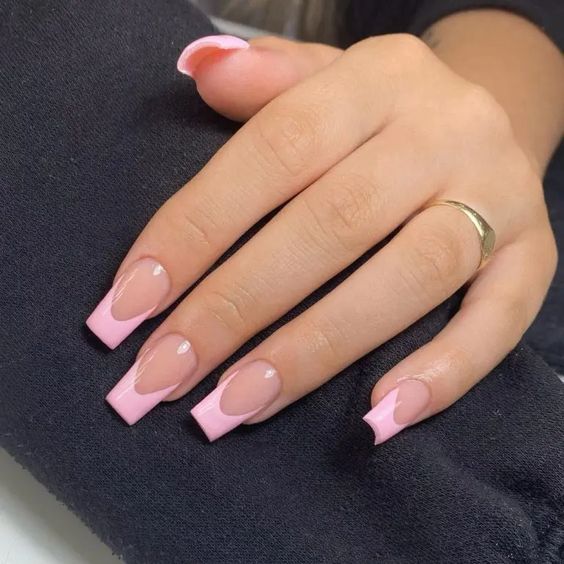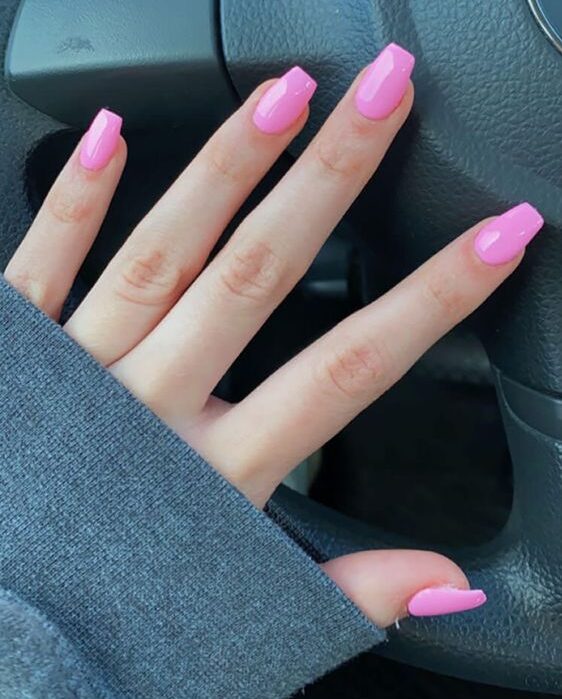 Flower Power:
Is it spring yet? Because I cannot wait to rush to my nail tech and get these. Frenchies on oval nails, plus cute dainty flowers?! They're honestly to die for. Style them short! Practical to use and less likely to break. They'd last a long time on you and you can fawn on them longer.
Choose the best that suits your personality and mood for whichever occasion. This feminine design used with darker and lighter shades of pink go along so well! Charm your way through your nails, girl!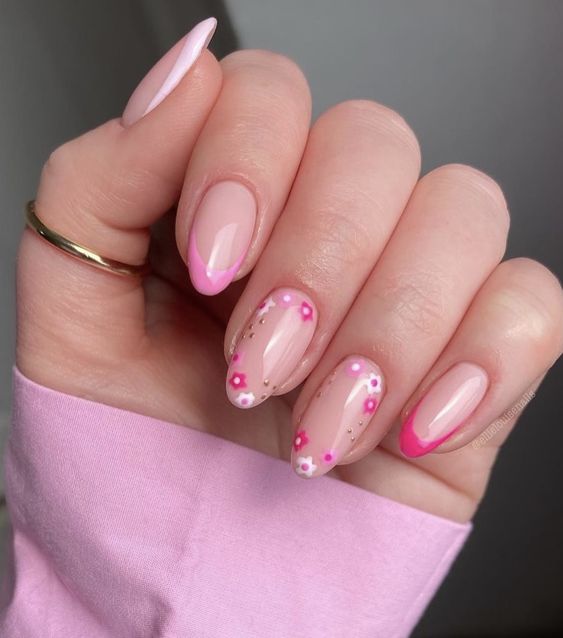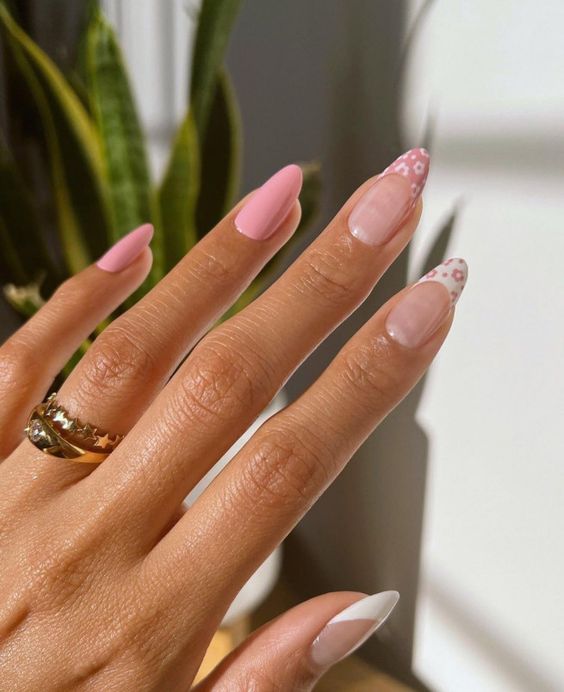 Light Pink and Gold:
The best nail combo you could ask for! Light pink and gold are practically sisters. A muted color paired with a chrome one makes you look like a Greek goddess. Who wouldn't want that right?
You can use nail decals to recreate this. Get a straight line onto your nail in just seconds!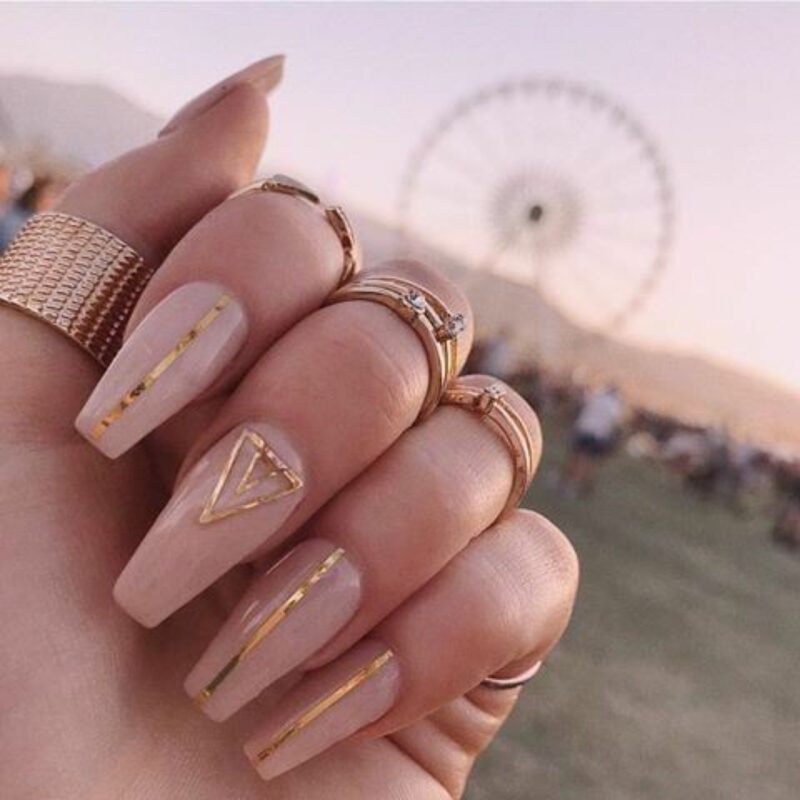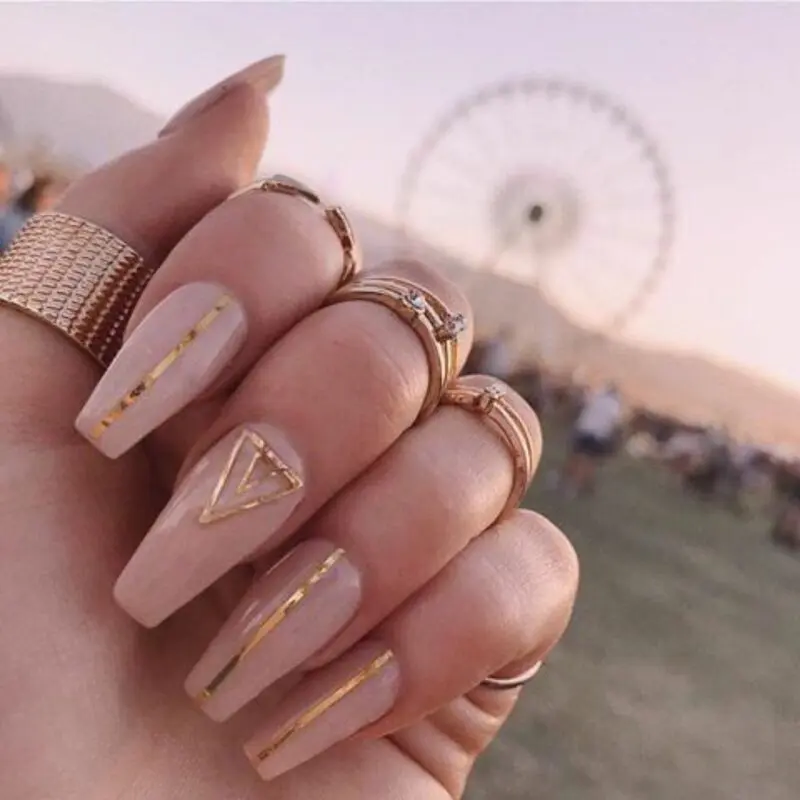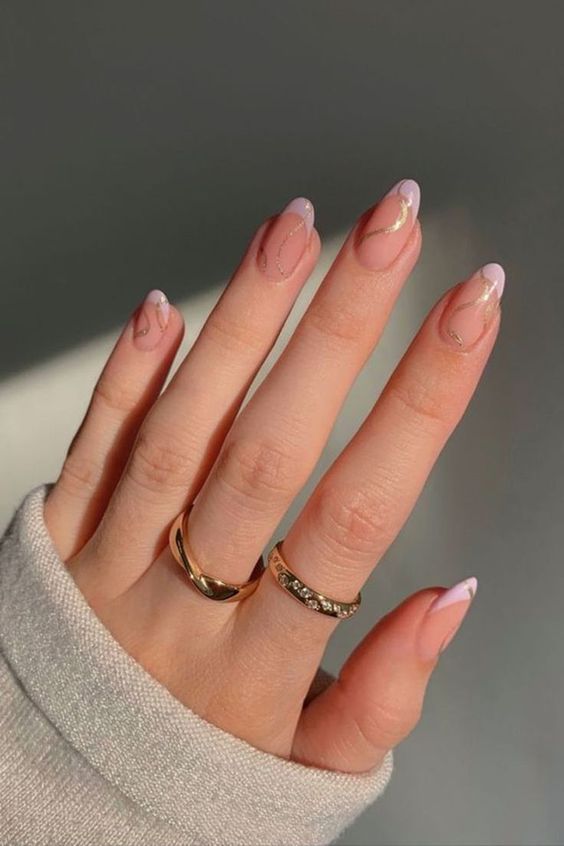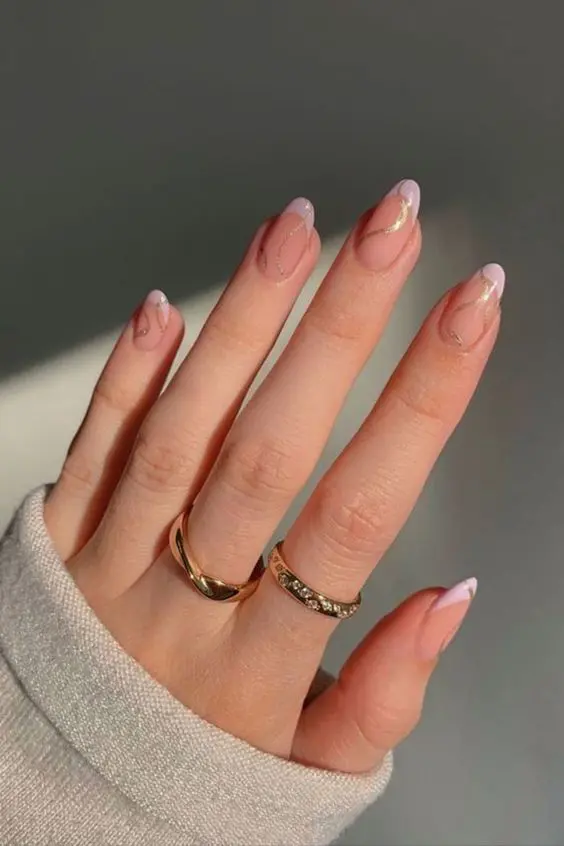 Milky:
Hello, Hailey Bieber is that you? Since she spoke about her nails on TikTok, this nail design went viral. They're now calling it the Hailey Bieber nails! This is very close to it; we're substituting her milky white color with a light pink shade for now.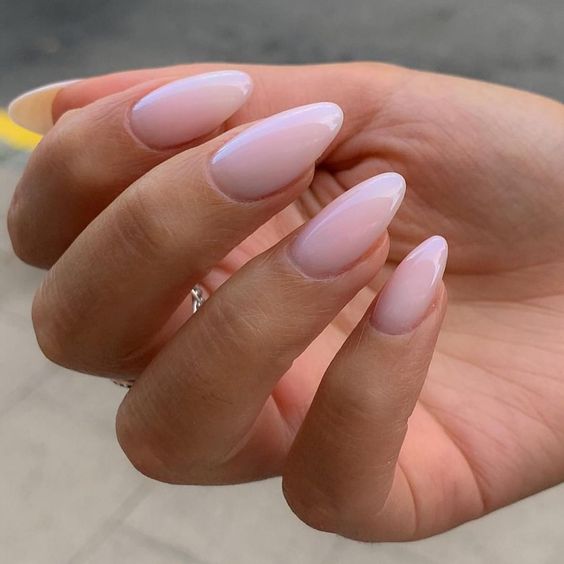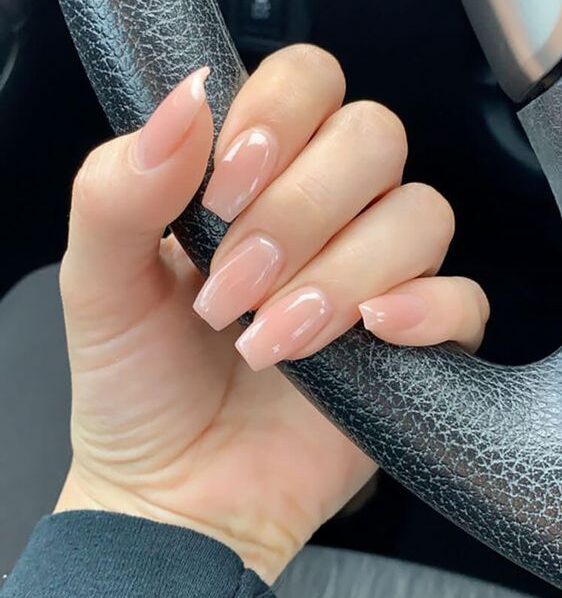 Love, love this as an everyday nude do!
Shades of Pink:
Can't decide on which shade of pink to go for? Why not all of them? Great for super indecisive people like me (haha). They look very nice as we're just sticking to one color but in different shades.
She's a monotone girlie now! Look fantastic every day by having this design on your nails.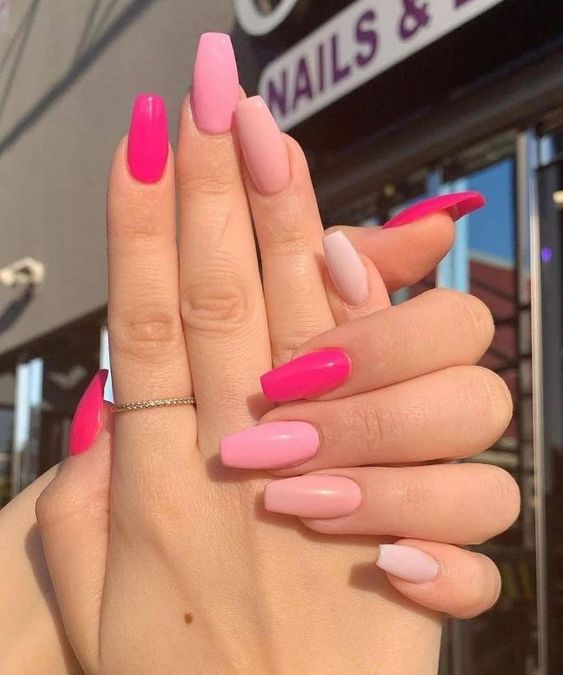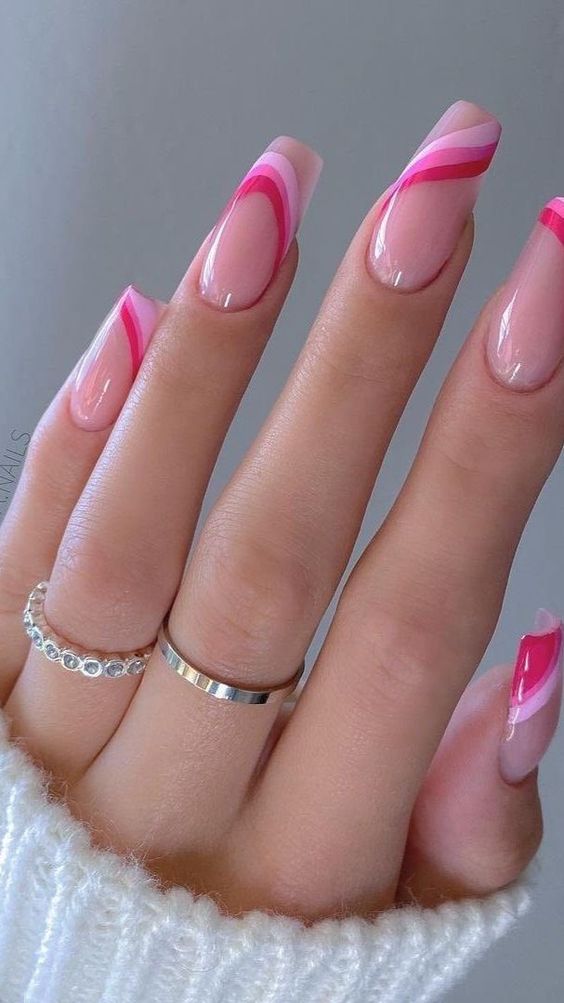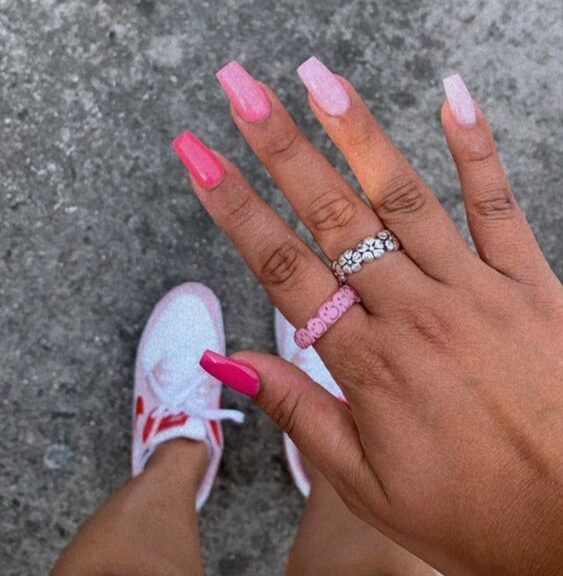 Star Bright:
Add some sparkle to your life and try out these dreamy nails! They are too cute to not get. From dreaming to waking life, your nails stay on point at all times.
If you're one of those astrological girlies, you're gonna want to have these on your fingertips. As a Leo, I agree. These are some of our favorite long and short light pink nails with design that are super unique!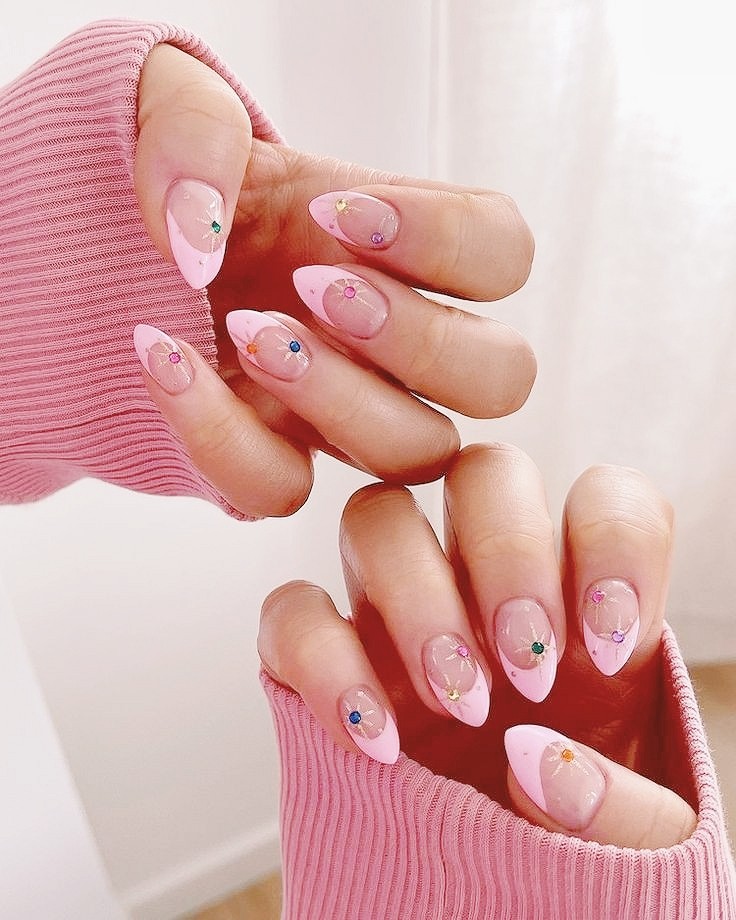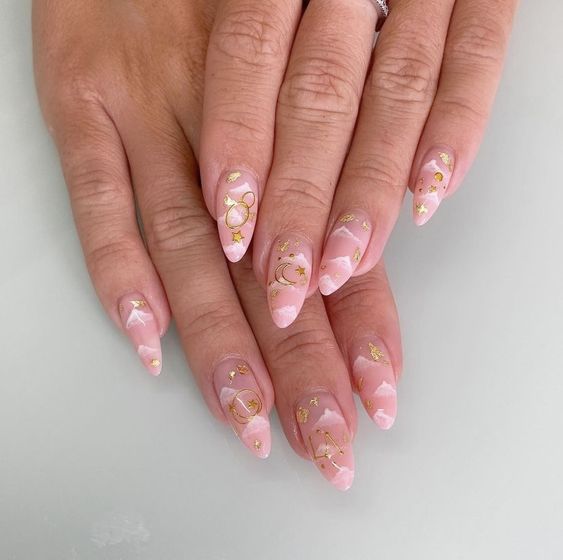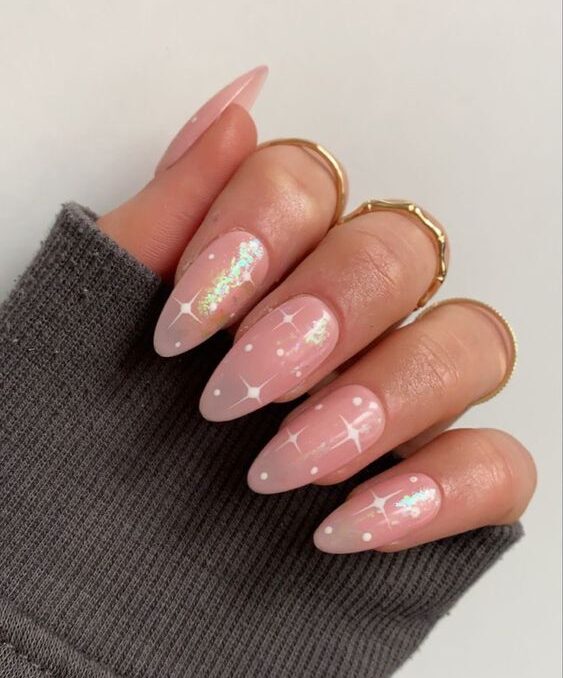 Marble + Ombre:
Another jaw-dropping and creative design staying on top of the trends. A lot of nail clients are asking for this and I totally understand why! This is one of my favorite looks for long or short light pink nails.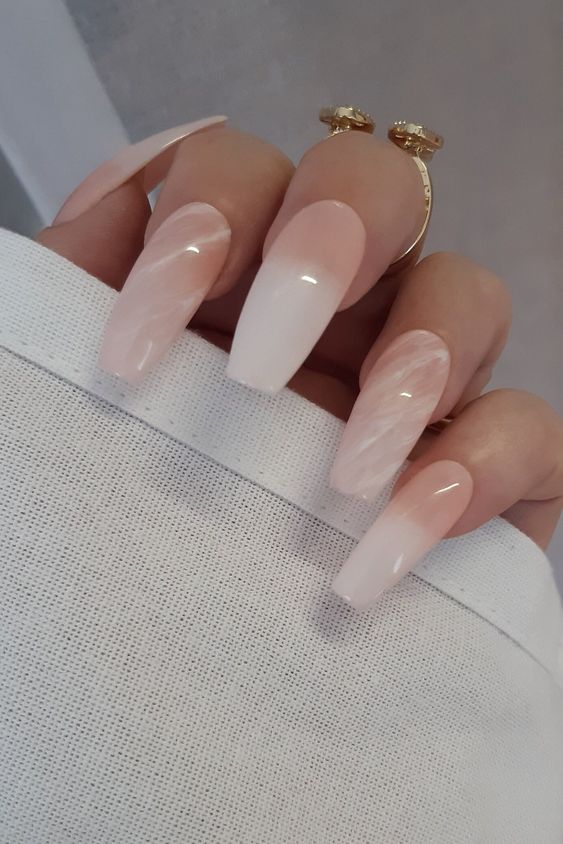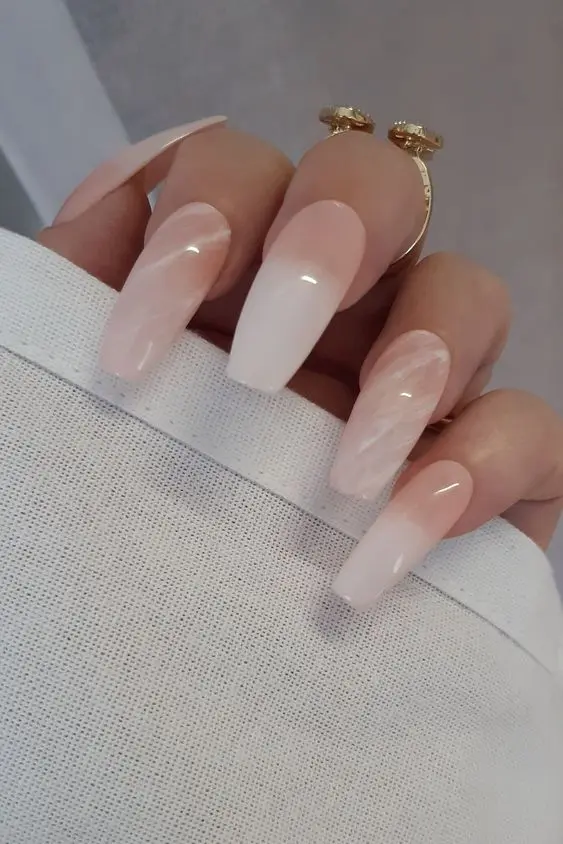 Zebra Babe:
Animal prints have always been around. Nowadays, we're not only using the usual black and white colors for this design. Creative minds incorporate fun colors to them and light pink paired with white are a dream.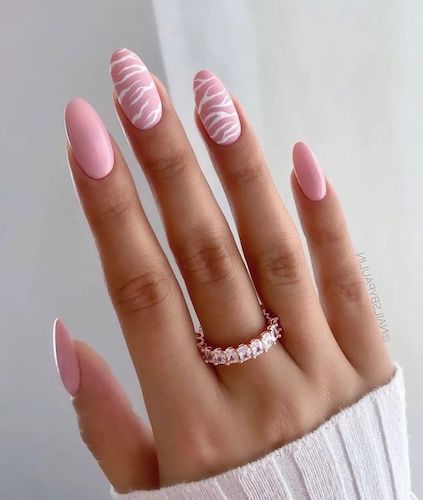 Dainty Almonds:
Looking to adopt a popular nail style in 2022? The minimal dainty almond nail trend may be the best idea for you. This is one of our favorite light pink nails with design.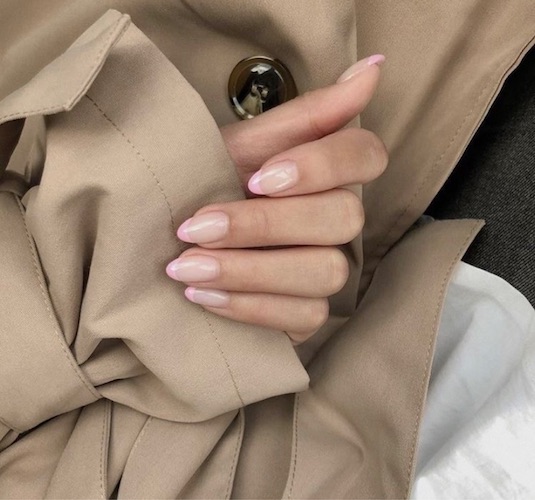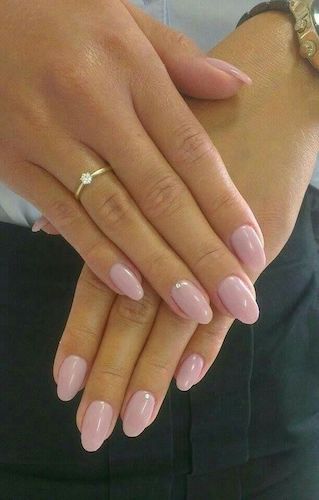 Reverse French Tips:
If the classic French tips alone were not beautiful enough. This revolutionary design exhibits a chic aura to it. Talk about a boss babe!
Got me feeling like a CEO even if I'm not lol. Simple but with a hint of glam.
If you want light pink nails with design that's still subtle, reverse French tips may be the look.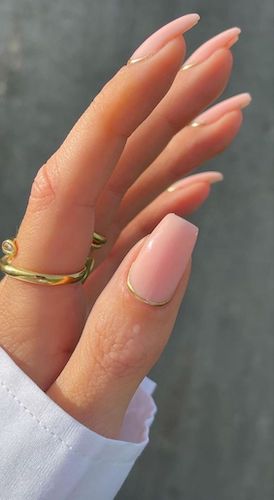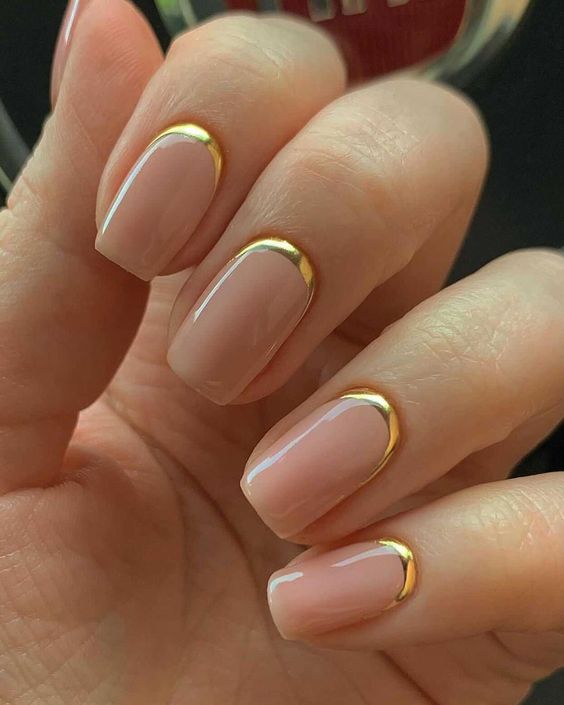 Studded Love:
Studs are fun to add onto any nail design, especially light pink nails! They can elevate any simple manicure in a short amount of time.
Would you prefer yours in an oval shape or a square one? Either way, they will both turn out amazing!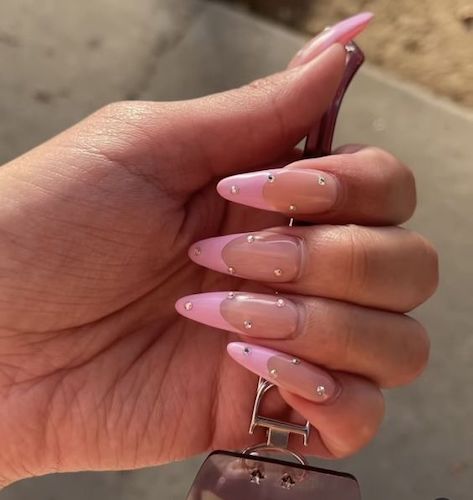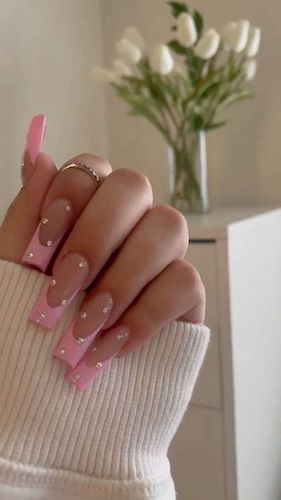 Coffin-Shaped:
For more daring women that likes to make a bold statement, coffin is the shape to go, especially when it comes to light pink nails. These are best used for longer nails, rather than shorter ones. Now, if you lean more into getting longer nails, try out this particular shape.
Elevate just a simple manicure with long, coffin nails.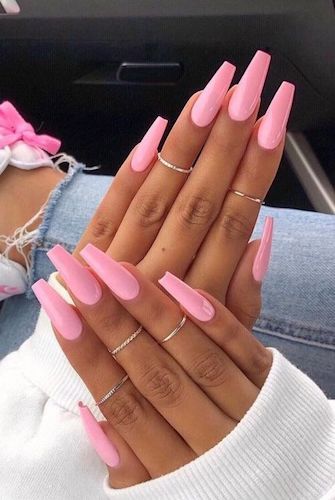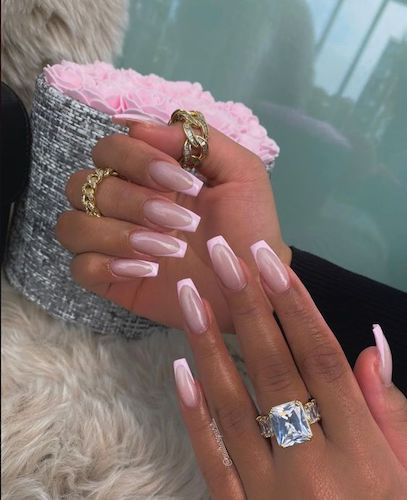 Hopefully, these light pink nails gave you lots of inspiration for your next manicure! Enjoy!