If you're a regular makeup user, then you know that your makeup brushes get dirty pretty quickly. For many different reasons, it's super important to learn how to clean your makeup brushes at home, but it's not actually something that many people know how to do!
From typical methods to quick DIY makeup brush cleaning fixes, this blog will show you every way possible to clean your makeup brushes.
Why Should You Clean Your Make-Up Brushes?
Forgetting to clean make-up brushes is one of our dirtiest little secrets. We all have our alibi: lack of time, forgetfulness, or simply not being aware of its importance. But there's no shame in knowing what we do not know. This is what this article is here for.
A lot of us turn to our alibis because there is a lack of urgency among make-up users. Dirt can't kill you, right?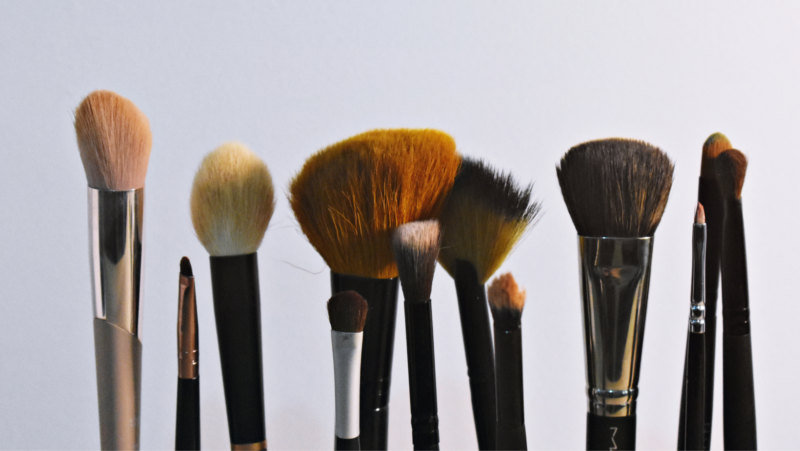 Let's set this straight — dirt may not kill you, but it can cause your skin and health to suffer. People with sensitive skin (or those who have not realized it yet) have spent so much on repairing skin problems caused by simply not cleaning their make-up brushes.
Bacteria such as staphylococcus, streptococcus, and E-coli, as well as different types of fungi, can grow on your brushes without a warning. Under the microscope, you may also notice small mites having the time of their lives on the bristles of your expensive make-up brush.
Regularly cleaning your brushes is even more vital if you use oil and cream-based products with them. This goes the same with eye brushes, especially because they have the closest contact to bodily liquids on the face. Plus, moisture can be twice as welcoming for bacteria as brushes used for dry powders.
If a bunch of bugs living on your makeup brushes isn't enough to convince you that it's time to learn how to clean your makeup brushes at home, read on.
What Other Benefits Can You Get From Cleaning Makeup Brushes?
Not convinced? If the information above was too overwhelming to take in, you might want to hear something more digestible, like the benefits of cleaning your brushes for your skin and beauty regimen.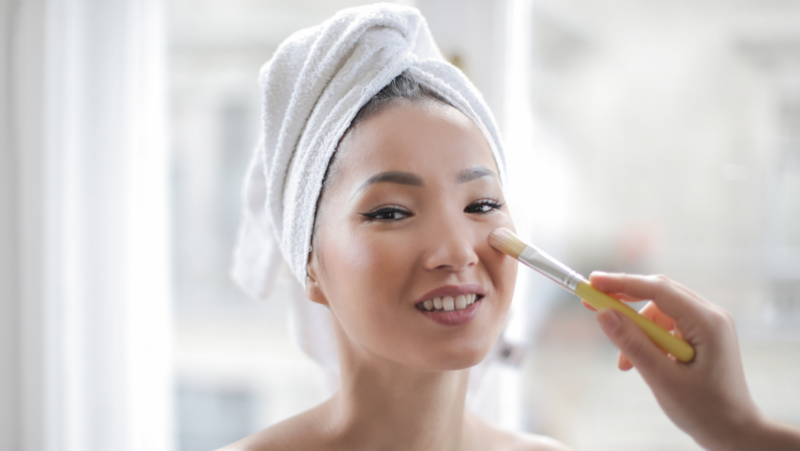 Here are the top benefits of cleaning your brushes:
4. Less chance of acne spreading on your skin.
Acne is a small problem for some people and a big one for others. Aside from its harmful effects, it makes your face even more vulnerable and sensitive to dirt.
Most of us spend a lot to maintain, protect, and strengthen the outermost barrier of the skin. As a rule of thumb, prevention is better than cure, so don't waste this money. If you clean your brushes regularly, you are less likely to trigger acne whether you have a history with it or not.
3. Keeps your skin looking healthy and blooming.
It's easy to tell when someone has unhealthy and dull skin. Even if they have make-up on, you can tell what's hiding beneath them.
When your skin is broken or dull, even the products you use on your face cannot hide it. Keeping all your tools regularly sanitized can also reduce the chances of premature aging.
2. Your make-up products stand out.
As we have said above, products cannot hide the skin's dullness. Likewise, your make-up products, regardless of their price and quality, cannot hide the quality of your brush. A dirty brush usually makes products look cakey or patchy.
1. You save money.
When your brushes are clean, you save the money that you would have spent on skin treatments and new make-up brushes because the brushes themselves last longer and absorb less product. Plus, you save some dough for new make-up products. Maintaining your brushes is a win-win all around.
Do you need to clean make-up brushes after every use?
As a general rule, brushes used for dry powders should be cleaned every two weeks. For brushes used for cream and oil-based products, experts recommend cleaning them at least once a week.
However, if your skin is extra sensitive or acne-prone, you might want to reconsider your cleaning schedule and make it once a week. For brushes used for cream-based products, you might need to wash them every two uses. If you use a BeautyBlender or a sponge, it's best to clean them every after use.
You can easily learn how to clean your makeup brushes using quick DIY methods if once a week seems like a lot.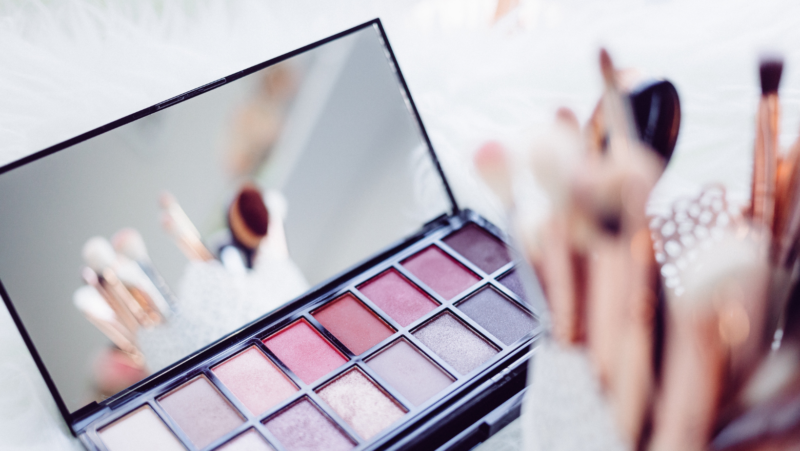 Experts also recommend using a disinfection mist in-between washes to keep bacteria from sticking to your brushes.
To make a natural disinfecting mist, combine 4oz of witch hazel extract and 12 drops of your essential oil of choice. Some of our favorites are grapefruit essential oil, lavender, and tea tree oil. Spray the mixture directly on your brushes and wipe gently with a soft clean cloth.
If this isn't accessible to you at the moment, you can spray your brushes with rubbing alcohol. Apply it with a spritz bottle and spray it on your brushes from a distance. Make sure to wait a bit before using these brushes, as excessive alcohol can ruin your palettes or irritate the skin. We prefer to only use alcohol as a last resort.
Where should I store my make-up brushes?
Where you keep your brushes also matters. Do not store your brushes out in the open or in a moist/humid area such as the bathroom. Bacteria will definitely thrive where it is moist.
Store your brushes in a cool, dry place like a brush-exclusive organizer.
If your brushes are wet, let them dry out before storing them, or clean them quickly with a disinfecting spray.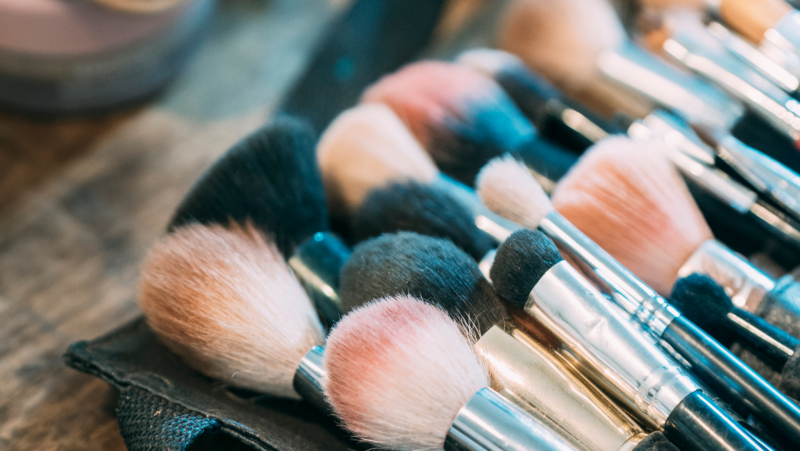 Pro tip: Segregate your brushes so you know when to clean your brushes. This works pretty well especially if you use multiple sets of brushes on a weekly basis.
Can I use other cleaning products besides branded make-up brush cleansers to clean my brushes?
Short answer: yes, you can!
Make-up brush cleansers may be the best option, but using what you have access to is better than NOT cleaning your brushes at all.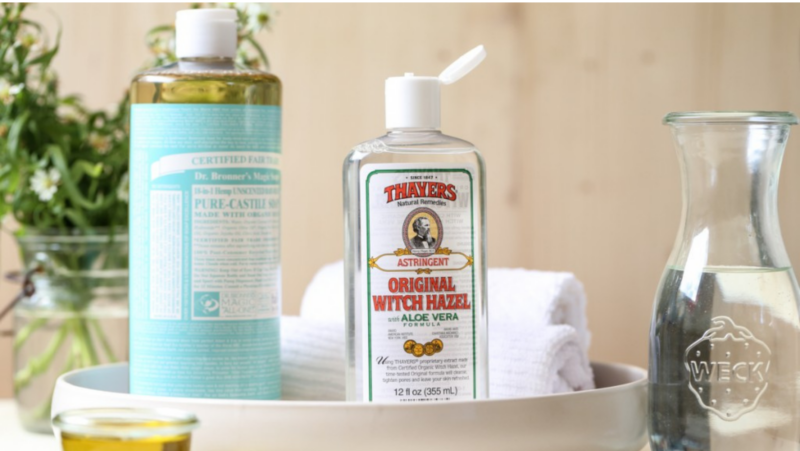 Before using alternatives, it is advised to look out for any questionable ingredients like parabens and sulfates. Your brushes are going to be used on your face, so don't take your cleansers lightly. I always choose nontoxic cleansers when possible.
Here are the best non-make-up specific cleansers recommended by experts:
Baby Shampoo: Baby shampoo is mild, gentle, and cleansing. It is highly recommended, especially when cleaning brushes with natural fiber.
When shopping for baby shampoo to clean your make-up brushes, look for brands that offer products with Castile oil. Castile oil conditions the bristles while also sanitizing them thoroughly with its cleansing properties.
Some readers have asked me how to clean makeup brushes with shampoo, but I really don't recommend using regular adult shampoo. It's really harsh and will quickly degrade the adhesives in your brushes. Baby shampoo is the way to go!
Cleansing Soap: Body cleansing soaps are great brush cleaners because of their highly sanitizing properties. For this product though, you might want to use this only for synthetic brushes as some formulas can be a little harsh for natural fiber brushes.
If you have used heavy or greasy cream products on your fiber brushes, you can use the help of body cleansing soaps as a one-time cleaning agent. A good brand you can try is Ivory soap.
Dish Soap: Dish soap is known to be a miracle worker for getting grease and oil from make-up brushes. If dish soap is more accessible to you than body cleansing soaps, give it a go. Dish soaps work great if you regularly use oil-based products like foundation and creams.
If you think dish soaps are your jam, you can give Mrs. Meyer's Clean Day Dish Soap a try. It's all-natural and really relaxing, but it still works well.
Some recommended scents include: Lavender, Rosemary, and Lemon Verbena.
If you're searching how to clean makeup brushes with Dawn, then don't worry: this dish soap works, too. Read on to the next section for more details about the correct process.
Facial Wash: Experts mentioned the use of a facial wash to clean their brushes. Reason being? The facial wash is specifically created for the skin, so using it as a brush cleanser can be a safe option to take if you are unsure of the ingredients in other DIY cleansers.
Using facial wash can make your brushes less likely to irritate the skin when used on the face.
I really like using the CeraVe cleanser because it's gentle and nontoxic but gets the job done.
If you're looking to learn how to clean your makeup brushes with DIY options, all of the products above work really well without harming the adhesives on the brush!
What make-up-specific cleaners can you recommend?
Make-up brush cleaners work best for cleaning brushes because they are particularly made for this exact purpose. If you have the extra budget for a make-up cleanser, go for it!
Aside from cleaning your brushes, these products really help maintain your brushes for longevity, too.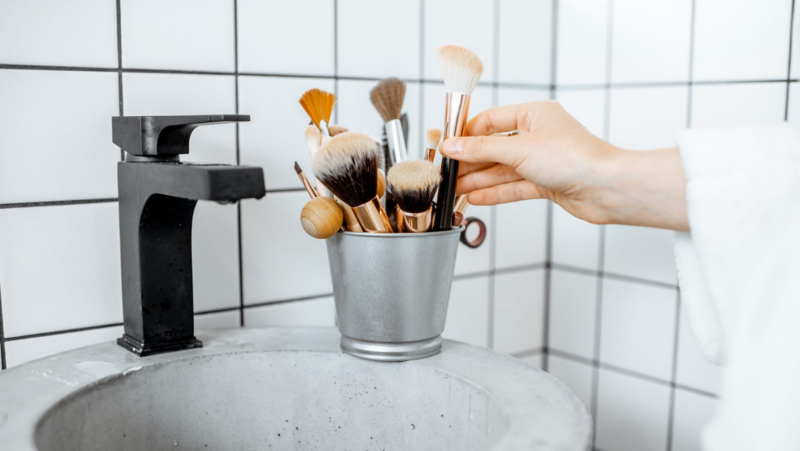 Professionals' Favorites:
1. For lip brushes or brushes used for highly pigmented products:
Parian Spirit Professional Makeup Brush Cleaner
2. For brushes with natural fiber bristles:
Beautyblender's Liquid Blendercleanser
3. For synthetic or non-fiber brushes:
London Brush Company Pure Goat Milk Solid Brush Shampoo
4. All-around brush cleansers:
Eco Tools Make Up Brush Shampoo
How do I clean my make-up brushes the right way?
There are a few different methods of cleaning your makeup brushes. Here are my favorites!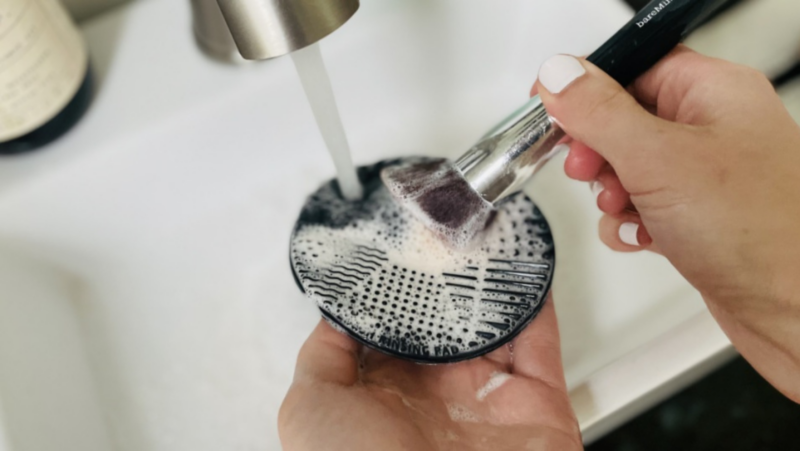 1. Gently run lukewarm water in the sink and wet the tips of the bristles.
When washing your brushes in the sink, always remember to hold your brushes in a downward position. That way, you avoid submerging the bristles and loosening up the glue.
When water gets inside the interior of the handle, the adhesive holding the bristles of your brush can deteriorate. If your handles are made of wood, they may erode or develop discoloration as well.
2. Massage the soap on your brush's bristles.
Once your brushes are wet, rub your soap or cleanser on your hand or a textured deep-cleansing mitt. Gently swirl your brushes onto the surface of your palm or mitt until the soap is fully lathered.
If you're using a block of bar soap, you can directly rub your brushes onto the soap in gentle circular motions until the entire brush is completely saturated.
An ideal way of using a deep-cleaning mitt is by putting a drop of soap or cleaner on the mitt and tracing a figure 8 with your brush until the soap lathers. If you want extra assurance, experts recommend the use of a deep-cleaning mitt or a textured pad for a grime-free, residue-free brush.
Some great deep cleaning mitts are the Sigma Spa Brush Cleaning Glove and the MŌDA Heart Scrubby Cleaning Pad.
You can use that as your cleaning mitt if you have easier access to a scrub sponge or a Scrub Daddy. It won't be as effective as a cleaning pad, but it will definitely help.
3. Squeeze your make-up brush to get rid of excess soap.
Time to rinse! Reduce a bit of time and effort for the last step by squeezing out excess soap and water. Do it gently to avoid plucking the hairs from the handle.
4. Repeat step one and rinse your brush facing downward. Don't forget to rinse it with cold water!
Rinse your brush facing downward until your brushes are free from soap. Also, while it might be "common sense" to rinse your brushes with hot water for optimum disinfection, doing so can loosen up the glue that holds the brush bristles.
5. Leave your brushes to dry.
When you finish wringing the brushes, leave your brushes to dry flat on a paper towel. You may also leave the brushes hanging on the table edge to evenly dry them without having to turn the brushes after a certain time.
If you're rushing to dry them, you can use the fan to dry your brushes quickly. Do not — I repeat — do not use the hairdryer to dry them or you're going to melt the adhesive or cause the bristles to brittle.
Professionals suggest drying makeup brushes overnight to make sure they are not damp when you use them on the skin. Storing damp brushes can also breed bacteria which is the least you want to happen.
When should I say goodbye and when should I replace my make-up brushes?
Cleaning your make-up brushes regularly can extend their life but it cannot take away its deterioration process. At some point, all brushes will start to brittle or lose some hairs.
That's why high-quality brushes are good investments – especially if you use them quite often. High-quality brushes can last for years while synthetic brushes can wear off earlier especially if you do not give cleaning any importance.
You know you have to say goodbye to your brush when:
It starts to shed

It becomes discolored

It starts to have an unusual smell
If your brush smells nothing like the products you use, then it is probably time to scrap that brush.
Keep in mind that higher quality brushes will probably last longer, but if you take care of instruments and learn how to clean your makeup brushes properly, then any makeup brush will have roughly double the lifespan.