Looking for top-of-the-line designer dog collars that will make your pooch look chic? Luxury meets function with these designer dog collars you can shop for your furbaby!
Dogs have certainly always been some people's best friends. So it only makes sense why a lot of people go to great lengths to ensure that their pet has the finest of everything. I mean, have you seen the mansion Paris Hilton has for her dogs?! Not to mention, the other various celebrities who treat their pets like royalty.
The world of luxury dog apparel has increasingly become popular. You'll find labels releasing designer pet clothing as well as dog collars for our beloved furbabies.
And although a decent dog collar should be comfortable, durable, and well-fitted, this does not imply that it cannot also look good! So why not spoil your favorite pup with a nice, designer dog collar?
There are a ton of designer dog collars on the market right now, and many well-known fashion icon labels, including Gucci and Ralph Lauren, have also entered the pet market. So if you're on the lookout for the perfect designer dog collar for your pup, take a look at this selection of curated designer dog collars!
Trending Designer Dog Collars:
Here are our absolute favorite designer dog collars!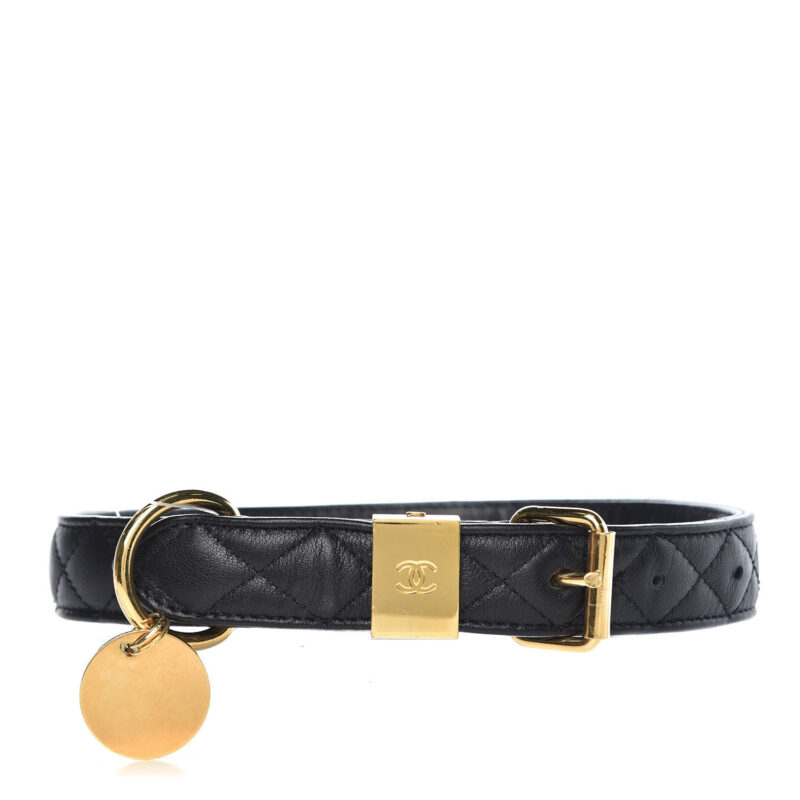 When it comes to luxury brands, no matter what you're shopping for, it's impossible to leave out Chanel. Your dog deserves the best so why not give them a dog collar from of the best luxury brands out there? This calfskin quilted dog collar is chic and will have your pup looking as stylish as you.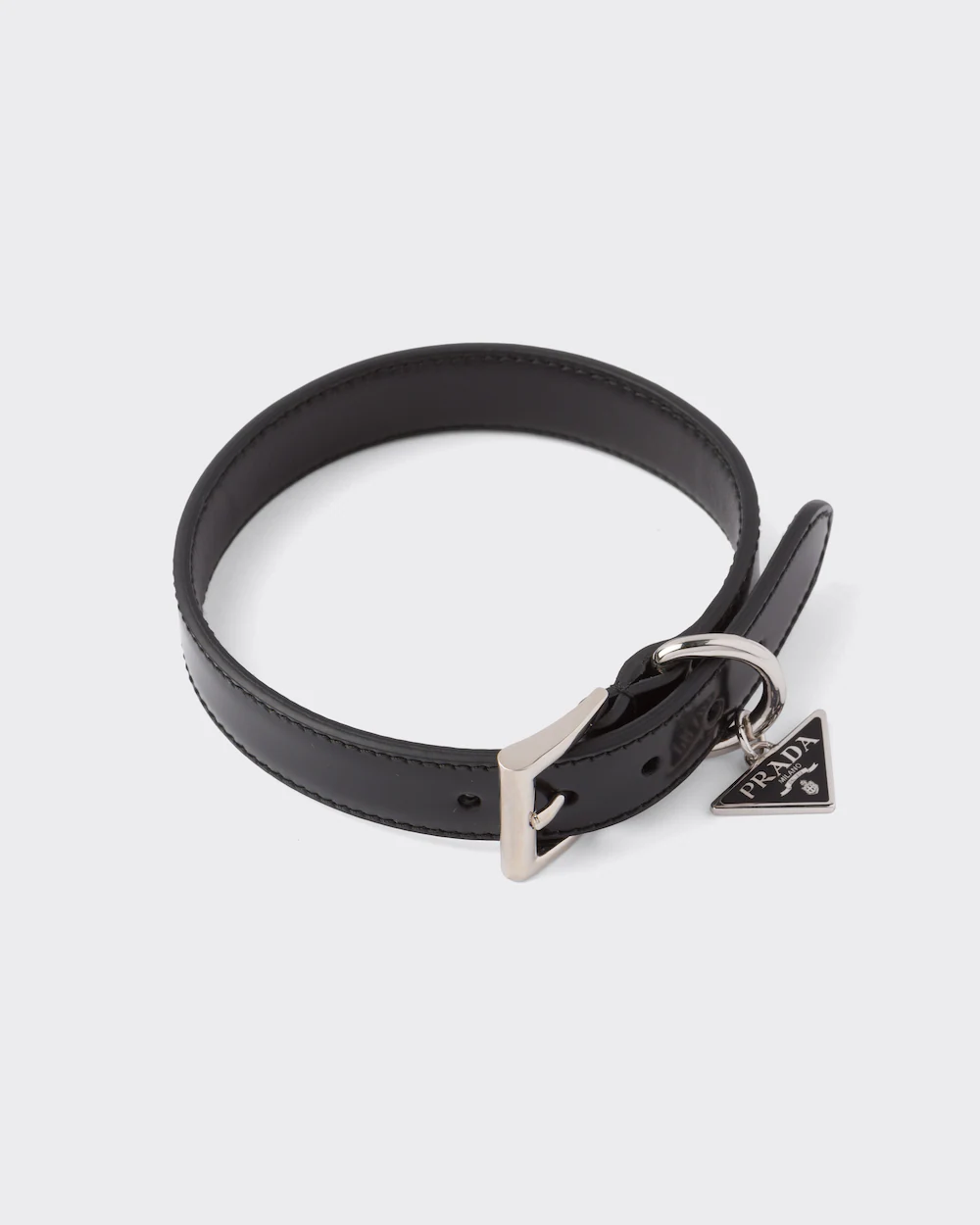 This Prada Brushed Leather Pet Collar is perfect for those who want something minimalistic and understated. This dog collar is made of finely brushed leather and embellished with the iconic Prada triangular logo charm.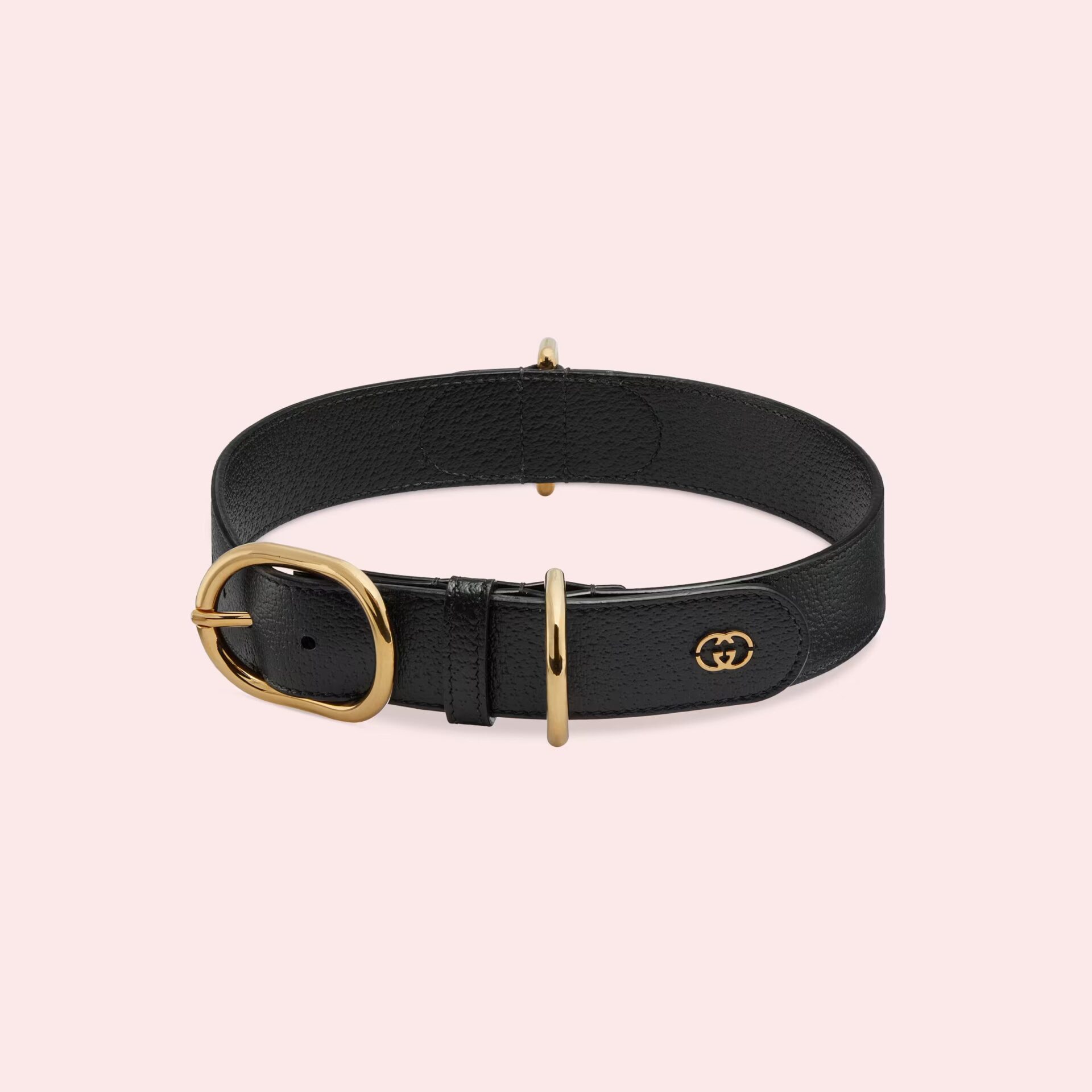 Released as a part of the Gucci Love Parade collection, this gorgeous dog collar is made mostly from sustainable, renewable, and bio-based raw materials that are environmentally friendly. The small Interlocking G charm really completes the sleek look of this black demetra pet accessory.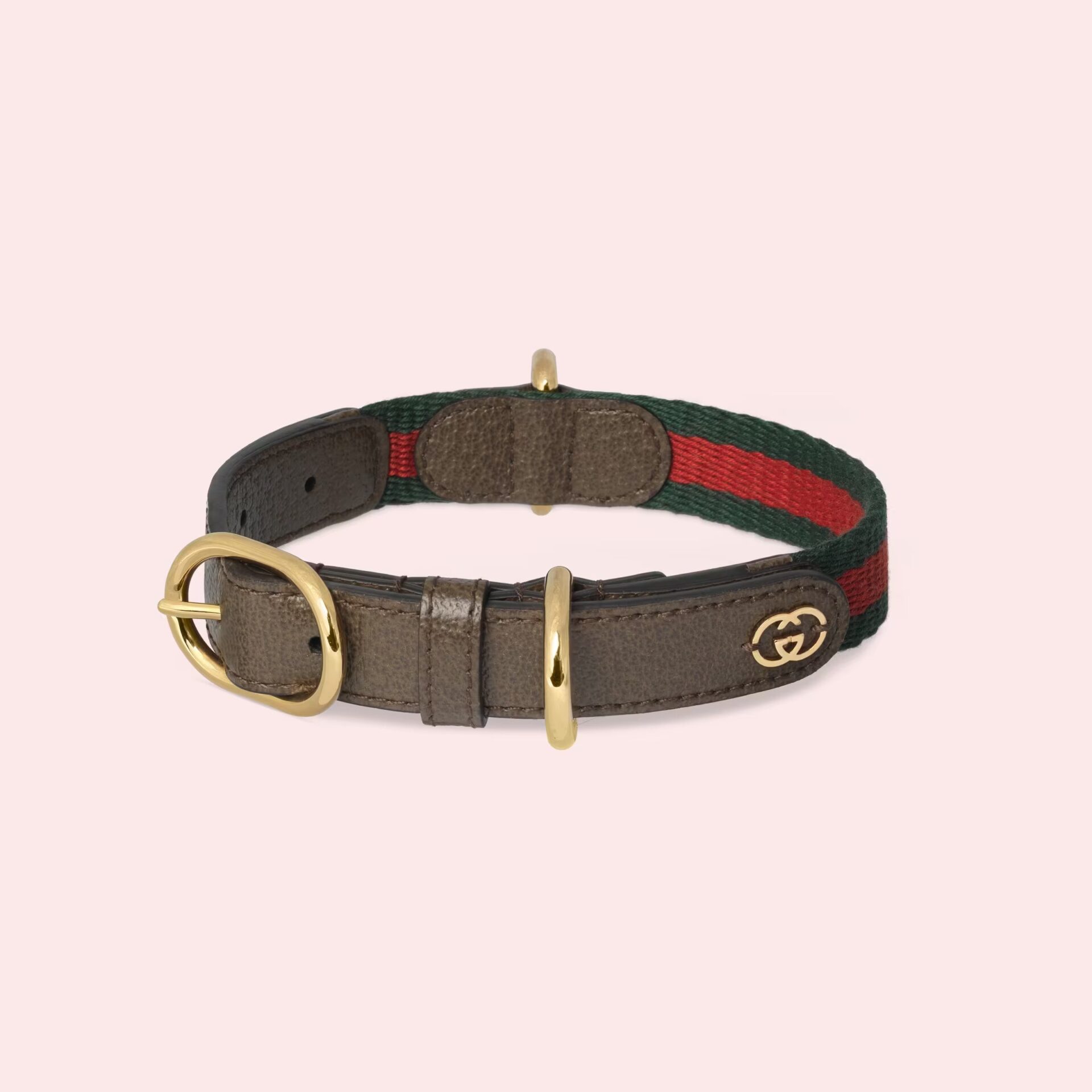 But if you're tired of the traditional black and want something that really shows off Gucci's iconic colors, this brown variant of their pet collar is for you. This designer dog collar sees the logos, materials, and symbols that are quintessential to the brand.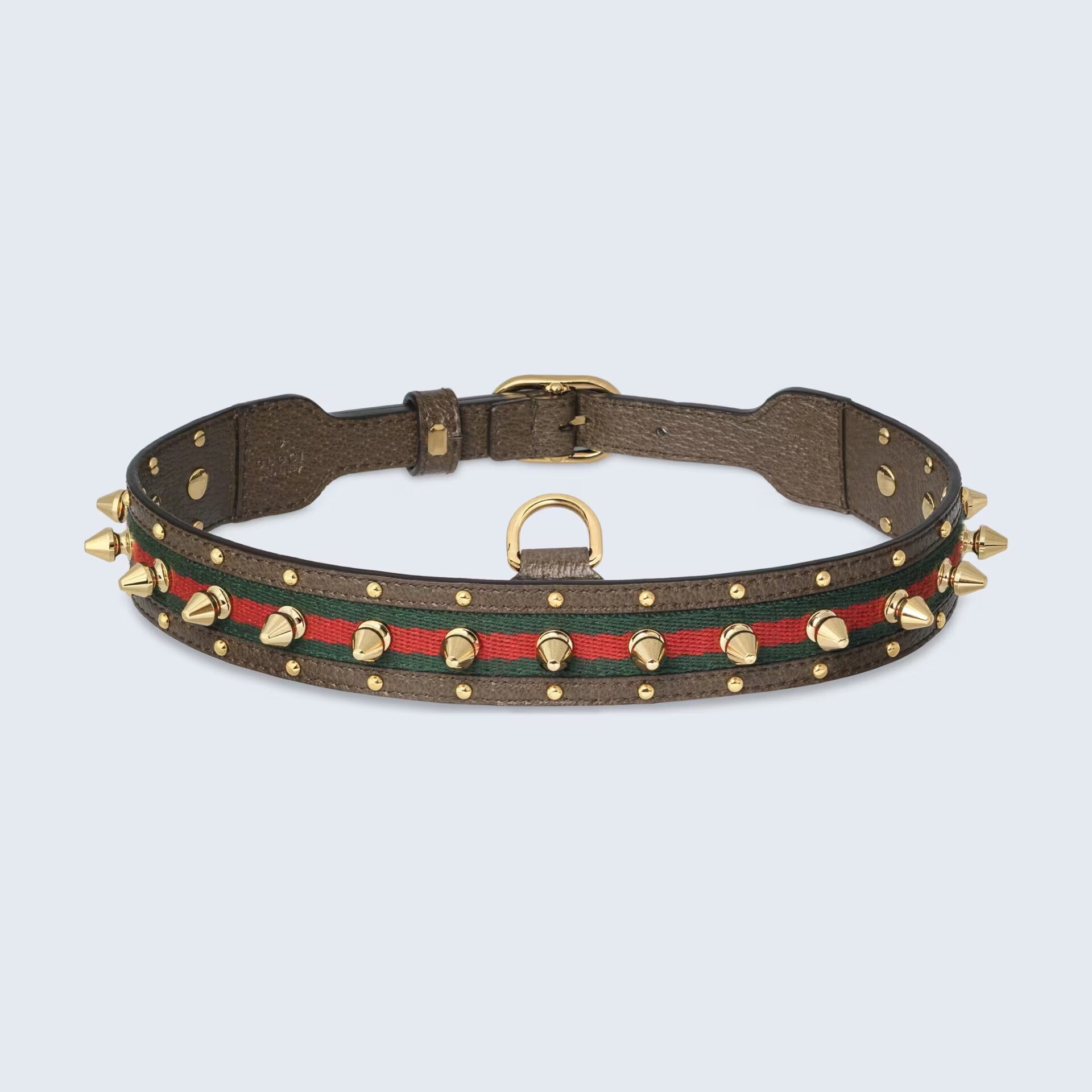 Want to give your dog an edgy look? This punky pet choker from Gucci is perfect for you and your pup. The collar's fun interpretation of the punk-themed motif is given life with a spiked trim made especially for your dog. The iconic Gucci green and red and the interlocking G top off the whole look.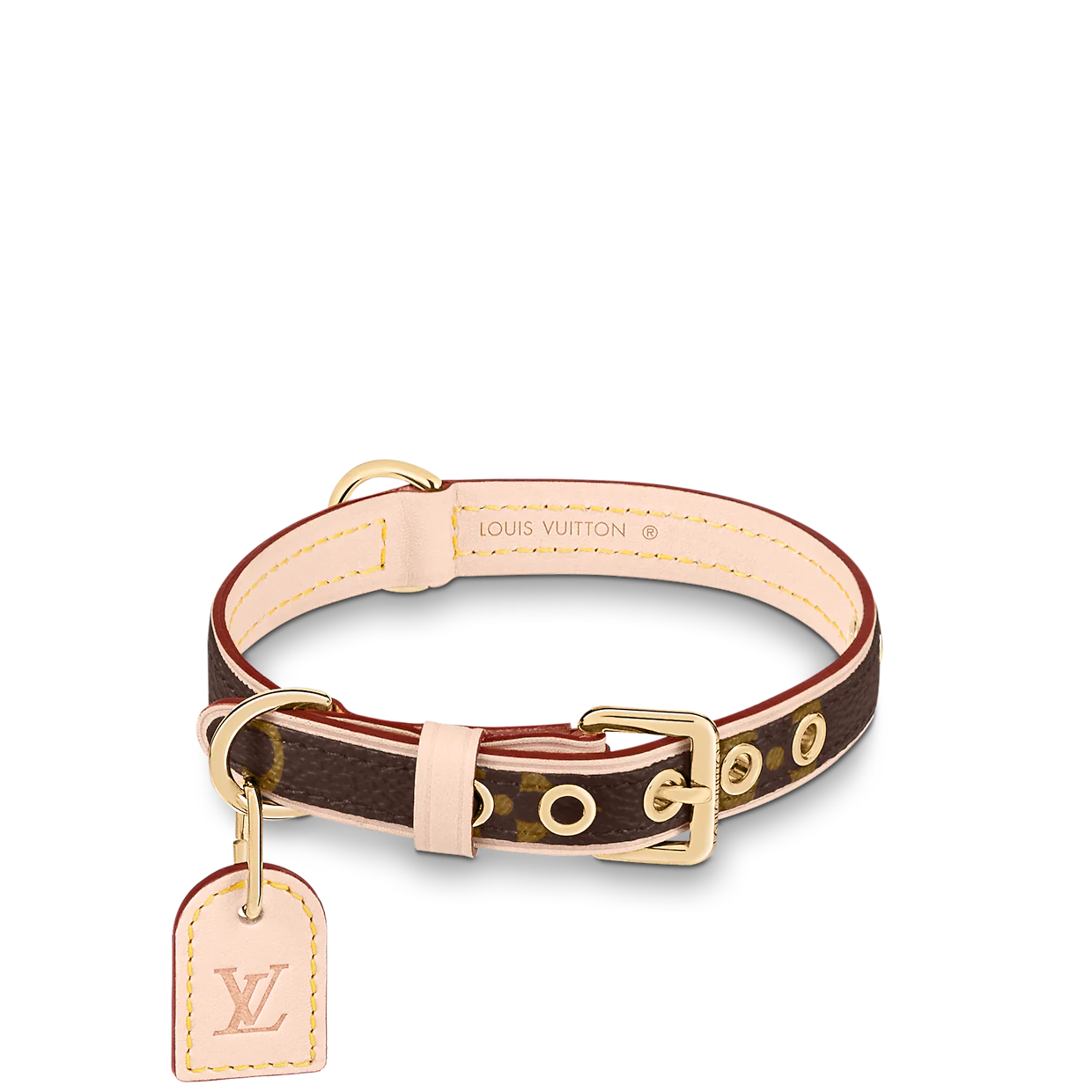 Monogram-coated canvas and natural cowhide leather give life to the Louis Vuitton Dog Collar. LV really knows how to elevate a dog collar to give it a timeless, luxurious appeal. What's more, this dog collar features a miniature tag that can be hot-stamped with your beloved pet's initials.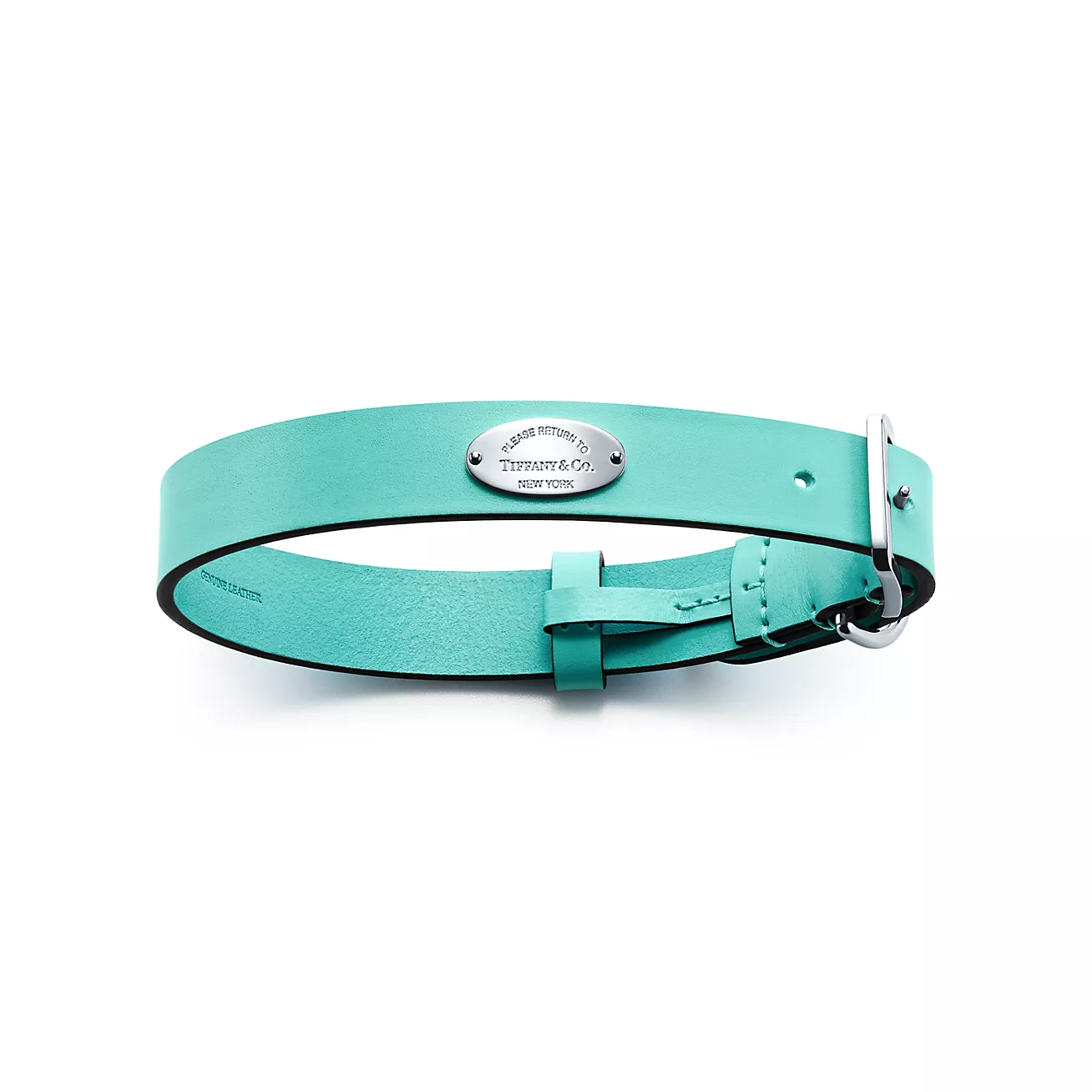 Tiffany&Co is one of the classiest luxury brands out there. Not only that but their pet accessories are crafted from only the highest quality Italian leather and custom hardware to give your dog collar a luxurious look and feel.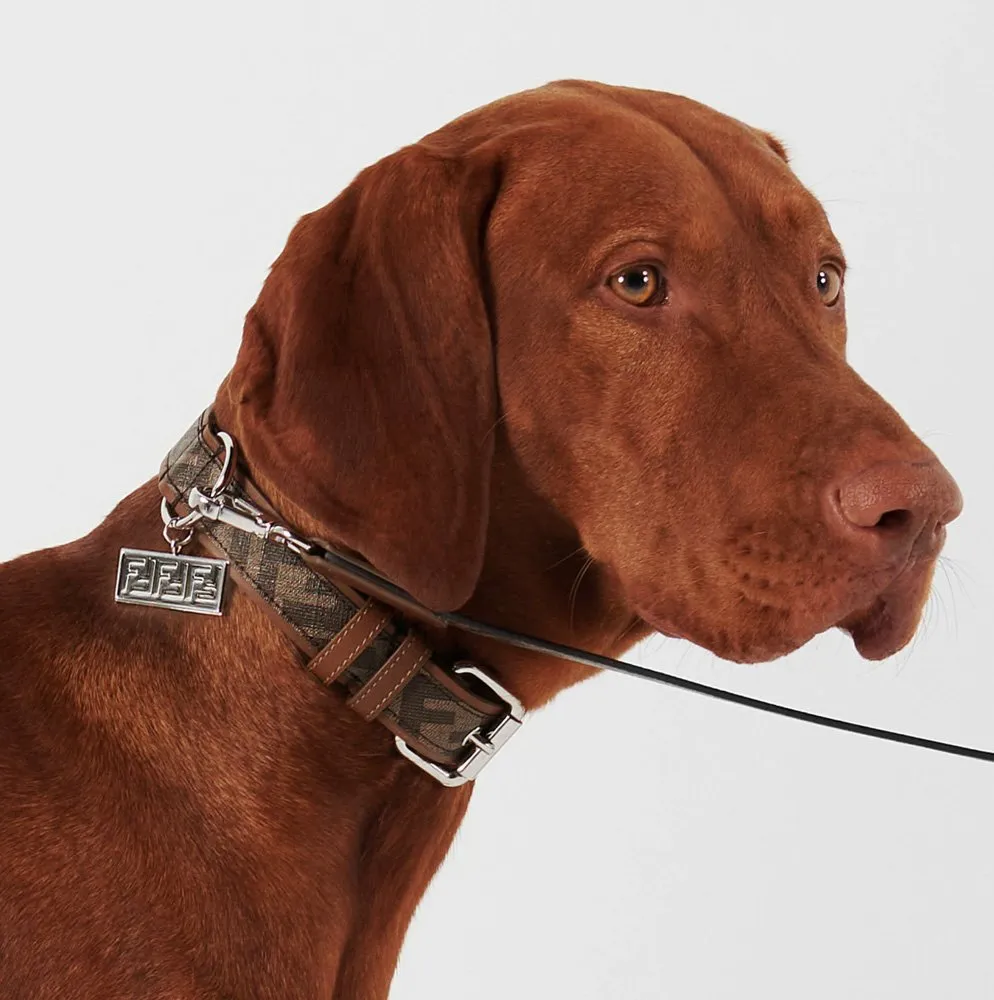 This stunning FENDI Brown Fabric Dog Collar lets you customize it with an embossed name plate for your pet. It's made of fabric with an FF motif in brown and tobacco, as well as gorgeous leather details, and palladium-finish metalware.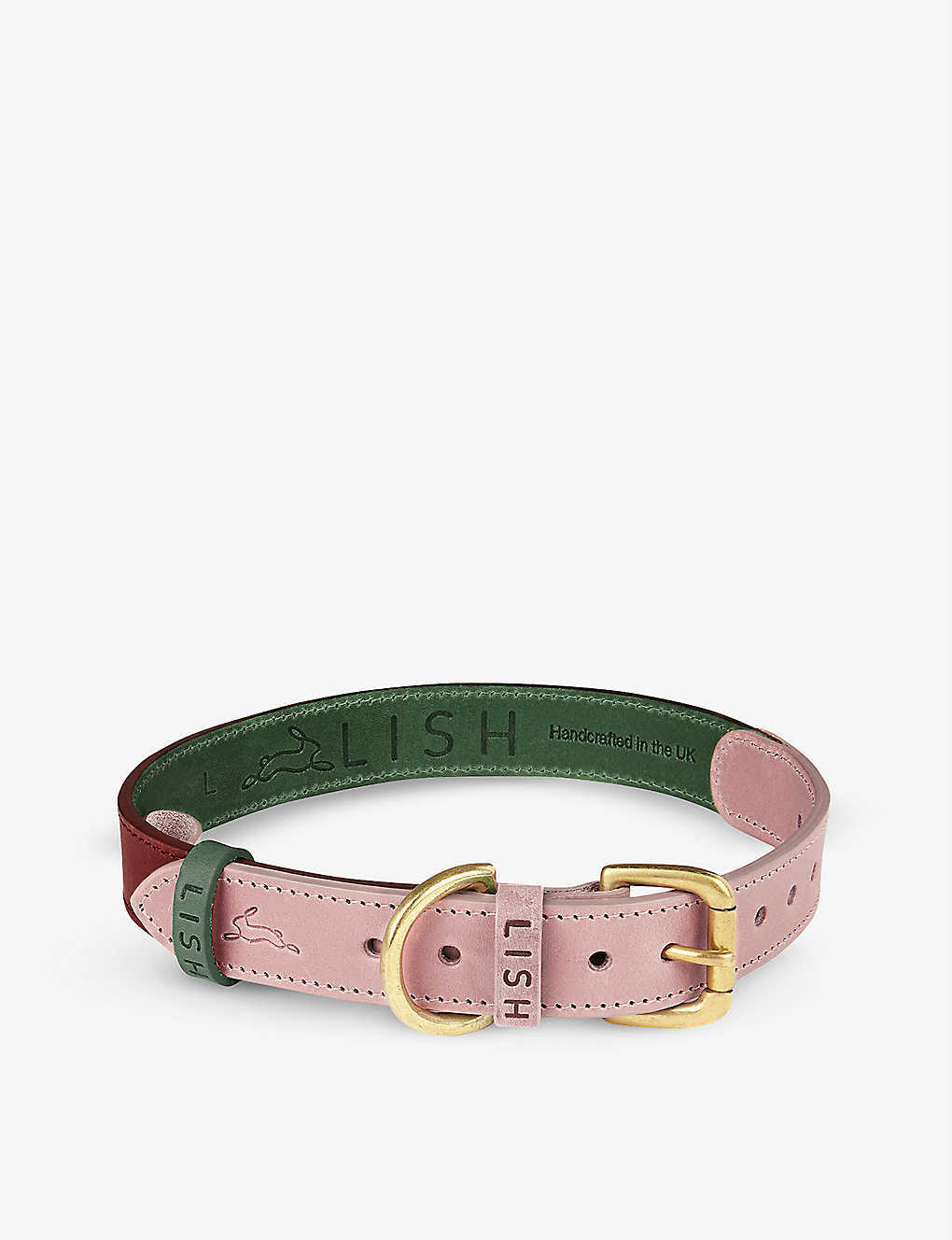 If you're looking for an ethically-sourced and environmentally-friendly brand, this Walter Leather Dog Collar from Lish is just for you. Apart from it being made by a brand that prioritizes their community and workers' wellbeing, you also get this gorgeous pink and green dog collar that's made of 100% Italian leather. It's sure to give your pet a stylish flair.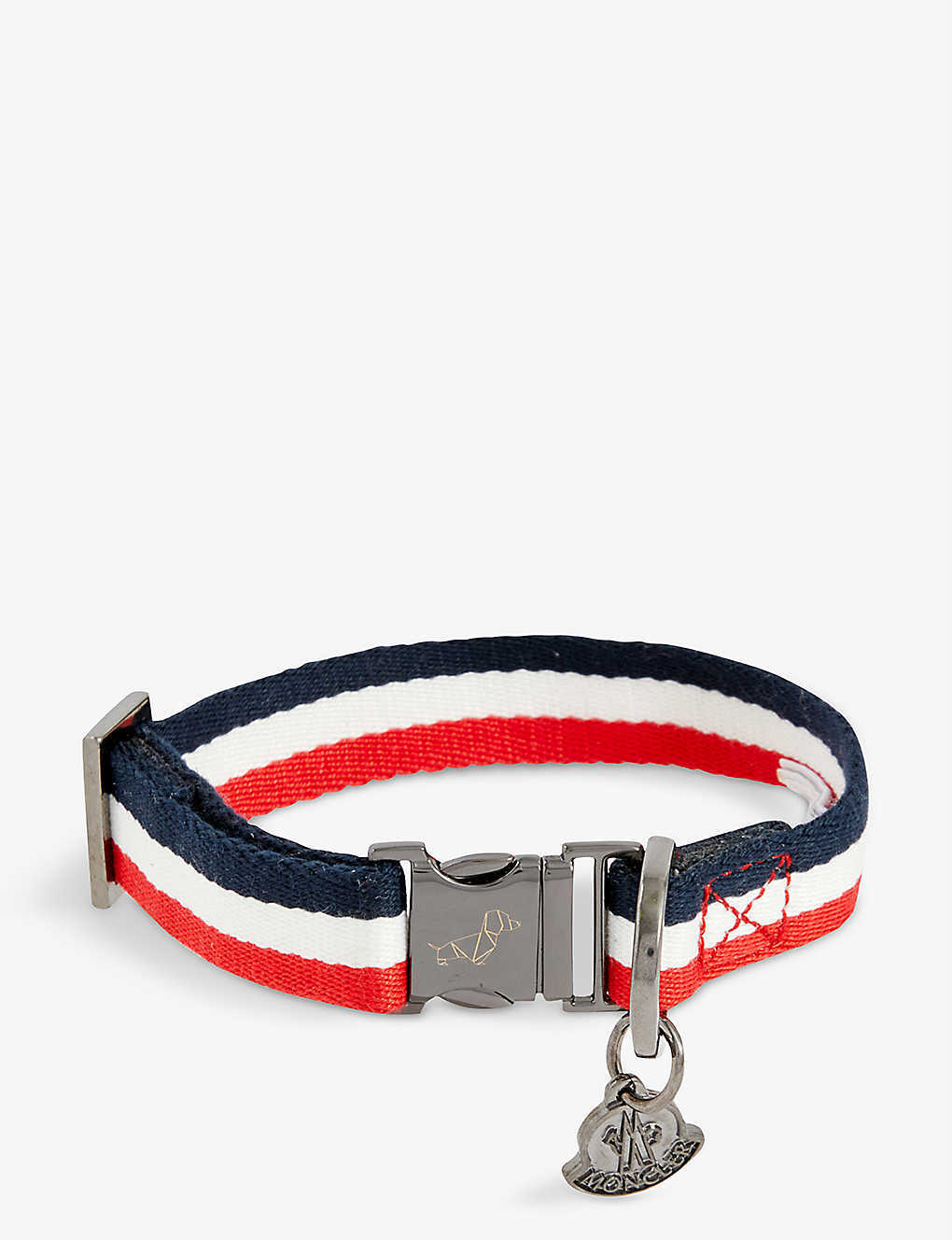 For your pampered dog to always look their best on walks, Moncler and Poldo Dog Couture have teamed up to offer a sought-after lineup of leashes, collars, and more. This collar is made of sturdy fabric, is covered in a pattern of three color stripes, and is finished with a brand-engraved pedant that hangs proudly from their neck.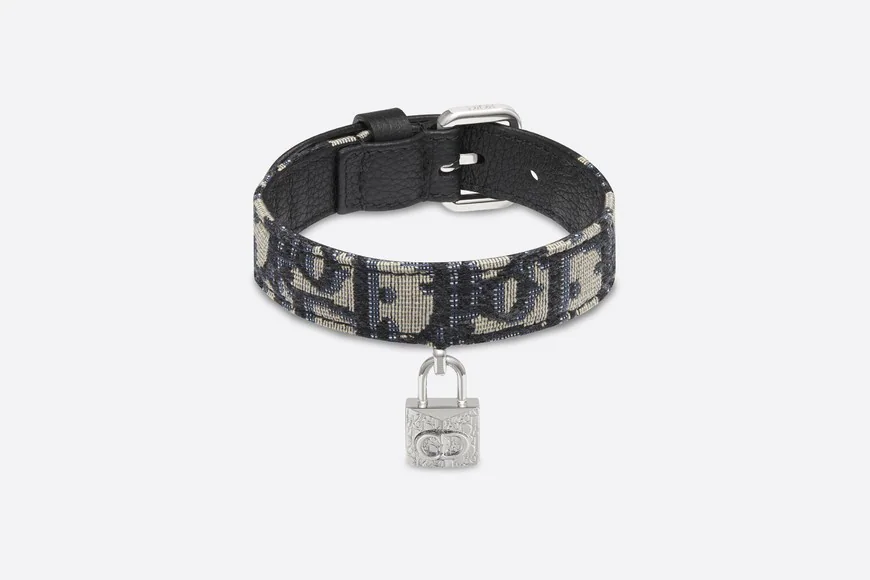 A chic collar for a pet is the black and beige Dior Oblique Jacquard Collar. This adjustable collar is designed to be worn tightly against the neck and is centered by a stylish padlock bearing the brand's engraving.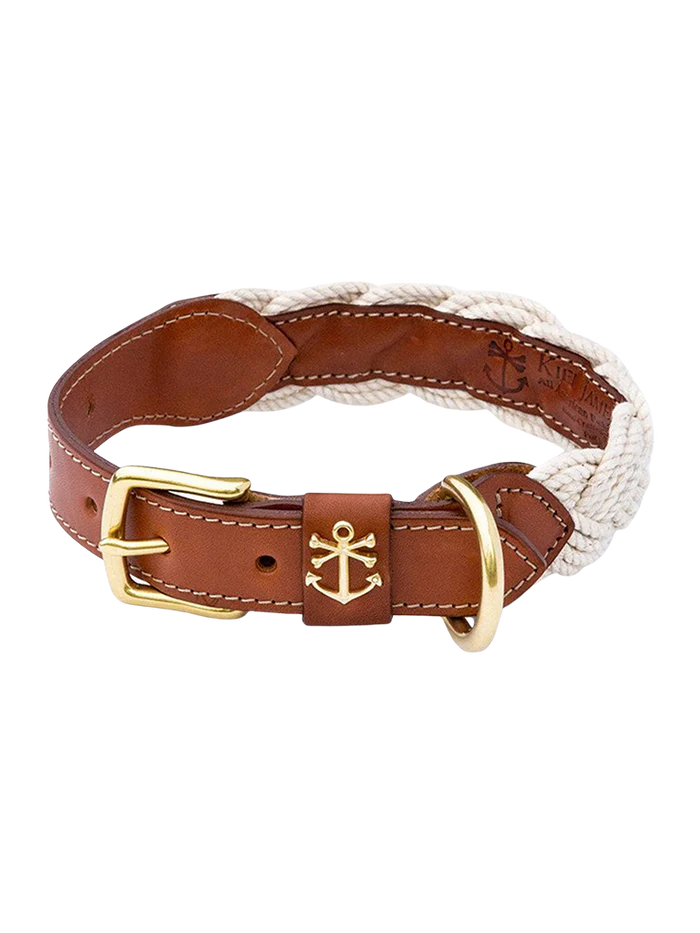 Whether you're taking your dog on their daily walk out in the streets or going on an adventure to the great outdoors, this Kiel James Patrick Knotty Dog Collar will weather the endeavors of even the most venturesome pup. Not only is it stylish, but this is a pet collar that's built to last!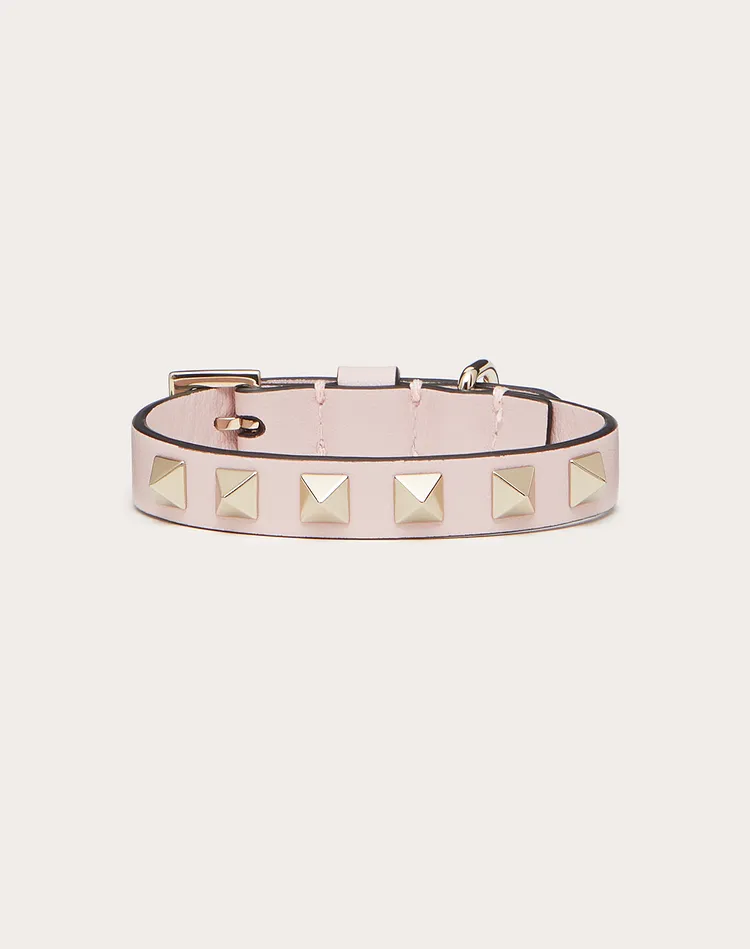 This Valentino Garavani Rockstud pet collar in calfskin leather with stud embellishments is utterly stunning! With the right amount of sophistication and edginess, your dog is sure to be looking their most stylish during every walk.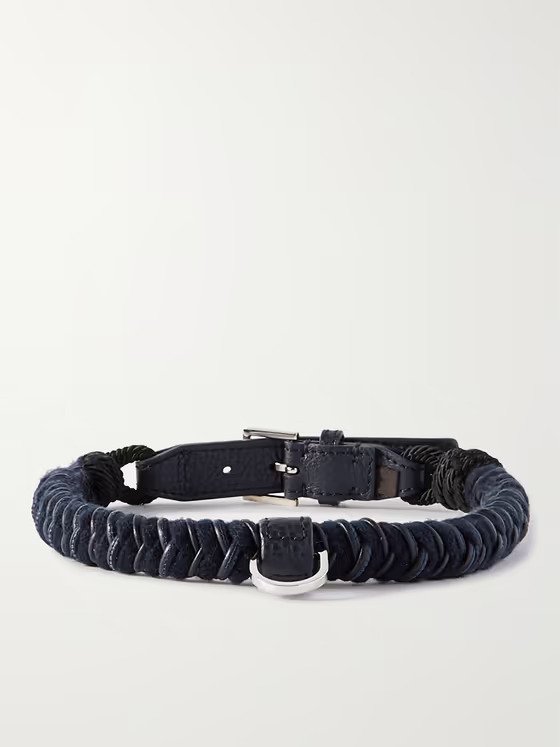 If you think your dog should look as good as its owner, dress them up in this beautiful Loro Piana's "Scooby" style pet collar. Created for large dogs, it's handcrafted from a mix of cord and leather strips, so it's soft, comfy, and has just the right bit of flexibility.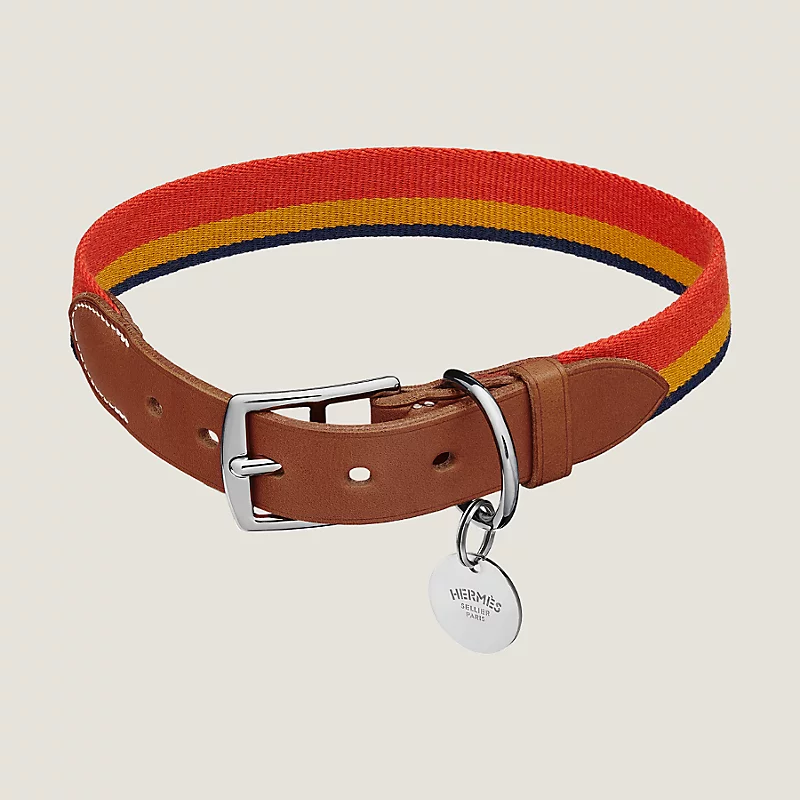 Inspired by Hermes' equestrian roots, this classy dog collar is everything you'll ever want for your pet to look every bit of stylish as you are. In addition, this collar includes a silver-plated stainless steel medal that can be engraved with your dog's name.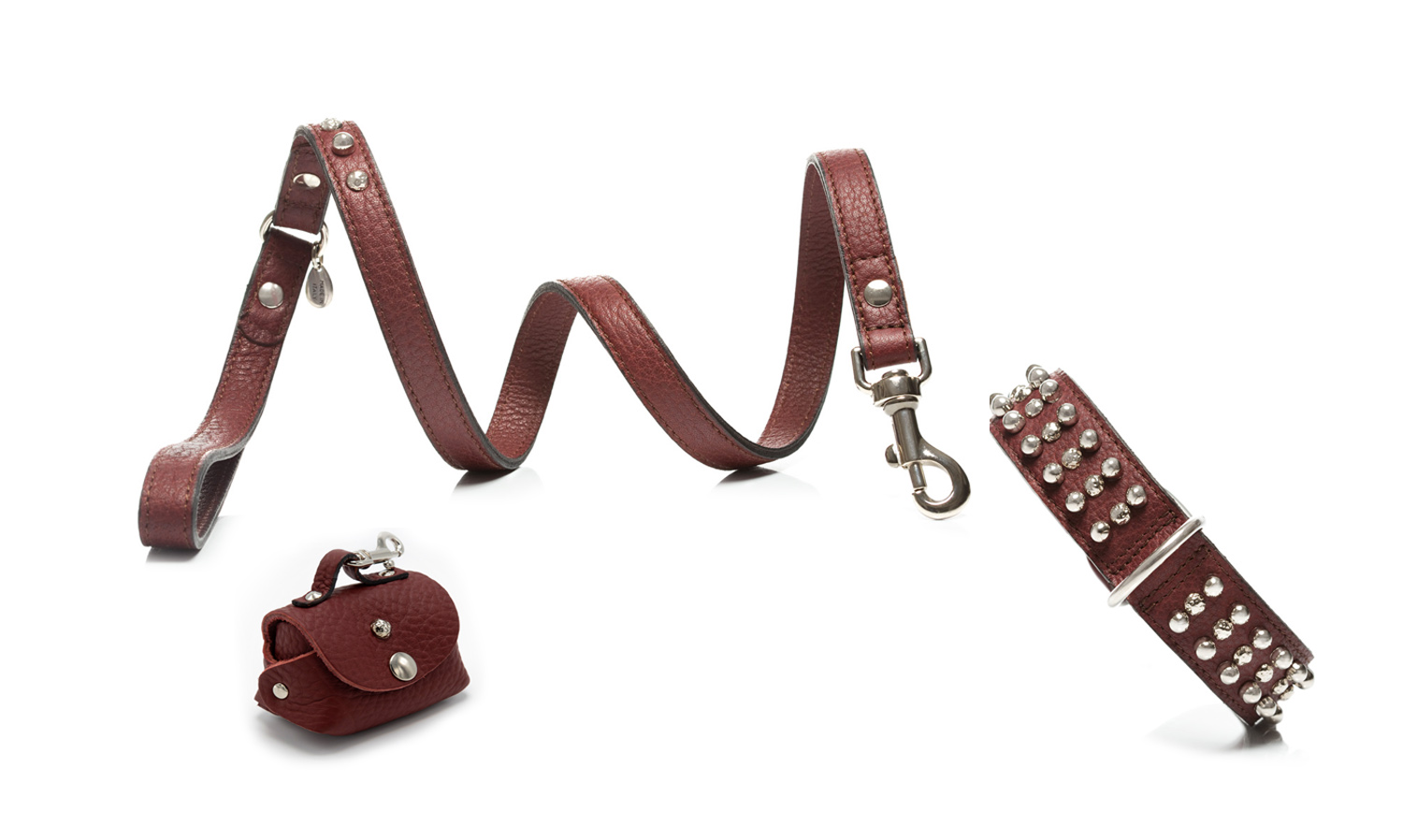 Puppy Panache has a wide range of designer dog collars you can choose from and this Bordeaux Leather Collar and Leash Set with Studs is definitely one of my favorites. Mixing both classiness and a punky look, your dog will be strutting down the streets like the fashionista they are!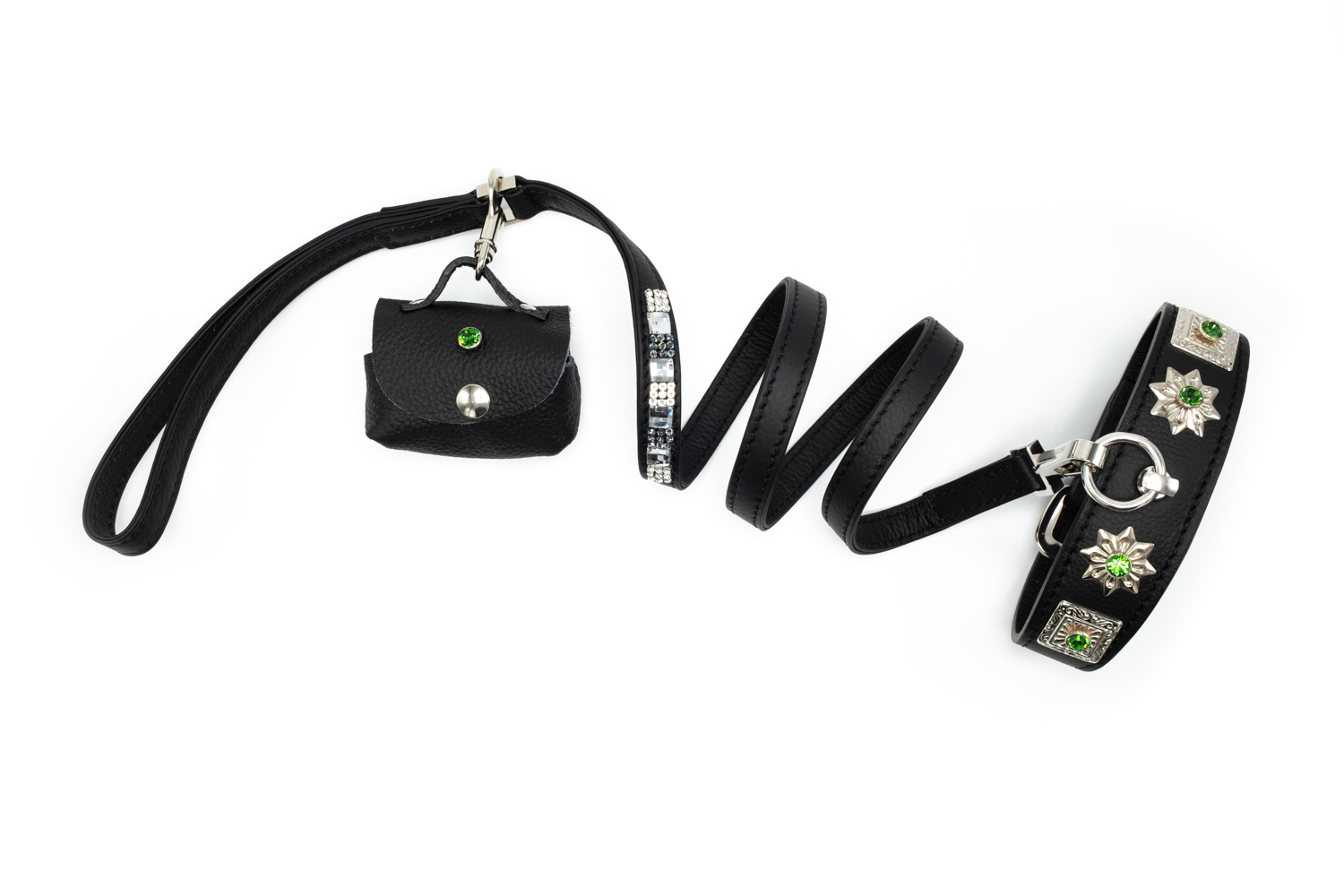 If a red dog collar isn't up to your taste, then you'll surely love this Handmade Leather Dog Collar and Leash Set with Bag Holder from Puppy Panache. This particular collar has unique silver embellishments that are made of green Swarovski crystals and stamped metal.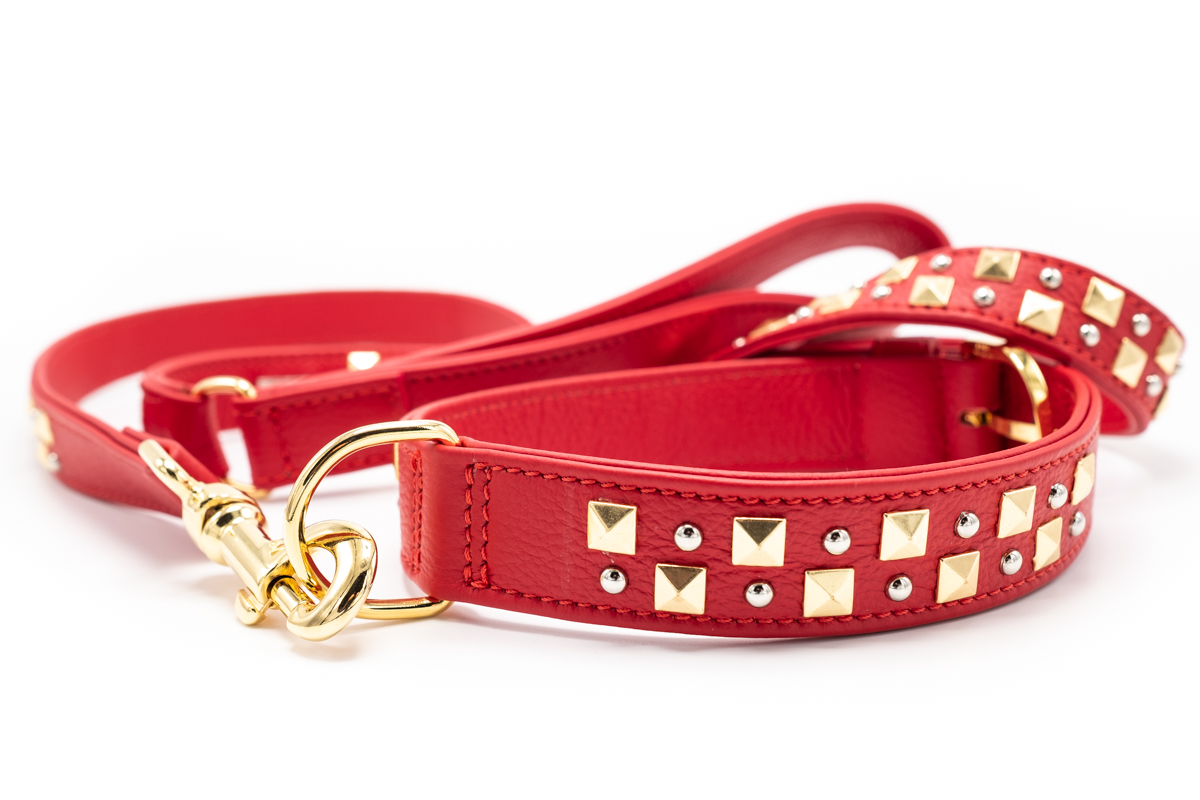 Looking for something more vibrant for your dog's designer collar? This red dog collar from Puppy Panache is for you and your pet. The color is so bold and vibrant that your dog will be turning heads wherever they go.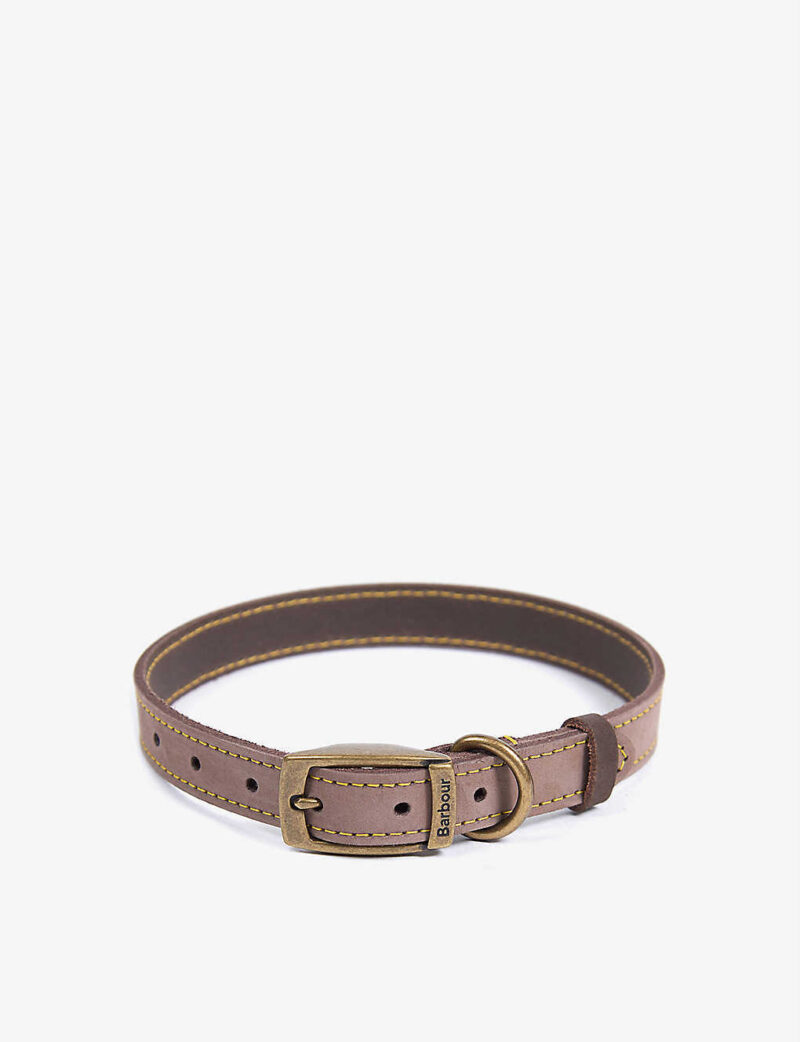 A brass-look buckle and hardware, an engraved logo, and padded nappa leather lining make this simple yet gorgeous leather dog collar from Barbour. If you're looking for a collar with a more neutral color scheme then you'll certainly love this for your dog.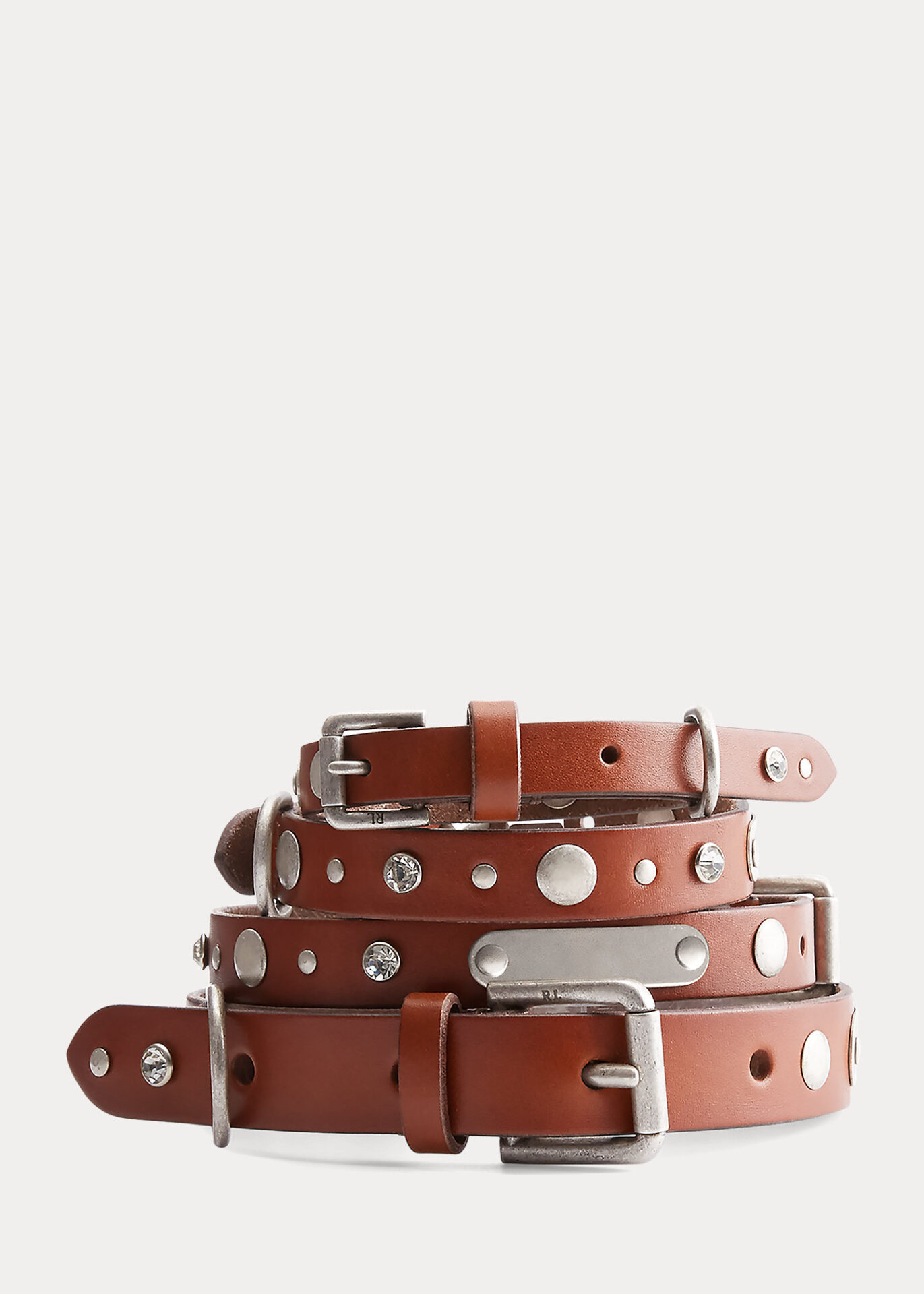 Looking for classic and even preppy designer dog collars? When it comes to dog accessories, Ralph Lauren's Wylie Leather Dog Collar is a must-have. In fact, according to their site, this dog collar was inspired by Mr. Lauren's Double RL ranch in Colorado, which is equal parts rustic and elegant.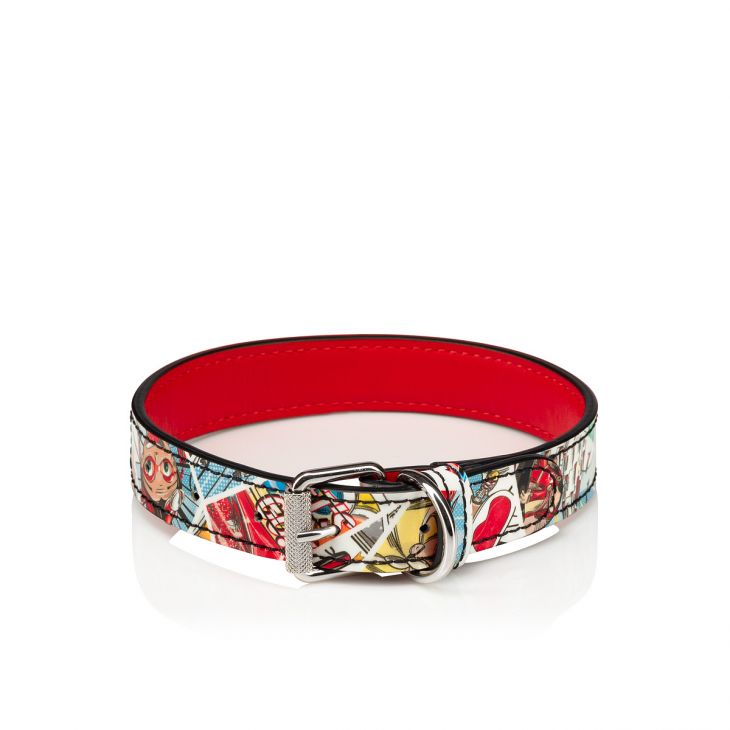 The Loubicollar dog collar is playful and full of fun detail and color. This striking and modern Maison Christian Louboutin accessory is made of red rubber and patent calf leather along with a vibrant comic book print that was inspired by the designer's make-believe world as a child.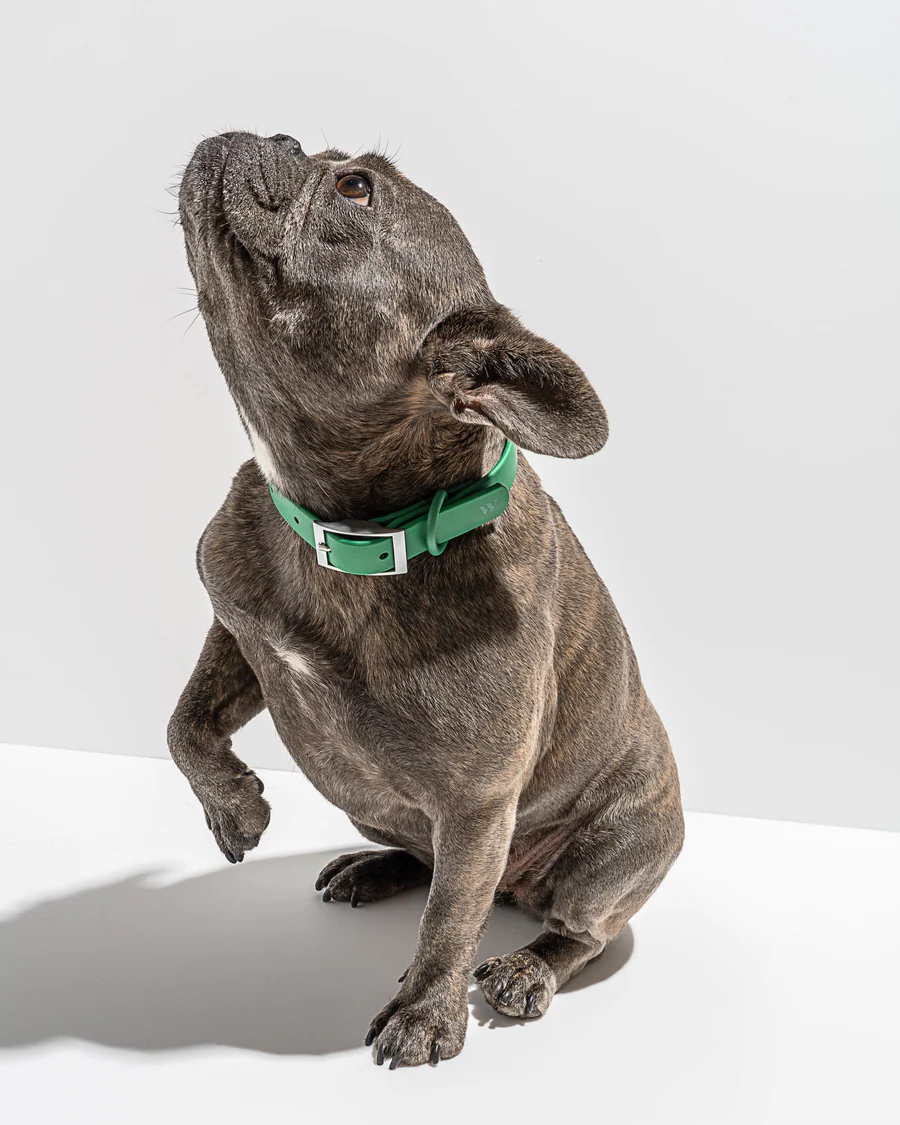 Stylish, durable, and simple to clean, this Wild One dog collar is utterly cute! Made from super strong and smooth materials that are comfortable for pups to wear all day long.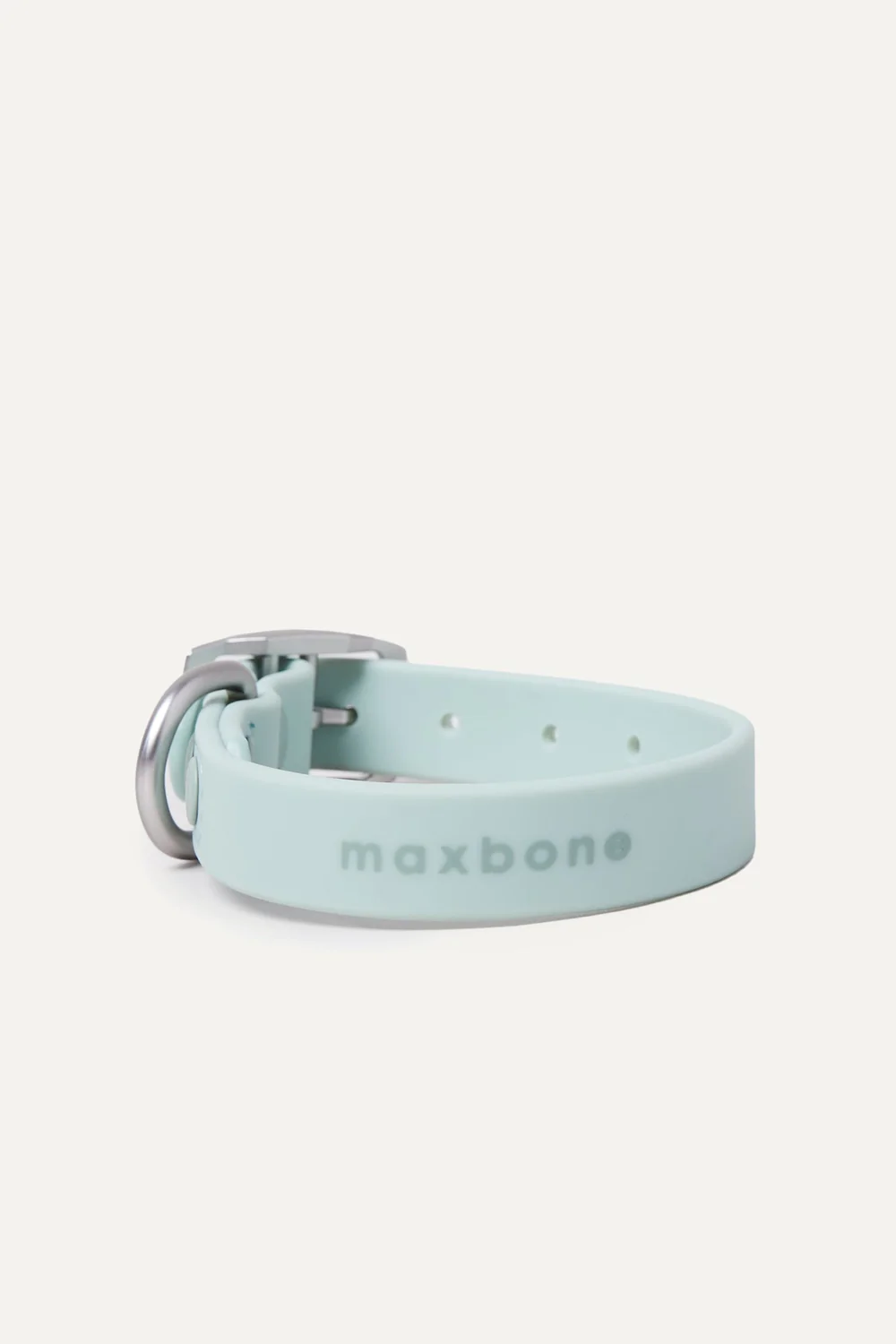 Made of high-quality materials and strong rubber-coated webbing, this Hazel Collar from Maxbone is one you should definitely consider getting. It's not as expensive as the other designer dog collars on this list, but that doesn't take away from their luxurious feel.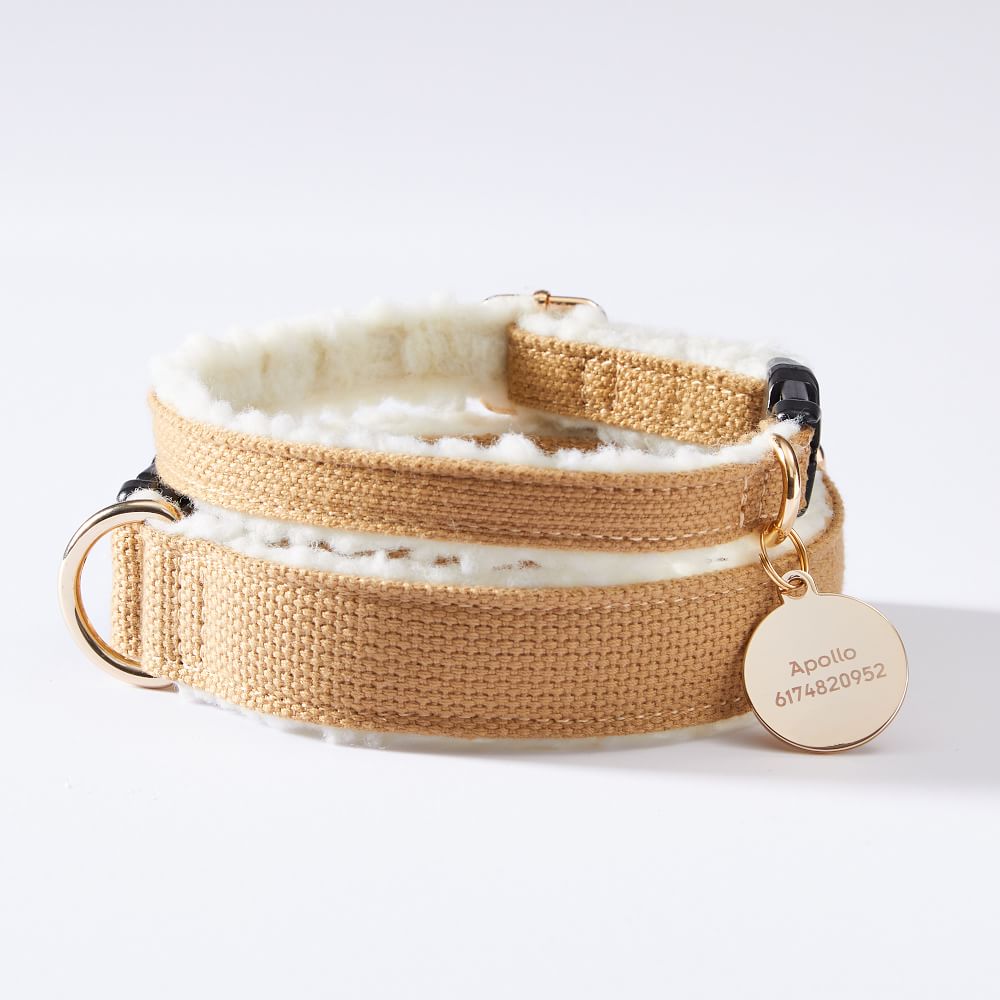 This designer dog collar is made of silky faux sherpa and is sure to become your pet's favorite thanks to its comfortability. Add a personal touch by embroidering the name of your pet on the collar.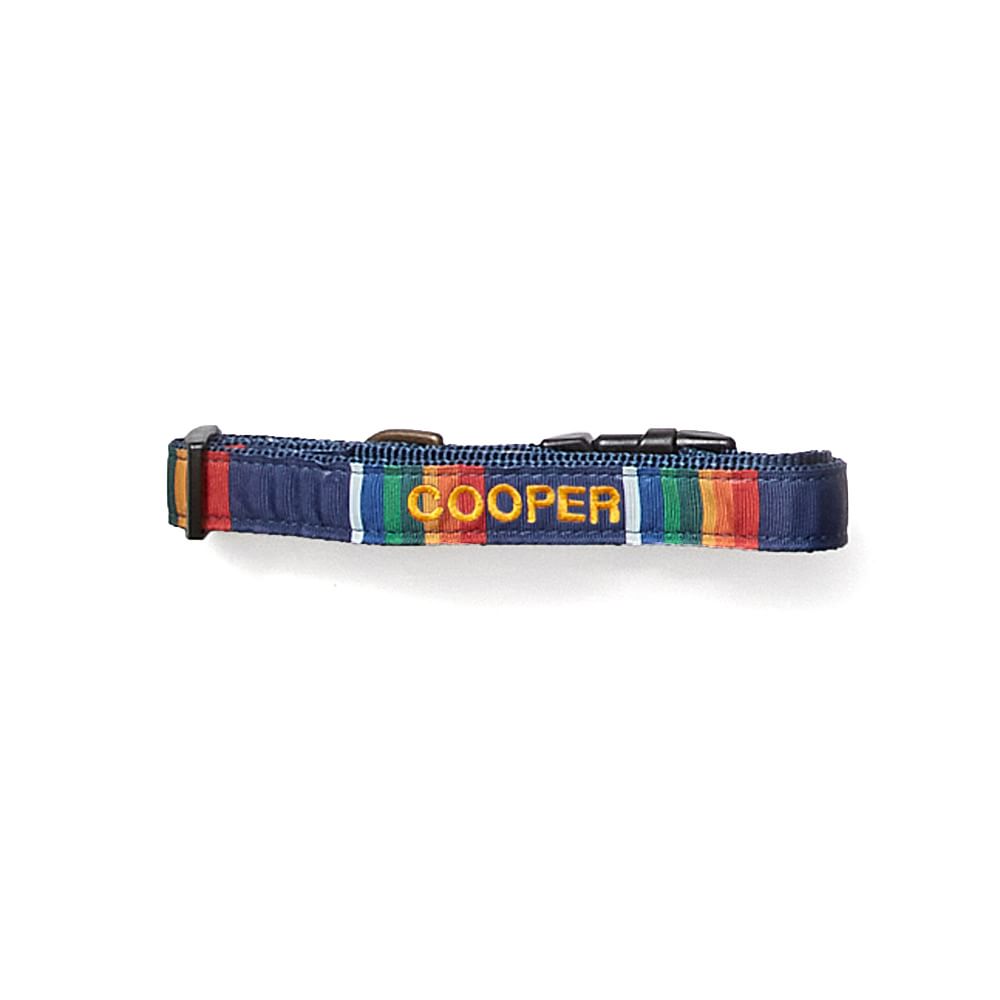 Inspired by National Parks all around the USA, this vibrant dog collar is made of strong, lightweight nylon webbing with printed grosgrain ribbon along with Pendleton's signature patterns. The collar has an antiqued brass fast-release buckle closing, and you can add a personalized touch by having your pet's name embroidered on it.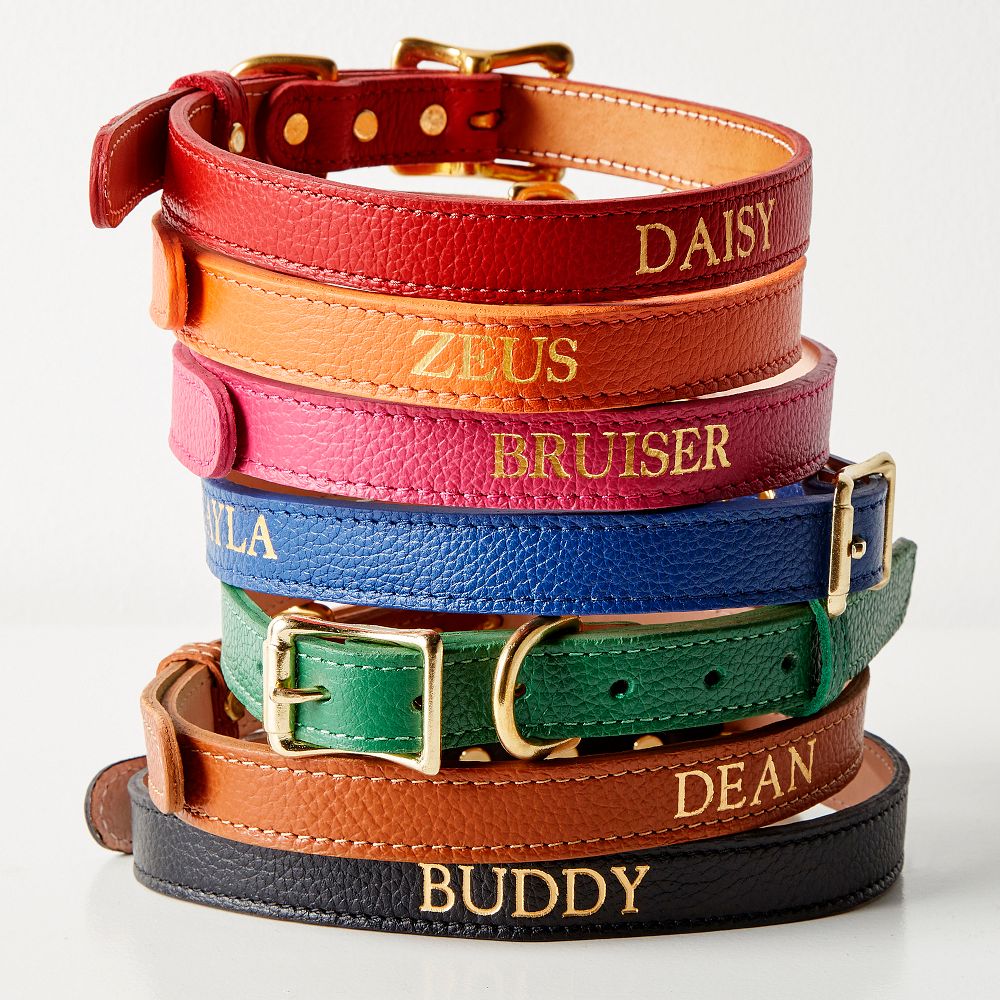 The ideal accessory for your favorite pup! Genuine full-grain leather and polished brass-finished hardware give this elegant collar high durability. For a personal touch, you can have colored foil imprinted with the name of your dog onto the leather.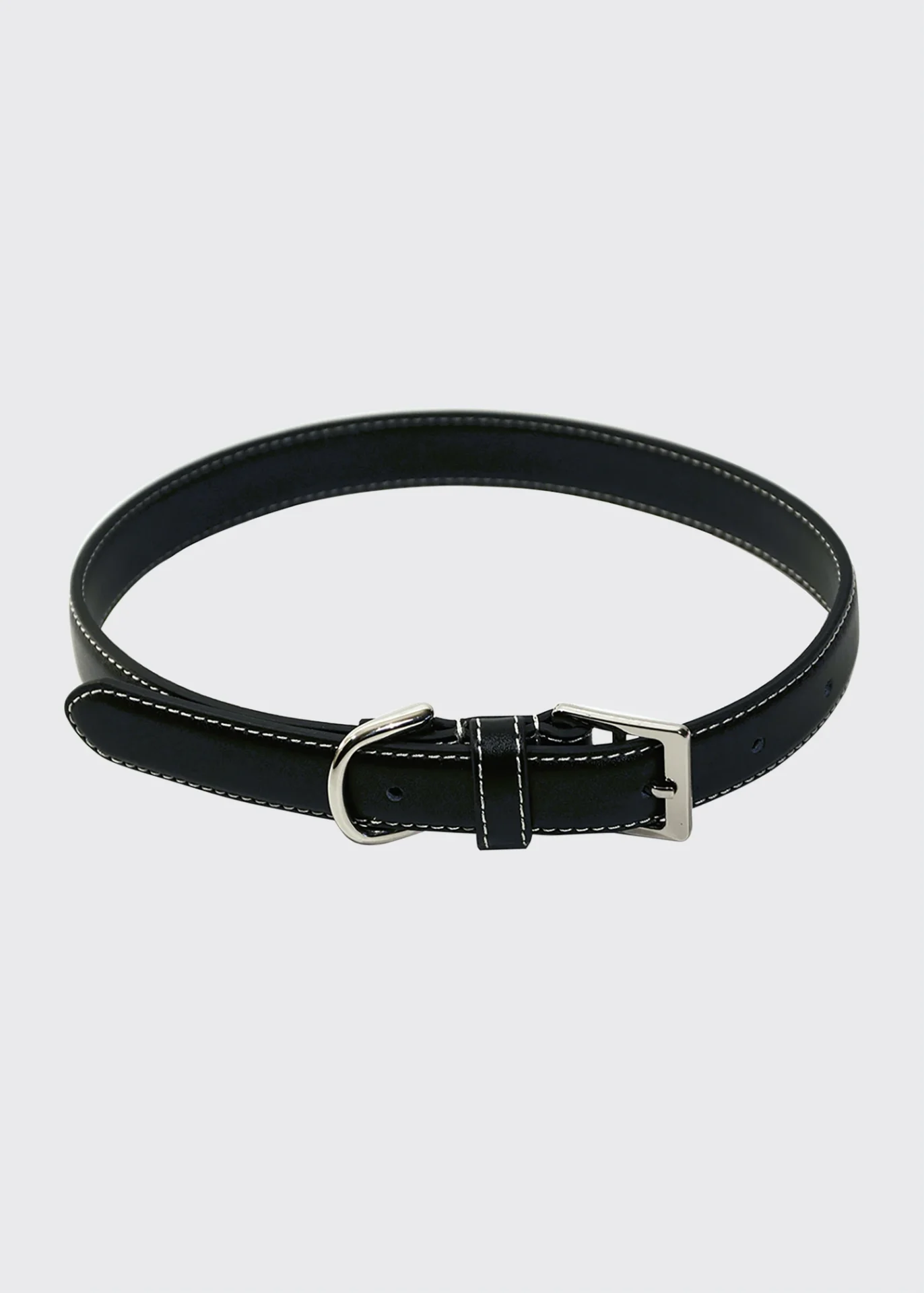 Sleek and minimalistic, this Royce New York Dog Collar has a clean and chic look that your dog will surely be proud to wear. if you don't like a lot of fussy details around your pup's neck, then this is for you.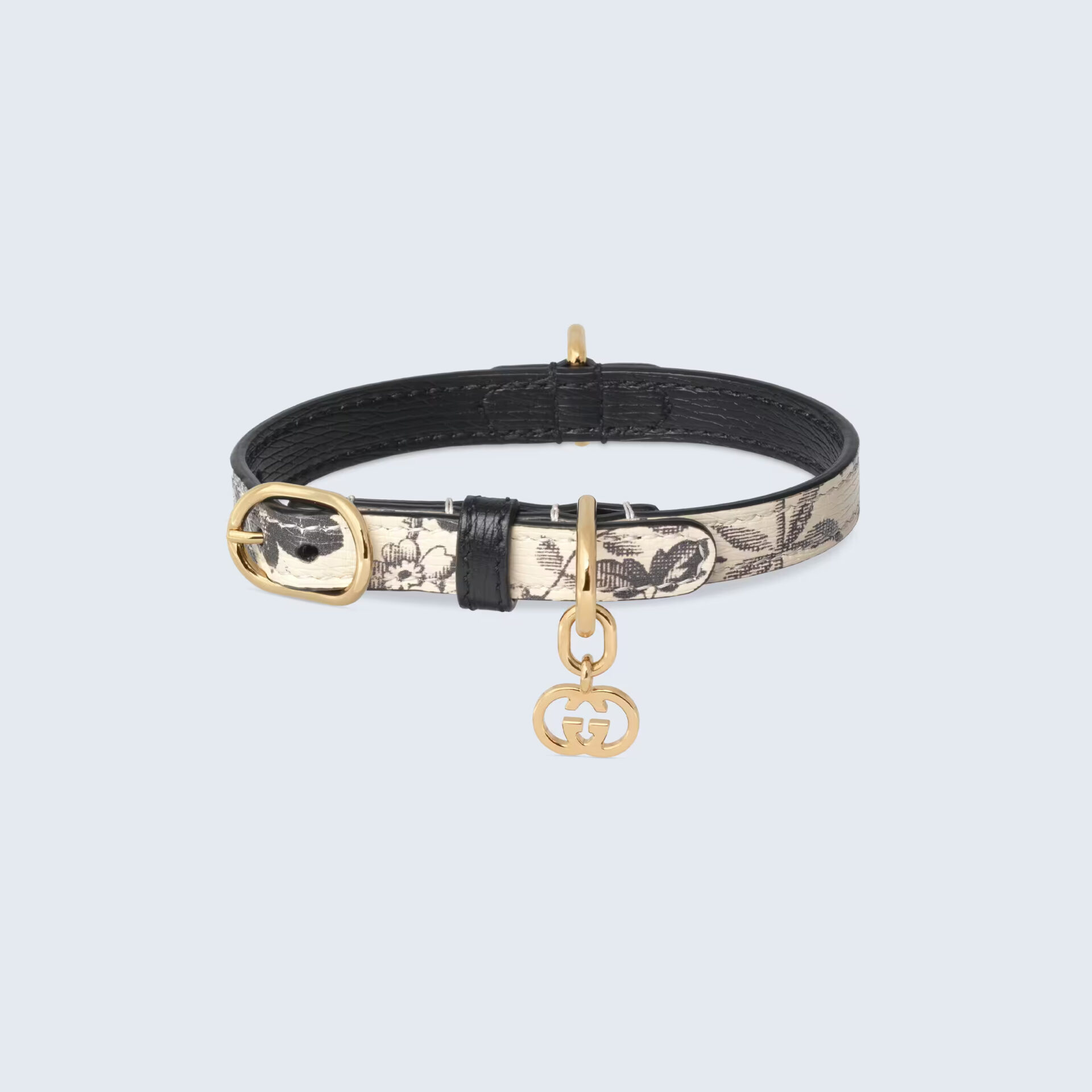 Out of all the dog collars on this list, this Gucci Black Herbarium Print Ivory Demetra Dog Collar is my favorite. From the beautiful print detailing to the gold accents, what's not to love? It just looks so timeless and elegant.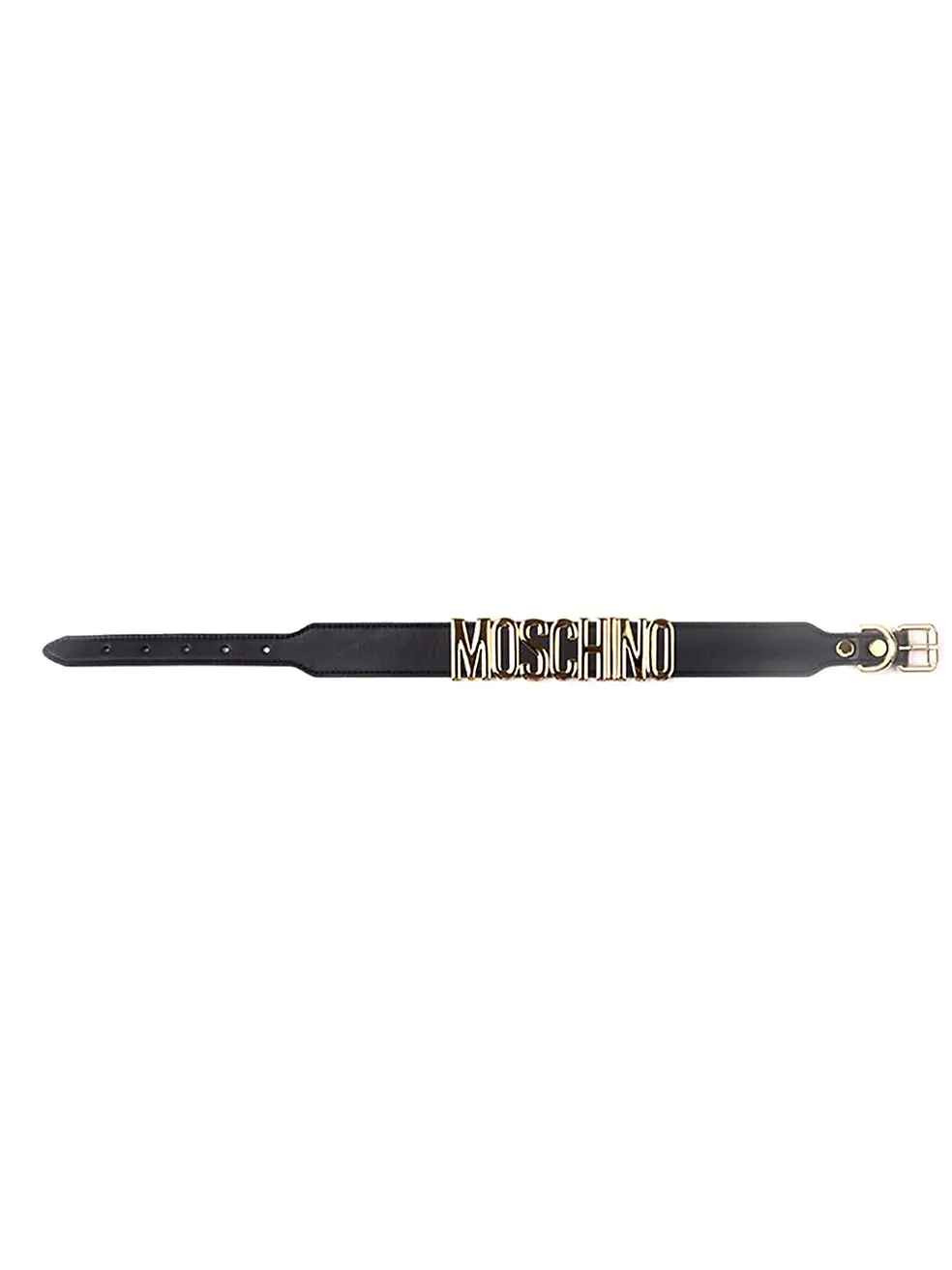 For all the label lovers out there, this dog collar from Moschino would be the perfect accessory for your stylish pet. What you get is a sleek black collar with the logo displayed right on the front of the material.
This dog collar is a surefire way to reward your fluffy buddy and make sure they're the most fashionable dog in the park. It has an adjustable style, distinctive logo-engraved silver-toned hardware, and faux-crystal studs.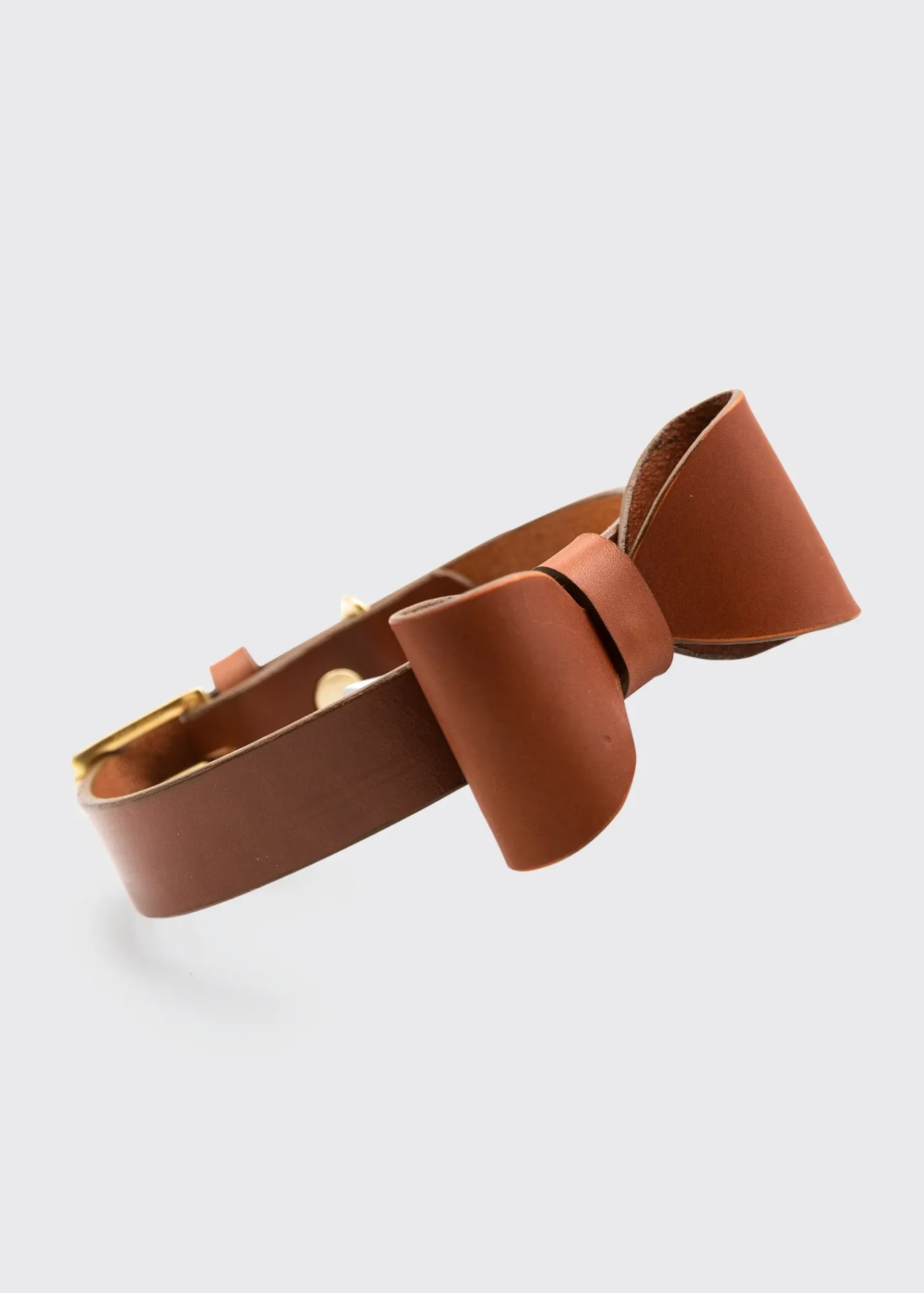 Just look how adorable the bowtie is on this GIANNI COOLING Dog Bow Tie Leather Collar! It's made of high-quality genuine leather and will give your dog the cutest collar in the park!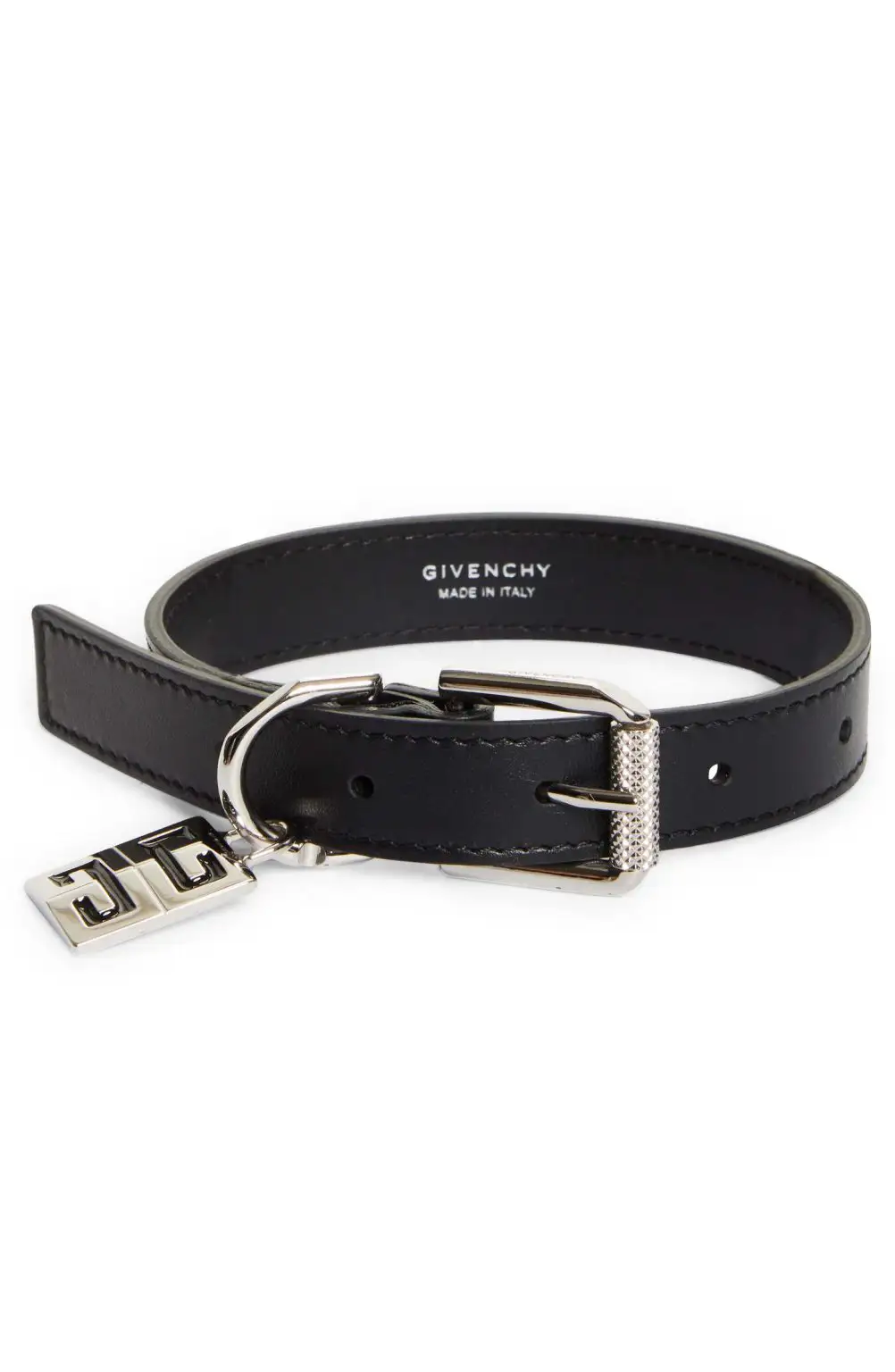 With a clean, minimalistic design, this leather collar from Givenchy is part of a capsule collection that includes limited-edition pieces that honor well-known Disney characters.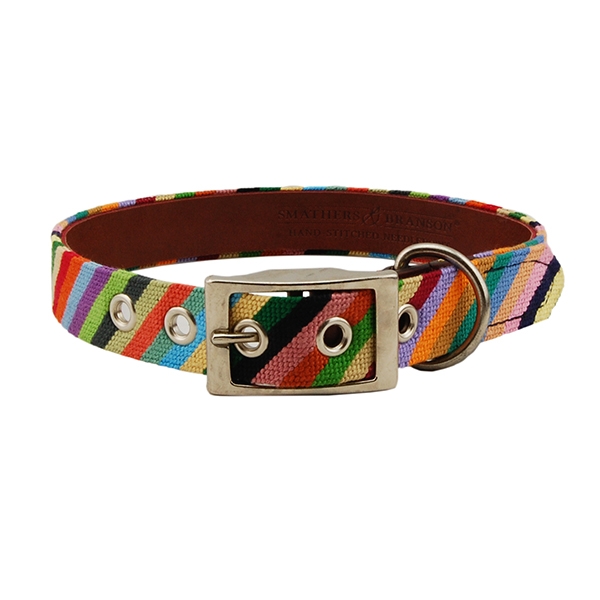 There is just nothing else like the needlepoint dog collars from Smathers & Branson in both function and design. According to their site, they've been put to the test in muddy rivers and on sandy beaches to ensure durability. This is one of my favorite designer dog collars for outdoor pooches!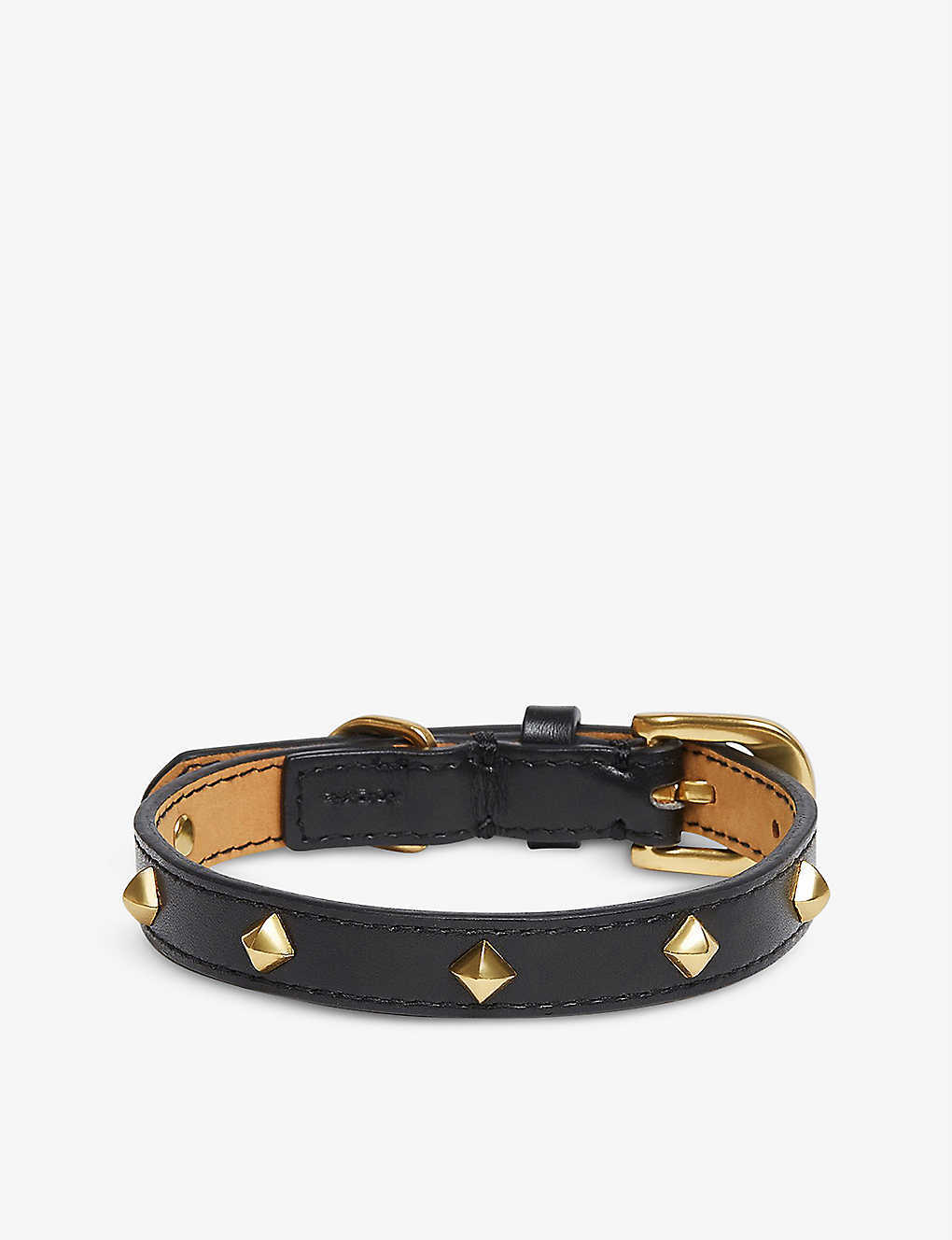 With designs like this collar, this pet-friendly brand strives to give their furry companions plenty of individuality. The elegantly constructed design gives soft leather a studded twist.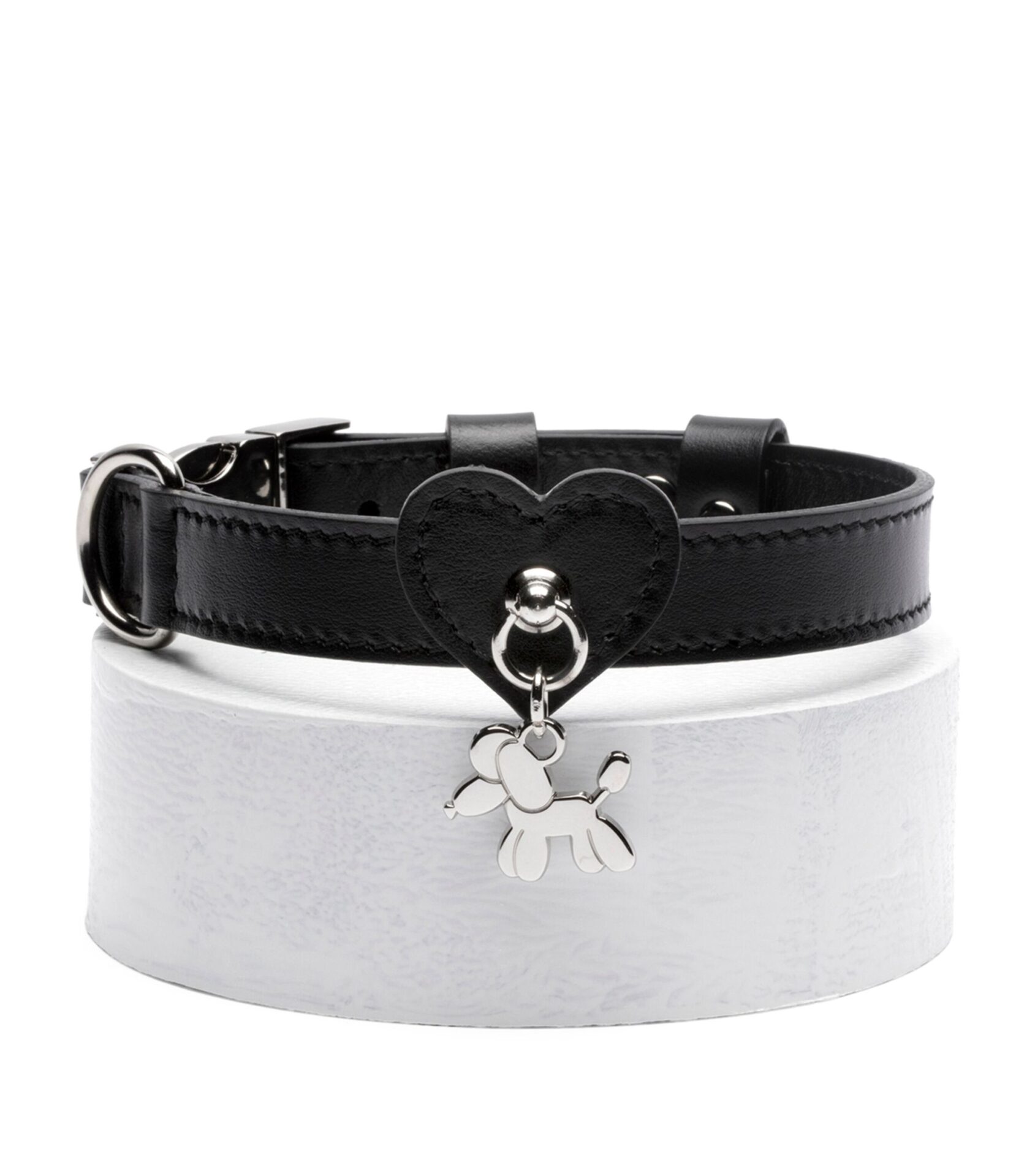 The durable leather collar from Baurdelle not only gives your dog a cute look, but the adorable heart patch has a tiny doggie charm that serves as a sparkling addition to your dog's name tag.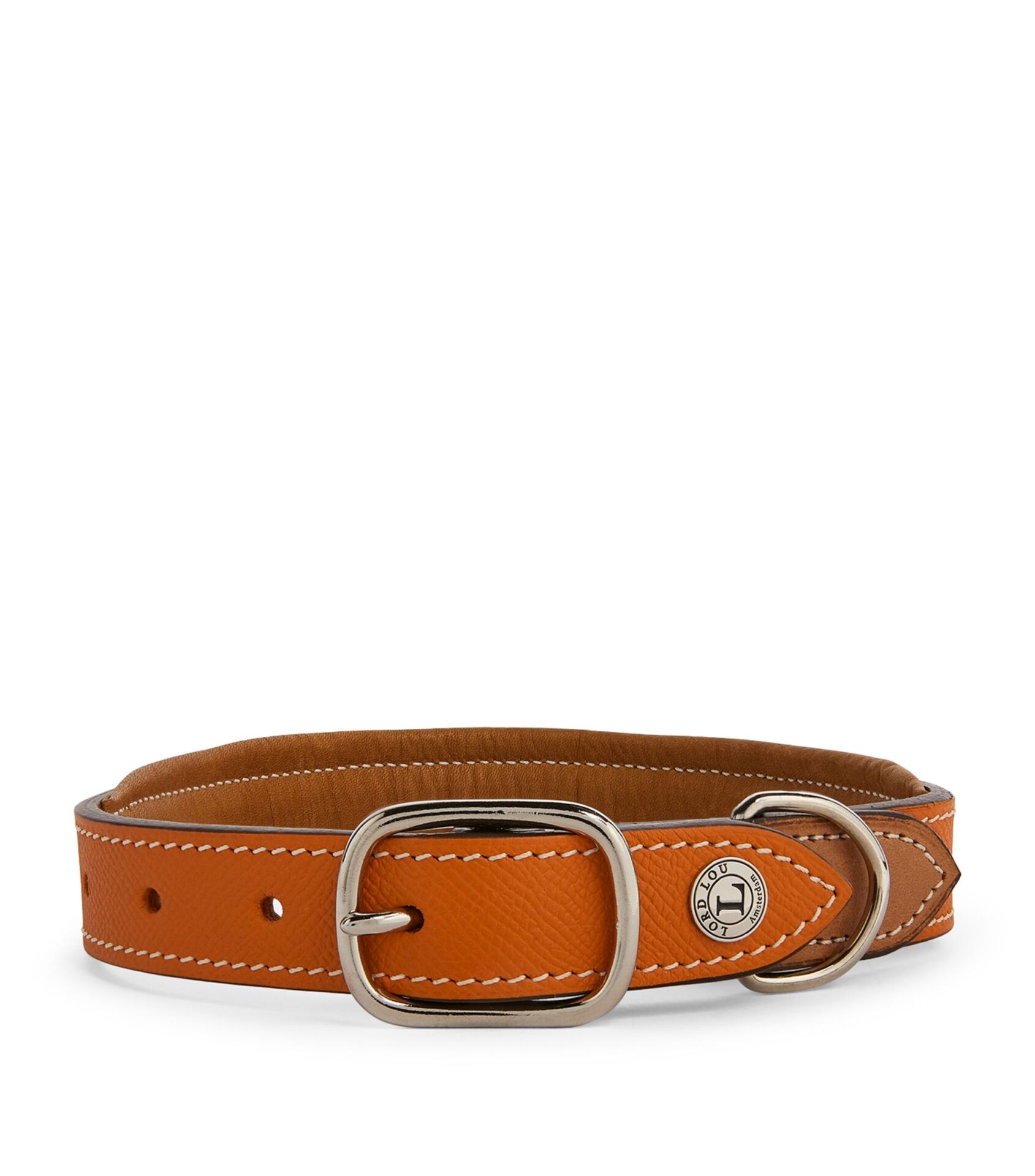 This collar from Lord Lou is not only beautiful, but each collar is hand-stitched and colored with vegetable-based dyes for a durable finish that is as safe as it is unique.
Hopefully, these designer dog collars gave you lots of inspiration for adding some bling to your pooch's life! Enjoy!