Don't let the frosty weather stop you from wearing those cute snow outfits this winter!
When the weather becomes colder, many of us will opt for snug yet straightforward clothing such as scarves, puffy jackets, and winter shoes. But that doesn't mean you should abandon your personal style just because it's winter.
I get it, keeping up with your style and aesthetic while the outside temperature is dropping to subzero degrees is not always straightforward. Trust me, I understand. I've been there, and it can be quite gloomy. Most of the time, prioritizing comfort will take precedence over style, especially if you reside somewhere that gets quite cold.
But this year, you don't have to pick between the two. As you may already be noticing, winter fashion is constantly evolving and changing (for the better!). I've seen some of the most stylish jackets, sweaters, and winter accessories these past few years, thanks to brands upping their game.
In this article, you'll get a variety of fashion ideas here to improve your winter outfits. What's more, most of the products stated here are probably already in your closet, so all you need to do to put together the ideal outfit is follow these tips!
Trending Snow Outfits
To help you out this winter season, I've put together a selection of trending snow outfit suggestions that seamlessly mix aesthetic and utility to keep you looking your best whilst feeling comfortable and cozy throughout the chilly months!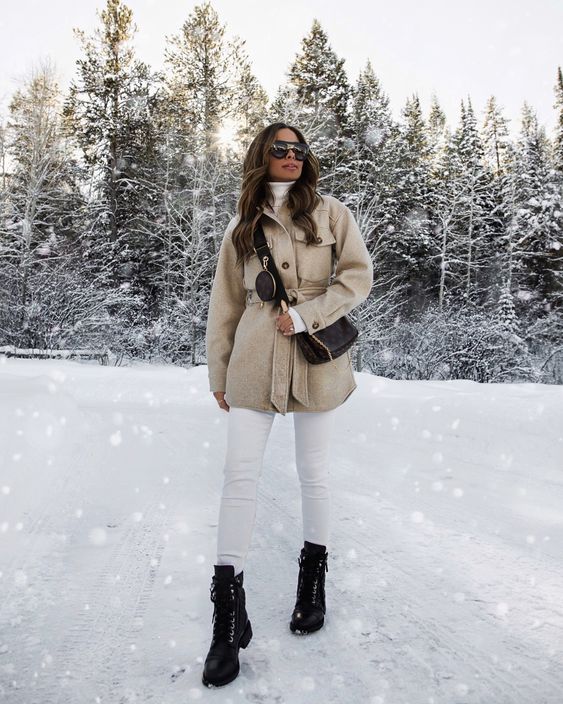 Getting the right coat for your outfit is one of the most important things when putting together a winter outfit. Thankfully, there are so many stylish coats out there that you're spoilt for choice! I mean, just look how gorgeous this beige jacket is! Whether you're going on a ski trip or just roaming the city, this will make you look chic! This is one of my favorite cute snow outfits that's still casual and comfy.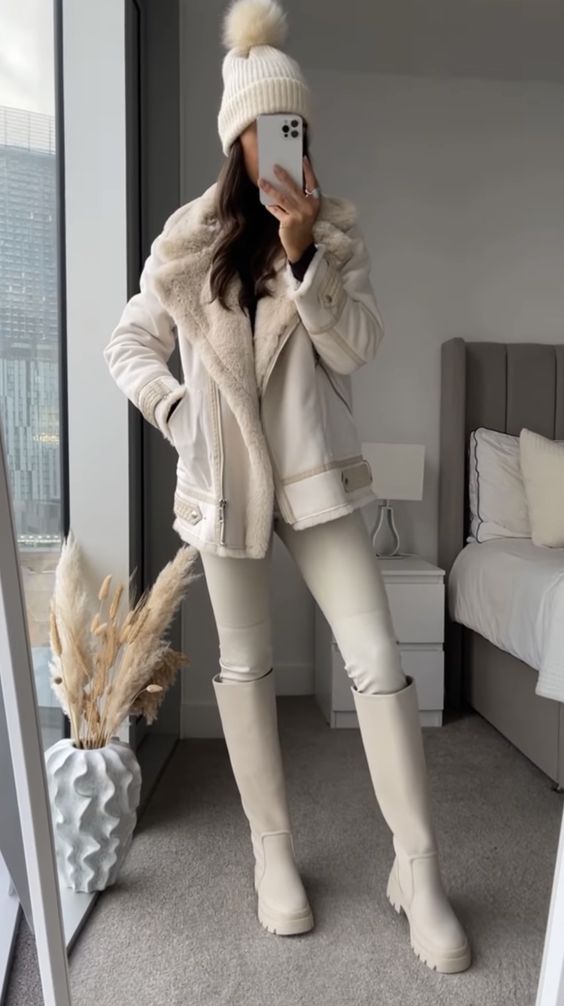 One of my favorite things about styling outfits for winter is the many choices of fuzzy and cozy outfits that I can wear. Not to mention, I can totally put forth my best winter boots and still look utterly stylish! In this picture, I am in awe of the all-white color scheme! It makes the whole outfit look so chic and frosty!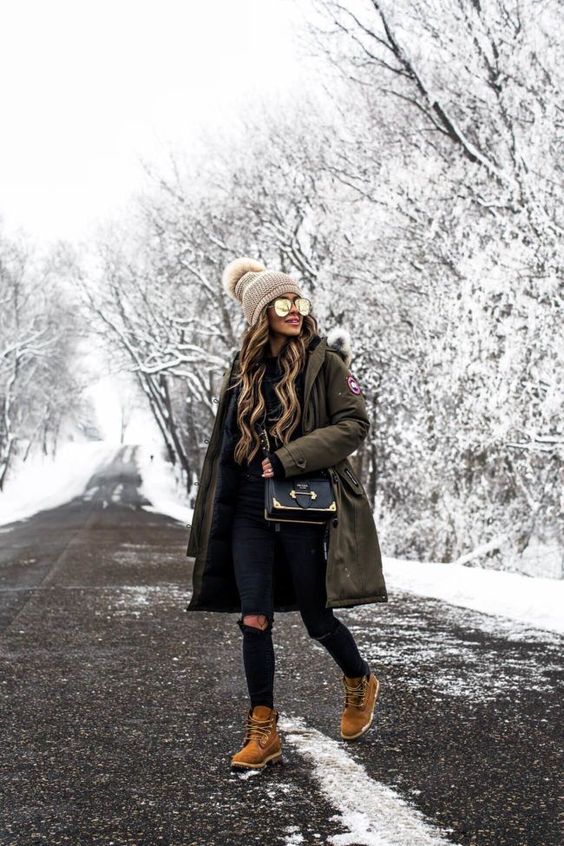 Looking for cute snow outfits that actually hold up in the cold weather? Winter is the best time to wear those moody, deep colors that will create a stunning contrast against the wintry backdrop of snow. So don't be afraid to wear those blacks, navy blues, forest greens, and even warm earthy colors like shades of brown and yellow.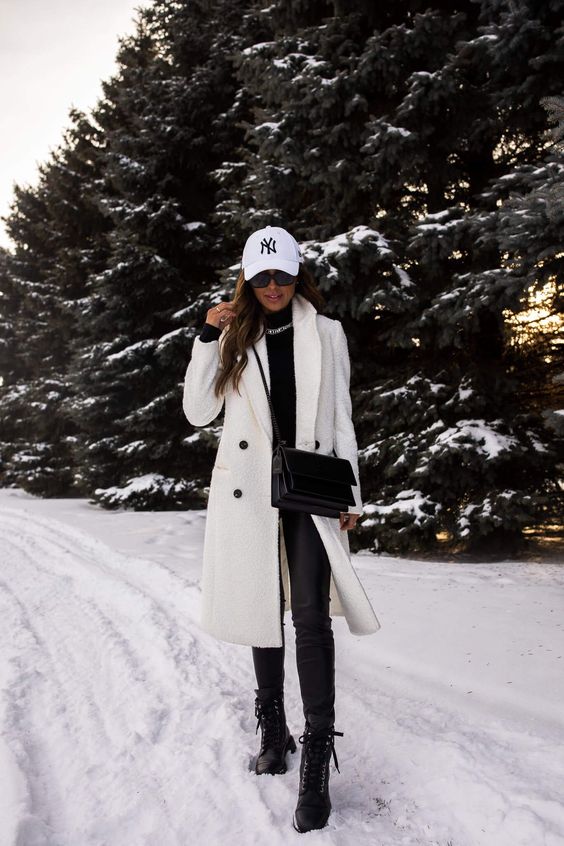 When it comes to putting together an outfit, you can never go wrong with classic black and white. This monochrome color palette will instantly make you look chic and it easily fits any occasion!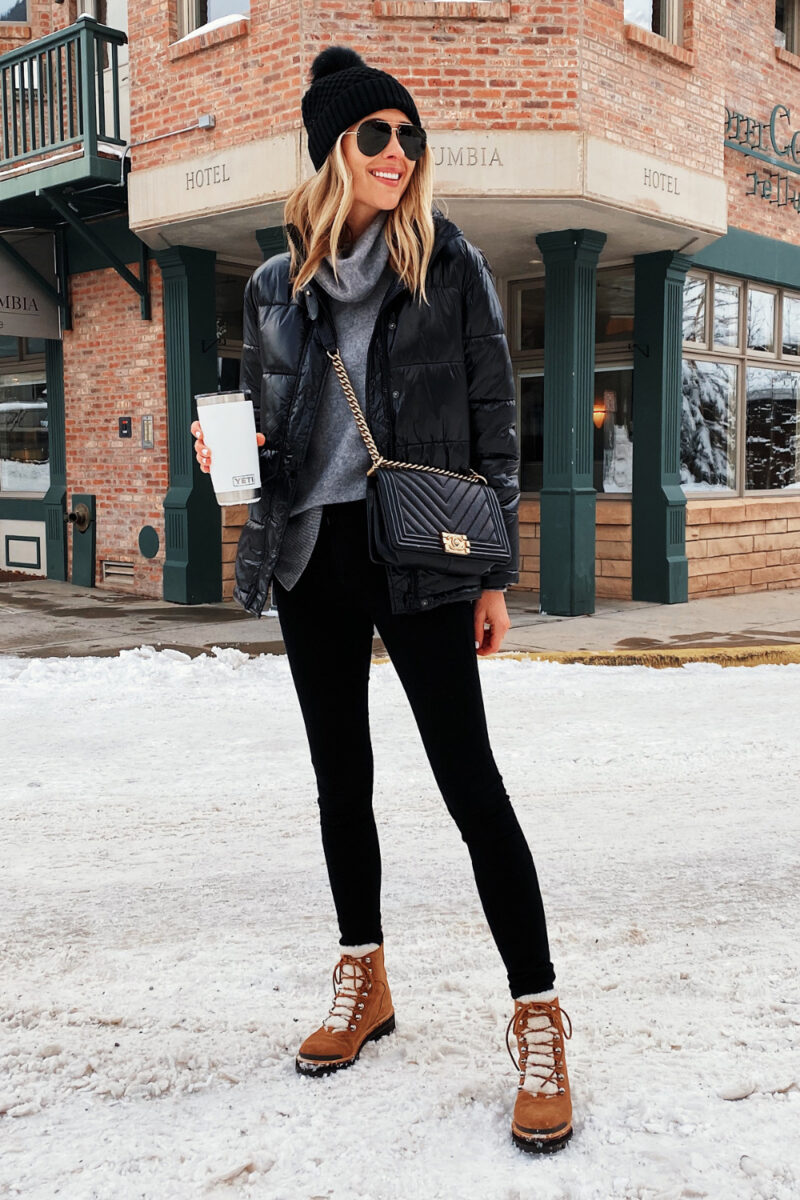 Aside from black and white, you can also opt for a black and grey combination. This will give your outfit a more understated vibe that's cool and edgy.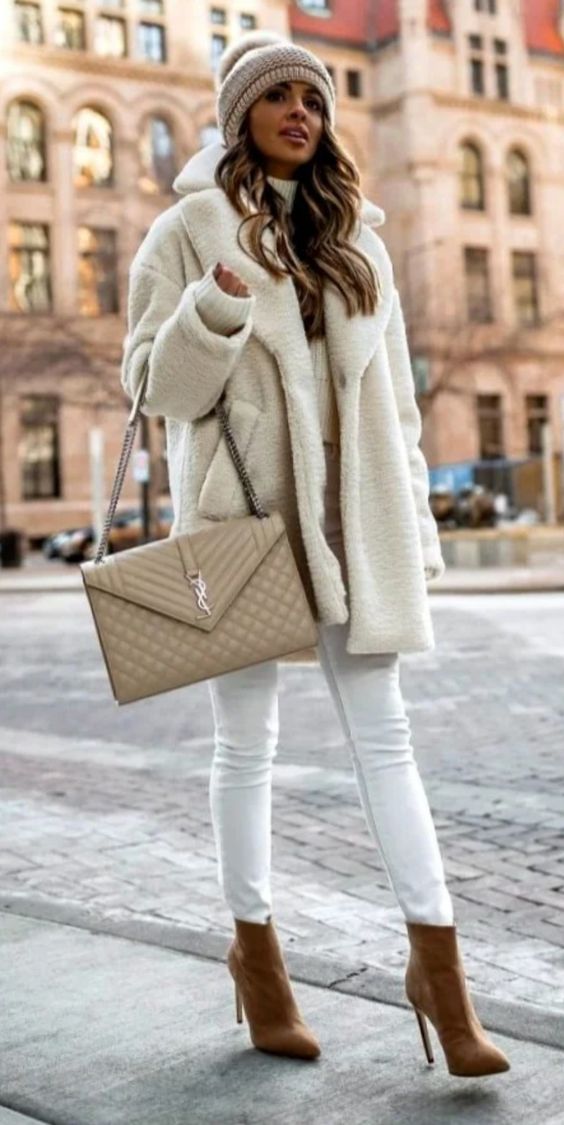 If you're not too fond or you're tired of wearing dark colors this snowy season, why not mix and match different shades of white? Just like with darker colors, such shades give off a rather chic look that's clean and minimal. Not to mention, you can appreciate a wooly jacket more when you can see its every detail because it's beige.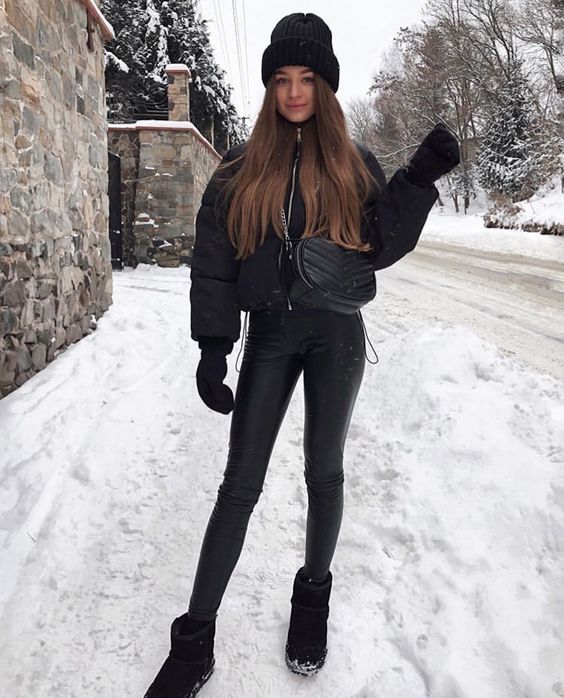 If there's anything better than an all-white outfit, it's an all-black one. Not only is it a chic color, but it's also quite versatile. It totally suits the moody atmosphere the winter season brings. What's more, a monochrome black look is sure to make your outfit less busy even after all that layering.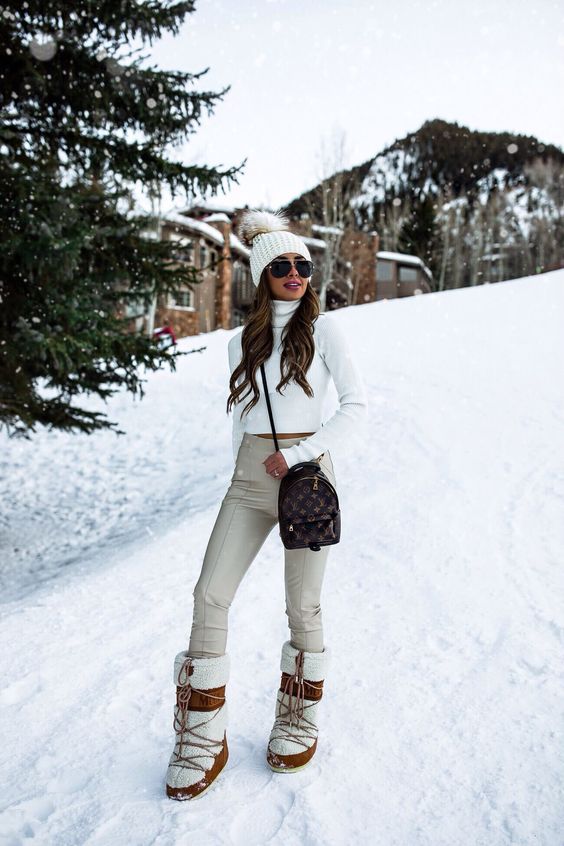 I'm honestly in love with the fuzzy winter boots in this picture! I love the neutral color scheme as well and how it makes the overall look so cozy. To make your beige-y outfit come together, you can opt to use brown, earthy accents for interesting pops of color.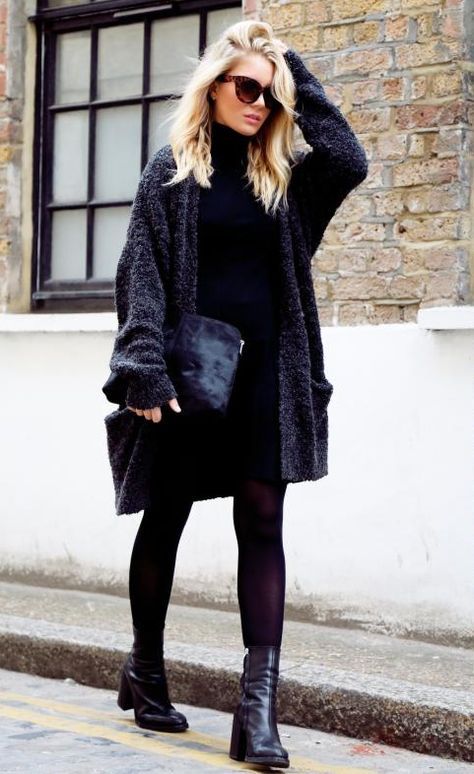 Here's another monochrome black outfit that will make you look chic and classy on the streets of your city. Who says you can't wear a dress during the winter? This gorgeous outfit says otherwise! Just make sure to pair it with some thick stockings and an oversized cardigan to keep yourself warm.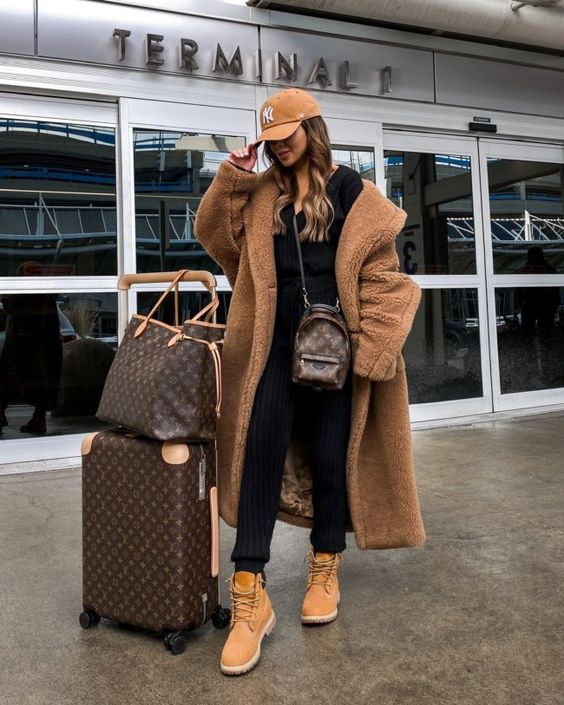 I love this soft brown winter outfit! It looks utterly cozy and warm and it almost reminds me of those fuzzy teddy bears that you hug at night. It just looks so cute and chic at the same time! Pair it with black accents and you'd be good to go!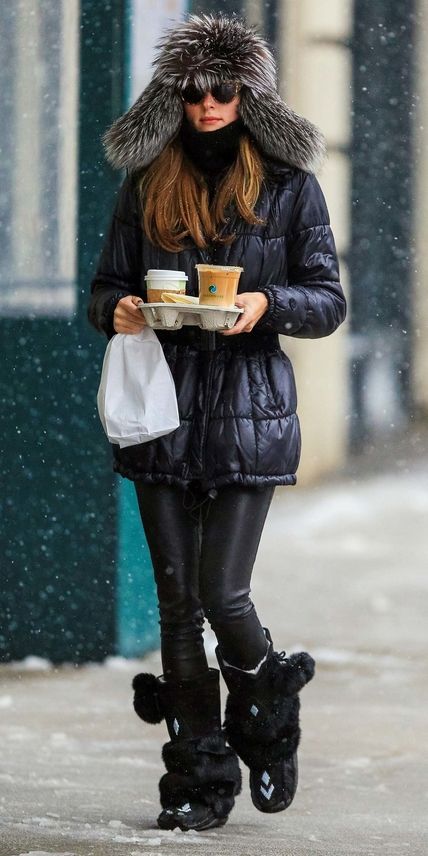 These puffy jackets will not only make sure that you stay warm throughout the winter season, but they will also make you look just as good! Whether you're out meeting friends for coffee or on your way to work, you'll certainly look stylish throughout this frigid weather. This is one of my go-to cute snow outfits for those really cold, blustery days.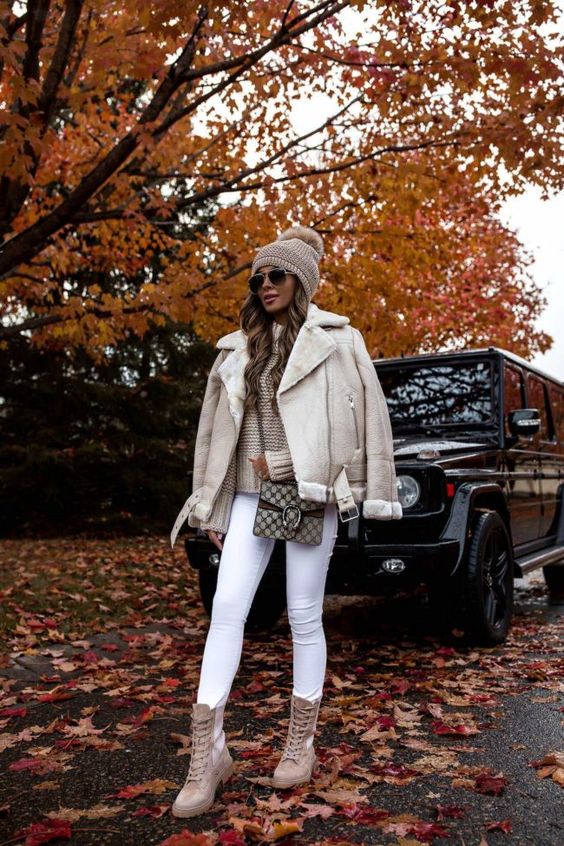 Layering can be quite fussy and sometimes, you just put together anything warm that you can get your hands on. But to make things just a little more cohesive, try picking colors that are in the same range like different shades of white and beige.
A puffy jacket is going to be your best friend this winter season but the good thing is that it's so easy to style up however you want to! You can layer it with your favorite sweaters and leggings to stay warm through this season. If you're going for deep and dark colors like black, make sure to have small accents that have vibrant pops of color.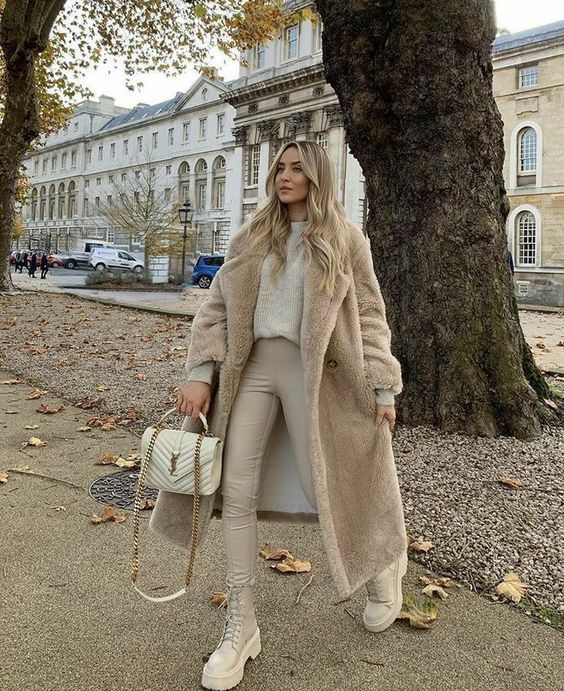 This is probably one of my favorite looks on this list. I love the cozy beige monochrome look of this overall outfit! From the accessories to the oversized, fuzzy coat, down to those utterly chic boots!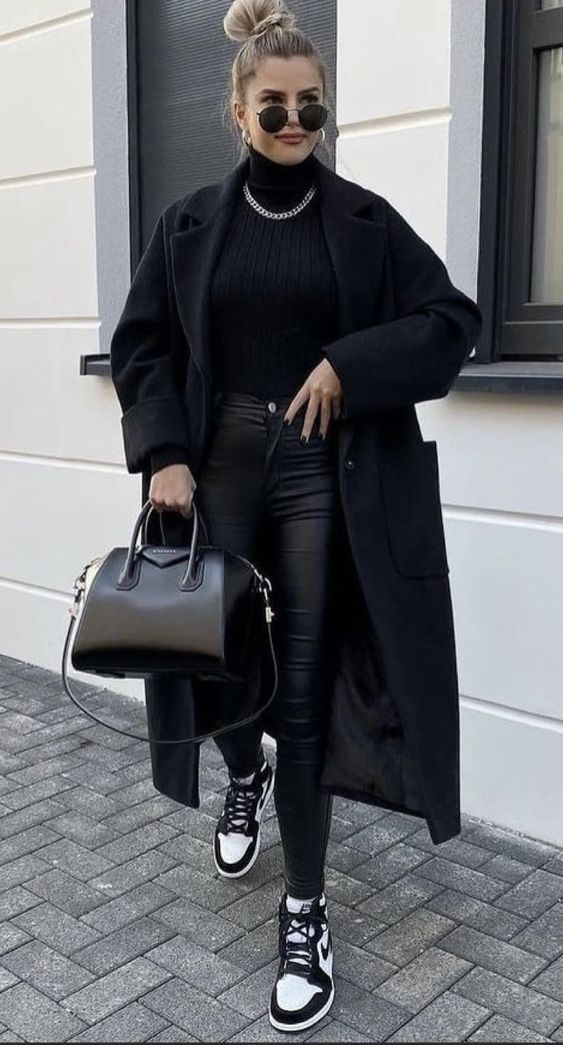 But if beige colors aren't your taste, then black might just be for you. I love how a monochrome black outfit instantly gives a classy and edgy vibe that's perfect for the moody atmosphere the cold weather brings. If wearing tight leather was too warm for the summer season, then it's time to put it into the spotlight this winter season!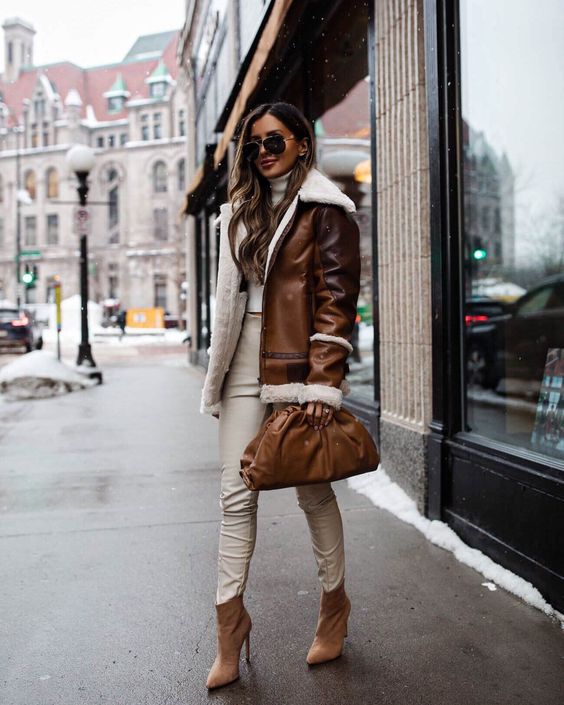 Aside from blacks and whites, you can also go for warm earthy tones this winter. The browns and other neutral colors will create such a nice contrast against the white snow. I mean just look how gorgeous that brown leather jacket is! It's cozy and chic!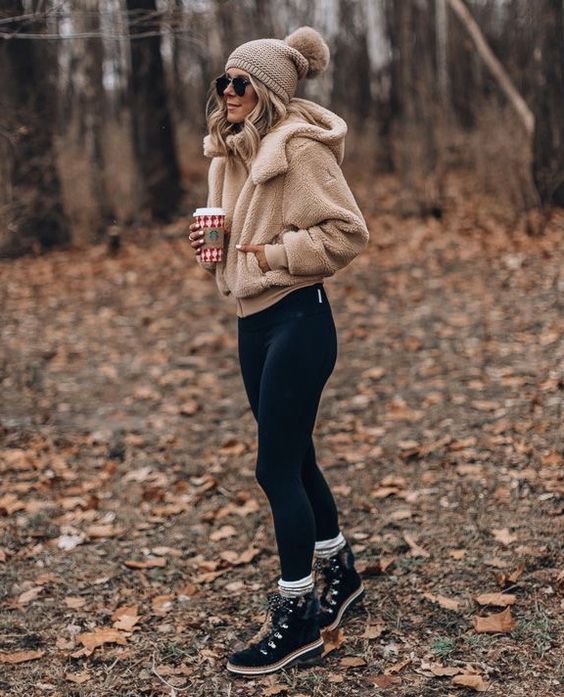 Neutral colors usually give off an understated yet stylish vibe to outfits but if you want them to stand out, try pairing them with black leggings and sweaters underneath to really have those colors pop! The contrast will lend a look that's utterly chic!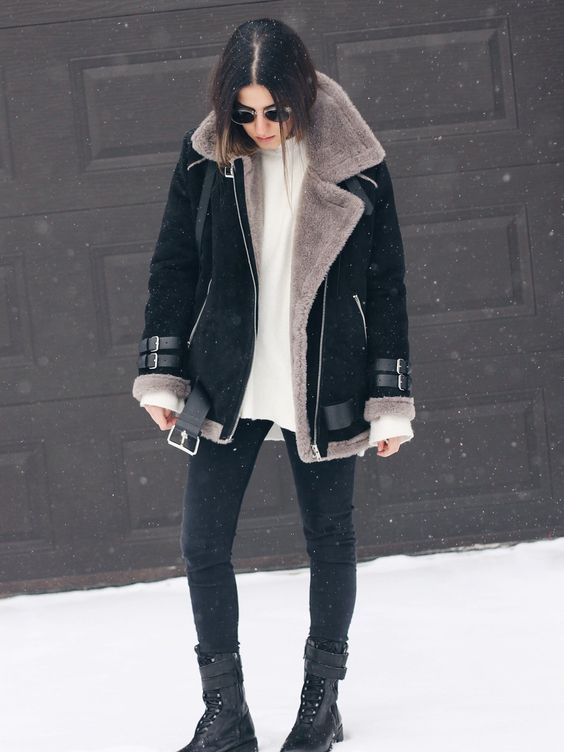 Finding the right jacket is important this winter season. Ideally, you'll want something that's thick and will keep you warm throughout the frigid weather. So I suggest that you go for fuzzy jackets that bring a lot of comfort and coziness.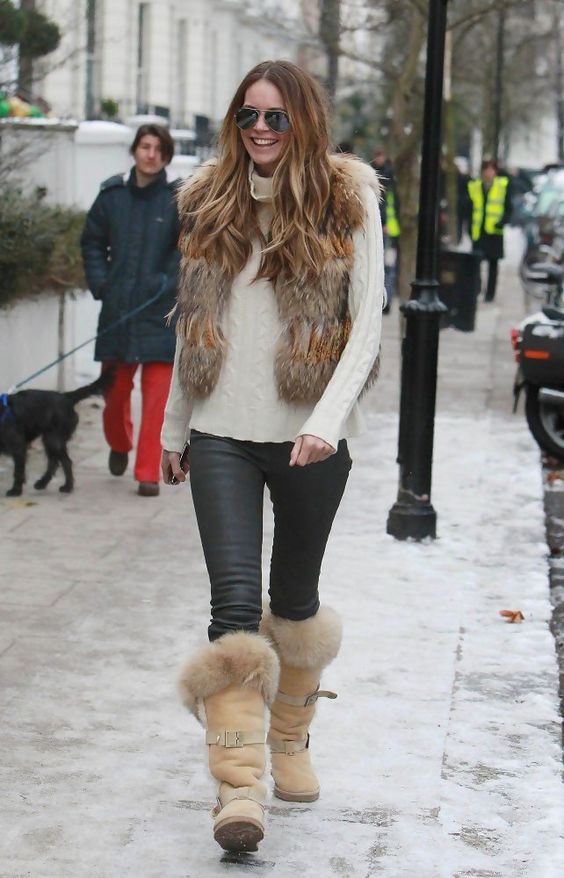 Make a statement with a fur vest then pair it with a cable-knit sweater for a look that's totally unique this snowy season. You can even decide to wear your most outlandish pair of boots to complete the whole outfit!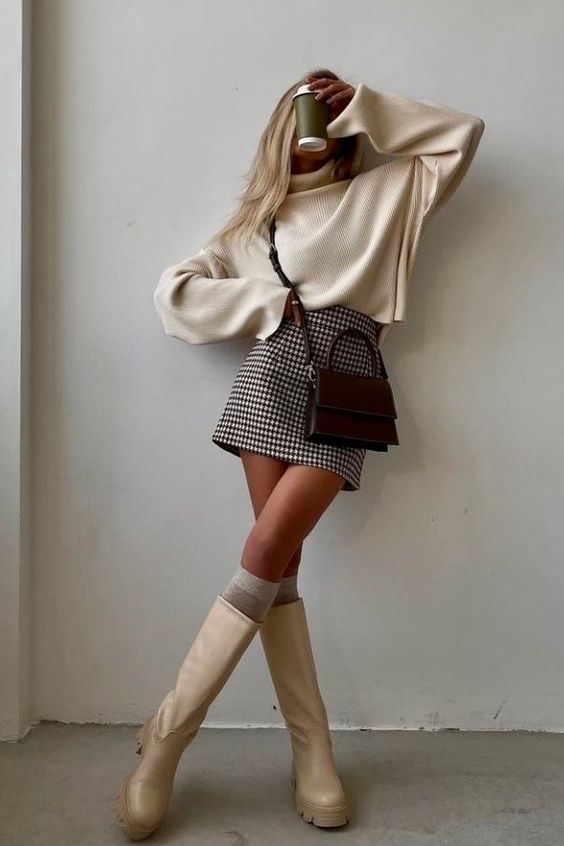 Preppy and stylish, you can also opt to wear your favorite plaid skirt during the winter season. It might not be the most comfortable or ideal thing to wear, but I think you can pull it off with a pair of high-knit socks and boots. If the cold gets too much, you can instead opt for leggings or stockings.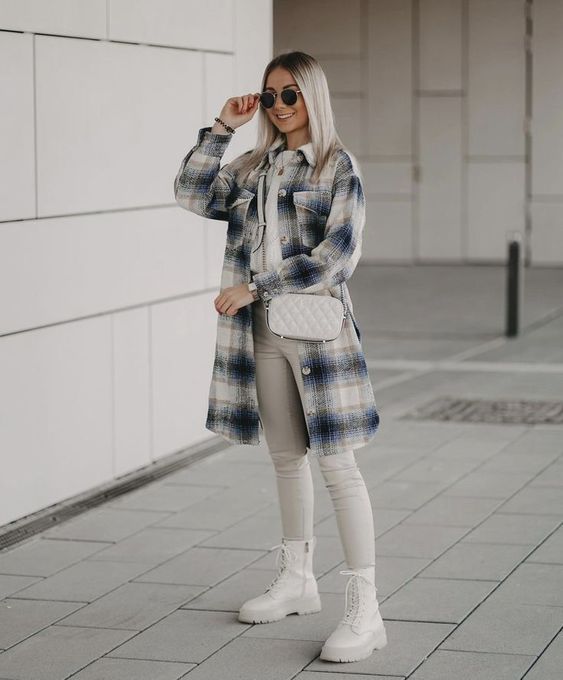 Plaids are definitely the popular patterns to wear once the winter season comes around. So if you want to get in with the trend, you might want to whip out your plaid jacket from your closet. To make it stand out, pair it with basic clothes that have solid colors and no other patterns that might clash with the plaid.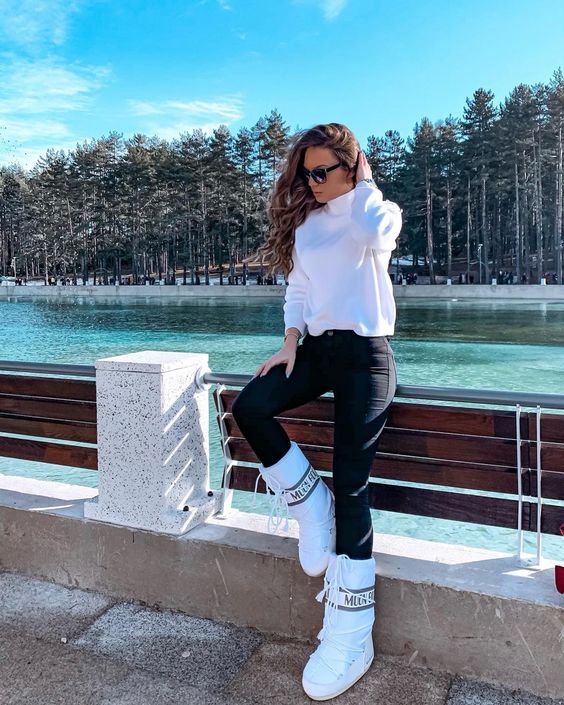 Sometimes, less is more. And if the weather isn't freezing that day, maybe you can get away with just a thick sweater and your favorite pair of jeans. Then you can also opt to go bold with your winter boots.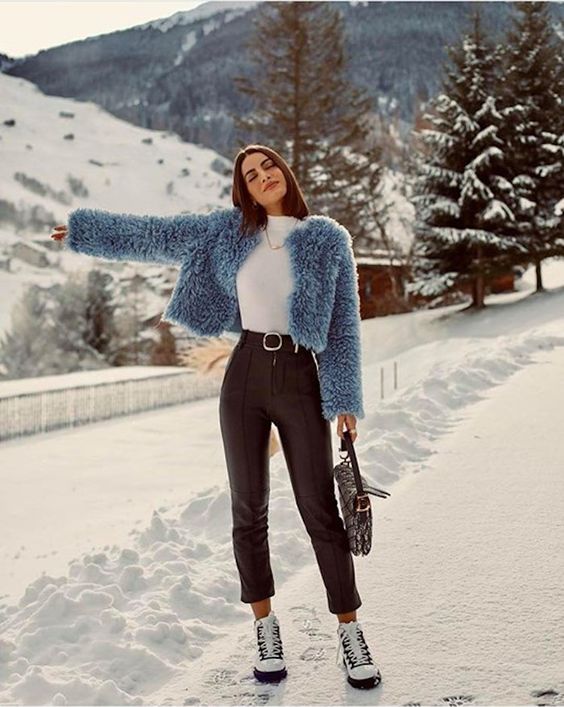 I love the fuzzy blue sweater on this outfit so much! It's so chic and I can imagine wearing it on brunch or even nights out with friends. If you want to make it stand out, pair it with an outfit with understated colors so the blue will pop against it!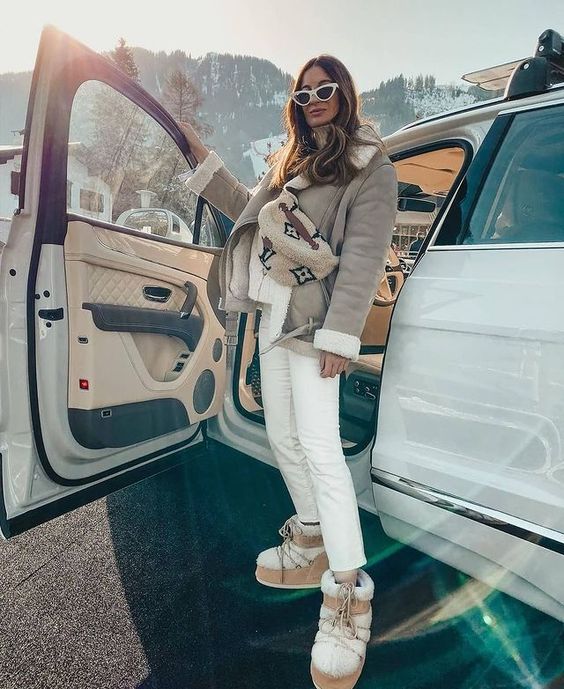 A cool grey and white color combination would give you an outfit that will suit the winter theme so much. You can also add some beige or light brown accents to make the overall look even more interesting!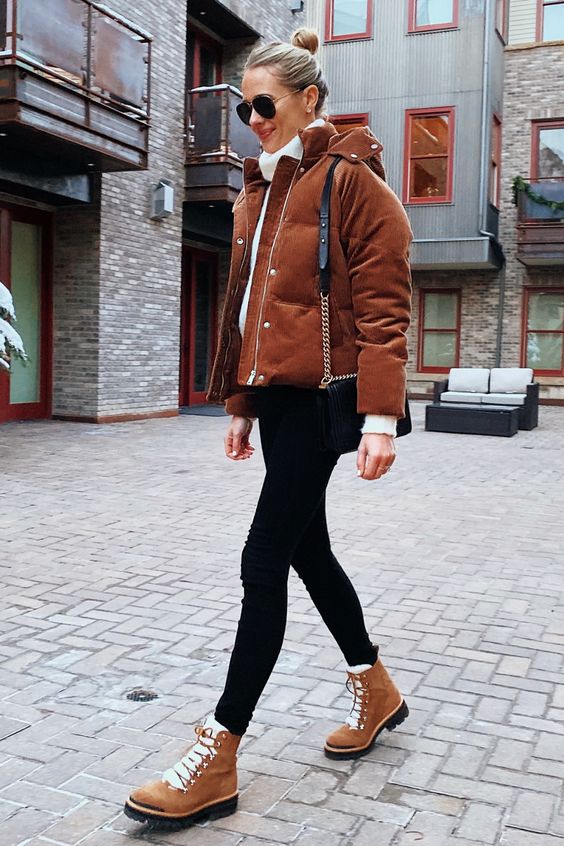 Have I told you that I love warm and earthy colors like these? It's just perfection to me! With all the frost and cold, seeing and wearing these kinds of colors just add a lot of warmth to my eyes. Not to mention, they look chic and stylish and can be paired with almost anything!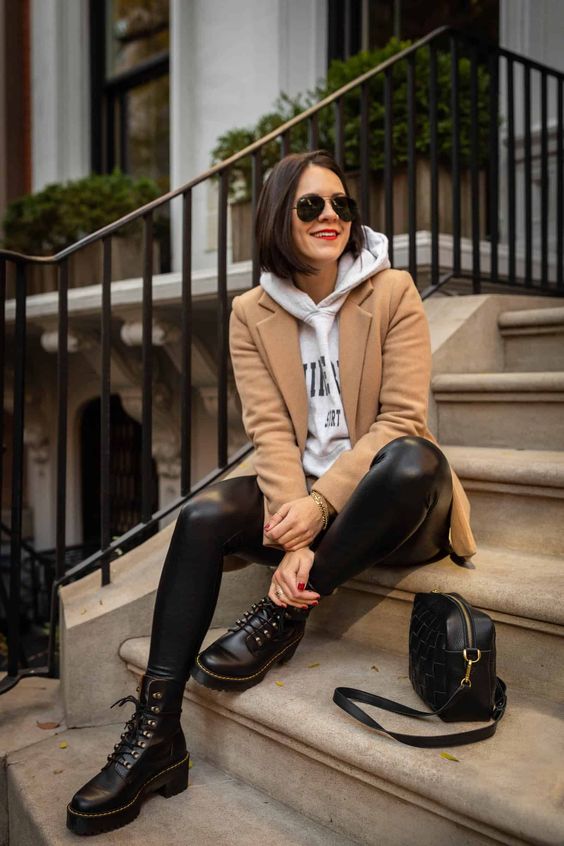 You can never go wrong with choosing neutral colors for the winter season. By using neutral shades you won't have to worry about which colors go best with what because they're that versatile. You can easily pair it with blacks and whites which is something everyone already has in their closet.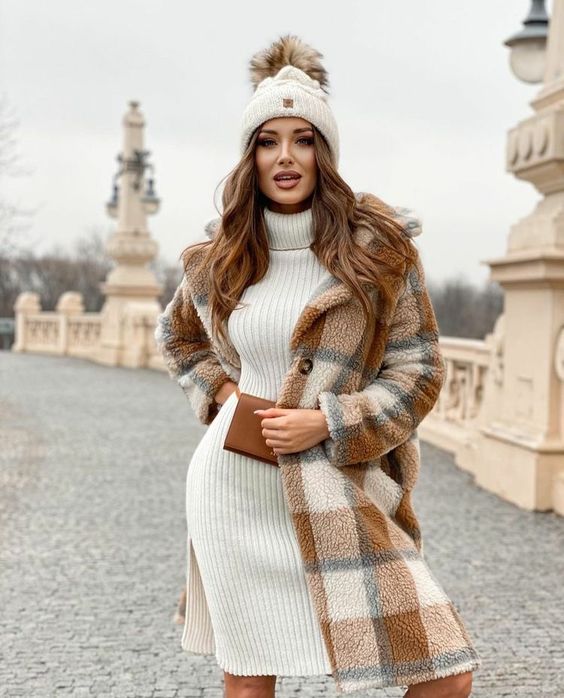 You already know plaids are going to be trendy this winter season, but if you want to stand out, you definitely should pick plaid colors that aren't easily seen anywhere. Skip the usual red and black and instead, go for this gorgeous white, brown, and grey color combination for your sweater!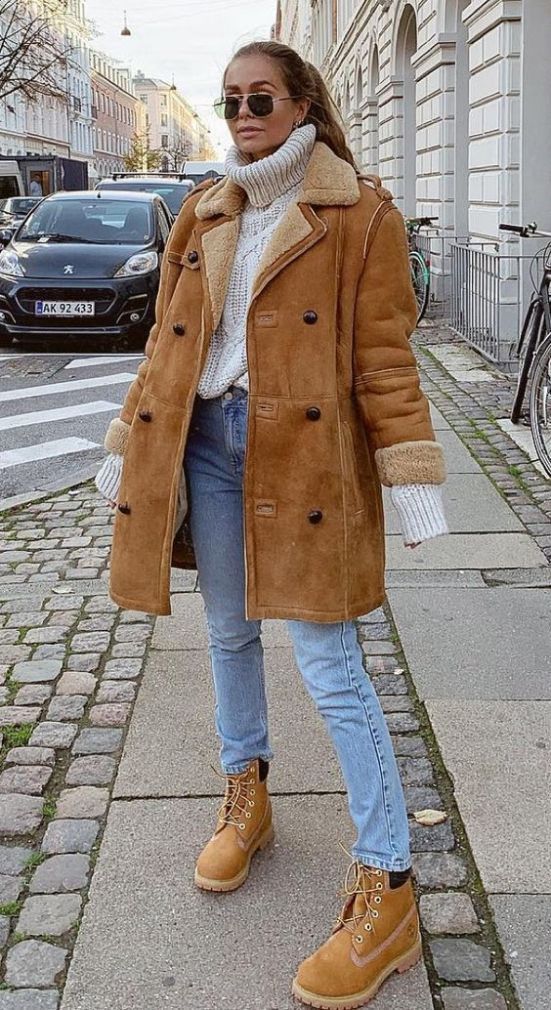 Here's another stunning coat in a gorgeous brown shade. This could be the perfect color to wear when the fall season has just started to enter the winter season. You can easily pair colors like this with a white sweater and light blue jeans.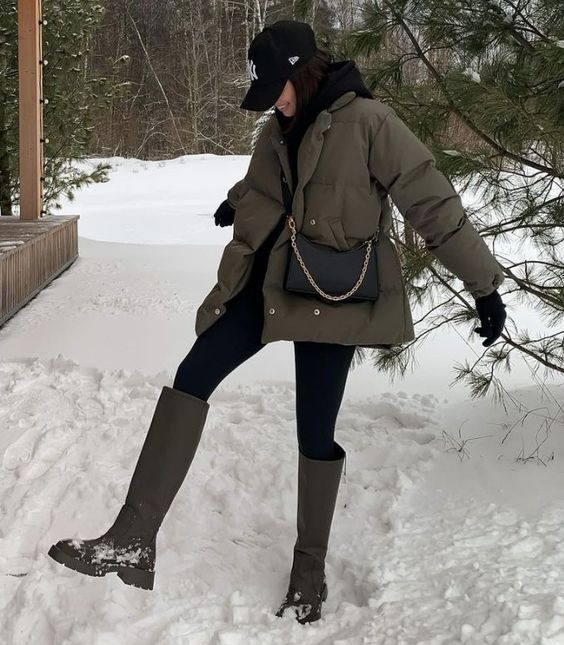 Here's another earthy color that you shouldn't miss out on! A deep forest green is one of those colors that you can pair with a monochrome black outfit to give your overall look a moody vibe. This is one of the top trending winter outfits this year.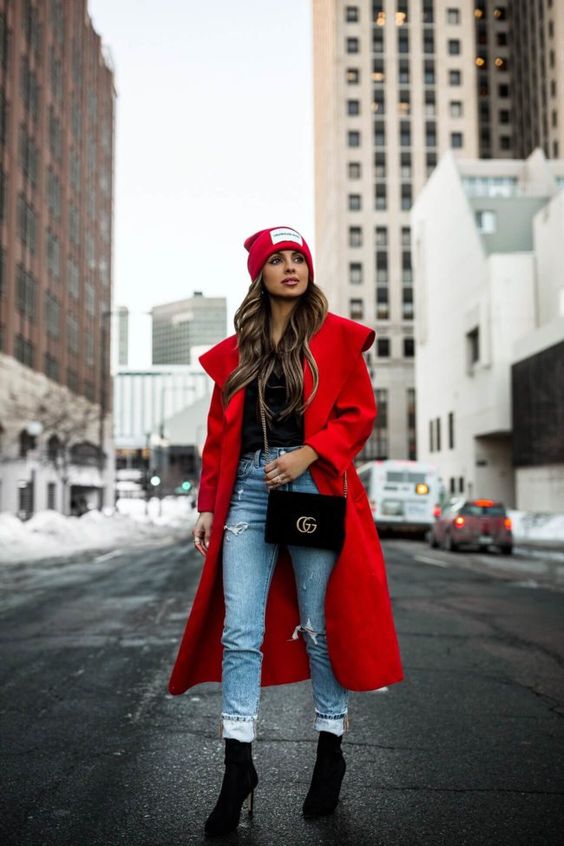 Tired of the neutral colors? Go bold by wearing a vibrant red coat this winter season. Without a doubt, you'll be standing out from the rest of the crowd. I mean, just look at this gorgeous shade of red!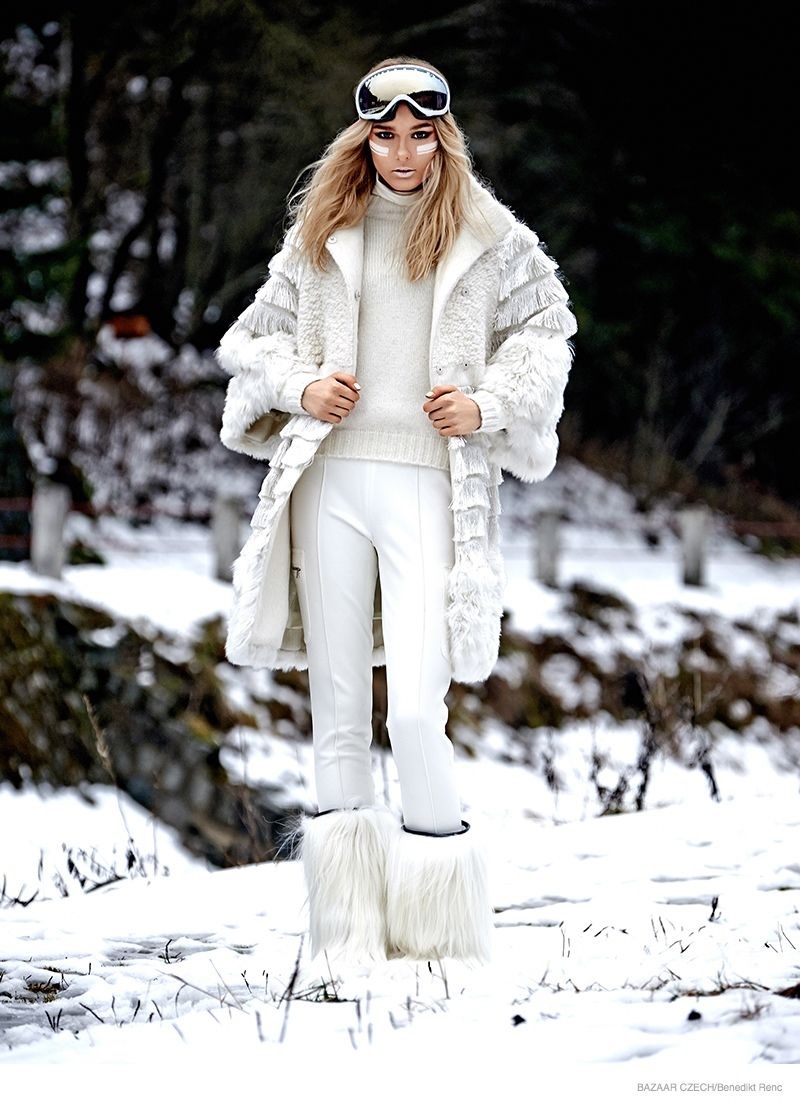 Make your monochrome looks a lot more interesting by playing with different textures like wearing jackets that have fringes and winter boots with long fur. This is going to give our outfit a lot of interesting dimensions!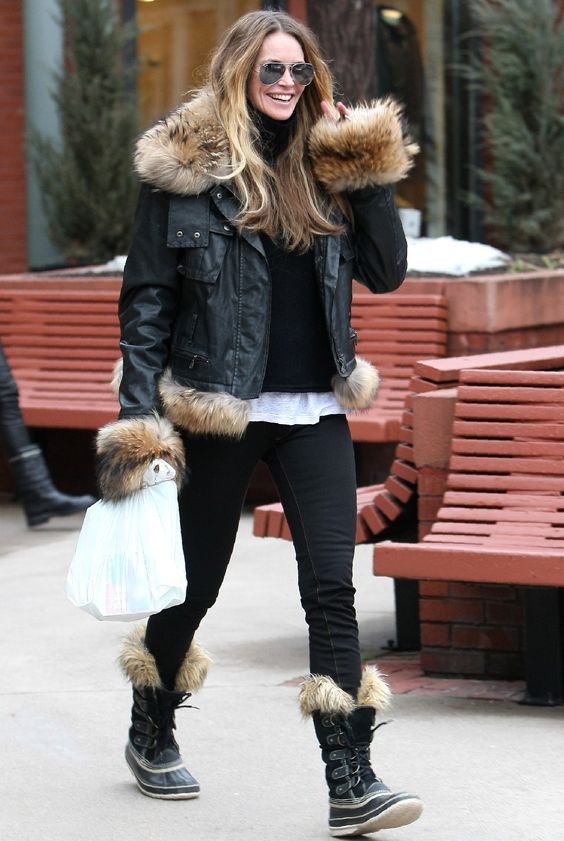 I love the cohesiveness of this outfit and how the jacket and the boots match each other so well down to the color and pattern of the fur!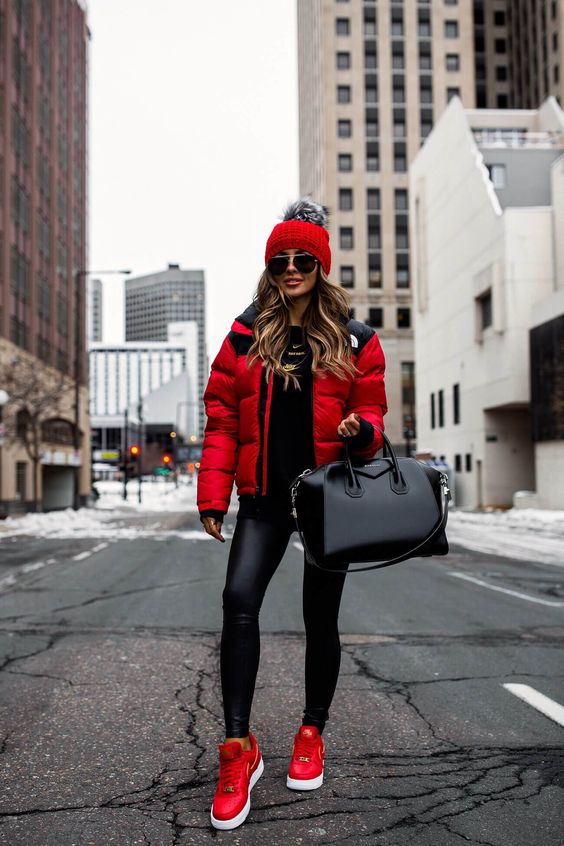 Here's another red outfit that is sure to catch everyone's eye! Layer it with black accents to make the red pop even more!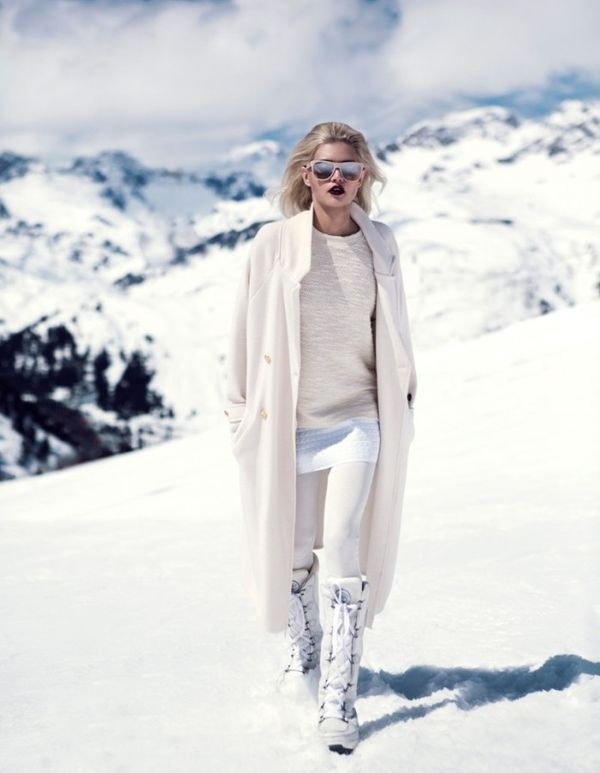 For a frosty look that's chic, try wearing different shades of white on your outfit. This will give your look a clean and cool aesthetic, perfect for those who want to look like a modern ice queen.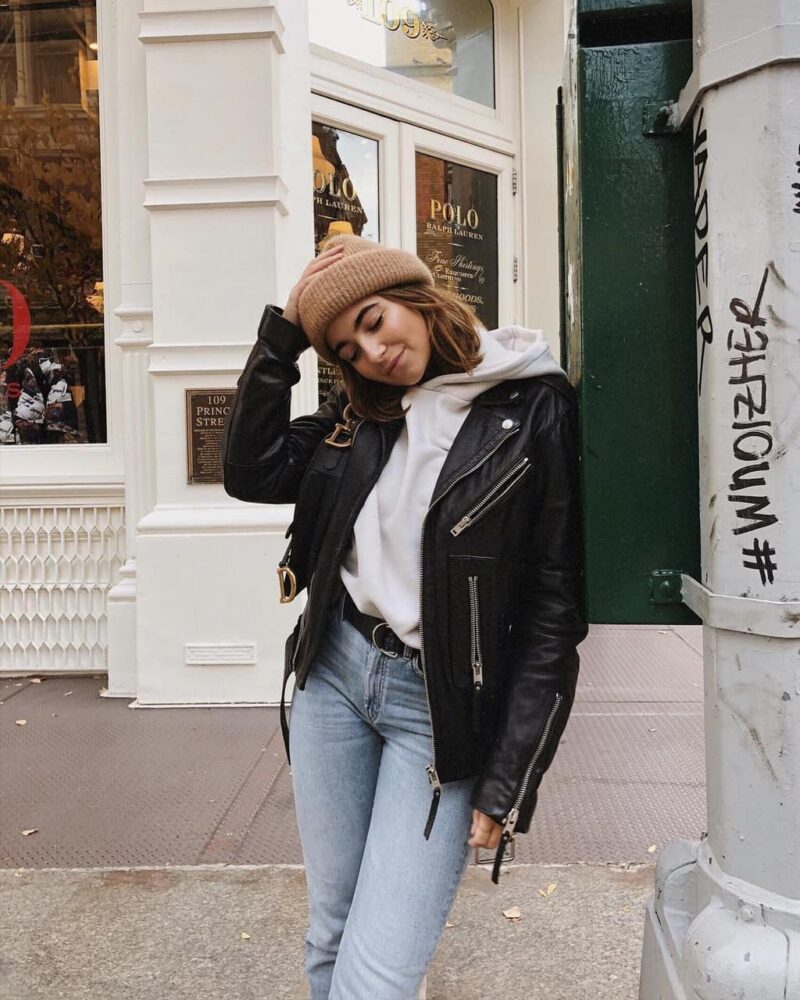 It's time to go all out or experiment with leather attire this winter season. Give your outfit an edgy touch to it by wearing a leather coat or jacket, paired with bleached jeans and a white sweater or hoodie underneath.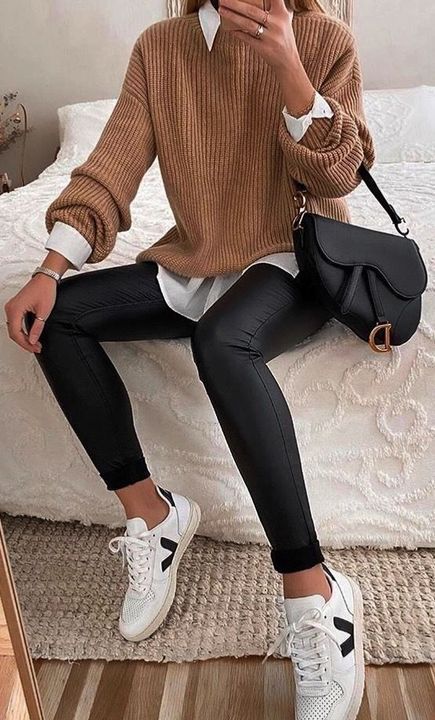 I love this combination of light brown, white, and black. The light brown sweater makes me think of coffee for some reason and instantly gives me a cozy feeling amidst the cold.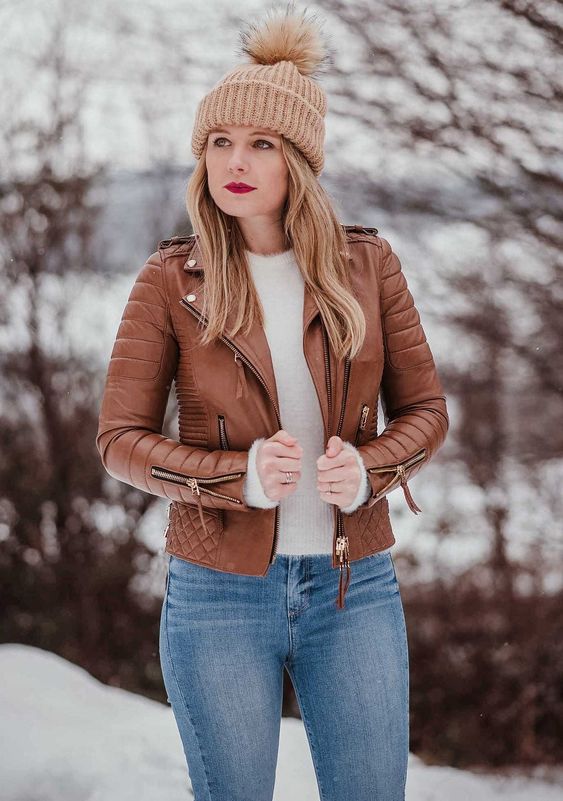 A black leather jacket looks cool and edgy but if you want something softer or more feminine, you can choose to wear a brown leather coat instead! It's just as chic and stylish!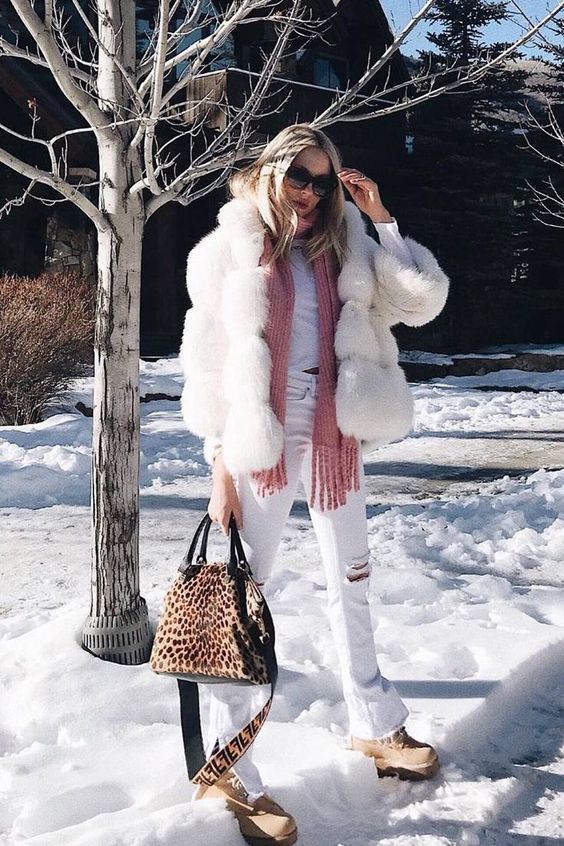 Take advantage of the winter season by wearing your puffiest and coziest jacket for a cozy yet stylish look!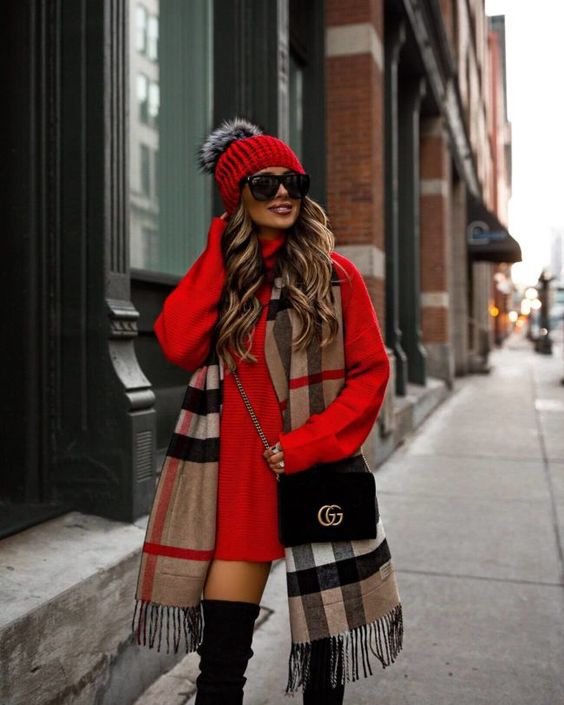 I love the combination of red and neutrals on this look! The red sweater dress really stands out and makes a statement!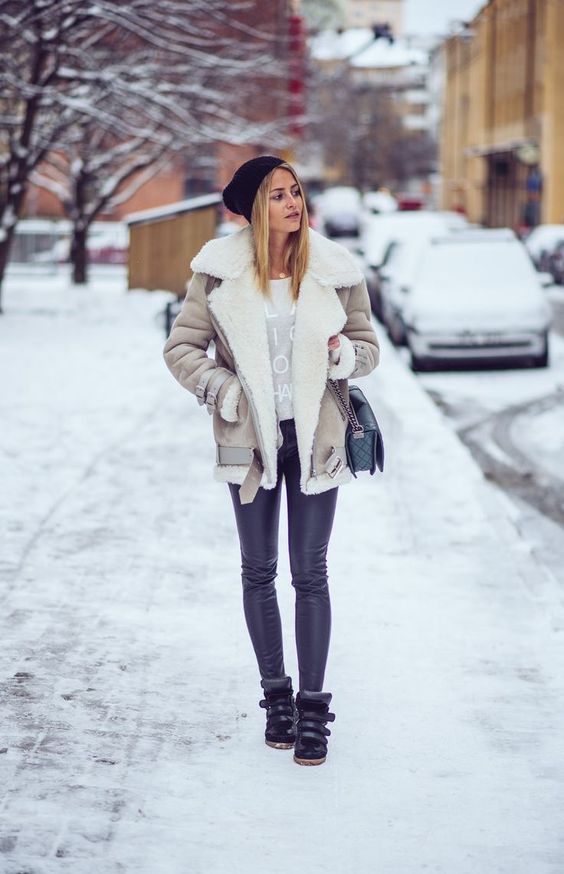 Mix and match contrasting colors to create interesting dimensions and patterns on your winter outfit.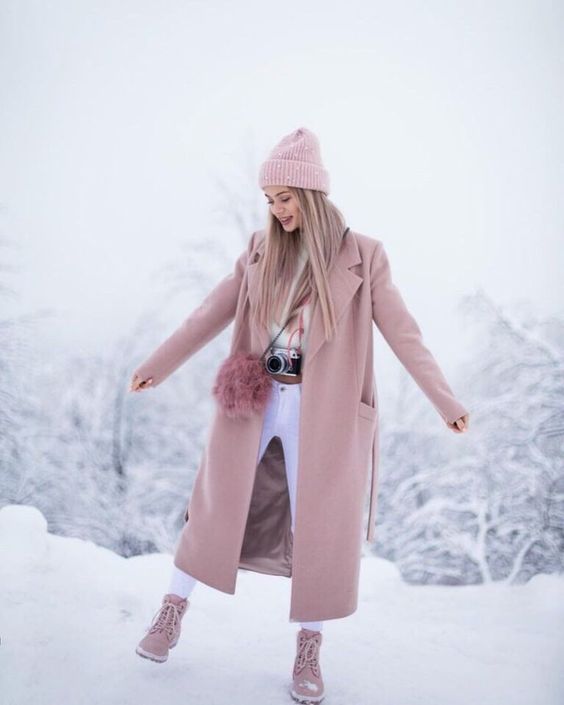 For a rather feminine aesthetic, you can also opt to wear pastel colors like this shade of pink!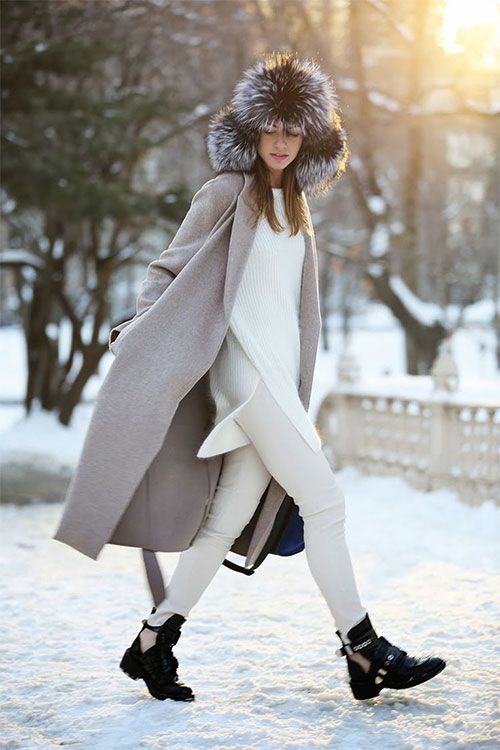 I love the fuzzy winter hat in this picture! It's such a nice and stylish accessory that's going to add more chicness to your outfit.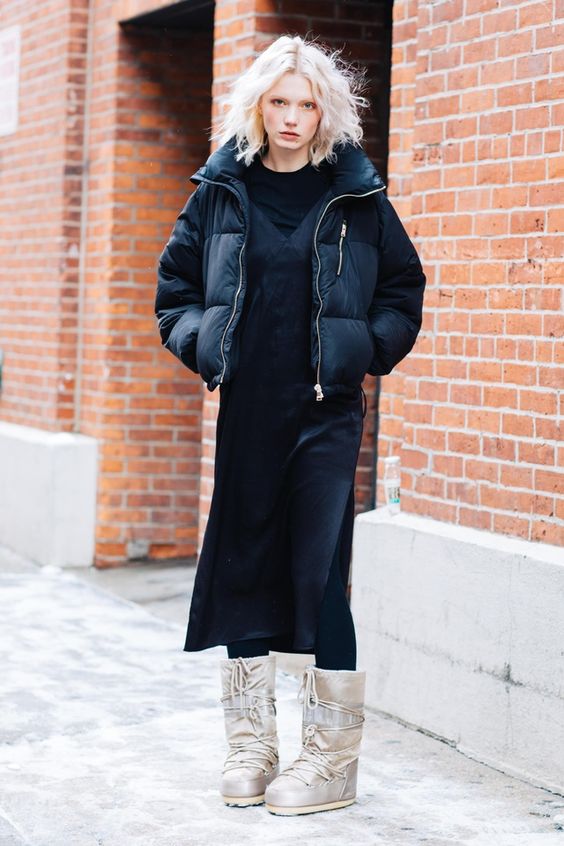 Looking for winter outfits that are a bit edgier? Here's another favorite outfit of mine on this list. I love the layering of the black midi dress and the puffy black jacket.
Break up your monochrome look by wearing contrasting color accents to create unique dimensions on your outfit. This is one of my favorite cute snow outfits for the snow bunny look.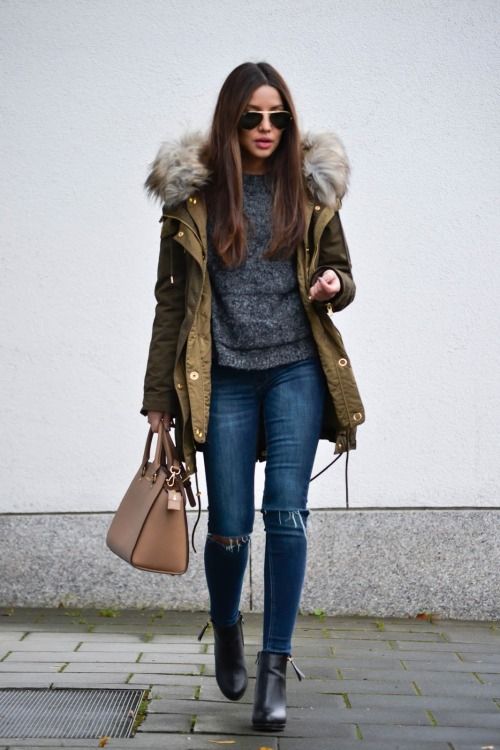 If you want something simple without having to spend a lot of time standing in front of your wardrobe deciding what to wear, here's a straightforward outfit that you can't go wrong in!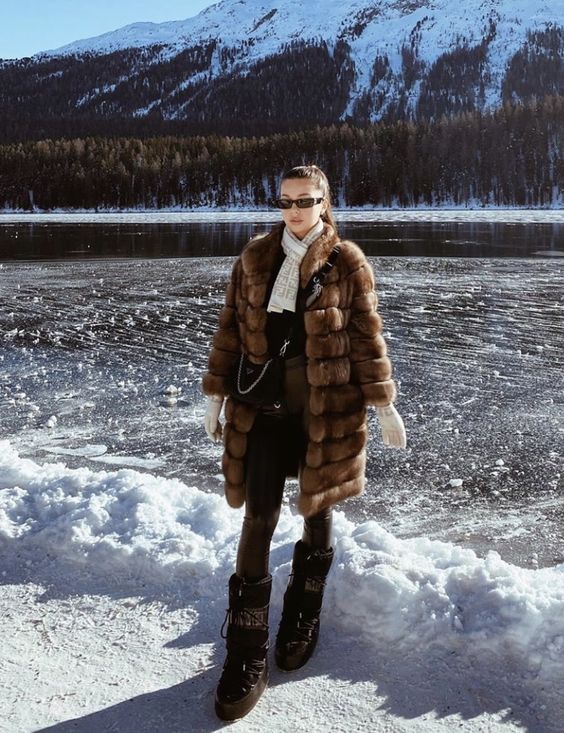 Looking for cute snow outfits that feel Eastern European? This is definitely your jam. I am obsessed with the fuzzy coat in this picture! I can only imagine how soft and warm it is!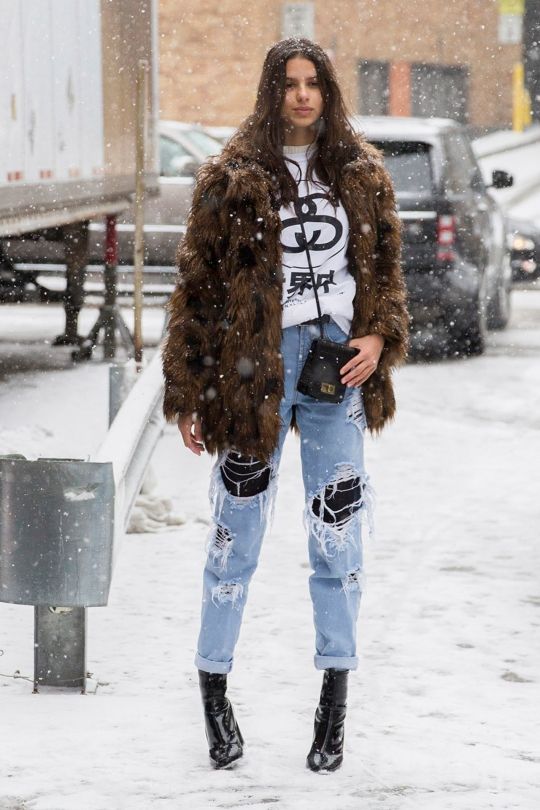 I love the unique color and pattern of this particular fur coat! It's so chic while keeping you warm and comfortable throughout the frigid weather. This is definitely a go-to winter outfit for me.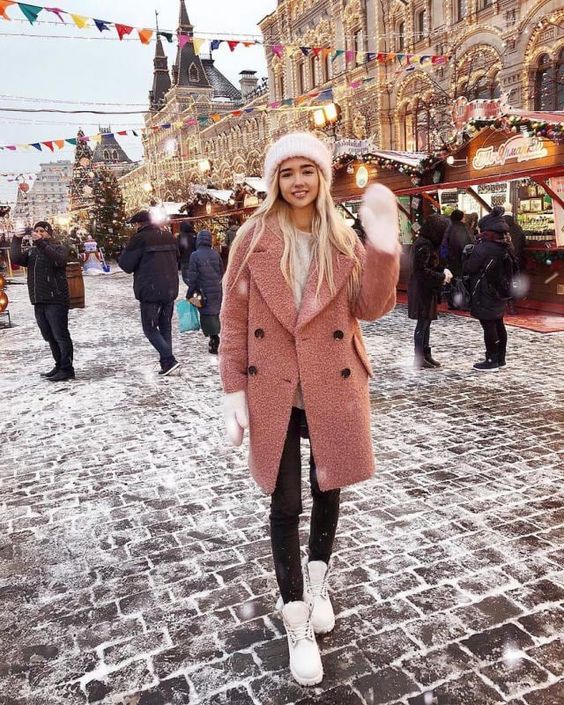 Here's another outfit that styles a pink wool coat that you can take inspiration from!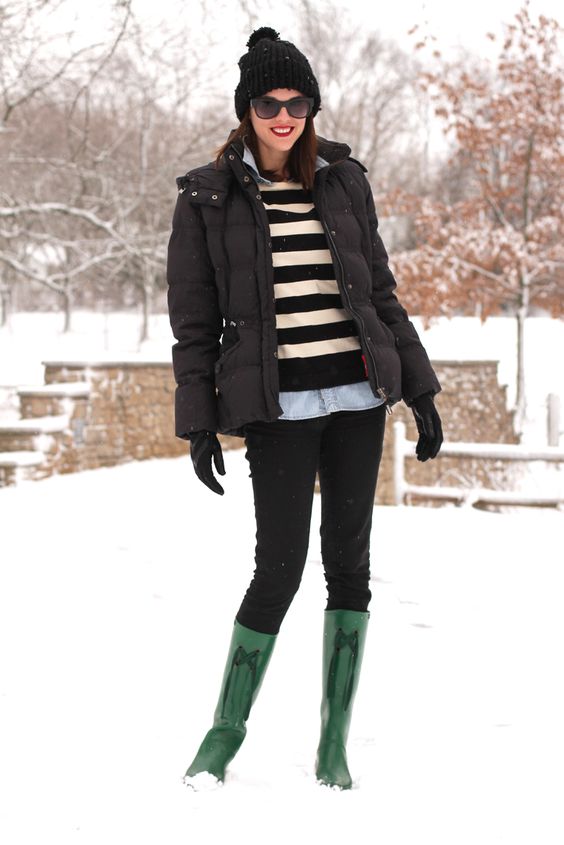 Looking for cute snow outfits that are more preppy? Simple and straightforward, this is an outfit that's understated without being less stylish. It uses widely different colors and patterns that make the overall look unique.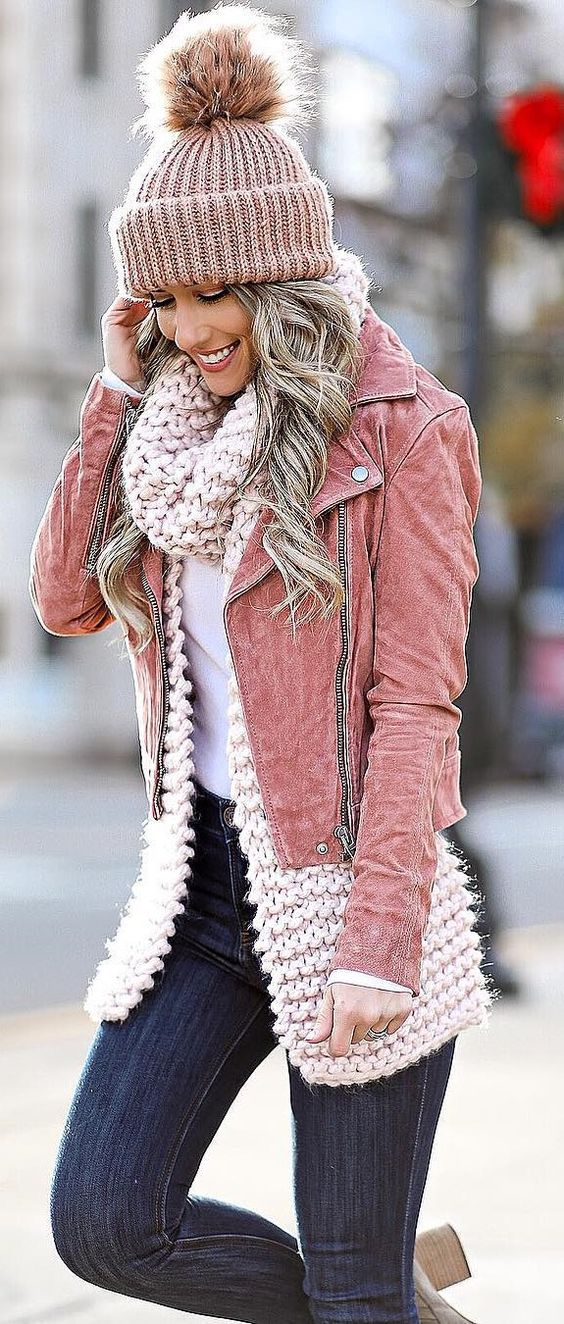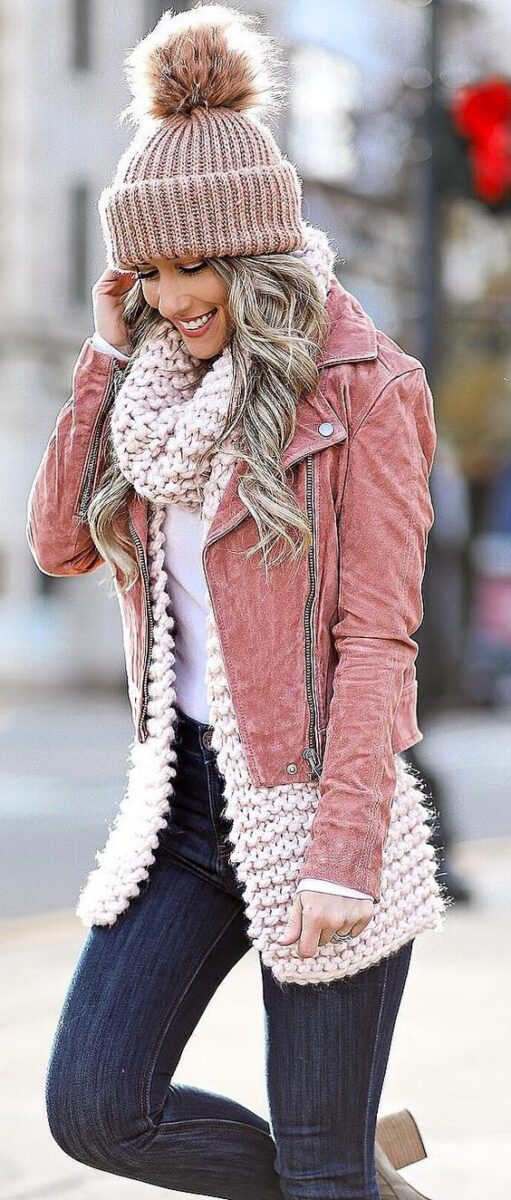 I love this pink denim jacket. It's edgy but yet still so feminine!
Hopefully, these trending and cute snow outfits gave you lots of ideas for how to style your winter wardrobe!