Say goodbye to your usual leopard nail art – it's time to pivot to crocodile nails! Today we're sharing our favorite crocodile nail designs that are trending right now.
If you're tired and bored of doing the same leopard and cow prints for your nail art, then let us present you with the latest animal print that's about to be popular everywhere: crocodile nails!
This trendy design is already everywhere on social media and will most likely soon be on everyone's upcoming manicure appointments. Inspired by the stunning and exotic scales of crocodiles in the wild, this kind of style has not only become a staple on your belts and handbags, but they are ready to be your next nail art of choice as well.
Just like with other animal prints, the crocodile print is super versatile. Any color combination you like could be used, and it will still look fantastic! So if you're still deciding on what nail art to do next for your upcoming manicure appointment, then you should definitely give crocodile nails a try!
Crocodile Nails Designs To Use:
Here are some of our favorite crocodile nails and crocodile nail designs to use as inspiration. Enjoy!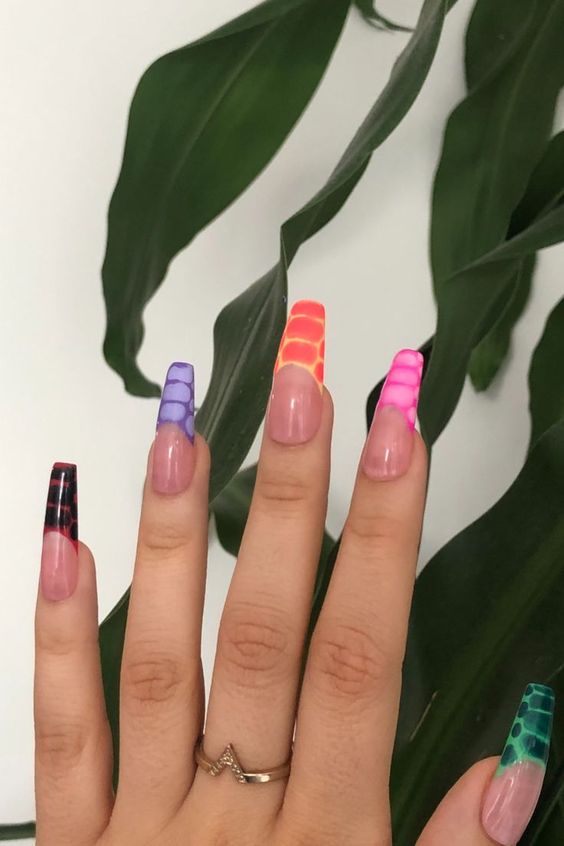 Have fun with your crocodile prints and paint them in every color you like for each nail!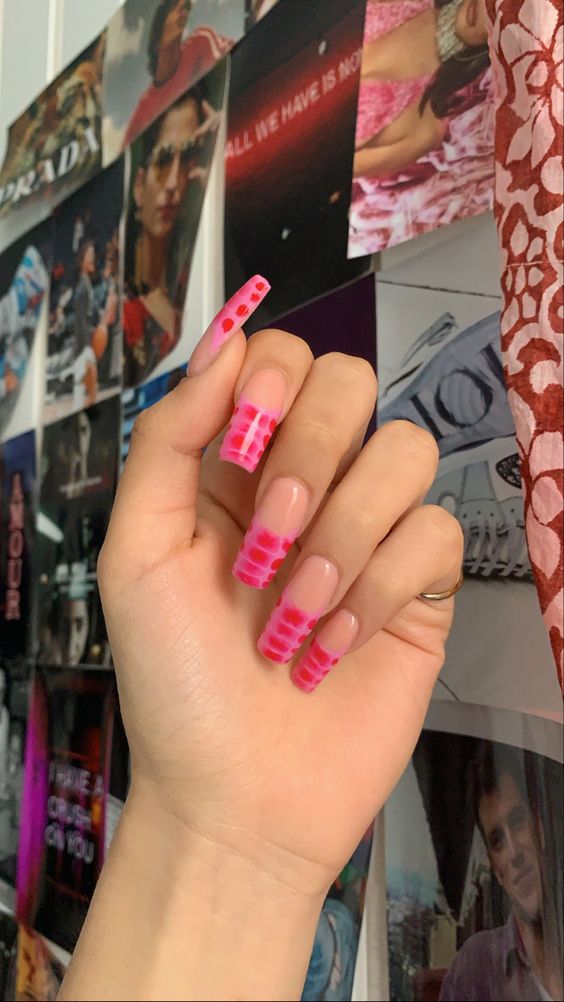 Stay pretty in pink with these overly cute crocodile nails!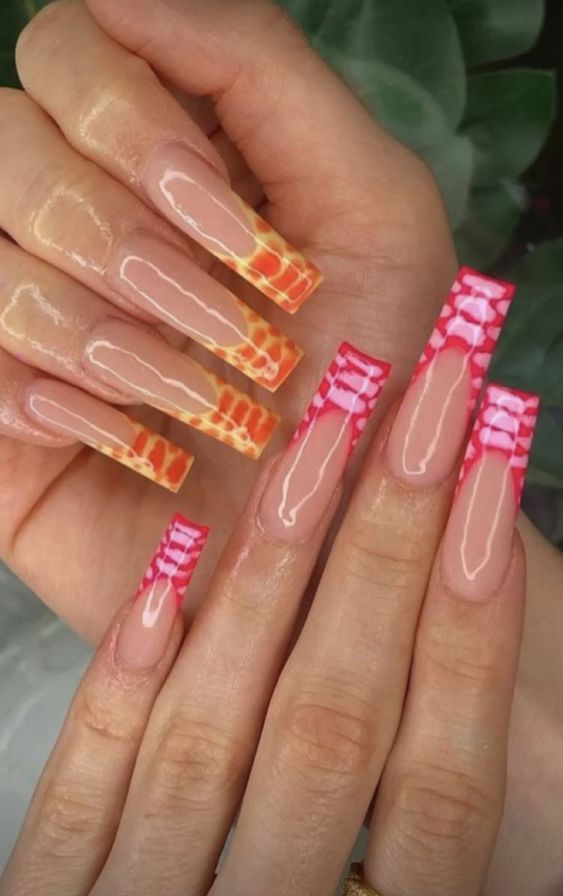 If you don't want to overwhelm yourself with too much pink, you can always alternate your other hand with a different color like this pretty orange crocodile nail art!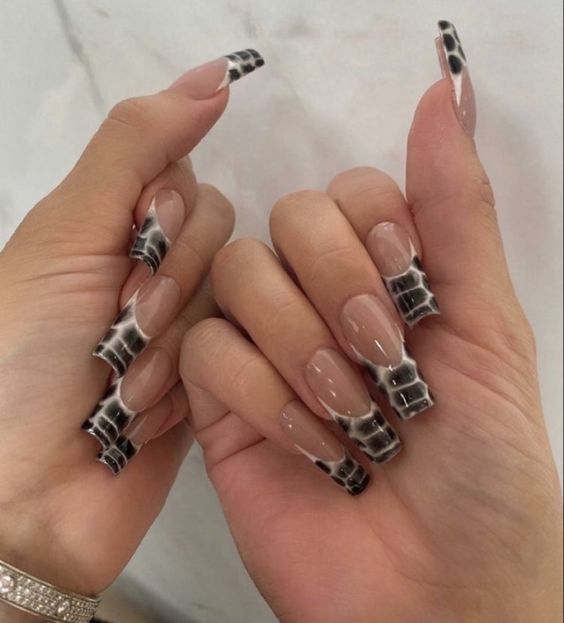 If you don't want to play with too many colors for your next nail appointment, then these classy black and white crocodile nail tips are surely for you!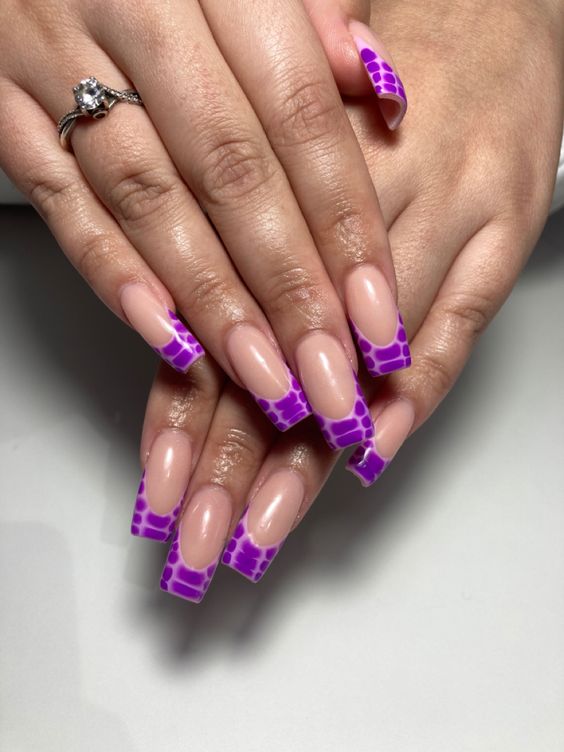 These purple crocodile nail tips are absolutely cute and perfect for the upcoming summer!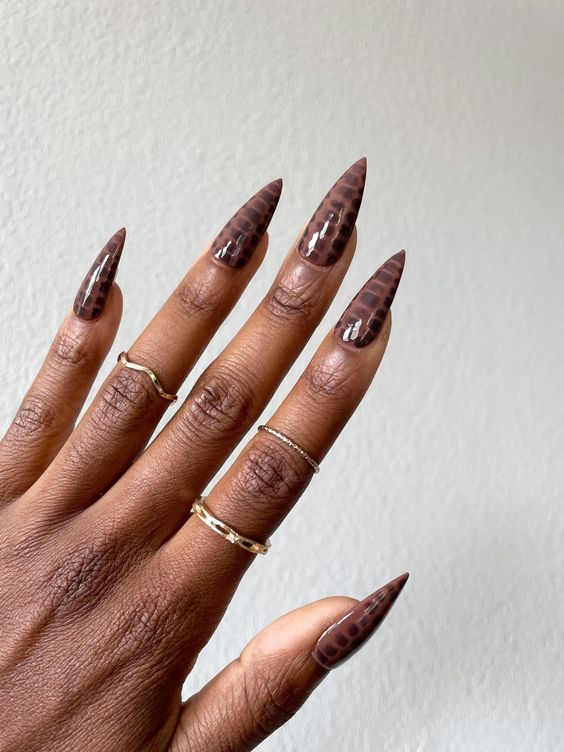 Brown tones are honestly one of my favorite nail polish colors and I'm not surprised they look so gorgeous for crocodile prints too!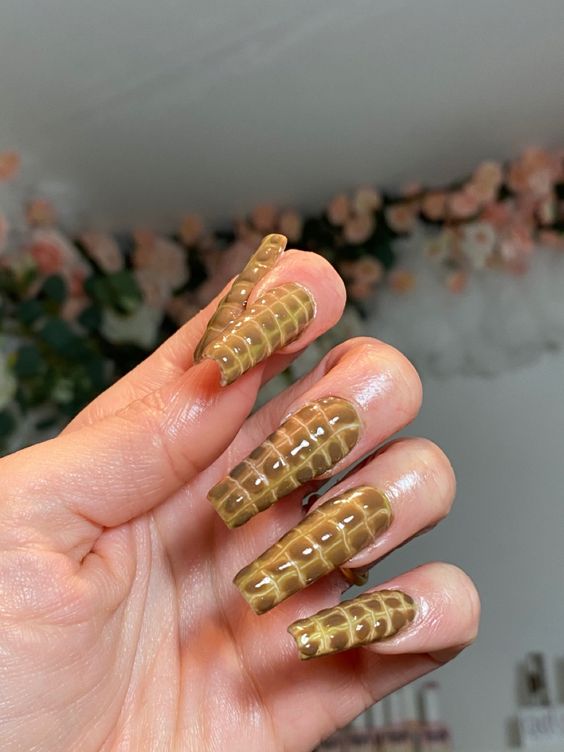 The detail on these gorgeous crocodile nails is absolutely stunning! Definitely worth a try!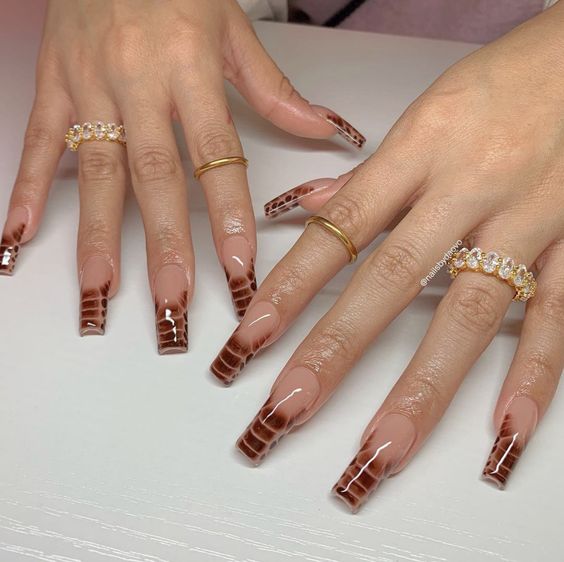 Sophisticated and chic, these coffee-toned crocodile tips are just gorgeous!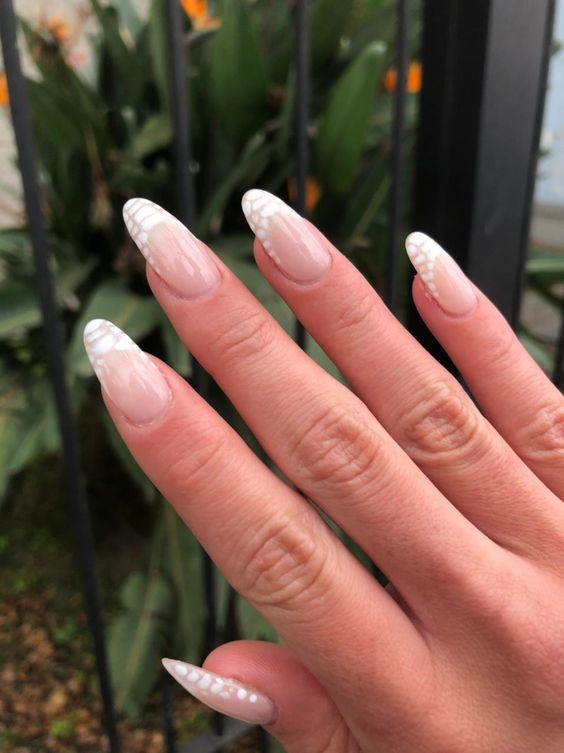 Give the classic french tips your own creative twist by making the white tips into crocodile prints!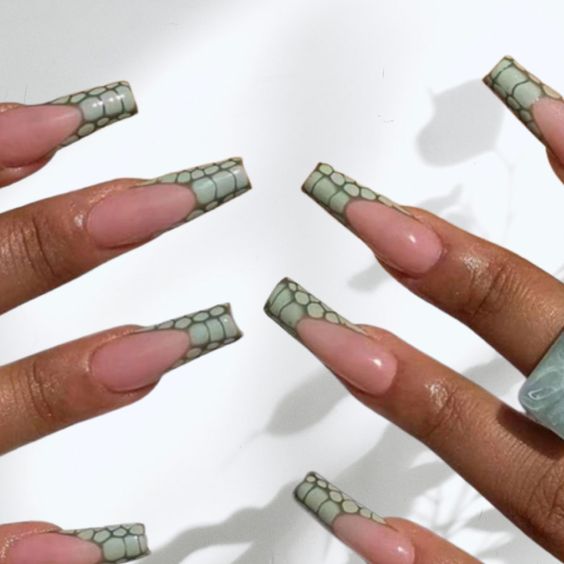 These green crocodile french tips are utterly stunning! I love that the shade used here is a softer, pastel green!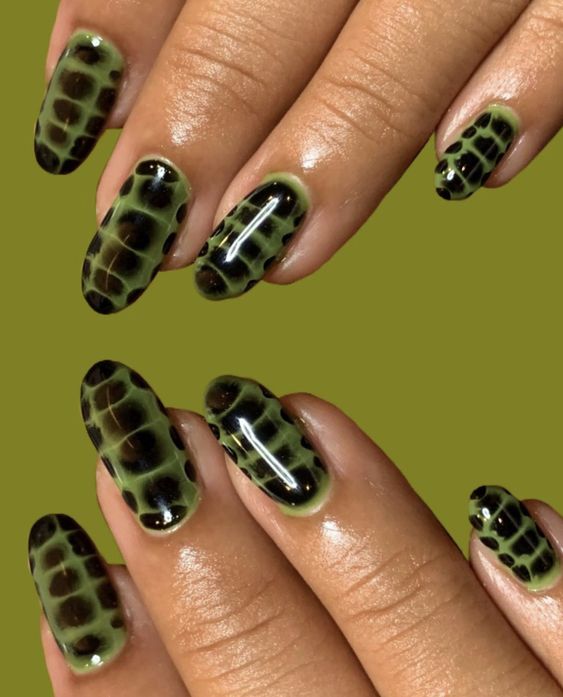 You don't need to always use acrylics to achieve the perfect crocodile nails. Sometimes, you can easily get away with just using the natural length of your nails!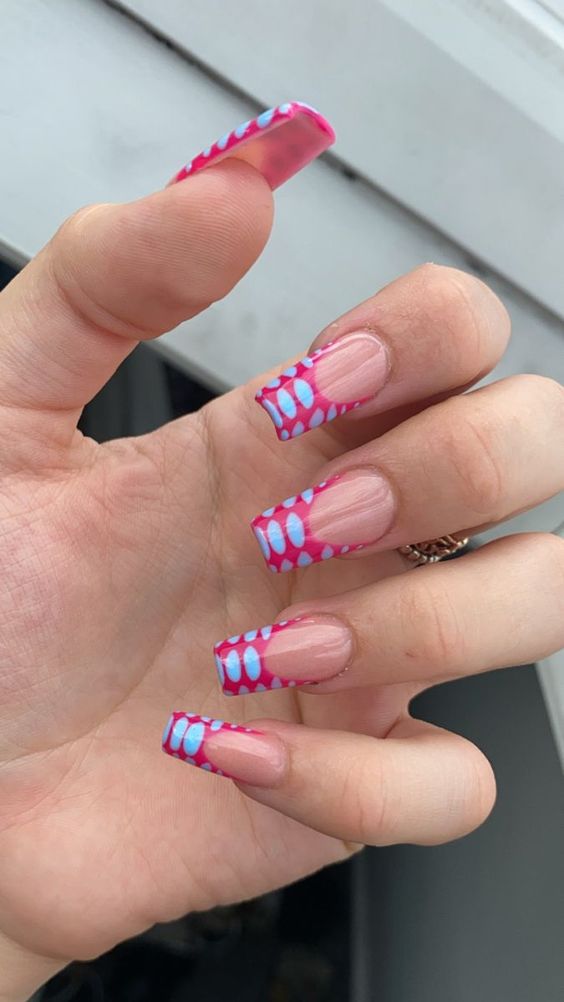 If you still want to keep things girly, these pink and blue crocodile nails are perfect for you!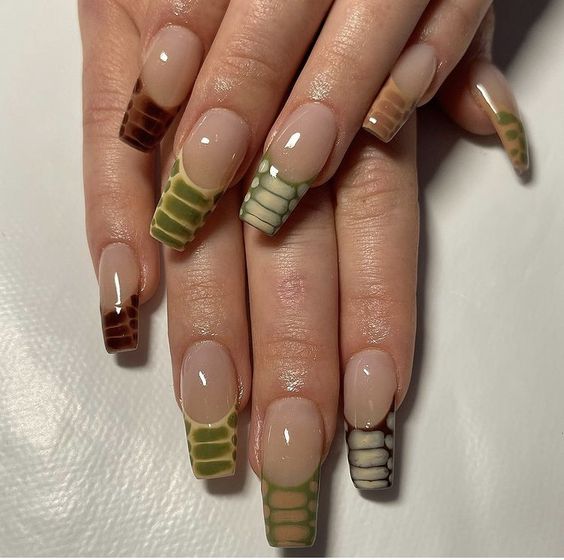 I am totally in love with the colors of these crocodile nails! They remind me of the colors of the beautiful outdoors!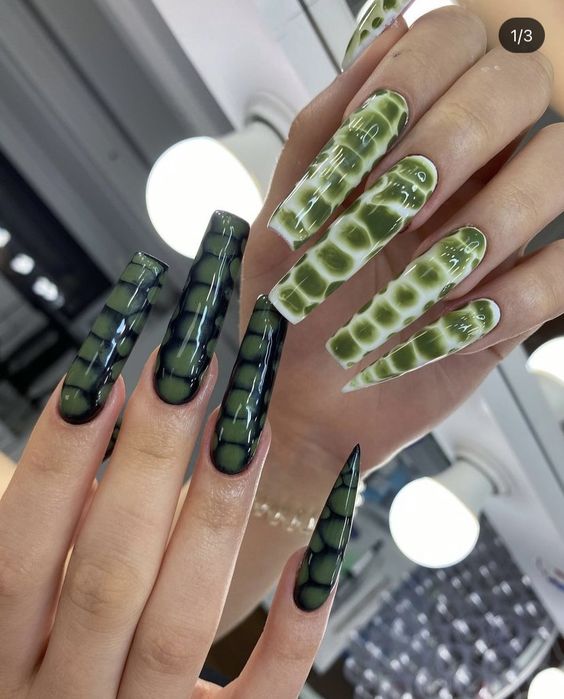 I love the contrast on these crocodile nail designs! The black and white mixed with the greens just look so stunning! Not to mention, the varying nail cuts too!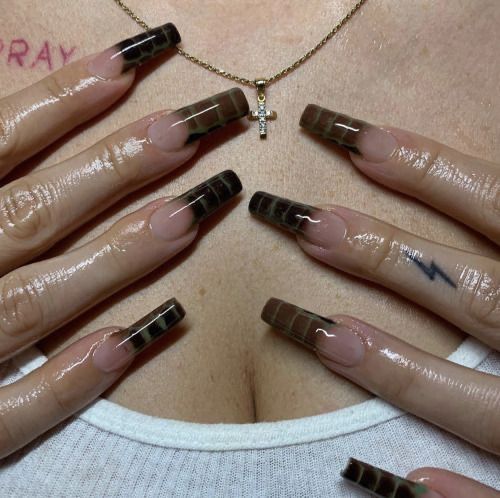 This particular crocodile nail color is so close to resembling actual crocodile skin patterns!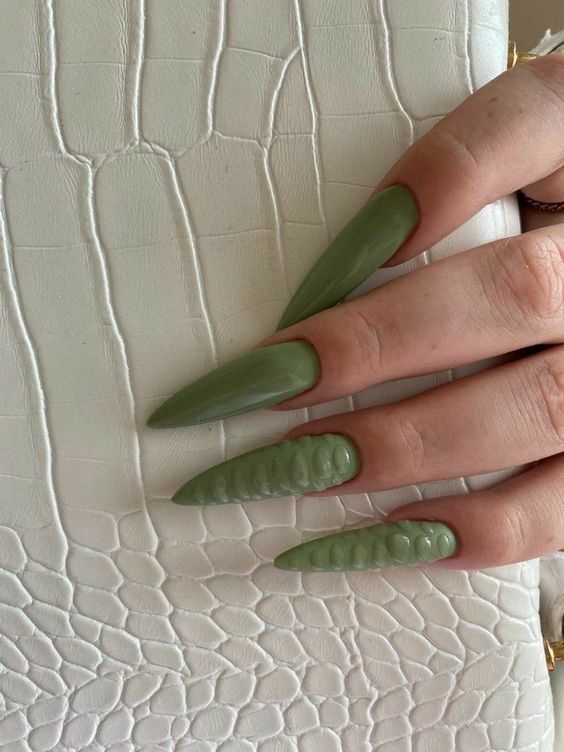 If you're bored of the flat designs of most crocodile nails, then why not get these textured ones that will surely feel like your nails are actual crocodile skin?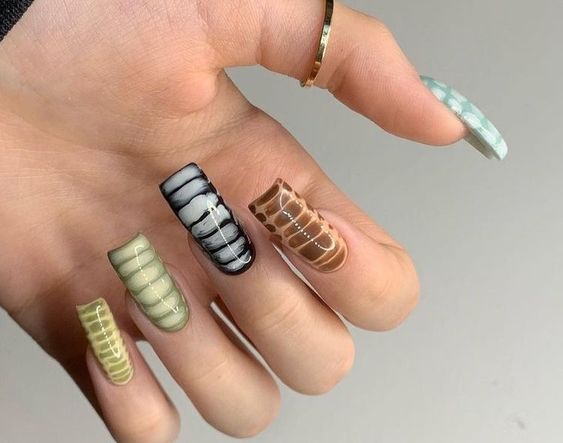 Why stick with one crocodile nail color when you can have 5 different color combinations for this particular design?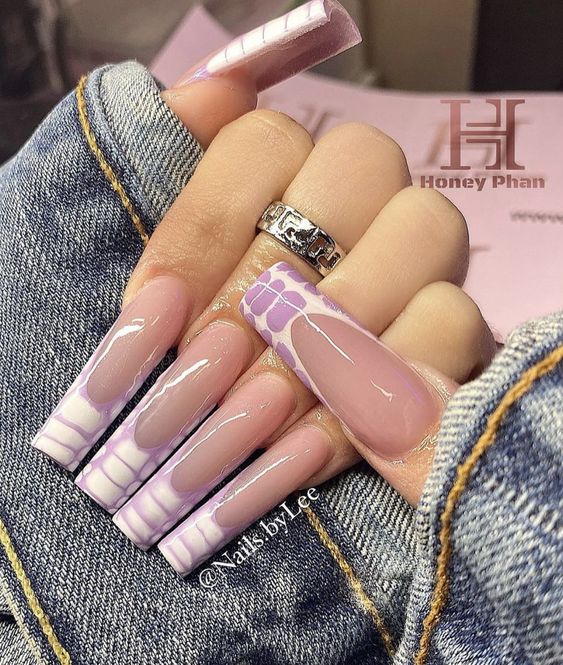 If you're going for a softer look for your crocodile nails, picking pastel colors like this lilac design is definitely something you should consider!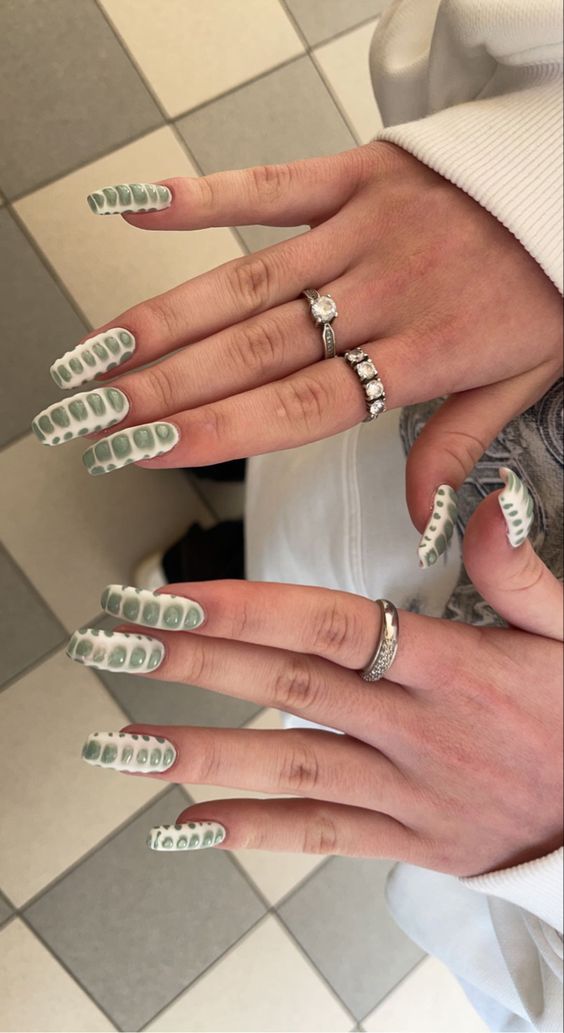 Here's another option for you if you're still looking for a more textured design for your crocodile nails!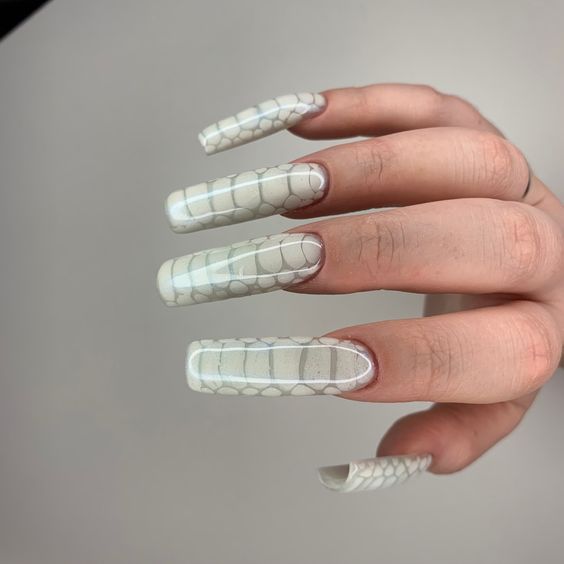 This particular crocodile nail design seems to give off that clear and transparent feel that adds a layer of sophistication to your manicure!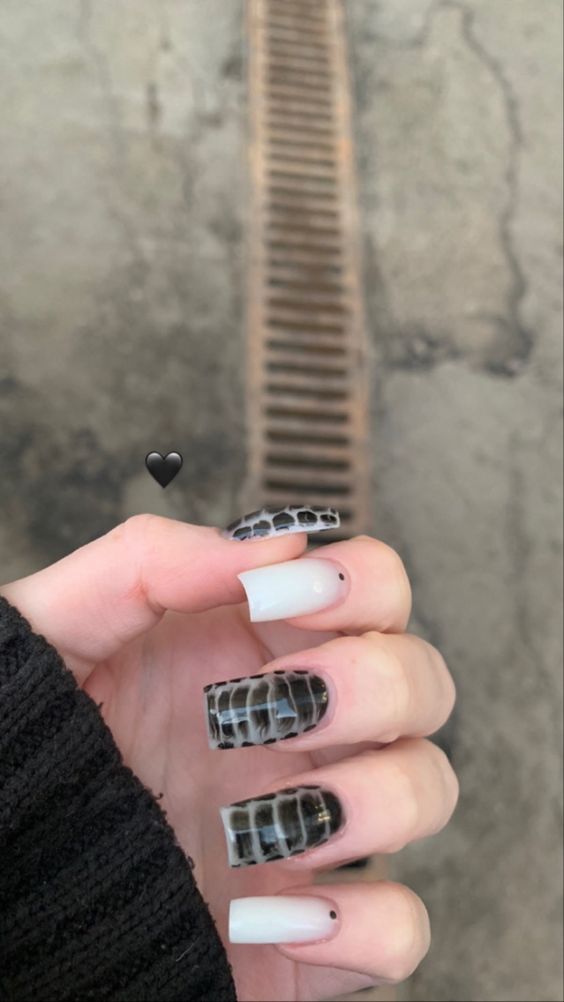 You can also do alternating nail designs with your crocodile nails by putting plain solid colors on your other nails to make them stand out!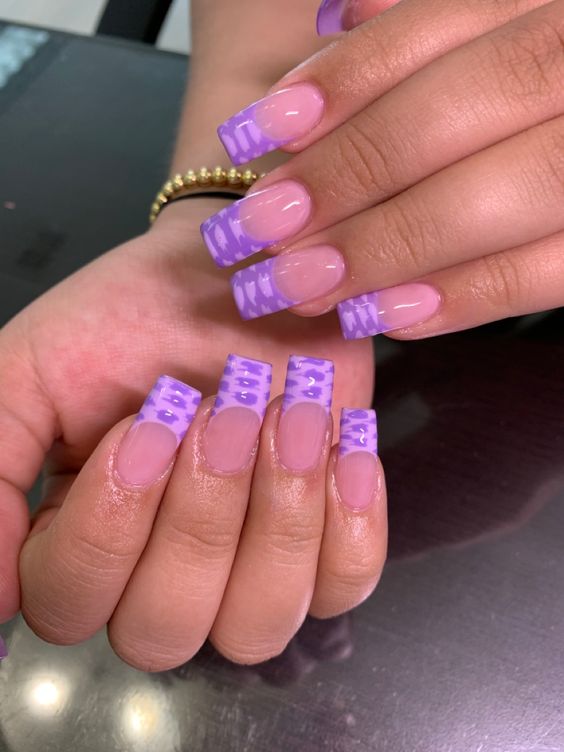 It's probably quite obvious by now that I love purple and violet hues and even with crocodile nails, they still look so perfect! Just look at the pretty contrast of dark and light purples on these nails!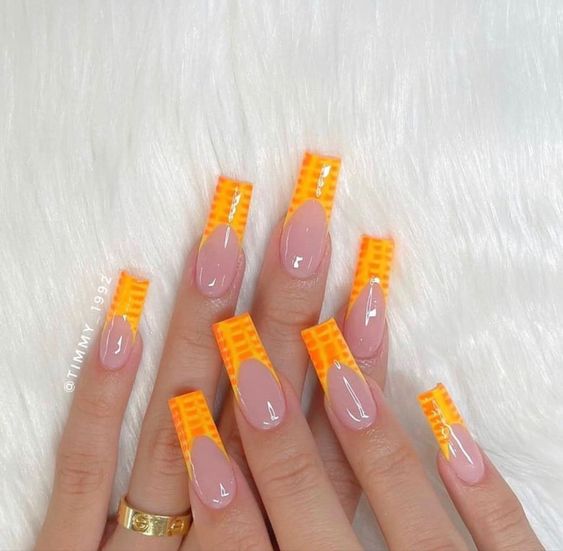 These orange crocodile nails are beautiful! So bright and perfect for the summer!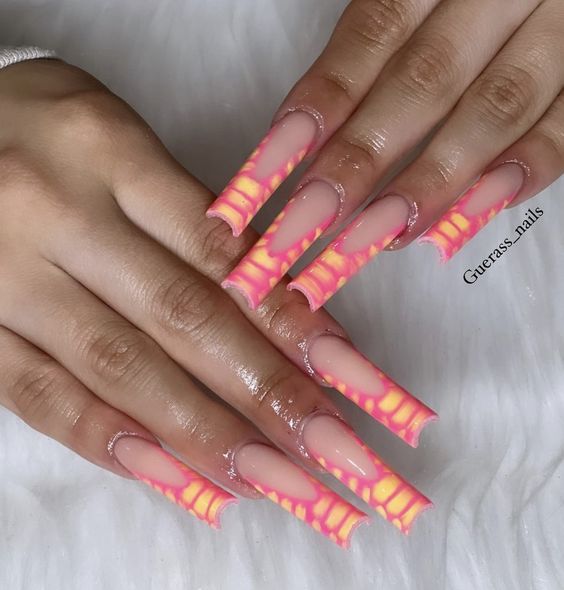 Another crocodile nail color combination that gives off those summer vibes is these yellow and pink designs!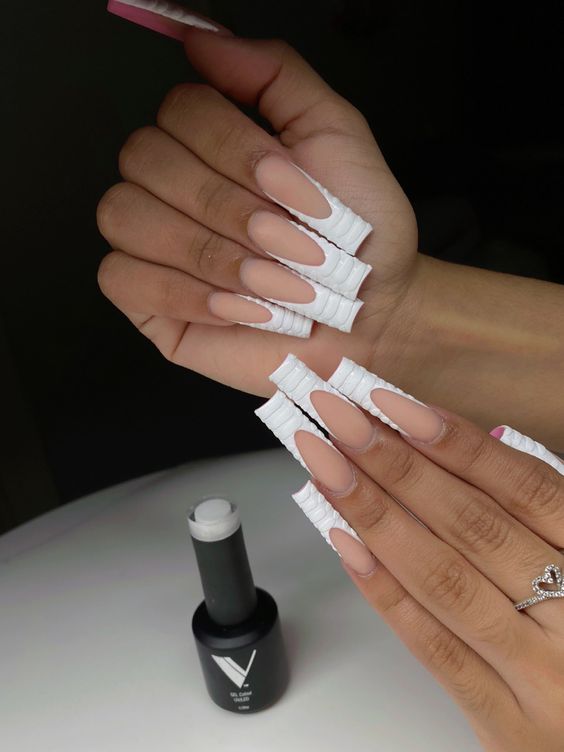 Surprise your friends with these gorgeous white crocodile nails that are hiding a pretty, pink color underneath!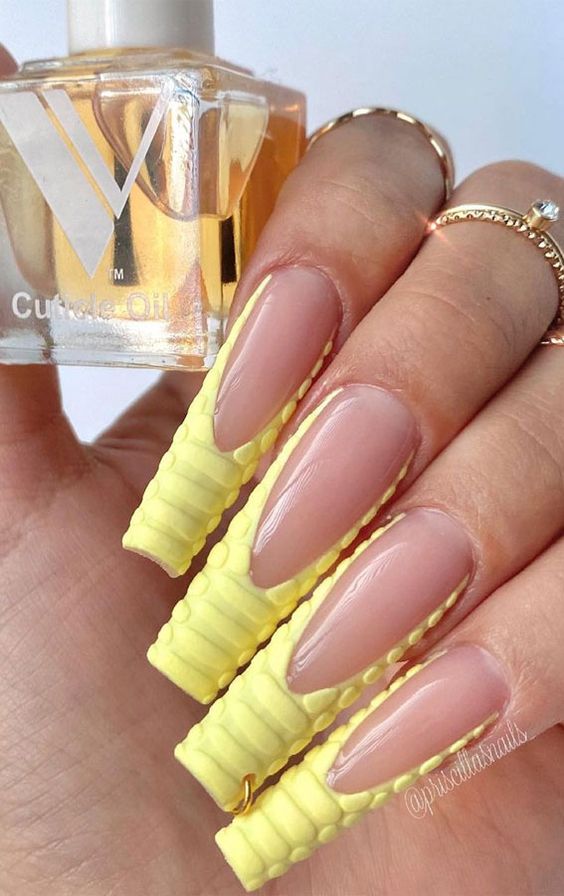 Who knew a pastel yellow could go so well with a crocodile nail print? This looks absolutely beautiful!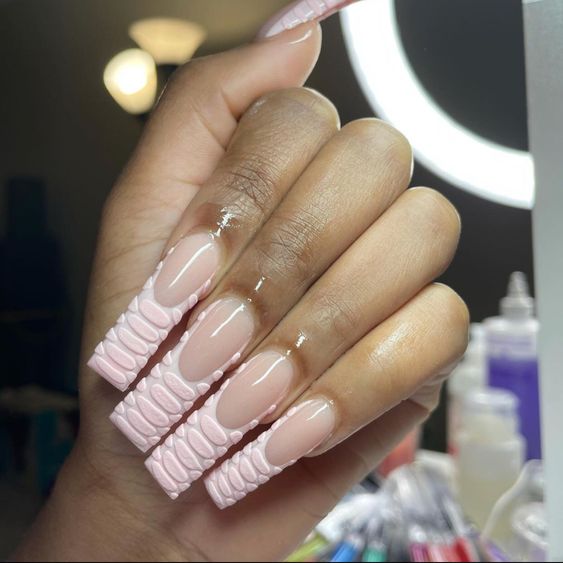 Another pastel color to consider for your crocodile nails is this pretty pink!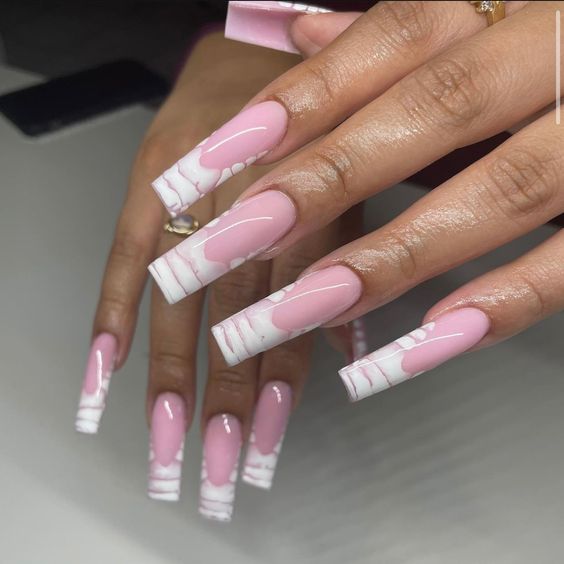 White and pink crocodile nails will surely show off your more feminine side!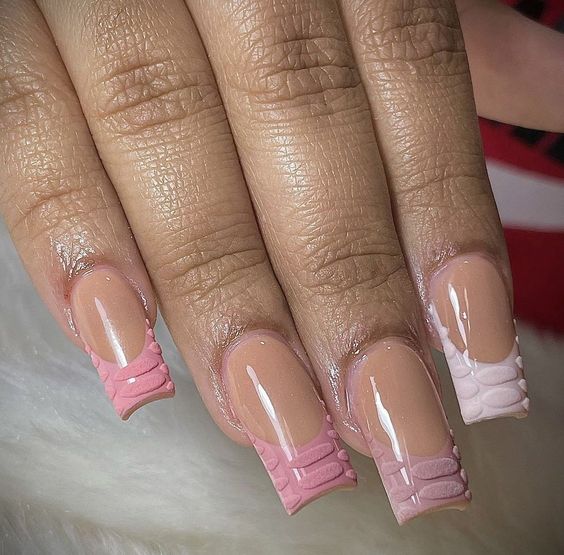 You can also opt to use different shades of pink if you don't want to stick with just one color!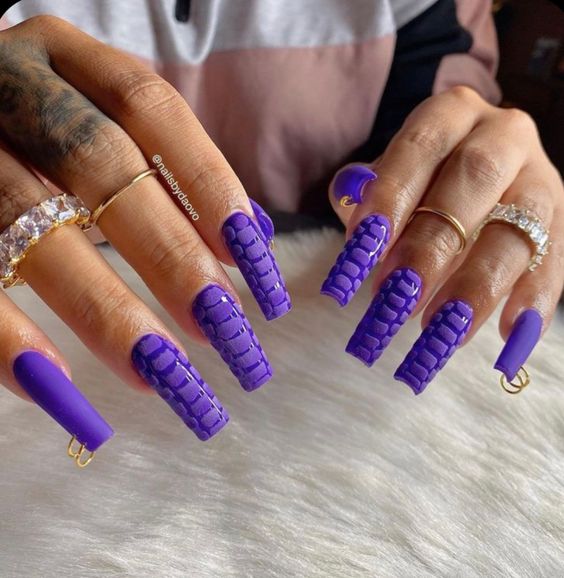 Make your nails the center of attention with these deep purple crocodile nails!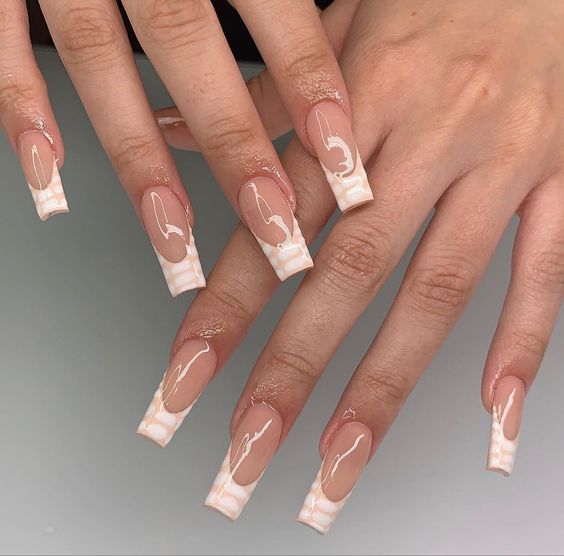 If you're looking for more subtle crocodile nails, then this color combination of beige and white could be perfect for you!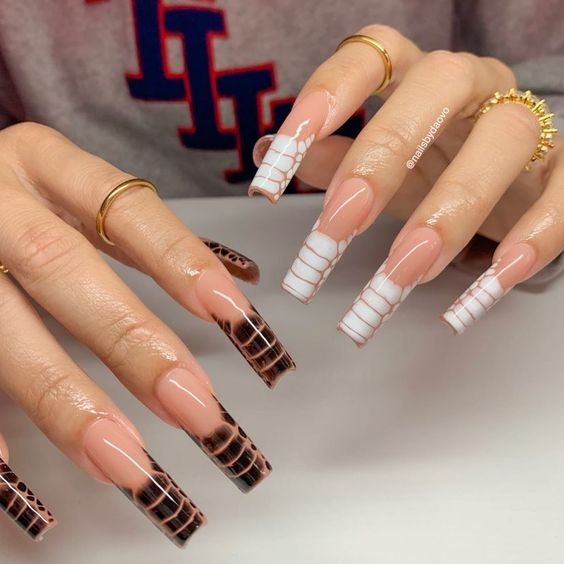 Express different sides of you by using both dark and light colors on your crocodile nails!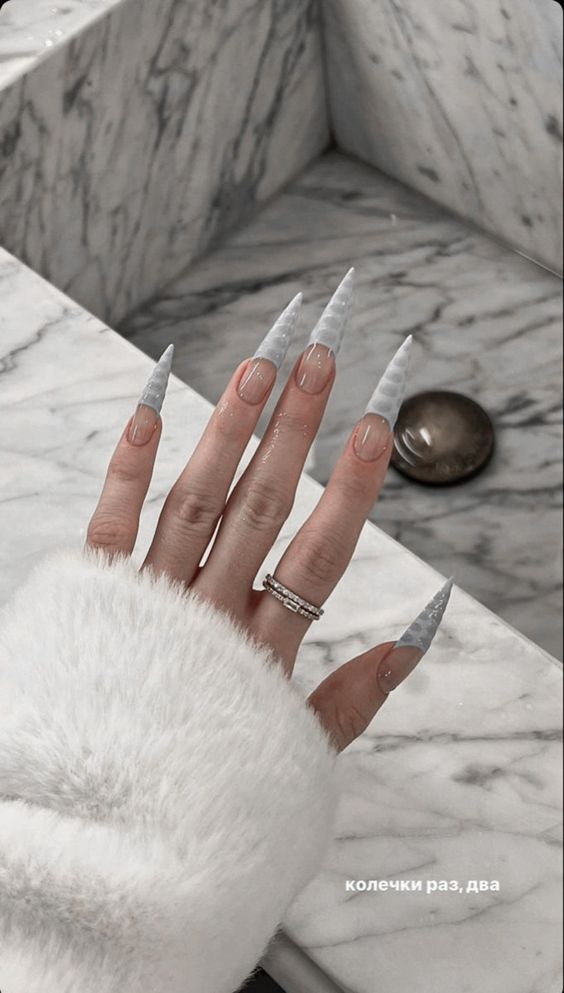 Make things icy this winter season with these clear and grey crocodile nails!
These hot orange nails with black scales are definitely going to keep things hot for you!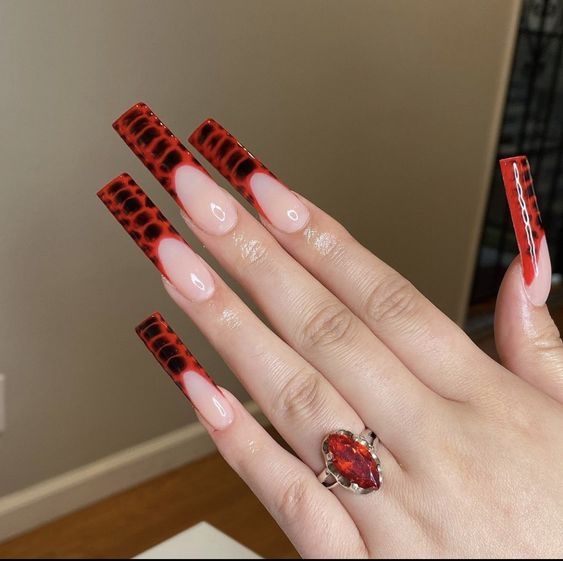 Another color combo to sizzle up your days is these red and black crocodile nails!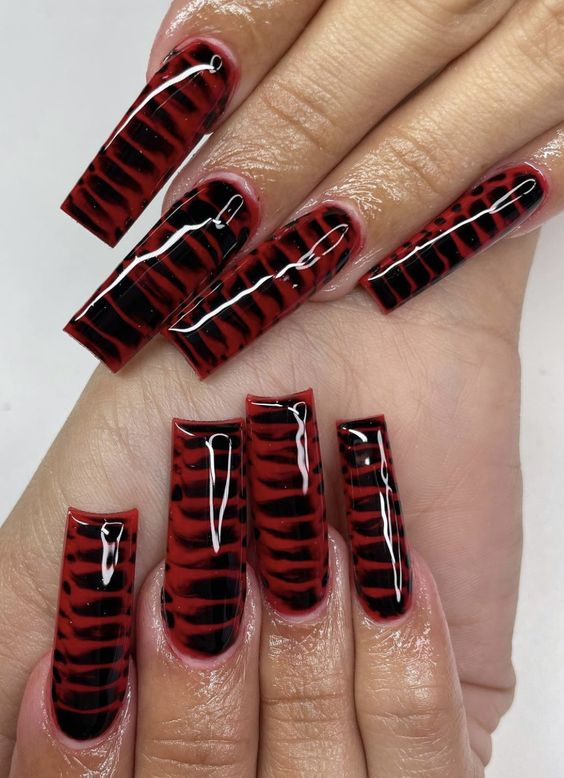 If you want more than just designing your tips with crocodile prints, then this black and red pattern across your whole nail is a must-try!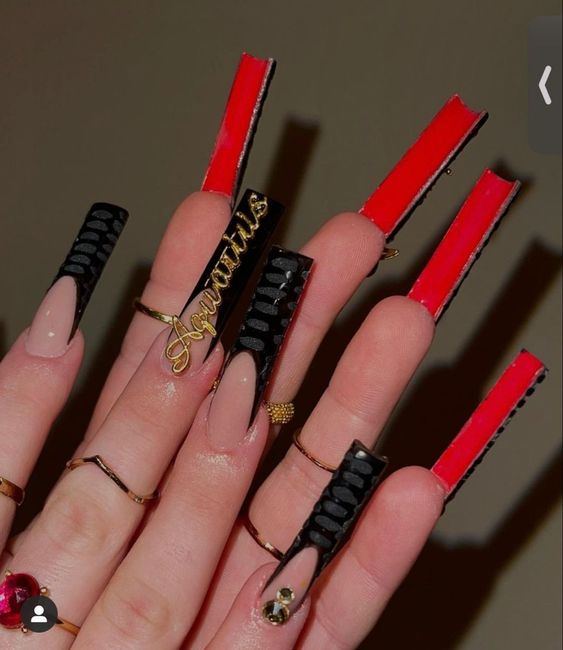 If you're a fan of Louboutins, then why not emulate the same style to your nails? You can choose a classy, all-black crocodile print for your outer nails and color their inner parts red!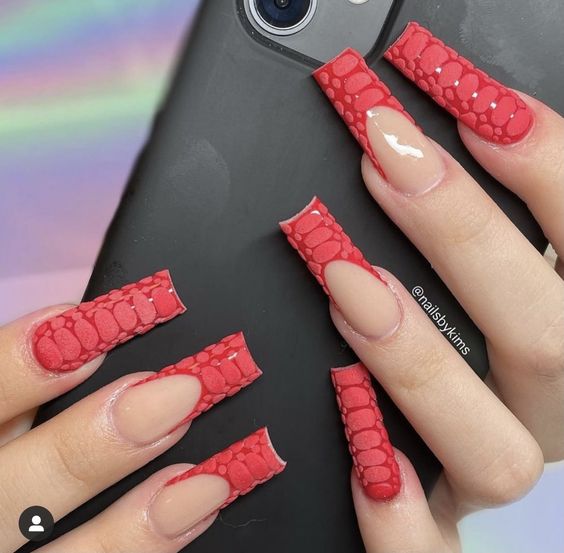 These fiery red crocodile nail tips are just so gorgeous! I want them on my nails now too!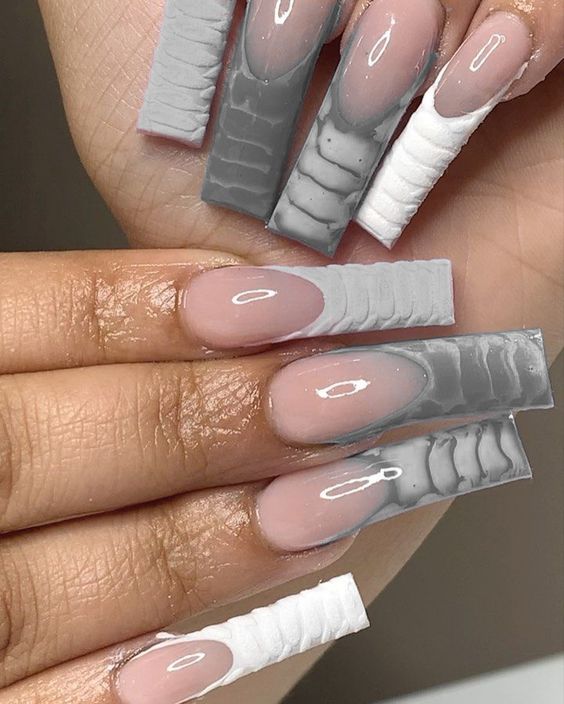 Looking for some nail inspo this upcoming winter season? These white and grey crocodile nails could be your next manicure!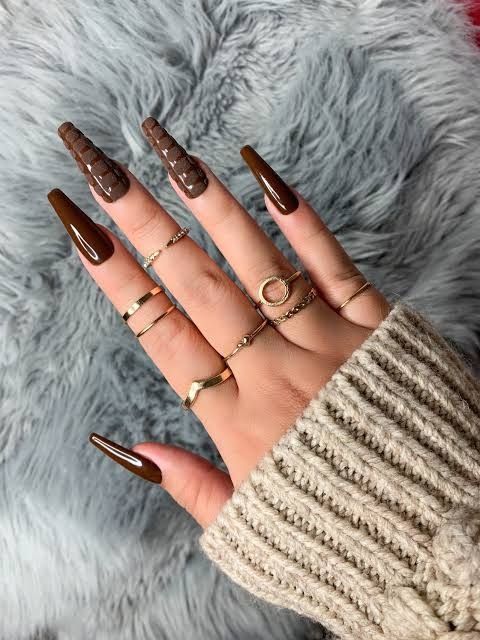 Perfect for fall are these chocolate brown crocodile nails! It gives off those moody yet cozy vibes that are just so perfect for this season!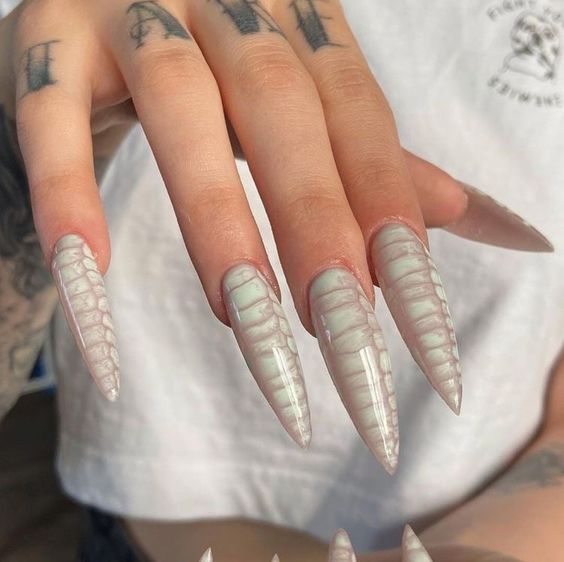 These glossy white nails look so pretty and iridescent!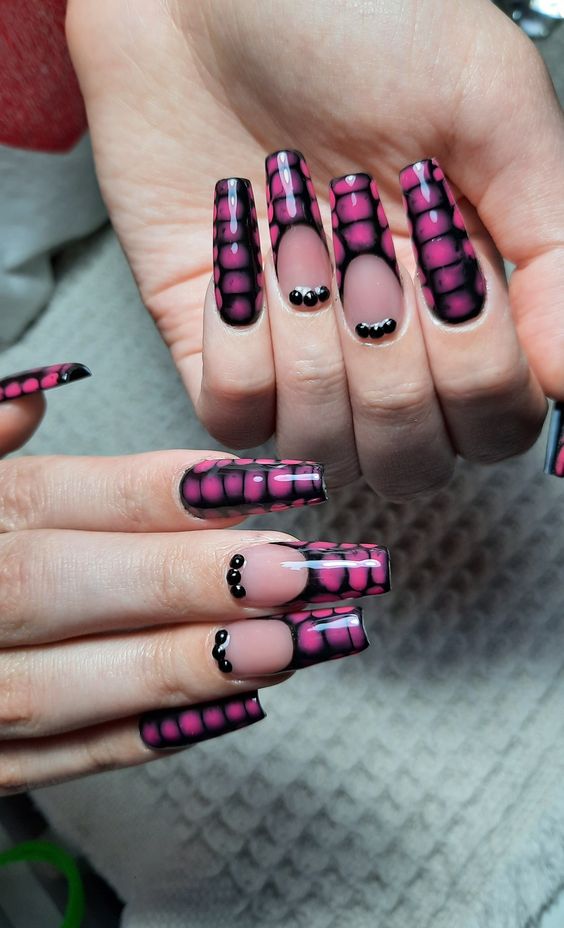 Show off your edgy side with these black and pink crocodile nail tips!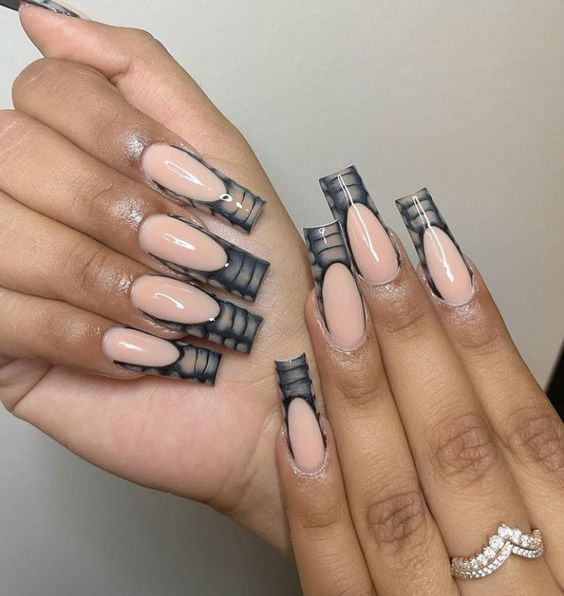 Chic and edgy, this combination of black and skin-tone colors just really gives your crocodile nails a classy feel!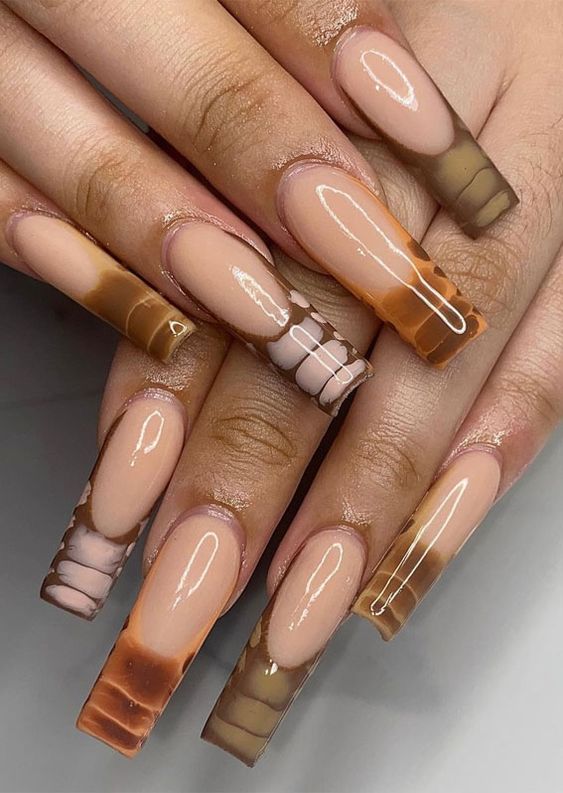 These earth-toned crocodile nails are so gorgeous and perfect for the fall season!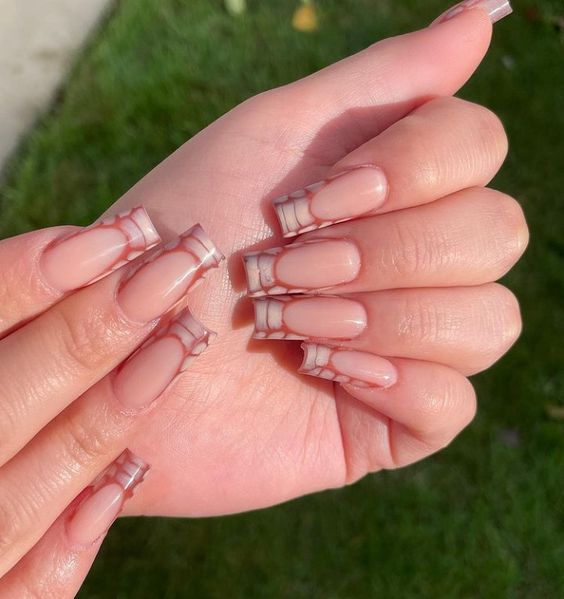 These nude crocodile nail tips are not just pretty, but they're also great if you're looking to keep things subtle and natural.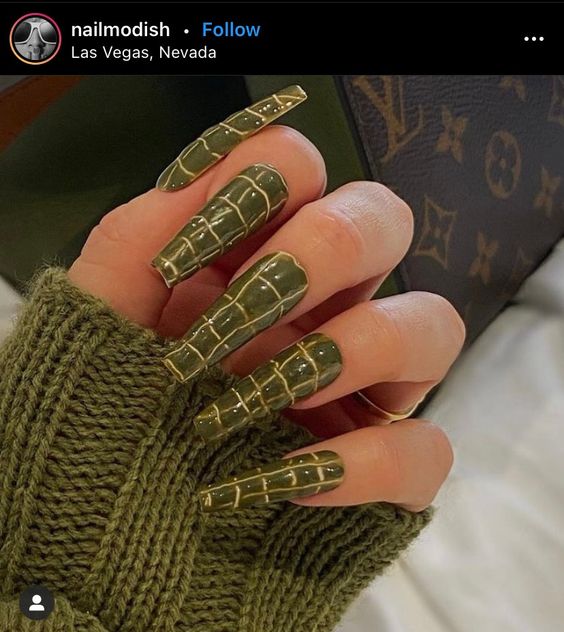 These crocodile nails are probably your quintessential design of this trendy animal print! Down to the colors and texture, this is just perfect!