This year, Christmas tree nails are all the rage! Whether you're looking for simple nails with an abstract Christmas tree or more in-depth holiday floral on your nails, any manicure with Christmas holly or evergreens is super trendy.
Today I'm sharing my favorite Christmas tree nail designs. You're sure to find a nail design here that you love!
Ways To Do Christmas Tree Nails:
Some Christmas tree nails are super easy (I just did the abstract squiggle look with lots of success at home) while others are more complicated and are best left to the professionals. Check out the photos below and see what looks feasible to you.
Regardless of the design you choose, make sure to check in with your nail technician ahead of time to ensure that they can accomplish the look you want.
If you opt for press-on nails, you can always cut and file them yourself to fit the current nail shape trend. I like to buy press-on nails or nail stickers on Etsy, but I use this glue to get them to stick for a good long while.
In fact, Etsy has some really trendy nail options right now for Christmas tree nails.
Christmas Tree Nail Inspiration:
Note: I tried my best to link the source of these photos, but some are from really obscure places/I couldn't find the original photographer. Please contact me to add more specific credit or for immediate photo removal.
Here are some of my favorite Christmas tree nail art designs! Enjoy!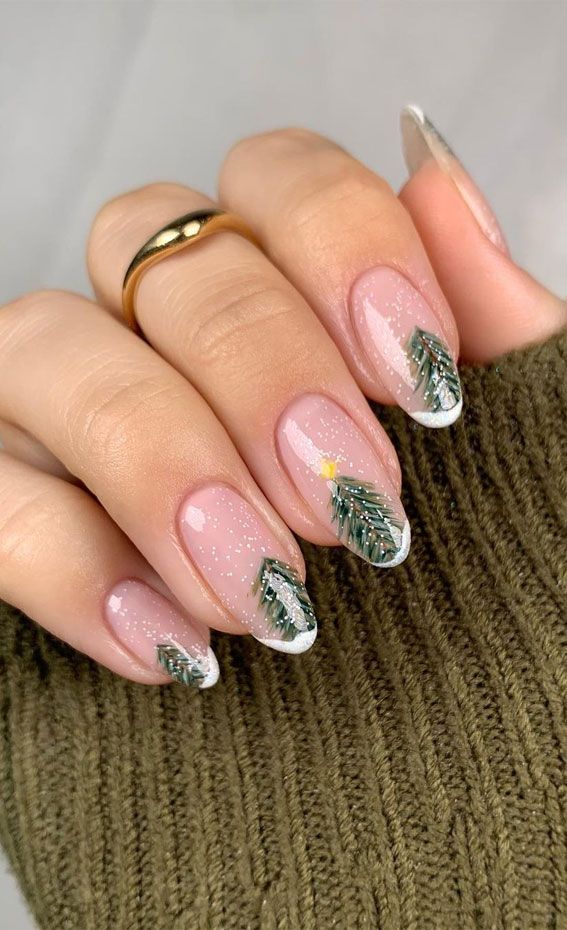 Starting off with a dainty Christmas tree nail art, this manicure will give you those beautiful winter wonderland vibes this holiday season. You can even use the classic French tip to look like freshly fallen snow under the pine trees.
If you're looking for a quick and easy manicure, this minimalistic and abstract Christmas tree nail art might be something you'd want to try out!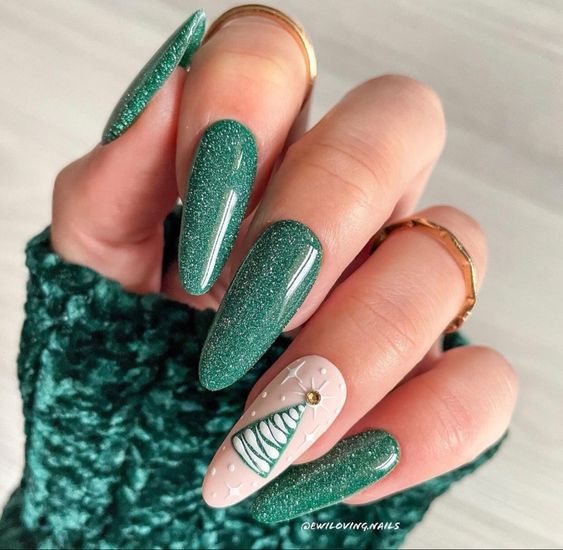 If you don't have a lot of time on your hands to do some intricate nail art for the holiday season, you can also opt to use a press-on nail for your Christmas tree-themed manicure. You can even just use one accent nail for the nail art while the rest you can paint with some glittery green polish.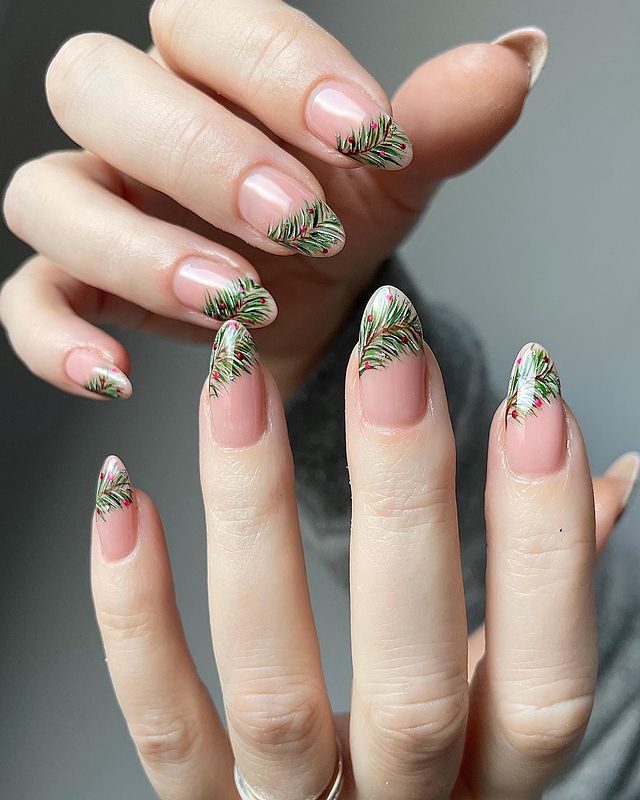 Spice up your usual French tip and try doing some evergreens and hollies instead for your tips to make it a lot more festive! Your nails are sure to be an eye-catcher at any Christmas party or gathering!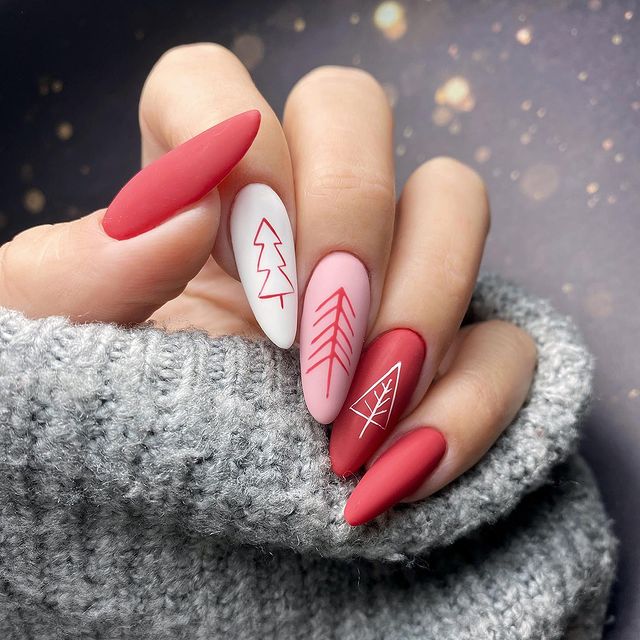 Try something out-of-the-box with your color palette instead of the usual greens and reds. By using different shades of pink and a white accent nail, you'll get this feminine and totally unique Christmas tree-themed holiday manicure!
So dainty and delicate, this minimalistic Christmas tree is not only beautiful but it's also easy to do! All you need is a natural base coat and a steady hand to recreate those dainty evergreens. If drawing the trees yourself might not be feasible, you can opt to use stickers instead for a quick finish.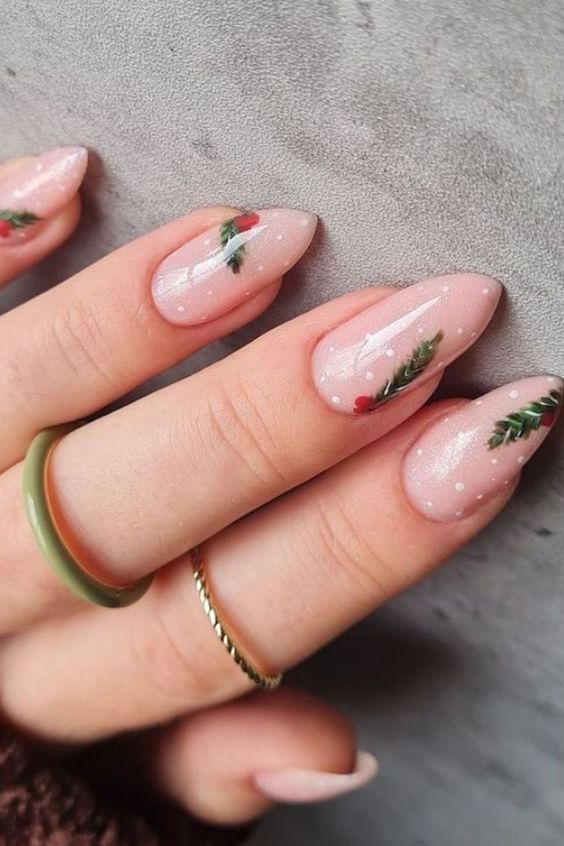 Here's another minimalistic Christmas tree-themed nail art. You can use a nail dotting pen to emulate snow falling around your base coat and use another pen to draw on those lush evergreens for some accent nail art.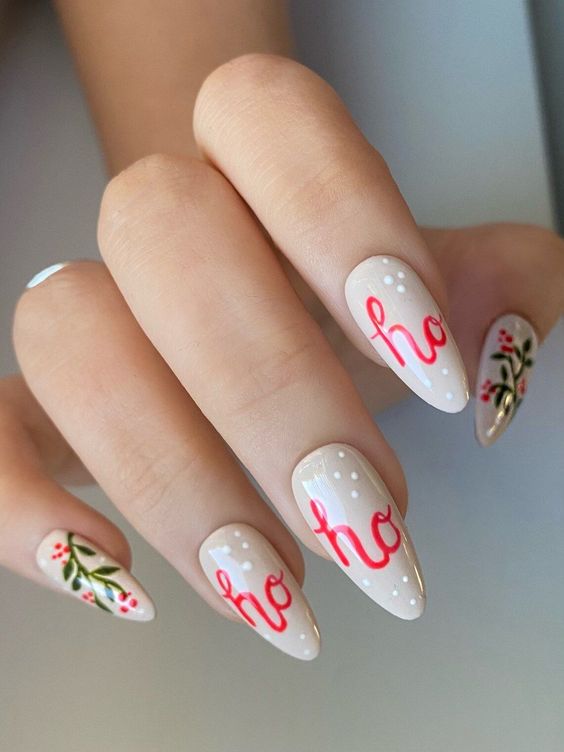 Use classic Christmas elements along with your Christmas tree-themed nail art like Santa Claus' iconic "HoHoHo" to amp up the holiday spirit in your manicure. Now things are surely even more festive!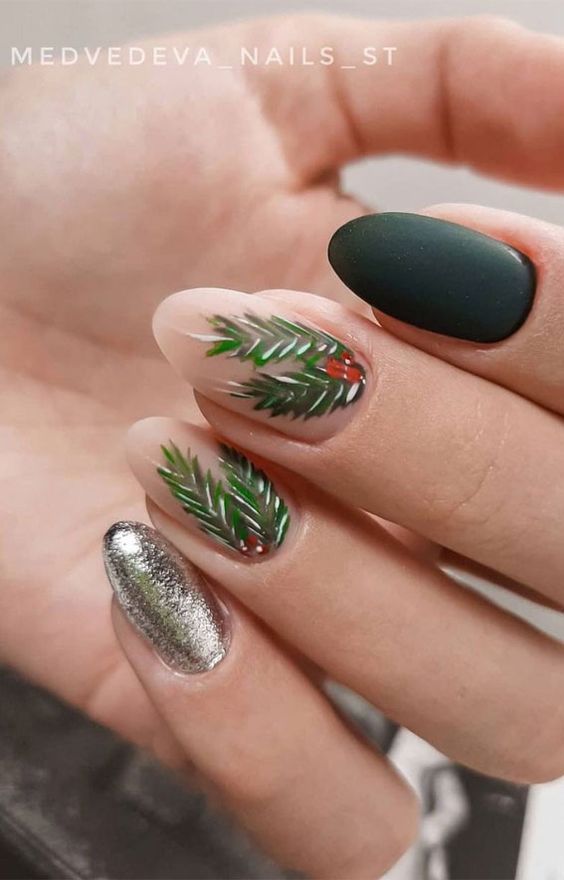 Try mixing and matching different nail accents this holiday season for your Christmas tree nails. Aside from the classic evergreens and hollies, you can also do a glittery silver base coat as well as a gorgeous deep, matte green for an even more festive feel!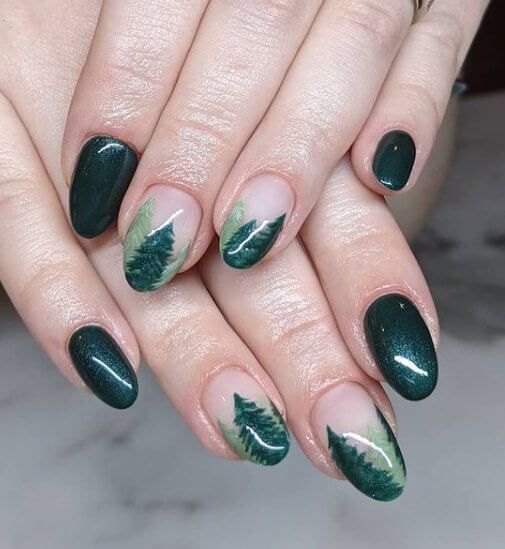 Get into the all-green color palette this Christmas season for the ultimate festive nails! All you need is a shimmery green base coat for most of your nails then use a more natural base for your accent nails. Afterward, you can use a nail drawing pen to recreate those gorgeous and lush pine trees.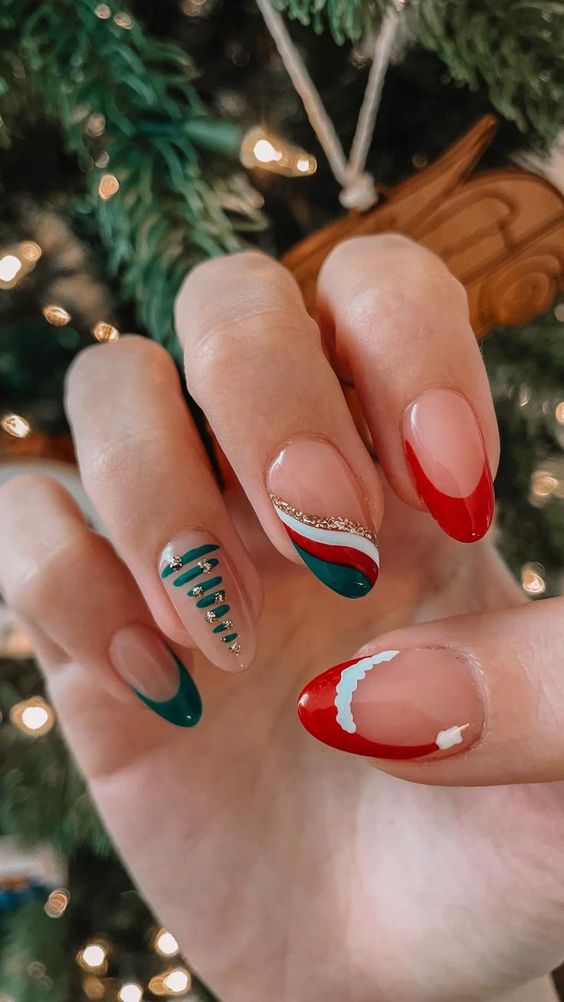 If you're not yet feeling the festive mood, then you surely will once you recreate these classic Christmas nails! It's alright if you can't do an intricate Christmas tree, you can certainly get away by just drawing a few squiggly lines using green polish. Then you can continue this abstract process with other Christmas elements.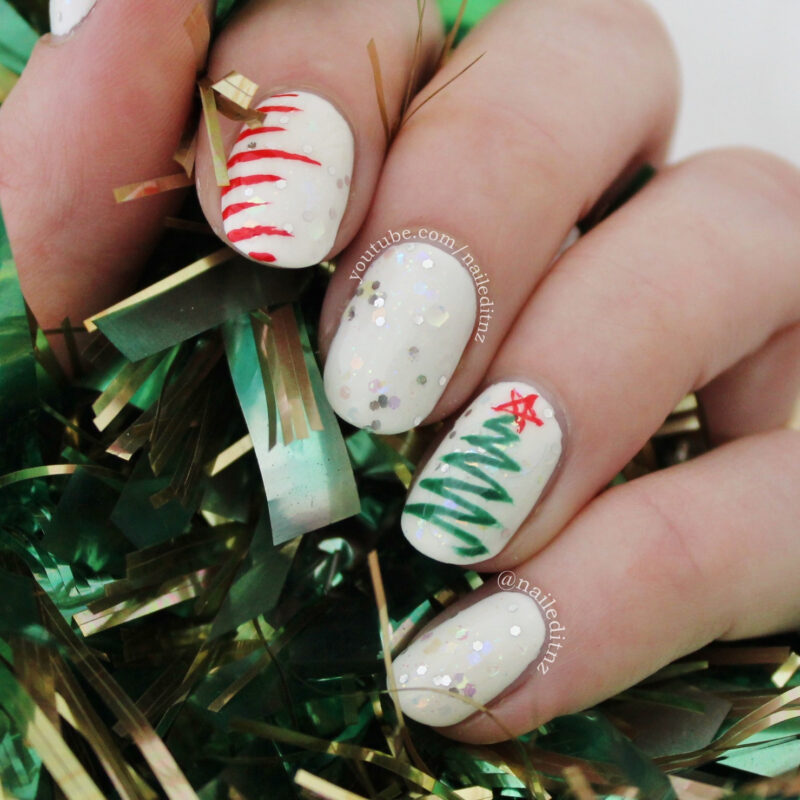 Here's another take on the abstract Christmas tree nails! No need to be a pro or get an intricately drawn-on Christmas tree for your nail art, you can totally get away with some squiggly lines, and your manicure will look just as cute!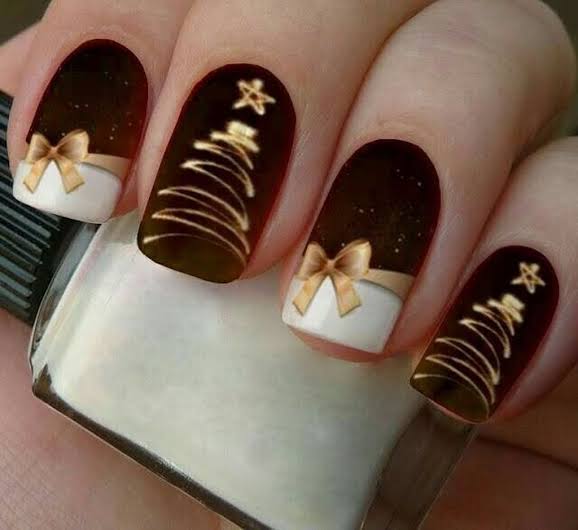 I love using unique colors for the holidays to be a little different from the usual festive colors like red and green. If you want to be completely out-of-the-box, try using a deep brown or burgundy for your base coat, and add some white and gold accents to make your nails merry and bright!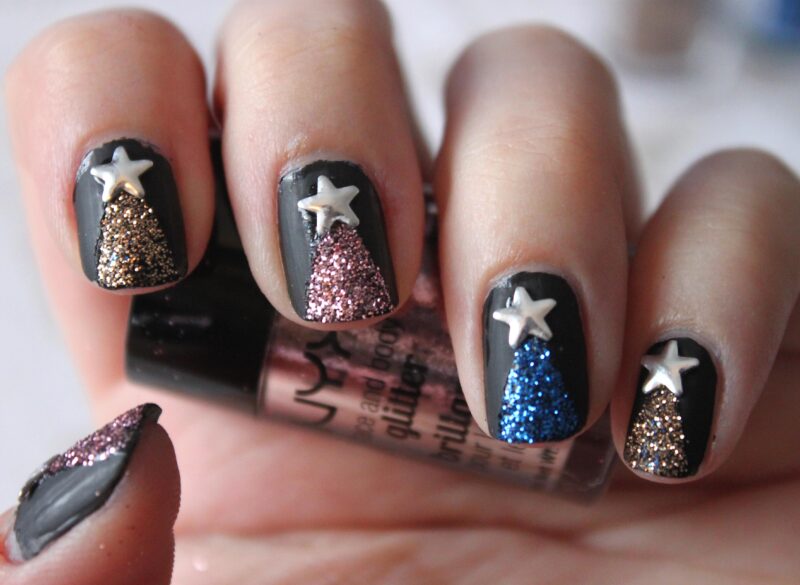 Who said black can't be festive? It totally can! You can use black as a base coat and then add some glittery accents for your Christmas tree nail art. Afterward, you can either opt to draw the stars as well or use some nail stickers instead.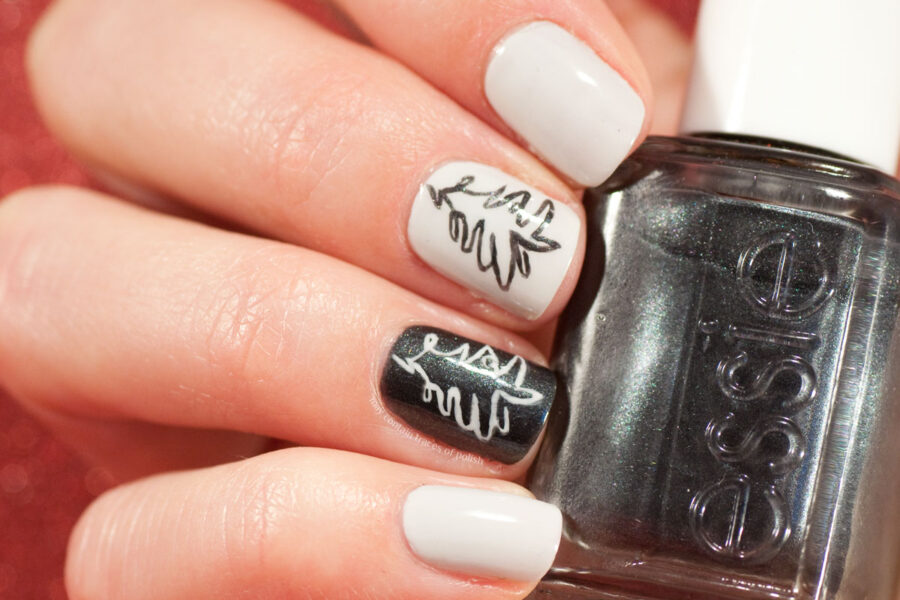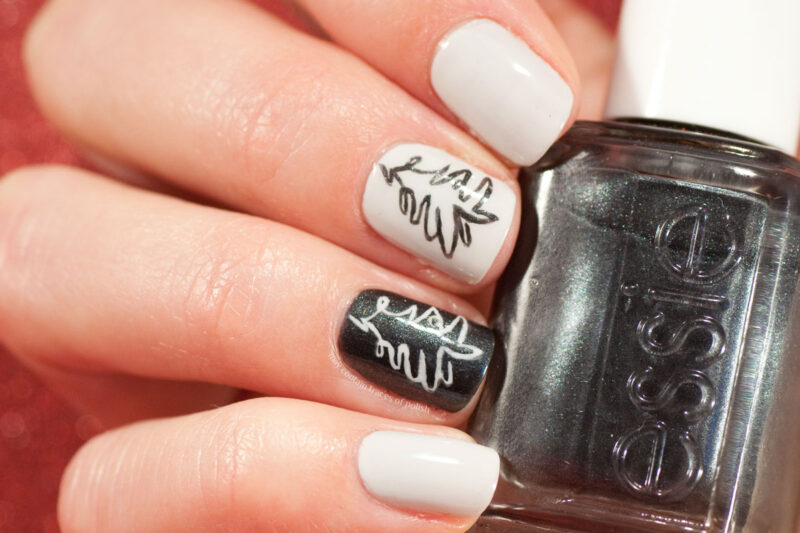 Doing abstract Christmas tree nail art is quite trendy right now. Especially, if you're a total beginner this could be your go-to manicure this holiday season. Intricate patterns are great but these look just as good and they give such a quirky appeal!
I just love cool black accent nails. They're so edgy and you can easily make them look festive with some glitter coating! So if you want to use black for your next manicure, you should definitely try out this modern black Christmas-themed French tip.
If you want to stick with tradition and go with the classic colors of Christmas, then these gorgeous red and green Christmas tree nails are a must-try! Instead of using a regular base coat, try using a metallic red for that gorgeous sheen.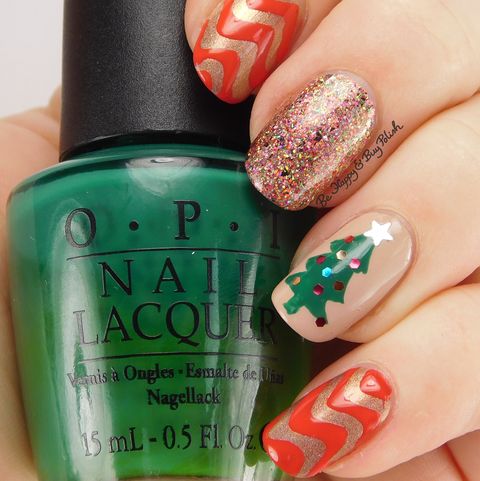 'Tis the season to be jolly indeed and you should definitely have your nails match this festive spirit! For a unique holiday manicure, you can alternate each nail with a different Christmas element!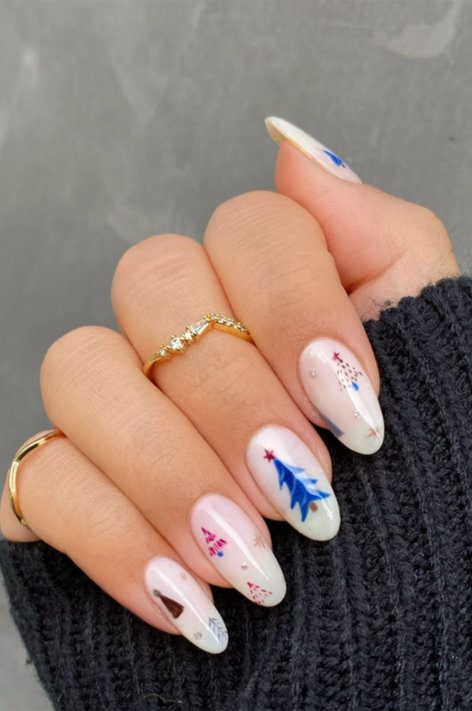 For a winter wonderland vibe, this particular nail art might be perfect for you! This design features different styles of Christmas trees that look cute against the white base coat!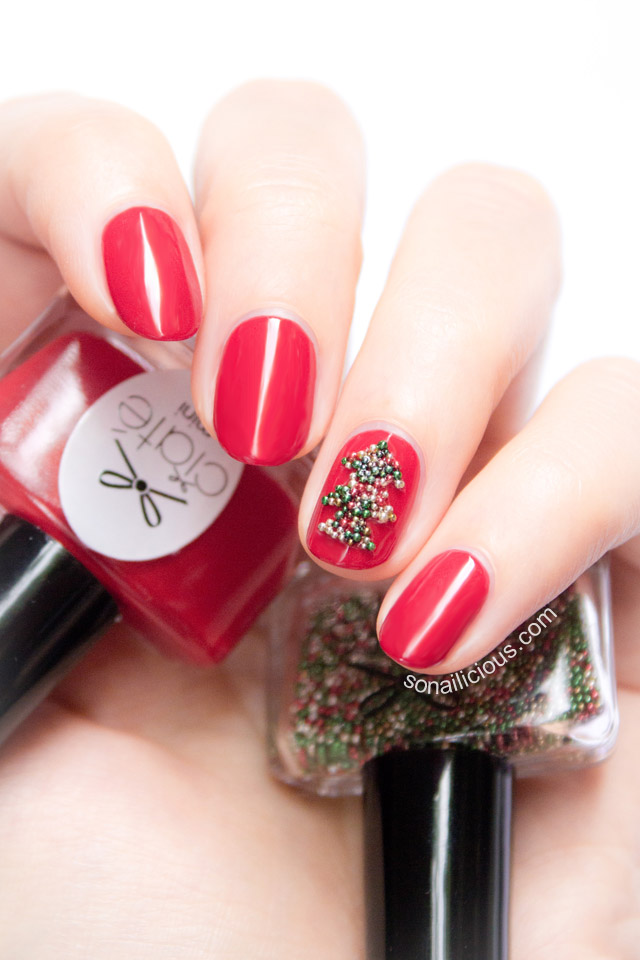 Having difficulty achieving those intricate nail art designs by drawing them on? Why not use beads instead? These beads will give your manicure some sparkle and some uniqueness!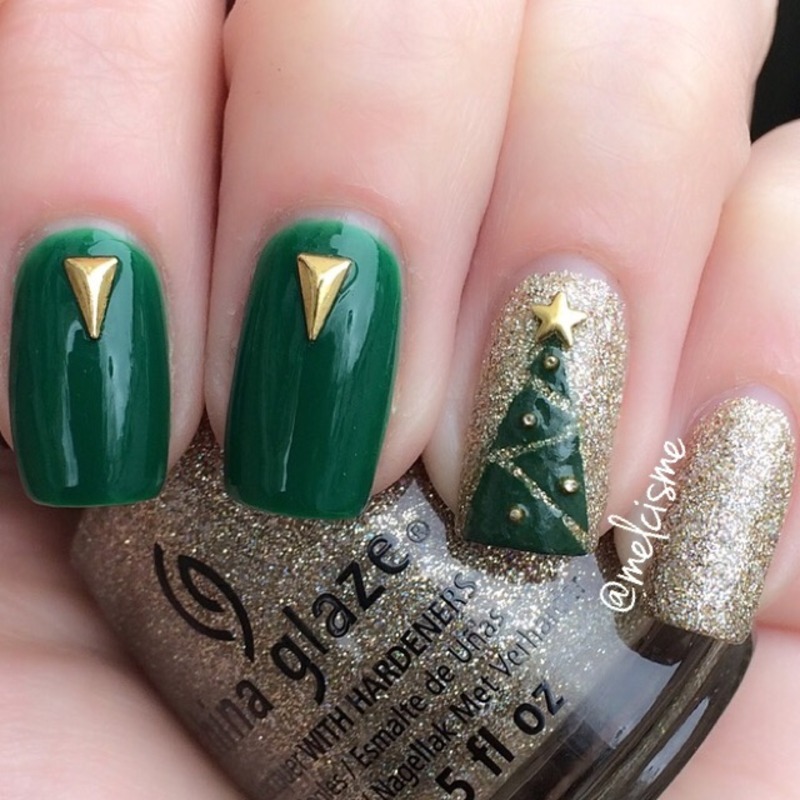 So classy and elegant, this manicure is perfect for any formal Christmas party you'll be attending this year! What's more, it'll suit any outfit you're planning to wear. I just really love how sparkly this nail design is and the deep green makes it even better.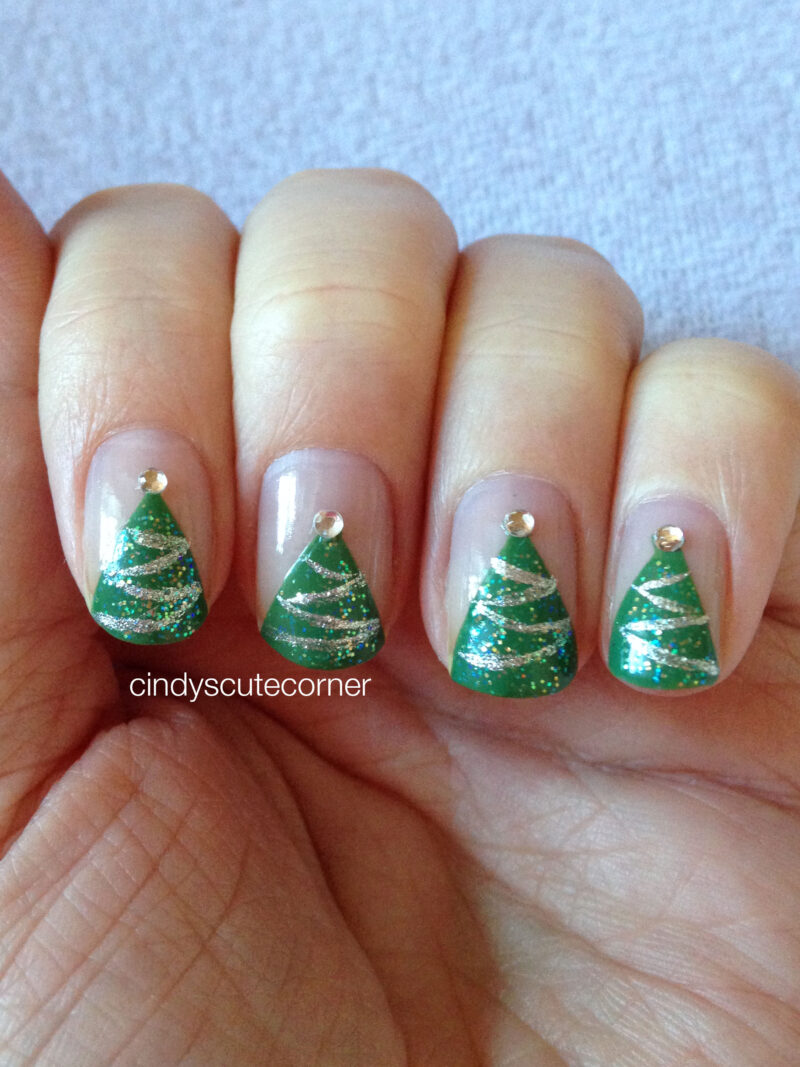 Make your Christmas tree-themed nail art extra sparkly by adding some diamonds to it! This will make your nails shine with festive delight!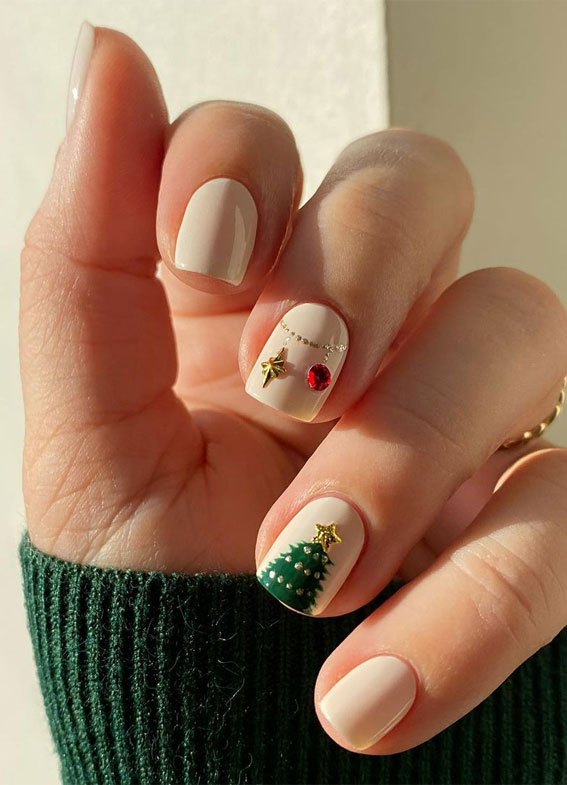 These rather minimalist Christmas tree nails look so classy! I love how delicate the nail art is and best believe, it's not going to be fussy to recreate this design. All you need are some stickers to achieve this stunning manicure!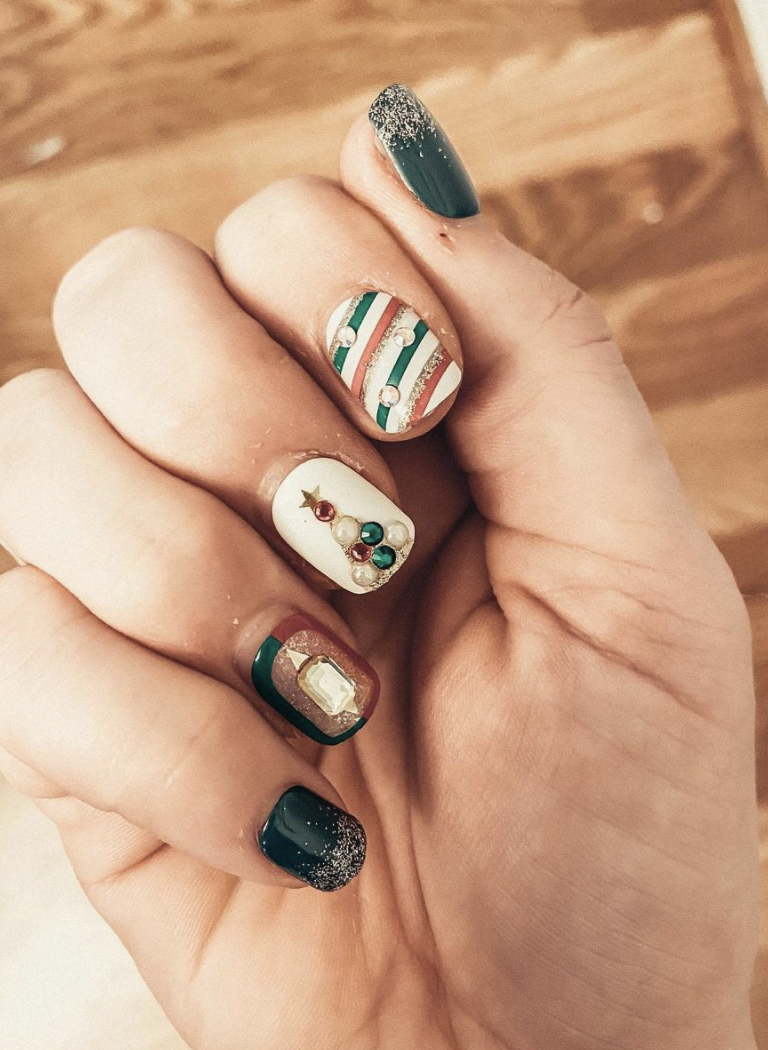 If you find yourself having a hard time deciding on what kind of holiday nail to do this festive season, then you should definitely consider playing with a different Christmas theme for each nail! You can also use stick-on appliques to create an even more interesting texture for your manicure.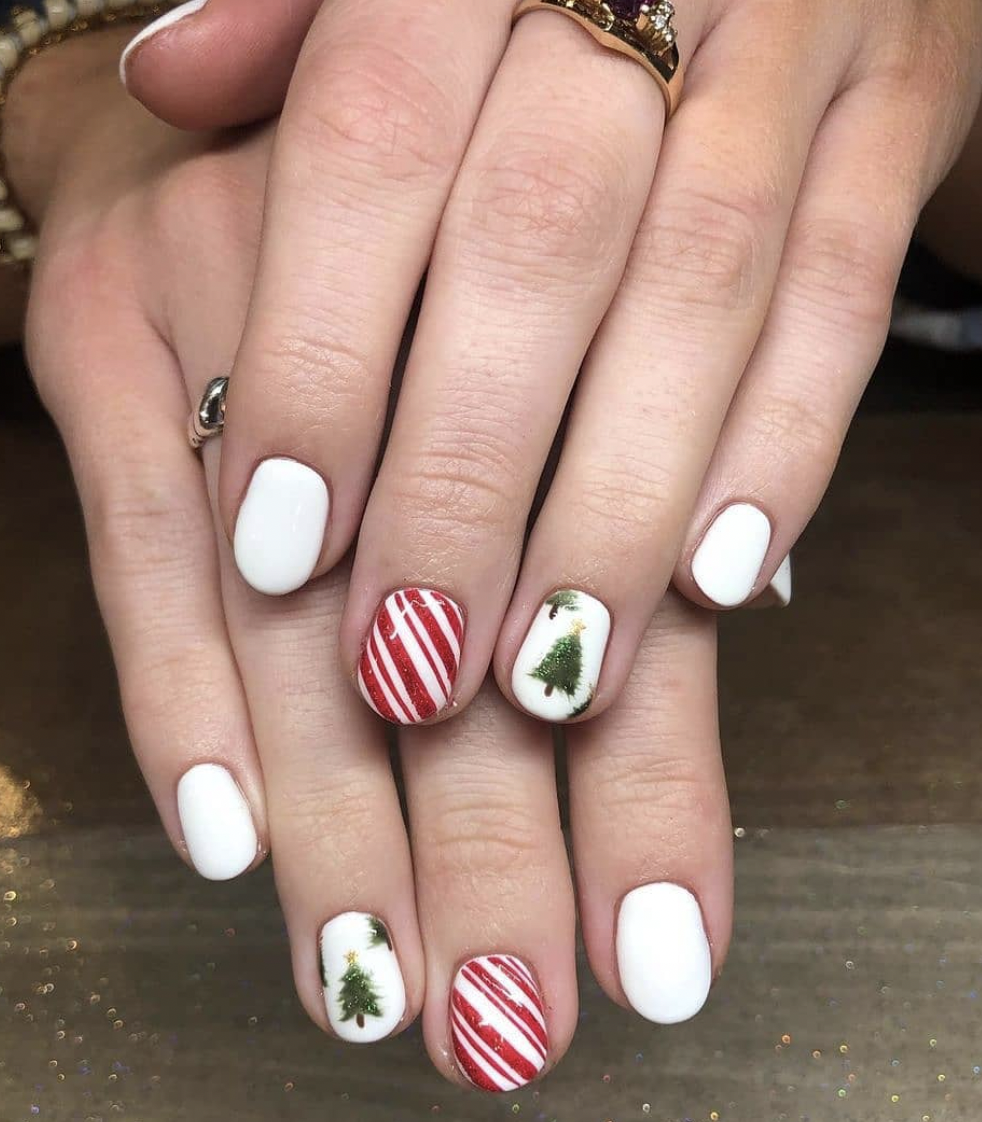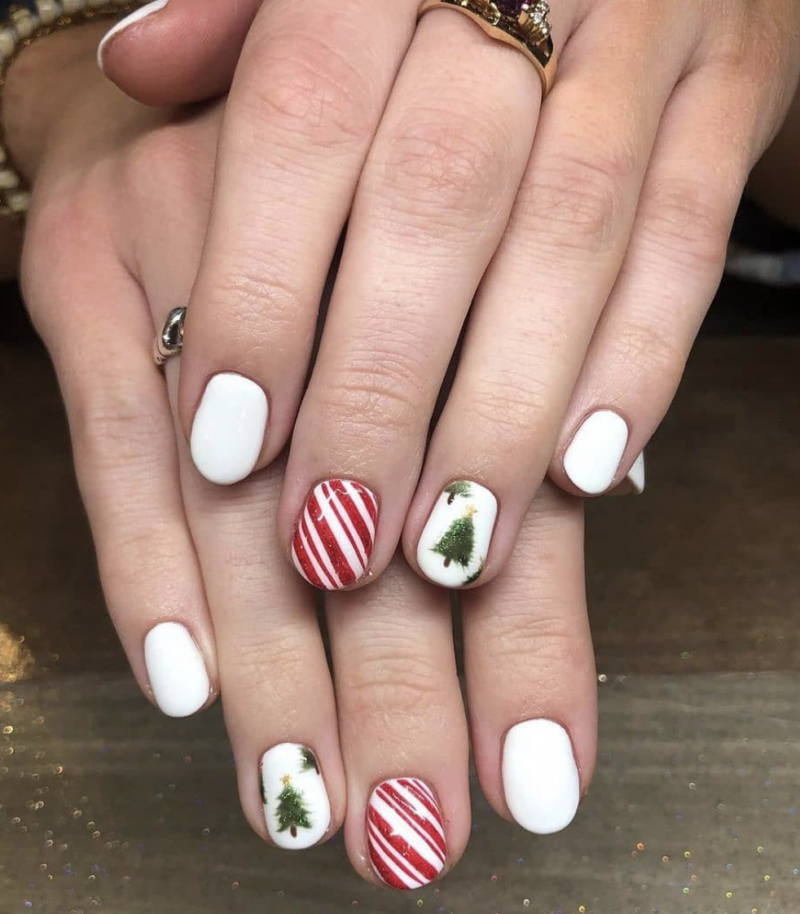 An all-white manicure reminds me of a frosty, winter wonderland. They also make for a good base for almost any kind of design like candy cane stripes and Christmas trees.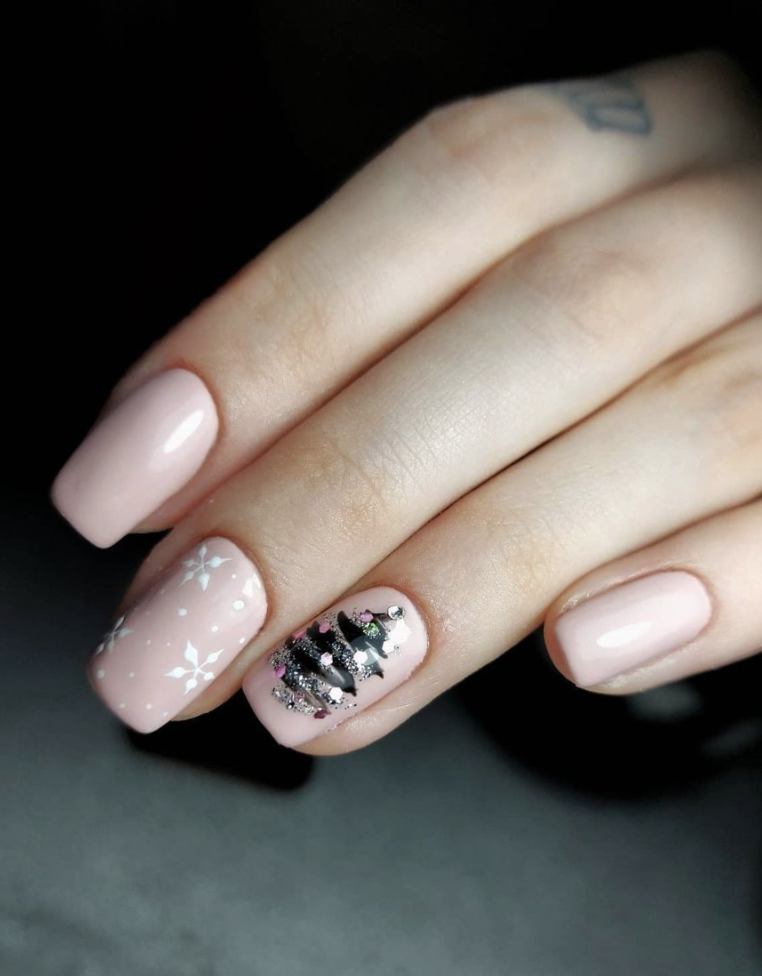 Experiment with different textures and finishes for your Christmas tree nails. You can use regular polish along with some sparkles and glitter to create this stunning version of the classic evergreen.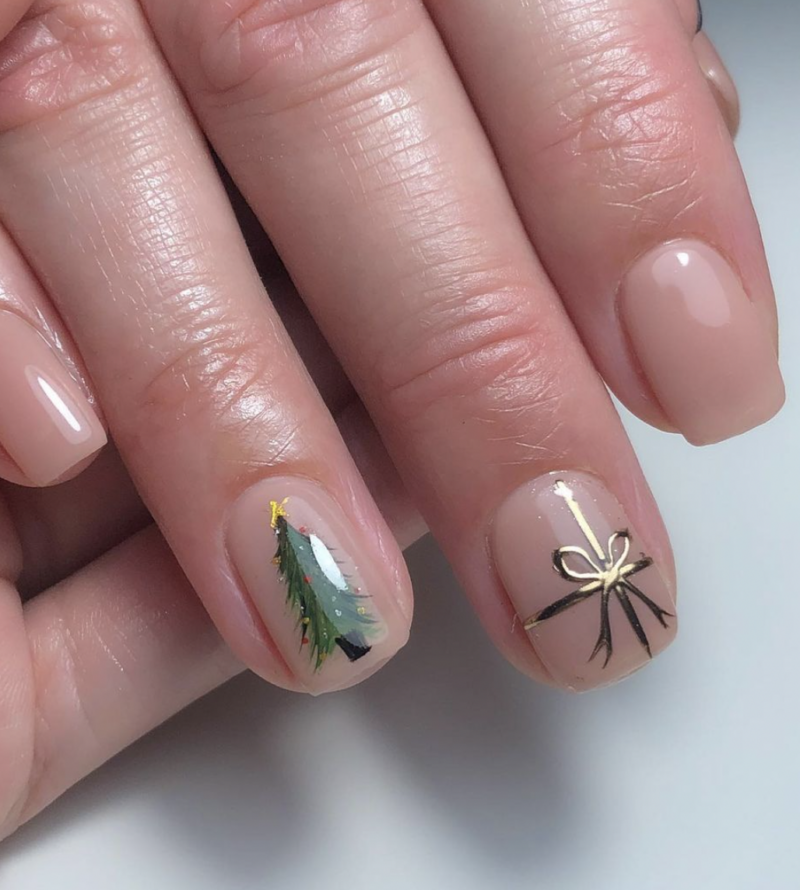 Even without the artistic skills to recreate this dainty and festive manicure, you can still easily achieve this by using some nail stickers! They're quick and non-fussy, and you get yourself a set of pretty nails just in time for the holiday parties!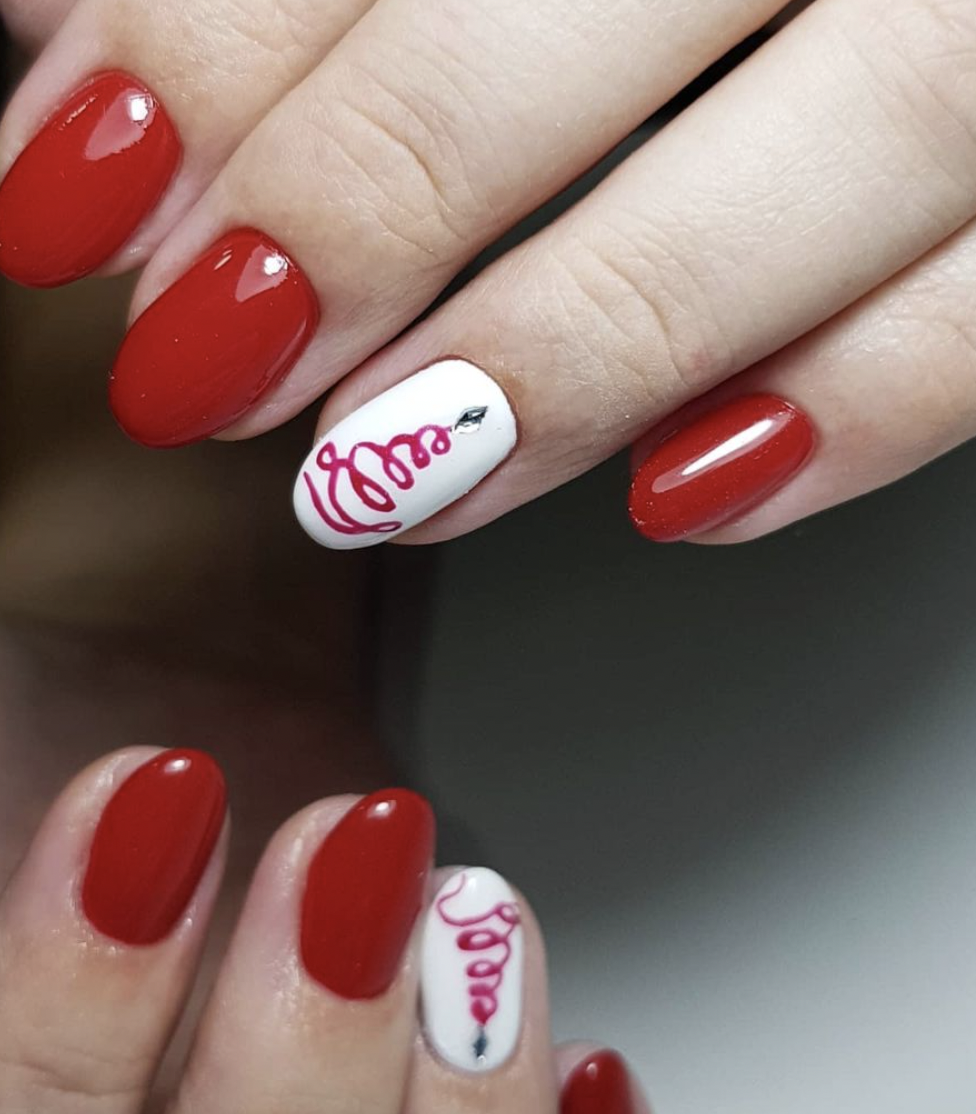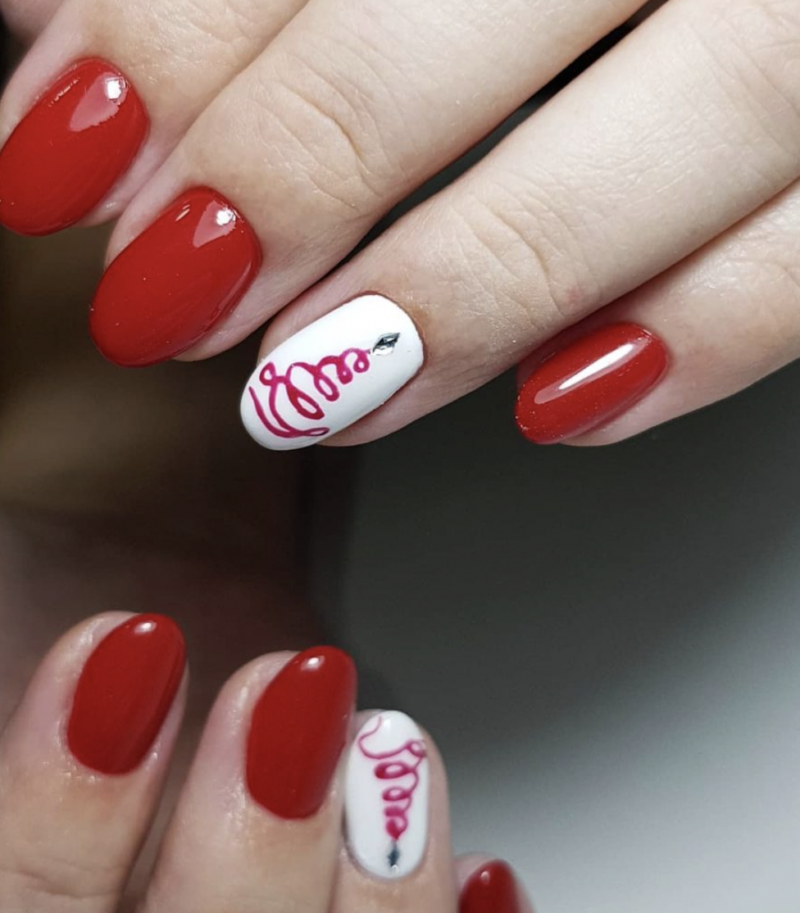 Get yourself an abstract Christmas tree accent nail to make your current manicure a lot more jolly and festive. You can even use a unique color like hot pink to draw your evergreen!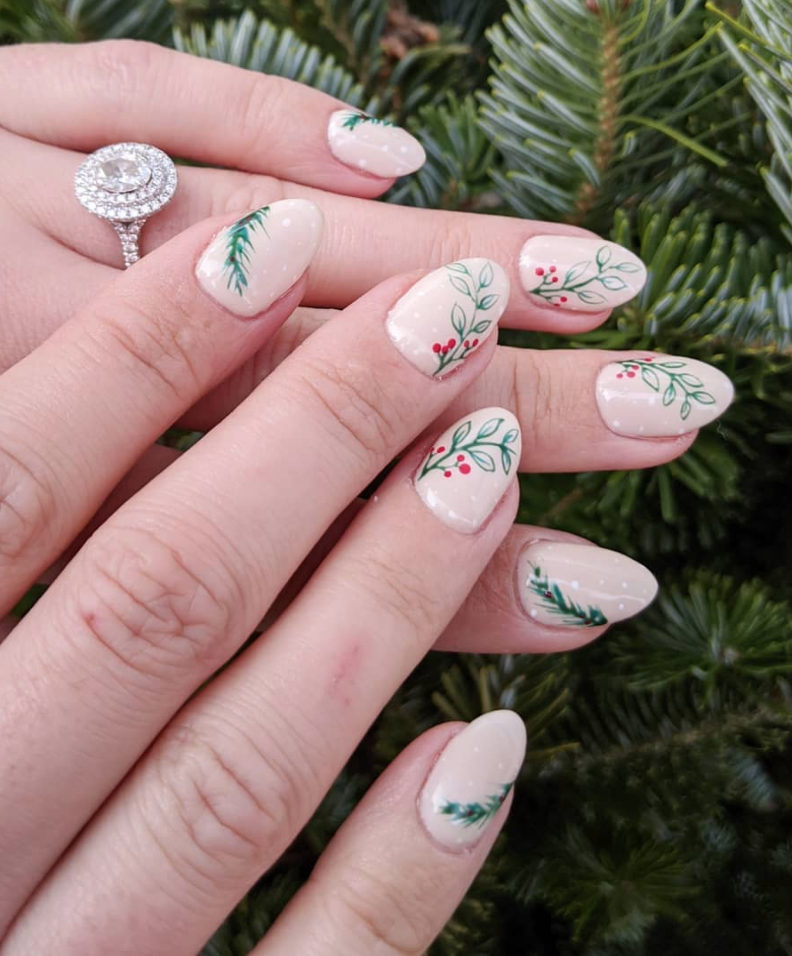 For a classy holiday manicure, use a natural base coat then top it off with some beautiful accent evergreens and some soft, white dots to give it a snowy aesthetic.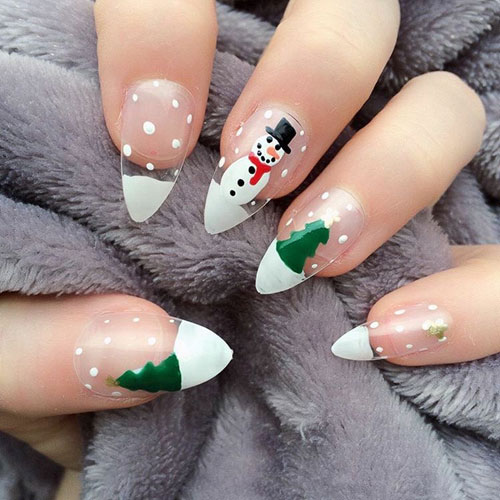 These press-on nails are so cute and quirky! I love how the clear coating gives your nails such a classy vibe along with the winter wonderland elements!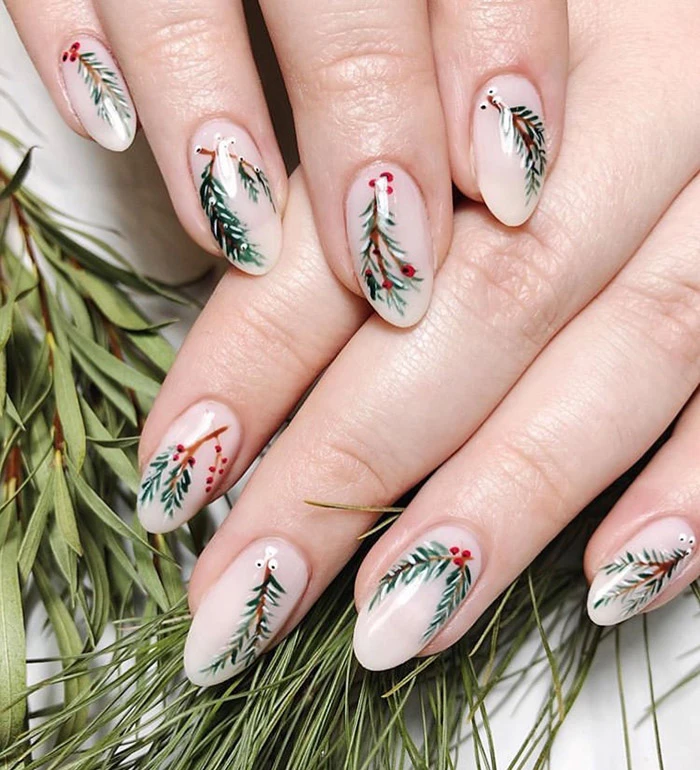 Aside from the elegant evergreen and holly accents, I love how the main coat is so reminiscent of delicious cream cheese frosting on top of freshly baked cinnamon rolls. Yum!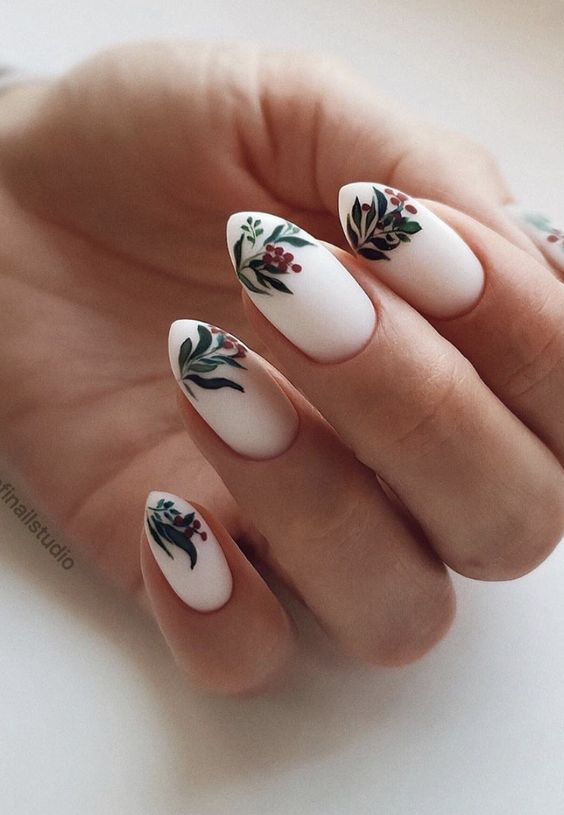 Glossy nails might be the usual finish for manicures but a matte white nail set can be just as gorgeous. I mean, just look at these! They give off a wintry feel along with the holly berry accents.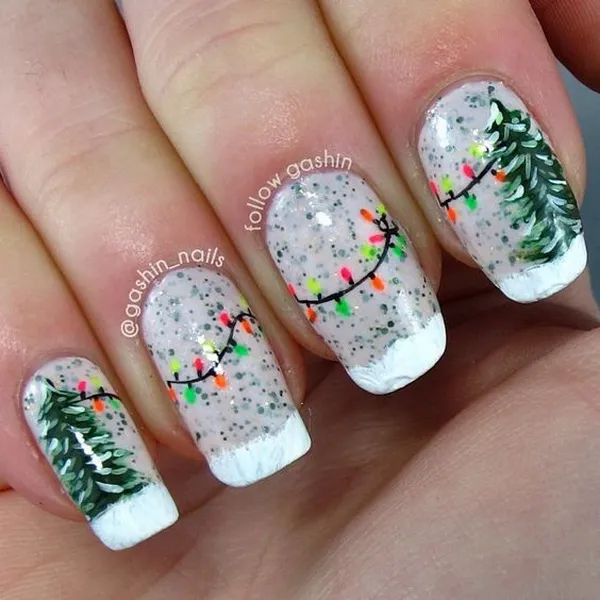 Light up your holidays with this festive nail art! It has glitter and sparkles, your classic French tip looking like freshly fallen snow, Christmas lights, and your staple evergreens.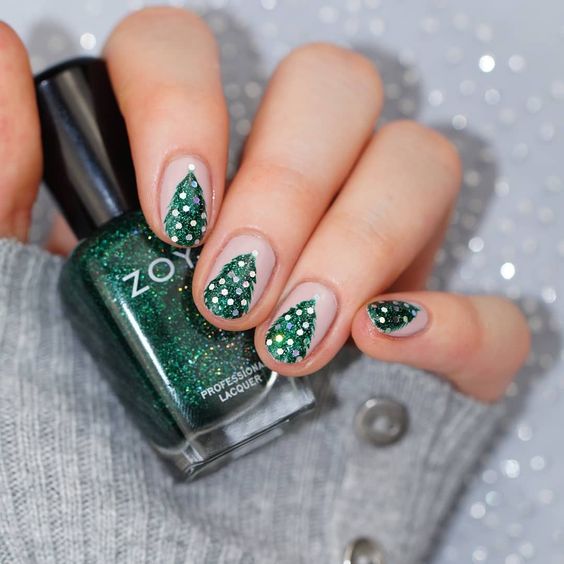 For a low-effort and less fussy Christmas tree nail, use glittered nail polish to create those gorgeous evergreens and top them with some white dots for some festive ornaments.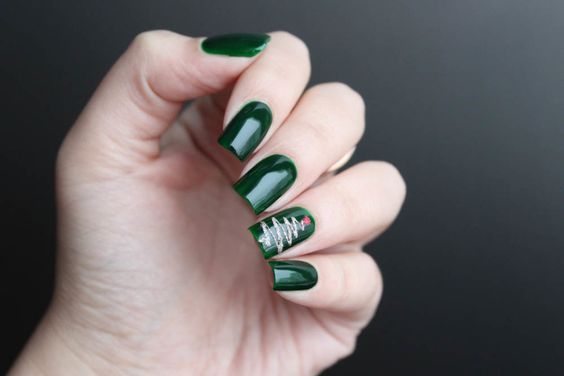 Deep, dark green is such a beautiful color for the holidays. I mean, just look how chic these nails are! Use a nail drawing stick to create a Christmas tree-themed accent nail for an even more festive look.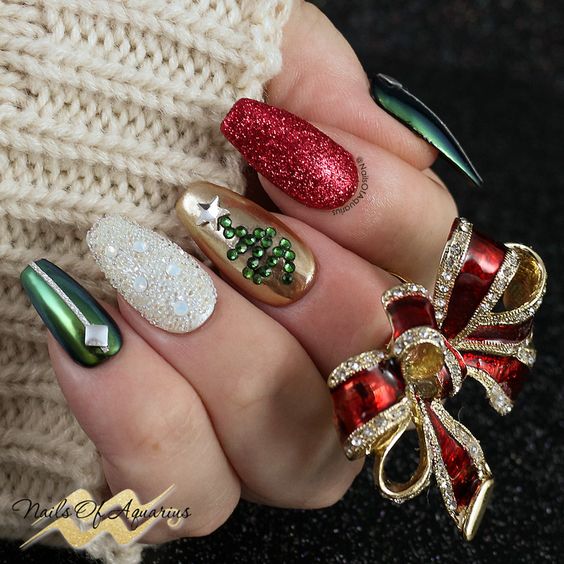 Add some sparkle and joy to your holiday manicure by recreating this glittery and metallic nail art!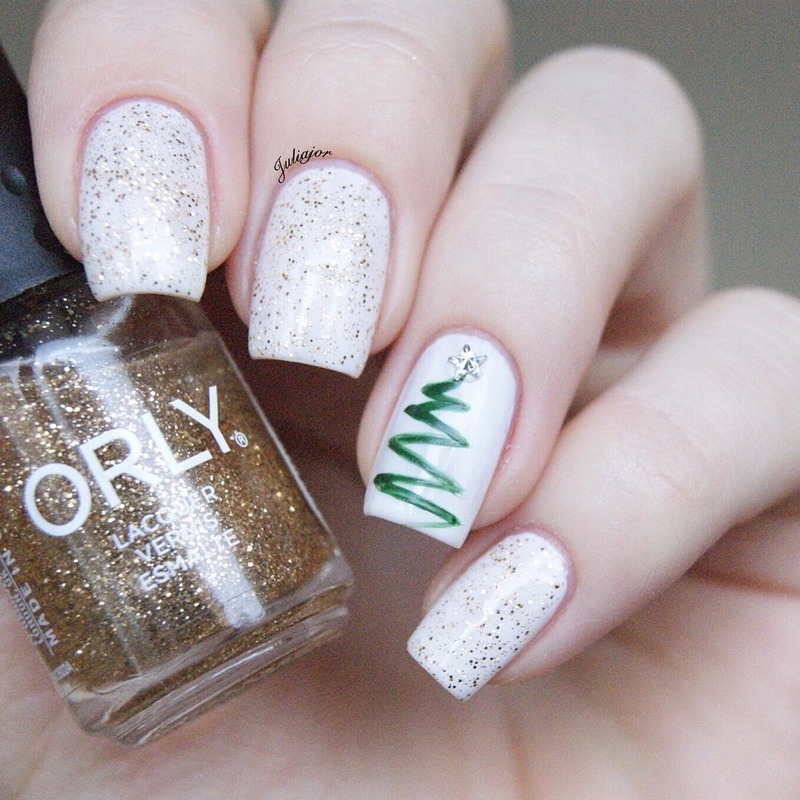 For a simple yet chic Christmas tree nail set, you can recreate this gorgeous, glittery white manicure with a Christmas tree accent nail.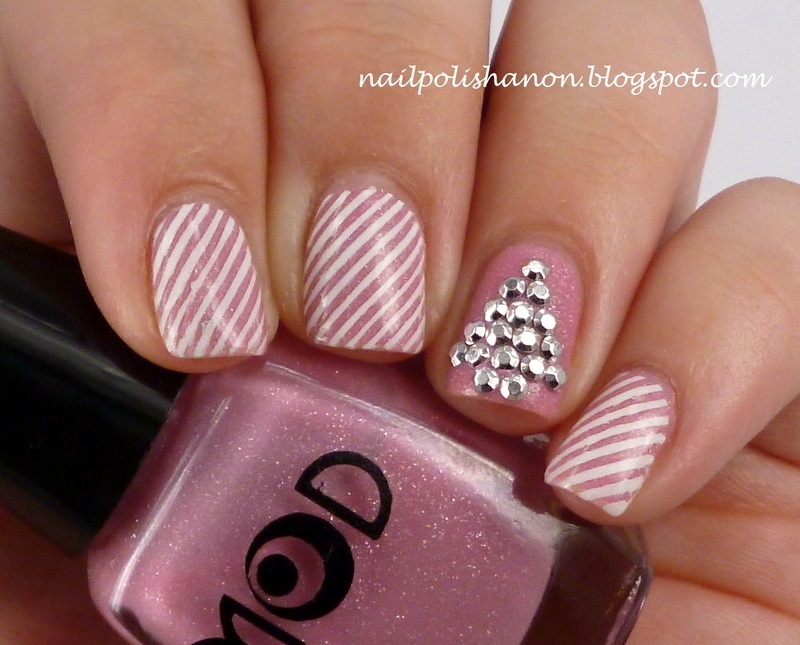 Pink can be festive too and this nail art shows it!