If you're looking for business-like, upscale restaurants then you should definitely head to Burlington Massachusetts.
In fact, the restaurant scene in Burlington MA is really on the upswing. From edgy American eateries to low-lit fancy Italian restaurants, you can find all sorts of cuisine and craft cocktails to suite your tastes.
Burlington probably isn't known for hole-in-the-wall pubs, though there are a few trendy taverns that young adults flock to for beer and free chips. Regardless, you can definitely find something in Burlington that you'll enjoy.
Here are my favorite Burlington MA restaurants for you to check out!
Seasons 52
If you're looking for excellent gourmet cuisine in an atmosphere with a ton of ambiance, consider Seasons 52. This is one of my favorite restaurants in Burlington MA for a date night out.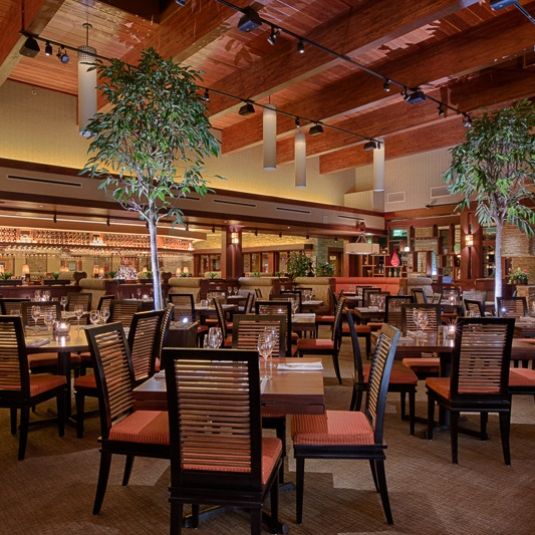 The cooking is always delicious; you can choose from various options such as steak, pasta, fish, and even flatbread pizzas. I also love the martinis at Seasons 52!
I will say that the atmosphere is great during the wintertime because the decor is so cozy no matter where you're sat. However, expect to spend a bit more, though the price is always worth it for the yummy food.
With an excellent wine selection and locally sourced, farm-to-table cuisine, Seasons 52 is a great place to go when you're looking for fresh seafood or tasty steak and friendly staff.
Burtons Grille and Bar
I'm a big fan of Burtons as well as Seasons 52. However, Burtons is great because it's affordable and the portions are huge.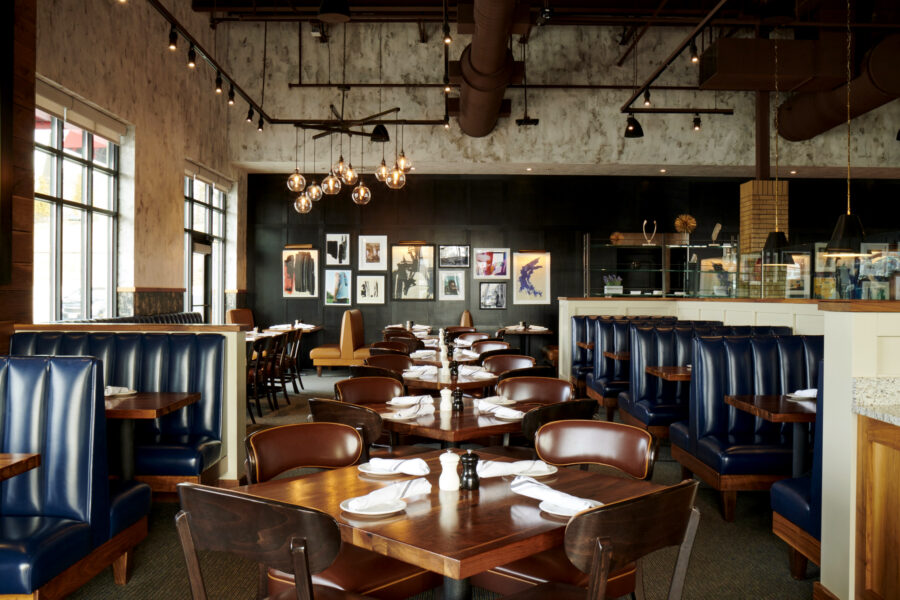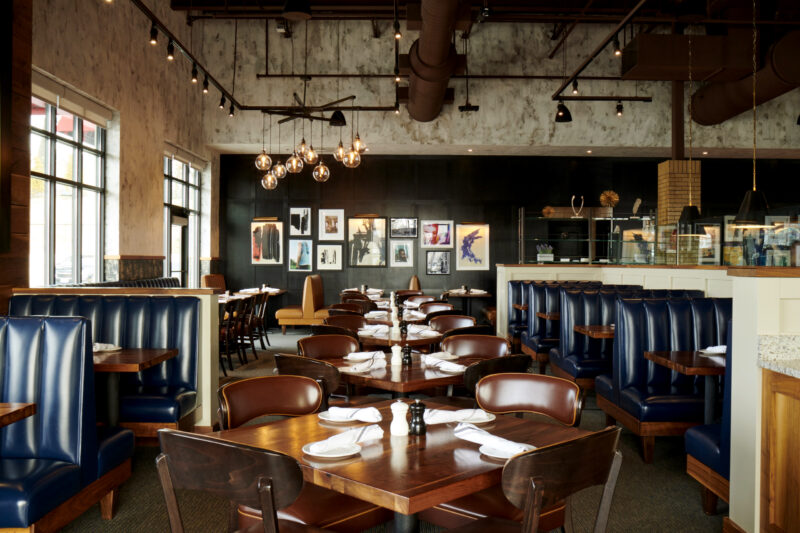 I especially love the bruschetta appetizer and usually go with either steak, chicken, or salmon when it comes to an entree.
This is another great place for a date night out in Burlington MA because of the cozy ambiance. Plus, they have live music on certain nights of the week!
When you're feeling like eating something good without breaking the bank, be sure to check out Burtons Grille and Bar.
The Capital Grille
The Capital Grille is a high-end restaurant that's perfect for a celebratory occasion.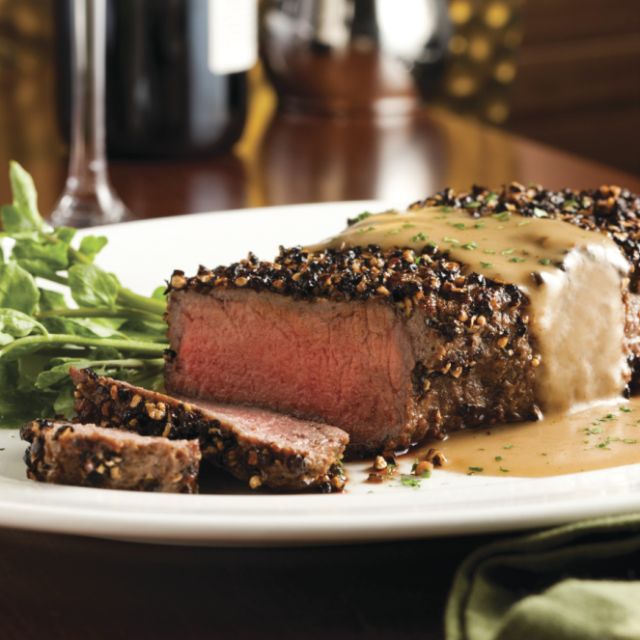 For about $30, you can order a delicious filet mignon and lobster tail combo complete with all the fixings!
You also get your choice of delicious sides such as mashed potatoes, asparagus, and more.
This upscale restaurant has some of the best cuisine in Burlington MA. However, it does come at a price so be prepared to spend quite a bit here. It's definitely worth it though!
Tavern In The Square
Tavern is one of the best pubs in Burlington MA because it serves traditional fare with a modern twist. For instance, they have an extensive beer selection and they also serve everything from burgers to lobster rolls!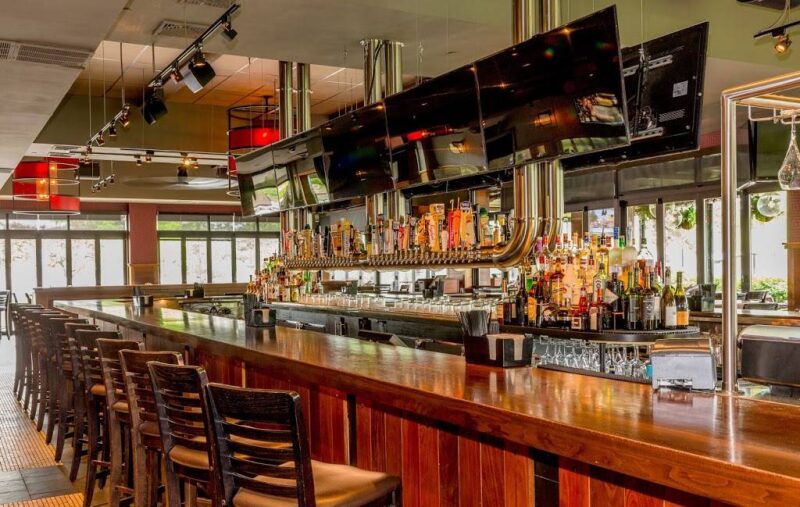 The menu is huge so you can easily find something that suits your tastes no matter what you're in the mood for.
I will say that this restaurant gets crowded very quickly during peak hours so you may want to get there early, especially if you want service at a table.
I recommend trying Tavern In The Square if you haven't already! It's a cool, laid-back pub where just about anyone will have a good night.
Eddie V's Prime Seafood
If you're looking to impress your date with an upscale restaurant that has great options and a romantic ambiance, check out Eddie V's. This is one of the most swanky restaurants in Burlington MA because it's just so classy.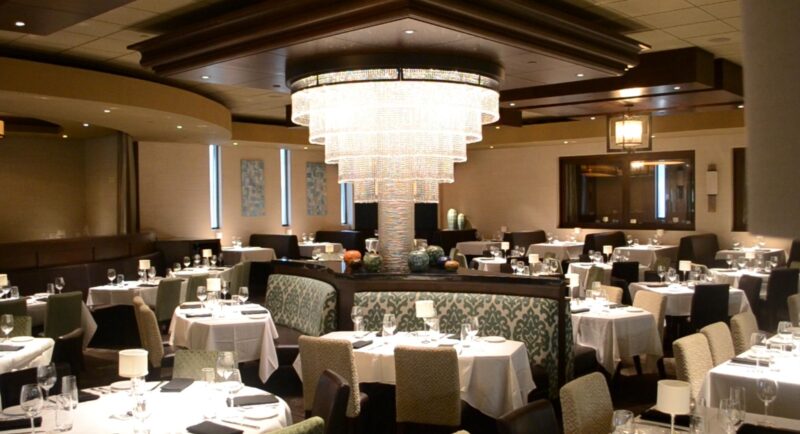 You'll feel like royalty as you enjoy their lobster mac and cheese or seared scallops. The steak options here are also top-notch and cannot be beat!
However, expect to spend quite a bit because this isn't exactly a cheap place to eat. But it is 100% worth every penny if you come for a special occasion such as a first date!
Tuscan Kitchen
I'm a big fan of Tuscan Kitchen because it's affordable and the food is always delicious. When I think about Italian restaurants in Burlington MA, this one immediately comes to mind.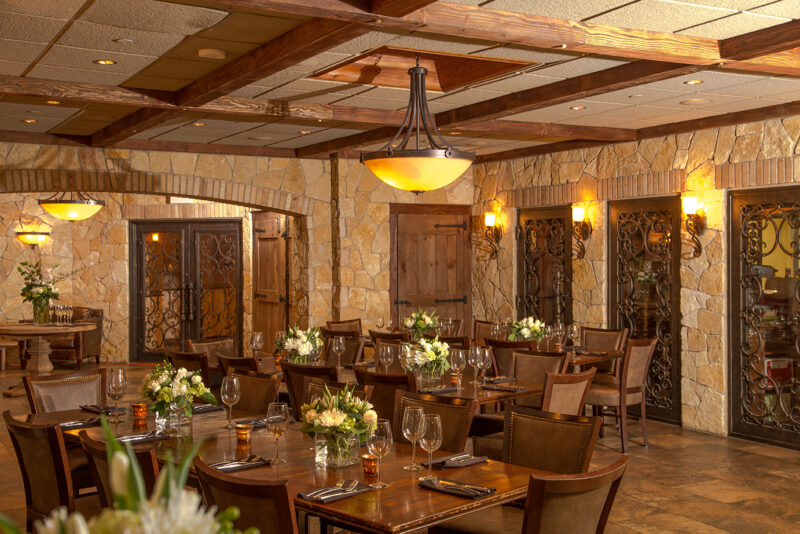 Their pizza is great but if you're looking for pasta, definitely check out the penne vodka with chicken or meatballs! You can't go wrong either way though so really consider both options when you come here.
The ambiance at Tuscan Kitchen is also very warm and cozy especially during the wintertime. I'd recommend coming here on a date night just as much as I would for family dinner.
Tuscan Kitchen has all kinds of yummy Italian fare that won't cost an arm and a leg. It's perfect for large groups as well.
Feng Shui
Feng Shui is an Asian restaurant in Burlington MA that has really amazing, authentic food.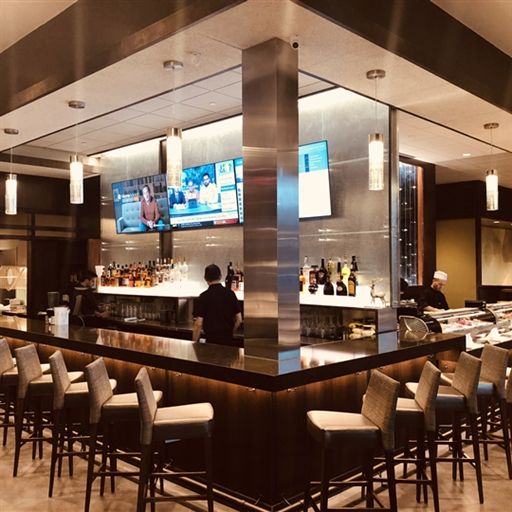 The sushi here is absolutely delicious (and fresh!) and they also have a huge selection of classic dishes at very reasonable prices.
I also love the seafood options including scallops, shrimp, mussels, and more. This place will definitely satisfy anyone with an affinity for Asian cuisine because it's just that good. No matter what kind of Asian food you're looking for, you'll find it here.
Plus, Feng Shui is a really trendy restaurant that's perfect for an upscale midday meal or a classy night out.
Row 34
When you're looking for the best seafood in Burlington MA, go to Row 34. They have everything from lobster ravioli to raw oysters.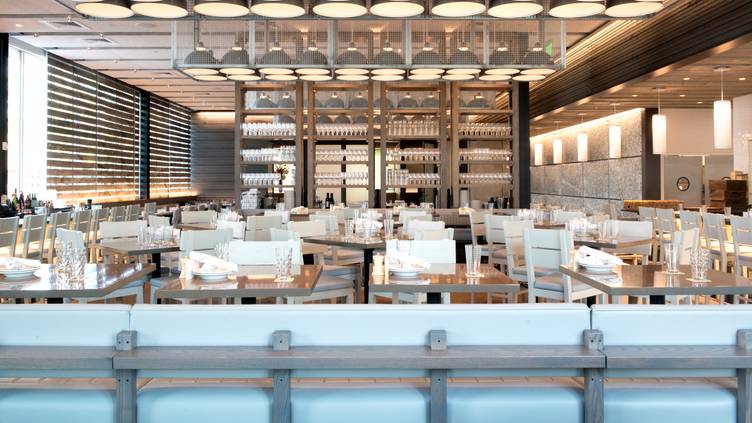 As far as drinks are concerned, they serve an assortment of hard liquor and specialty cocktails that are definitely worth checking out! Row 34 is one of my favorite restaurants in Burlington Massachusetts when I'm looking to get a gourmet cocktail.
If you want amazing service and mouthwatering food while out with a group of friends or on a romantic date, I would highly recommend checking out this classy restaurant ASAP. It's super trendy and edgy so it's the perfect place to start your night off.
You'll be blown away by how great everything tastes here because it all just seems so fresh. The raw bar is especially good! I also love the calamari and specialty fish menu items.
The menu changes seasonally but even during the fall/winter time, there's no doubt that you'll find plenty of tasty dishes to choose from!
L'Andana
If you're looking for upscale Italian food in Burlington MA, L'Andana is the place to go. They have a classy atmosphere and their service is always phenomenal. The free bread in the beginning is especially amazing.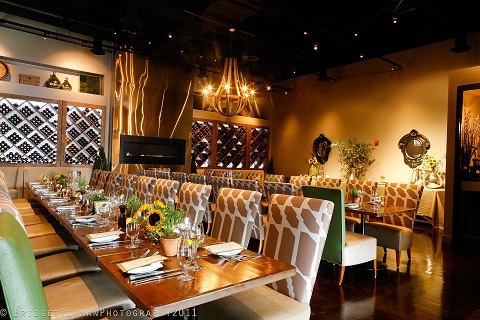 I really love eating here because everything tastes so fresh and delicious! It's definitely a bit pricey but it's great if you want a special dining experience or have been saving up for something extra nice. I would recommend going here on a date night or with someone very special because the ambiance alone makes it worth the price.
The wild boar pappardelle with mushrooms is one of my favorite dishes they offer here at L'Andana. Anything from their handmade pasta menu will probably be amazing too though…you just can't go wrong no matter what you choose!
Redstone American Grille
Redstone American Grille is a really great restaurant that's perfect for a more casual night out or just a fun dinner. The atmosphere here is very modern and the food is full of interesting twists on classic dishes!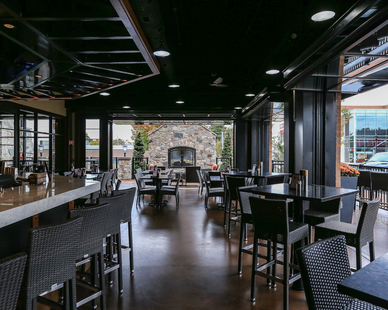 I personally love their filet mignon sliders but if you're looking for something else, definitely check out their blackened tuna nachos with avocados or their grilled salmon sandwich with arugula and shaved onion.
For dessert, you have to order the Oreo cheesecake. It's not on the menu so you have to ask them about it usually but it will be worth it because it's the best one I've ever had by far.
They also serve delicious cocktails (try an old fashioned!) and most importantly they serve ice cream, my very favorite dessert of all time.
I really can't say enough great things about this restaurant! Redstone American Grille is definitely a gem in Burlington and you should make it one of your regular haunts for sure.
Bazille
Bazille is the place to go if you want upscale Mediterranean cuisine. You can definitely dine here without paying an arm and a leg because they have really delicious daytime specials for low prices!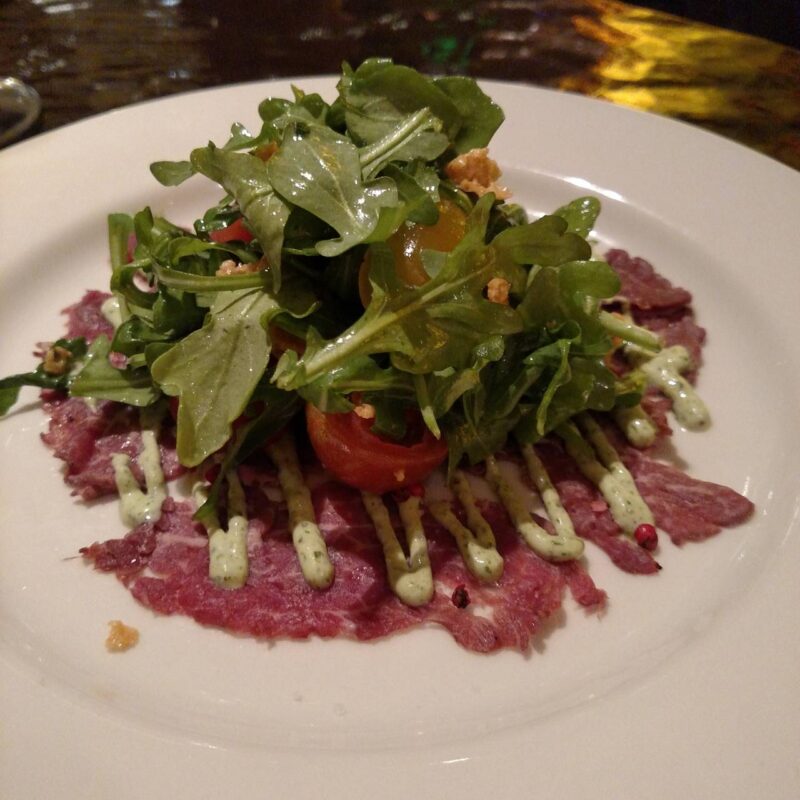 They also have great truffle fries, calamari, flatbreads, sandwiches, salads. Seriously, you can't go wrong with anything on this menu. It's just that good.
If I'm being completely honest though, their cocktails are some of the best out of all the restaurants in Burlington MA. They're not always available on the menu so just ask about them before ordering but trust me when I say it's worth it to try one or two drinks.
I highly recommend checking out Bazille ASAP if you haven't already. It's perfect for a causal midday meal, date night, or even dinner! It's the perfect place to go for good food and drinks.
Keep in mind that Bazille is located in Nordstrom (in the mall), so it's the perfect Burlington MA restaurant to grab lunch at while shopping. However, the atmosphere is trendy with a lot of low-lighting, so it also makes a great dinner spot.
The Bancroft
This is a great restaurant for when you want upscale American food. Their menu changes seasonally so you're always going to be in for a surprise whenever you decide to order something new.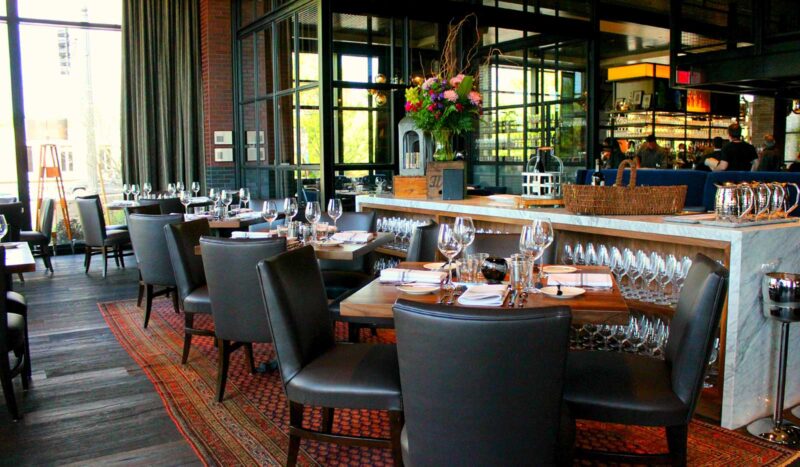 I personally love their fish and chips because they're not overly greasy or oily, just really delicious! Every dish I've tried here has been perfect though whether it's fish, beef, or chicken.
Their wine list is also really long with lots of options including locally grown wines which are definitely my personal favorite. Make sure to ask your host about any specials they might have too, since the cocktail menu changes often.
The Bancroft has a business-like, trendy vibe that restaurants in Burlington Massachusetts are famous for. It's definitely swanky for cocktails in the evening but also works great for an upscale lunch. We always enjoy sitting in the cocktail lounge.
The OkiPoké Grill
If you're looking for poké bowls then the OkiPoké Grill is the place to come. This is more of a counter restaurant than a true sit-down experience, but it's definitely worth a visit because the food is so fresh. There's a reason why every review on Yelp is amazing!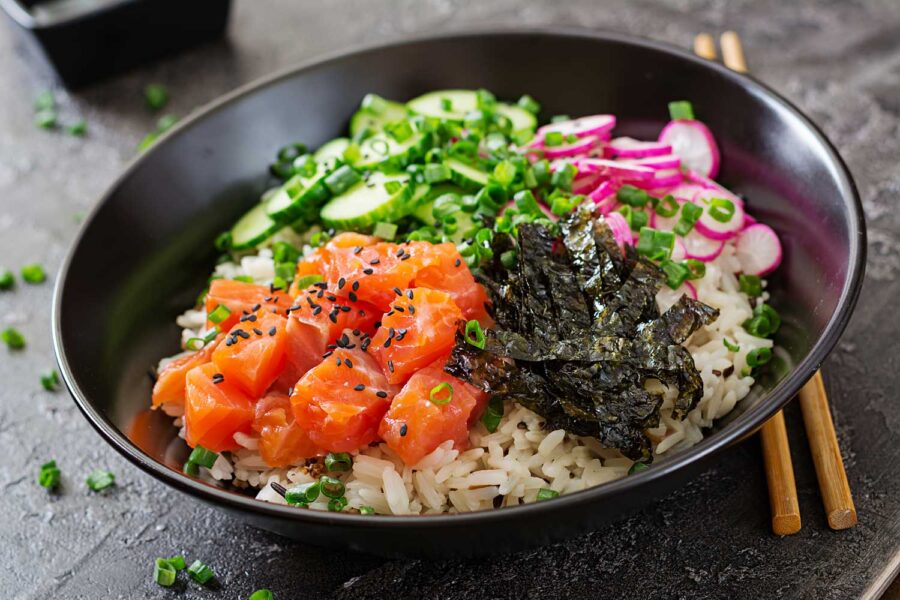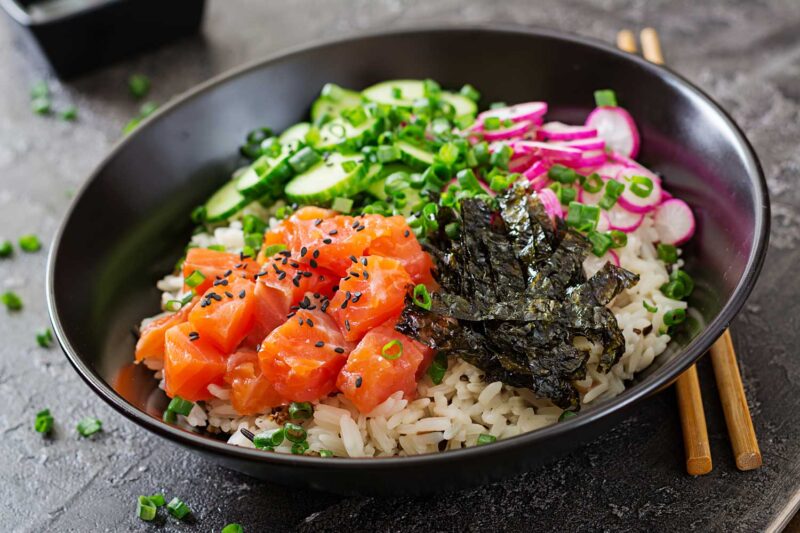 They have a wide variety of poké bowl options that you can customize to your preferences. You can choose from different base salad options, either brown rice or white rice, and then add as many toppings as you want!
If you're looking for a healthy meal, definitely check out the OkiPoké Grill ASAP. It's one of my favorite Burlington Massachusetts restaurants for a casual lunch.
This eatery also has free specials sometimes with a certain order, so make sure you check the deals before placing your order.
Keep in mind that OkiPoké can get busy around noon, however the servers tend to move pretty fast.
Cafe Escadrille
Cafe Escadrille is a fancy, upscale spot. It's definitely on the more expensive side, but it's totally worth paying for what you get! The fare is delicious and they have a huge menu so there's something for everyone.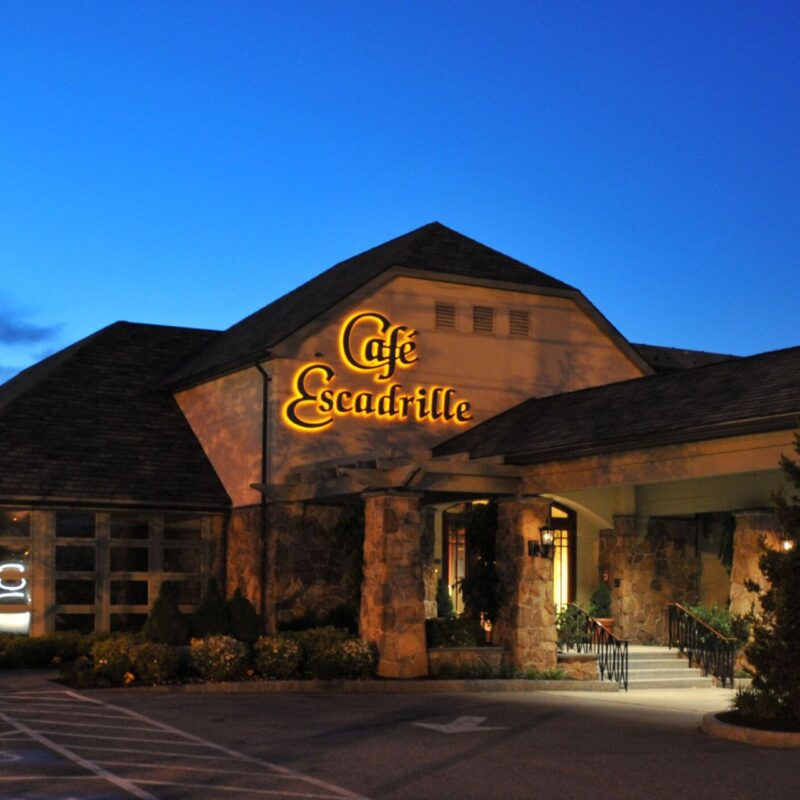 They have a delicious lunch and dinner menu with options such as Winter Harbor Smoked Salmon, Filet Mignon, Rack of Lamb, Shrimp Scampi, and Butternut Squash Ravioli. However, Cafe Escadrille also has a sushi menu with creative and fresh options.
The vibe here is really fun too because it's not too stuffy or snooty, though it's super upscale. From the music to the staff, everything and everyone is just welcoming.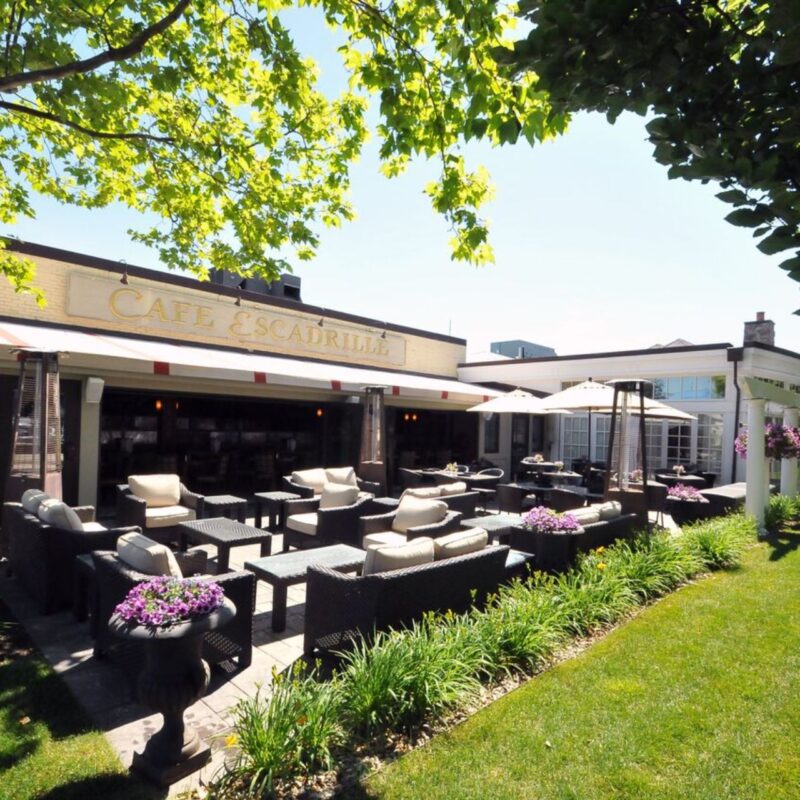 Cafe Escadrille is another one of the all around great Burlington MA restaurants for a fancy lunch or a date night out.
Clover Food Lab
This is a great little counter restaurant for veggie lovers. If you can't eat gluten, dairy, or meat then this restaurant will be your paradise because everything on the menu is vegan and gluten-free!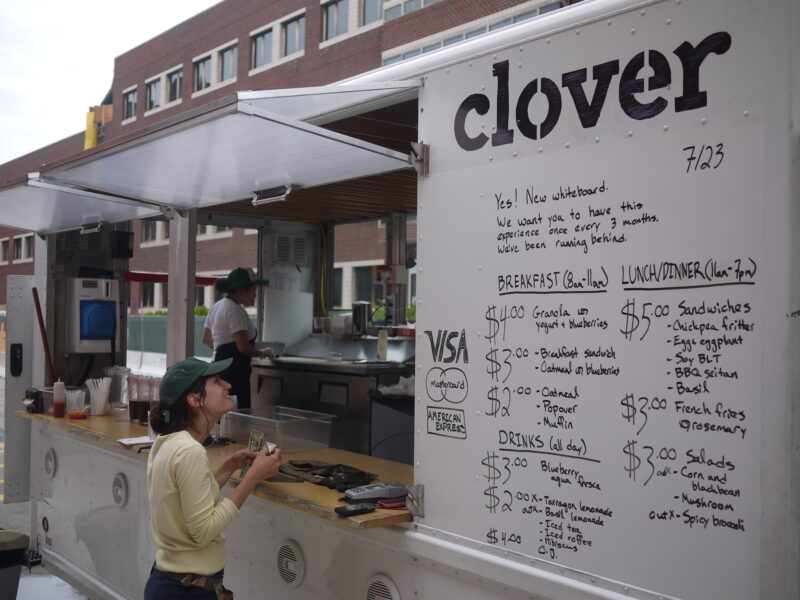 Clover is definitely one of my favorite restaurants in Burlington MA right now because it's so delicious and healthy. They have breakfast options through dinner food with some really interesting sandwich options, but I especially love the tacos and sandwiches at night.
This is a great local restaurant if you want fast service and healthy takeout options.
Osteria Nino
Osteria Nino is a great Italian restaurant in Burlington Massachusetts because you'll really get a bang for your buck when it comes to quality. They have delicious Italian cuisine with fresh ingredients and unique options that are perfect for date night or even just catching up with friends.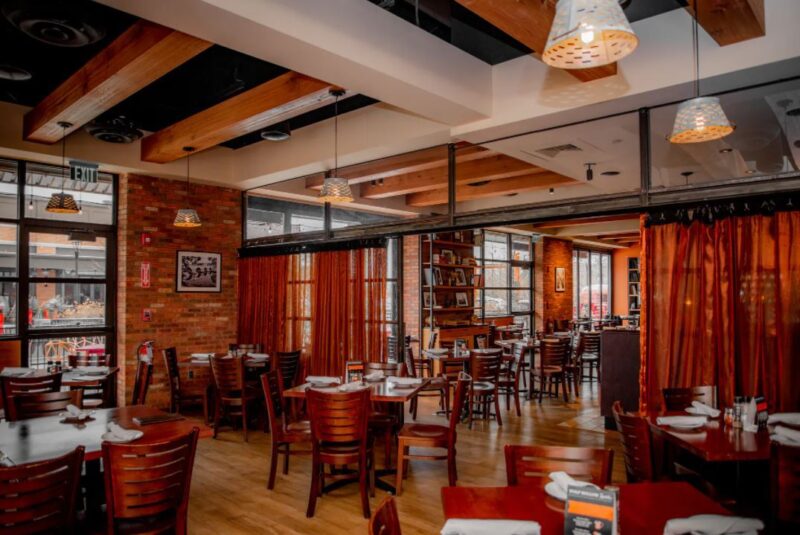 I love their bruschetta, especially the tomatoes-mozzarella combo! They have a lot of different salad options too that are fresh and delicious. Their pastas are also really great, especially when paired with one of their paninis since they're not very heavy.
Osteria Nino is another Burlington Massachusetts restaurant that's perfect for date night or dinner at the end of a long day out in the city.
The decor is super trendy. The restaurant is decorated in neutrals (so it still feels warm and inviting) with low-lighting. Osteria Nino also has an outdoor space during the summer that's super cute.
We sat out there for the first time this summer when we were in town and loved it! Our waitress was super friendly, though this seems to always be the case with the staff here.
Yard House
Yard House is an American restaurant that's perfect for when you want to get a big group together because the space is massive. They have huge tables and booths so you don't feel cramped even if your party gets really big.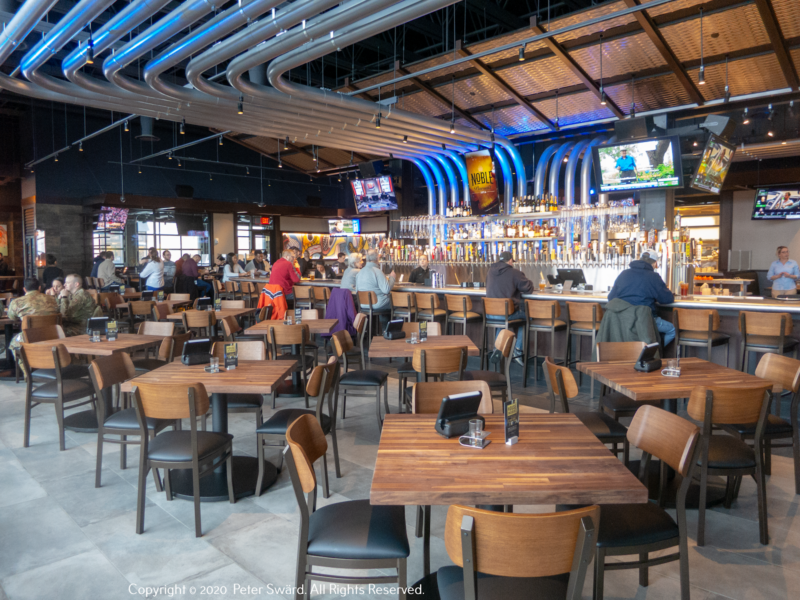 They have a huge menu with all kinds of options ranging from burgers, chicken wings, steak, pizza, tacos, quesadillas, salads–basically everything! It's definitely becoming one of my favorite Burlington MA restaurants because there are so many delicious things on the menu that I want to try. It's literally endless.
I love their french fries but they also have other sides like macaroni & cheese or Roasted Brussel Sprouts which are amazing too! They even have dessert options that everyone will love.
The decor at here is also really cool. It definitely has an upscale vibe but it's still very comfortable and fun, especially when you get a booth. It has that trendy yet casual vibe and the service is outstanding; the waitress is always accommodating of our various dietary restrictions, especially when it comes to safety.
The bar even has a huge international beer menu and some unique cocktails (I'm partial to the Aurora Borealis or You Berry Much). If you can't decide on where to go for dinner, Yard House is always a great choice because there's something here for everyone.
The Friendly Toast
The Friendly Toast is one of the most popular restaurants in Burlington Massachusetts because it's super quirky and delicious with huge portions. This is another breakfast joint but they also have lunch options. One of my favorite things here is their Hot Mess–it's literally heaven on earth!
I love The Friendly Toast for breakfast or brunch on a casual Saturday or Sunday, especially if I'm trying to catch up with friends or family over a nice meal. However, they even service breakfast during the weekdays, including on Monday.
The Friendly Toast is known for huge portions (and long lines) so you really get your money's worth here!
The decor at The Friendly Toast has an eclectic vibe that goes well with the whole experience. It's kind of a grungy breakfast spot that definitely feels edgy, filled with tons of little tables. In fact, The Friendly Toast is one of the more eclectic restaurants in town, since most of Burlington is more business-like.
You can't go wrong with waffles, eggs, pancakes, French toast, omelettes…basically all kinds of breakfast and lunch options here that are both unique and delicious. Plus, the cocktails are always super yummy.
The Chateau Restaurant and Lounge
The Chateau Restaurant and Lounge is a French restaurant that's perfect for a date or even just casual meals with family. I love the vibe here – it feels like you're right on the Mediterranean, especially when they have those twinkly lights up all year round!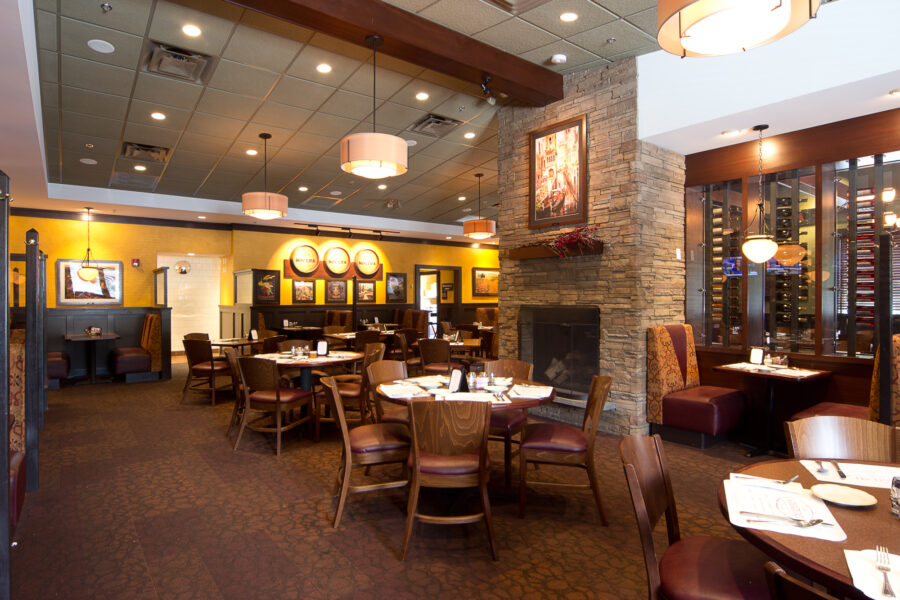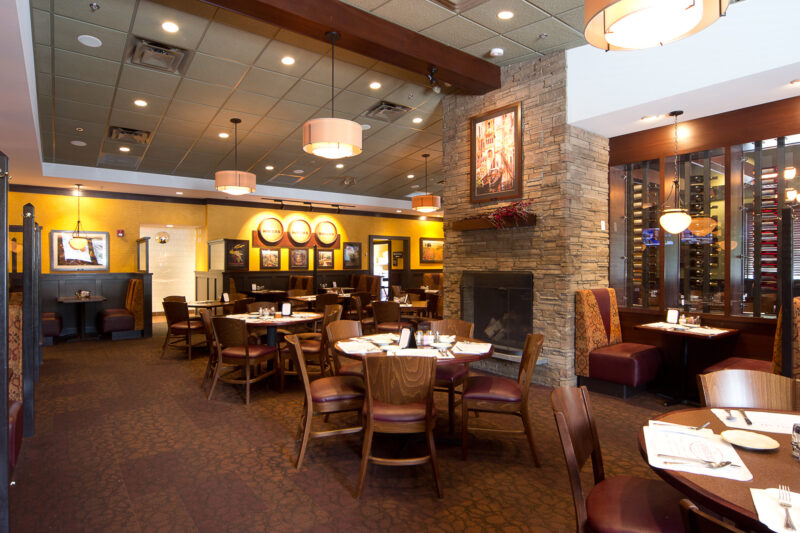 I also love some of their cocktails (like their sangria) as well as their steak frites and salmon. Their salads are delicious too! They change them seasonally but they definitely always make my taste buds happy.
Their dinner menu is fairly large so there's something here for everyone whether you want something light like a salad or heavier options like steak and potatoes.
This is another more upscale restaurant in Burlington MA but it's not too flashy or uncomfortable. Their decor is also really nice with dim lighting and exposed brick, and the location is central to just about everything.
They have a patio outside where you can bask in the summer weather while dining al fresco if that's your thing. Plus they have live music several nights a week so there's always something fun happening here.
The Chateau definitely has more of a chain vibe, but it's a go-to in my book because it's consistent. They also have really quick takeout options if you're looking to grab a quick bite without waiting for a server.
Bickford's Grille
Bickford's Grille is a cozy restaurant in Burlington with a really delicious dinner menu that also includes salads and sandwiches. It's perfect for just about any occasion but it shines as a casual option for breakfast or lunch with friends, whether you want something light like eggs and toast or heavier options like burgers and fries.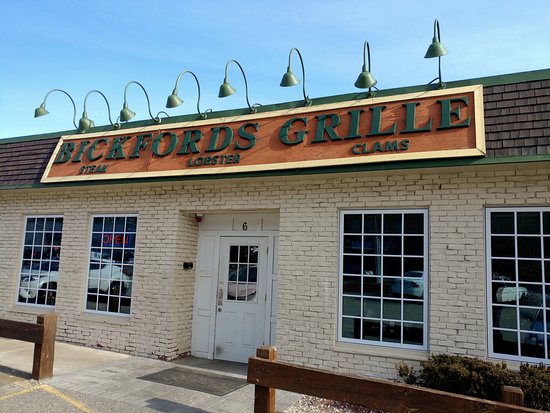 I love Bickford's Grille because they have lots of American classics here along with some interesting twists on diner options. Plus they make everything right in the kitchen- including their bread items!
Another thing I'm obsessed with at Bickford's is the grilled cheese sandwich (with tomato bisque soup) – I've been going here my whole life and whenever I order this my taste buds always go crazy. They also have endless fries which is always a plus.
The decor at Bickford's Grille is definitely super casual. This is one of Burlington's few "hole-in-the-wall" restaurants, making it really popular with locals.
It's the perfect place to watch the game and is one of the only businesses around with this vibe. I'm always on a mission to find these sorts of spots because I love the cozy ambiance!
Burgerim Gourmet Burgers
Burgerim Gourmet Burgers is a really special spot in Burlington because it's essentially gourmet burgers at fast food prices! They have these small and adorable 2 oz. patties here which makes the burger so cute and perfect for sharing.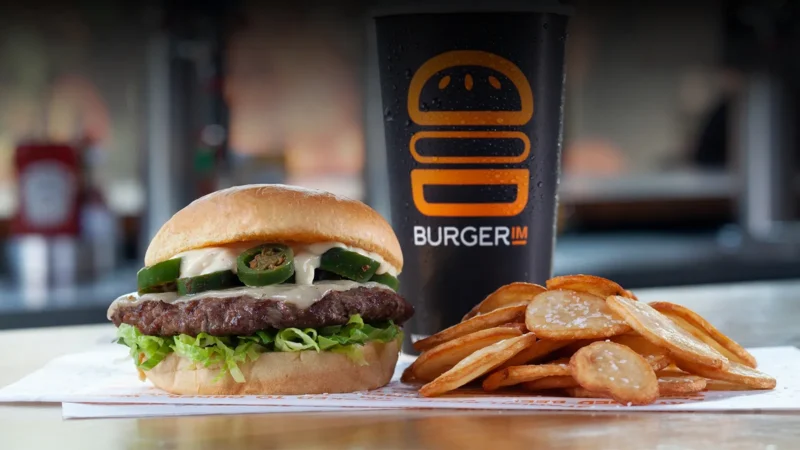 I mean, I could talk about Burgerim all day because this place has seriously made me realize that not everything has to be big to taste amazing. Plus they're such dreamers when it comes to creating new menu items, making everything daily in their kitchen (including their sauces).
Burgerim is definitely one of my favorite restaurants in Burlington MA – even though you can't go wrong with just about any dish here. I also love their fries and (which they make from real potatoes).
But it doesn't stop there because Burgerim has so many great options here including salads and milkshakes!
Burgerim is definitely more of a fast food restaurant, but don't let that fool you. The decor here feels very modern with sleek booths and trendy lighting throughout.
There's also a super cool patio where you can enjoy the weather when it warms up. It's almost like eating al fresco inside – especially with all those twinkly lights they have hanging everywhere!
Overall, these are the best restaurants in Burlington Massachusetts. If you're looking to try upscale cuisine at a fancy steak house or casual dinner fare, there's something on this list for everyone.
Some of these spots will take reservations by phone or online while others will require walk-in seating. You can also check Yelp to learn more about the various options available.
The community in Burlington MA is also really fun if you want to hit up a bar, or there are tons of delivery options available if you'd rather stay home. Overall, Burlington has a ton of really beautiful restaurants that are also quite affordable! You can head down just about any avenue and find an upscale place.