Get ready to shine and dazzle everyone with the absolute best jewelry brands like Mejuri for timeless and classic pieces!
There's nothing quite like adorning yourself with beautiful accessories to express your unique style and boost your confidence. Among the fabulous jewelry brands out there, one name stands out—Mejuri.
Loved by fashion enthusiasts worldwide, Mejuri is known for its minimalist designs, exceptional craftsmanship, and commitment to ethical practices. But hey, the fashion scene is ever-evolving, and it's always fun to discover new gems. So, get ready as I take you on an exciting journey to explore the best jewelry brands that capture the essence of Mejuri's charm.
For this article, I will unveil a curated selection of remarkable jewelry brands that share Mejuri's spirit and deliver stunning pieces to adorn yourself with. From simple and elegant to bold and eye-catching, these brands cater to a variety of tastes, ensuring you find the perfect match for your personal style. So, whether you're into the chic minimalism that speaks volumes or the vibrant allure of statement pieces, I've got you covered.
But wait, there's more! We're not just about style; we also care about the world we live in. That's why we'll also shine a light on brands that champion ethical practices and sustainability. We'll introduce you to brands that source gemstones responsibly, support fair-trade practices, and strive to minimize their impact on the environment. With these jewelry brands like Mejuri, you can rock your accessories guilt-free and be a part of a more sustainable future. Win-win!
What Is Mejuri?
Mejuri is a popular jewelry brand that stands out for its modern designs, excellent craftsmanship, and ethical practices. It was founded in 2015 by Noura Sakkijha, a jeweler who wanted to change the traditional jewelry industry. Noura's goal was to offer high-quality jewelry that was both stylish and affordable.
What's more, Mejuri creates a wide range of jewelry, including necklaces, earrings, rings, bracelets, and charms! Their designs are simple, timeless, and meant to be worn every day. The pieces are carefully made to be both elegant and contemporary, combining classic beauty with a modern touch.
One of the things that sets Mejuri apart is its focus on using top-quality materials. They source their gemstones and diamonds responsibly, making sure they are conflict-free. The jewelry is made using materials like 14k and 18k gold vermeil, sterling silver, and solid gold.
Mejuri sells its jewelry directly to customers, cutting out the middleman and traditional retail markups. This means that their pieces are more affordable without compromising on quality! You can purchase Mejuri jewelry online or visit their physical showrooms.
Best Jewelry Brands Like Mejuri
Whether you're searching for an everyday staple, a sentimental keepsake, or a show-stopping statement piece, these jewelry brands like Mejuri will help you find the perfect adornment to embody your unique essence.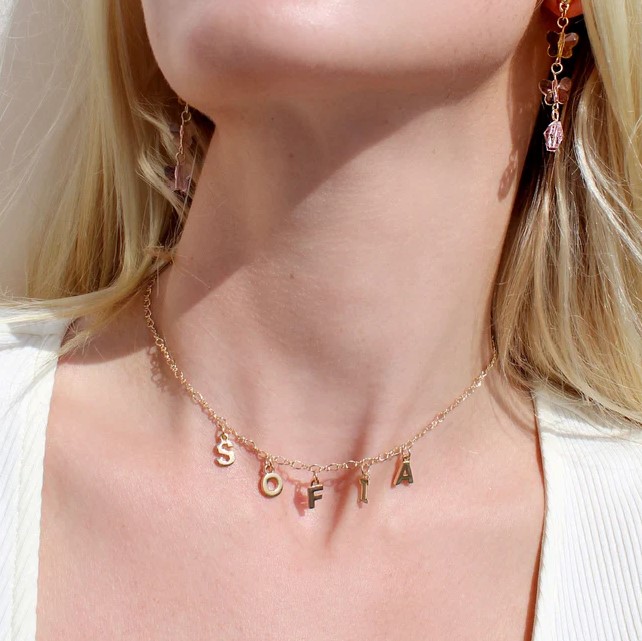 Fraiser Sterling is a jewelry brand that radiates vibrant energy and undeniable style. With a focus on creating stunning pieces that make a statement, they have captured the hearts of style enthusiasts everywhere. Every accessory from Fraiser Sterling is meticulously designed to exude confidence and elevate any ensemble.
Their collection is a treasure trove of eye-catching necklaces, earrings, bracelets, and more! All of these are crafted with impeccable attention to detail. From bold and edgy designs to delicate and whimsical pieces, Fraiser Sterling offers a diverse range of options to suit every mood and occasion.
Furthermore, the brand's infectious energy extends beyond its designs, which is something I really like about Fraiser Sterling! They foster a vibrant community of fashion enthusiasts who share a love for bold, spirited accessories. Their upbeat and inclusive approach creates an atmosphere of fun and positivity, making the journey of discovering and wearing their jewelry an exciting and joyful experience.
Fraiser Sterling understands the importance of quality. Each piece is carefully crafted using high-quality materials to ensure longevity and a luxurious feel. With their commitment to excellence, you can trust that your Fraiser Sterling jewelry will remain radiant and stunning for years to come.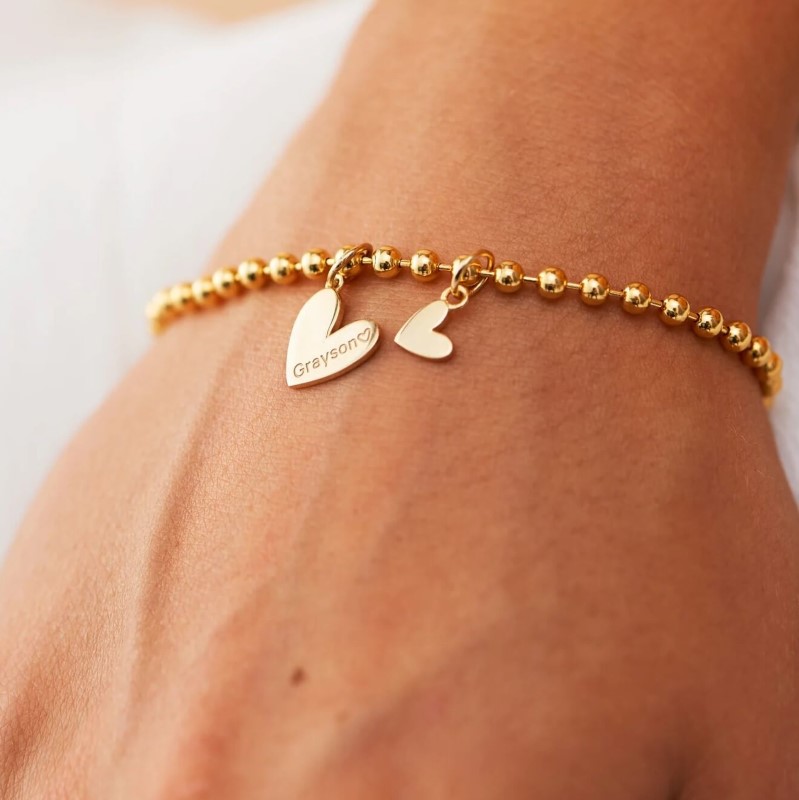 Founded in Brooklyn, Rellery is a jewelry brand that brings joy and elegance to your accessory collection. With a passion for creating pieces that make you feel special, Rellery is all about celebrating your unique style and adding a touch of glamour to your everyday life.
At Rellery, you'll discover a delightful range of necklaces, earrings, rings, and bracelets designed to make you shine. From dainty and delicate to bold and eye-catching, Rellery offers a diverse selection to suit every taste and occasion.
What sets Rellery apart is its commitment to personalized jewelry. Many of their pieces can be customized with initials, birthstones, or meaningful engravings. This allows you to create a one-of-a-kind treasure that reflects your personality and holds sentimental value.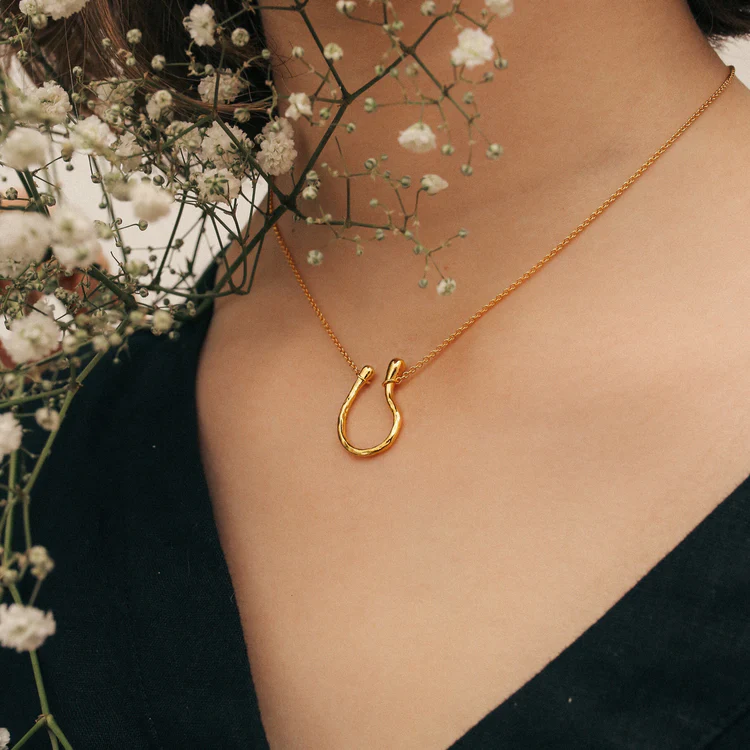 Discover a stunning collection of necklaces, earrings, rings, and bracelets at Fedoma that will leave you in awe. Expect impeccable craftsmanship, ensuring exceptional quality and a luxurious feel. Whether you prefer delicate and refined pieces or bold and eye-catching designs, Fedoma offers a range of options to suit any occasion and mood.
Their jewelry effortlessly exudes sophistication, enhancing any outfit with a touch of luxury. Whether you're dressing up for a special event or adding a hint of glamour to your everyday look, Fedoma has the perfect piece to elevate your style and boost your confidence.
Moreover, Fedoma is committed to sustainability and ethical practices, valuing responsible sourcing by using recycled metals and ethically sourced gemstones. When you wear Fedoma jewelry, you can feel proud knowing that it aligns with your values. Not only that, but the metals they use are also skin-friendly!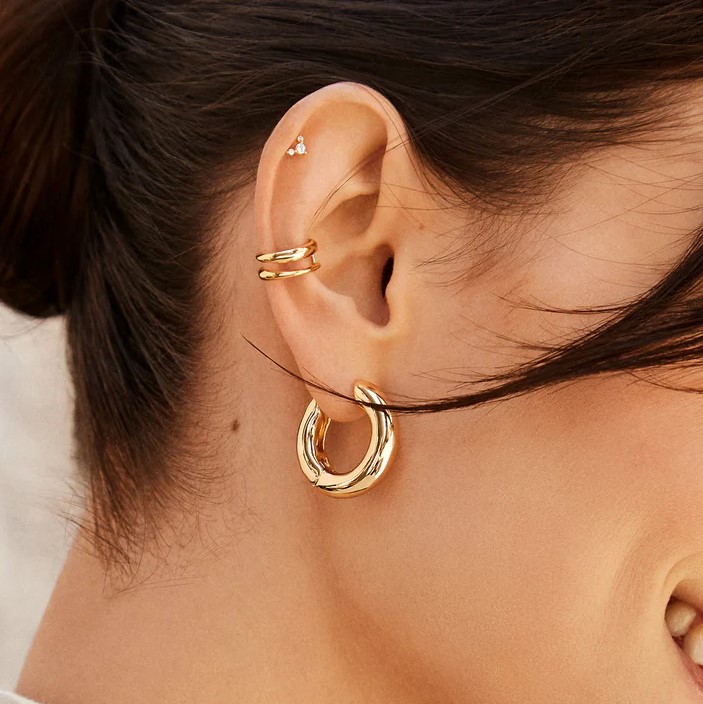 If you're looking for a brand that has a delightful mix of fun, fashion, and affordability in the world of accessories, BaubleBar is for you. With a playful and vibrant approach, BaubleBar has become a go-to destination for those seeking trendy and statement-making pieces that effortlessly elevate any outfit.
What's more, their pieces are designed to make a statement. So whether you're looking for vibrant pops of color, intricate details, or striking geometric shapes, you'll surely love this brand! With BaubleBar, you can express your unique style and showcase your personality through your accessories.
Not only does BaubleBar offer stylish jewelry, but they also understand the importance of affordability. Their accessible price points ensure that you can indulge in fashion-forward jewelry without breaking the bank. You don't have to compromise on quality or style when shopping at BaubleBar.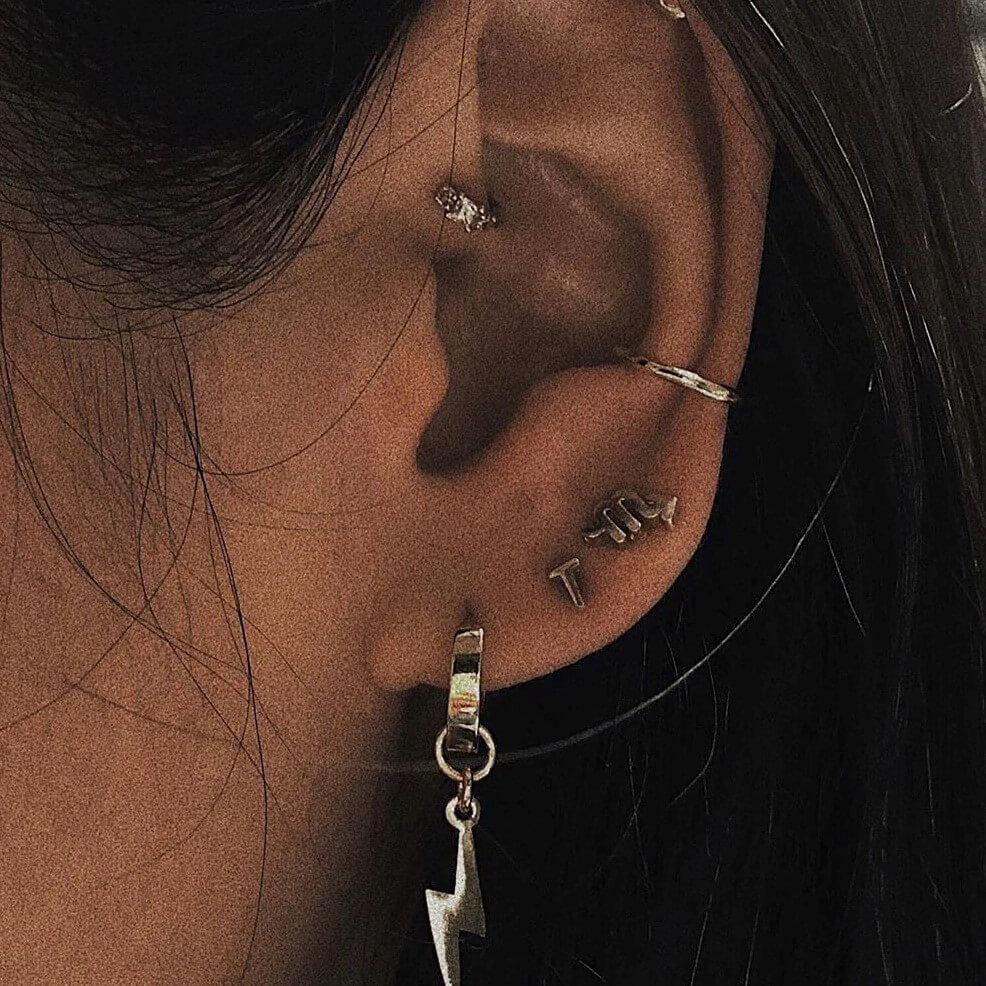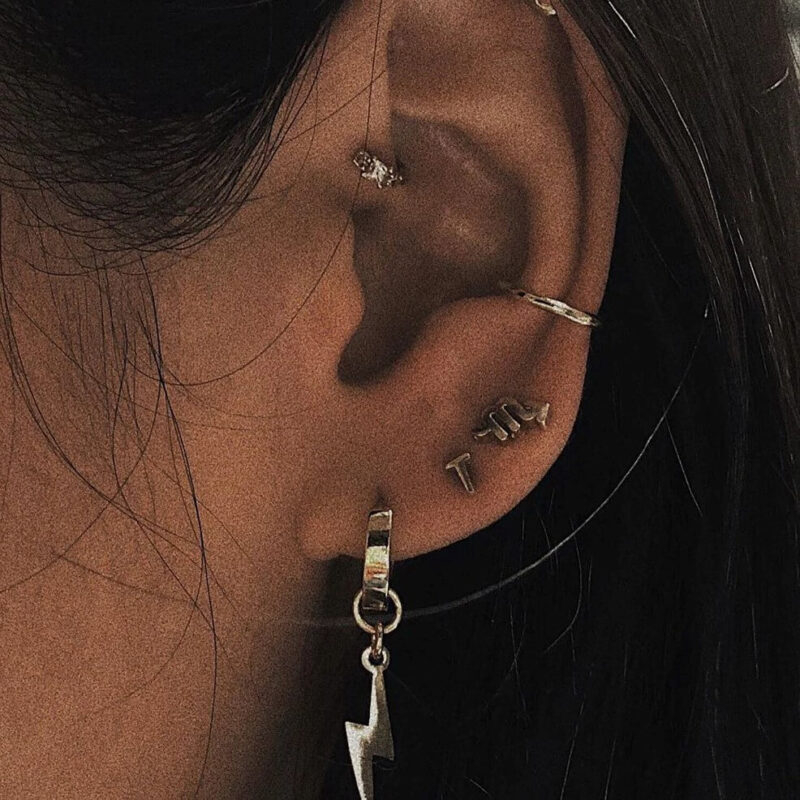 If you value innovative aesthetics with an edgy touch, you can't go wrong with Bigbang NYC. Their designs push boundaries, combining unexpected materials and unconventional shapes to create striking and memorable pieces. Whether you're seeking a conversation starter or a show-stopping accessory, Bigbang NYC offers an array of options to suit your daring spirit.
What's more, the brand embraces diversity and celebrates individuality. They encourage you to embrace your true self and express your unique personality through their jewelry. Their designs resonate with those who are fearless, adventurous, and unapologetically themselves. With Bigbang NYC, you can break free from convention and explore a realm of creativity, where the possibilities are endless.
This is one of the best jewelry brands like Mejuri for a slightly edgier vibe.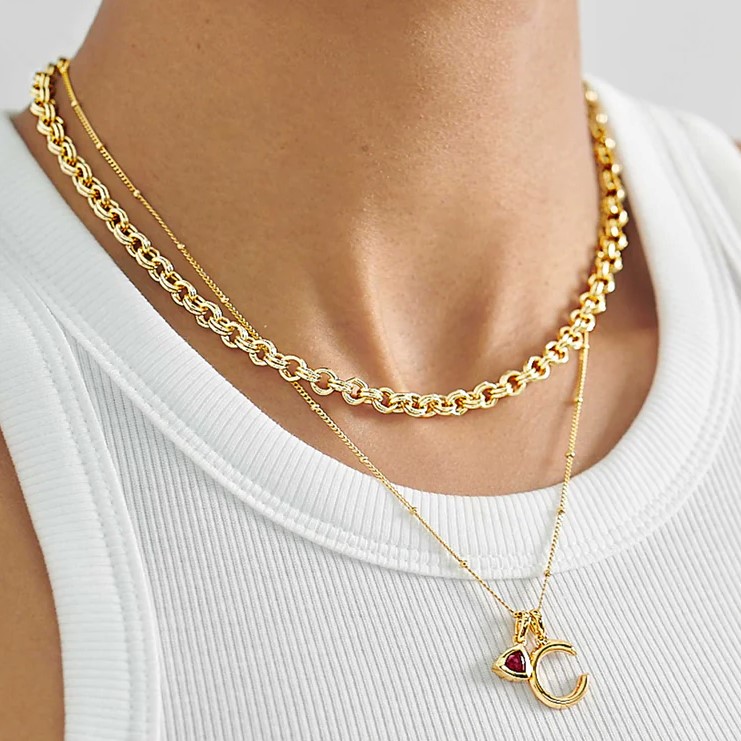 At Edge of Ember, you'll discover a captivating collection of jewelry that exudes timeless beauty. Their designs are sleek, minimalist, and versatile, making them perfect for both everyday wear and special occasions. From delicate and refined pieces to bolder statement jewelry, Edge of Ember offers a range of options to suit your personal style.
Blending modern sophistication with ethical craftsmanship, they prioritize responsible sourcing of materials. This ensures that their jewelry is both environmentally friendly and socially conscious.
Beyond their exquisite designs, Edge of Ember also fosters a sense of empowerment and inclusivity. Their jewelry celebrates the diverse stories and journeys of individuals, inspiring self-expression and embracing the beauty of individuality.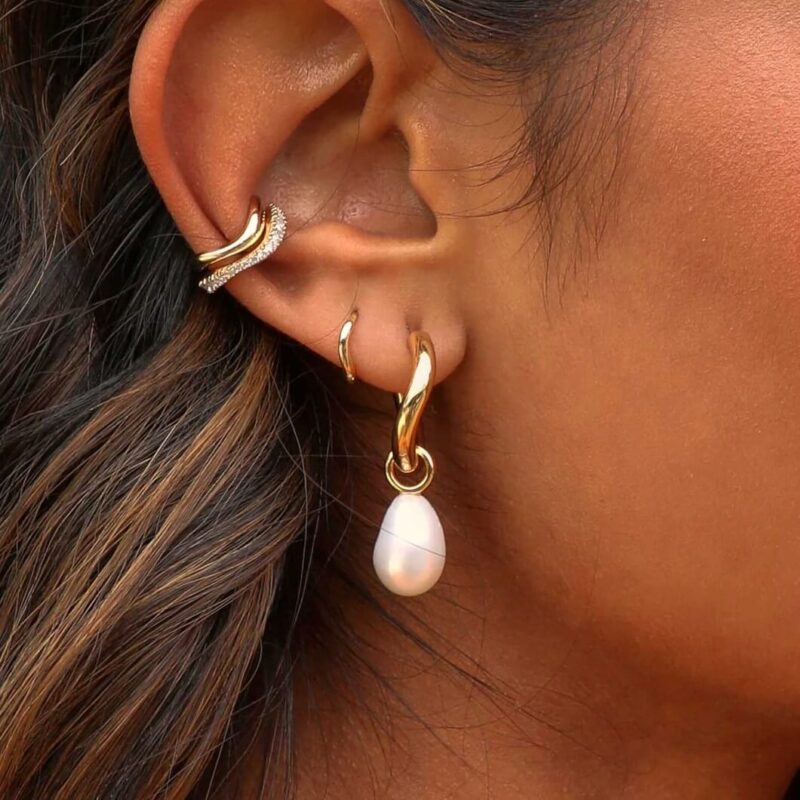 Astrid & Miyu effortlessly blends modernity, versatility, and exquisite craftsmanship. With their gorgeous designs, Astrid & Miyu has established itself as a go-to destination for those seeking contemporary and sophisticated accessories.
Their designs range from dainty and minimalist to bold and statement-making, allowing you to express your unique personality and elevate any outfit. With Astrid & Miyu, you'll find the perfect piece for every occasion, whether you're dressing up for a special event or adding a touch of charm to your everyday look.
What's more, their jewelry is designed to be effortlessly layered, mixed, and matched. This enables you to create your own unique combinations and styles. With their extensive range of mix-and-match pieces, you can curate a jewelry collection that evolves with your individuality and reflects your ever-changing moods and tastes.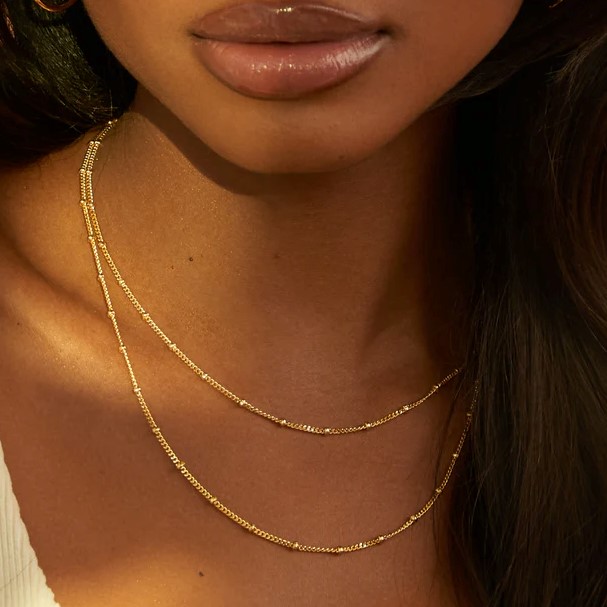 Oma The Label embodies the essence of minimalistic elegance. With their distinct and refined designs, Oma The Label has gained recognition for its timeless and sophisticated pieces. The brand's jewelry reflects a celebration of individuality, offering a range of accessories that exude understated beauty.
What's more, the brand places importance on using high-quality materials. This includes sterling silver, gold vermeil, and semi-precious gemstones. Moreover, sustainability is a key aspect of their practices, as they strive to incorporate recycled and responsibly sourced materials while reducing waste in their production process.
This is one of the best minimalist jewelry brands like Mejuri on the market!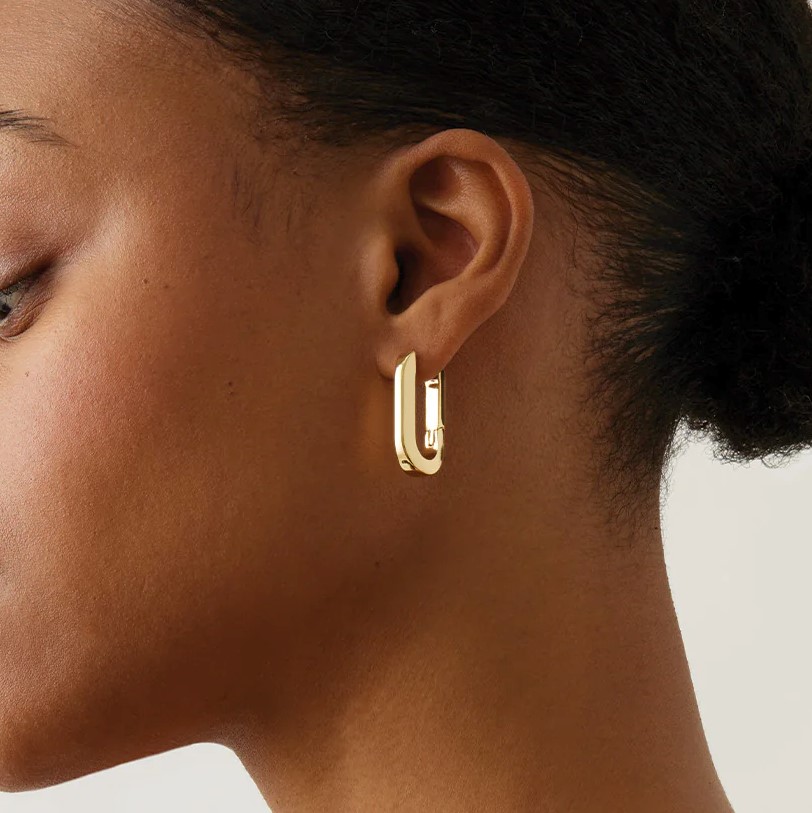 Jenny Bird is a well-known jewelry brand founded by Canadian designer Jenny Bird. Renowned for its modern and contemporary designs, the brand has garnered a reputation for its unique aesthetic and exceptional craftsmanship.
Moreover, Jenny Bird jewelry embraces a bold and statement-making style with a modern edge. The brand combines clean lines with distinctive geometric shapes. This results in pieces that are simultaneously edgy and sophisticated. Each jewelry piece is meticulously crafted, often incorporating mixed metals, textured finishes, and innovative design elements that captivate attention and spark conversations.
Not to mention, Jenny Bird's commitment to accessibility and inclusivity is evident in its approach. The brand aims to offer accessible luxury by providing high-quality jewelry at more affordable price points. Additionally, Jenny Bird designs its jewelry to be versatile and suitable for people of different styles, ages, and backgrounds. This promotes inclusivity and ensures that their pieces can be appreciated by a wide range of individuals.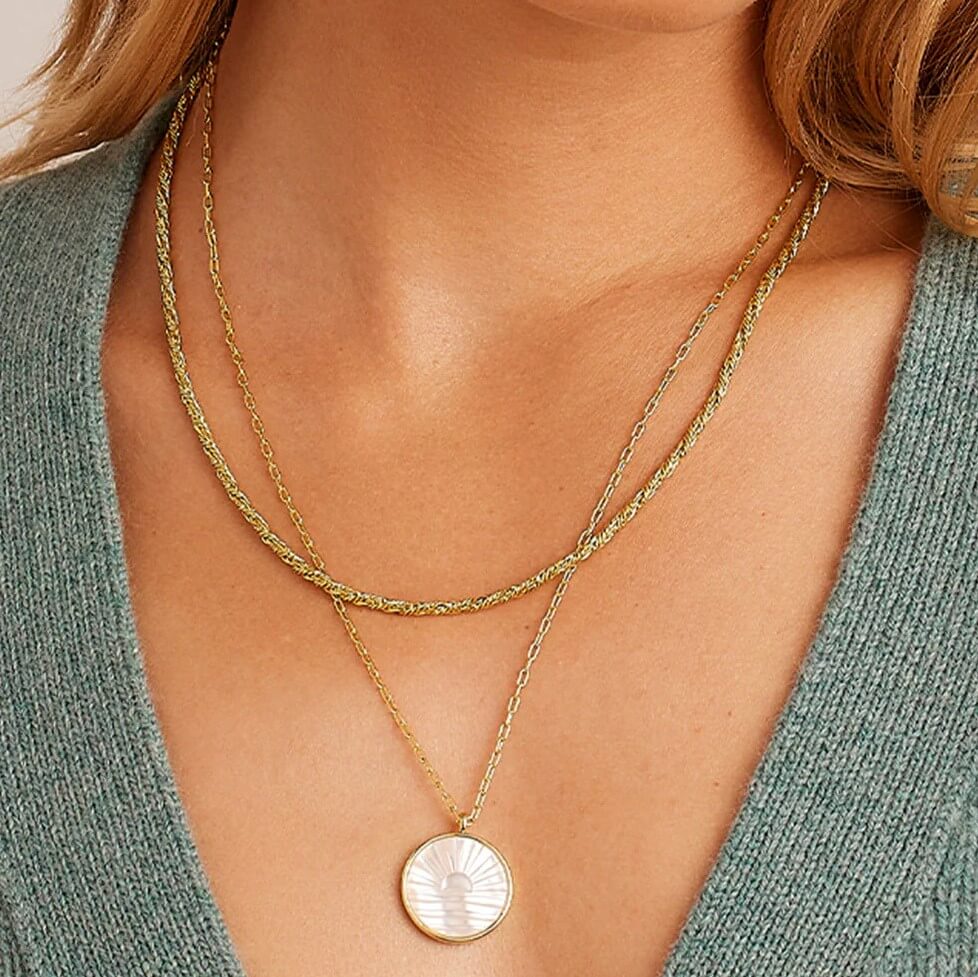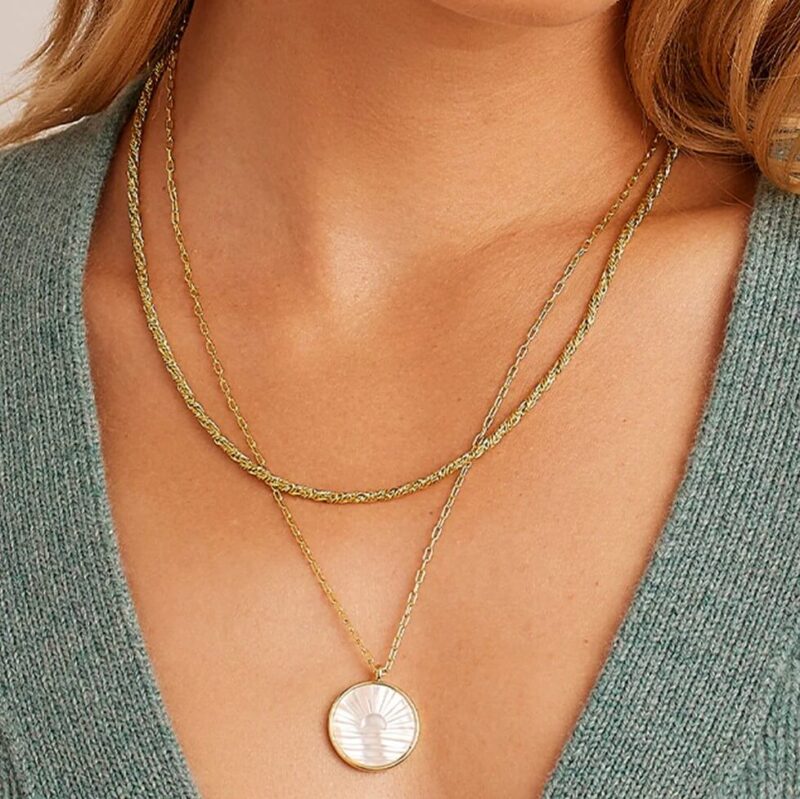 Gorjana has gained popularity for its modern and effortlessly chic designs. Their jewelry pieces embody a sense of understated elegance and are known for their delicate and dainty styles. From necklaces and bracelets to earrings, rings, and accessories, Gorjana offers a diverse range of jewelry options to suit various tastes and preferences.
What's more, they're committed to using high-quality materials in their creations. They often incorporate gold and silver plating, giving their pieces a luxurious look and feel. They also utilize semi-precious gemstones and natural materials such as leather and beads, adding texture and depth to their designs.
The brand's designs are often characterized by clean lines, simple shapes, and subtle details. This aesthetic lends itself to a sense of sophistication and versatility, making Gorjana jewelry suitable for everyday wear as well as special events.
This is one of the best understated and elegant jewelry brands like Mejuri right now!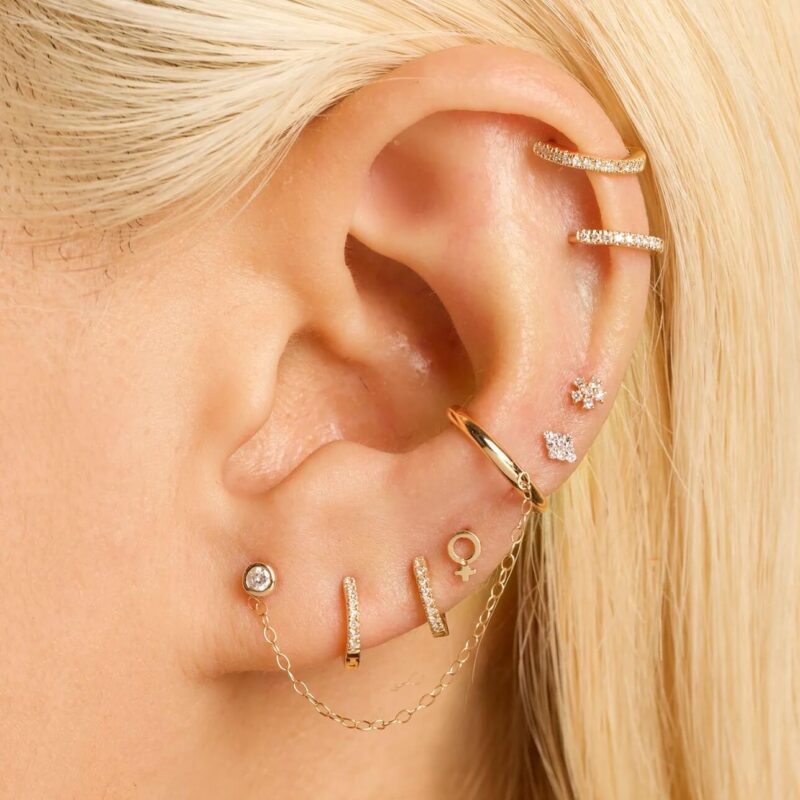 With a passion for jewelry and a desire to create a brand that resonated with modern women, Nadine McCarthy Kahane started Stone and Strand in 2013 with the vision of offering a curated collection of contemporary and timeless pieces.
Stone and Strand is an innovative and contemporary jewelry brand that creates stunning and unique pieces. They prioritize transparency and work closely with skilled artisans to bring their designs to life. As the brand grew, Stone and Strand expanded its offerings and started collaborating with established and up-and-coming designers to create exclusive collections. This allowed them to showcase unique and limited-edition pieces that reflected their commitment to innovation and staying ahead of trends.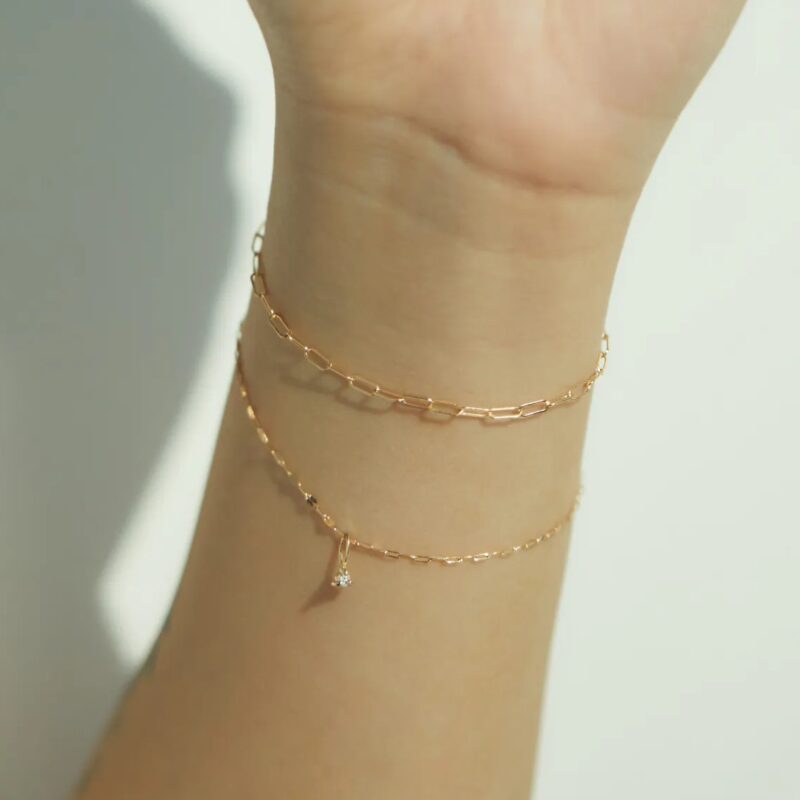 Immerse yourself in a realm of personalized jewelry, curated just for you. Catbird NYC is an enchanting jewelry brand that captures the essence of whimsy and elegance. With a dreamlike collection of finely crafted jewelry, Catbird NYC offers a delightful range of delicate rings, necklaces, earrings, and more.
Inspired by the beauty of everyday moments, Catbird NYC's jewelry is meant to be treasured as modern heirlooms. Whether you're looking to add a touch of magic to your own style or searching for a meaningful gift, Catbird NYC won't let you down.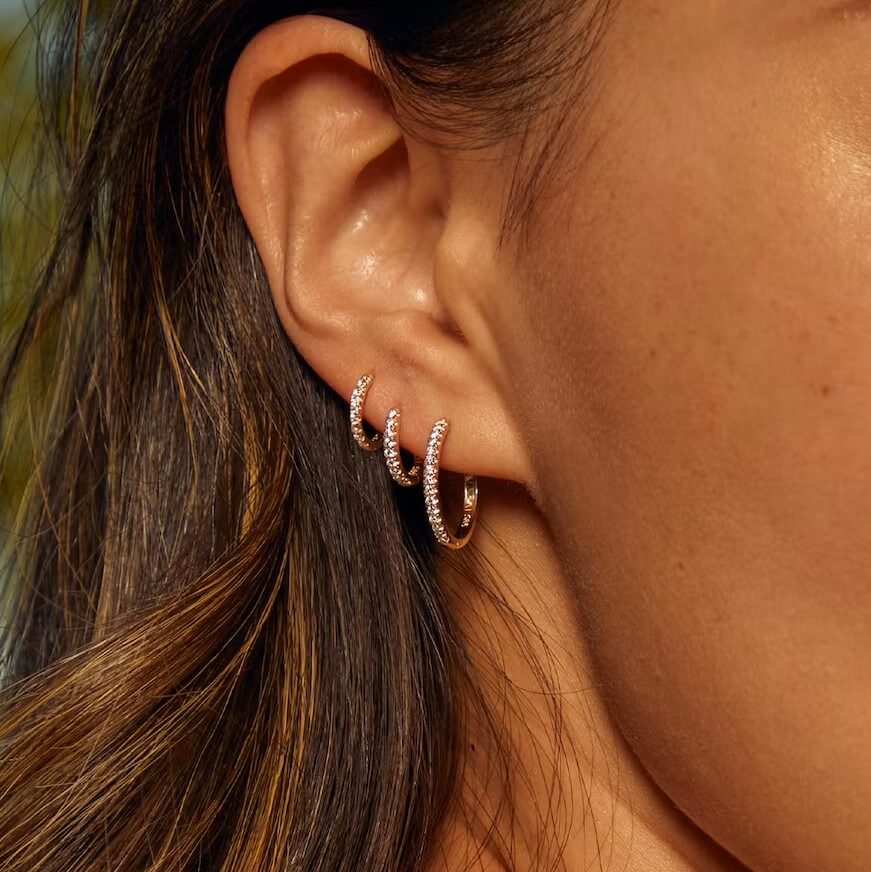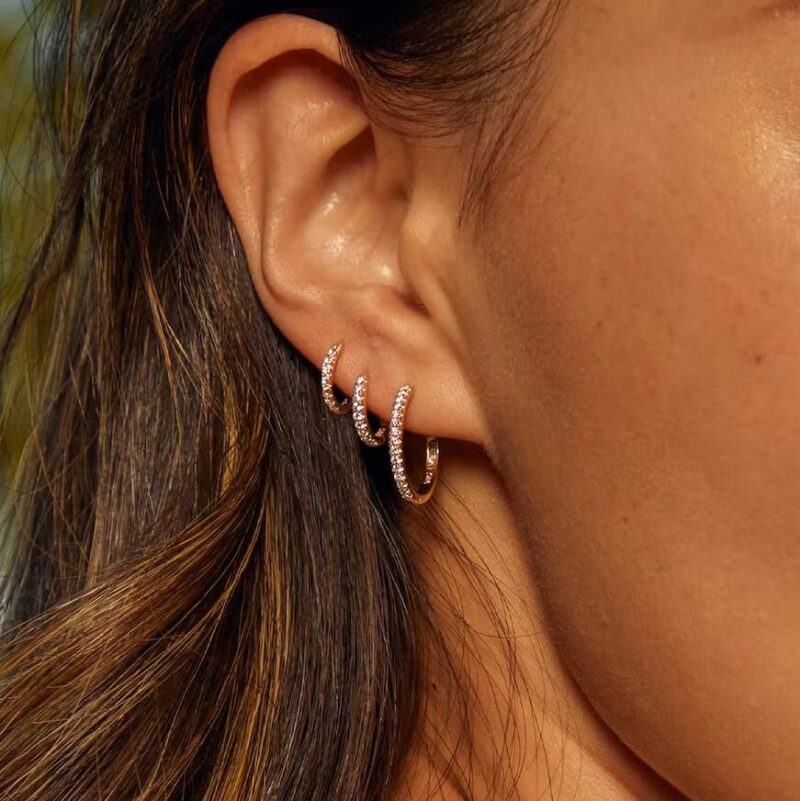 Whether you're newly engaged or simply want to add an icy touch to your accessories, VRAI is the brand for you. If you don't already know, VRAI places a strong emphasis on responsible sourcing and environmental consciousness. They offer a luxurious and ethical alternative in the jewelry industry.
What's more, VRAI is known for its lab-grown diamonds. Which are indistinguishable from mined diamonds but created through innovative technology in a controlled laboratory setting. This significantly reduces environmental impact and eliminates concerns related to conflict sourcing.
Craftsmanship is at the core of VRAI's philosophy. Each jewelry piece is carefully designed and expertly crafted by their team of skilled artisans. Whether it's engagement rings, wedding bands, necklaces, or earrings, VRAI's creations exude timeless beauty and impeccable quality.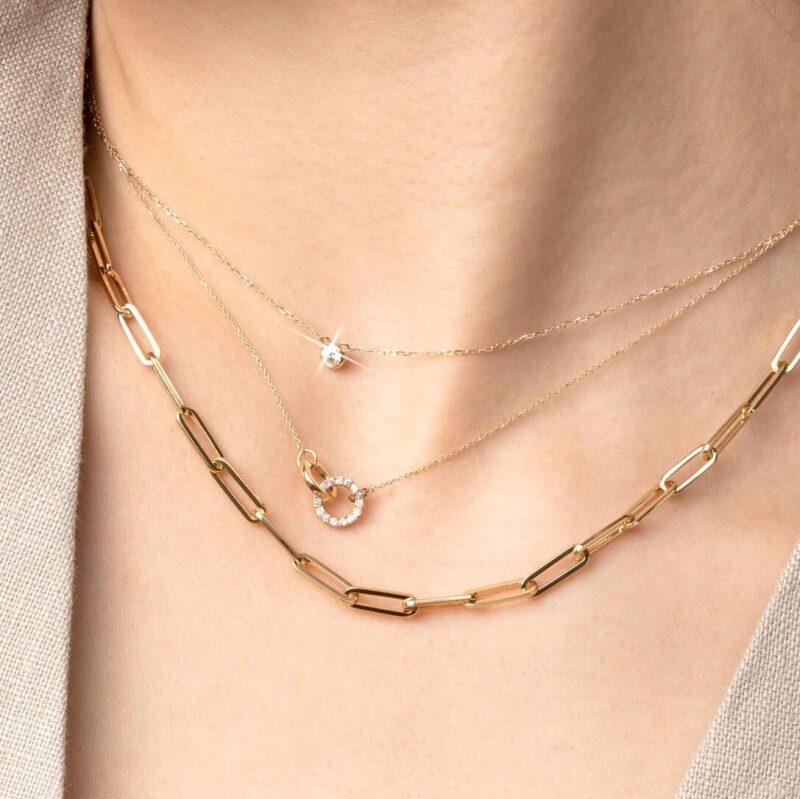 AUrate is a renowned jewelry brand that stands out for its commitment to exceptional craftsmanship, ethical practices, and accessible luxury. Founded in 2015 by Sophie Kahn and Bouchra Ezzahraoui, AUrate aims to offer timeless and versatile pieces that empower women.
Aurate takes pride in using high-quality materials, primarily 14k and 18k gold, to create their stunning designs. They also offer options for customization, allowing customers to create personalized pieces that reflect their unique style and preferences.
Looking for jewelry brands like Mejuri that actually care? This brand is committed to using conflict-free, sustainably sourced materials, ensuring that its jewelry is crafted with integrity and transparency. Additionally, Aurate partners with responsible suppliers who adhere to strict environmental and labor standards.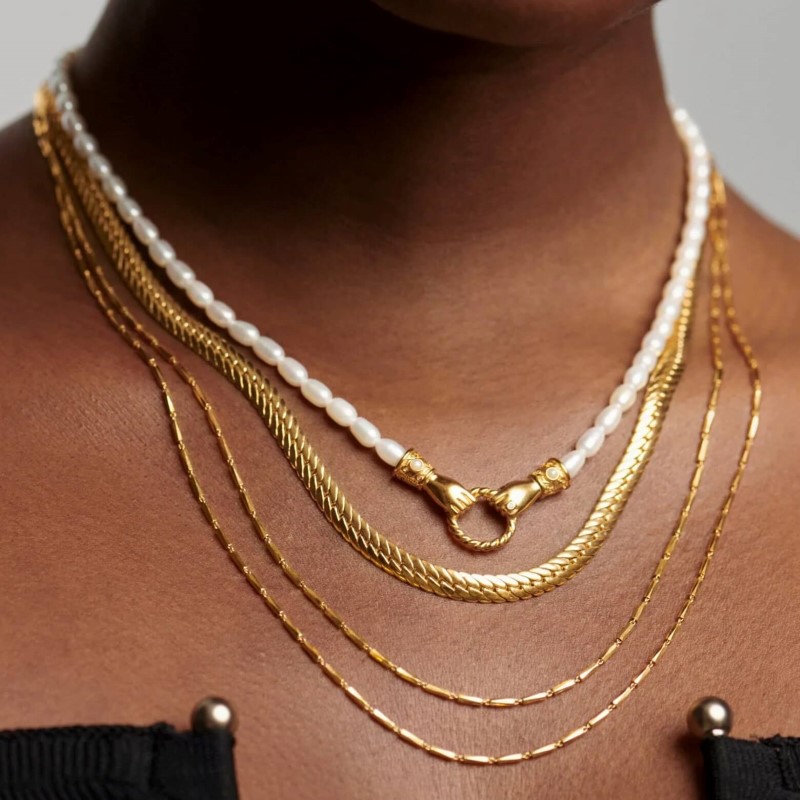 Founded in 2008 by Marisa Hordern, Missoma has gained a strong following for its unique and versatile pieces that cater to a wide range of tastes and occasions. Their jewelry strikes a balance between simplicity and statement, allowing individuals to express their personal style with ease.
Missoma is celebrated for its focus on versatility. Many of their designs are created to be worn in various ways. This allows for layering and mixing and matching. Such versatility gives individuals the freedom to create unique combinations that suit their personal style and allows for a seamless transition from day to night.
Hopefully, these jewelry brands like Mejuri gave you some great ideas for new jewelry sites to frequent. Happy shopping!