Today we're sharing the best designer camera bags to invest in for a trendy and functional wardrobe!
Whether you're a professional photographer or just someone who loves capturing life's moments on camera, having a stylish and functional camera bag is a must. Fortunately, there are plenty of designer camera bags available that not only protect your gear but also make a fashion statement.
With that said, whether you're going on a weekend getaway or doing your daily errands, a designer camera bag is a must-have in any wardrobe. So to help you pick one, I've curated this list just for you. No matter your style, you're sure to find here the designer camera bag of your dreams.
From sleek leather options to trendy backpacks, there's a camera bag out there for everyone. In this post, we've curated a list of 30+ trending designer camera bags to shop, so you can find the perfect one to suit your style and needs. So, let's dive in and discover some of the most stylish camera bags on the market.
Best Designer Camera Bags To Shop

These designer camera bags are a wardrobe necessity for days when you need extra space, striking the perfect blend between vintage and modern design. So without further ado, here are the best designer camera bags!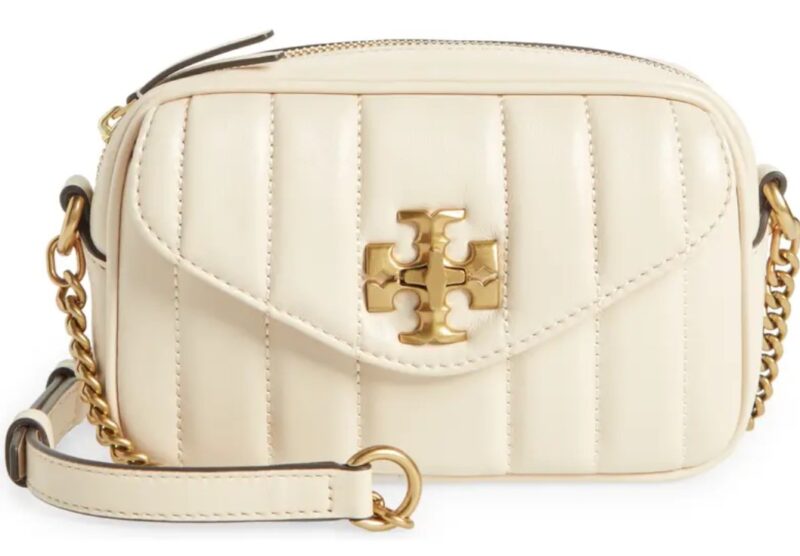 Featuring a boxy shape with a flap closure and a chain strap that can be worn over the shoulder or across the body, the Tory Burch Kira Mini Camera Bag is a stylish and compact crossbody bag. The Kira Mini Camera Bag is crafted from high-quality leather and is available in various colors and finishes, allowing for versatility in styling. It also includes the signature double-T logo on the front flap, adding a touch of sophistication to the overall design.
While this may not fit your usual DSLR camera, this can easily fit all your daily necessities. Inside, the bag offers a small interior compartment with enough space to carry essentials. This includes your smartphone, keys, cards, and a few other personal items.
The bag's dimensions are generally compact, making it suitable for those who prefer a smaller-sized crossbody bag. It is designed to be lightweight and easy to carry, making it ideal for everyday use or for occasions where you want to travel light.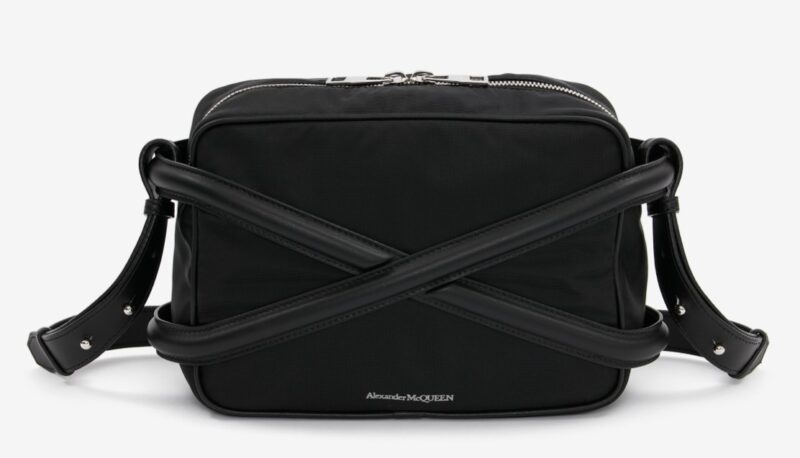 Looking for the best designer camera bags to take on the move and not worry about stains? If you're looking for something understated, sleek, yet so chic, the Alexander Mcqueen Harness Camera Bag might just be your best bet. To me, this bag showcases the brand's distinctive design elements with a touch of edginess. The Harness Camera Bag features a compact and rectangular silhouette, inspired by the classic camera bag shape.
What sets the Harness Camera Bag apart is its unique harness-inspired detailing. It incorporates a wide leather strap that wraps around the bag's body, creating a visually striking and statement-making look.
This is probably one of my favorites on this list. I love the minimalistic design and monochrome black color scheme. This would easily go well with any outfit while giving your ensemble a unique touch, regardless if it's casual or a little more formal.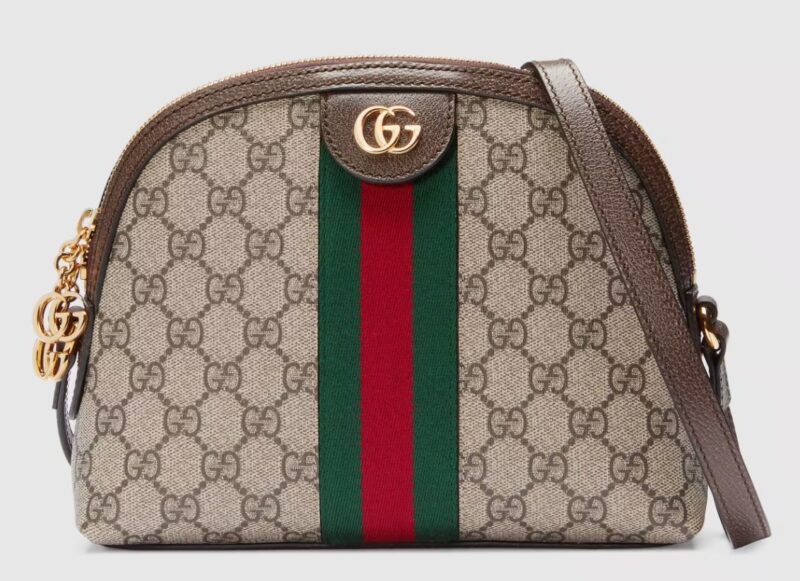 When it comes to luxury bags, Gucci is one of the best brands to look out for. That goes for shopping for camera bags as well! An iconic accessory, The Gucci Ophidia GG Small Shoulder Bag is part of a collection that celebrates the brand's rich heritage and signature elements.
The Ophidia GG Small Shoulder Bag showcases Gucci's iconic GG Supreme canvas with inlaid Web stripe detail. This premium quality canvas is combined with smooth leather accents, creating a distinctive and elegant look. Furthermore, the gold-toned hardware further enhances the bag's luxurious appeal.
Overall, the bag effortlessly combines timeless elegance with the distinctive Gucci aesthetic. Making it a coveted accessory for fashion enthusiasts.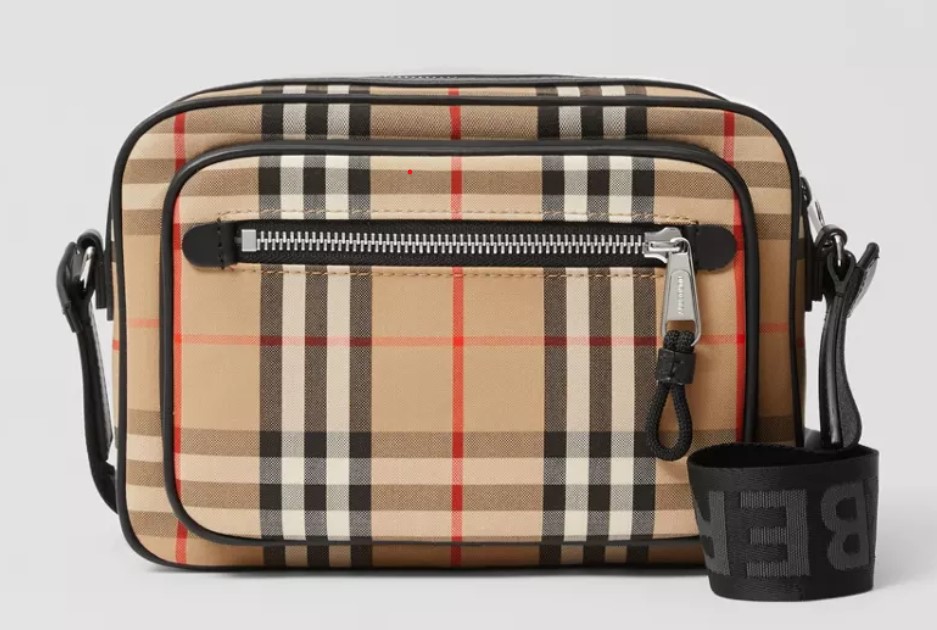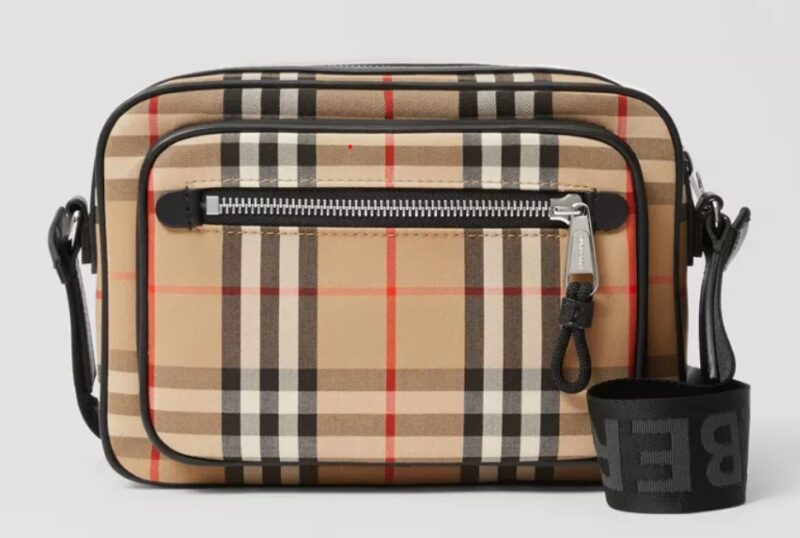 Stylish and timeless, the Burberry Vintage-Check And Leather Crossbody Bag features the brand's iconic vintage check pattern. This also comes with high-quality leather accents, creating a sophisticated and versatile design.
Inside the bag, you'll find a well-organized interior with multiple compartments and pockets. This allows for convenient storage of essentials like a wallet, keys, smartphone, and even your cosmetics. The bag also features a zippered pocket for better organization.
Not to mention, the crossbody design of the bag offers hands-free convenience. Allowing you to carry it comfortably throughout the day. The shoulder strap is adjustable, enabling you to customize the length according to your preference.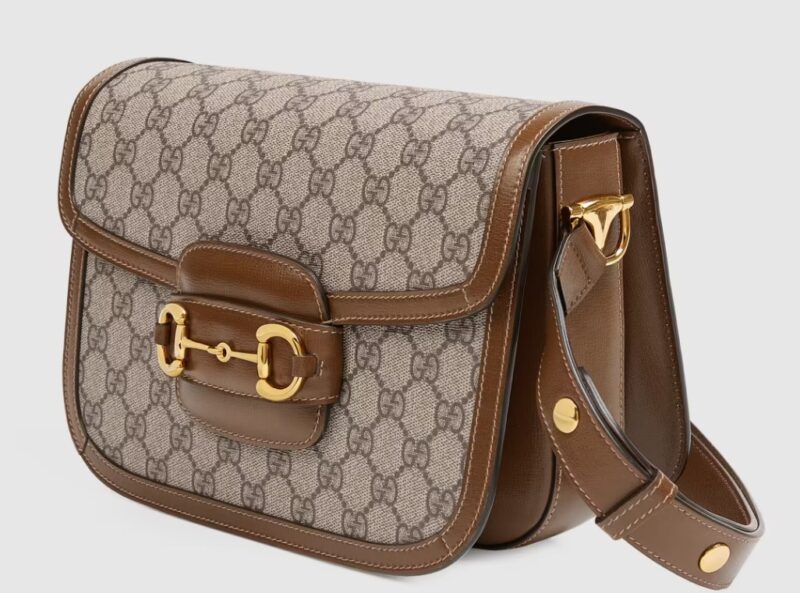 Looking for classic and neutral luxury camera bags? Here's another favorite of mine from this list. It's also from Gucci and I find that this particular design is just so classy and timeless!
Recreated from an archival design, the Gucci Horsebit 1955 bag was introduced for Cruise 2020. This accessory embodies the original details with a modern twist, highlighting the iconic Horsebit. If you don't already know, the Horsebit is a symbol of Gucci's rich history and represents the brand's deep connection to equestrian aesthetics.
Presented in a compact flap shoulder bag, the hardware perfectly complements the House's monogram fabric.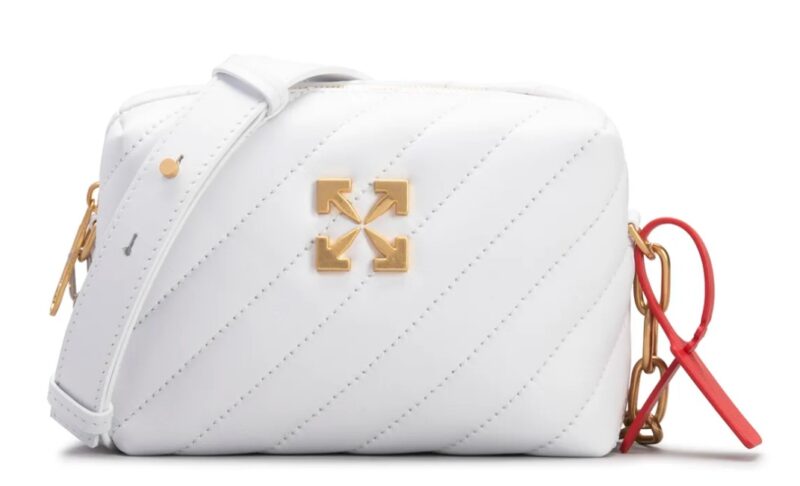 With a unique design element and an urban-inspired aesthetic, the Off White Jackhammer Arrow Quilted Camera Crossbody Bag is perfect for those who have an affinity for stylish streetwear.
Crafted from high-quality quilted fabric, this camera bag features a textured and eye-catching look. But one of the standout features of this bag is Off-White's iconic arrow logo, which is prominently displayed on the front of the bag. With that said, the Off White Jackhammer Arrow Quilted Camera Crossbody Bag effortlessly combines fashion-forward design with functionality, adding a touch of urban sophistication to your outfit.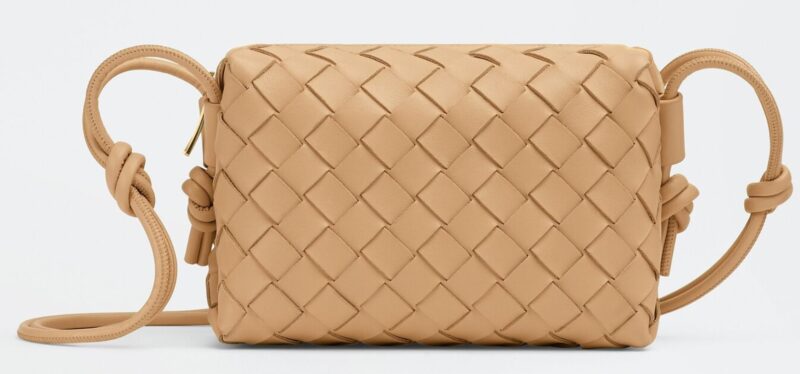 Showcasing Bottega Veneta's signature woven leather craftsmanship, the Veneta Mini Loop Camera Bag is an utterly unique bag design that's just completely stunning!
The Mini Loop Camera Bag features a minimalist and rectangular silhouette. It is crafted from high-quality leather, meticulously woven in the brand's iconic Intrecciato pattern. The woven leather detailing adds so much sophistication and texture to the bag's overall aesthetic.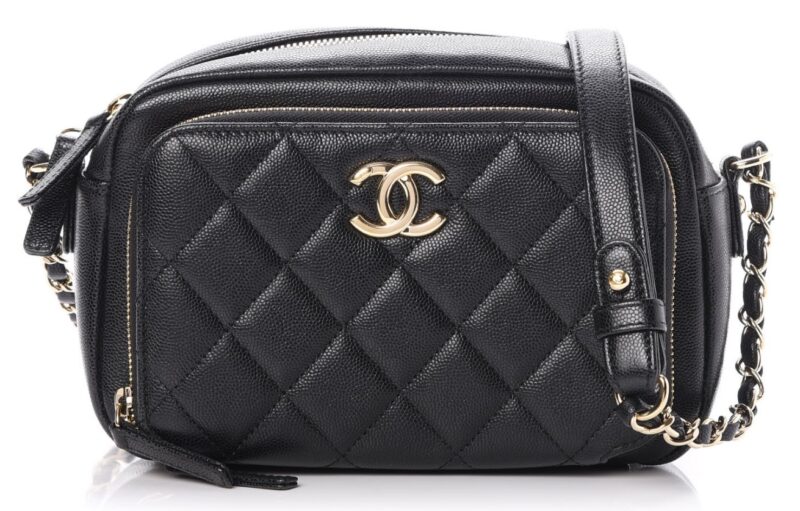 When it comes to designer camera bags, Chanel is on top of their game. The Caviar Quilted Business Affinity Camera Case is part of the Business Affinity collection, which combines elegance with practicality.
Crafted from Chanel's renowned caviar leather, you're ensured of the bag's durability and luxurious texture. The quilted pattern adds a classic touch to the bag's design too! It is designed with practicality in mind, offering a structured and organized interior. The bag typically includes a top zipper closure, ensuring the security of your belongings.
Whether you're a photography enthusiast or simply appreciate a stylish and organized bag, this camera case will effortlessly complement your attire with its refined design and attention to detail.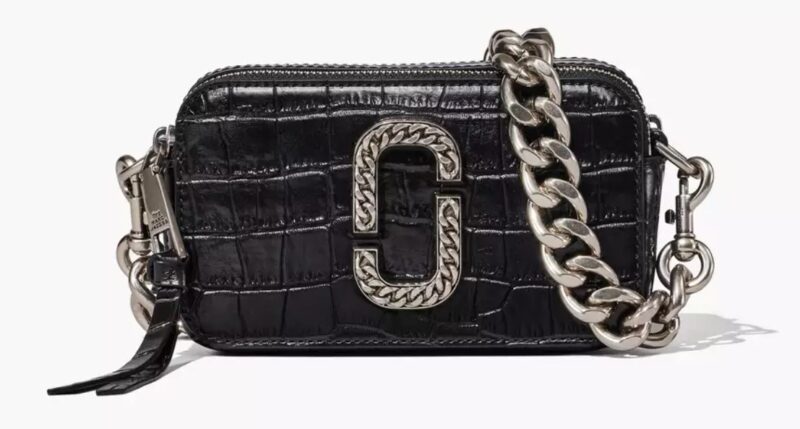 If you're looking for something chic, sophisticated, and with an exotic flair to its design, the Marc Jacobs Croc-Embossed Snapshot might be something you'll like. One of the notable features of this bag is its dual-compartment design. It typically includes two separate zippered compartments on the front and back of the bag. This provides ample space for organizing your essentials.
So if you appreciate a statement-making accessory, I highly suggest checking this bag out! Its unique crocodile-embossed texture, dual-compartment design, and branded hardware make it a fashionable and functional choice for both casual and dressier occasions.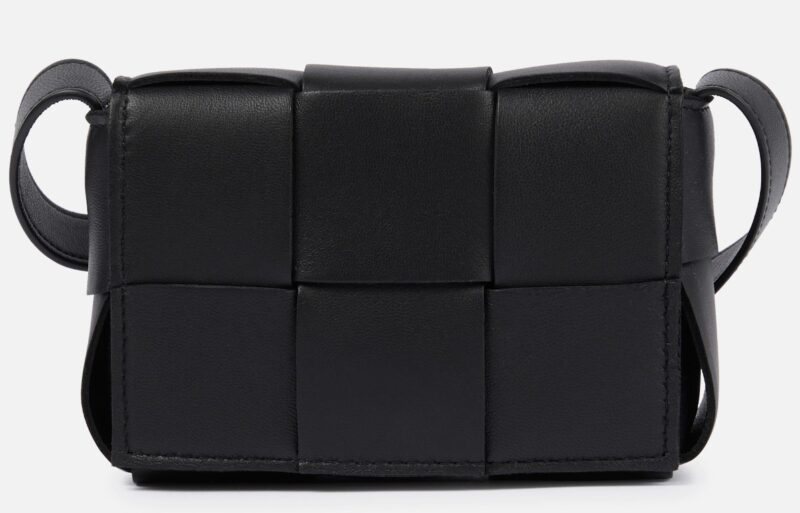 Here's another one of the gorgeous designer camera bags from Bottega Veneta. The Candy Cassette Mini Leather Cross-Body Bag is apparently a take on the brand's signature intrecciato technique with a modern twist. Woven from lambskin leather, this compact crossbody bag has an adjustable strap you can customize according to your preference.
So if you like a designer camera bag that mixes contemporary design with timeless elegance, this Candy Cassette Mini Leather Cross-Body Bag is for you. Not to mention, the bag's compact size and stylish aesthetic make it a versatile accessory that can elevate your everyday or evening look.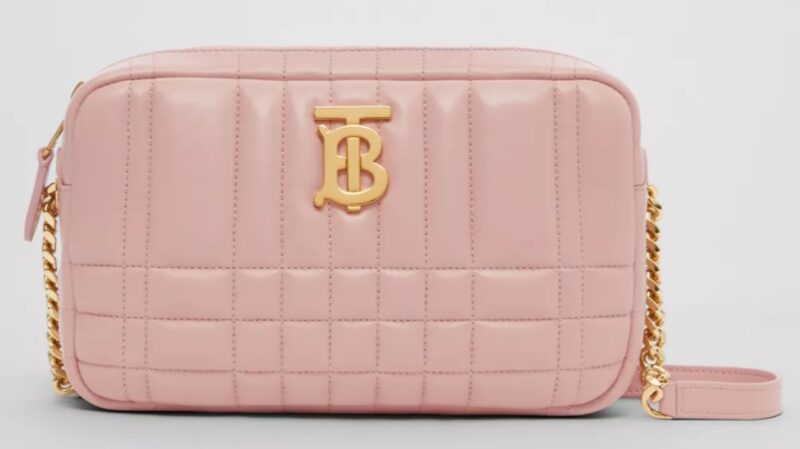 A chic and versatile accessory, the Burberry Small Lola Quilted Leather Camera Bag mixes contemporary style with Burberry's timeless heritage. Crafted from high-quality quilted leather, this bag showcases a sophisticated and textured design.
The compact silhouette is perfect for carrying your essentials. While the quilted pattern adds a touch of elegance. With an adjustable leather strap, it can be worn comfortably as a crossbody or shoulder bag.
So whether you're capturing precious moments or stepping out for a fashionable outing, the Burberry Small Lola Quilted Leather Camera Bag effortlessly elevates your look with its classic charm and modern sensibility.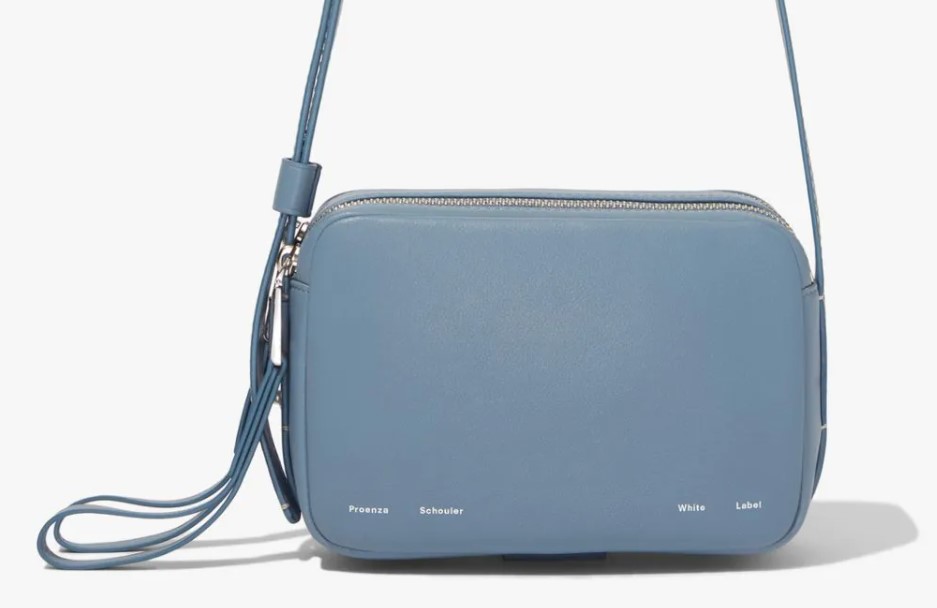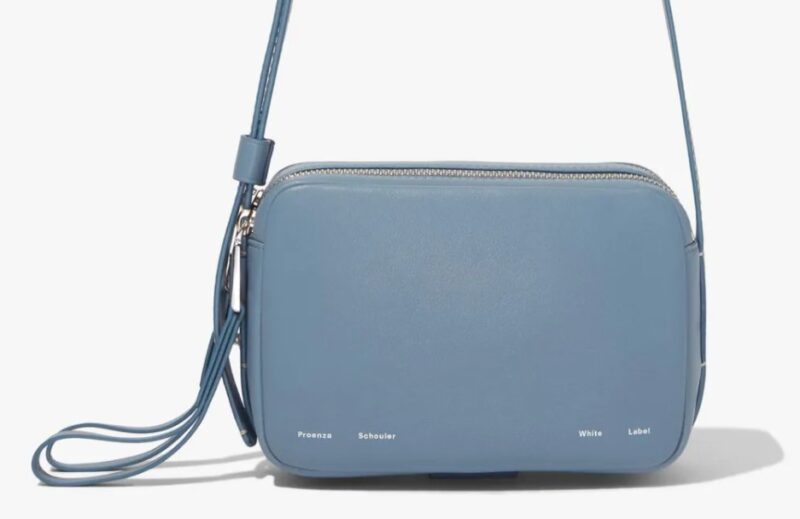 The Proenza Schouler Watts Leather Camera Bag is a sleek and contemporary accessory that combines functionality with refined style. Made with luxurious leather, this camera bag showcases clean lines and a minimalist design. With its modern aesthetic, the Proenza Schouler Watts Leather Camera Bag is an essential companion for capturing moments and adding a touch of sophistication to your ensemble.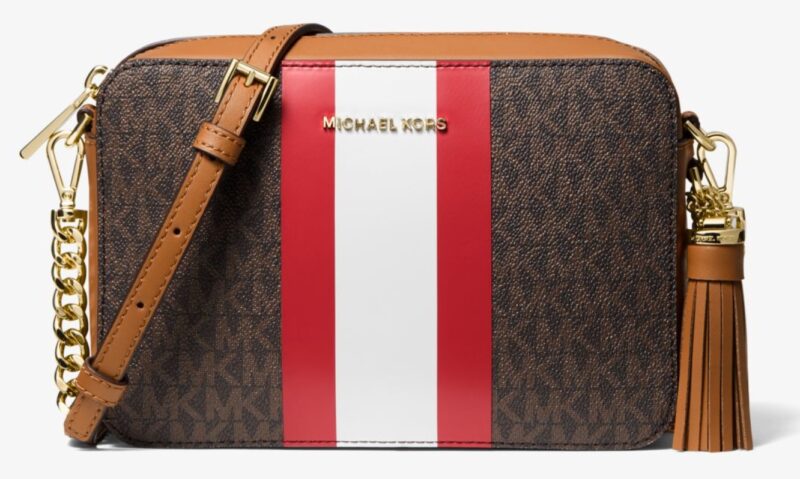 The Michael Kors Jet Set Medium Logo Stripe Camera Bag is a chic and dynamic accessory that effortlessly blends style and practicality. This particular camera bag features a vibrant logo stripe design that adds playfulness to any outfit.
Furthermore, this bag is quite spacious too! It offers a lot of room for your camera and essentials, while the adjustable crossbody strap ensures comfortable and carefree wear. So regardless if you're exploring the bustling city or embarking on thrilling adventures, the Michael Kors Jet Set Medium Logo Stripe Camera Bag will keep you in vogue while capturing unforgettable moments in utmost style.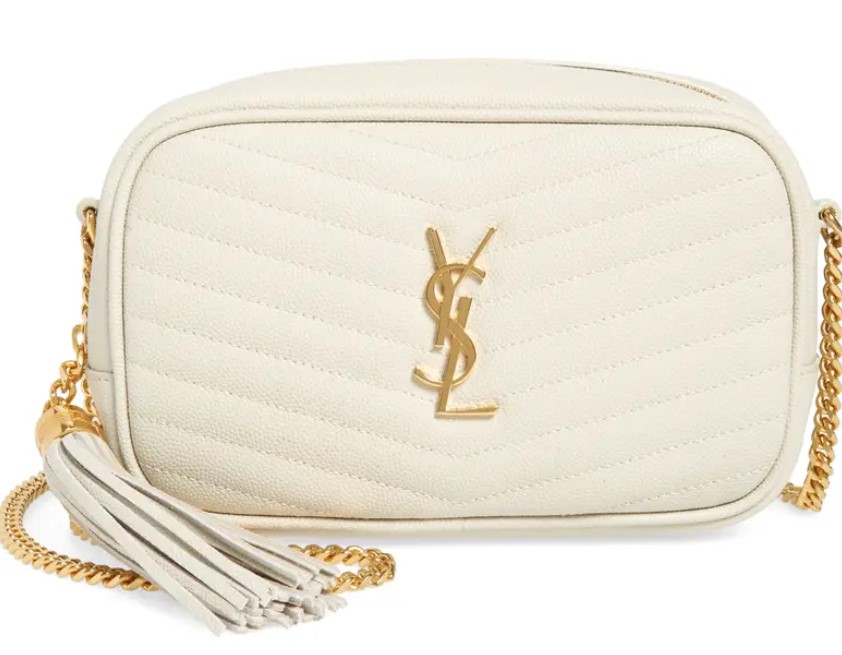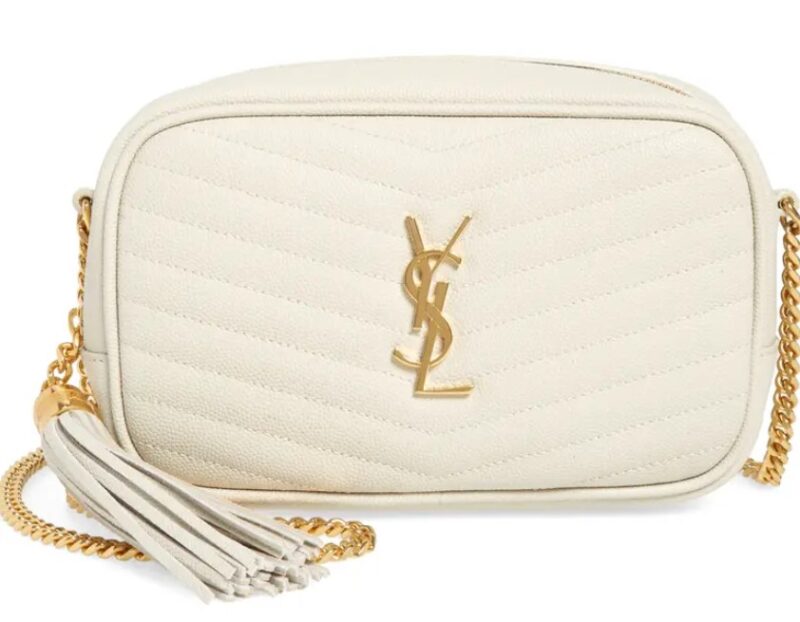 Get ready to fall in love with the Saint Laurent Mini Lou Quilted Leather Camera Bag! This high-end accessory is an absolute showstopper that combines luxury and charm. Crafted from exquisite quilted leather, it exudes a sense of timeless elegance with a modern twist. Not to mention, it's perfectly sized to carry your essentials while on the go!
No matter the occasion, the Saint Laurent Mini Lou Camera Bag is guaranteed to make a stylish statement.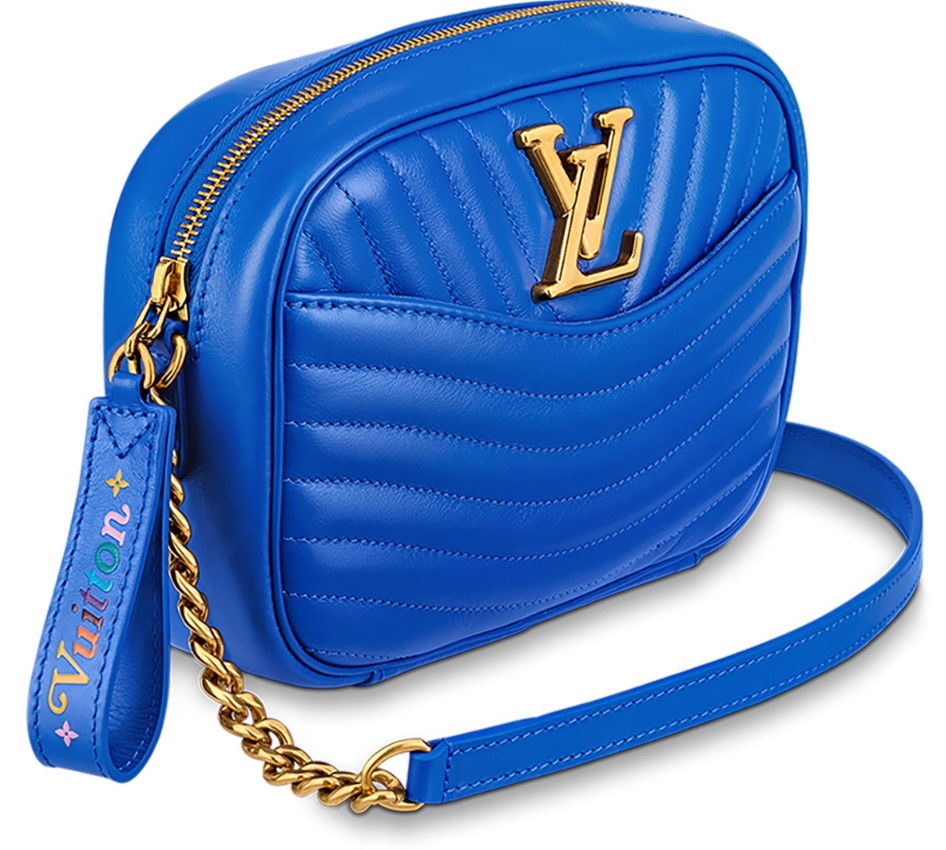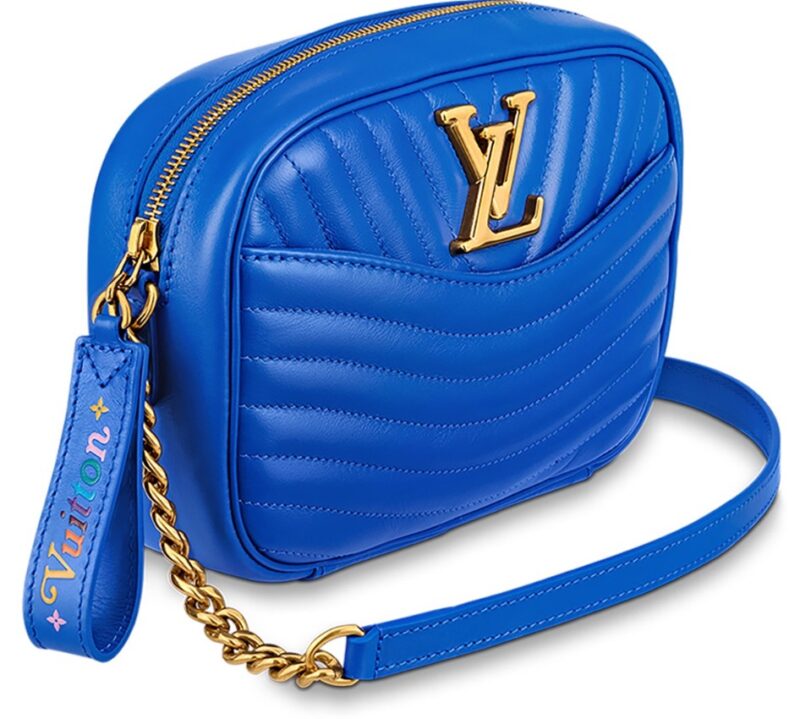 I am utterly in love with this bright royal blue shade of the Louis Vuitton New Wave Camera Bag! You're sure to turn heads with this designer camera bag! This stunning accessory is a true fashion gem with style and sophistication in the most captivating way.
Made with meticulous attention to detail, the New Wave Camera Bag showcases Louis Vuitton's iconic quilted leather design. As a result, this creates an eye-catching and luxurious look.
But it's not just about functionality—the New Wave Camera Bag is a statement piece that exudes confidence and flair. The vibrant colors and intricate quilting add a playful and modern touch to your ensemble. If you're looking to elevate your style game, this bag is for you.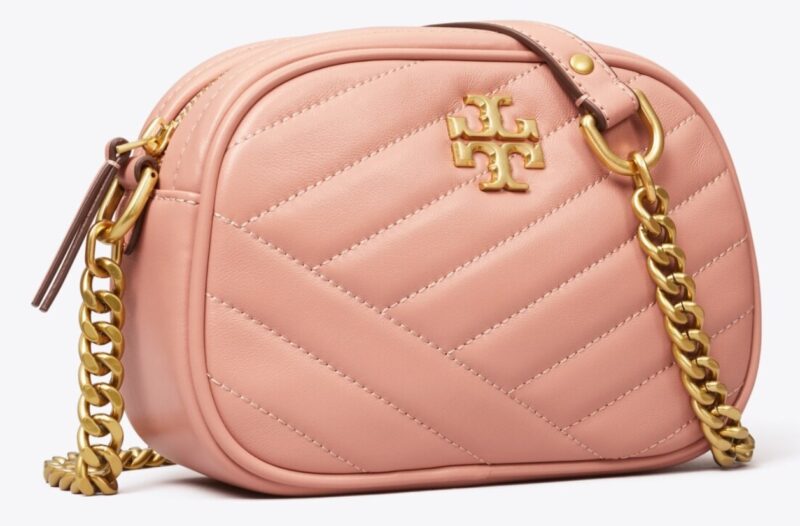 With style and function in mind, you can't go wrong with this stunning Tory Burch Kira Small Chevron Camera Bag! Not only that, but this designer camera bag features Tory Burch's signature design aesthetic and quality craftsmanship.
With this as your arm candy, you're making a fashion statement that reflects your vibrant personality and impeccable taste. So go ahead, embrace the chic and playful vibe of this camera bag, and let it be your go-to accessory for capturing memories in style!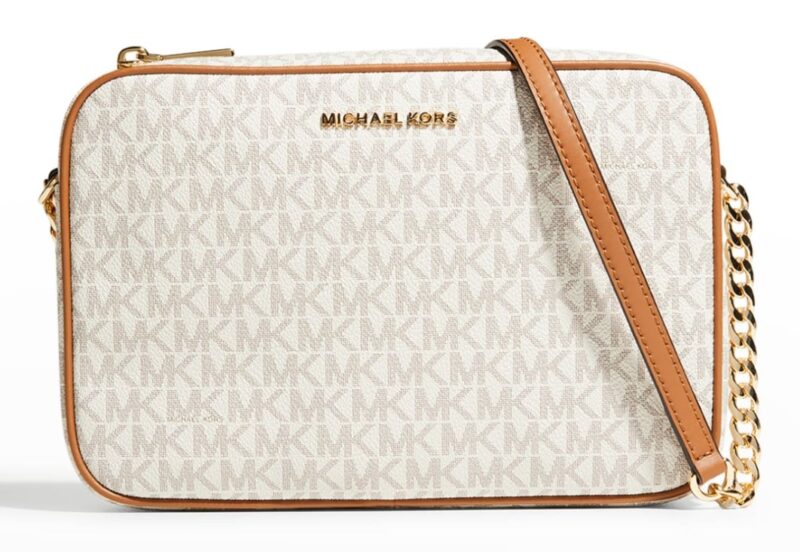 The Monogram Leather Zip Camera Crossbody Bag by Michael Kors is a true fashion masterpiece that showcases impeccable craftsmanship and timeless style. With monogram leather detailing, this adds a touch of allure and luxury to your overall outfit, setting it apart from the rest. Meanwhile, the zip closure ensures the security of your belongings, while the crossbody style allows for convenient and hands-free wear.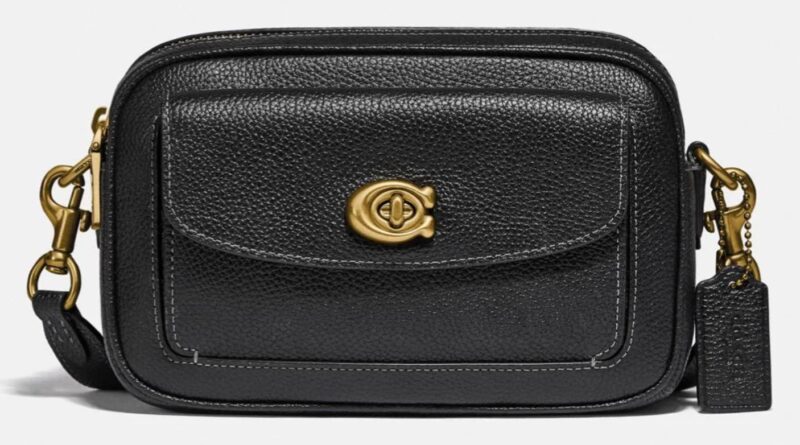 Coach has a special place in my heart. I just find that their pieces are the epitome of sophistication without their price points being on par with other high-end brands. Meaning, I don't have to spend a thousand bucks to get a high-quality, luxury item.
The Coach Willow Camera Bag is an extraordinary accessory that seamlessly blends fashion-forward design with practicality. I love the minimalist yet distinctive silhouette as well! This can easily pair well with almost any outfit as your daily crossbody bag.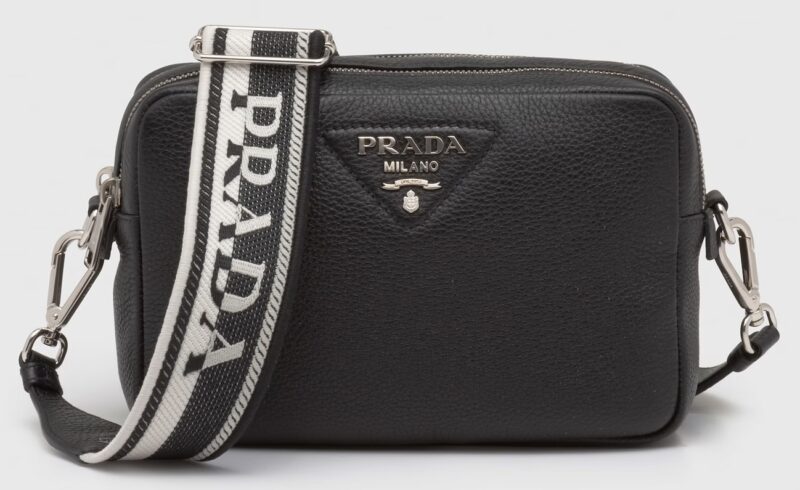 The Medium Leather Bag by Prada showcases a unique fusion of modern sophistication and timeless appeal. Not only that, but the medium-sized silhouette strikes the perfect balance between practicality and style.
Designed to accommodate your essentials with ease, the Prada Medium Leather Bag offers a seamless blend of form and function. The adjustable strap allows for convenient wear, whether you choose to carry it as a shoulder bag or crossbody. It effortlessly adapts to your needs, allowing you to move freely throughout your day.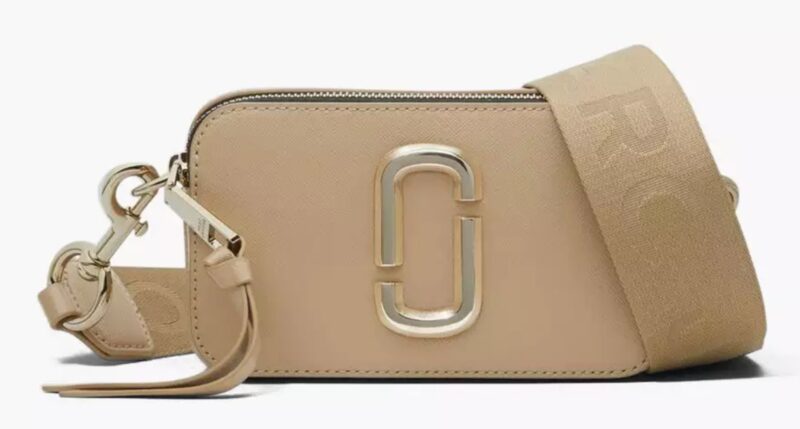 The Snapshot DTM by Marc Jacobs is a statement piece that defies conventions. Its vibrant color combinations and daring design are a testament to self-expression and creative flair. Designed for the modern-day go-getter, the Snapshot DTM offers the perfect balance of functionality and style.
You'll surely feel like you're stepping into the spotlight with The Snapshot DTM as your ultimate style companion.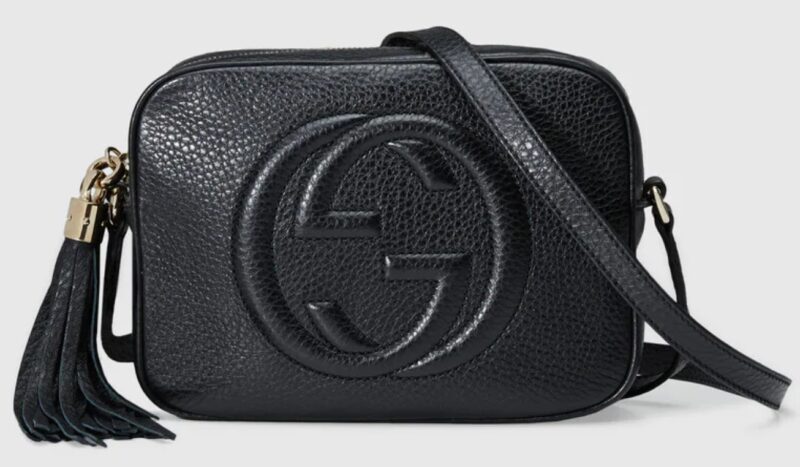 Can't get enough of Gucci? Me either! The Soho Small Leather Disco Bag by Gucci is a must-have accessory. It showcases a sleek and compact silhouette that makes it perfect for both day and night outings. With its iconic interlocking GG logo and embossed Gucci pattern, this bag instantly adds a lot of chicness to any ensemble.
Inside the Soho Small Leather Disco Bag, you'll find a surprisingly spacious interior that can accommodate your essentials with ease. Whether it's your phone, wallet, keys, or makeup essentials, everything will have its designated place.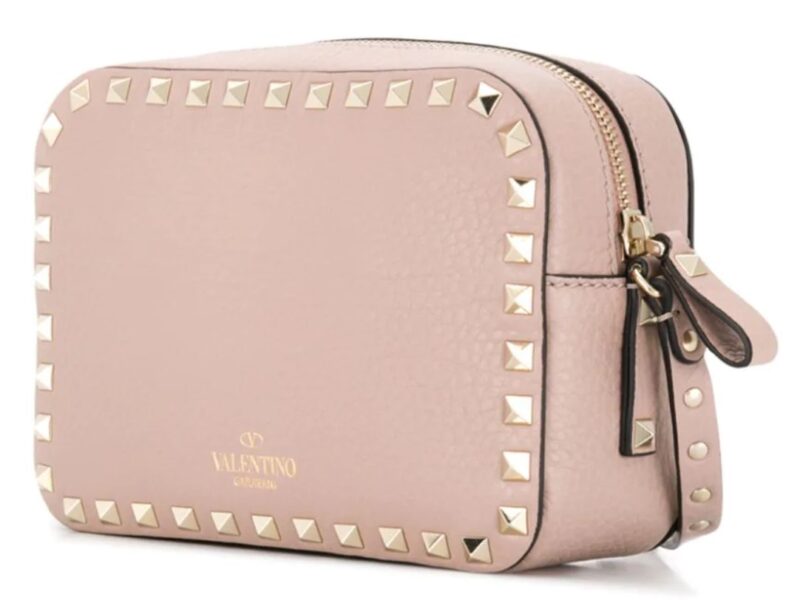 A perfect mix of femininity and edginess, the Valentino Rockstud Crossbody Bag is a true embodiment of rebellious elegance and fierce fashion. This camera bag features luxurious leather adorned with signature pyramid studs, creating a bold and distinctive look that sets it apart from the rest.
What's more, the bag comes in different colorways. So depending on your personal style and aesthetic, you have so much to choose from!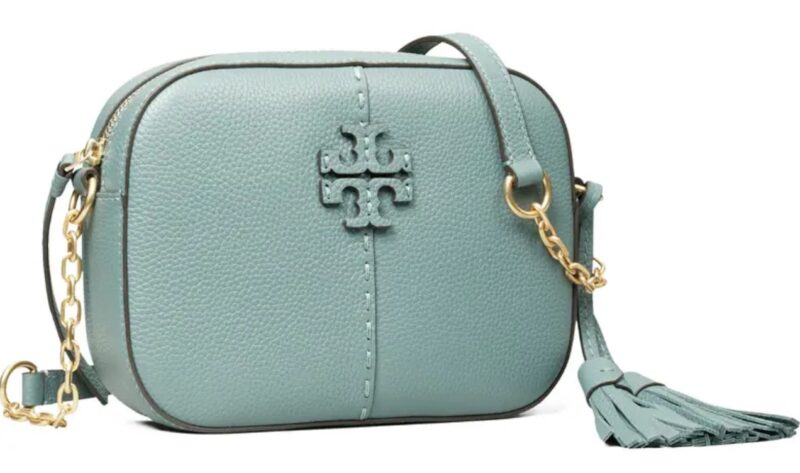 Regardless if you're actually planning to bring your camera or simply looking for a spacious compartment for your daily essentials, the McGraw Designer Camera Bag showcases an elegant and sophisticated shape that's perfect for any occasion. Whether you're exploring urban landscapes, attending social gatherings, or embarking on outdoor adventures, this bag will complement your unique style, infusing it with a touch of sophistication.
If you're looking for a designer camera bag that's vegan and prioritizes sustainability, Stella McCartney has your back. Using solvent-free imitation leather made in Italy, this Faux Leather Camera Bag might just be your new arm candy. Apart from the usage of eco-friendly materials, this bag also features perforated detailing that adds a touch of texture and visual interest to its sleek silhouette.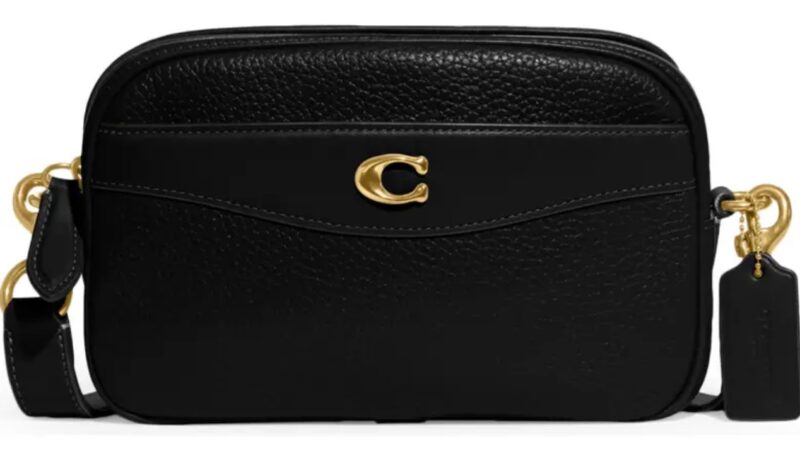 Here's another one of my favorites on this list. The Coach ​​Soft Pebble Leather Camera Bag is sleek, clean, and minimalistic. Its versatility and adaptable design make this perfect for both casual and formal occasions.
Crafted from rich pebbled leather and adorned with brushed hardware, this compact bag exudes a sense of sophistication. The detachable crossbody strap also offers the convenience of hands-free carrying, making it a practical and stylish choice.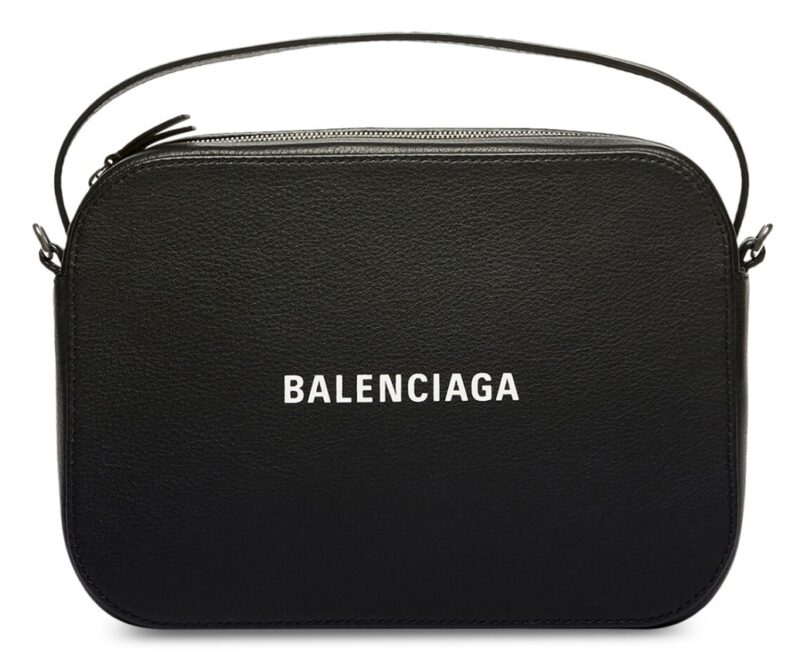 The Everyday Small Camera Bag showcases Balenciaga's renowned minimalist aesthetic, with clean lines and a streamlined silhouette. Its understated elegance and contemporary appeal make it a versatile choice for various outfits and occasions. Its compact size makes it ideal for on-the-go adventures, while the adjustable strap ensures a comfortable and customizable fit. Additionally, the signature Balenciaga logo adds a touch of luxury, making a subtle yet bold statement.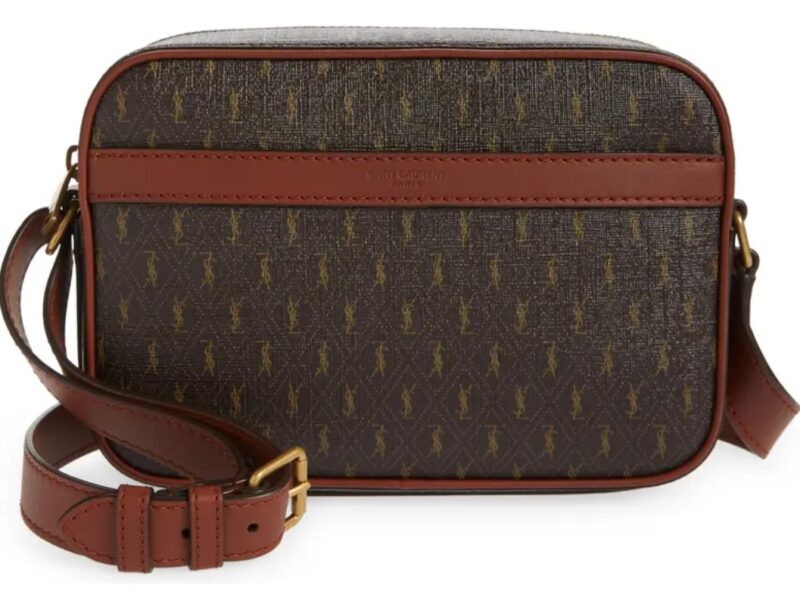 If you love the look of logo patterns across your designer camera bag, this Saint Laurent Le Monogramme Coated-Canvas Camera Bag is the ideal choice for you! This gorgeous camera bag features a classic and elegant silhouette crafted from durable coated canvas. Its signature monogram pattern and luxurious leather trim exude a sense of luxury and refinement.
Furthermore, with its impeccable craftsmanship and attention to detail, this camera bag is built to last. Saint Laurent's commitment to quality ensures that this accessory will stand the test of time, making it a worthy investment for any fashion enthusiast.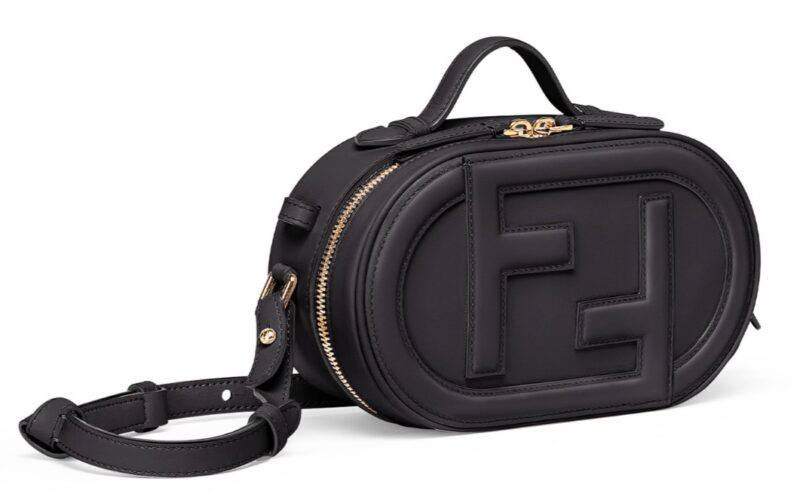 The Fendi O'Lock Mini Camera Case features a rather unique shape that's so different from other bags on this list. It's definitely another favorite of mine. With a more round structure made of leather, this designer camera bag exudes elegance with its sleek silhouette and polished hardware.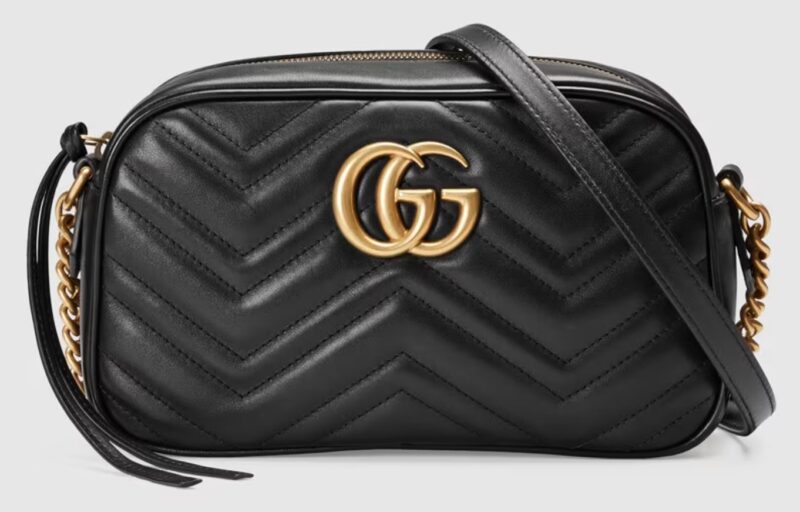 Exuding effortless sophistication, the GG Marmont Small Shoulder Bag showcases the iconic GG logo with exquisite matelassé quilting. The rich leather and antiqued gold-tone hardware elevate its luxurious appeal, making it a true fashion statement. The sliding chain strap allows for versatile wear, enabling you to carry it on your shoulder or as a crossbody for added convenience.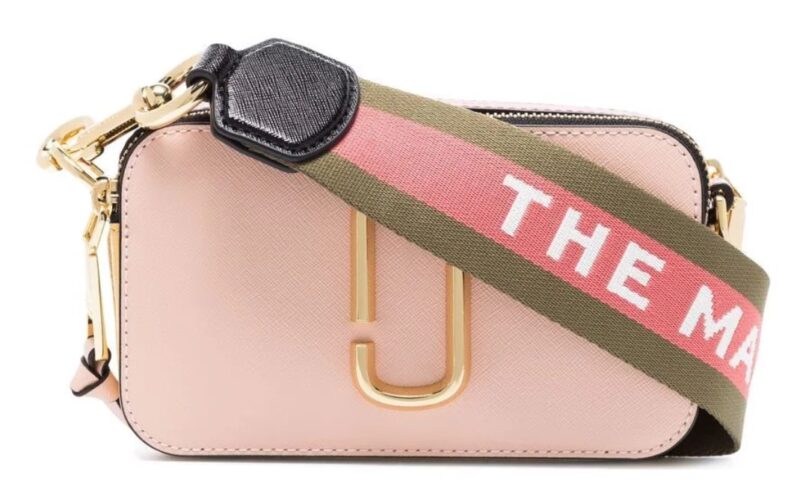 Elevate your style with the Marc Jacobs The Snapshot Camera Crossbody Bag. It's a modern and playful accessory that effortlessly captures attention. Crafted with precision and artistry, this crossbody bag features a bold color-block design, accentuated by the iconic double "J" logo hardware.
The compact size provides convenience without compromising on storage space, making it perfect for your essentials. With its adjustable strap, you can wear it comfortably as a crossbody or remove the strap to carry it as a clutch. Embrace the fashion-forward charm of the Marc Jacobs Snapshot Bag and make a statement wherever you go.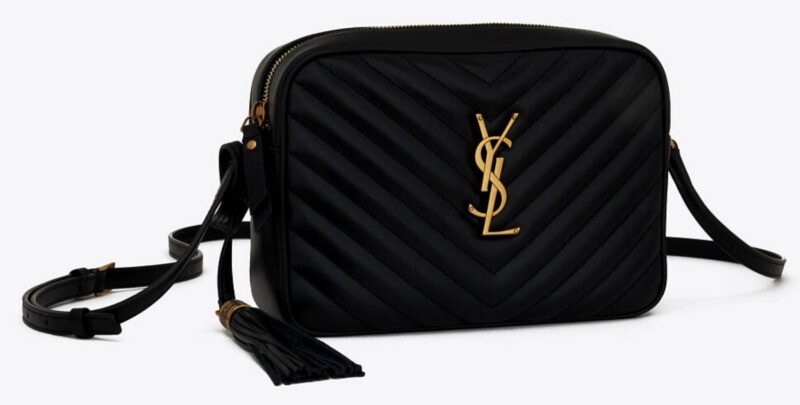 Indulge in the timeless elegance of the Saint Laurent Lou Camera Bag in Quilted Leather.
As the name suggests, this designer camera bag has been made with supple quilted leather. The iconic YSL logo and the elegant quilting add a touch of refinement to its classic design. The compact size of the bag offers effortless portability, while the adjustable strap allows for versatile wear. Step out in style with the Saint Laurent Lou Camera Bag, and let its timeless allure elevate your fashion ensemble to new heights.
Finding the perfect camera bag is essential for any photographer who wants to keep their gear safe and secure while on the go. With so many options available, it can be challenging to choose the right one. However, our list of 30+ trending designer camera bags to shop has something for everyone, from backpacks to messenger bags, and everything in between. These bags not only provide functionality but also add a touch of luxury to your photography gear.
So, whether you're a professional photographer or just someone who loves to capture life's moments, investing in one of the best designer camera bags is a smart choice that will make your photography experience even more enjoyable.