Are you ready to dive headfirst into the fantastic world of pink Barbie nails? Because we absolutely are! Keep scrolling to get inspo from these gorgeous manicures!
With the highly anticipated Barbie movie dazzling its way onto the silver screens right now, Barbie fever is at an all-time high! And what better way to celebrate our childhood icon than by flaunting some seriously stunning Barbie-inspired nails? It doesn't matter if you're a kid, a teen, or just simply someone young at heart, there is something here for you!
From the classic pink hues that epitomize Barbie's signature style to the glitz and glam that she effortlessly exudes, as well as the trendy Y2K aesthetic that's making its rounds in the beauty community, I've gathered a collection of over 55 stunning Barbie nail designs that will make your heart skip a beat!
Whether you're a die-hard Barbie fan or simply appreciate the beauty of intricate nail art, you'll find something here that will make you want to book an appointment with your local nail artist right this moment. Or perhaps, DIY is more your scene? If that's the case, grab your favorite nail polishes, unleash your creativity, and join me on this journey as we explore the magic of Barbie and her world through our fingertips!
Pink Barbie Nails Designs To Copy Right Now
Regardless if you're planning a girls' night out to catch the Barbie movie or just looking to jazz up your style, these pink Barbie nails will add that extra dose of pizzazz to your look, leaving you feeling confident and oh-so-stylish!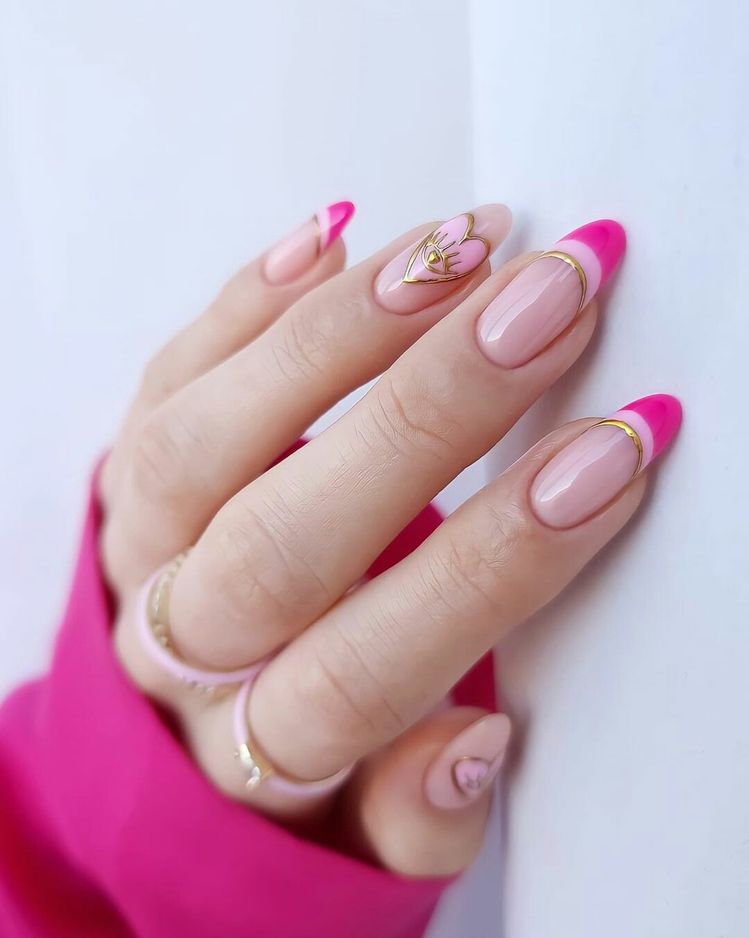 For a classy and timeless set of pink Barbie nails, I highly suggest sticking to French tips but with a Barbie twist! I mean, just look how sophisticated these gilded Barbie nails look! Plus, those accent nails are just as pretty!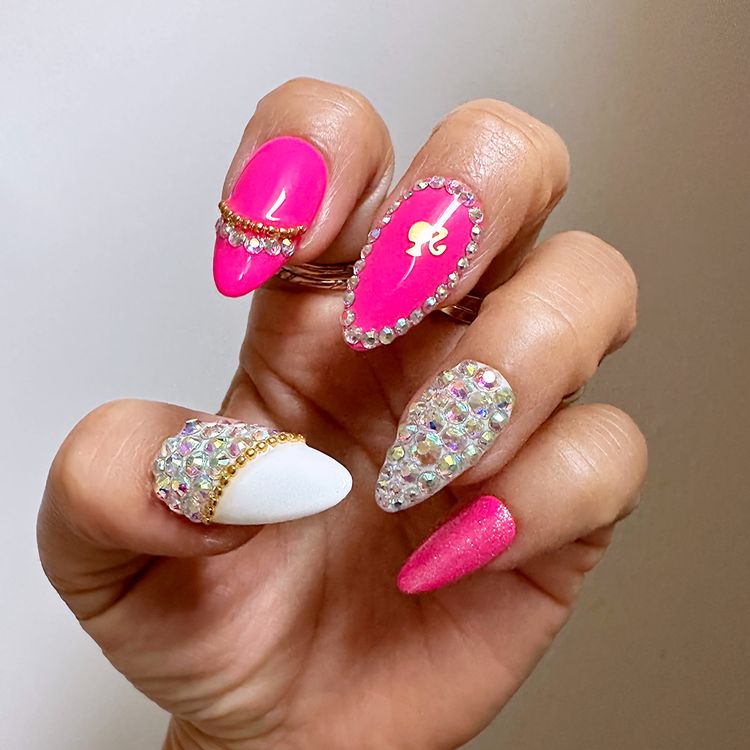 If you're looking for something with more bling and sparkle, then perhaps you should consider going for these nails? Studded in rhinestones, your nails are sure to catch everyone's attention!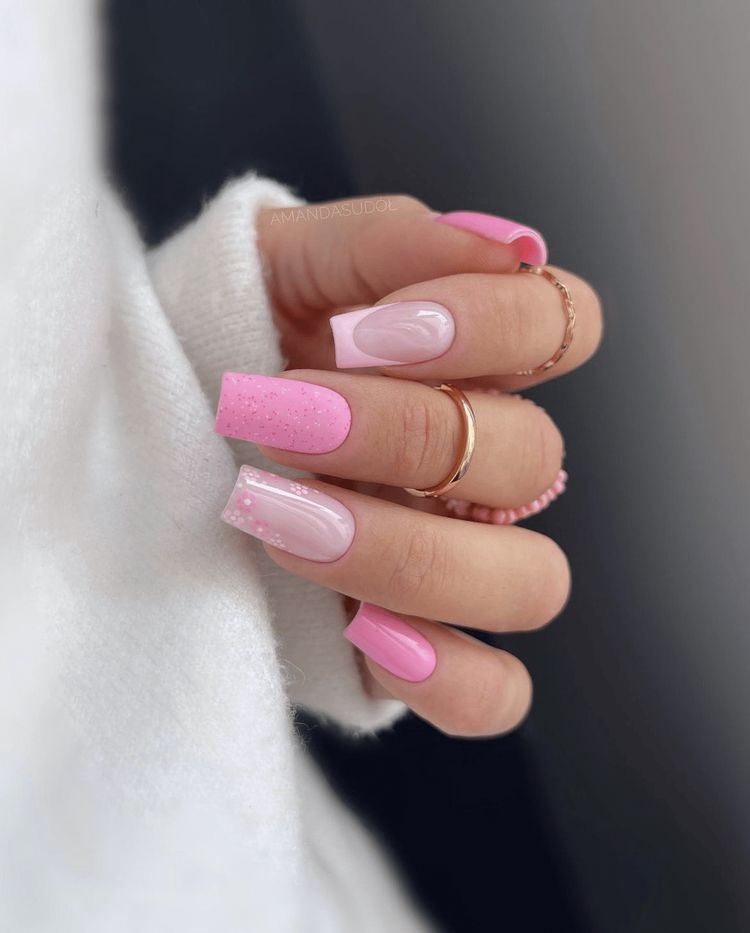 Want a combination of soft matte and glossy nails? Then take inspiration from these gorgeous Barbie square-cut nails! The combination of bright and muted pinks makes this such an interesting manicure!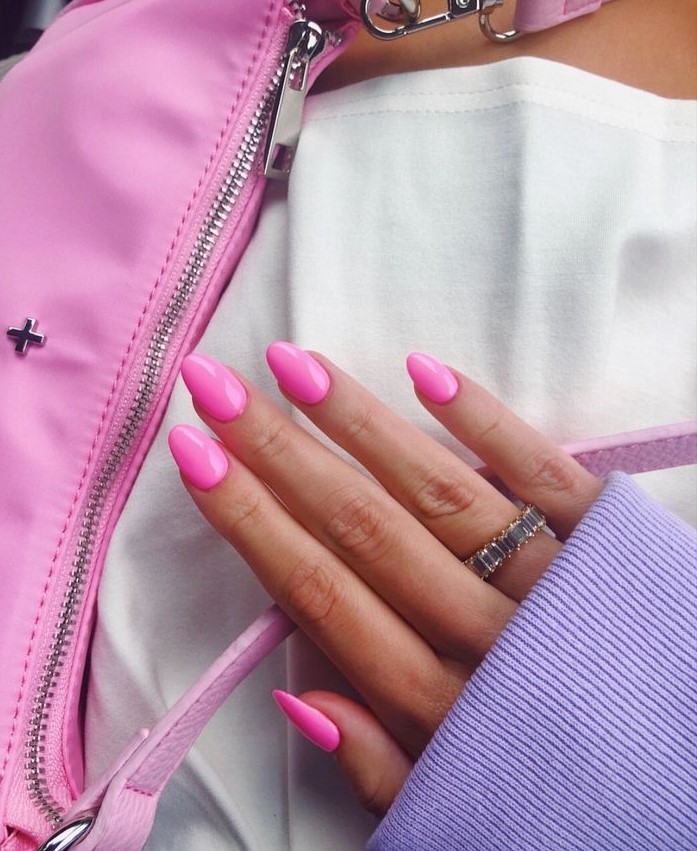 But if you're looking for something simple and fuss-free, then you'll certainly love this particular look! All you need is one Barbie pink nail polish and you're good to go.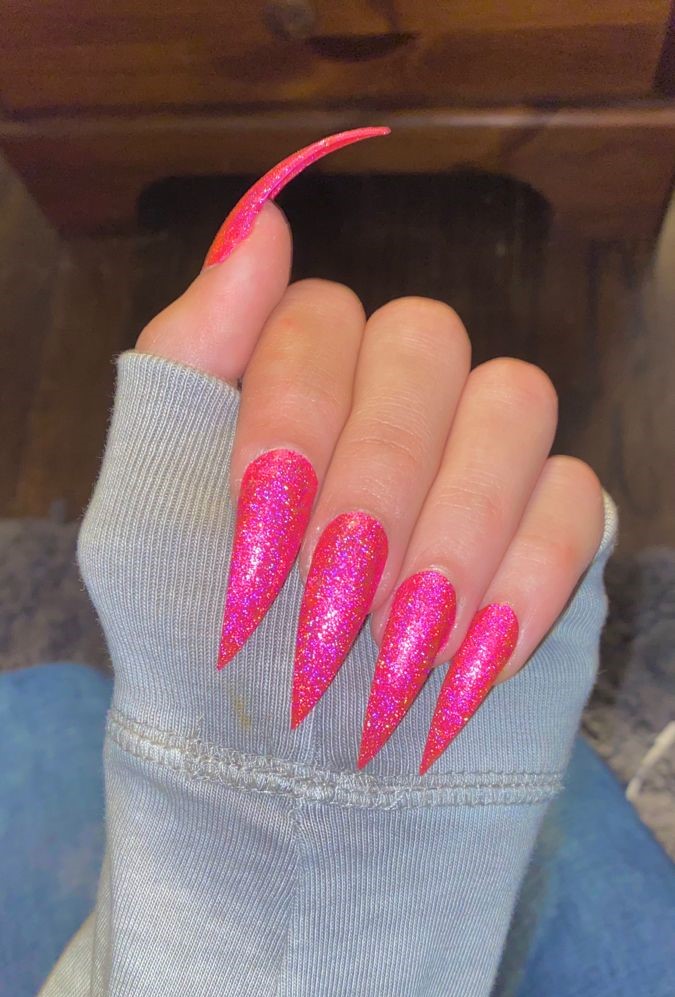 If you're looking to combine the hyper-femininity of Barbie with your femme fatale aura, this set of nails would be utterly perfect! The extra-long and extra-sharp cut of the nails will certainly give you that "This Barbie Should Not Be Mess With!" vibe.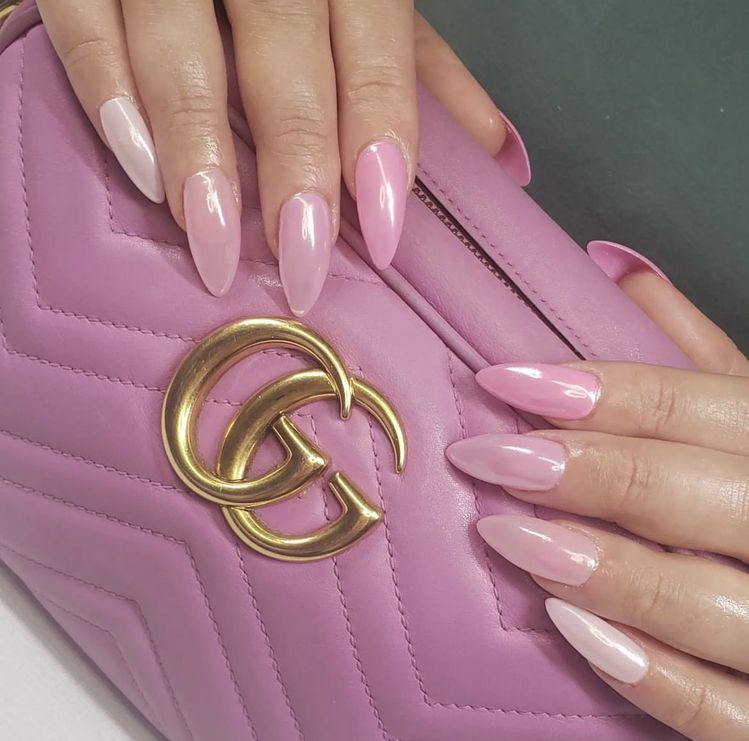 I'm loving the subtle gradient look of these glossy nails. Go for an almond shape for your nails to add a touch of sophistication. While the extra length will give it a more feminine look to it!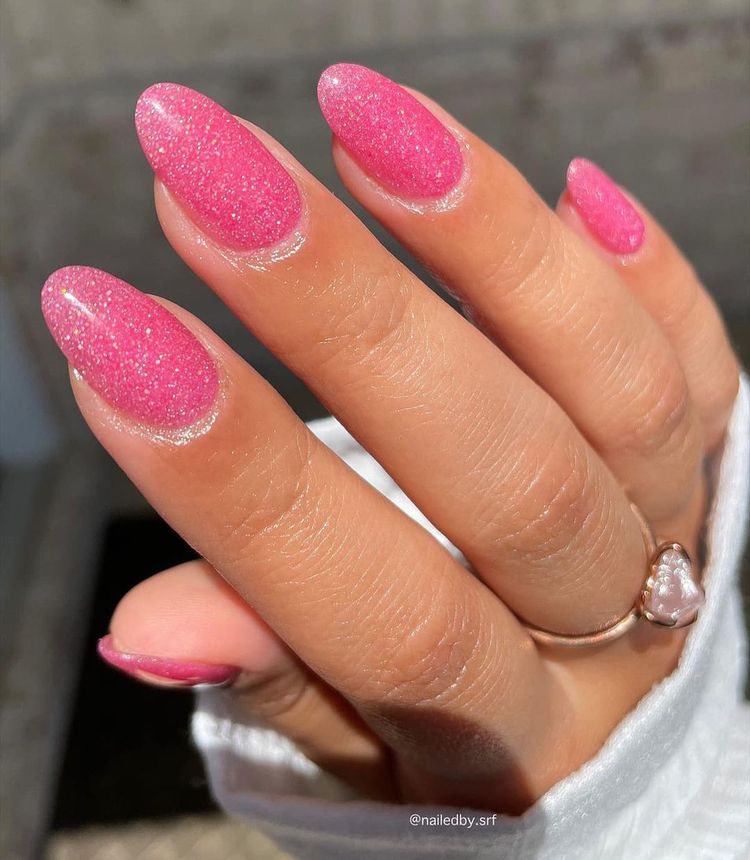 Is it just me or does this particular Barbie manicure look like a donut with a pink glaze on top? The subtle shimmers and sparkle will surely fit any glam look you put on!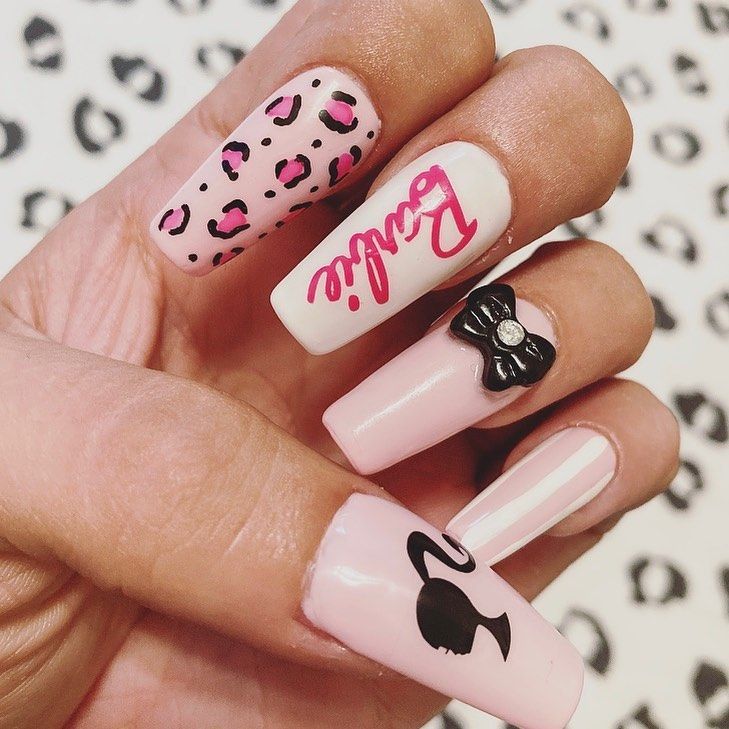 Show off your love for Barbie by incorporating its elements into your nails. Like her iconic silhouette and her logo!
Looking for something a little more simple and understated? But with still a dash of glam? Then these hot pink nails are just for you! Make sure to leave one of your nails to recreate the accent glittery nail.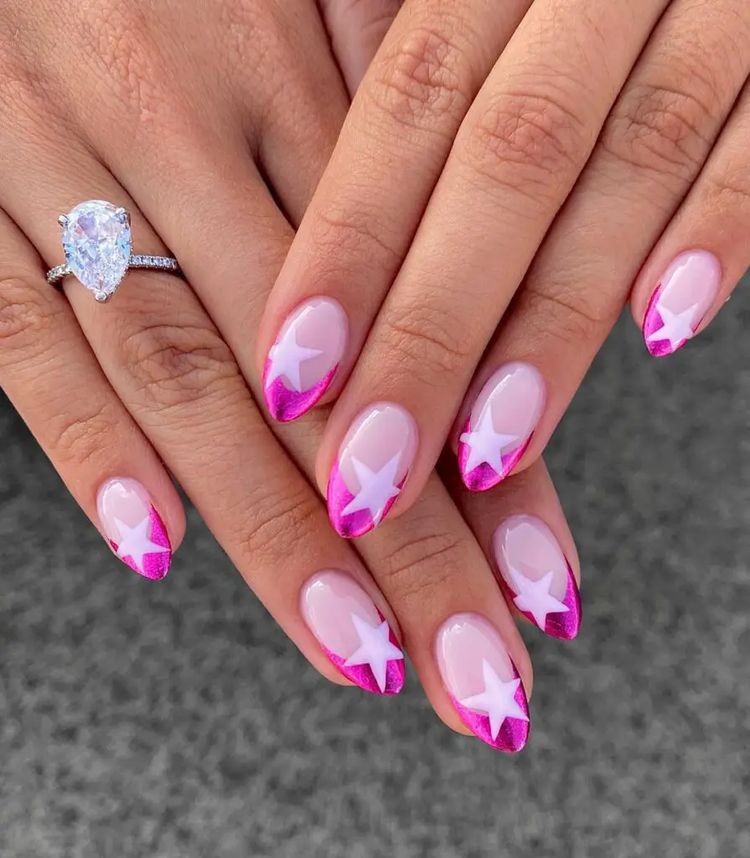 Add a twist to your classic Barbie French tips with a star! Because in Barbie's world, everyone, including you, is a star!
I love the eclectic vibe of these nails! Not only do they scream Barbiecore, but the rhinestones give this whole manicure an edgy touch.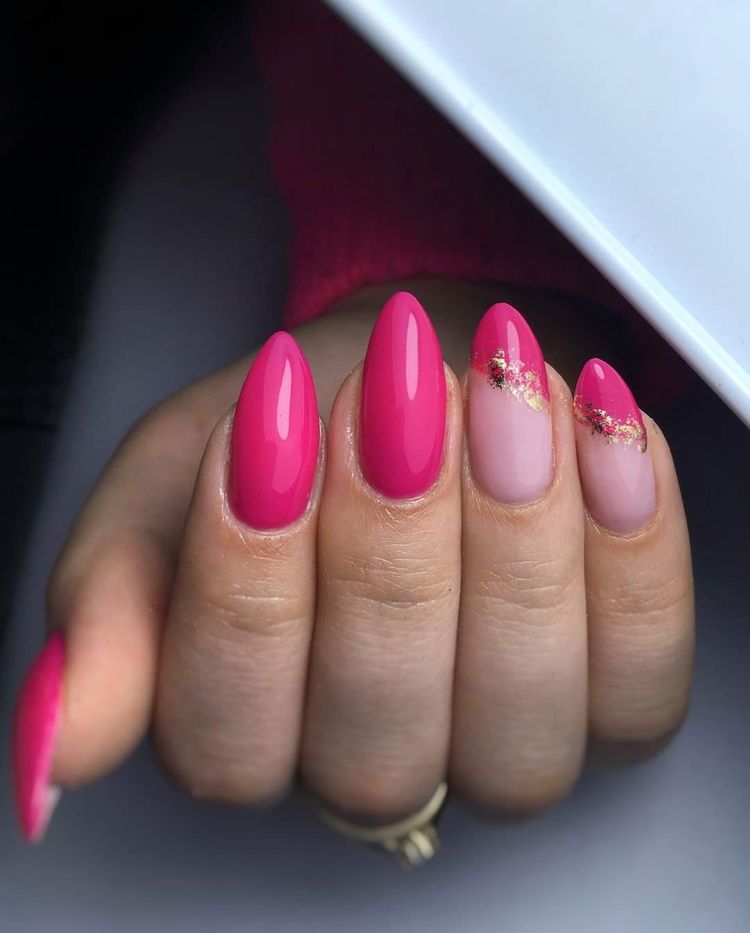 If you're someone who's still quite the newbie when it comes to nail art and you're not too confident in doing something too intricate, then why not do these simple yet timeless pink Barbie nails? All you need to do is recreate an asymmetrical French tip and add some gold foils for a touch of sparkle!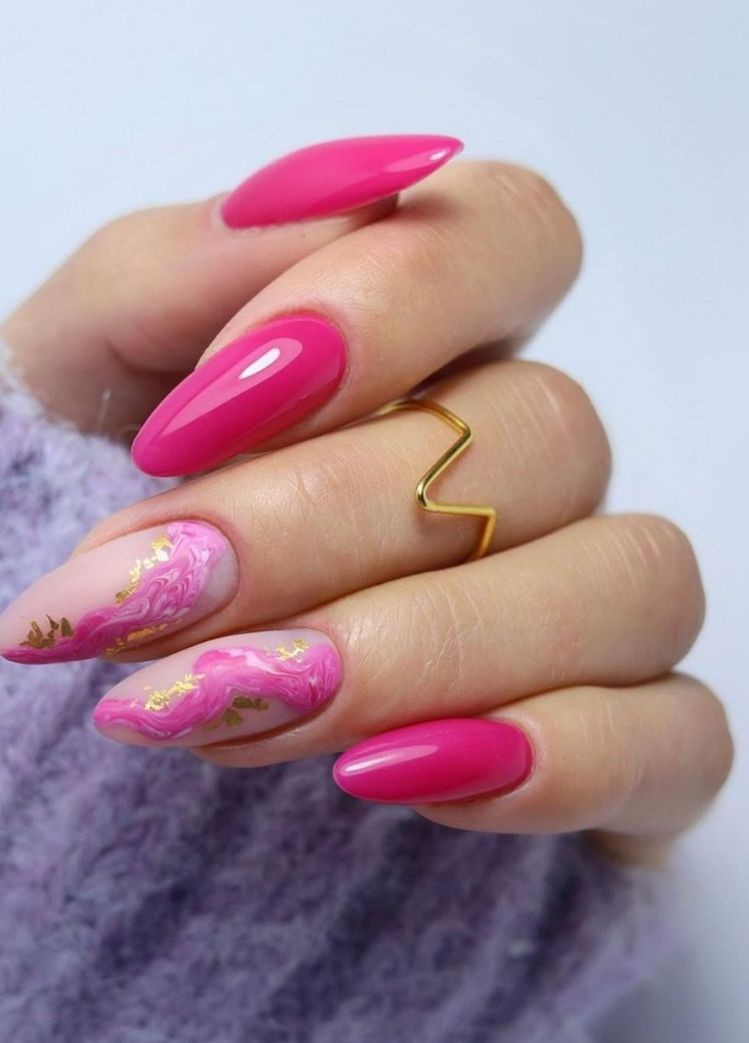 These pink Barbie nails look utterly ethereal to me! These kinds of swirly patterns that are speckled with gold foils are a sure way to make your manicure look heavenly!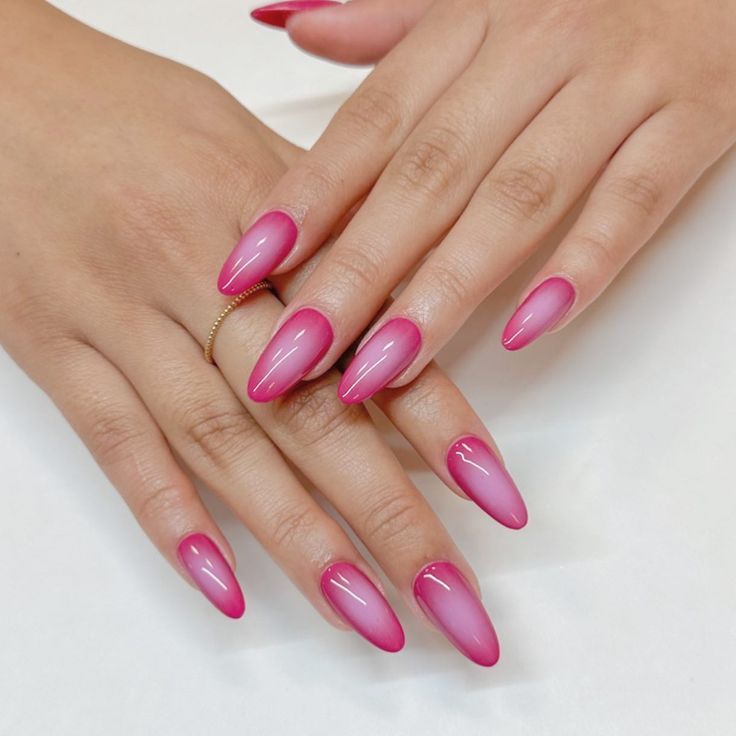 I'm sure that anyone who keeps up with nail trends has heard of the aura glow manicure. So if you've been looking to join this trend, why not incorporate a Barbie touch into this design?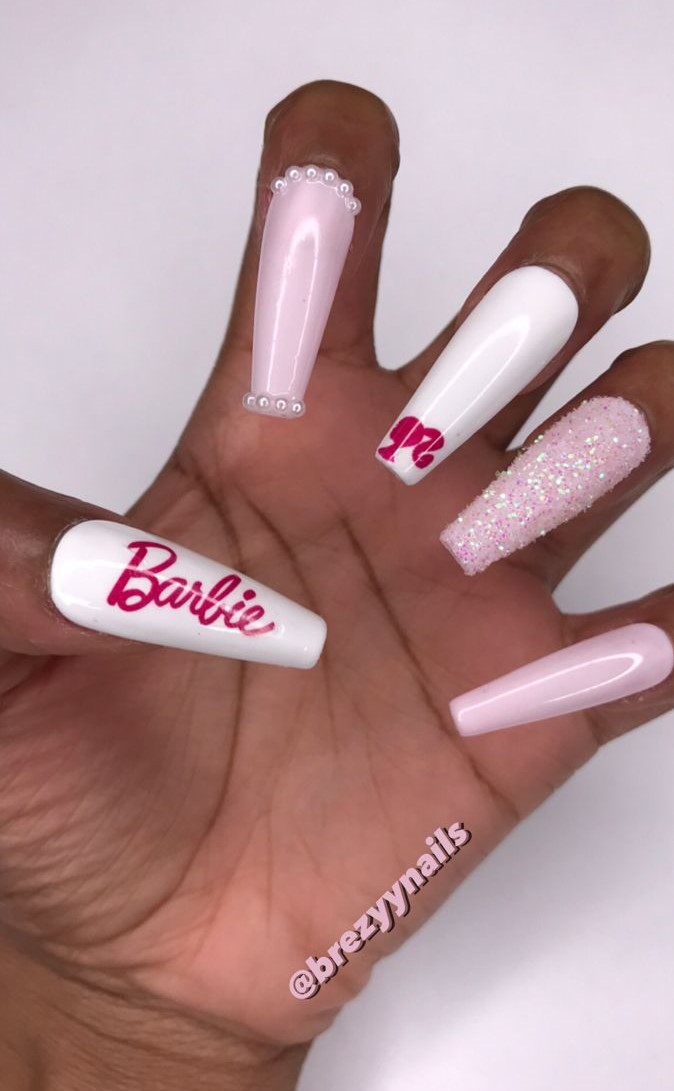 If you find hot pink nails a little too overwhelming for your taste, I highly recommend going for this particular manicure instead! This one features white and soft pink nails with Barbie details that are sure to pop out!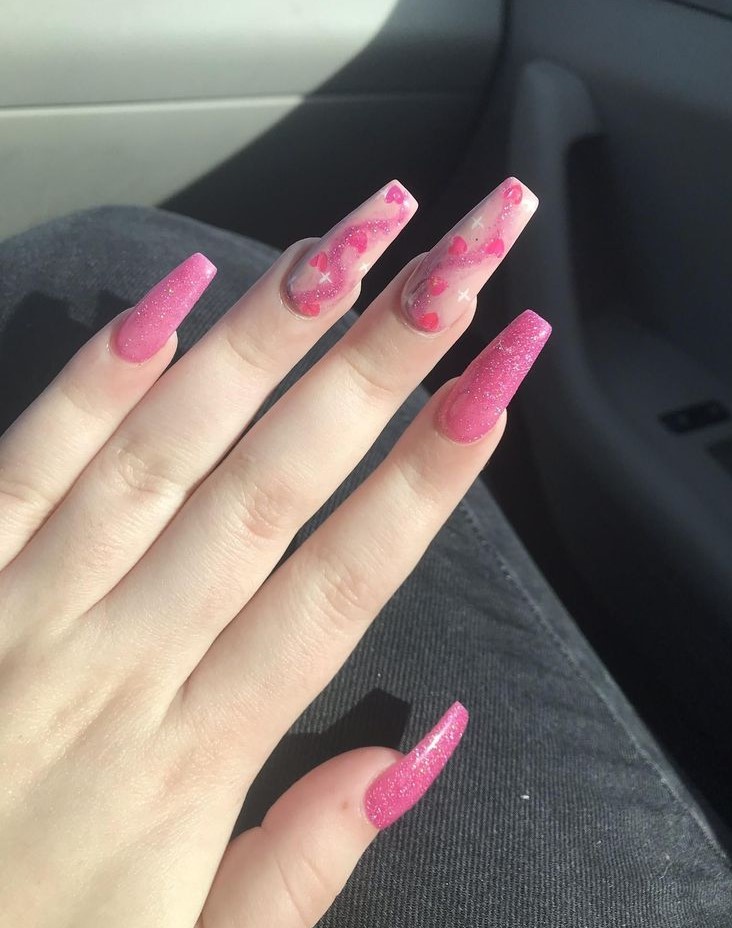 I'm obsessed with the dainty details of this sparkly Barbie manicure! If you want something a little fuss-free, I suggest using nail stickers instead of hand-painting the details yourself.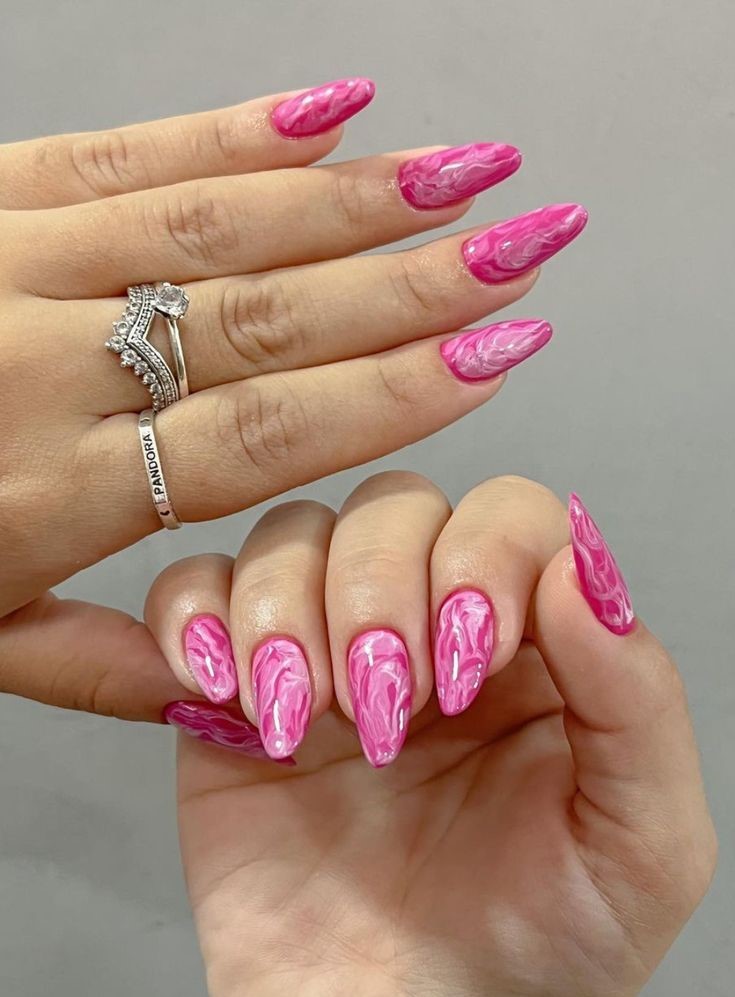 Want something a little more artsy for your pink Barbie nails? Then this might just be the nails you're looking for. This would be so much fun to recreate and because the design is a little more abstract, you don't have to worry about making it look "perfect".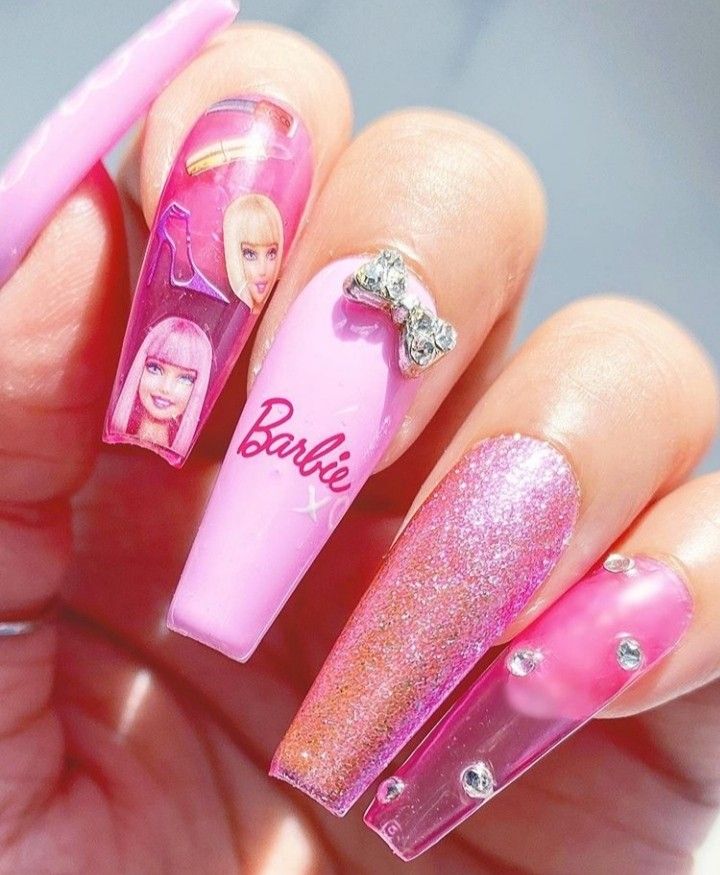 This particular set of nails is so quintessential Barbie! From the studded accents to the shimmers, as well as that gorgeous nail art of Barbie herself, I don't think you can get any better than this!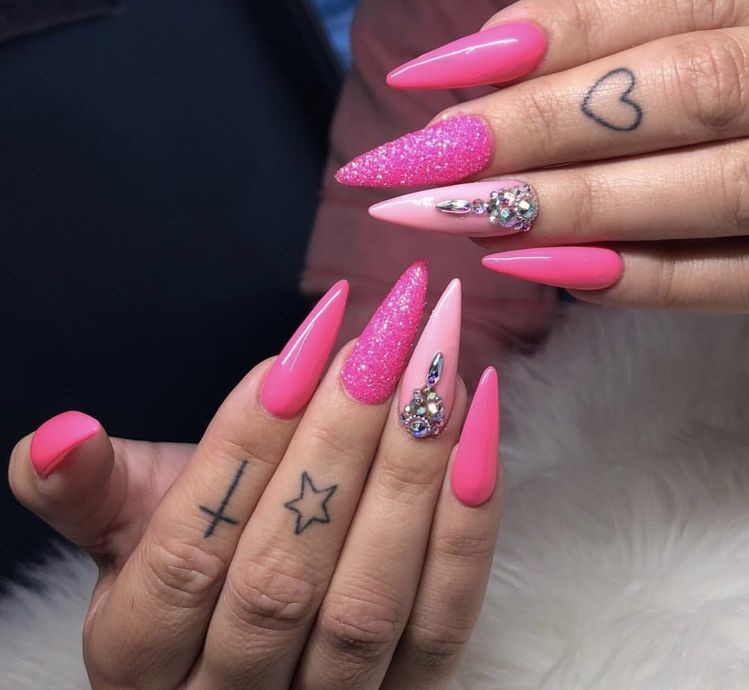 Who says bling can only be worn on the wrists and around the neck? Accessorize your usual manicure and glam it up with some rhinestones. This way, your pink Barbie nails would look just as luxurious!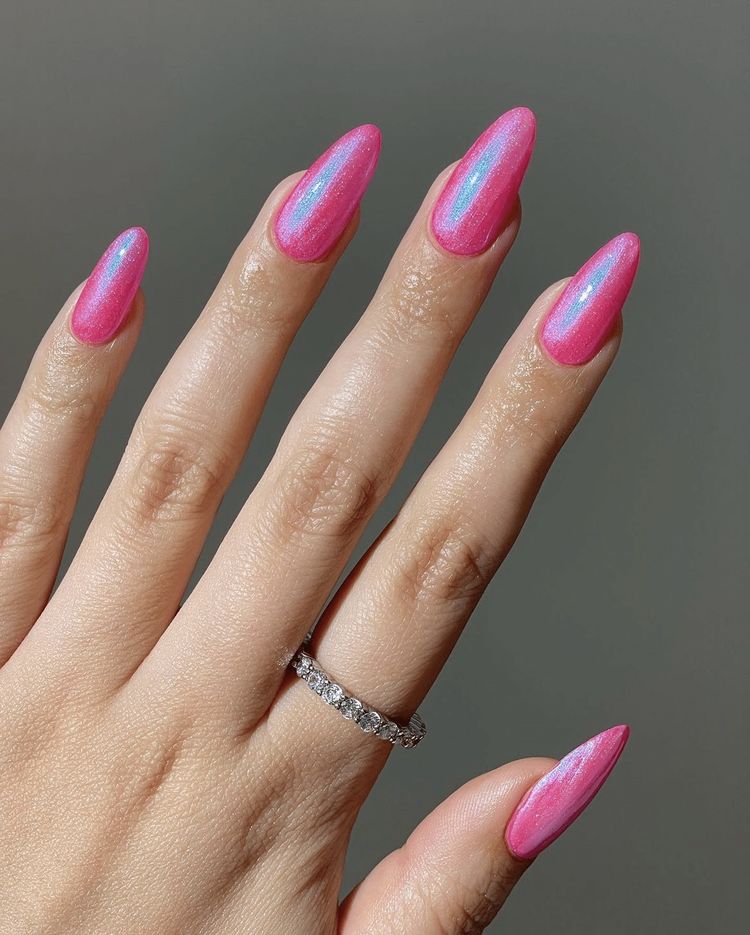 For something simple yet so eye-catching, you're sure to love these bright pink, iridescent Barbie nails! If I'm looking for something a little easy to do at home, these are my go-to's.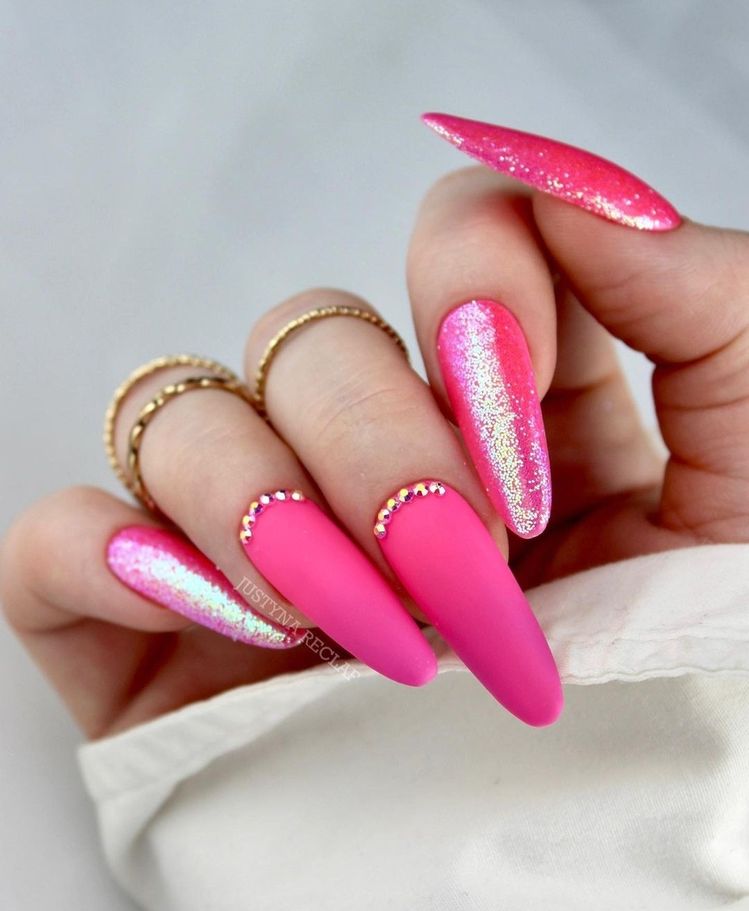 Don't want your nails to look too monochromatic? Opt for a variety of finishes for your polishes! Just like this one. You can mix and match your sparkly polishes with your matte ones to recreate these gorgeous textures for your Barbie manicure.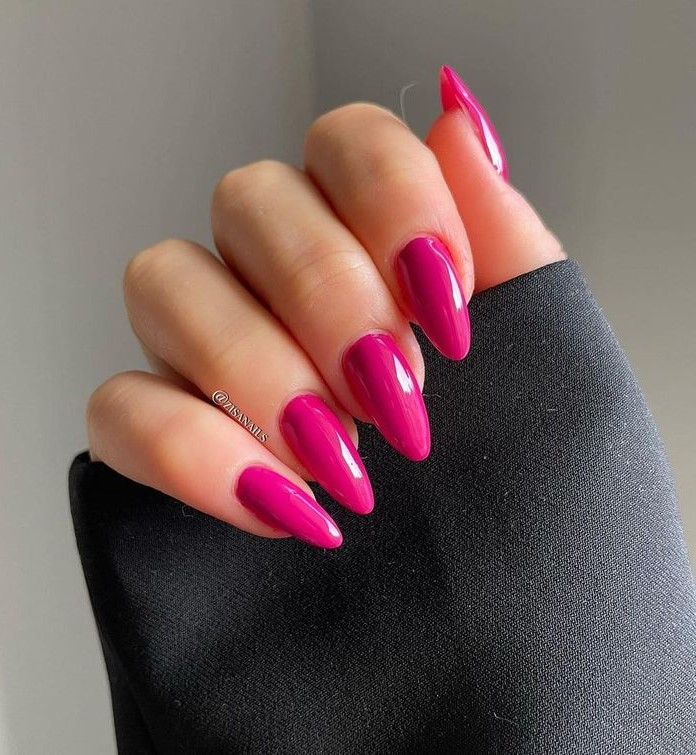 I am utterly obsessed with these hot pink Barbie nails! Probably my favorite out of all the "regular" manicures on this list, these nails are sure to be a showstopper! The vibrant pink hues are so perfect for the summer too!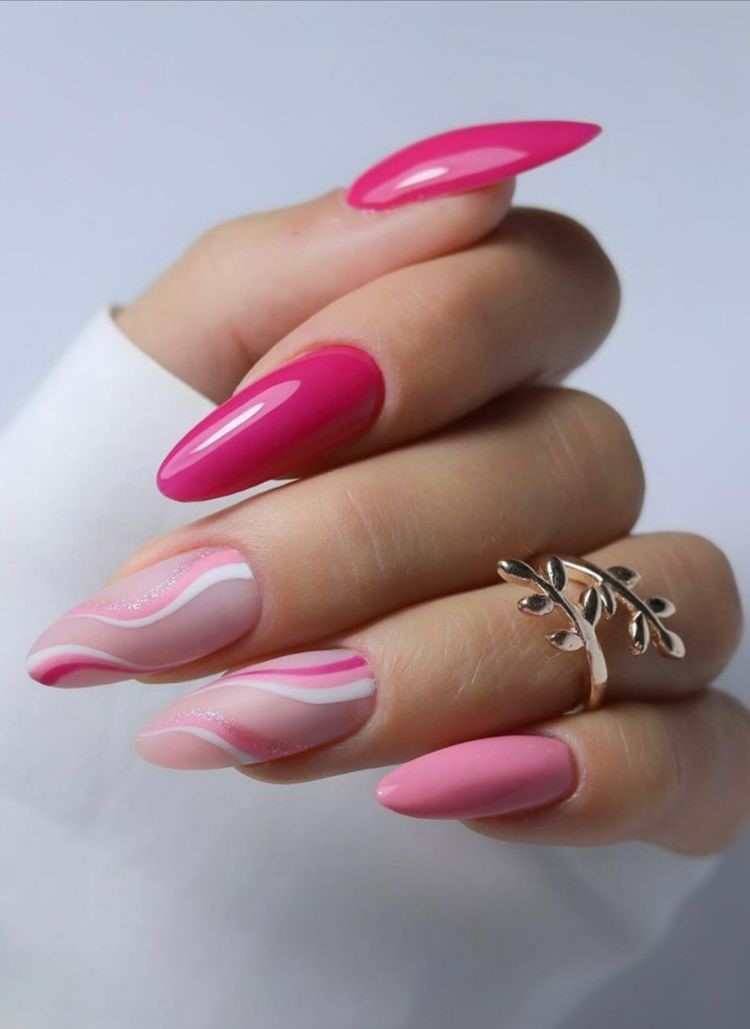 To those who want something a little more elegant, these swirly patterns are hard to beat. You can use different shades of pink as well as some glitter accents to make it really pop!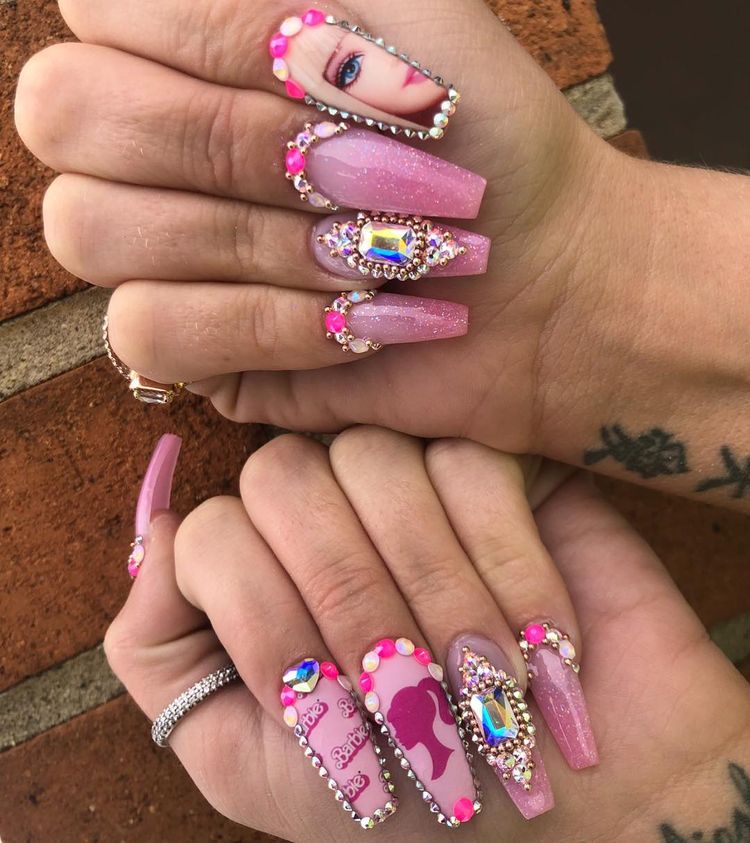 When it comes to Barbie, more is definitely more! For those who like to go all out for this highly-anticipated Barbie affair, then these nails would be perfect for you!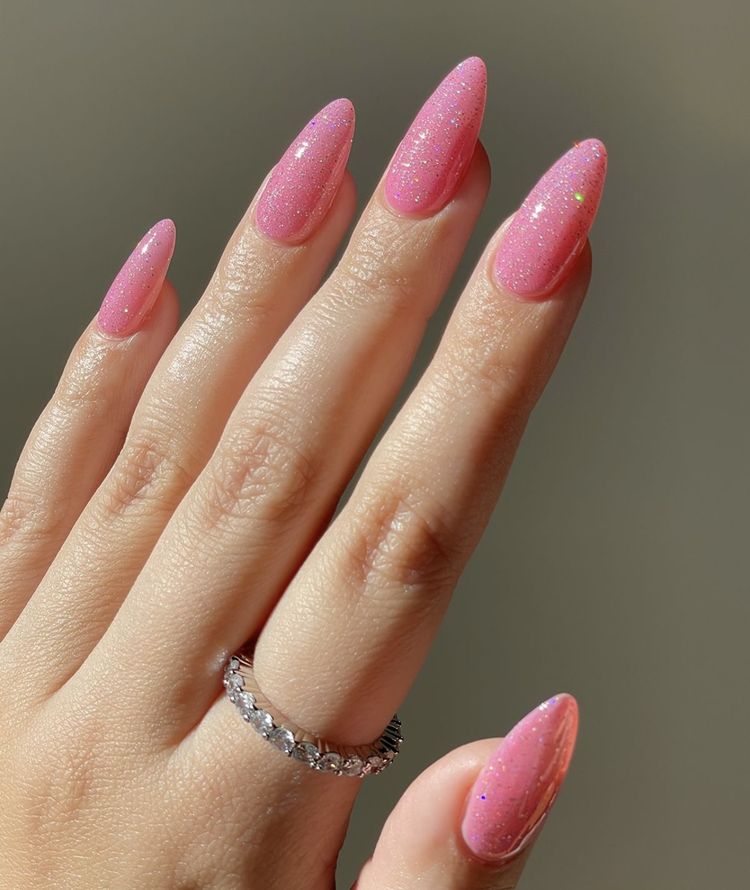 Not a fan of hot pinks or deep pinks that stand out from the crowd? Then this Barbie manicure is for you. The pastel pink offers a more understated aesthetic that is still true to Barbiecore.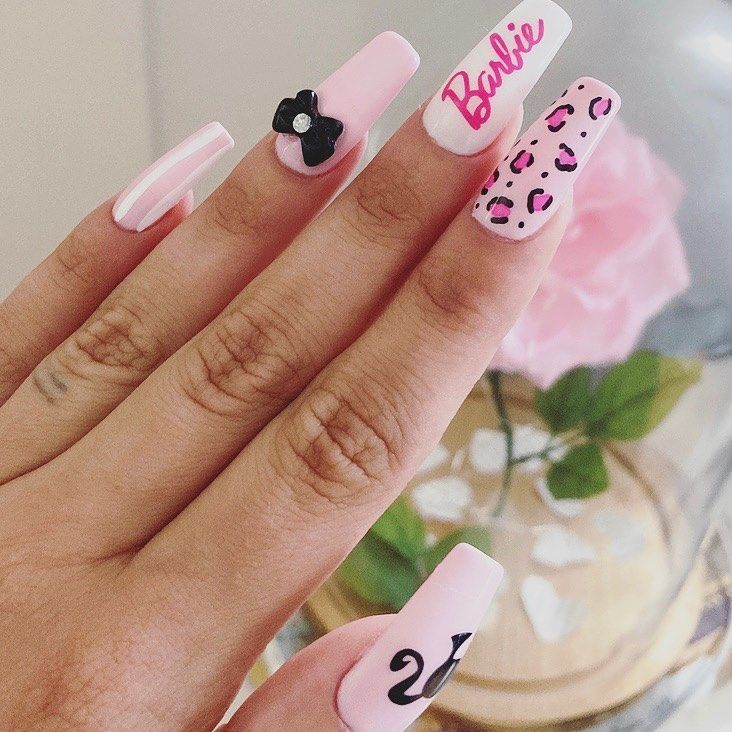 These graphic nails are so adorable and quirky! If you're not too confident with your nail art skills just yet, you can always book your trusted nail tech or get some Barbie-themed nail stickers to do the trick!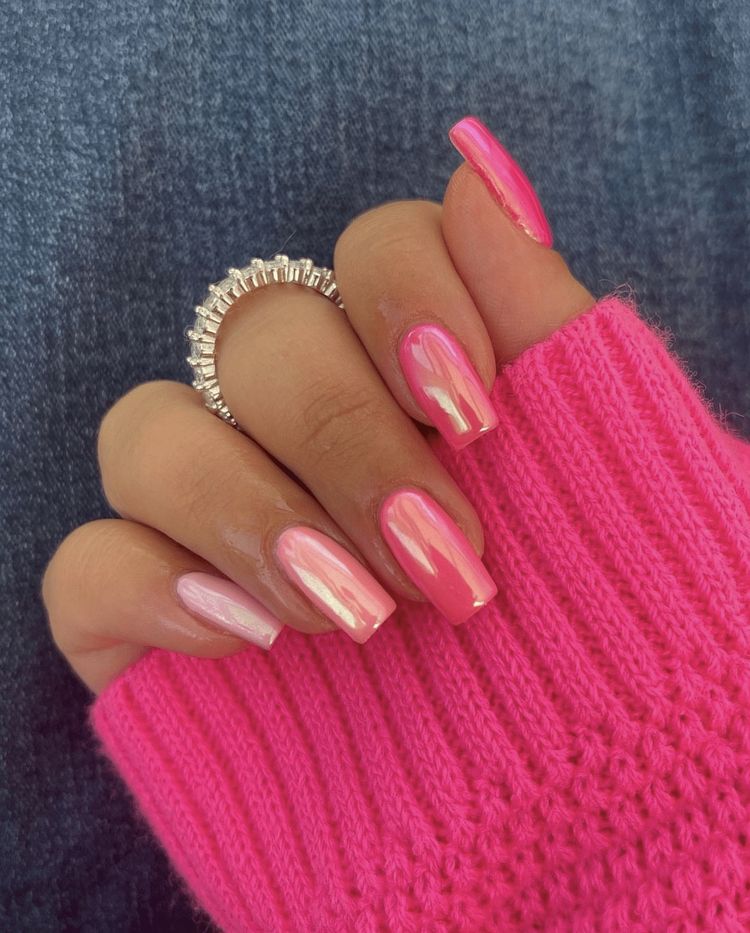 Aside from the glazed, iridescent hues of these gorgeous Barbie pink nails, did you also catch the subtle gradient tones of each nail? Without a doubt, another favorite of mine on this list!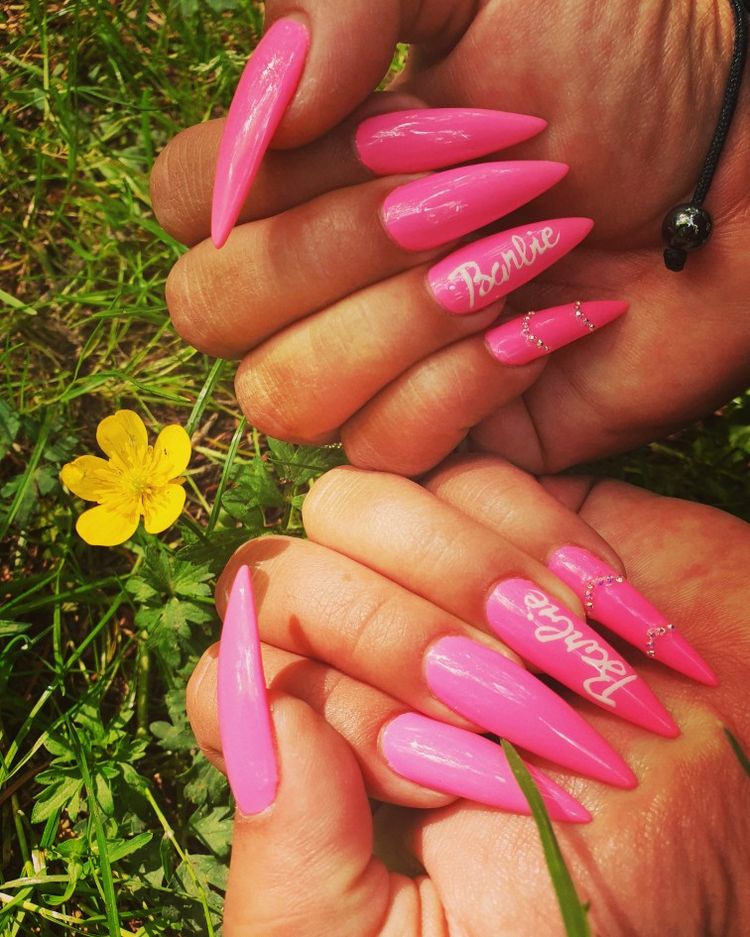 Want something more minimalistic? Then why not opt for a simple hot pink polish and top it off with a Barbie logo accent nail? It's simple and not too fussy.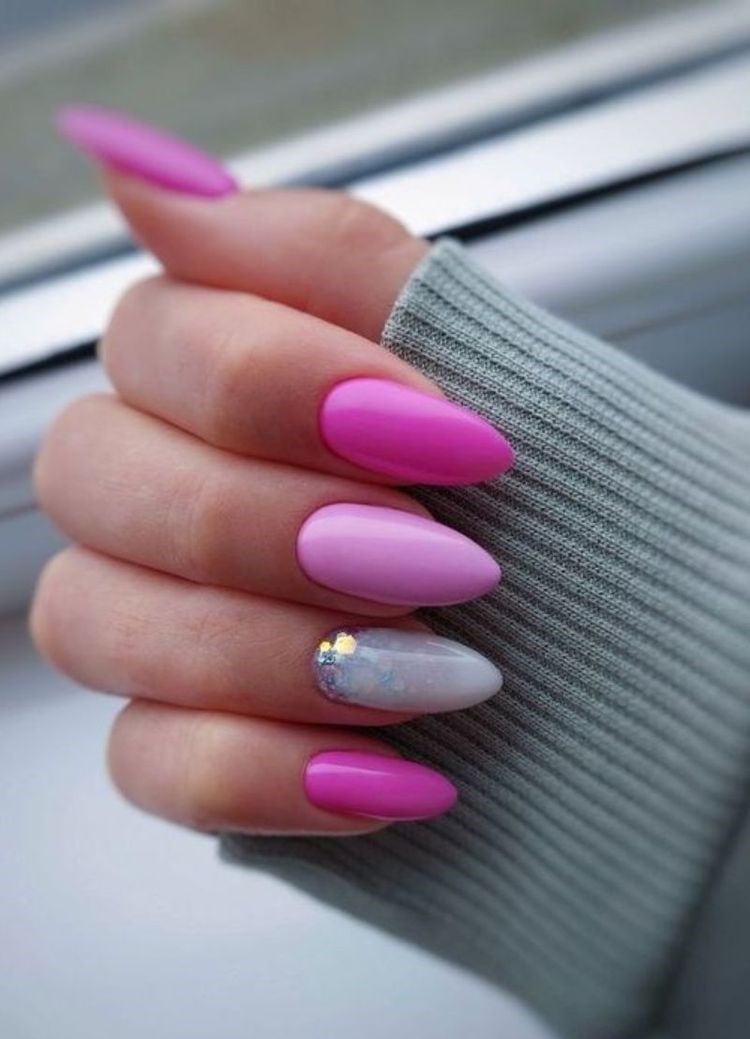 Is it just me or do these nails would look so good even during the winter? The frosty accent nail against the pink hues gives this manicure an understated Barbie elegance.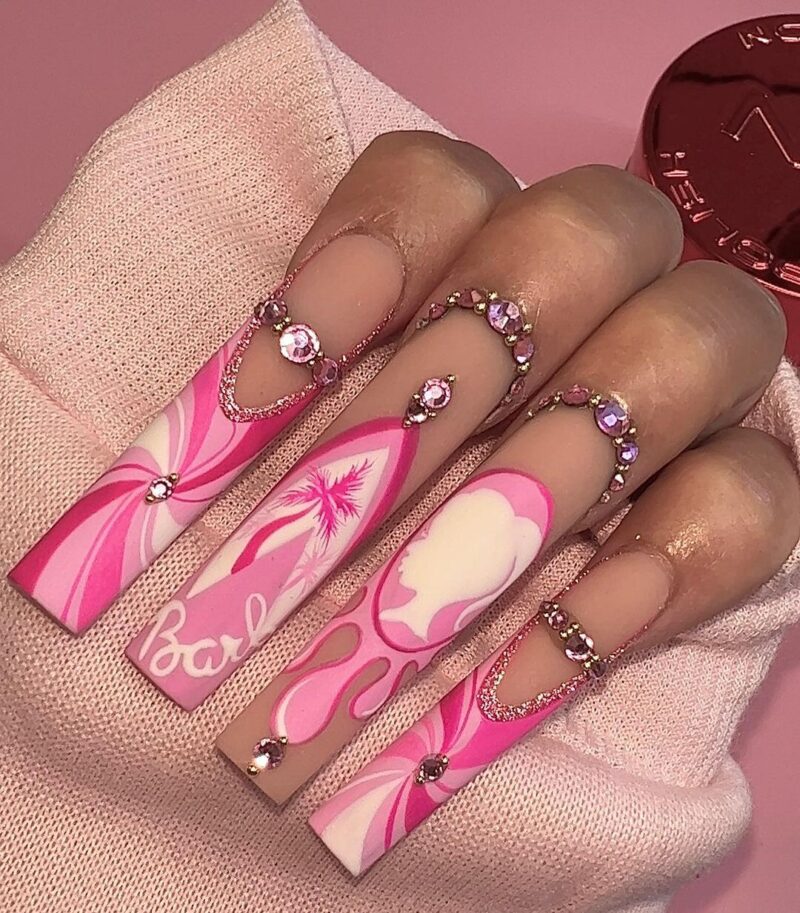 While I'm not the biggest fan of really long acrylic nails, I have to say that these Barbie nails are so extravagant in the best possible way! Who needs rings and bracelets when your nails are studded to perfection?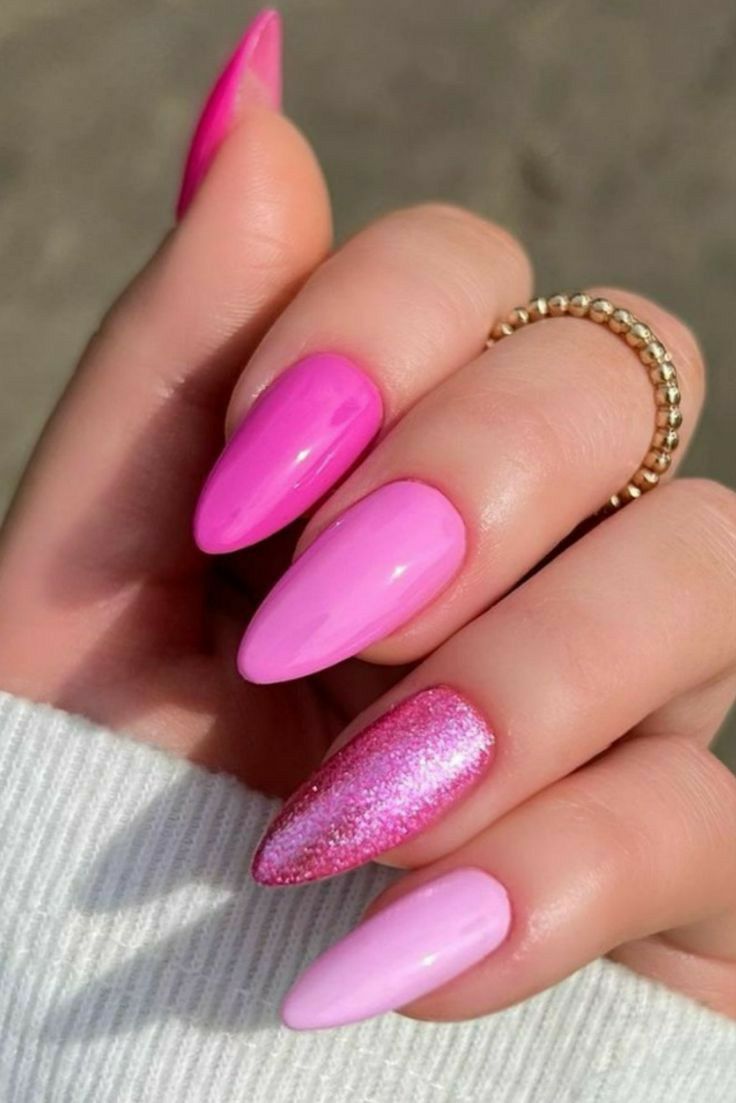 If you want a Barbie manicure that you can easily do in the comfort of your home, why not opt for this kind of design? They're not much different from your regular manicures. All you need are different shades of pink polishes for each nail and a glittery one for your accent nail.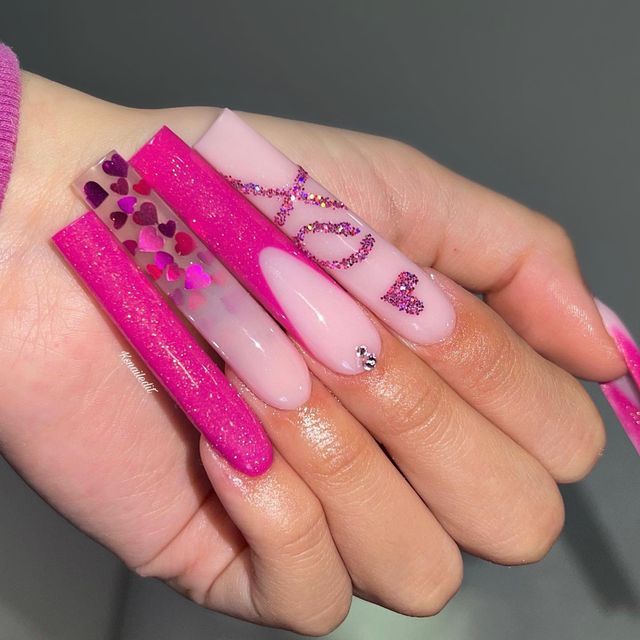 These Barbie nails are something to consider for those who like to be extra with their acrylics! I love the natural jelly look and how it contrasts so beautifully against the hot pink accents.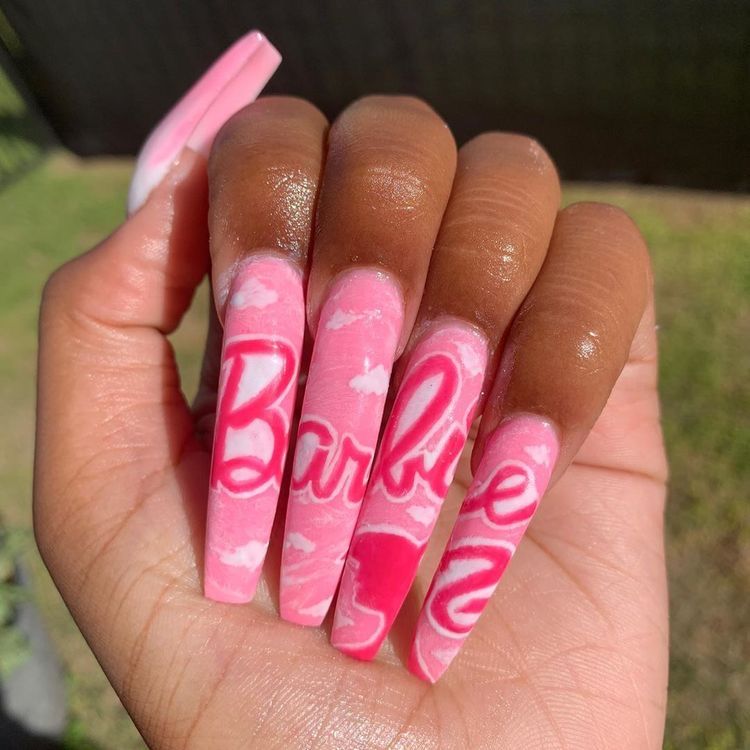 Can't get enough of extra long acrylic styles for your Barbie nails? Then here's another one for you! These nails when put together make a whole Barbie portrait! So creative!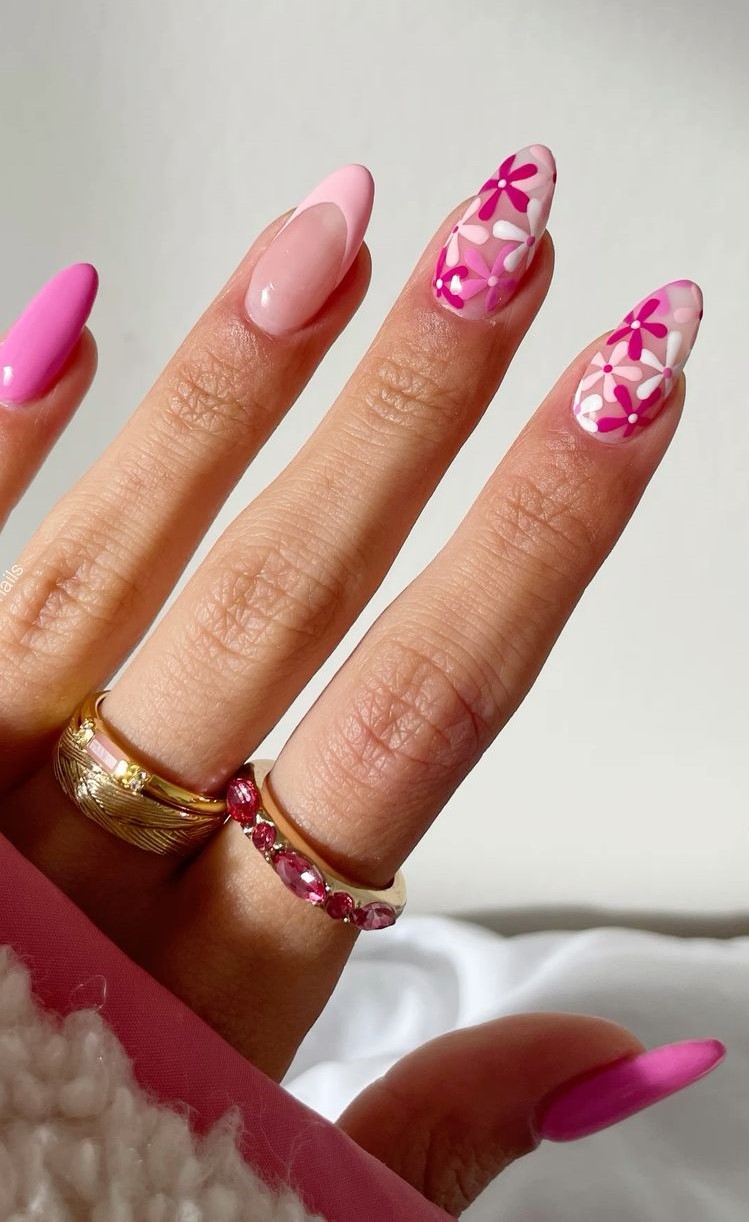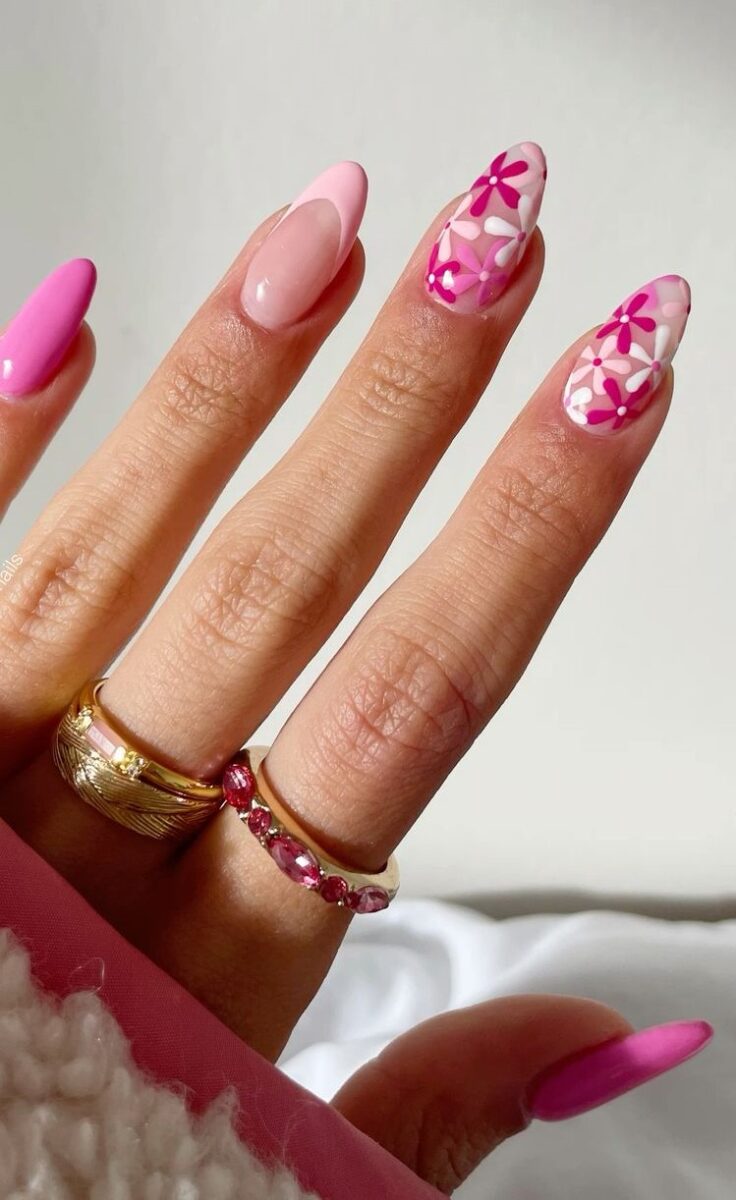 Who doesn't love florals, right? These nails are for you for a Barbie manicure that's ideal for both springtime and summertime occasions!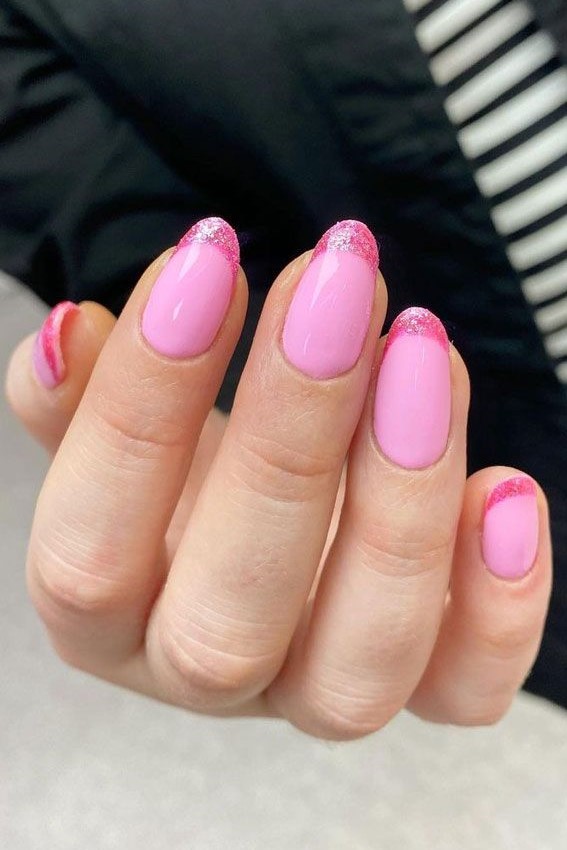 I don't know about you, but these nails remind me of strawberry popsicles that were dipped in some edible glitter. It really captures that summery vibe!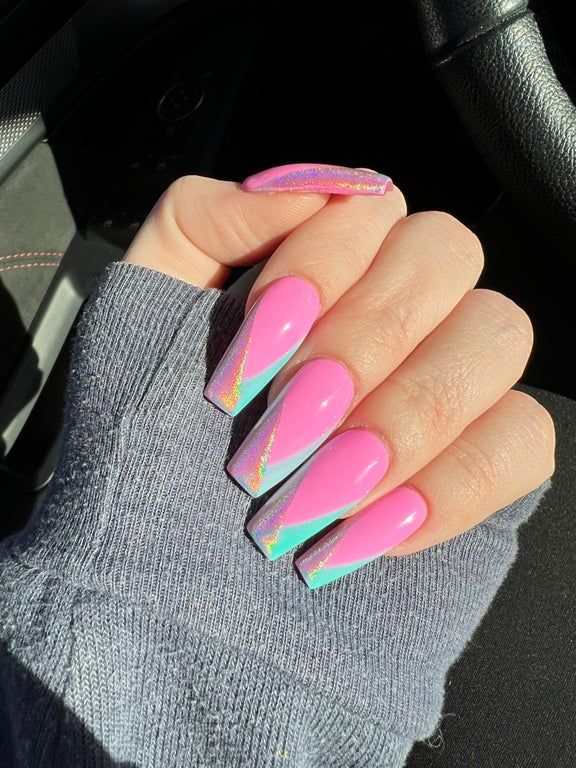 Who said geometric patterns can't be Barbie-themed? While geometric patterns usually have that edgy vibe, these ones remind me of cotton candy!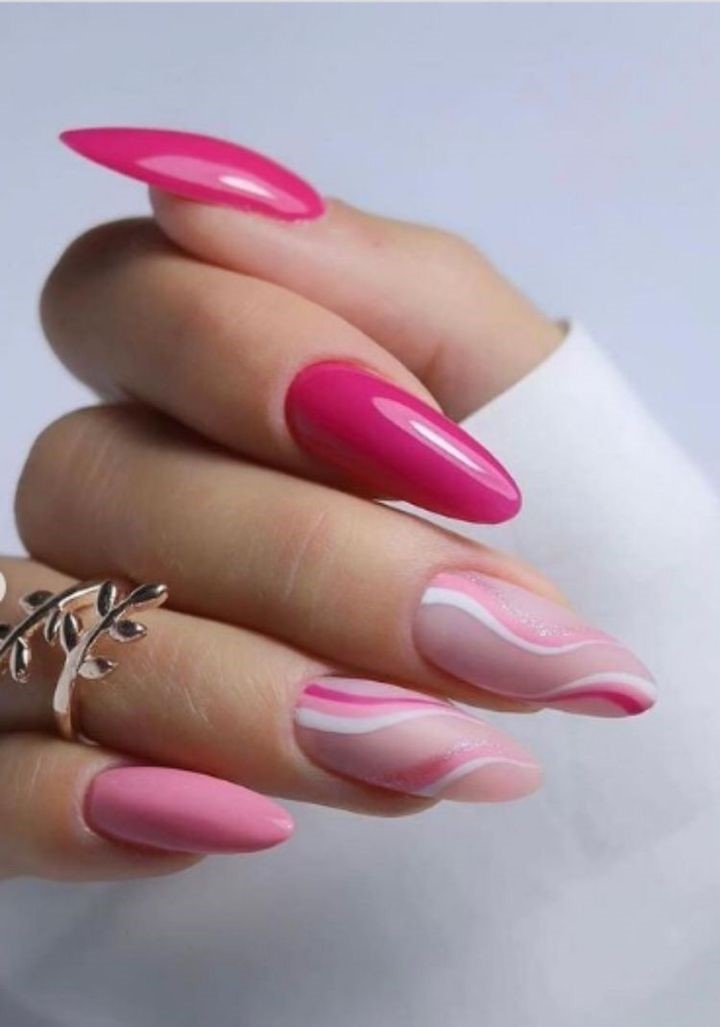 Here's another Barbie-themed set of nails that uses those trendy swirly patterns. I love the subtle shimmers these have!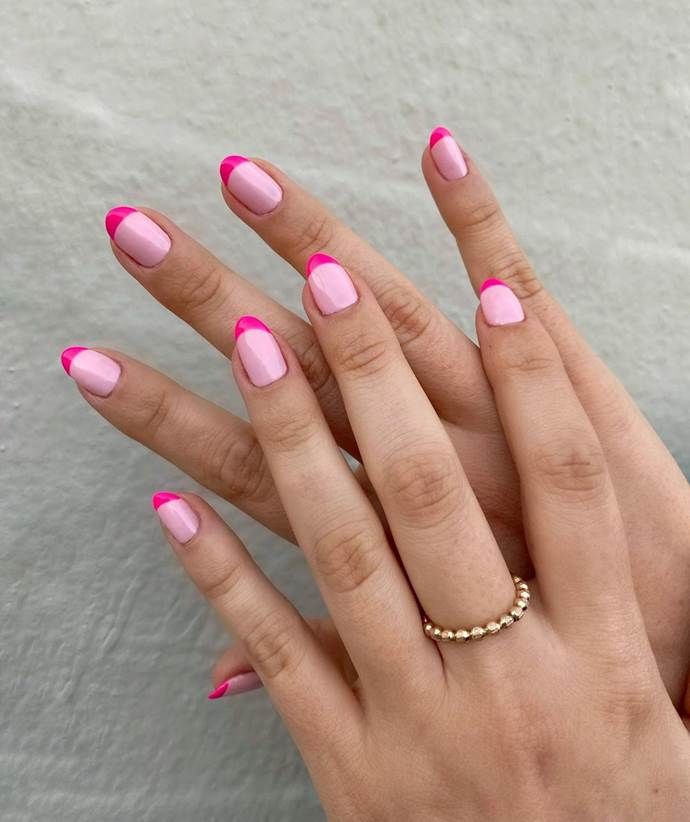 If you want to recreate a classic French manicure for your Barbie nails, I highly suggest doing this one! Forego the usual white tips and use hot pink polish instead.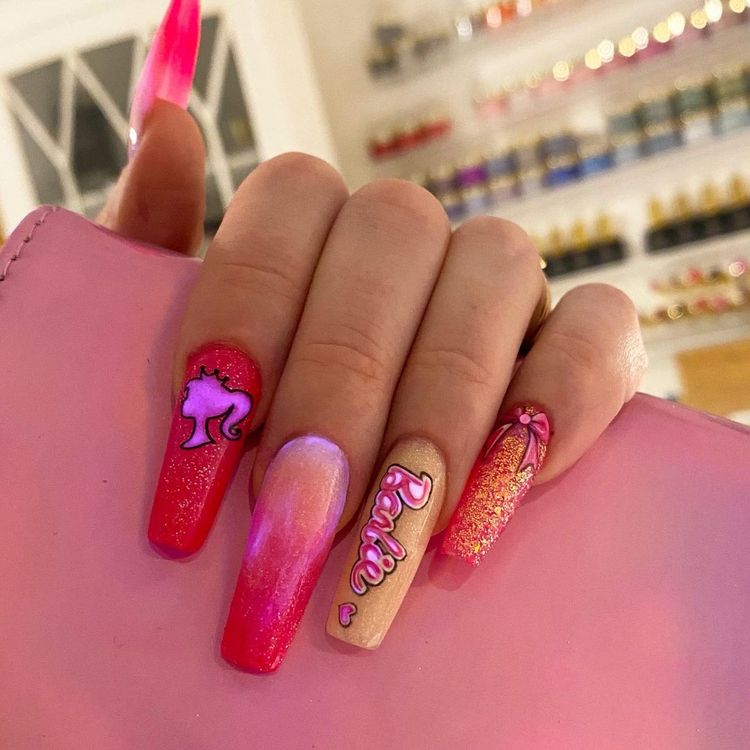 I love this glittery set of Barbie nails! They look utterly gorgeous and fit that summery vibe Barbie has! Pink, yellow, and orange are such good color combos for a manicure!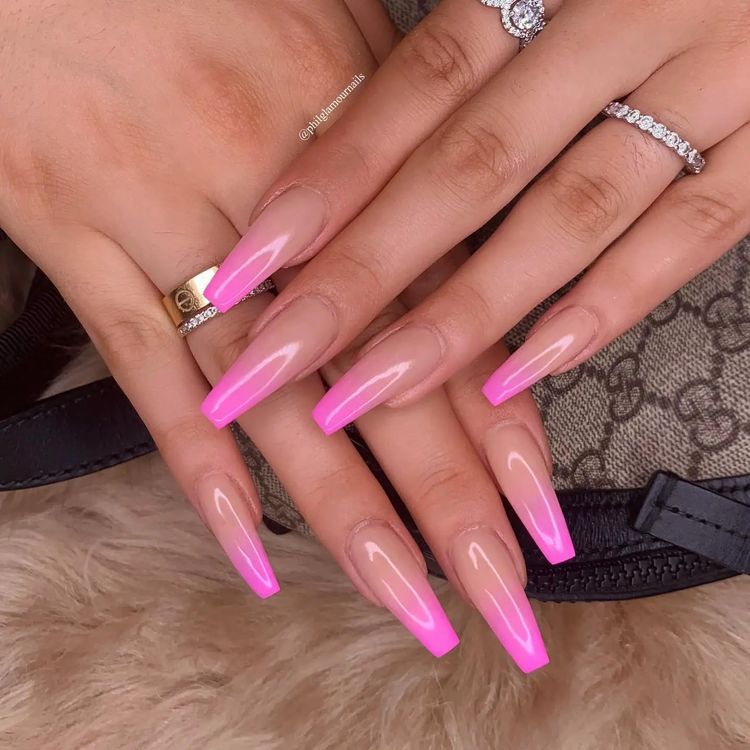 For those who want something elegant and sophisticated for their Barbie nails, these bright pink French manis are definitely for you! The glazed finish adds to its timeless aesthetic too!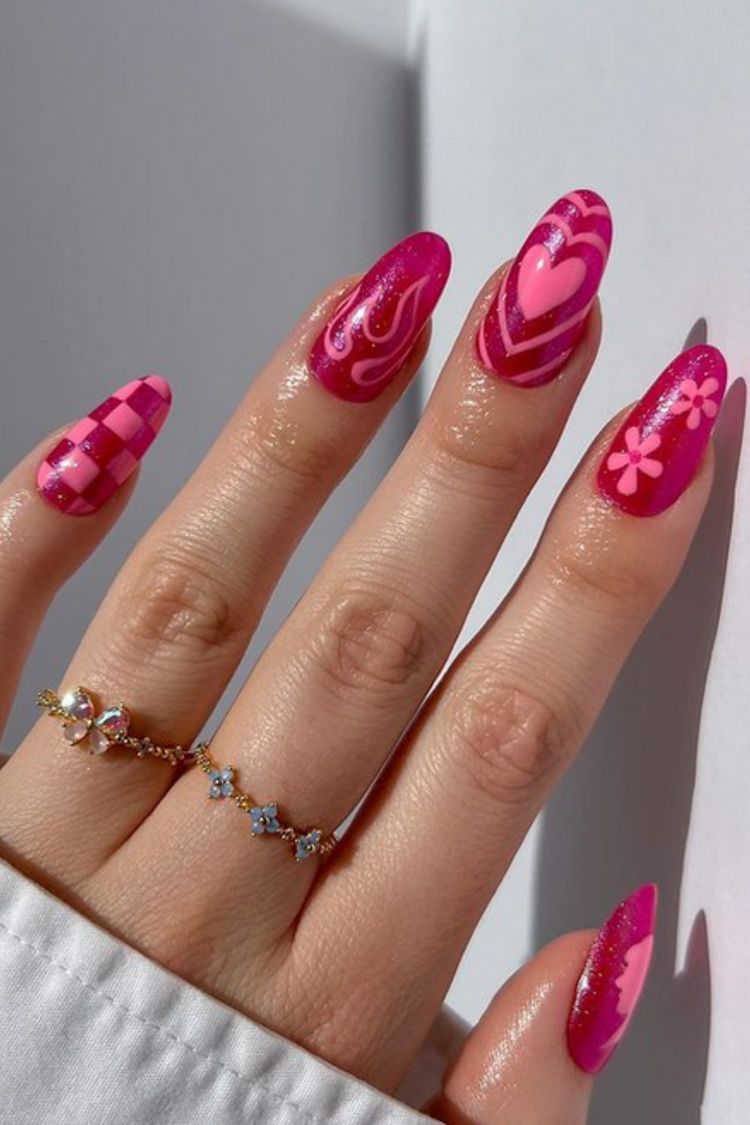 Can't seem to settle on one nail art for your Barbie nails? Why not opt for a different pattern for each nail? You can even incorporate Barbie references to make it all the more fun!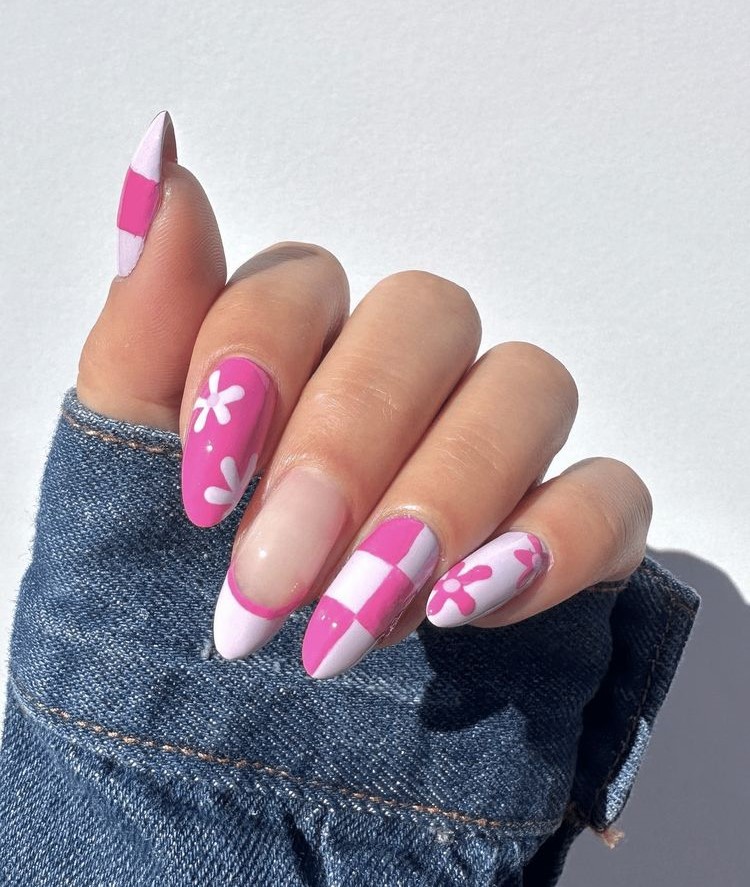 I'm utterly obsessed with these Barbie-themed graphic nail art! Not only are they adorable, but they're so much fun to do! They make great practice for your nail art skills too.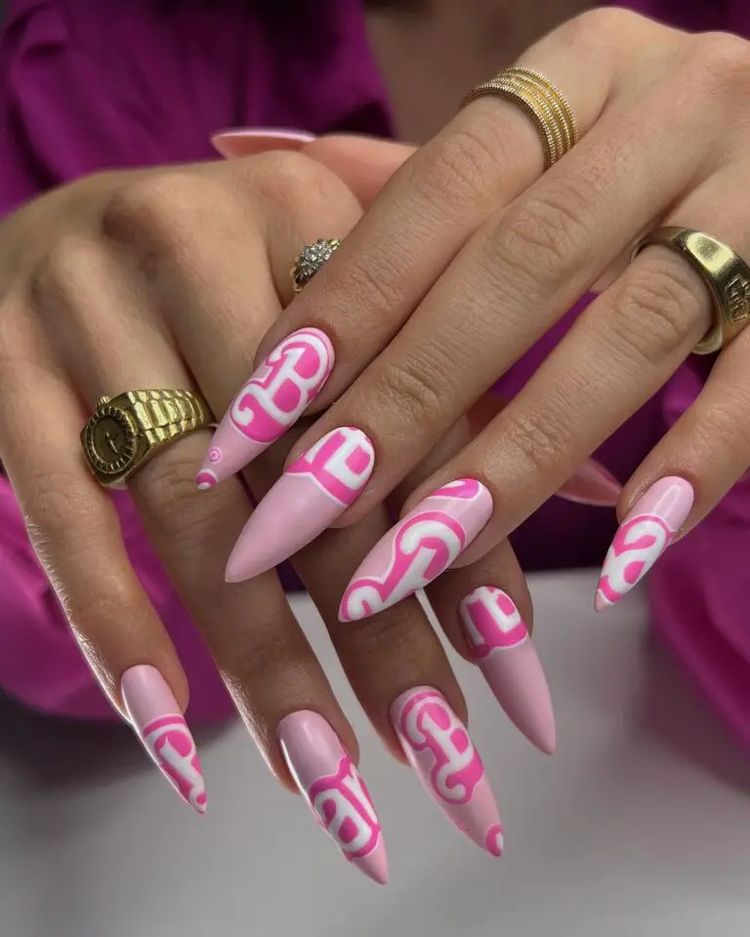 These Barbie logos as nail art for your Barbiecore nails are so perfect! I suggest picking longer almond cuts for your nails so that the design really stands out.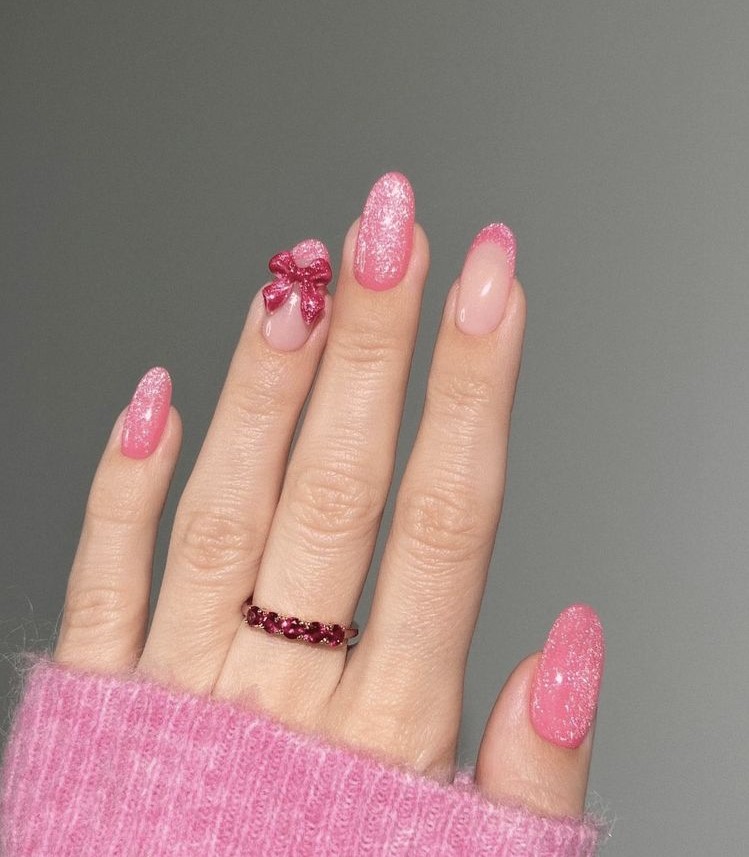 So frosty yet so feminine, this has got to be one of favorites in this Barbie nail collection. If you're looking to ride Barbie fever all throughout the year, then these nails would be so cute during the winter months!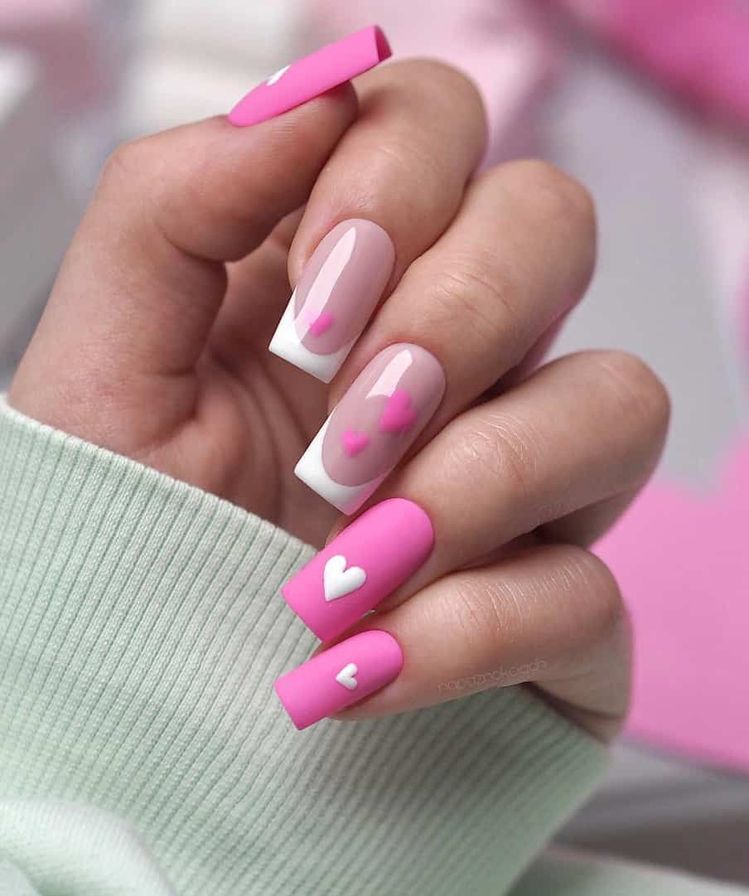 These Barbiecore nails with their dainty heart designs are to die for! I love the combination of glossy nails and matte finishes too! Perfect for those who want to spice up their usual French manicures.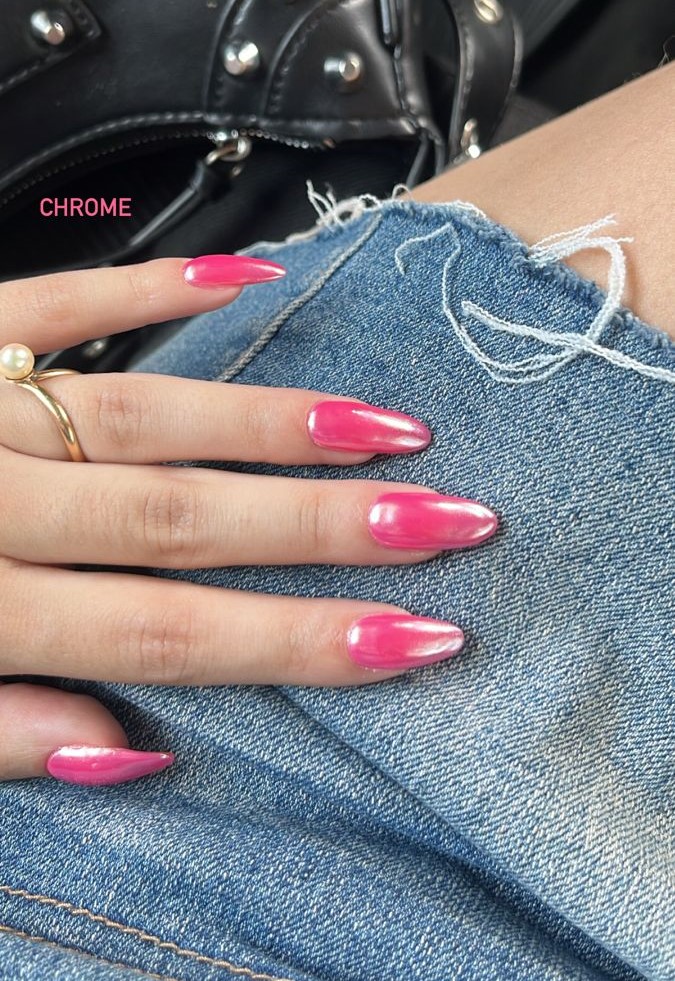 I'm sure everyone at this point has seen Hailey Bieber's famous glazed nails. But who says you can't bring in a Barbie twist to this classic manicure? Instead of a nude shade, opt for that signature Barbie pink color!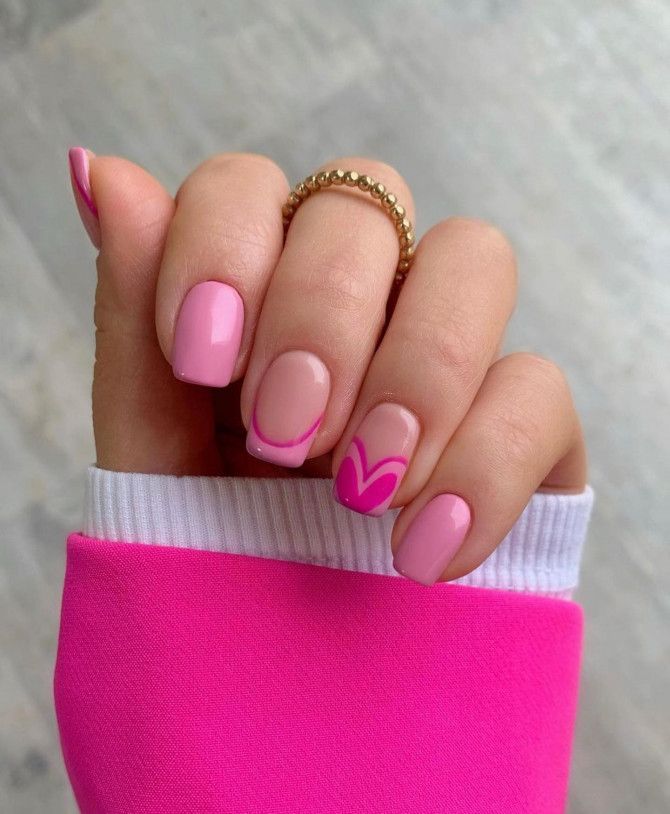 If you're looking for something simple, sweet, and totally easy to practice, these Barbie nails won't let you down. All you need are two different shades of pink polishes and some trusted nail art brushes.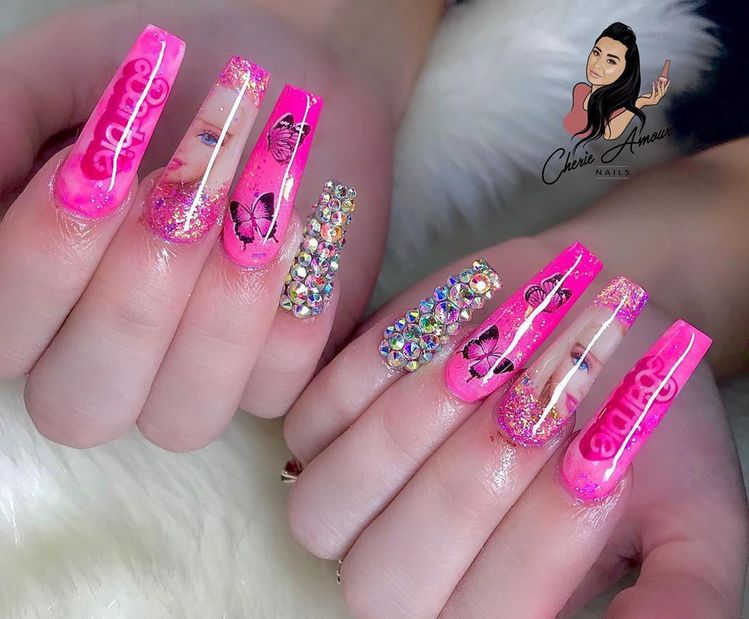 I've never been one for realistic art styles when it comes to my nails but for Barbie? I'm more than willing to make an exception!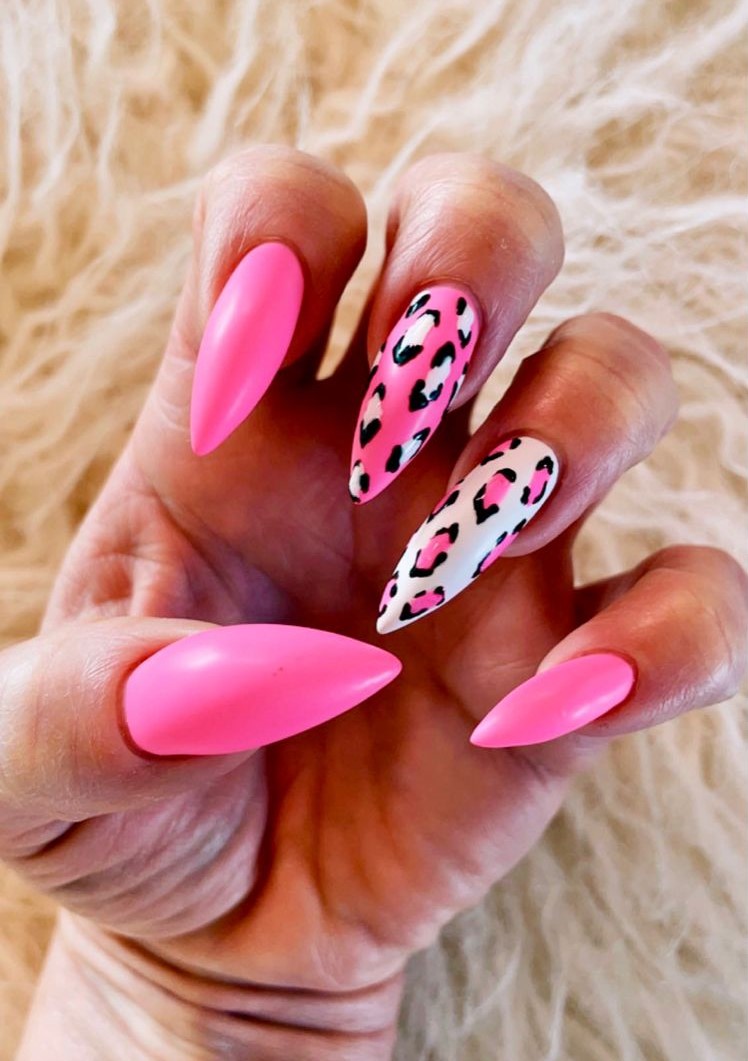 Can't get over your love for animal prints but also want to ride the Barbie trend? Then these hot pink leopard-printed nails are for you!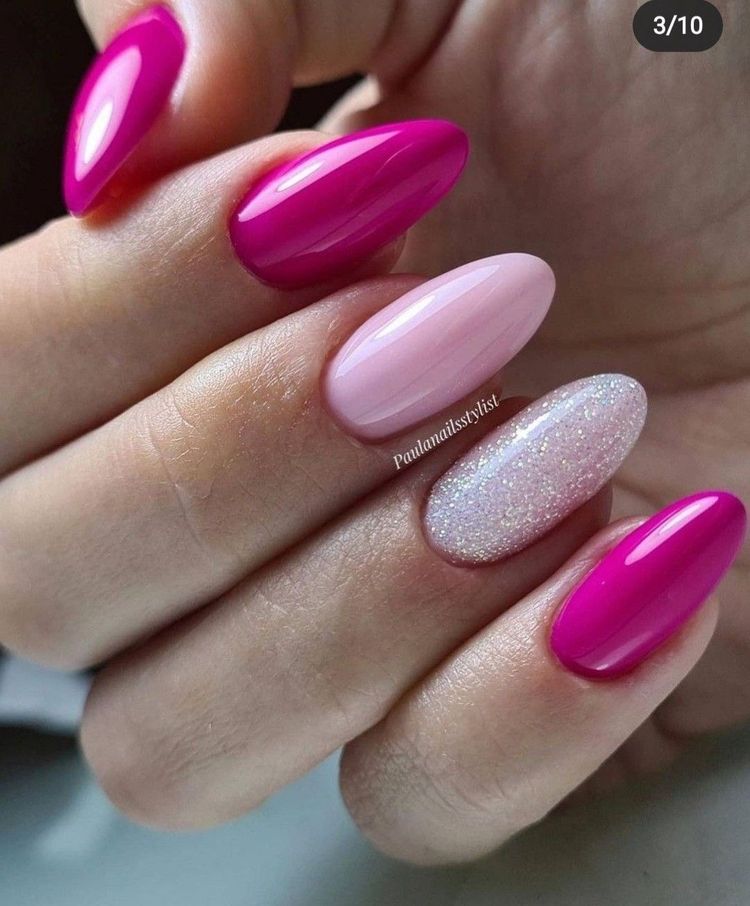 Looking for a Barbie manicure that you can wear even during the holidays? Then these frosty pink nails are totally for you!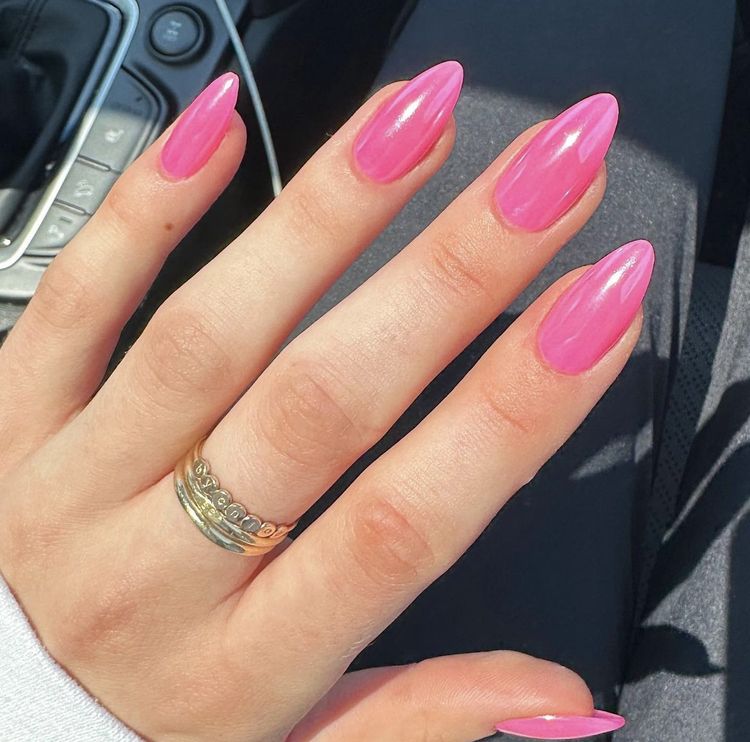 Here's another set of Barbie glazed nails that you'll surely love! Just look how gorgeous that iridescent sheen is!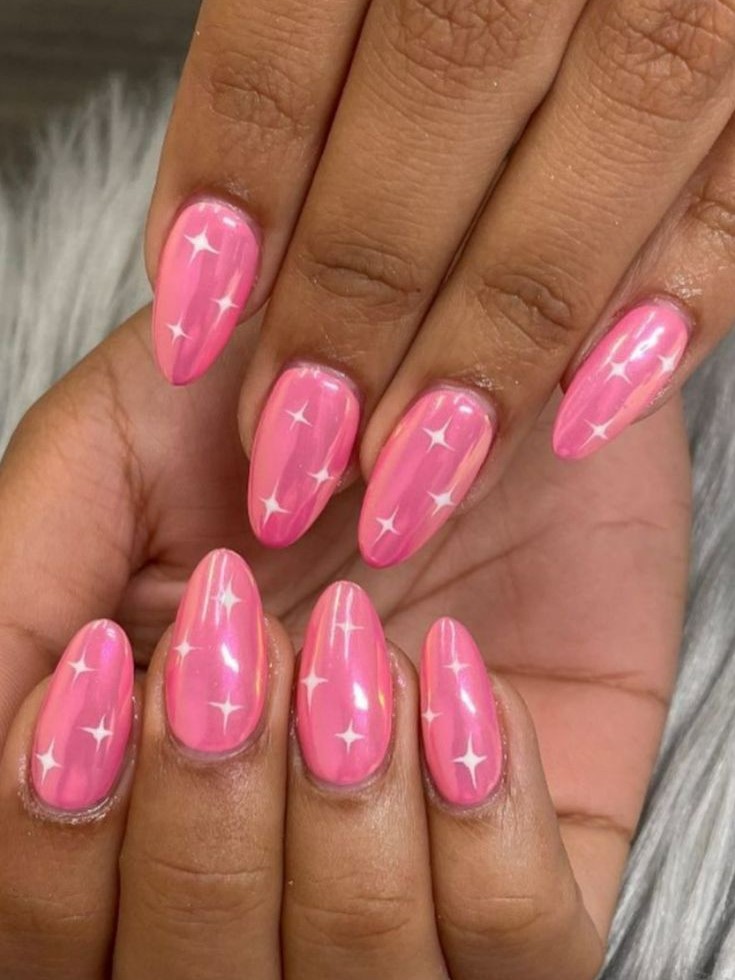 For an added layer of shine, it wouldn't hurt to paint those sparkling details too! Aside from the luminous sheen from your top coat, those sparkle accents make this all the more Barbie-themed!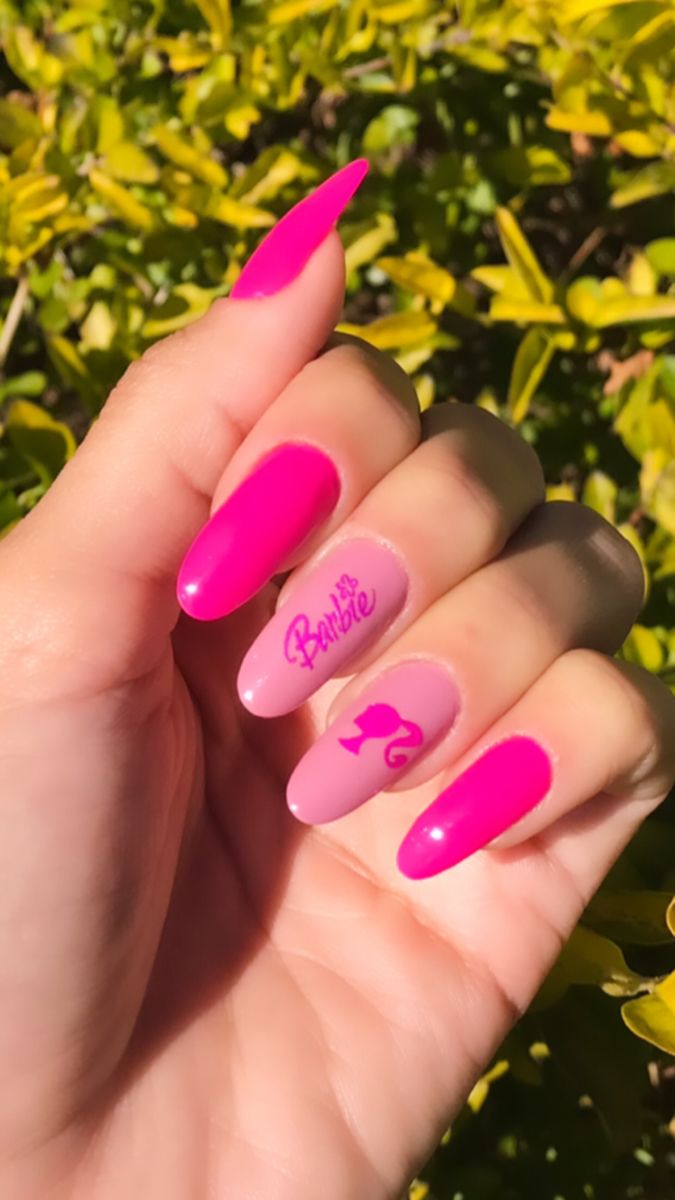 Quirky, summery, and so much fun, these nails are so quintessential Barbie! From the logo to the iconic silhouette!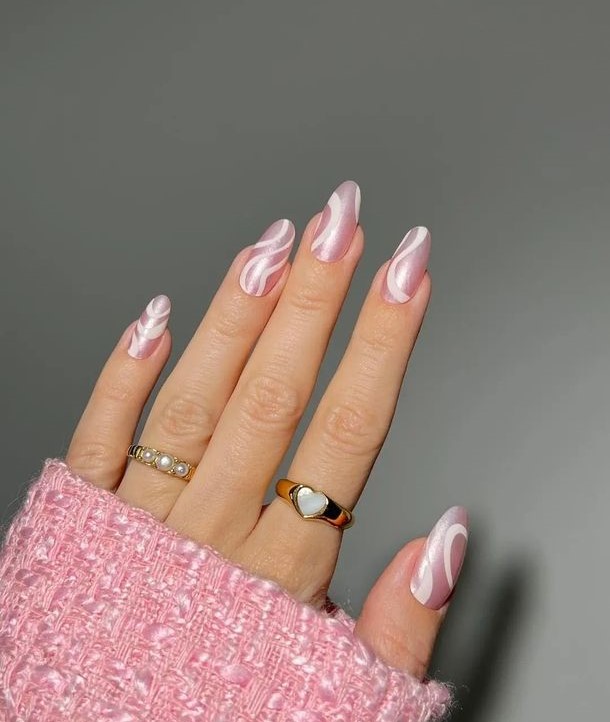 These soft, metallic pink nails are utterly gorgeous! The swirly patterns give it an understated elegance that's perfect for any occasion!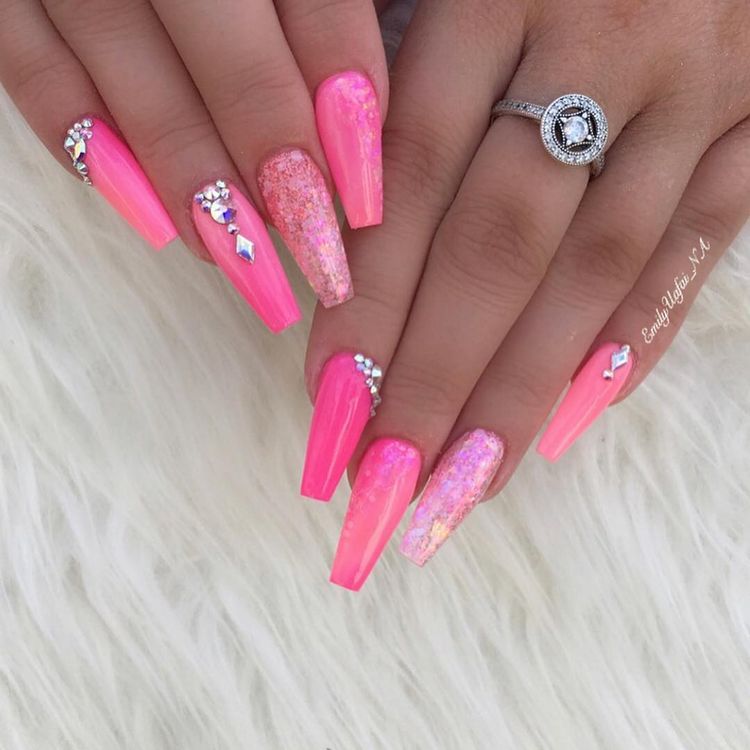 Aside from being perfect for Barbie fever, this shade of pink is the ideal kind of pink for the summer as well! Add some rhinestones and sparkles and I can see this as the perfect nails or your summer getaway.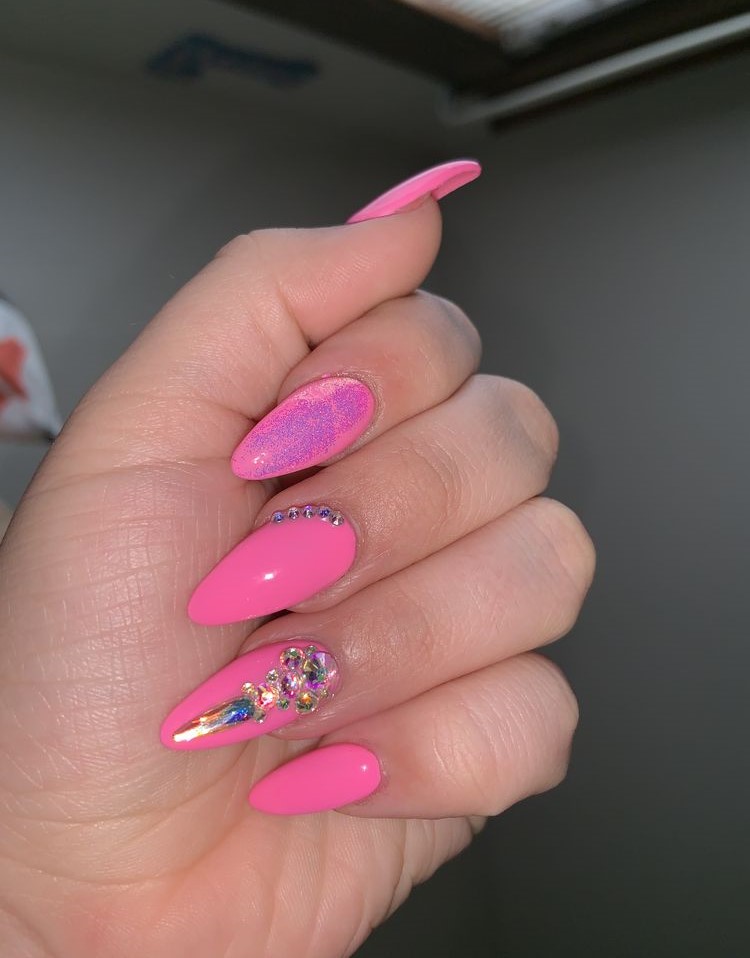 Spruce up your usual regular bright pink polish with some sparkling rhinestones and you'll look perfect for the Barbie movie premiere!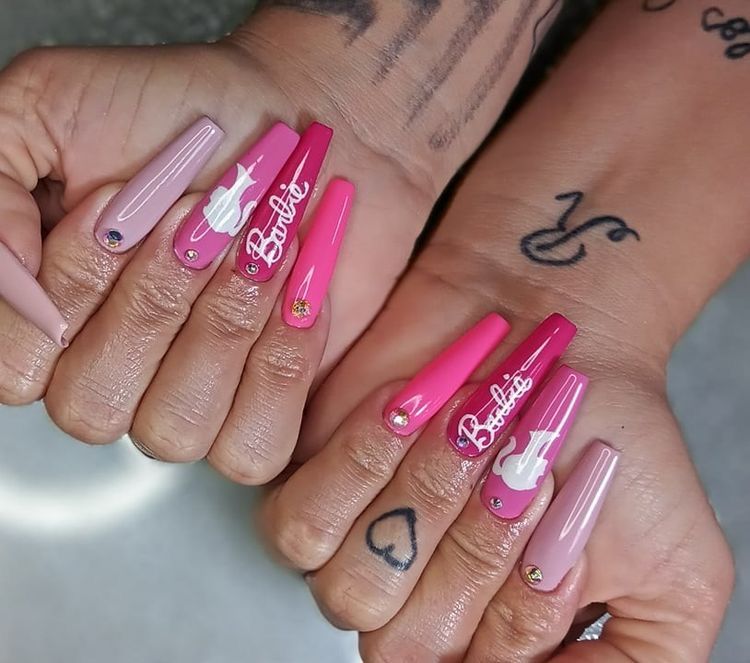 Aside from the iconic Barbie elements and details, I am also in love with how each nail has a different shade of pink to it!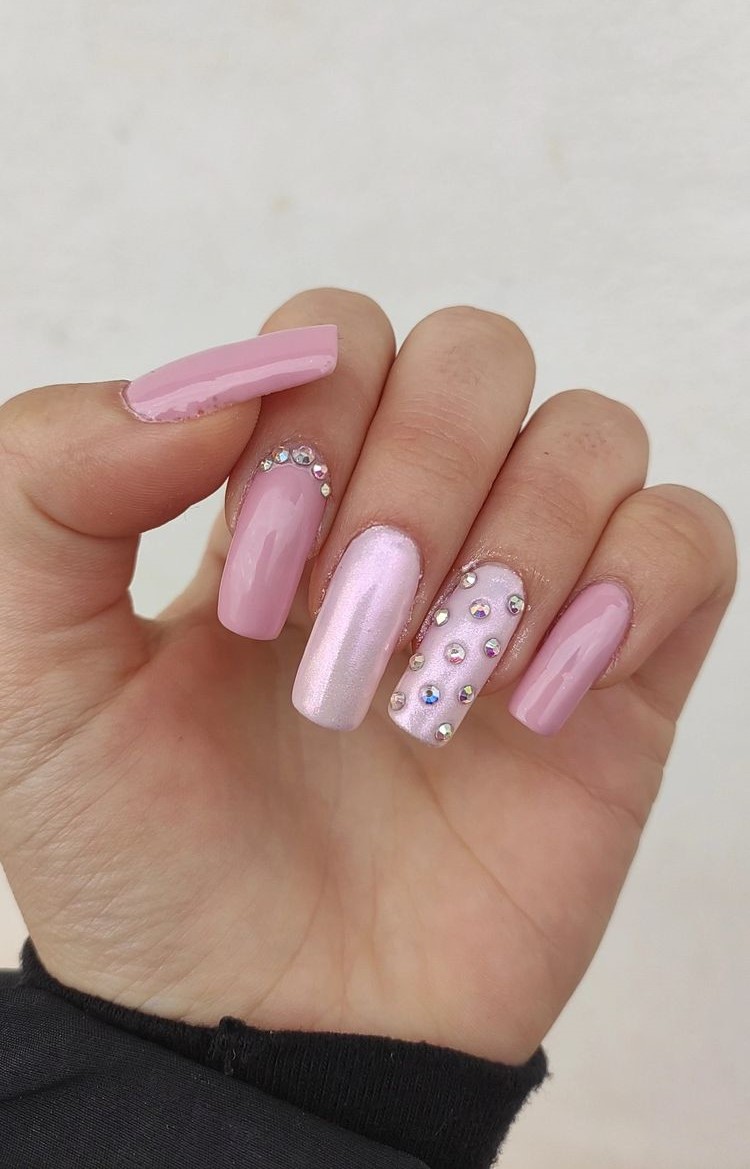 These dainty rhinestones are utterly beautiful! It really makes this pastel pink Barbie manicure all the more sparkly!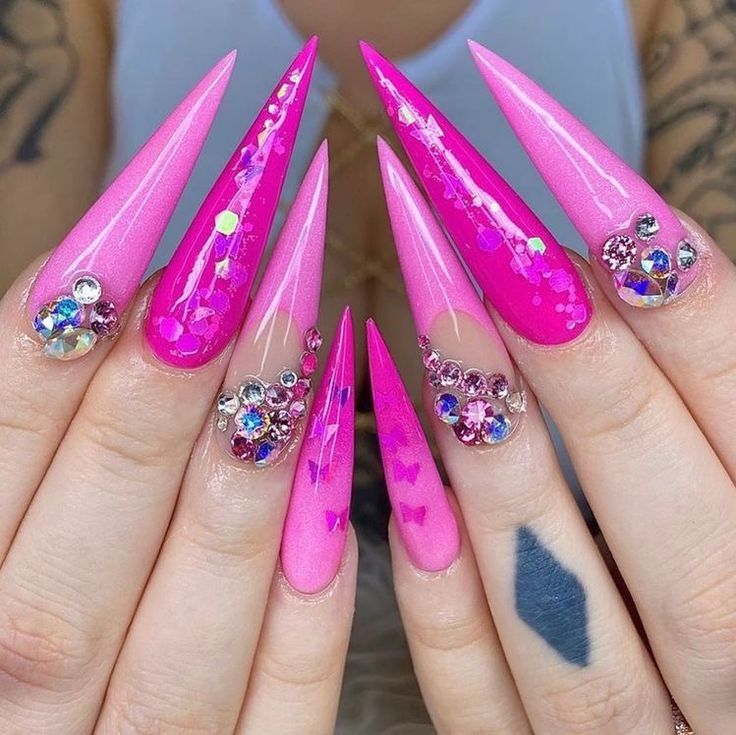 I'm not gonna lie, these extra-sharp and extra-long nails kind of intimidate me. But with that added Barbie touch, they look a lot of fun!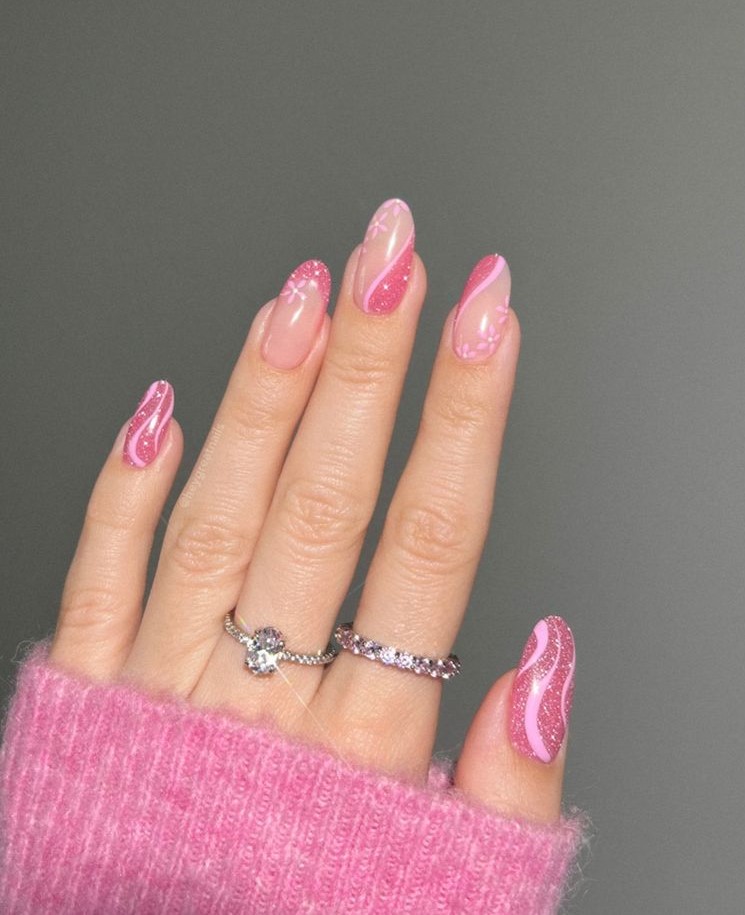 Make gorgeous contrasts with your talons by using different, opposite shades of pink just like this particular Barbiecore manicure!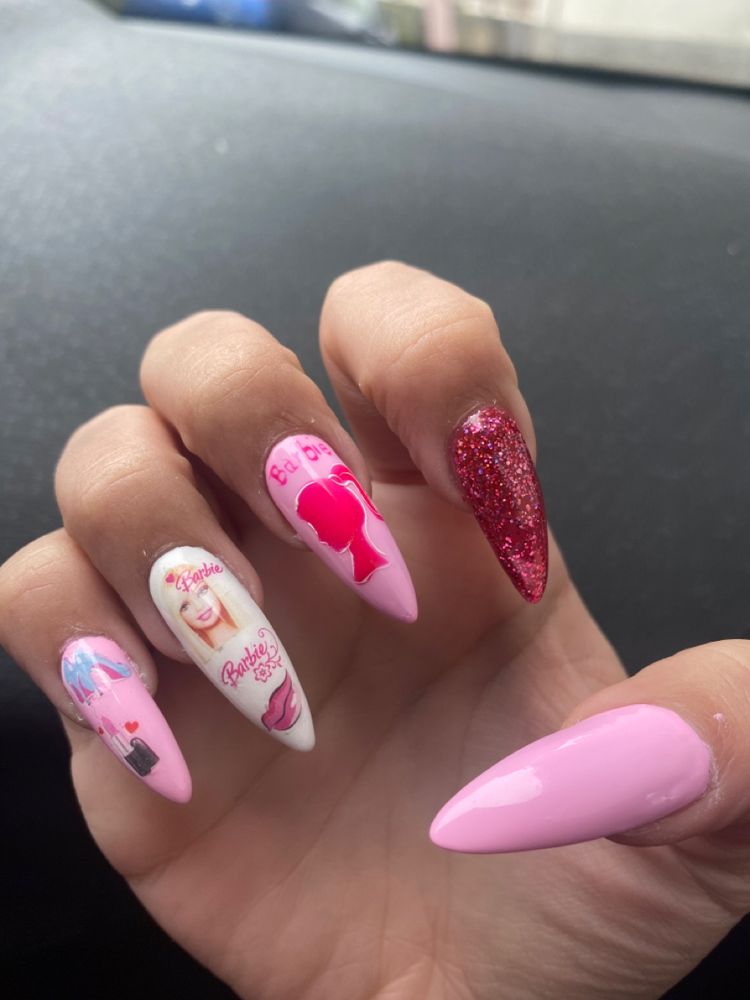 Can't settle on a specific Barbie theme for your nails? Why not opt for a different Barbie era for each nail? It's surely one way to really pay homage to this iconic doll!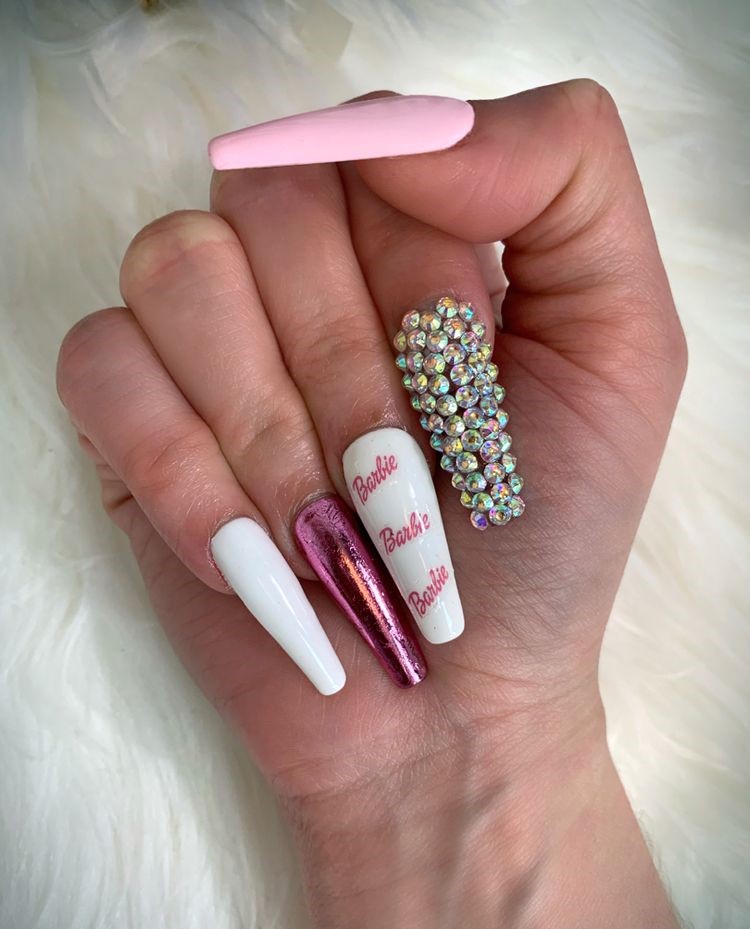 Not a fan of using a lot of pink for your Barbie nails? Don't worry! You can always opt for a white base coat and use pink as your accent colors instead.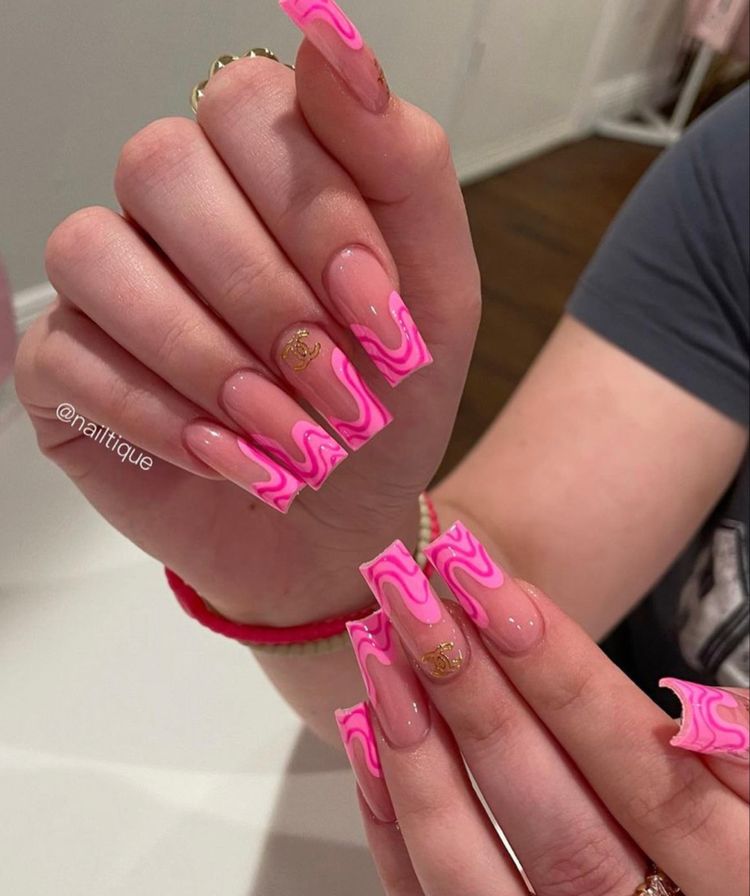 Make your Barbie French tips all the more quirky by doing these gorgeous, trippy wavy patterns! These would look even better while wearing acrylic extensions.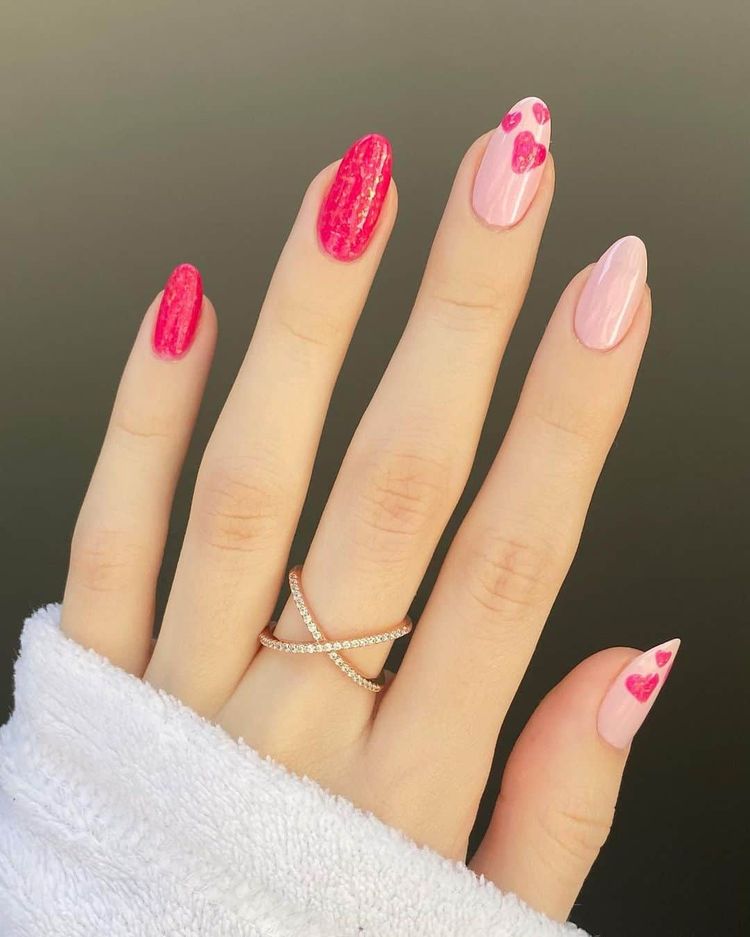 If you like putting dainty hearts onto your nails, then there's no reason not to include them on your Barbie nails as well!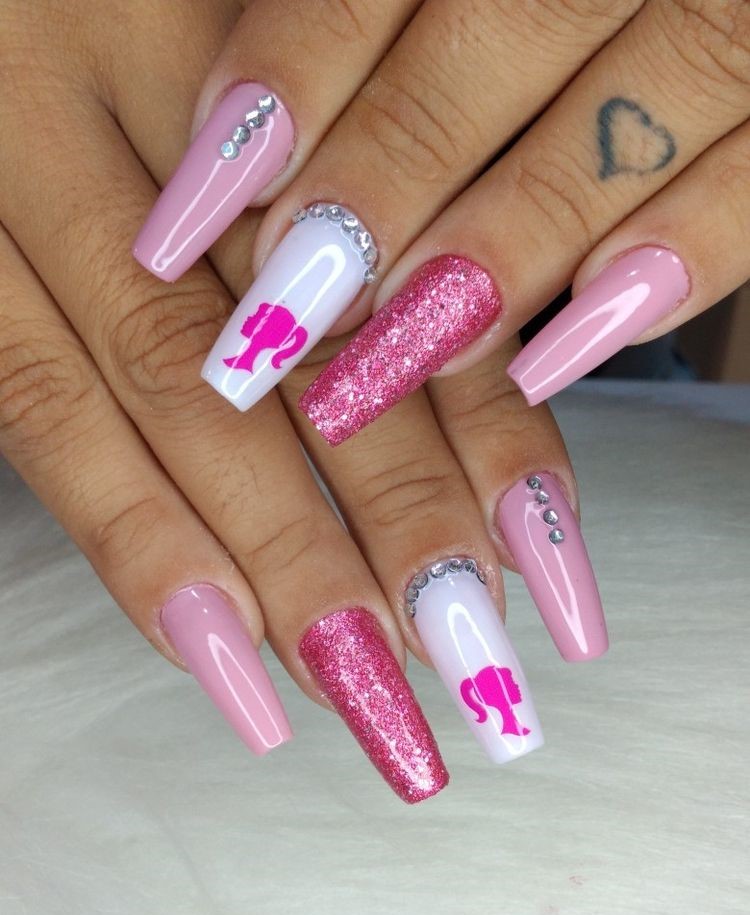 So you've already done the alternating pink polishes and added the Barbie logo onto your nails. Take it an extra step further by adding some pretty, little rhinestones around the edges!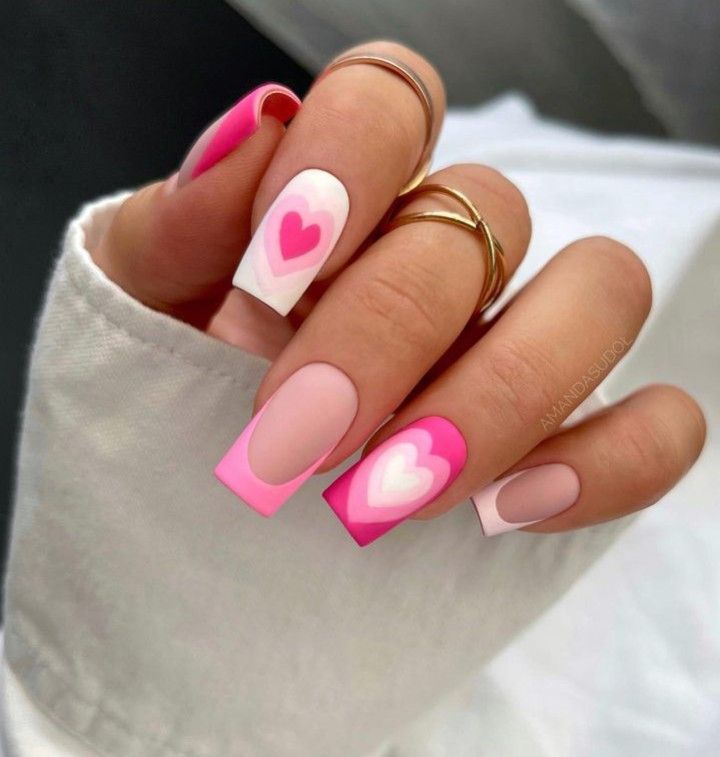 There's just something about soft matte finishes for a polish that makes a manicure look so classy. I love the trippy heart details on the accent nails too!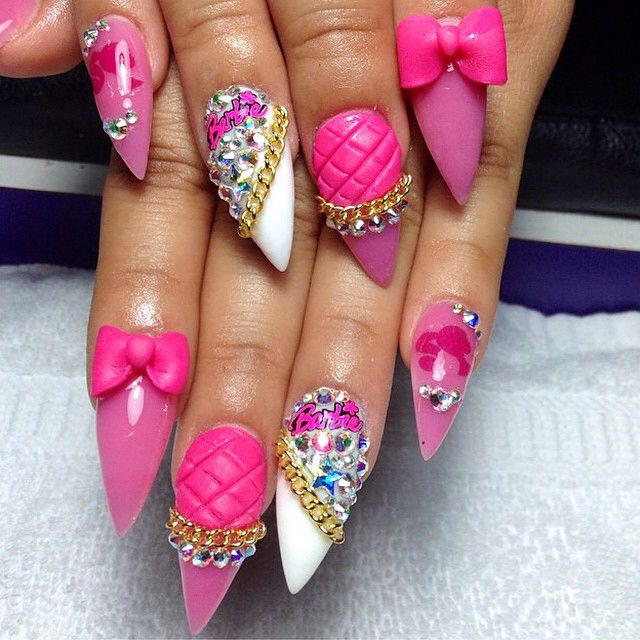 If you like to go all-out on your Barbie nails, then this is the perfect time to do it! You can add some edgy aesthetics, some coquette details, and over-the-top embellishments to recreate this gorgeous manicure!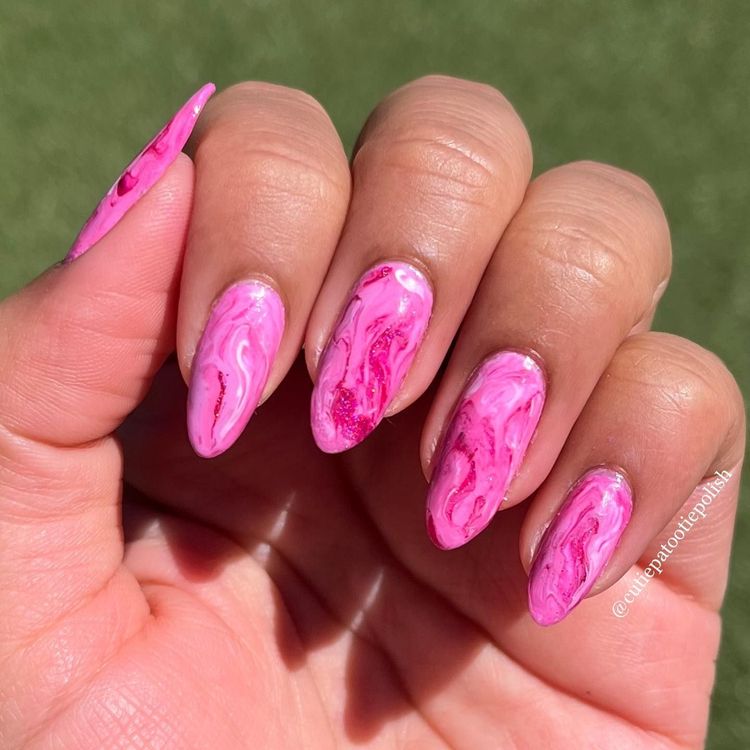 As someone who loves the "marbled" look on nails, I am utterly obsessed with how these Barbie nails look! It looks so pretty!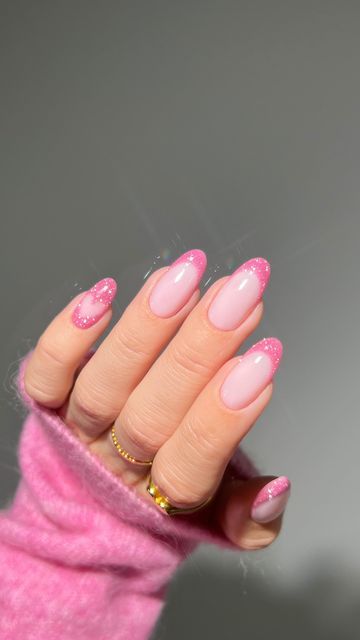 Classy and understated, you can never go wrong with a Barbie-themed French manicure like this one. It would suit so many other occasions aside from the Barbie events.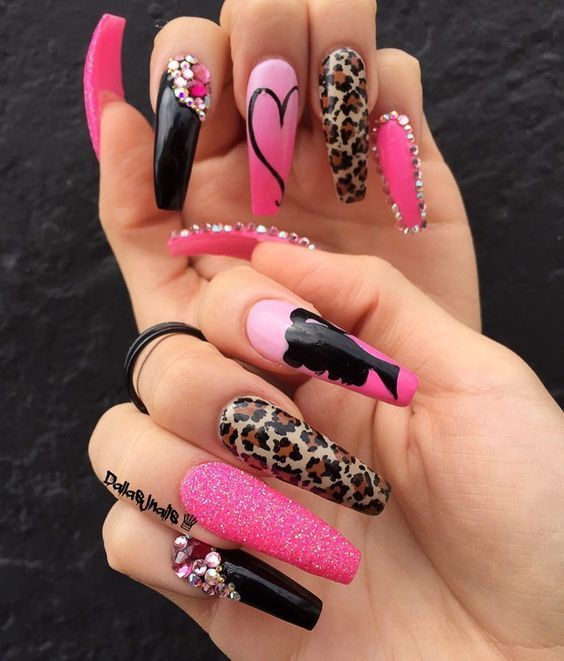 I'm loving this eclectic set of Barbie nails! From the quirky animal prints, to the glittery nails, and rhinestones, Barbie would be proud!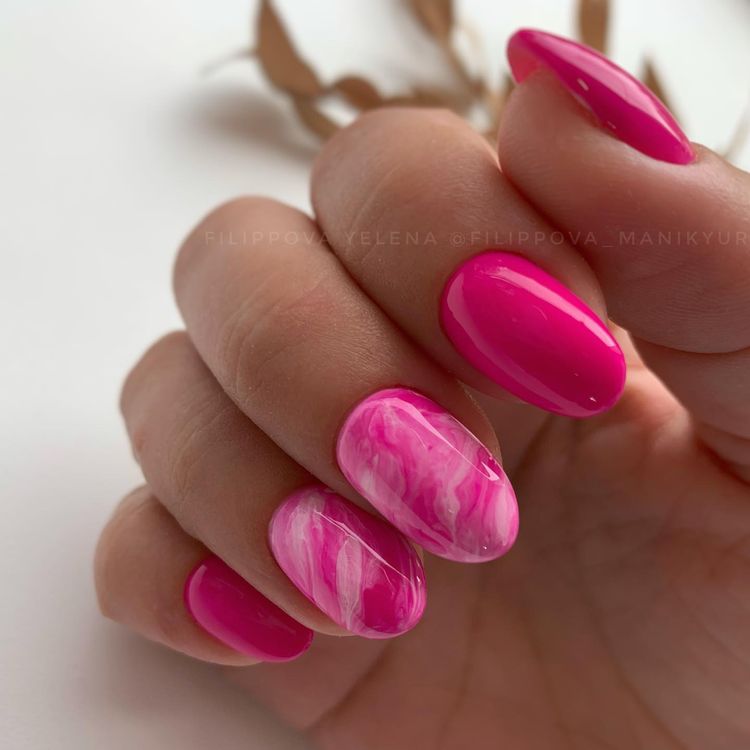 Here's another set of Barbie nails with that gorgeous marbled aesthetic. It looks so ethereal to look at!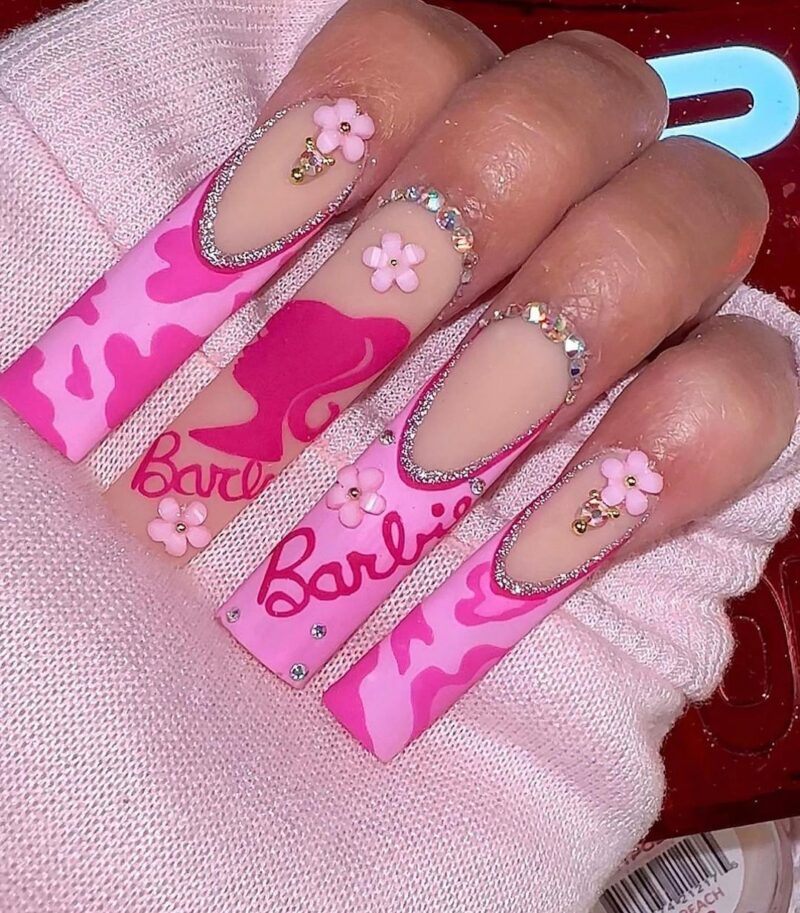 This set of nails might just be the Barbiest out of all the Barbie nails on this list. And that's saying something!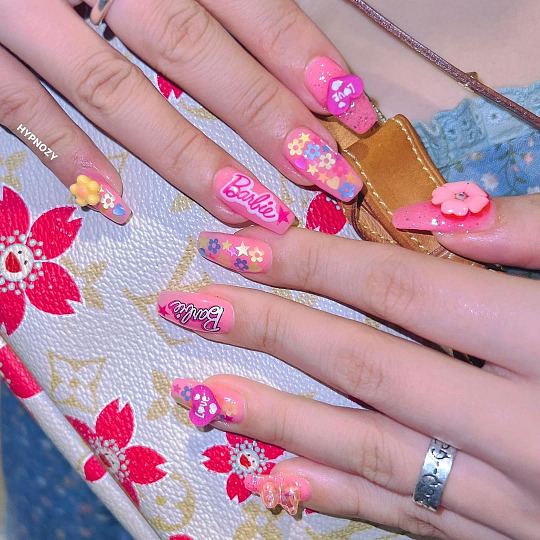 To those who like putting embellishments on their nails, this particular Barbie-themed manicure is perfect for you!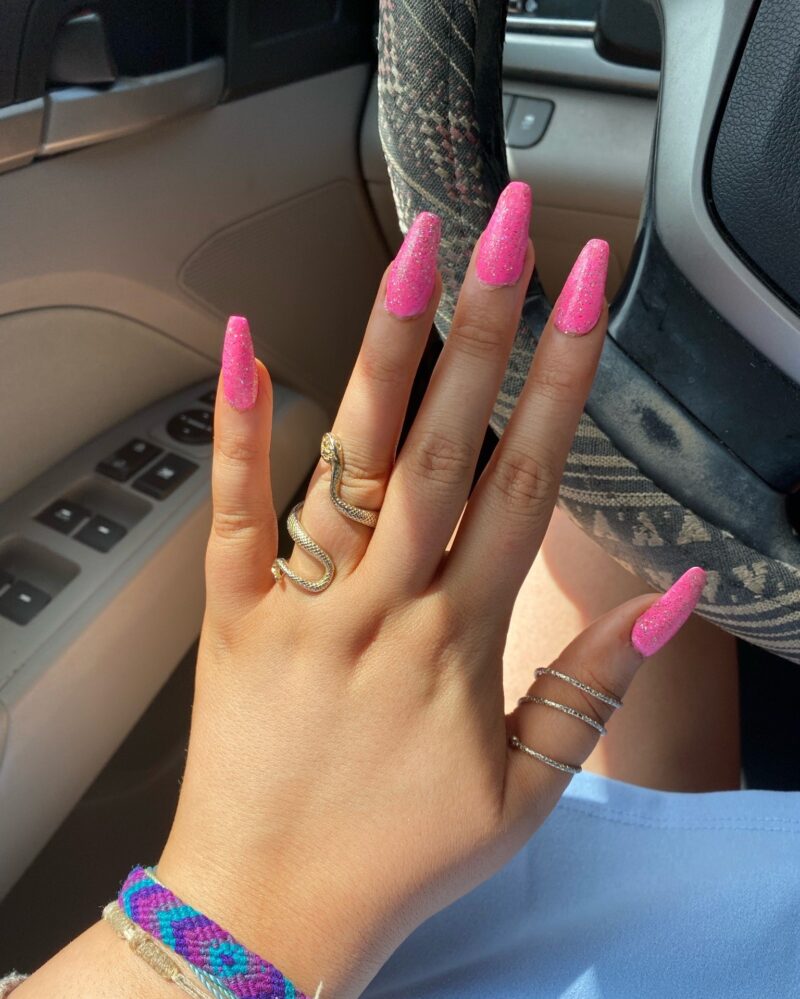 Sometimes, all you really need is to add some glitter to your Barbie nails and you're good to go!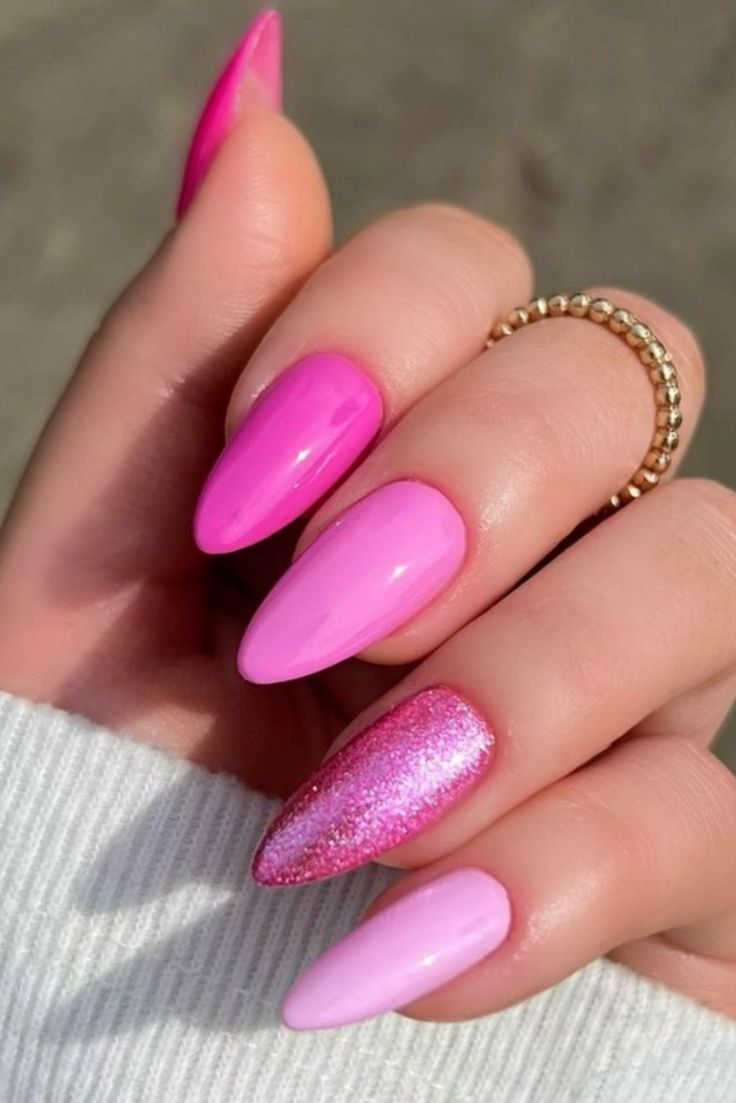 But if the idea of putting glitter all over your nails, then you might just want to keep it to your accent nails for a more understated look.