Check out this collection of Barbie cakes to make your Barbie party aesthetic a dream come true!
A Barbie party is all about capturing the essence of this iconic doll and embracing the pink and glamorous world she represents. And what better way to do that than with a jaw-dropping Barbie cake that serves as the centerpiece of your dessert table? These Barbie cakes are not just scrumptious treats; they are edible works of art that will leave everyone in awe!
So you're planning a fabulous celebration with a Barbie theme, you've come to the right place! To help you out, I've gathered the most eye-catching Barbie cakes that will steal the show and make your guests feel like they've stepped into a real-life Barbie dreamland. From glamorous tiered Barbie cakes to whimsical designs, we have it all covered!
It doesn't matter if you're a seasoned baker in the kitchen or someone who prefers to order from your local store. The options are endless, and you can get as creative as you want to match your Barbie aesthetic party vision!
Each cake is meticulously crafted with vibrant colors, intricate details, and a touch of magic. Just imagine – a cake that captures the essence of Barbie's glamourous wardrobe or one that resembles a miniature Barbie dream house.
These Barbie cakes will not only satisfy your taste buds but also provide an Instagram-worthy backdrop for your Barbie party photos.
Barbie Cakes For Your Barbie Party
This collection of Barbie cakes showcases a variety of styles, ranging from classic and elegant to fun and playful. Whether you prefer a cake adorned with cascading ruffles, sparkling tiaras, or delicate edible Barbie accessories, there's something here for you!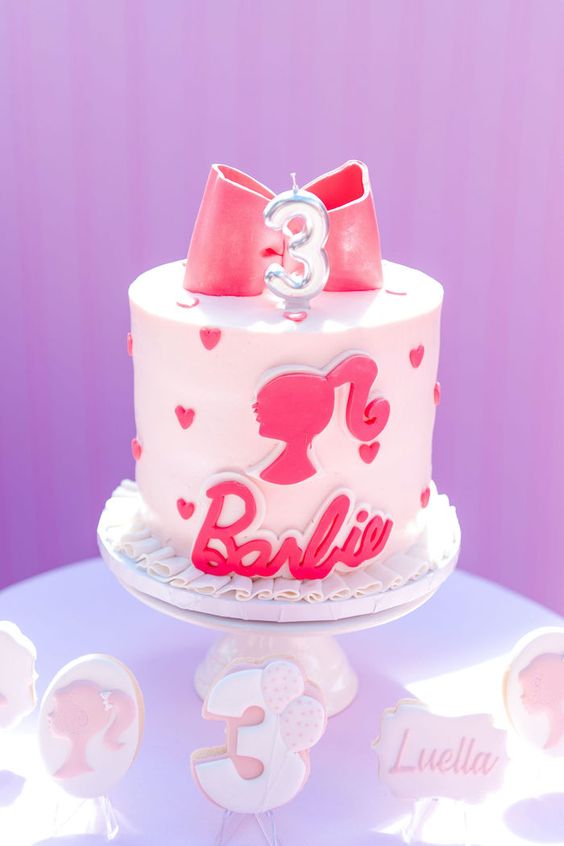 If you're planning a Barbie party for your kid or your niece, this Barbie cake is just so cute! It's not too intricate but it just has the right accents to make those pink details pop!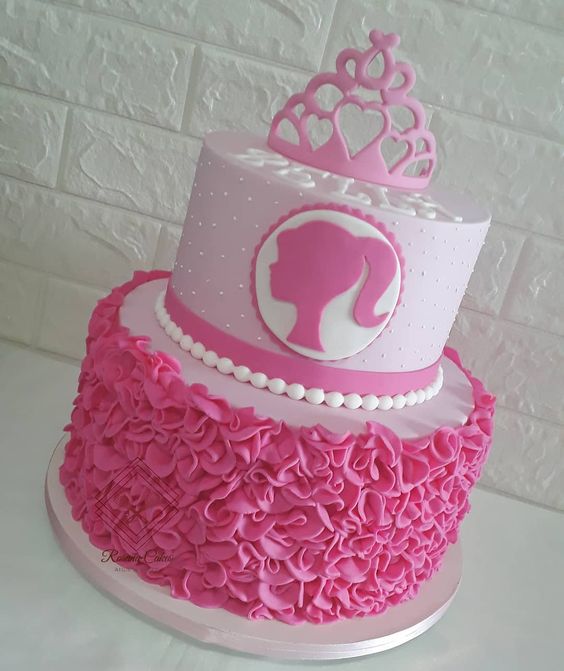 I love this royalty-themed Barbie cake! It's a cake fit for a princess! The icing on the first tier sort of reminds me of ruffles on a dress too. Not to mention, those white details look like pearl accents.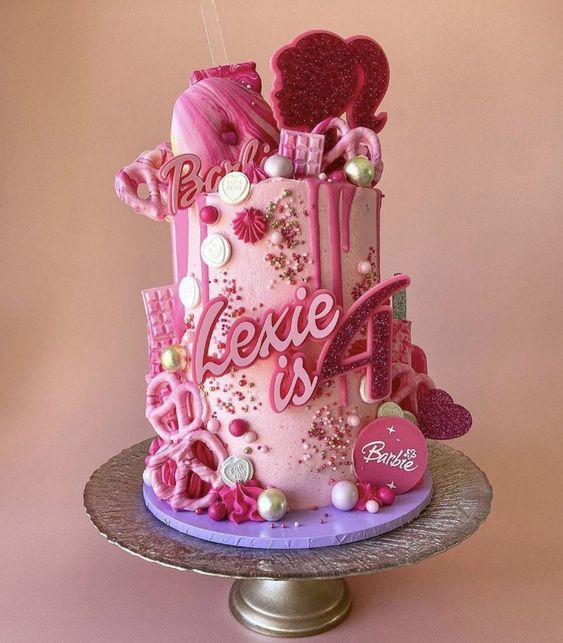 Go big or go home, right? This Barbie cake has all the details you could possibly need for the most ornate cake for a birthday Barbie party. Any kid is sure to love getting this!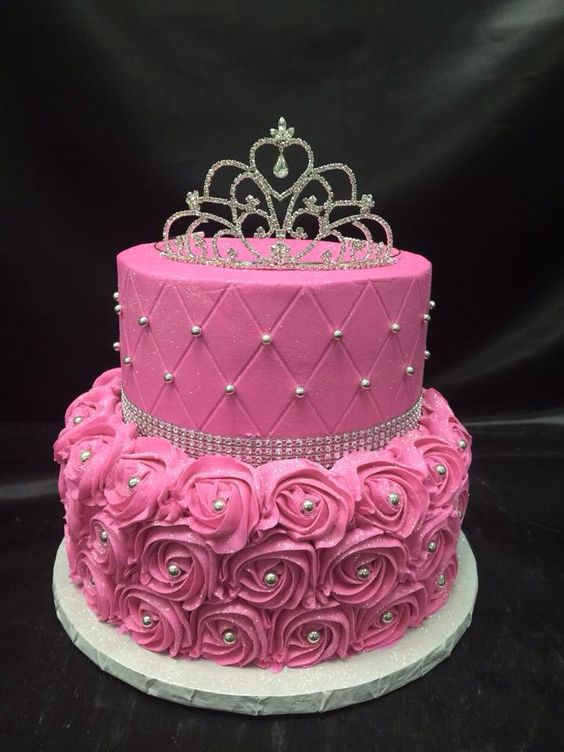 If you want a Barbie cake without it being too in your face, this is the cake for you. It doesn't have any logos or silhouettes of the iconic Barbie brand but those colors are more than enough to get into the Barbiecore aesthetic!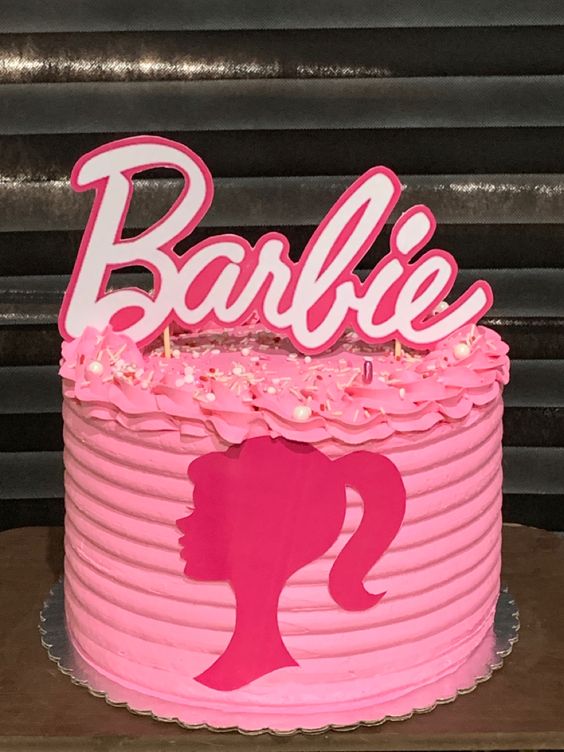 This cake is so quintessential Barbie! From the iconic logo to the hot pink silhouette that we all know and love. I love its simplicity so you know this is a Barbie cake you can perfect with enough practice even for a total newbie!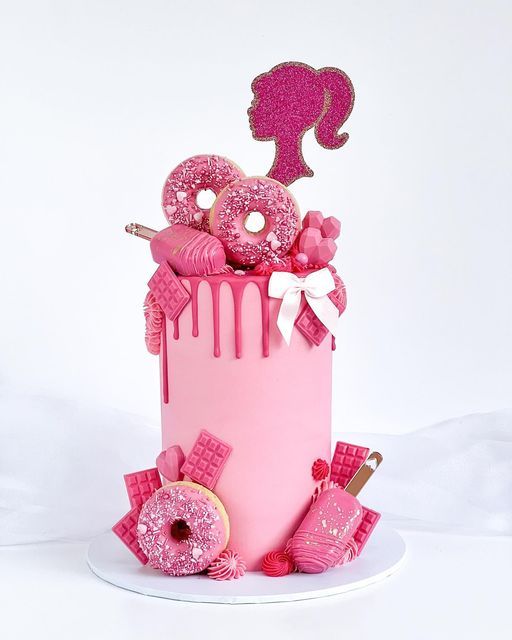 If you want to add a bit more glam and pop onto your Barbie cake, then you might want to take some ideas from this gorgeous cake! From the dripping icing to the sweet desserts surrounding this tall cake, you can't ask for a better celebratory cake!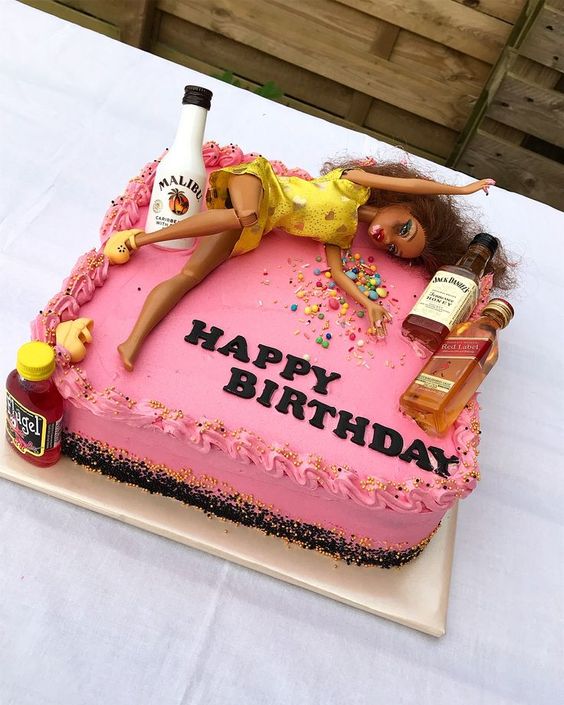 If you're planning a grown-up Barbie party for a friend, this is exactly the cake you should give to her! It's fun and full of humor. Might I say, this is a more accurate representation of Malibu Barbie? Lol!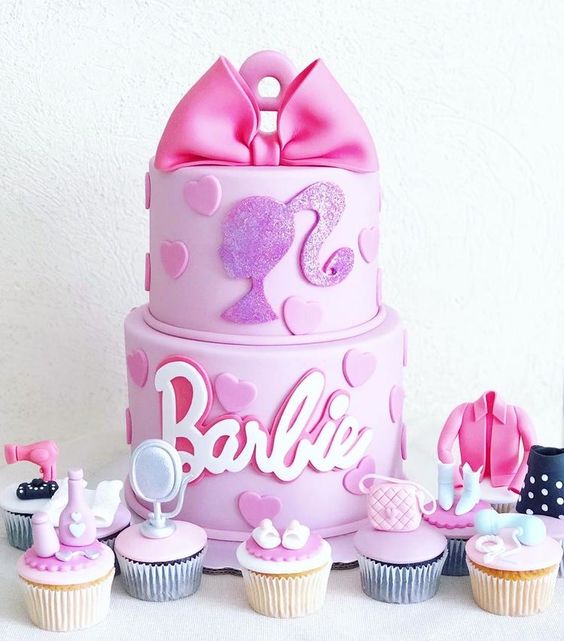 This particular Barbie cake has such a timeless appeal. The surrounding cupcakes and their dainty details make this whole sight an even better one! It's just so classy with such an understated elegance.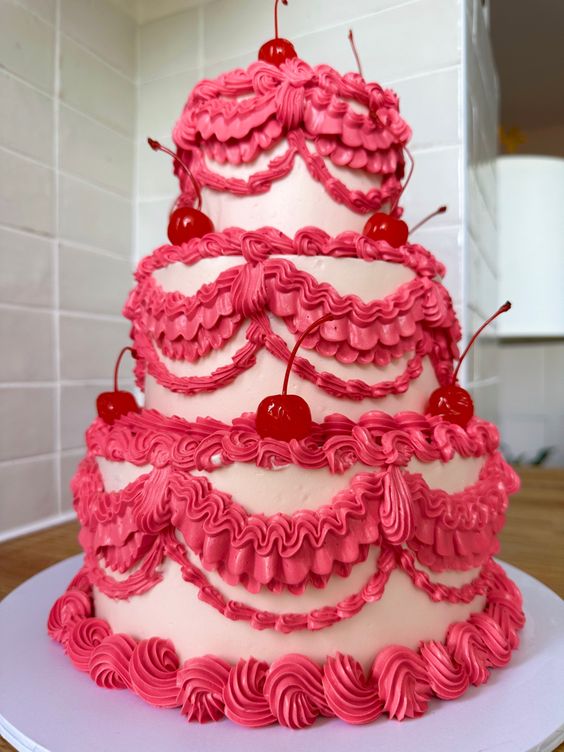 While not inherently a "Barbie" cake but the colors used are totally made for the Barbie aesthetic. This kind of cake is perfect for those who are looking for a cake that's more subtle with its Barbie themes.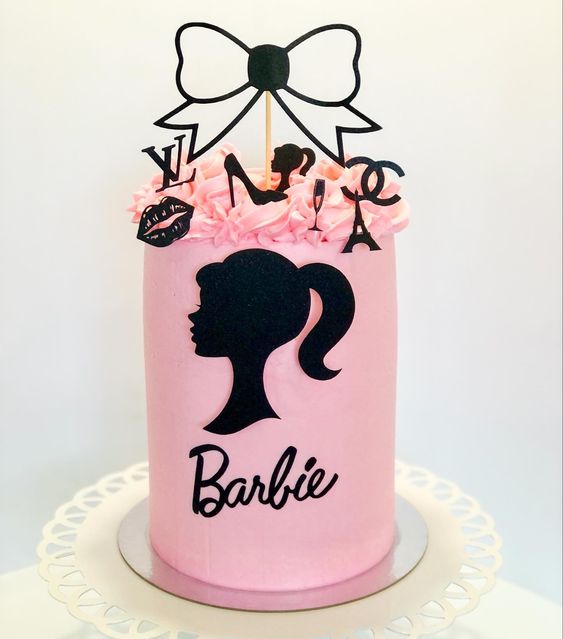 Black and pink are truly some of the classiest and prettiest color combinations! And this Barbie cake is no exception to that! It gives off such a classy and timeless design to this Barbie cake.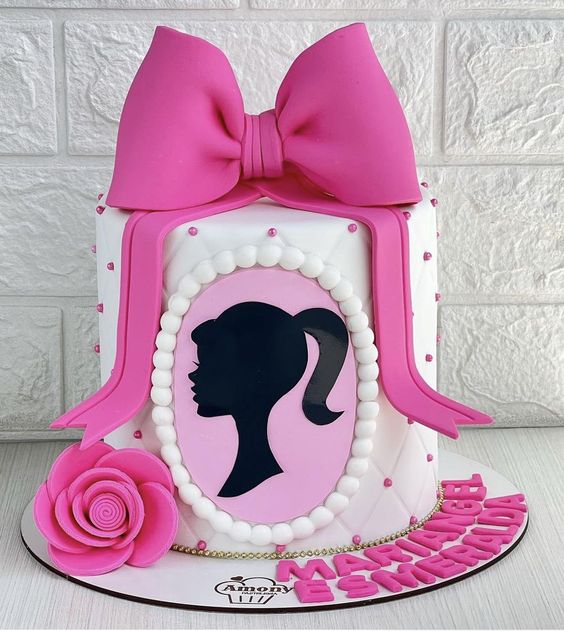 Another classic color combo is white and pink. The contrast of hot pink against the pearly white base makes this Barbie cake pop even more! It's utterly gorgeous!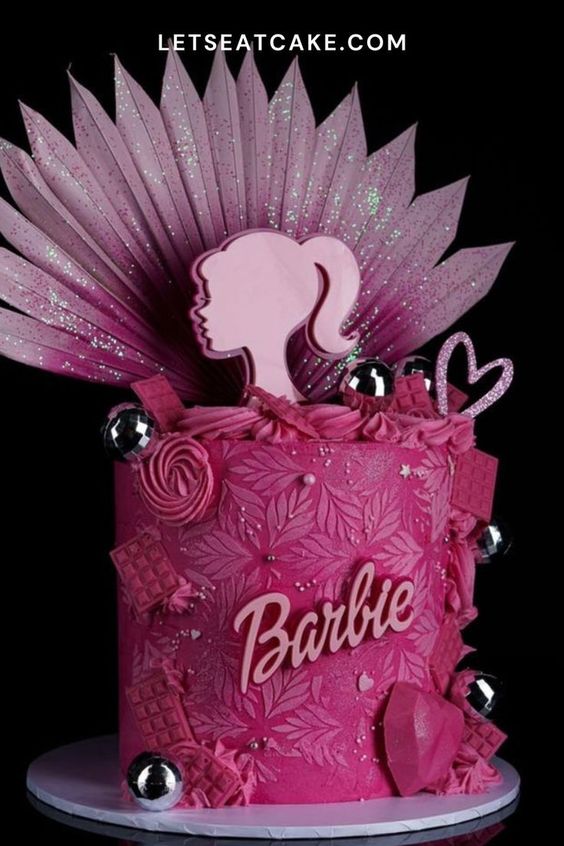 While Barbie is no stranger to hot pink shades and her signature pink color, it never fails to amaze me whenever I see it in its full glory like in this cake right here! This would be such an ideal cake for any summer Barbie-themed events!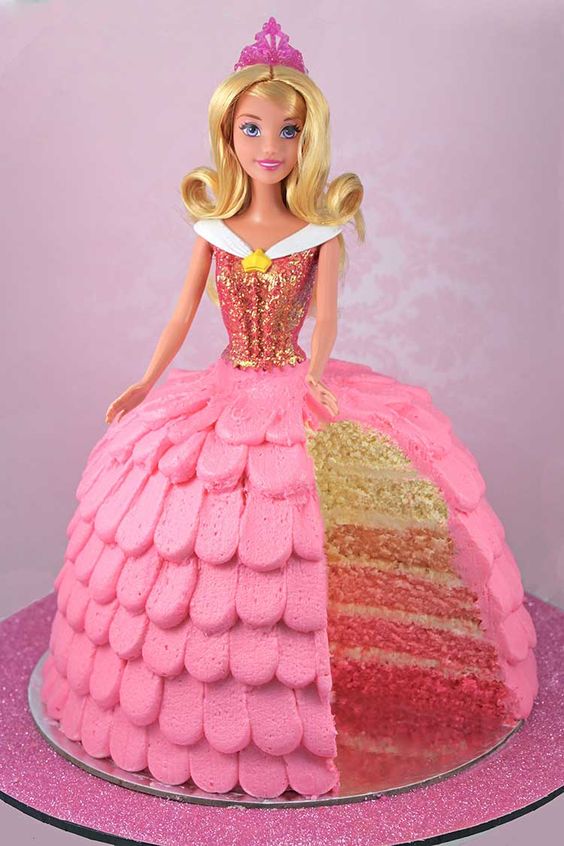 Can't decide between Barbie and Disney for your cake theme? Then why not infuse the two and recreate something like this? It's totally the perfect fusion of two beloved classics!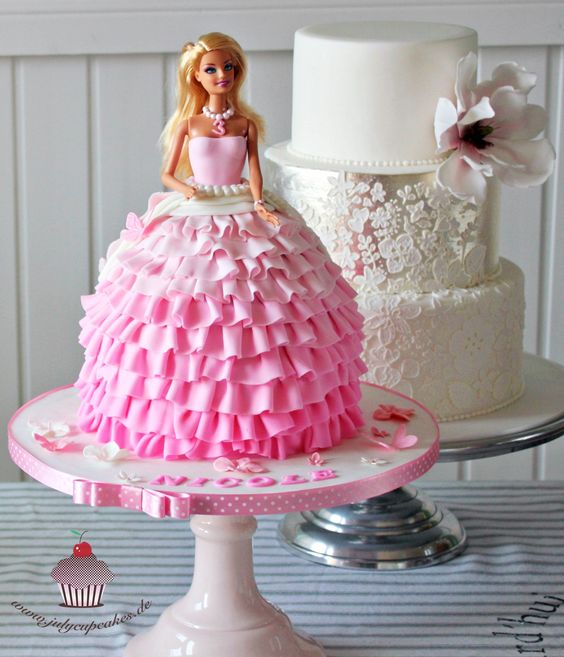 How creative is this Barbie cake?! I love how they used the dress of the Barbie doll itself as the actual cake. Not only is it adorable but it's such a quirky and fun idea! Though I gotta admit, it almost makes me feel bad cutting into her dress to get a slice.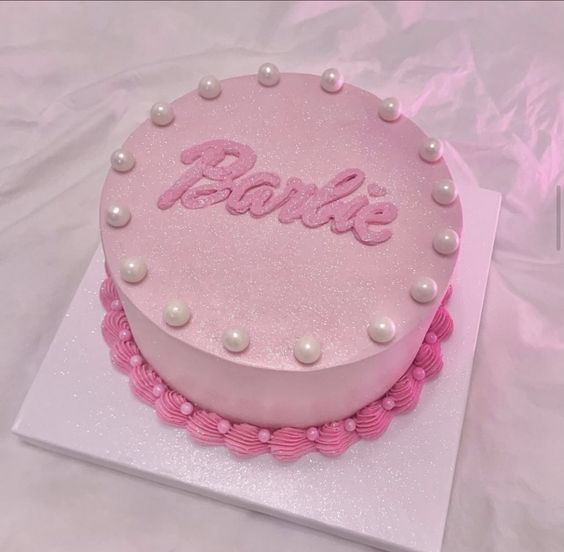 If you're into that minimalistic Barbie look, you'll certainly love this one! I love the subtle shimmer on this cake as well as the pearlescent accents! It actually reminds me of those trendy and popular cakes I see in South Korea!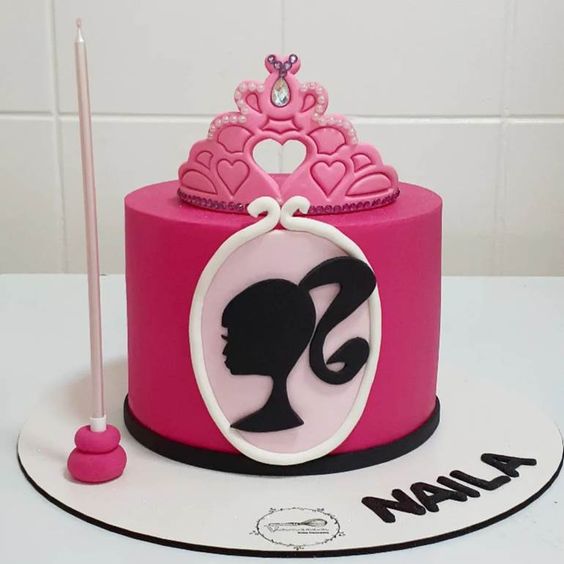 A cake fit for a princess, this gorgeous Barbie-themed dessert really seamlessly blends the signature Barbie pink color with classic black accents. Top it all off with a tiara and you're all set!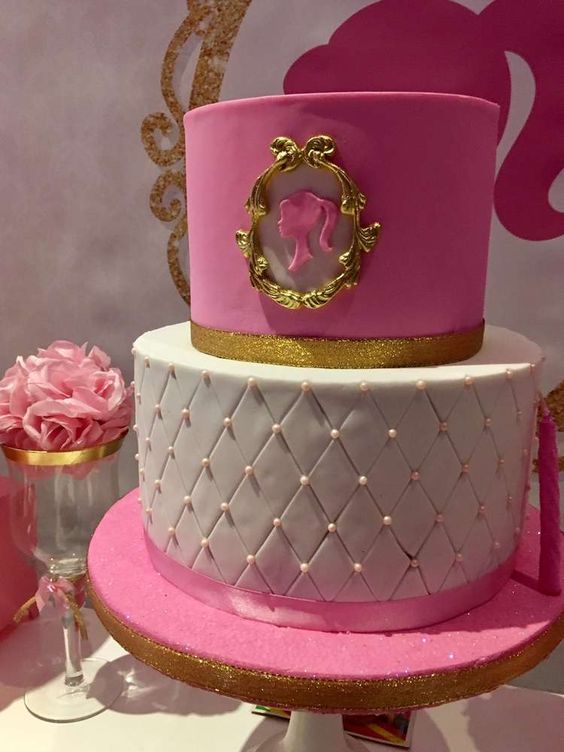 I love the gilded accents on this particular Barbie cake. It looks like utter royalty! So if you're looking for a Barbie cake with a more regal theme, this is the cake for you!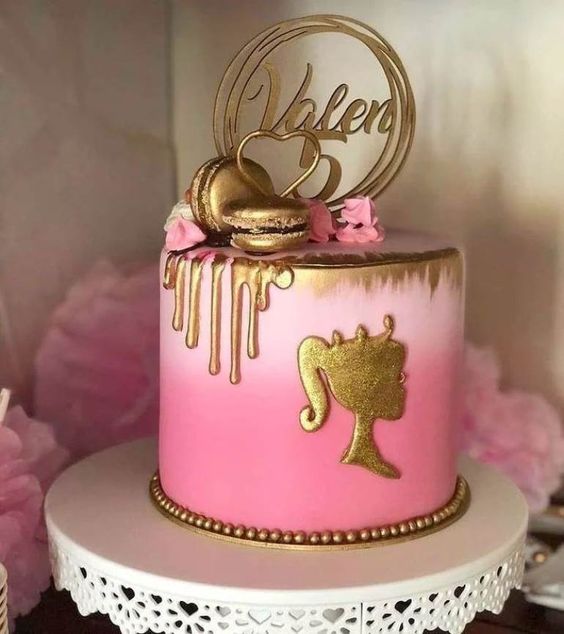 Want more Barbie cakes with a bit more of a regal theme to them? Here's another one for you! Combined with a softer, brighter shade of pink, the gold accents make this look like a cake fit for royalty!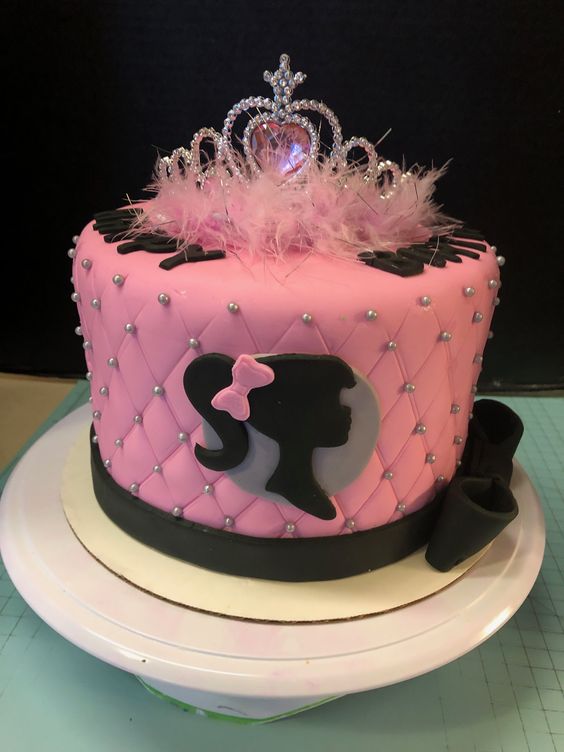 There's just something so classy about a black and pink combo for a cake. Honestly, this cake looks like it was made for a high-end, luxury brand. The pearlescent details make this even more glam!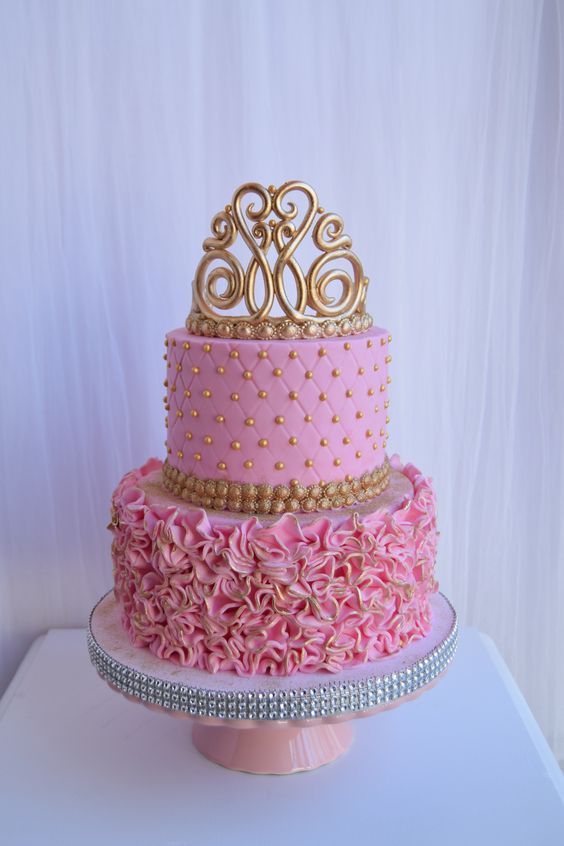 Here's another gilded Barbie cake for you! Because everyone deserves to feel like a princess during their Barbie-themed parties! It's definitely one of my faves on this list.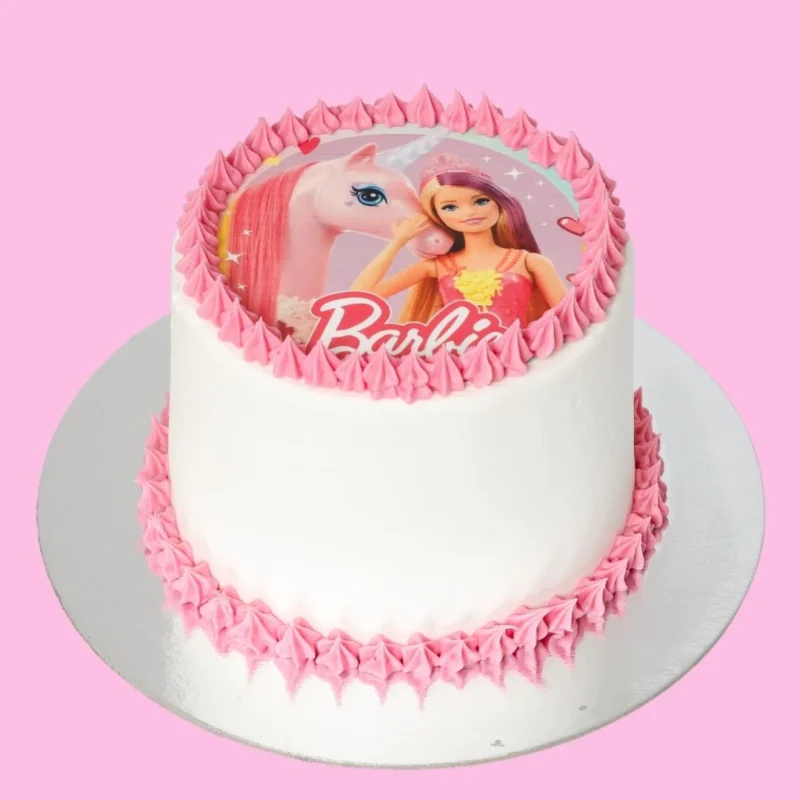 If you want the cake to have your favorite Barbie image, you'll certainly love this one! The best thing about this kind of cake is that you can customize it to your heart's content!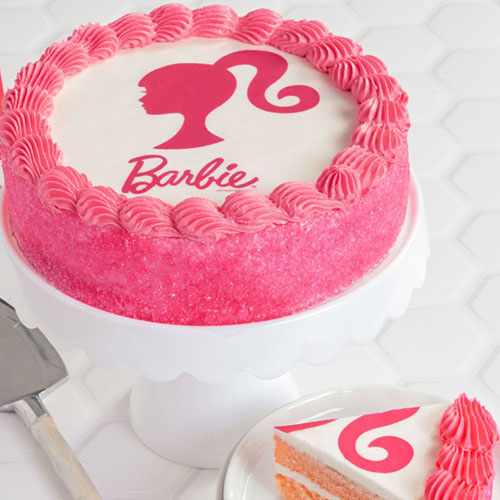 For a straightforward Barbie cake without all the fuss and overly ornate details, this is the perfect cake for you! You can't get any better than this with the iconic Barbie logo and icon.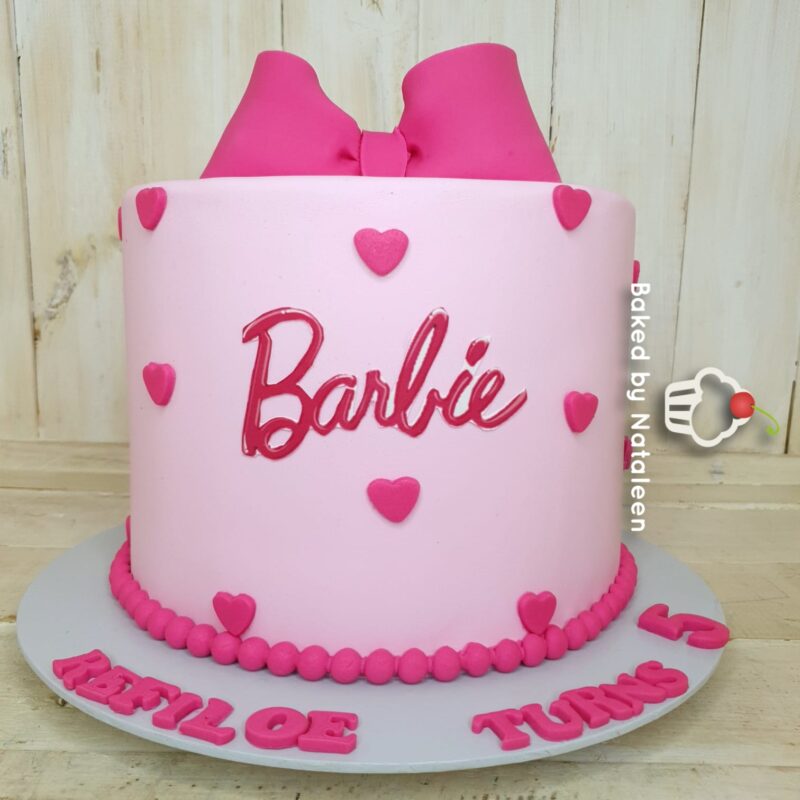 I love this all-pink Barbie cake! The different shades of pink just really tie the whole look together for me. Not to mention, the dainty little heart patterns make this even better!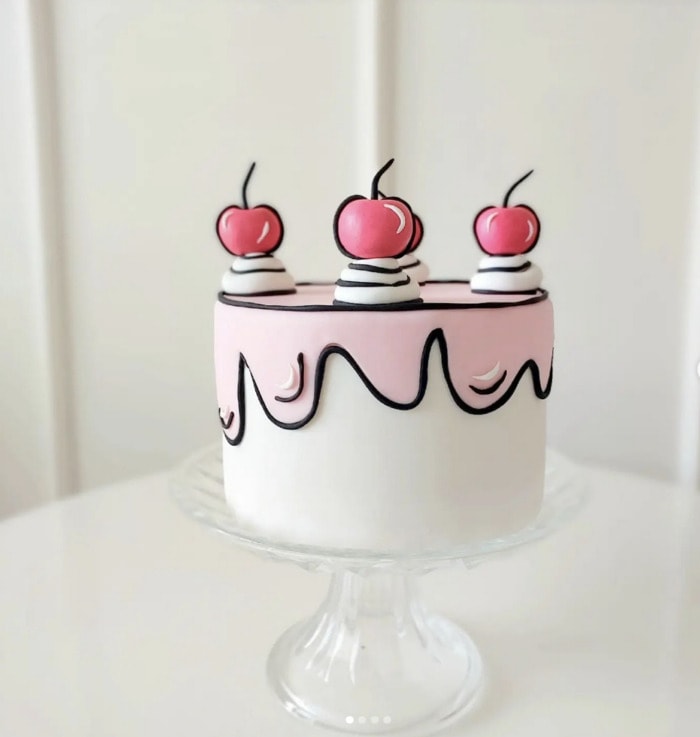 Here's another subtle Barbiecore cake that you might want to try out in case you don't want a Barbie cake that is too in your face. The minimalistic and cartoony Barbie aesthetic gives this cake a quirky touch!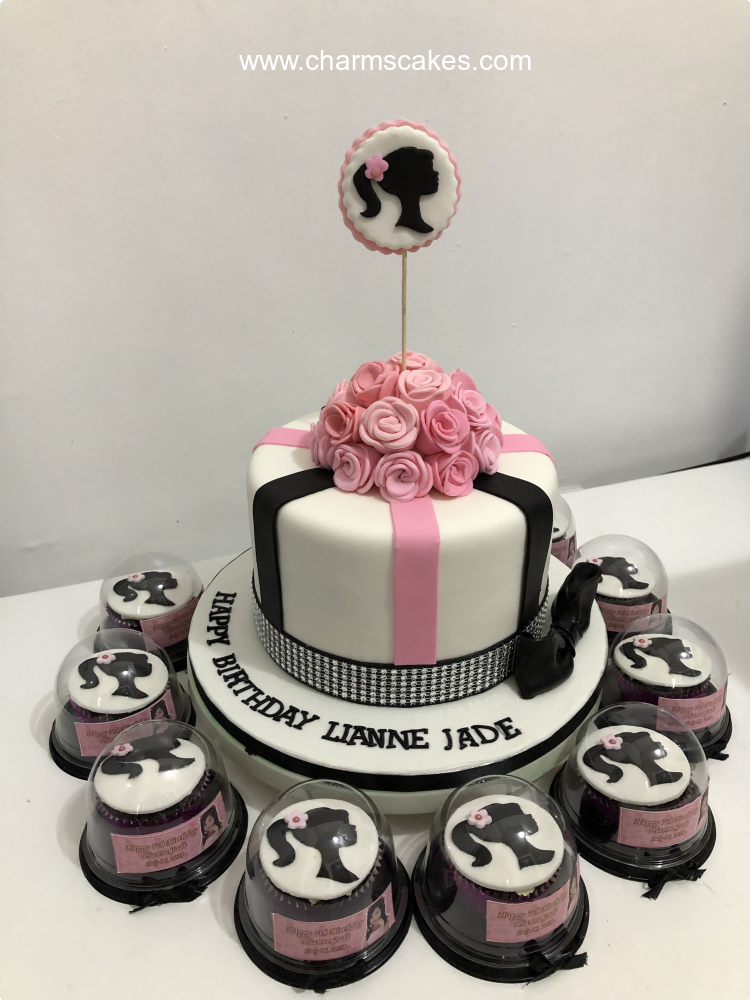 If you're celebrating a whole birthday Barbie party, then you might want to consider this kind of cake. This one has matching cupcakes you can hand out to everyone.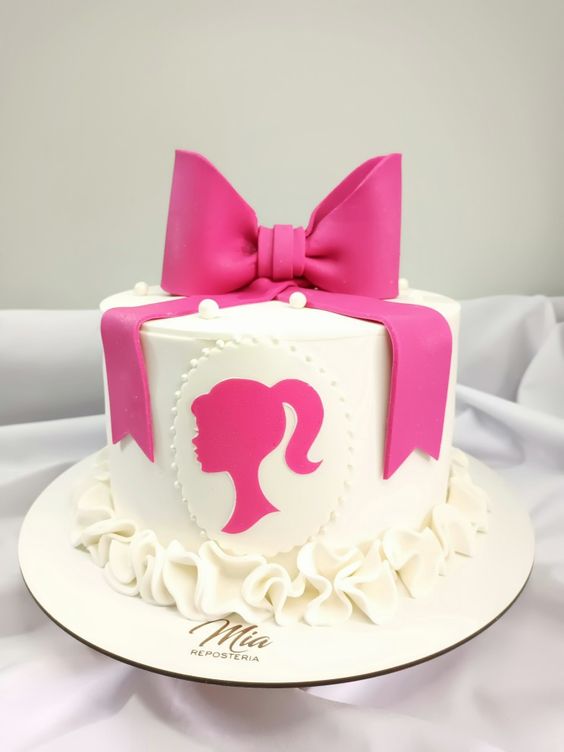 I love the minimalistic take on this cake! It's not as fussy yet it is just as gorgeous as other ornate Barbie cakes on this list. The signature Barbie pink fits so well with the vanilla base.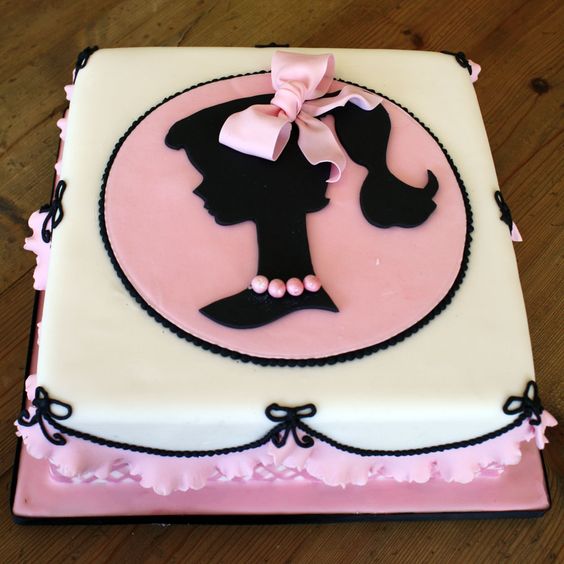 This Barbie cake is utterly classy to me! From the intricate lace detailing to the iconic Barbie silhouette, everything about this cake I'm just so obsessed about! The ribbons and other accents give this a more feminine touch too!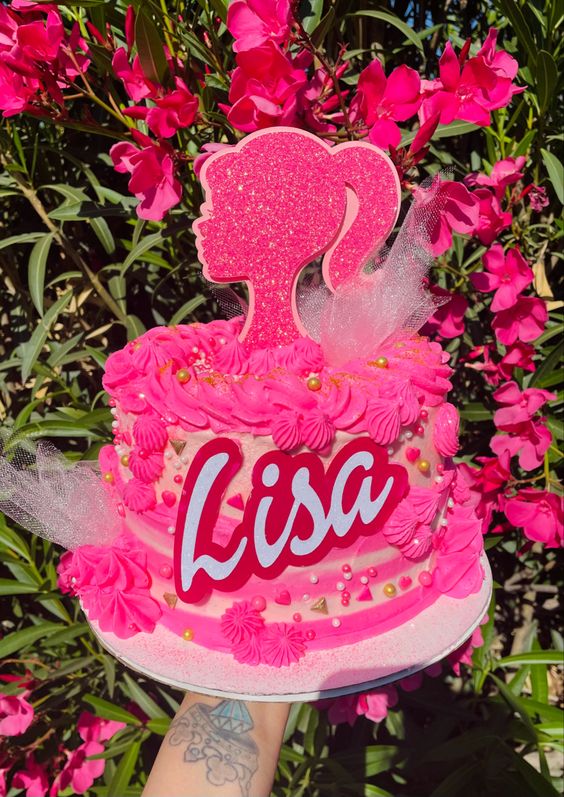 I love how bright and vibrant this Barbie cake is! If I were to see this at a Barbie party, I just know it's going to be one fun celebration!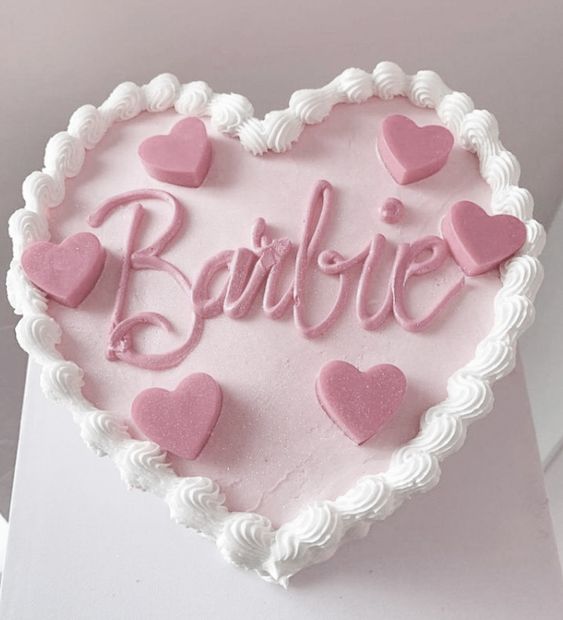 But if you're looking for a Barbie cake that has softer colors, this cake might just be for you. I love how cute and adorable the design is! Not to mention, pastel pink definitely fits Barbie!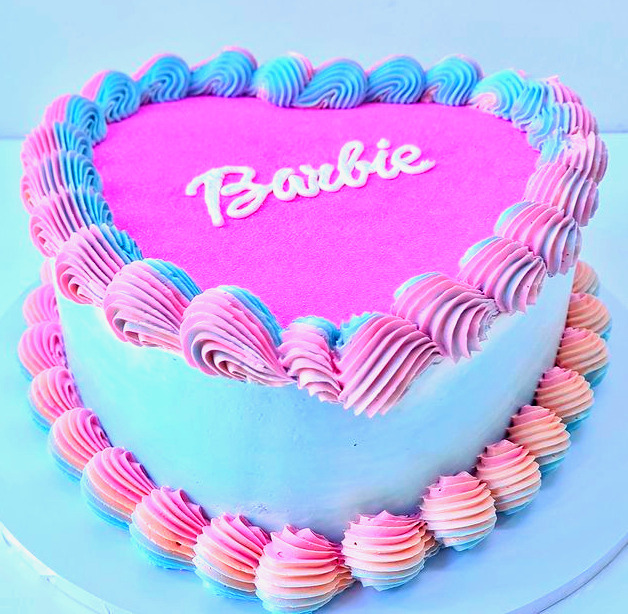 Not a fan of an all-pink Barbie cake? Well, this one is certainly for you! While Barbie pink is an iconic color we're all familiar with, Barbie does use other bright, bold colors as well. This one has an iridescent blue that's just undeniably gorgeous!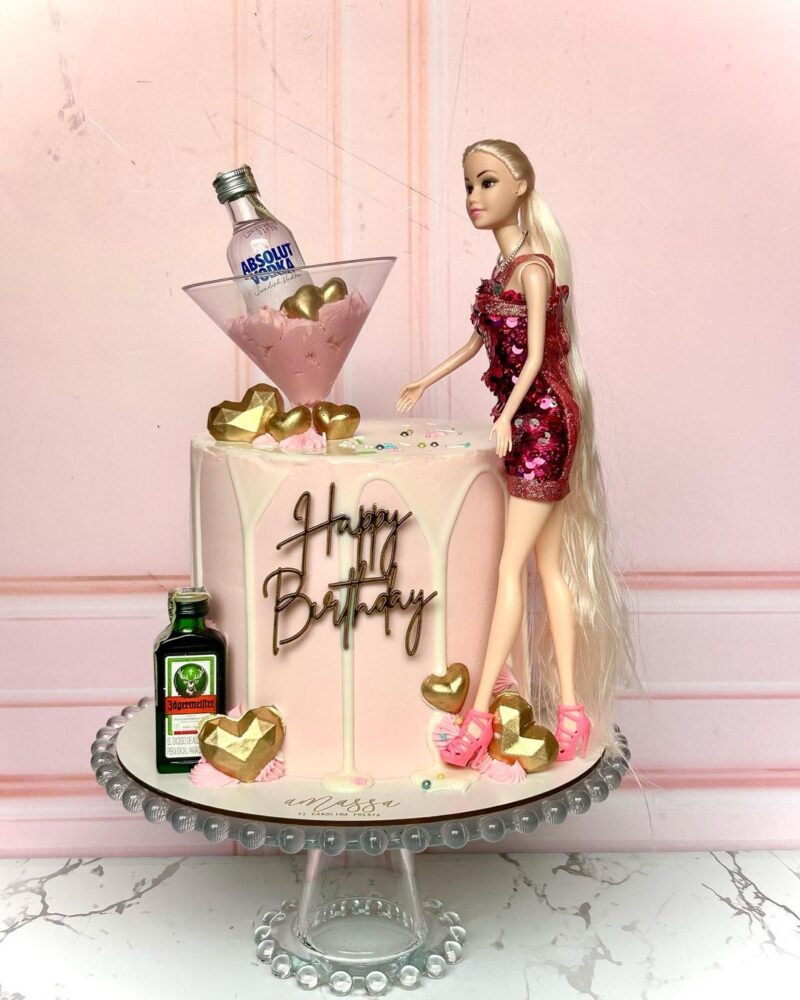 Looking for a Barbie cake for your girlfriends' party? This one is sure to get a lot of laughs and delight from your friends. Get ready for a fun night of drinking and bonding with this cake!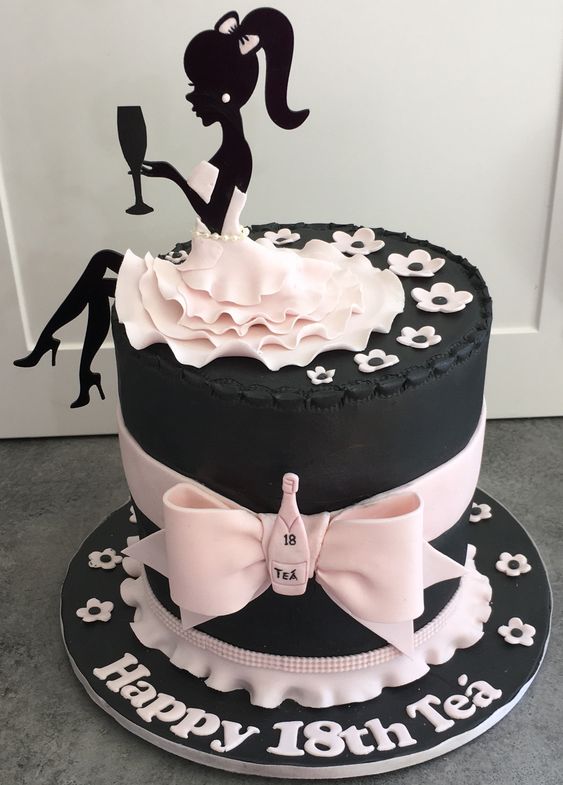 You've seen pink and black Barbie cakes on this list but this one leans more into using black colors with the soft pink shade as the accent color. It's classy and it's so pretty!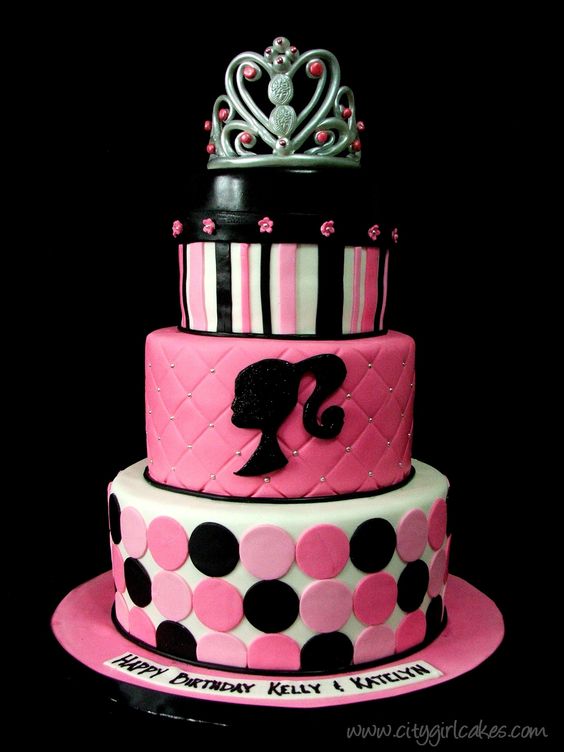 This combination of black, white, and pink is so adorable! What's even better is that it fits parties for women of all ages! Whether you're celebrating a kid, a teen, or a young woman, this Barbie cake is perfect for it.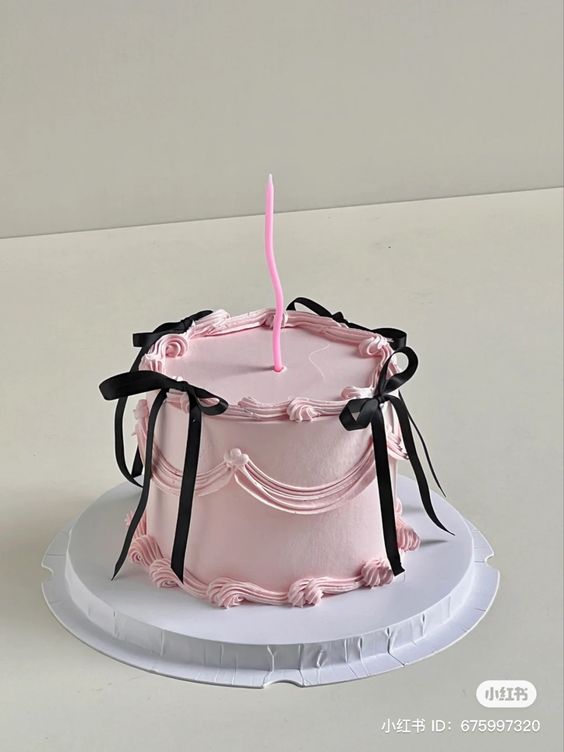 I am utterly obsessed with these minimalist Barbie cakes. Moreover, they're so versatile and subtle that if you don't want a cake that has the Barbie logo all over it, it'll still look very Barbiecore.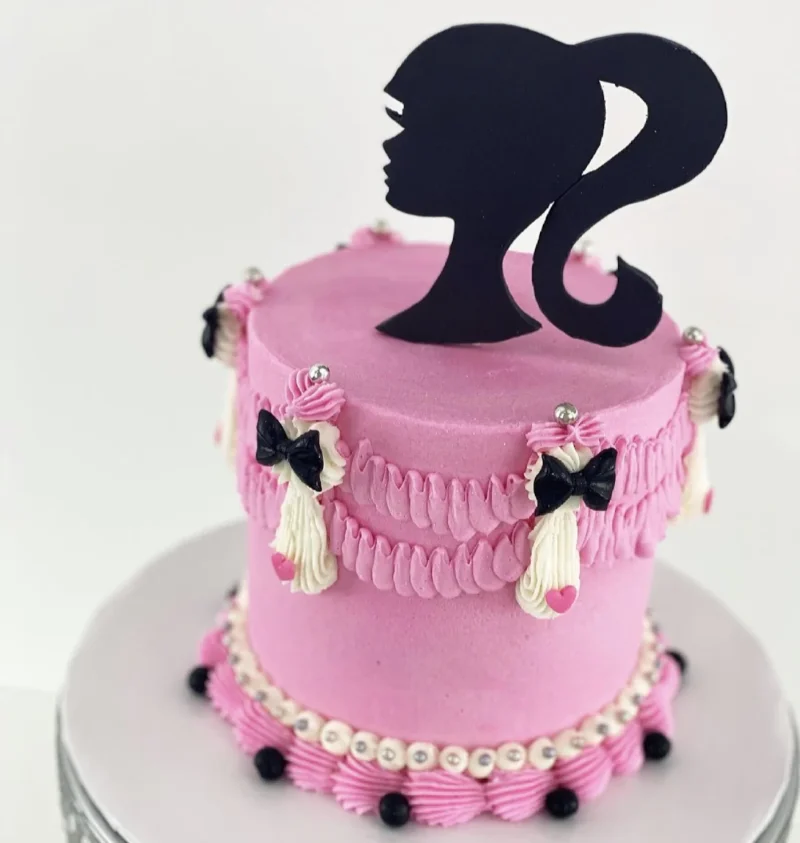 These lacy icing details on this Barbie cake are so beautiful and dainty! They're intricate and ooze sophistication as well as a feminine flair to the overall look.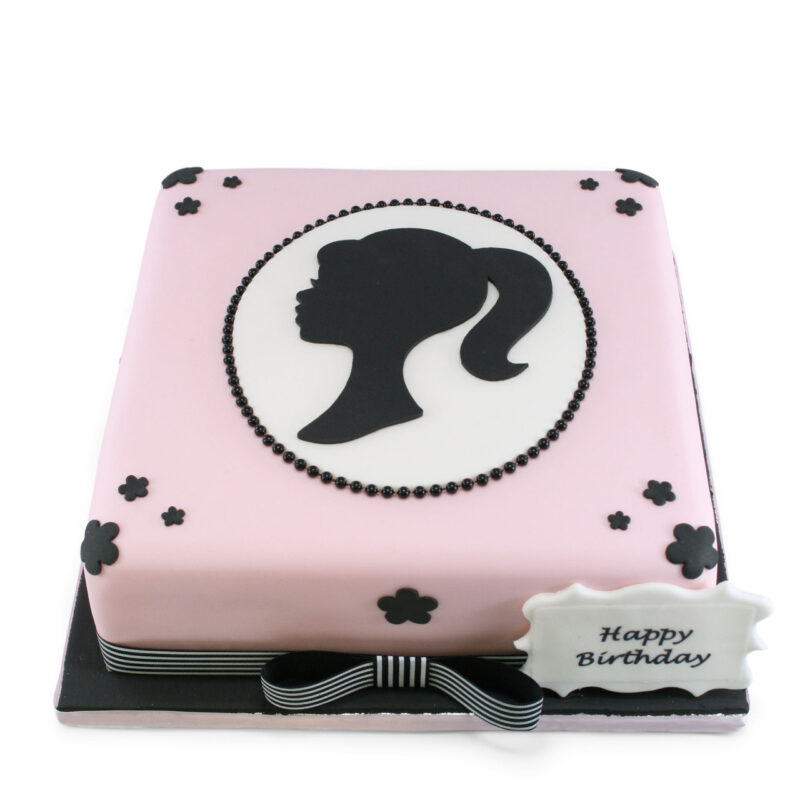 If you're celebrating your child's birthday and she's turning into a young teen, this cake is the perfect transition for it! The soft, pastel shade of pink with black accents gives this Barbie cake a more mature but still feminine Barbie aesthetic.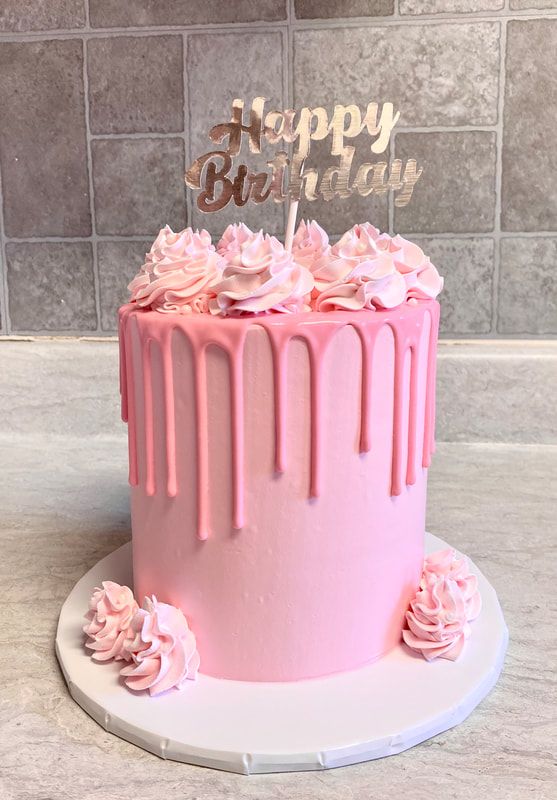 Here's a Barbie cake that isn't necessarily showing all sorts of obvious Barbie elements into it. It offers a more subtle Barbie aesthetic without compromising style! It's still feminine yet so sophisticated.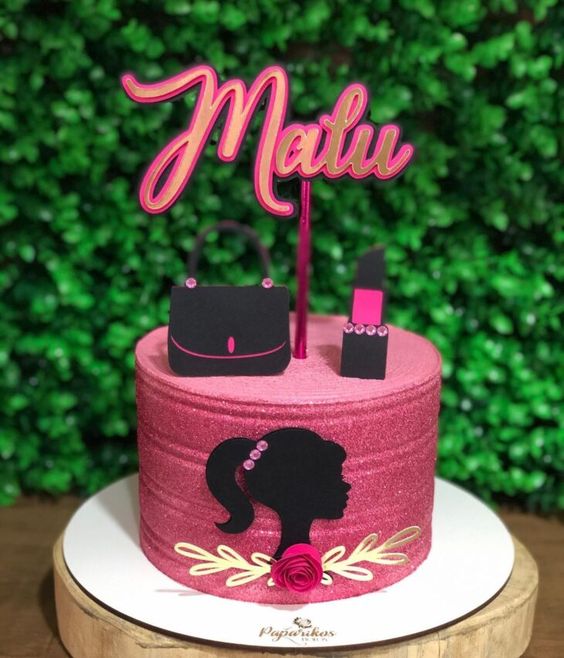 I love the girly accents on this Barbie cake. The mini lipstick and purse just really tie the whole cake together! It reminds me of when I was young and you get all the accessories along with your Barbie doll.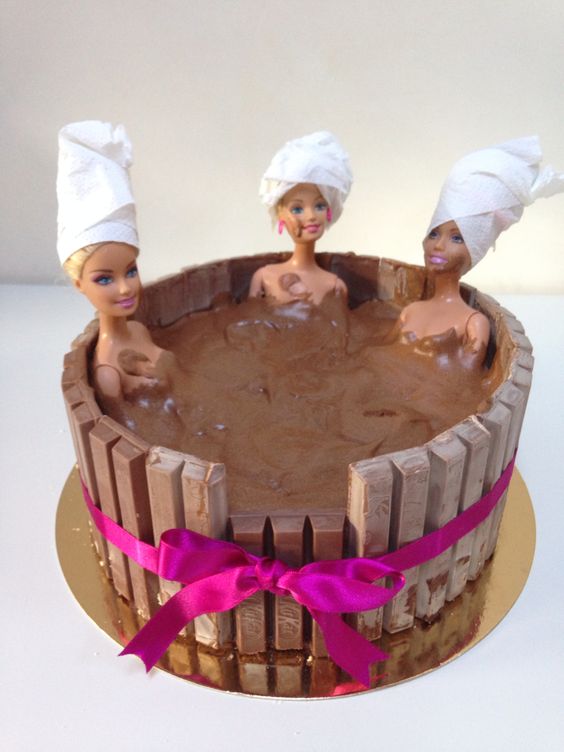 Just how funny and filled with humor this cake is? The idea of using a chocolate cake for Barbies to go on a mud bath is just utterly hilarious to me!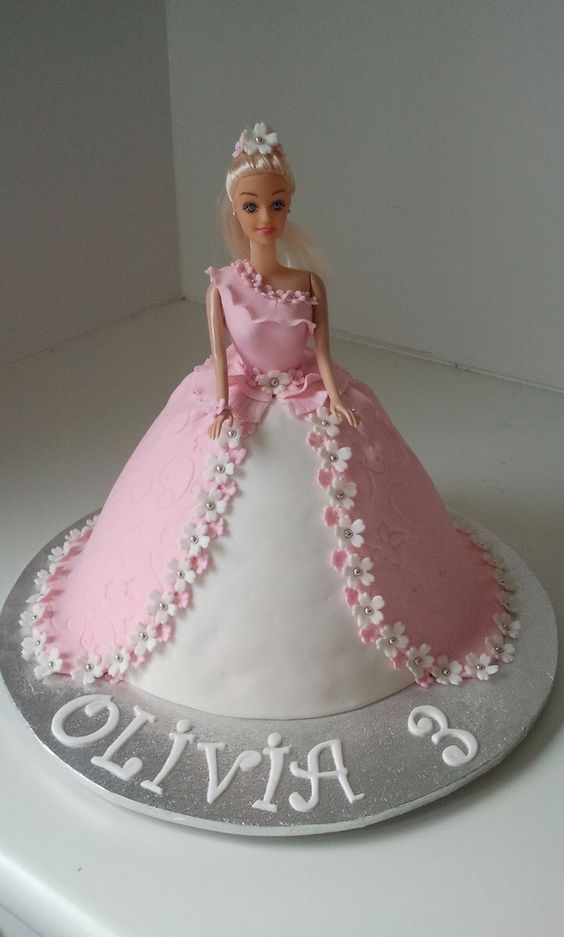 I love the creativity on this Barbie cake. Not only can you wittingly use Barbie's dress as the actual cake, but you can also customize her dress to be as ornate or as minimalistic as you want it to be!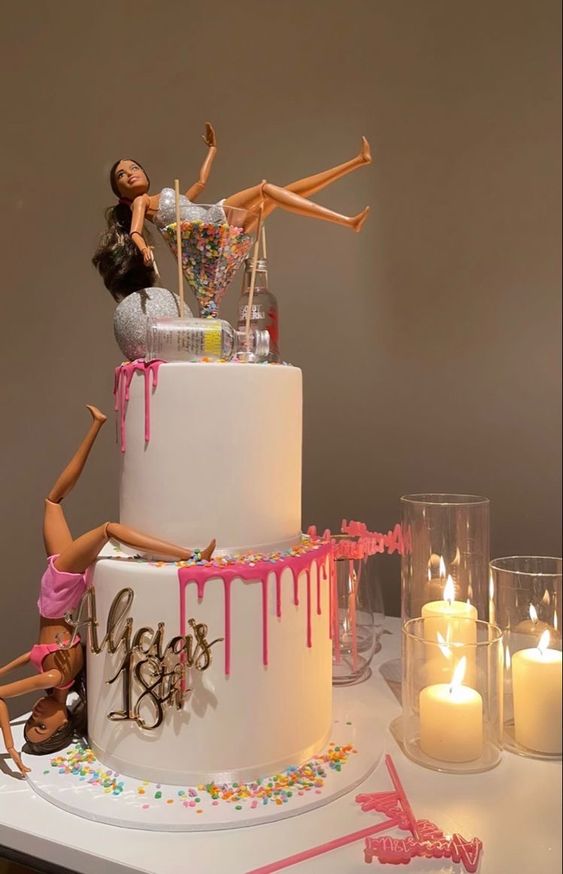 If you're planning a party for your girlfriends who might be turning 21, this is the cake for you! Because what better way to celebrate someone's 21st birthday than by getting lit, right?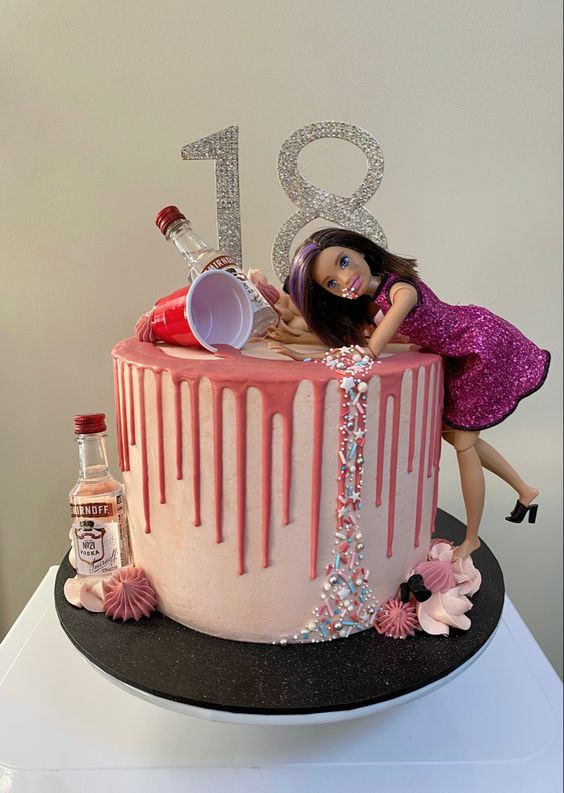 Here's another perfect 21st birthday Barbie cake for you or your friends! This one uses sprinkles (so clever!) to portray the Barbie doll after having so much fun the night before.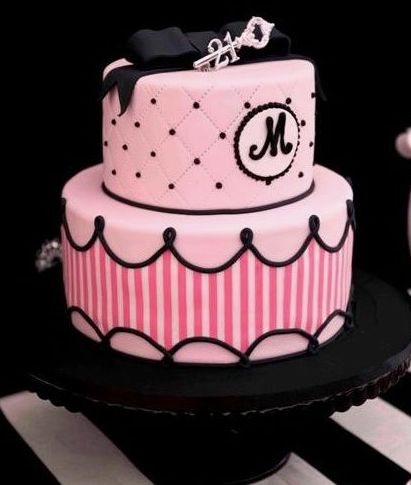 I love the bold graphics and detailing on this particular Barbie cake! It's utterly pretty and this would be the perfect centerpiece on any table.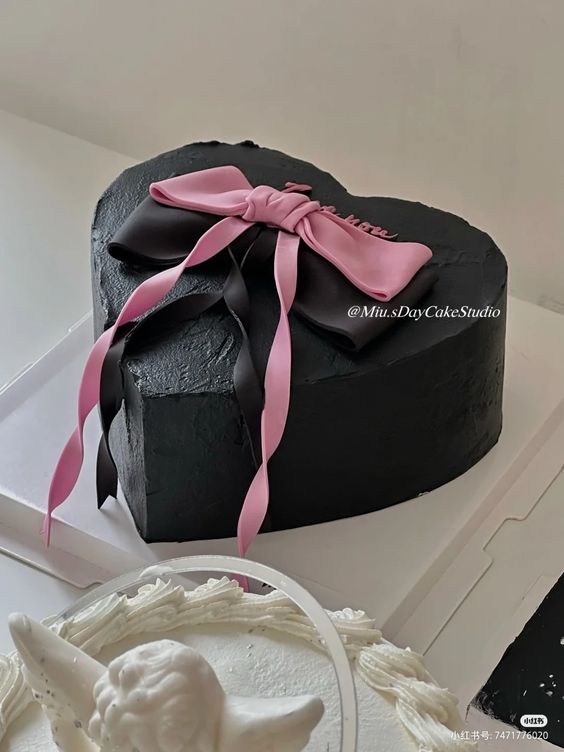 If you want to take a break from the usual all-pink Barbie cake, why not opt for a black one? You can accentuate it with pink accents like a ribbon or a bow to still get that Barbie aesthetic.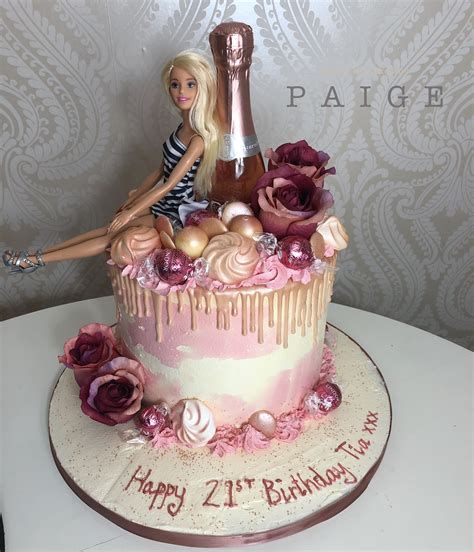 If you want things to be a little bit more classy with a 21st birthday cake, why not put a champagne bottle in the middle of your Barbie cake?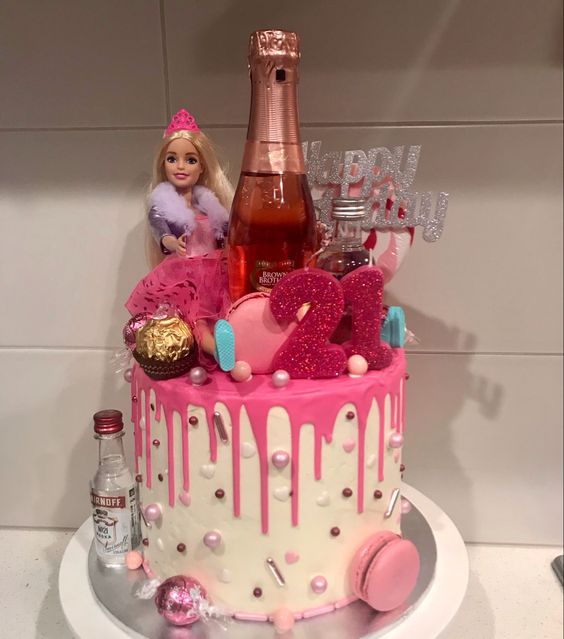 Here's another Barbie cake with a champagne bottle inside your cake! You can also add plenty of other details that will make your cake look even more delicious and on theme!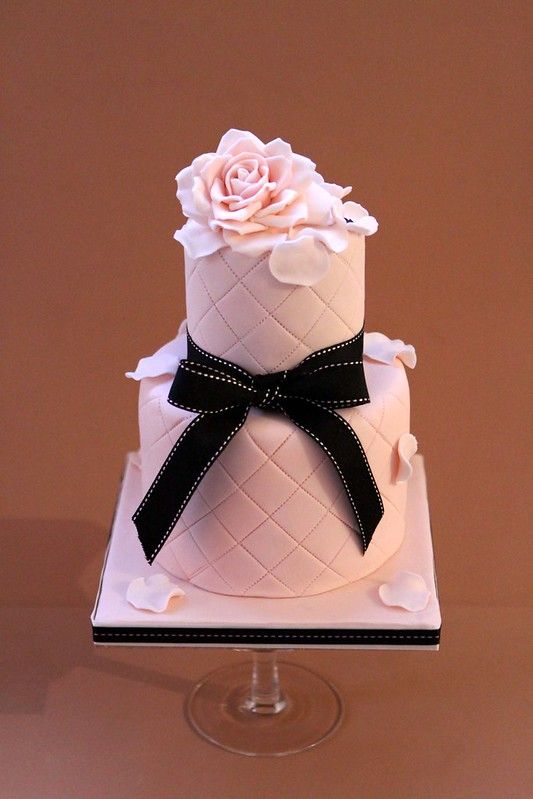 I love the classiness of this Barbie cake! The bow really just ties the whole look together – quite literally! Don't forget the pretty flower on top too for an added layer of sophistication and timelessness.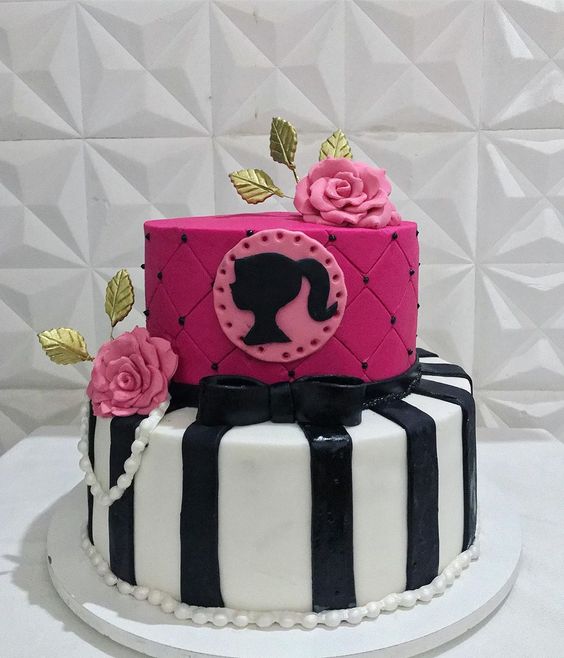 This combination of patterns is so quirky yet so adorable! If you want to get yourself a Barbie cake with bold pops of color and interesting dimensions, this is for you!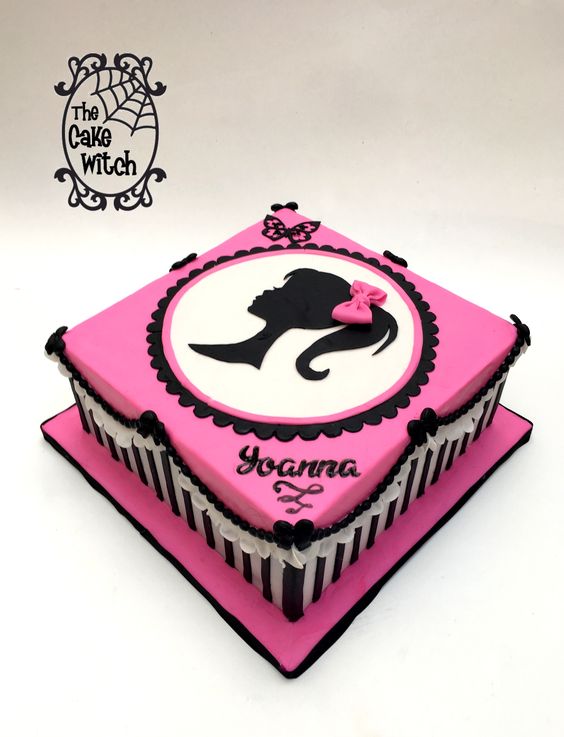 I am just utterly obsessed with these particular Barbie cake patterns. I love how the silhouette portrait colors match the bottom side of the cake while it's surrounded by vibrant Barbie pink colors.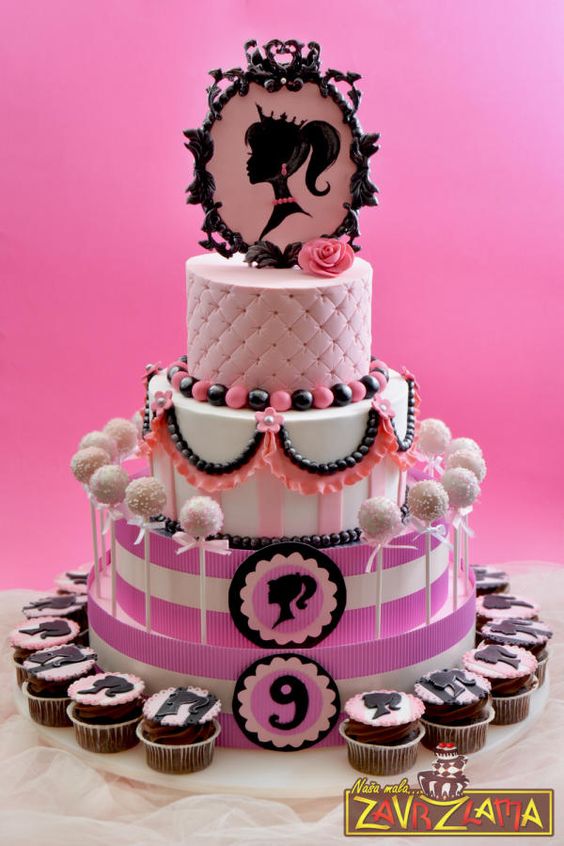 If you're planning something big for your party, then your Barbie cake should totally match! This multi-layered cake is just stunning!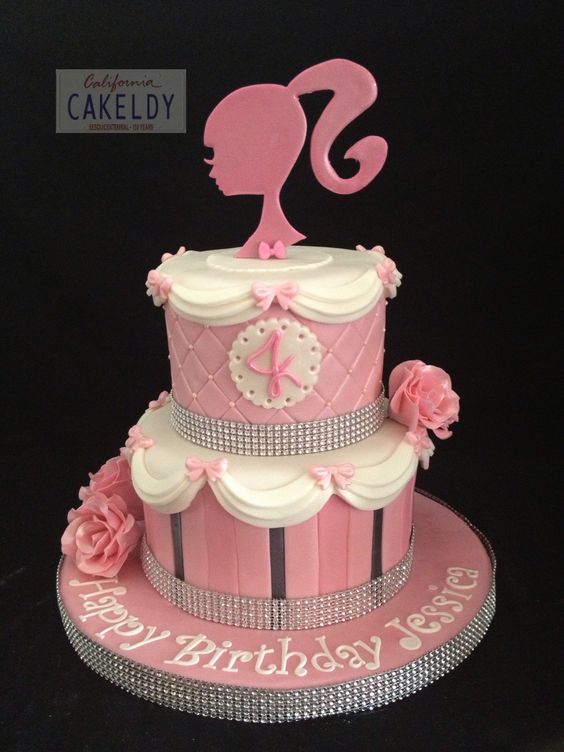 This multi-layered Barbie cake is such a nice break from all the bold and vibrant hot pink hues. While I like those colors, there's just something about a cute pastel pink that makes things look even more timeless!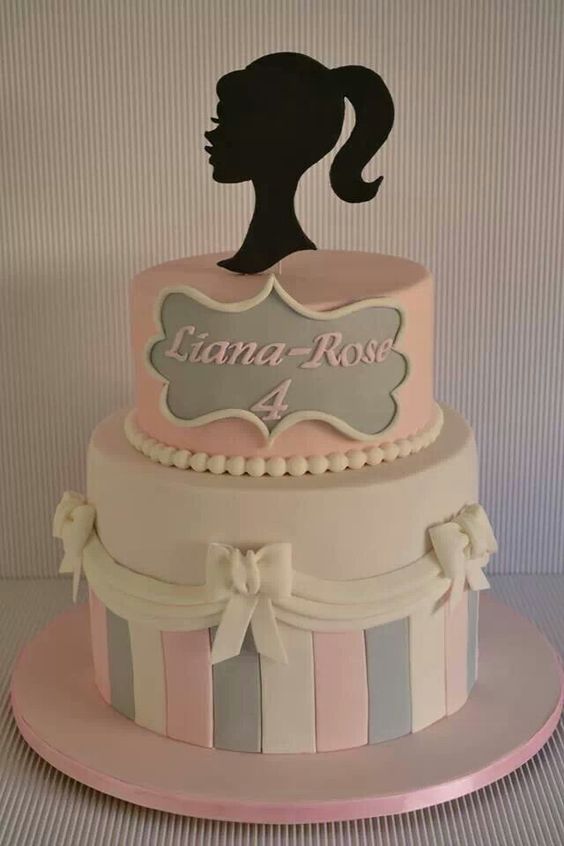 Here's another Barbie cake that isn't the conventional Barbie cake you've seen on this list. It has lighter colors and has a softness to its look!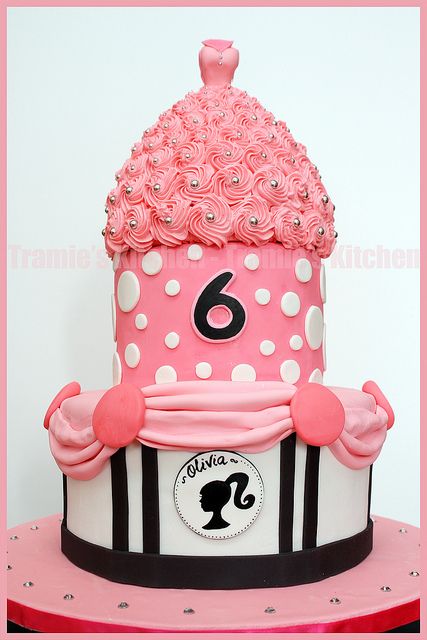 Can't decide between a cake or a bouquet of flowers? Why not combine the two? You can get creative with the flowers you can whip out on top of your Barbie cake.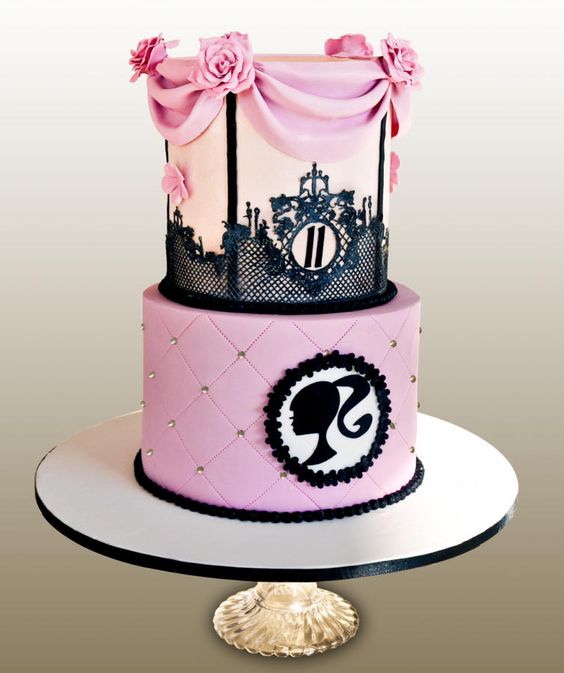 This Barbie cake has such a sophisticated and classy design! I love the intricate patterns, creating a skyline while the roses above has curtains dangling around it. What a cool design for your Barbie party!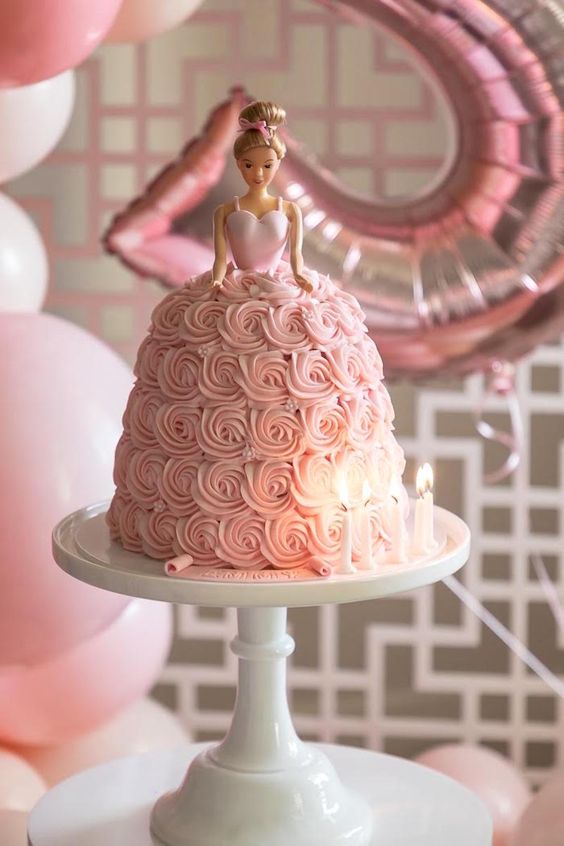 This rosy-themed dress as a Barbie cake looks utterly luscious! It'll almost make you feel bad cutting into it to get a slice.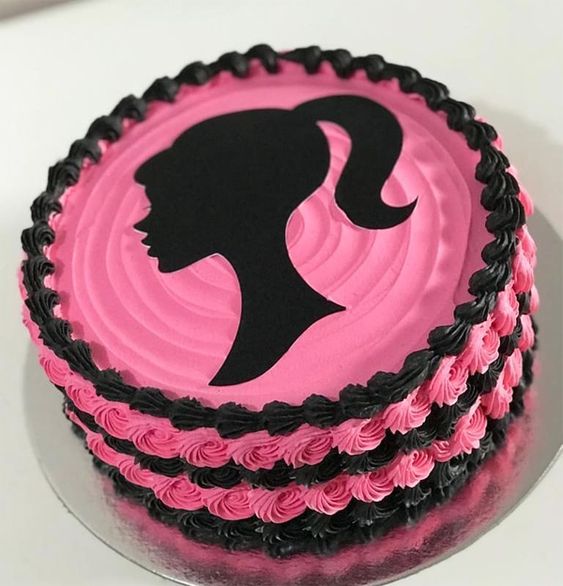 Simple yet stunning, this black and pink Barbie cake is so quintessential Barbie! If you want something that won't disappoint, stick with the classics.