Whether you're looking for a pretty pastel blue shade to go along with your cold weather outfits or you're totally excited about the warm weather and wearing soft colors on your nails, these baby blue nails will surely keep your hands looking as pretty as ever!
Baby blue has got to be one of my favorite colors. But then again, I generally like pastel colors, especially when we're on the cusp between winter and spring. And baby blue is such a versatile color that can easily suit both seasons!
It is such a classic color that it will continue to be in style for a long time. Adding this stylish color to your nails is one of the simplest ways to elevate your manicure. You can be as bright or subtle as you choose while wearing different shades of baby blue on your nails.
Regardless if you're looking for a baby blue shade that's more muted to match the moody winter or a bright pastel blue to suit the vibrant spring season, we've got your back! For this article, I have compiled the best baby blue nails and trending baby blue nail designs that you will be obsessed with all year round!
Baby Blue Nail Designs
From subtle, minimalistic designs, and timeless and classy patterns, to bold and trendy manicures, you will definitely find one that you will love on this list!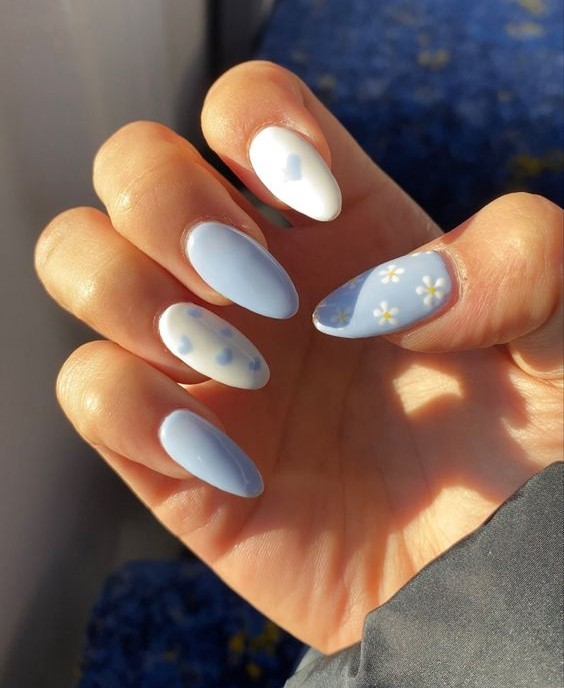 Welcome the spring with this pretty set of baby blue nails! The dainty floral design would be so perfect to match the spring season.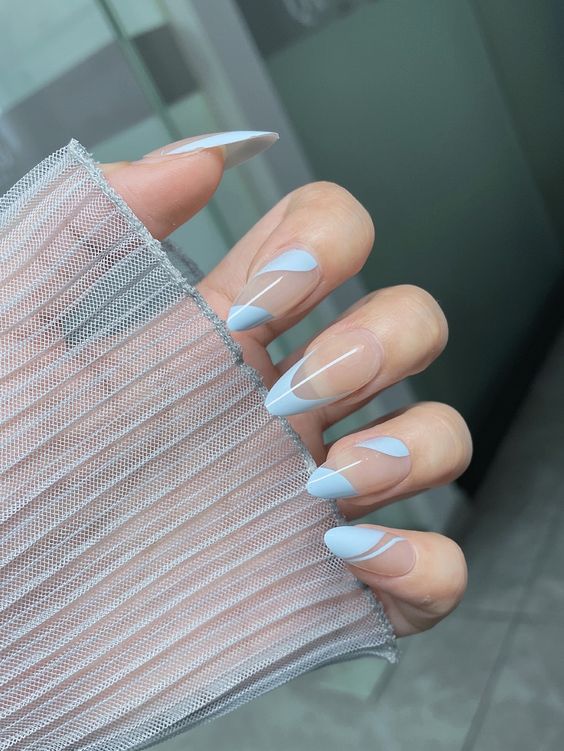 These abstract patterns are undeniably gorgeous! If you're looking for baby blue nails that are a bit more minimalistic and unique, you should definitely give this design a try.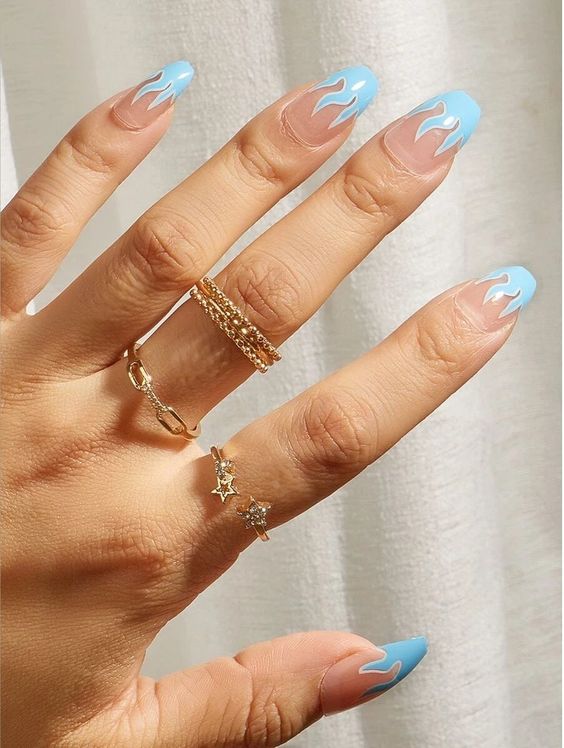 Flames are probably the last nail patterns or designs I would think of when I'm picking baby blue as my nail color. But surprisingly, it doesn't look too bad. It's definitely unique and if you like this kind of manicure, by all means!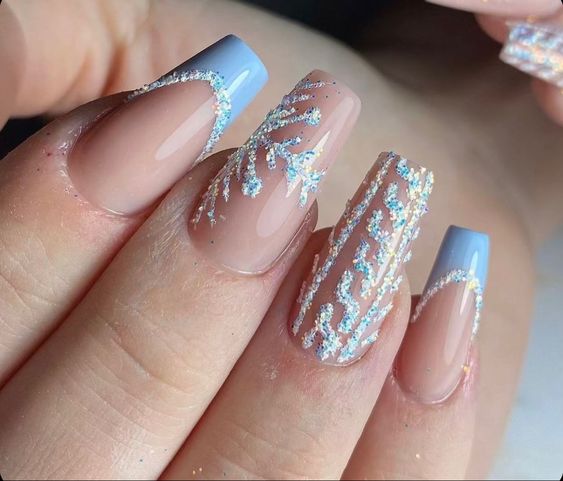 it's still pretty much winter and these frosted nails would be so perfect for this season! I love how the glitters resemble freshly fallen snow and you can also ask for snowflake patterns to match!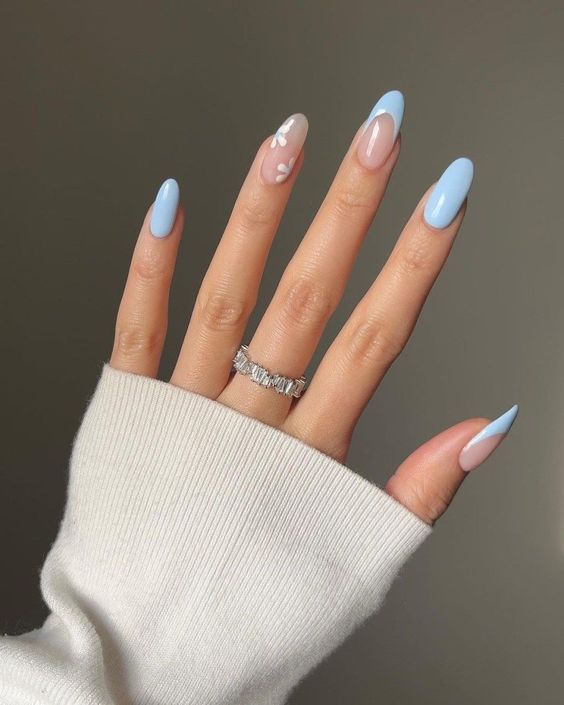 If you want a classy and timeless design, you can never go wrong with doing French tips and monochrome colors. Baby blue suits this particular manicure so well and you can opt to get nail accents to make it more unique. Ask for subtle floral designs to match the incoming spring.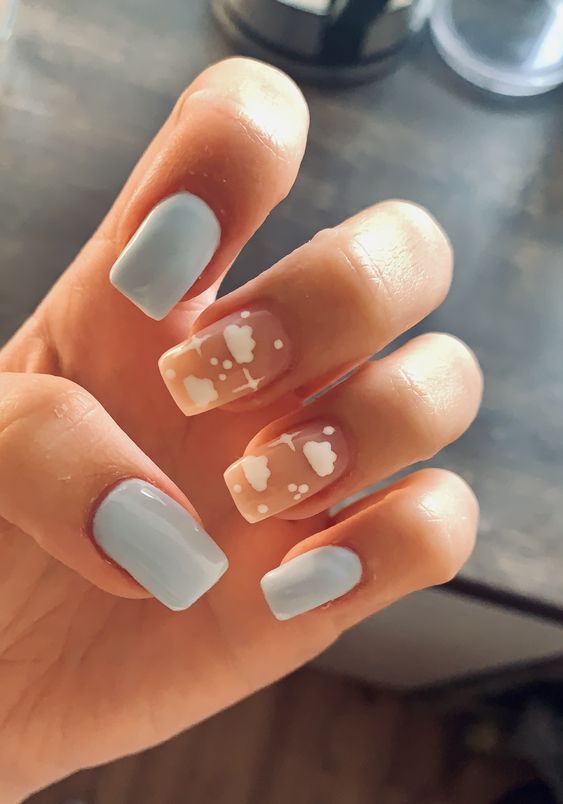 Now, this is a design I really like! When I think of baby blue, I usually think of the beautiful sky and how warm and serene it looks amongst the clouds.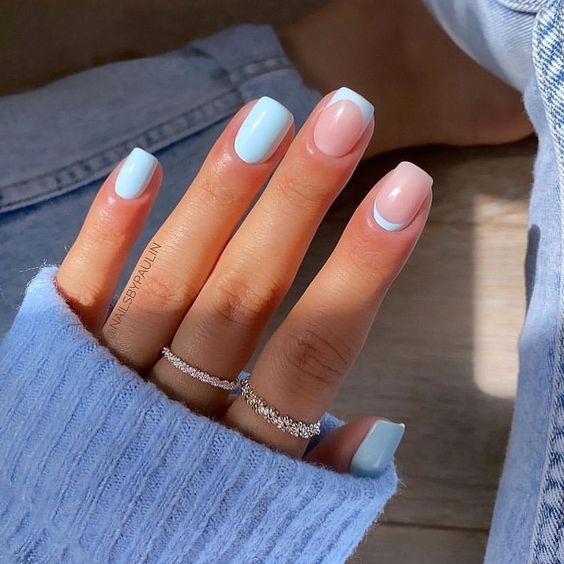 Put a twist to your baby blue French tip accent nails by doing the other nail in reverse. This will give your manicure a unique touch!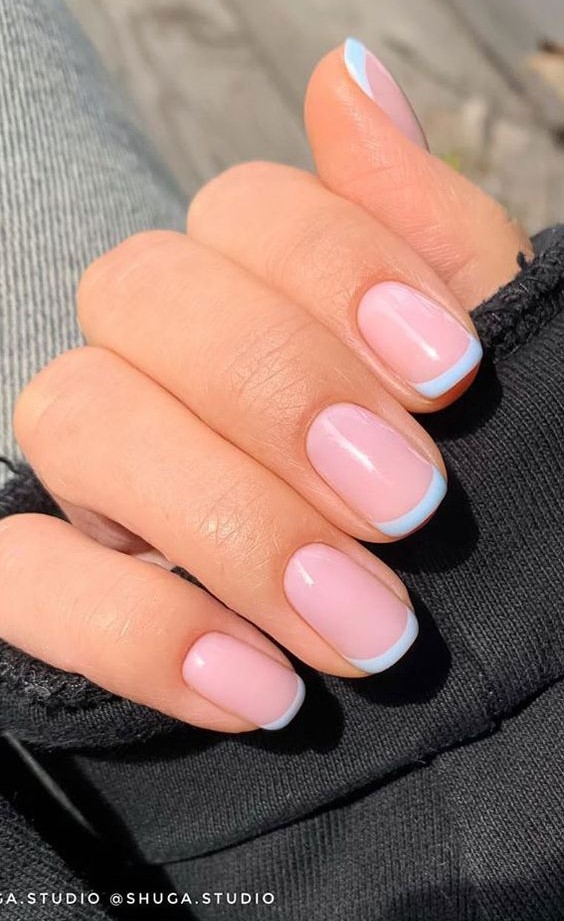 Here's another timeless and minimalistic baby blue nail design that you'll love! It's hard to go wrong with classic French tips and these just look utterly pretty!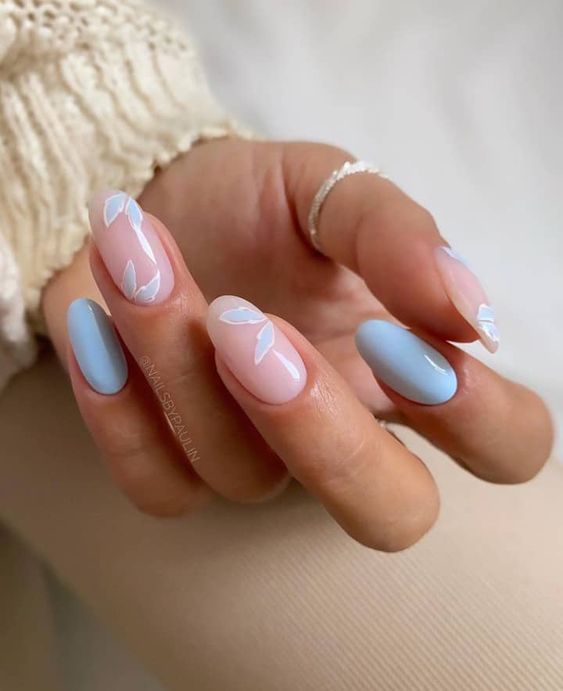 There's something about leafy designs that make them so beautiful on the nails. They're also quite easy to do. With just a few hours of practice, you can totally recreate this pattern in the comfort of your own home!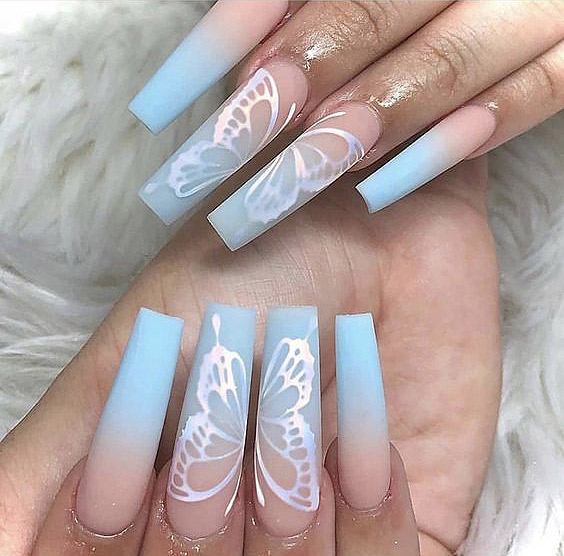 If you're looking for something bold and eye-catching, why not ask for this kind of gradient baby blue nails on your next nail appointment? You can also get that iridescent butterfly nail art along with those elongated nail shapes.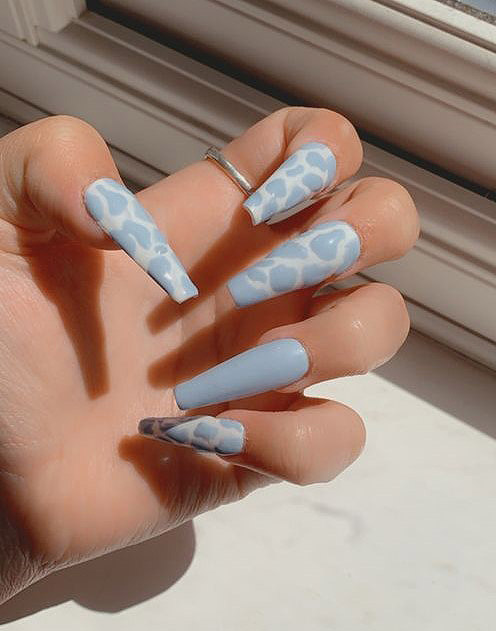 Animal prints are a type of nail art that is always on trend. So if you're looking for something trendy for your nails, check out how gorgeous these baby blue leopard-printed nails look!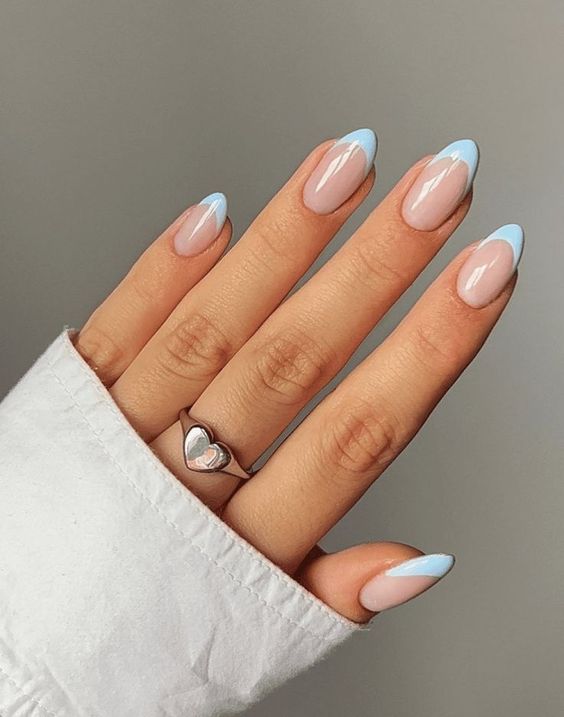 You've already seen a few baby blue French tips on this list, but this particular one has an almond shape cut for your nails.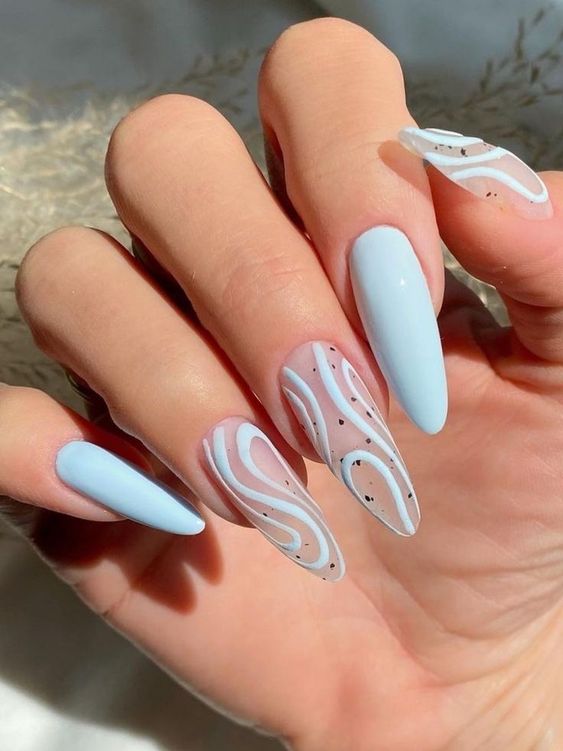 I am totally loving the swirly design on these baby blue nails! It's such a gorgeous abstract pattern that becomes more mesmerizing the more times you look at it!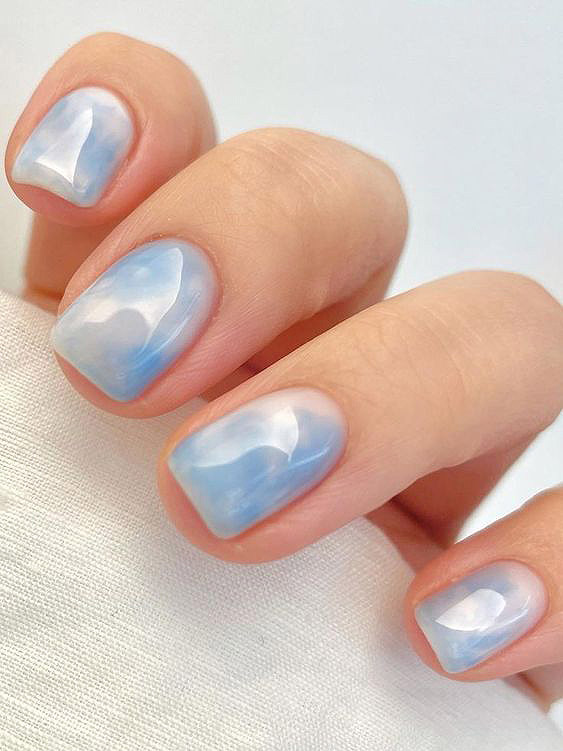 I love marbled nail designs. They have such an ethereal vibe to them and these baby blue marble nails are no exception! I am totally obsessed with them! This particular pattern in a baby blue shade reminds me of a cloudy, blue sky.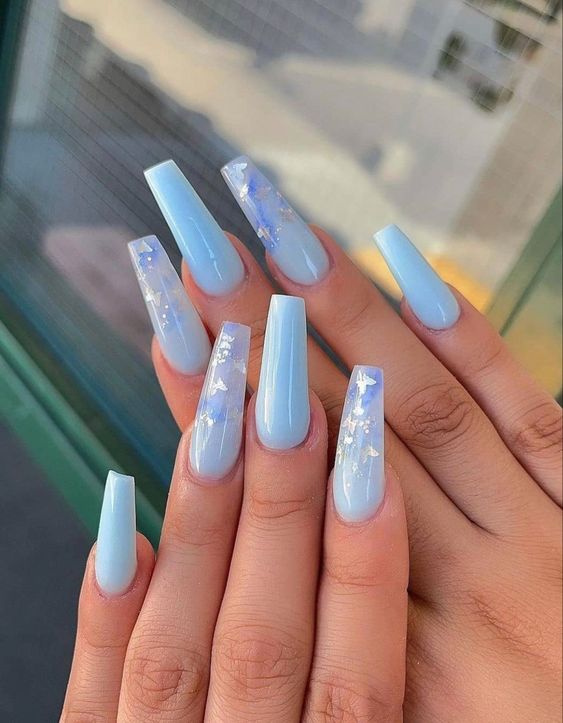 If you like the idea of long, coffin nails with baby blue colors, then this design might be for you! Perfect for both winter and spring, this design isn't particularly complicated either if you're planning to DIY it. Just mix the accent nails with a hint of a deeper shade of blue then top it off with some stunning gold foils.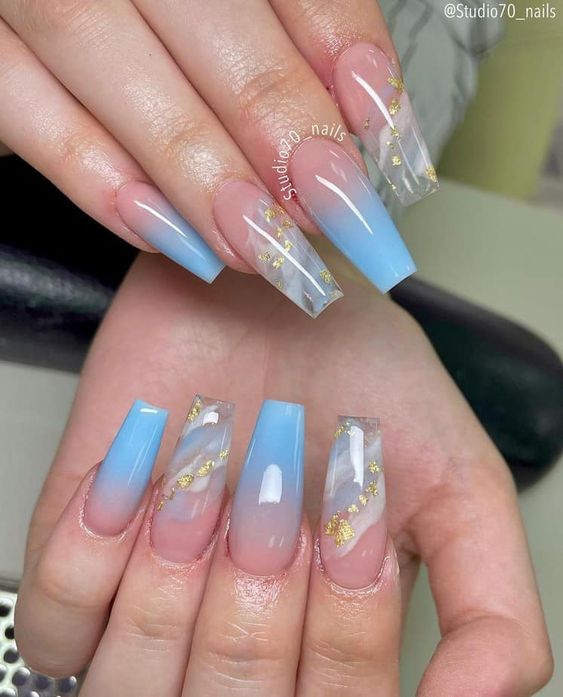 I love how ethereal this baby blue nail design looks! Paired with a gradient pattern that mixes nude tones, baby blue, and white colors, the result is a stunning and elegant design! Don't forget to add the gold foils for a touch of sparkle.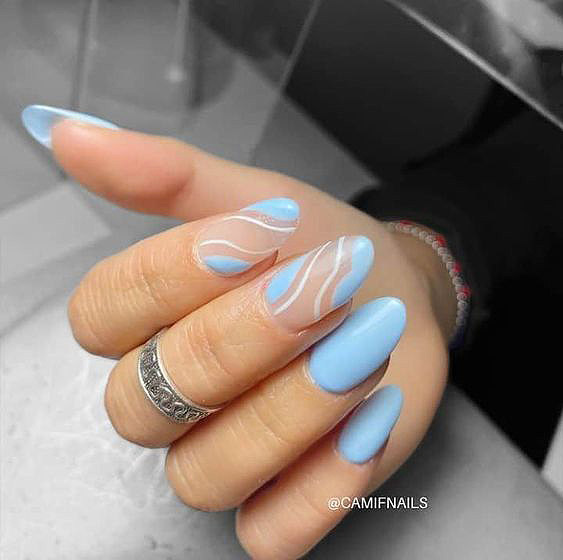 If you can't get enough abstract patterns for your baby blue nails, then you will simply love this particular design! All you need is your favorite baby blue polish and a white one to accentuate every detail!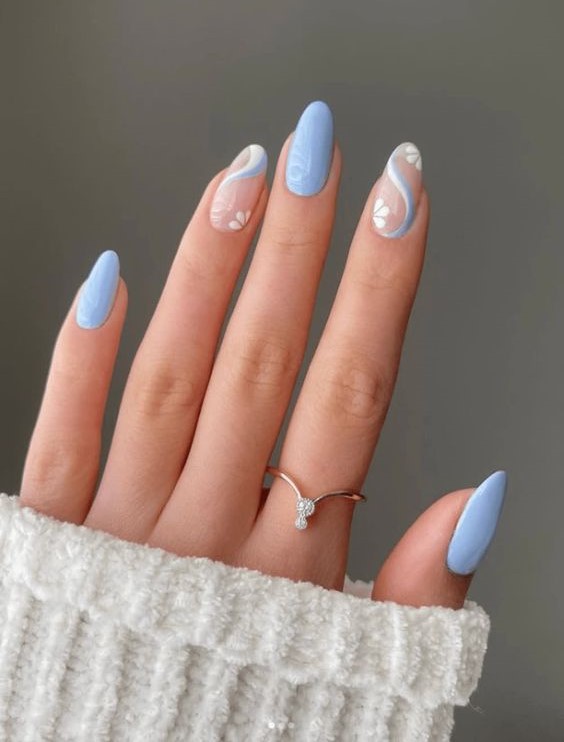 While we wait for spring to come, it doesn't mean that your nails have to! Paint your baby blue accent nails with some dainty florals to show your excitement for the change of seasons!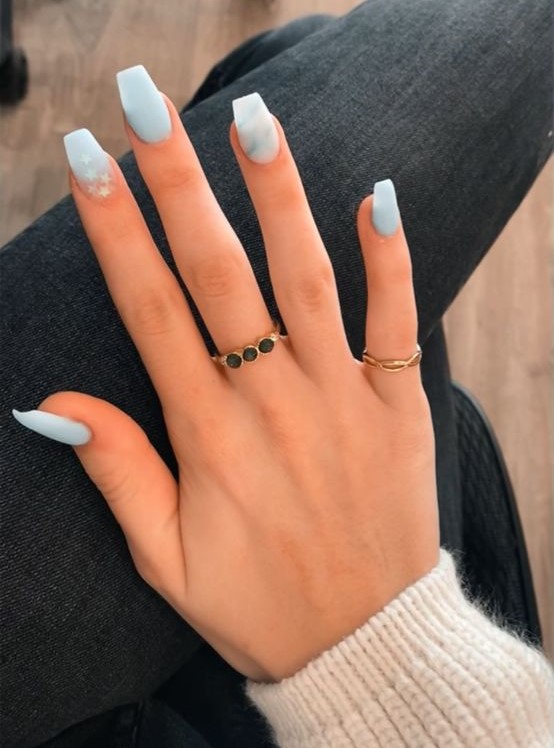 But if you love the winter season and don't want it to be over yet, you can match the theme with your nails too! This particular design calls for a matte finish that gives a rather frosty vibe against those subtle, starry patterns.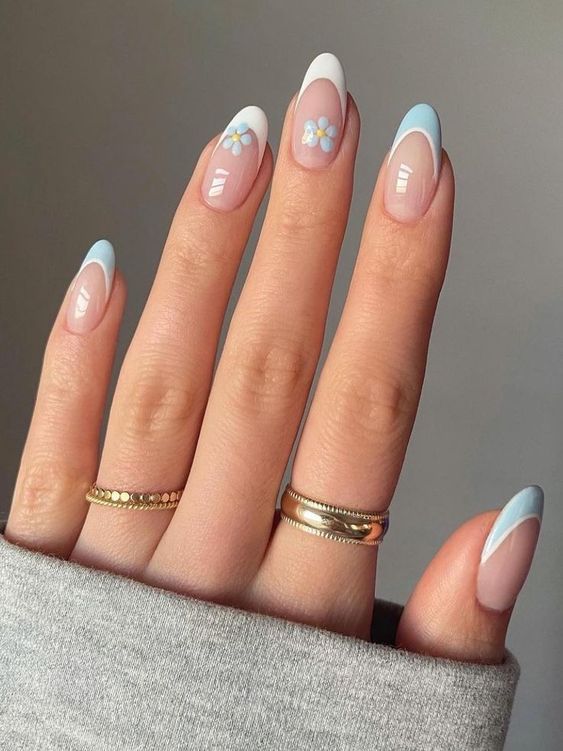 Aside from the classic design of the baby blue French tips, you can also add a fun and flirty (albeit still subtle) twist to this timeless design. Paint some tiny and dainty flowers to each accent nail for a pretty chic manicure that's ready for the upcoming spring season.
Here's another set of frosty and wintry nails that's perfect for the current season! I can totally see this worn on a night out with friends or even on an intimate yet sophisticated date. Personally, I love the sparkly accents on the nails.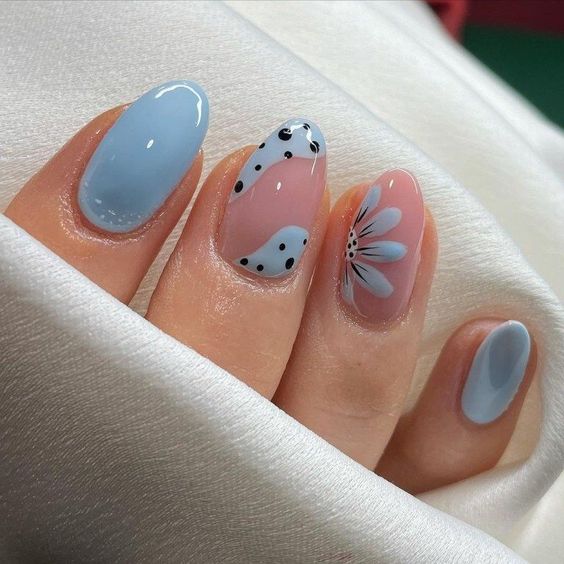 While I've been saying that baby blue is perfect for both spring and winter, it's also a shade of color that's perfect for other seasons as well. Mainly, the summer season. I mean, just look how gorgeous this summery design is!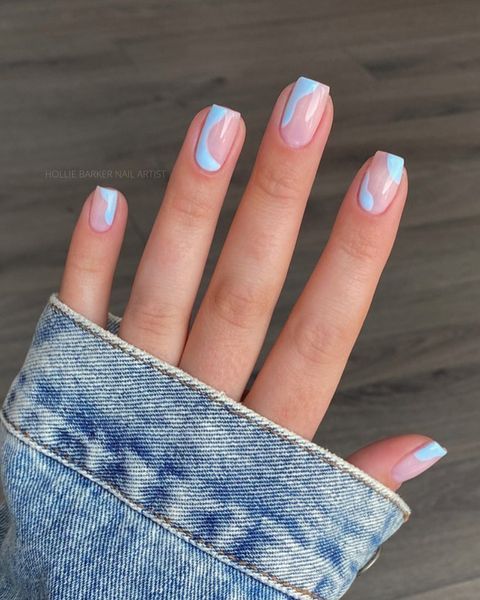 If you're contemplating whether baby blue is the nail color for you, you can always try it out with a minimalistic design before diving into a more solid and bold pattern like this particular nail art! No need to paint your nails all over. All you have to do is paint a few swirls and curves to recreate these soft and subtle shapes.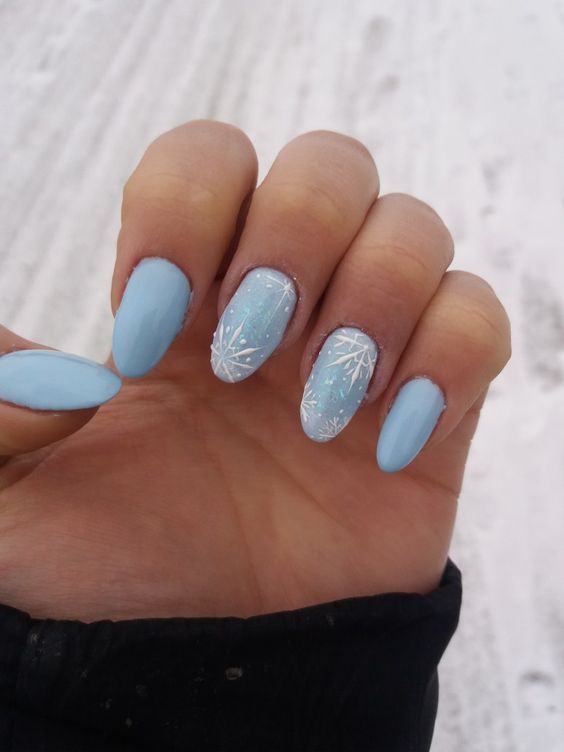 If there's a baby blue nail art that screams "winter", this is probably it! I love how the iridescent accent nails are so sparkly with stunning snowflake patterns.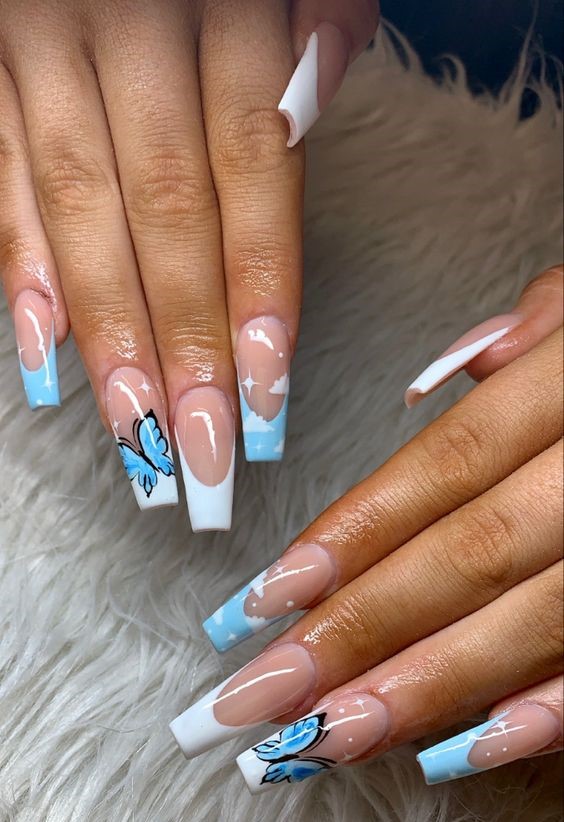 I can totally see this particular baby blue nail design being perfect for the spring and summer seasons! Why stick with one theme or pattern when you can do more? I love how the butterfly, the sparkles, and the cloudy nail art suit each other so well on these nails!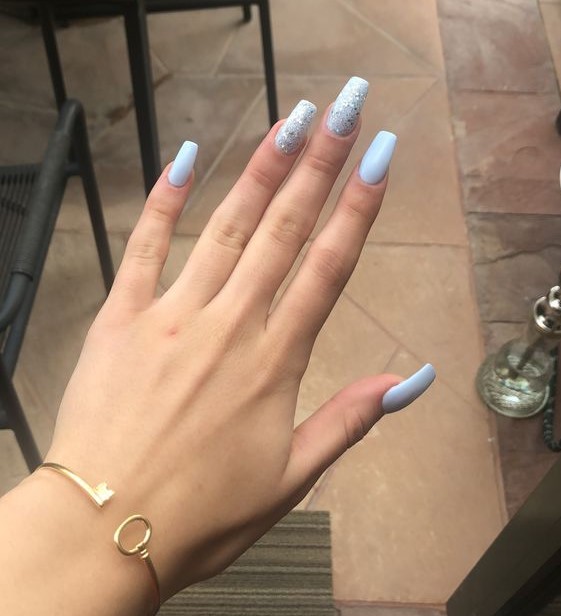 Even if you're not too confident with your nail art skills just yet, don't worry! You can always start off easy and lucky for you, baby blue is a pretty easy color to work with. For a fool-proof manicure, you can always just opt to top off your current baby blue nails with some glitter for a sparkly and frosty vibe.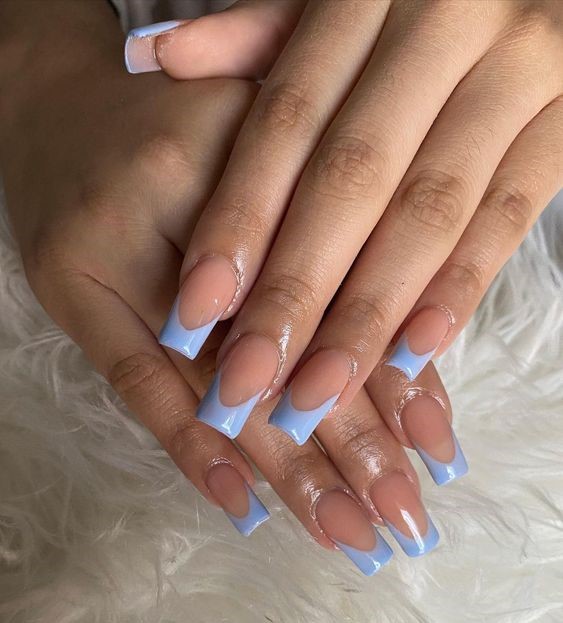 French tips are usually paired with almond nails or shorter square nails, but something about elongated square nails makes this particular design a lot more modern while looking just as chic.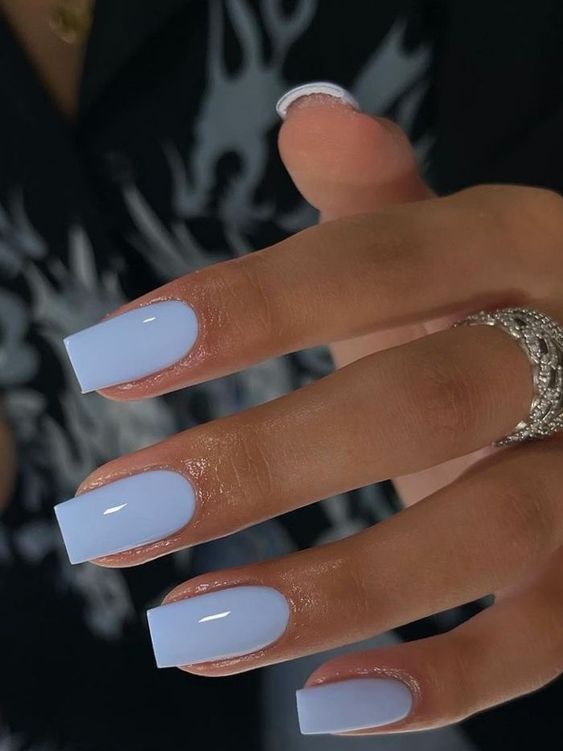 Don't like designs that are too fussy or time-consuming? Or maybe you're just not into intricate nail art. That's totally okay! Just like the manicure above, you can always just opt for a monochrome baby blue design.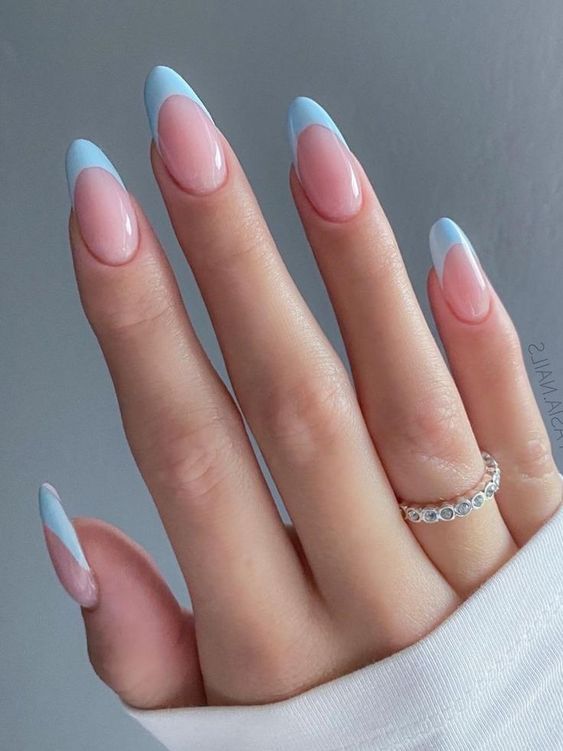 If monochrome nails feel a little too basic or plain for you, why not go for some baby blue French tips? They're classy, elegant, and not too overwhelming to the eyes. This is the perfect daily manicure.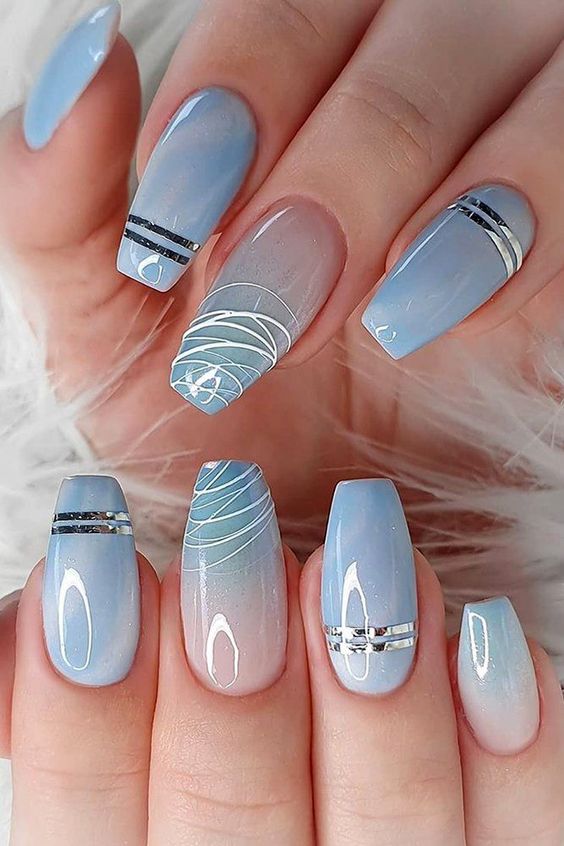 Add a touch of glam to your baby blue manicure by adding a subtle sheen or shimmer to your nails' finish. You can also add in some dainty, silvery stripes to elevate the design even more! If that's not enough, you can also opt for a subtle gradient effect that's so perfect for the winter season.
If you're looking to look like an ice queen this winter season, then these nails will surely match that aesthetic! Not only does this design look like royalty, but it has such an elegant and regal aesthetic that's hard to ignore.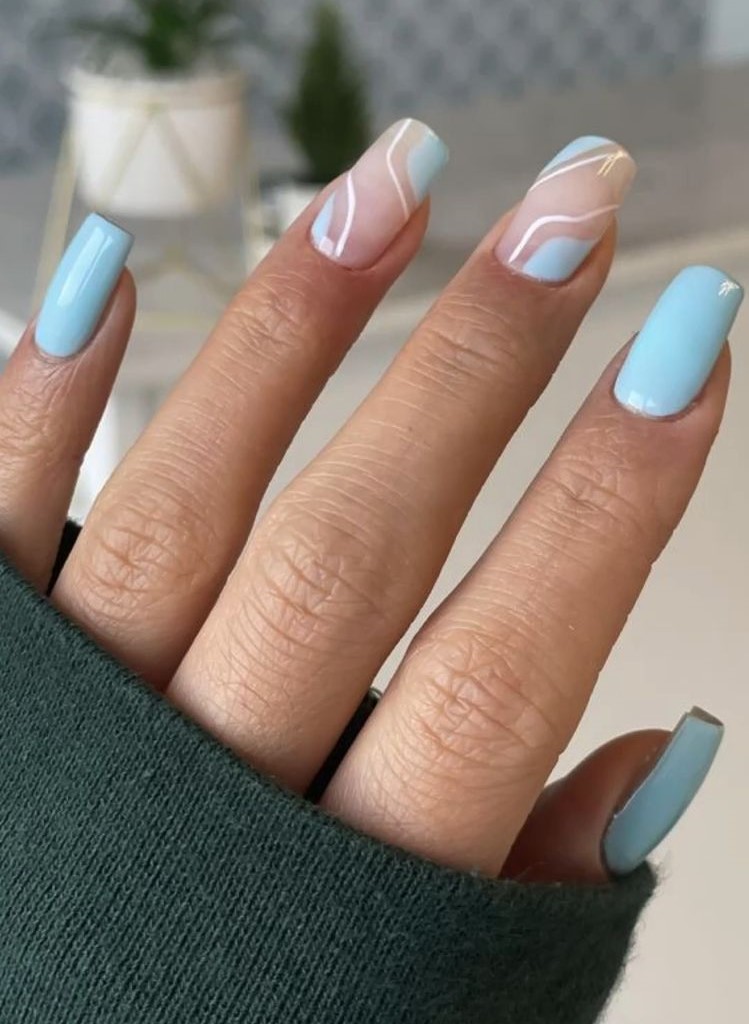 Nail art can be pretty intimidating but you can always start with easy abstract patterns for your baby blue nail designs like this one!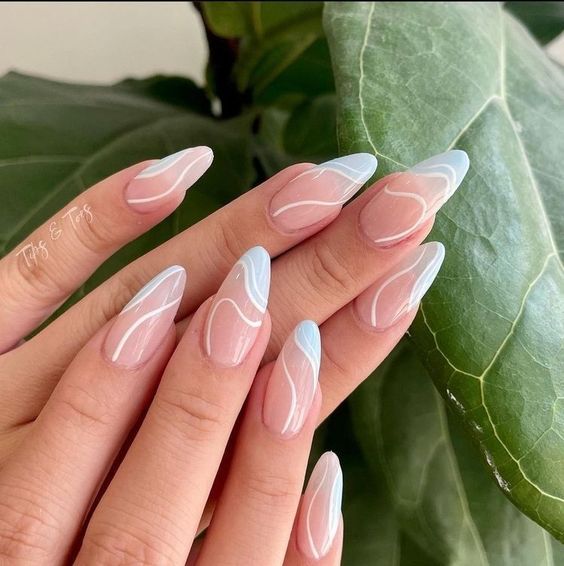 For a clean and minimalistic design that has a dainty and delicate feel to it, then you might like this particular nail art. Pairing baby blue and white hues together will give you this sophisticated nail design that's perfect for everyday wear.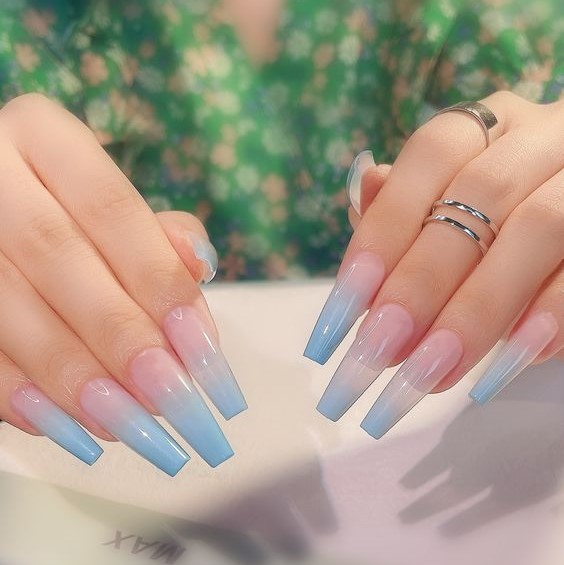 If you want something youthful and fun without being too extravagant, then you can definitely try out a soft pink and baby blue gradient nail design.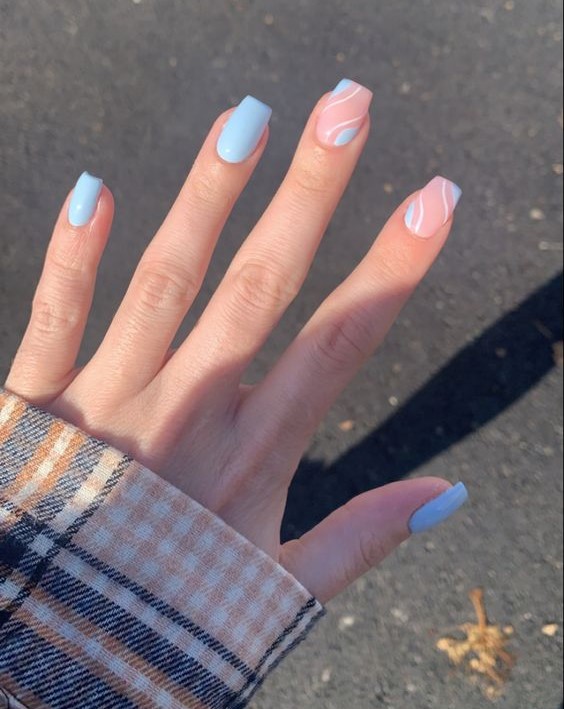 Here's another way you can try out those abstract swirly and curvy patterns on your nails!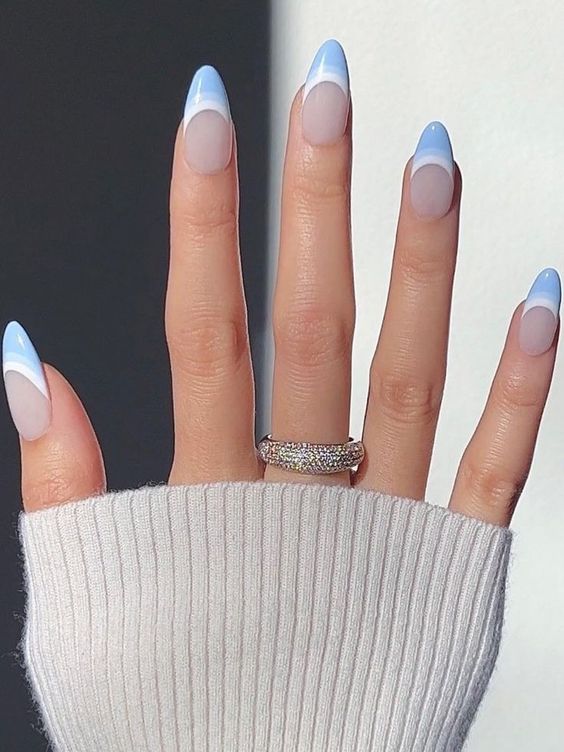 You've already seen different variations of the classic French tip here, but this one shows off a subtle gradient pattern on the edges of the tips.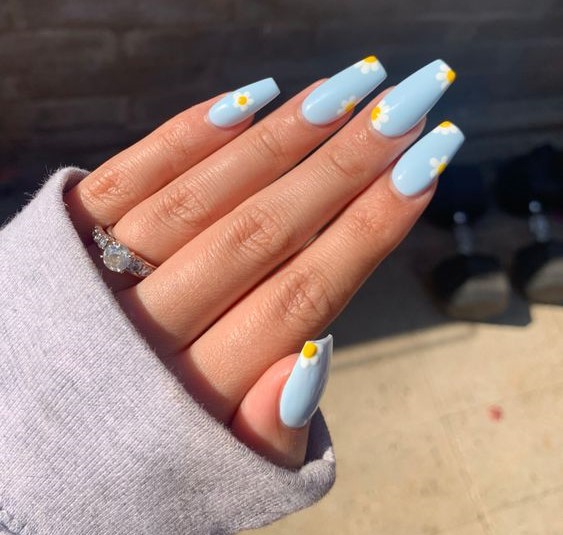 Add a pop of color to your monochrome baby blue nails by adding some daisies around each nail! This will make your nails so perfect for spring and summer!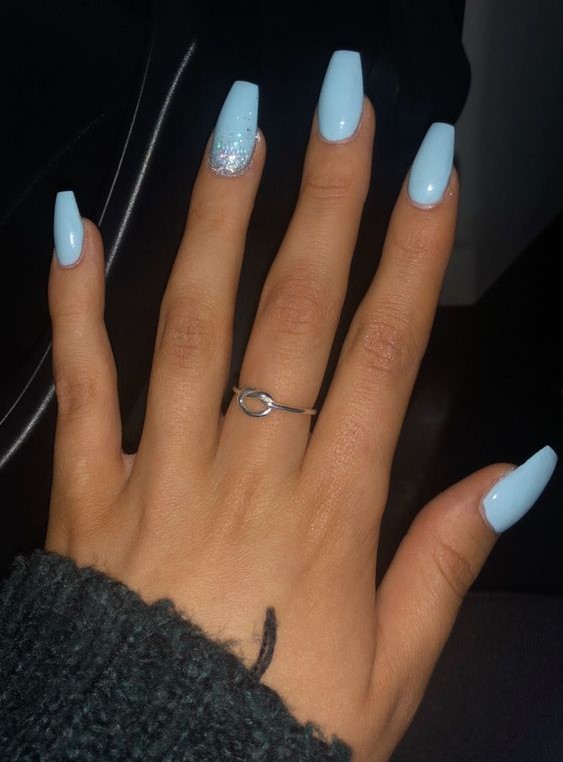 If you like a design that isn't too fussy and won't take up a lot of your time, just add a minimal amount of shimmer to your baby blue nails for a subtle touch of sparkle.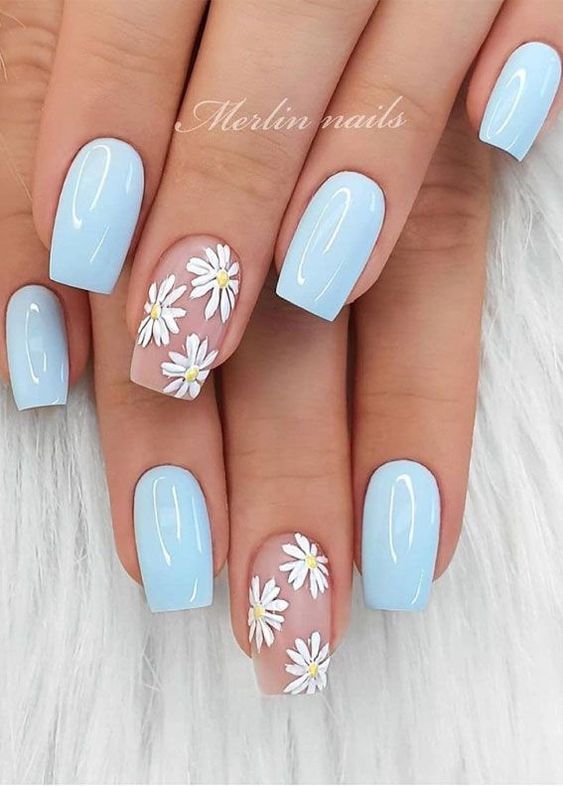 If you like to pair your baby blue nails with some floral patterns, leaving your accent nails bare with just the flowers will surely make the design stand out!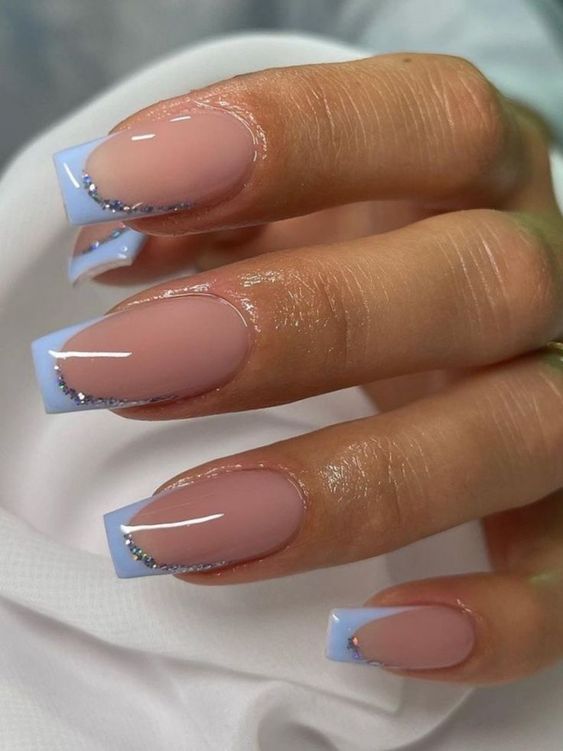 For the most subtle of designs, put a sparkly twist to your baby blue tips by adding a thin line of glitter to the edges.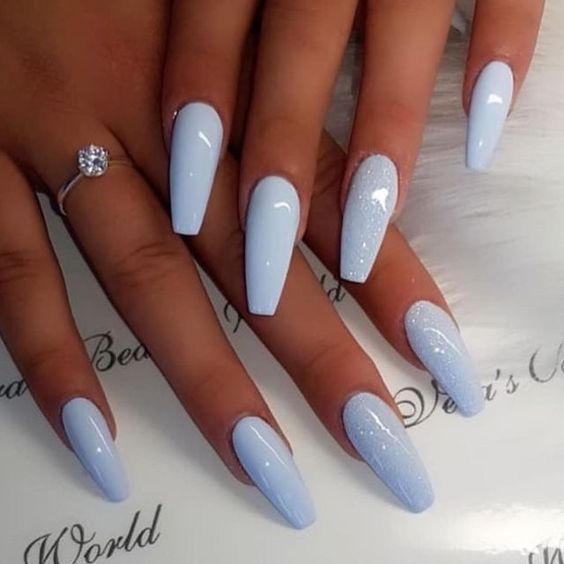 Ditch the usual matte or glossy finish, and add in some subtle shimmers for a wintry manicure that's perfect for the cold weather!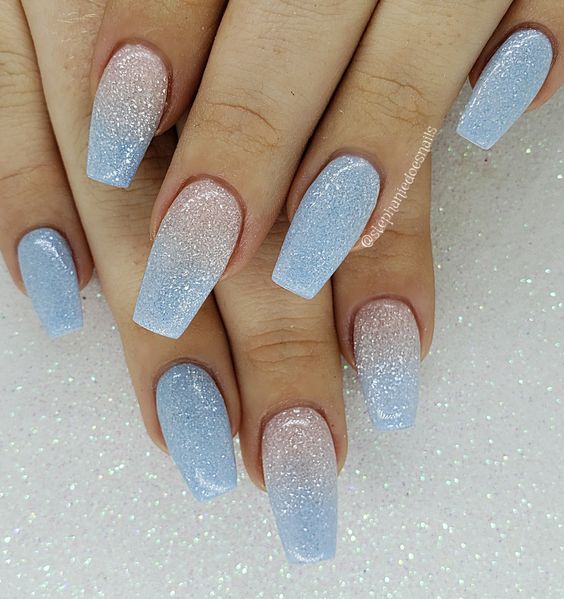 But if subtlety isn't your style, then don't be afraid to use a lot of shimmer and glitter on your nails to create a gorgeous frosted look like this particular nail art! This is one of my favorite baby blue nail designs to do after watching Frozen.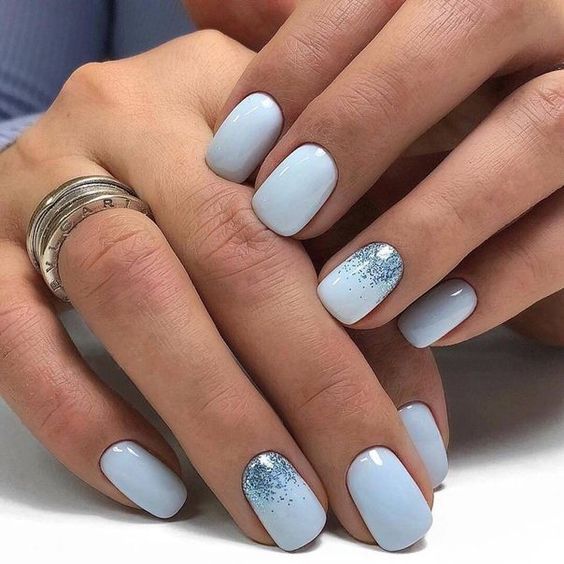 I love the deeper shade of blue glitter on these baby blue nails! They add such a stunning dimension to the monochrome color of this baby blue nail design.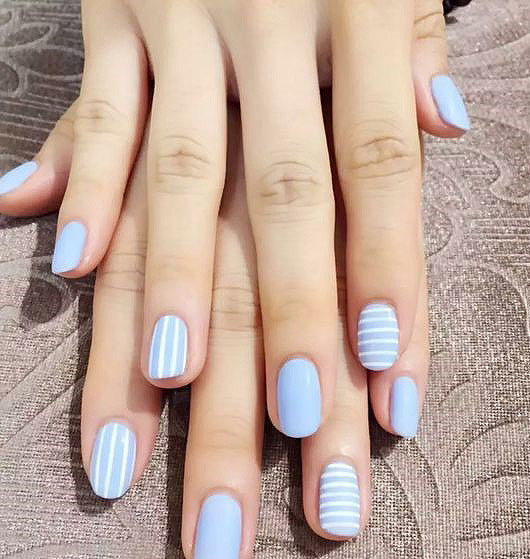 When in doubt, go with stripes! They're very basic and easy patterns that you can practice with to elevate a simple manicure.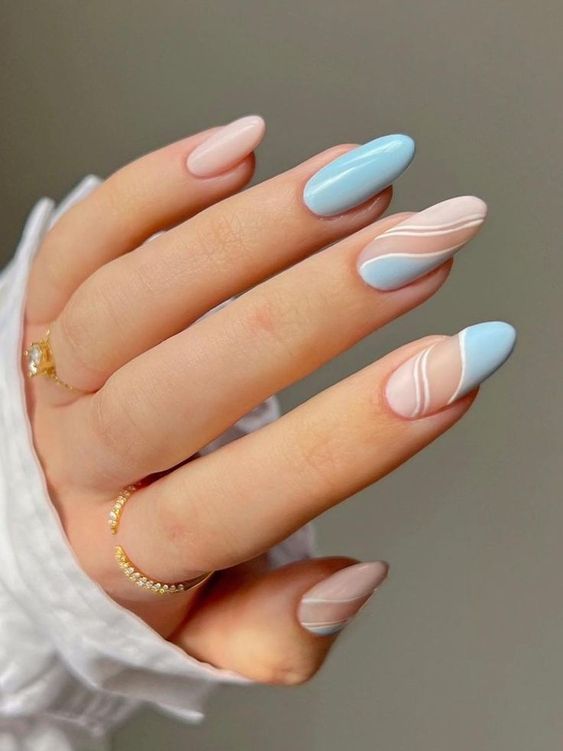 While there have been some abstract designs here that have this particular nail art, this one comes in a rather matte finish than the traditional glossy effect.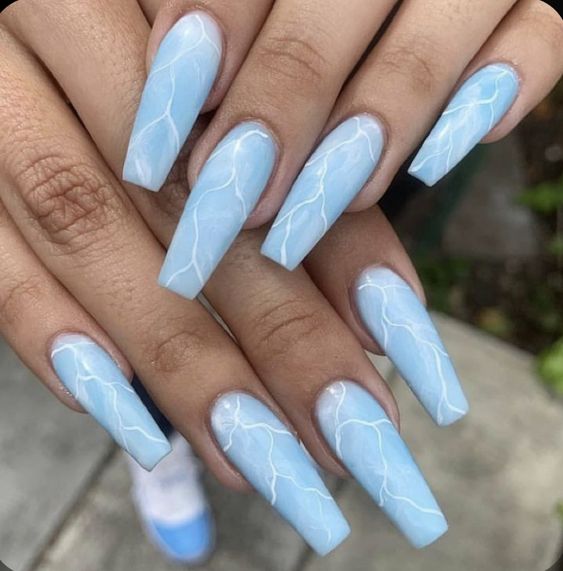 Don't these nails just remind you of thunder and lightning streaks? They look so cool! This is one of my favorite edgy baby blue nail designs.