Watermelon nails look fresh and bold when paired with any outfit. They're also fairly easy to replicate but are super unique, making for a great accessory for summer.
For the basics, you will only need polishes in the shade of green, light green (optional), and red. For the tools, you will need a dotting tool (can be DIY), rhinestones, and decals (optional).
Whether you like your watermelon nails to be minimalist, experimental, or low-key, there's more than one way to paint watermelons on your nails.
Ways To Design Your Watermelon Nails:
Here are some of the top, trendy watermelon nail designs this year. Or scroll ahead to check out more inspiration photos!
Colors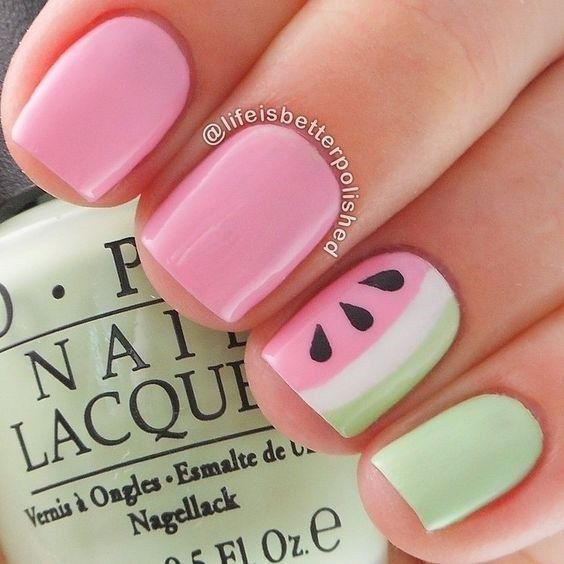 Feel free to play around! Red and green are not the only colors that you can use for watermelon nails. Some of the best alternative combos to the classic colors are pastel pink & pastel green, yellow & green, neon pink and neon green, red & teal, orange & green, and more! Retaining the green color (in any shade) plus adding the "seeds" in can easily make watermelon nails distinguishable. Check out the inspo photos below for more details.
Rhinestones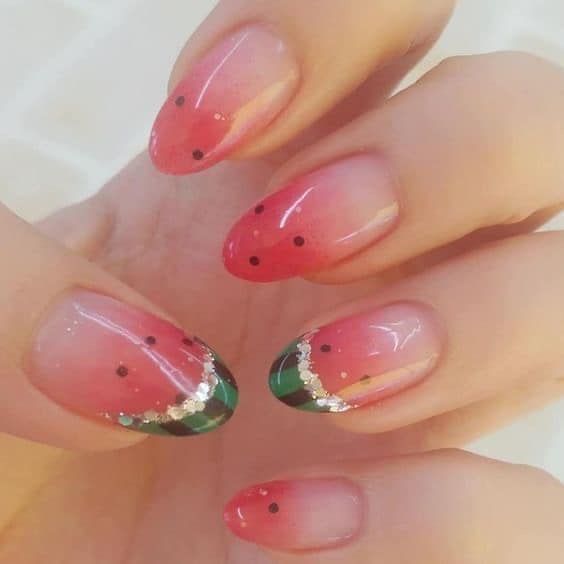 Rhinestones can make any nails look party-ready! It also adds a little "oomph" to the classic watermelon look and look great with any semi-formal evening dress. A little shine surely can't hurt!
Decals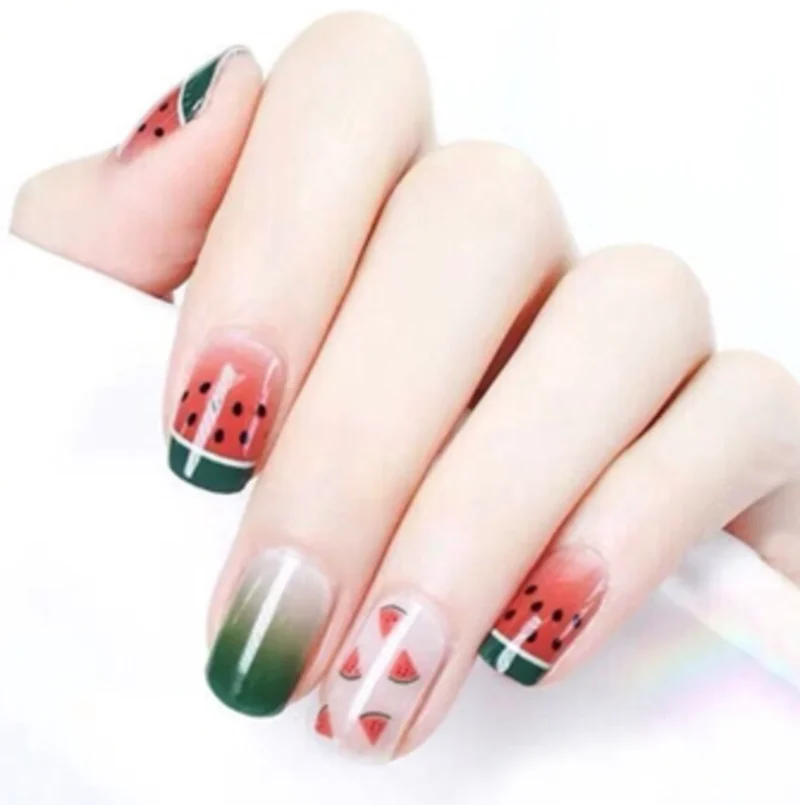 Decals or press-on nails is the easiest way to apply watermelons on your nails. The design is pre-made, so you don't have to bother preparing dotting tools. Some decals require a base color polish, but that's just about it!
Fruit Salad Manicure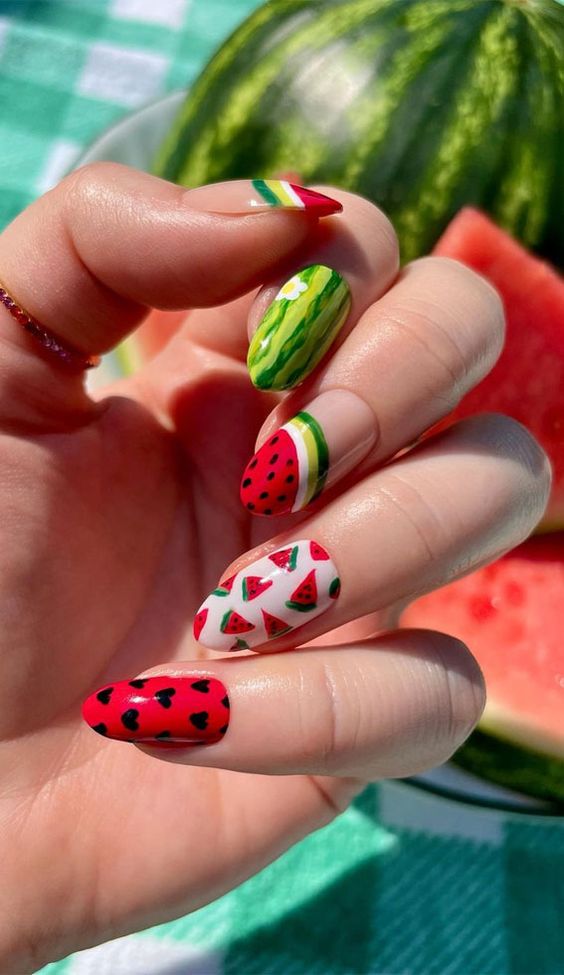 Start a nail party with fruits! A great way to add an ice breaker to your outfit is by painting a variety of fruits on your nails – including watermelons, of course. My favorite method for this design is the decal application. In that way, you won't have to buy a polish for every color. Saves time as well!
Full-on Watermelon Nails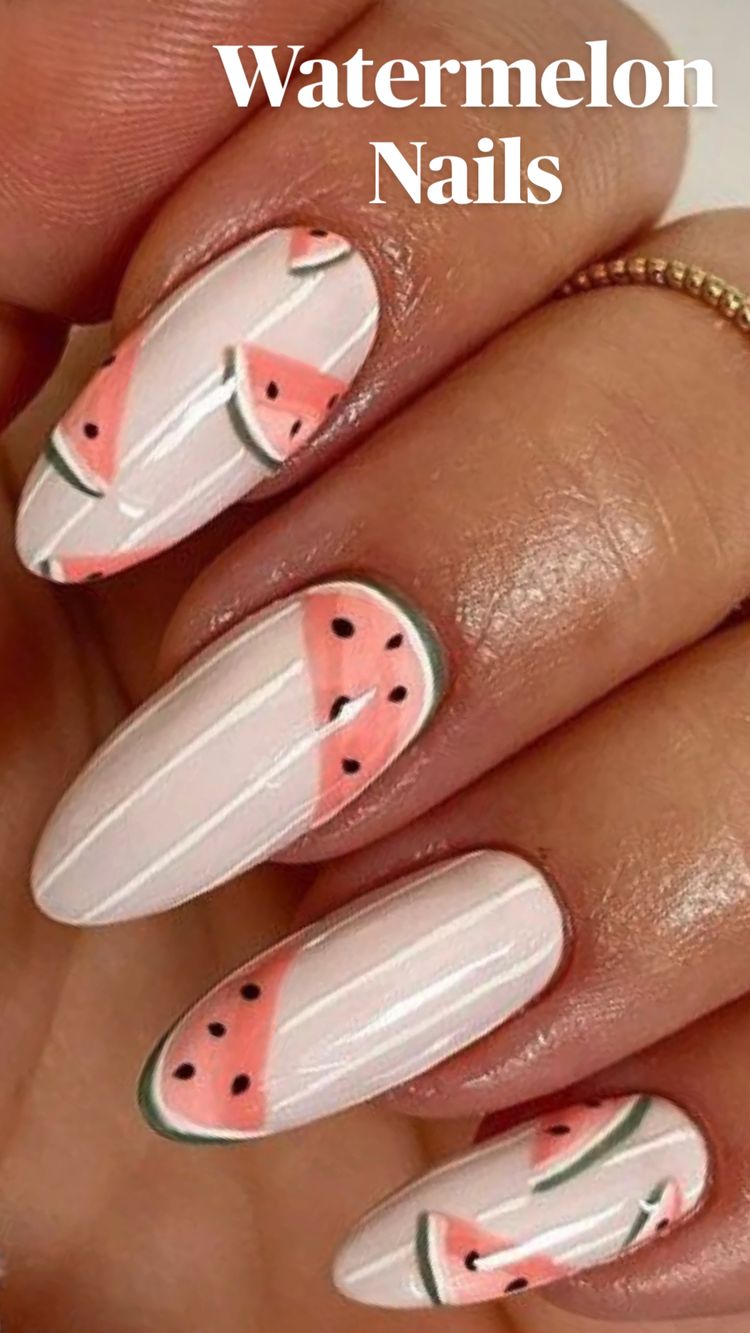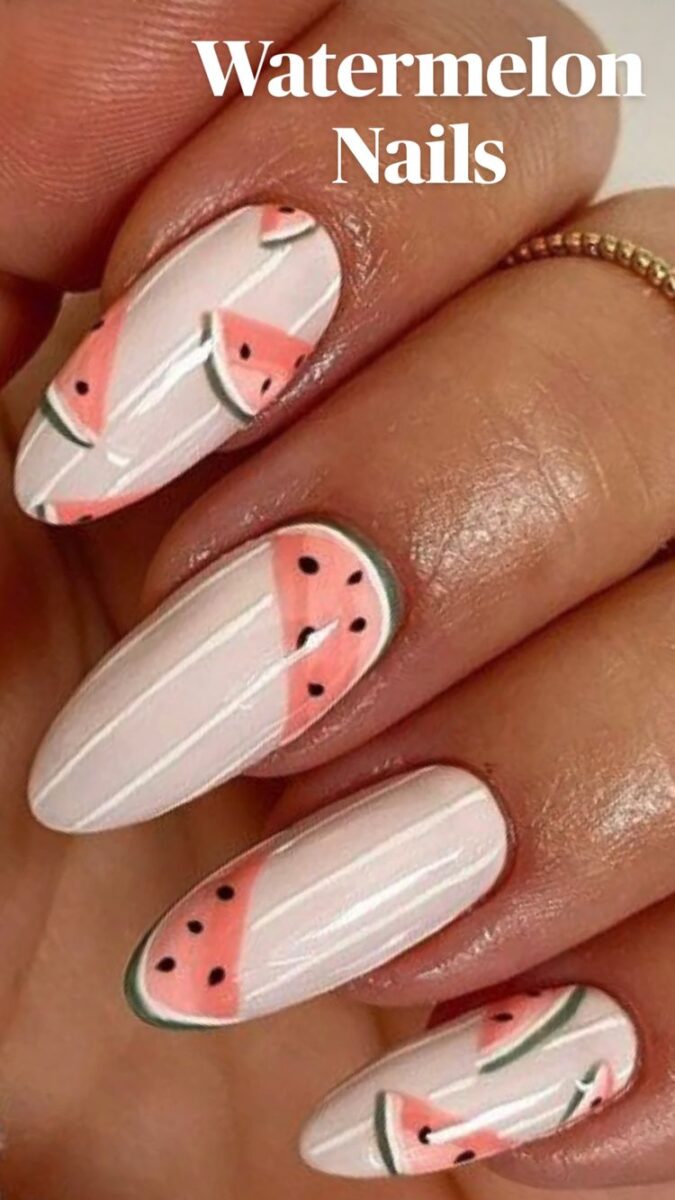 For this design, you will need classic red and green polish. This full-on manicure requires you to apply a watermelon to every nail. The cuticle or the tip can be the base for the green skin of the watermelon. Play around with colors as you wish!
Watermelon Accent Nail
Looking for a subtle version of watermelon nails? A watermelon accent nail is a perfect option for you. It also adds a playful twist and character to classic red nails. No more intimidating nails!
Pastel Watermelon Nails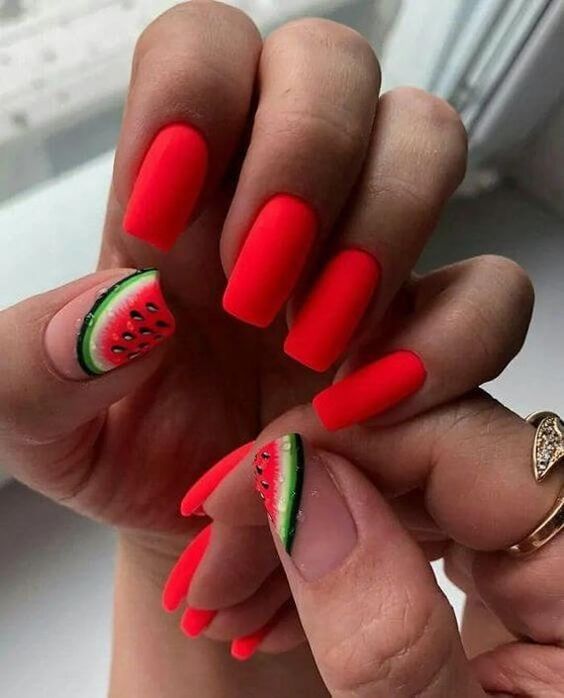 Another favorite version! Pastel watermelon nails is much softer, subtler, and younger-looking than the classic version. It is also less flashy which makes it a great accessory to light-colored outfits. Pick out polishes in the shade of pastel pink and pastel green for this design.
Mini Watermelons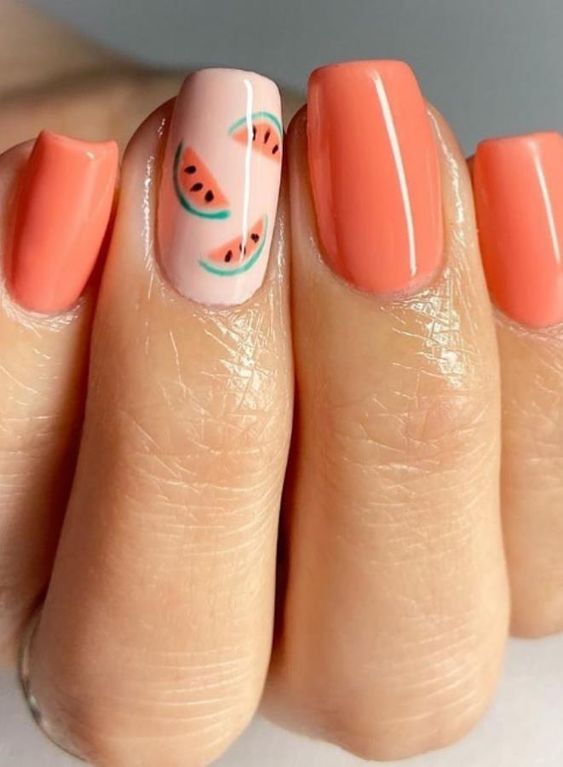 I can't stand the cuteness of mini watermelons! Of course, the easiest way to apply mini watermelons on your nails is by getting a decal set. You'll see a lot of decal options on Etsy. For this design, you can opt for a white or nude base.
Watermelon Palette Ombre
Call it watermelon-inspired! This design is not as straightforward as the others, but equally chic and stylish. It is also subtle, so it doesn't take up much attention when paired with minimalist outfits.
Gradient Watermelon Nails with Seeds
Subtle but straightforward, this design is the direct alternative to the 'watermelon-inspired' nails above. You will need a dotter tool or a narrow nail brush to achieve this look. Because it is minimal, you'll have to be extra careful to minimize the appearance of mistakes.
Watermelon with Rind Design
People barely give the rind part of the watermelon much attention. But really, there are so many ways that you can put your creativity into play with rinds! The way I would do it is by painting four nails from each hand with a rind pattern using green and light green polish. I'll add my watermelon accent using red polish and black (for the seeds) for every nail left.
Matte Watermelon
A unique and classy way to apply a watermelon design to your nails is by using matte polish or finish. Using matte finish can also make the design last longer. If you're using red, uneven breaks can be very visible which makes a durable matte finish even more sensible and practical, apart from being stylish.
Watermelon With Rind Tips
Another way you can play with rind designs is by adding a bit of groove. Instead of painting a plain green rind base, add in some groovy patterns or stripes for that playful effect. A little detail goes a long way!
Watermelon With Green Outer Edges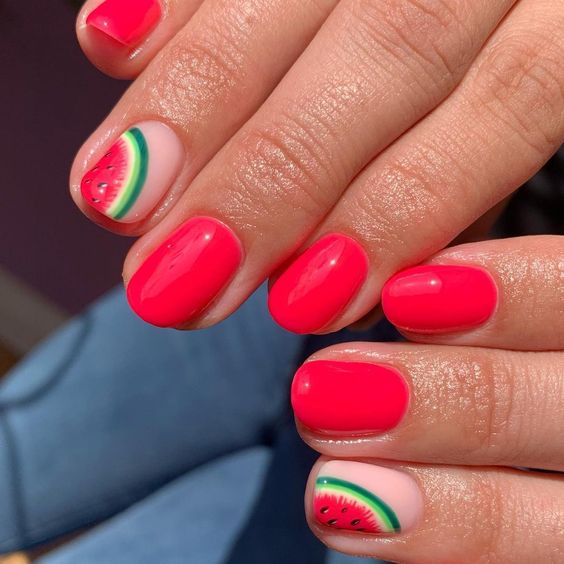 Instead of sticking to the usual rind base or tip, why not paint the rest of the outer edges green? I consider this design unique to the pack because not everyone has thought about this design. Add the grooves as you wish!
Strawberry or Watermelon?
Strawberry or watermelon? No one has to know! This design is quite simple than it is called. In fact, it is only composed of one base color (red) and black for the dots. It is basically just polka dots on a rich red polish.
Half Moon Watermelon
Another way to play with watermelons is by creating a half-and-half design for each nail. The first half will be for the rind and the second half for the rest of the watermelon. Details matter here because each area has a spacious surface area.
All Rinds Watermelon Nails (Green Grooves)
The pattern on watermelon's rinds is a great way to add a splash of green to your look. No need for a red accent nail. It's what's inside that matters! For this design, you'll only need two shades of polish.
Watermelon Charms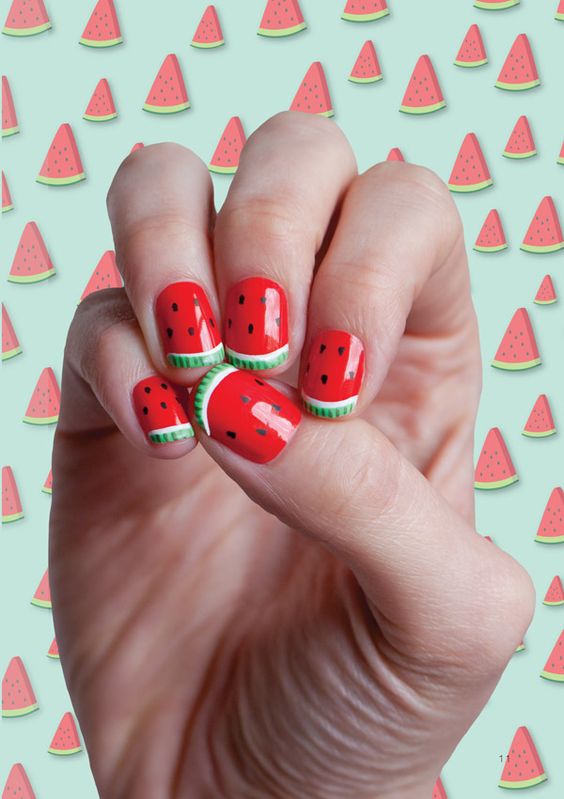 If you're a maximalist, then this design is for you! Charms come in different colors, shapes, and sizes. If you have longer nails, you can put two to three charms in each nail.
Watermelon Tips
Still haven't thought about how to flaunt your mini watermelon decals? A subtle and chic way to apply them to your nails is by putting them on your tips, keeping the lower area of the nail naked.
Transitional Watermelon
Start with your thumb to your pinky nail. Make it look like a "peeking". Paint the first three nails with a rind design and the rest with red (including the seeds). The seeds can be painted unevenly to make the design look realistic.
Yellow Watermelon Nails
Did you know that yellow watermelons exist? If you want something more sunny and bright to add to your look, yellow watermelon nails are perfect for you!
Watermelons And Polka Dots
Doing a multi-patterned nail party? Watermelons, polka dots, and an accent-colored nail are great stylish elements to play with. Personally, I would go with a black-and-white palette, then add in decals for the watermelon accent.
Multi-Colored Watermelon Design
It doesn't matter as long as the rind is there! If you want a fun watermelon party, adding bright colors to the equation can do the trick. Just add the rind and seeds to finish it off. The best colors to include are red, yellow, blue, orange, and purple. You can do it in pastel if that's your preference.
More Watermelon Nails: