Looking for recipes for your Super Bowl appetizer recipes to serve this year? Look no further than this list of the best Super Bowl appetizers that will surely be an instant hit among your family and friends!
The only thing that can keep people from the screen on game day is ridiculously good food. That's why you still need to prepare for the Super Bowl even if you aren't participating in the big game. And that means serving some great good that will keep your guests satisfied!
With that said, no one wants to watch the Super Bowl while eating a fancy six-course meal. So the best way to satiate your guests is by preparing a ton of appetizers, setting them out on the counter, and letting your guests nibble and munch on them as they watch.
This may seem intimidating and a lot of work, but we have your back! This list of appetizers, which includes sliders, nachos, chicken wings, and much more, will undoubtedly get your watch party started on the right foot.
Recipes For Your Super Bowl Appetizers
This long list of Super Bowl appetizer recipes has everything you need for game-day ideas, whether you're looking for traditional appetizers or something a bit more unique. Not only are these appetizers easy to put together, but I made sure that they won't be too fussy to make and will keep your guests asking for seconds!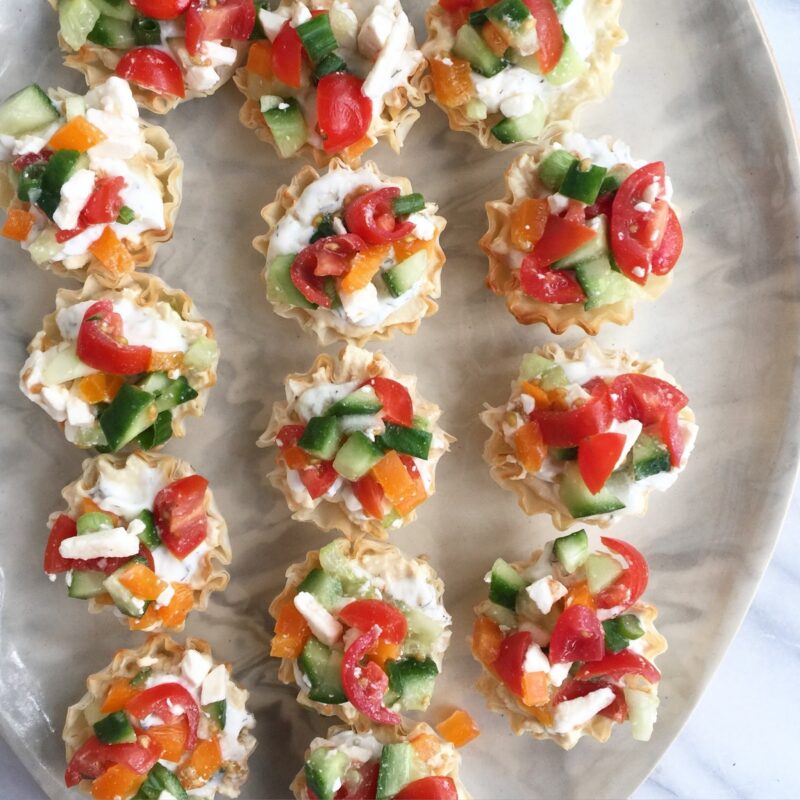 These Mini Greek Salad Bites are delicious and quick to put together. The little phyllo cups can be found in any grocery store's freezer area if you don't have the time to bake them yourself. By mixing the crunchy minced Greek salad topping with the creamy hummus and sour tzatziki, you're sure to get an incredible taste combination.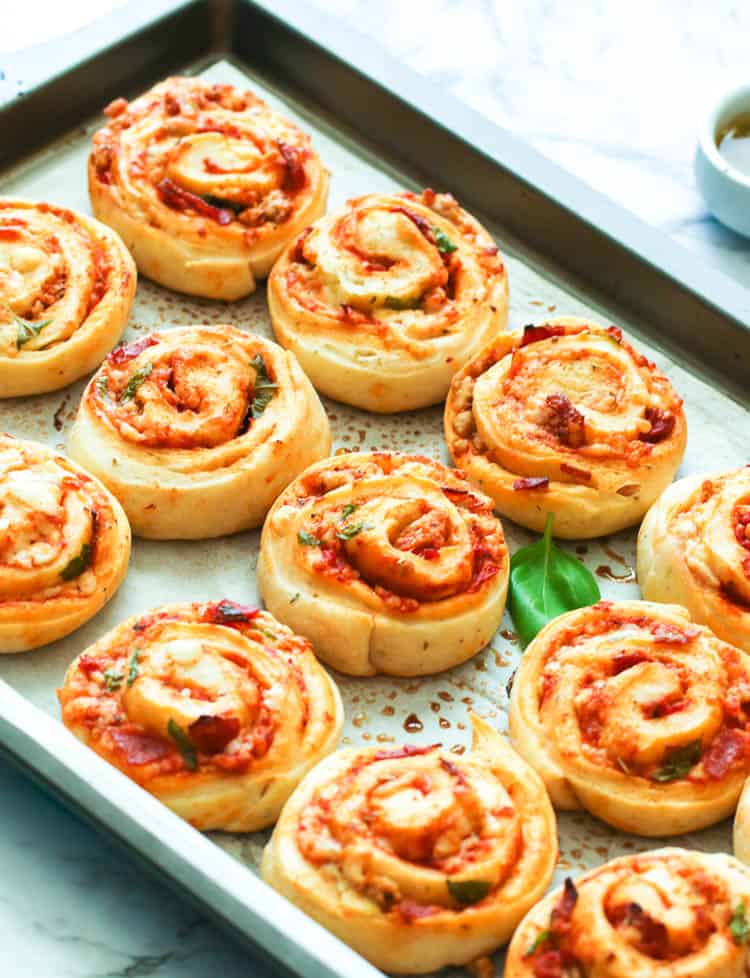 You can never go wrong with making classic Pizza Rolls as one of your Super Bowl appetizers. For any event, they are crowd-pleasing comfort food. Homemade pizza dough is covered with enticing pizza sauce, a generous amount of sausage, pepperoni, and cheese, and for the perfect finishing touch, a savory, buttery garlic sauce is sprayed on top.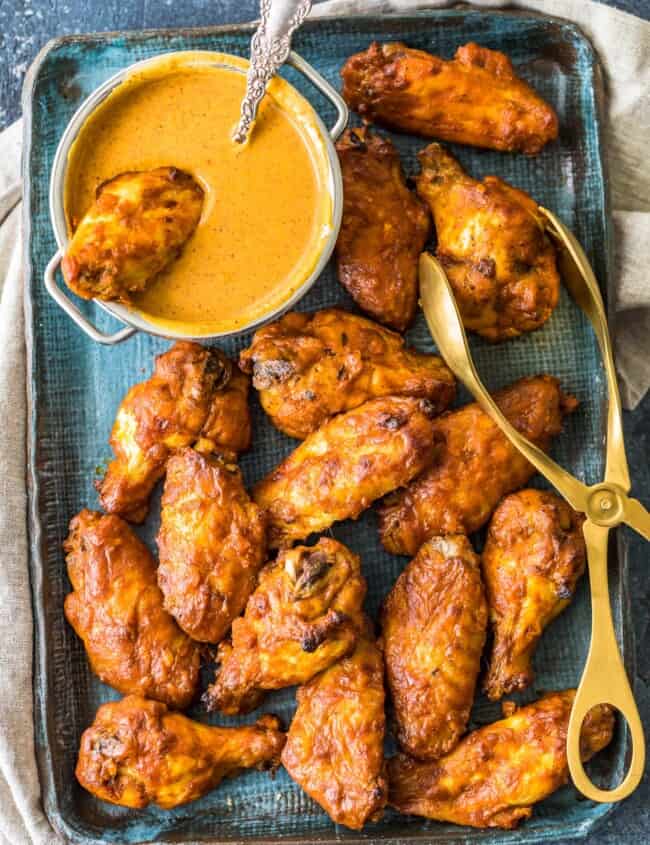 Inspired by the classic chicken tikka masala, these tasty wings are infused with Indian spices and make for an excellent game-day snack. If you and your friends love Indian food, make sure to make an extra batch as these will go out in seconds!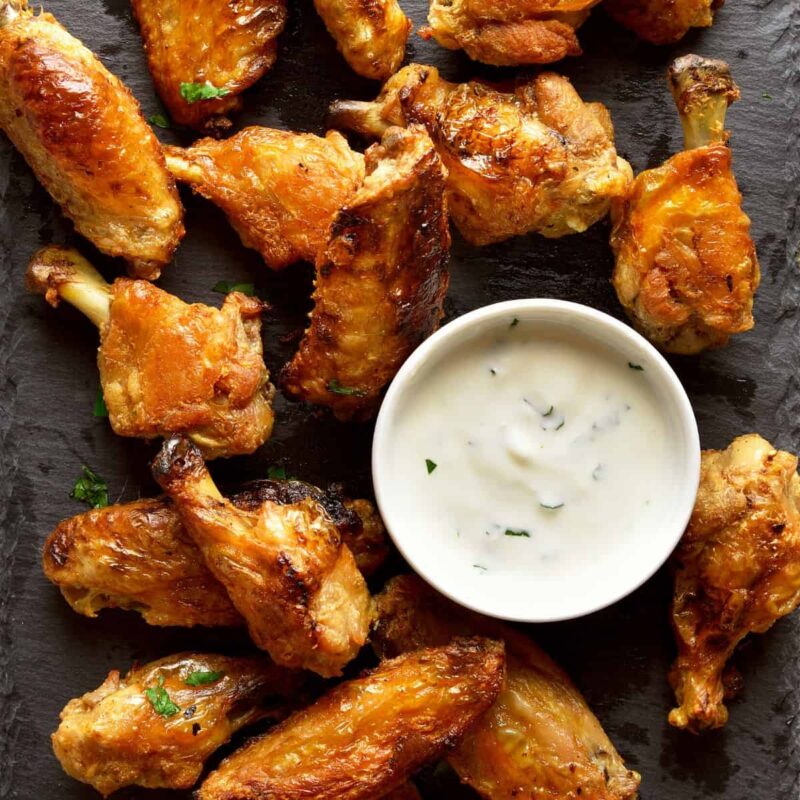 These perfectly crisp, dry-rubbed chicken wings are easy to make, savory, and bursting with flavor. Simply rub them with oil, season them, and bake them till golden brown. These will make your Super Bowl Watch Party incredibly enticing and scrumptious!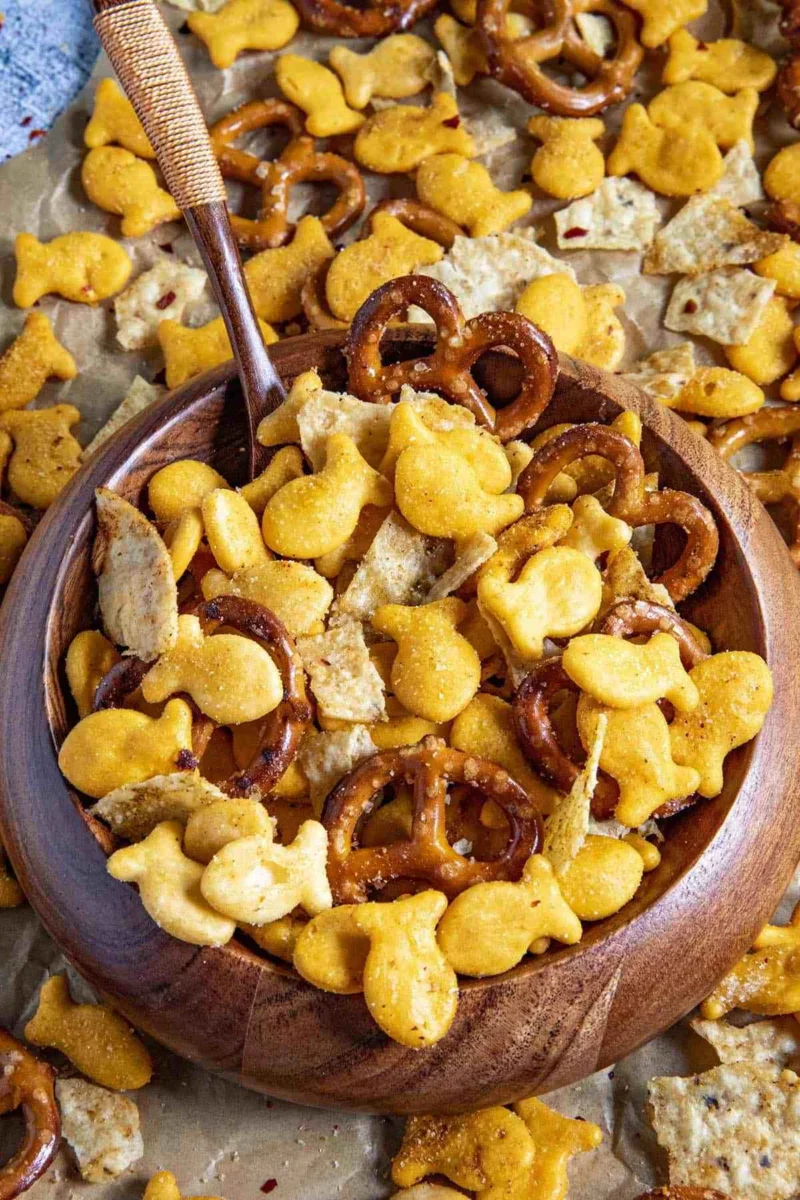 This recipe is simple to prepare and combines all the delightful flavors of crunchy, salty, and buttery Chex Mix with a dash of smokey, spicy deliciousness! It's the ideal treat to share with your friends and family while hosting a Super Bowl watch party!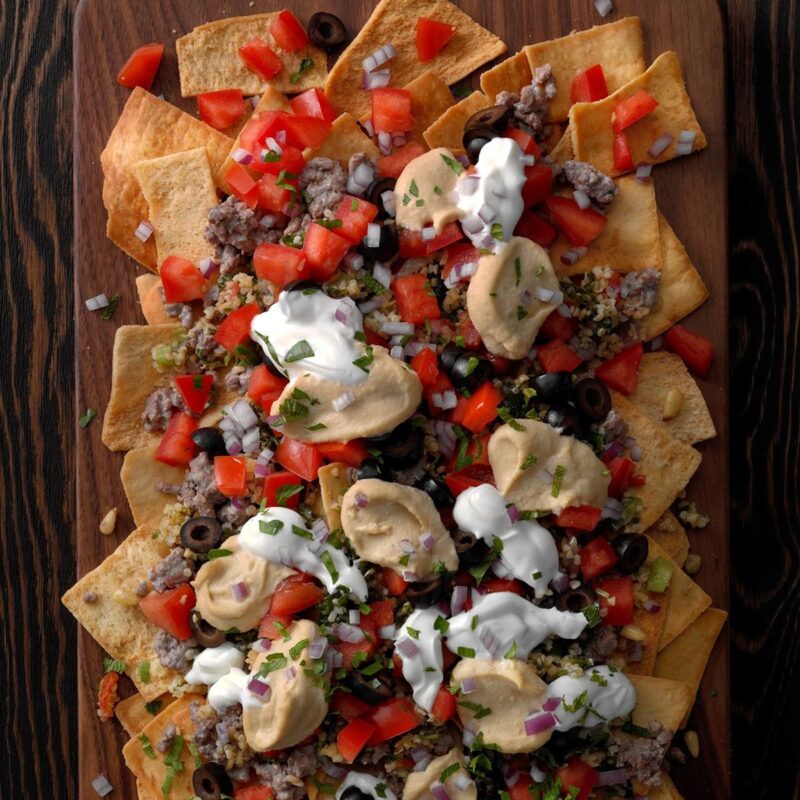 If you love Middle Eastern food, then you surely wouldn't want to miss out on making these super easy Mediterranean Hummus Nachos as one of your Super Bowl appetizers this year! This is one of my go-to Super Bowl appetizer recipes that's a bit different than your typical nachos but are still delicious.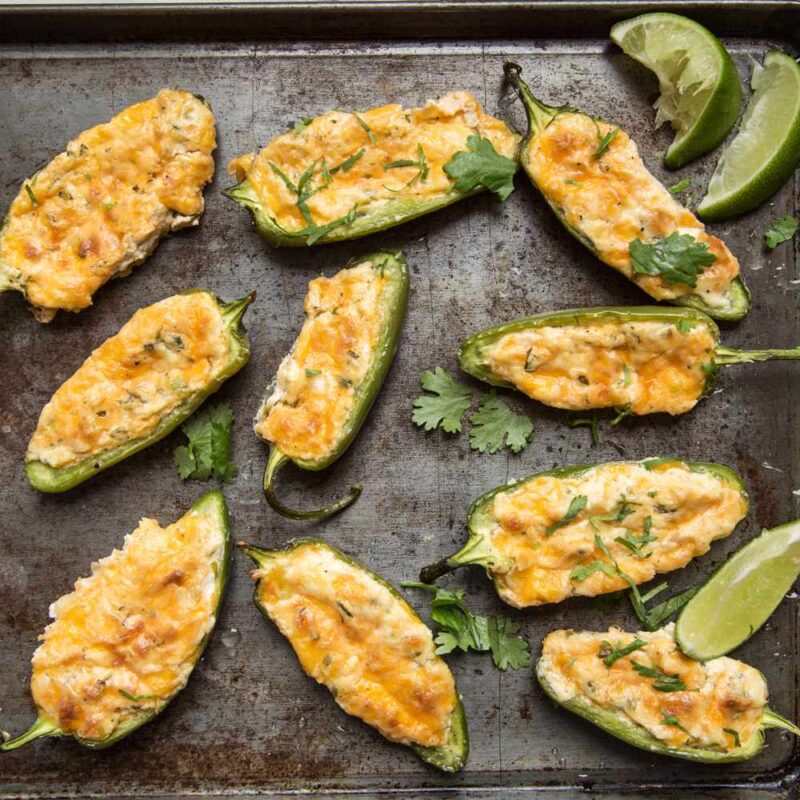 These stuffed jalapenos are the ideal game-day snack and are best served with cold beers among your best friends and family. A cheddar and cream cheese mixture with garlic, cilantro, and scallions is stuffed inside halved jalapenos.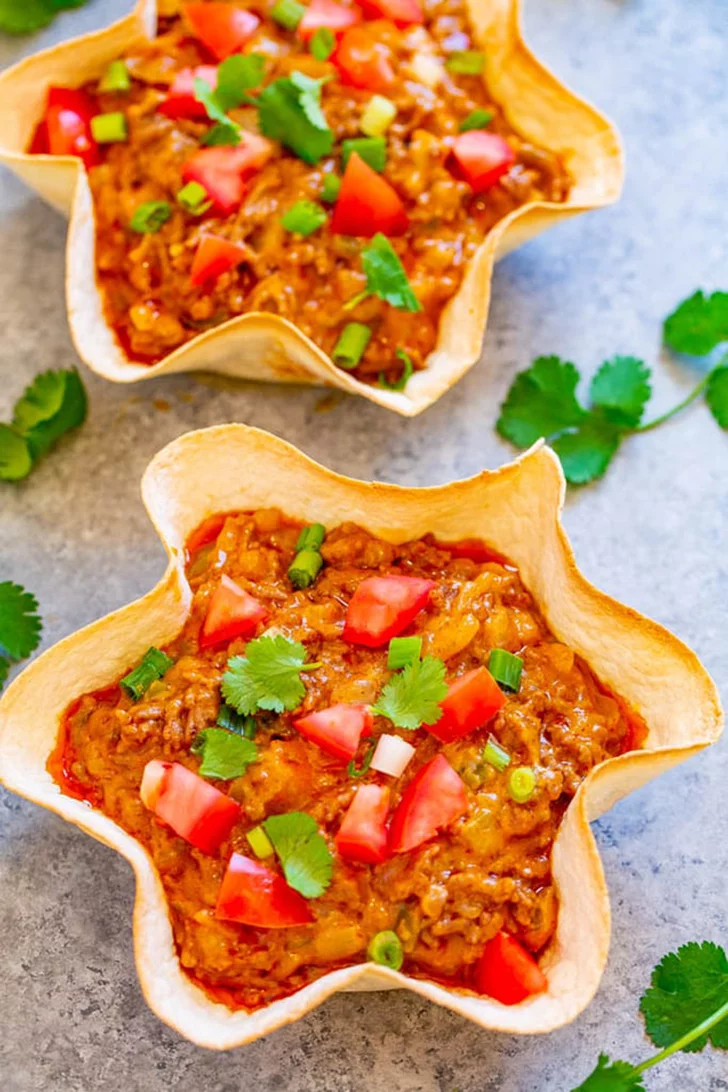 This simple and very cheesy beef taco dip will be just perfect for you if you're anything like me and enjoy the munchies, dips, and appetizers more than the actual game. The fact that this dip is easy to make and ready in 15 minutes will be a huge plus for a throng of hungry guests!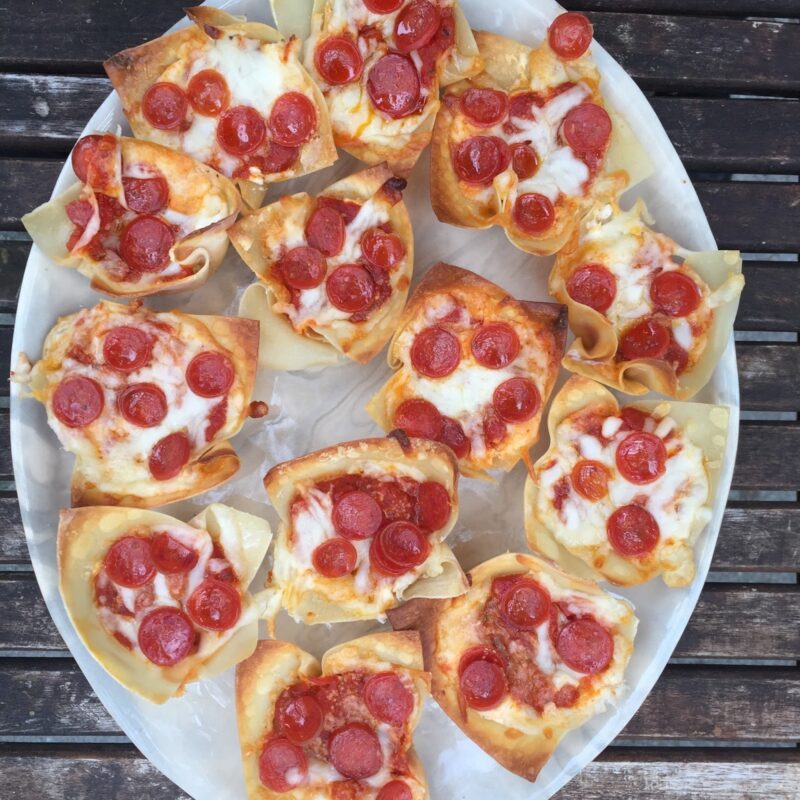 These Pizza Wonton Bites are the perfect kind of finger food to serve during your Super Bowl watch party! I mean, who doesn't love pizza, right? As the name suggests, this tasty treat is bite-sized and perfect to munch on during the game.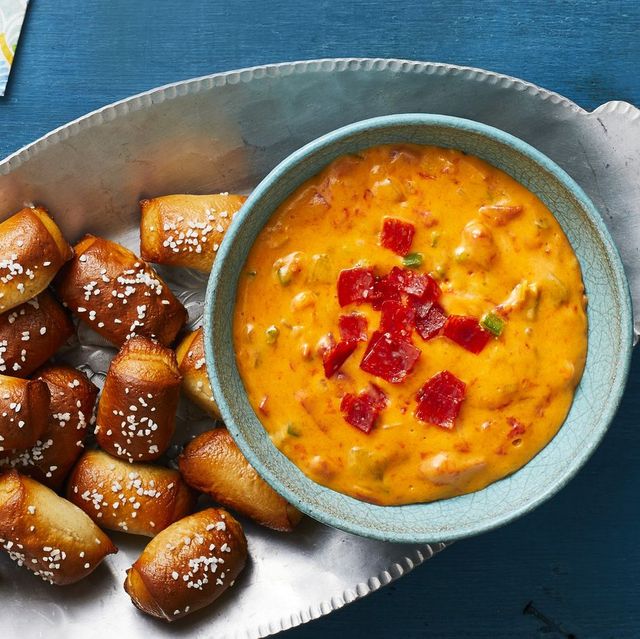 Without a tasty dish of queso, the Super Bowl wouldn't be the same. For a savory variation, pepperoni is inside this version. Add extra red pepper flakes or spicy sauce for even more spiciness.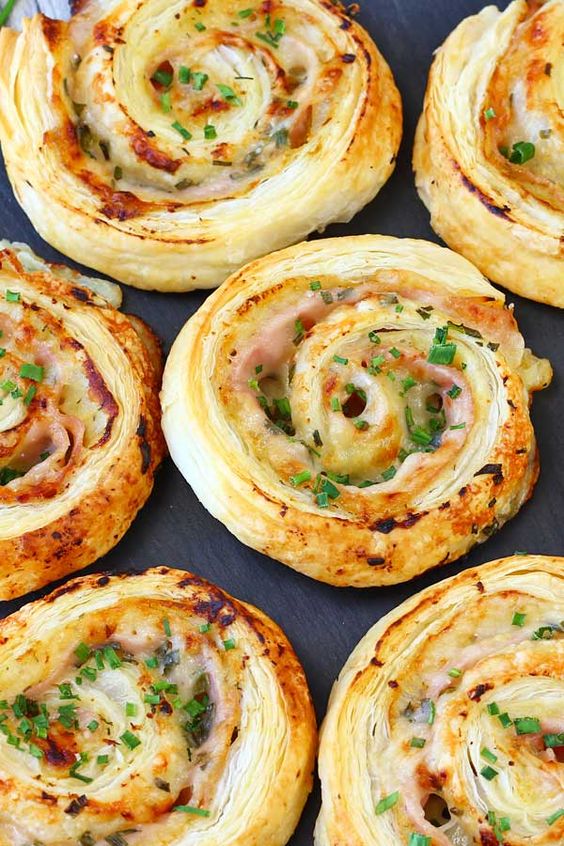 These pinwheels of honey mustard, ham, cheese, parmesan, and chives are a quick and tasty snack! They are delightful and stunning in every way. Perfect as one of your Super Bowl appetizers.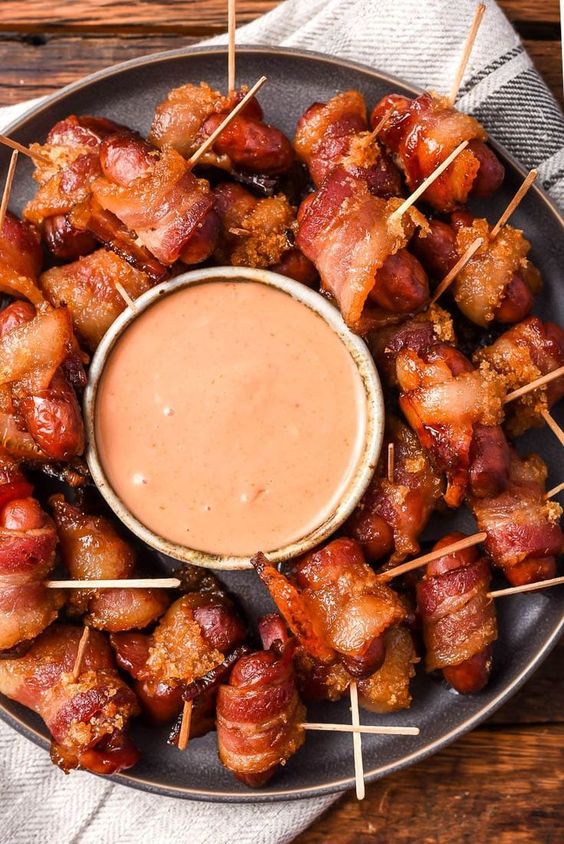 Looking for Super Bowl appetizer recipes that appeal to meat lovers? Because of their sweet, smoky, and hard-to-resist taste, these Bacon Wrapped Smokies are also known as "Meat Candy."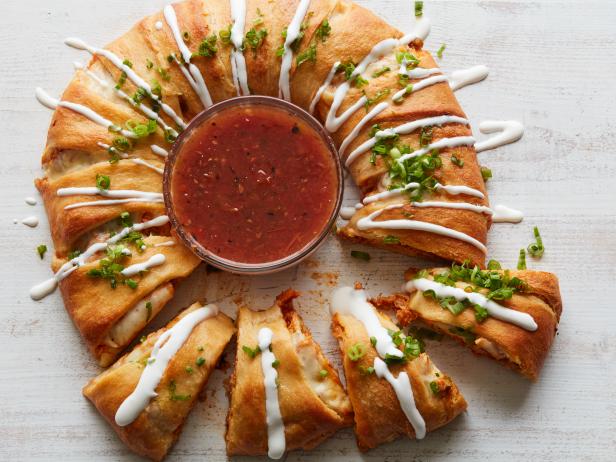 In place of the maize tortillas traditionally used in enchiladas, the flaky, golden crescent dough is used instead. You can make it into a portable, Mexican-inspired crowd-pleaser that is ideal for your Super Bowl watch party by adding a cheese-filled chicken enchilada.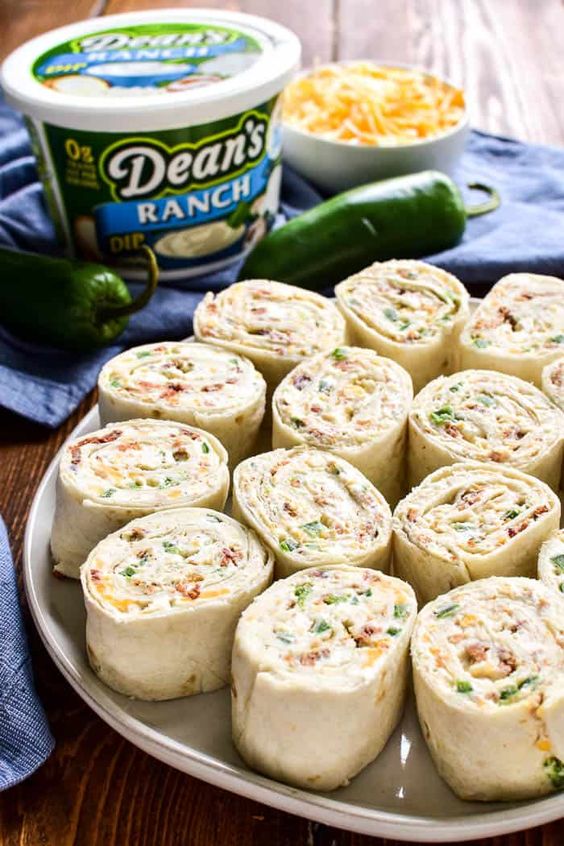 Looking for Super Bowl appetizers that can sit out for a while? These French Onion Spinach Artichoke Dip and Jalapeno Popper Pinwheels could be your go-to recipes for flavorful and simple Super Bowl snacks.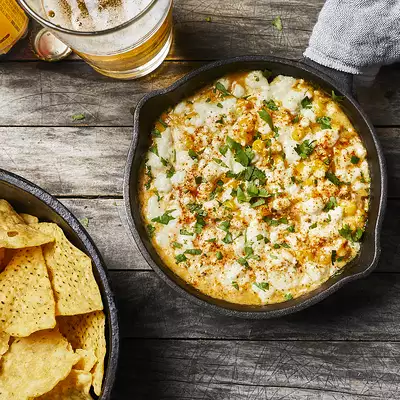 This delicious dip, which was influenced by Mexican elote and esquites, combines fiery jalapeno, sweet corn, and lime juice for a great burst of zest.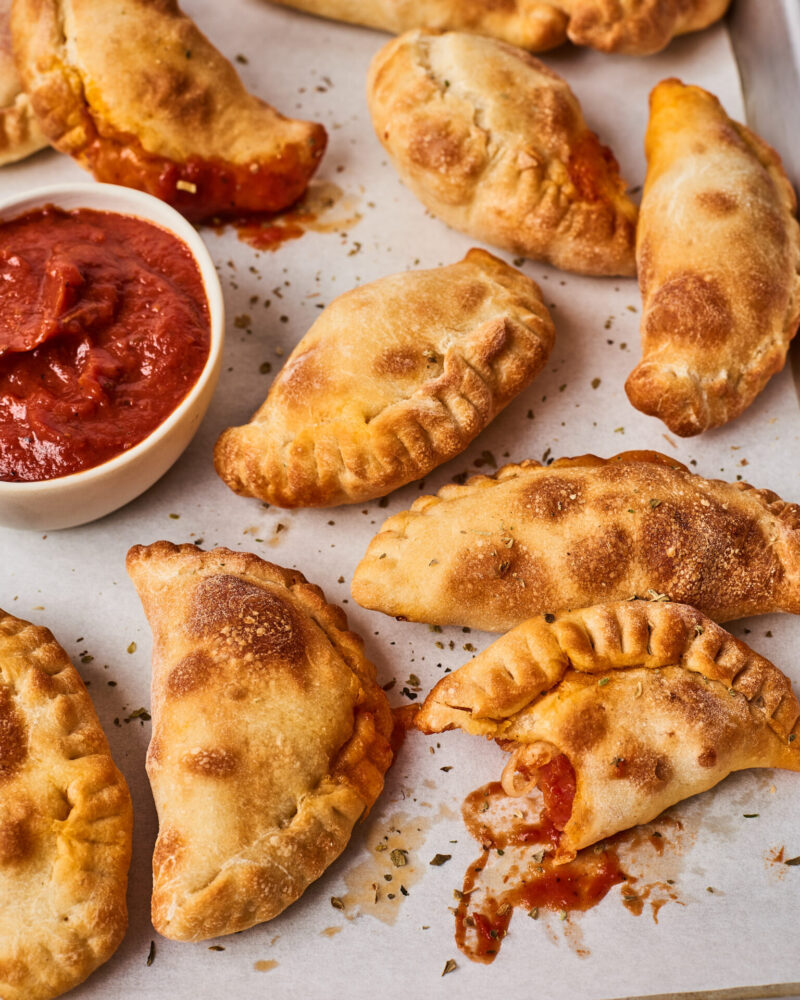 These little calzones, which are ideal for your Super Bowl viewing party, are made with pre-made pizza dough and stuffed with melty cheese, tangy tomato sauce, and hot pepperoni.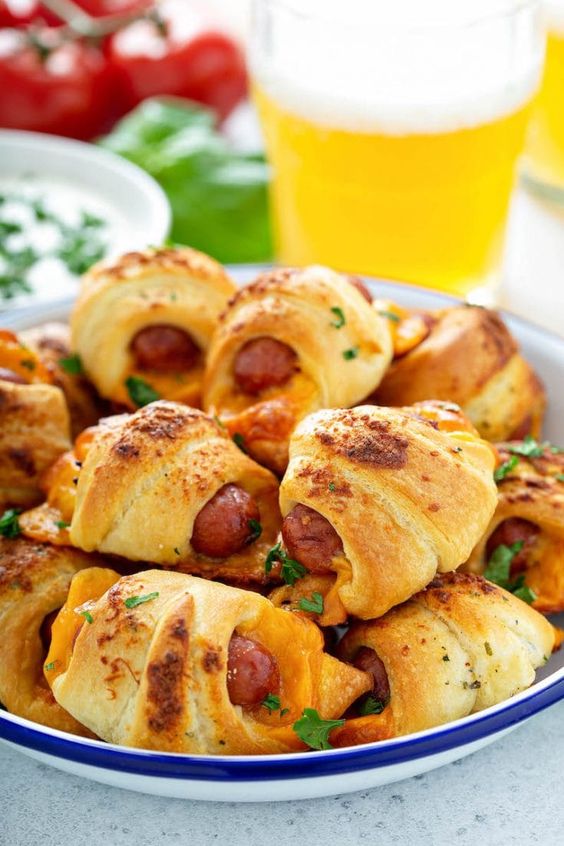 With cheddar cheese and a buttery Parmesan ranch coating, these quick and simple Cheesy Ranch Pigs in a Blanket will enhance your favorite traditional party snack during your Super Bowl watch party!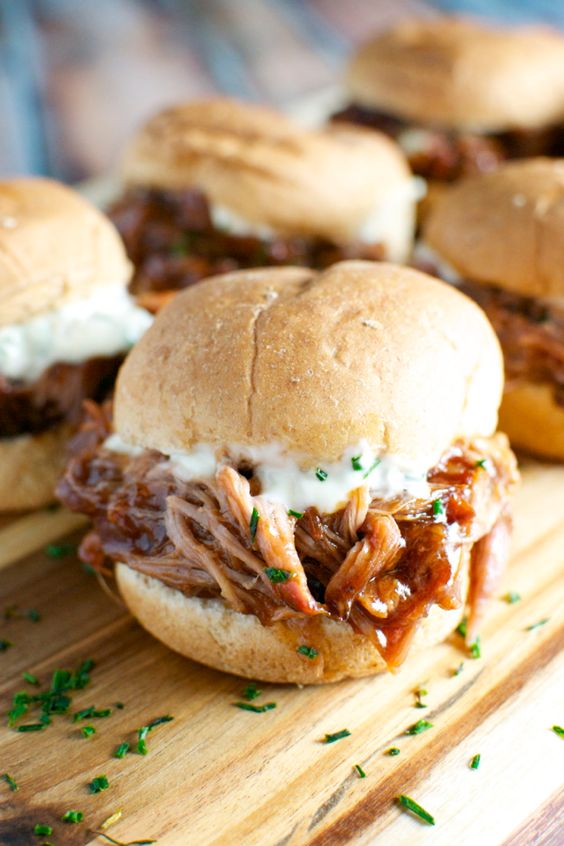 The slow cooker makes the pulled pork sliders with garlic aioli, making this dish incredibly easy to make. Slow-cooked in barbecue sauce, the pulled pork is then shredded and put on a fluffy bun with garlic aioli. These are sure to impress your guests at your Super Bowl watch party!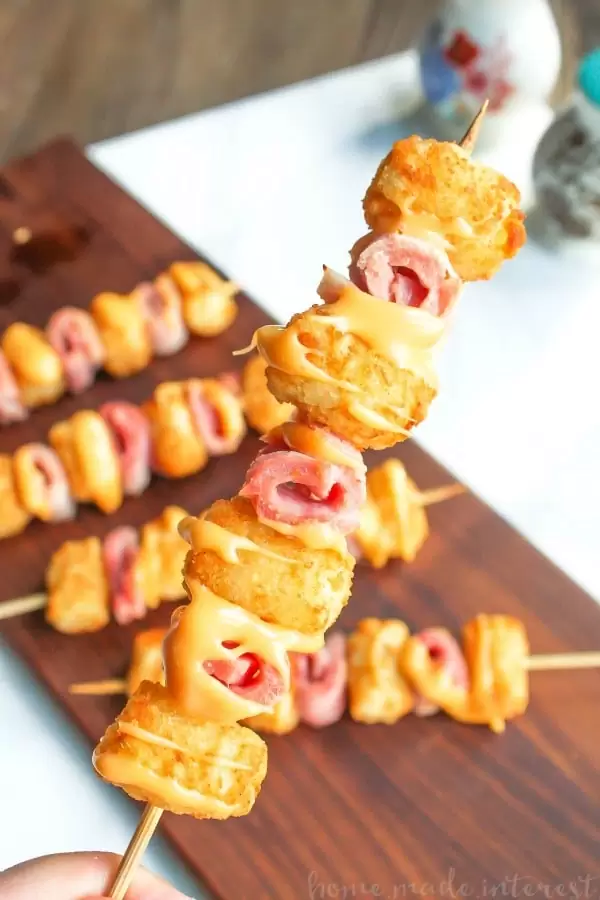 Layers of ham and tater tots are skewered together and sprinkled with creamy cheese in this simple appetizer dish for ham and cheese tater tots. This is one of my favorite Super Bowl appetizer recipes to make when you really want to fill up your guests.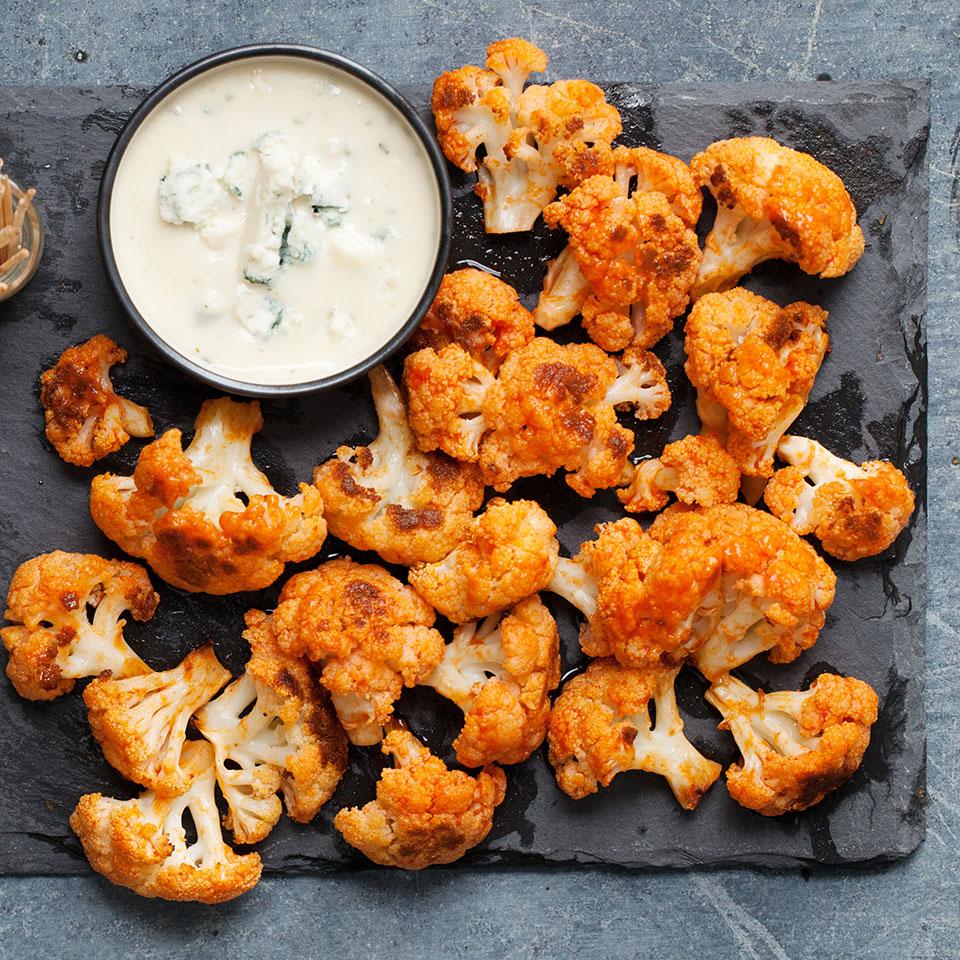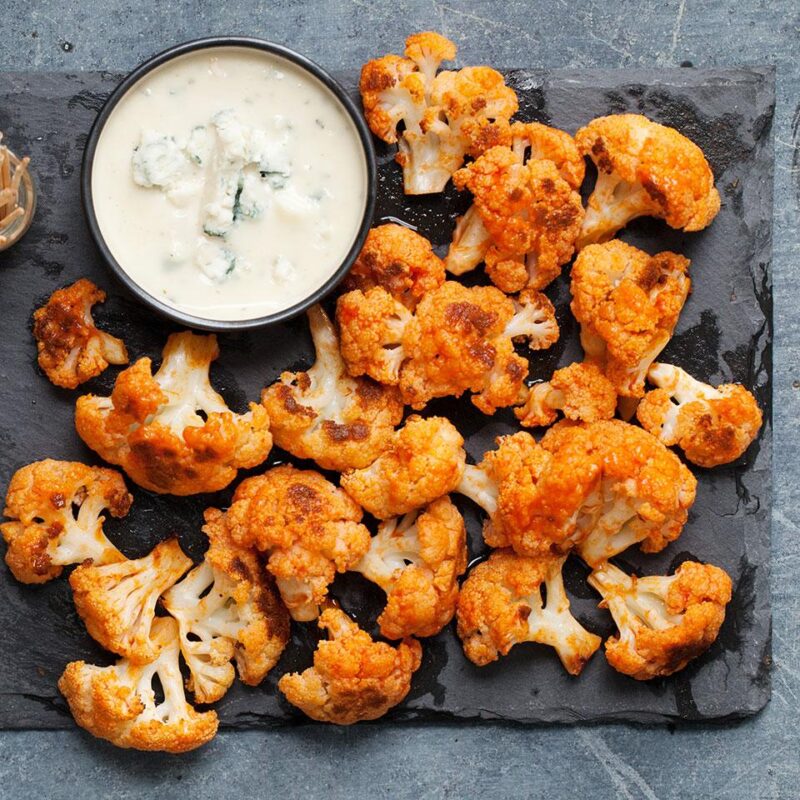 Instead of the traditional buffalo wings, try out these vegetarian spicy Buffalo cauliflower nibbles! These have more fiber and fewer calories. It's the perfect healthy substitute if your guests are either vegan or just simply watching their health.
These bacon-wrapped jalapeno poppers are utterly fantastic. They are delicious on their own or dipped in ranch. These jalapeno halves are packed with melted cheese and wrapped in crispy bacon.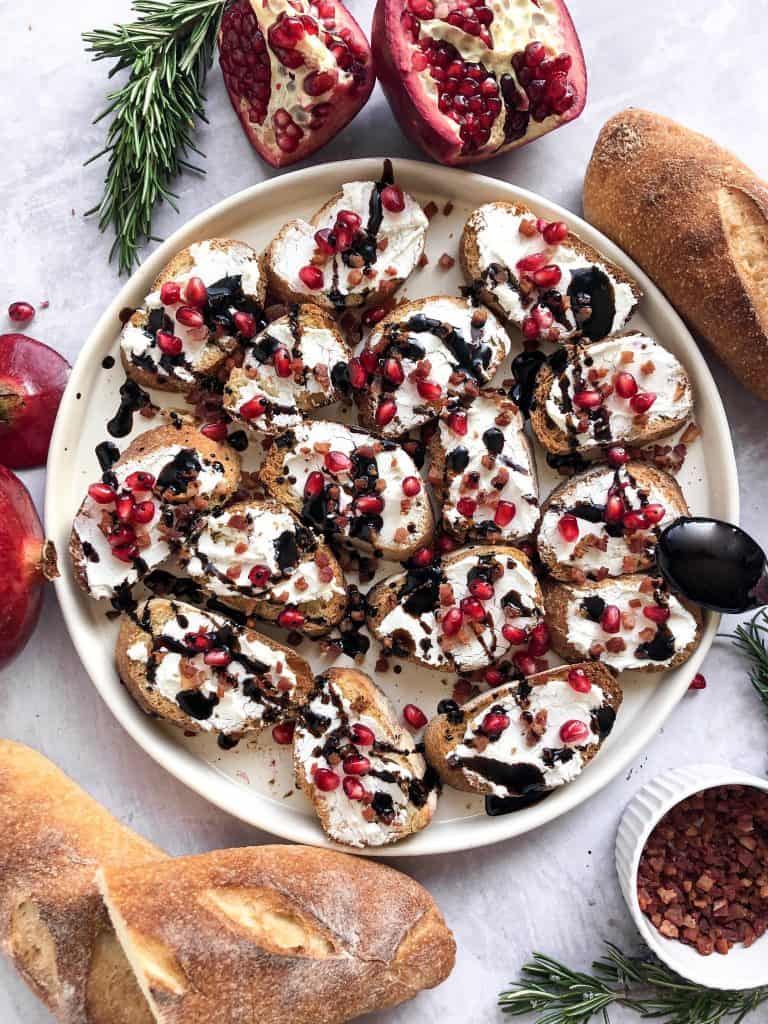 Looking for Super Bowl appetizer recipes that are a bit more upscale? Creamy whipped goat cheese, pomegranate seeds, and salty pancetta are all combined in these Goat Cheese Pomegranate Crostini before being drizzled with balsamic sauce.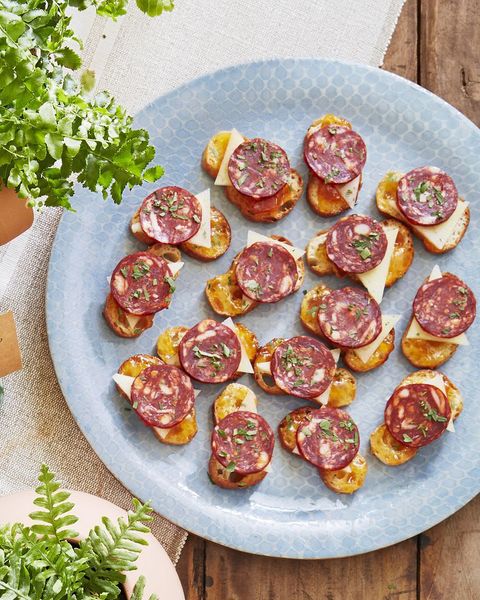 The real hero of this simple crostini snack is apricot jam. Sliced chorizo and Manchego cheese are placed on top, and fresh parsley is then added.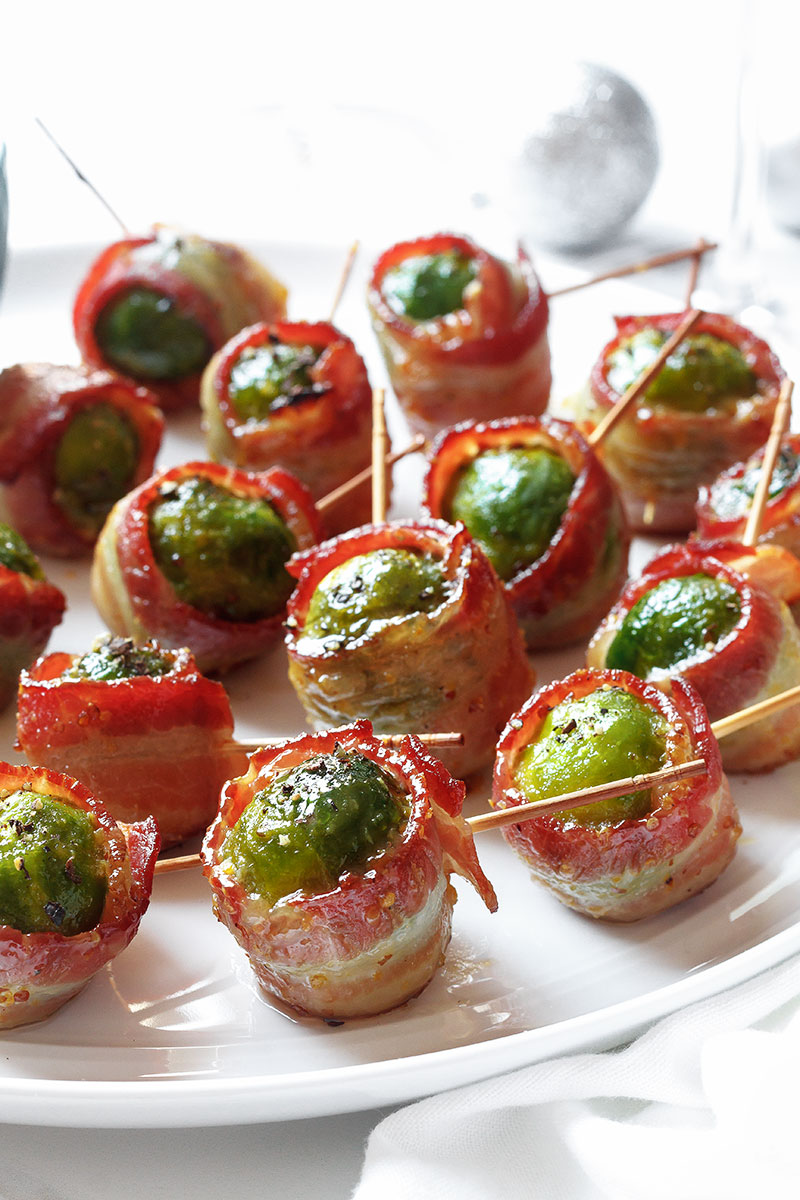 On your Super Bowl watch party, these bacon and Brussels sprouts snacks complement your snack table. These bite-sized delights are sure to be instant crowd-pleasers!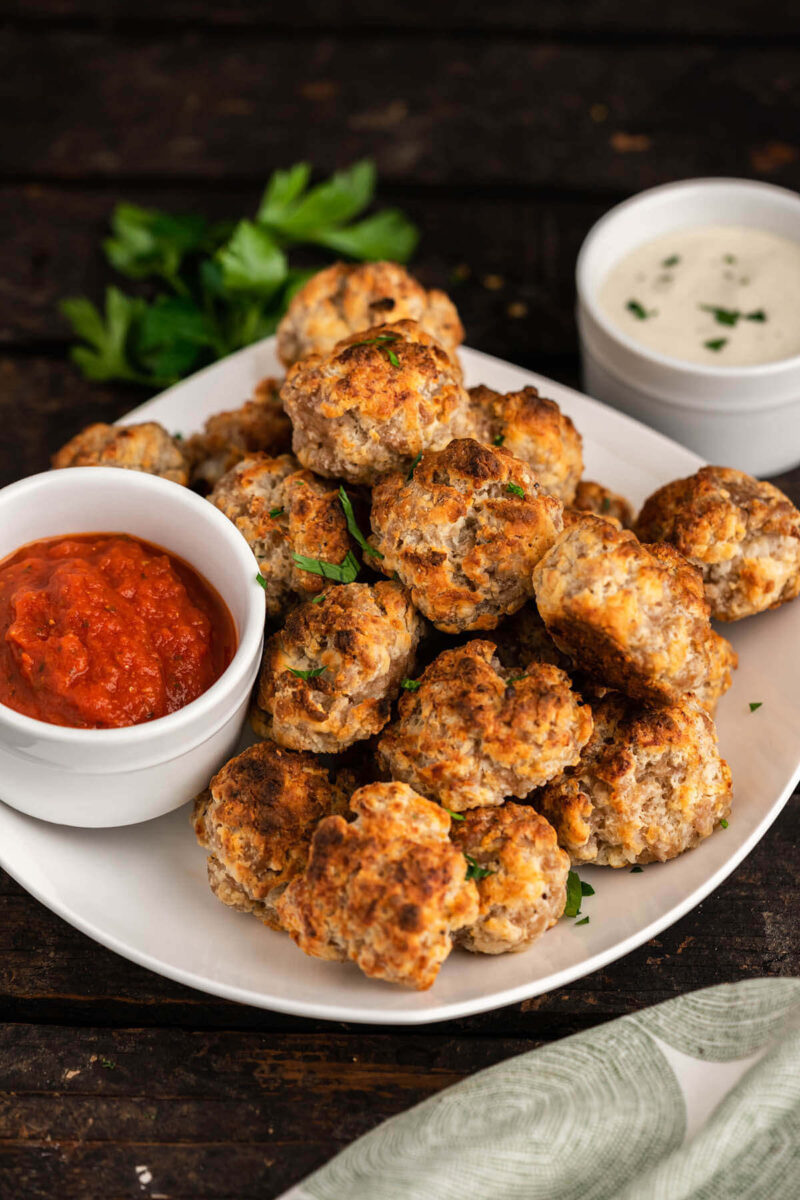 This recipe for sausage balls with cream cheese is a beloved classic starter. These easy-to-prepare balls of cheesy sausage delight are full of savory tastes and make the ideal appetizer for your Super Bowl watch party.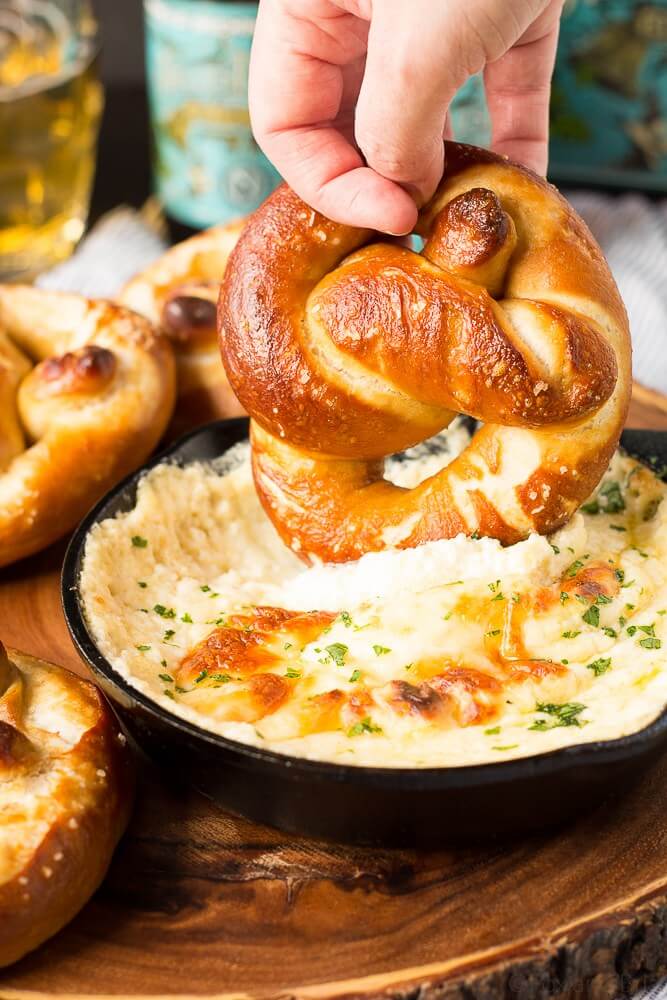 Looking for Super Bowl appetizer recipes that have a German feel? The soft and fluffy pretzels in this Soft Beer Pretzels with Beer Cheese Dip recipe come with a cheesy, delectable sauce. Perfect for parties and game days!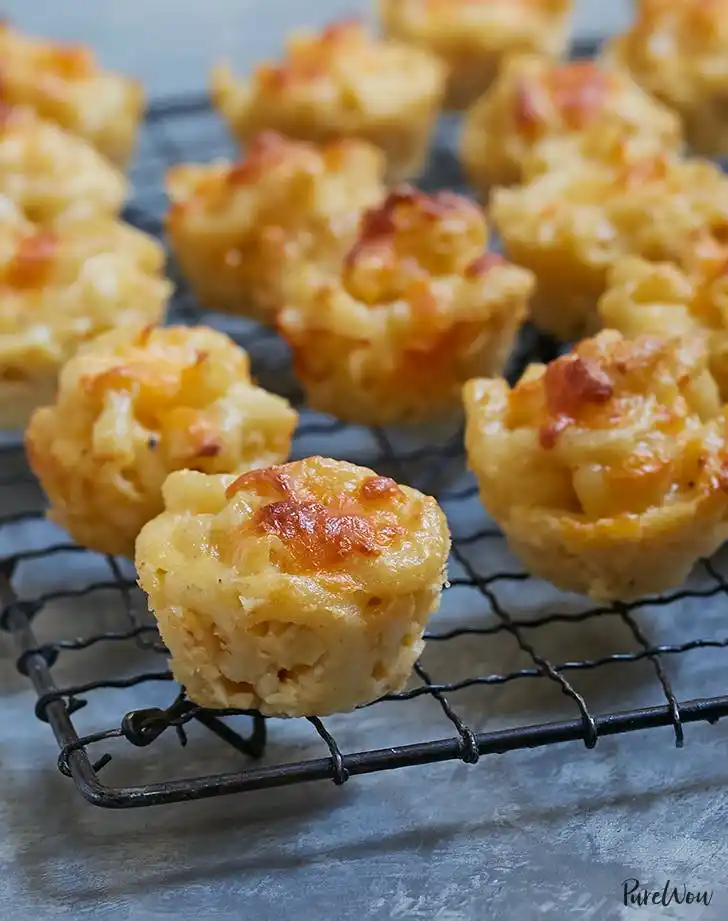 What could possibly top the classic mac and cheese? These little baked macaroni and cheese nibbles! They have a wonderful chewy inside and a crunchy outside that'll have you and your friends returning for more. And can you even really set up Super Bowl appetizers without including some sort of mac and cheese dish?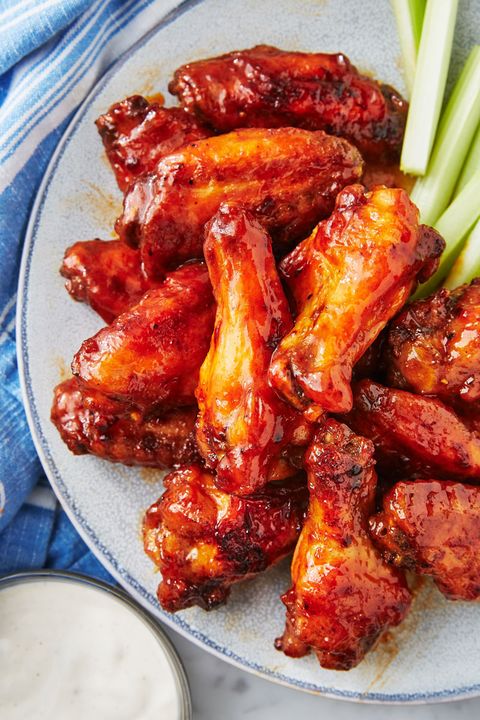 Chicken wings are a staple at every Super Bowl party or tailgate. However, frying wings can be messy and take a lot of time, taking time away from watching the game. This year, avoid the fried wings and prepare these baked Buffalo wings instead. They are so much simpler and yet produce a dish that is just as delightfully crispy and savory.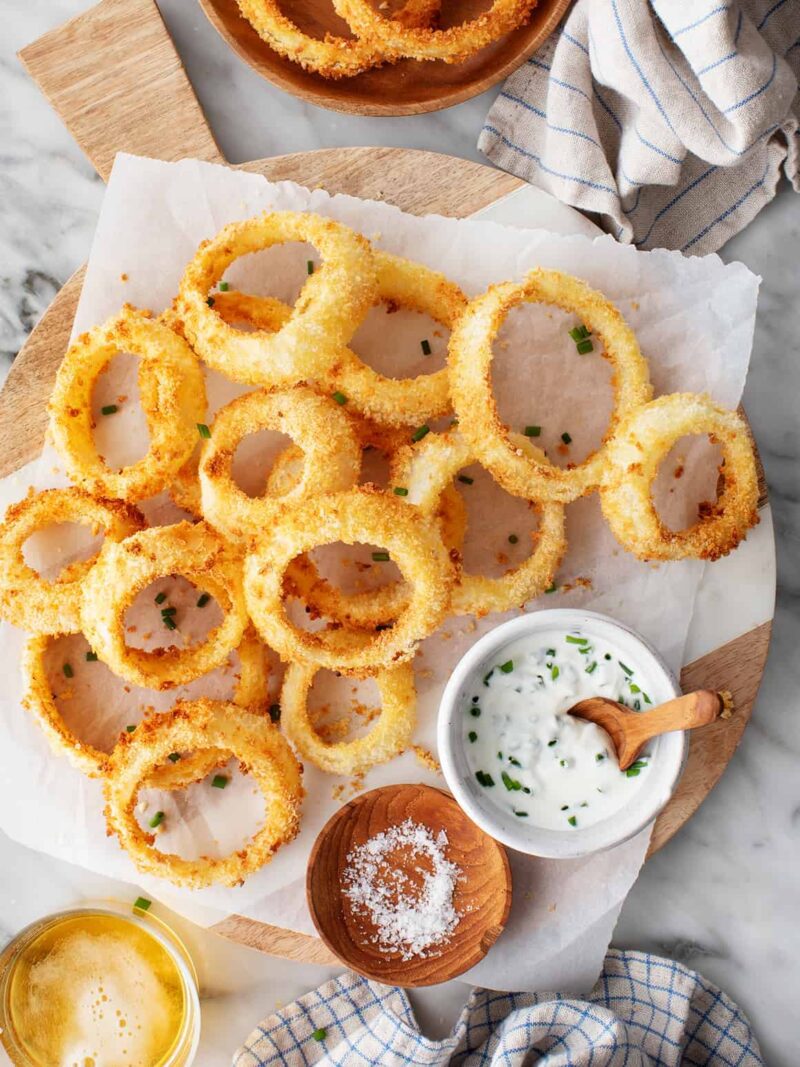 These onion rings cooked from the air fryer provide a quick and enjoyable starter for your Super Bowl watch party. They have a sweet onion taste and are soft on the inside but crispy on the outside. This is also one of my favorite Super Bowl appetizers to make in the air fryer!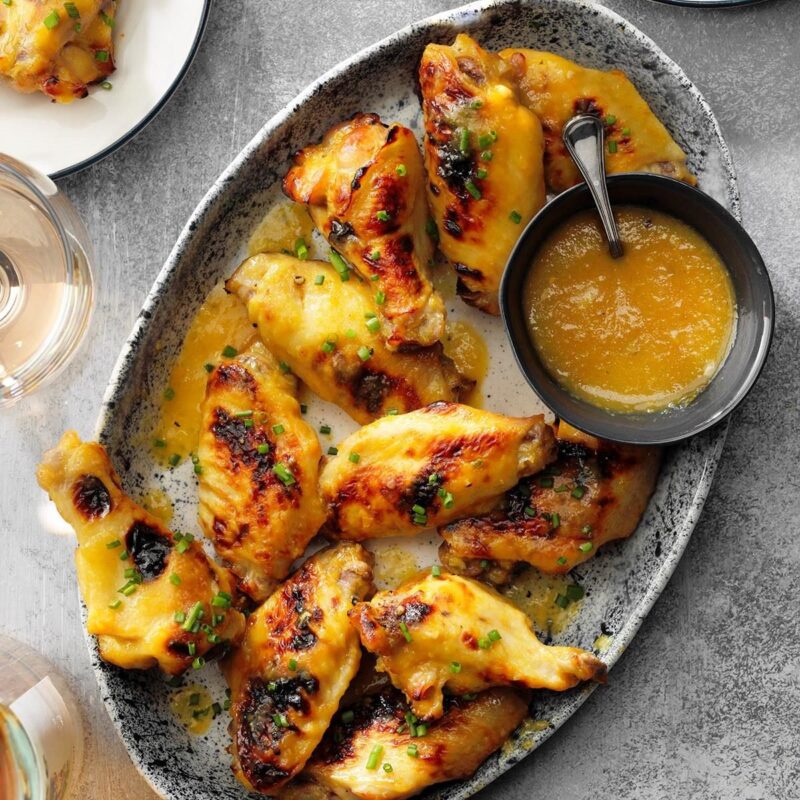 These sticky, sweet, spicy, and savory chicken wings are really delicious! Keep in mind to make an extra batch because these will instantly be gone in seconds!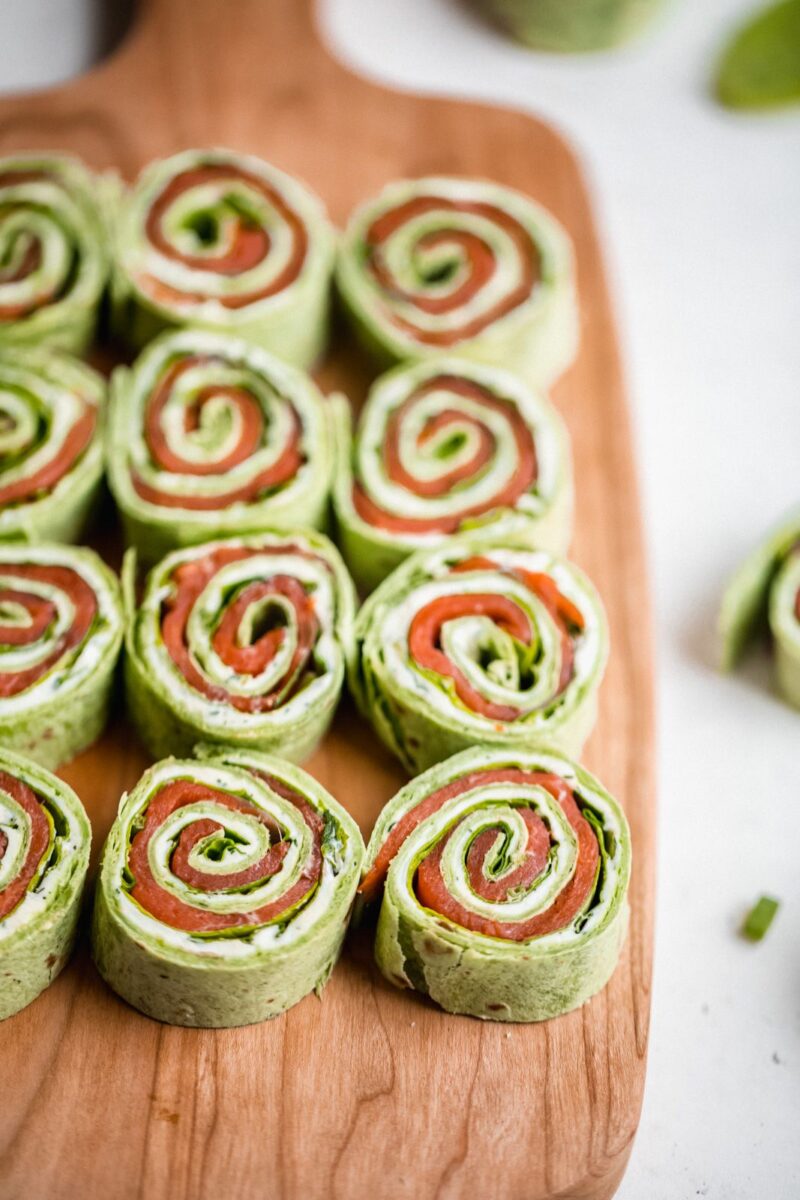 These delicious pinwheels of smoked salmon are stuffed with a ton of fresh spinach and a fragrant chive and dill cream cheese. If you're looking for a Super Bowl appetizer that is quick and healthy, this one is for you. This is one of my favorite Super Bowl appetizer recipes when I want to make something upscale but still yummy.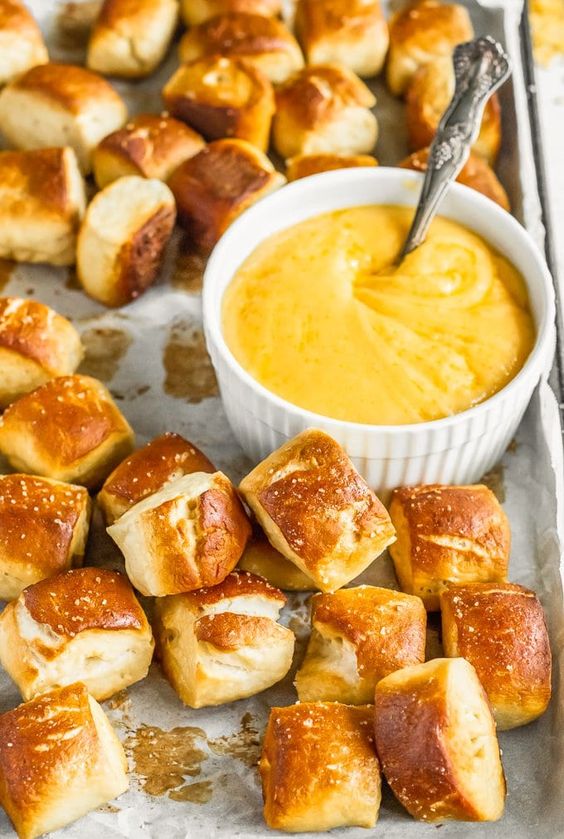 Easy to prepare and enjoyable to consume, these soft pretzel bites will surely be an instant crowd-pleaser for your Super Bowl watch party. Serve them with every cheese dip and dipping sauce you can imagine! Plus, this is one of the easiest Super Bowl appetizers on this list by far.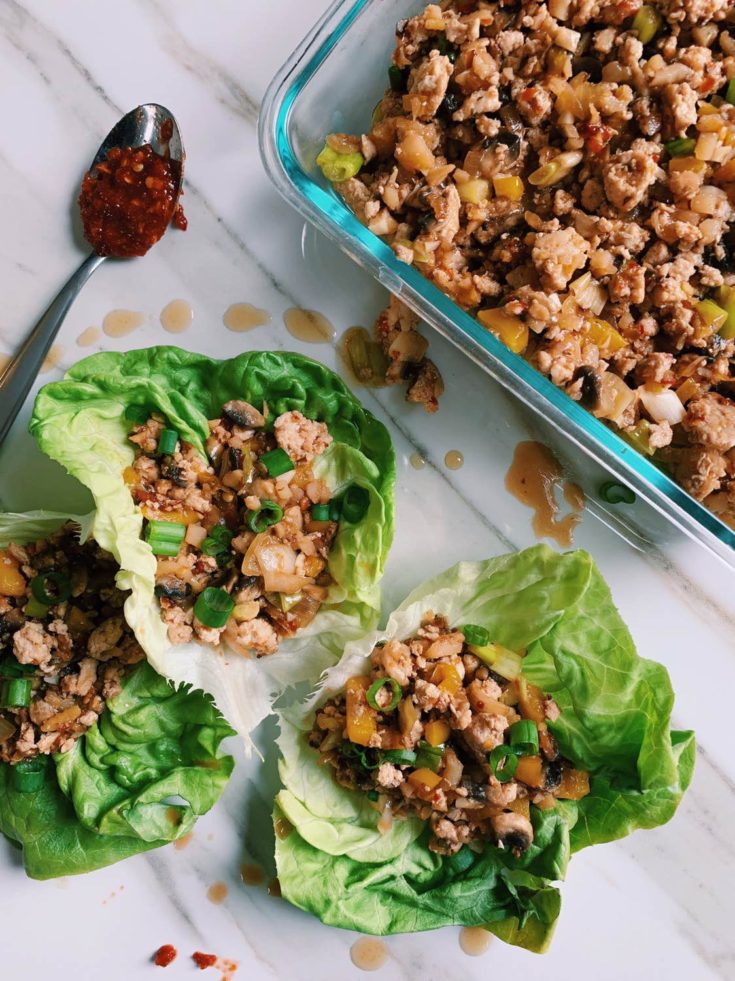 These spicy chicken lettuce wraps are going to be an instant hit at your Super Bowl watch party. You might even find yourself eating the filling right from the pan as you're cooking this appetizer!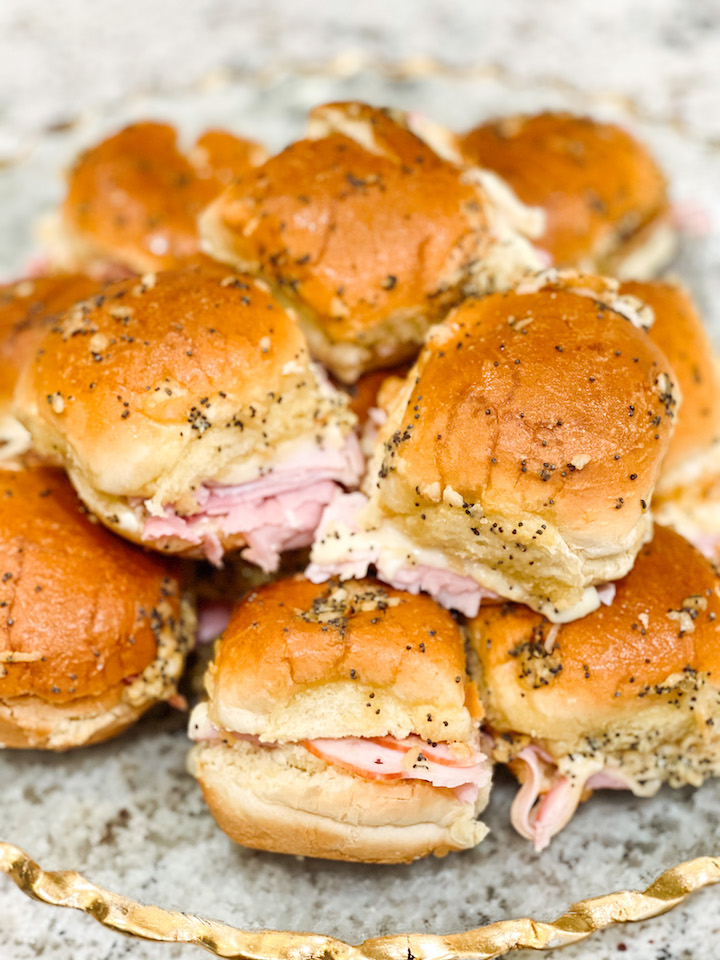 For a classic slider that's not too fussy to make and will surely be loved by everyone at game day, try creating this Ham & Cheese Slider recipe!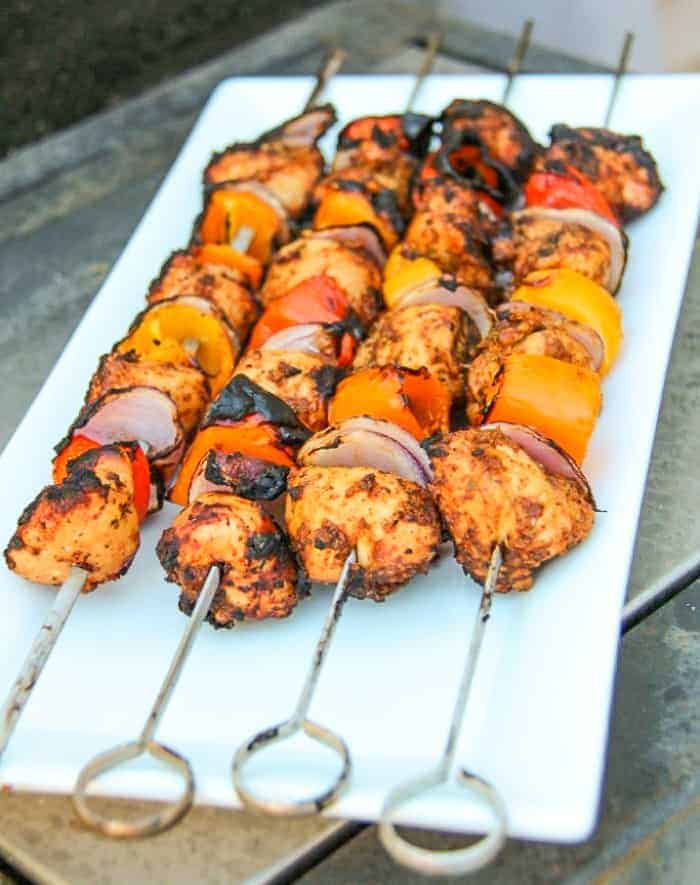 Pork is usually used in Al Pastor dishes, but this particular recipe incorporates chicken. So if you're looking for some white meat appetizers to serve at your Super Bowl watch party, this one is for you.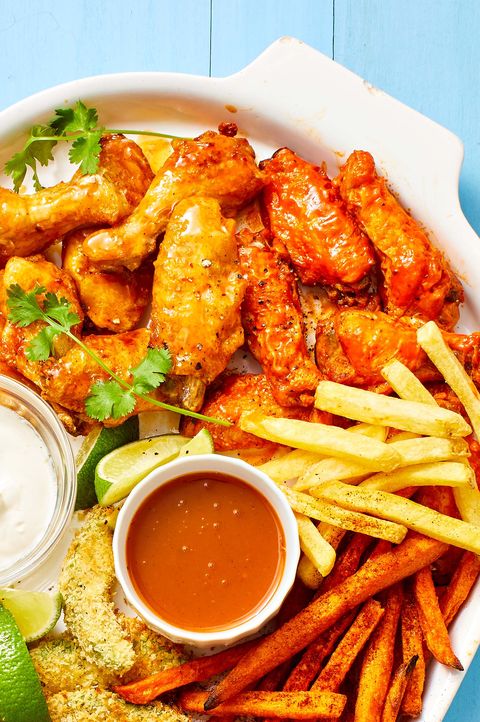 I'll bet you'll never want wings any other way after having air-fryer wings. With sauce selections ranging from traditional buffalo to spicy Caribbean, these air-fried wings will fulfill any craving you may have on game day.
Smoky Bacon-Wrapped Baby Potatoes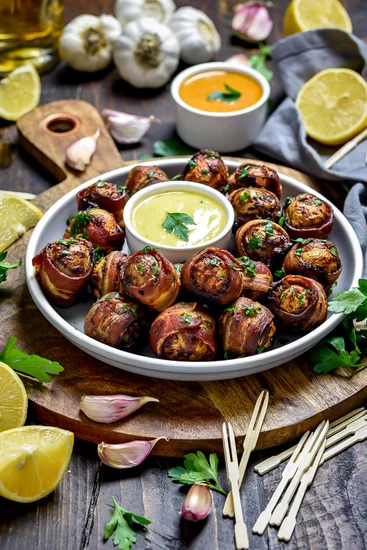 These Smoky Bacon-Wrapped Baby Potatoes are as simple to prepare as they are to eat. They are tender on the inside, with crisp bacon and a smoky spice mixture on the outside.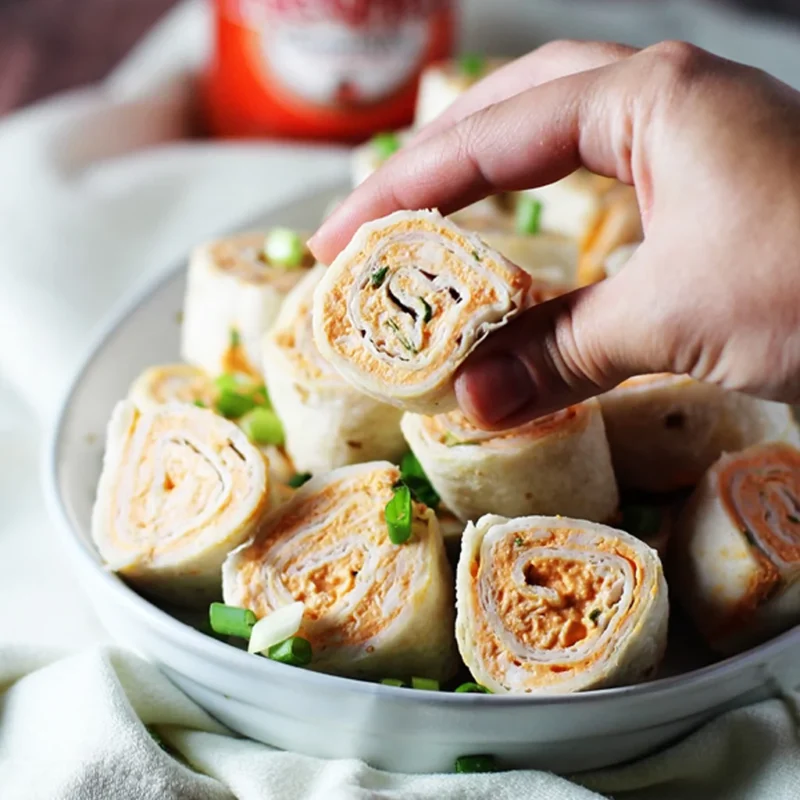 Everyone will enjoy these Buffalo Chicken Pinwheels as the ideal party snack on game day. Roll up flour tortillas, top with fresh rotisserie chicken, Frank's Buffalo sauce, green onions, and cream cheese, then cut into bite-sized pieces for easier consumption!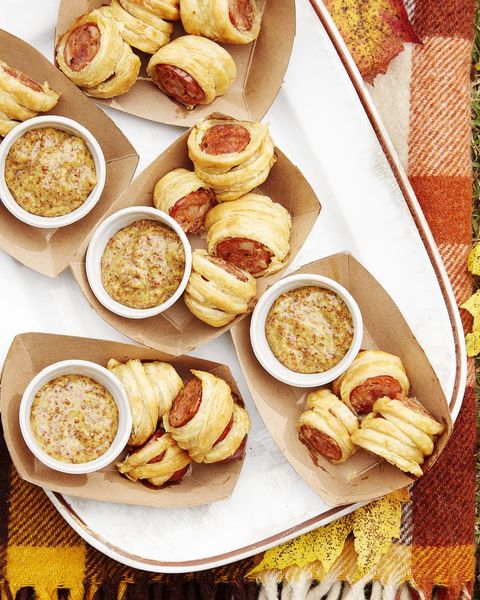 These Cajun Sausage Puffs come together quickly thanks to packaged puff pastry. It's ideal for those who don't have a lot of time to spend in the kitchen. These are totally quick and easy to make, and without a doubt, everyone will love munching on them!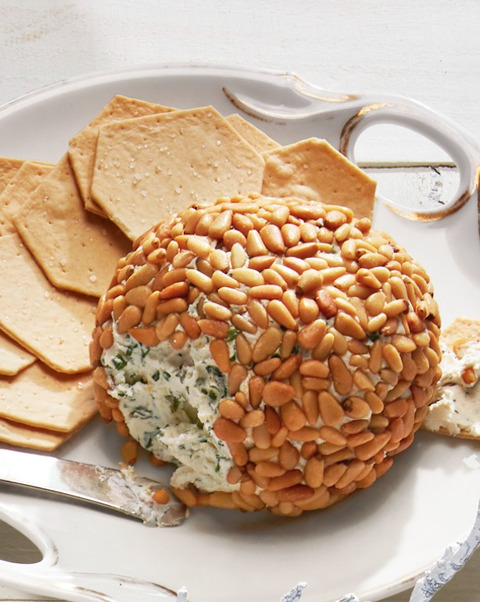 On the outside of a creamy, herb-filled cheese ball, these toasted pine nuts look utterly scrumptious! Your guests will be quick to dig into this ball of delight.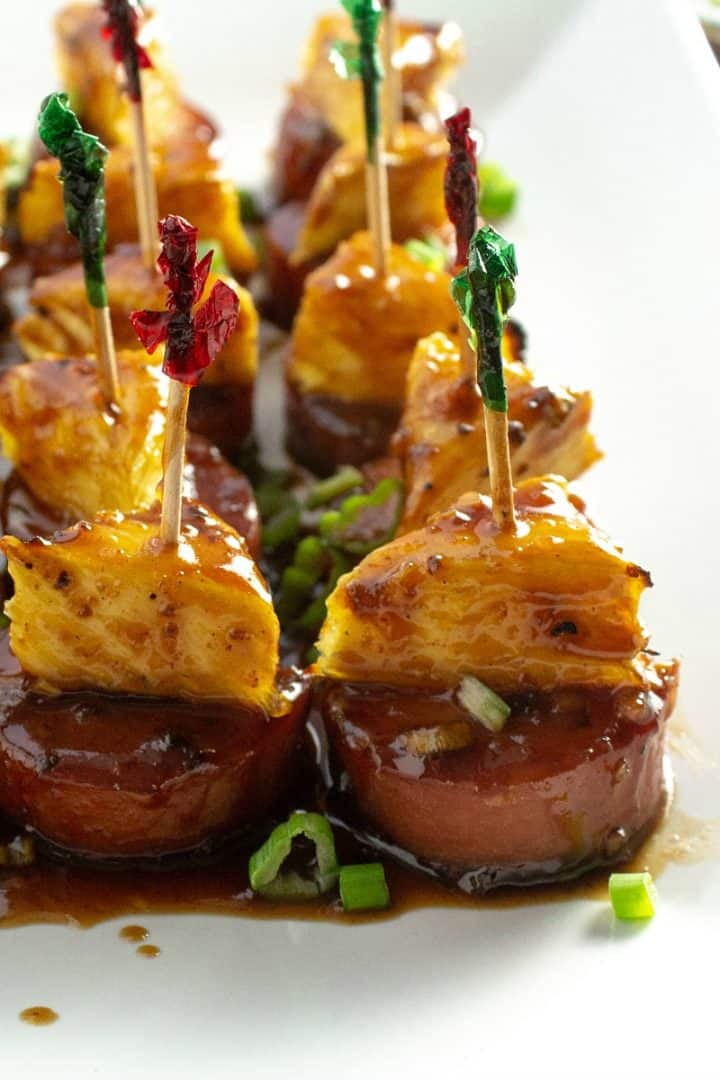 These mouthwatering sausage bites, prepared with cooked smoked sausage and pieces of fresh pineapple, are to die for! They are delicious and the ideal addition to your Super Bowl appetizers.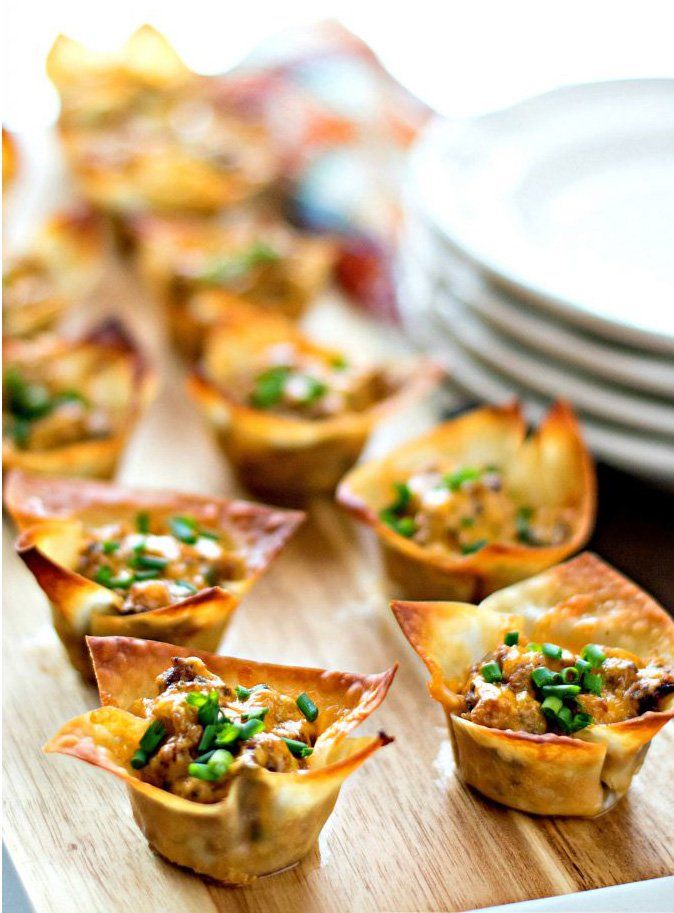 Bite-sized treats are perfect for entertaining on game day, like these Cheesy Dijon Sausage Cups. They have a filling of Dijon mustard, cream cheese, chives, cheddar cheese, and sausage, which gives the filling just the right amount of zing.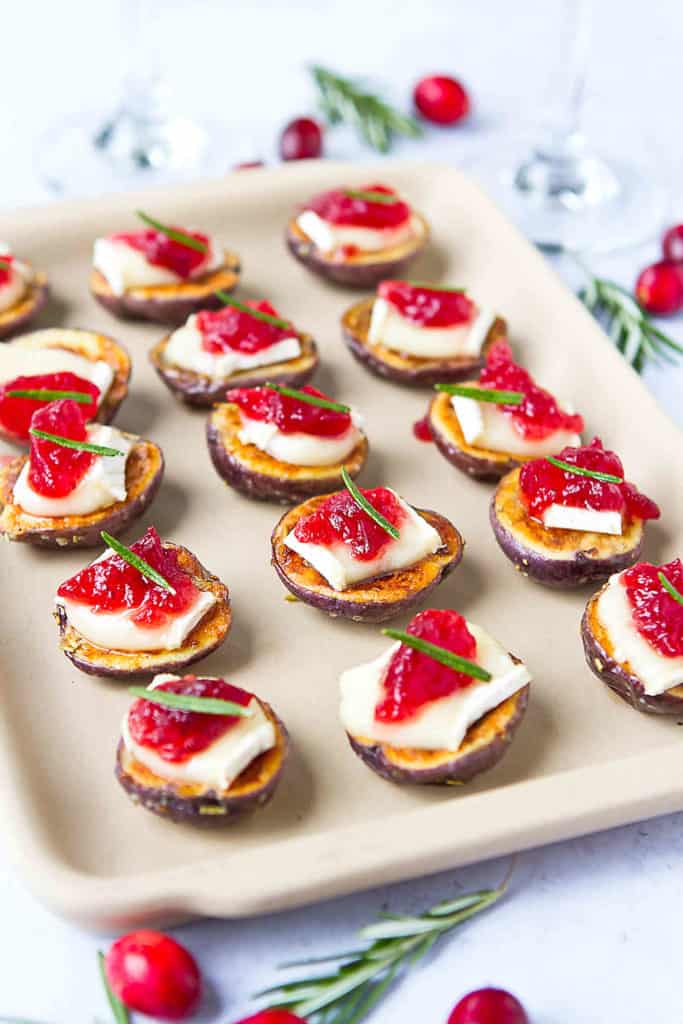 Watch these Brie Cranberry Potato Bites disappear from your appetizer table in a flash! They're a little bit sweet, a little bit savory, and they're so simple to prepare!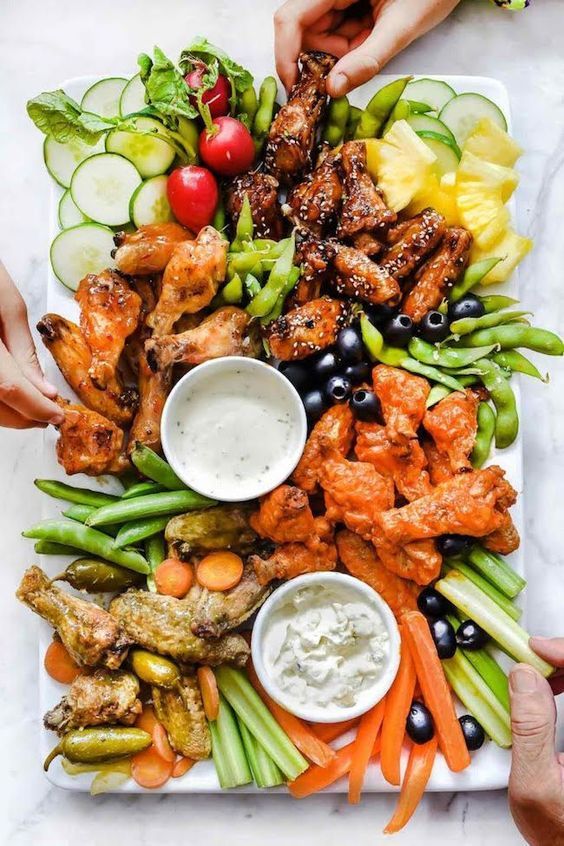 This recipe turns the idea of everyone's favorite cheese board into game-day chicken wing overdrive, starting with a recipe for crispy baked chicken wings that are then seasoned in four distinct sauces and paired with all the dipping sauces for the perfect chicken wing platter.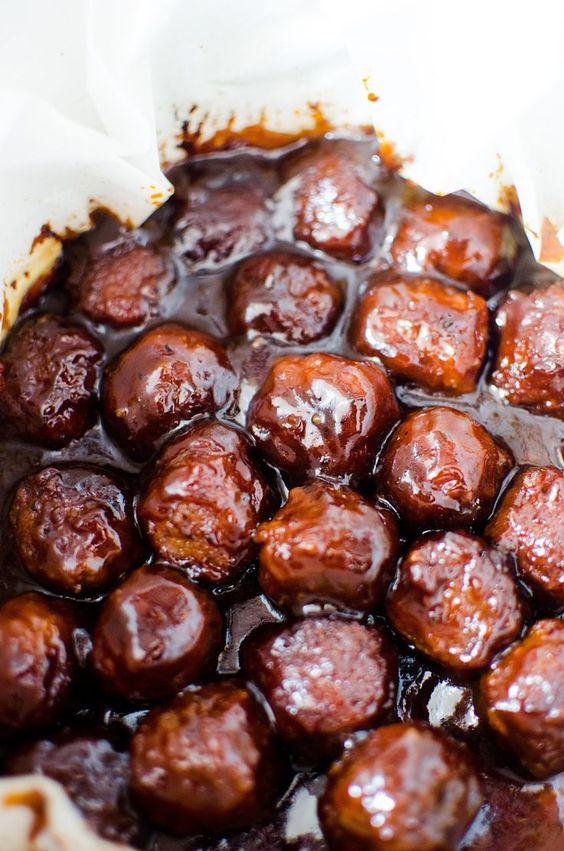 These bacon bourbon meatballs are so easy to make if you have a crockpot in your kitchen. Most of the labor is done by the crockpot, and you get to serve a delicious appetizer that is ideal for your Super Bowl watch party.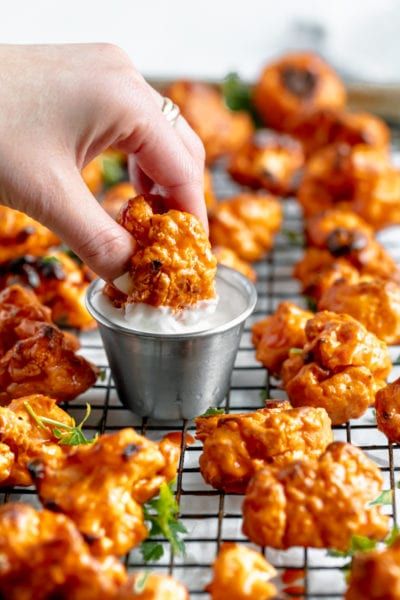 For your Super Bowl appetizers, these spicy Buffalo cauliflower wings are an ideal addition. Guests who like a little kick into their snacks will enjoy biting onto these! This is one of my favorite Super Bowl appetizer recipes for vegetarian friends.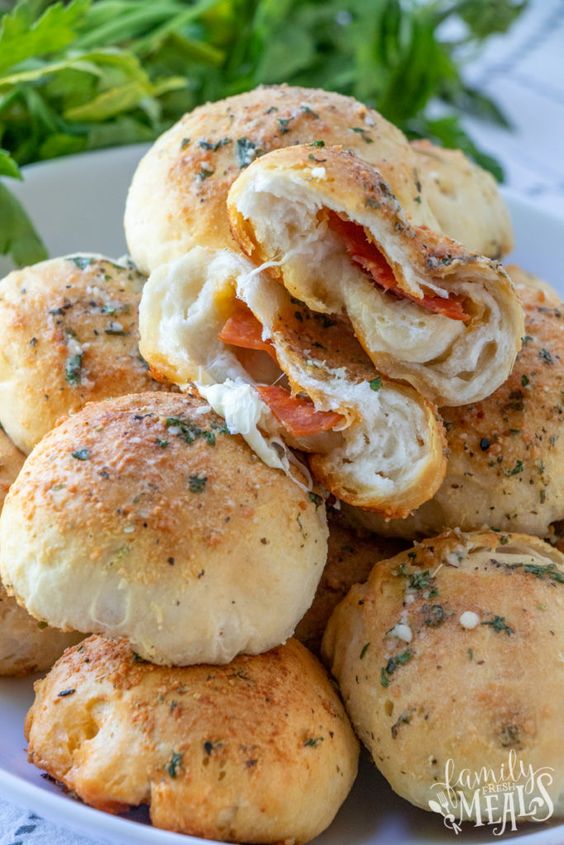 Pizza isn't an ideal appetizer but these Cheesy Pizza Bombs will make an excellent bite-sized treat for your Super Bowl watch party!