If you've ever been hit with what felt like sub-zero temperatures while you're trying to wear a trendy but casual winter outfit, you know that fashion goes out the window really quickly. Luckily, winter fashion is on-point right now, so your oversized coat doesn't have to ruin your outfit.
But how do you make sure that your outfit looks cute and functional? When you're dressing for winter, think layers. You want to pair different textures and colors together and you need enough pieces so that the outfit looks cohesive.
Today I'm sharing some of my favorite casual winter outfits! I'll include specifics about each outfit and how to recreate a similar look.
Casual Winter Outfit Pieces You Need In 2022:
This year, there are specific winter outfit pieces that are especially trendy. You can use each of these pieces to mix and match once you've stocked your closet!
Pick pieces that work for your style and express your personality. Don't be afraid to experiment with colors or textures either — just remember to keep the color palette of your outfit as a whole harmonious. Neutrals are key right now!
9. Puffer Coat: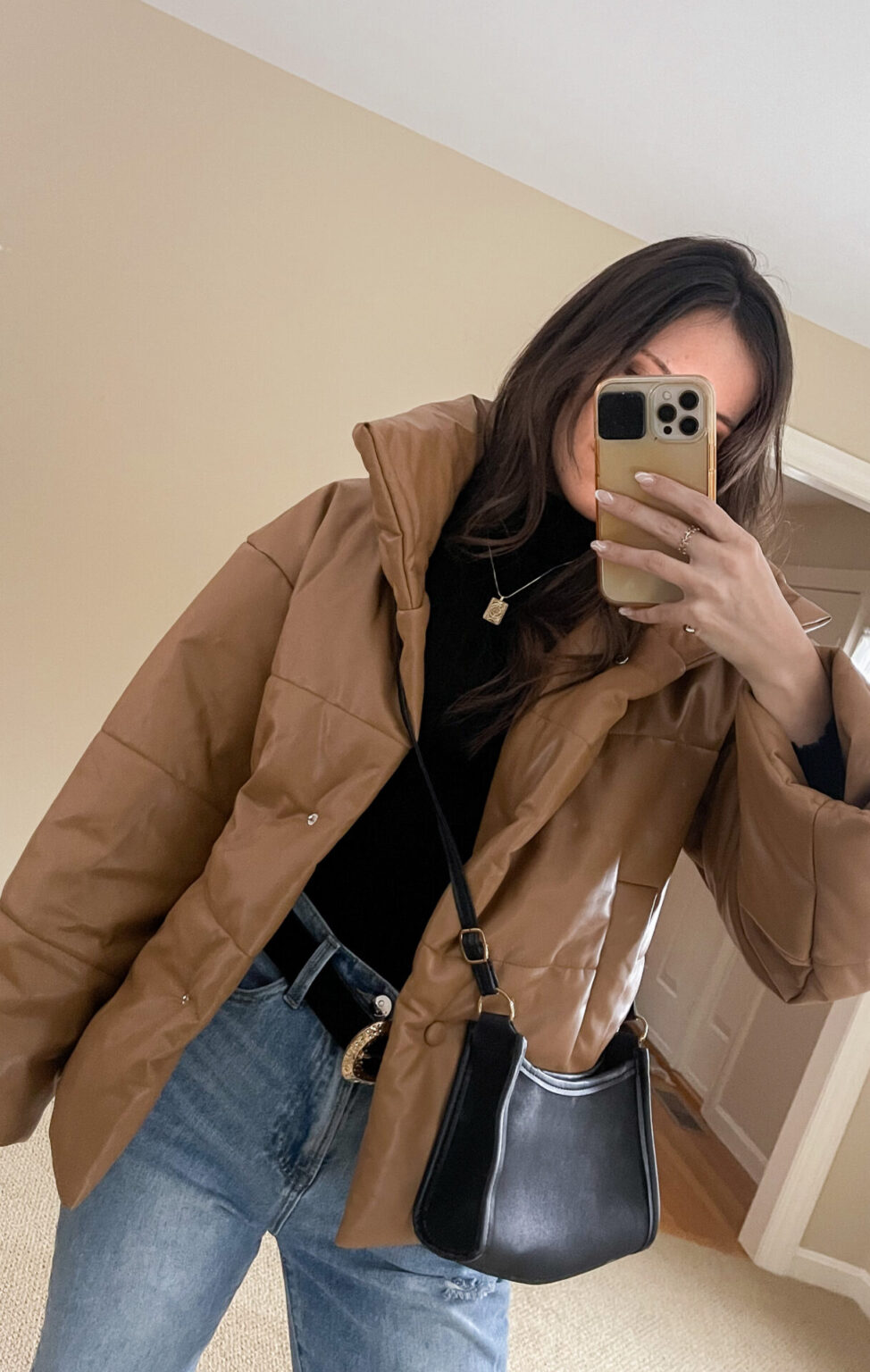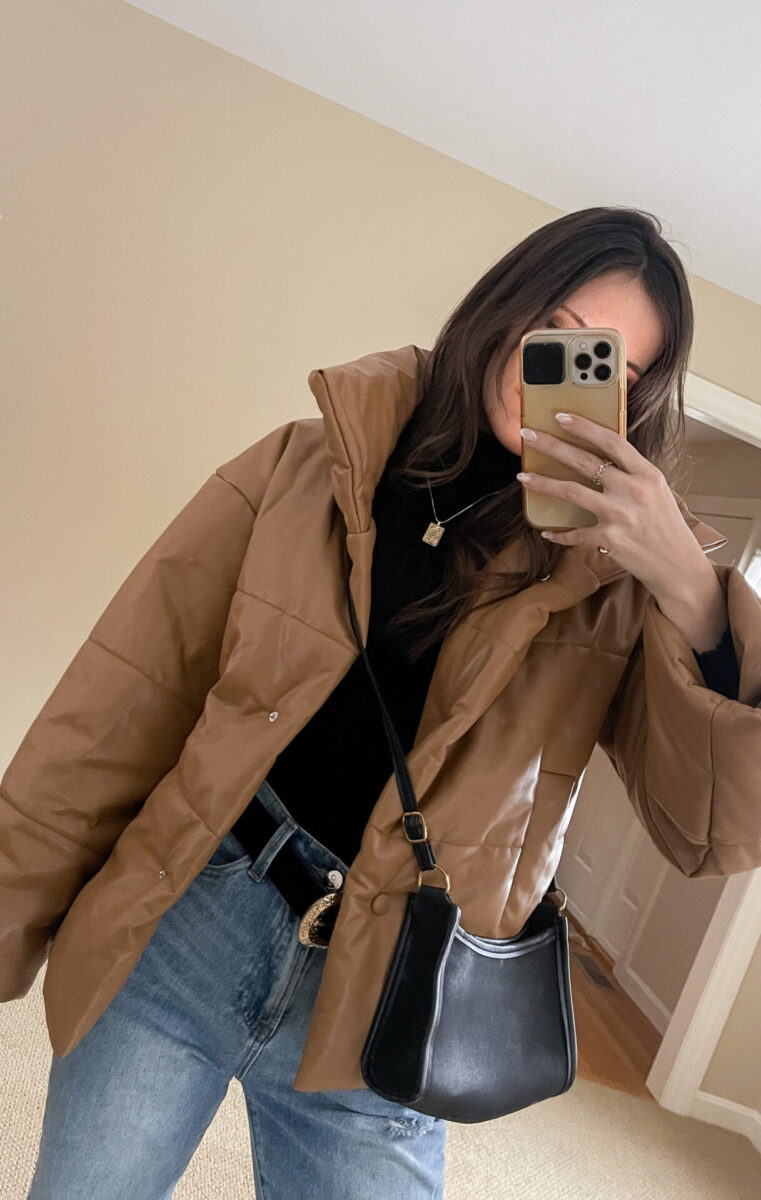 This coat is my go-to right now, and will probably stay that way for at least a few years. It's warm, edgy, and comes in an enormous range of styles, plus it goes with just about any outfit.
This coat is from NAP Loungwear, one of my favorite sites for casual winter outfits. Click here to shop and for 25% off!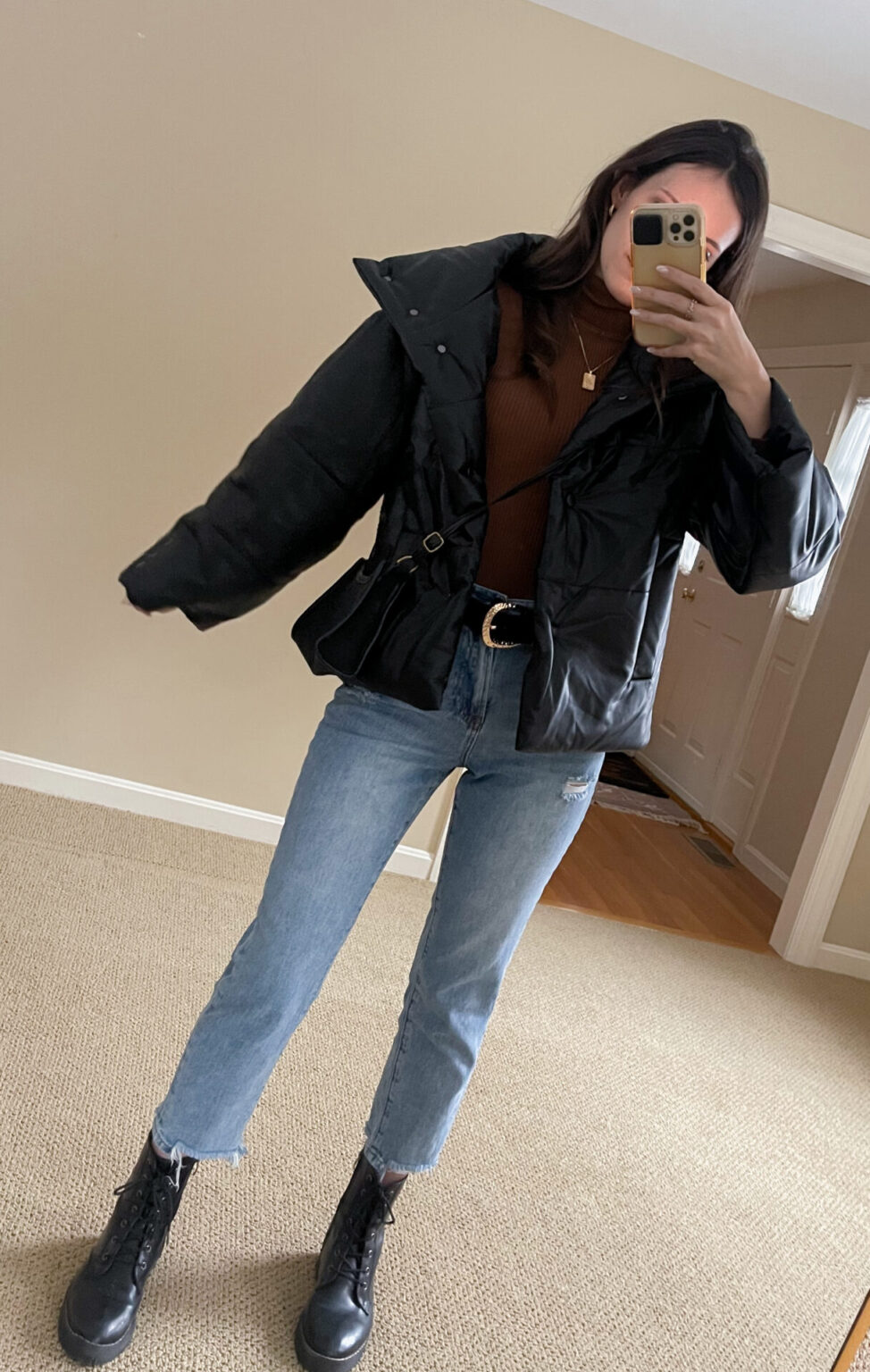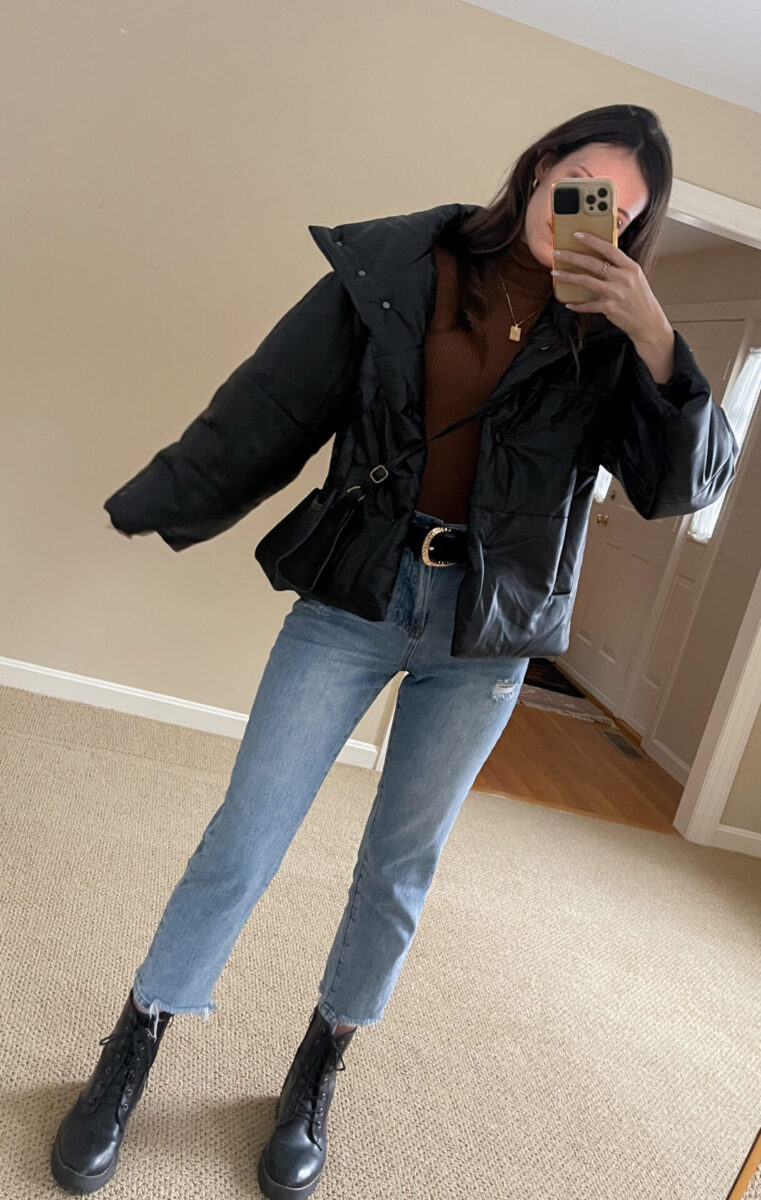 I also like to have a black puffer coat in my closet. Any black puffer coat works well for most casual winter outfits! However, this is one of my favorite basic coats because the quality is amazing, it's super warm, and the price of this coat is reasonable.
This puffer coat is also from NAP Loungewear. They have really awesome coat selections – this coat is only $89! Click here to check it out.
8. Oversized Cardigan Sweater: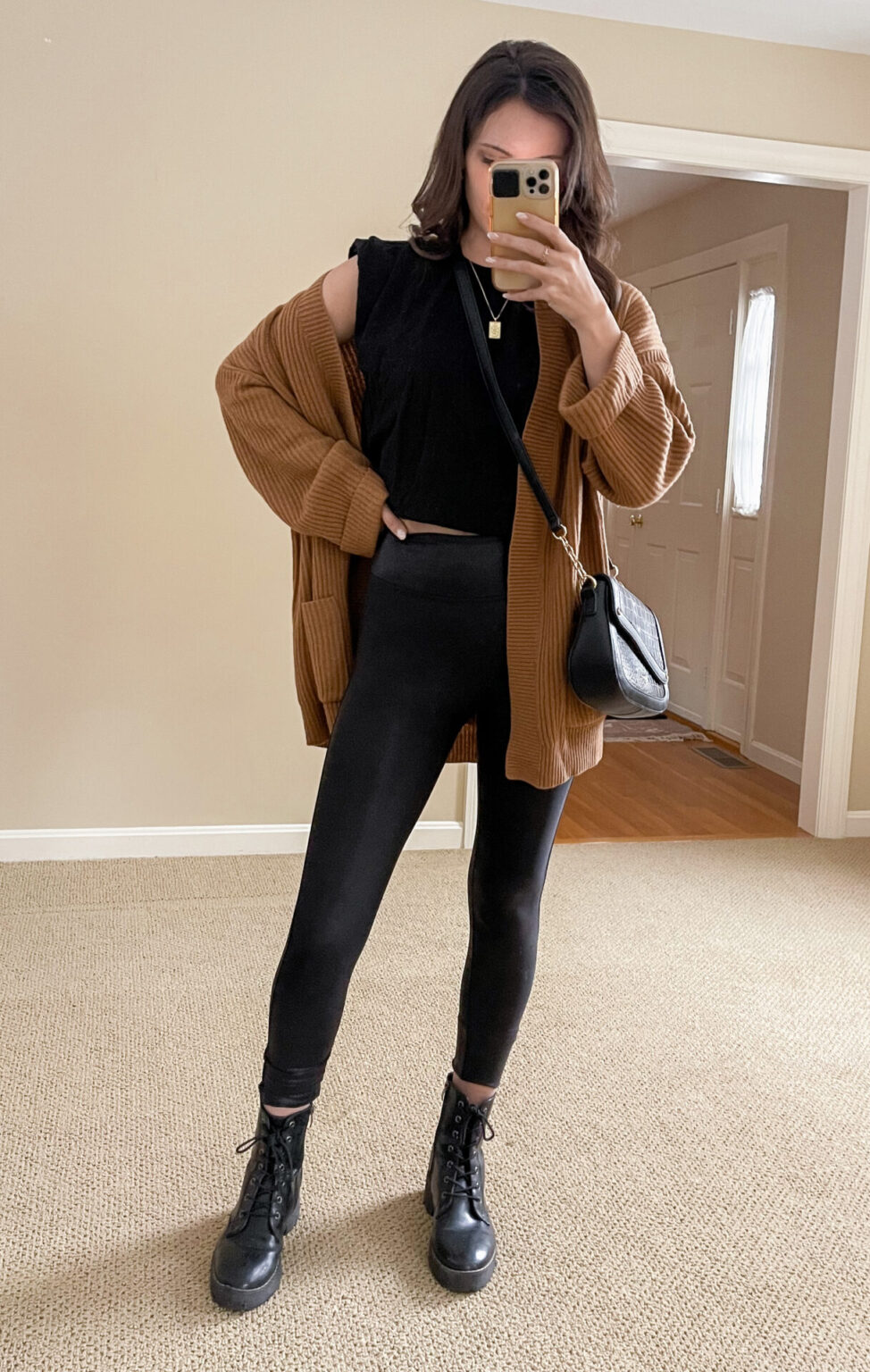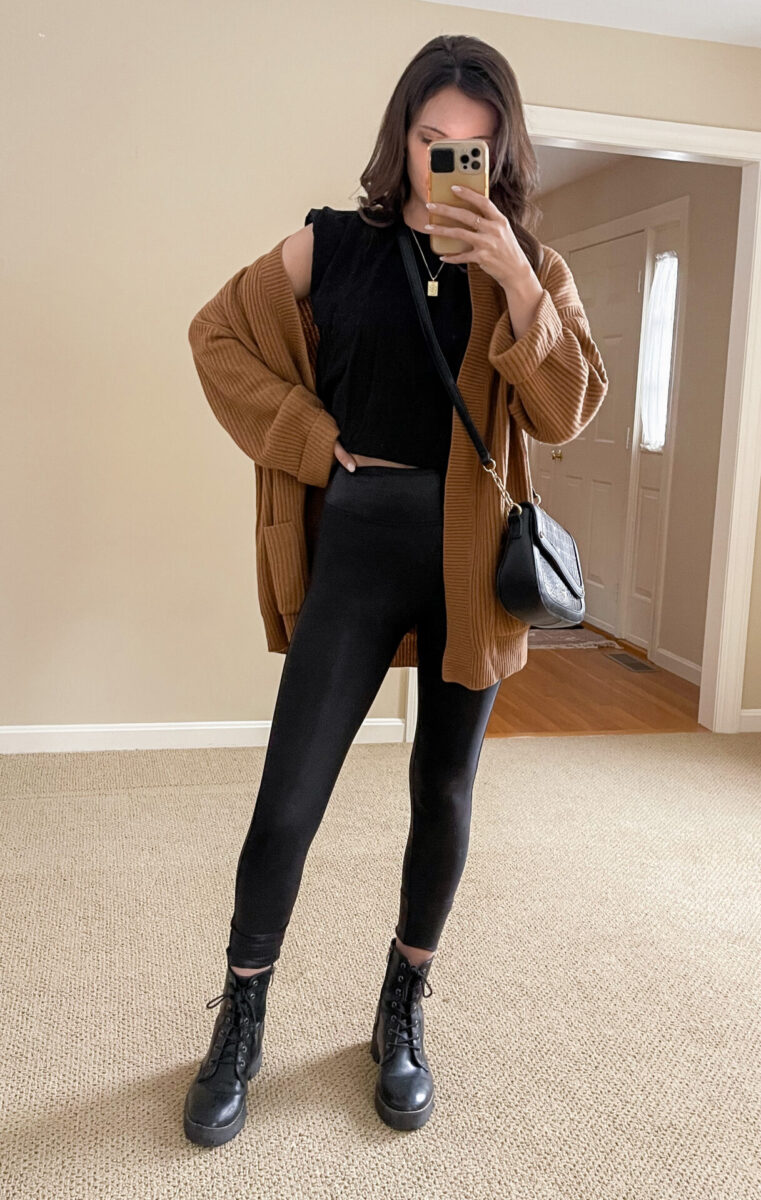 If you spend a lot of time lounging at home, then you definitely need a cardigan sweater. Right now, the more oversized, the better!
A cardigan is the perfect piece to throw on because it can be baggy yet chic. Let it fall off the shoulder and pair it with a cute t-shirt or a bralette for a more balanced look.
This cardigan is from NAP Loungewear – I especially love it in the black and fawn colors.
7. Sweatpants: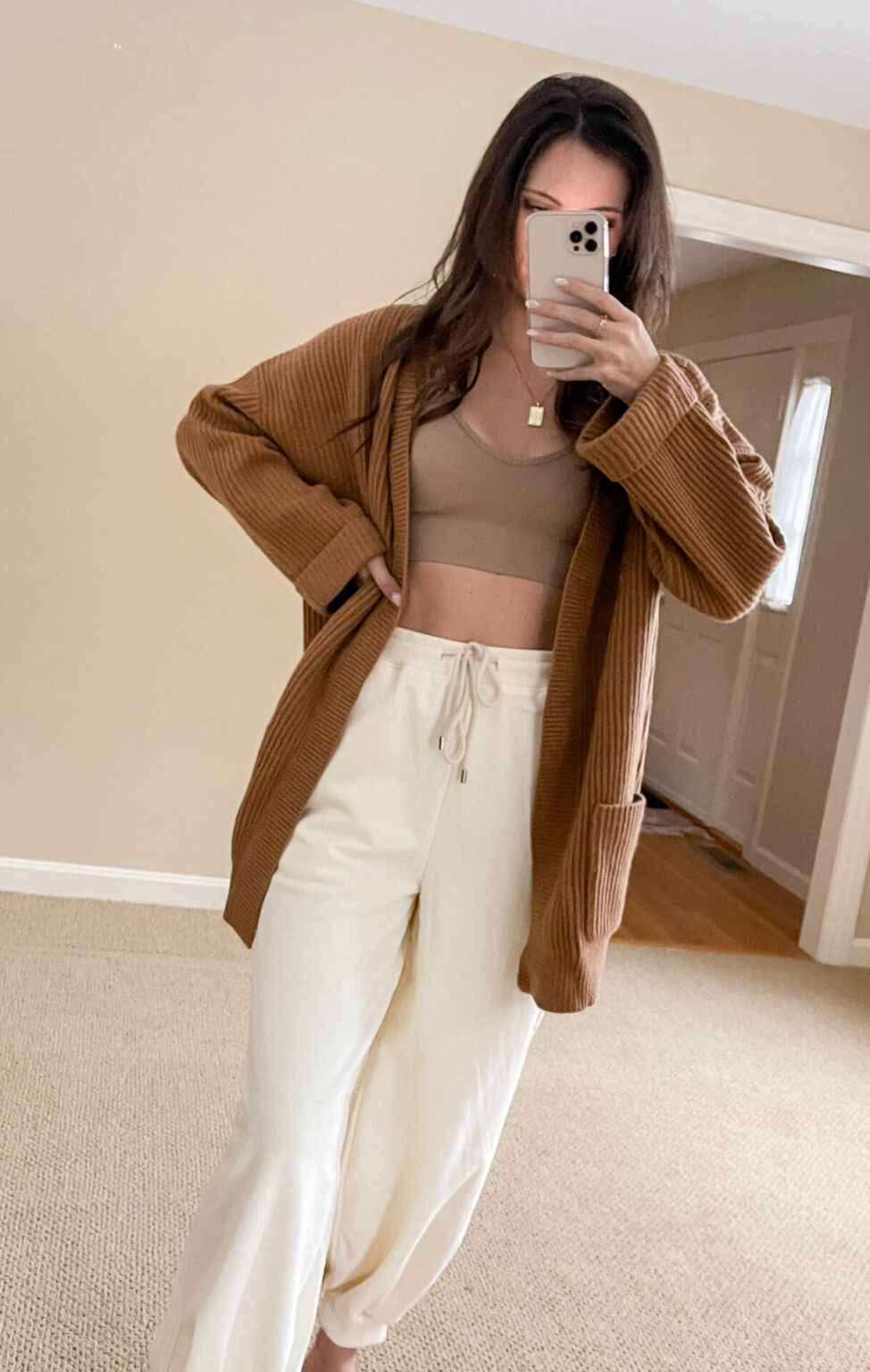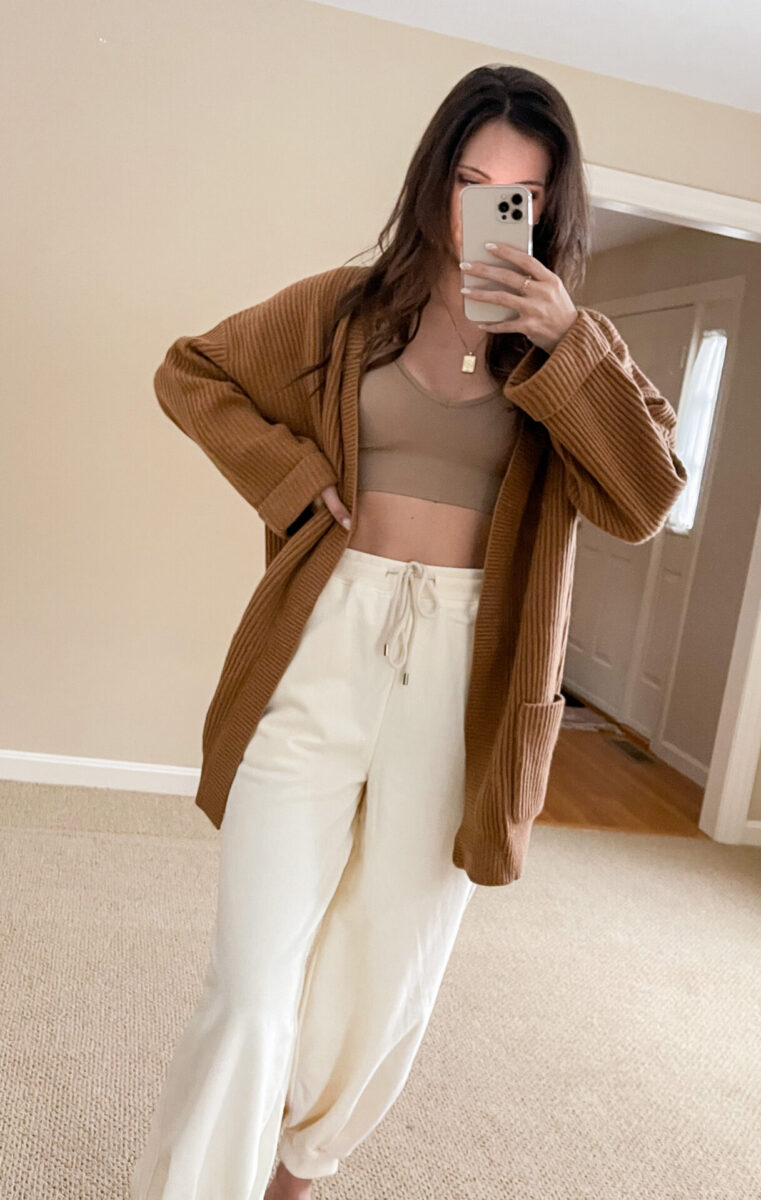 This year, sweatpants are chic, so you should definitely grab at least a few neutral pairs in order to mix and match.
Not only are sweatpants great for activities where you want to be comfy (like a road trip or a flight), but they're also the perfect winter outfit piece to wear for a casual and cozy look at home. Pair your sweatpants with a bralette and an oversized cardigan to look trendy but stay really, really comfy and warm!
Shop these sweatpants | shop this bralette | shop this cardigan
NAP Loungewear has really gorgeous pieces for comfy nights at home that are still trendy! Click here to shop for 25% off.
6. Crew Neck Sweatshirt: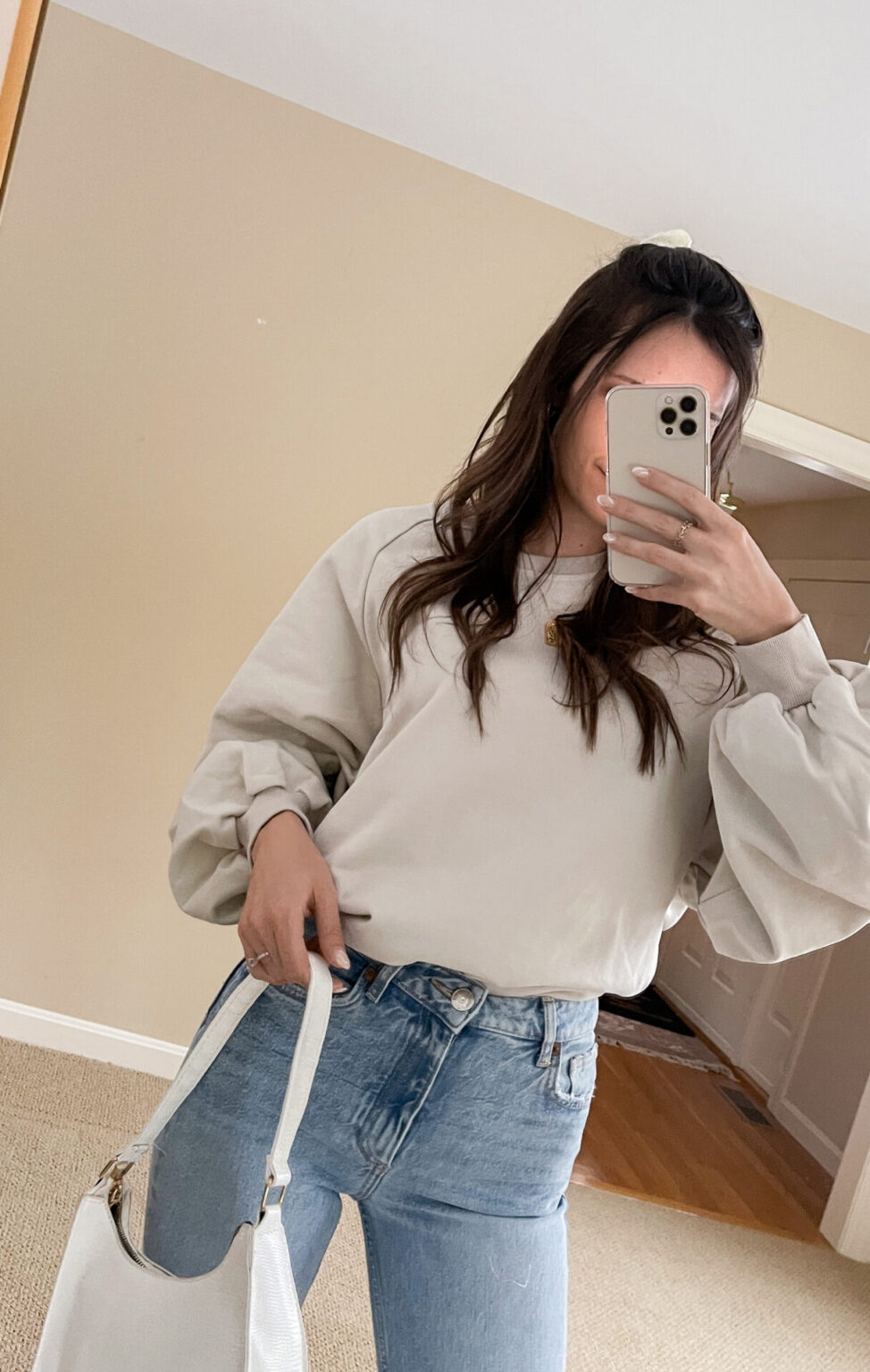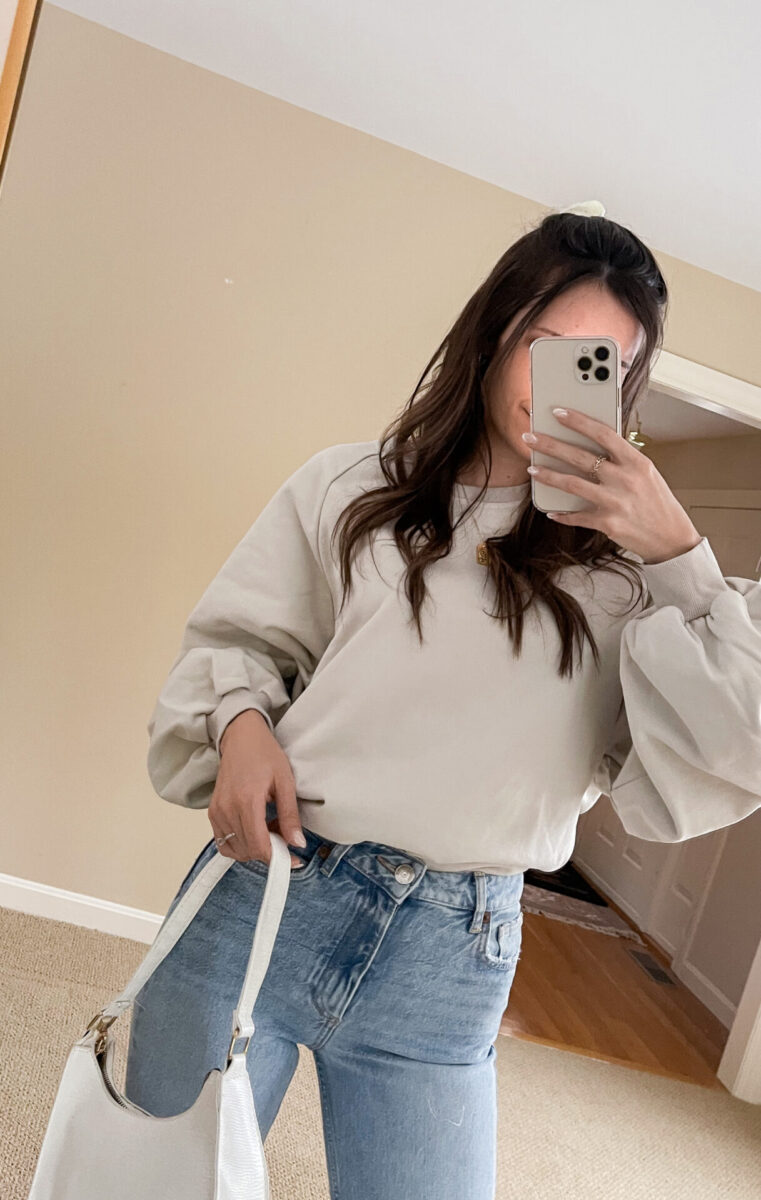 If you're looking for a way to appear cozy and chic then you'll definitely want a variety of plain crew neck sweatshirts.
I like to have a few neutral crew neck sweatshirts, such as cream, nude, grey, and white. These sweatshirts look especially awesome paired with a tighter pair of jeans and sneakers. It's a super comfortable but trendy look – I literally wear this outfit every day!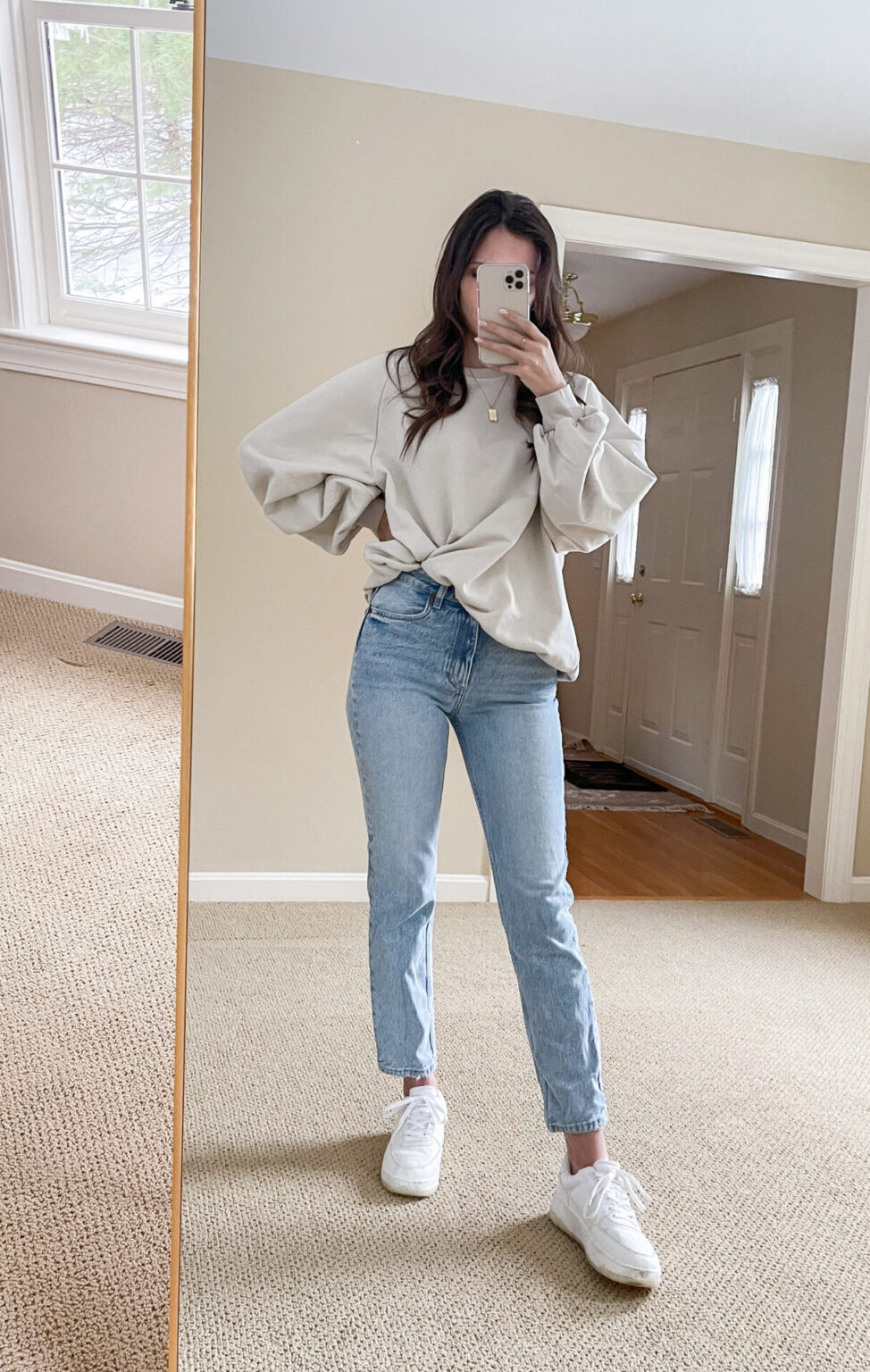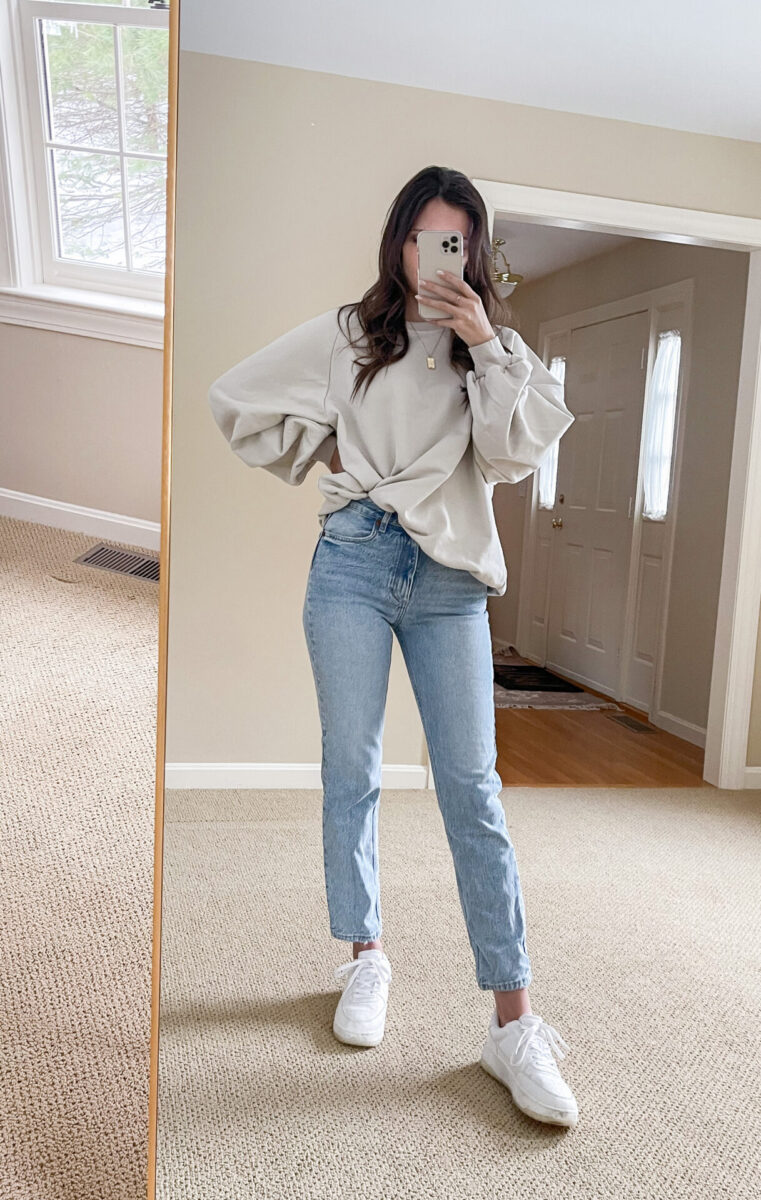 Try tucking the crew neck in different ways for various looks. You can also cinch it up under a bralette. I typically size up (I'm a small but I ordered medium here) so that I can maneuver the crew neck.
This crew neck is from NAP Loungewear – click here to shop.
5. Turtleneck
Are you even really wearing a winter outfit without a turtleneck?
During the colder months, I break out my turtlenecks in a variety of colors. I recommend investing (at the minimum) in black, nude, and cream turtlenecks. These pieces are great for layering and work really well under puffer coats!
4. Long Wool Coat
If you want the chic British vibe then you'll definitely want to invest in a long wool coat, preferably in a nude or light grey color. Throw this coat over leggings, sweatpants, or jeans and add layers for more dimension.
Plus, a wool coat can easily work for casual winter outfits or for your night out.
Click here to shop wool coats.
3. Boots:
Out of all the cold-weather staples, boots are probably what you're most familiar with wearing. It's important that your boots are cute and warm, though — after all, you're going to be wearing them every day. Right now, combat boots are especially trendy (shocker) so get yourself a good pair that will last.
2. Scarves:
You can never have too many scarves; they're an easy way to express your style and look cute in the cold. Wear one under your coat or with your coat open to make your outfit more interesting.
Chunky, neutral scarves are especially popular this year. I recommend picking up a few scarf pieces that you can mix and match with outfits, such as black, beige, and cream knit scarves.
1. Leather Pants: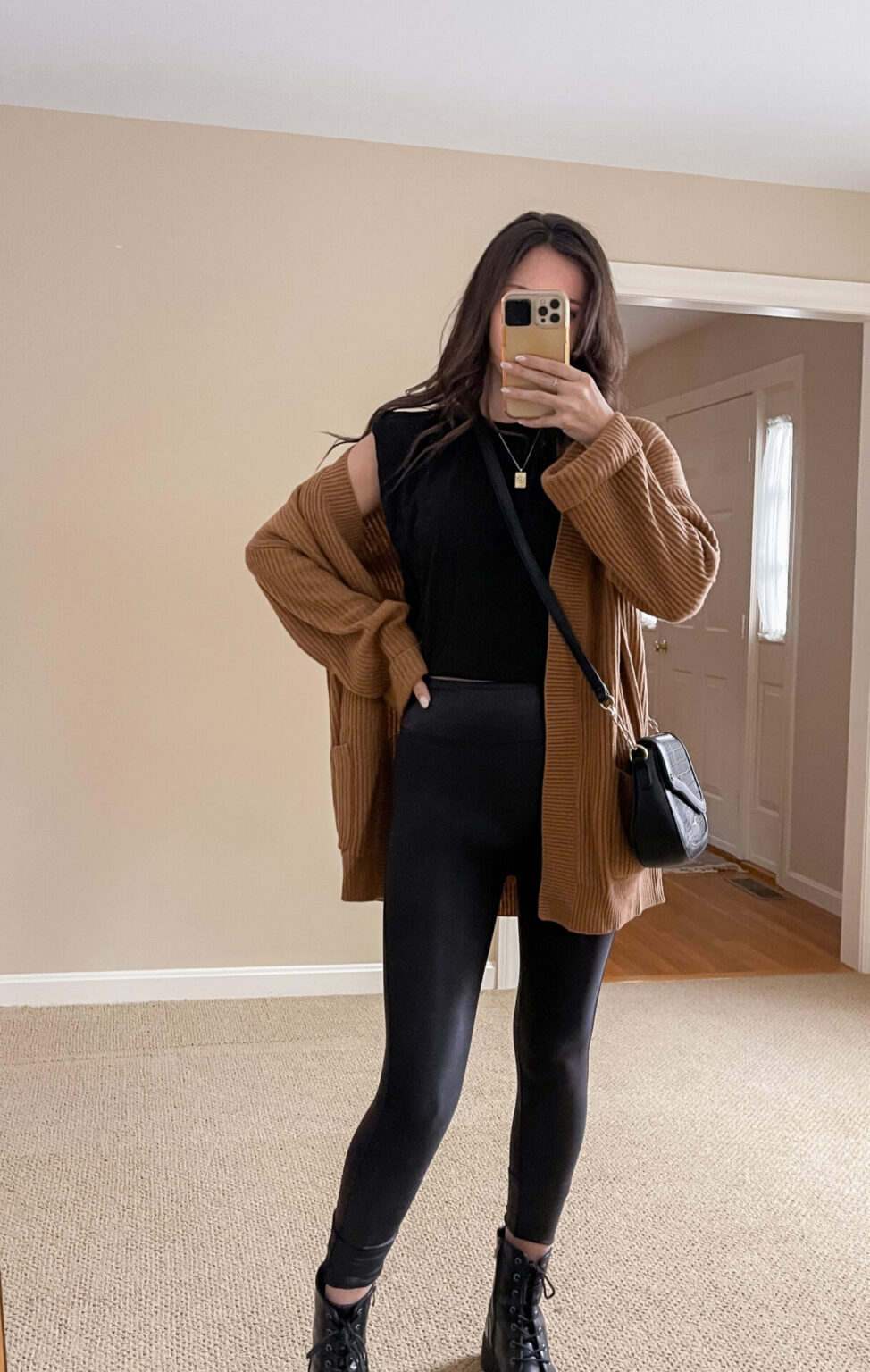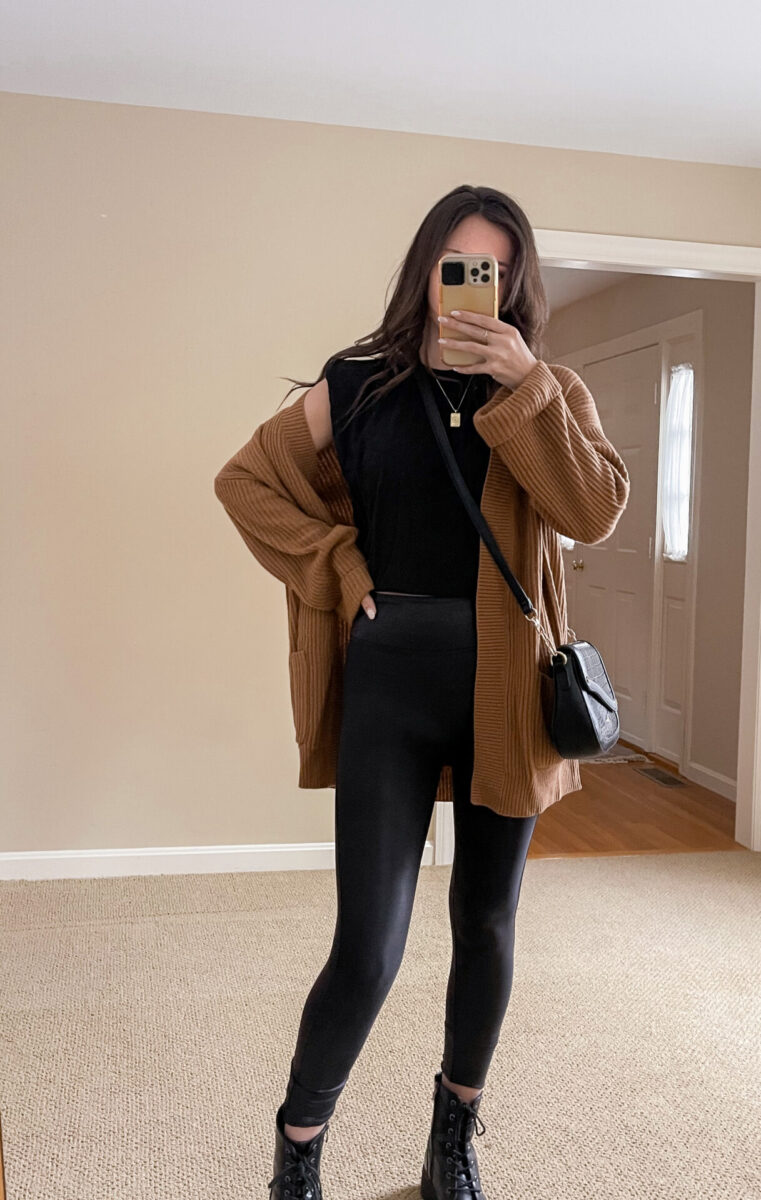 Whether you prefer button-down leather pants or faux leather leggings, you can't deny the leather bottoms are still ultra-trendy this year. And luckily, many of these pieces are super comfy too!
If you're looking to put together casual winter outfits that still look chic or edgy, you'll definitely want to incorporate some leather. Try pairing leggings with combat boots (tuck the leggings under so there's a bit of ankle showing) and throw on a cardigan or bomber jacket to add some variety.