These are the best Christmas cookie recipes to make as your go-to holiday treat! Whether you're looking for super easy Christmas cookie recipes or old fashioned Christmas cookie recipes, there's something here for everyone.
Making cookies is not only one of the best activities you can do this Christmas season, but they also make wonderful presents for your friends, family, and loved ones.
There is no better time to bake cookies from scratch than over the holidays, regardless of whether you are still learning the basics of baking or are already a seasoned pro when it comes to creating these delicious treats.
That's why for this article, I'm sharing this list of the best Christmas cookie recipes to make so you can prepare them and fill your cookie tray for the upcoming Yuletide season!
Best Christmas Cookie Recipes To Make
Whether you're looking for cookies with lots of spice, something traditional, sugary, or something completely new, 'tis the season to bake Christmas cookies!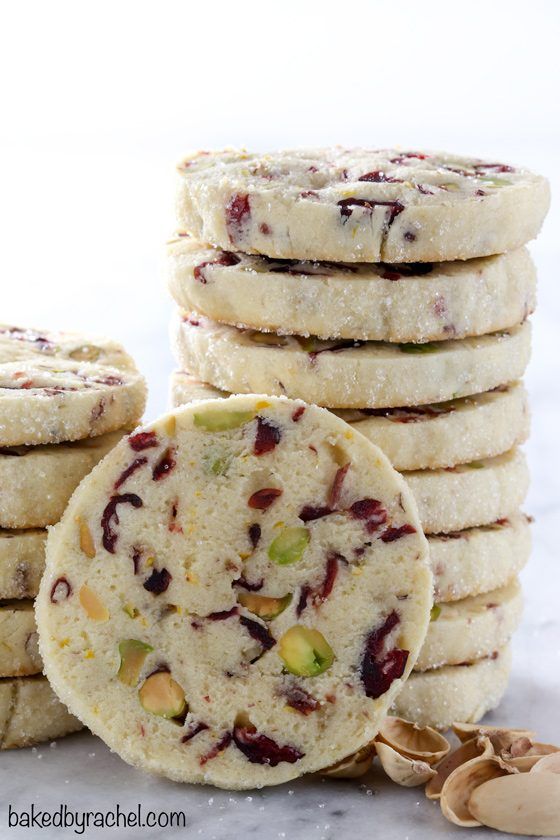 Light and bursting with festive flavors, these Cranberry Pistachio cookies are perfect for the holiday season if you're looking to fill up your cookie tray with something completely unique! This is one of our favorite easy Christmas cookie recipes that no one else will make.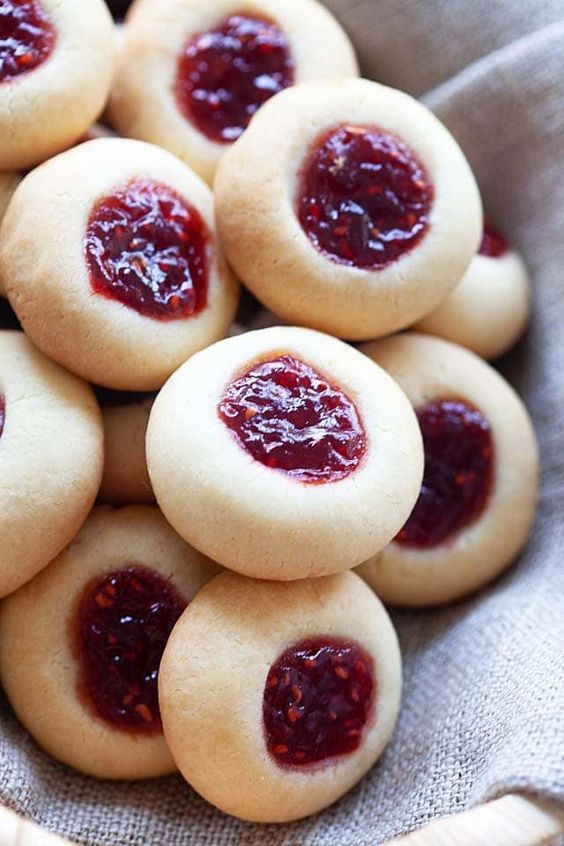 Put a twist on the classic thumbprint cookies and fill them with yummy raspberry jam! Crumbly, buttery, and oh-so-sweet!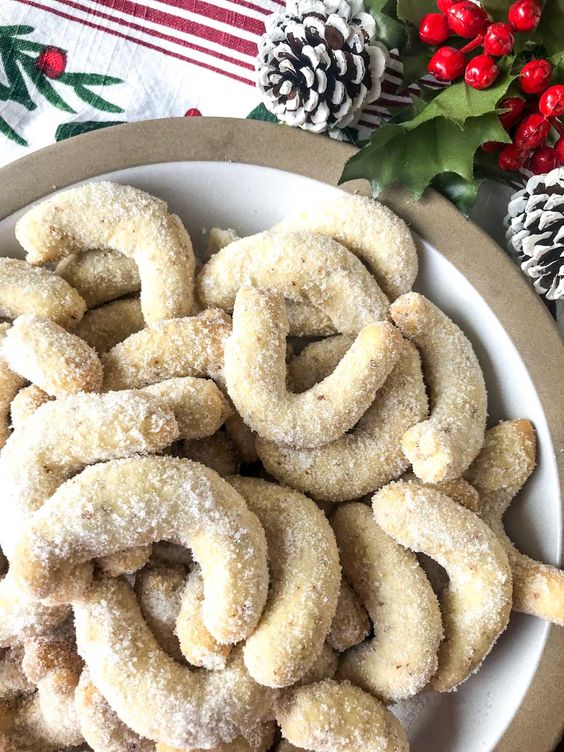 These vanilla crescent cookies originated in Austria and eventually found popularity worldwide, becoming a holiday staple on any cookie platter! These buttery, almond cookies are dusted with vanilla-flavored sugar that's sure to be anyone's favorite!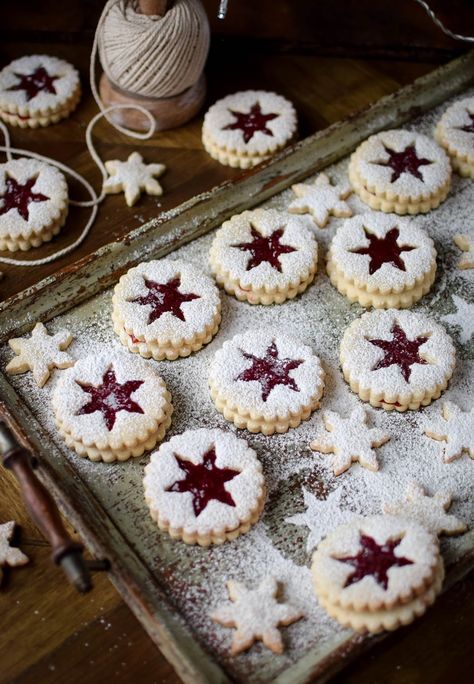 If you're looking to spend an Old World Christmas, then you definitely need to try out these delicious Linzer cookies! Not only are they scrumptious, but they would make a delicate and festive addition to any cookie platter as well. These are some of our favorite old fashioned Christmas cookie recipes, plus they aren't hard to make!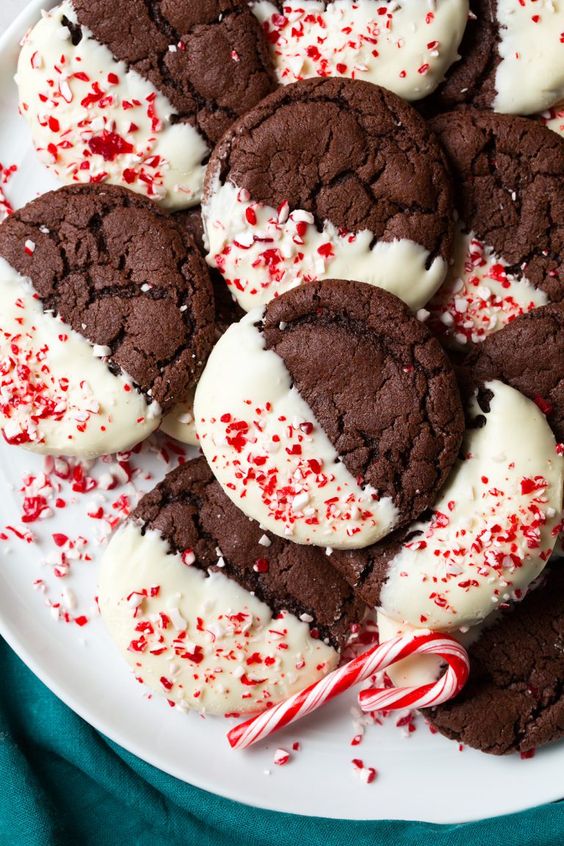 These white chocolate-dipped peppermint cookies are sure to add a refreshing festive cheer to your household this holiday season! Just look how cute and delicious these look! These are one of the best easy Christmas cookie recipes to try.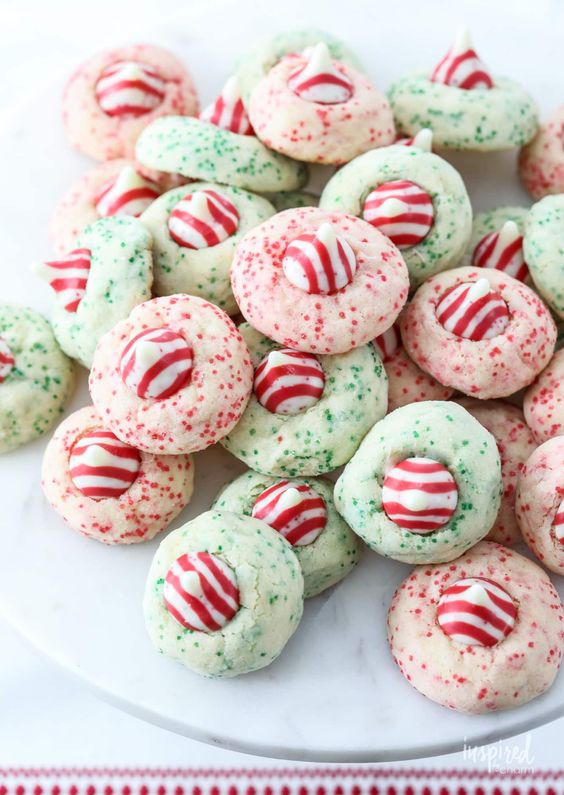 If you ever had peanut butter blossoms, then you might love these peppermint kiss cookies as well! They're made with the same base recipe, but with a peppermint twist. Not to mention, you can't get more festive than these green and red colors!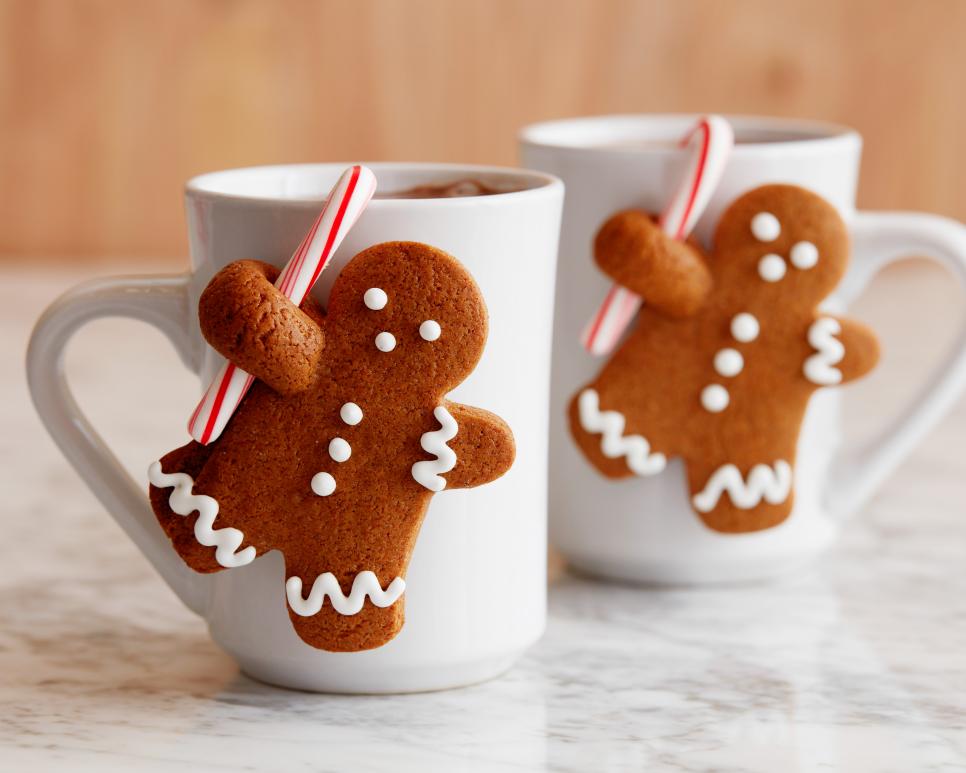 These gingerbread men are in a festive mood! Keep an eye out as they will be hanging around your favorite beverages during the Christmas season. Try serving them with your favorite coffee or some hot cocoa.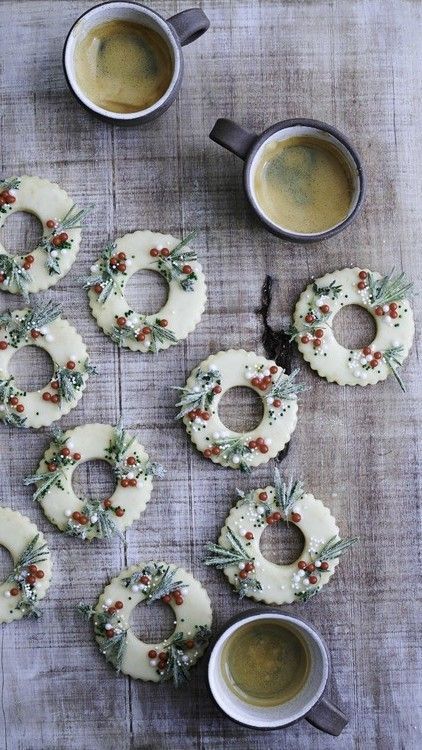 Another cookie recipe that's going to look so pretty on your cookie platter is Martha Stewart's Shortbread Wreath Cookies. Infused with Meyer-lemon and some sugared rosemary and thyme, your guests will surely love eating these delicious treats!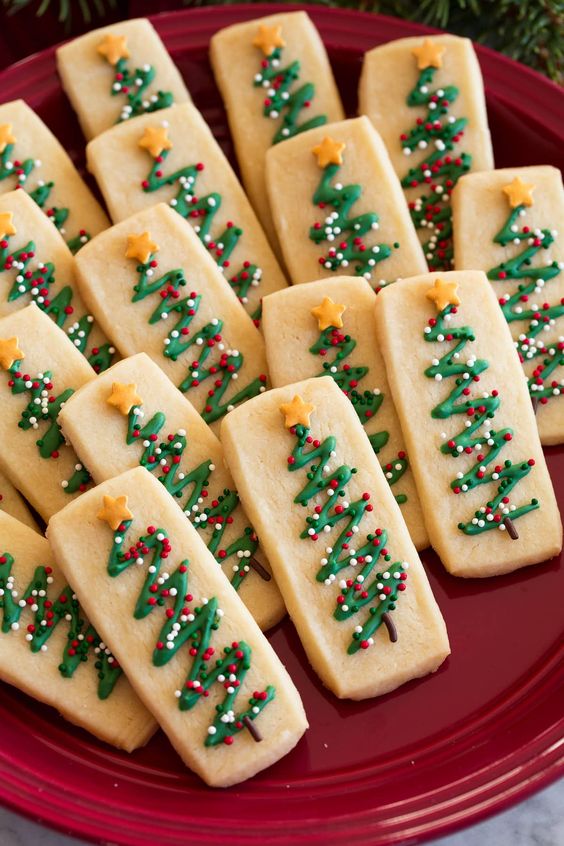 Looking for Christmas sugar cookie recipes with a twist? When it comes to baking classic Christmas cookie recipes, you can never go wrong with ever-popular shortbread cookies. They're light, sweet, and so easy to prepare! Decorate them with Christmas trees using royal icing to add festive cheer to your cookie platter. This is one of the best old fashioned Christmas cookie recipes that's still fun to bake with kids.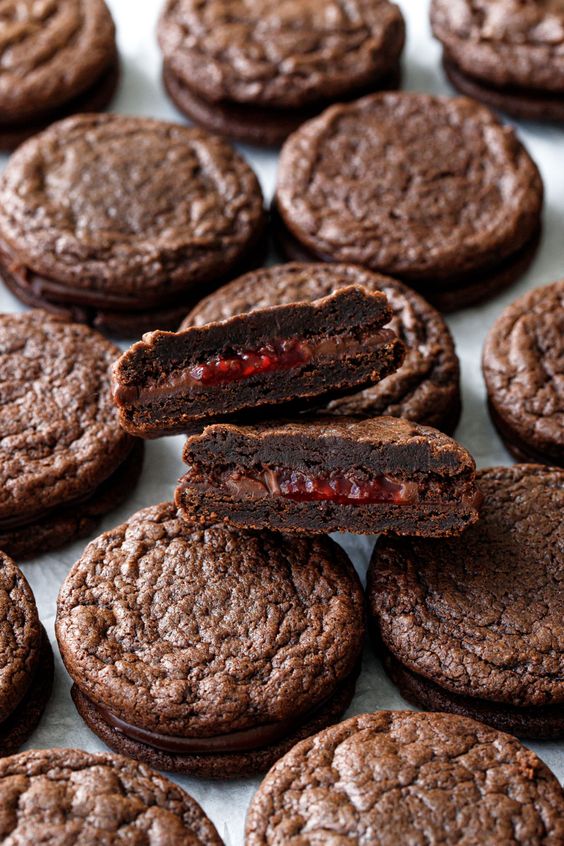 If you're looking to break tradition this holiday season, then these Chocolate Raspberry Sandwich cookies are the perfect decadent desserts you need to try!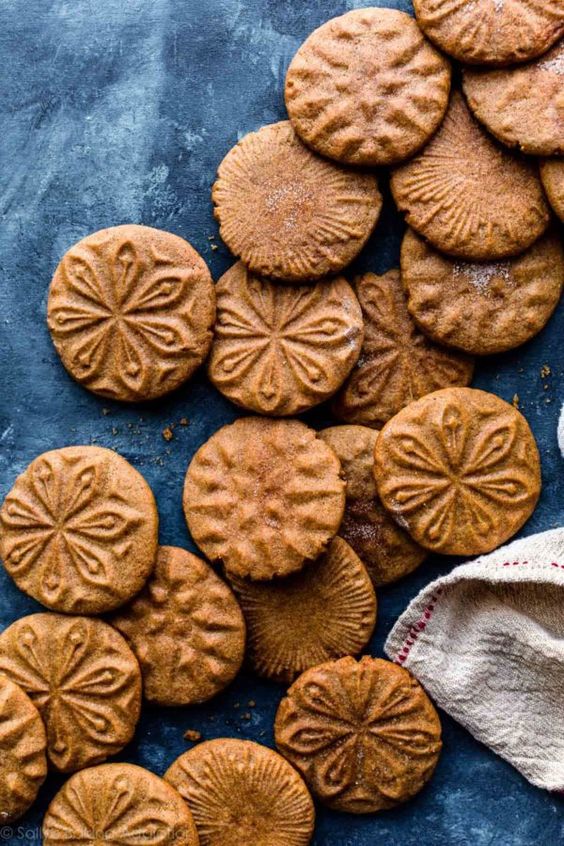 These crumbly stamped cookies are as aesthetically pleasing as they are delicious, being primarily sweetened with brown sugar and flavored with cinnamon, ginger, nutmeg, and cardamom. This is one of our favorite easy Christmas cookie recipes that's just so tasty!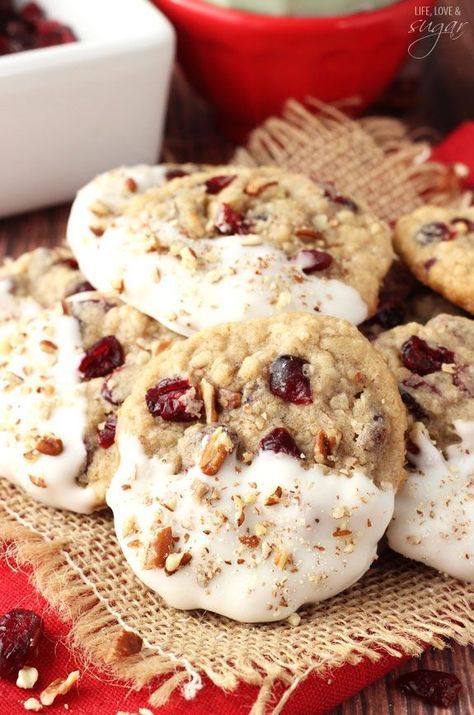 These delicious and chewy oatmeal cookies are not only dipped in yummy white chocolate but they're also filled with dried cranberries and chopped pecans!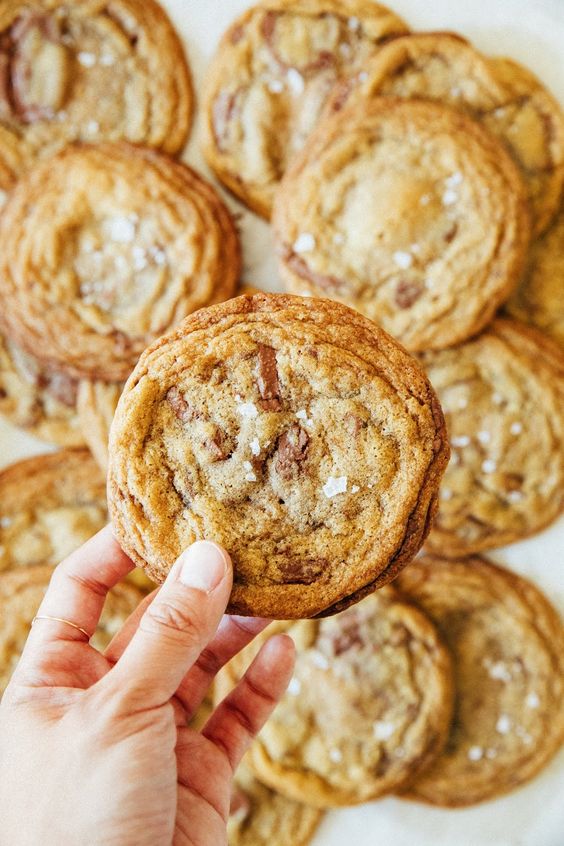 Looking for easy Christmas cookie recipes that are still uniqe? Level up your chocolate chip cookie game this Christmas by trying out these delicious Brown Butter Toffee Chocolate Chip Cookies! Instead of the usual chocolate chips, this recipe uses chocolate fèves that are sure to melt throughout the cookie as it bakes. Yum!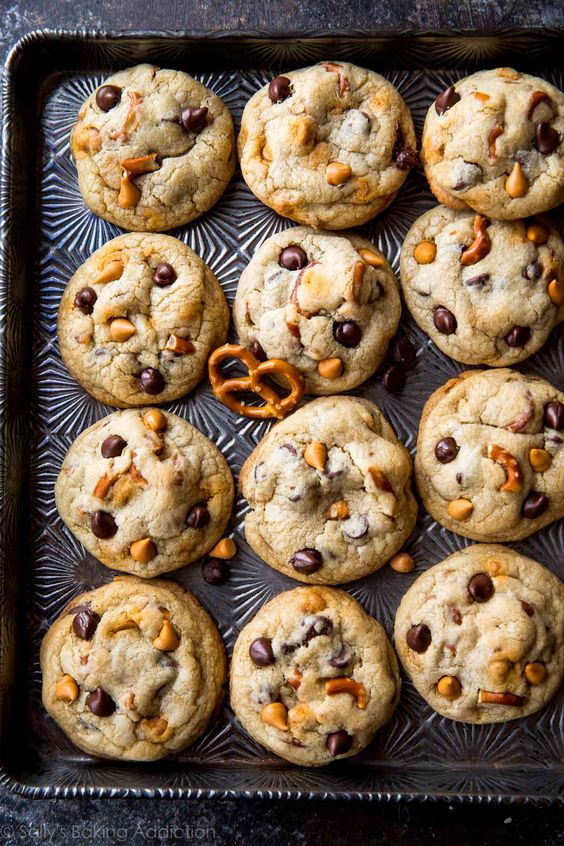 If you're looking to make chewy, soft cookies with a bit of crunch and saltiness in every bite, then these Butterscotch Pretzel Chocolate Chip Cookies are a must-try!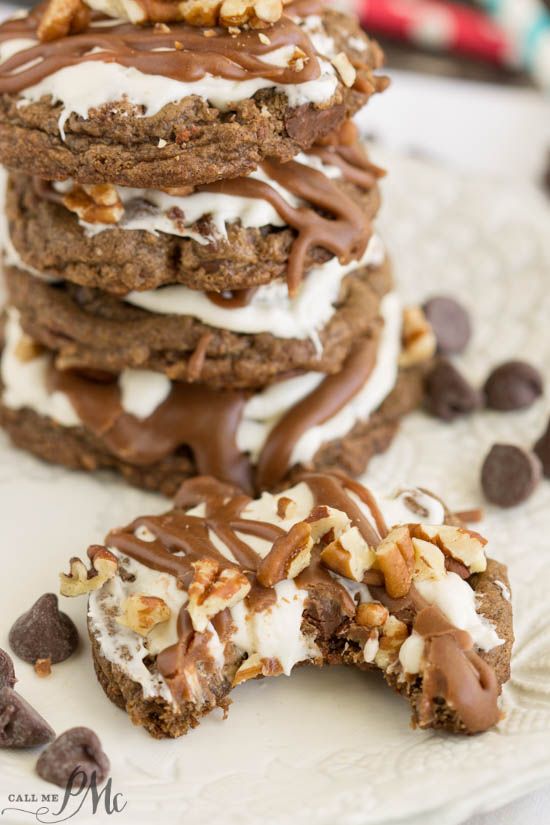 Filled with decadent flavor that your family and guests will surely love, the Mississippi Mud Cookies with Marshmallow Fluff and Chocolate Frosting is a delicious fudge cookie covered with rich chocolate ganache, salty toasted pecans, and creamy marshmallow fluff frosting.
These yummy and delectable Brown Sugar Pecan Cookies are the perfect treats to bake and serve this Christmas season. They're soft and buttery and topped with pecans for an extra crunch.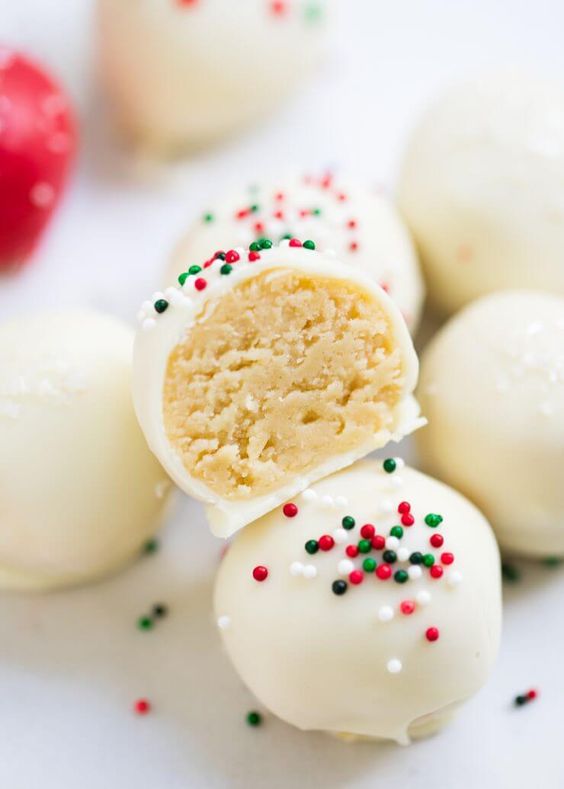 Fill up your cookie platter with some holiday spirit with these Sugar Cookie Truffles! Made with cream cheese, vanilla, and crushed sugar cookies, these treats are sure to bring bite-sized festive cheers!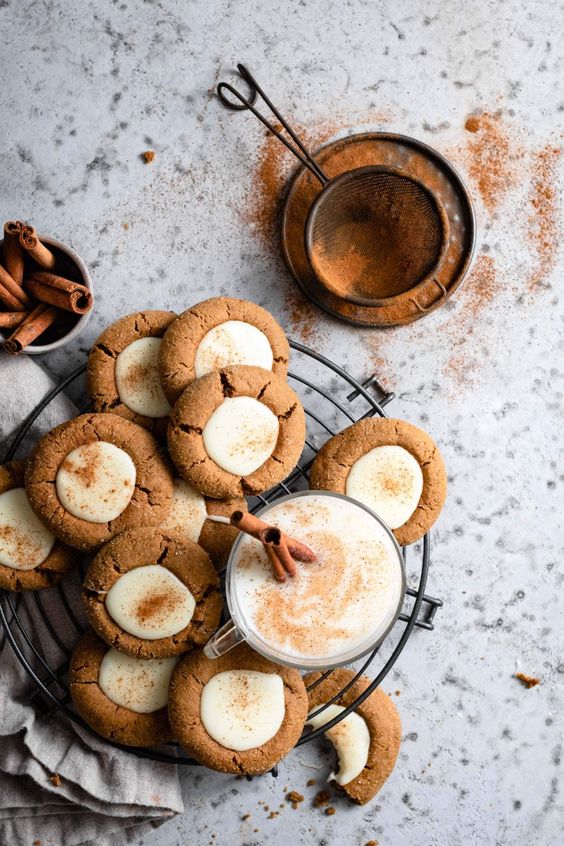 Christmas can't be complete without eggnog. Who doesn't love eggnog, right? If you're looking to try something different with this holiday staple then you should definitely try out these Eggnog Gingerbread Thumbprint Cookies! Gingerbread cookies filled with eggnog and white chocolate? Sign me up!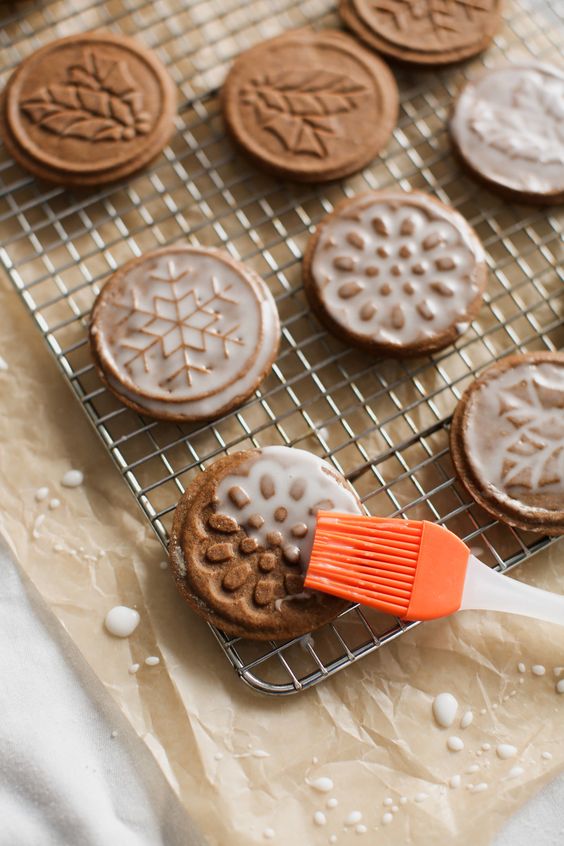 If you can't get enough gingerbread cookies this holiday season, then here's another classic recipe you might love! These soft-glazed gingerbread cookies are chewy with a bit of crunch, have the right amount of spice, and are delicately designed with a cookie stamp.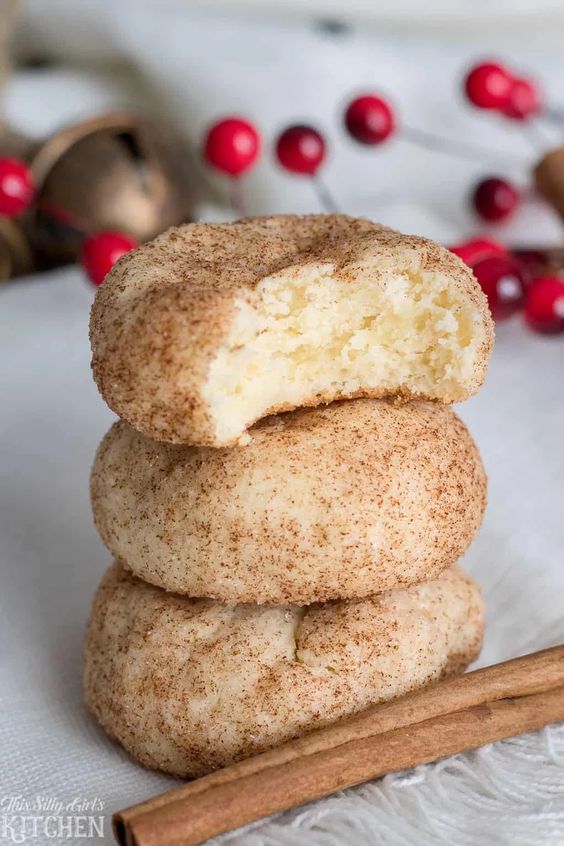 Looking for easy Christmas cookie recipes that have that Christmas flavor? Bursting with decadent flavor, these Cinnamon Cream Cheese Cookies are sure to be an instant hit with your family and guests!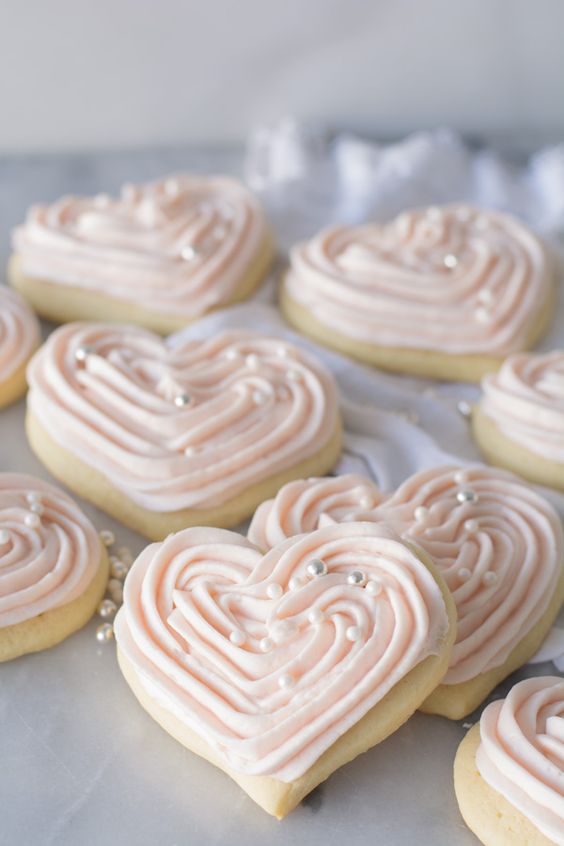 Are you a lover of Christmas sugar cookie recipes? In this case, you won't want to miss this option. Soft and made rich with sour cream and butter. these Sour Cream Sugar Cookies will undoubtedly become a certified family favorite this holiday season!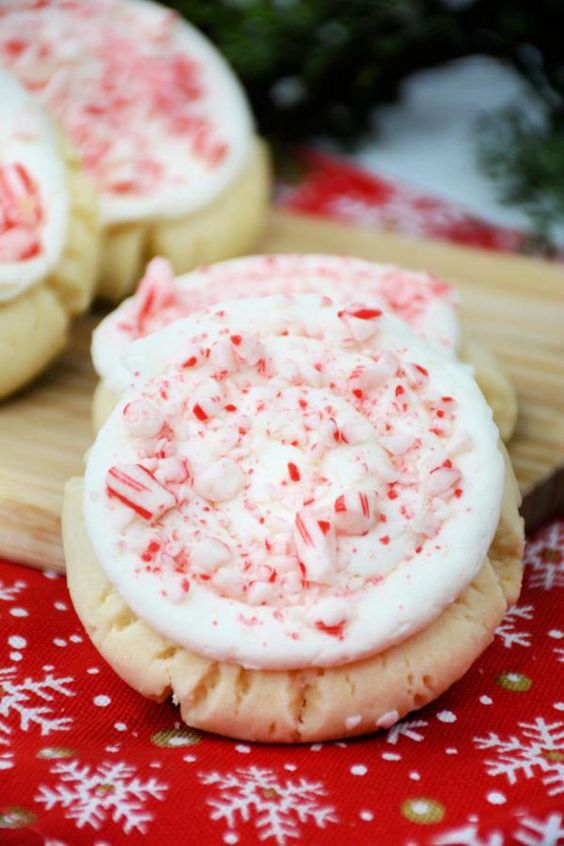 If you're wanting to make your own variation of the popular Crumbl Cookies, then these Candy Cane Crumbl Cookie recipe is a must-try this holiday season!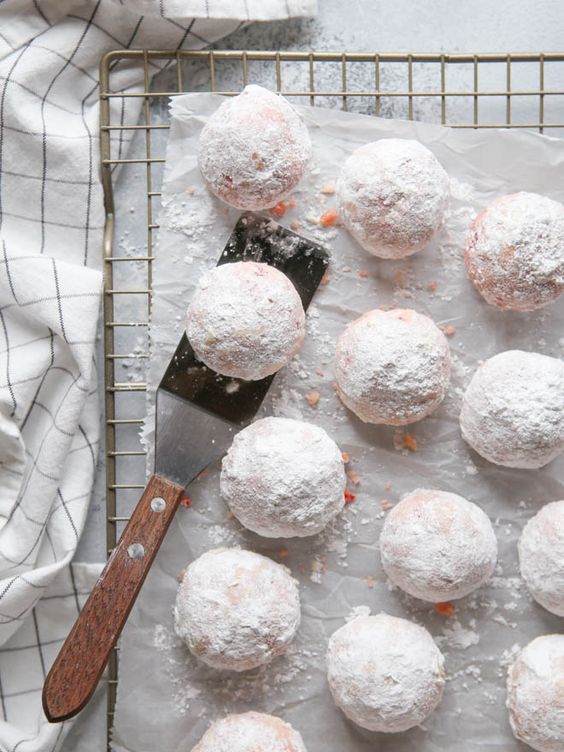 Made with a fun cherry and almond twist, these classic snowballs will be a real crowd-pleaser this Christmas season! And with a design so reminiscent of actual snowballs, it's utterly perfect for the winter holidays!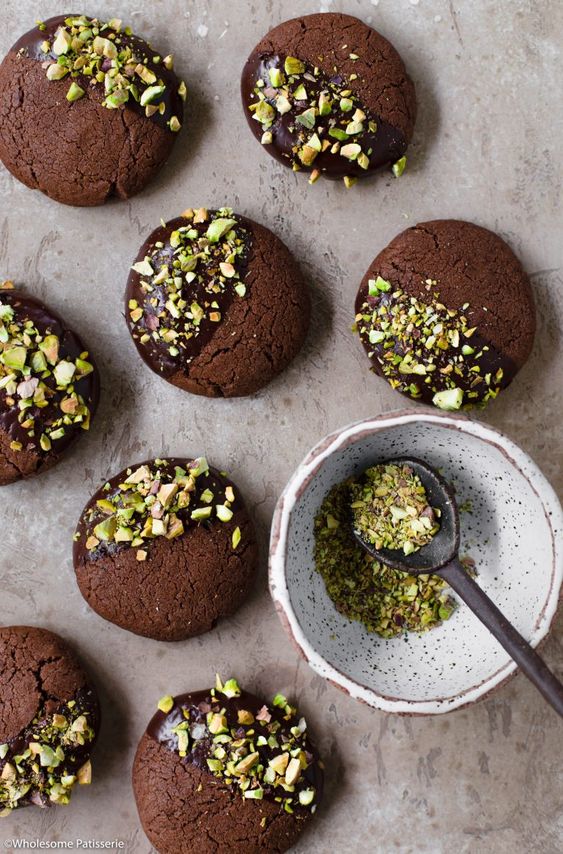 Not traditionally a Christmas cookie, but if you're someone who loves dark chocolate and pistachios in your dessert, then who am I to stop you? These Chocolate Pistachio Cookies are utterly decadent and with the right amount of sweetness!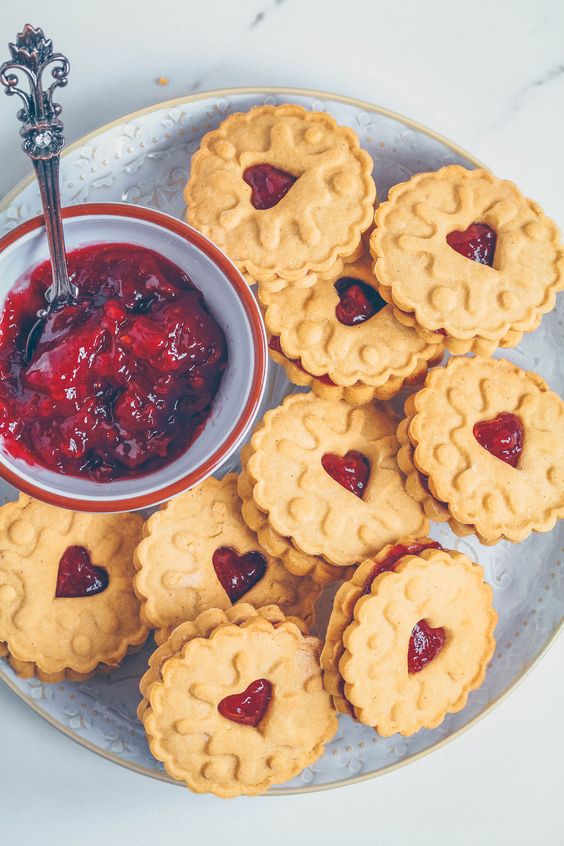 Looking for old fashioned Christmas cookie recipes? If you have any tea parties planned this holiday season, then you should definitely consider making these yummy jammie dodgers! I can just imagine taking a bite out of these on a cozy winter afternoon with some friends!
Chocolate Dulce de Leche Sandwich Cookies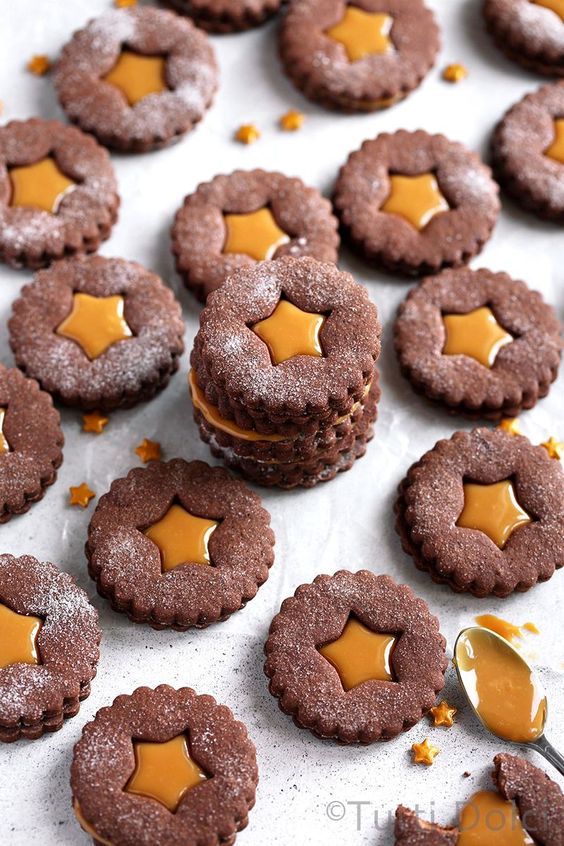 These festive Chocolate Dulce de Leche Sandwich Cookies look so mouthwatering! If you'll be adding this to your cookie platter, better bake an extra batch as this will surely go out fast!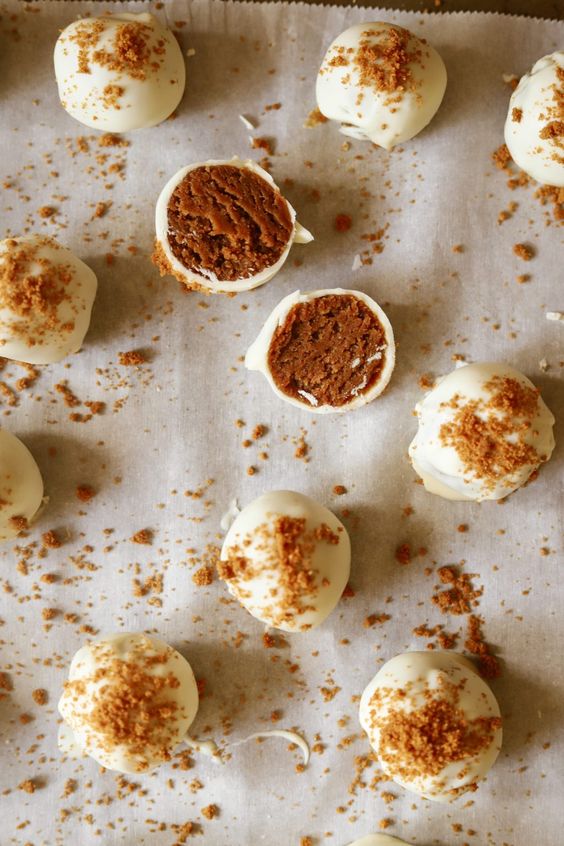 If you love Biscoff cookies just like me then these Cookie Butter Truffles with Biscoff will surely be your favorite treats to bake this Christmas season!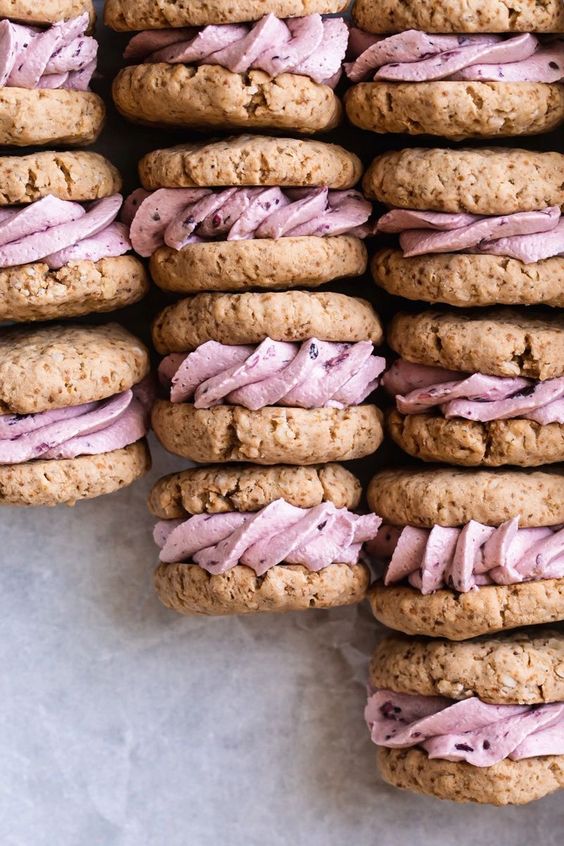 Can't get enough of sandwich cookies? Then you should definitely add these Blackberry Cream Oatmeal Sandwich Cookies to your cookie platter this holiday season! This particular recipe also features gluten-free and vegan oatmeal cookies.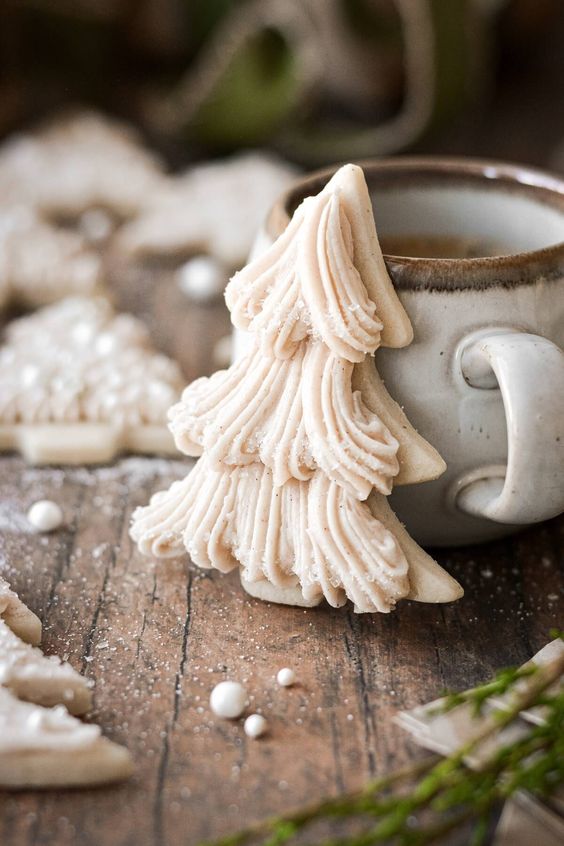 Beautiful and dainty, these Christmas Tree Sugar Cookies with Buttercream Frosting are just as delicious as they are aesthetically pleasing!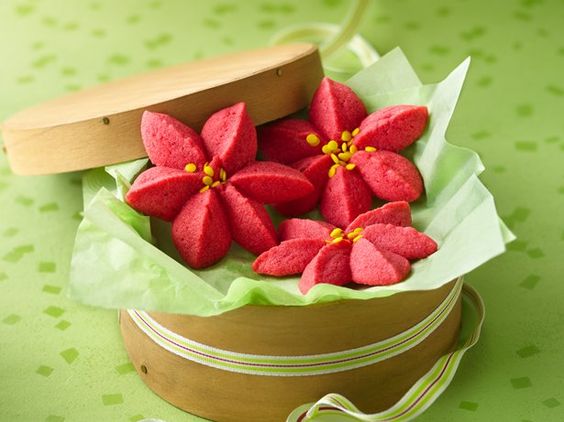 These pretty Raspberry Poinsettia Blossoms are sure to add some festive colors to your cookie tray this holiday season!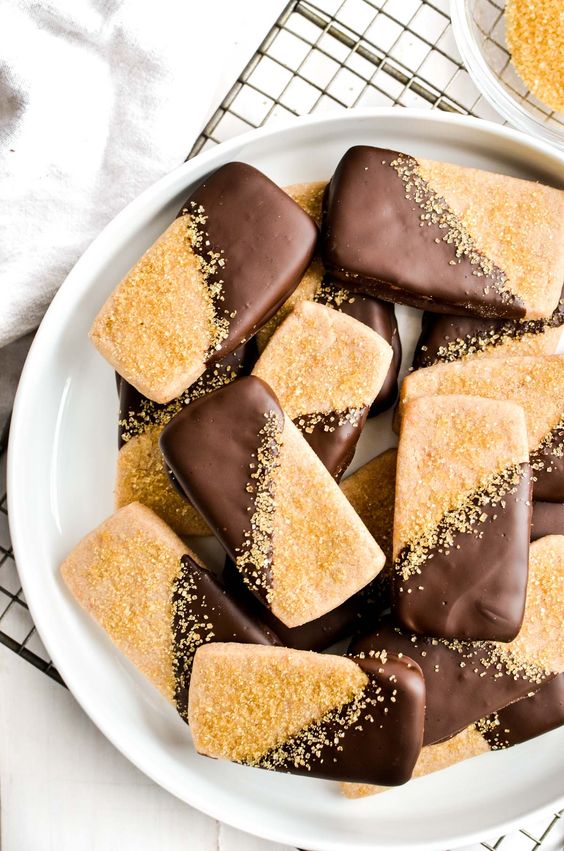 The yummy chocolate dip and all the other flavors you would expect from a traditional churro are included in this easy recipe for shortbread cookies. It would make such a great addition to your holiday cookie tray this year!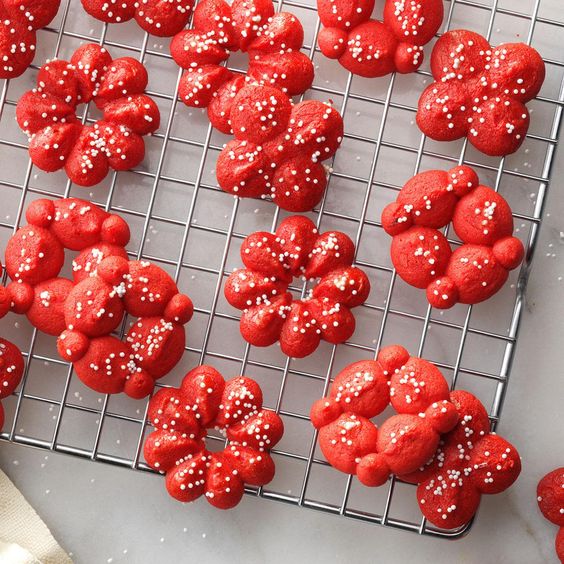 Fill up your cookie assortment this upcoming holiday season with some fun, bold, and festive colors with these delicious Red Velvet Spritz Cookies!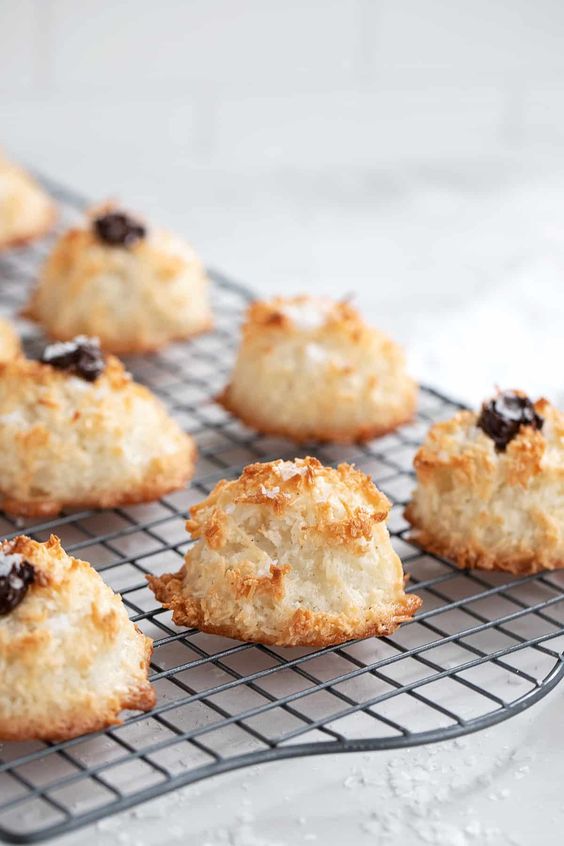 These lovely and delightful coconut macaroons are every coconut lover's dream. Everyone will be clamoring for these delectable sweets on your Christmas cookie platter.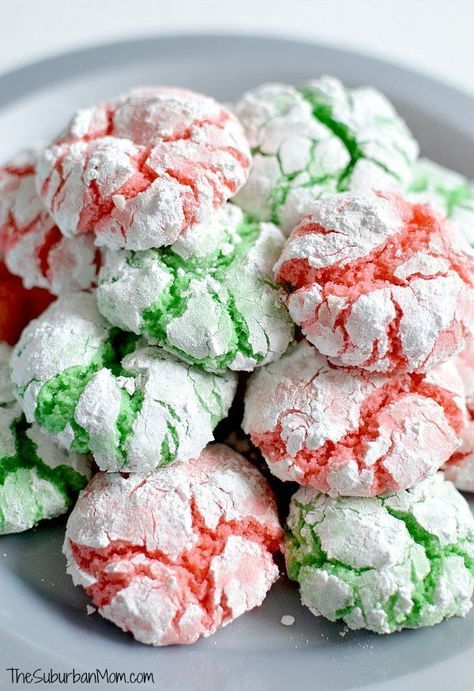 Christmas Crinkle Cookies are a classic holiday cookie that you shouldn't miss out on! You can either go with the usual chocolate flavor or put some food coloring to give them Christmas-themed colors!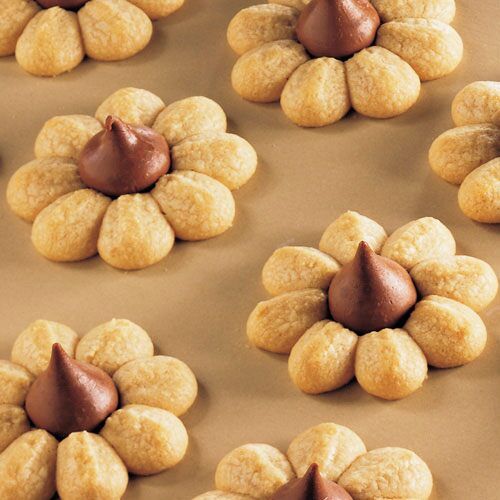 You can never go wrong with this classic Peanut Butter Blossoms recipe! Make sure to bake an extra batch so you don't run out of it quickly during your holiday parties and dinners!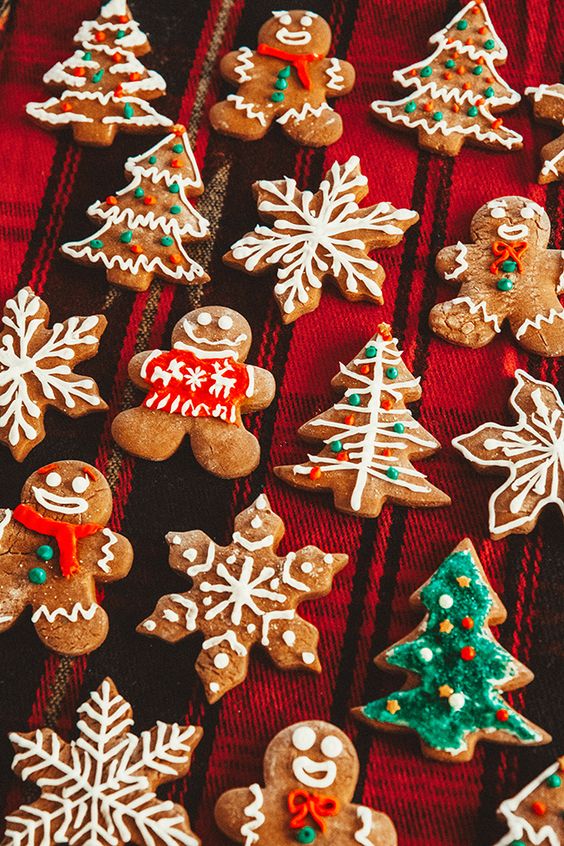 This gingerbread cookie recipe is famous for a reason! Utterly delicious, your guests and loved ones will surely love munching on these sweet treats over the holidays. It's also your time to get creative with your cookie cutters and frosting!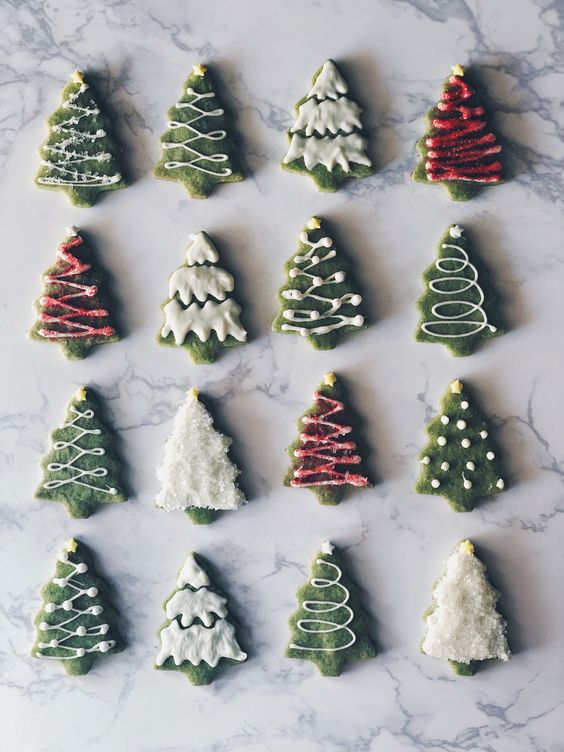 If you're a matcha lover and want to incorporate your favorite flavors into this year's cookie assortment, then this Mini Matcha Christmas Tree Sugar Cookie recipe is an absolute must-try!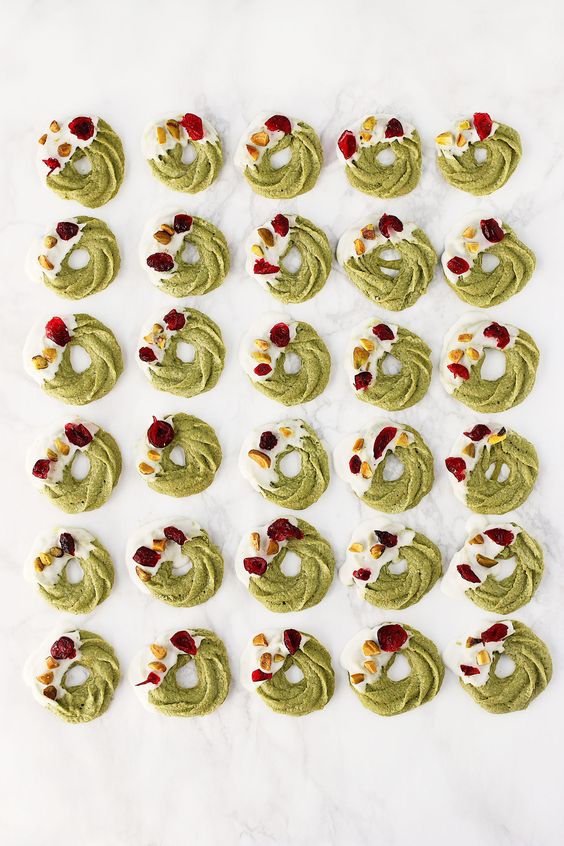 Here is another matcha-themed cookie recipe! These Matcha Christmas Wreath Shortbread Cookies are not only beautiful, but they're undeniably delightful!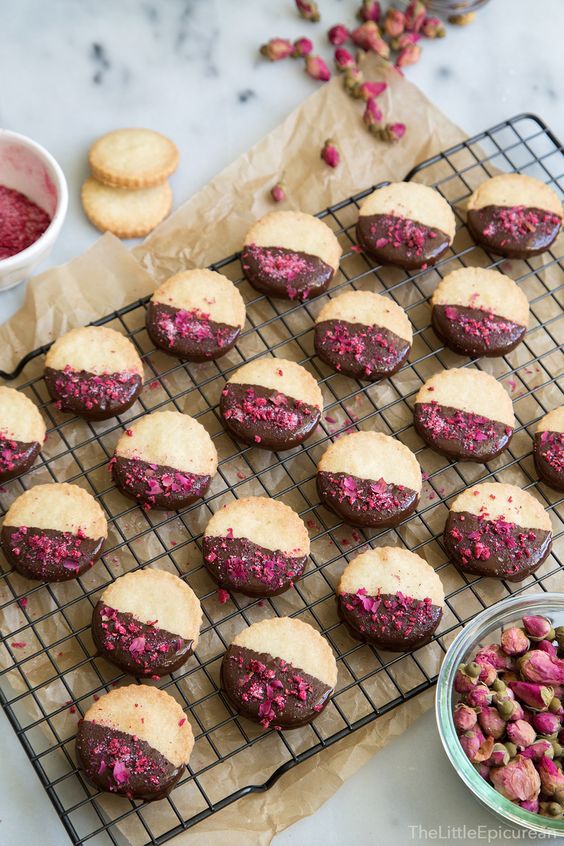 Perfect for a cozy winter afternoon tea party, these Rose Water Shortbread Cookies dipped in chocolate would be everyone's go-to treat no matter the holiday!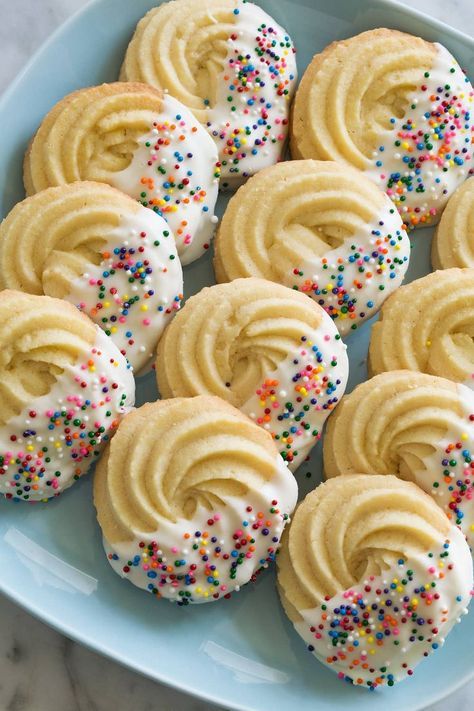 Going for something classic and traditional for your cookie tray? Then these staple butter cookies are undeniably hard to beat! Everyone loves them and you can put your own twists on them to make these treats a little more personal!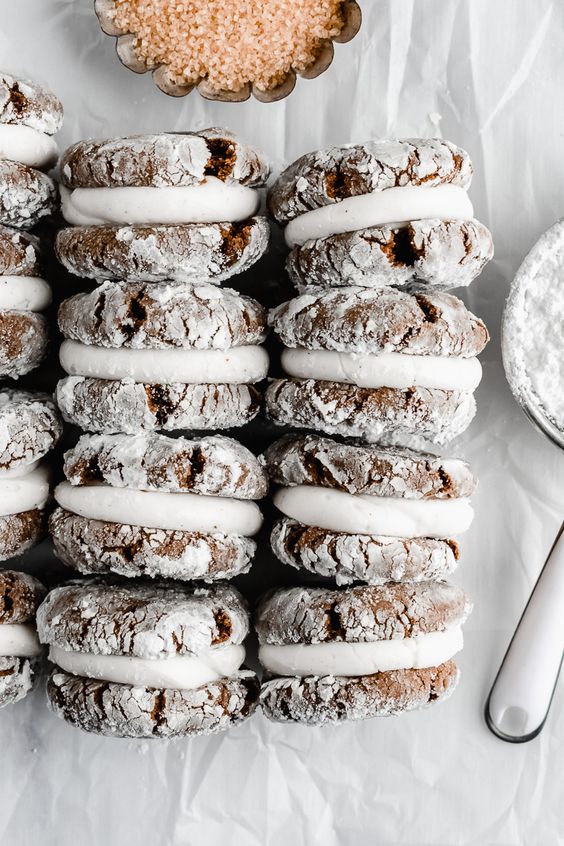 These delicious gingerbread cookie sandwiches are essential for your holiday celebrations! You should absolutely give them a try if you haven't already.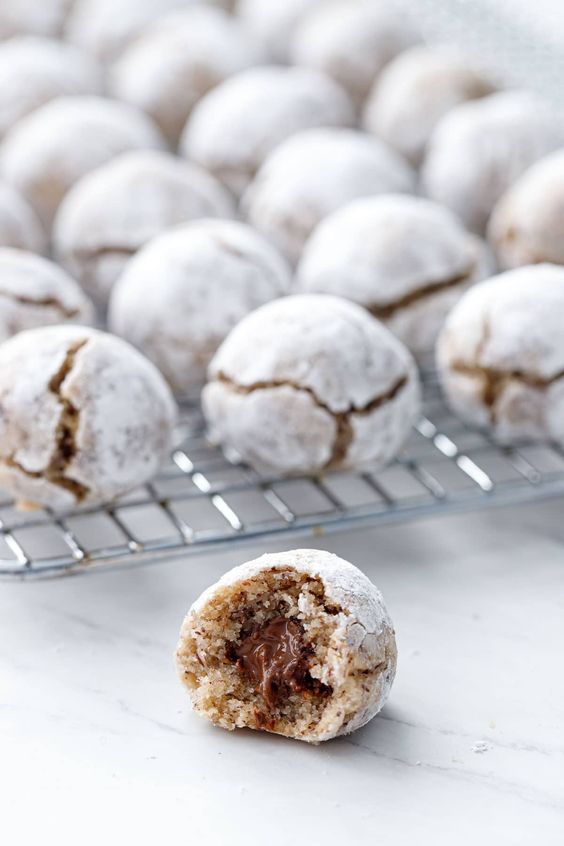 Your guests and family are in for a decadent surprise once they take a bite out of these delicious Stuffed Hazelnut Amaretti Cookies!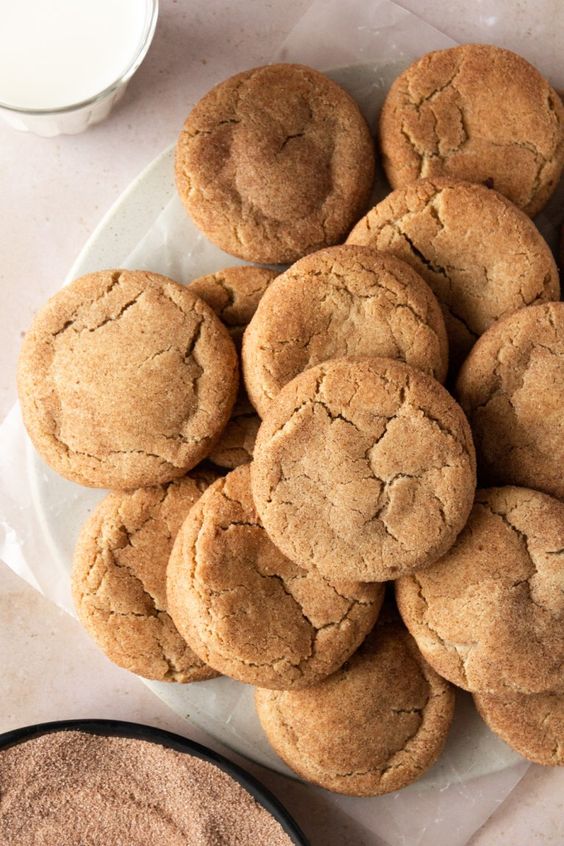 Perfect for any holiday party, these snickerdoodles have a scrumptious cinnamon sugar coating and a chewy interior with crisp edges for a bit of crunch.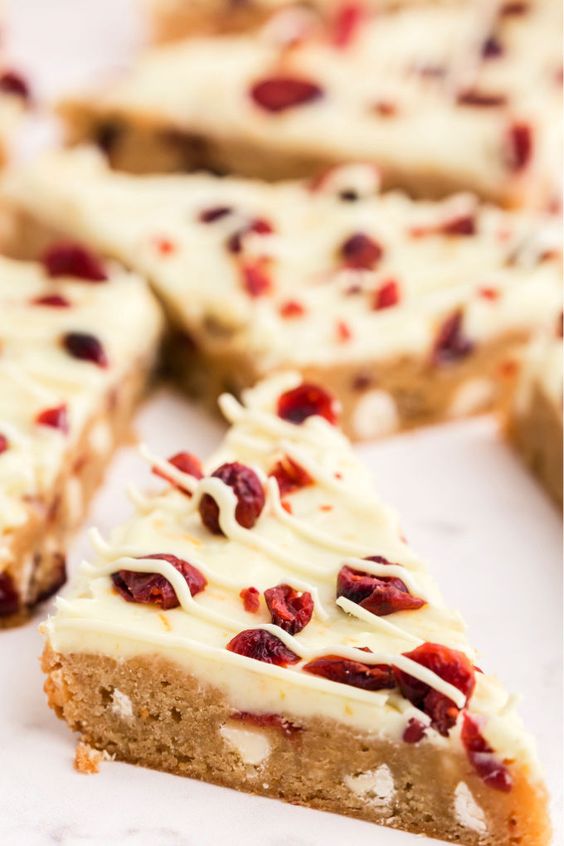 Inspired by Starbucks' very own Cranberry Bliss Bars, these tasty treats are a must-have for your cookie assortment this holiday season!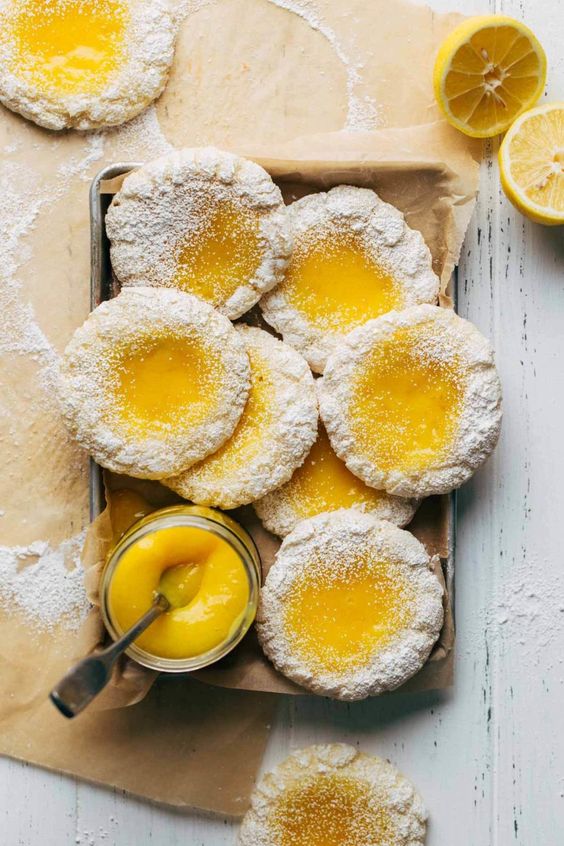 Combine two of your favorite desserts and make something magical like these delicious Lemon Bar Butter Cookies! Mixing the creamy tartness of lemon bars with the richness of butter cookies, this is going to be an absolute hit with your family over the holidays!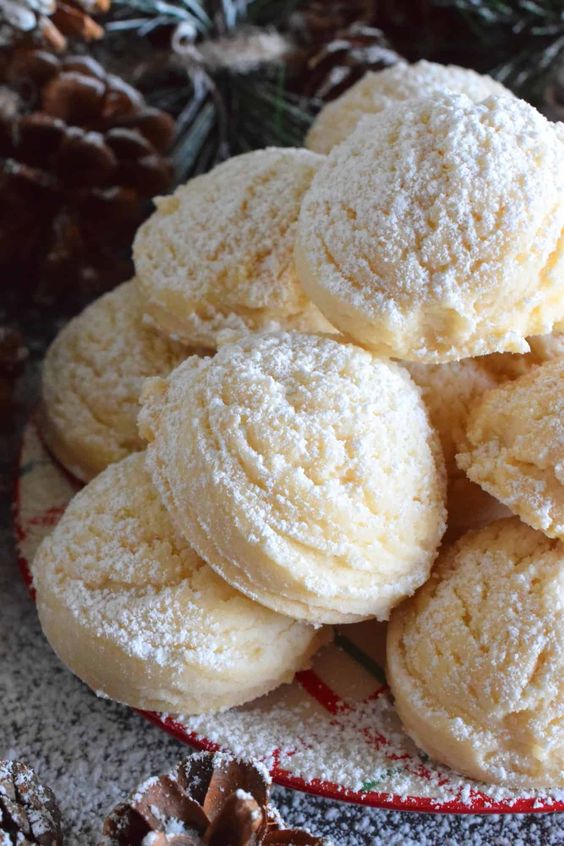 Easy to make and whip up at the last minute, these Sweetened Condensed Milk Snowballs are airy, fluffy, and have the right amount of sweetness that is sure to satisfy everyone's sweet tooth!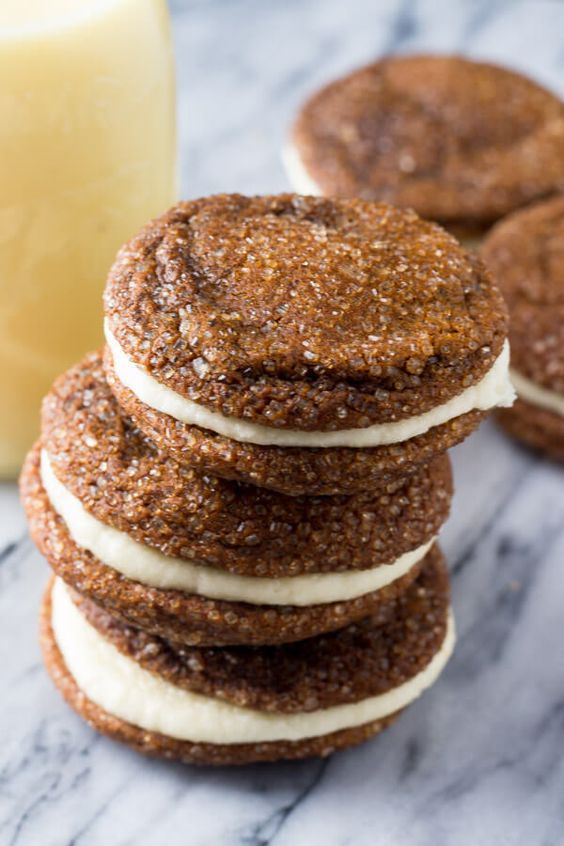 You can't get any more festive than these scrumptious Ginger Molasses Sandwich Cookies with Eggnog Frosting! Once it's served, everyone will be trying to get their hands on them to get a bite!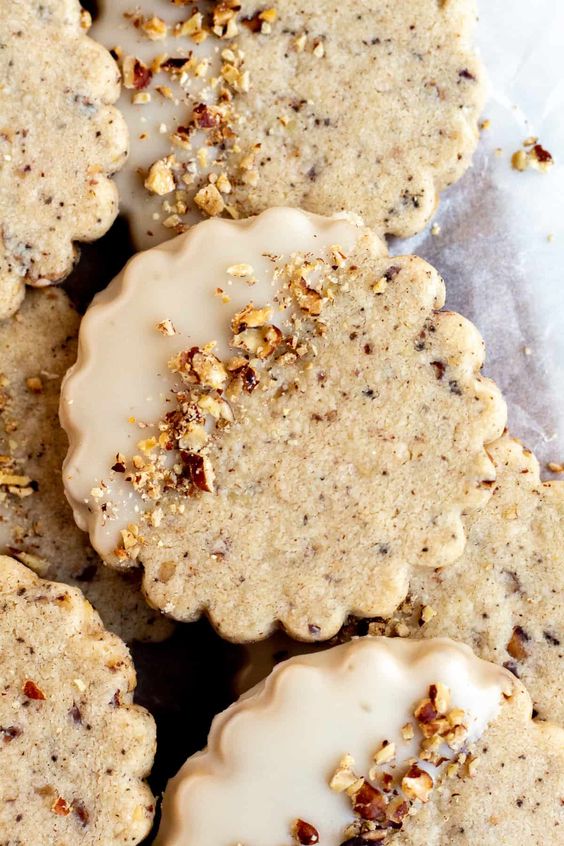 Buttery, nutty, and crumbly, these amazing Brown Butter Maple Pecan Cookies are not to be missed out on this holiday season!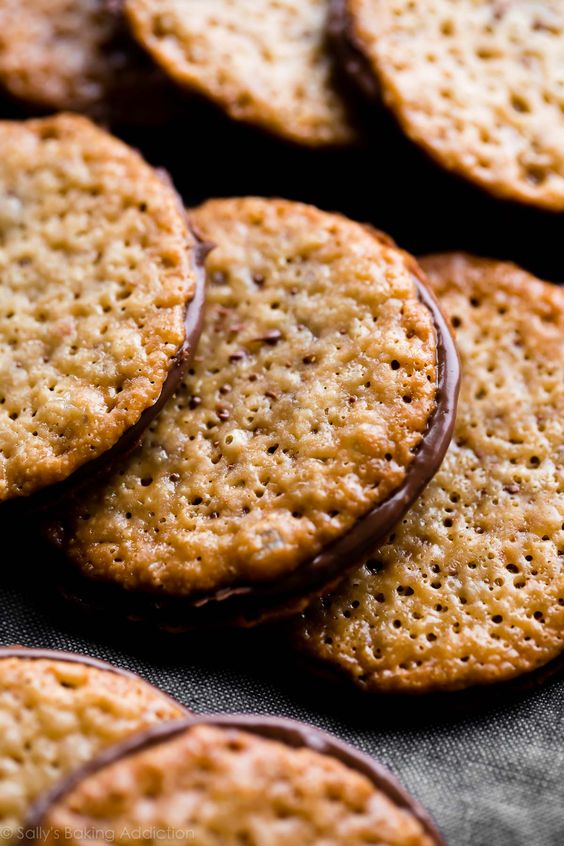 Another holiday treat that's great for anyone who needs to make something quick for their guests is these Easy Lace Cookies! They're sweet and you can achieve them with just 6 ingredients!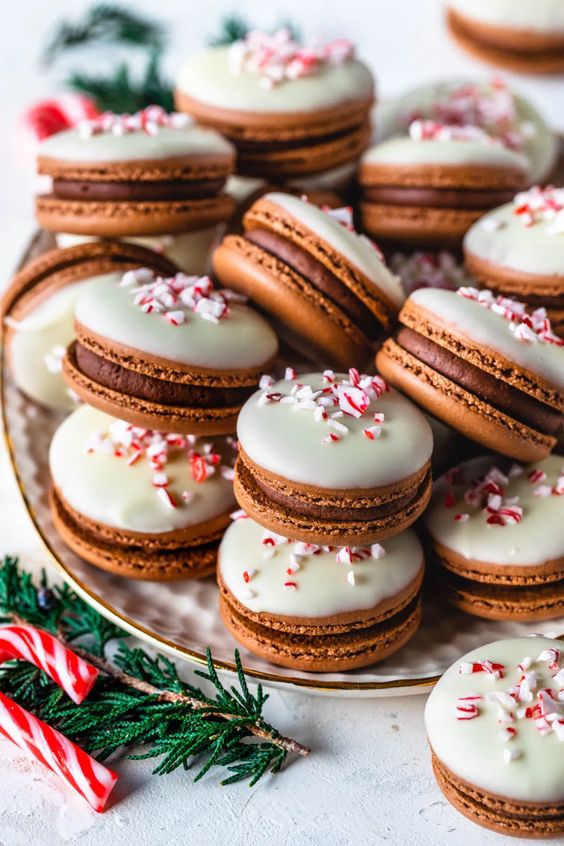 Sweet and utterly refreshing, these Peppermint Bark Macarons are the perfect festive treats to serve this Christmas season! They'd taste so good paired with a steaming cup of hot cocoa too!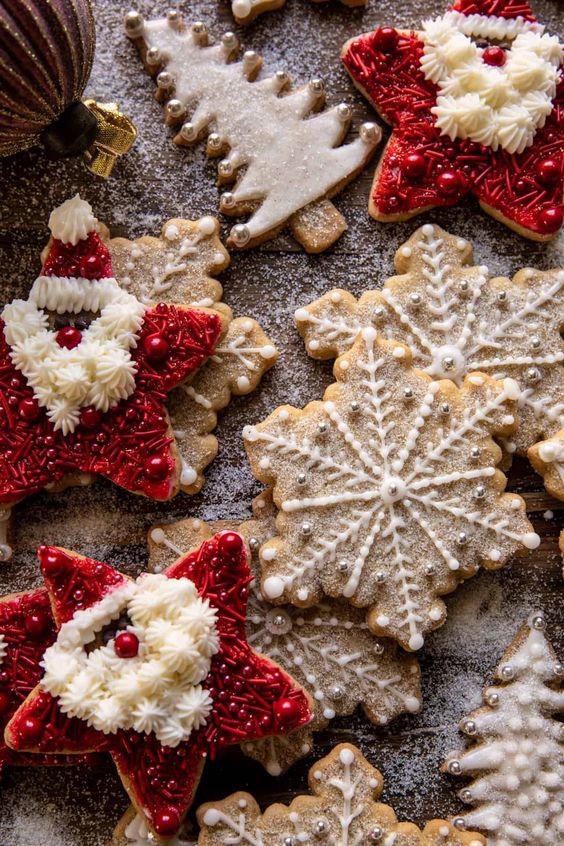 If you're looking to try something completely out of the box this holiday season, then why not try baking these Santa Clause cookies? These cookies are soft, buttery, and just the right amount of sweet with undertones of caramel throughout.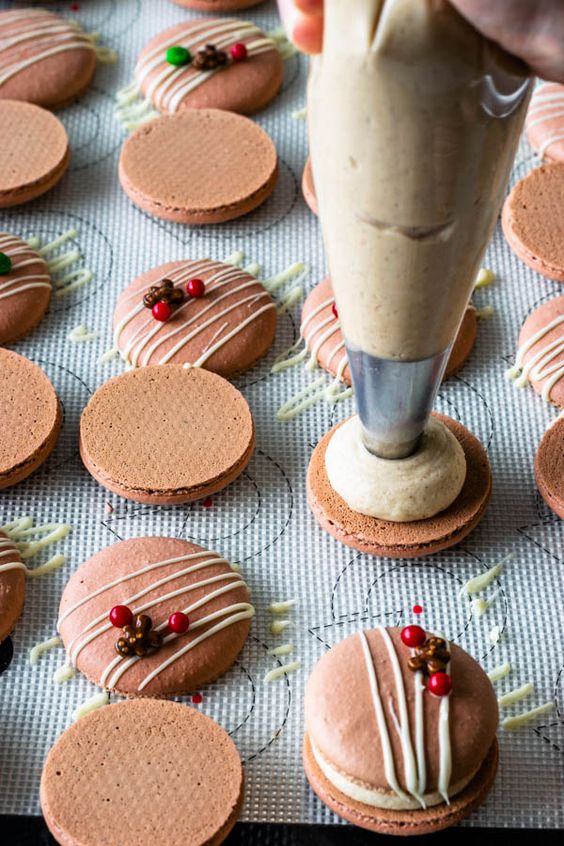 Had enough gingerbread cookies? Then why not incorporate these tasty gingerbread flavors into a macaron instead for something a bit more different this holiday season?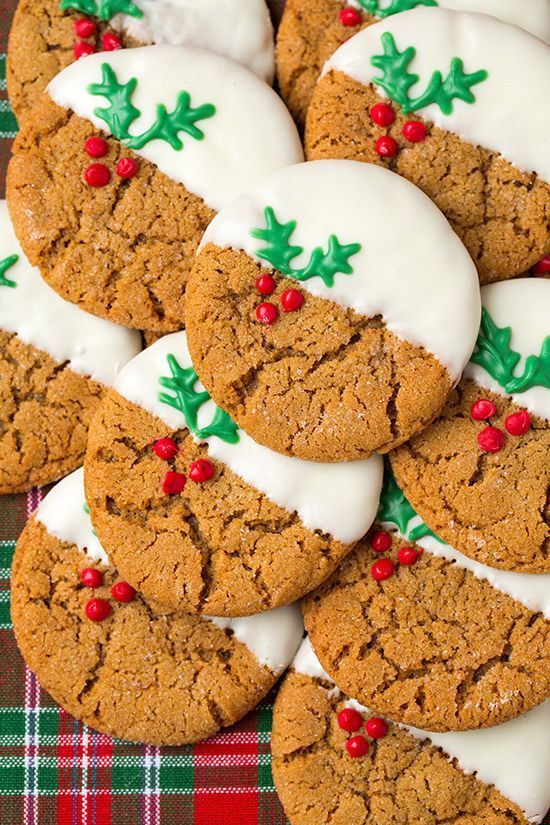 Packed with spices and gingery goodness, these White Chocolate-Dipped Ginger Cookies are a must-try this Christmas season!
Perfect for a cozy winter holiday! These mouthwateringly soft marzipan-filled sugar cookies with almonds are delicately scented with orange blossom water to give you an interesting flavor.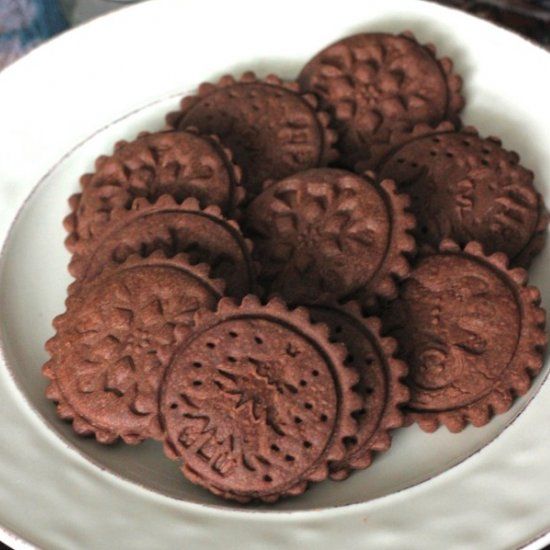 Slight sweet and utterly decadent, it's hard to go wrong with these classic Chocolate Shortbreads!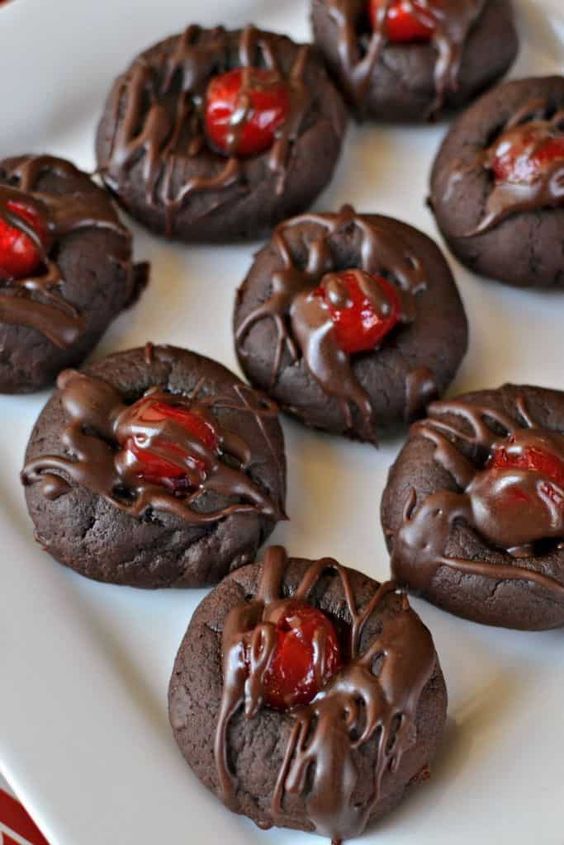 A tender fudge cookie topped with a thick layer of chocolate fudge sauce and a delicious maraschino cherry in the middle. How can anyone possibly resist?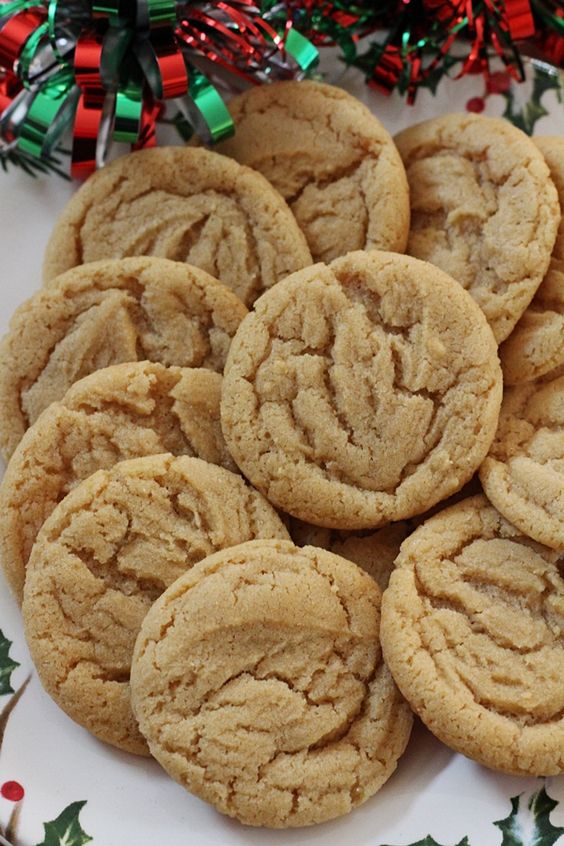 Exactly what the name says, these rum crinkle cookies are just so tender, soft, and chewy! I can totally see this perfectly paired with a nice hot cup of cocoa or your favorite seasonal coffee.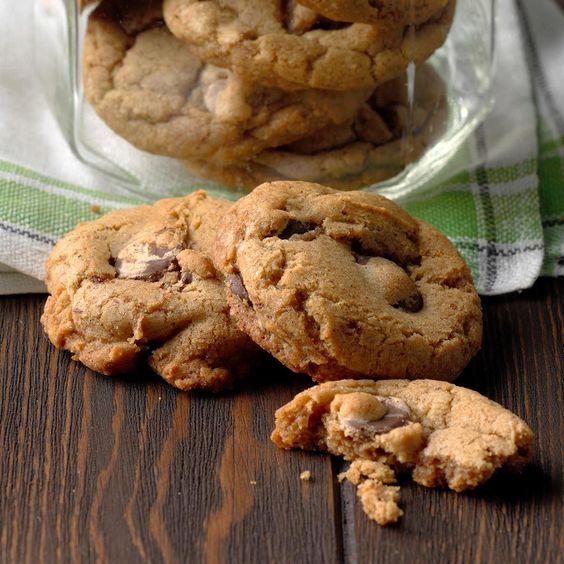 'Tis the season of spice cookies! This recipe calls for a unique spice biscuit made with brown butter, dark chocolate, and a dash of rum that is sure to be a holiday hit this year!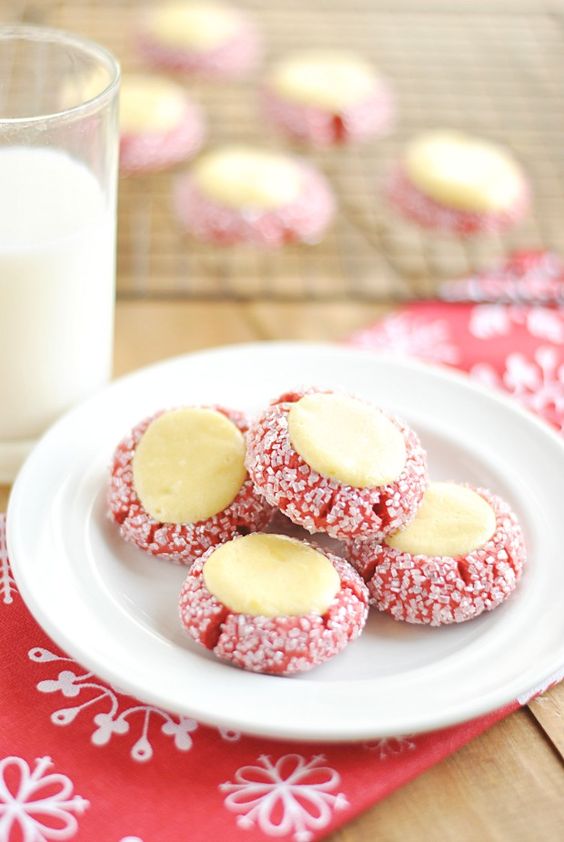 Can't choose between a cheesecake or a cookie platter for your holiday treats? Why not mix the two to get the best of both worlds? That is exactly what the Red Velvet Cream Cheese Thumbprint Cookies are!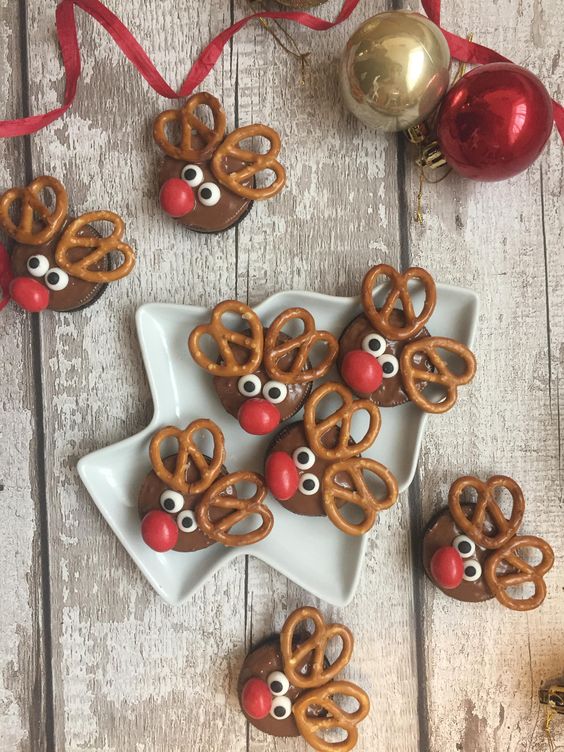 No oven? no problem! This easy, no-bake reindeer oreo cookie recipe has got your back this holiday season!
Whether you're looking to give them as edible gifts or to add them to your Christmas cookie assortment this holiday season, these delicious candied fruits are to be a delight!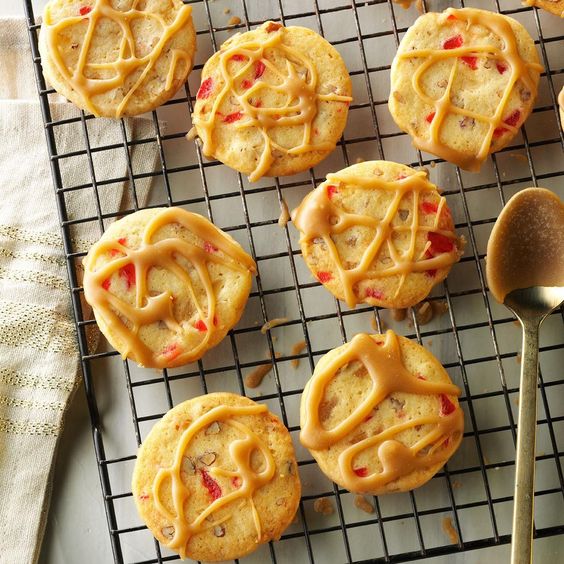 If you want to add a bit more flare to your candied fruit cookies, then this glazed recipe is a must-try!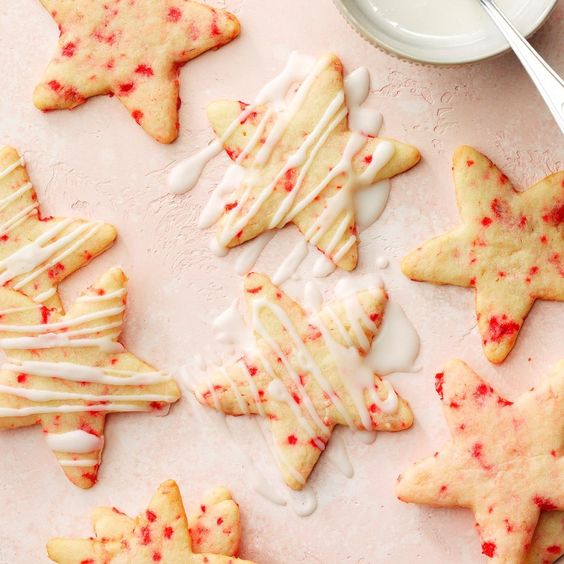 These peppermint stars are not only cute, but they give a refreshingly sweet flavor with every bite! You can also opt to pick a differently-shaped cookie cutter if you prefer.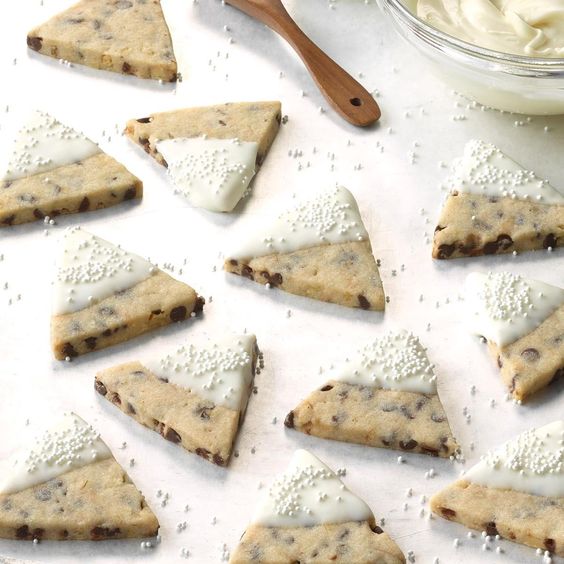 Been dreaming of one day going to the Swiss Alps? Why not recreate this dream with your cookie platter this Christmas season like these delicious and gorgeous Snowy Mountain Cookies?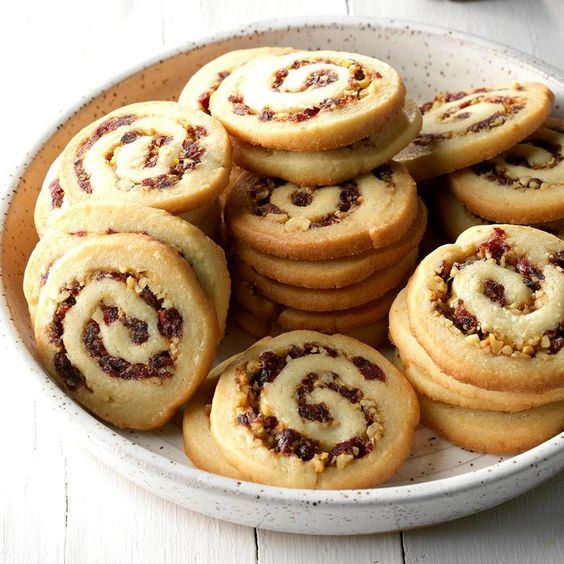 I love berries in almost any dessert so it's hard not to suggest these yummy Cranberry Nut Swirls for the holiday season. Try it out for yourself and you won't regret it!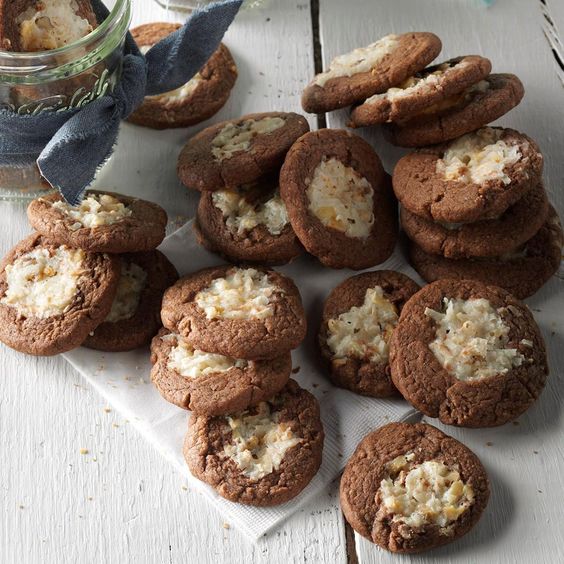 Crispy cookies with a chewy coconut center might just be the perfect addition to your cookie assortment this holiday season.
Originating from Germany, Pfeffernuesse (or peppernuts in English) are mildly spiced cookies that are a classic Christmas staple in every cookie platter!
Butter cookies are undoubtedly a classic Christmas dessert. But this recipe gives it a nutty and chocolatey twist that melts right in your mouth!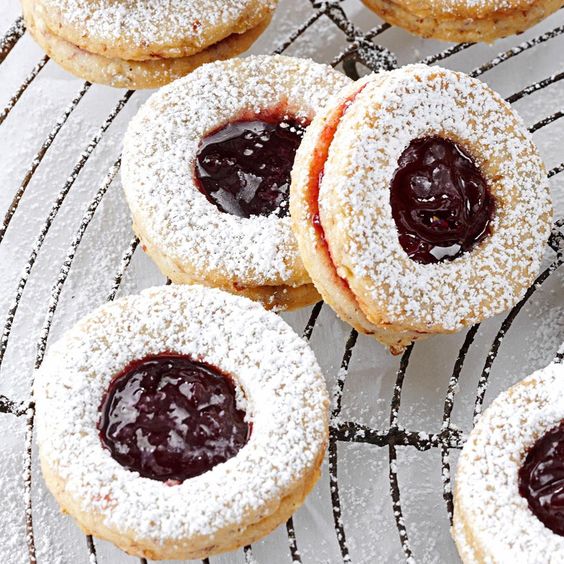 Linzer cookies are one of the best treats to serve over the holidays so this recipe infused with cardamom and blackberry is an absolutely must-try!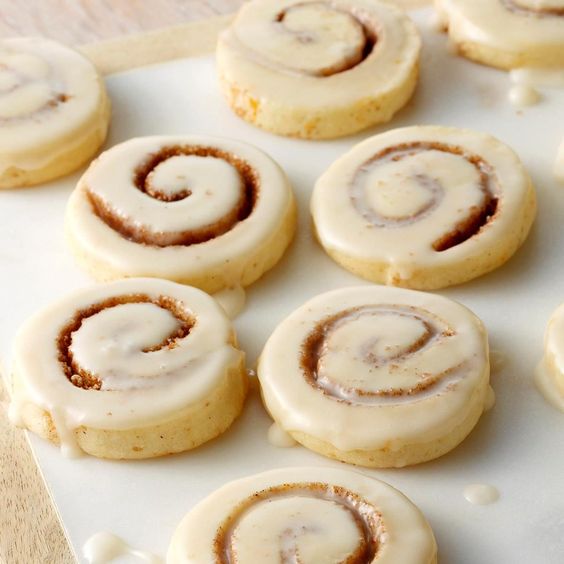 Who doesn't love cinnamon rolls, right? They're my absolute favorite during the Christmas holidays and you can't certainly miss out on making these delicious bite-sized cinnamon roll cookies!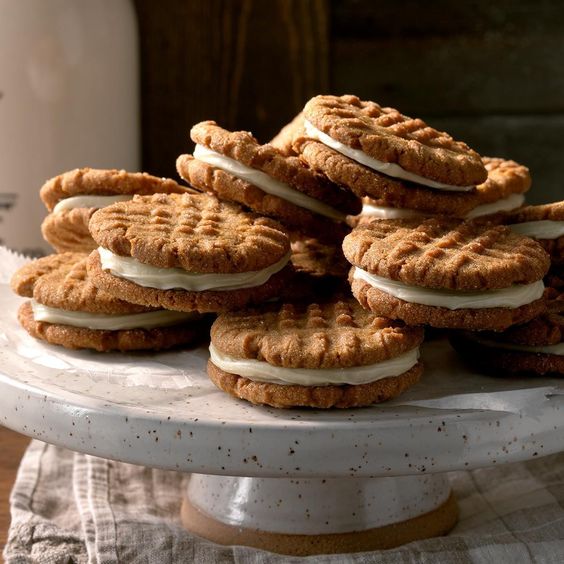 Your family and guests will surely snatch these Ginger Creme Sandwich Cookies up once they are served. Remember to make an extra batch just in case!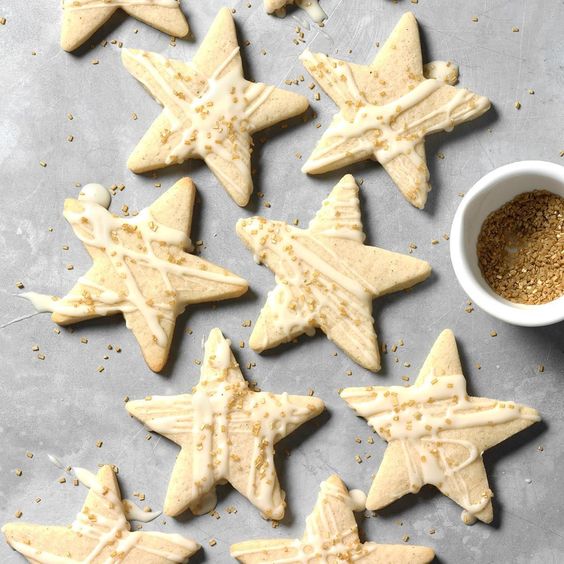 Finding yourself having more eggnog to spare? Then you should definitely give these Spiced Eggnog Rum Cookies a try for a boozy dessert.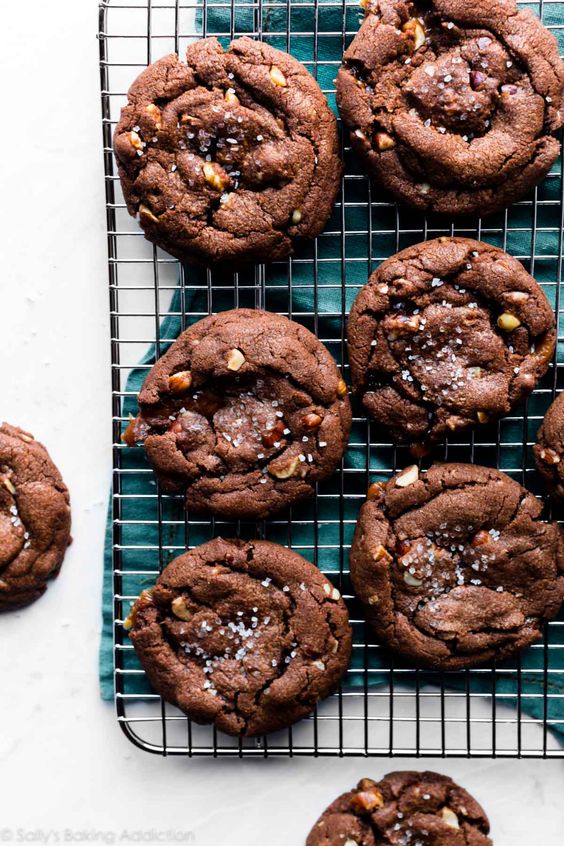 If these Caramel Stuffed Nutella Cookies can't satisfy your sweet tooth during the holiday season then I don't know what will! These are absolutely decadent, soft, and chewy!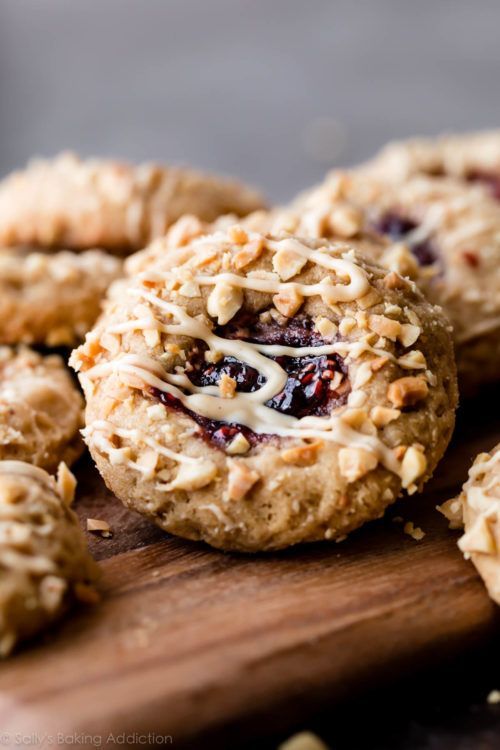 I just love a good peanut butter treat. And these Peanut Butter Jam Thumbprints should certainly be on everyone's cookie assortment this holiday season!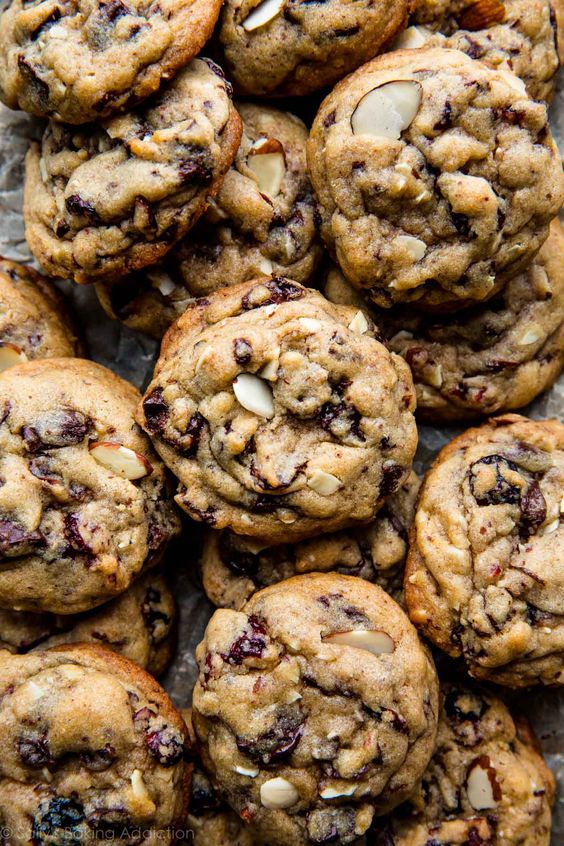 These decadent dark chocolate cranberry almond cookies are packed with cranberries, almonds, and pools of melted dark chocolate. Your family and guests will surely love munching on these! They are incredibly dense, buttery soft, and cinnamon-spiced.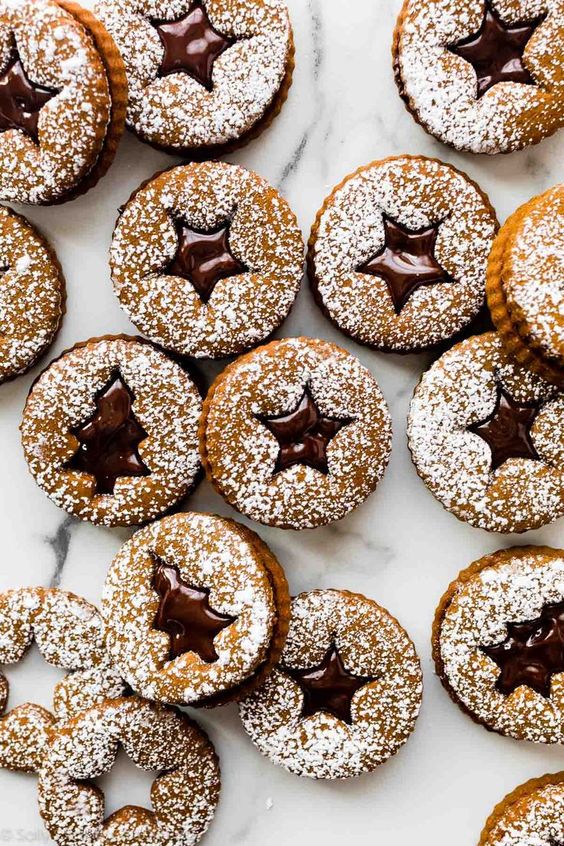 You're sure to make something special with these Linzer-shaped Chocolate Gingerbread Sandwich Cookies when you combine gingerbread cookies with thick and creamy chocolate ganache!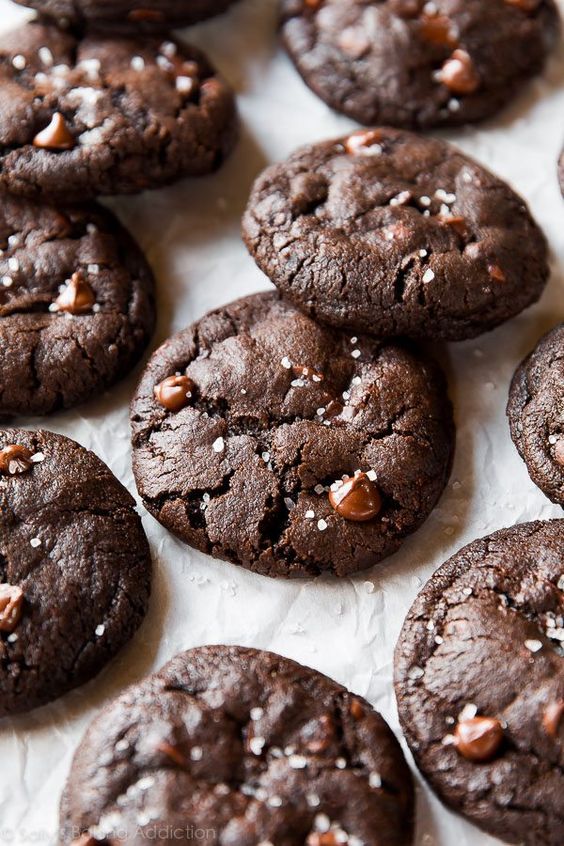 If you feel like you've had enough sweetness in your cookie platter, then these chewy Salted Dark Chocolate Cookies will give you a deeper and more interesting flavor that's perfect for those who don't like anything too sweet.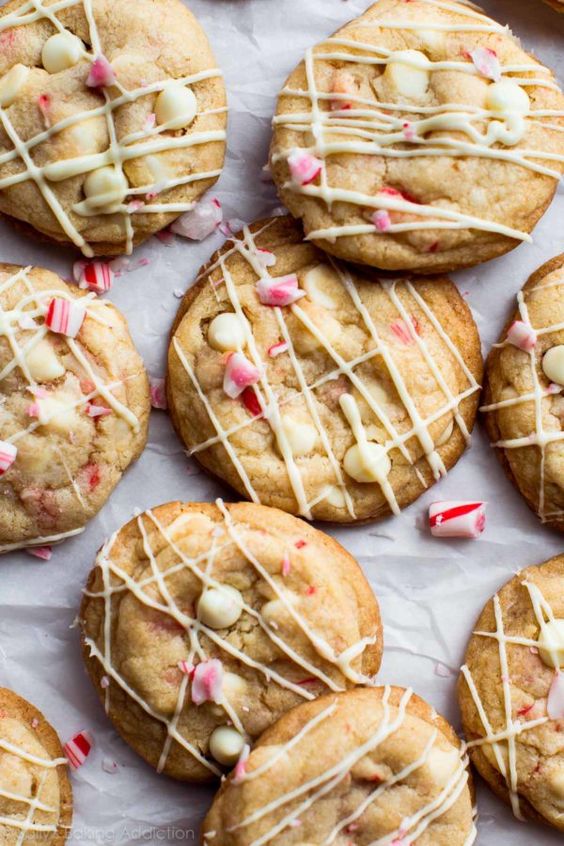 Packed with white chocolate chips and crushed candy canes, these Peppermint White Chocolate Cookies are going to be a real crowd favorite over the holidays! This is one of our favorite Christmas sugar cookie recipes with an added peppermint bonus.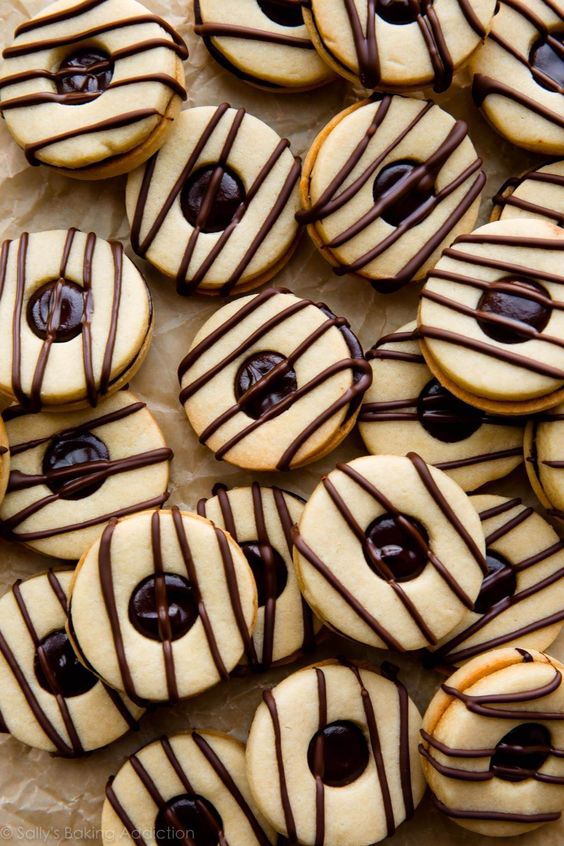 I honestly can't get enough chocolate treats this holiday season, so these Striped Fudge Cookie Sandwiches are a definite must-have on your cookie platter!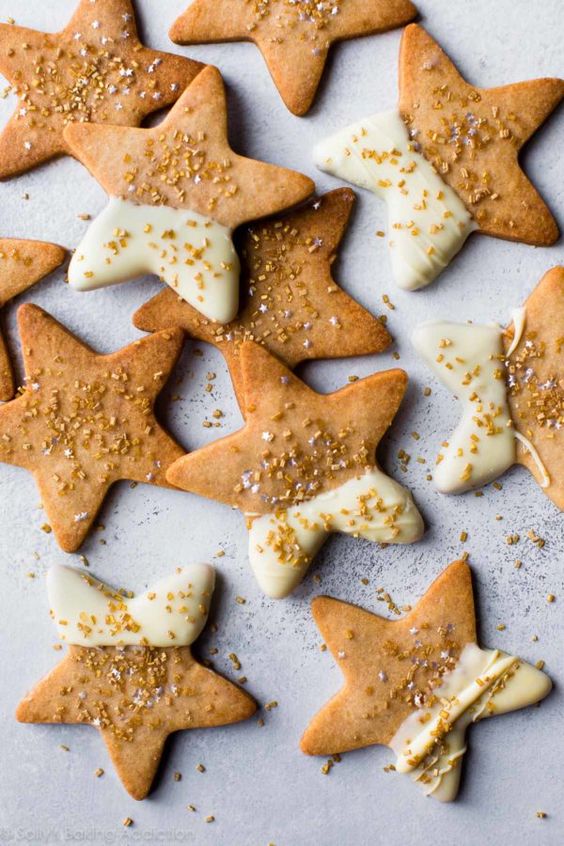 These straightforward yet delicious maple cinnamon star cookies are decorated with edible glitter stars, white chocolate, and gold sprinkles that are sure to make your cookie tray a lot more festive!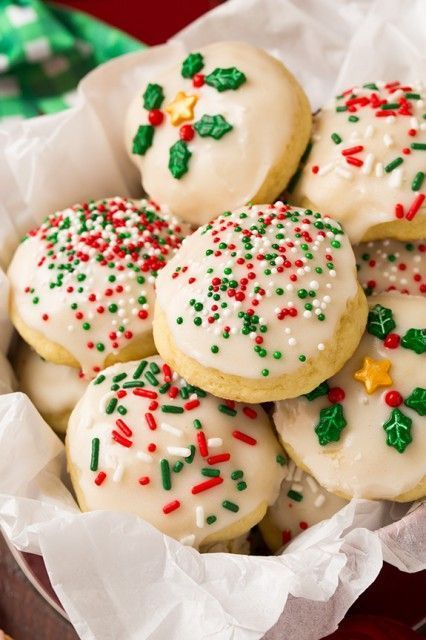 It'll be hard for your family and guests to stop just at one with these yummy Italian Ricotta Cookies. They're super soft, super moist, and utterly sweet.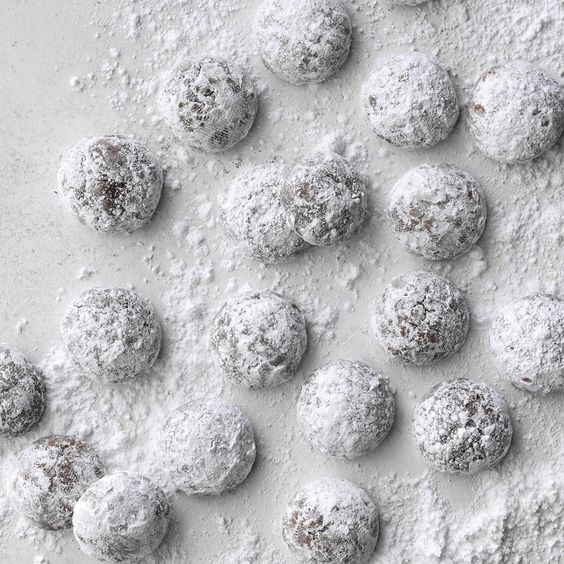 These Chocolate Snowball Cookies are the perfect melt-in-your-mouth treats that will surely be adored by your whole family over the holidays.
Hopefully, this post gave you lots of ideas for easy Christmas cookie recipes! Whether you're looking for old fashioned Christmas cookie recipes, interesting cookie designs, or Christmas sugar cookie recipes, these tried and true recipes will be perfect for everyone.