Looking for the most gorgeous spring nails that are trending this year? We're sharing the top spring nail designs, colors, and ideas for 2023 that you should definitely try!
Spring is almost here! I'm ready in basically every way, from my closet to my home decor. For me, spring is a season of regeneration. I like to start new and incorporate happy, clean colors into my life.
This of course includes my nail colors! Even though pastels are "in" every spring, I find that specific spring trends change so much.
I've stocked up on the hottest spring nail colors and couldn't be more excited to try them. Some of the colors that are on-trend this season are so beautiful! There are so many cool trends this spring, from marble to unique floral spring nail designs. Some of these spring nails would require a nail technician to get the look (unless you're insanely talented at nail art) but others are pretty simple and can be done at home.
Spring Nail Designs & Colors:
Here are my favorite spring nail colors & trend inspiration photos! Feel free to save these photos to your phone for reference or to show your nail technician.
To save a picture, hold down on the image then click "save to camera roll."
Florals & Greeneries
When you think of spring nails, I'm sure many of you instantly think of florals and greeneries during this gorgeous season. And how could you not? One of the things I look forward to the most whenever springtime comes is the beautiful blooming of flowers.
After months of going through the gloomy and moody atmosphere of winter, I honestly can't wait to paint some intricate florals on my spring nail designs to really suit the springtime. If you're like me, then you'll certainly love the floral nail art designs I have curated for you for your spring nails.
Apart from the classic florals, you'll also find a few pretty greeneries here too if you want to do something a little bit different this year.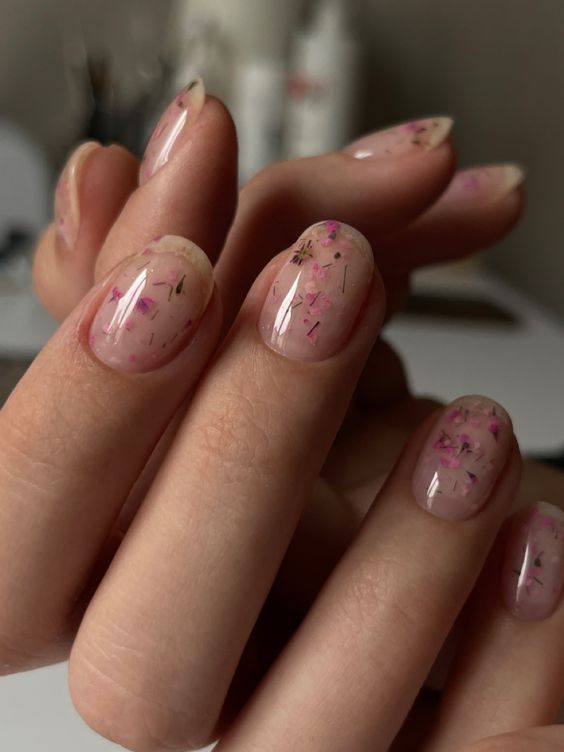 If you're planning to go for a minimalistic route with your cute spring nails, then you should definitely give this one a try. You won't need to coat your spring nails with any solid spring nail colors for this one. A transparent base coat is all you need, then top it off with nail stickers that resemble dried flowers before adding another layer of colorless polish.
But if you're really looking to get creative, you can also use actual dried flowers! This particular design gives off such a dainty and vintage feel and I adore it so much.
For those just starting out with nail art, this kind of manicure might take you a bit more time to do, but the stunning result on your spring nail designs would be worth every second!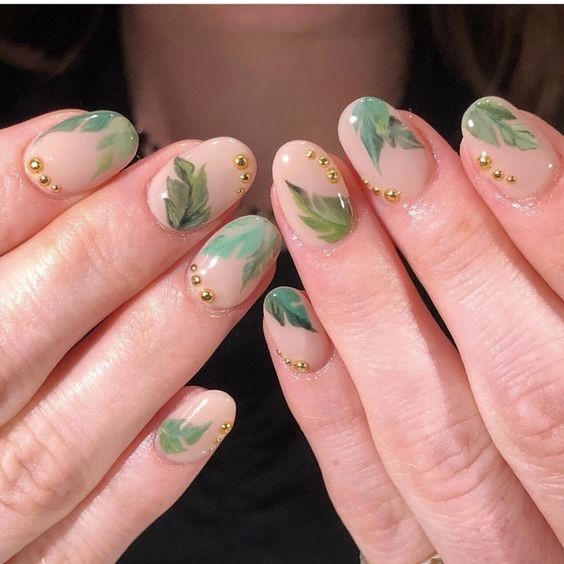 Not too fond of flowers? That's completely fine! Perhaps you would like to do something a little bit different this spring season? Then you should definitely consider doing these gorgeous greeneries on your cute spring nails for your next nail appointment.
But if you're doing DIY, then all you really need is a nude base coat, a few shades of green nail polish, then some tiny gold beads to embellish your manicure. However, if you're no pro when it comes to nail art, then you can always get away with using some nail stickers to achieve those intricate leaf designs.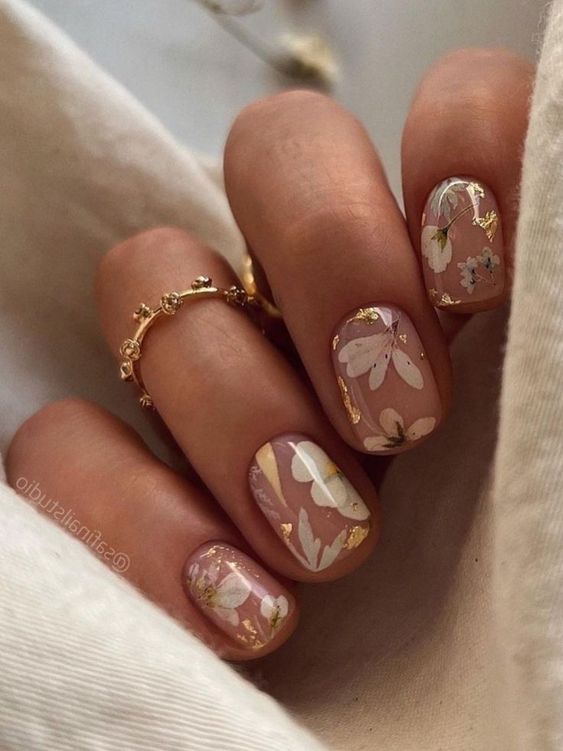 For a classy and sophisticated design that will give you effortlessly elegant but cute spring nails, then this is for you. The combination of nude and white just instantly elevates any manicure to classy perfection. Add in some gold foils for a touch of sparkle and shimmer and you are all set!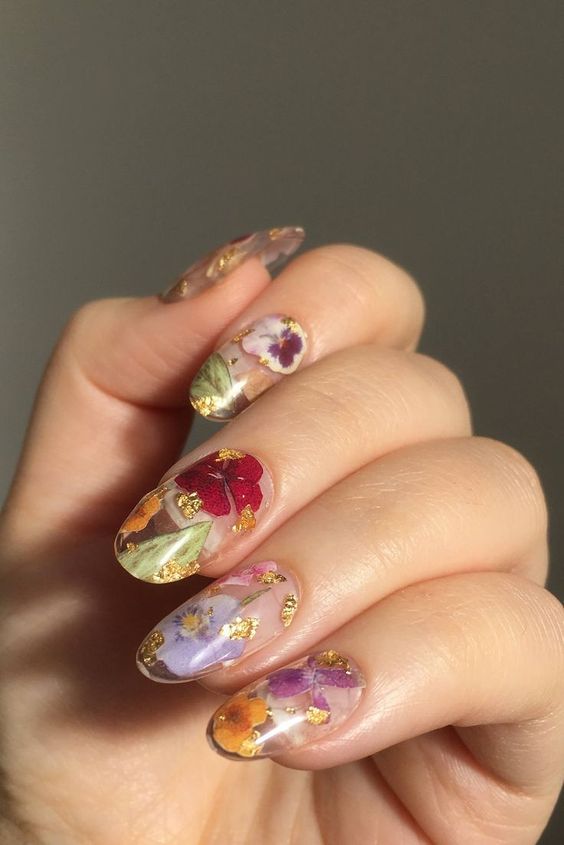 This has got to be one of my favorite floral spring nail designs on this list. If you're looking to use soft gel or acrylics for your cute spring nails this year, then you will surely love this particular manicure.
Not to mention, if it isn't obvious already I am also quite obsessed with using dried flowers for my manicure. They just look utterly gorgeous, especially with the addition of gold foils. But this one uses bigger florals compared to the previous one which was a little more minimalistic and understated.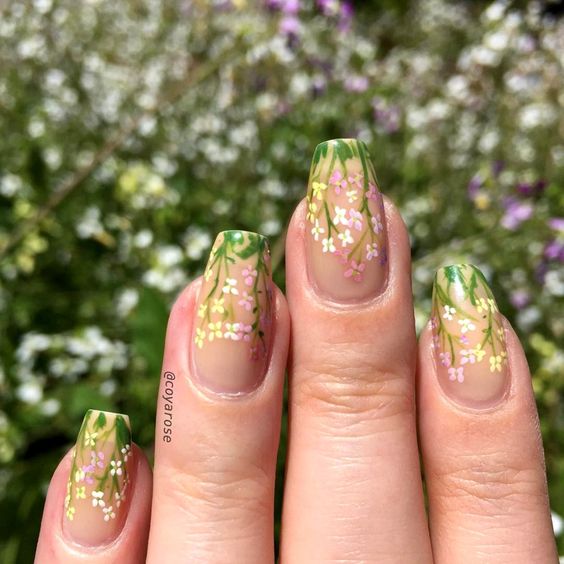 Looking to get the best of both worlds for your colorful but still cute spring nails? Then look no further than this design! If you're wanting to get a mixture or combination of florals and greeneries, then you might love this manicure.
Forget plain white French tips, use flowers and beautiful leaves instead to style up the tips of your spring nail designs! This will give your hands the ideal spring makeover!
Don't you just love the color blue? It gives me a really serene and calming vibe. So if you're looking for some cute spring nails inspiration with this beautiful spring nail color, then you should definitely check this one out.
Make use of the negative space to create classy blue French tips as well as florals all over your accent nails. This will give your manicure a dainty and sophisticated look that's perfect throughout the spring season. This is one of my favorite spring nail designs right now!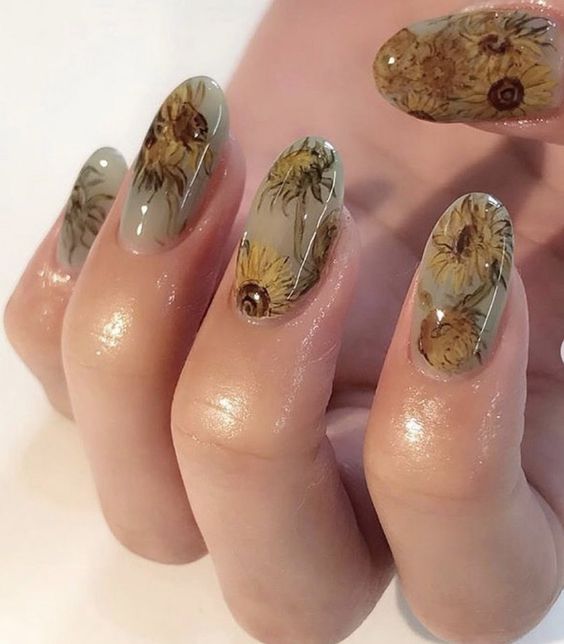 I personally prefer more solid spring nail colors when it comes to my spring nails. That's why I'm so obsessed with this sunflower-themed manicure! I love the muted shade of sage green for the base coat and how it blends so seamlessly with the gorgeous sunflower nail art. If you love a vintage vibe for your spring nails, this is definitely for you.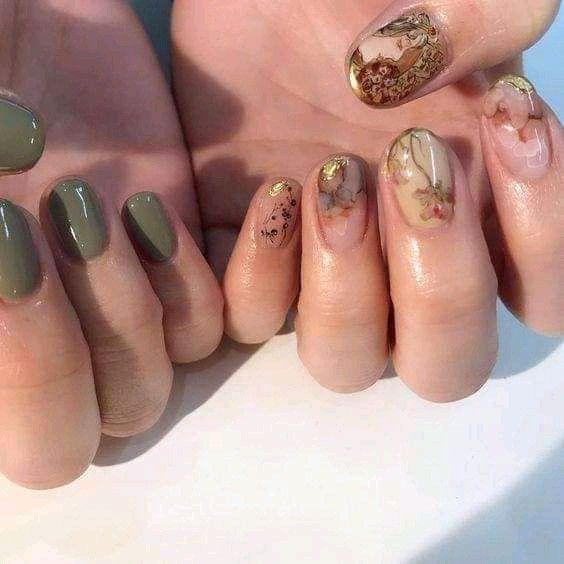 Can't decide between florals or using a monochrome solid color for your spring nails? Why not do both? You can ask for intricately drawn flower nail art for your other hand while the other gets a simple and plain solid spring nail color for a stunning contrast.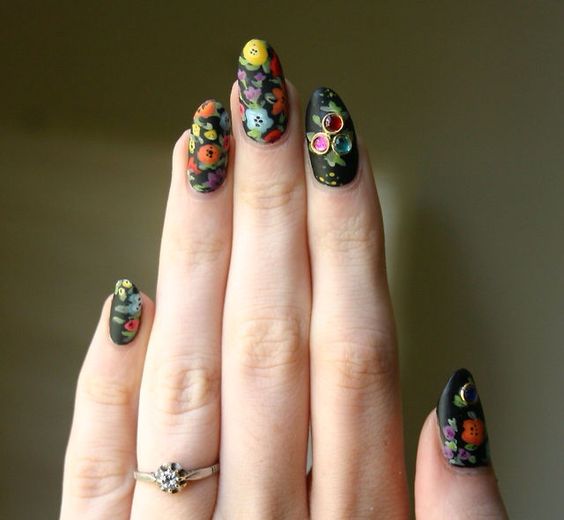 Looking for spring nail ideas that are a bit more edgy? Who says you can't wear black on your nails for spring? Definitely not me! I, for one, think that using a black base coat can give your nail art a beautiful contrast of spring nail colors. This also gives you a lot of room to pick the most vibrant colors so your manicure ends up undeniably eye-catching.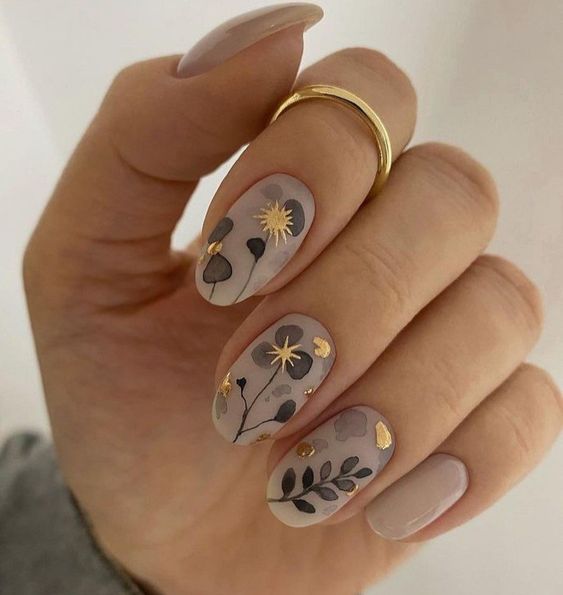 But if you want a more muted aesthetic, then choosing neutral spring nail colors like this one would definitely suit your vibe. I love how the dainty and soft flowers on the nails seem like they were drawn with watercolors. Not to mention, the matte finish lays a good canvas for nail art. Add some gold foils for a touch of sparkle!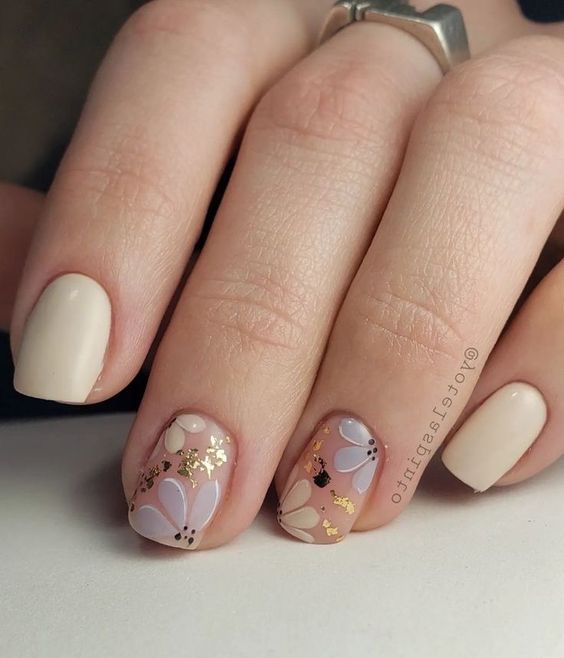 Here's another set of floral spring nail designs that you might love if you're looking for more neutral color schemes. With your accent nails, you can ask your nail artist to draw beautiful florals for you that are surrounded by golden shimmers from foils.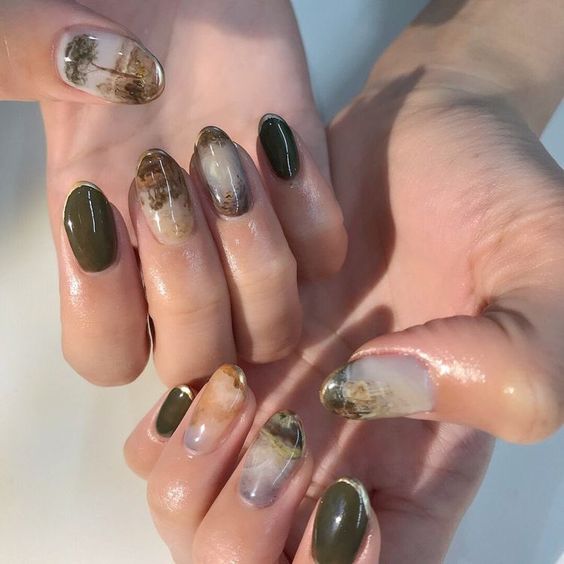 But if you want greeneries that have a rather vague and abstract feel to them, then you might love this manicure. I personally like how this feels like an actual painting rather than just a simple manicure. It's a total work of art!
Pastel Spring Nail Ideas
You definitely can't go through springtime without thinking of doing pastel spring nail designs at least once. These colors are the epitome of spring and they're one of the prettiest shades of spring nail colors you can find. They're so soft and feminine and the designs you can make with them are practically endless!
So if you've been planning on getting pastel nails but haven't decided on a specific design yet, then you should keep scrolling to look at the ones I have listed just for you.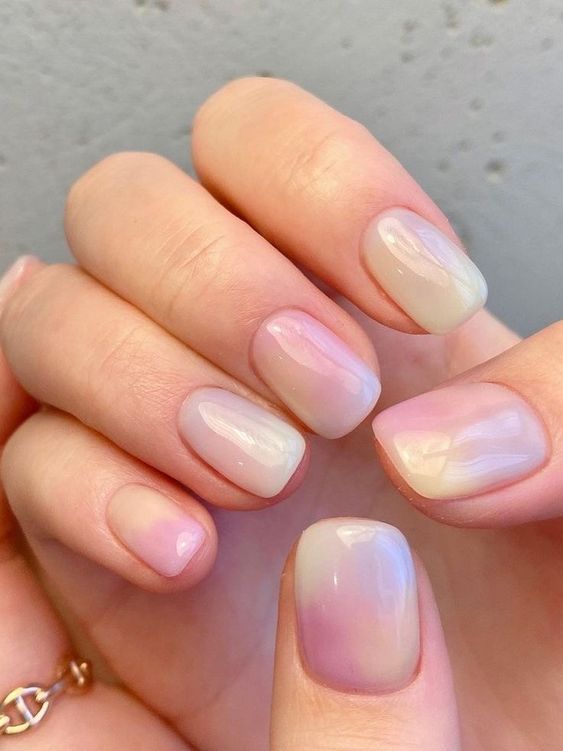 If you're looking for something rather simple yet still so trendy with your spring nails, then perhaps these gorgeous gradient pastel nails would suit your taste. So ethereal and youthful-looking, this kind of nail art is just so perfect for the spring season. This is also great for those who want to use a mixture of different pastel shades!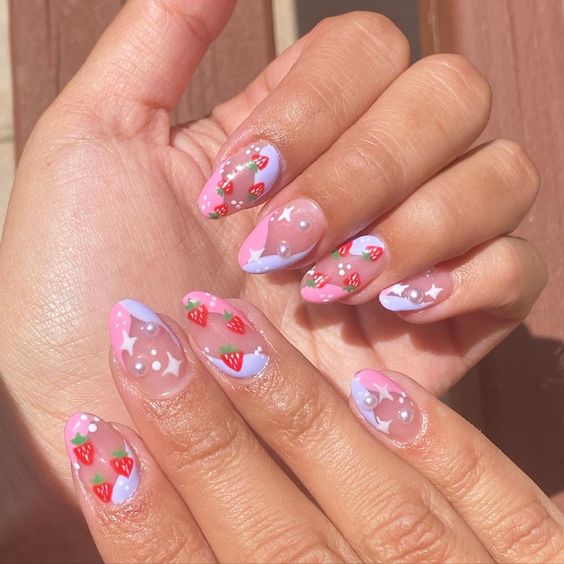 The use of negative space on your nails can make for very pretty nail art for the spring season. Combine strawberries and sparkles, as well as pearly embellishments to achieve this particular manicure!
What's more, if you opt to pick a pink and white color scheme, your manicure would literally look like "strawberries and cream". Overall, this is such quirky and fun nail art!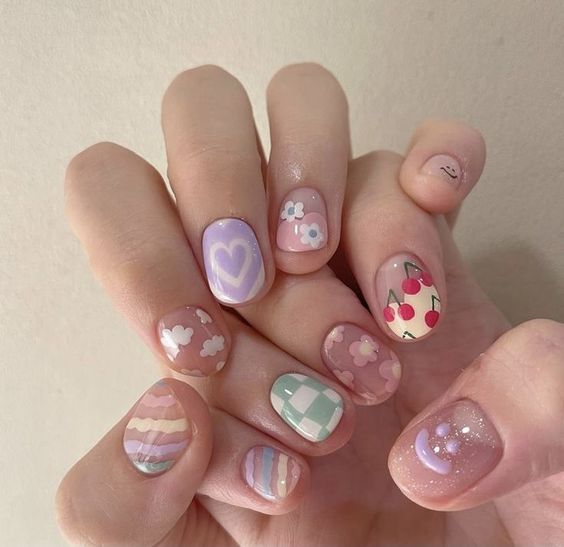 If you loved the two previous nail designs and want to combine both elements, then you might love this particular manicure! It's just as quirky and unique while incorporating softer shades of color instead of very bright and vibrant ones.
What's more, the nail art is also a lot more varied rather than sticking to one theme. So if you want to use different springtime elements for your manicure, you can totally get inspo for this one!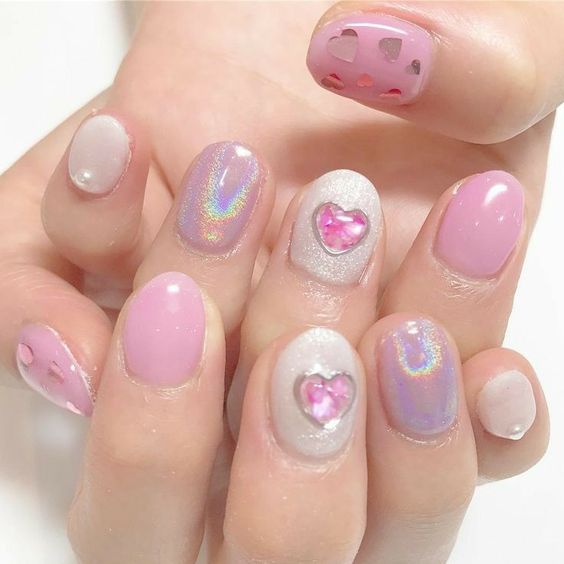 Okay, I'm totally obsessed with this particular nail art! Apart from being a great springtime manicure, it's also perfect for the ongoing Y2K trend. The combination of chrome finishes with sparkly and glossy ones is utterly stunning.
Then you can also opt to add embellishments with heart-shaped rhinestones to pearlescent accents to make your manicure's dimensions even more interesting.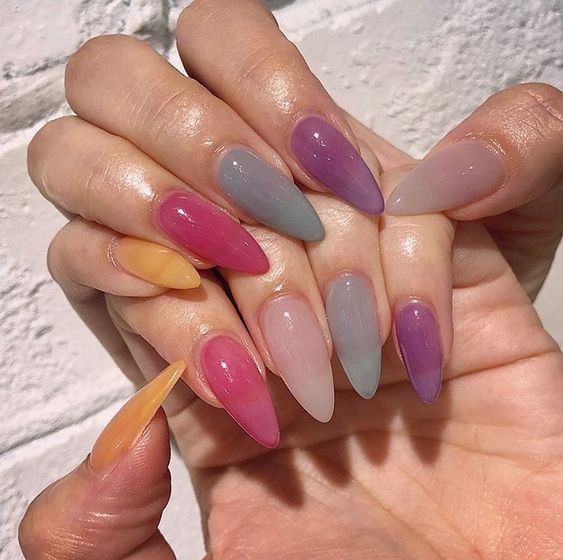 Jelly nails are a trend that has recently gotten quite popular and I totally understand why! This kind of manicure instantly gives your nails a youthful and plump look that looks utterly healthy. If you can't decide on what color to settle on, why not go the extra mile and pick a different shade of pastel spring nail colors for each nail?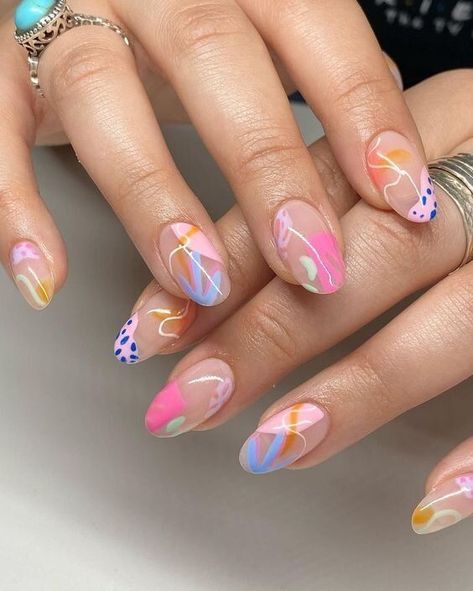 Here's a beautiful abstract design that incorporates the beautiful colors of spring! If you're wanting a totally unique look that you won't see from other manicures, then abstract nail art is the way to go.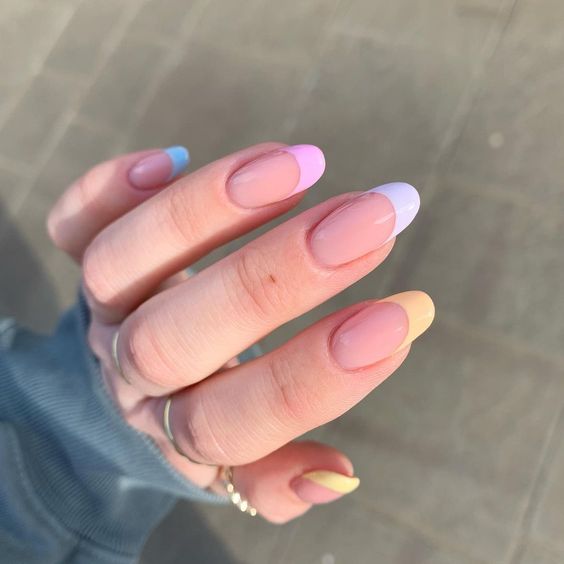 Forego the usual white French tip and instead, use a pastel rainbow color scheme! Not only is this perfect for the spring season, but this particular nail design is a timeless classic. It's also great for those who don't want to do intricate nail art or designs that are too fussy.
Abstract Nail Art
For those who want to be different from the rest, you can never go wrong with doing abstract patterns and nail art for your next manicure. You can opt to be as unique and creative as you'd like when it comes to deciding on what patterns to get for your nails.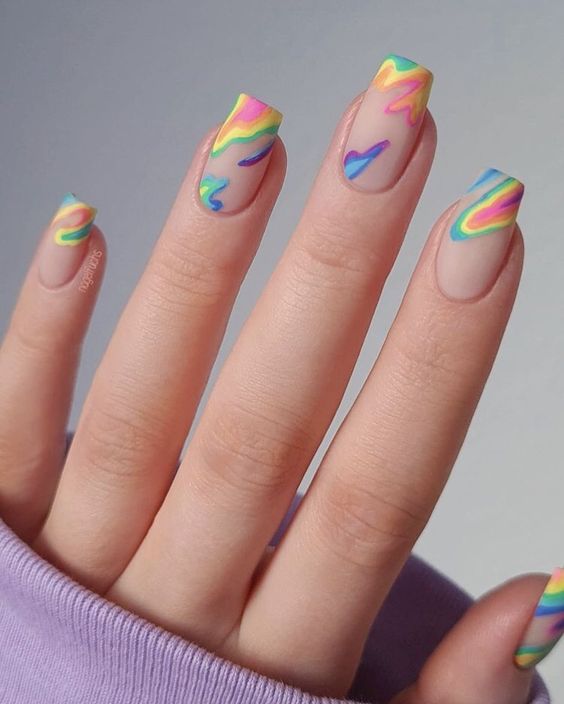 I am totally loving these rainbow-colored wavy lines! It gives such a psychedelic effect that can remind you of the cool 70s back in the day. So if you're looking to feel some nostalgia for the past, this manicure is a must-try!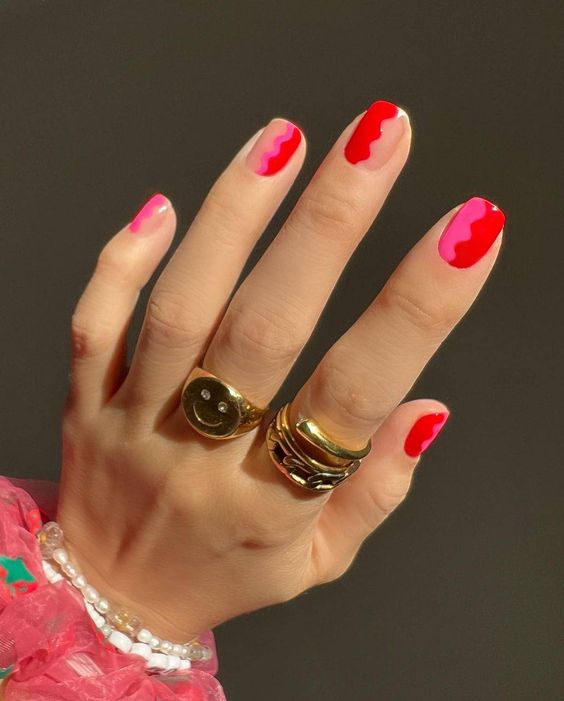 Mix and match two of your favorite vibrant colors to recreate this cool abstract pattern! If you're planning to get a more romantic or feminine vibe, you should definitely consider doing pink and red. These wavy designs seem to be quite trendy these days too, and I can understand why!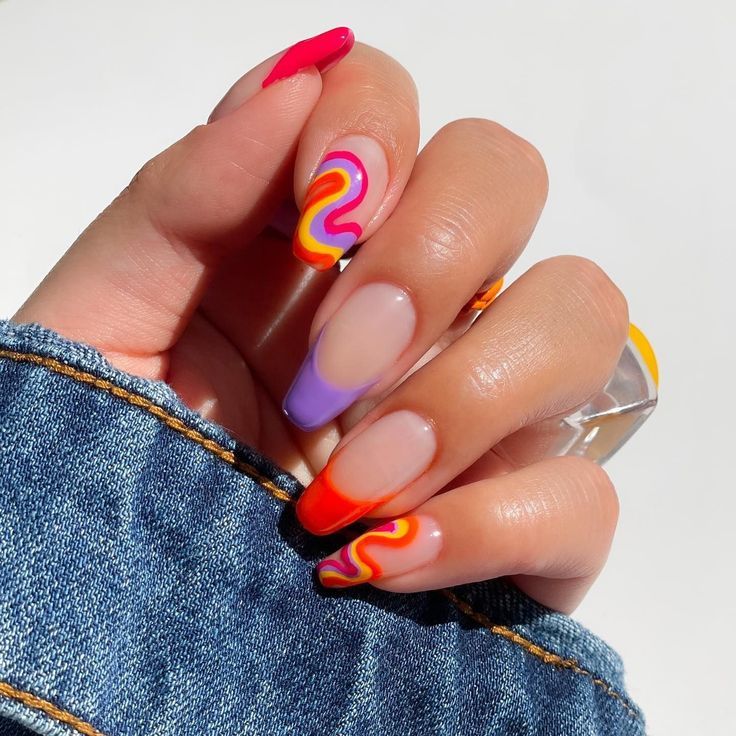 Can't get enough of the "wavy lines" trend? Then you will certainly adore this one for your next spring-themed manicure. If you have a nail appointment coming soon and you still have no idea what design to go for, then this is something to consider! I just love the combination of various vibrant springtime colors in this nail art.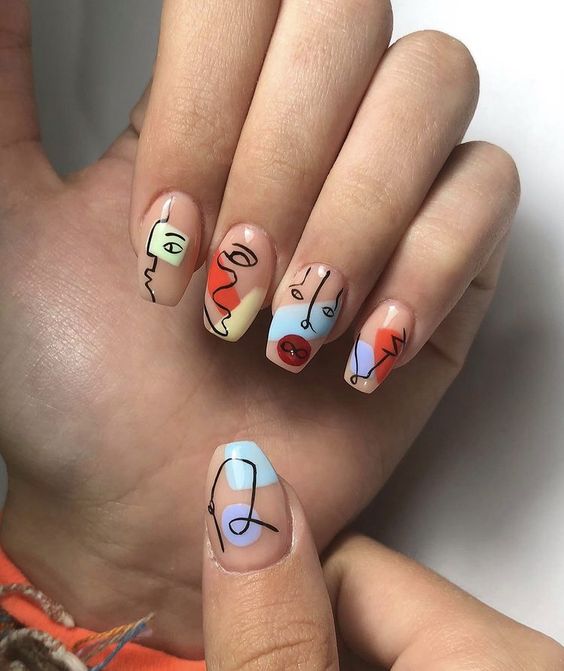 This has got to be my favorite abstract nail art in this part of the article. I just love the intricate linework on the faces as well as the color-blocking patterns that surround the nails. It looks utterly chic and sophisticated! Personally, I can't wait to try on this manicure for springtime.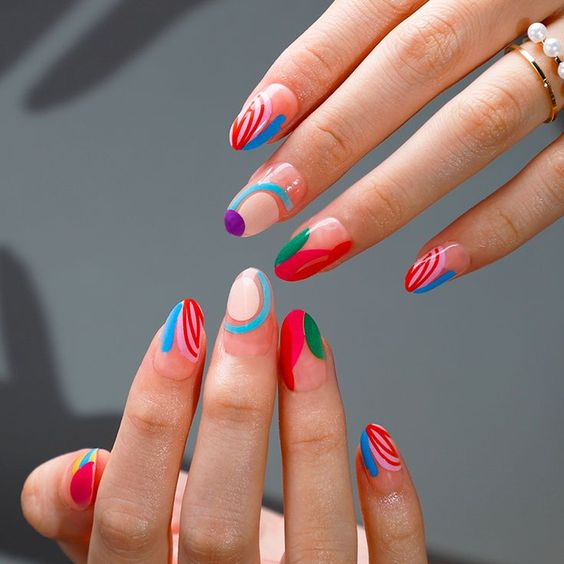 If you're looking for something that has a lot of pop of color, then you've found the right manicure for you! With a combination of reds, blues, whites, and greens, your nails are sure to be the center of attention once you have this on. It's such a refreshing design that's perfect after the gloomy winter atmosphere.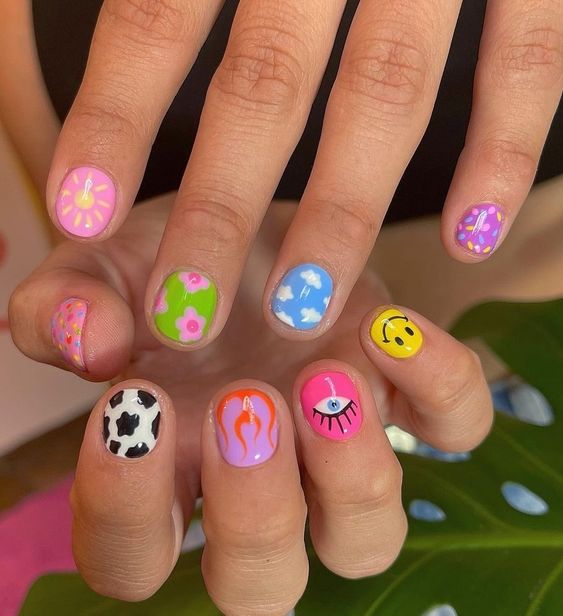 But if you're still deciding on which design to settle on for your abstract nail art, why not choose a different one for each nail? This way, you can pick all your favorite patterns and a mixture of colors for a fun and quirky vibe!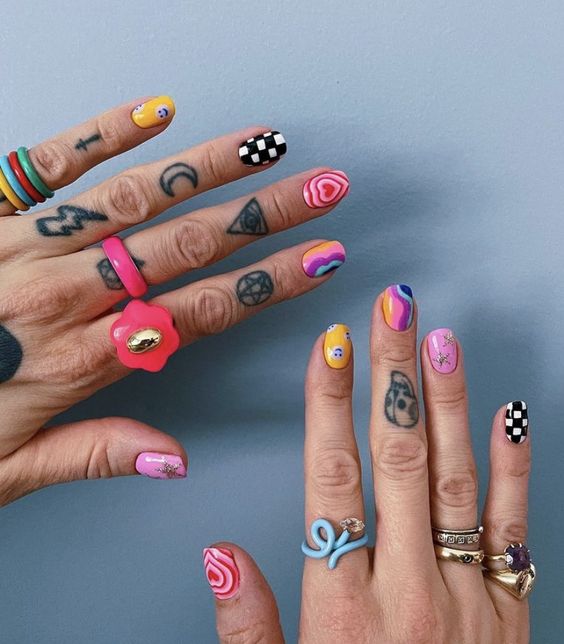 Here's another abstract combination of quirky designs you can take inspiration from! Instead of using iconic and trendy symbols, this one opts to use various patterns like wavy lines, stars, hearts, and checkered designs. Not to mention, you can also opt to add or alter certain designs to ones you like more.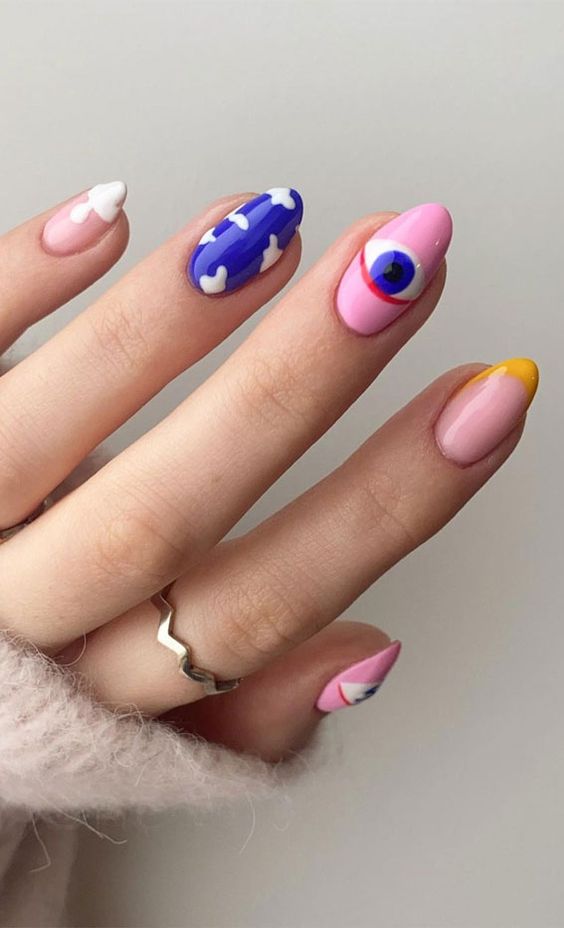 They say the evil eye protects you from any harm. If you're one to believe in superstitions then this is a trendy and chic nail art that is just suitable for you! Aside from the popular "evil eye", you also get a few other patterns to accentuate your nails even more.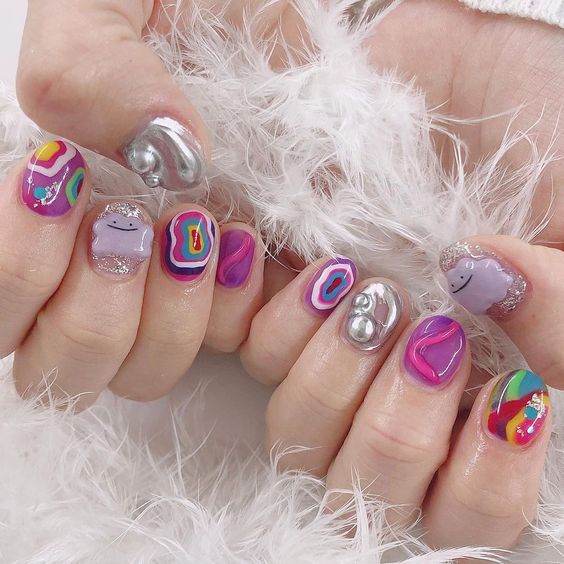 Here's another favorite of mine on this list. From the gorgeous pattern of colors, trendy aurora design, and quirky embellishments, this is just utter perfection to me!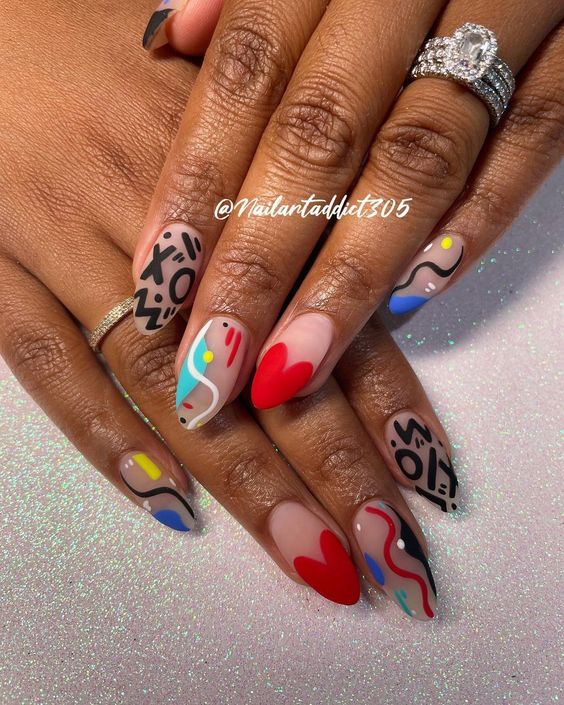 If you like a combination of bold pops of color and a matte finish, then I'm certain you'll adore this particular abstract design. It's such a fun and quirky design that will surely grab anyone's attention! The use of negative space allows the intricate linework and patterns to be a lot more striking!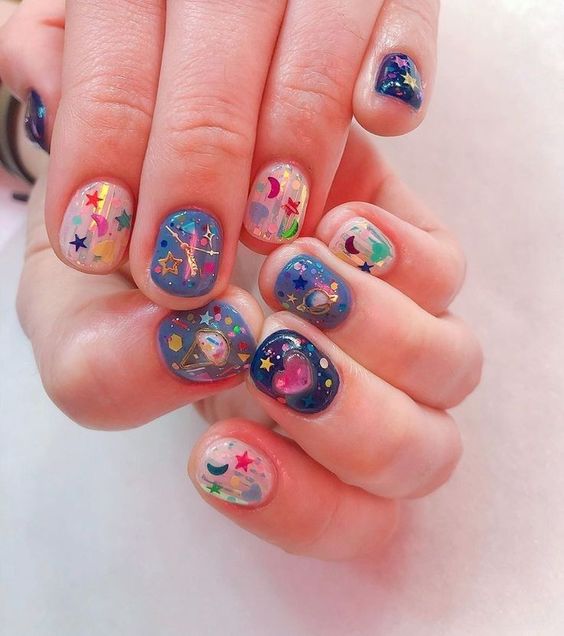 The look of jelly nails is something I have always liked. They just give the nails such an effortlessly youthful and healthy look. Not to mention, they have a way of making the nail art look a lot more lively!
Related: A Guide to Neutral Nail Colors: 25+ Neutral Colors and How to Choose
Minimalist Designs
For those who prefer something a little more understated compared to the spring nail designs that have been shown so far, then this section of the article is for you. Minimalistic manicures and nail art are for those who want something subtle and soft with their nails without being boring.
Personally, I think these kinds of nail art give off such an elegant and chic touch no matter the season. Not to mention, you can easily DIY these designs in the comfort of your own home.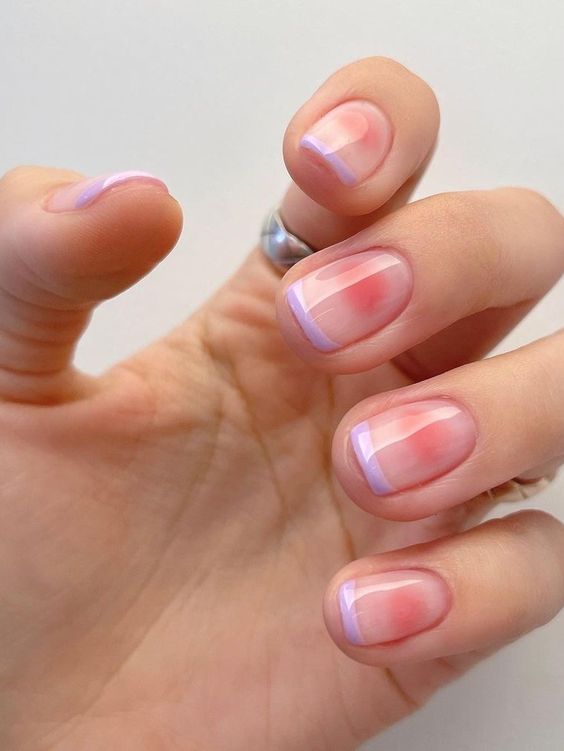 You've already seen numerous variations of the classic French tips but this one gives you a more feminine touch with the purple tips and pinky, glowy center for each nail.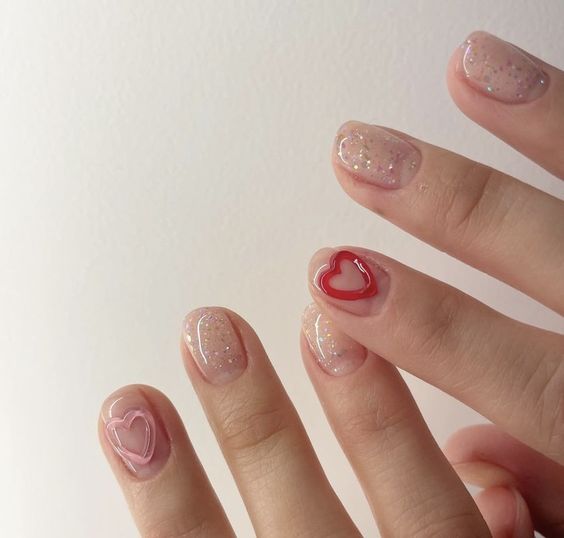 If you want something that has a very little color, then these transparent jelly nails might just be for you. Though it does have hints of red and pink as well as some sparkles from gold foils in each nail.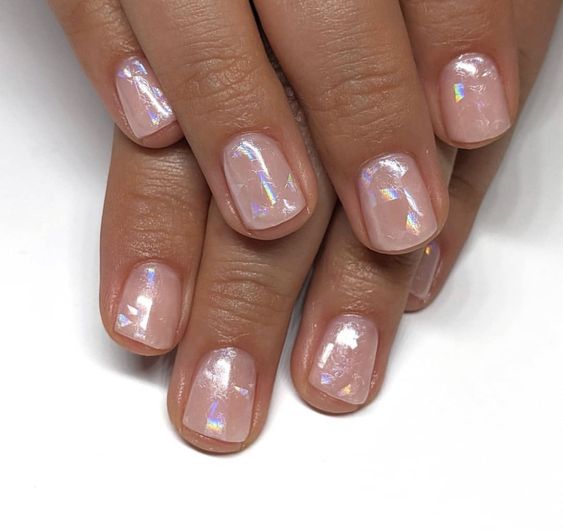 Who could ever resist such a beautiful iridescent glow for your nails? It's utterly stunning without being too overwhelming on the eyes.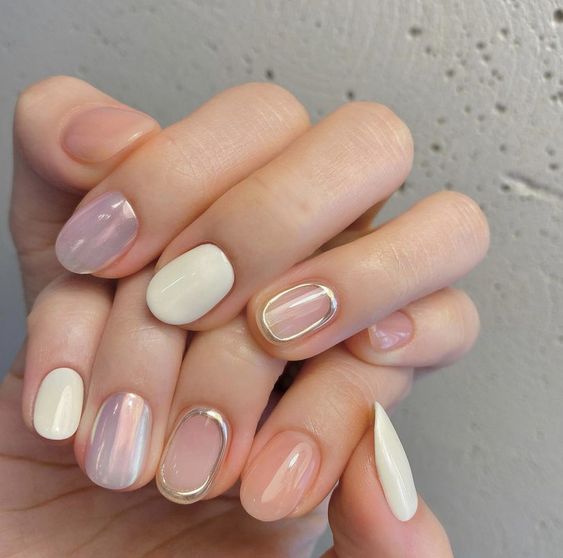 A personal favorite of mine is this beautiful mixture of minimalistic designs. I just love how each nail has its own character!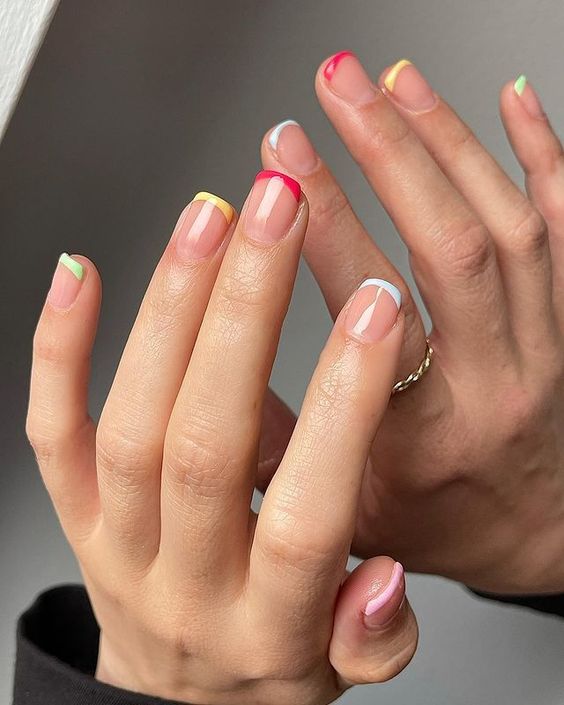 If you really want something that's totally subtle, try the timeless French tip! But to fit the springtime theme, you can opt to use pastel colors for each tip of your nail instead of classic white.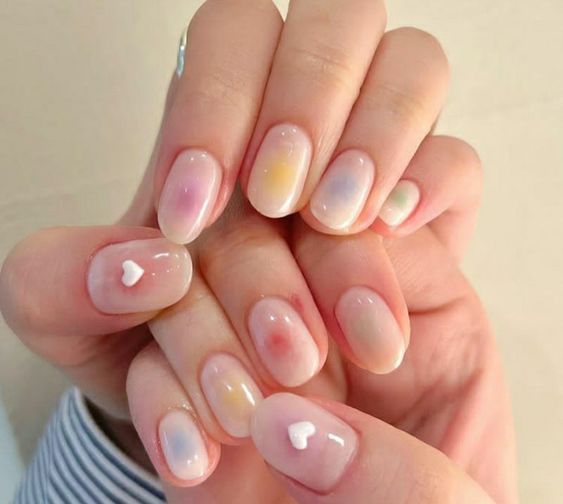 For dainty and feminine nail art, try out the trendy "aura glow" nail art! It's a kind of nail design that apparently matches the color of your chakra or "aura". But instead of doing that, you can match the colors of your aura to spring colors instead.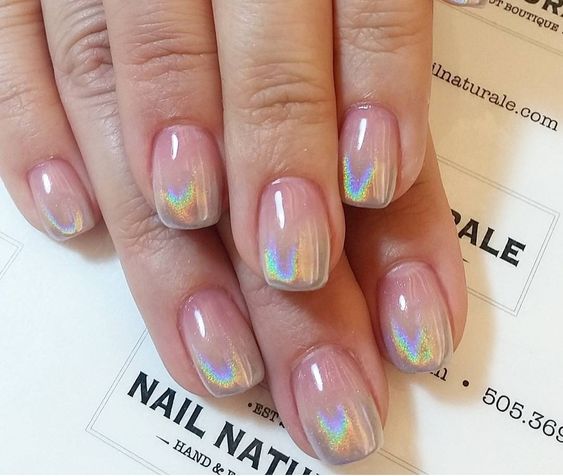 I am just honestly obsessed with these iridescent and chrome-y gradient nail art. Forget a French tip and ask this for your next nail appointment instead. These nails are also the perfect transitional March nails because there's only a slight emphasis on spring.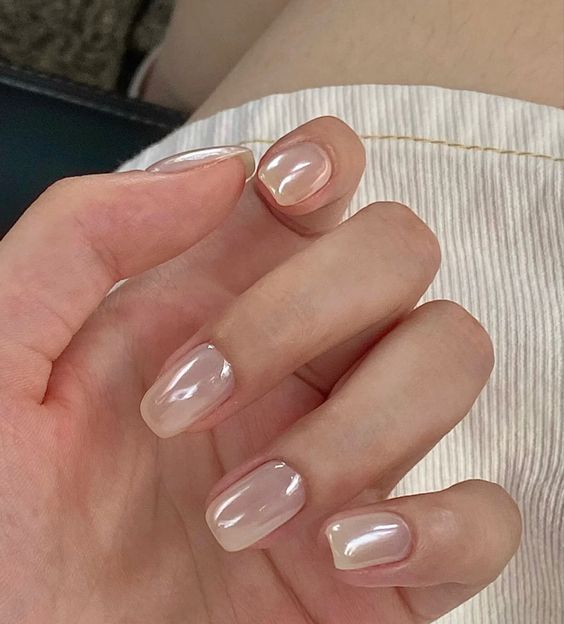 Haley Bieber's glazed nails have been popular for months and there is no doubt that this kind of nail art is not going anywhere. If you haven't tried this already, you definitely should!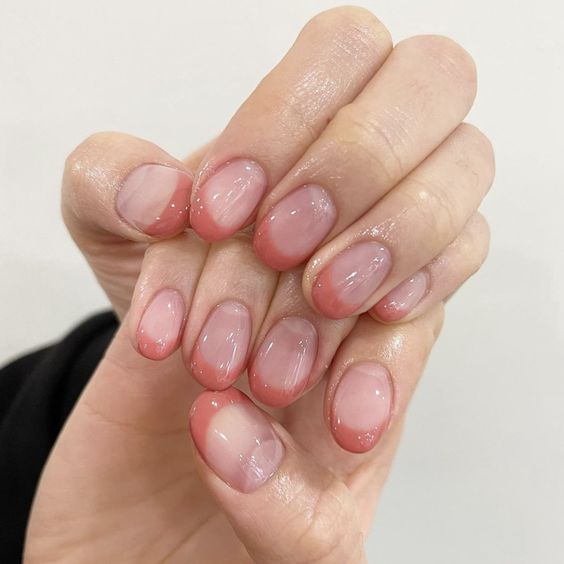 But if you want a more subdued variation of the French tip, this beautiful and soft pastel pink is the perfect spring color for your nails!
Related: 40+ Yellow Aesthetic Wallpaper Options For iPhone
Trendy Aurora & Marble Nail Art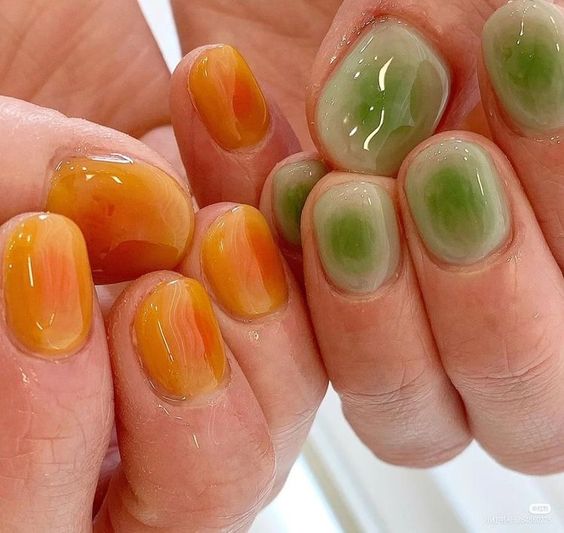 Who knew orange and green would look so good together? These colors instantly give off such refreshing spring vibes after going through months of a dreary winter season.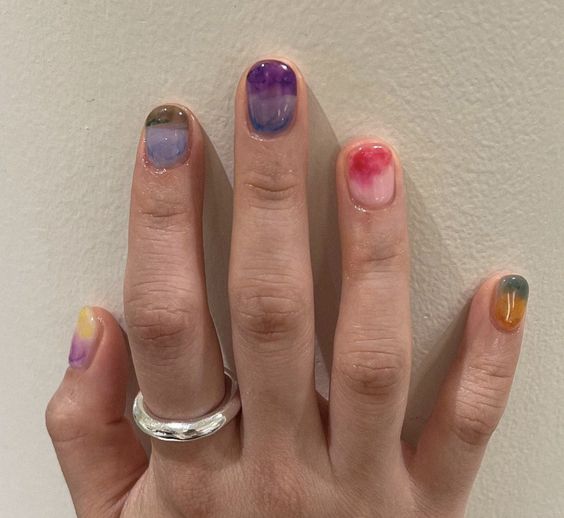 Another way you can do your marbled nails is by doing two-tone colors for each nail. You can combine colors that are similar but different in tones, or you can mix and match colors from opposite ends of the spectrum. Your choice!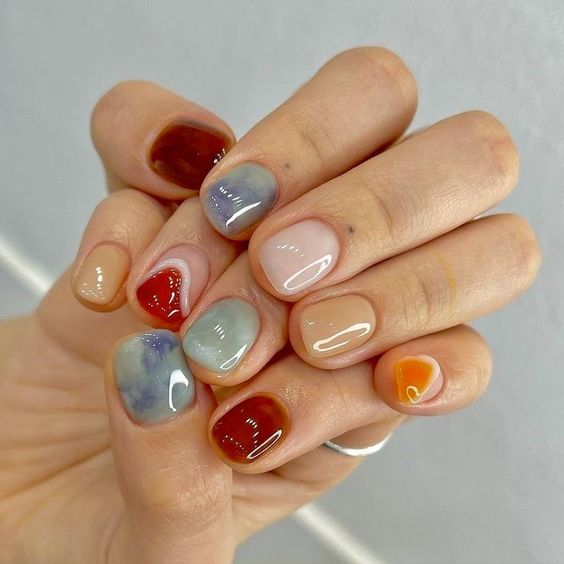 This is my favorite marbled nail art on this list. I just love the combination of soft pastel colors, deep reds, and neutrals in one manicure.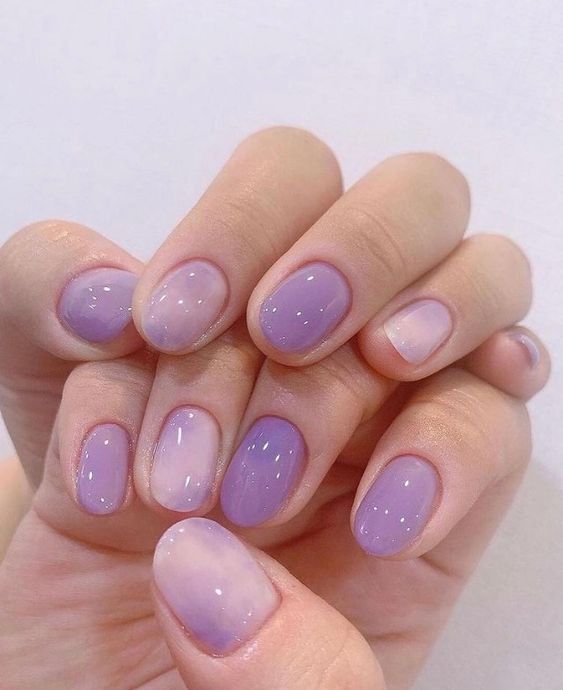 But if you'd like to stick to one color scheme, try out this stunning purply lavender haze for your next nail art!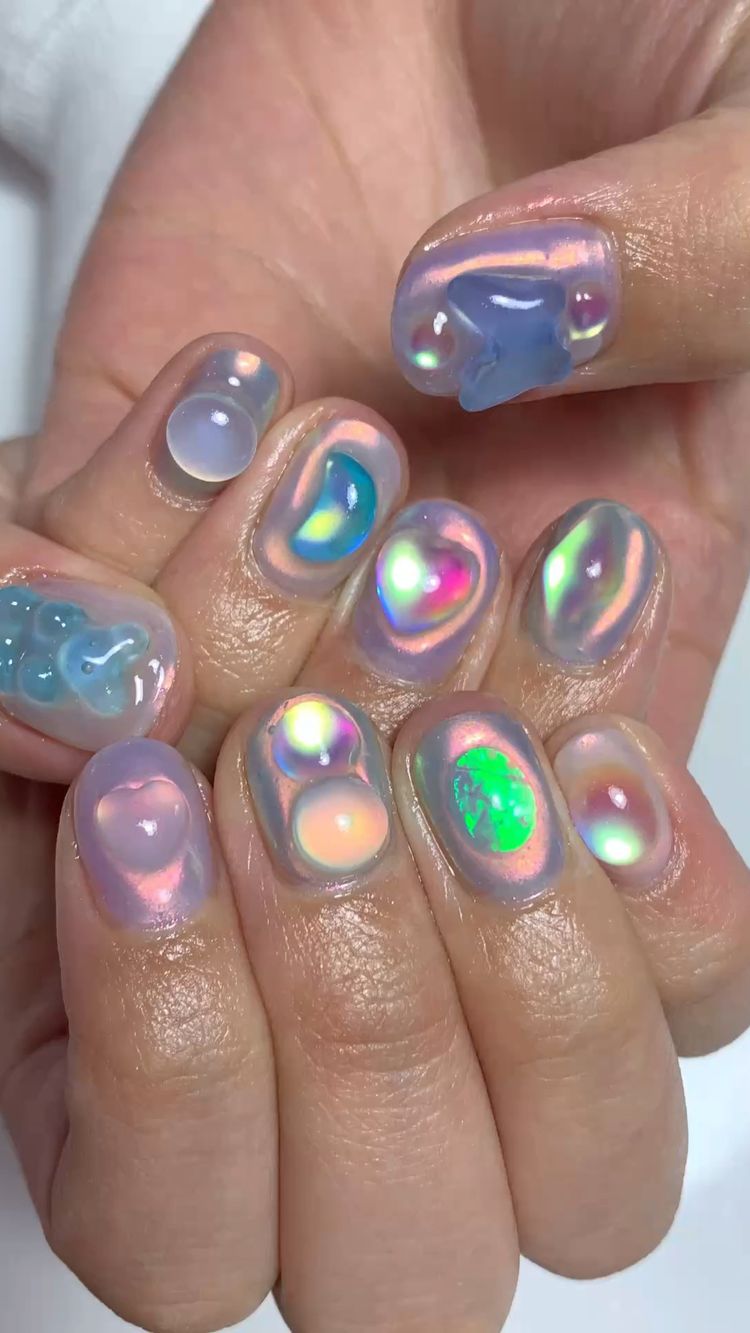 I just adore these kinds of jelly-like embellishments on the nails! They look so cute and you can practically ask for any kind of design to adorn your nails. These definitely have a hint of that unicorn nail vibe that's trending right now!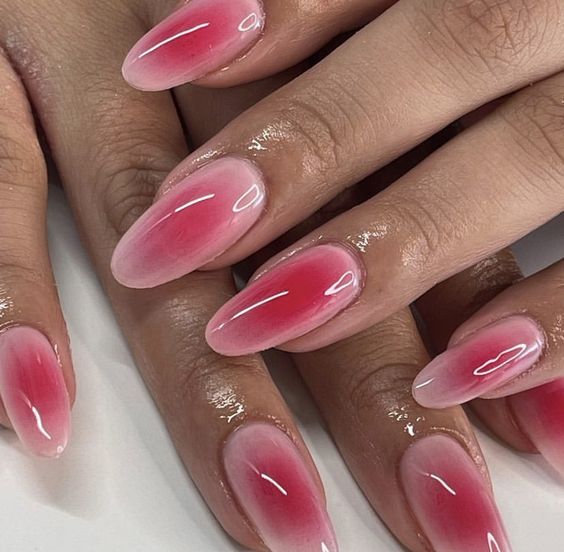 I know I have already included a ton of aura glow nail designs here but these pink ones are definitely one of my favorites! I just love the soft, gradient flow of the whole design.
Mattes & Shimmers
If you're tired of the usual glossy and satin finishes most nail polishes have, then you might want to try mattes and shimmers for a change this spring season. Keep scrolling below to check out the nail art I have gathered for you from the internet.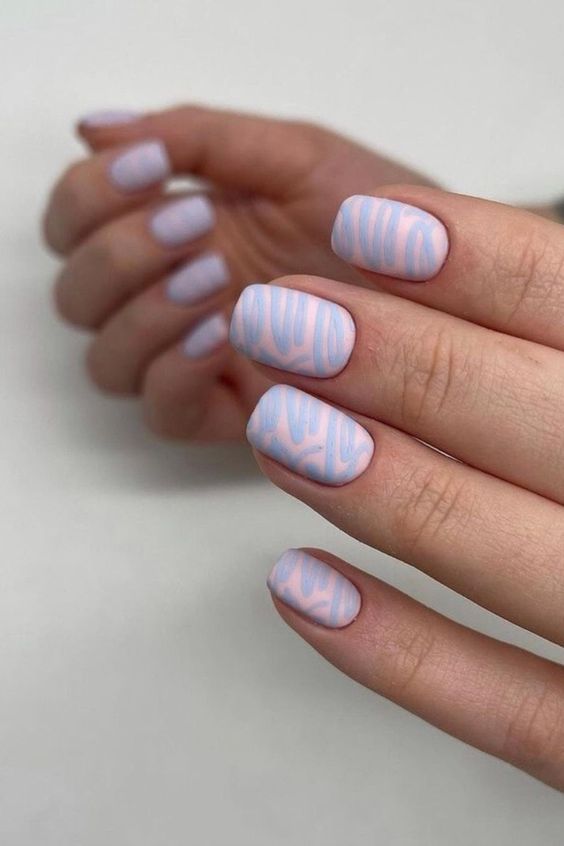 When it comes to picking colors for your matte nails, you can never go wrong with pastels, especially during the spring season! Opt for an abstract design that fills your nails with some interesting stripes. And this lilac nail color is just too pretty!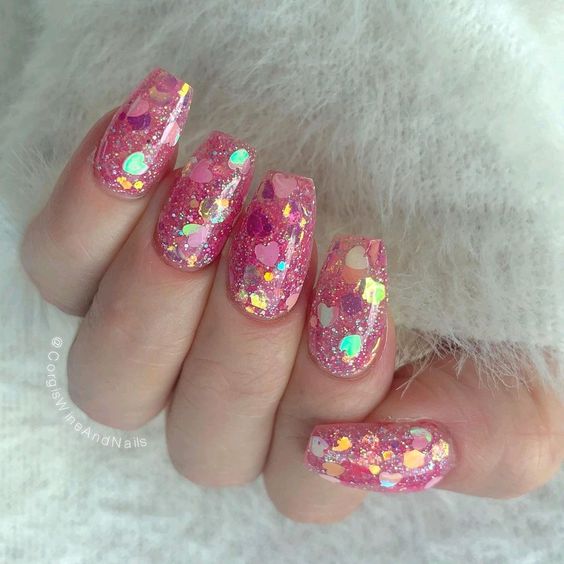 Don't like a matte finish? That's okay! You can instead choose an overly shimmery finish for your nails! So glam and flirty, these nails are a true showstopper!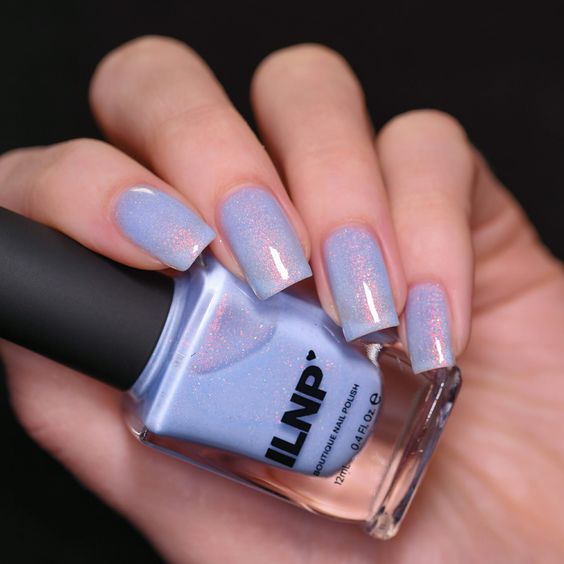 But if you want a more subdued shimmer, then these shimmery pastel nails will surely do the trick. No need for nail art skills! All you need is this specific polish or a similar looking one.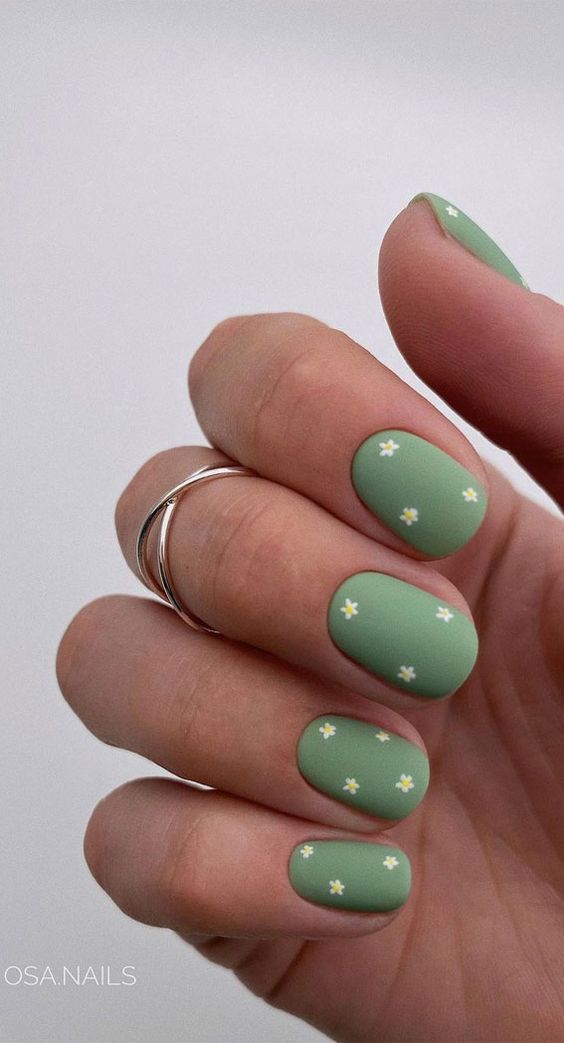 Looking for a minimalistic take on your matte spring nails? Then this dainty floral design might just be perfect for you! Plus, this sage green nail color is one of the top spring nail colors this year.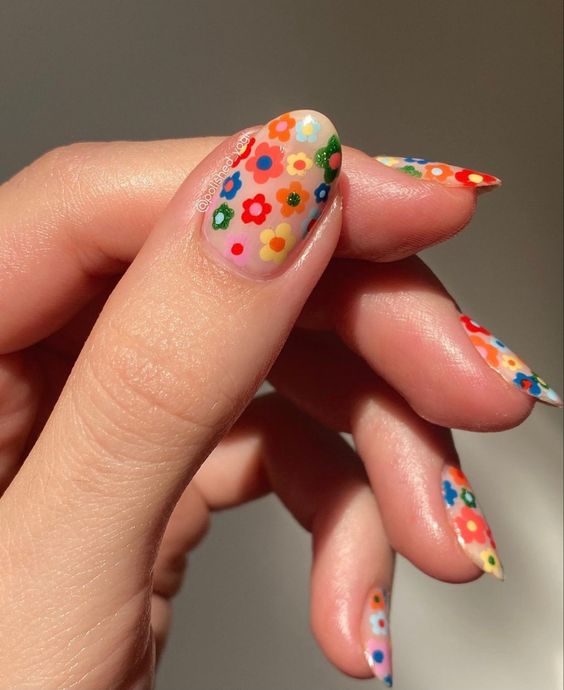 But if you want louder and bolder colors for each floral design, then you should check this one out instead! It also goes for a naked or transparent base instead of using a sold color.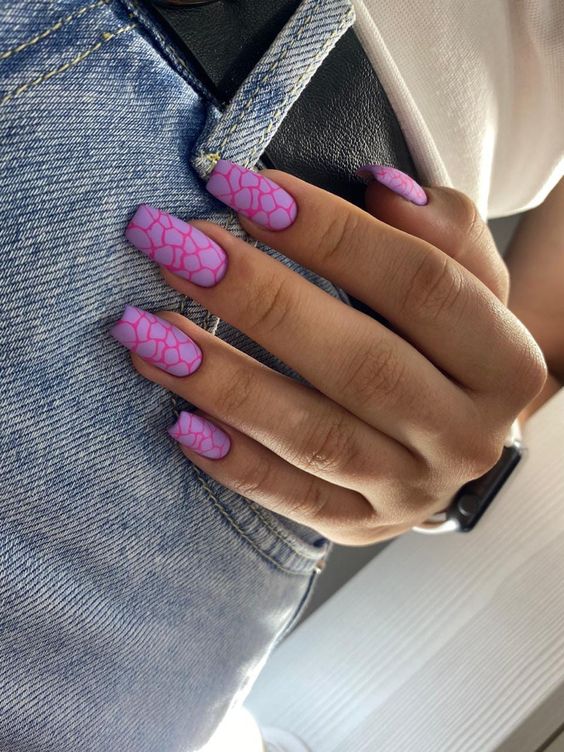 Is it just me or do these spring nail designs look a lot like animal prints? Either way, these look stunning, especially in that velvety matte texture.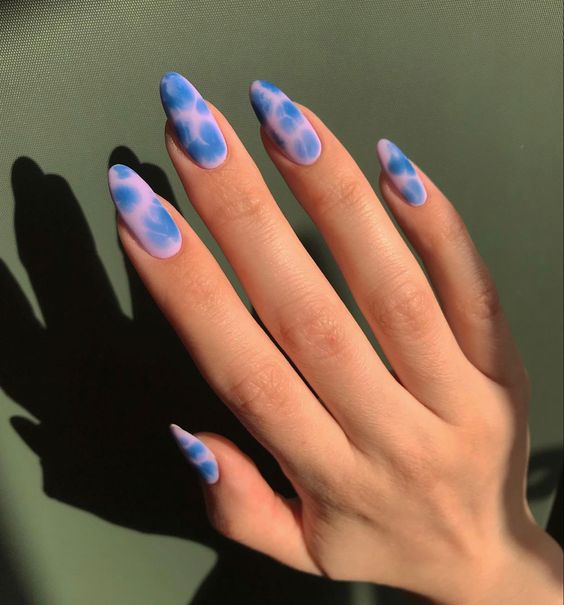 Pink and blue colors go so well together. So if you're looking for an interesting pattern you can put them in for your nails, you can pick this one!
Up Next: 100+ Darling Aesthetic Spring Wallpaper For iPhone (Free Download)