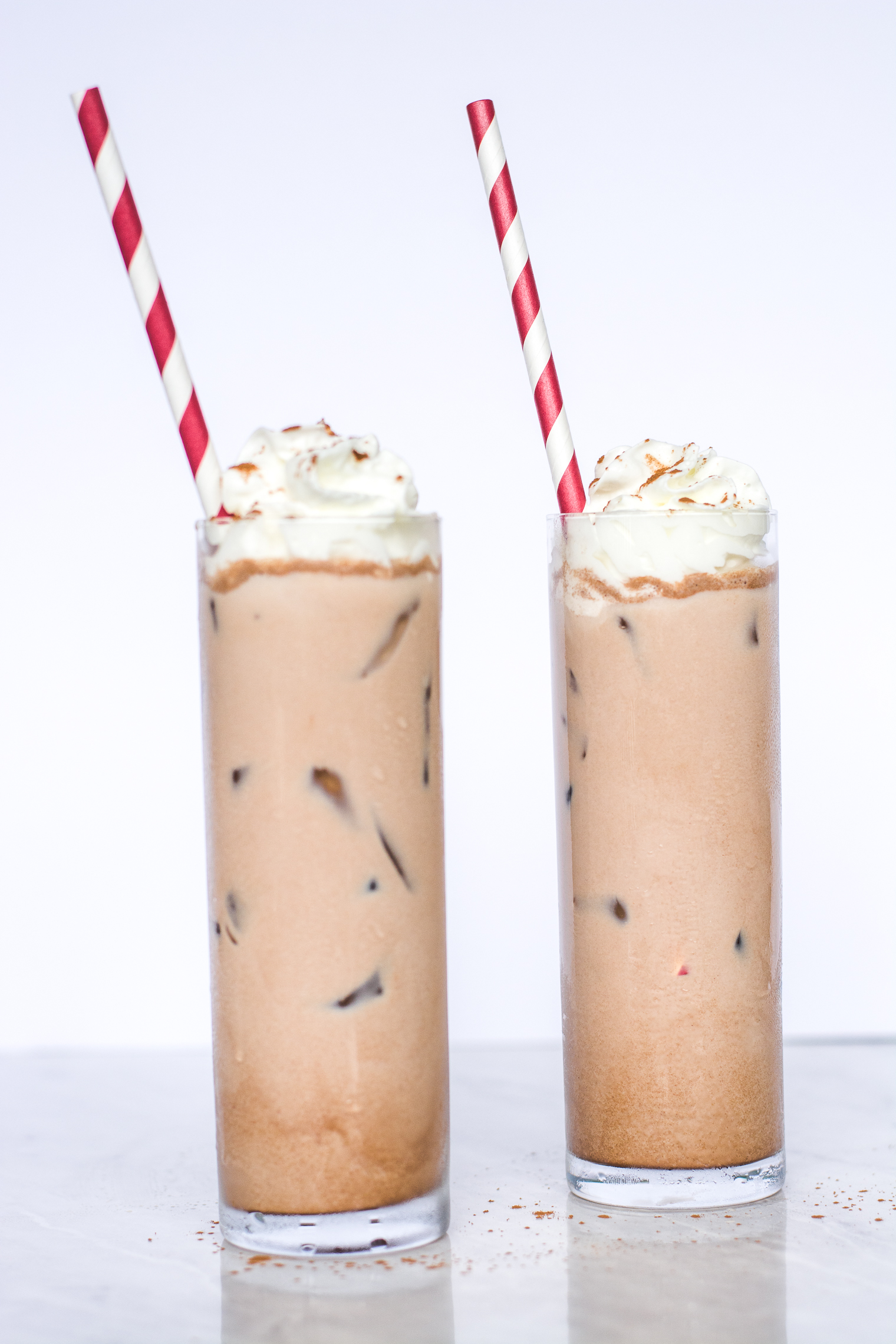 It's never a bad time for hot chocolate. That is, unless you're just really not in the mood for a hot drink – that's when I whip up a delicious iced hot chocolate.
As someone with a small (or maybe medium, who can say) addiction to chocolate, this recipe does the trick, especially during those midday hours when I need something sweet to get me through.
It sounds pretty bland (that's basically chocolate milk, right?) but this recipe is unusually delicious and equally suited for adults and kids. My whole family is obsessed with it!
I love this iced hot chocolate recipe in both the summer and winter. Sometimes, for whatever reason, I just want an icy cold drink, but that doesn't mean I can't add some chocolate! This iced hot chocolate always hits the spot.
This isn't a recipe I grew up with as a child, but after my mom and I whipped it up a few different times during summer afternoons, we realized how delicious it is. This iced hot chocolate is now a staple during Christmas mornings and on our summer vacations. We also turned it into a cocktail that's delicious year-round.
This iced hot chocolate recipe can be made with regular milk (which is usually how I make it) but it's also really tasty when made vegan. Scroll down to that specific subheading (vegan vs. regular) to read more about how I make the swap for this iced hot chocolate recipe.
If you're looking for a refreshing yet tasty treat, give this iced hot chocolate a try! It's a super simple recipe that's insanely delicious.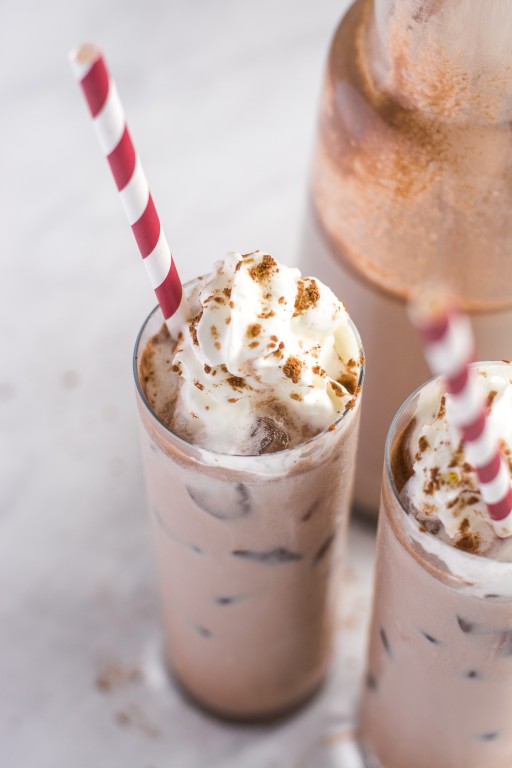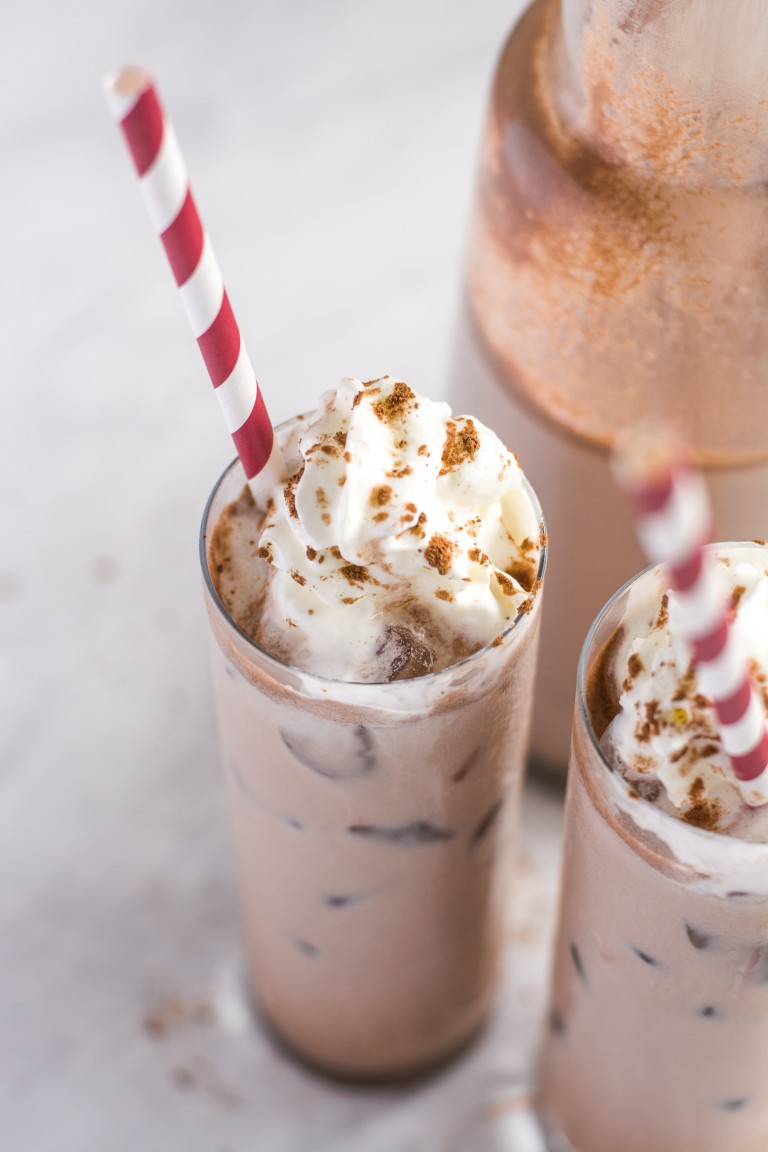 Iced Hot Chocolate vs. Chocolate Milk
Is there any difference at all? Obviously, iced hot chocolate looks super similar to chocolate milk, but I like to think of iced hot chocolate as a nicer version of chocolate milk for adults (although everyone loves it). It's something that guests will enjoy and is a little more decadent.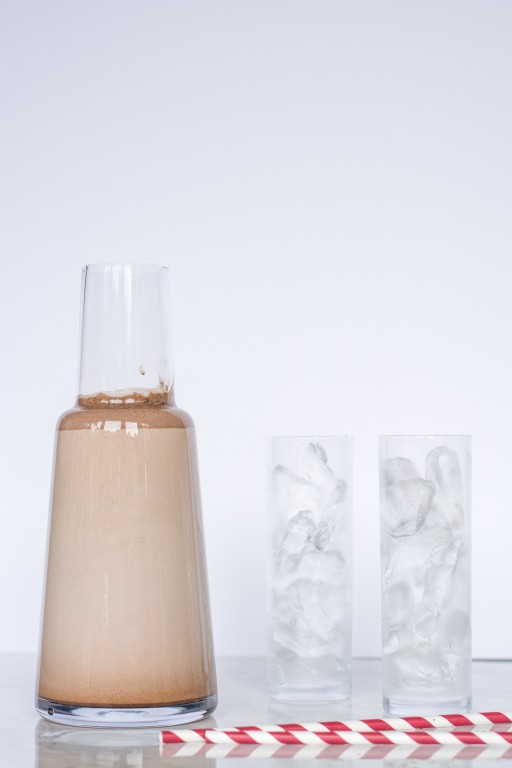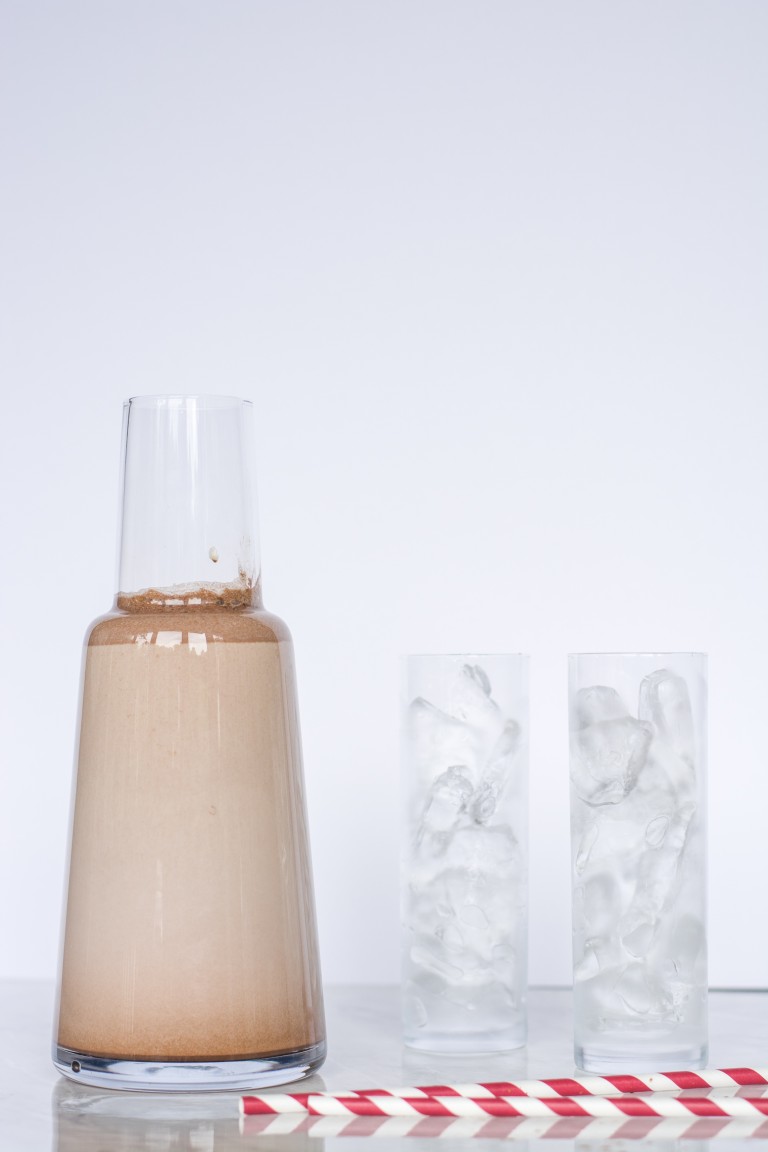 In my mind, the two main differences are the quality of ingredients used and the addition of Agave. I find that Agave is a wonderfully high-end sweetener that you can literally buy on Amazon. It adds a smooth, beautiful flavor that creates an exquisite drink.
I purchase my Agave sweetener here on Amazon.
The idea is that this iced hot chocolate is decadent and high-end. The blend is really smooth and tasty, unlike our typical chocolate milk. It's an actual recipe that is whipped up to be incredibly tasty.
Chocolate milk is pretty plain and is quite literally chocolate-infused milk. This iced hot chocolate recipe is decadent and delicious. You could easily find this recipe on an upscale menu. It makes the perfect midday drink or post-dinner dessert!
Iced Hot Chocolate vs. Frozen Hot Chocolate
The difference may be a little clearer here, but I've actually had a few questions on this, so I'll state that this is not a frozen hot chocolate recipe simply because it's not frozen. This recipe is cold but doesn't contain crushed ice. You don't need a blender to make this iced hot chocolate.
If you did want to turn this recipe into a frozen hot chocolate, you could easily throw these exact ingredients in a blender with a few cups of ice. I've tried it a few times and it's an absolutely delicious frozen hot chocolate recipe!
I personally prefer iced hot chocolate over frozen hot chocolate, but do what makes you happy.
Regardless of how you make this recipe, you'll want to make sure that you have ice on hand. Most of the ingredients are cold, but to get the full flavor, this iced hot chocolate needs to be really cold. Don't skimp on the ice and make sure to pour the ingredients over a liberal amount.
At the same time, melting ice means that the iced hot chocolate quickly gets watered down. For this reason, I like to make the recipe in one batch, then pour each glass over ice when we're ready to drink it. I find that this helps to preserve the taste while giving us that icy cold satisfaction.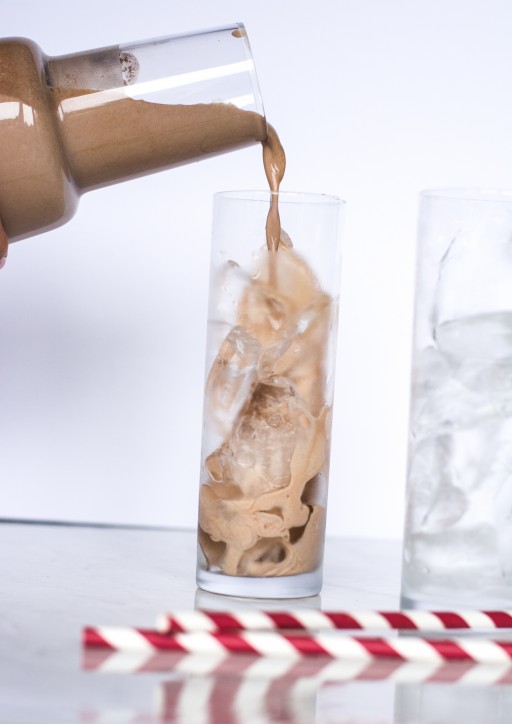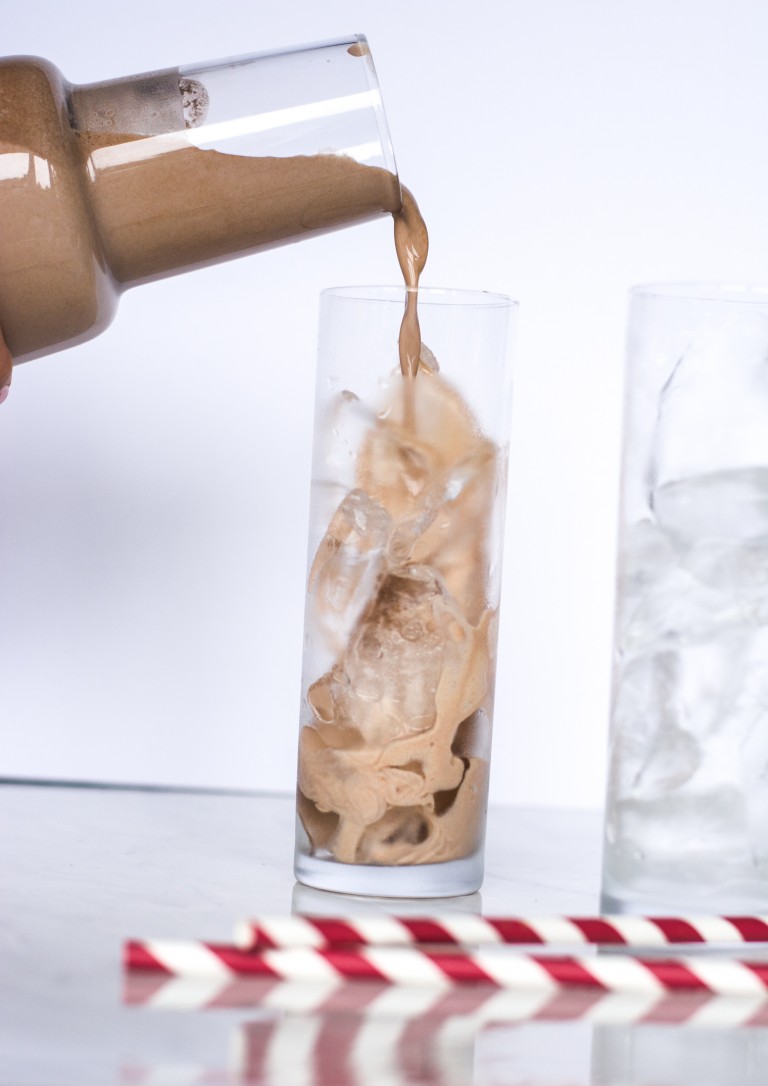 Vegan vs. Regular Iced Hot Chocolate
I'm a huge fan of all things vegan since I try to eat plant-based during the week.
Because this recipe is so simple, it's really easy to switch it up. Just swap out the milk for your vegan milk of choice (I prefer coconut or almond: coconut is creamier and sweeter while almond is lighter and closer to skim milk) and pick up a vegan/coconut whipped cream.
Most cocoa powders are vegan, so those are likely the only two substitutions you'll need to make. If you make this recipe vegan for guests, they probably won't even notice the difference – mine don't!
At the same time, there really is nothing like the creaminess of regular milk. For those of you who aren't vegan, this is a great recipe to splurge on, especially during the holidays or on the weekend.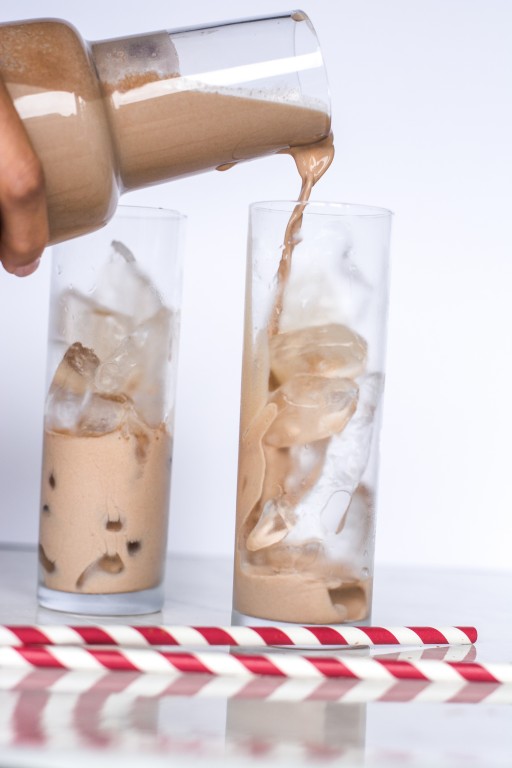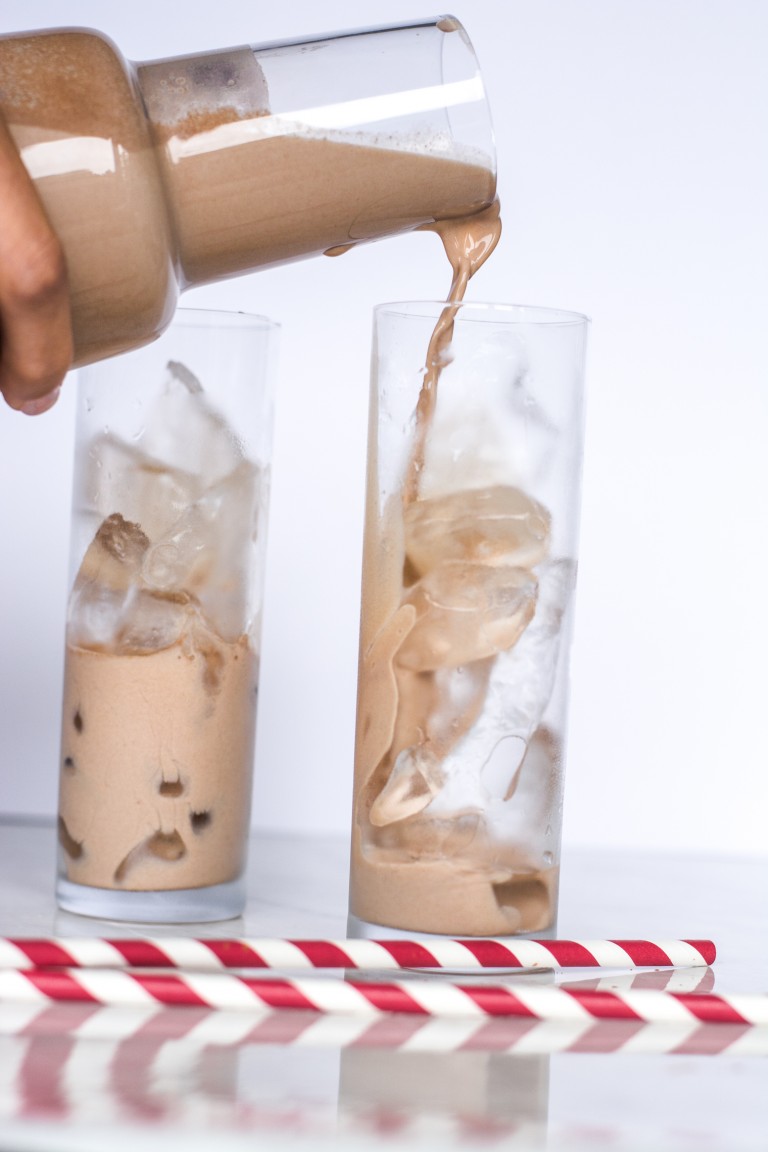 Related Posts:
Can This Iced Hot Chocolate Be Made Alcoholic?
The recipe I'm providing is non-alcoholic, mainly because I make it when kids are around and they love it. With that being said, it's really easy to turn this recipe into an absolutely delicious cocktail.
To make this iced hot chocolate recipe into an adult beverage, you'll follow the exact same recipe below and add a shot of your choice. I like to use vodka, but it's really up to you. My personal favorite is flavored vodka (vanilla, peppermint, etc).
The Agave helps to sweeten the alcohol, so the recipe works really well with alcohol as-is. I do find, however, that it can be fun to put a splash of Bailey's or Kahlua into this cocktail (literally just a splash), especially if you like coffee-flavored cocktails.
If you aren't a fan of coffee cocktails, try a splash of chocolate liqueur. But that's only if you really want to get fancy – this cocktail honestly doesn't need either and is absolutely delicious just the way it is.
Lastly, you can easily turn this into a chocolate martini. Simply add the ingredients to a shaker with ice then pour in a shot or two of your choice (I tend to add 1.5-2 shots if I'm making a martini). Shake the cocktail quite a bit, until it's really frothy, then strain it into a martini glass without ice.
This is an absolutely delicious martini, but it is pretty heavy and creamy. If you want it less heavy or plan to have more than one, I recommend choosing skim milk or almond milk instead.
Iced Hot Chocolate Ingredients
This recipe is super easy. It takes less than 5 minutes to make and requires only 4 ingredients, one of which is whipped cream.
It's also very similar to the Starbucks iced hot chocolate and Dunkin Donuts iced hot chocolate recipes. While this recipe is very simple, I consider it slightly more upscale than either of those due to the cocoa powder and Agave blend.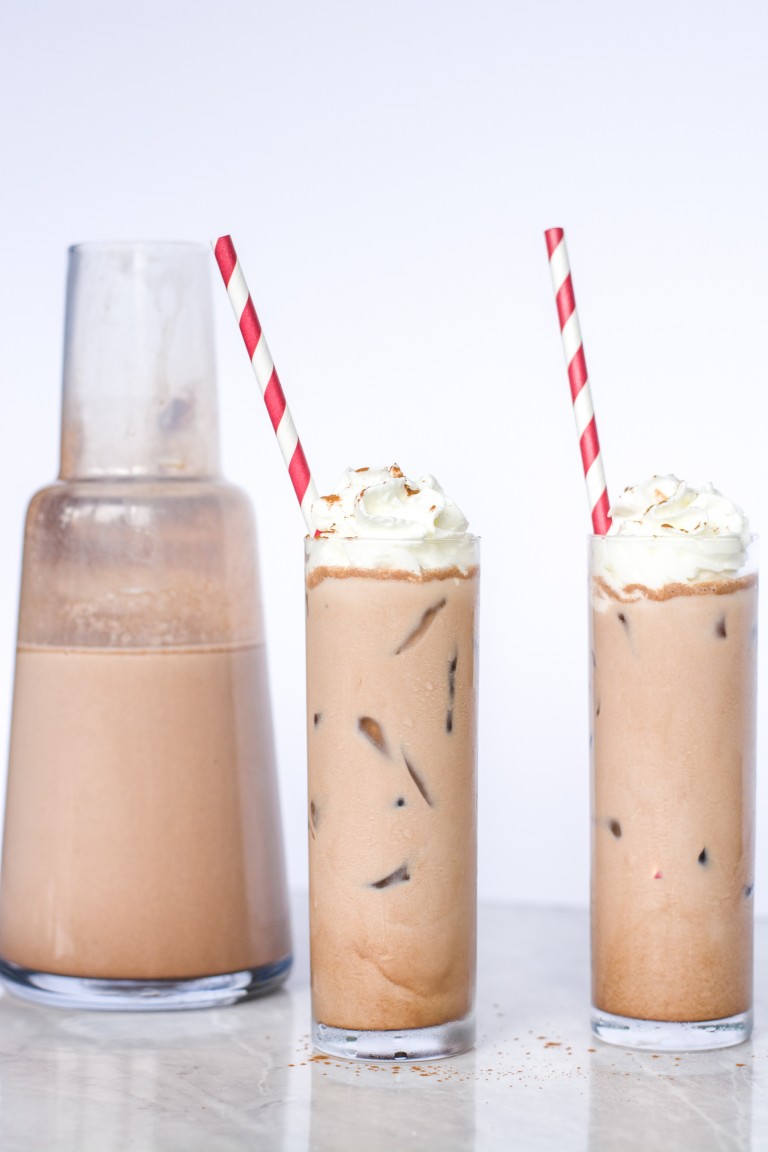 All of the ingredients included in this iced hot chocolate recipe typically store really well. I'll buy a set of ingredients once every four months or so and make it whenever the mood strikes me.
Yield: 4 small glasses
Iced Hot Chocolate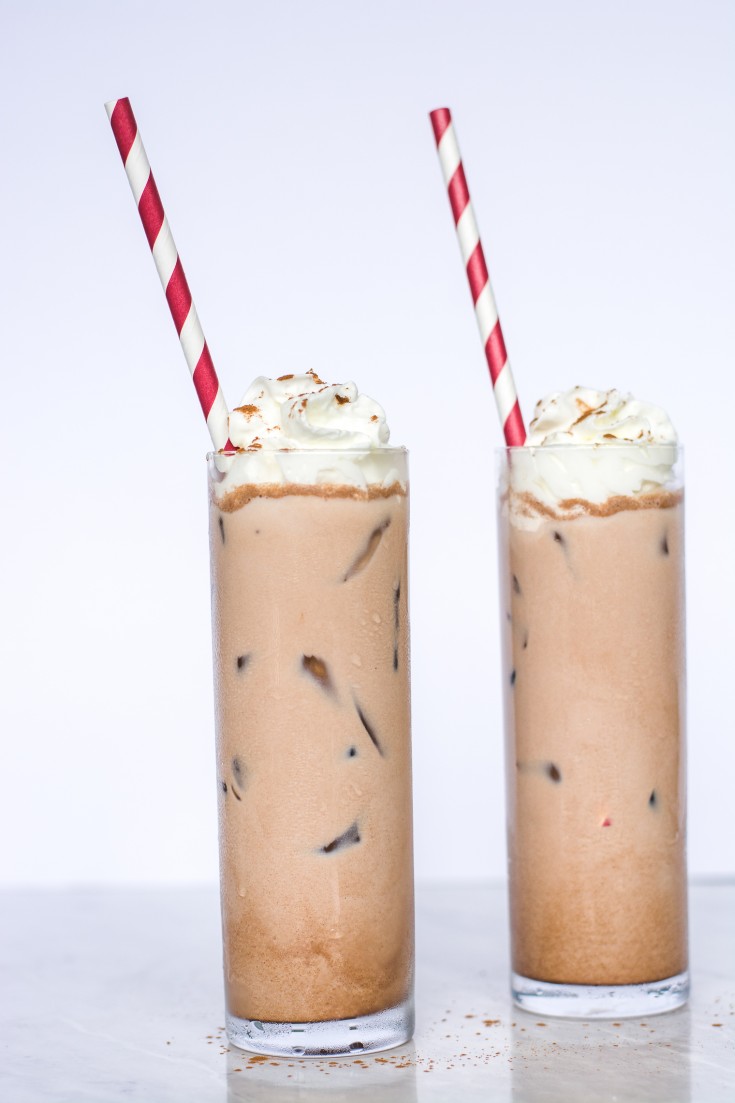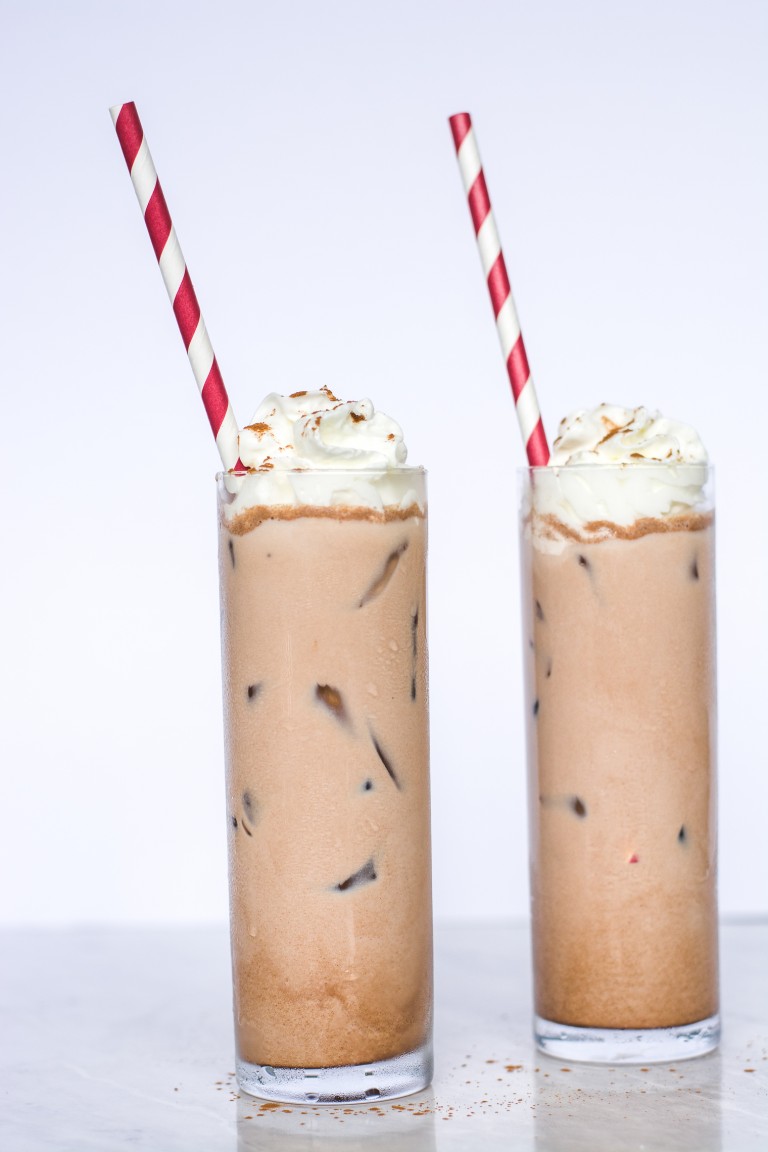 A delicious iced hot chocolate recipe made with less than 5 super fresh ingredients!
Ingredients
6 cups of milk (skim, almond, or coconut)
8 teaspoons unsweetened cocoa powder
5 teaspoons agave (I find this to be medium sweet, but add more if you like it super sweet)
Whipped cream
Instructions
Combine all ingredients in a pitcher over ice.
Stir until the cocoa powder is thoroughly mixed; top with whipped cream and sprinkle with cocoa powder. Serve over ice and enjoy!
Where to Find These Glasses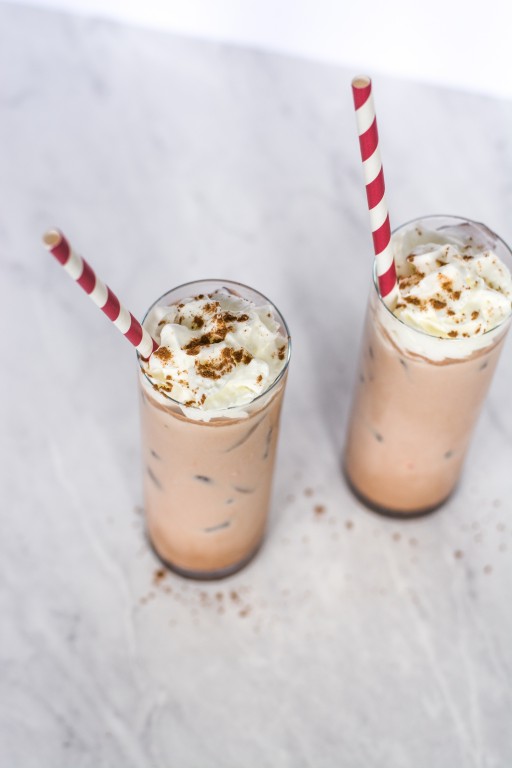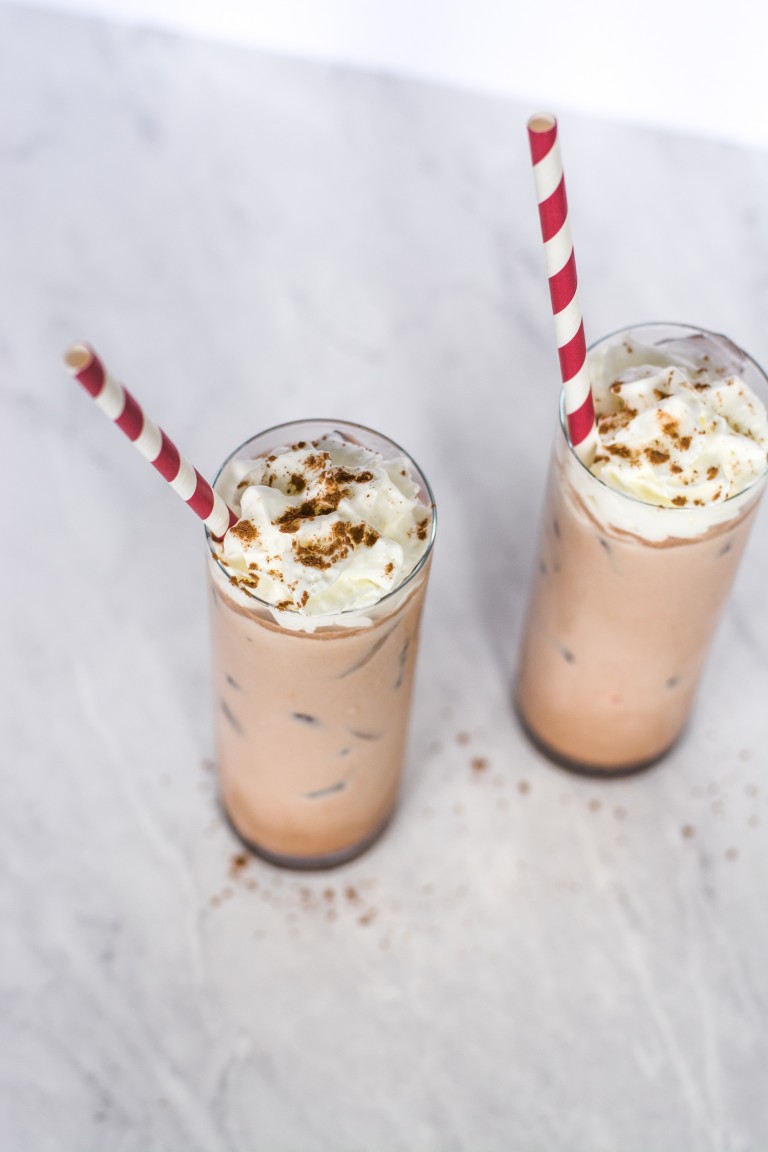 I get so many questions about the glassware that I use and especially about these specific glasses. They're very delicate, but are pretty price-friendly and are really really gorgeous!
I've used these glasses for many different cocktail and coffee recipes. Guests always love them and I find that they add a really elegant touch to any drink recipe because of how thin they are!
Keep in mind that they do break pretty easily. I recommend hand washing these glasses and buying extra if possible. I've already cracked a few and I'm super careful with my glassware.
Here are the glasses that I own from Crate and Barrel. At the time of writing this post, they're on sale and are only $3.50 a glass!
I also found this set from Kohl's for a great price. They'll probably hold up a bit better (they're slightly thicker) if you're looking for durability.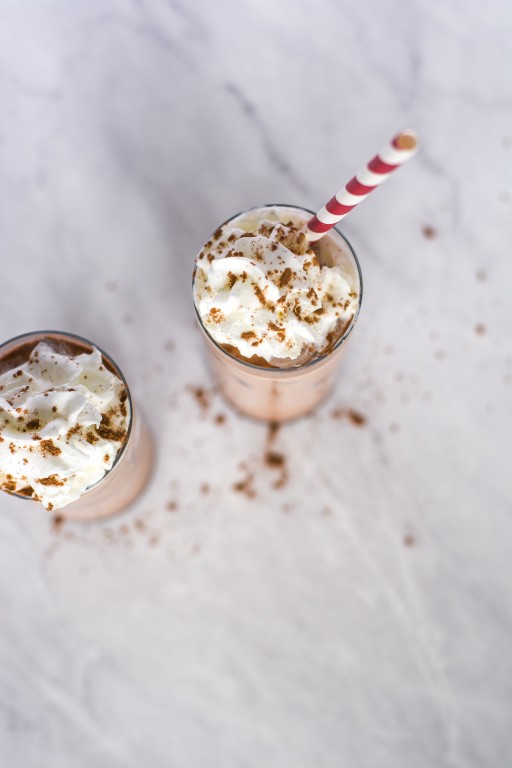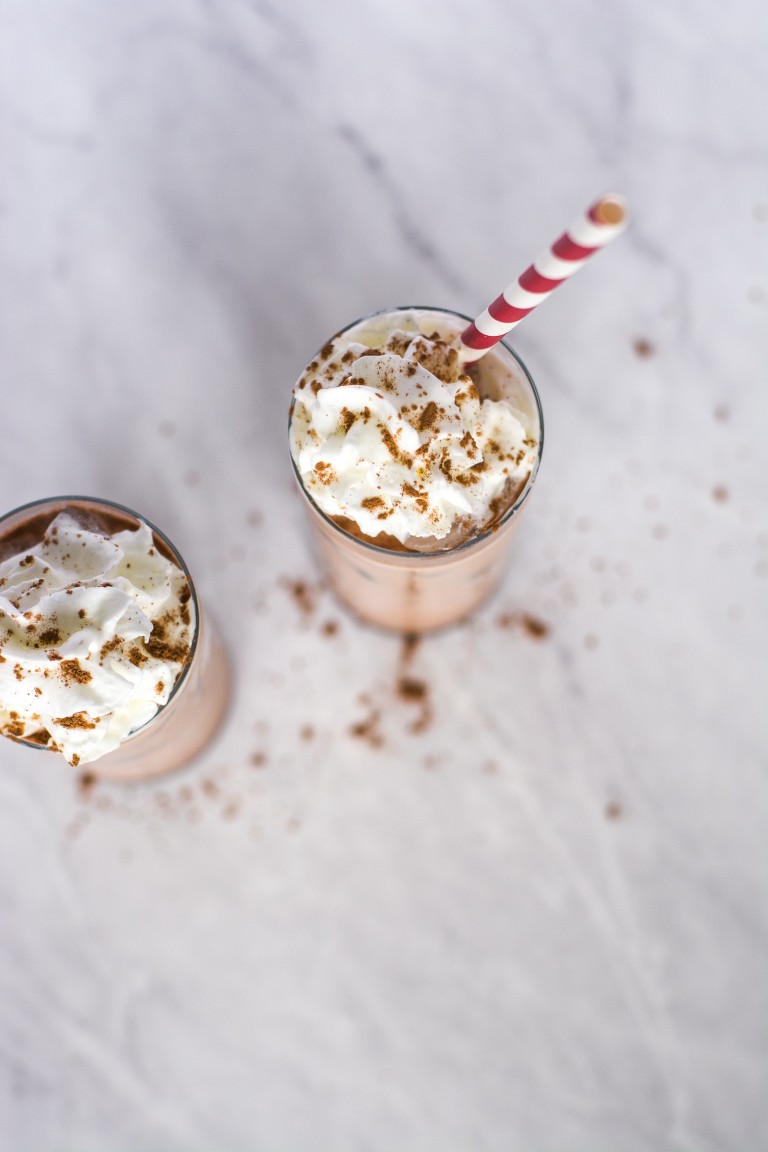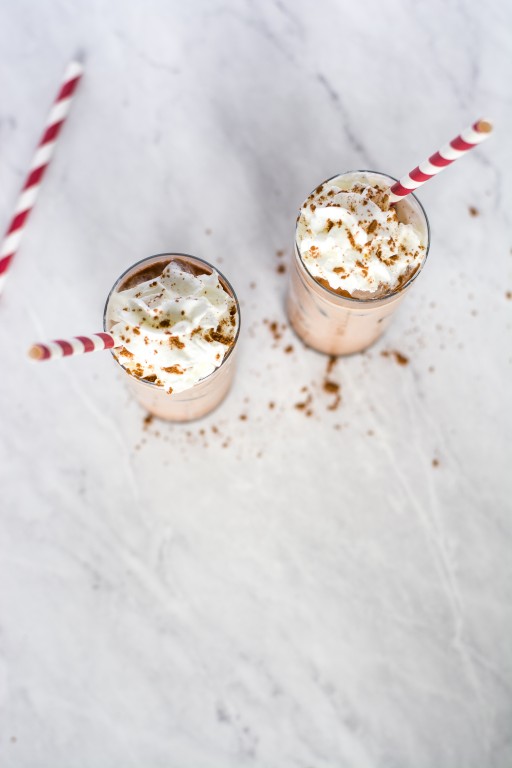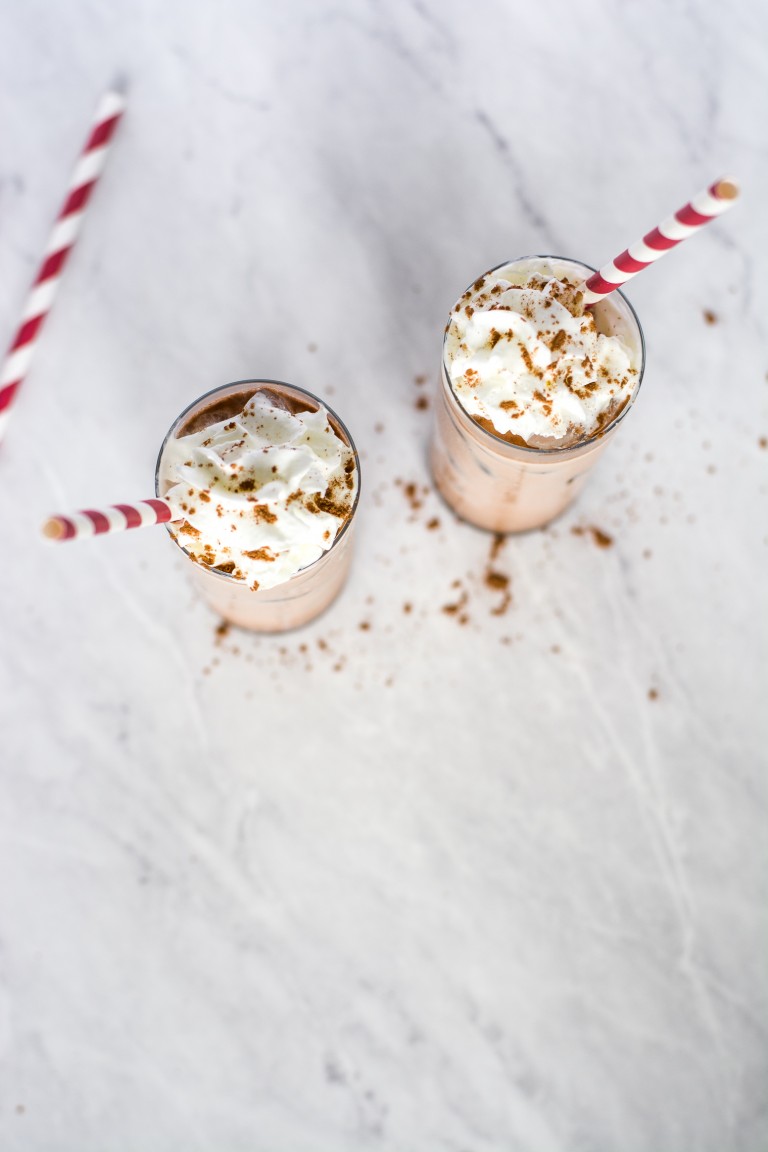 Straws
These red and white straws are my favorites: they're super fun and festive but are also environmentally friendly! I use these straws for the 4th of July, Christmas, any any other time during the year.
I purchase these on Amazon (of course). I've used them for so many drinks and find that kids and adults alike love them!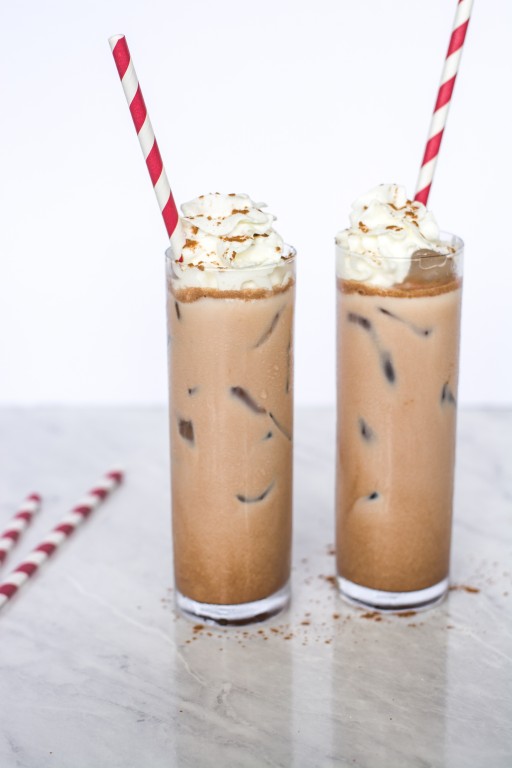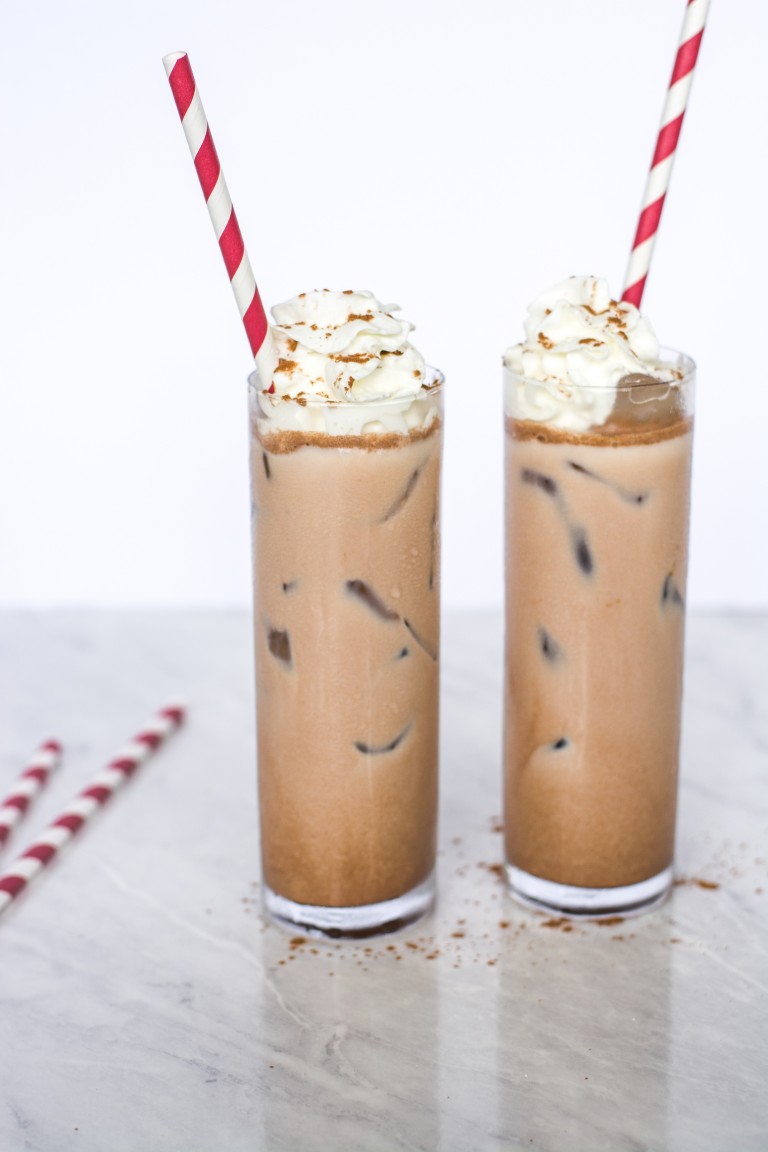 I hope you love this delicious iced hot chocolate recipe as much as I do!