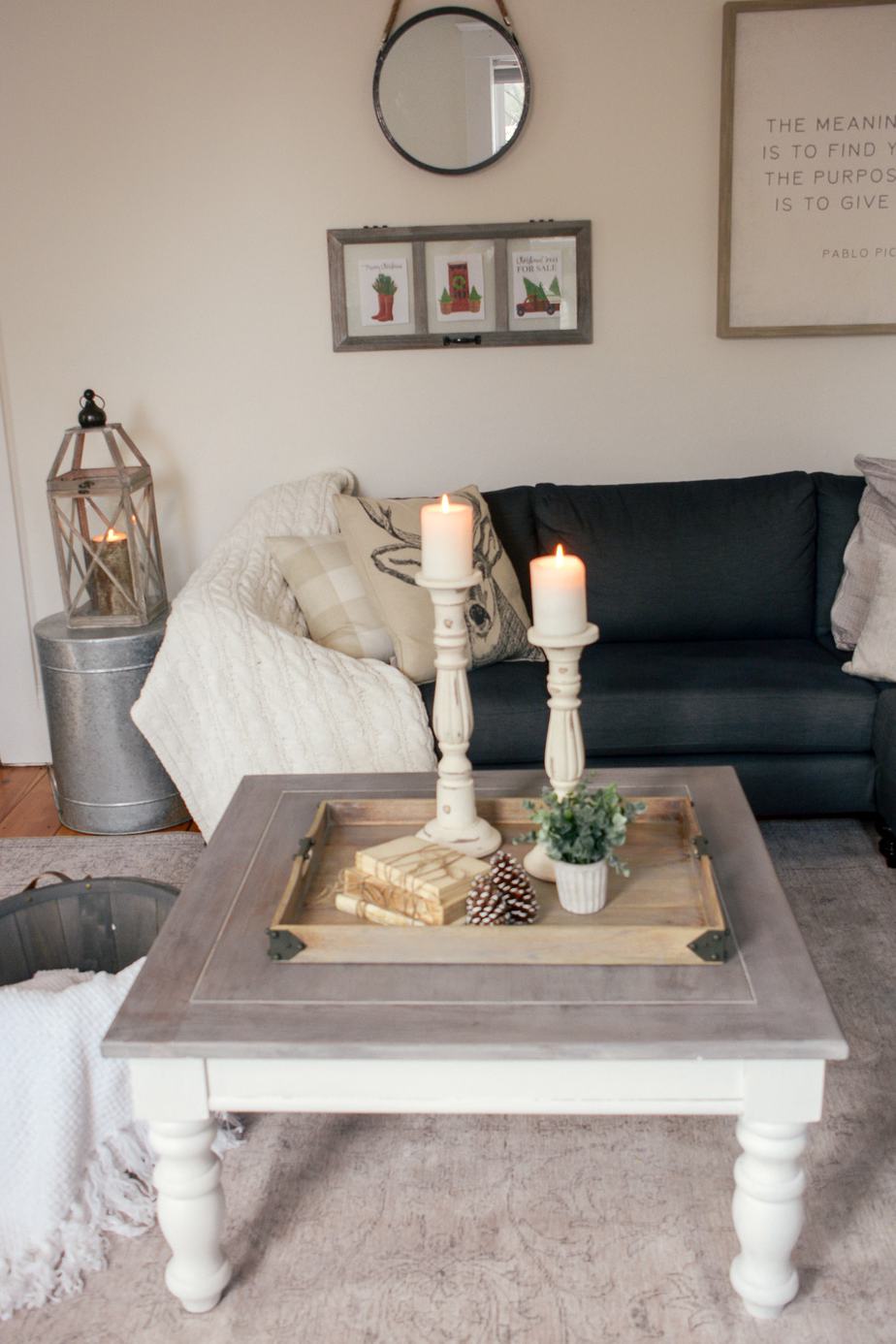 Thank you Facebook Marketplace for sponsoring this post. There's something for everyone!
When we first moved into this apartment, I realized that we would have trouble finding a coffee table to fit. I already had a sectional couch, but the short side made it so that the coffee table couldn't be very long.
After doing the measurements, I realized I had to find a square coffee table, but there quite literally wasn't one in existence that would fit. Actually, there was a great one that I found for $1,000, but that wasn't exactly an option.
I've been on the hunt for the perfect piece, and started checking Facebook Marketplace daily. I love Facebook Marketplace (and have used it quite a bit to furnish this apartment). It's super easy and the sellers I've communicated with are really responsive, so you can literally get the item the same day.
It also has a lot more options than other similar sites. It's right through Facebook, so you don't have to download or remember to check another app, you can chat with sellers over Messenger, and you can set up alerts so you know when similar items are listed (I get them for anything farmhouse style and have found a ton of items).
I ended up finding the perfectly sized coffee table from a seller who lives only a town over. He listed it for $75 but said open to offers. I offered $50 and picked it up the next day!
The table was originally finished in a natural, orange type of wood, but was made of pine. I sanded it down completely (this only took about 2 hours). The top had to be completely sanded down to the actual pine base, while I only roughed up the legs a little since I was planning on painting them. I then got to work on the DIY part of the table.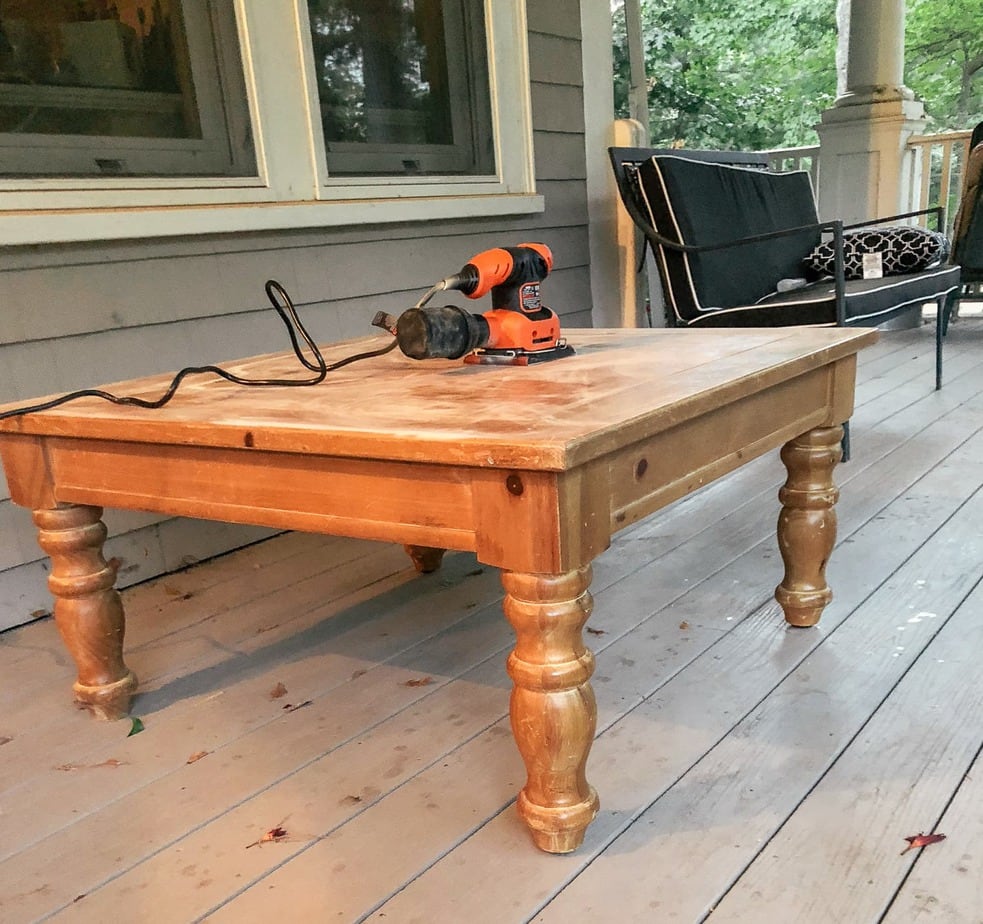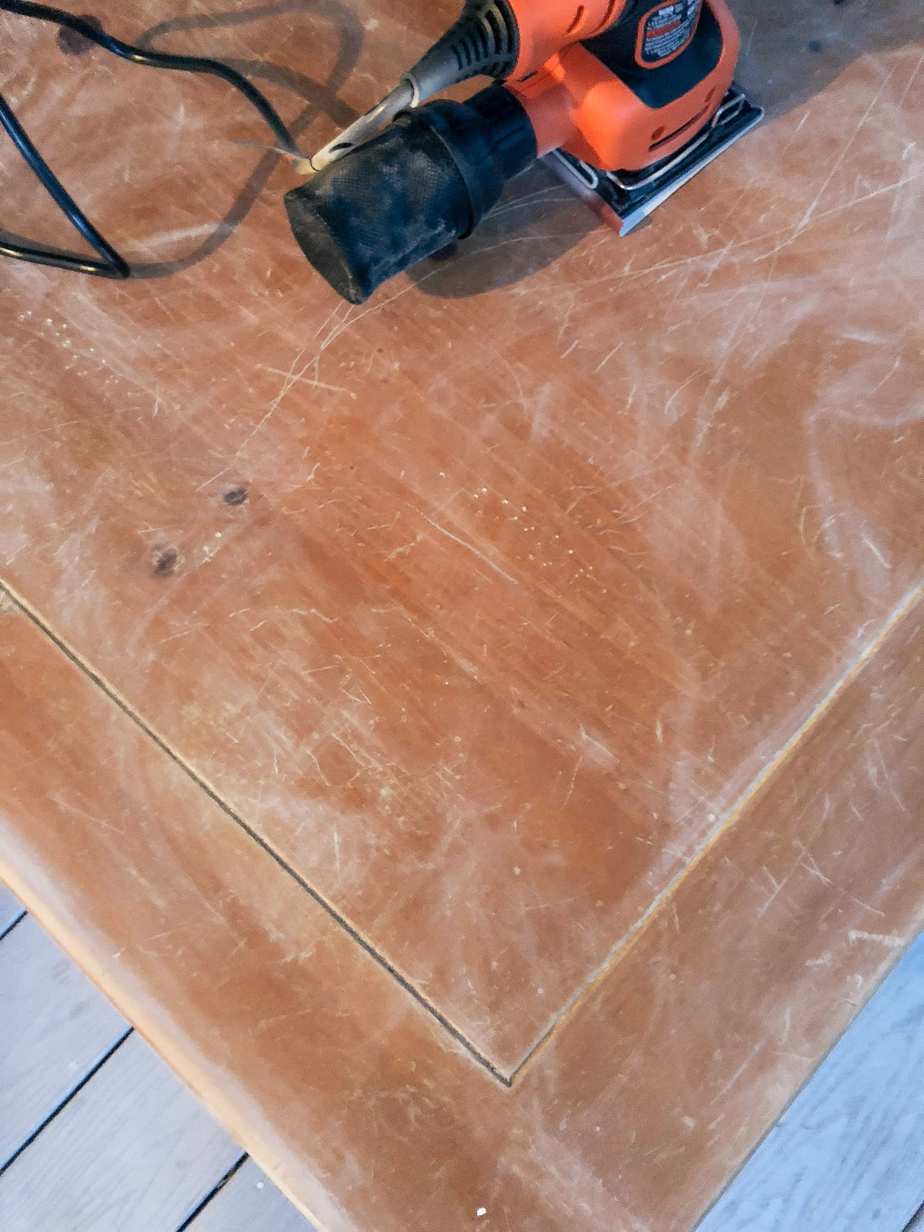 It was actually really simple to do. I first stained the top, then painted the legs white.
To stain the top, I used a dark maple stain, let it dry overnight, then went over it lightly with a sun-bleached stain. It's a little patchy and unfinished which is the look I was going for! I might go over it again with the sun-bleached stain once to make it a little more even.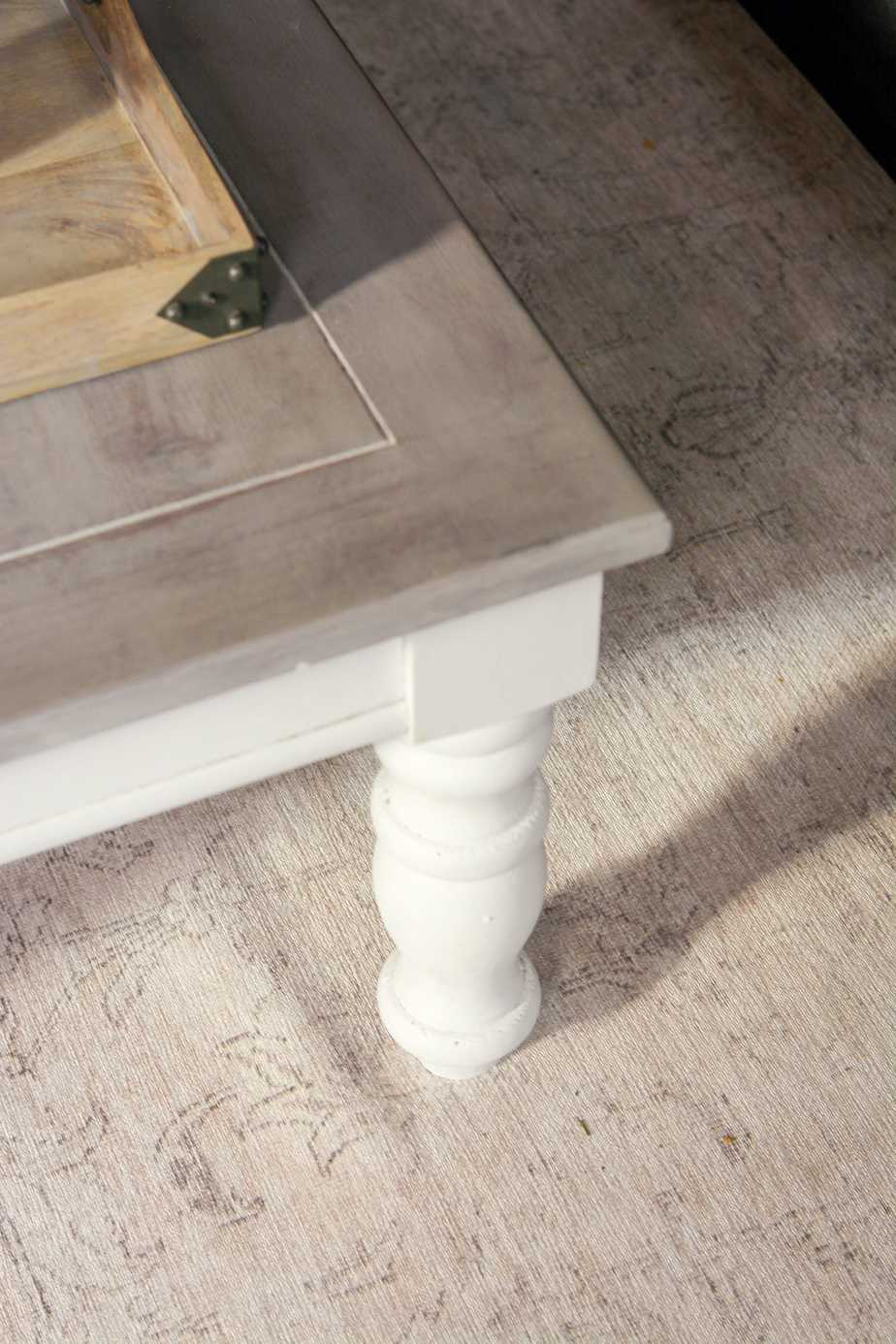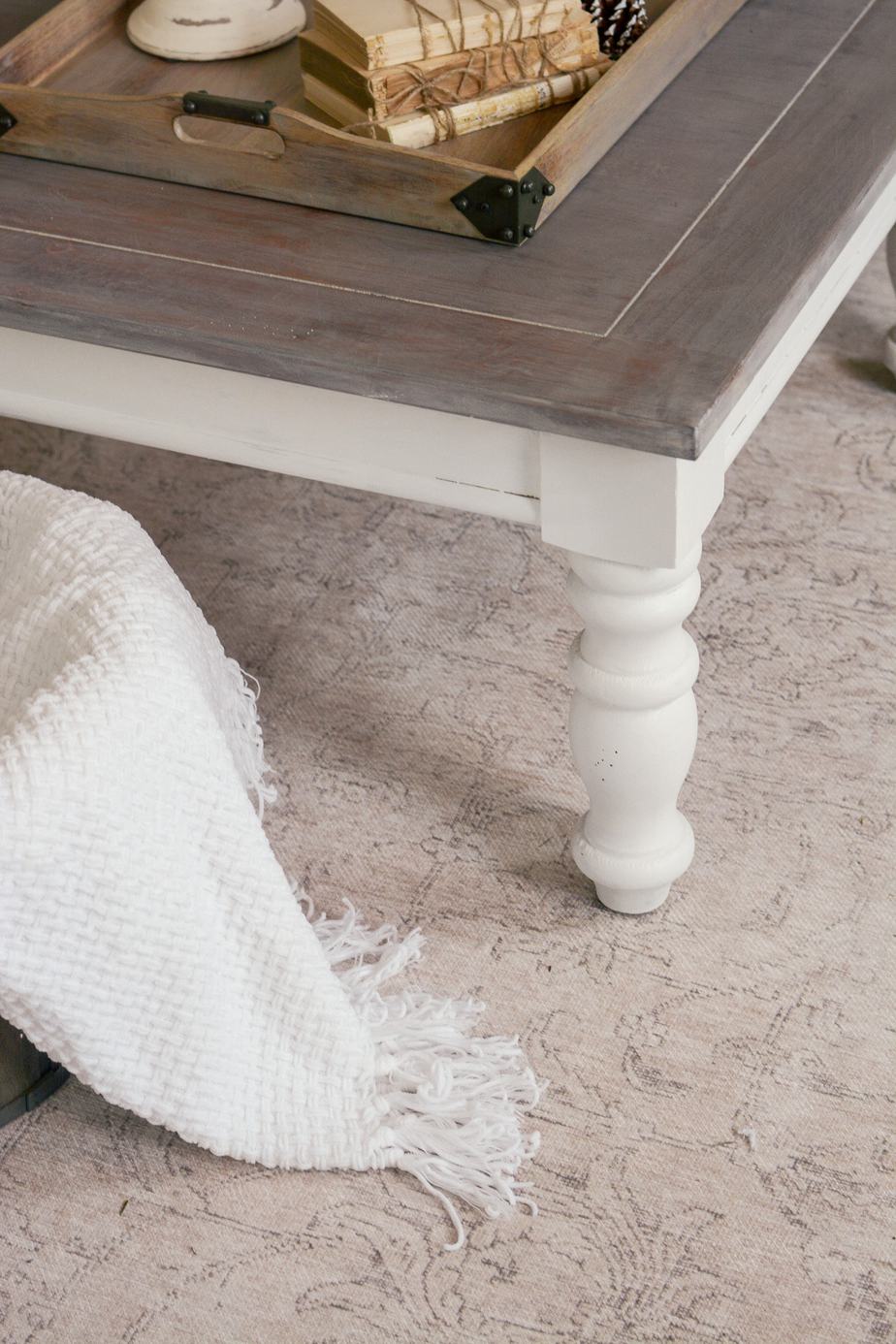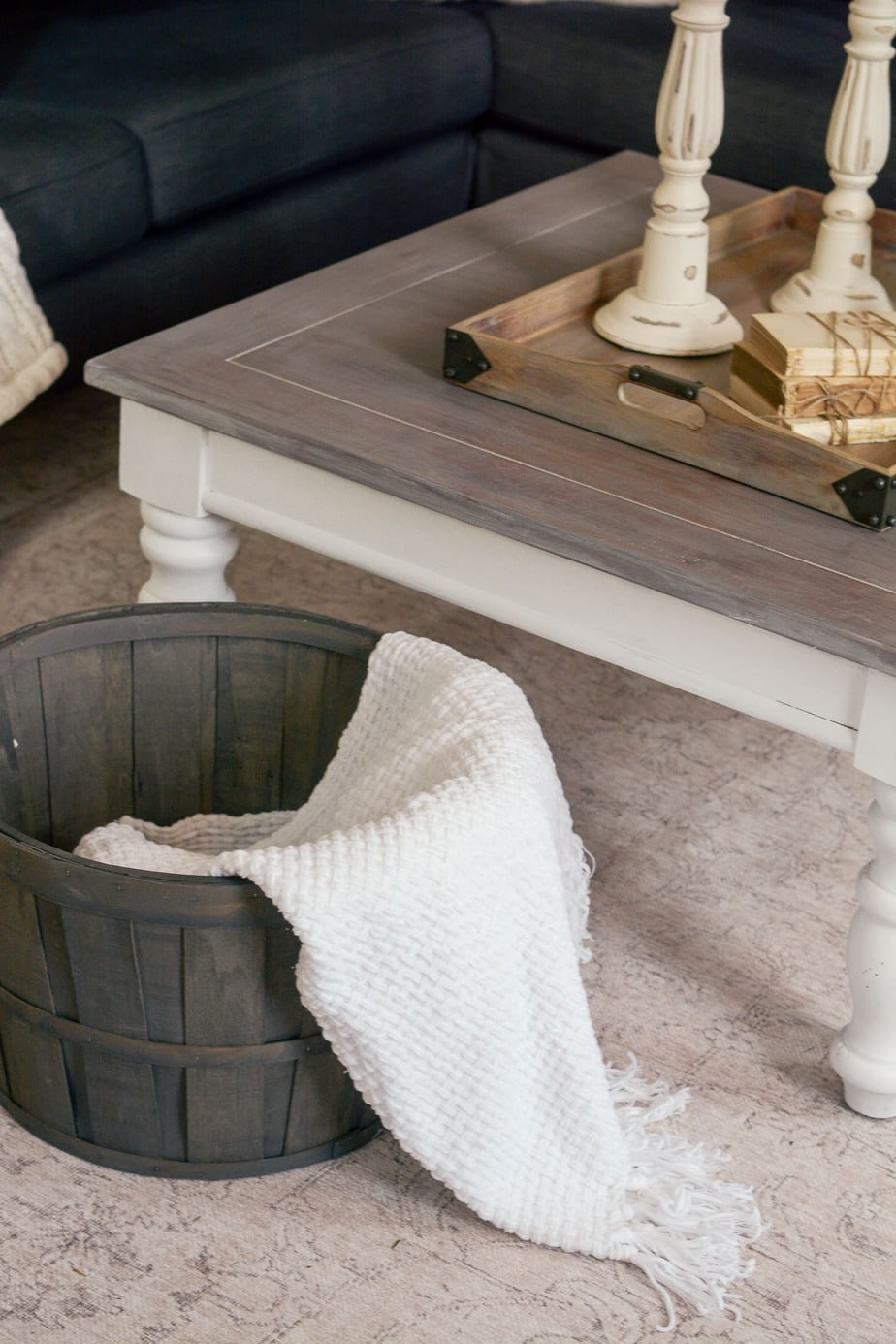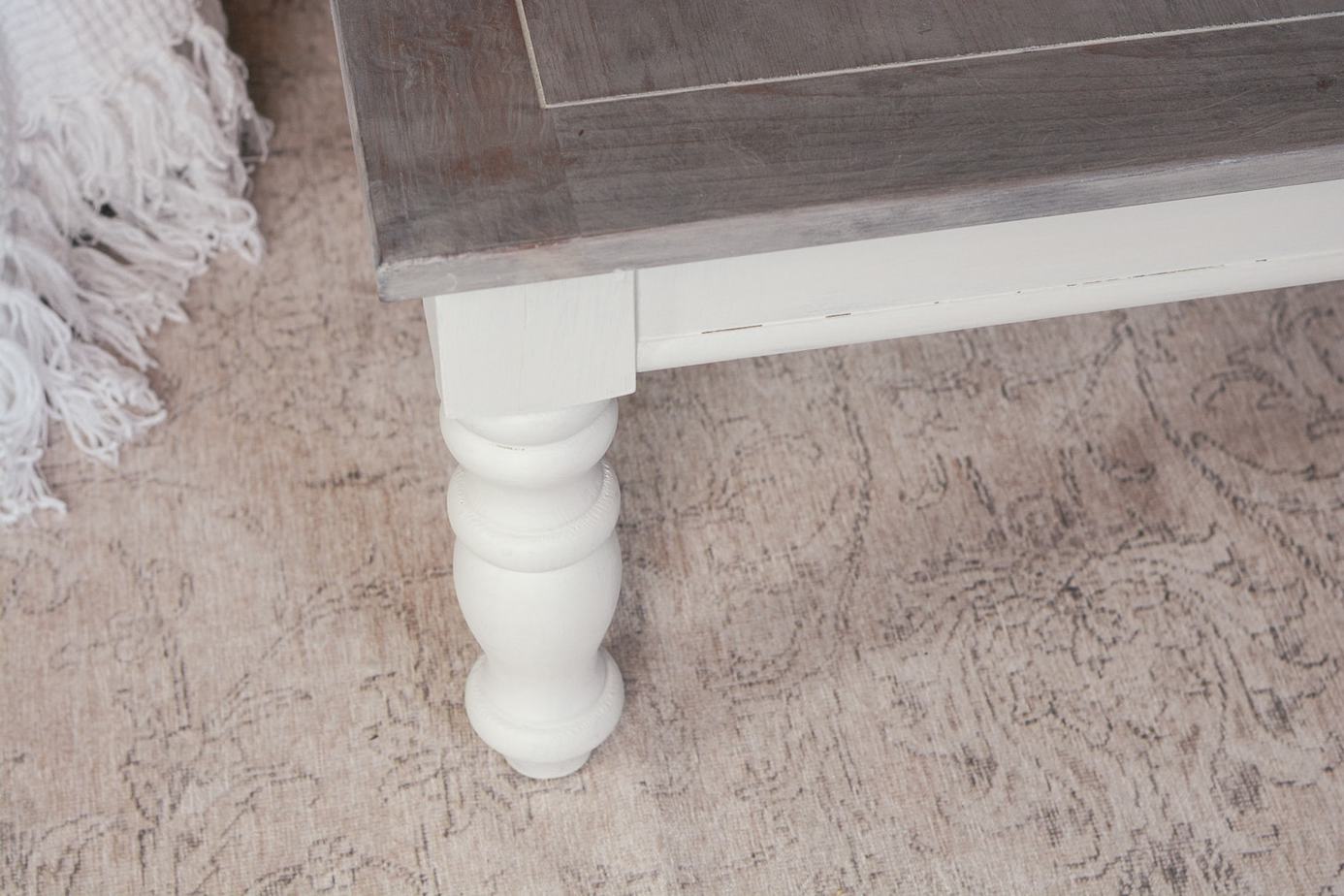 I'm also considering roughing up the legs with a sander block to make it look a little more distressed, but I might wait until I leave this apartment. I think the solid legs go better here!
My plan is to eventually seal the table with a matte sealer, once I'm positive I'm done with it.
The whole process only took about two days and cost about $75 total, which is way less than any coffee table I could have bought brand new! I also love how unique the legs are and was pleasantly surprised to see how high-quality the wood is when I picked it up.
My couch is a dark grey, bordering on blue, so I love how the table lightens everything up. It's been a great place so far for laying out appetizers, playing games, and wrapping presents!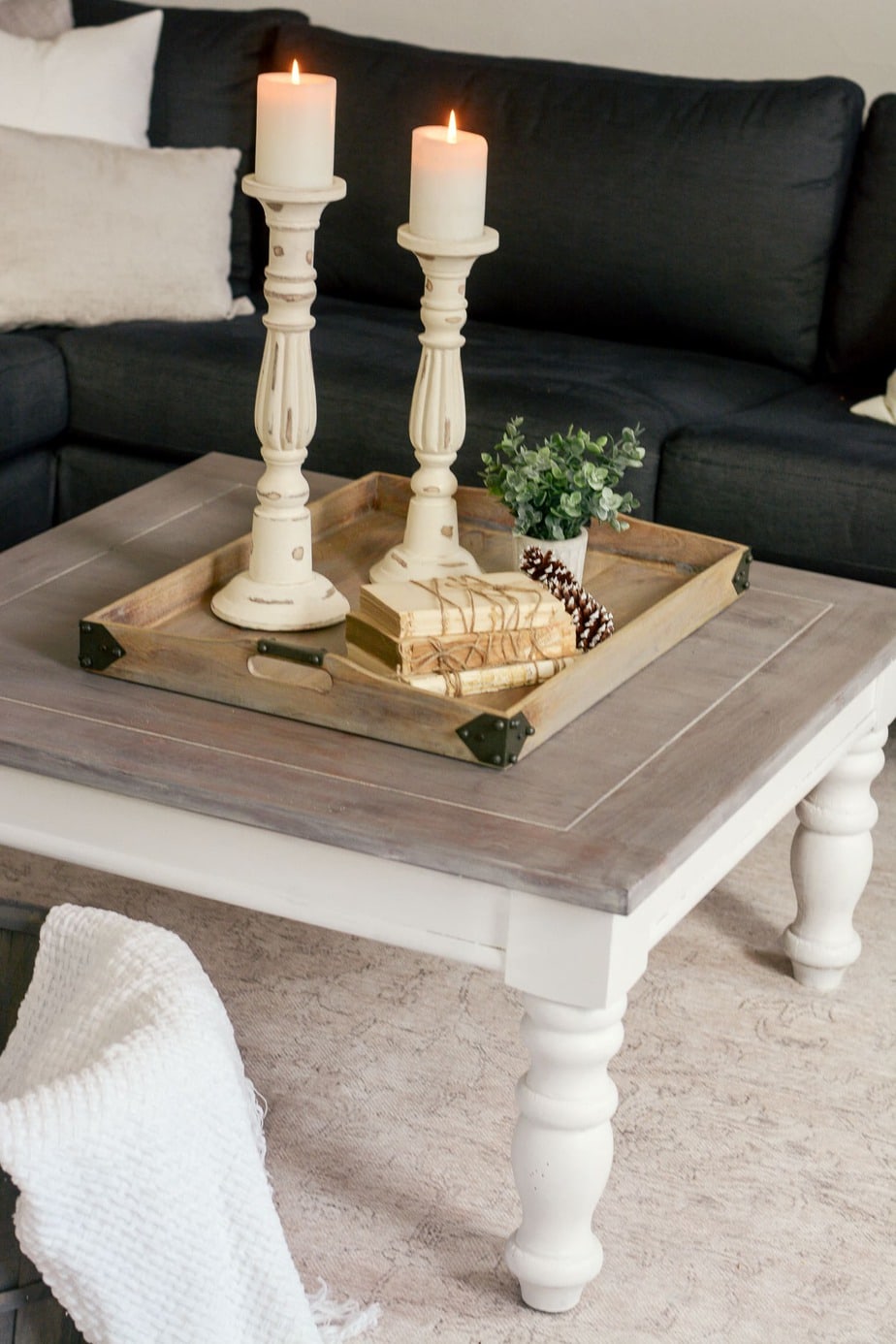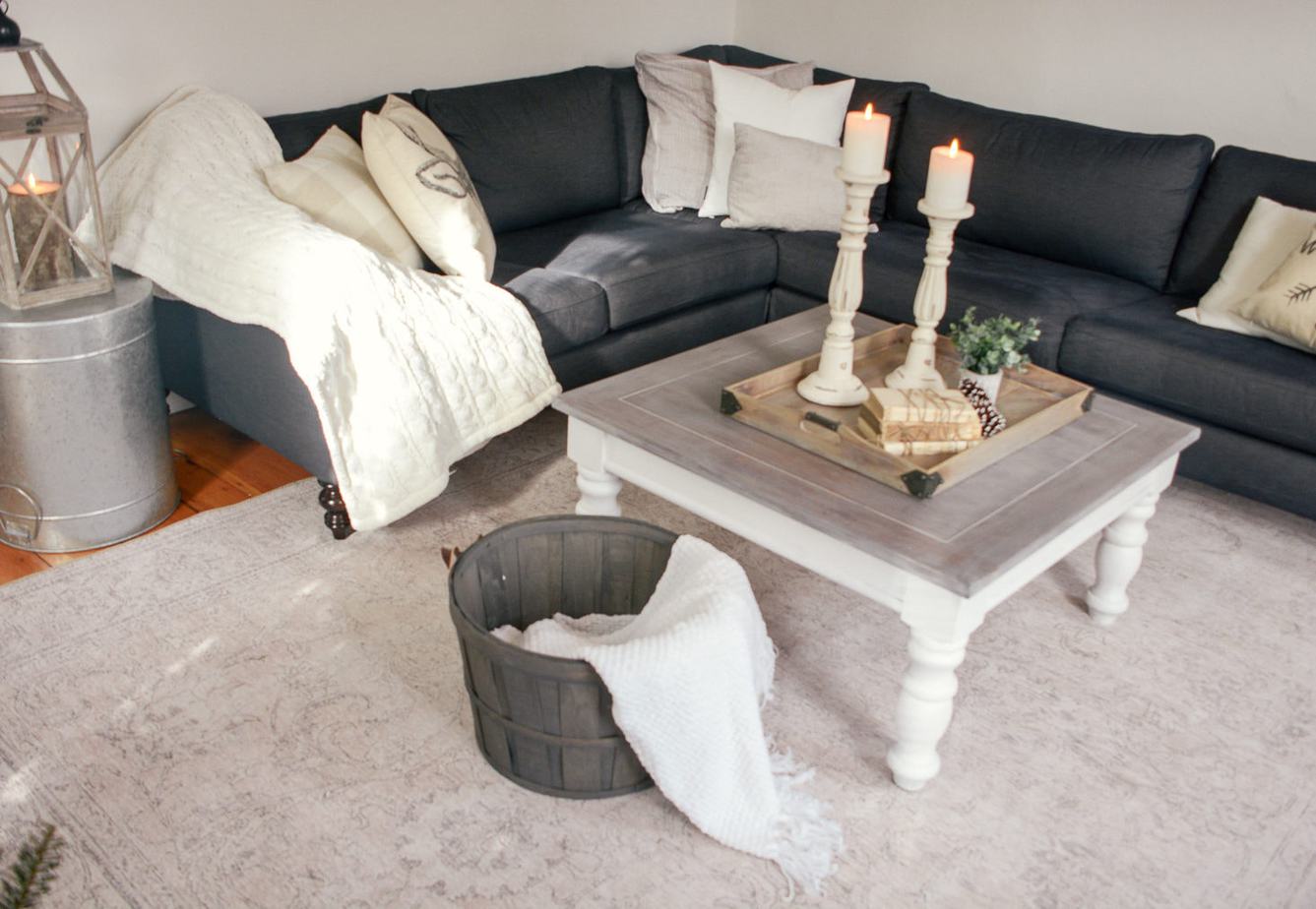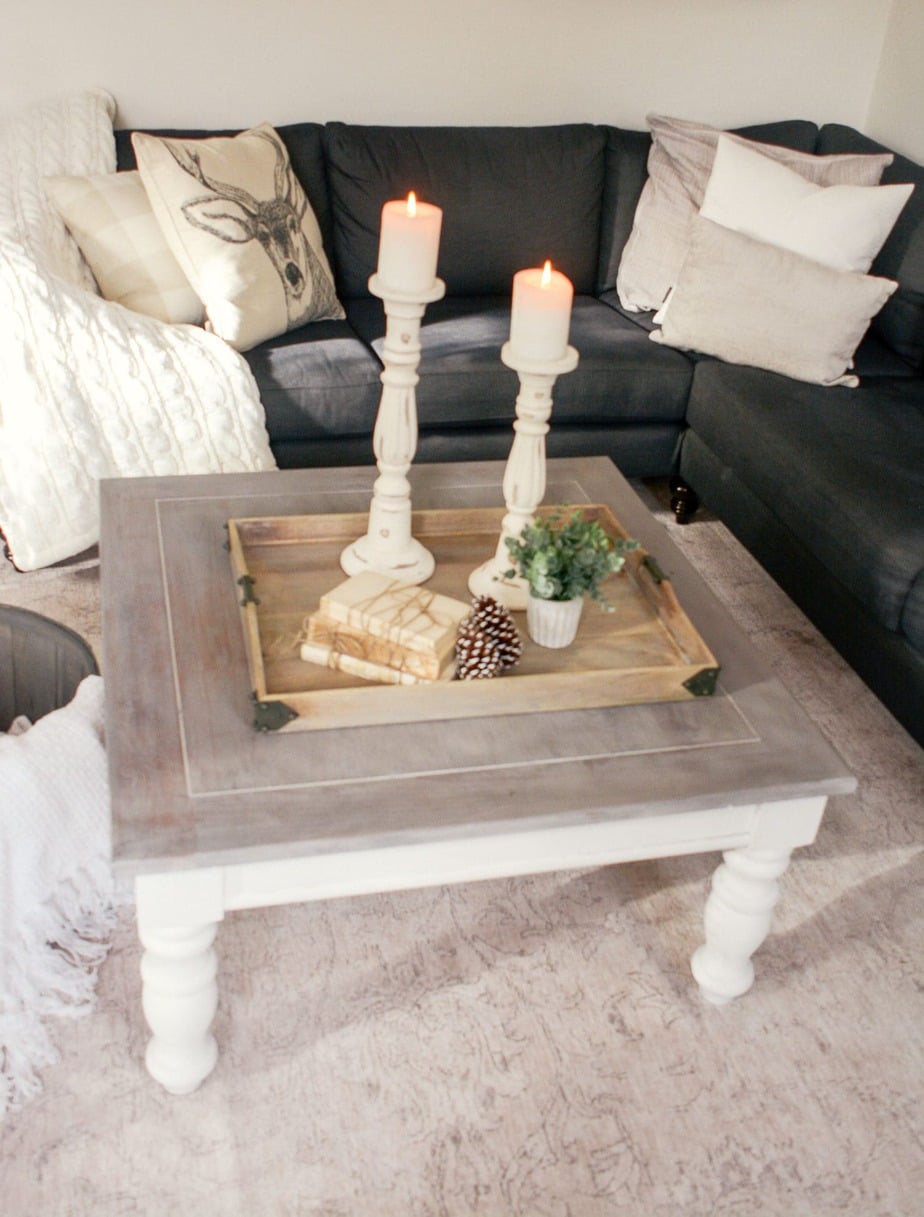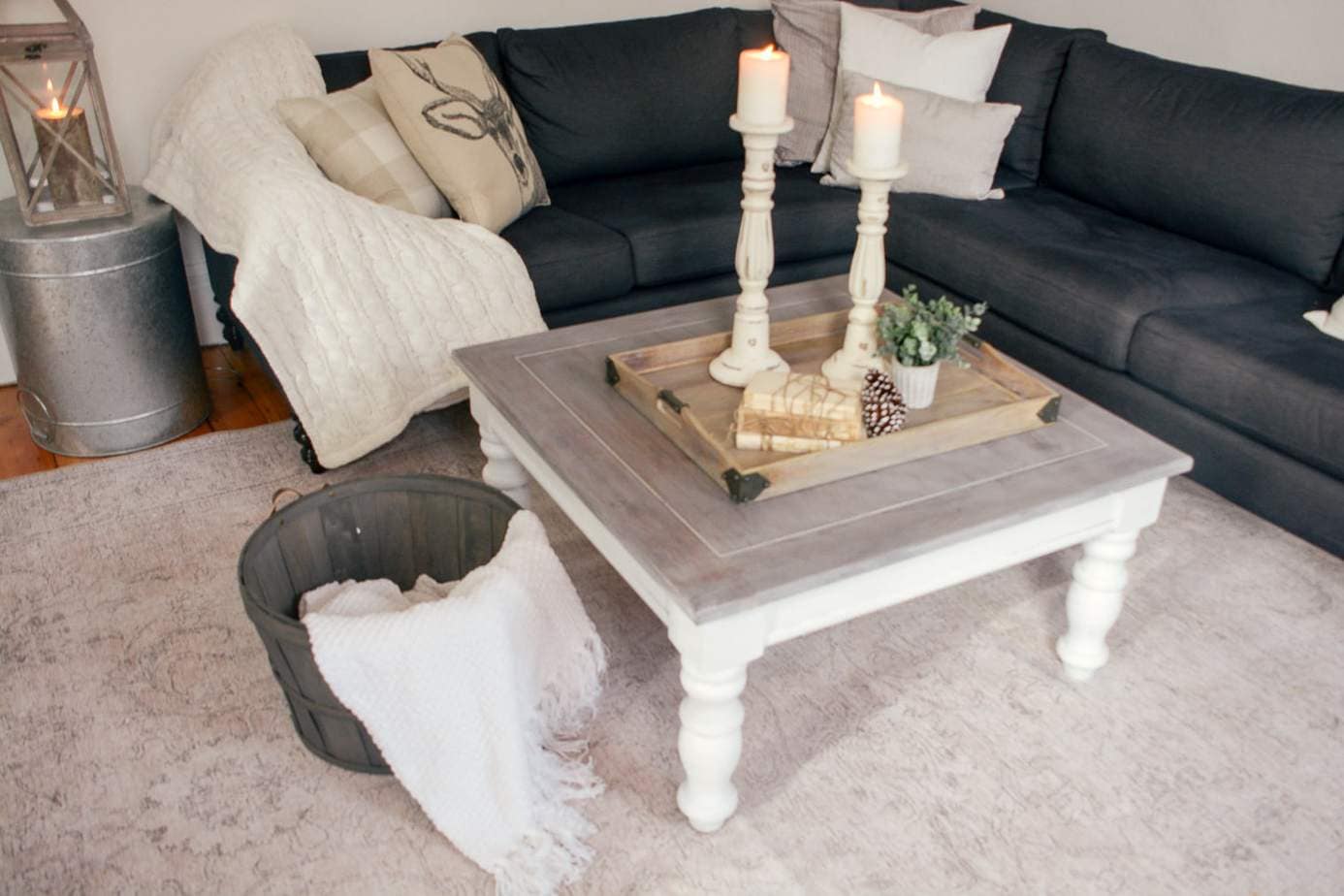 I highly recommend checking out Facebook Marketplace for home decor purchases! I'm also keeping my eyes peeled for a white slipcovered couch (my mom just found one for $200 like-new!) and a farmhouse looking TV stand.