Looking for gorgeous, scary, or easy Halloween makeup ideas? We're sharing the top Halloween makeup looks for 2023 that are super hot right now!
It's almost Halloween season! I love everything Halloween, from the candy to the costumes to the haunted houses. Kids and adults alike actually get to be someone else for Halloween, and it's literally so much fun. It's a great excuse for adults to use face paint and dress up, something we don't get to do the rest of the year.
Halloween is the one time of year when wacky, wild, never-before-seen makeup looks can be achieved without anyone batting an eye. It's the one time of the year you can go totally wild with contact lenses, glitter, fake blood, and just about anything else. Seriously: when it comes to Halloween makeup, everything goes.
Tons of Halloween makeup ideas are really popular right now! Any cute or pretty costume will definitely incorporate some type of makeup, whether you want simple and easy Halloween makeup or are looking for more complicated and spooky Halloween makeup ideas.
Top Halloween Makeup Ideas:
Today, we're sharing our favorite easy Halloween makeup ideas that are trending in 2022! Browse through and see what you like.
Galaxy Makeup: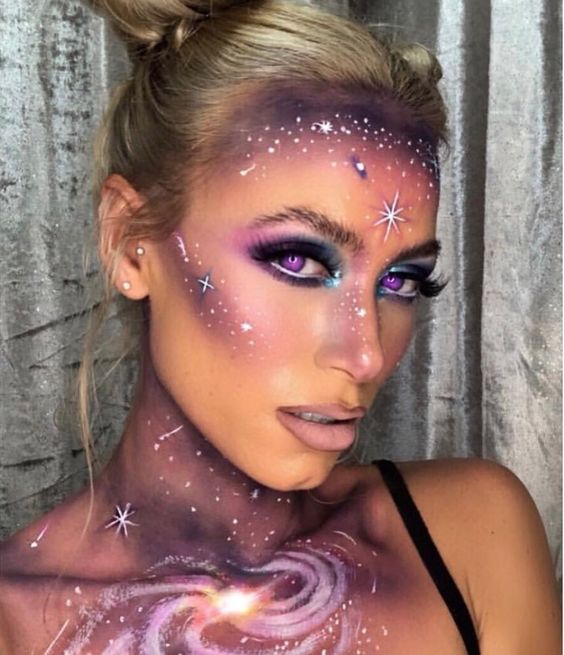 The galaxy costume is still super popular, but galaxy Halloween makeup is more complicated than ever this year.
Get yourself a good eyeshadow palette with cosmic colors (mainly purples, pinks, black, and white). You'll want to use a creme eyeshadow, not powder, or you can also opt for face paint. Use a beauty blender to create the coloring (and make sure it's blended!) then add in the white stars with a small, pointed brush.
Corpse Zombie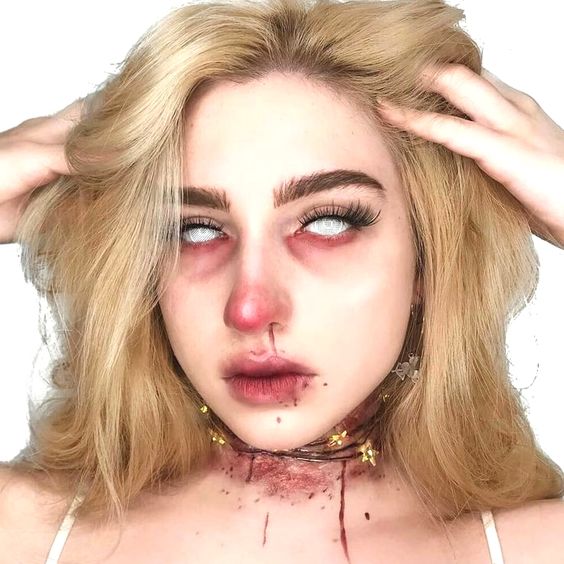 If you're looking for more realistic spooky Halloween makeup ideas, this zombie might be right up your alley. Plus, it's super easy to accomplish.
Wednesday Addams

I have always loved the Addams Family since childhood. It's one of my favorite movies and shows when I was little. And as a kid, I've always wanted to be like the spunky Wednesday Addams and this particular makeup look really knocks it out of the park!
Runes

Drawing runes around your body really makes a good, spooky Halloween look! Even better, you can try to recreate this look with Sofia Boutella's "Mummy" look from the 2017 iteration of the film.
Morticia Addams

If you find that you're a little too mature now for the Wednesday Addams look, then why not opt for the charming and effervescent Morticia Addams? This is still one of the trending super easy Halloween makeup ideas this year. You can go bold or as dramatic as you like with her makeup look or opt for a more glam version like Sophie Turner's version here! Though personally, I love Anjelica Huston's version much more.
Corpse Bride (1)

The Corpse Bride is one of my comfort films from Tim Burton's repertoire of movies. So I can't help but add Emily's makeup look here. It's really perfect for a spooky yet still feminine look for Halloween. And, who doesn't want to wear a wedding dress, right? Even if the wedding dress in question would be for a Corpse Bride.
Corpse Bride (2)

If you and your friend are going together to celebrate Halloween, then why not opt for the two fantastic female leads of Tim Burton's Corpse Bride? You or your friend can either go as Emily, while one goes as Victoria!
AHS Skeleton

Go big or go home, right? So if you're planning to go big and want to have a dramatic, outrageous makeup look for Halloween, a skeleton is a classic choice. It's spooky and you can add a bit of your personal flair to really make it unique!
Half-Dead Skull

But if you feel like keeping a part of your face still "human", then you might want to try out this partial skeleton makeup instead! I certainly find it a lot creepier than the whole face being covered with makeup.
Pagan Zombie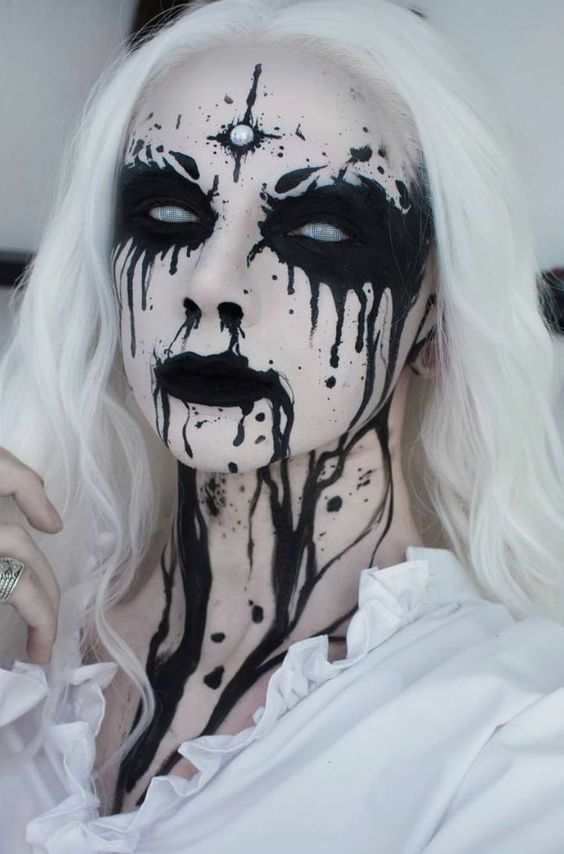 Want something a little scarier? This could be your drift. Make sure to practice this look ahead of time!
The Future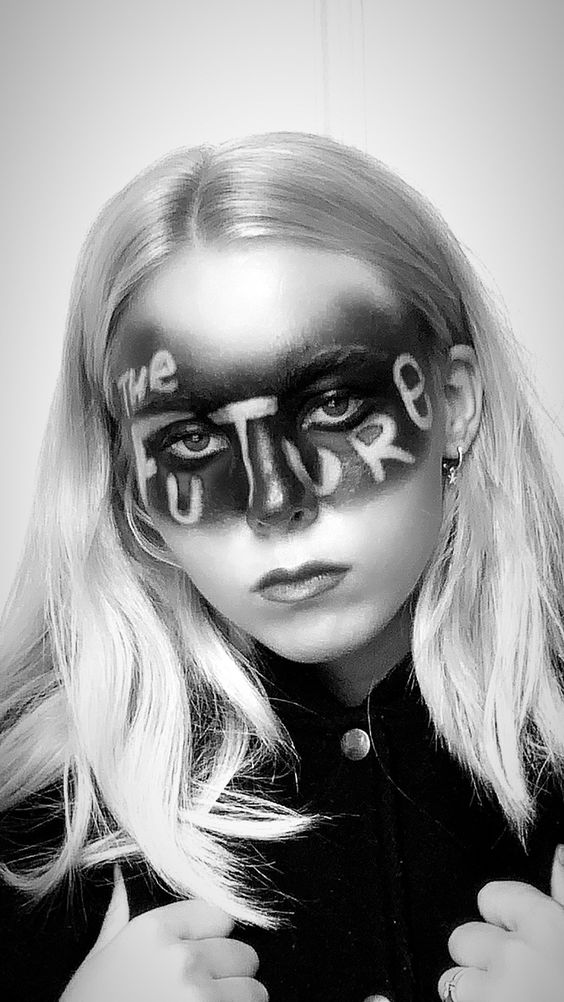 So we all know that the whole doomsday futuristic thing is popular right now, making this one of the trendiest and easy Halloween makeup ideas for 2023.
Devil Zombie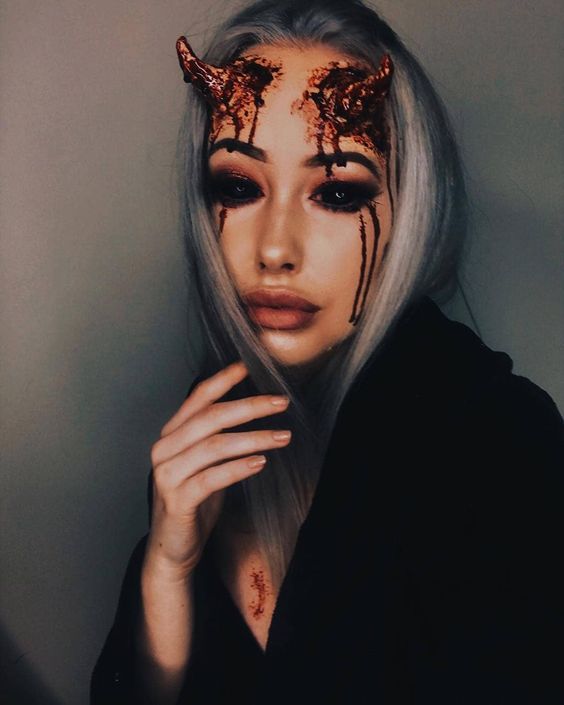 This is another one of our favorite scary and easy Halloween makeup ideas.
Scary Pumpkin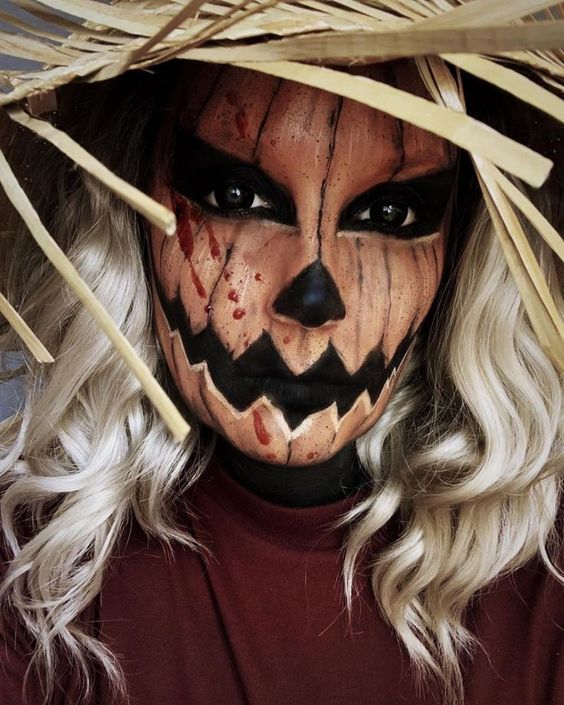 Want to go with a creative spin on a classic look? Try the Halloween pumpkin.
Ancient Witch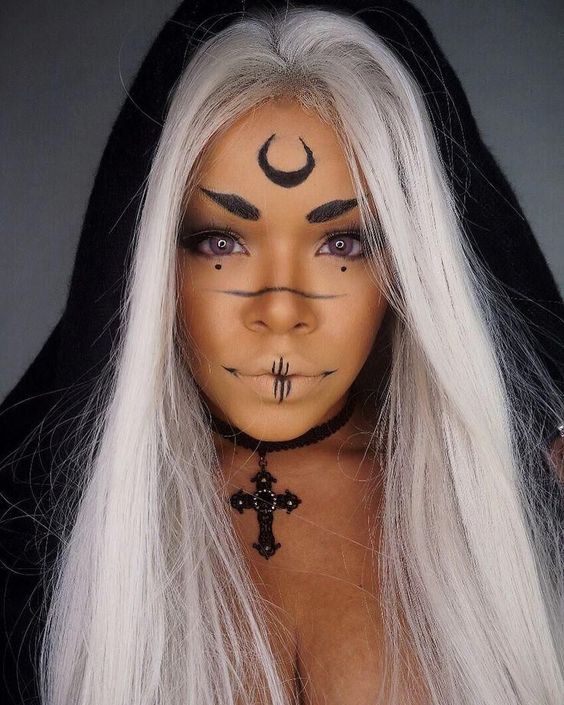 I'm really loving the more ancient, pagan witch spooky Halloween makeup ideas and this is one of my favorites!
Little Red Riding Hood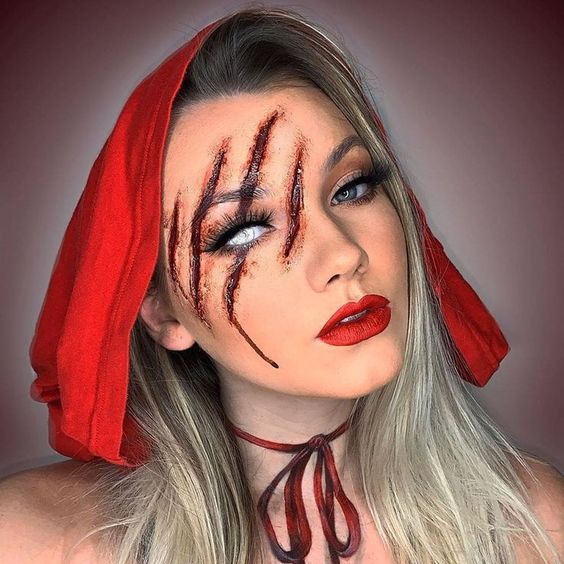 Go all out with the Little Red Riding costume complete with Halloween makeup.
Norse Viking Warrior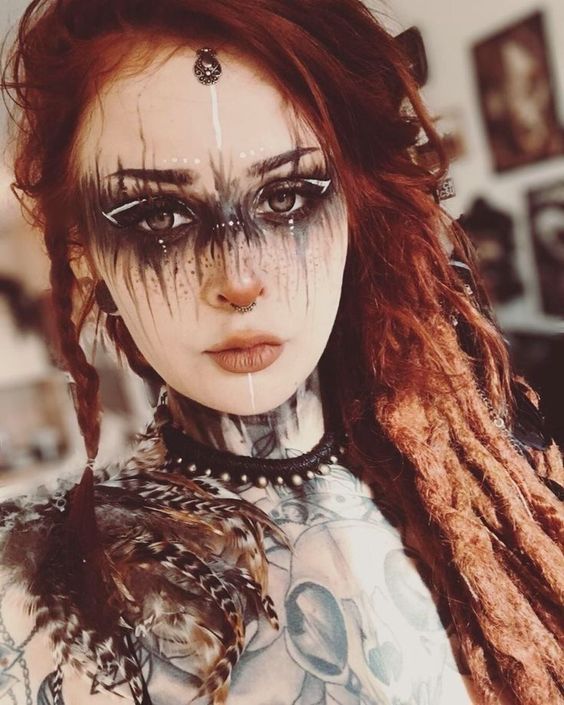 Norse Viking warriors are made of legends. If you like to go for a fearsome Nordic look, then this makeup look would suit you perfectly!
Norse Viking Warrior (2)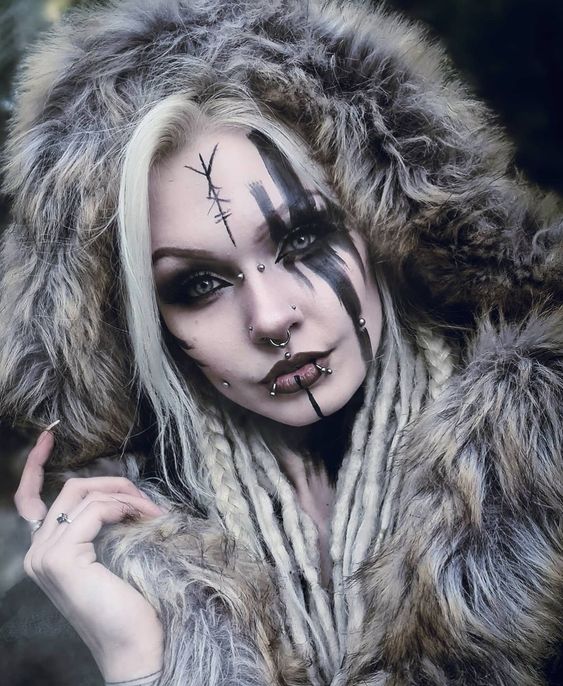 Here's another Viking warrior look you might want to consider! This one has drawn on runes and you can incorporate some braids and fur to add to your overall costume.
Dia de Los Muertos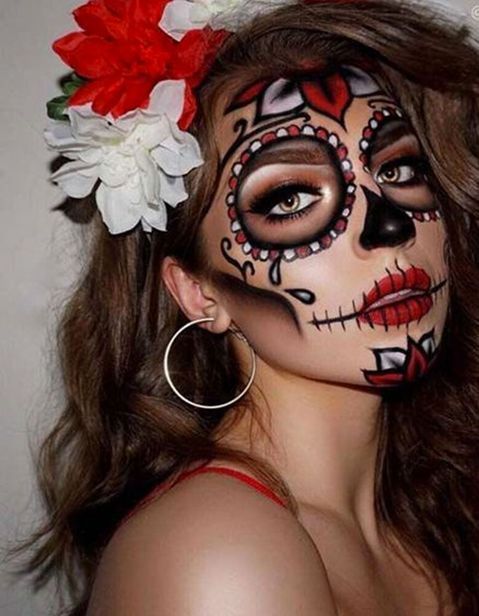 if you want to pay homage to your Mexican roots, the classic Dia de Los Muertos skeleton look would be such a nice way to show your appreciation for your culture!
Voodoo Doll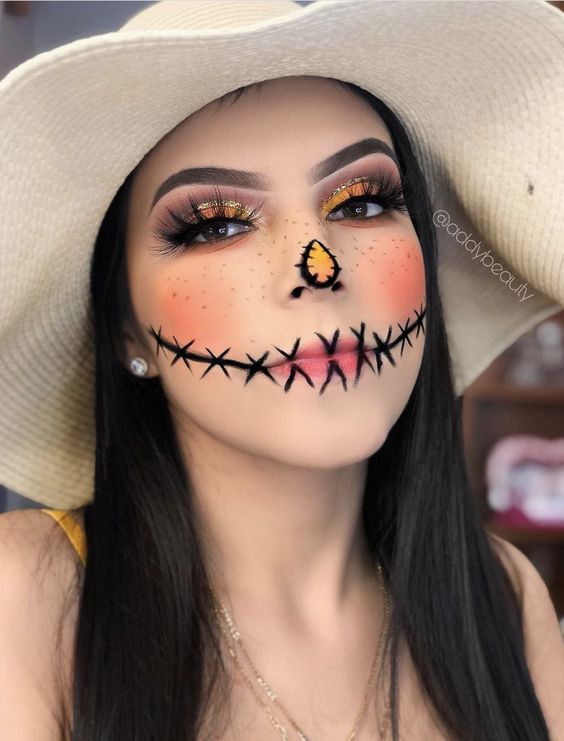 Simple and lots of fun to do, this voodoo look features bright, pastel colors so that it won't look too spooky! But if you want to go full-on horror, you can always opt for deeper colors and add some fake blood to your makeup.
Cruella de Ville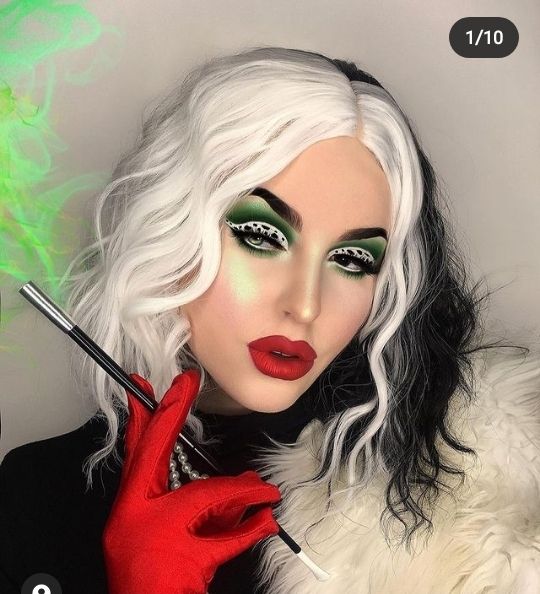 An iconic villain in her own right, Cruella De Ville has become a pretty popular Halloween makeup look for women everywhere. Especially now after Emma Stone's portrayal of her along with those stunning looks from the movie! But if you prefer the classic version of the OG films, you can do that too!
Two-Faced Clown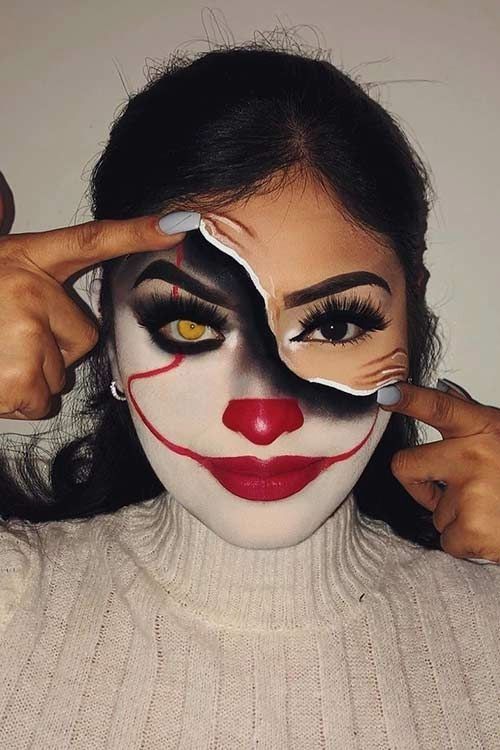 Clowns are a little terrifying depending on how they're portrayed. They can go from funny to downright creepy in a matter of seconds. So if you want to scare the kids this Halloween night, clown makeup would be perfect for it!
Scary Scarecrow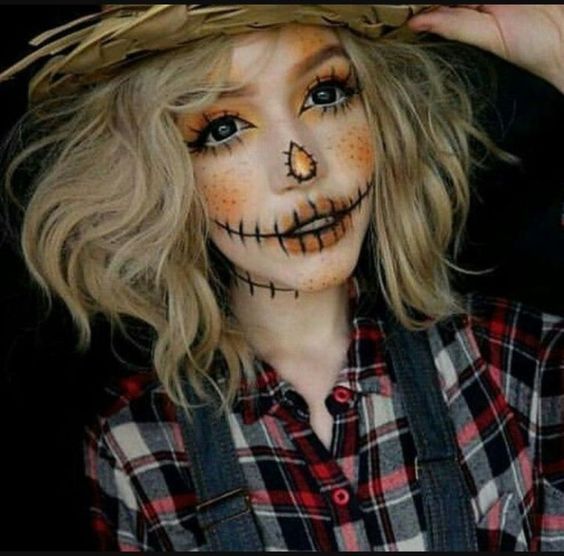 Ditch that Dorothy costume and opt for a creepy Scarecrow makeup look instead! All you need is some face paint and denim overalls to match your plaid shirt and straw hat.
Pagan Being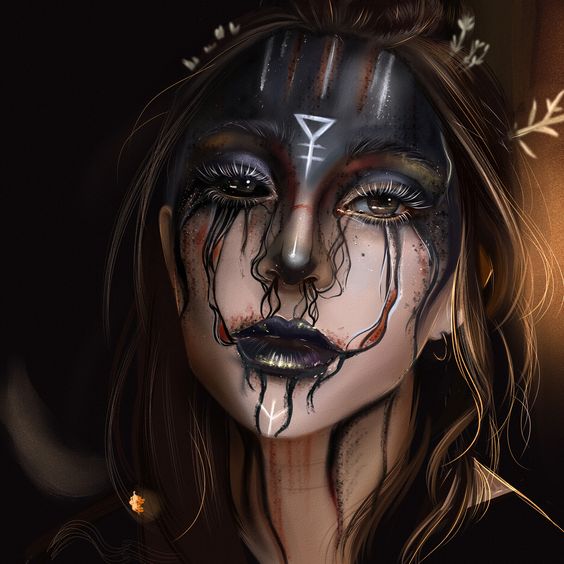 This particular makeup look is truly the perfect combination of spooky, scary, and stunning! It takes a lot of effort to look this good but it's definitely a great way to practice those makeup skills!
Demon From Hell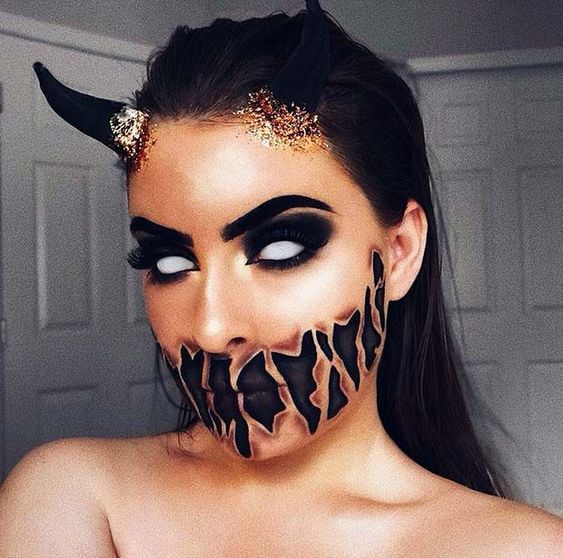 If demons looked this good, I'd like to be one too! I truly appreciate the talent it takes to create this gorgeous Halloween makeup look. The combination of glam and horror really makes good Halloween makeup!
Sorceress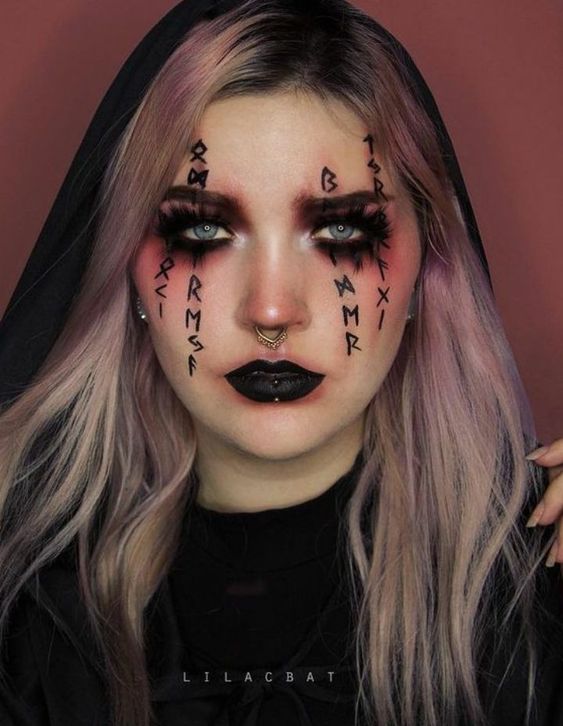 If you want to channel your witchy side or simply want to fuse your gothic aesthetic with a touch of witchiness this Halloween, this is a cute makeup look that's both terrifying and glam!
Butterfly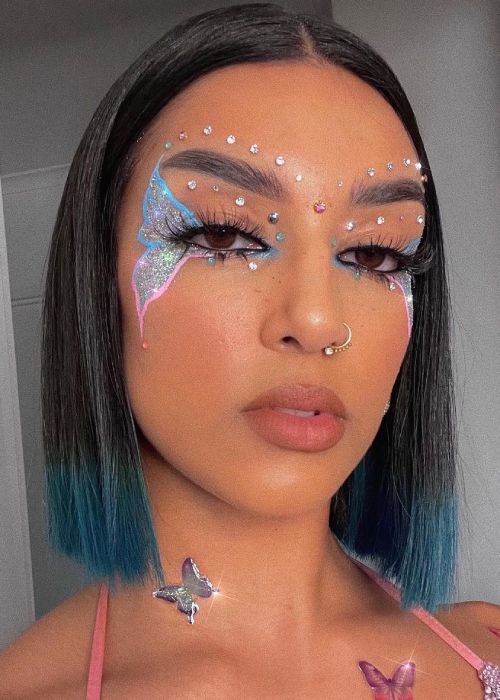 If you're looking for easy Halloween makeup then this could be for you. Plus, butterflies are so trendy in 2022 so we predict this will be a hot costume!
Undead Galaxy
I'm loving this unique yet spooky galactic look for the Halloween season. Those iridescent and shimmery colors reminiscent of stars dripping from the artist's body are utterly beautiful!
Pagan Goddess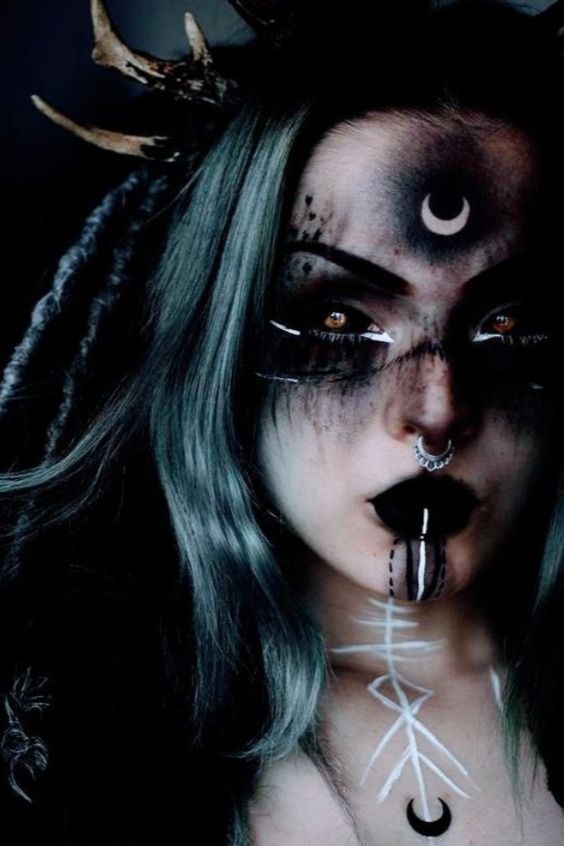 Channel your inner pagan goddess this Halloween season and you'll surely be worshipped by all those who see you! Don't be afraid to darken up your look and make it as dramatic to really capture that eerie vibe!
Chucky Girl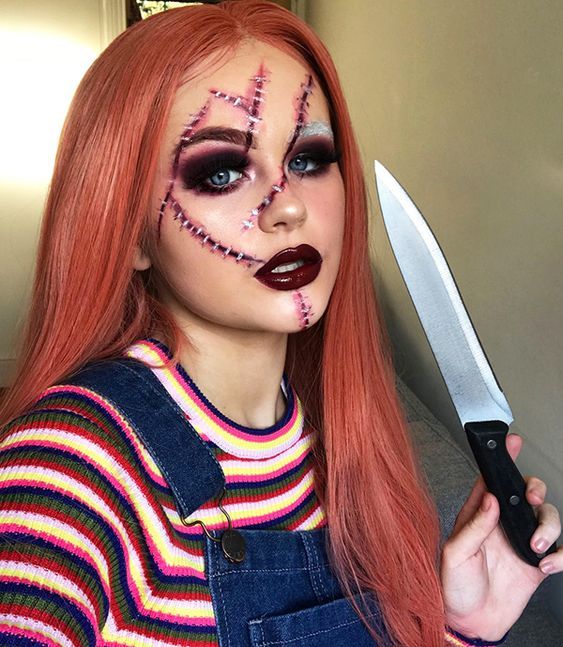 If you're a huge fan of the Chucky franchise like I am, then you'll surely love this particular makeup look! Now, it's time to be the murderous doll we've all come to know and adore.
Ritual Sacrifice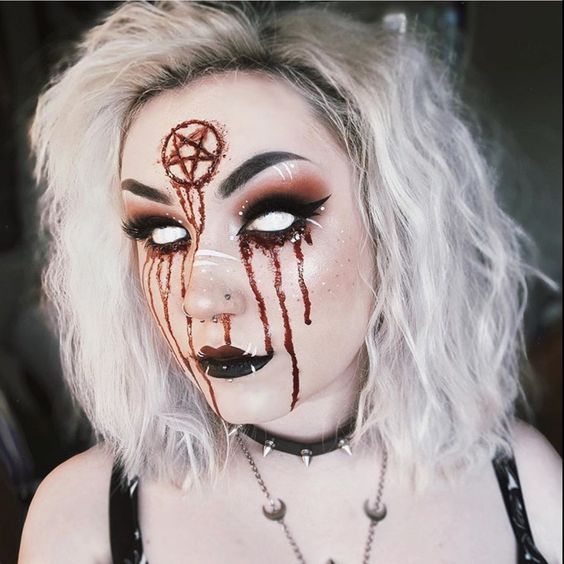 Lately, I've been into reading books that have the "they came back wrong" vibes. And this ritual sacrifice makeup look really fits that aesthetic!
Gorgeous Zombie Mummy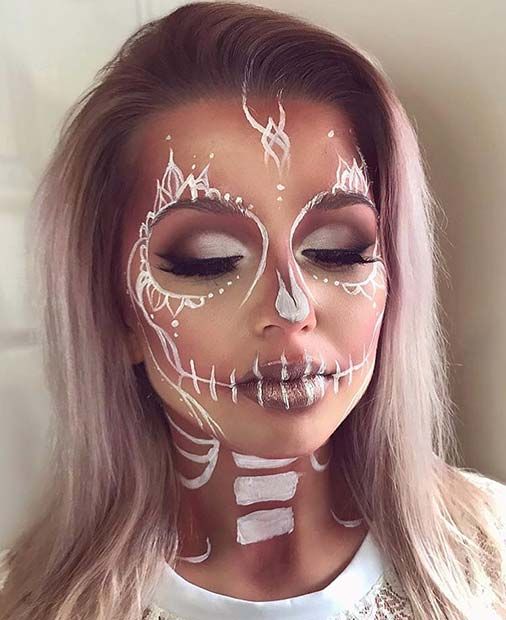 Want a zombie look but don't want to look too scary? Why not opt for this kind of makeup look instead? Plus, you won't have to worry about getting too detailed with fake blood and fake rotting skin.
The Classic Undead Look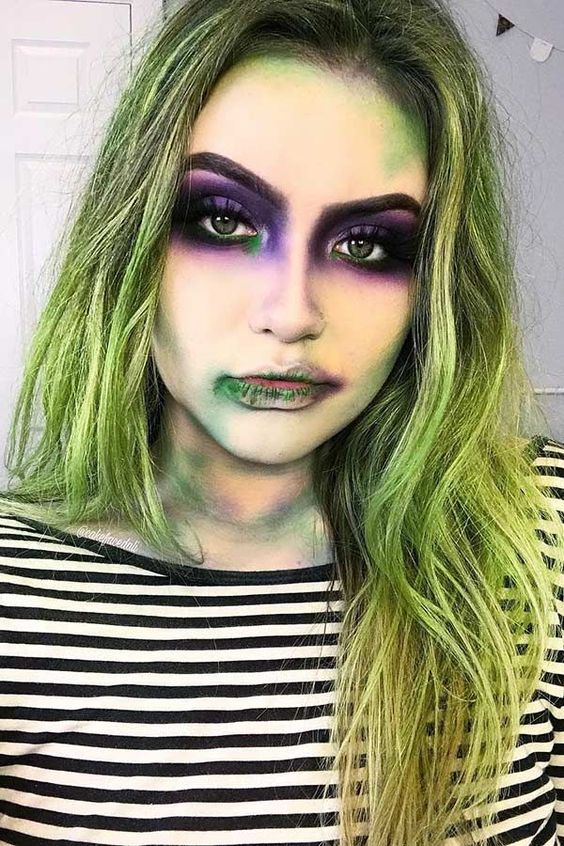 Is it just me or does this eerily remind me of Beetlejuice? If you haven't watched the film, I suggest you do! It's such a great horror film that can inspire you to do a new Halloween makeup look this year!
Boho Witch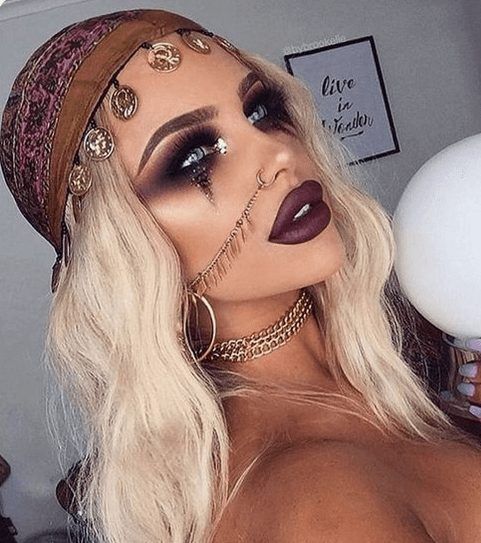 If you have a bohemian aesthetic, you can totally incorporate that into your next Halloween makeup look and costume! Just like this boho witch-inspired costume!
Broken Mirror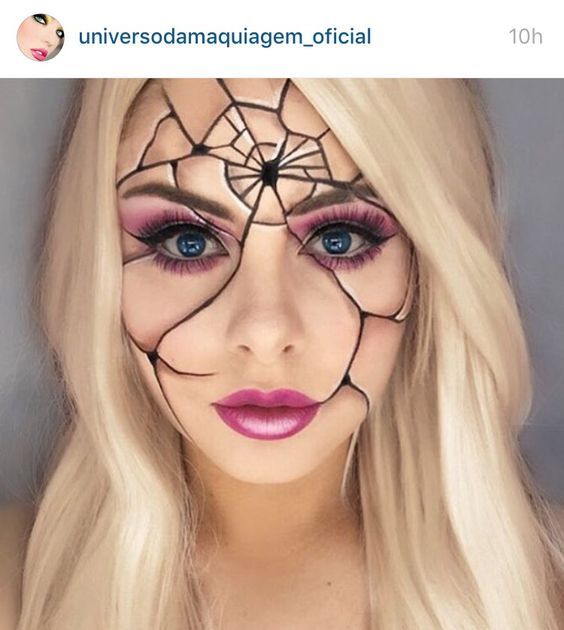 This particular makeup look is giving me some really "Perfect Blue" vibes. Another great horror film to watch this Halloween season! The best thing about this look is you can decide how intricate you want those "cracks" to be around your face.
Cruella Dalmation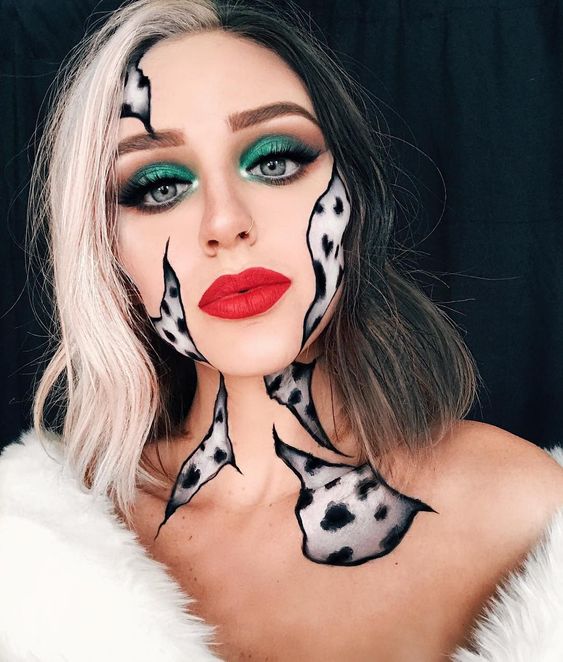 What if Cruella succeeded in using Dalmatian fur and used it to stitch it onto her skin instead? Well, now you have the answer!
Frankenstein Girl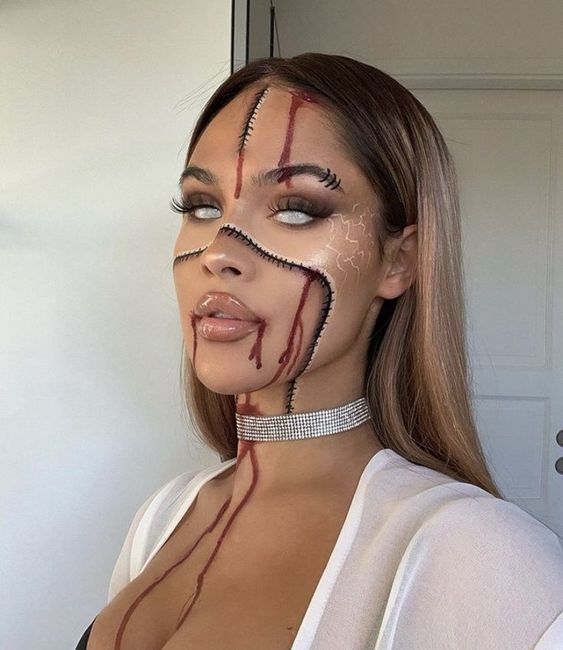 A classic look that could never go wrong this Halloween season is this Frankenstein makeup look! You can adhere to the classic costume from the popular black and white film, or you can do a more modern version of it!
Medusa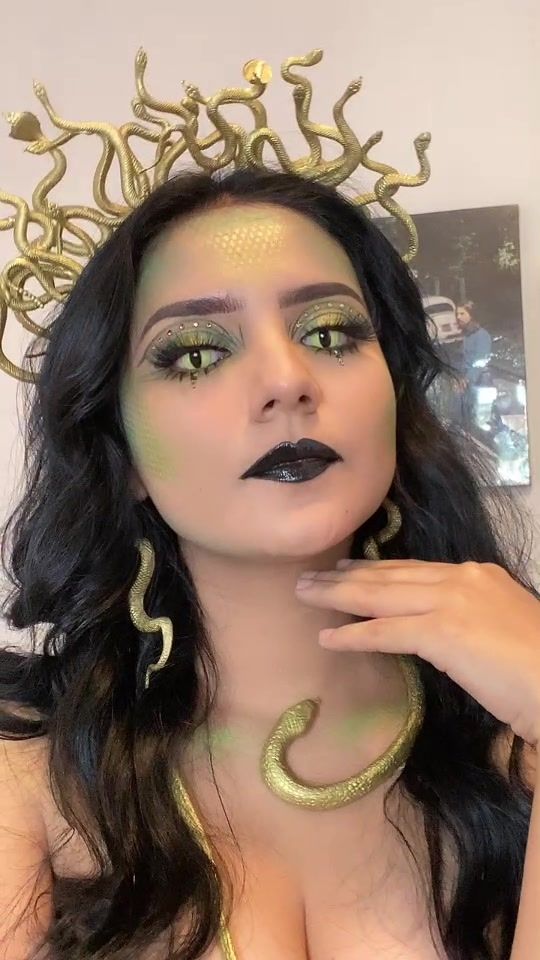 As someone who's a huge sucker for Greek Mythology, Medusa is such a sad yet iconic character that would perfectly suit the Halloween vibe. You can also get creative with your makeup look for her.
A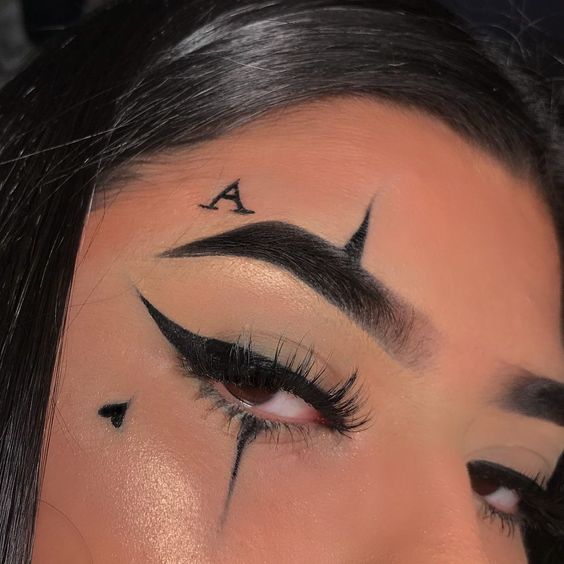 If you're looking for a simple makeup look this Halloween season, then you'll want to try out this one. It's inspired by playing cards!
Frankenstein Girl (2)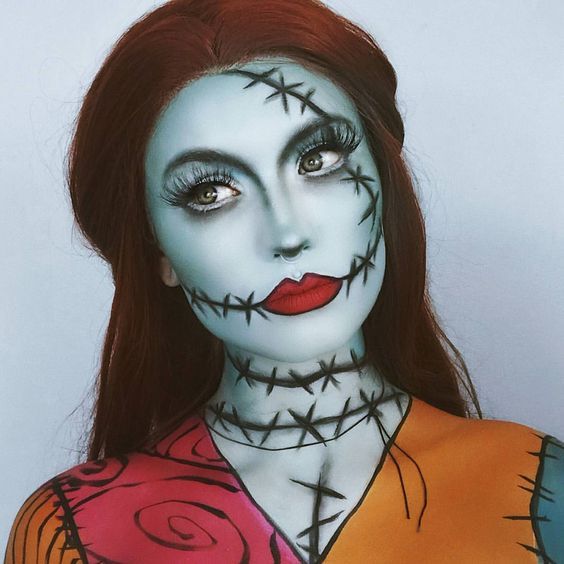 The Nightmare Before Christmas is a true holiday classic and it would be a crime to not add Sally's iconic makeup look here! From the tattered sewing patterns you can draw across your face to her colorful ensemble, this is a must-try!
Skeleton Girl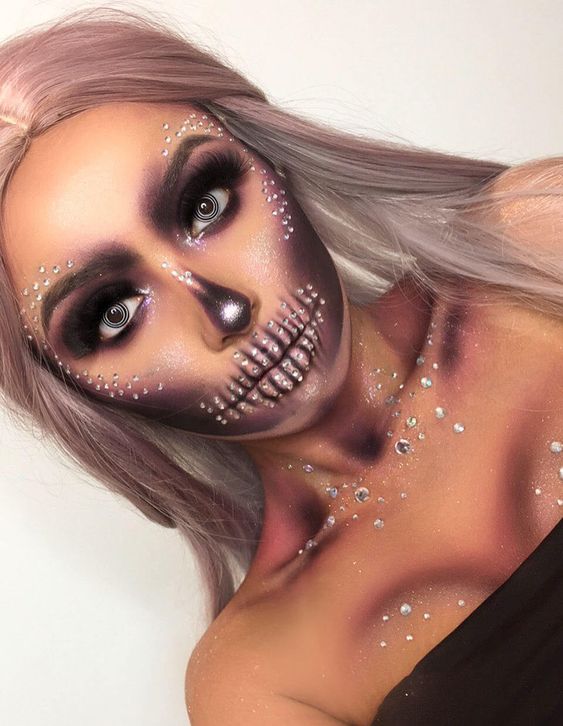 This glamorous skeleton look is utterly stunning! Each shimmery embellishment really makes this whole makeup look shine like diamonds!
Jigsaw Girl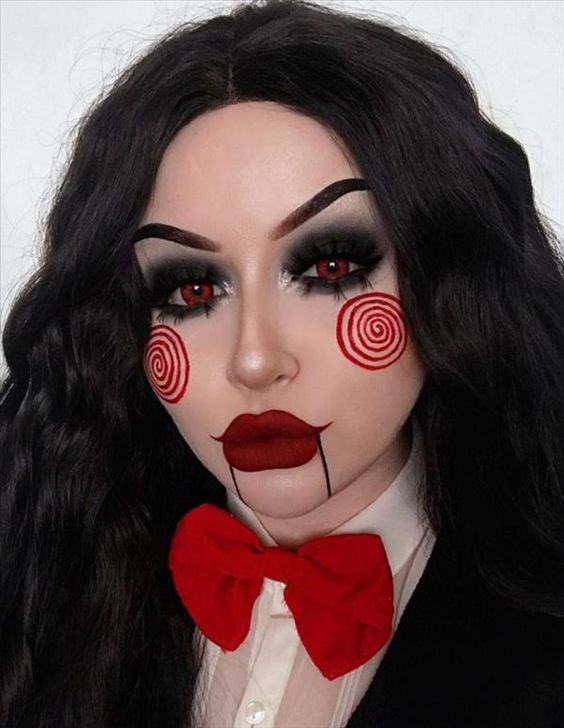 If you've watched the Saw movies, then you'll surely recognize this iconic creepy doll look! It's one of my favorite makeup looks on this list too!
Half Dead Butterfly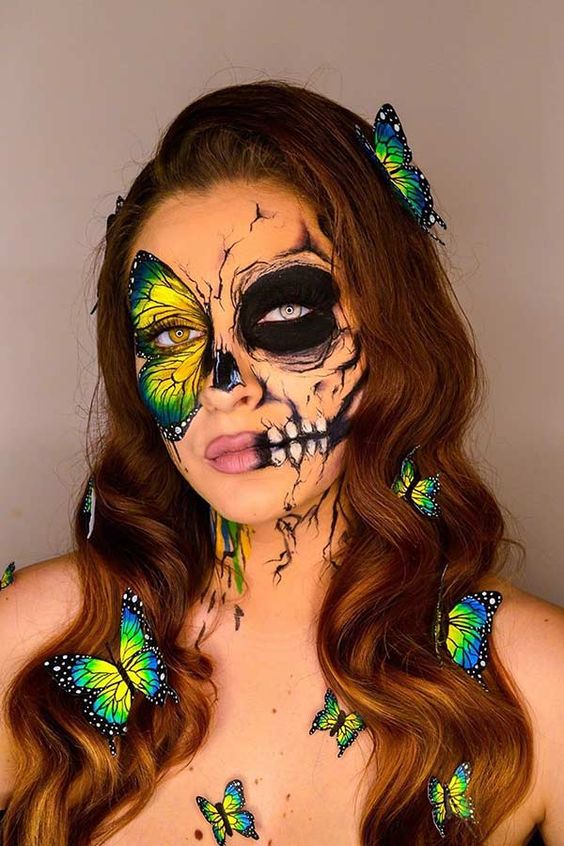 This half-dead butterfly look is both gorgeous and sickening! I love the contrast of the pretty butterflies against the creepy skeleton half.
Space Girl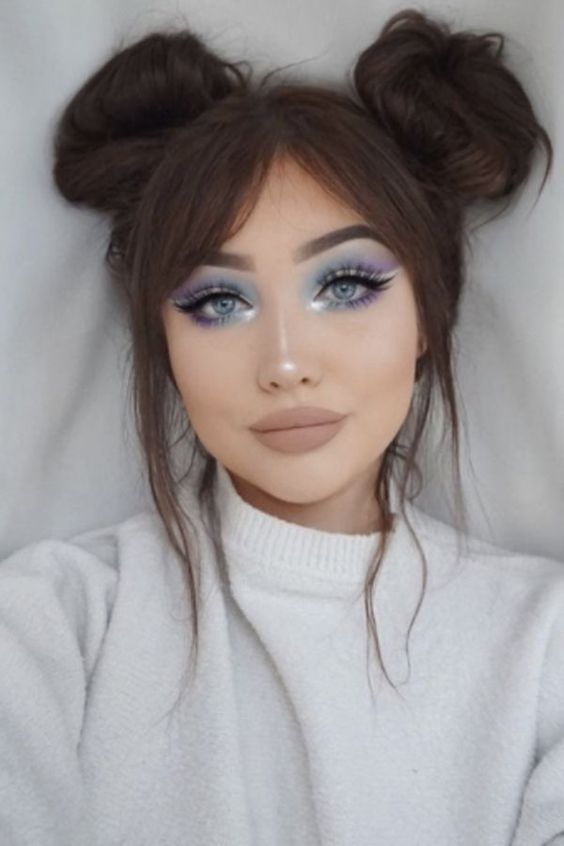 This look is so cute and easy! For any low-key Halloween party, you can easy throw on a cozy sweatshirt and be a simple alien.
You'll need to do two high buns (this Youtube tutorial is great) then do regular makeup (with heavy contouring) before trying these space-inspired eyes.
This space eye makeup kit is great to help you achieve it!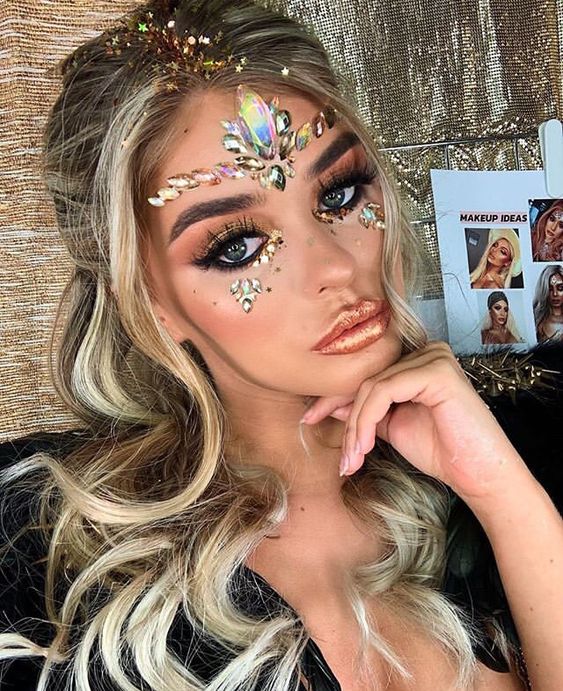 This is a really pretty look that could apply to a lot of costumes! It's also easy to do.
Start with a thick layer of nighttime makeup and gold, shimmery lips, then use body glue to apply these gems. There's some great options for body gems on Amazon.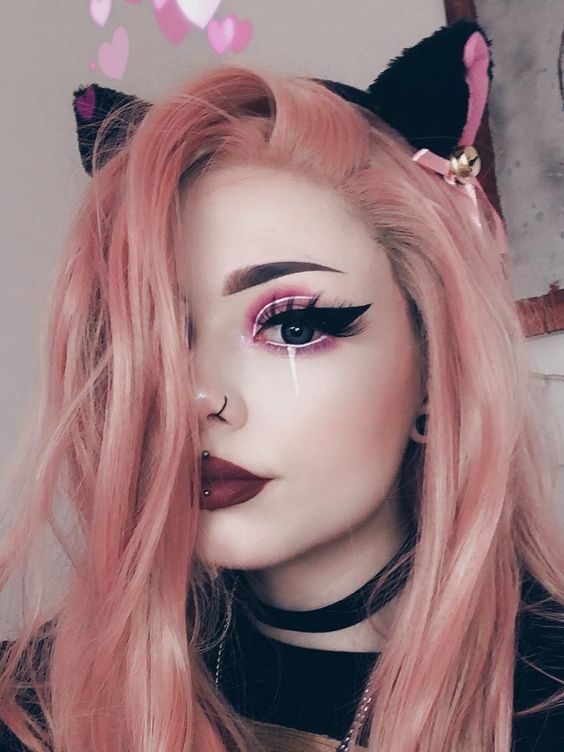 This look is super cute in a goth/emo type of way. It consists of a lot of super dramatic eye makeup (she definitely wears fake lashes) and some awesome pink hair.
You could either use temporary dye or don a pink wig for the night.
You'll also want to make your foundation super pale. There are lots of face paints for this is you can't achieve it with foundation alone.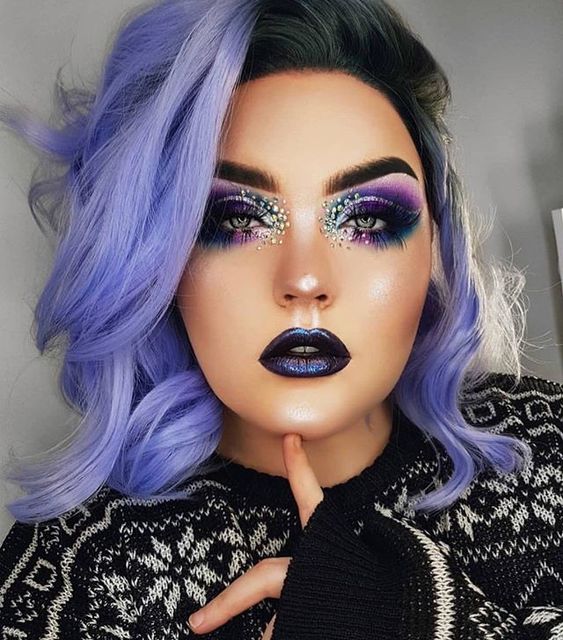 This is another colored hair look that's really gorgeous. It's easy to achieve with face gems (there's tons on Amazon) and bright eye makeup.
I love these general Halloween looks because you can pair them with simple clothes, or jeans, booties, and a cute top, and stay simple and comfortable for the night.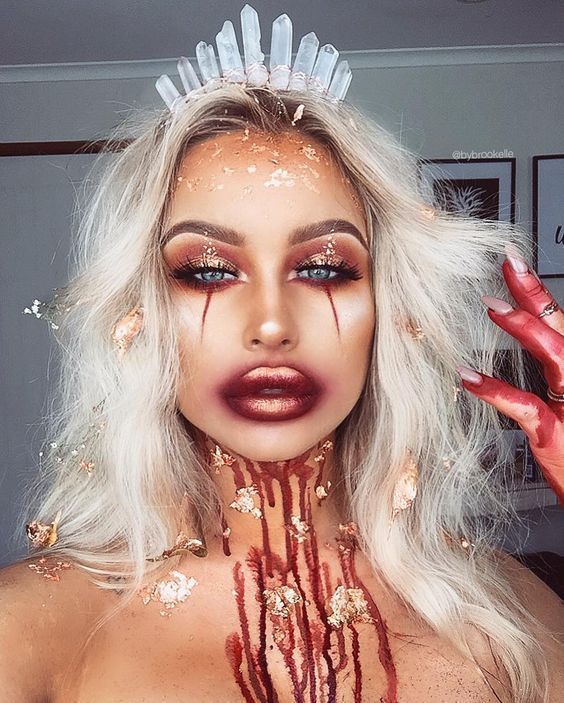 This look is a little more involved, and can go with a variety of outfits, from something simple/regular clothing to a zombie.
Two separate kits (this one and this one) are great places to start if you're trying to achieve this bloody look. I also recommend doing extreme makeup before applying costume makeup (with lots of contour).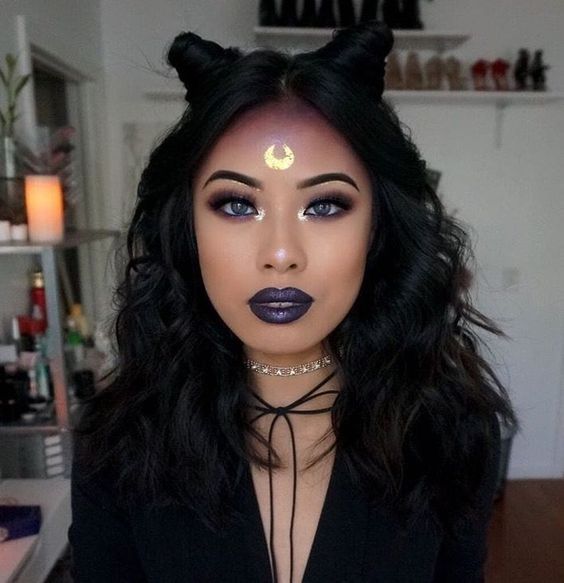 This look is awesome because it's witchy and very Halloween themed, but it can be paired with clothes you already own. A cute black top and jeans or a black dress will work well, especially if paired with a choker.
For makeup, apply typical foundation, heavy contour, dark purple and black eye makeup, and blue/black lipstick. You can also get some simple gold face paint or a stamp to apply the gold marking.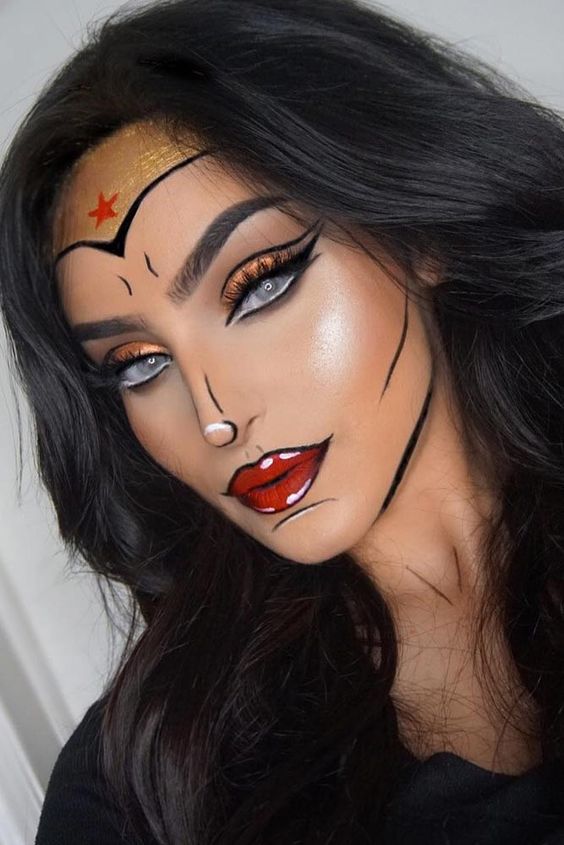 This makeup look is a bit more involved, but the end result is totally worth it. It can be paired with as many Wonder Woman outfit pieces (or as few) as you'd like!
This YouTube tutorial is definitely the best if you're wanting the cartoon look.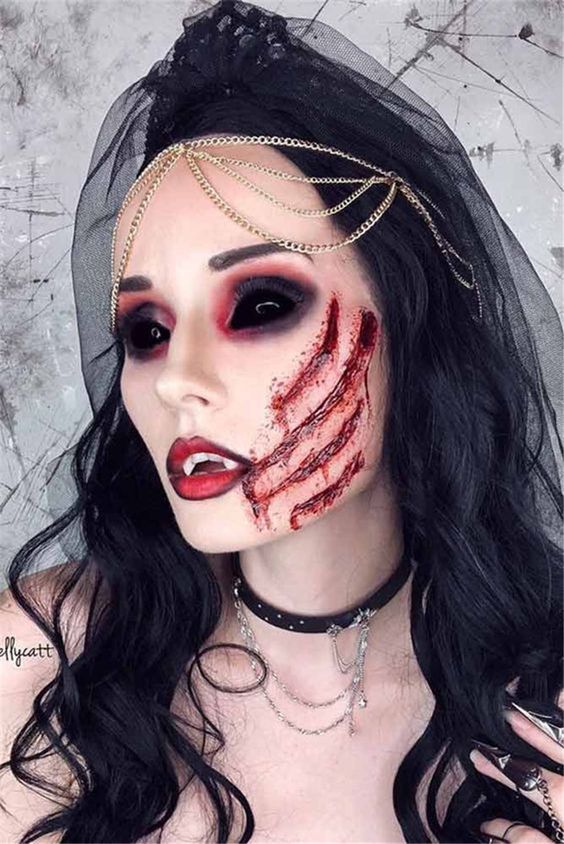 This is another costume that would work well with either kit (this one and this one). Heavy eye makeup is definitely the key here!
You could do this as a bride of death costume (a black wedding-themed outfit) or wear cotton shift dress with lots of bloody rips.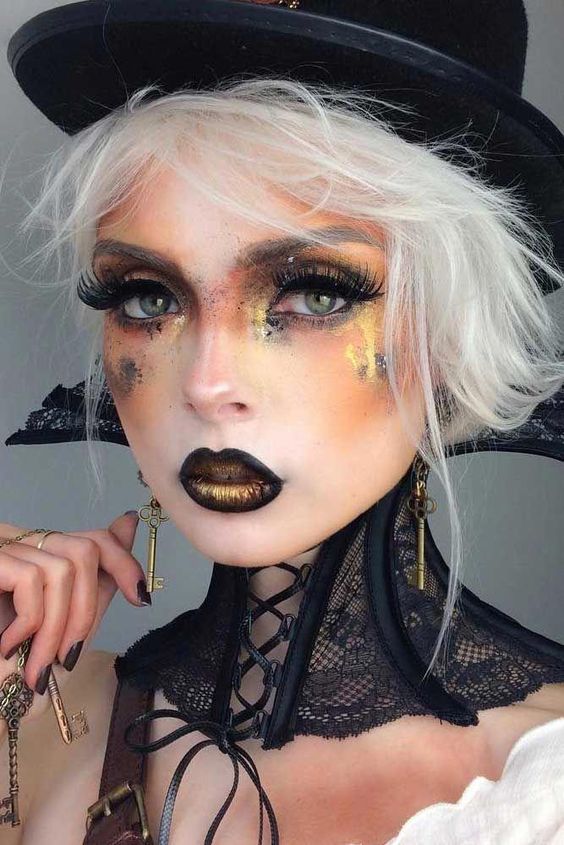 This look is cool and witchy in a unique way! It's very earthy and isn't overly scary.
The key is to mix lots of black tones and pieces with tarnished gold. You can do this with makeup you may own already, but gold costume makeup will make a bolder statement.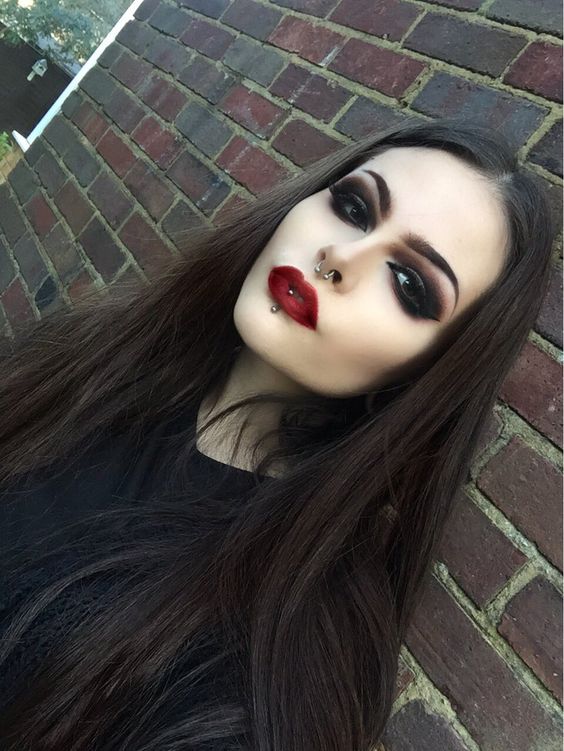 This look is beautiful, simple, and easy. You can pair it with an all black outfit and straight hair (spray it with texture spray after straightening to get this look).
The trick is really heavy eye makeup (this tutorial is great) and bold red lips. You'll also want super pale foundation or costume makeup.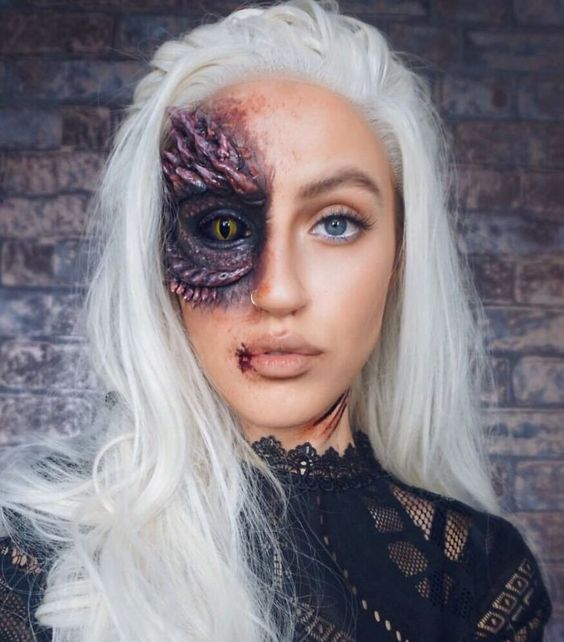 This is a really cool take on the typical Khaleesi costume. You can grab a cheap wig from Amazon to start it off and dress in draping black clothing.
This makeup tutorial is great to achieve this exact look!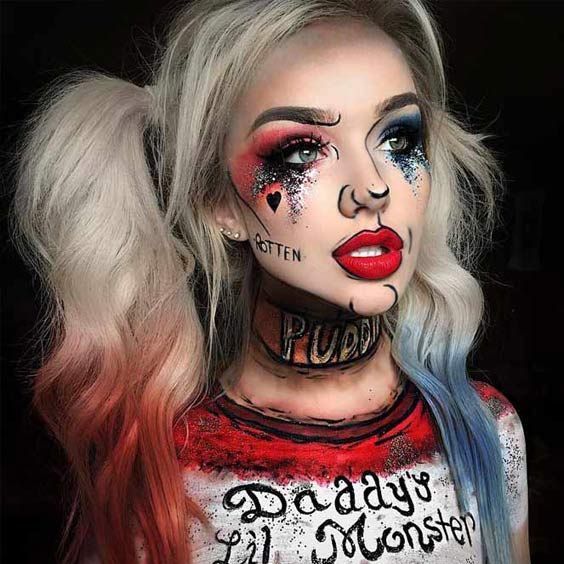 Harley Quinn has been popular for a while, and with good reason: this costume is scary yet super cute.
I've never been able to pull it off (I have short brown hair and it's honestly just not the same) but you could also purchase a wig.
There's tons of great tutorials on YouTube to achieve this look!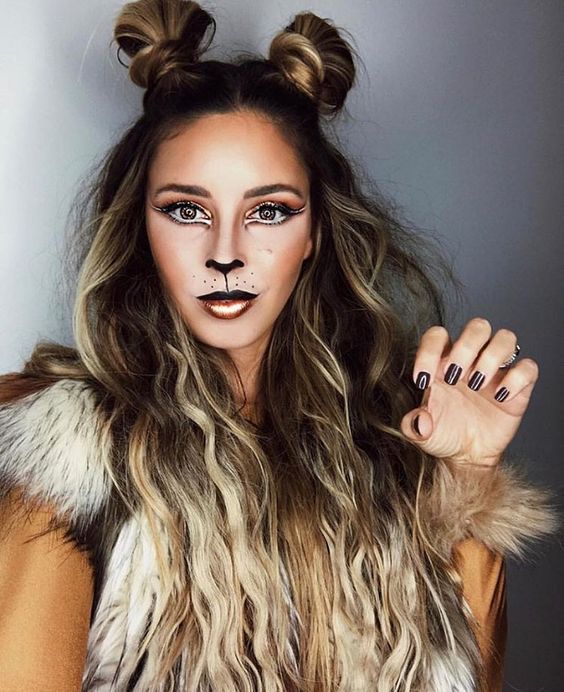 A classic lion look never goes out of style! From the black nails to the fur and face paint, she totally nails this look.
I recommend grabbing a cat makeup kit from Amazon and starting there. It works for body makeup as well.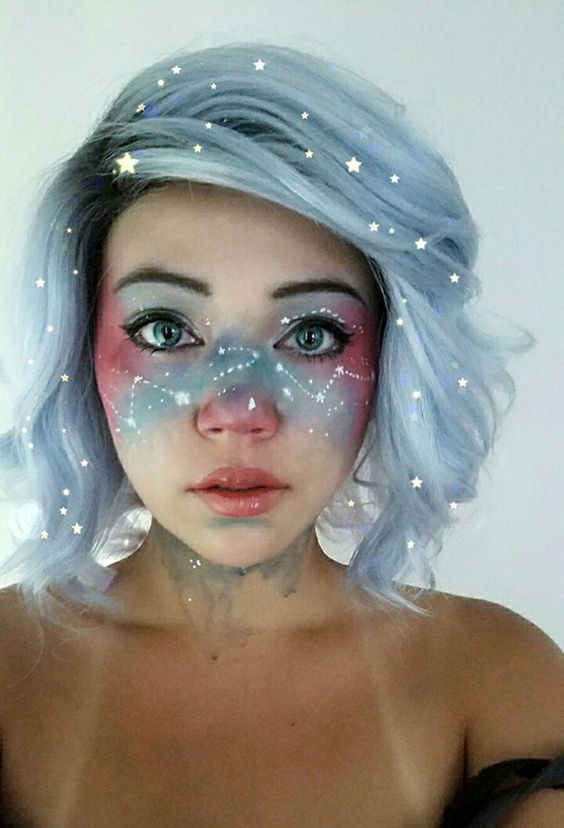 This space-inspired look is so stunning! A cosmetics palette with specific space colors will work well.
You could easily pair this outfit with a light blue dress or any type of simple black clothing. It's a great DIY costume that will work with what you have in your closet.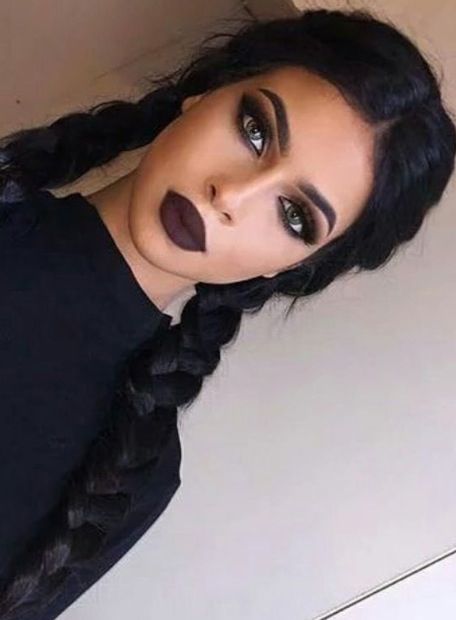 This is another simple look that will work with whatever you have. Regular braids or french braids both work here.
You'll want to use dark cherry black lipstick and do some seriously heavy makeup. I recommend looking up some nighttime makeup tutorials on YouTube.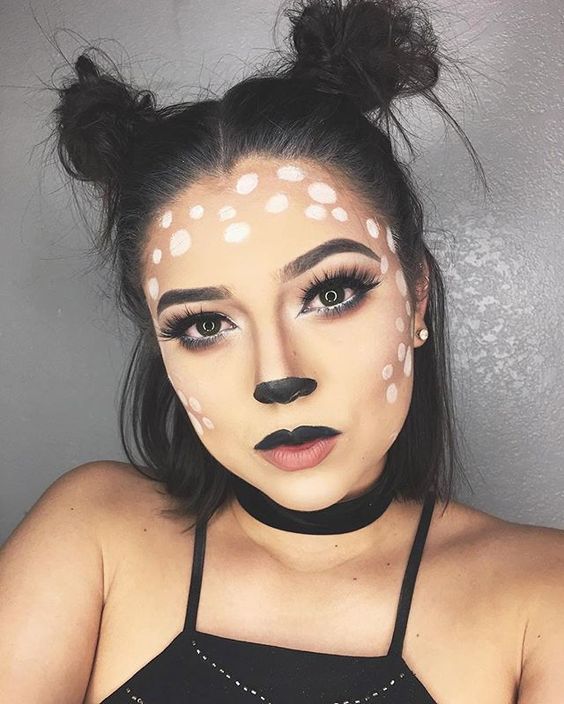 This is another cute cat look that is perfect to wear out. You can wear everyday clothes and look super trendy while technically being in costume.
It's really easy to create with a simple cat makeup kit.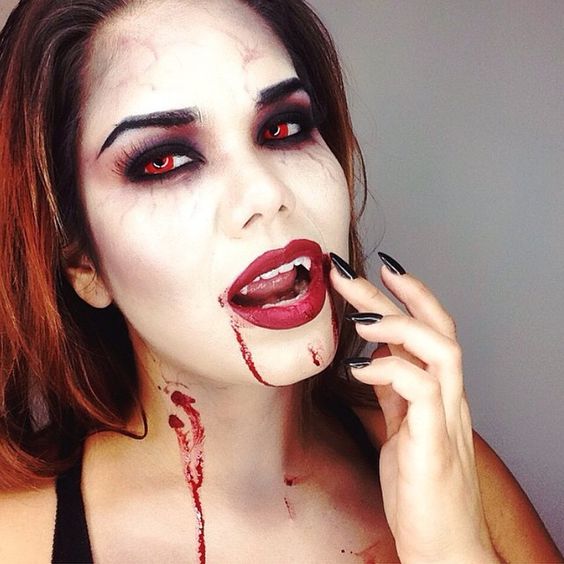 This vampire look is super cool and will easily go with a trendy black outfit. I'd wear a crop top, high waisted black jeans or leather pants, and super trendy high-heeled black booties. You could also throw on a leather jacket if it's chilly out.
I recommend searching on Amazon for vampire teeth, a Halloween blood makeup kit, pale face paint/foundation (costume makeup works well), and red contacts. The contacts really do make the costume!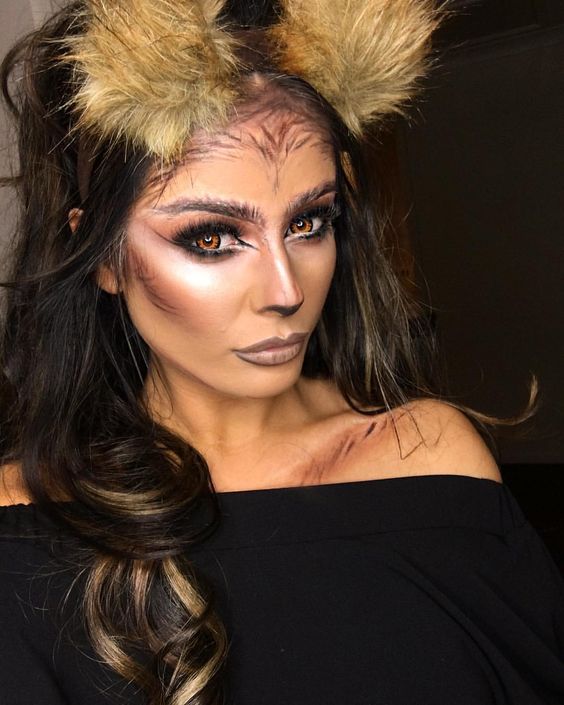 This is another look that's super cute. Check out the lion pic a few above for a great makeup kit!
This sultry look goes great with a lot of contour and highlighter. Hair extensions will work well here as well if your hair isn't long enough. I'd pair this look with trendy black clothing.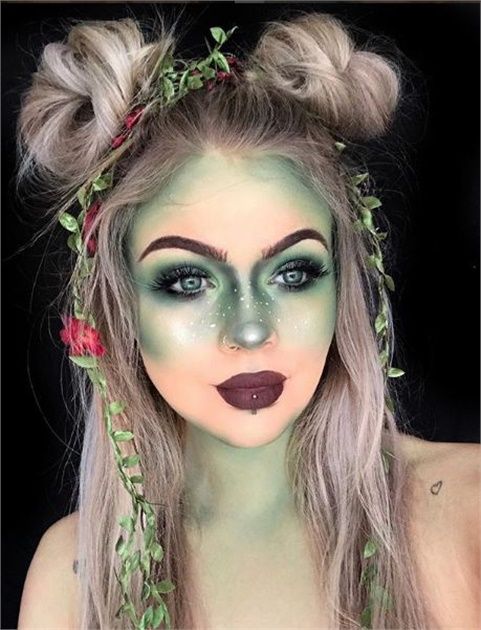 This makeup look is a crazy hybrid of an earth girl and an alien. You could go all out and wear it with a tutu and shimmery top, or go more simple with regular clothing.
It's pretty easy to do with light green face paint. You'll definitely need a beauty blender (and will do lots of shading), then you can add in the lipstick and white dots.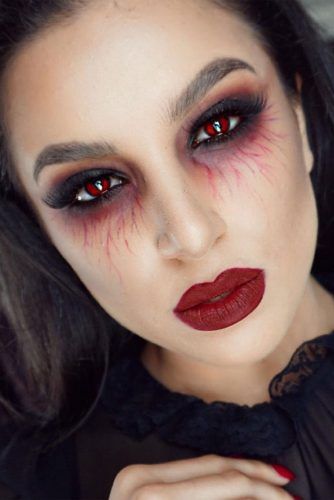 This is another vampire look that's easy and goes well with everyday black clothing. I always like to go a little trendier and more extreme (think more leather, higher heels, etc.)
Contacts will make this look as well! Colored contacts are generally pretty cheap and are totally worth it for the night.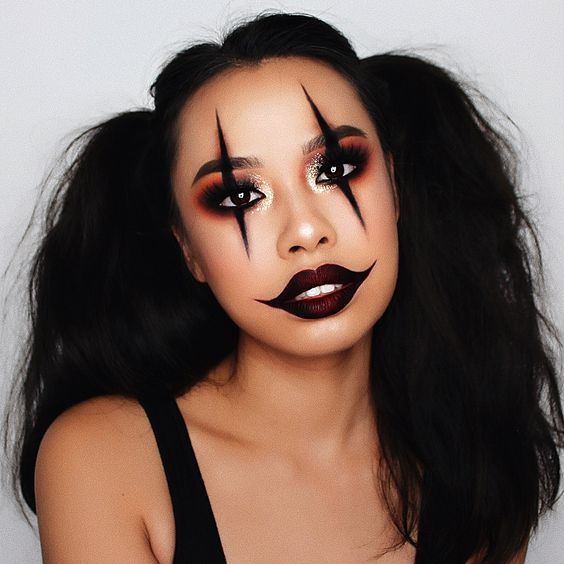 How pretty yet scary is this look? An easy costume makeup kit will help you achieve it.
I'd put my hair in two busy ponytails (lots of teasing and texture spray will help you achieve this) and use black lipstick or costume makeup for the look.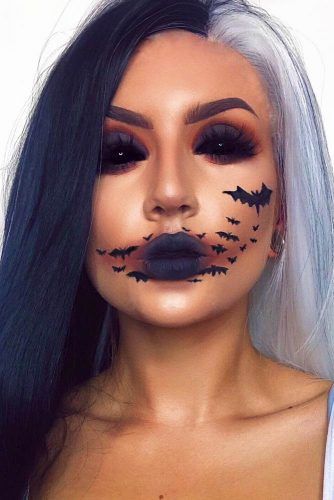 How cool is this look? To achieve it, I recommend checking out general tutorials on YouTube (this search seemed the closest) and combining a few of them.
You can also get a simple black and white wig off Amazon for a very inexpensive price.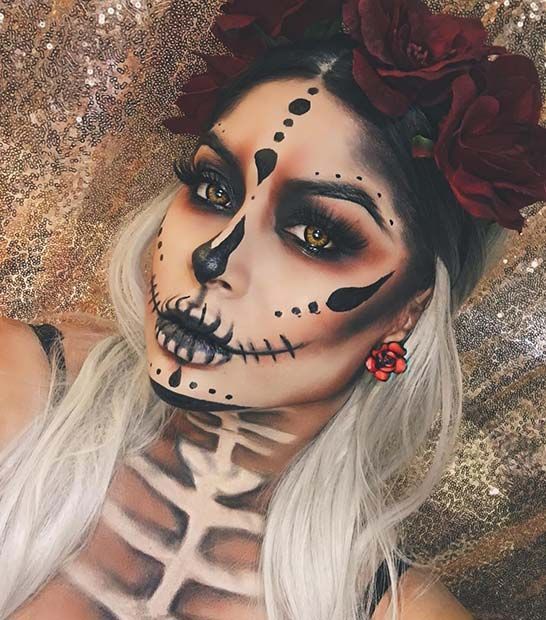 This Day of the Dead inspired makeup is simply gorgeous! If you don't mind putting a lot of work into your Halloween makeup, then this may be perfect for you.
There are lots of different tutorials on YouTube that can help you achieve this.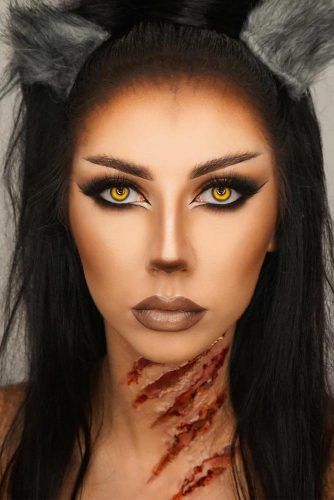 Lastly, this is yet another cat look (more along the lines of a tiger) that's super cute. I did this one last year and went as Tigger from Winnie the Pooh!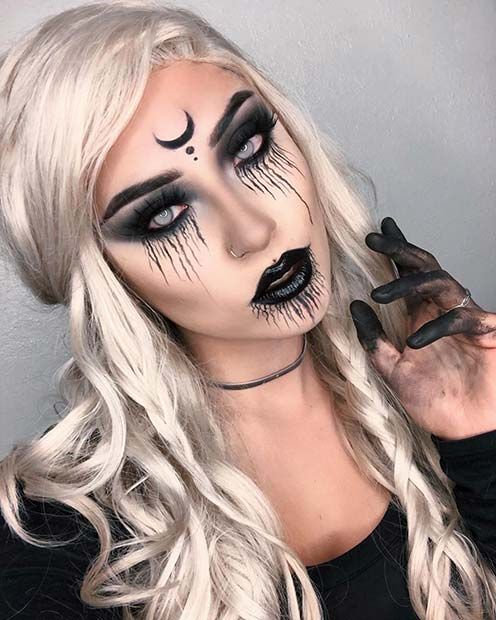 This dark witchy vibe is such a great look for the Halloween season! It almost reminds me of The Enchantress' look from the Suicide Squad. Pair it with a long dress for a more elegant ensemble and to really amp up the spook factor.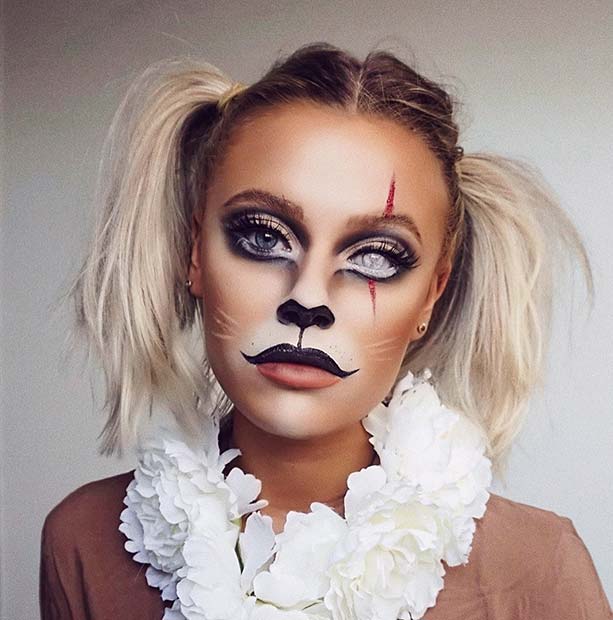 This combination of a creepy animal is such a unique look for Halloween. You can also opt to make your look cuter or as spooky as you want it to be.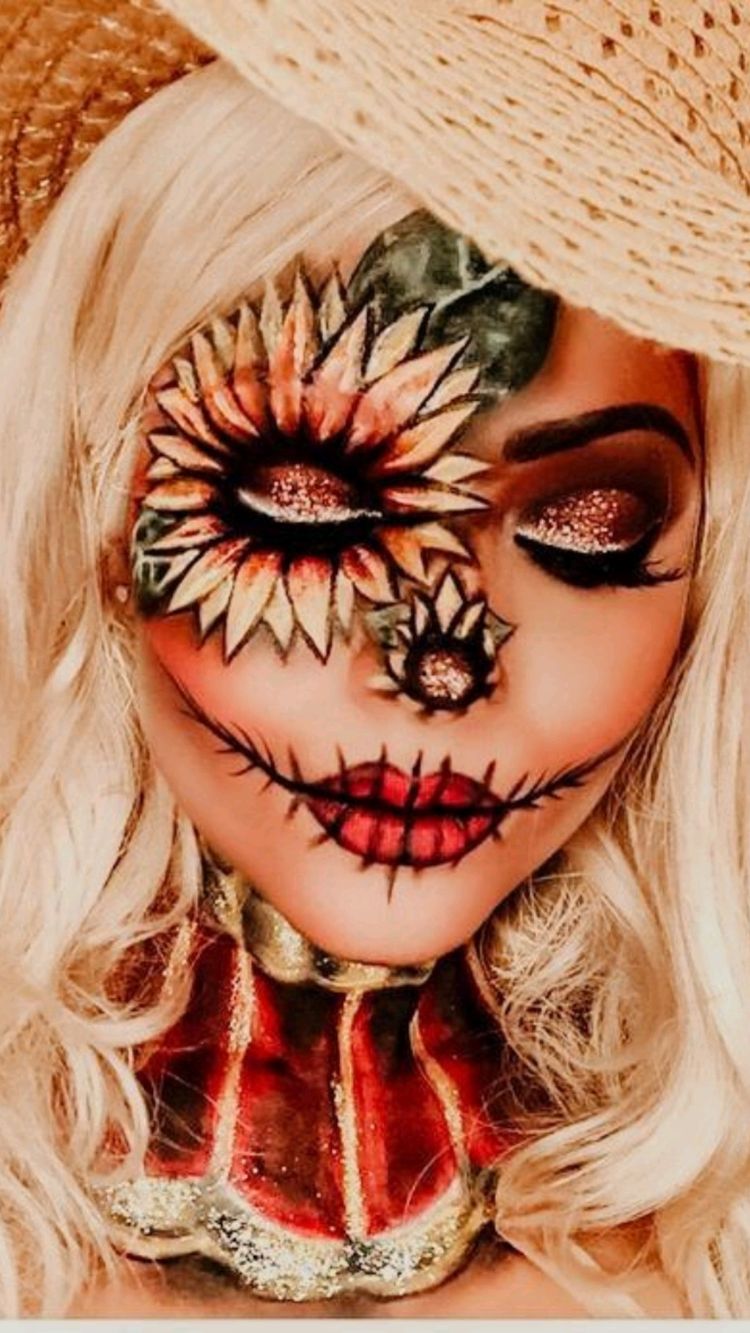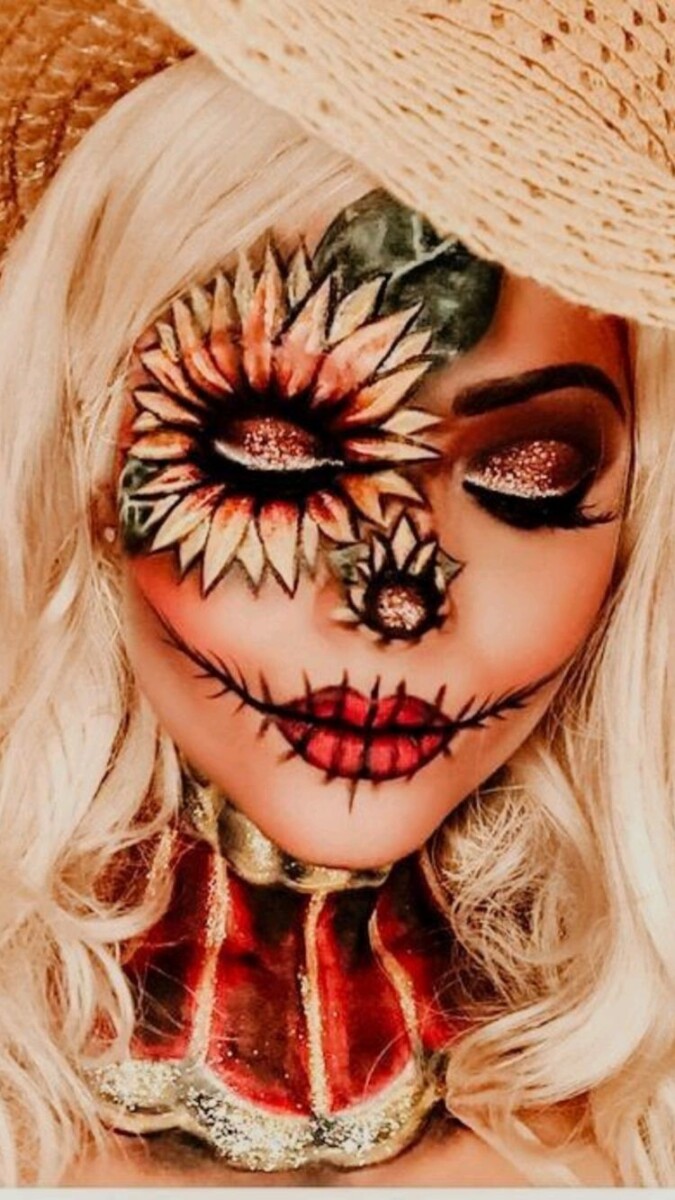 Add some flowers to your scarecrow look and you'll get this gorgeous yet creepy makeup for Halloween. It's the perfect balance of glam and scary!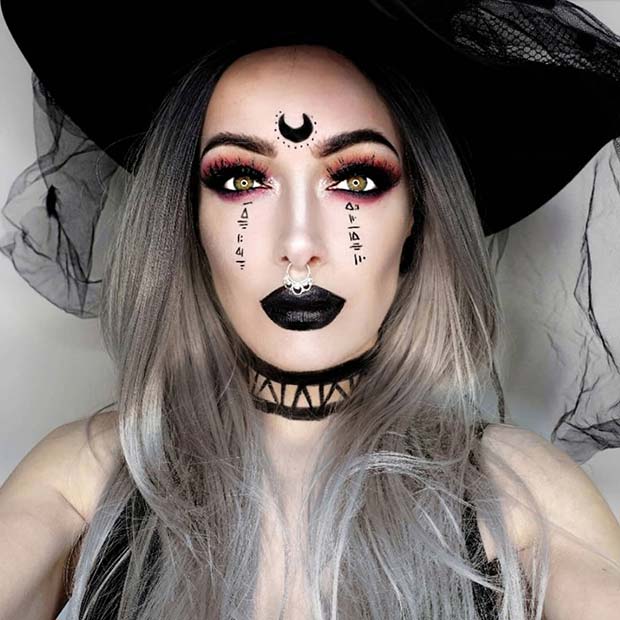 Probably one of my favorite witchy looks for this list is this cool-toned witchy makeup! It's perfect for those who want to try out a more gothic aesthetic!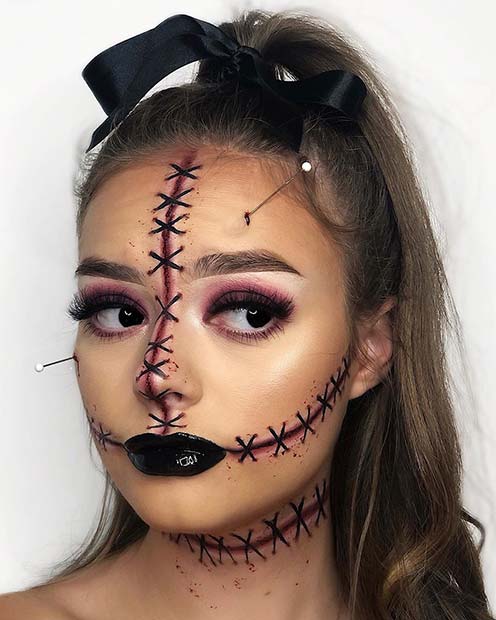 This modern Frankenstein makeup looks is both scary and stunning! Depending on how you do your makeup, you could look like a gorgeous patchwork doll just like in the photo!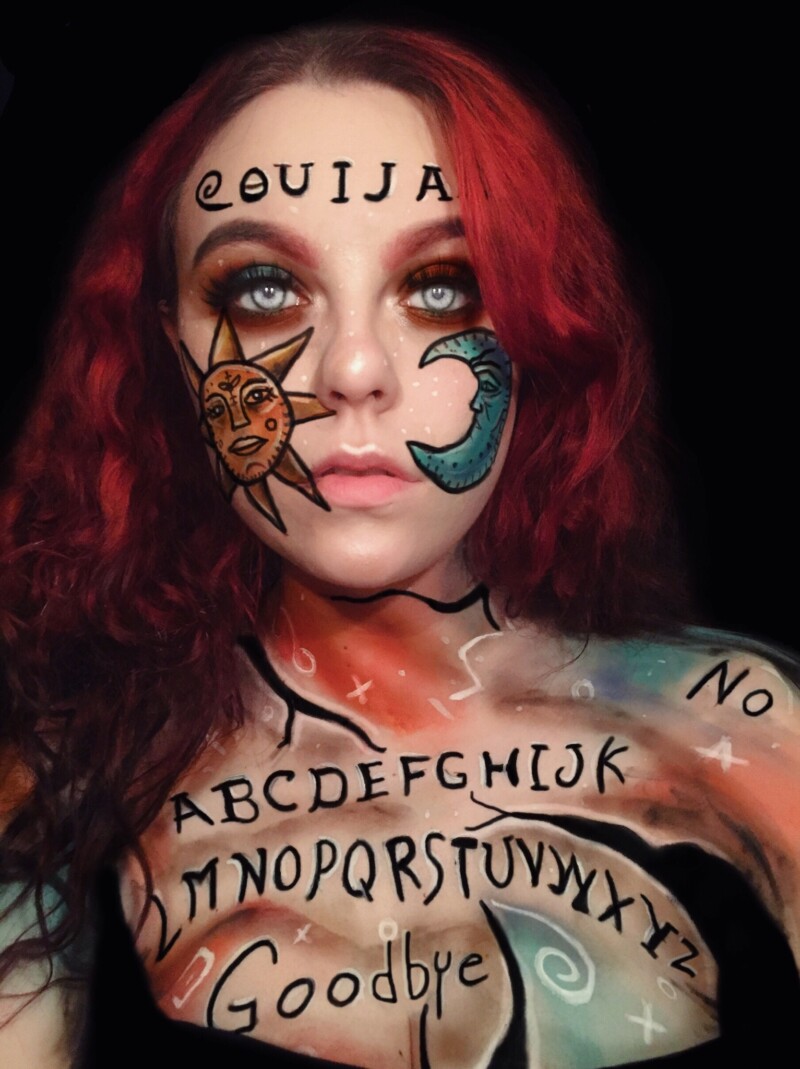 Ouija boards are things that should not be messed with, but they definitely make good Halloween looks! Paint the alphabet as well as the symbols across your body to achieve this Ouija-inspired look!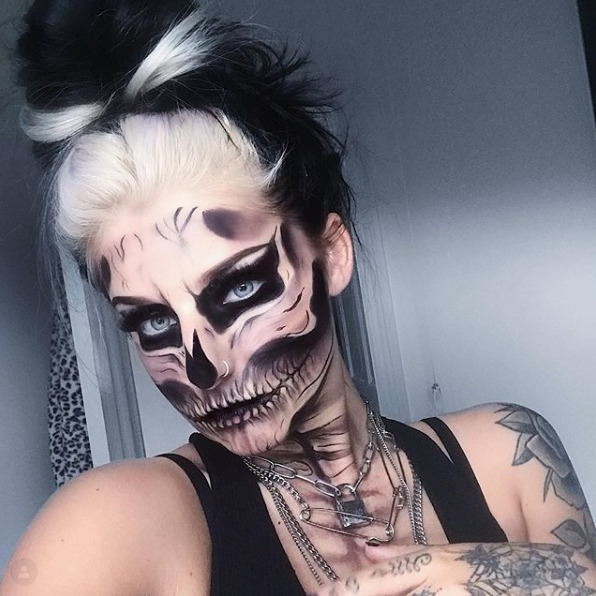 This spooky, edgy skeleton look is utterly amazing! If you're not too confident with your makeup skills, don't worry! Practice is key and there are also tons of tutorials floating around on Youtube! The best part is having fun with it!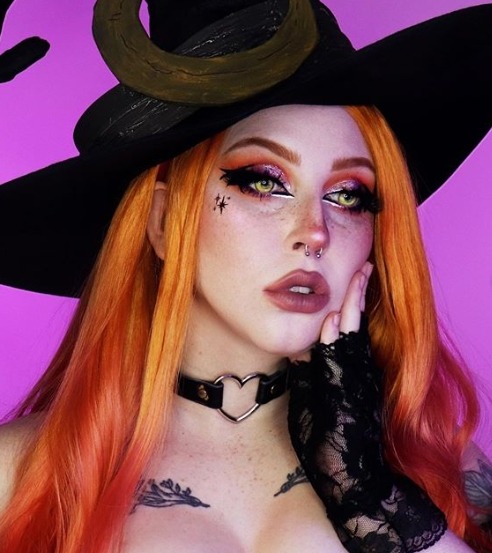 Here's another beautiful witchy makeup look you can try out this Halloween! Create a dramatic smokey look for your eyes and pair it with a vampy lip.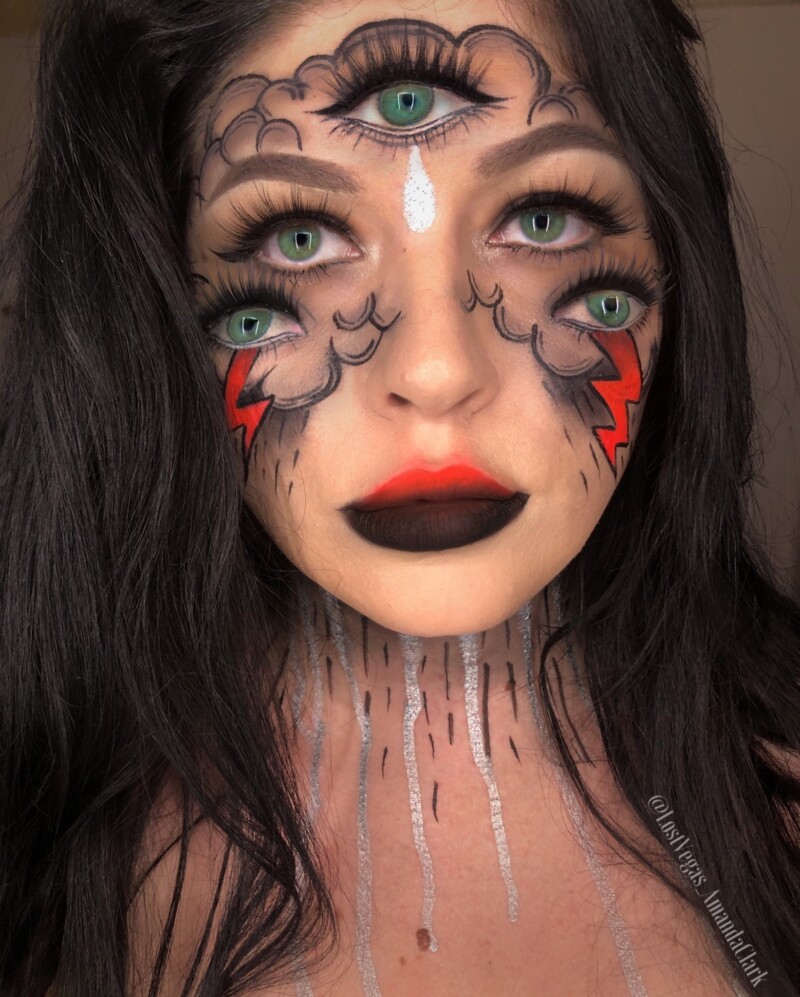 Being an all-seeing deity for Halloween is definitely a gorgeous yet ominous look you can try out this Halloween season. It's unique and you will totally amaze everyone with your one-of-a-kind costume!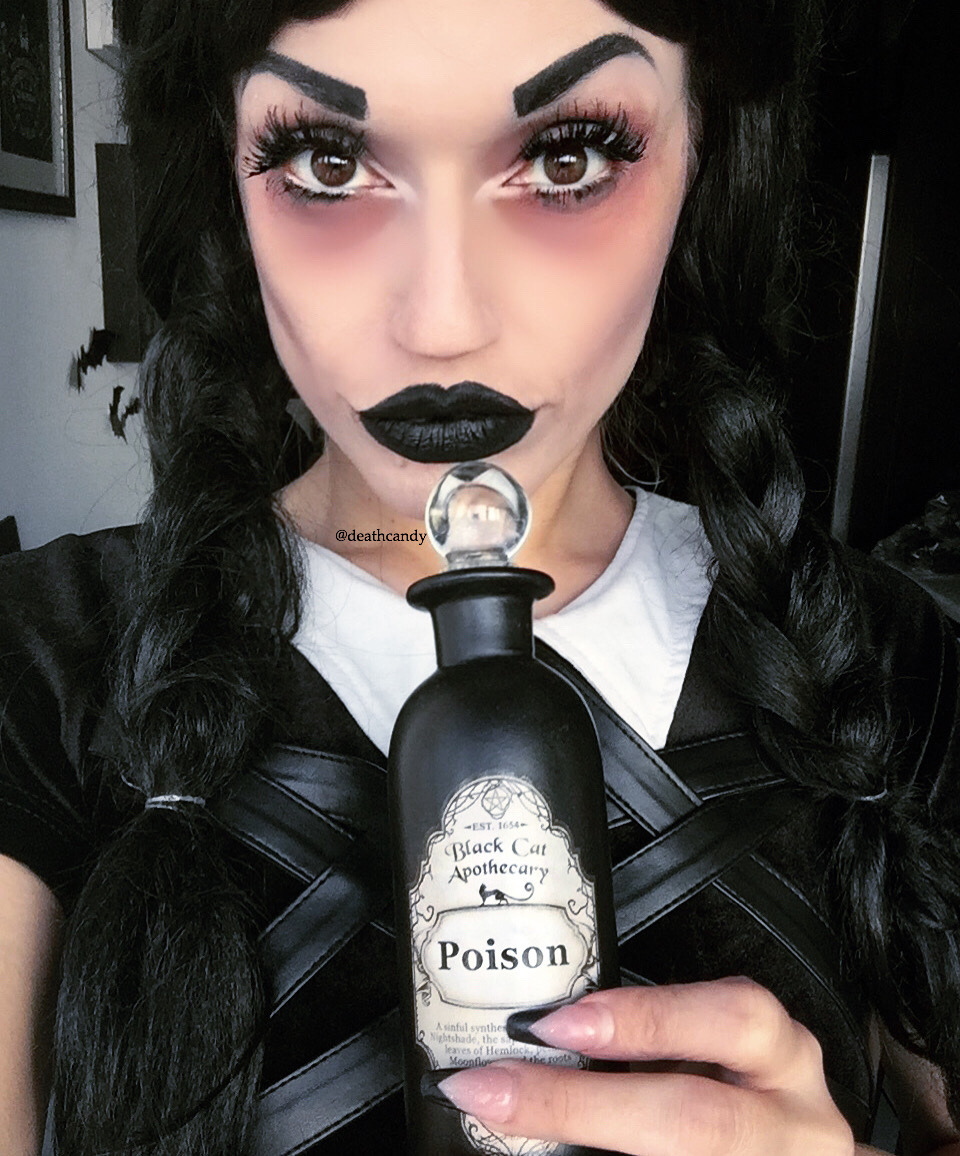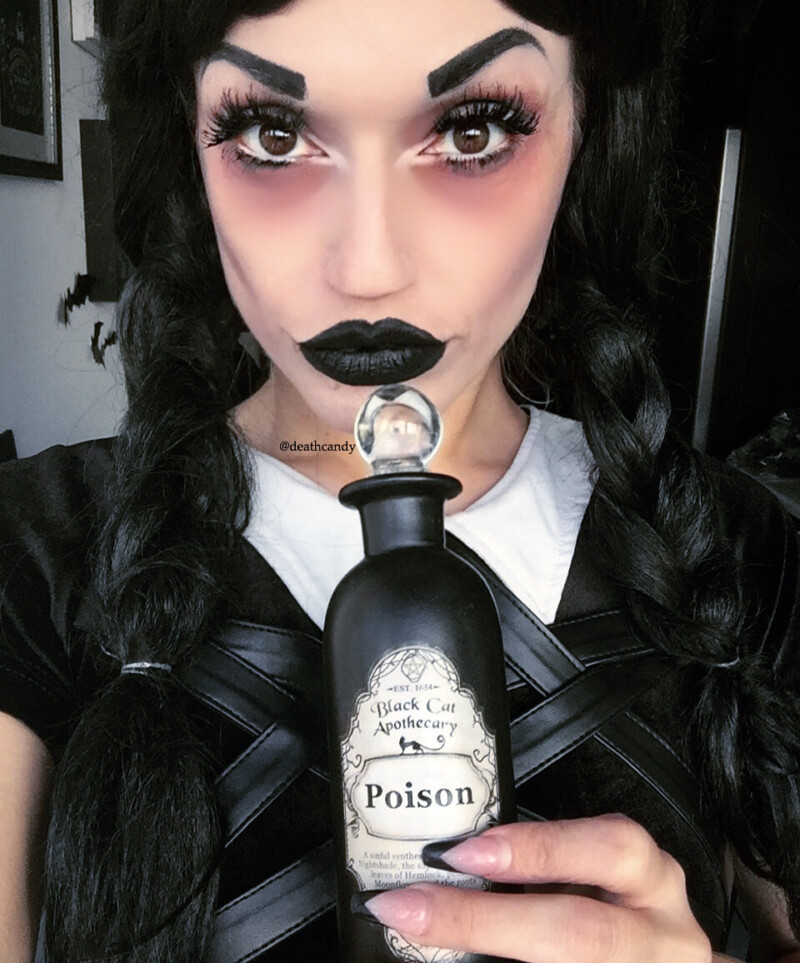 Here's a more modern twist to Wednesday Addam's iconic look. Add some leather accents and amp up the spook factor by using props and heavier gothic makeup.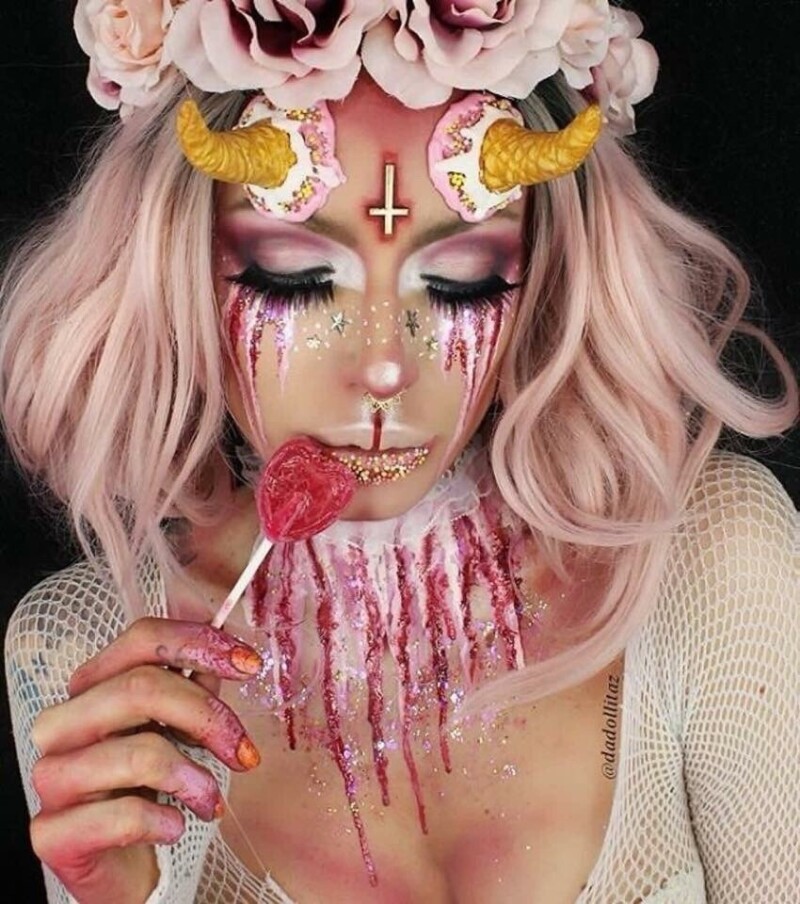 I'm loving how intricate and shiny this pastel glitter demon makeup look is! Glitter might be tough to remove once Halloween is over but you'll surely have fun looking like this!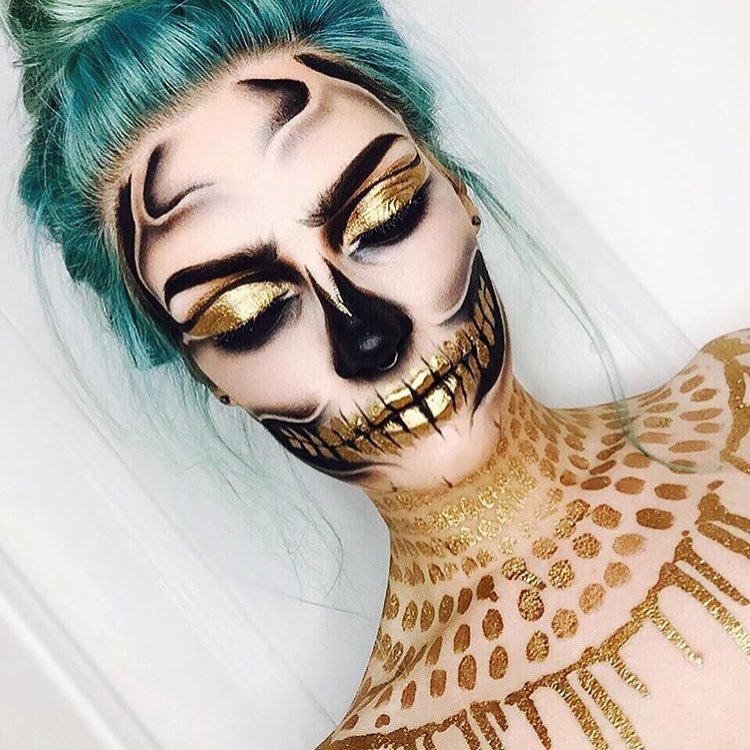 Not a fan of pastels? Why not use golden colors instead to accentuate your Halloween demonic look? You'll look like half-goddess, half-corpse!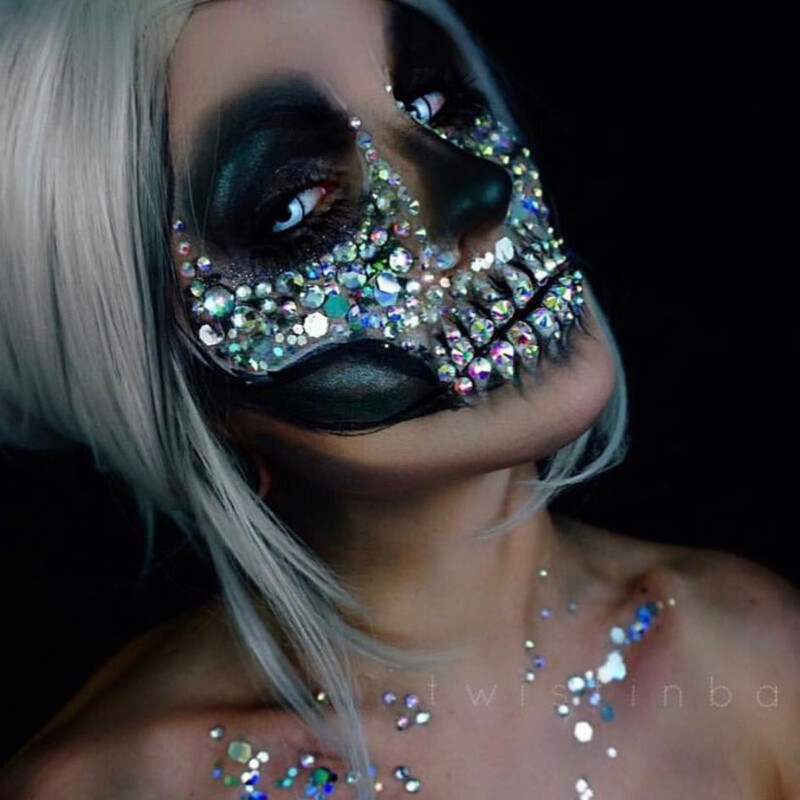 This embellished skeleton look is utterly stunning! I can only imagine the work that went into creating this makeup look. If you want to look like a skeleton that's been bejeweled, this is for you.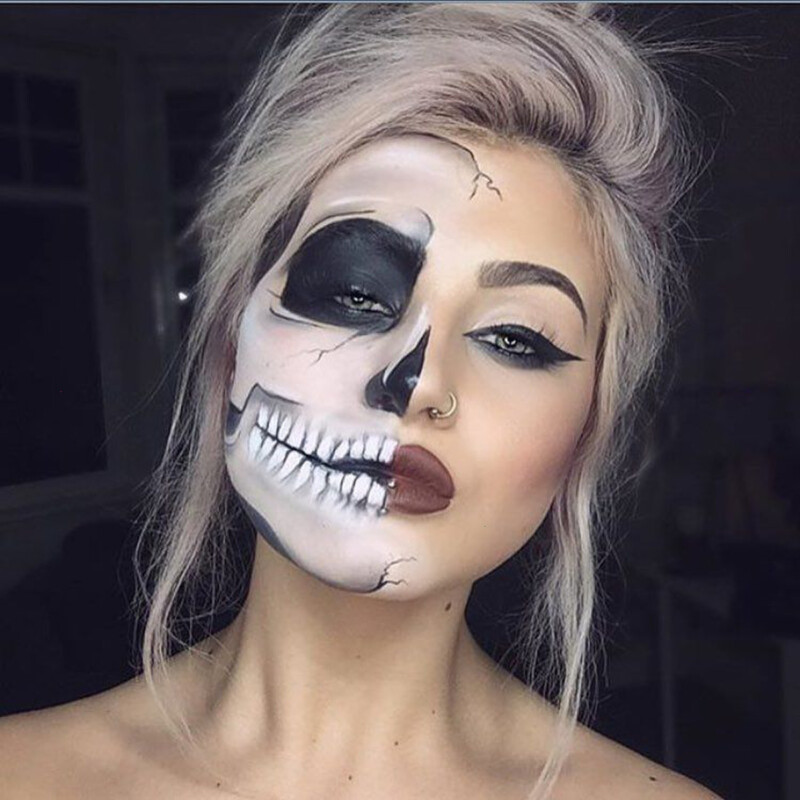 This half-skull, half human look is such a great way to balance out spookiness and glam! So if you dont' want a scary makeup all over your face, this is perfect for you!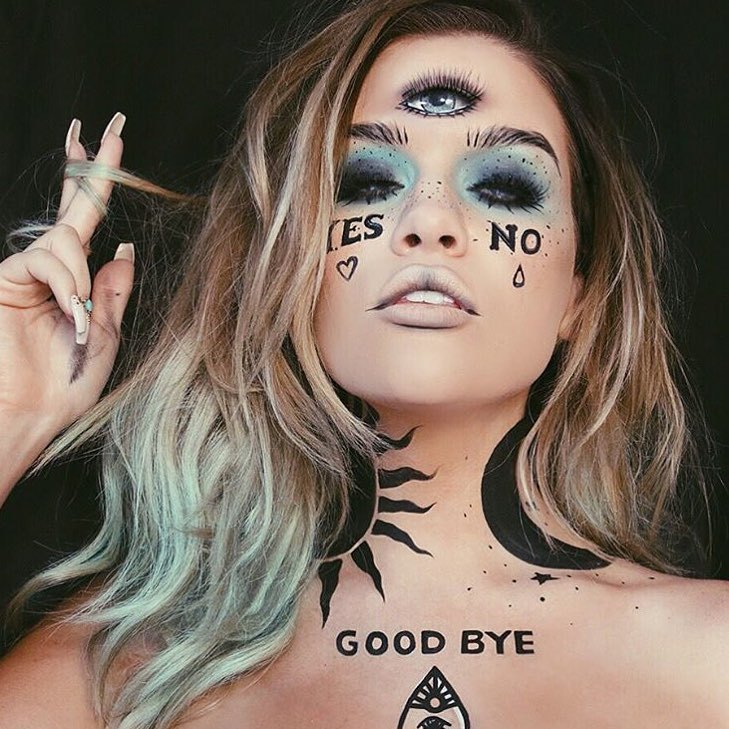 Here's another spooky version of an Ouija-inspired makeup look for Halloween! Add a third eye to your forehead to really tie the whole concept together!
Probably the goriest and the spookiest look on this list is this particular makeup look! If you want to look more scary than glam, then this is for you!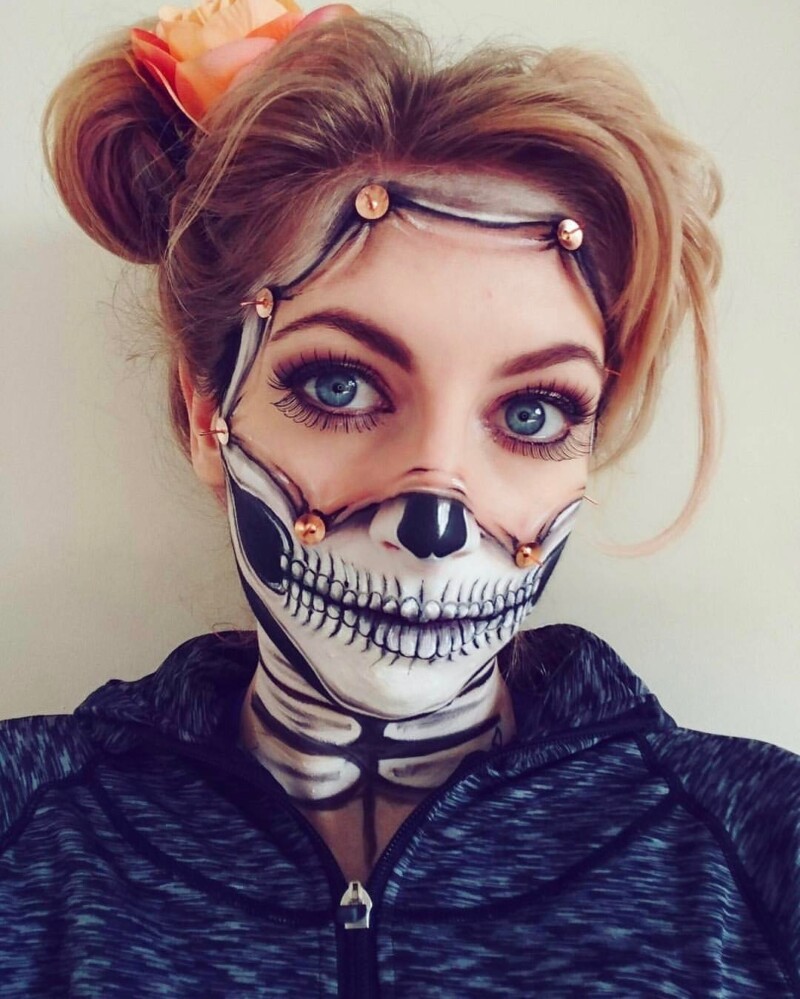 This "pulled-back skin" makeup look is quite jaw-dropping! Pun intended! I just really appreciate the amount of detail that goes on in this Halloween makeup.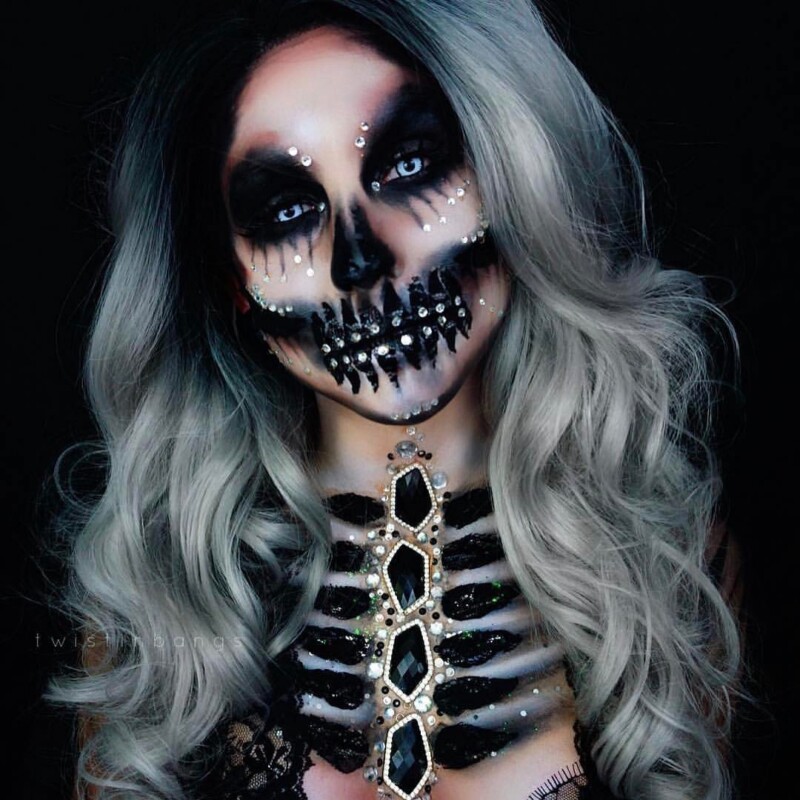 Embrace the glam skeleton look and be the queen of skulls with this gorgeous, embellished skeleton makeup look for Halloween!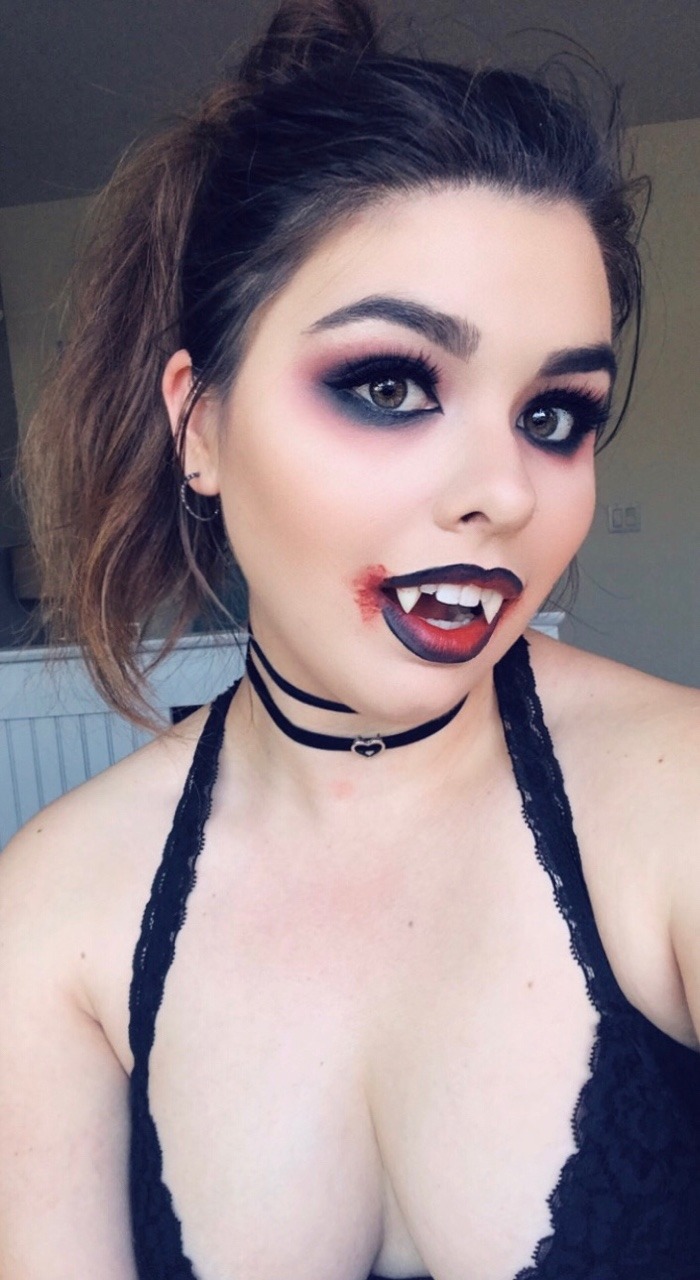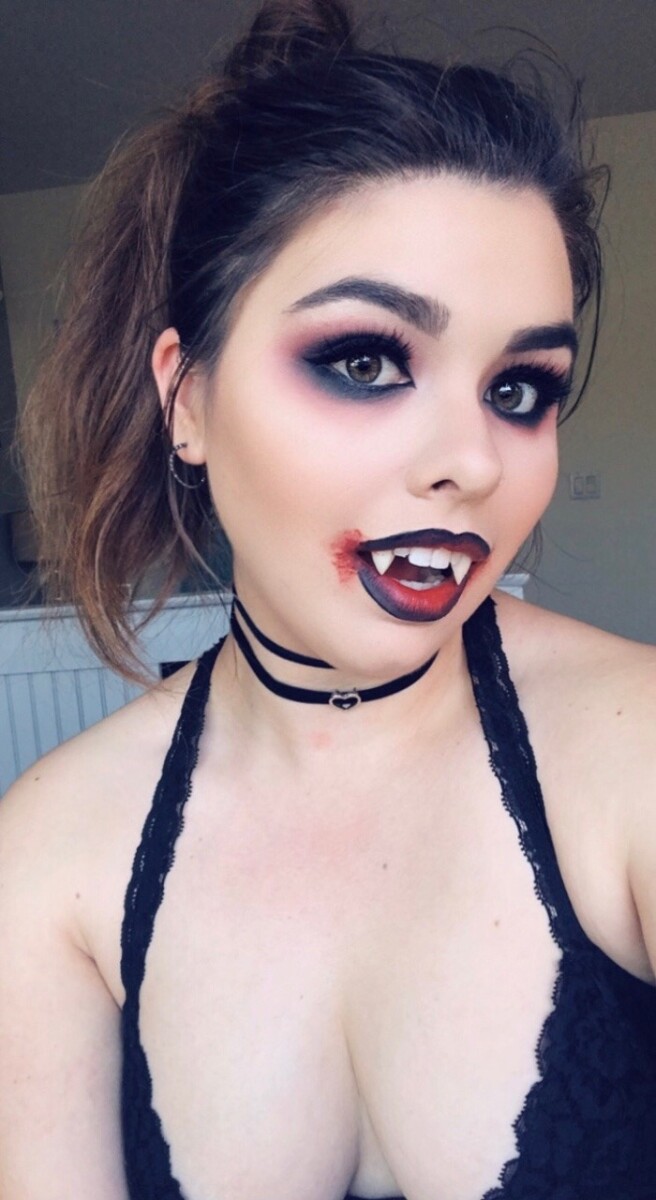 Not too confident with your makeup skills or maybe you just prefer to keep it simple? Then a classic vampy look would surely do the trick! Pair it with some fangs and a sexy leather ensemble to get that sultry vampy charm!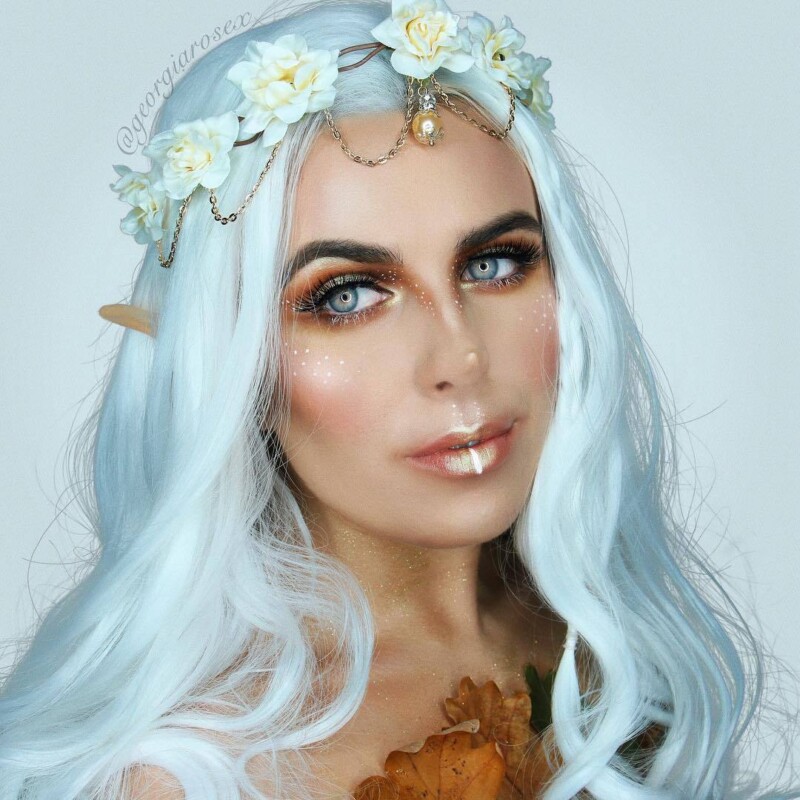 Don't feel like looking spooky this Halloween? Then try out this ethereal Elven goddess look! This would be so perfect for those who want to look elegant and like a queen this Halloween season.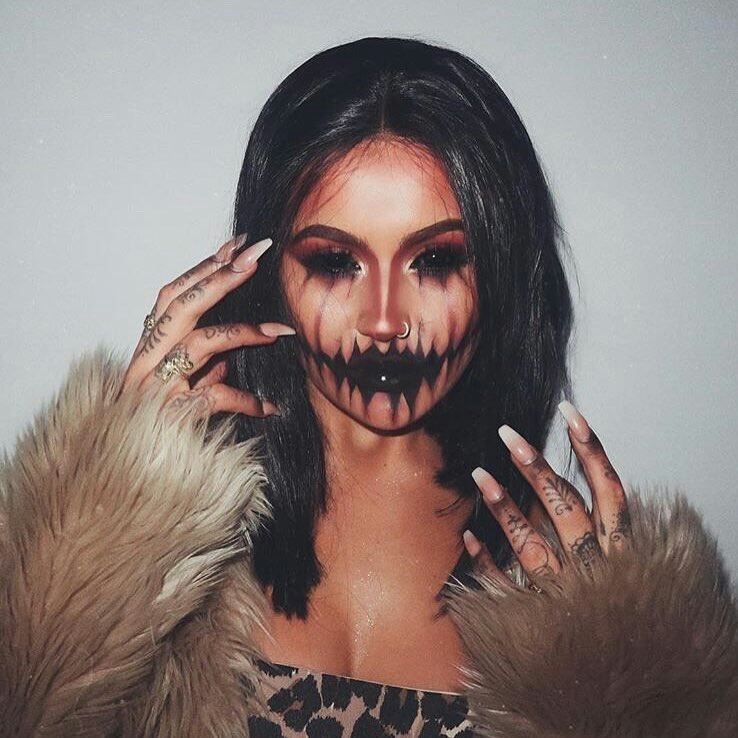 This demonic look perfectly combines glam and horror so well! You can also draw on runes and symbols to add more spook factor to your look.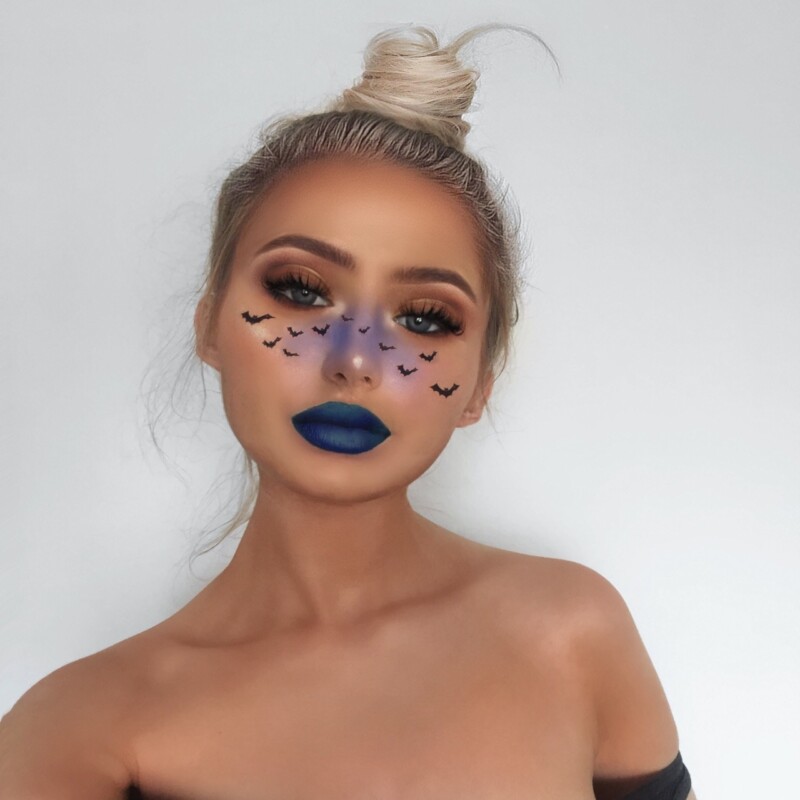 If you're looking for something a little more simple, this bat-themed Halloween makeup might be for you! You can add some dark blush to the center of your face to mimic the night sky and then draw on bats around your cheeks and nose.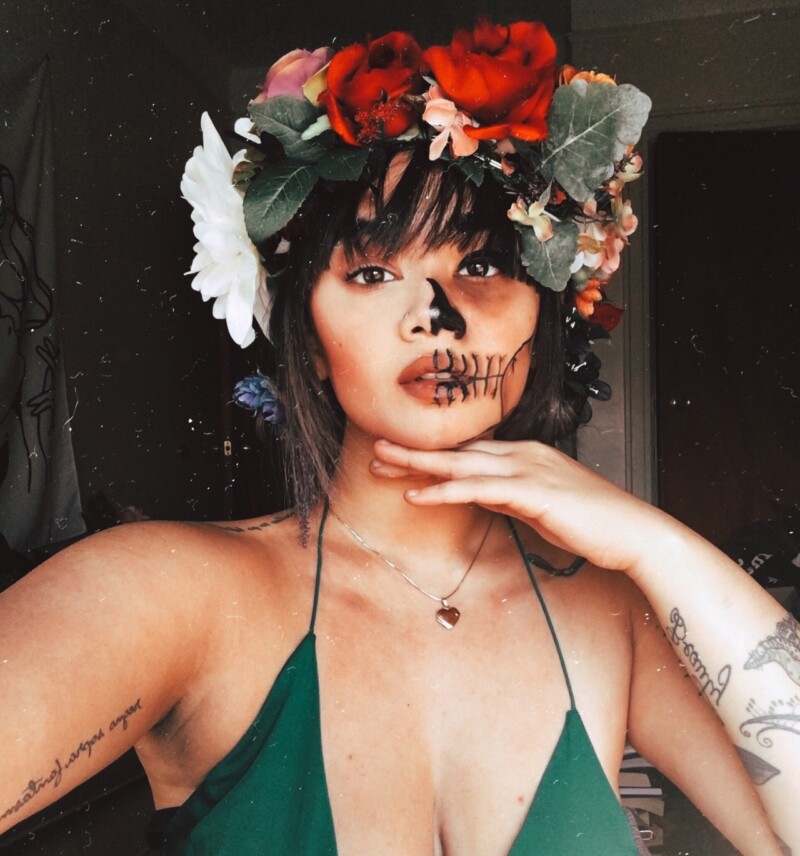 If I were to give this look a particular name, it would be "Persephone". This is exactly what I think the goddess will look like if she were to appear. Half-brimming with life, and the other half is just death.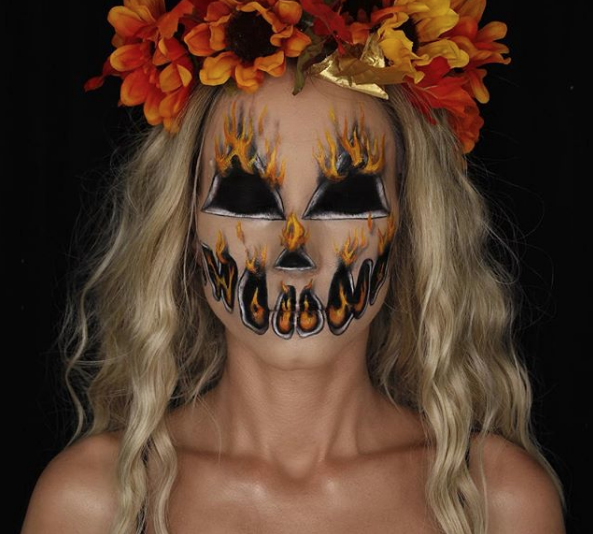 Add a fiery touch to your overall skeleton look to look like you just come out of hell! This is such a cool and unique concept to try out this Halloween season.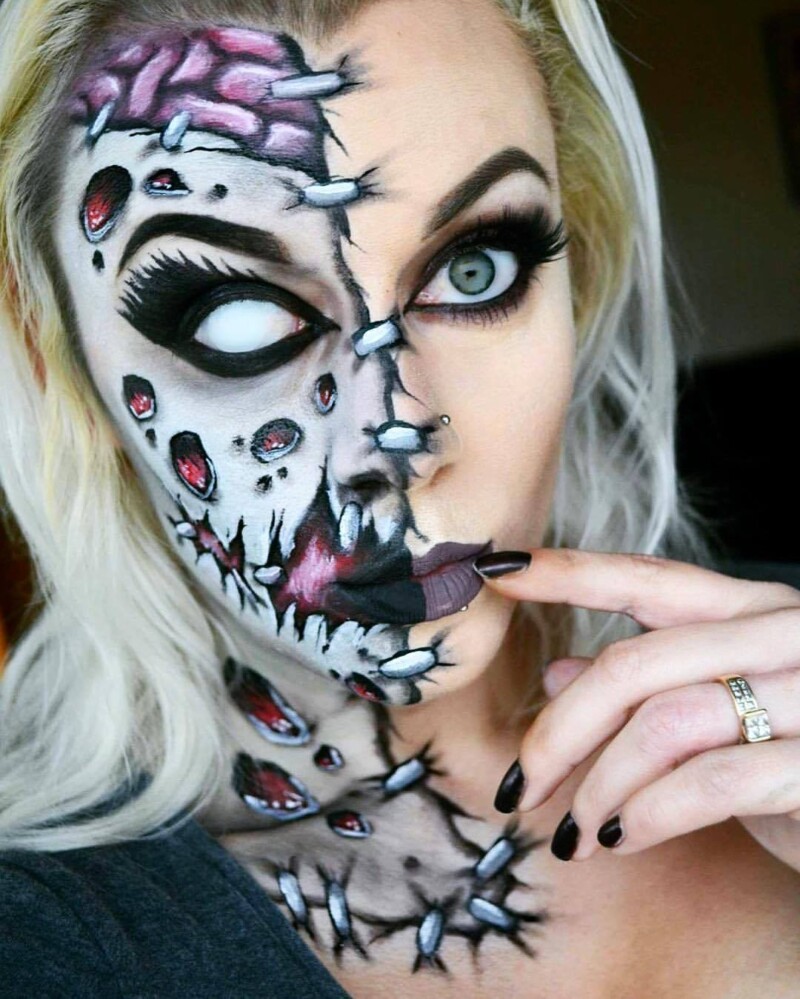 Zombies are some of the most popular makeup looks during the Halloween season, but this half-zombie look is so unique and perfect for those who want to keep things glam on the other side of their face.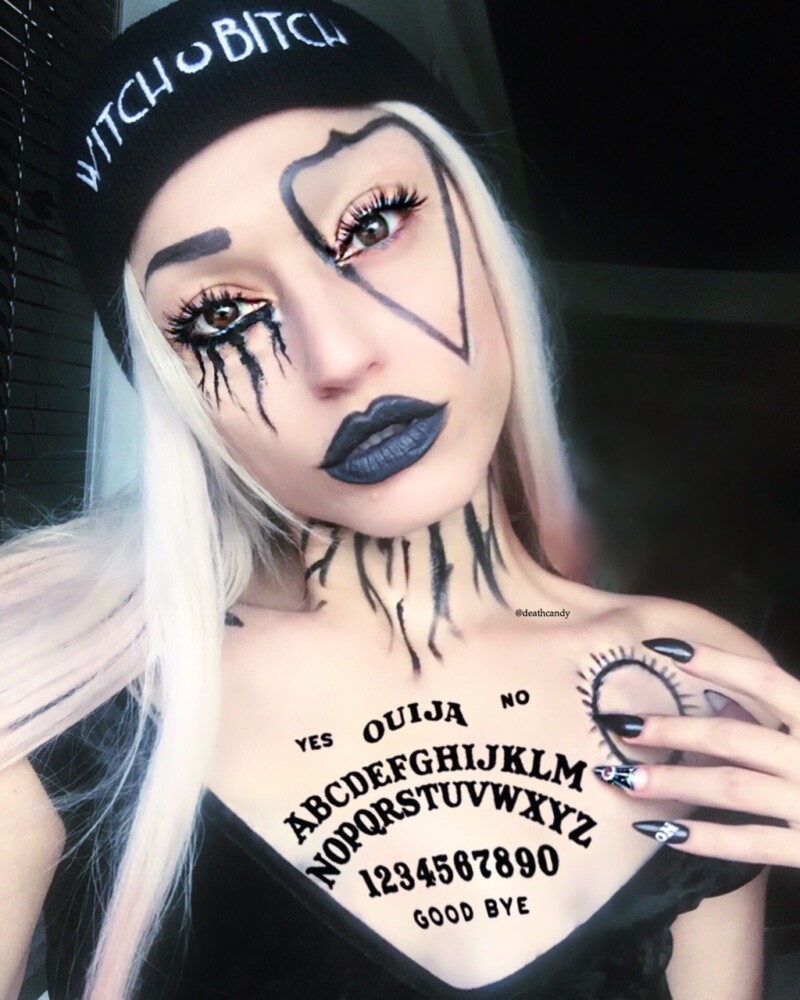 Goth girls are going to love this Ouija-inspired makeup look! Add more spooky elements to really get that creepy appeal!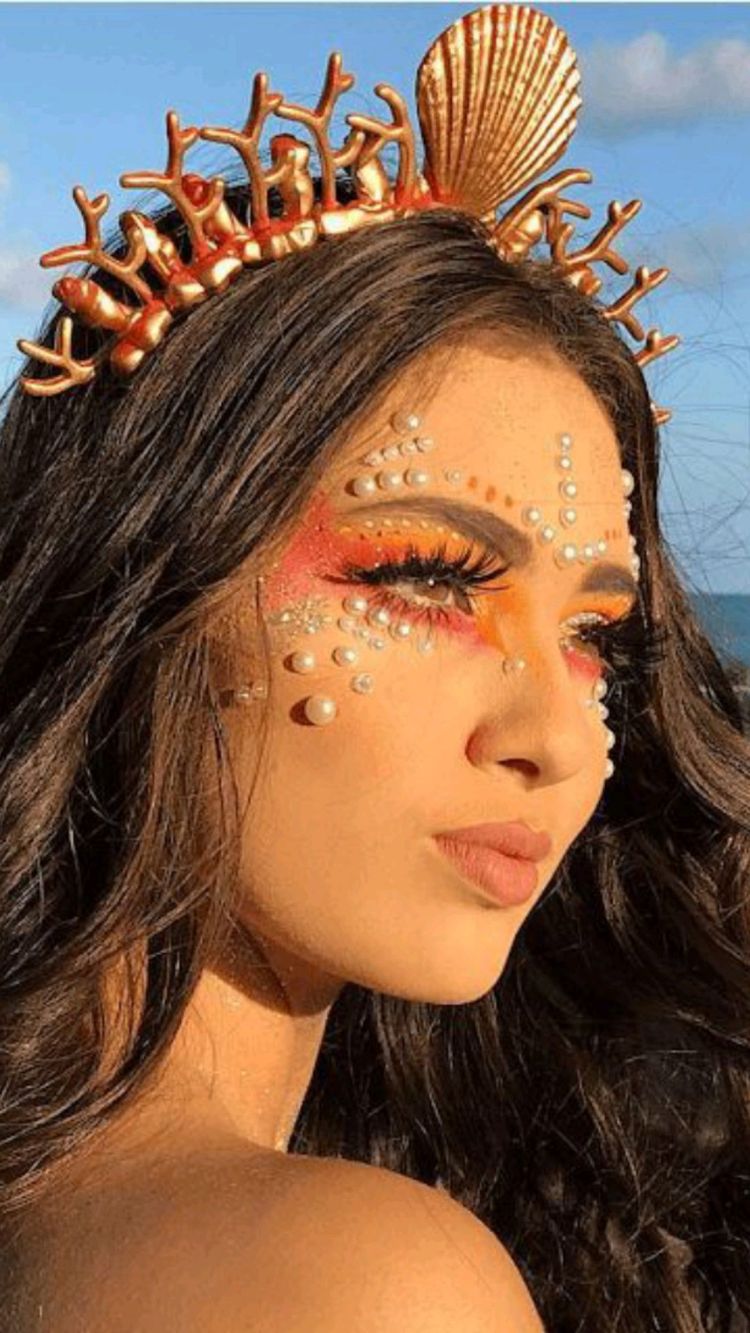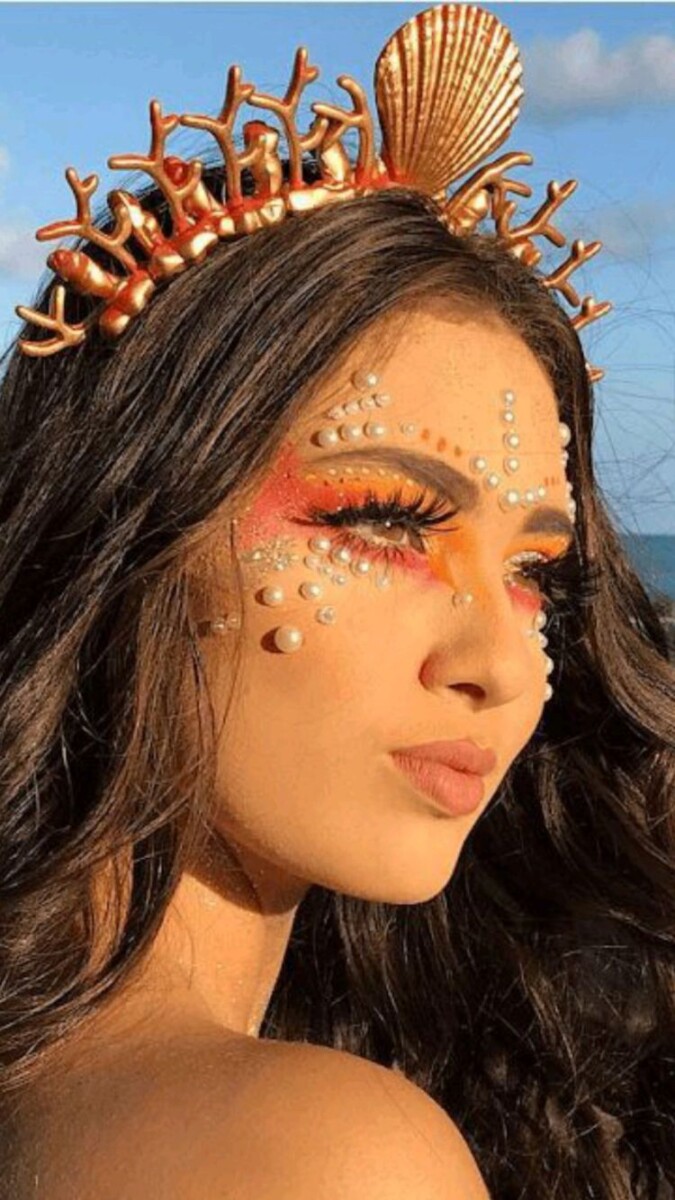 Mermaids are one of my favorite magical creatures from mythology. And with The Little Mermaid being so popular this year, I can totally see lots of girls wanting to look like mermaids!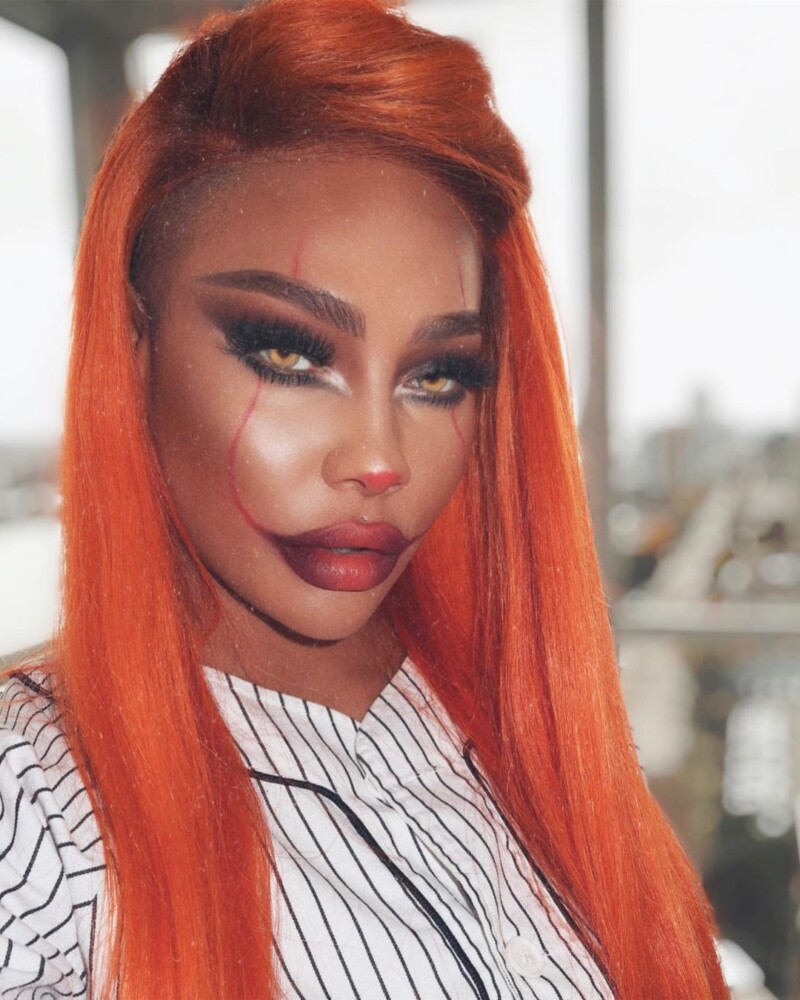 This subtle Pennywise The Clown makeup look is so good! It's not too scary and still looks pretty glam!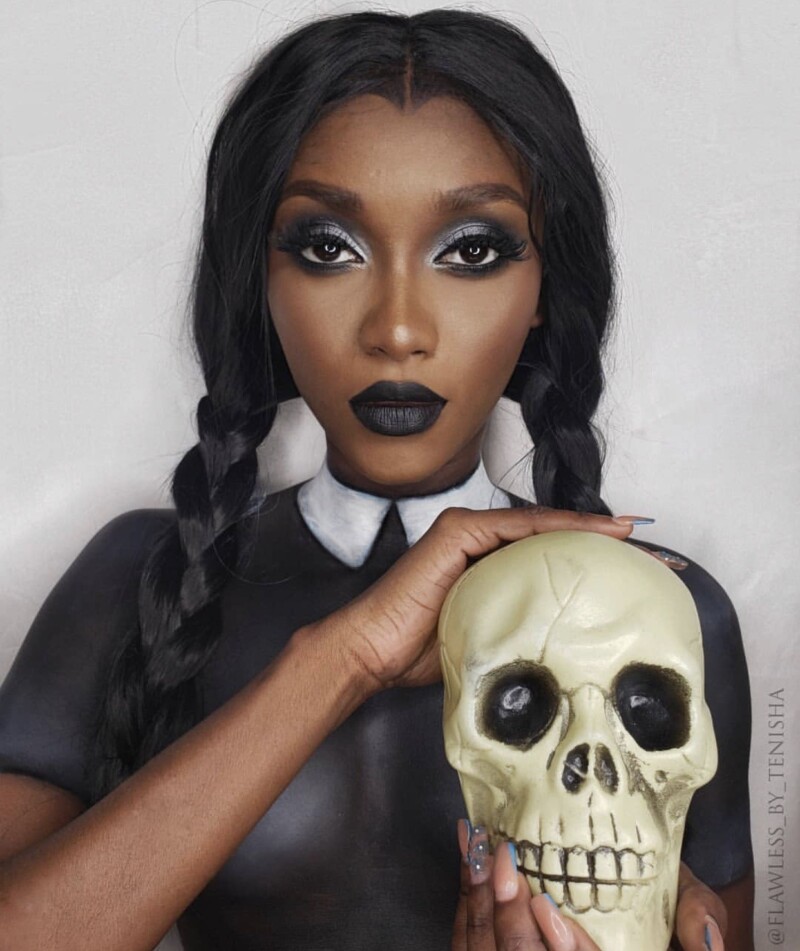 Don't get stingy with your smokey eye and black lipstick for your Wednesday Addams look this year. With the Wednesday show from Netflix becoming a huge hit, you'll definitely be on trend!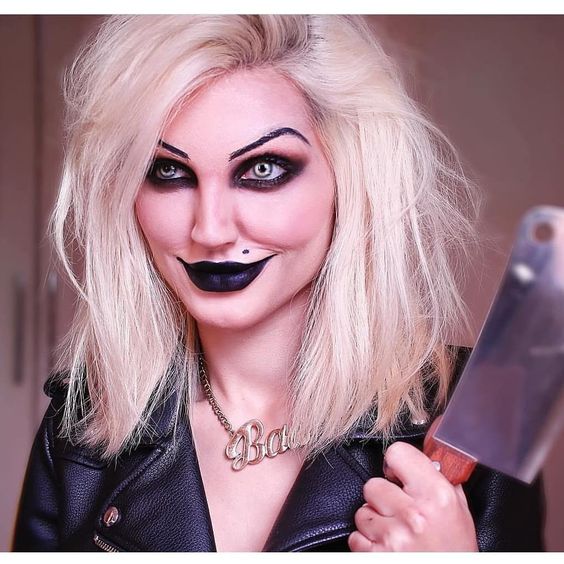 Tiffanny from Bride of Chucky is such a whole mood and so much fun to dress up as for Halloween. If you want to go a little crazy and embrace that dark, gothic look, Tiffanny is for you!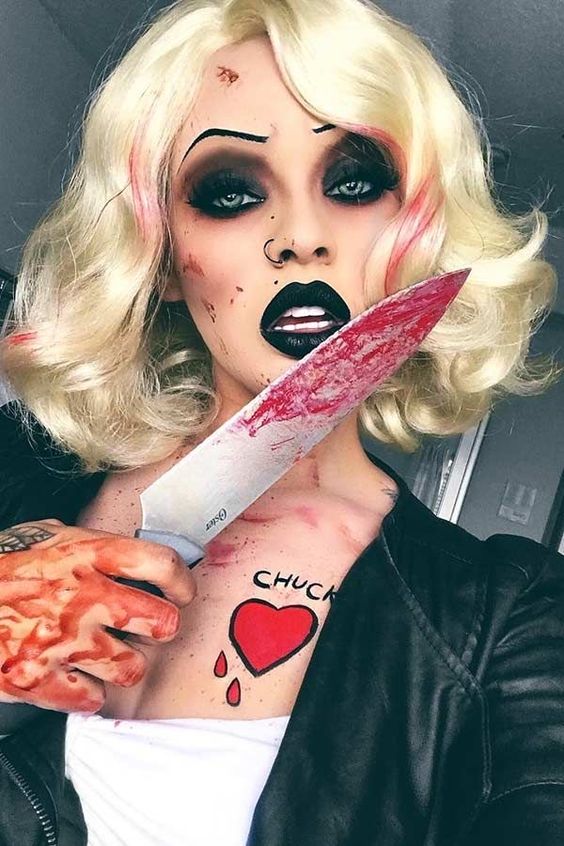 Here's another Tiffanny Halloween makeup look that you might want to try out! But this one has much more blood!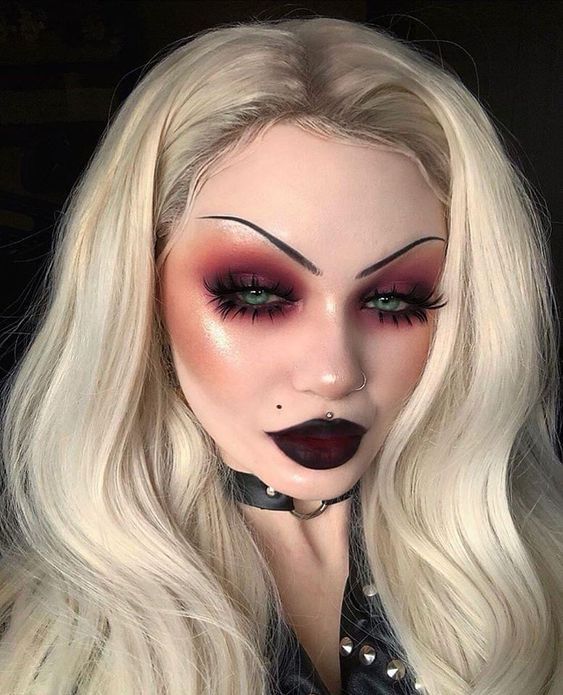 Tiffanny is known for her dark makeup looks, but this one has a plummy and burgundy twist. If you don't want a monotone black makeup look, then you might want to try this out!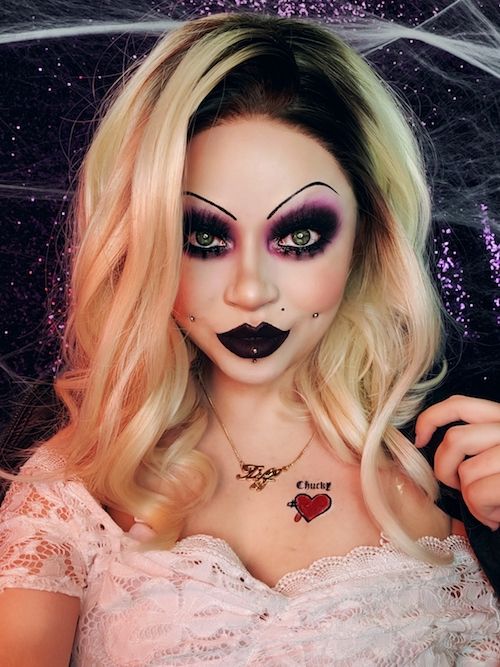 These last 4 looks are all Chucky's bride with different makeup variations.
I hope you love these looks as much as I do!
Applying Halloween Makeup:
Here are some tips and tricks for applying Halloween makeup:
Start with a clean, moisturized face: Before applying any makeup, make sure your face is clean and moisturized. This will help your makeup go on smoothly and last longer.
Use a primer: Using a primer before applying your makeup can help it last longer and look smoother.
Set your makeup: To help your makeup last all night, use a setting spray or powder to set your makeup in place.
Use the right tools: Make sure you have the right tools for the job, like makeup brushes, sponges, and applicators.
Practice beforehand: If you're trying out a new makeup look, be sure to practice beforehand so you can perfect your technique.
Blend, blend, blend: Blending is key when it comes to makeup application, especially when creating special effects like wounds or bruises.
Layer your makeup: To create depth and dimension, layer your makeup by applying different shades and textures.
Use reference photos: If you're trying to recreate a specific look, use reference photos to guide your makeup application.
Don't forget about your body: If you're wearing a costume that shows off your arms, legs, or other parts of your body, be sure to apply makeup to those areas as well.
Have fun with it: Halloween makeup is all about having fun and getting creative, so don't be afraid to experiment and try new things!
FAQs About These Halloween Makeup Ideas:
Here are some of the top FAQs we get about these spooky Halloween makeup ideas!
What are some easy Halloween makeup ideas for beginners?
Some easy Halloween makeup ideas for beginners include cat makeup, skeleton makeup, and clown makeup. These looks can be created with just a few products and don't require advanced makeup skills.
What kind of makeup should I use for Halloween?
For Halloween, it's best to use makeup that is specifically designed for special effects or theatrical makeup. These types of makeup are often more pigmented and longer-lasting than regular makeup. You want your Halloween makeup to last the whole night, after all.
Where should I shop for Halloween makeup?
Spirit Halloween: Spirit Halloween, a leading destination for Halloween enthusiasts, offers an extensive range of theatrical and costume makeup to elevate your Halloween experience. With an array of special effects makeup, face and body paints, character kits, glitters, and tools, Spirit Halloween provides everything needed to bring your spooky visions to life. From realistic wounds to mythical creatures, their makeup collection caters to diverse styles and levels of expertise.
Amazon: With a wide range of products including special effects makeup, face and body paints, character kits, glitters, and application tools, Amazon provides a convenient and diverse array of options for creating your desired Halloween look. Whether you're aiming for realistic special effects or whimsical character transformations, Amazon's extensive makeup collection accommodates various styles and preferences.
Etsy: Boasting a diverse assortment of products such as special effects makeup, face and body paints, artistic character kits, glitters, and innovative tools, Etsy provides an avenue for discovering one-of-a-kind makeup options that cater to a variety of Halloween styles. From intricate handcrafted designs to personalized recommendations, Etsy's creative community delivers a captivating selection for achieving your desired Halloween transformation. You can find just about anything here!
How long does Halloween makeup last?
The longevity of these cute Halloween makeup ideas depends on the type of makeup you're using and how well you apply and set it. Generally, special effects makeup and theatrical makeup can last up to 12 hours or more with proper application and setting.
How can I make my Halloween makeup last longer?
To make your Halloween makeup last longer, use a primer before applying your makeup, set it with a setting spray or powder, and avoid touching your face as much as possible.
Can I use regular makeup for Halloween?
While you can use regular makeup for Halloween, it may not be as pigmented or long-lasting as special effects or theatrical makeup. If you're looking to create more elaborate makeup looks, it's best to use makeup that is specifically designed for special effects.
What are some easy Halloween makeup ideas for kids?
Some easy Halloween makeup ideas for kids include animal-inspired makeup, superhero makeup, and fairy makeup. These looks can be created with child-friendly makeup products and are perfect for kids of all ages.
How can I create a Halloween makeup look without using special effects makeup?
If you don't have special effects makeup, you can still create try spooky Halloween makeup ideas using regular makeup products. For example, you can create a vampire look using red lipstick and black eyeliner or a zombie look using gray eyeshadow and black eyeliner.
What are some easy Halloween makeup ideas for couples?
Some easy Halloween makeup ideas for couples include a zombie bride and groom, a vampire couple, or a superhero couple. These looks can be created using similar makeup products and are perfect for couples who want to coordinate their Halloween costumes.
What are some easy Halloween makeup ideas for last-minute costumes?
Some easy Halloween makeup ideas for last-minute costumes include a scarecrow, a black cat, or a spiderweb. These looks can be created using makeup products you already have at home and don't require a lot of time or effort.
How can I make my scary Halloween makeup look more dramatic?
To make your scary Halloween makeup look more dramatic, use bold colors, add glitter or rhinestones, or create a smoky eye effect. You can also add false lashes or use a darker shade of lipstick to create a more dramatic look.
There are many easy Halloween makeup ideas that you can try out this spooky season. From classic Halloween looks like witches and vampires to more creative looks like optical illusions and animal-inspired makeup, there are plenty of options to choose from.
Whether you're a makeup pro or a beginner, there are easy Halloween makeup ideas that you can create with just a few products and some creativity. By using reference photos, practicing your technique, and blending your makeup, you can create a look that is both spooky and stylish.
So if you're looking for an easy and fun way to get into the Halloween spirit, consider trying out some of these easy Halloween makeup ideas. With a little bit of practice and some creativity, you can create a look that is sure to turn heads and impress your friends.